In This Article We'll Discuss
The Best Rug Placement Beneath the Sofa to Balance Your Room Decor
Are you shopping for the ideal rug to place beneath your sectional sofa in the living room or den? If so, selecting the best rug size is essential. The right rug dimensions will anchor and balance the other items of decor in your room. Remember that a rug forms a foundation for the entire contents of a room interior. The amount of floor that remains uncovered after placing your new rug is your decision.
Recommended Read: Inspiring Farmhouse Rugs Everyone's Loving
Recommended Tools
Easily removable floor tape – to get an idea of how the rug will look before ordering it
This useful tape measure – another easy way to measure out the size of rug you should use
One of these affordable area rugs – to play in your living room
Choosing the Ideal Rug to Anchor and Enhance Your Sectional Sofa and Room Decor
Is your aim is to locate the ideal rug that allows for some bare floor space? If so, you have already ruled out wall-to-wall carpeting. Placing a series of small area rugs in a moderate to large sized room creates an awkward appearance. Small rugs can also loosen from their tack-free carpet strips or non-skid backings. This can cause household members and guests to slip and fall when they step on the rugs.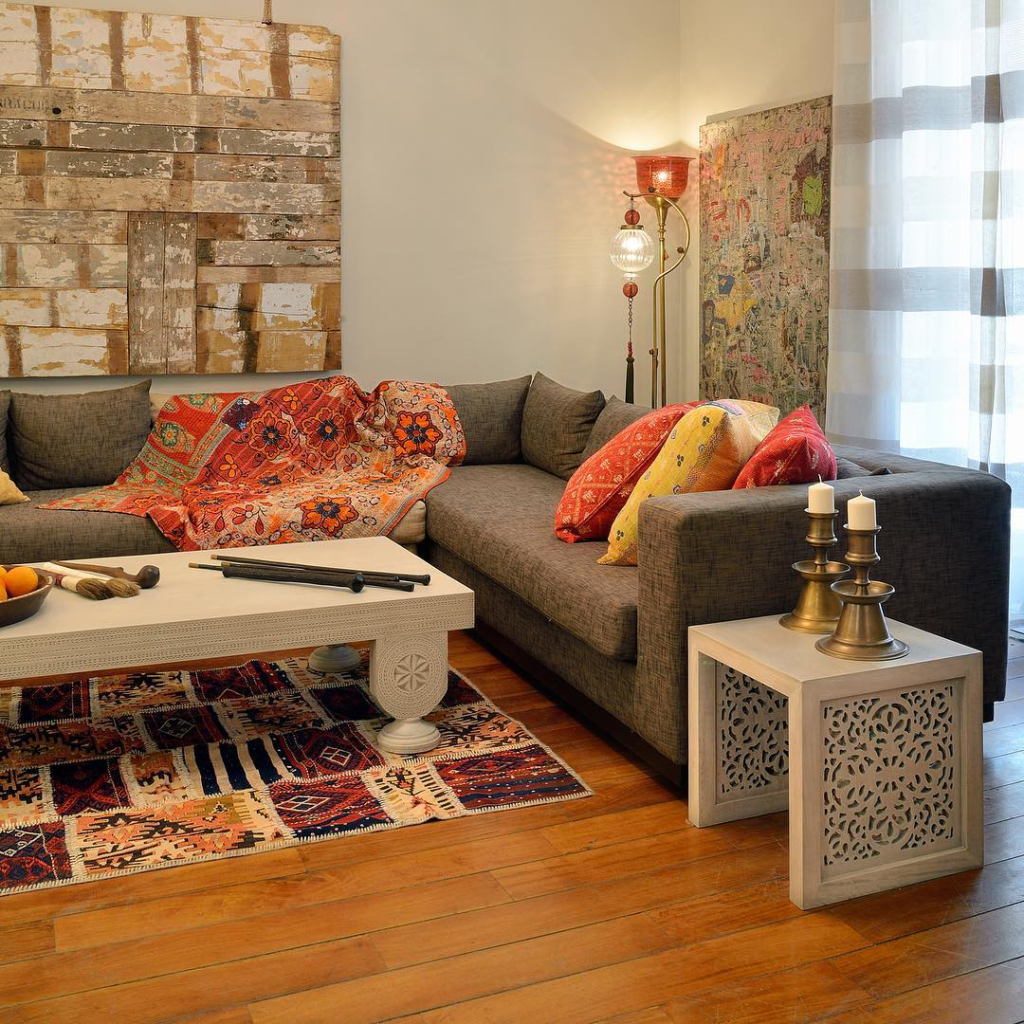 If your room is large enough, you can enjoy the beauty and style of several different rugs on your floor. You may want a lengthy runner behind your sectional in the walking space leading to your dining room. A smaller decorative rug can be elegant or cozy in front or your fireplace, according to its design. A small area rug can also feature a special piece of furniture. Try placing your rug and special item beneath a wall mirror or favorite painting.
Recommended Read: Best Area Rugs For The Kitchen
Helpful Tips for How to Place a Rug Under a Sectional Sofa
The following are useful ideas for placing a rectangular rug under a sectional sofa in a room of your home:
• Rug Size: 5 by 8 feet or larger. With this size rug placed beneath your sectional sofa, all sofa legs should be off the rug. The other room furniture should surround the rug's borders. Does this rather small rug has a unique design that you want to display? This is the best way of letting it rule as a major stylish item of the room's decor.
• Rug Size: 8 by 10 feet or larger. Place this size rug beneath your sectional sofa. The front sofa legs and the legs of other furniture should rest on the outer borders of the rug. This will give your rug, furniture and other room decor a pleasing appearance. It will balance the interior design of the room. It will also provide the space with an attractive sense of stylistic proportion.
Recommended Read: The Best Swanky Bohemian Rugs
• Rug Size: 9 by 12 feet or larger. For a more coordinated appearance in a larger room, place all legs of your sectional sofa and chairs on your rug. This decor arrangement will bring strong aesthetic qualities to your room. It will also bring a stronger sense of unity to your room furnishings as a specific style of decor.
Don't forget to use one of these amazing rug pads to improve the longevity of your rug.
When placing a rug under your sectional sofa, it should be large enough to unify and anchor all the room decor. The rug should fit well under your sofa's front legs. It should extend three feet or more beyond your coffee table. A small area rug positioned beneath the coffee table can be charming. Yet it will stay smooth and unwrinkled only if placed over a low-pile primary rug.
Recommended Read: Best Outdoor Rugs That Last
Finding the Right Rug Placement to Best Define and Feature Your Room and Furnishings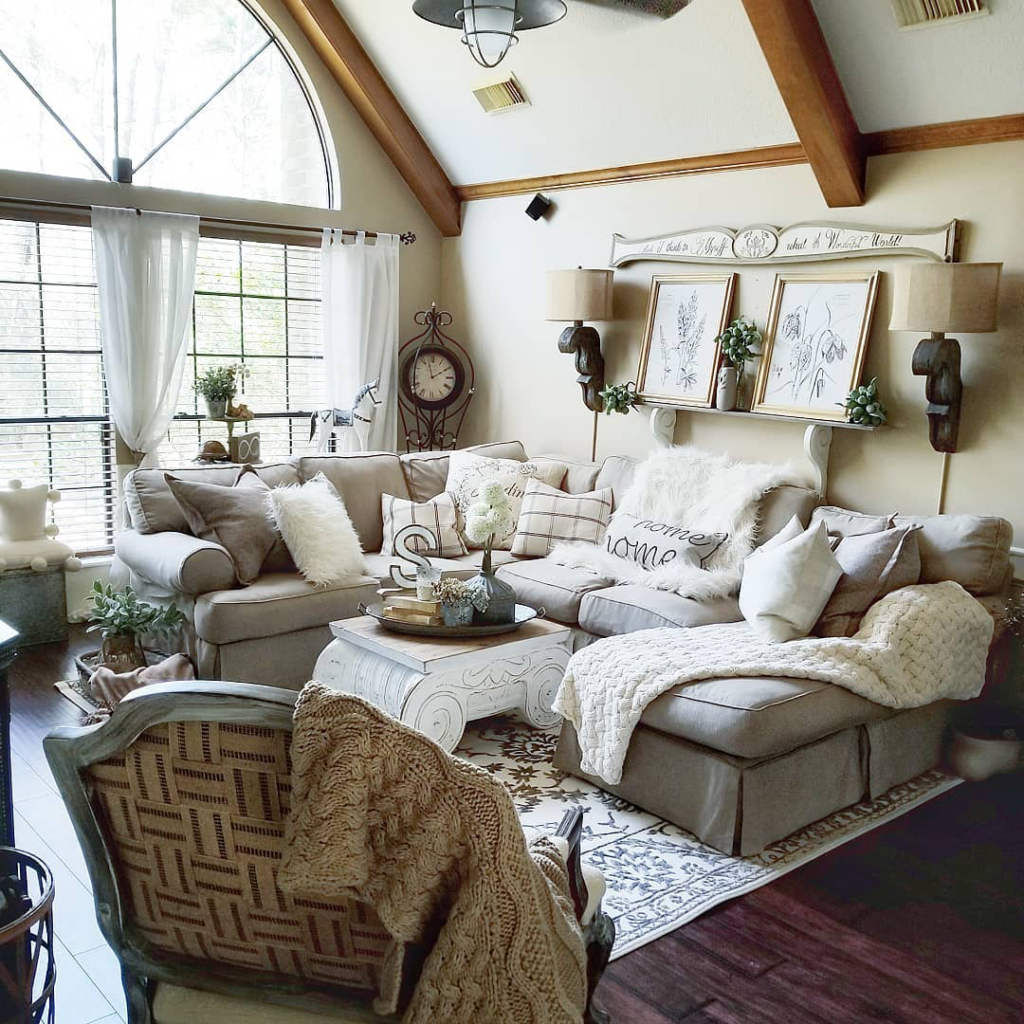 You may choose the rug as the first or last item of your room decor. Either way, its placement will introduce and feature your furnishings and design mode. Most home designers and decorators like to choose a long rug to place under a sectional sofa. It should be long enough to extend beyond both ends of the sofa. Does your rug also extend beyond the sofa back? If so, it should reach far enough to offer a comfortable walking surface.
Recommended Read: Best Rugs For Dogs
This will keep you from having to walk with one foot on the carpet and the other on the bare floor. This can be very awkward. Also, walking unbalanced in this manner over time is not healthy for your back. Most homeowners agree that it is best to avoid odd sizes and when selecting room furniture and rugs.
Recommended Read: Keep Your Couch Safe, Best Couch Covers
Prepare Your Room for Rug and Sectional Placement
Most rug merchants recommend about 18 inches of open floor space around the borders of an area rug. This spatial arrangement works well in separate, spacious rooms. Smaller rooms may look best with less floor space visible around your rug. A large rug can make a small room seem too crowded as though its furnishings create clutter.
Yet we know that an undersized rug can actually diminish the visual appearance of a room. It can make the furniture seem enlarged. The entire interior may appear out of balance. It is best to measure your room and plan your potential layout of furnishings second. First, you must understand how to place a rug under a sectional sofa. The placement of doorways, windows and fireplaces in your room is also important.
Recommended Read: Best Rugs For Dining Room
Conclusion: Showcase Your Rug and Sectional Sofa with Ideal Placement
Select the best size, material, design and colors for your new rug to place under your sectional sofa. Then, examine the features of both items. It can help to take the expert advice of interior designers for the size and placement of your rug and sofa. Yet visual appeal is very important. You want to display both your sectional and your rug in the most appealing way possible.
Your attractive leather or suede sofa may look best when placed near natural light. If so, place it by windows or under a skylight. Your rug may have a beautiful central motif with deep, vibrant colors. If so, your goal is to arrange it under your sofa to ensure balanced room decor. At the same time, you want to exhibit the true charm and allure of the rug's unique design.
You have made the best steps to achieving the perfect placement of your stunning new rug under your sofa. You have created excellent anchoring of your room decor. It is time for you to lean back and relax on your luxurious sofa. Bask in the enchanting ambiance of your beautiful new rug and splendid room decor.
Recommended Read: Best Shag Rugs