When buying a new rug the first thing that comes to mind is, how will it look? Picking the right size rug is just as important. An area rugs size can have as much impact on a room as it's design.
A large rug will make a room appear large. But, a small rug looks more intricate and will changes a room to appear smaller and cozier. They both have their uses.
Think about your design objective as you decide on an area rug. It's either going to be a focal point or an accent. It can unite a room or separate it. Big open spaces are trending right now and an area rug can be just the right thing to separate spaces.
Recommended Read: Best Rug Pads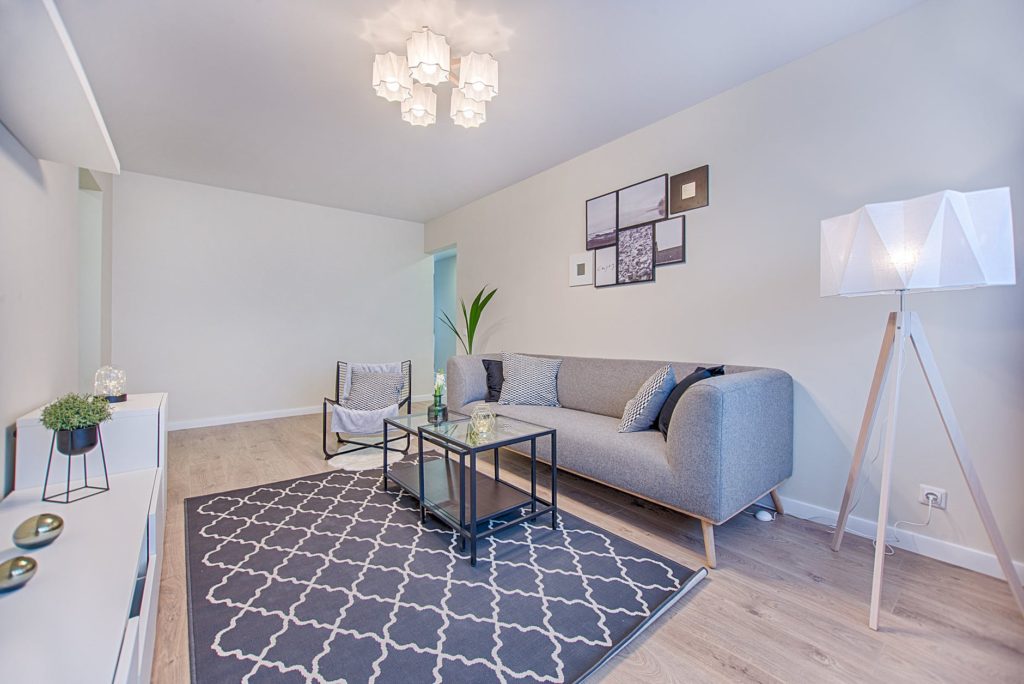 In This Article We'll Discuss
The most common Rug Sizes measured in feet are:
3' x 5'
4' x 6'
5' x 8'
8' x 10'
9' x 12'
10' x 14'
12' x 15'
What Size Rug should you Pick?
Different rooms in your home are going to look best with different rug sizes. When selecting a rug, it should be your first step. The reason is that it's going help you create a beautifully balanced space. From there you can select the design you like.
A trick you can use is to either get floor tape or a bed sheet and measure out the size of the rug in your room. There's not an exact science to how much floor you should show or the spacing you should leave. Using the tape or bed sheet will help visualize how it will fit in your room.
There are two things to look for. Unless you want to hide your floors it shouldn't be completely covering the room. Also, it shouldn't be so small that it seems to be floating in the room with no balance.
Living Room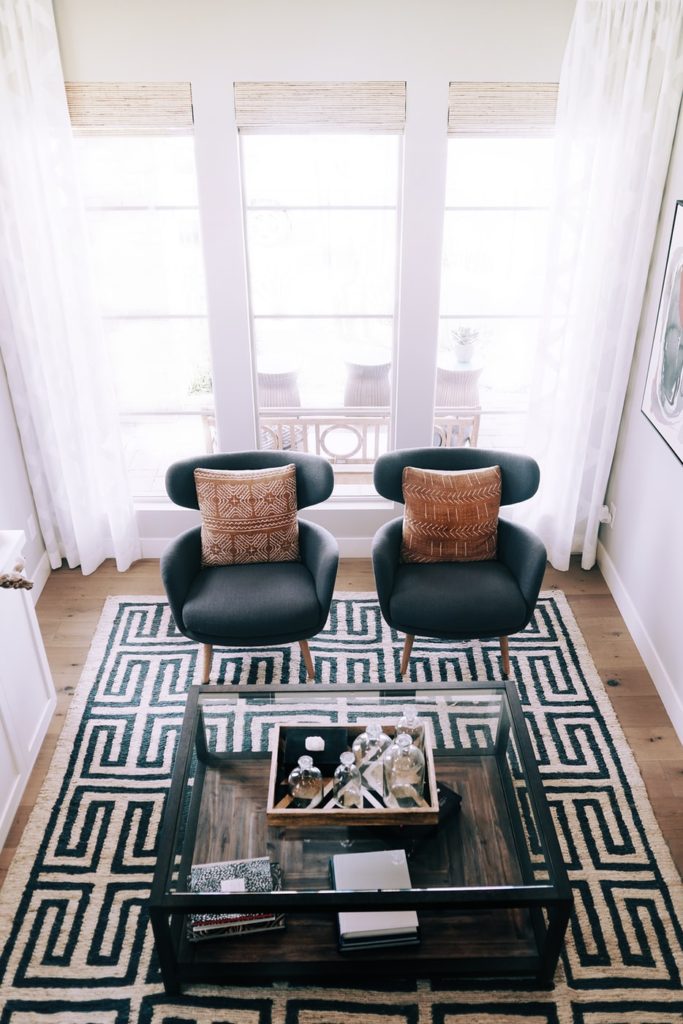 Most common sizes used 5x 8, 8×10, 9×12
Under the sofa or not? A wool rug or a jute rug? It's up to you. The rugs length should cover the length of the couch. If you want a kept together look then all seating should connect with the rug. This includes the coffee table. It's fine for only the front legs of the sofa to be on and the back legs to get off the area rug. It's always a good idea to get a good rug pad for area rugs. It'll protect it and add comfort.
Another option is to not have anything rest on the rug except the coffee table. This works best for small space. A 5×10' area rug is best suited for this look. You can leave a space of 6" to 18" from the sofa. If you love your floors leave more space. If you're trying to hide them, get a larger rug.
8×10 and 9×12 will connect the whole room. If you want the room to appear large go for the biggest sizes. These sizes work best for larger room. The space will  anchor better. Having the rug go just beyond the sizes or further from your sofa is best.
In these bigger living rooms all your furniture should be touching the rug. Remember to use floor tape or bed sheets to measure the rug's size out. If you have an especially large living room then a size larger than 9×12 will work best. Look into 10×14 and 12×15 (not as common as other sizes in living rooms).
Dining Room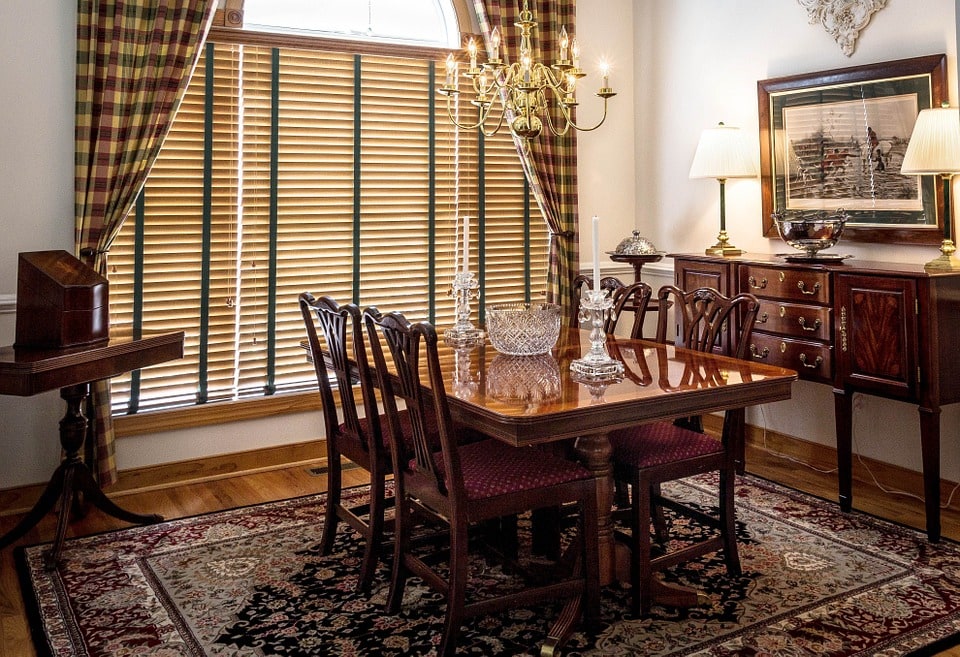 Most common sizes used 9×12 and 8×10
If you're putting an area rug in the dining room you'll want one that all the furniture will rest on. This includes when chairs are being slid in and out for sitting. 9 x 12 and 8 x 10 will work for this. You should keep at least of 18 inches of floor exposed on the edges of the room. To big will look odd.
Try sliding out the chairs so it's comfortable to sit in them. Then use floor tape to get the smallest dimensions. Next, round up to the nearest rug size. This is the smallest area rug size you should be looking at.
If your dining table extends, buy a rug for the size you use most often. If it's rarely changed there's no reason with going with the less common size you use.
Small round dining tables and breakfast nooks work with smaller area rugs.
Bed Room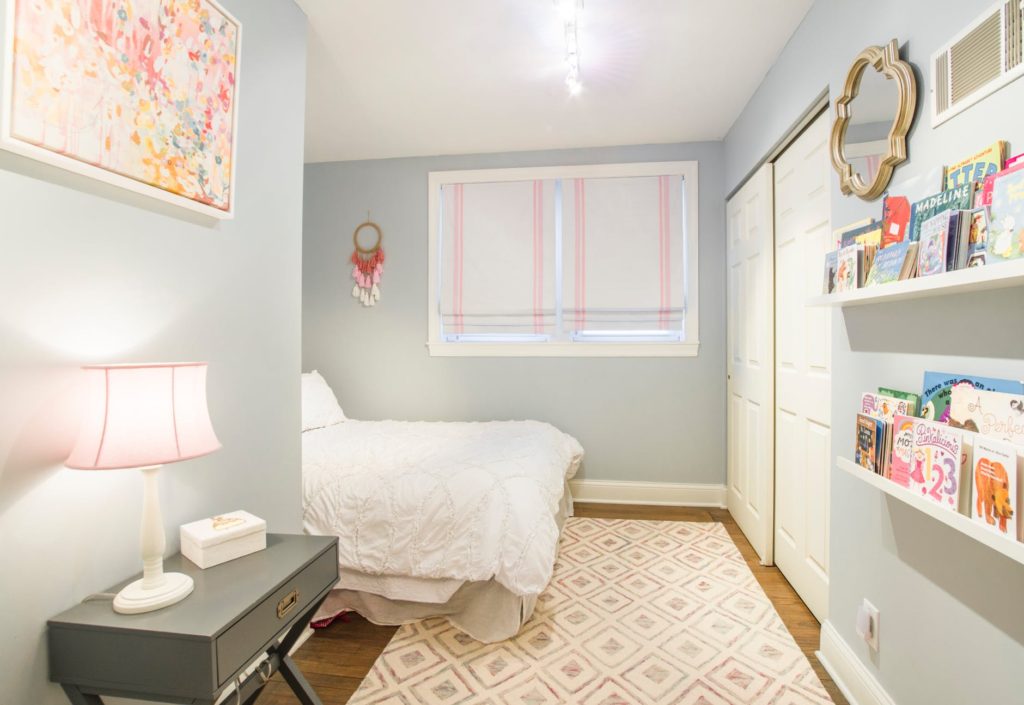 Most common sizes used 5×8 and 9×12
The bedroom has a few options for area rug placement. Either around the bed or just in front of it with the 2 front legs resting on it. These are the two most common placements.
With a 5×8 rug you can also place it on the vertical side of the bed. This looks best on the side of the bed closest to the entrance of the room. It'll look super cozy as soon as you come in.
A 9×12 rug will have the entire bed resting on it. This will make the room appear larger. This is best for beds centered in the room.
If your bed isn't centered and in the corner you'll have other options. You can place the area rug running vertically along the side with the most space
For a small bedroom, 3×5, 4×6,  and 5×8 will work. Use these as accent rugs. You can slide these rug sizes in front of your bed or off to one side.
Kitchen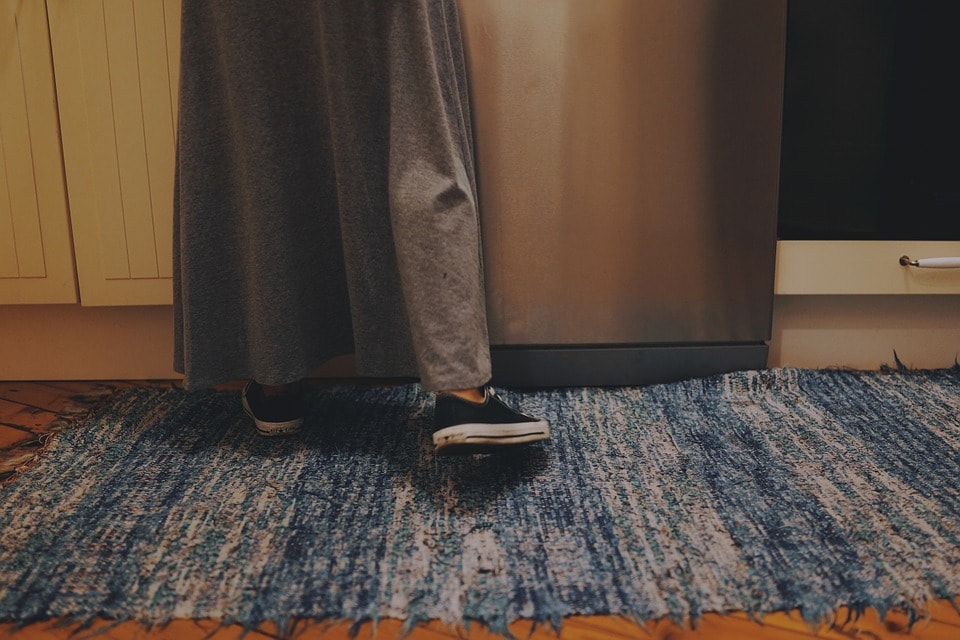 Most common sizes 3×5 and 4×6
Having a rug in your kitchen has many benefits. It  will be appealing and help with comfort. It's important consider the area rug's material for the kitchen. You need something that's easy to clean and won't be damage by water.
Even if it's not labeled as a "kitchen rug" many can still be used. Again, pay attention to the type of material used.
Smaller area rugs are for the in the kitchen as well as runners. If you want comfort, try placing it so it covers the sink and main cooking area. To make the space look bigger use a larger rug. Floor tape is your friend!
Recommended Read: Best Bohemian Rugs
Conclusion
All in all, now that you've read this guide you are ready to shop for your new area rug. You're familiar with the most common area rug sizes for each room. Pick something that looks and fits great! Measure with flooring tape to get an idea if your buying online. Don't forget to make sure you clean your new rug the right way!
Tips For Buying
Measure the space you want the rug to occupy. Use floor tape or bed sheets to see how the rug will fit in the room. Do you want the space to look bigger or smaller?
Take note of the color of your furniture and decor. Start looking for a pattern. Use an online color scheme generator to see what colors match with your furniture.
What material works for you? Do you hate cleaning? Do you have pets? What room is it for? Keep the material in mind while buying your rug. Some require more care than others.