My kitchen has a hardwood floor that really doesn't complement the appliances and walls very well. So I covered most of the flooring with a delightful rug made of polypropylene with a rug pad for comfort. Before making my choice of style, I reviewed a number of kitchen images online so that I could get a feel for what the correct size, shading, and pattern design could do to brighten up the area where I cook. I ended up choosing a delightful farmhouse style rug.
You'll find this series of images a powerful tool to help you choose the right style and shape of rug for your own kitchen. Whether it's wool or other natural fiber, polypropylene, or other material, a bit of shopping around will lead you to the perfect spot rug or kitchen runner. Below, I describe the imagery on these pages in more detail so that you can get a feel for what goes perfectly with your kitchen size, color tones, and floor type.
Distinctive Persian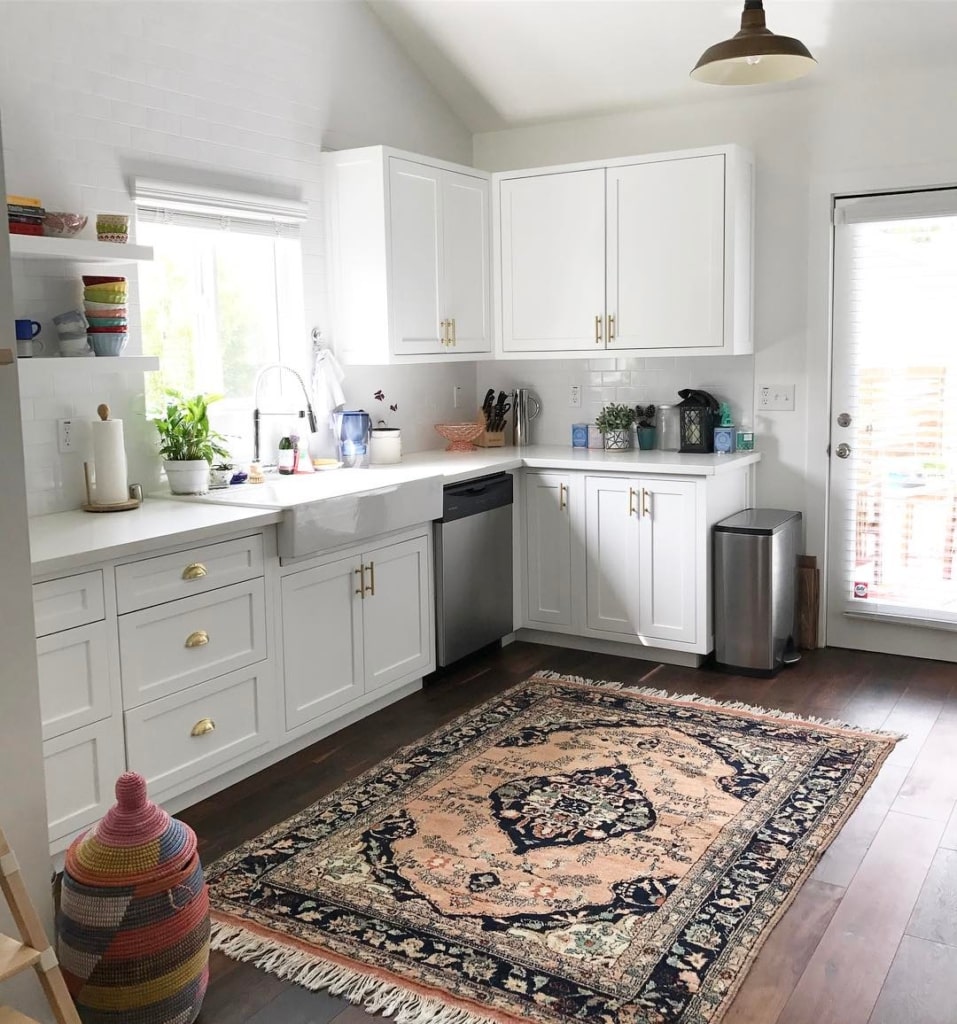 This rug is a go-between in terms of color tone. It's slightly lighter than the hardwood floor but also in perfect contrast to the white cabinetry. It's pretty big in size, but the squarish nature of this kitchen design demands a large covering for the floor.
Persian designs are popular because they are artful without being too loud. Remember to choose your material carefully because a kitchen rug this size will experience high foot traffic and must be easy to clean.
Bold Complement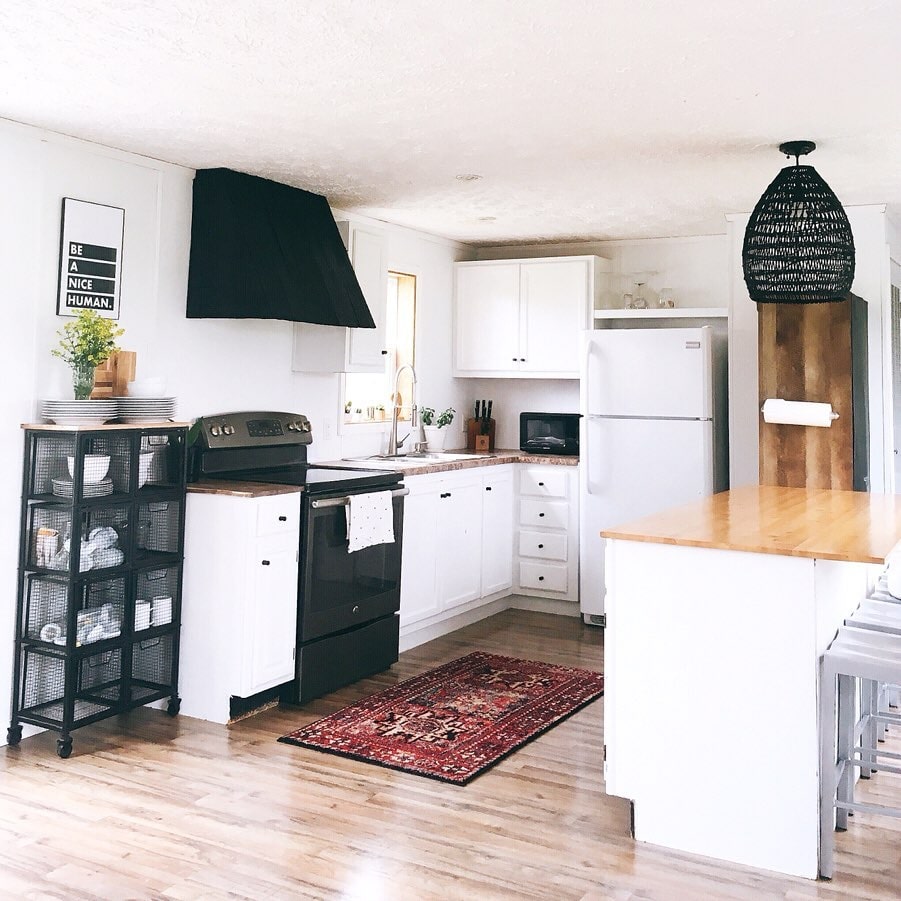 One look at this and you'll see why you need not be afraid of a stand-out color. The red tone will work with white cabinetry, and because it's placed in front of the black-toned oven, you get a three-tone job that's really pleasing. Because the space is narrow, this could also be a runner rug if length is what you really want.
Choose this material carefully. You don't want a rug that's this bold only to have it quickly fade to a grayish-pink. I suggest an inorganic plastic such as polypropylene because it will hold its color forever.
Recommended Read: Best Outdoor Rugs
Stately Black & White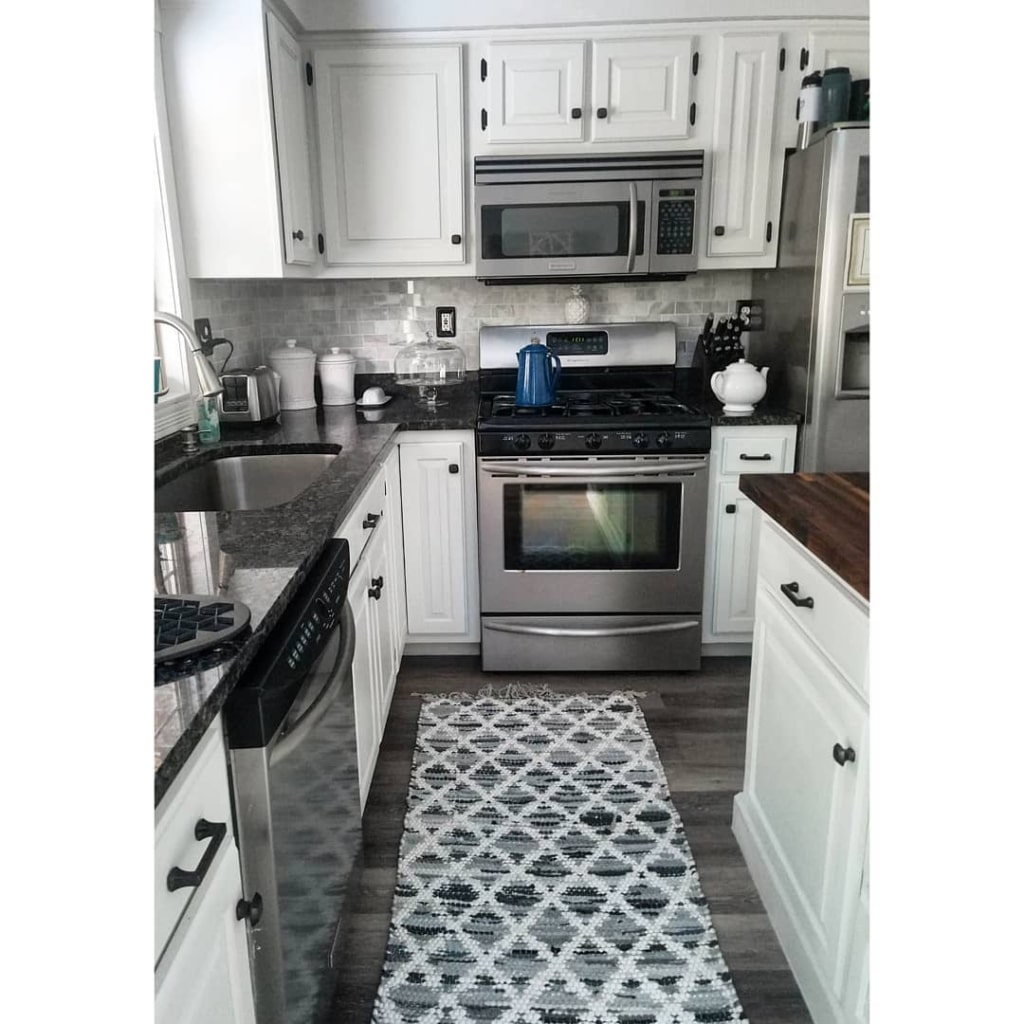 There's no reason to be afraid of diamonds and diagonals. Even though the lines aren't parallel to the kitchen appliance and counter lines, they're parallel to each other, and that's what matters. This gray/black/white runner is perfect for the kitchen design shown because there's the same amount of open floor space on all three sides.
Notice also the dark flooring tone. The rug is darker in places and lighter in others, but the overall effect is one of soft complement, something I find quite attractive.
Horizontal Color Fill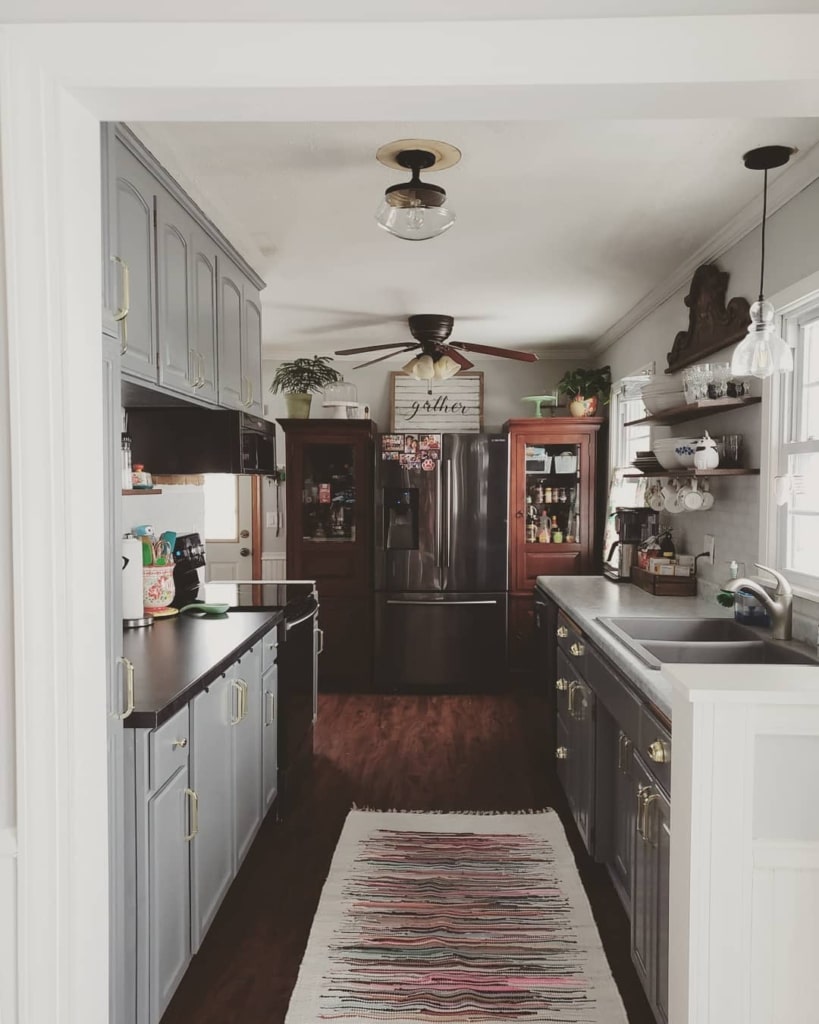 This kitchen runner features thin, multi-color horizontal lines that invite foot traffic along the length of the material. If you like stripes that seem to lengthen out the dimensions of the rug, this design is for you. Of particular interest here is the choice of line colors.
We see pink, brown, and green. Look closely and tell me that these three tones can't blend together nicely. This wool rug also lightens up the floor, and even when the lighting is low, the rug will stand out just fine.
Hex Patterns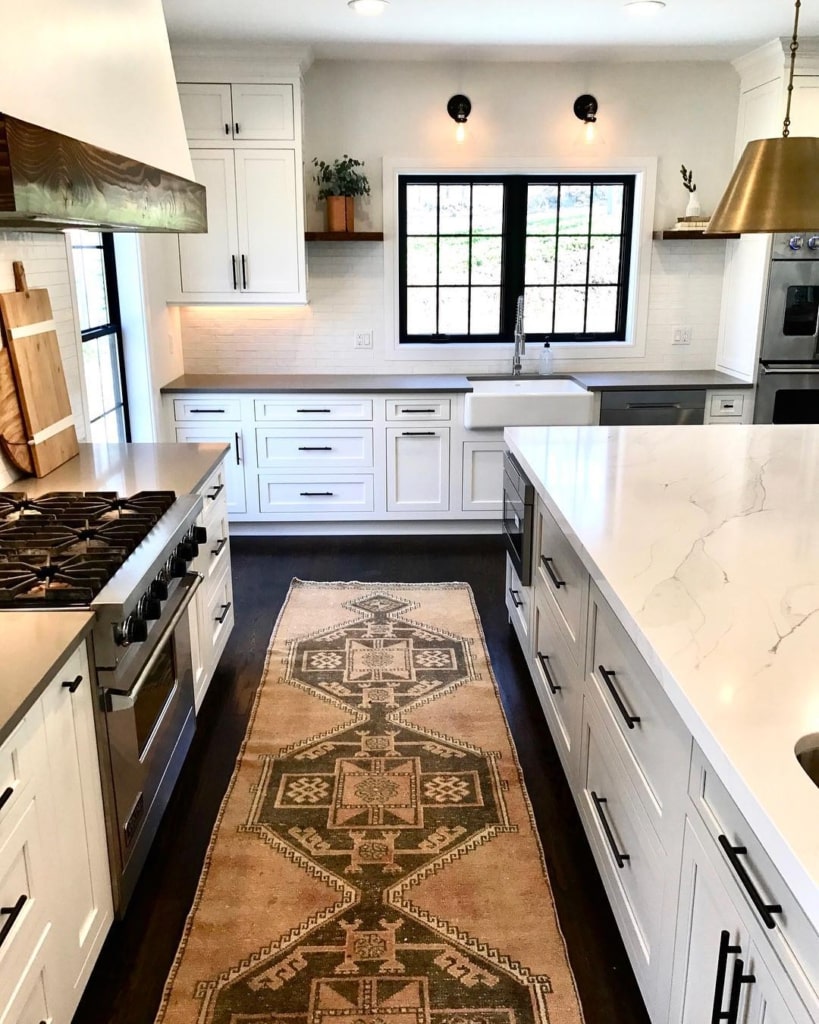 Everyone loves hexagons, but most of us are a bit skeptical when it comes to using them for a kitchen rug. This is a perfect example of large hexes that fill the bulk of the floor space without having to rely on a lot of intricate detail. As with some of the other designs described here, this rug fits the gap between the light-tone countertops and the dark hardwood floor.
Notice also that the rug can be thought of as being in three sections. Dividing the attention of the kitchen space into threes can really have a positive effect. Don't ask me how that bit of science works, however, because I have no good answer!
Oval Delight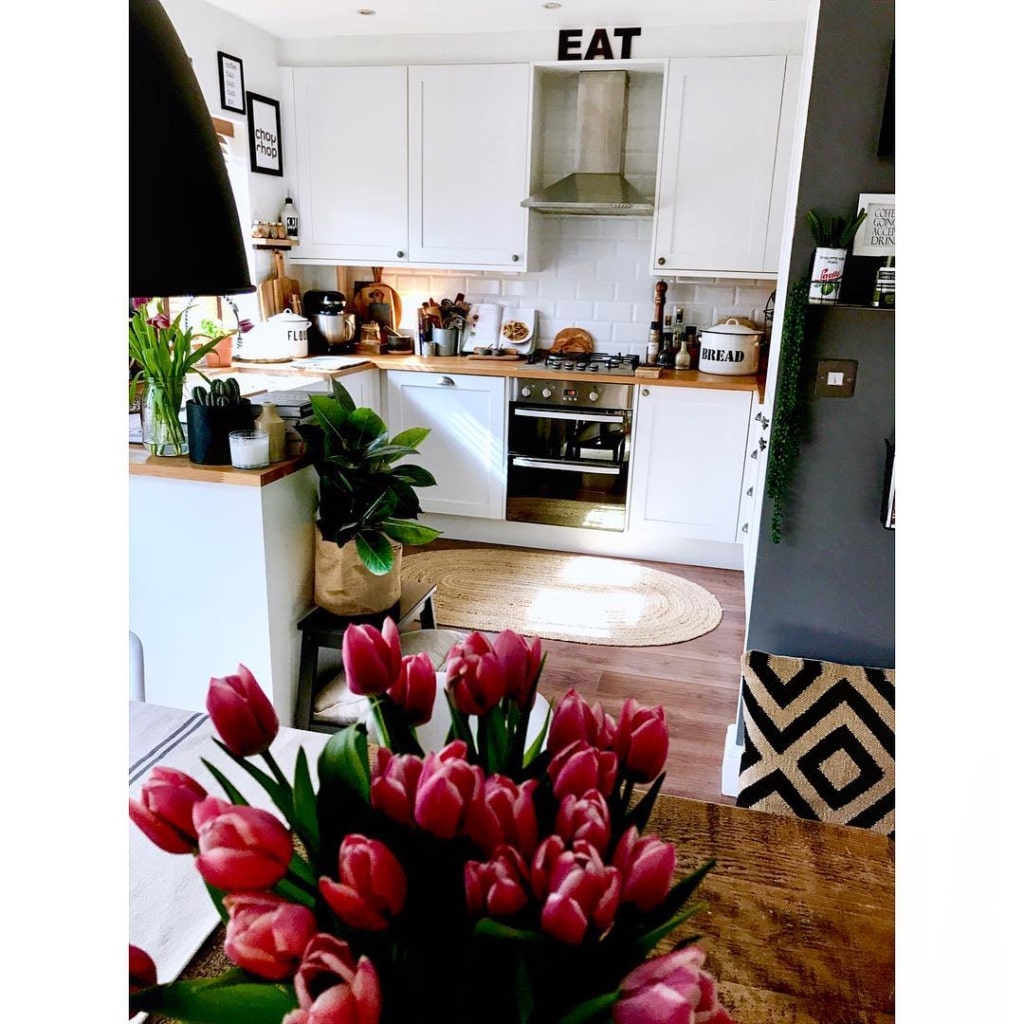 Smallish oval rugs the same shape as the one in your living room can help draw attention to any part of the kitchen. This type conjures up images of basket weaving. However, this material is probably synthetic.
Oval rugs will create the best impression if they moderately complement the floor tone. Lighter colors will be especially appealing to the eye if there's dark hardwood or tile flooring and a lot of white or off-white countertops and cabinetry.
Film Grain Black & White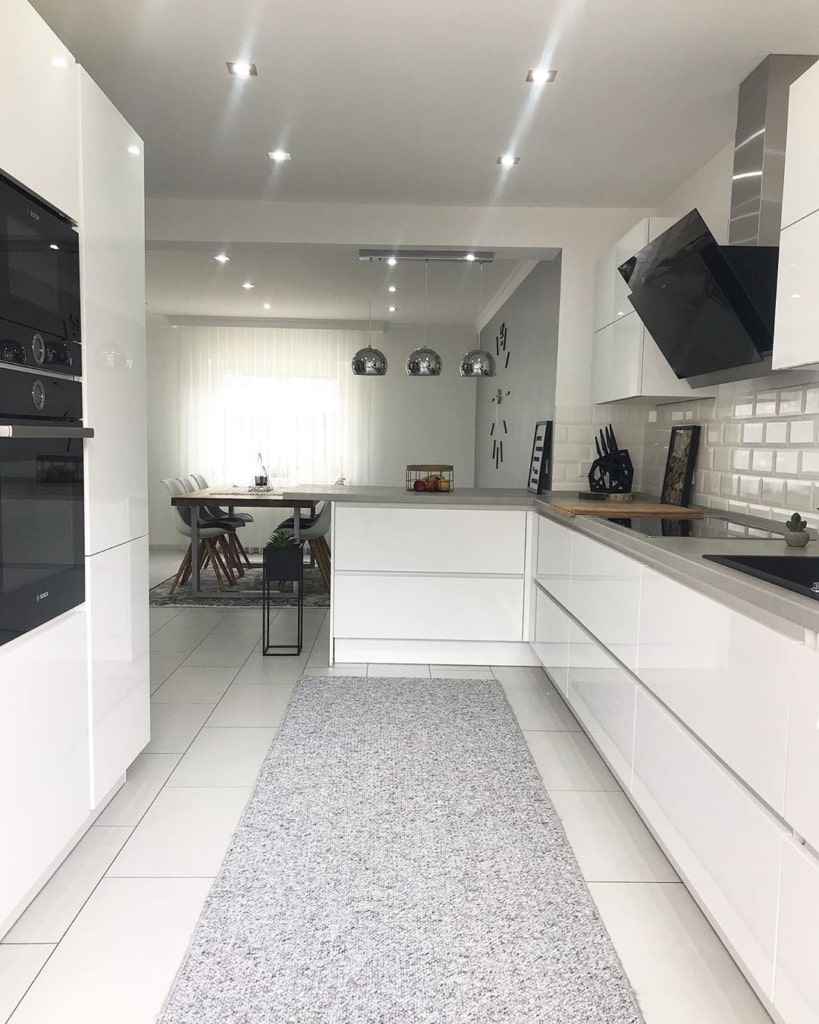 For some real character, consider a film grain style. Yeah, it looks like one of those old-time TV picture tubes when the channel goes off the air. However, just look at how subtly appealing this is.
Because it's centered in the tile floor, it actually creates the effect of a large inlay pattern. You have to look twice to see that it's really a kitchen rug, not a part of the flooring itself. I could stare at this rug all day.
Splash Of Gray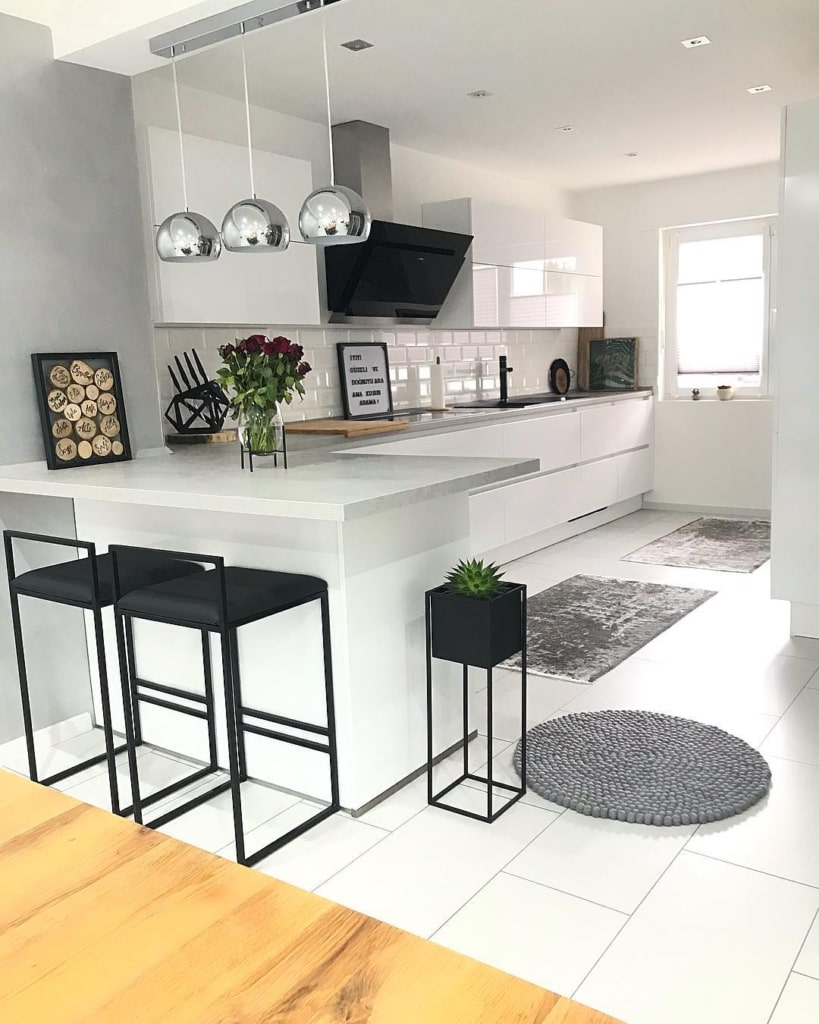 If you want a smaller rug to draw attention to an open area of floor, say the open partition between kitchen and dining area, a round rug made of wool might do just the trick. This image shows a gray/white patterned round rug on a light-toned floor. It's not too loud but does indeed draw attention.
This is the perfect complement style and tone if you're wanting to create a more contemporary, upscale appearance. It would work great around black and white barstools as well.
Triangle Trio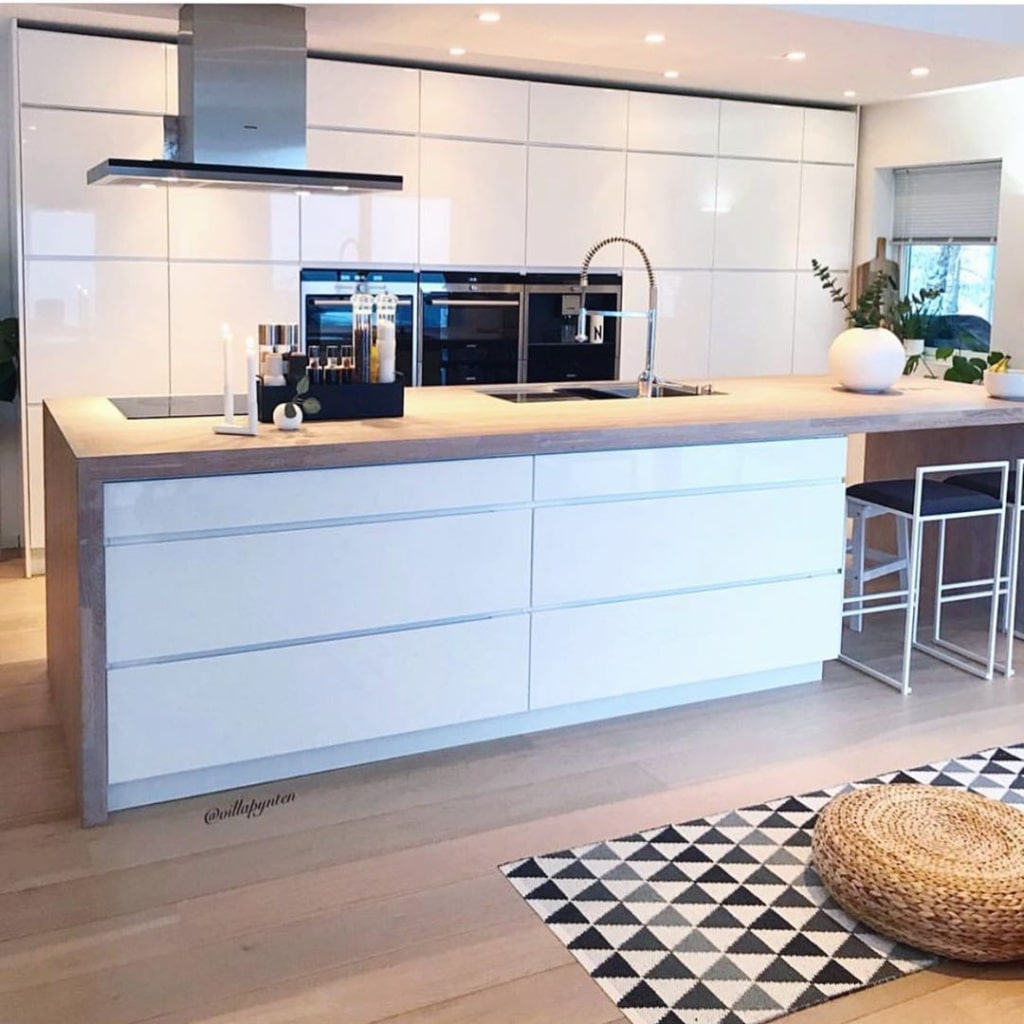 This medium-size runner that can be used in the bedroom as well focuses on interior geometry and utilizes three tones. No color is involved, but that's OK because the design itself is what draws attention. Notice that this rug is placed in front of a light blue counter.
Black and gray work well with blue tones because the overall appearance doesn't become too bright and glaring. Notice also that the triangles appear to point in the same direction as the floor lines.
Matching Moods
A larger kitchen rug for a wide floor area works best when the colors match some of the cabinet and appliance accents. This delightful mat has colors that perfectly match the cabinet and oven range handles. The overall effect is one of pleasing color balance.
This mat wouldn't work well if it contained green or red. Choose a large rug carefully based on the predominant color, and think about the overall picture, not just the color of the rug itself.
A Royal Runner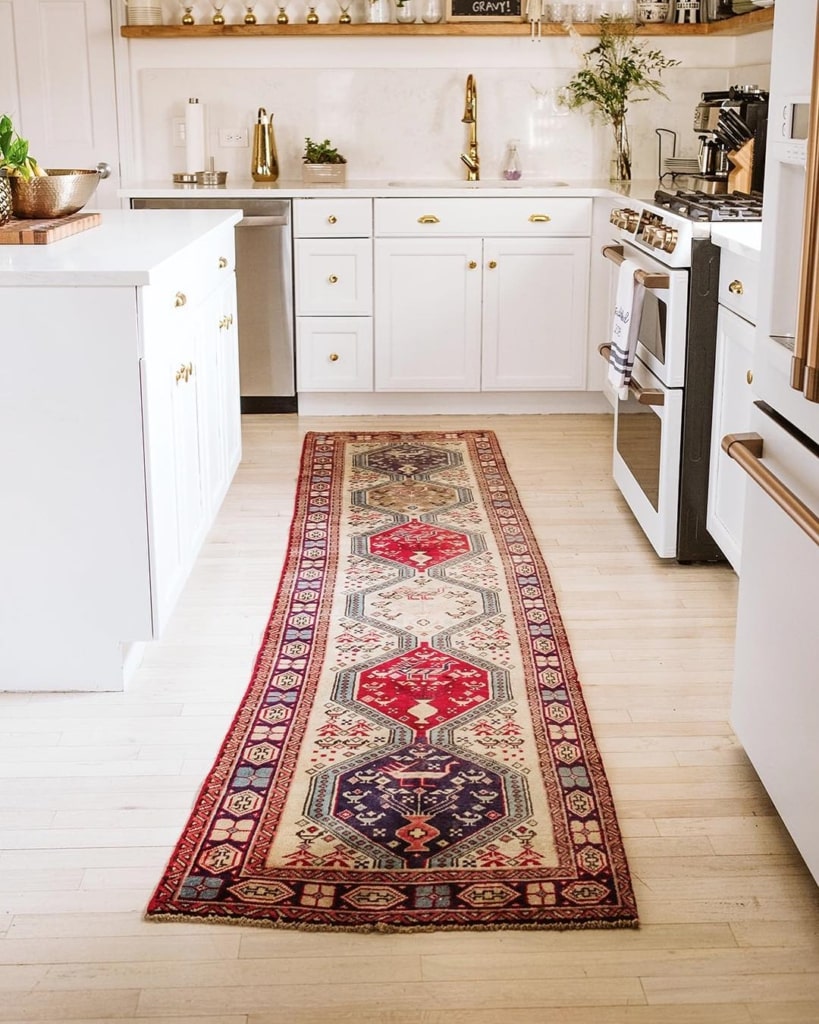 This fantastic rug has a thin border of geometric shapes matched by the larger shapes in the central inlay. It commands respect from all who see it.
Choose this type of runner if depth perception is the important factor. This image invites all to walk the length of the kitchen just for the fun of it. The longer the rug length is, the more appealing the contrasting colors become.
Elegant Fade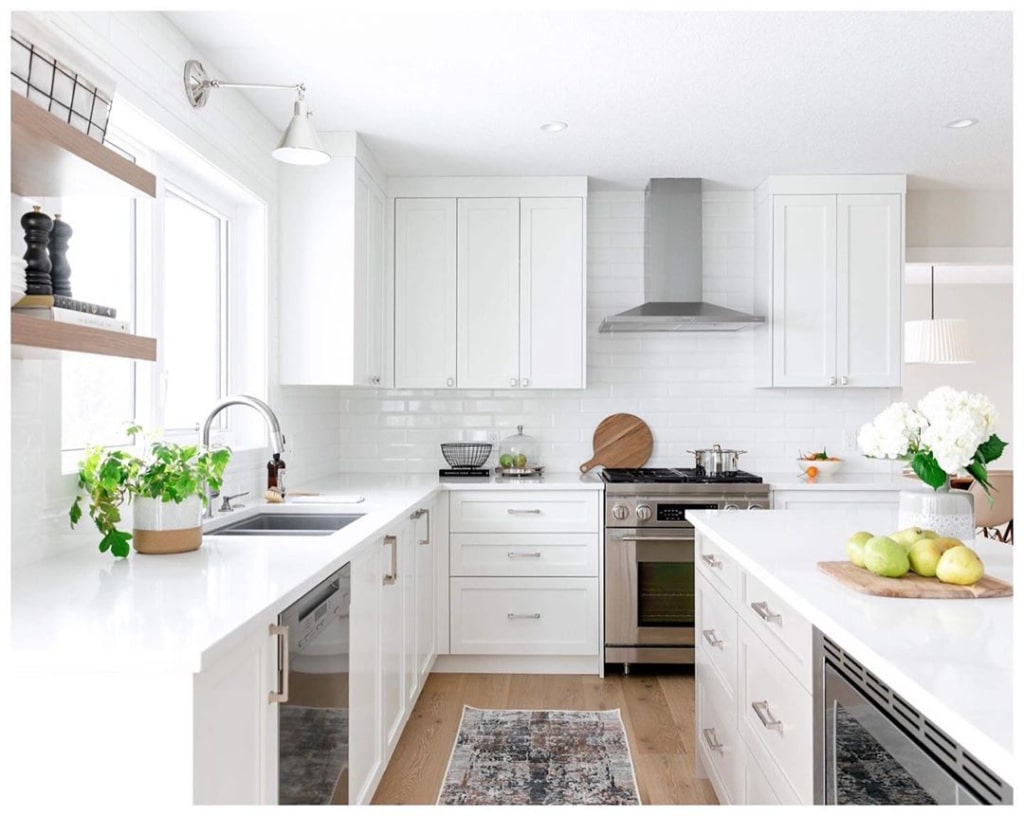 To give the hardwood floor some additional character, I suggest a kitchen rug that is just slightly off-tone from the wood itself. This creates a soft but natural image and will appeal to all who desire anything but loudness to the kitchen tones. If this rug was any darker, it would match the cabinetry but would also create too much of a tone differential with the hardwood.
Complementing Hardwood Flooring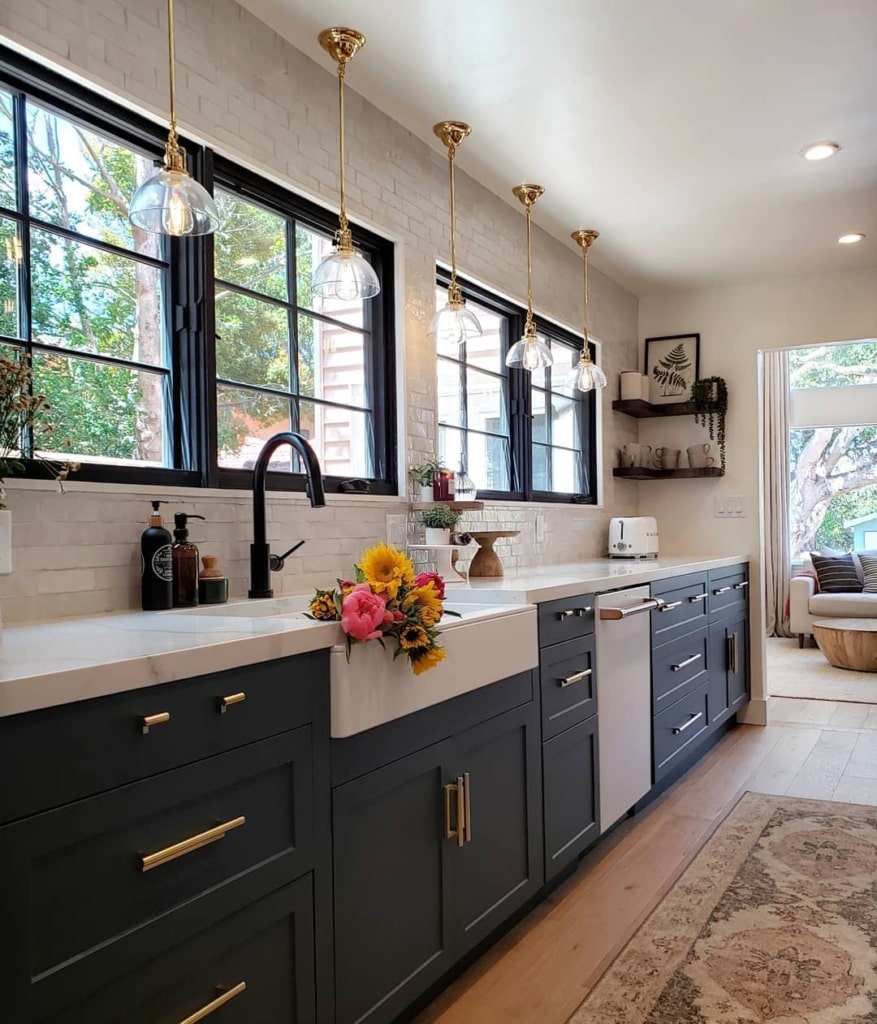 This arrangement is best when the verticality of the cabinetry needs to be complemented with a flat floor surface. The runner seen here nearly matches the floor tone, and this means a soft appearance to the floor without introducing harsh color combos that would destroy the visual beauty of the black cabinetry and white counters. Always be careful when choosing too many offsetting colors for the kitchen.
Roughing It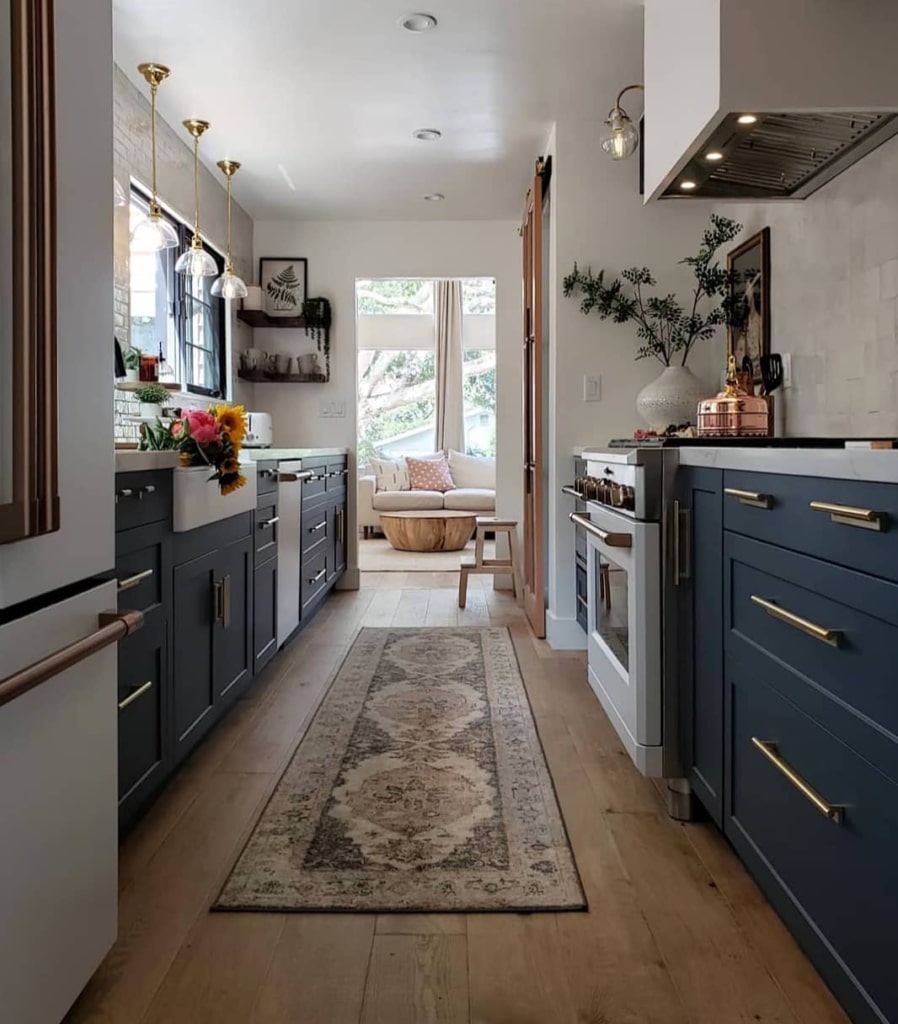 The rustic look gives the kitchen a feeling of work and accomplishment. A thick fiber rug stands well-above the floor level and exudes the idea of a workplace. However, it also presents a natural, handmade atmosphere to the kitchen.
Here, no outstanding or loud colors are present. The effect is one of semi-neutrality.
Match For Countertops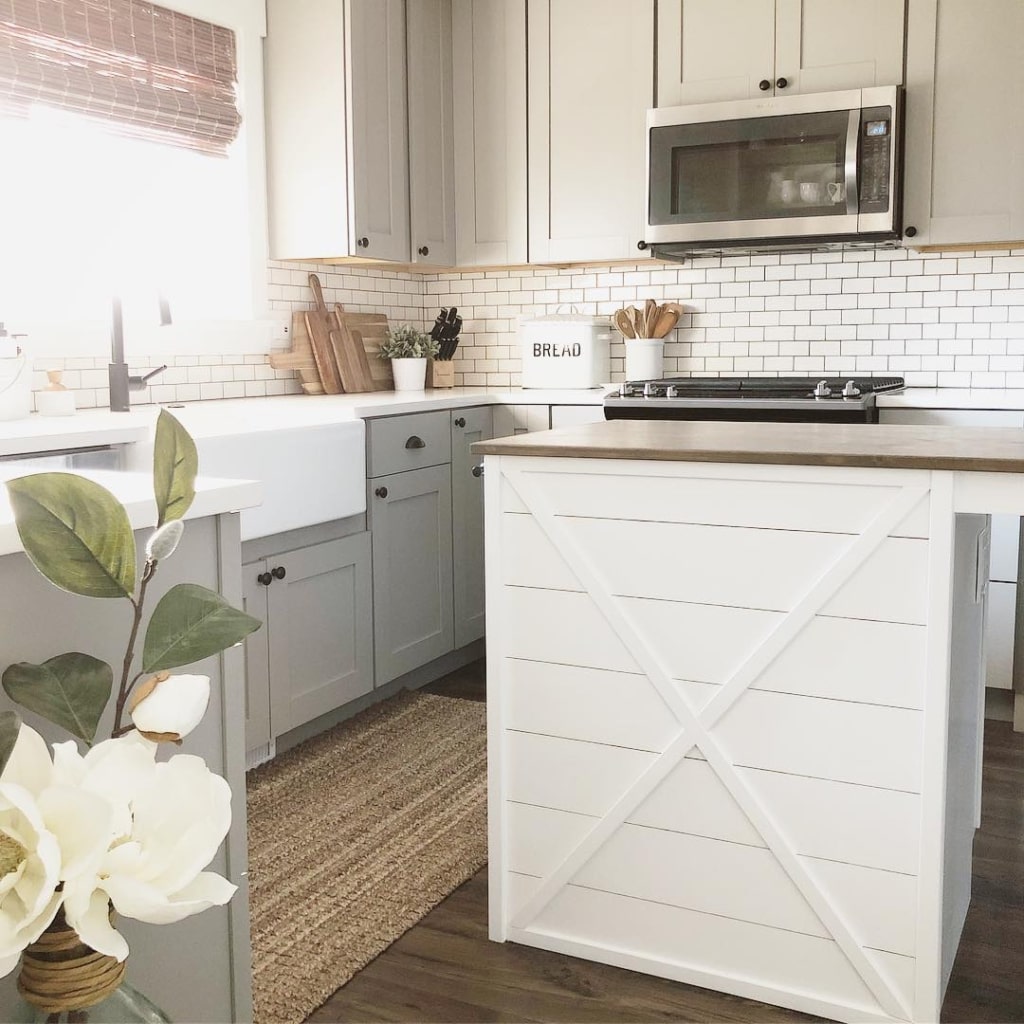 If your countertops are artful and present one of the primary kitchen tones, you might want to match the effect with a jute runner kitchen rug. This image presents a beautiful tone balance between the marble countertop and the floor. It looks especially good if the hardwood floor is of a rather dark tone.
A red or brown kitchen rug wouldn't have the same effect. It would combat the natural beauty of the countertop instead of enhancing it.
Rustic Standout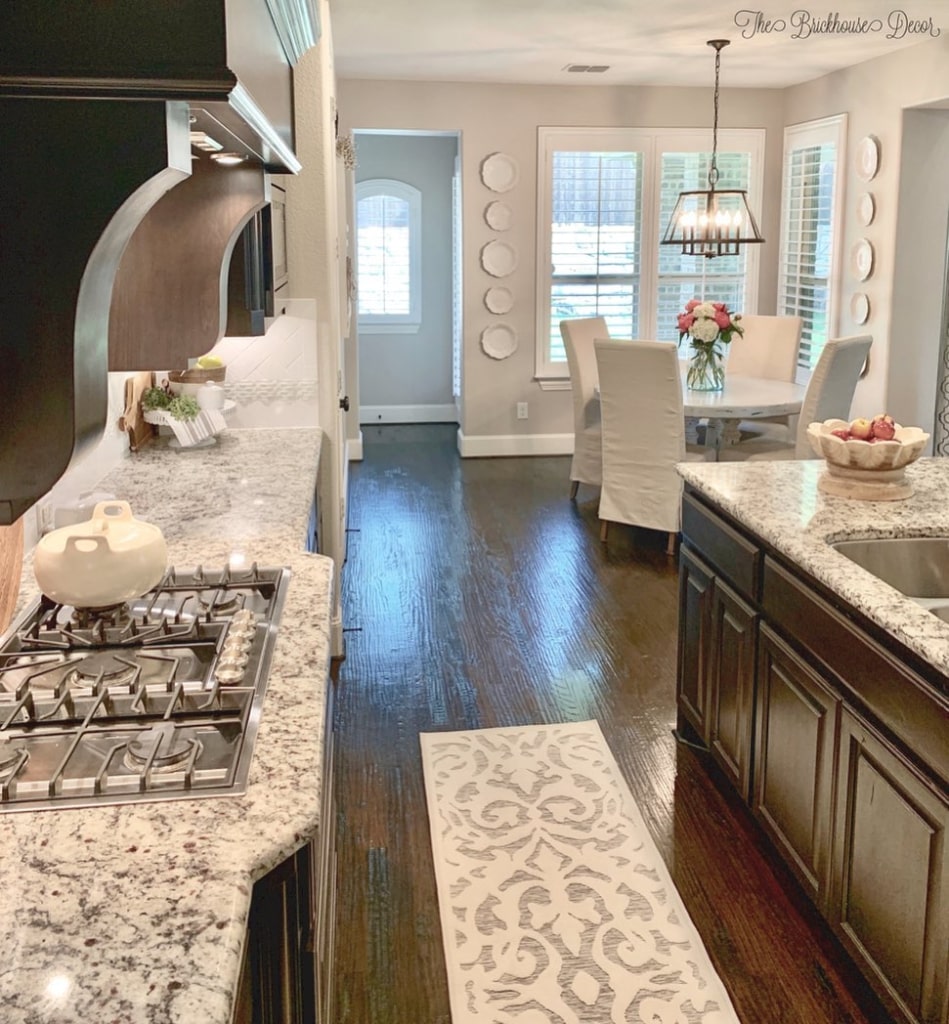 I love kitchen runners that have rustic styling. This mat looks strong because it is. It can withstand a lot of foot traffic, but it can also be easily cleaned with the use of the outdoor sprayer hose.
This shade only works with dark hardwood flooring. If the flooring is lighter in tone, consider a rustic mat that's dark red.
Square Is Beautiful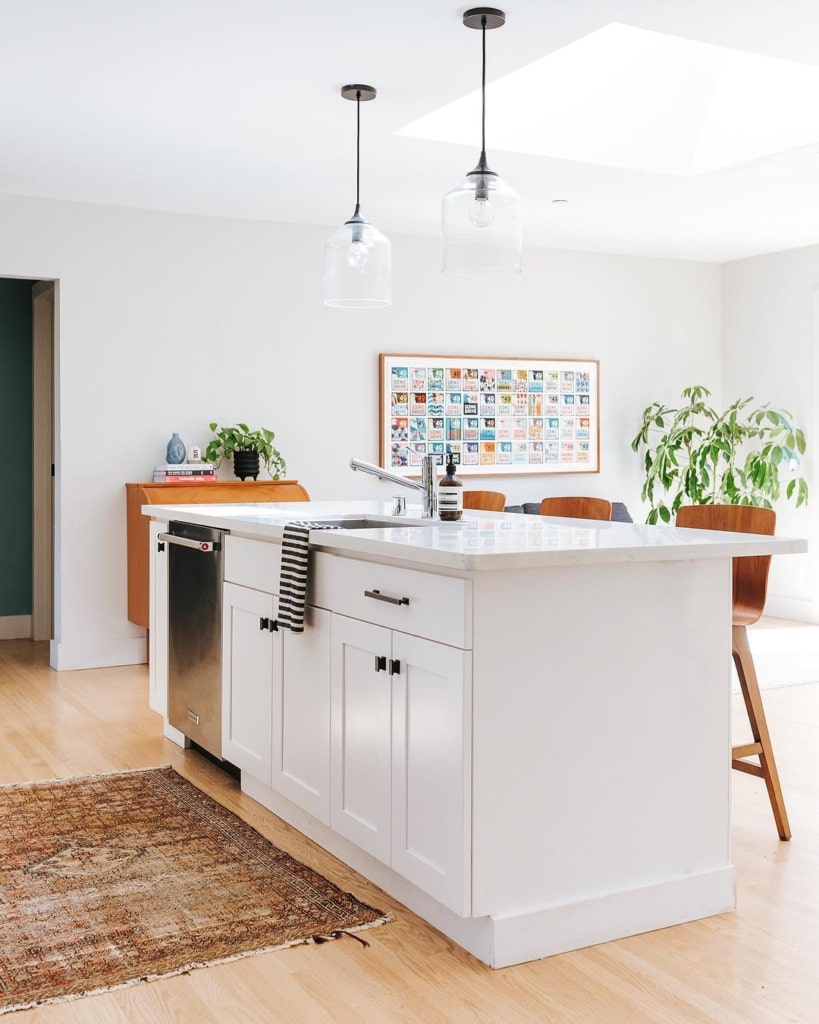 If your counters and cabinets are white or off-white, and if your floors are medium-tone, consider a big square kitchen mat that presents the darkest tone in the room. Here we see a great example.
The square mat commands attention in two ways. It's large and inviting, and it also darkens the atmosphere just a bit. It's now the primary tone in the kitchen.
Rustic Standout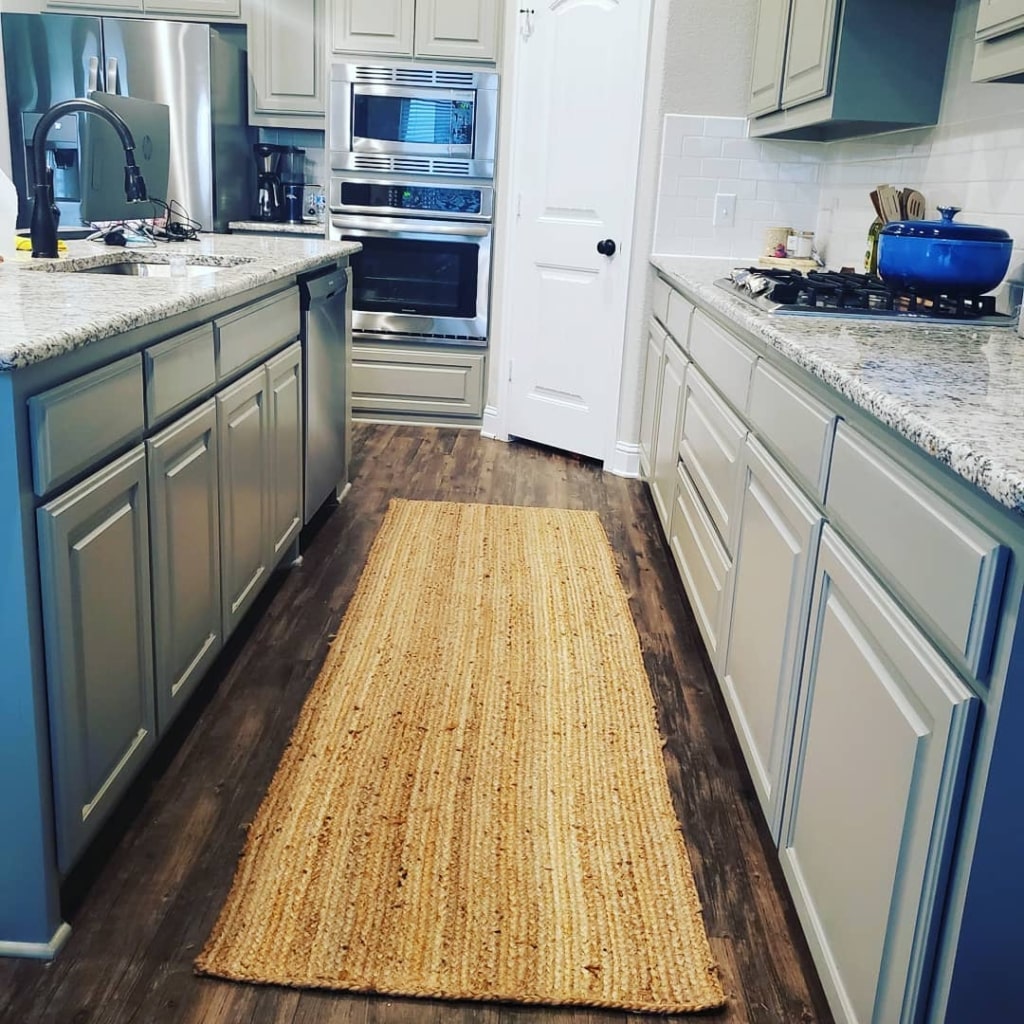 I love kitchen runners that have rustic styling. This mat looks strong because it is. It can withstand a lot of foot traffic, but it can also be easily cleaned with the use of the outdoor sprayer hose.
This shade only works with dark hardwood flooring. If the flooring is lighter in tone, consider a rustic mat that's dark red.
The Real Eye-Catcher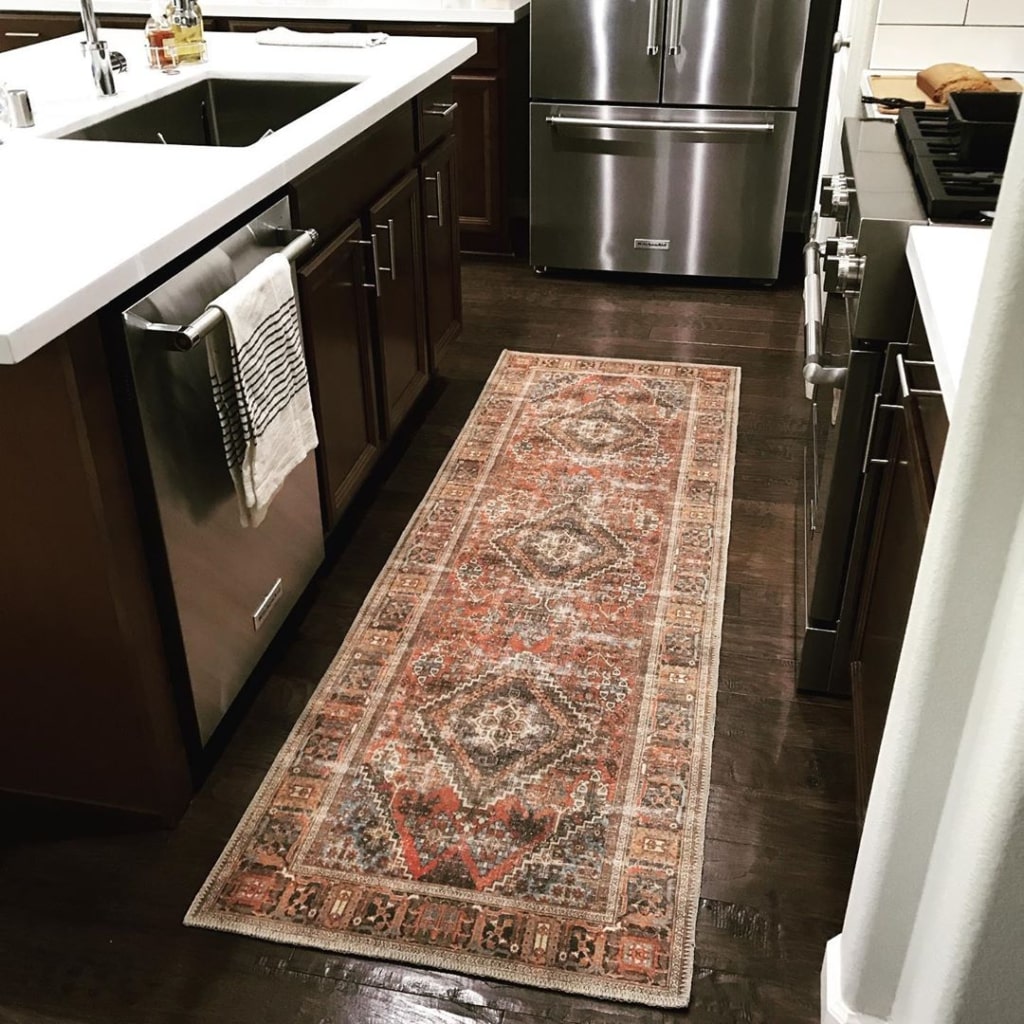 If both your flooring and counters are dark, you have the choice of a medium or light tone for the kitchen runner rug. Here we see a medium tone that blends the brown of the floor with the reddish-pink of the rug. The result is attention being drawn to the design pattern itself because the eye is already noticing the blending of tones that aren't all that different to begin with.
Warm & Homey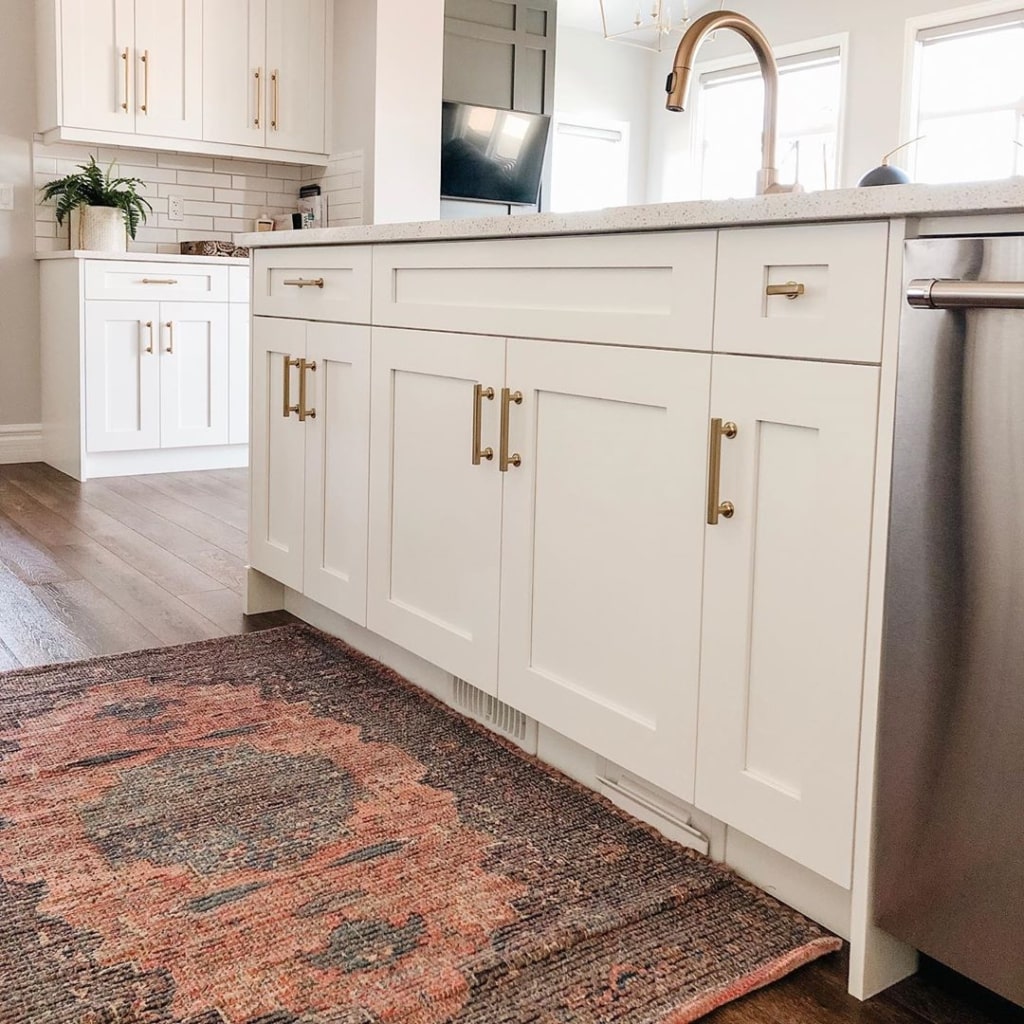 Semi-dark hardwood flooring matched with white or off-white cabinetry demands a kitchen rug that doesn't offend by presenting a new, powerful and primary tone. This rug is perfect because its tone is somewhere in the middle.
Its two tones are warm and inviting, so this is the mat you want if stark contrast isn't your thing. Everything looks homey but not too soft.
One & One Equals Two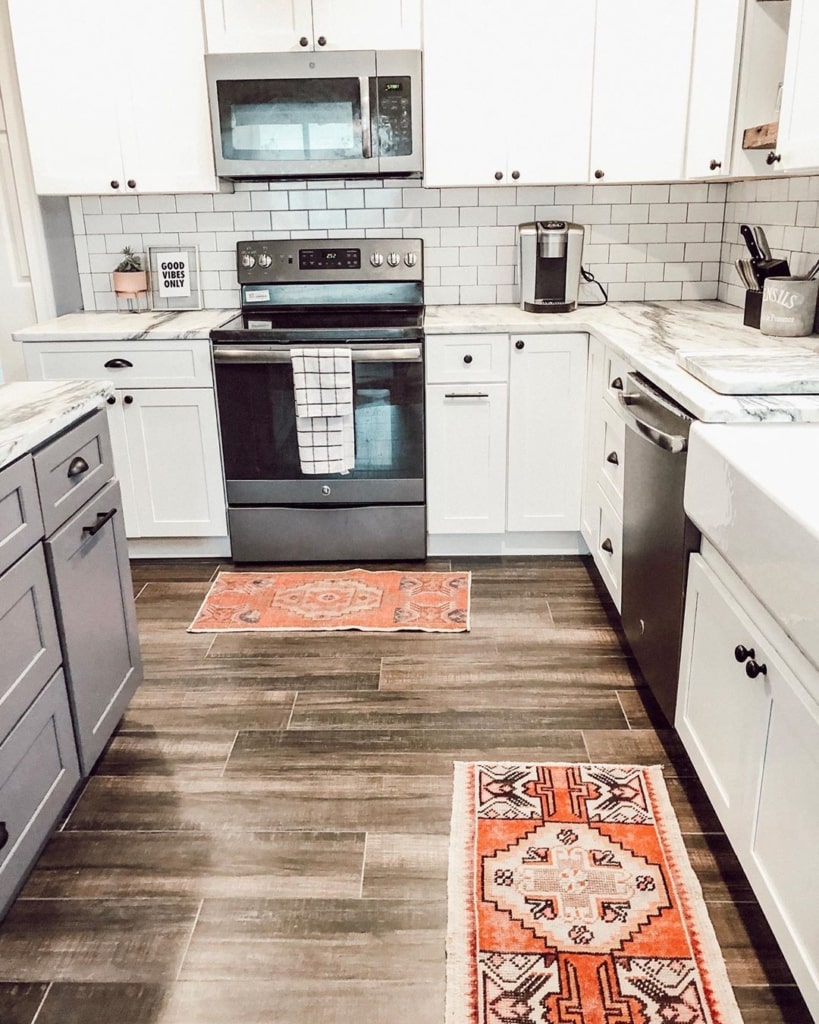 To cover small areas of a kitchen floor, consider two rugs. One can be placed in front of the oven range, and the other in front of a food prep area. These two rugs look like siblings but not twins. Notice how both of them brighten up the kitchen without overshadowing the beautiful tone of the flooring.
Inlaid Intricacy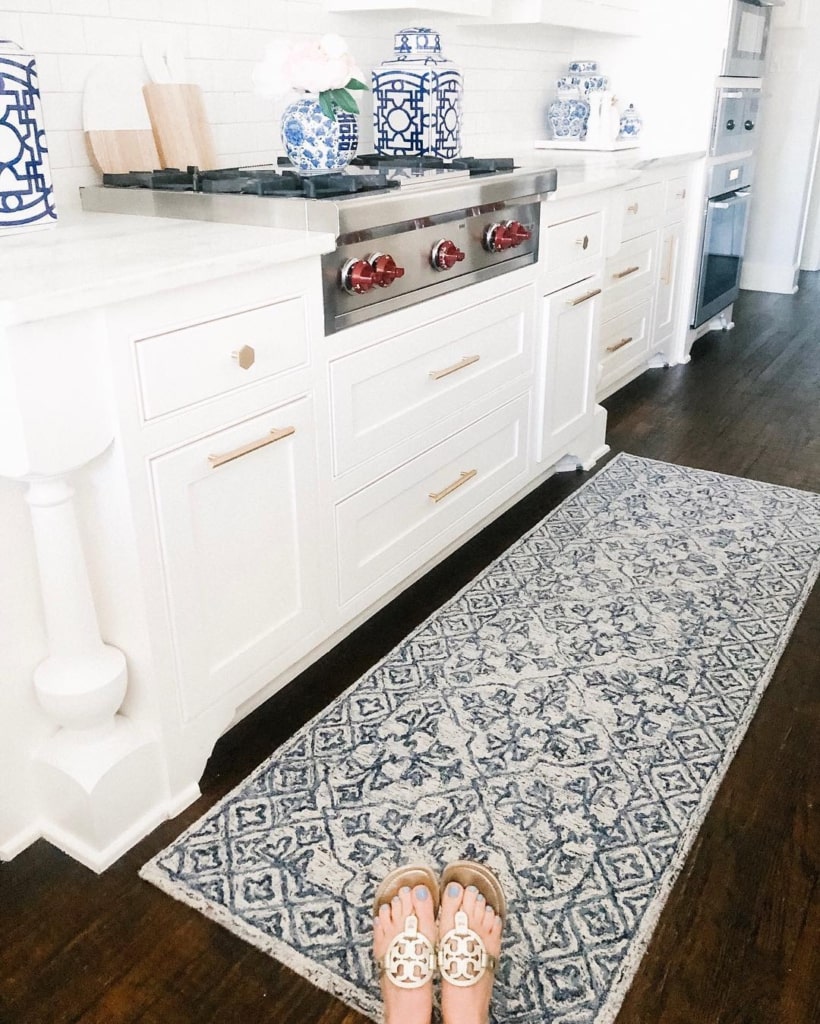 I like this rug because it's just two-toned, and most of the rug is off-white. The simple pattern around the perimeter is reproduced in the middle for the perfect inlay effect.
Think of this idea as a sort of stepping-tone for color transition between cabinetry and flooring. There's just a bit of overall color difference between the white of the cabinetry and the rug itself. This also makes the floor tone stand out even more.
Diamonds Plus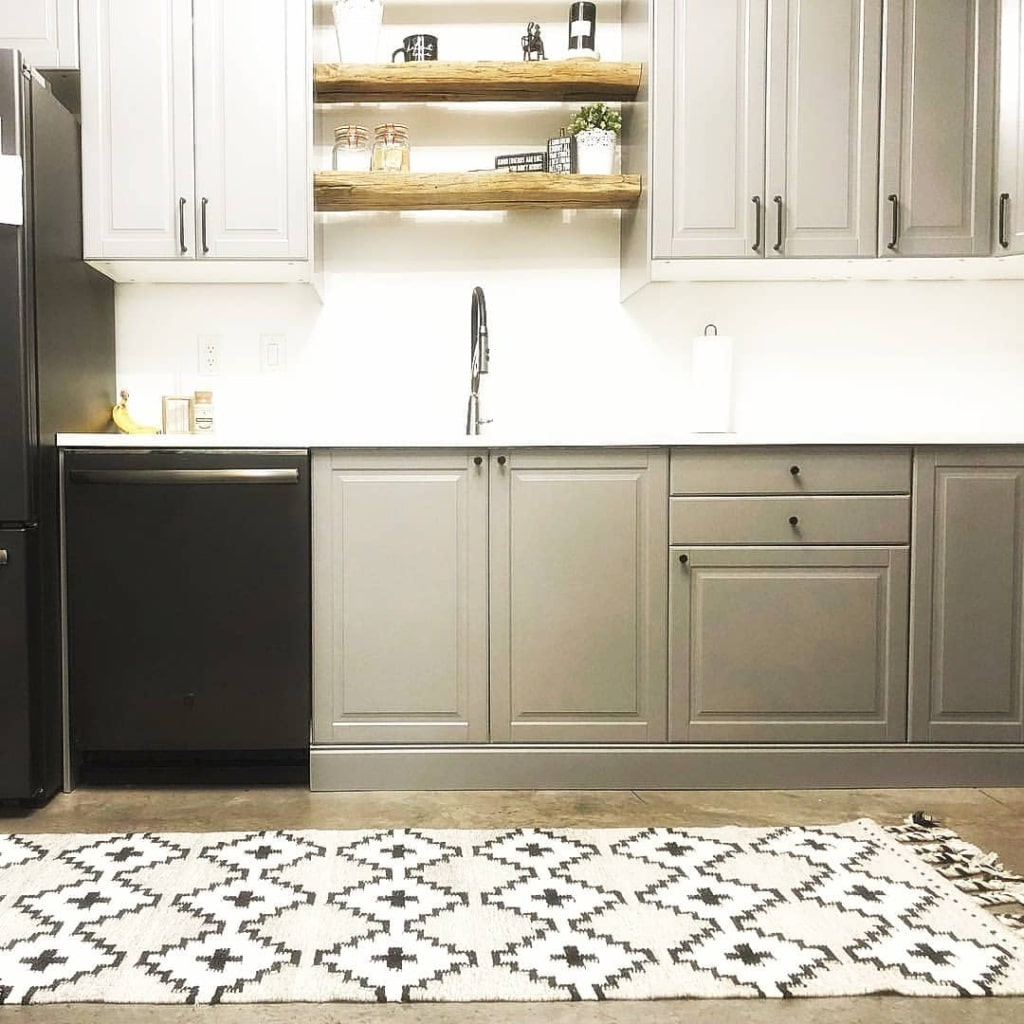 Diamonds can be a kitchen's best friend. You don't have to have diamond shapes on the wall tiles or diamond-shaped hangers for your pots and pans. All you need is a kitchen runner rug with diamonds.
This rug presents the primary white tone of the kitchen plus accents. It will go with any combination of dark or medium flooring and medium-toned cabinets and counters.
To Get You Started
Remember, the most important factors when choosing a kitchen rug are shape, size, material, and pattern intricacy. These images presented here are just a starting point for the determination of rug style for your own kitchen.
Take your time choosing a kitchen rug design that creates a positive atmosphere for the entire room. Don't focus on just the pattern or the color tones of the rug. Know the limitations of color contrasts and rug shapes before you shop.
Conclusion
Kitchen rugs are an inexpensive way to express yourself through the appearance of your kitchen. The kitchen is a workplace, but it can also present a real representation of you, the kitchen commander. A well-designed, tone-complementing rug or runner can truly bring your kitchen to life in just the manner you desire.