What is farmhouse-style living room decor? Basically, it's a combination of open-space furnishing and warm, gentle textures. The idea is to create a homey, comfortable atmosphere by mixing neutral color tones with soft, plush surfaces. To complement these tones and textures, some hard surfaces and rustic materials are used as well. Below, we offer a gallery of living room ideas that will give you a good feel for how this comfortable, rustic look is achieved.
In This Article We'll Discuss
Farmhouse Living Room Essentials
Most Popular Neutral Farmhouse Area Rug: nuLoom Moroccan Area Rug– "This area rug is seen again in again in our most popular farmhouse living room pictures. You've got to see it if your considering a farmhouse living room"
Popular Farmhouse Area Rug For a Splash of Color: Safaview Madison Collection MAD603k– "If you have a an accent color you want to highlight in an area rug this is the one to go with.  It still has that rustic farmhouse look just a little bit extra"
Best DIY Shiplap Wall: Timeline Shiplap– "If you're intimidated about adding shiplap walls to your living room you should see these. They're lightweight and super easy to DIY on a slow weekend."
Most Popular Coffee Table: VASAGLE Industrial Coffee Table– "One look at this stylish coffee table and it's pretty easy to see why it's a best seller. Looking for a budget friendly farmhouse coffee table? Check this one out."
Best Rustic Rug With Country Flare: Iron Gate Hand Spun Jute Rug– "Looking for that rustic country look? This rug was the most popular that we found in our most trending country living room pictures"
Most Interesting For an Entryway: Smartstand Heavy Duty Double Sliding Barn Door Kit – " It's easy to see why this barn door kit is so popular. Most people will find this to be an easy and unintimidating way to set up barn doors."
Recommended Read: Cheap Couch Covers
Stark Contrast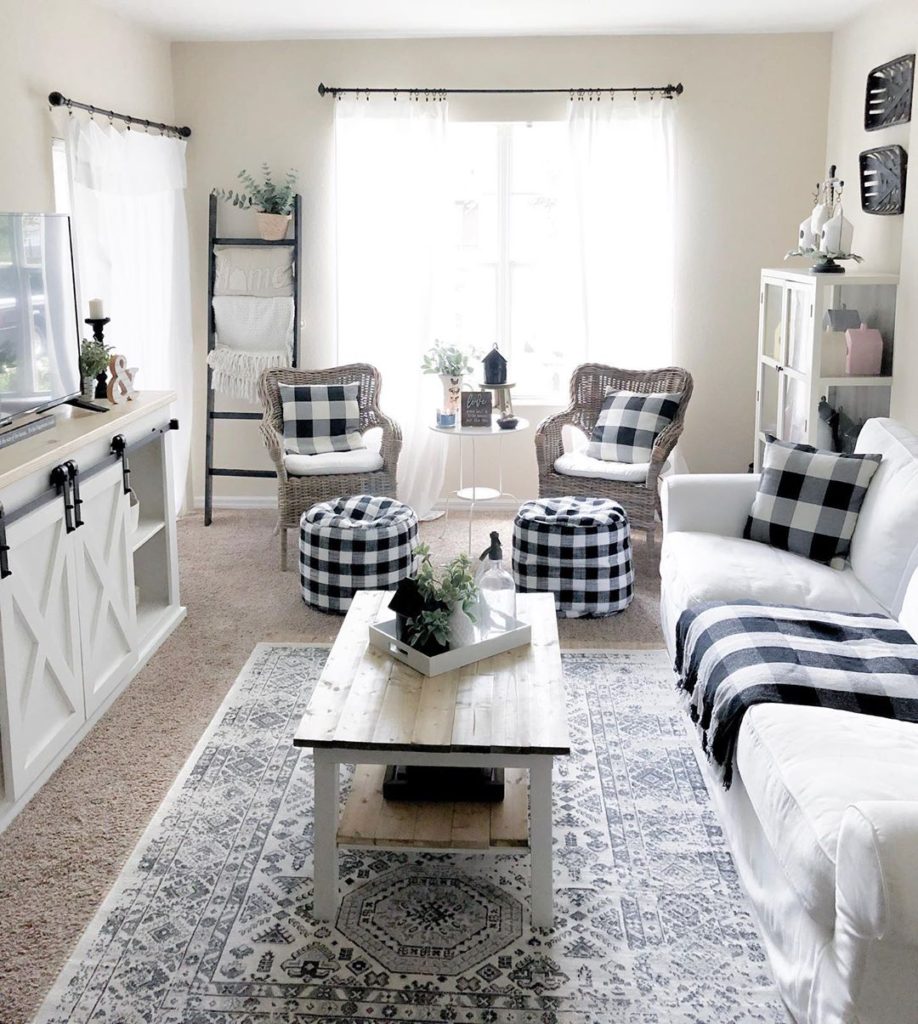 Black and white contrast is very appealing so long as the color mix is gentle and gradual. This example shows how black and white rugs, furniture, cabinetry, and window shades can create a stunning look without making the eyes water. No additional complementary colors are needed to create this simple, comfortable living room atmosphere.
Recommended Read: Best Cheap Sectional Sofas Under $500
Cozy Corner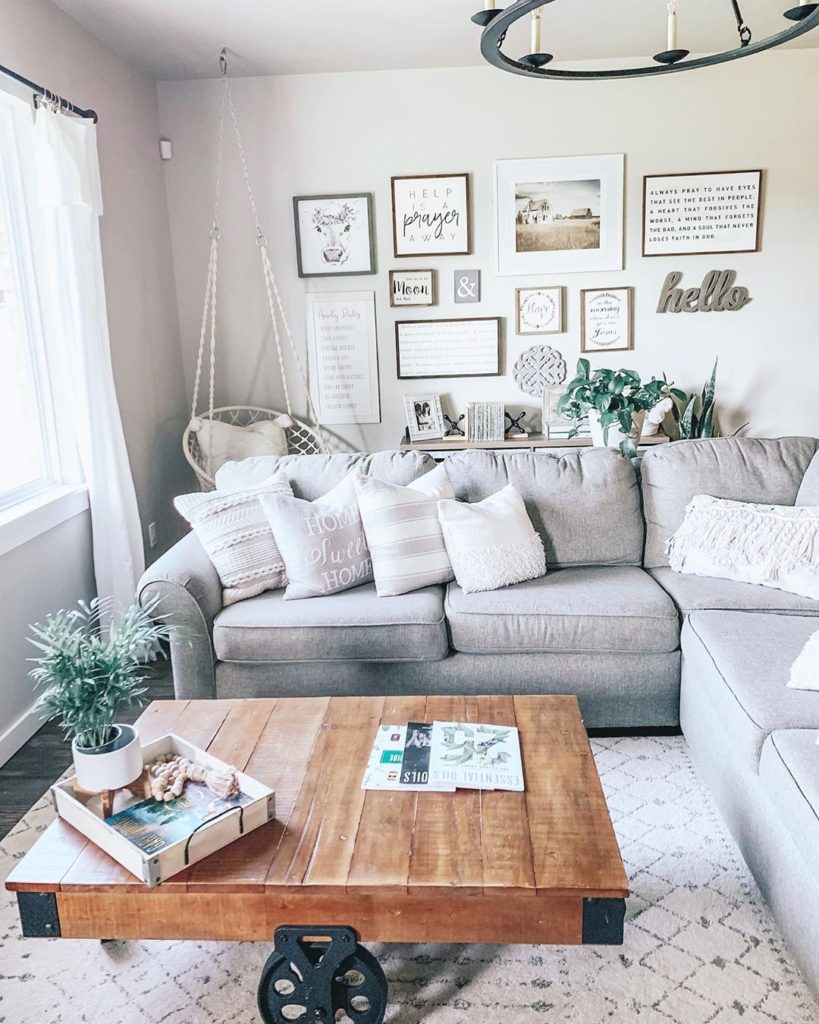 One wall is covered with pictures or other objects, and the other wall is dominated by a viewing window. A soft-surface couch or love seat, piled with pillows, creates an inviting atmosphere. It's the place to go to read a book or just to relax and rest the mind. Notice the rustic table set on wheels. This is a simple-to-create farmhouse living room section that sets the area apart from the rest of the indoor environment.
European Influence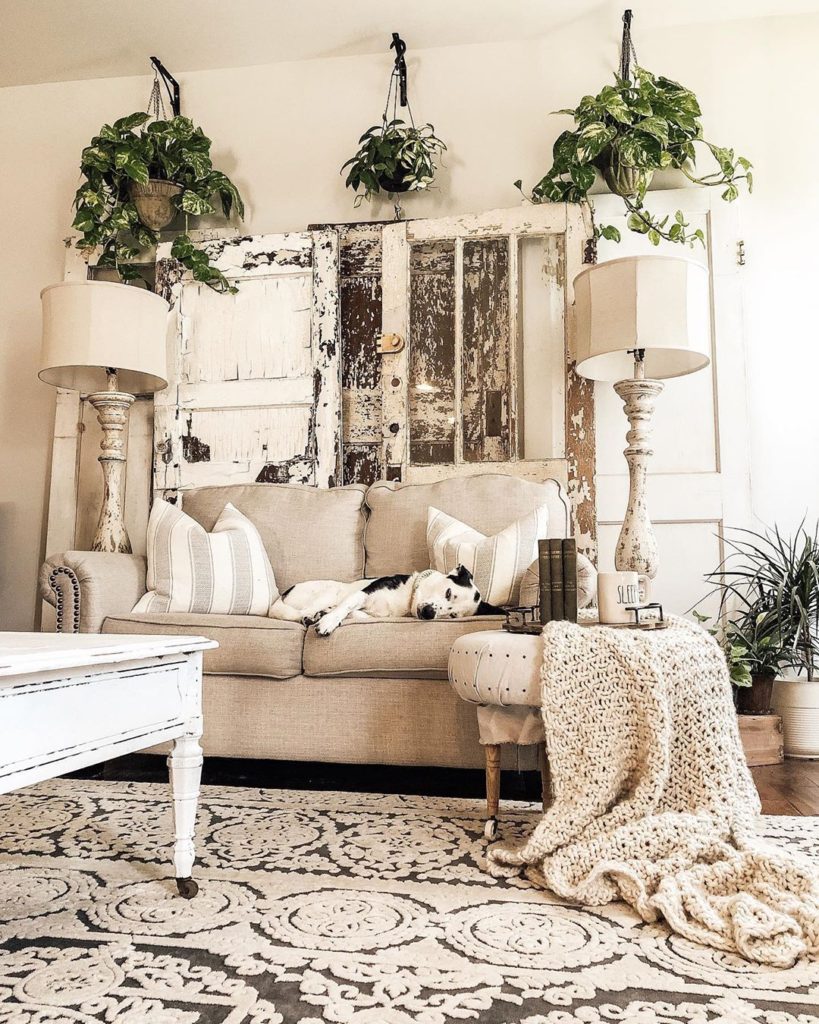 This amazing creation uses a lot of white tone and some sculpture-like accents. The white is complemented by the hanging plants. Note also the gentle complementary tone of the small sofa. It isn't in stark contrast with the walls or rug, so the result is a gentle, comfortable appearance. The darker tone of the wood floor doesn't dominate because most of the surface is covered. There's just enough of the hardwood to create a tone balance.
Comfortable Modern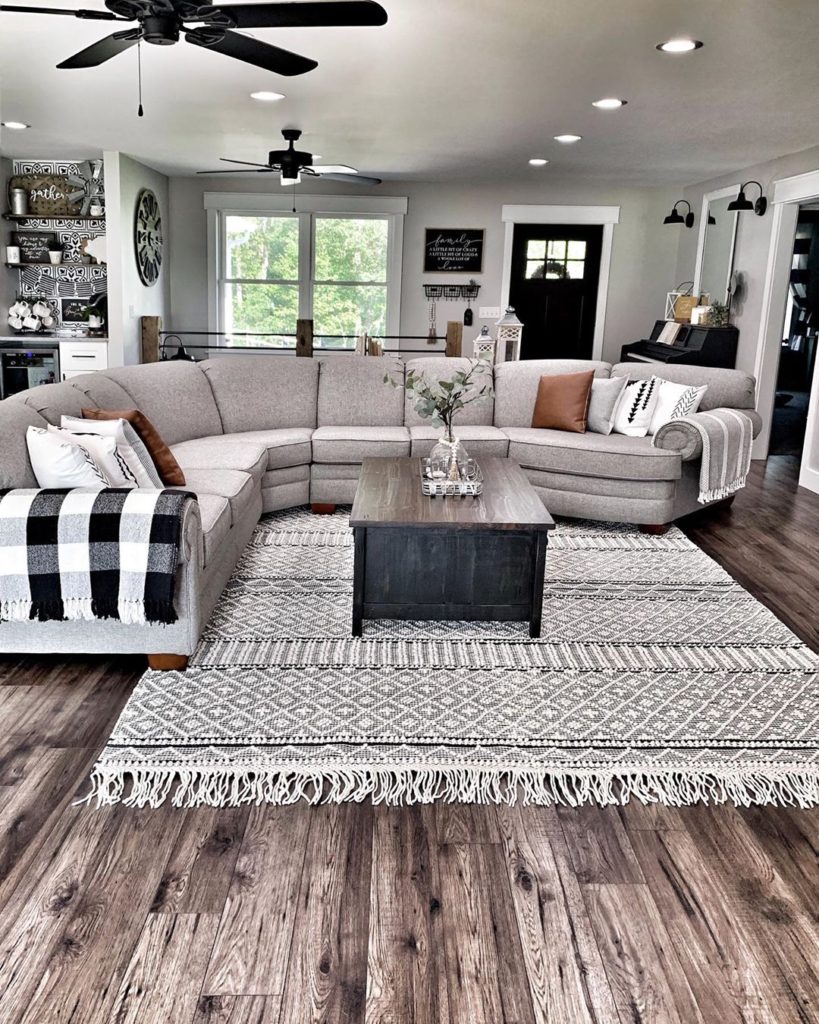 For a larger living room area with lots of windows and easy access from the rest of the house, consider a huge sectional sofa and a dominating floor rug. This example shows how to combine the medium-dark tone of the floor with one or two contrasting tones. The black doesn't dominate, and neither does the white. Plenty of pillows help to create a truly relaxed, farmhouse-style atmosphere. 
Recommended Read: Best Throw Blankets For Couches and Beds 2019
Open Concept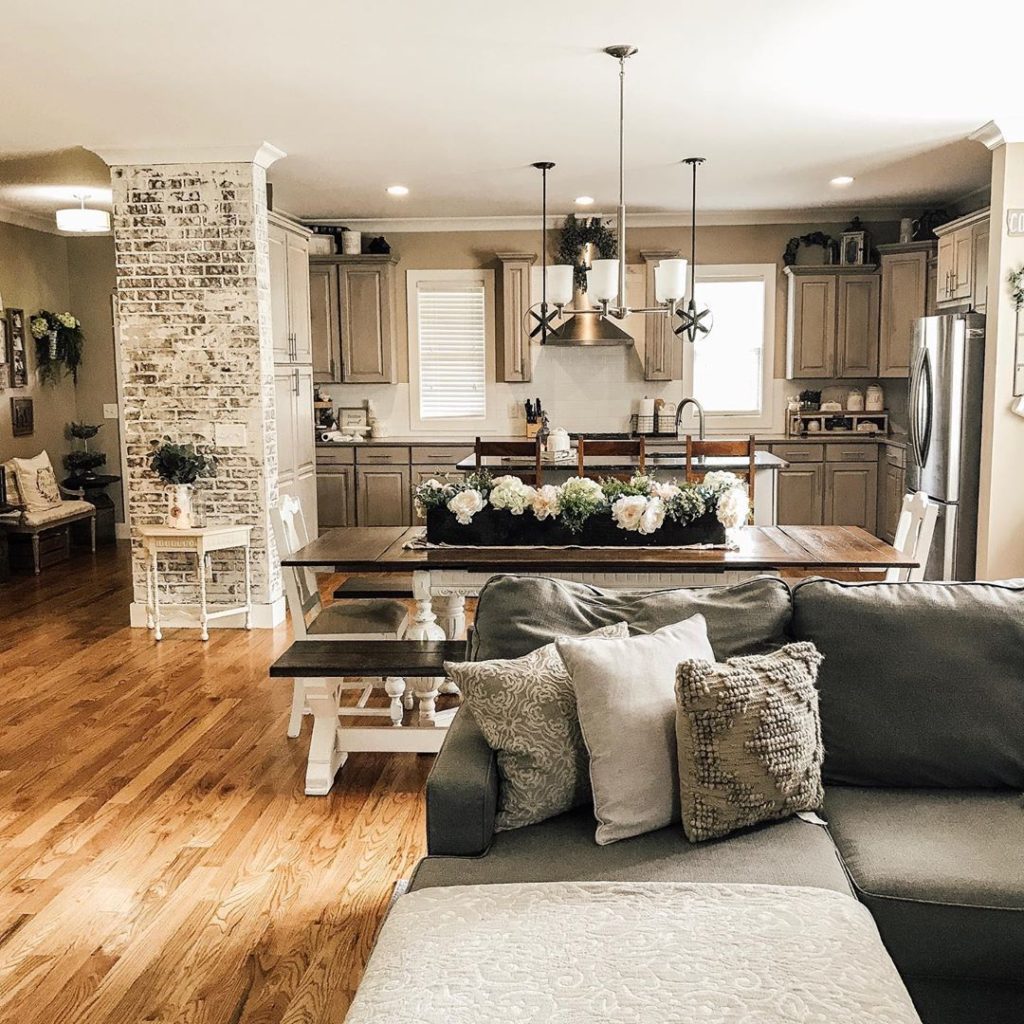 This example shows both the living room and kitchen. Of particular interest are the rustic hardwood floor and the whitewashed pillar that resembles a brick wall. The kitchen tones are rather neutral, and they are not sharply contrasted by the table or sofa. Wooden chairs and small tables, strategically located, help to create the perfect living room environment.
Built To Last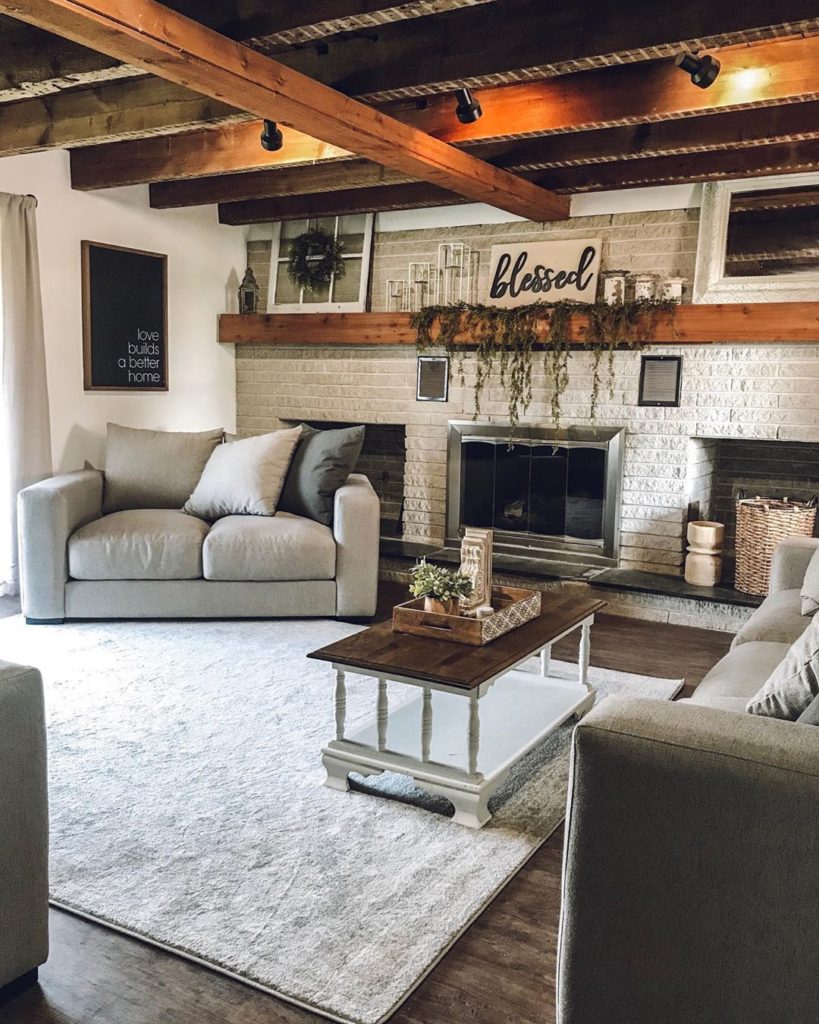 The wood beams that form the ceiling give this room a truly rustic look. The brick wall is an extension of the fireplace and gives the whole room a feeling of strength and timelessness. The furniture is neutral in tone, and the white floor rug really makes the whole room look bright but not too dazzling. Again, the idea is to create something that's homey and comfortable on the eyes.
Recommended Read: Everything You Need to Know About The Average Sectional Sofa Measurements And Their Sizes
Clever Accents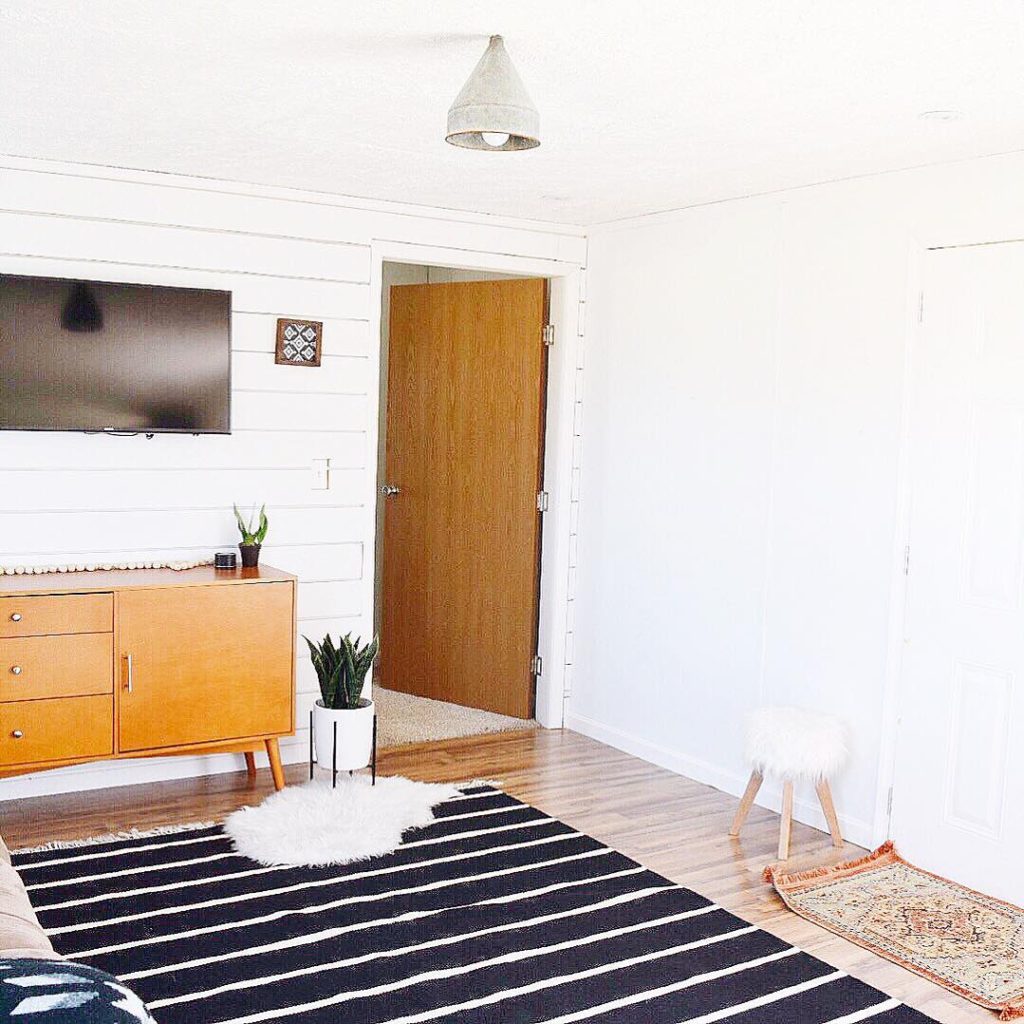 This room has a hardwood floor, a hardwood wall, and a painted wall. The entire wall surface has been whitened, and the rug works as a color tone that complements the floor. An affordable way to give any smaller living a look of gentle appeal, the use of paint, a throw rug, and a few dark-toned wall ornaments changes everything from a dull environment to a comfortable, lived-in setting.
Recommended Read: Where To Buy The Best Farmhouse Rugs & Save
Soft And Plush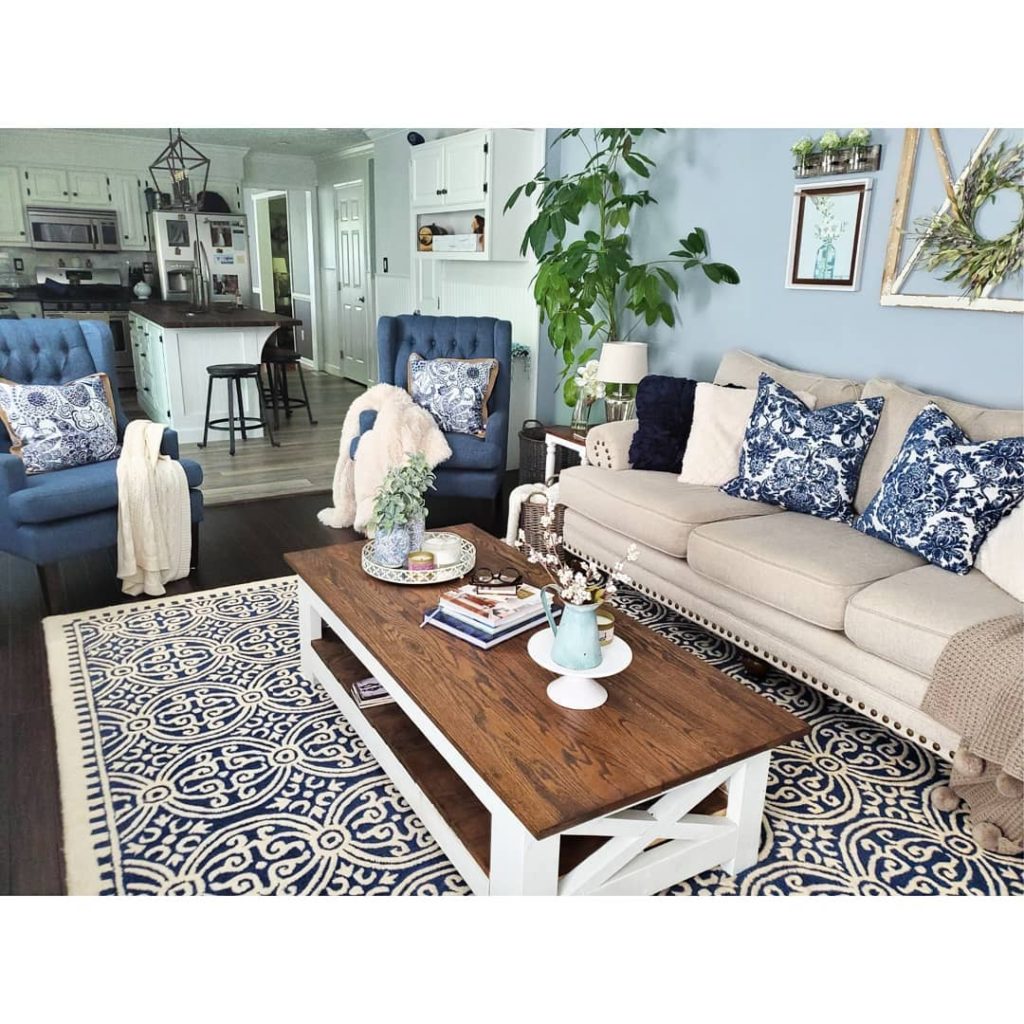 This is an open space design. The atmosphere of the living room is quite different from the adjacent kitchen, however. The overall look is bright thanks to the colorful tones of the pillows. All of the furnishings are soft and gentle in appearance, and the blue tone doesn't negatively contrast with the hardwood floor.
The Lived-In Look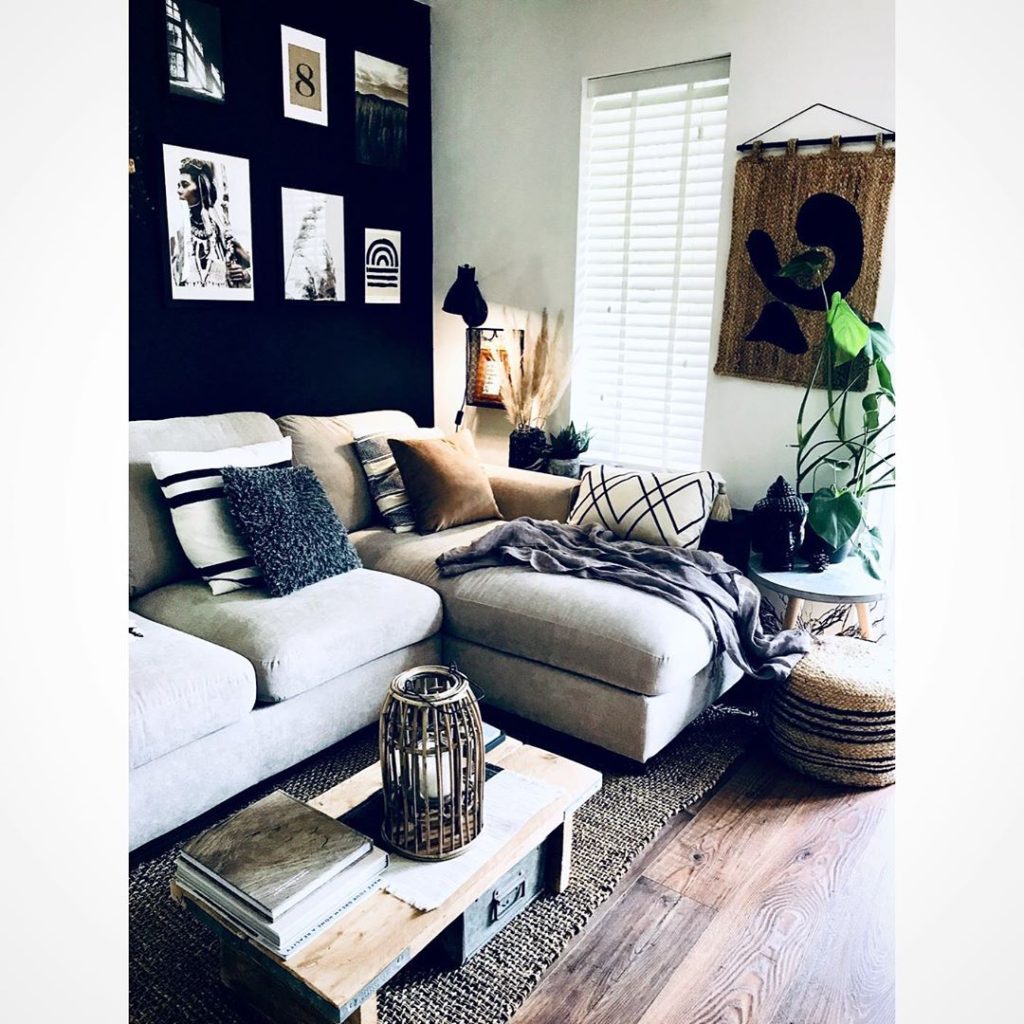 The living room shouldn't appear like a showroom. It should appear as though someone really lives there and enjoys relaxing in a comfortable setting. This example includes a wooden table, a woven floor basket, and simple, homemade wall furnishings. It's the place to settle down with a blanket wrap and read a favorite novel.
Big And Airy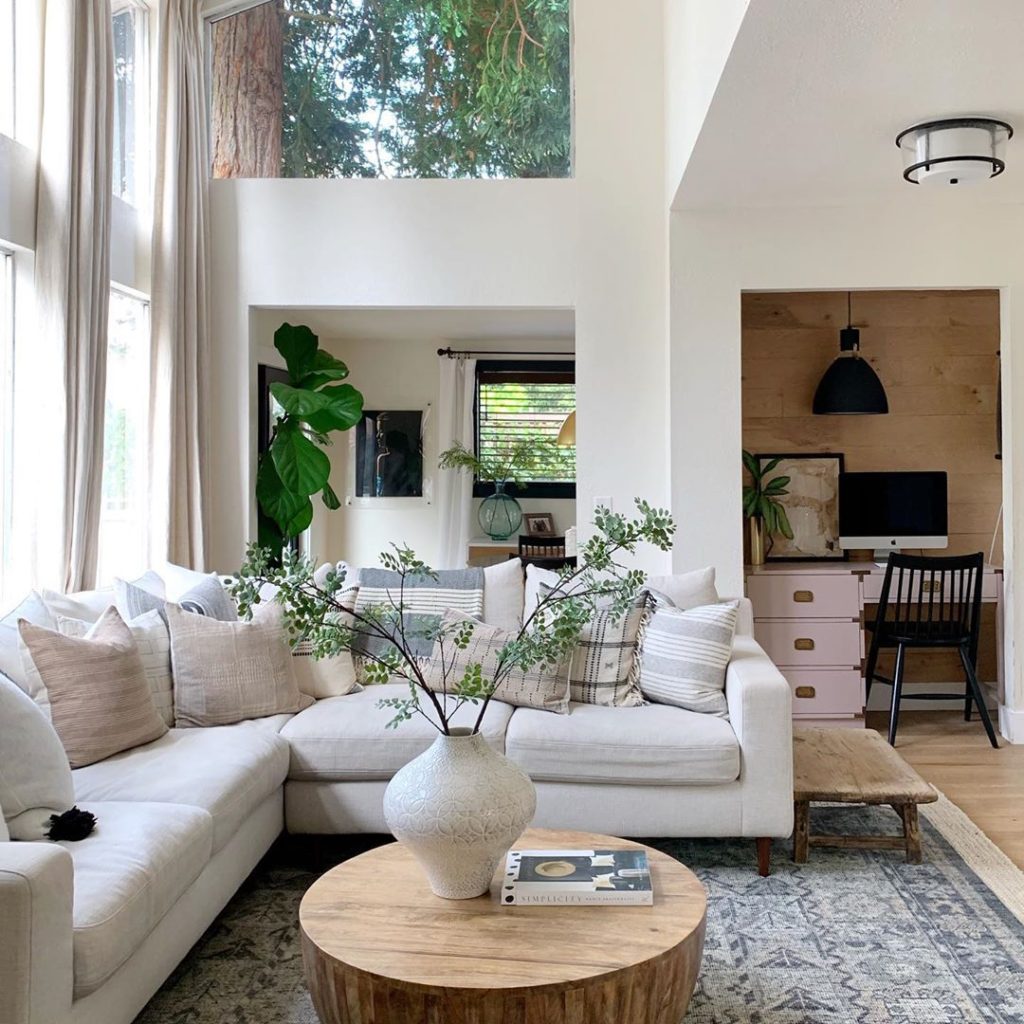 If the living room has a high ceiling and lots of window space, consider a very open look using a sectional sofa and a colorful throw rug. In this example, the walls are white, the window shades are slightly off-white, and the sofa nearly matches both. The floor rug also has a dominant light tone. 
Less Is Better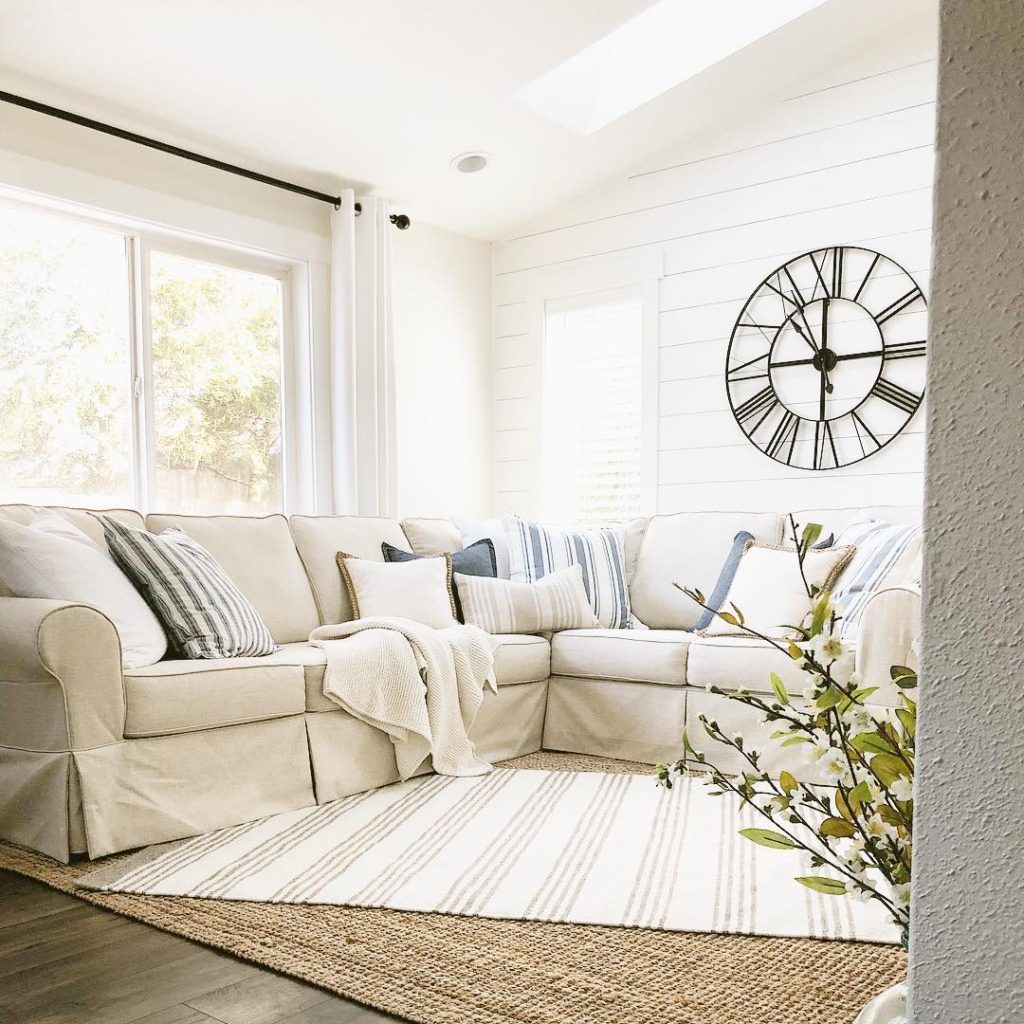 This corner area of the living room utilizes the space well with a sectional sofa. The walls are painted white, but the texture of the wall surfaces isn't hidden. The soft, simple surface of the sofa exudes a feeling of comfort. Notice the clever use of the textured, natural-fiber rug that acts as a buffer between the darker hardwood floor and everything else.
Simple Luxuries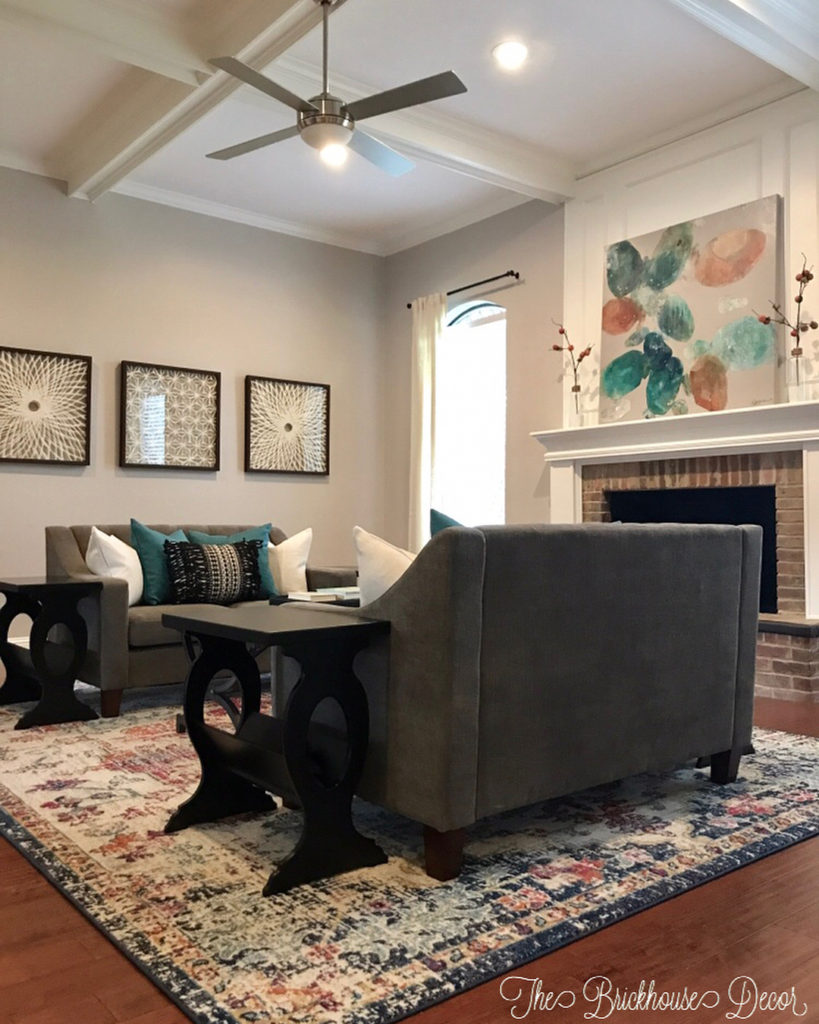 A great challenge is to design something that looks extravagant but still gives off the feeling of simplicity and comfort. The brick fireplace is truly farmhouse, and the rug-covered floor is in gentle tone contrast to the white walls. The sofas are contemporary, but they're mated to a couple of thick, dark-toned end tables that give the room a slightly rustic appearance. Nothing here is expensive, but the overall look is grand.
Neutral Tone Charm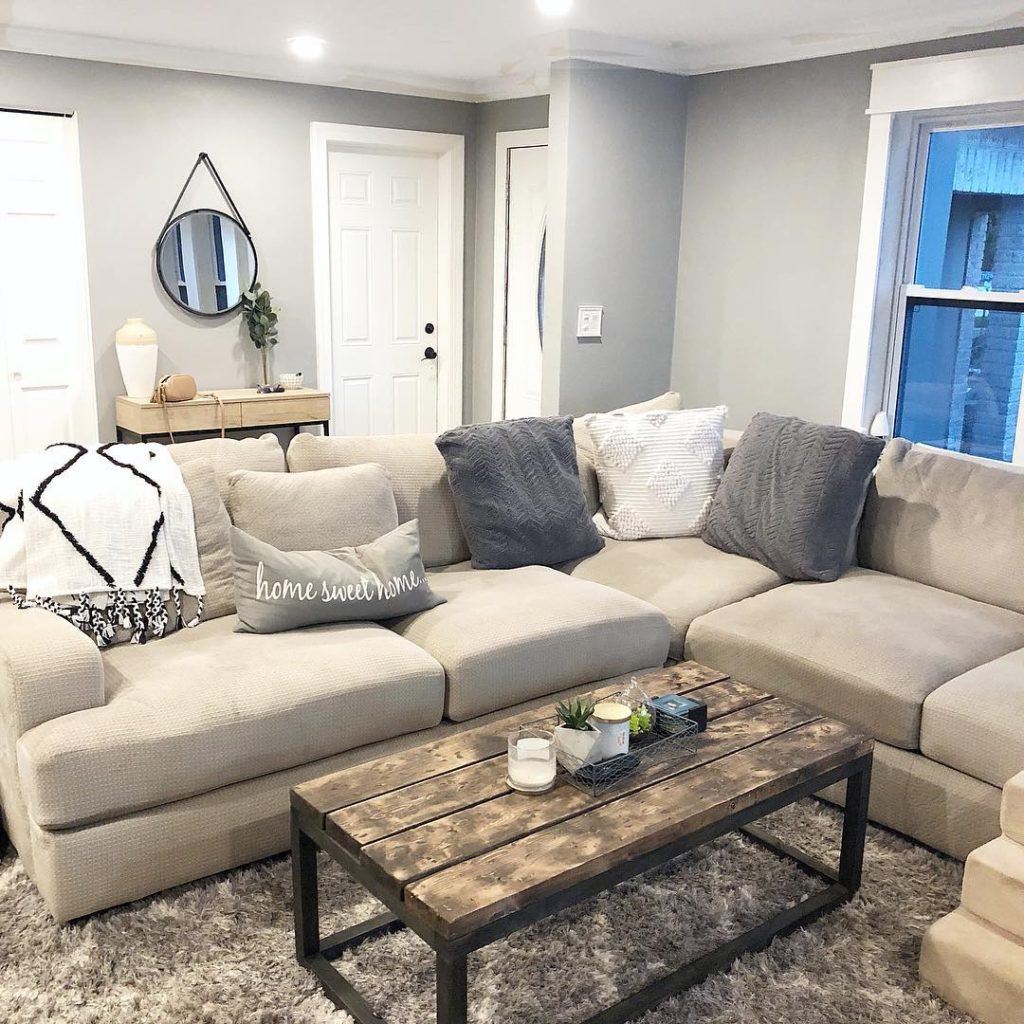 The white walls of this living room are only slightly contrasted by the sofa and floor rug. Beige and light brown can be mixed in a myriad of ways, but the result will always be a look of gentle warmth. The thick plush of this rug is extremely inviting and pleasing to the eye.
Southwest Style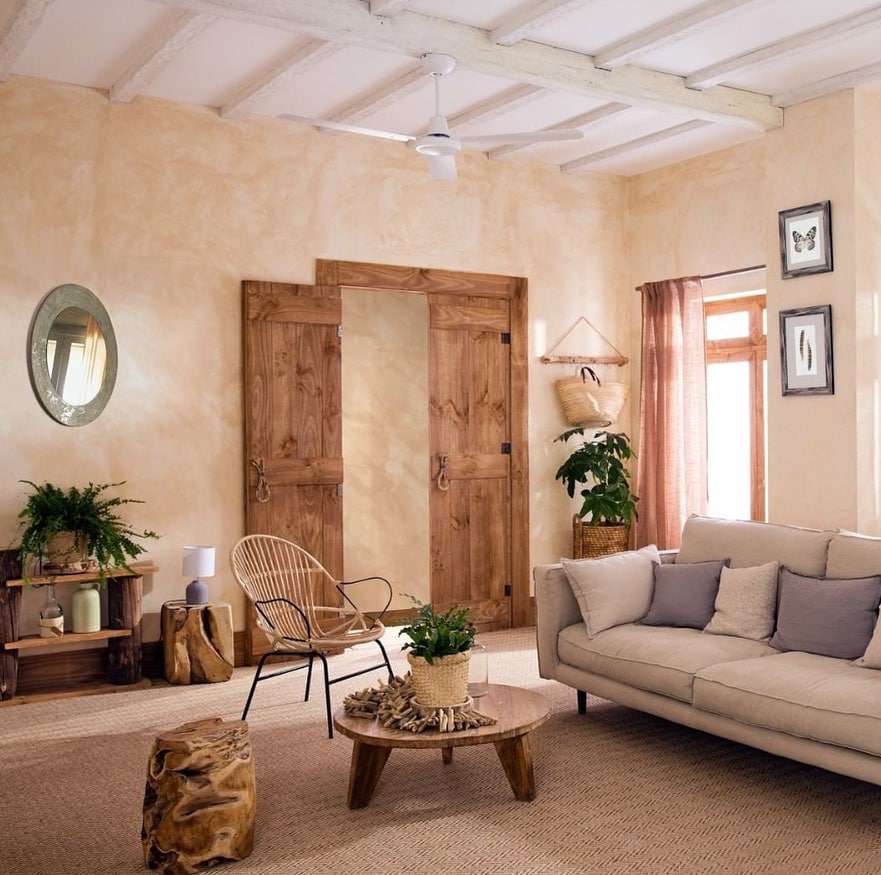 Medium-toned wood doors and furnishings that have been given a good treatment of stain and varnish complement off-white or light beige walls. This example is a strange but wonderful mish-mash of southwestern ranch-style design and native American adobe. There's no adobe involved, but it sure does look like there is. Simple wall mirrors and hanging basket trays are a wonderful touch.
Bright But Relaxed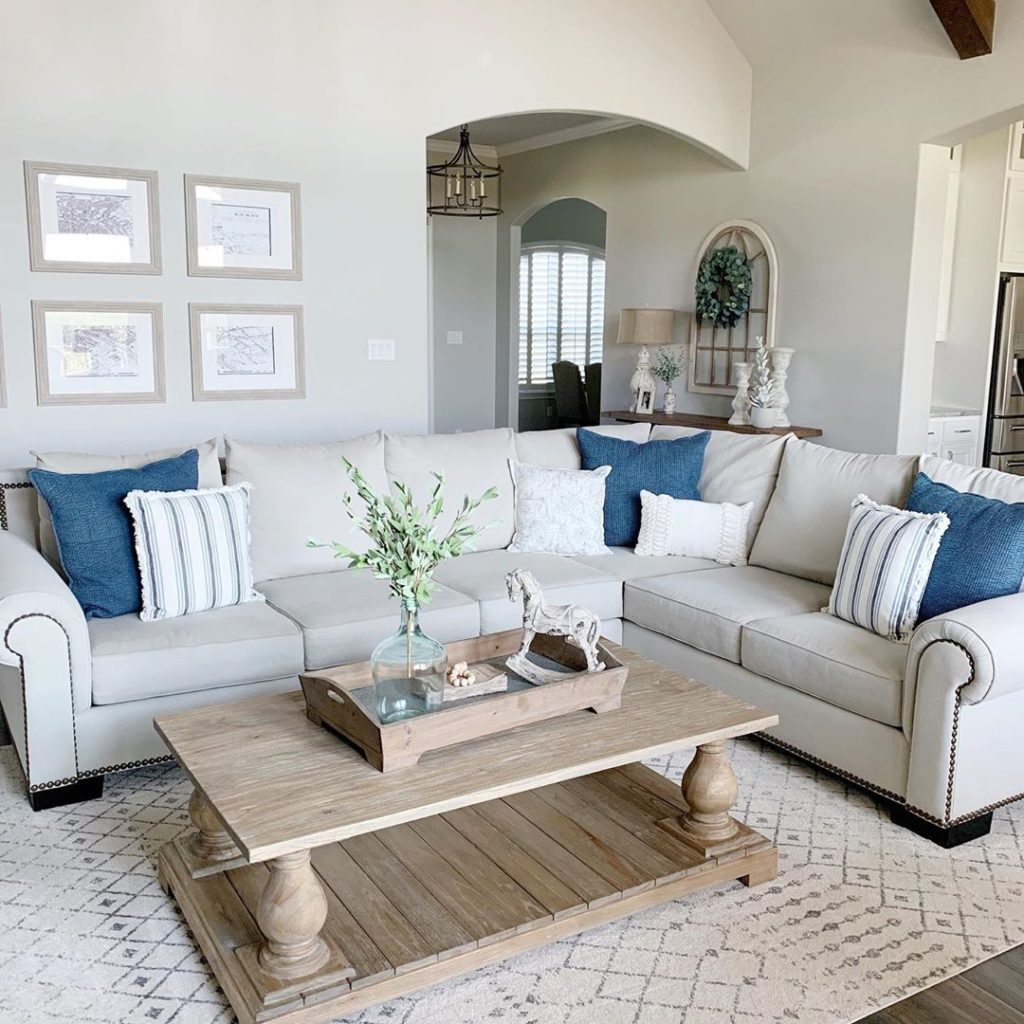 One would think that gentle, warm living room features must always involve neutral tones against white backgrounds, but this example is a wonderful exception to the rule of thumb. The combination of white, beige, tan, and blue results in a peaceful atmosphere, and there's no stark contrast required in order to bring about a feeling of comfort and warmth.
Pillow Talk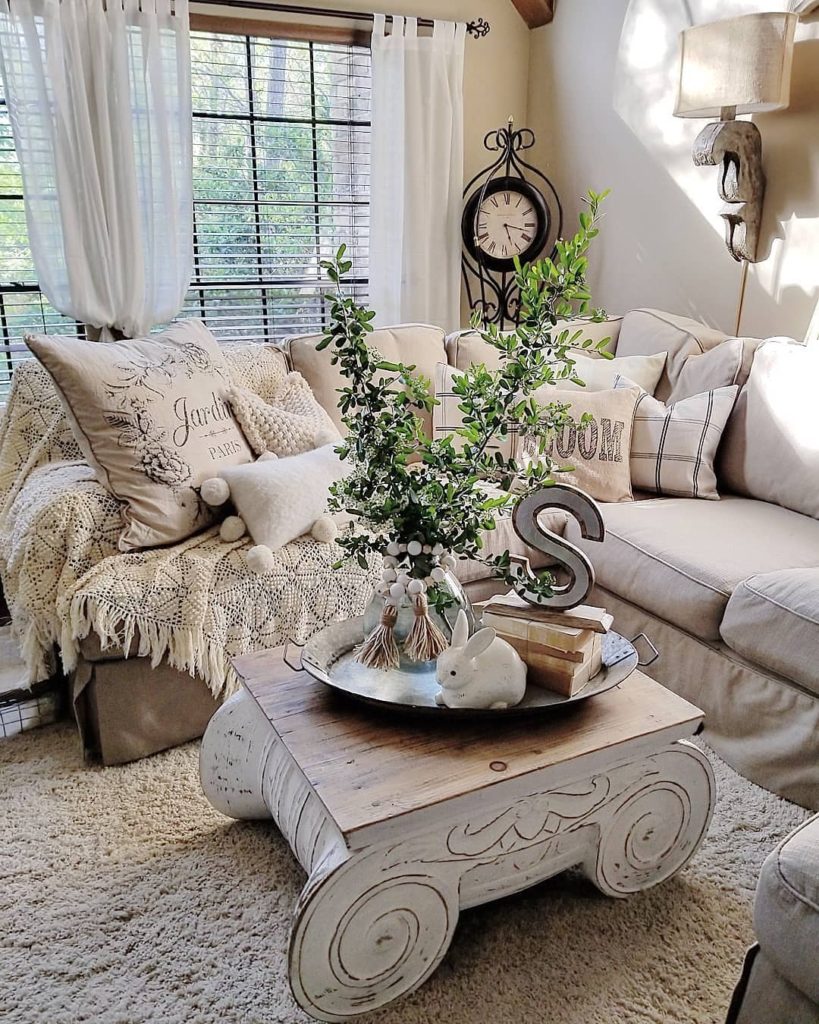 This wonderful design makes the corner of the living room stand out without being too loud. The pillows, with their stitched or printed designs, make their own statement. Everything here looks soft, lived-in, and full of character. All of the accents, from the clock and wall hanging to the planter and table piece, seem to be telling a story.
Creativity With Wood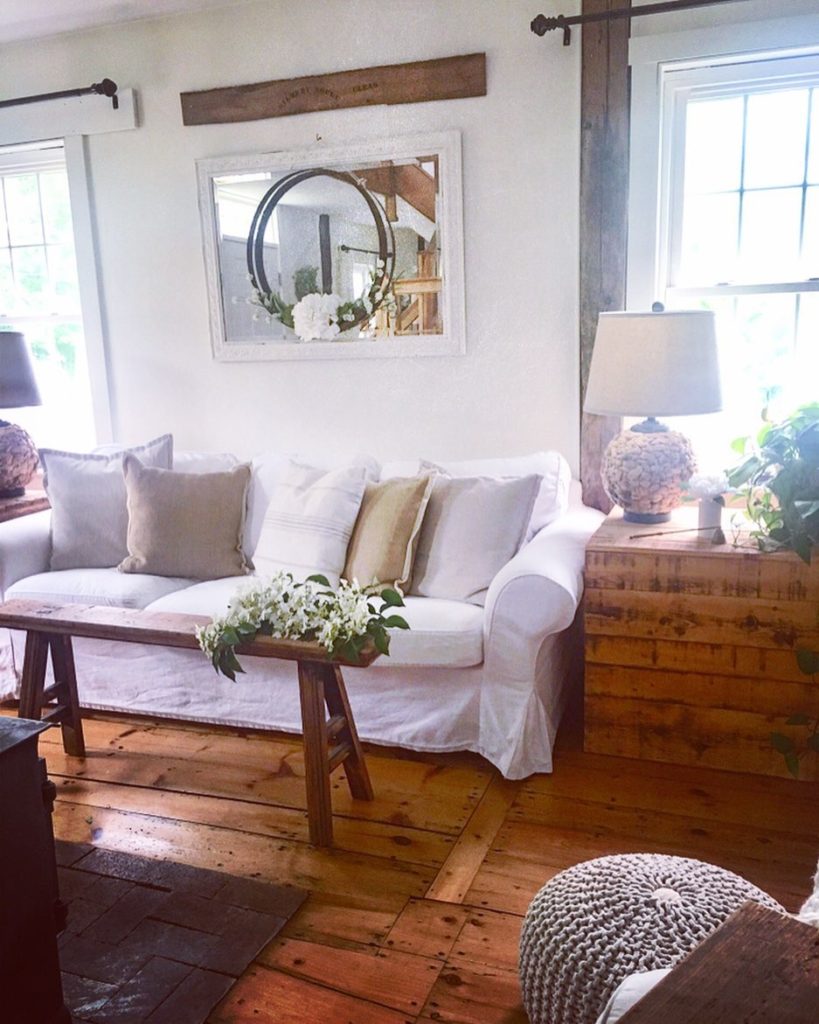 This example shows a floor that's covered in rustic wood design. It speaks of handmade care. Bright, glowing wood tone is perfectly complemented by the white sofa and off-white pillows. The end table was chosen to match the floor, and even though the tones are slightly different, the effect is stunning.
Going Green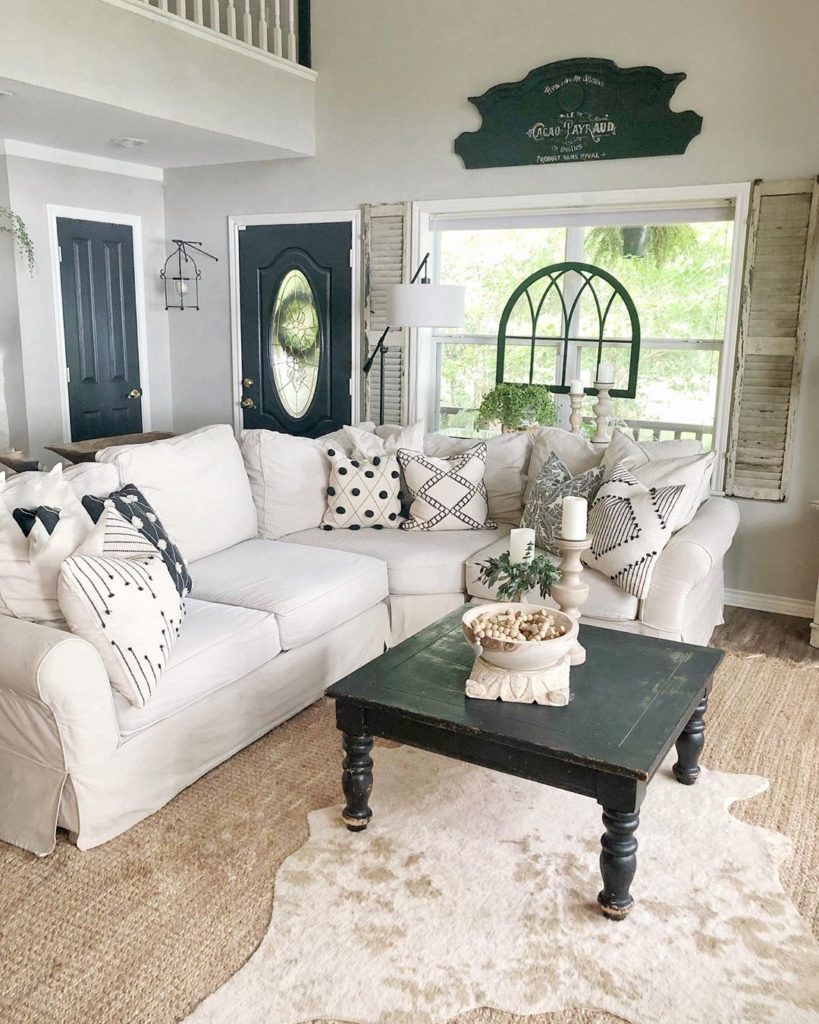 Although green isn't generally considered for a farmhouse-style look, one doesn't have to use indoor foliage to make this color an effective accent. This example has a neutral floor tone, white walls, a white sofa, and a green door. The table is also green, so there's a really cool splattering of this tone throughout the room. The jazzy pillow designs bring attention to the sofa itself.
Fall Classic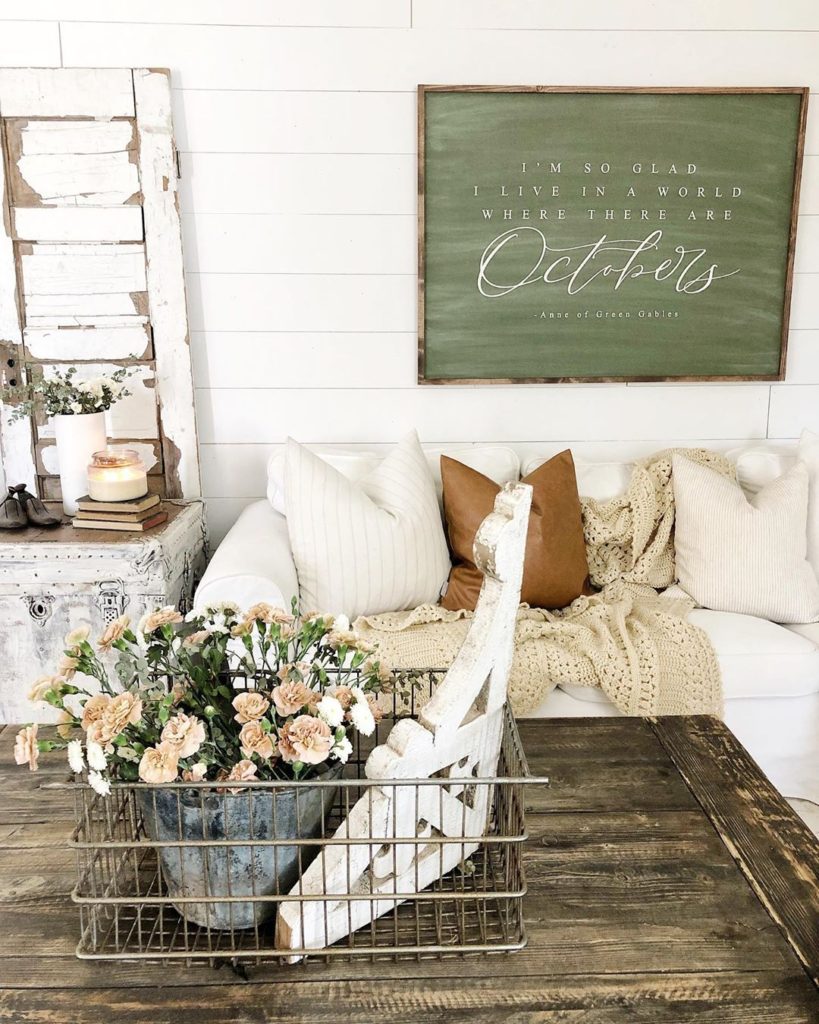 Everyone loves the changing of the outdoor colors in fall. The concept of matching that idea to an indoor environment is actually quite easy. This example shows a white wall complemented by woody tones. The rustic table and basket, the faded flowers, and the clever use of both beige and brown pillows indeed gives off the feeling of autumn and the approach of cold weather, warm cider, and a good book to read.
Stanley Kubrick Perfection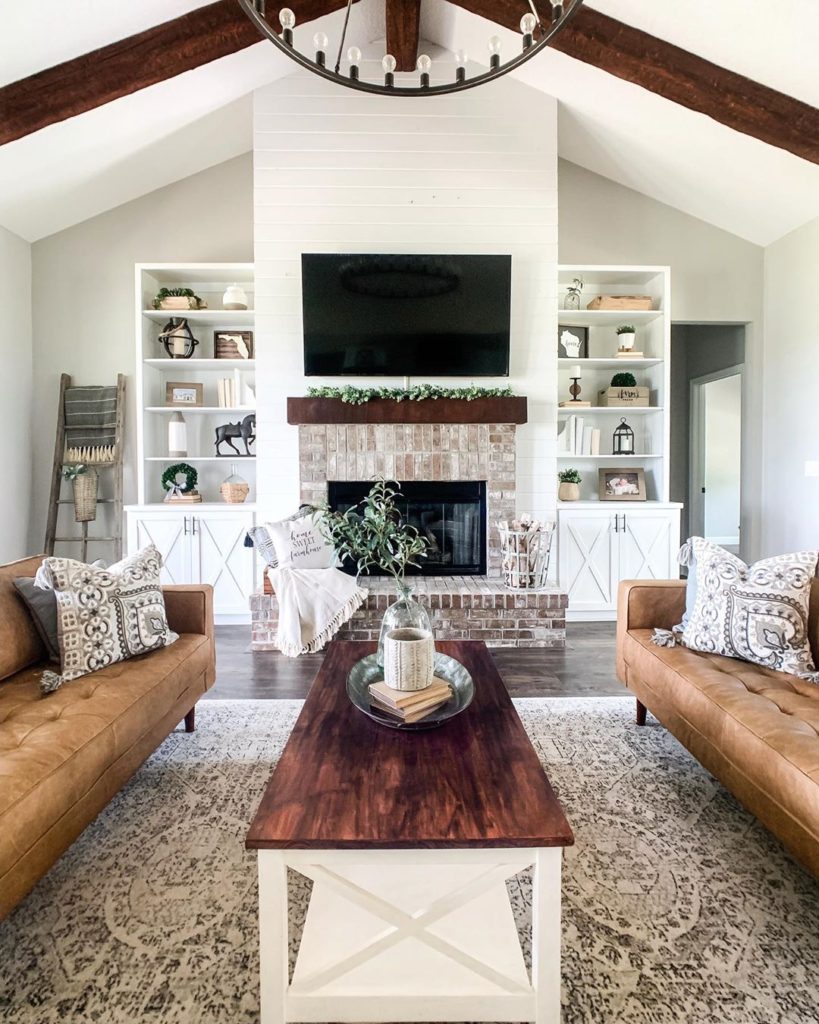 The late film director would have loved this design. Everything is in perfect balance, but the overall look is still warm and peaceful. There's a mix of black, brown, beige, and off-white set against the dominating white background. The placement of the comfortable furniture draws the attention to the center of the room. This is a truly fantastic setup, but unlike Kubrick, one can achieve this wonderful look on the very first take.
Dominant Furniture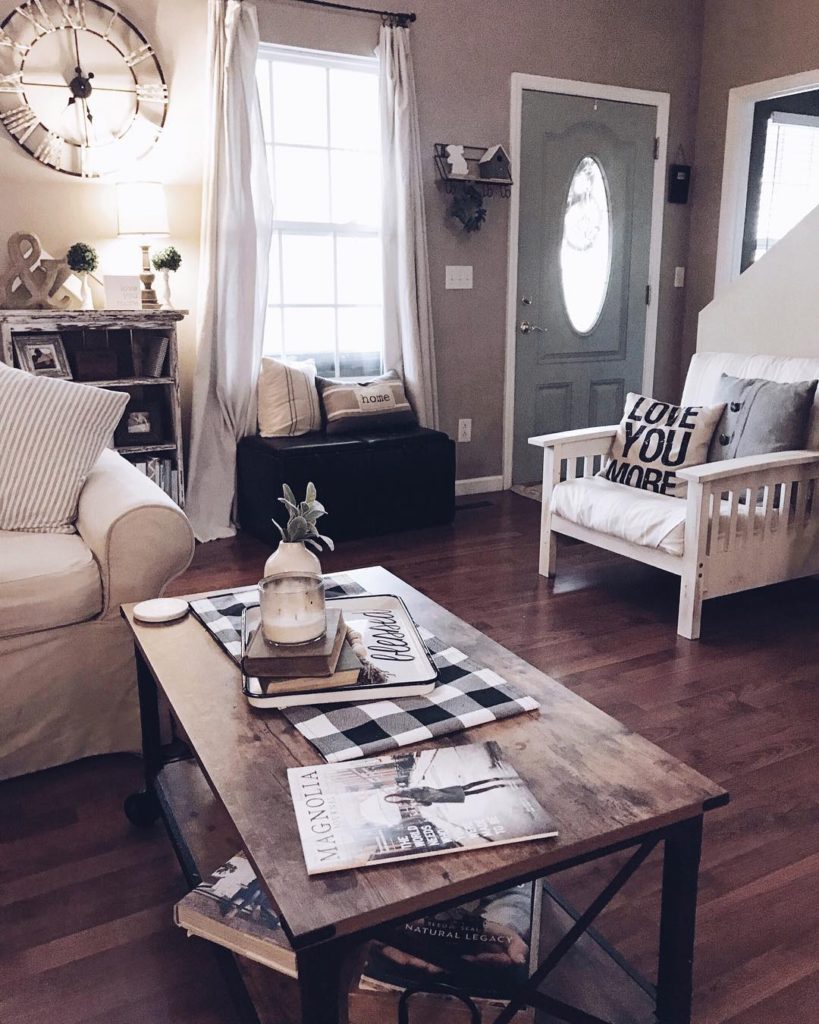 A darker wood floor can be combined with several lighter-toned furniture pieces to create a really comfortable, relaxed look. This example shows a combination of several small tables and an easy chair. Nothing here is too bright in appearance, and even the black chest below the window goes well with the darker-than-average tones of the floor and furniture. 
Lots Of Space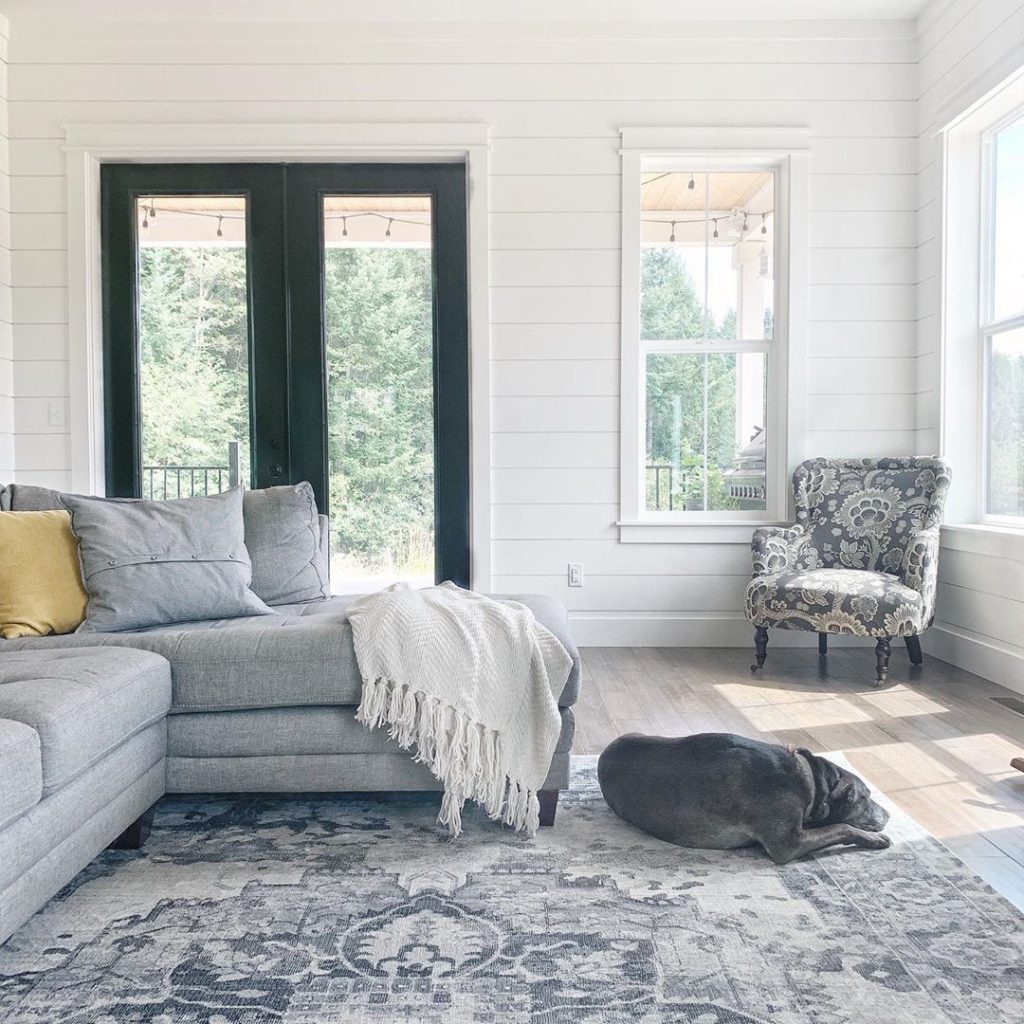 Wood walls that have been painted white can be complemented with just about any color. However, the best effect is realized when the color tones are slightly faded or neutral. This example shows a white-walled living room with some faded jewel tones in the furniture. Notice how open this design is. There's no need to cover more than 25 percent of the floor with furnishings.
Wall Art Design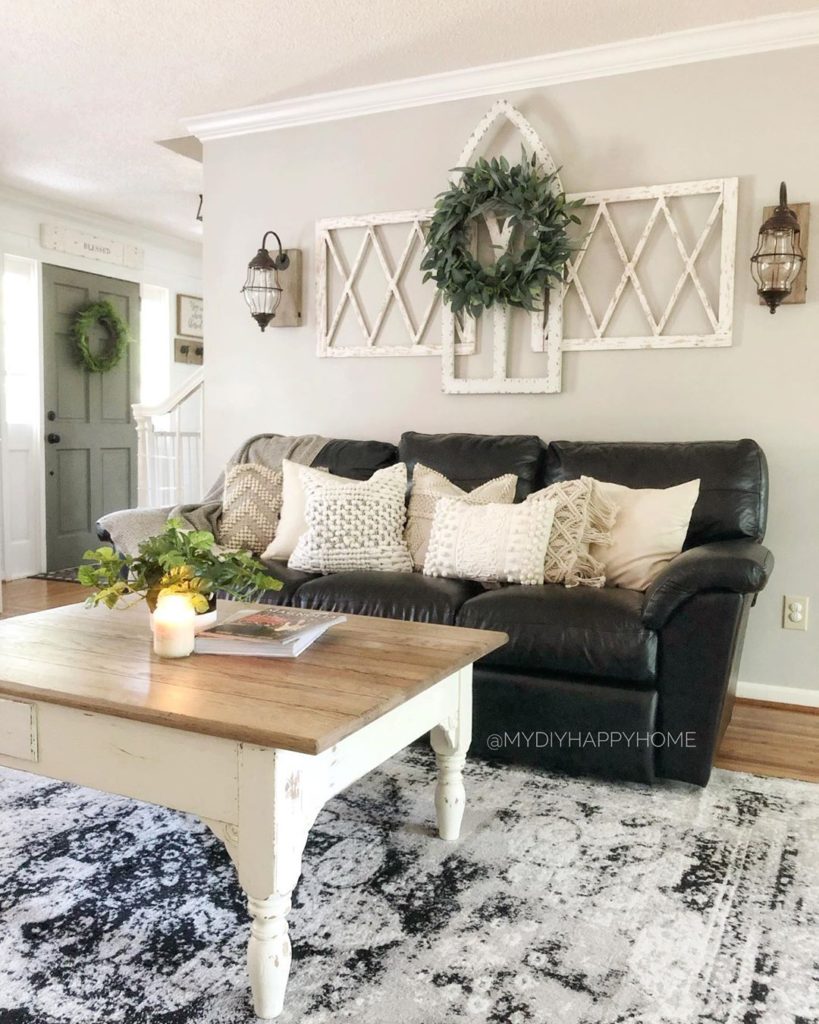 To open up space on the floor, use wall hangings as a major furnishing and accent idea. Rustic wall art, especially the style that involves the use of thin wooden slats, really gives the entire room a gentle, cozy, farmhouse look. Garlands, lanterns, and small figurines can bring about a feeling of safety, security, and comfort.
Matching Furniture To Window Dressings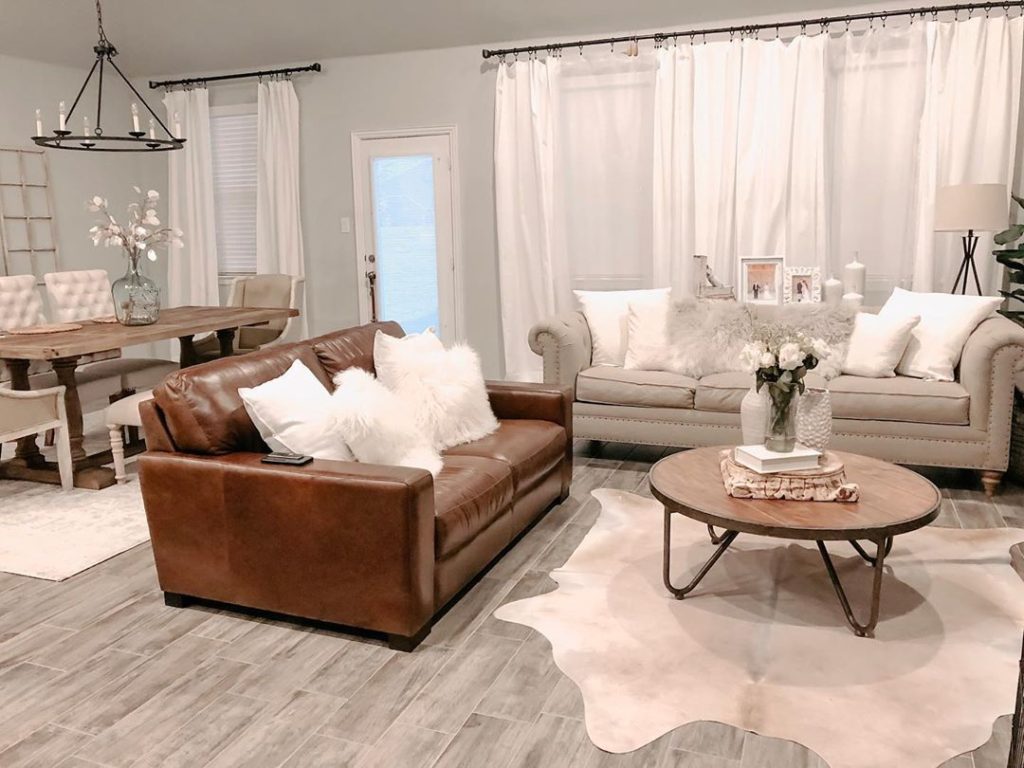 Here's a simple idea for a truly farmhouse-style look. Choose a creamy tone for the window dressings and complement this tone with medium- or dark-toned leather upholstery. Match the floor rugs to the window dressing color, and the result is a light, airy, warm living room atmosphere.
Blue Is Beautiful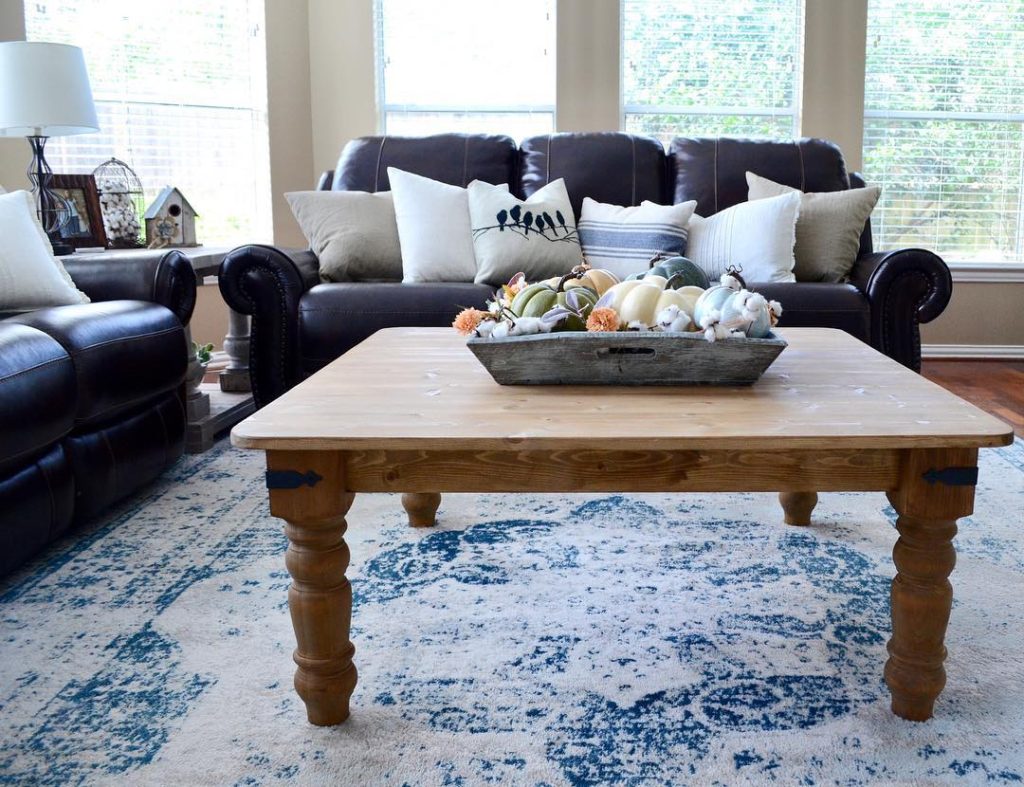 Blue, especially dark blue set against lighter walls, creates a warm, relaxed, and regal look. This design features a rustic wood table sitting on a floor rug that complements the blue sofa, but the white complementary tone in the rug warms up the entire room. Consider soft sofa pillows that are mostly white but have a bit of blue in the print design. Overall, this farmhouse-style design is meant to convey a feeling of modest royalty.
Window Setting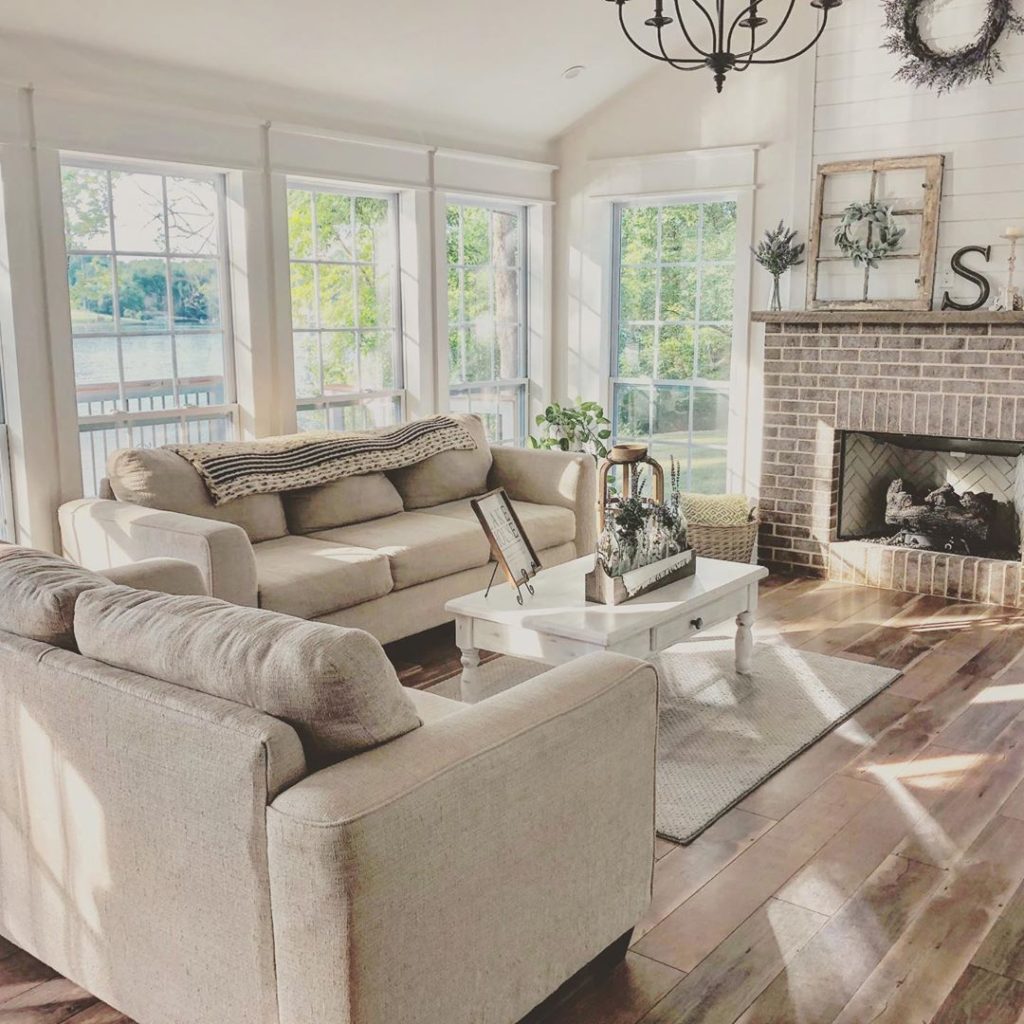 A large viewing window near the corner of the living room means lots of outdoor light to brighten up the furnishings and decor. In this example, the off-white tone of the two sofas buffers the lighter tone of the wall and the medium tone of the hardwood floor. A small throw rug, on top of which sits a white table, is all the accent needed to make this corner of the living room the place to stretch out and relax.
Artsy And Eclectic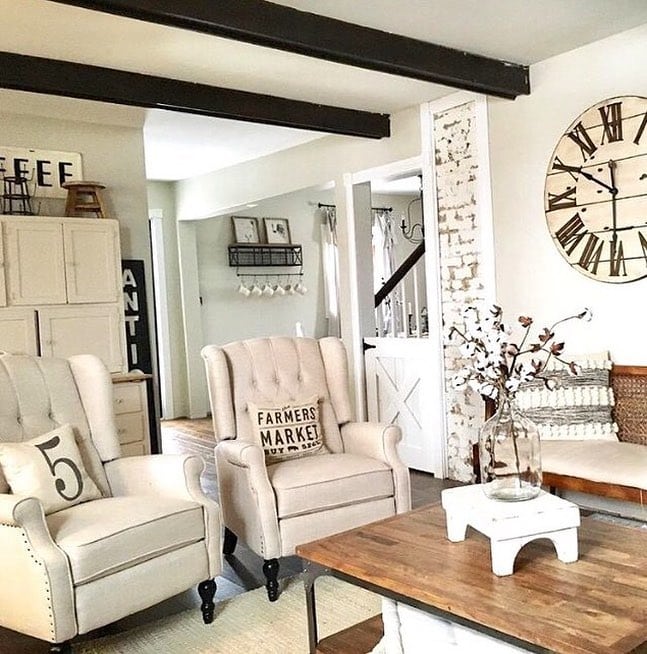 Farmhouse-style doesn't have to mean rustic furnishings and hardwood accents. Big, soft pillows, a giant wall clock, and interesting print designs make for a contemporary appearance that's nonetheless fun and inviting. In this example, the primary tones are off-white and black, and there's just enough beige to create a comfortable setting. No harsh colors such as bright blue or red are required to give off the feeling of gentleness and security.
Gather Around The Table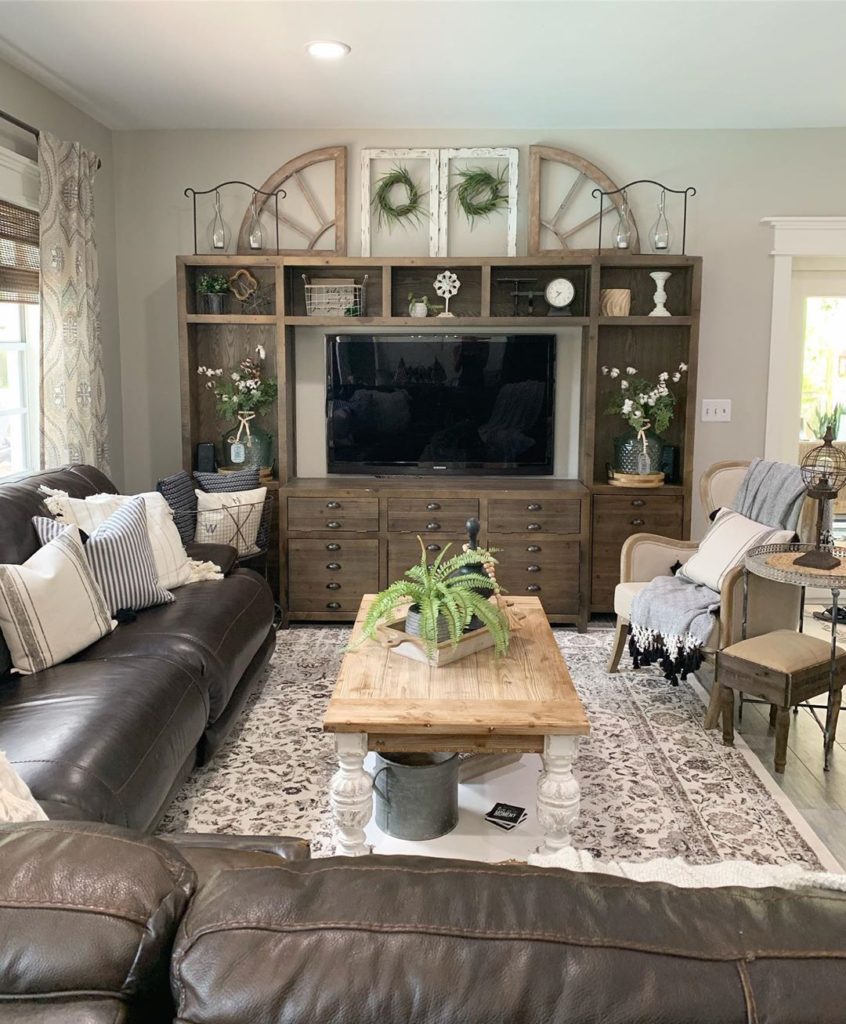 Even if the living room coffee table is used for nothing more than magazine display, the idea of creating a gathering place is important. In this example, soft, cozy sofas piled with pillows, a huge wall case, and a two-toned, mostly off-white floor rug make for an elegant setting. Note the off-white and neutral tone shades of the window dressings. There's nothing here that speaks loudly, but the overall effect is stunning.
Contemporary Rustic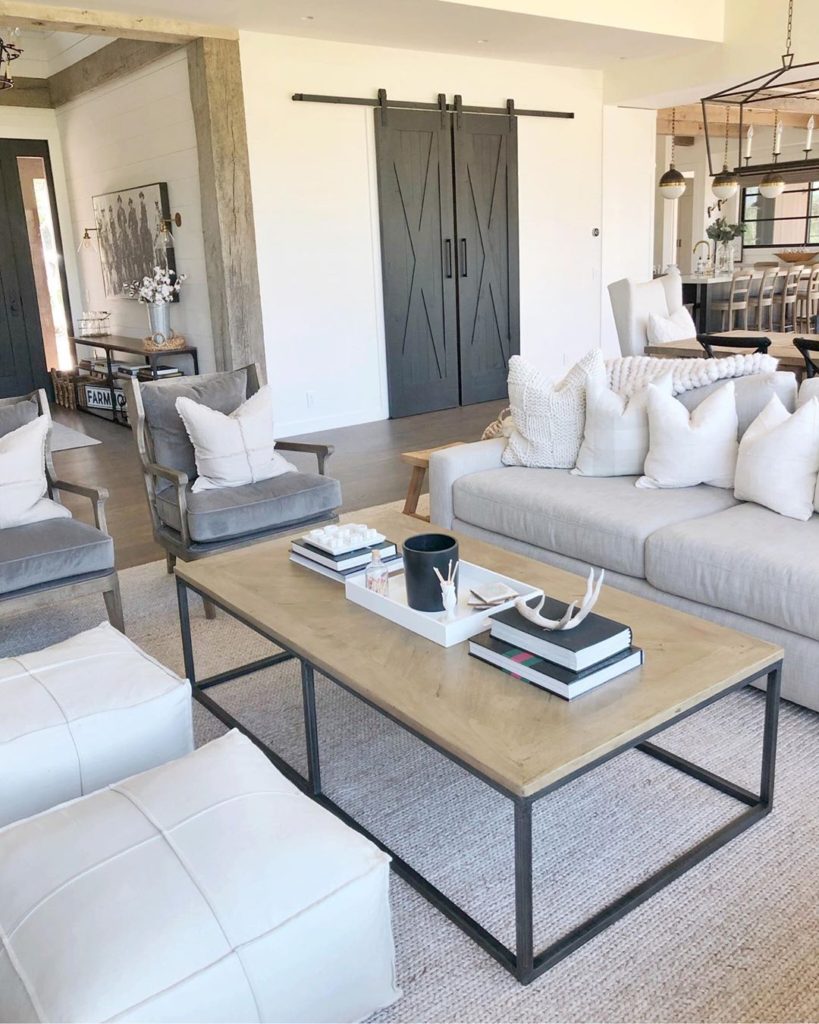 This sounds like a real contradiction in ideas, but modern furniture, lots of tubular steel, and metallic wall art can actually take on a farmhouse-style appearance. It's accomplished by using the proper tones. In this example, the dominant tones are white, gray, and black, and it's the grayness that gives off the feeling of comfort and security. Plenty of soft pillows convey the idea that rest and relaxation are important.