Most people use throw blankets on couches and beds. They are ideal for styling a home. Not only are they beautiful, but they are also functional as well. Regardless of the size and style of your home, throw blankets provide a cozy feeling and comfort.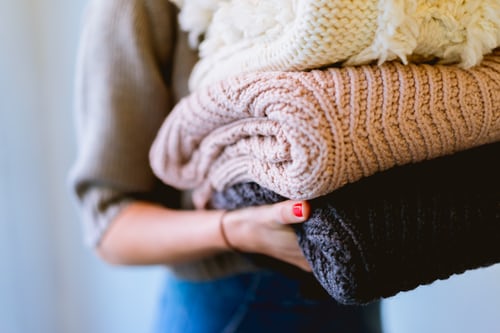 In This Article We'll Discuss
How to Pick the Best Throw Blanket for a Couch You'll Love
A throw blanket needs to enhance the room's color and décor. If your room is colorful, it is safe to go with neutral colors such as charcoal grey, black or taupe. On the other hand, warm colors like mustard yellow, vibrant red and deep orange can brighten up a room. It is advisable to stick to solid colors. Patterns tend not to blend well in most places. You can use decorative throw blankets that are thin, light-coloured throw on overstuffed and dark furniture to make it look smaller. It helps the room look bigger. Choose throw blankets for couches that are of the right size. Ensure you look at the measurements of the throw blanket before making a purchase.
How to Pick the Best Throw Blanket for a Bed That's Super Cozy

Blanket throws come in the form of bed runners. You can fold them at the foot of the bed in a horizontal manner. Knitted blankets are the best kind of throws for a bed. They are cozy, oversized and plush which fits the intended purpose. Such blankets also make the room look attractive. Faux fur is ideal for maximum comfort while relaxing on the bed. Go for a color that compliments the rest of the room. Also, throw blankets made with a blend of linen and cotton are incredibly breathable. The best throw blankets will fit well on your bed for maximum comfort.
Throw Blanket Materials and Which One to Pick For The Best Fit

The type of material in a throw will depend on how you plan to use it. A lightweight throw is meant to be used all around the house. If your priority is breathability and warmth, you will need a throw for all seasons. Fleece is a popular choice for performance-focused throws. The material used is polyester which is warm, plush and very cozy. Linen throws are soft and offer coolness. Also, the heavier the fabric, the higher the level of comfort. Naturally driven materials such as wool from sheep are also used to make throw blankets. Wool naturally regulates temperature. Down from geese or ducks is light and extremely soft. Faux fur though it is not genuinely natural is popular because of its style and softness. Cotton provides excellent performance. It is exceptionally soft, breathable, long lasting and smooth. The fabric maintains a comfortable temperature because it does not trap air.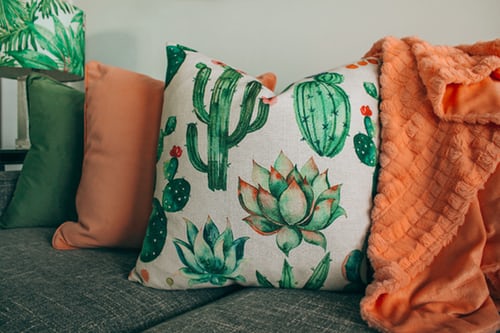 Bedsure Super soft blanket is super soft making it ideal for improving your sleep. The plush throw design includes one side being smooth while the other is fluffy for added warmth. Throw Sherpa couch blanket measures 65″x80″ inches which makes it great for protection against stain and dirt. The blanket is made of 100% microfiber polyester fabric making it comfy, warm and durable. Plush blankets dense pile adds to fluffiness and super softness. It performs well in freezing temperatures. Sherpa blanket is multifunctional; you can use it as a bed blanket as well as a couch blanket.
The comfy throw blanket made of high-grade faux fur. It is 100% quality guaranteed. It measures 65″x50″ inches suitable for a bed and couch. It does not shed meaning the bed and sofa will be spotless. Chanasya comes with a lifetime manufacturer warranty. Its design is elegant with a luxurious feel making it ideal for photography prop. Faux fur throws are soft and cozy. For a stylish touch, you can drape it over the couch or bed.
Comfy faux fur is of high quality. It doesn't shed ensuring your couch and bed remain spotless. It comes with a lifetime manufacturer warranty. The snugly blanket is beautiful with a classy design and a luxurious feel. Chanasya is fuzzy and very soft. It is perfect as a personal gift for different occasions. It is made of 100% microfiber polyester and measures 65″x50″ inches. Chanasya offers best fur blankets with a 100% satisfaction guarantee.
100% high-quality acrylic is used to make the plush throw Bourina blanket. It measures measures 50 x 60″, weight 500g. The throw blanket is skillfully designed using high-speed weaving equipment to form rolled fringed edges and a geometric pattern providing a beautiful finish. It is soft, lightweight and warm. Environmental printing dying makes it breathable, dustproof and it does not shed. Bourina offers one month return and replacement service. You can use it to snuggle on the couch and bed. The throw blanket needs easy care. Machine wash in cold water, tumble dry low and low iron.
It is the softest throw blanket. You feel comfortable when cuddling due to its super soft and luxurious nature. The top side has a thick shag material, and the backside has soft Sherpa for warmth and comfort during the day or night. It comes in a larger size of 65″ x 50″ inches making it an excellent gift for Mother's Day. Sherpa adds coziness and sophisticated style in any space. It does not pill ensuring your couch and bed remain spotless for many years. You can easily clean the blanket using a washing machine and a gentle detergent.
The material used to make boon knitted tweed is100% microfiber polyester giving it a plush feel. It comes with diamond patterns and finished with knotted braid tassels on each side of the widths. Boon is lightweight making it ideal for the summer and transportation in between rooms. Also, it is cozy enough to use during cold months. Its versatile design means you use it all year round. Proper care ensures that the throw gets softer with every wash. Boon products are heat treated making them fade resistant. Throw blankets come in two sizes; Standard 50″ x 60″ and Jumbo /60″ x 80″.
Fluffy plush blankets comprise of 100% polyester. It comes with a package that consists of 2 Shams: 20(W) x20(L) inches each and 1 Blanket: 50(W) x60(L) inches. The throws have a luxury texture that adds to the coziness of your bed or couch. Faux fur is soft, lightweight and warm. Machine wash alone, gentle cycle, tumble dry and don't bleach to ensure the blanket lasts for many years. Comfort spaces provide 100% satisfaction and 30-day free return policy.
Quilted throw blanket measure 60″ x 50″ inches. The material cover has 100% cotton, and filling contains 50% polyester and 50% cotton. Both sides can be used individually meaning the throe is reversible. It comes prewashed and preshrunk for maximum durability and coziness. The premium quilted throw is bohemian designed with incredible printing which combines vibrant colors and different elements. Premium summer throw is light enough to keep you comfortable. Machine wash cold, tumble dry low, don't iron and use non-chlorine bleach when necessary. There is no color fading or shrinkage after washing.
The fluffy knotted throw blanket is made of 100% polyester and weighs 1000 grams. The soft blanket comes with generous space measuring 65″x50″ inches. It allows you to wrap yourself comfortably to feel warm. Dozzz is risk-free and offers a money back guarantee. It is soft, fade resistant and wrinkle-free. It is suitable for all seasons because it doesn't shed. Cleaning is super easy, dry clean only. You can bring it with you to different rooms due to its lightweight nature. It is a perfect gift for any occasion.
Gray cable knitted blanket is made of 100% cotton and measures 50″ x 60″ inches and weighs 2.2 pounds. It comes with a free washing bag for machine wash and 90 days refund guarantee. It's super soft and does not pill or fade. Cotton throw blankets have strong elasticity meaning it does not shrink. It is very comfortable when in contact with the skin. When wrapped around you, it provides a warm embrace during nap time. The package comes with a silk bow tie and washing instruction card.
High quality super soft faux fur throw blanket leaves the bed and couches spotless as it does not shed. It is made of high-grade faux fur and comes with a lifetime manufacturer warranty. Snugly blanket has a luxurious and elegant design and measures 65″x50″ inches. The classy design makes it perfect for a photography prop. It is also a great personal gift for your loved one. Get warm and cozy by snuggling on your couch or bed with this soft, fuzzy fur blanket. It comes in many colors making it easy to mix and match with your décor.
Sherpa fleece blanket measures 51 x 63 inches making it perfect for your couch or bed. It is excellent for relaxing while reading a book, cuddling or snuggling. The design is unique with coral fleece, jacquard face and dual-sided super soft blanket. The fact that it is reversible provides you with a different sense of softness offering better sleep quality. Plush blanket is warm, lightweight and luxurious. It provides you with warmth and comfort throughout the year. It comes from high-grade fleece. The classy design makes it an ideal personal gift fit for any occasion.
It is made of 100% polyester microfiber and measures 50″x60″ inches. For extra texture to your bed or couch, you can spread it across the end. The throw is super soft, durable, comfortable, lightweight, breathable and hypoallergenic. It is also fade resistant, and wrinkles free making it ideal for all seasons. Taking care of the woven plaid pattern throw is easy because the fabric is shrink resistant. Machine wash cold, use low heat to tumble dry and do not bleach.
The blanket comes with a 100% quality guarantee. It does not shed, the couch and bed remain spotless. It measures 65″x50″ inches designed for elegance and a luxurious feel. Fuzzy fur elegant throw blanket comprises of high-grade faux fur. The classic look is suited for photography prop. It provides a lifetime manufacturer warranty. It is soft and fuzzy making it perfect for snuggling on the bed and couch. You can drape it over a chair and comes in many colors. Expect 100% satisfaction guarantee.
Thick fluffy chenille knitted throw blanket comes with generous space. It is a large comfy blanket that measures 60 x 50 inches and weighs 1400 grams. You get to feel warm and comfortable when you wrap yourself in it for your movie nights. 100% high-quality soft and gentle polyester is used to make the throw blanket. It is ideal for all seasons since it does not shed. Also, it is fade resistant, wrinkle-free and very soft. You can bring it with you because it is lightweight. Dry clean only.
Wrapping up The Best Throw Blankets For a Stylish and Super Cozy Home
A throw is suitable for a decorative or useful purpose. The method of manufacture and the type of fabric will affect the softness, durability and style of your throw blanket. The cost also depends on the kind of weaving and the materials used. Choosing throw blankets that compliments the color of the room is a great way to make a room look attractive. You want to choose a throw that provides the right feel. It needs to be heavy enough for warmth but not too heavy to cause overheating.