Sectional Sofas come in many different dimensions. These are the most common.
Save and Share on Pintrest
With the trend of homes and apartments getting smaller, due to necessity, small sectionals are more popular than ever. Finding the perfect small sectional is very important to make sure that it fits in your room and doesn't look awkward.
Another thing to consider is that now most websites refer to everything as a sectional. Before there was a difference between a sectional and a sofa with a chaise. A sofa with a chaise usually sits three people along the width and then on the other end, it has an extended cushion that is just for the feet. Let's go over the what are the average sectional dimensions for a small sectional sofa.
Recommended Read: Cheap Couch Covers That Don't Look Like Couch Covers
There are a few common dimensions for sectional sofas or sofa with a chaise. The most common dimension for a chais lounge type sectional would be a length of 78in to 88in. The death of the sofa which is the measurement from the seat cushion to the back is usually 37in to 40in. The total death of the sofa from the back to the front of the chaise cushion is about 68in to 72in.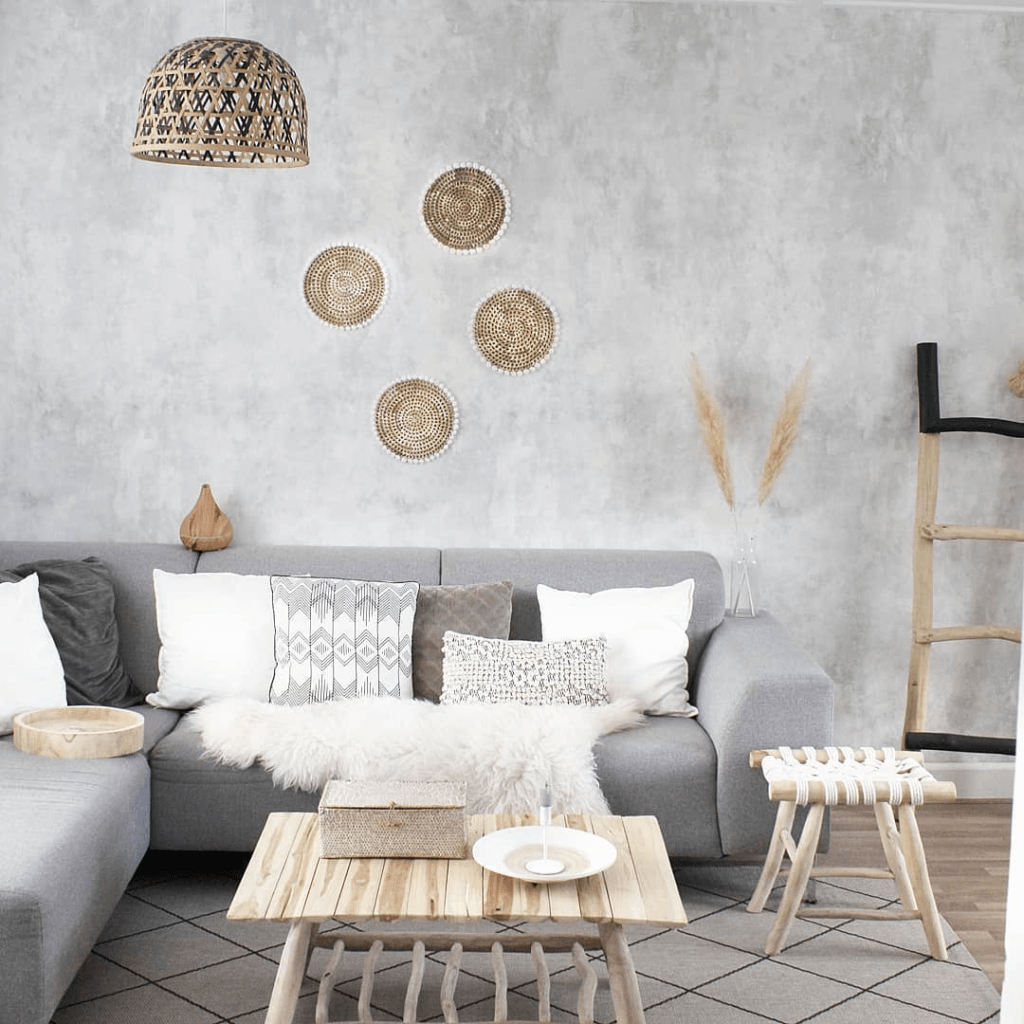 It's also common to see them in equal dimensions for example a sectional that is 85in by 85in with a depth of 32 inches. This is usually the smallest type of 5 seat sectional that is available.
Usually, the most common full sectionals measure about 95 in by 95 in or 98 in by 98 in and the depth typically measures 36 inches to 40 in.
Recommended Read: Best Cheap Sectional Sofas Under $500
Of course, there are many other kinds of dimensions that sectional sofas are available in. Many sectionals are available in custom configuration so depending on how many pieces you add this will change the size of the sectional. most website will typically list the dimensions of each individual piece so you know the exact total length when you put them all together for a custom look for your home.

In This Article We'll Discuss
Sectional Measurements & How to Measure Sectionals
The best thing about a sectional sofa is that they can maximize space. However, it can be a little tricky putting them in a room. It's important to measure your space prior to selecting a sectional sofa. This will get you an idea of how it's going to fit in the room. After you measure the room then you can please tape on the floor with the dimensions of a sectional to see exactly how it's going to fit.
I recommend using a good tape measure for this task. One that will stay sturdy and make it easy to measure the long lengths of a sectional sofa.
When you begin to measure your sectional there several Dimensions that you need to take into consideration. The three most common dimensions are going to be the width the depth and the length.
The depth is usually the measurement from the back of the couch to the front of the cushion.

Recommended Read: Living Room Inspiration & Ideas For a Sectional Couch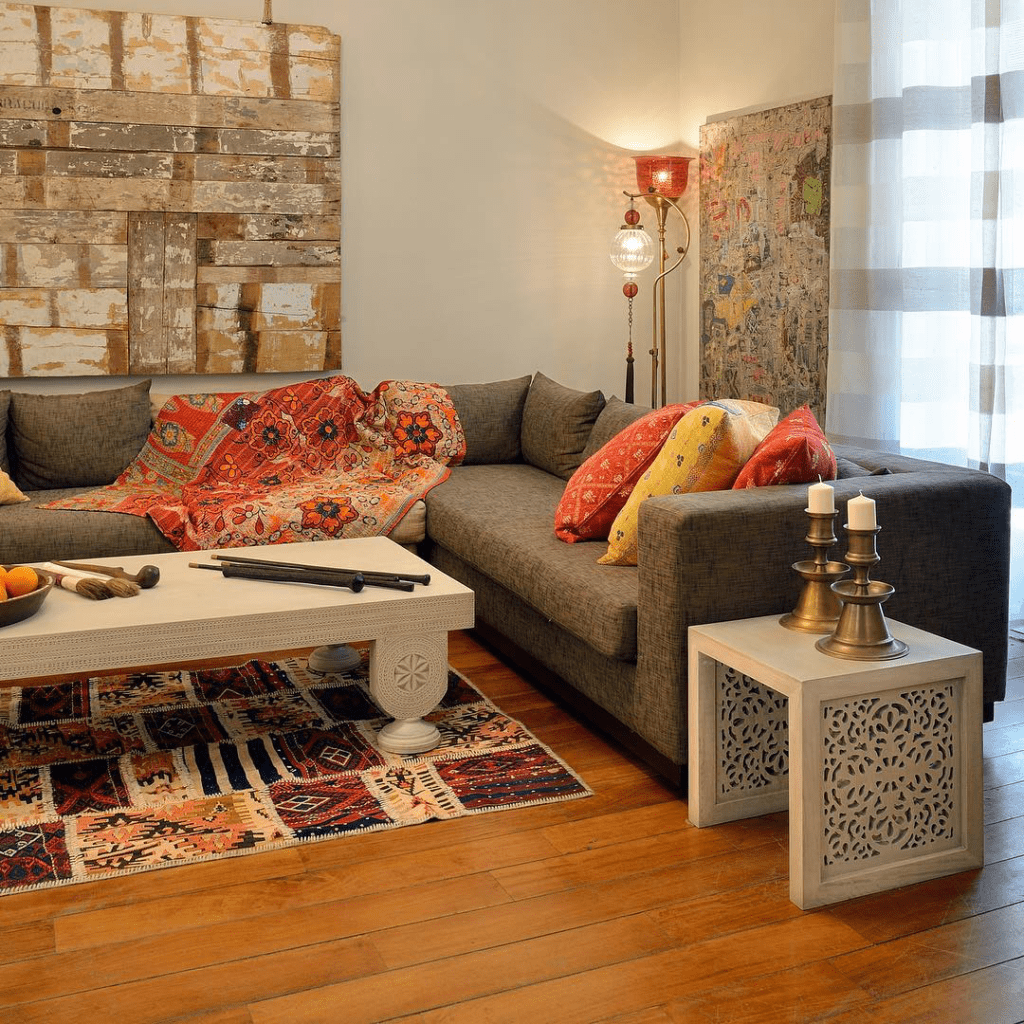 The next measurement is going to be the length. the length is usually the measurement from the back of the couch on the part of the sectional that extends farthest away typically from the wall. If you have a U-shaped sectional there can be two different measurements for this.
The width of the sectional is going to be the total measurements of the back of the sofa extending from one arm of the sofa to the other arm. sectionals will usually only have one arm or two corners for you to measure this.

The last thing you need to do is to measure to for delivery and installation. you need to make sure that your sectional will fit through the various points of your home to get to the room you would like it to be in.

Recommended Read: Best Cheap Sectional & Couch Covers That Actually Look Nice
What sectional couch size should you get?

There are many different sizes for a sectional sofa especially considering that you can get pieces and put together to make a custom size. Bilal we are going to go over the most common sizes to help you decide on which one is going to be best for you.
Poundex L shaped sectional from Amazon
L shape
As the name implies this sectional takes on the shape of an L. the most common seating will be three cushions connected to a two cushion Style however for with three cushion styles are also popular. This is usually the most versatile of sectionals as it can work well placed in a corner or in the middle of the room.

Rivet revolve reversible chais sectional from Amazon
Chaise
A Chaise sectional is basically a sofa with an extended ottoman attached on one side for you to be able to place your feet up. this is another versatile option as it's typically smaller and can fit in many places of the room.
Large classic curved sectional from Amazon
Curved
Curved sectionals are typically very large and don't work well for small. However, they are very unique and bring a very unique start to the place. they won't be able to sit flush against a wall so you will have to bring them further out into the room.

Flash furniture U shaped sectional from Amazon
U-shape
A U-shaped sectional delivers one of the highest amount of seating. this is great if you have a large family or have many guests over and need the extra seat real estate. They are also a good couch for game night as everyone can be seated around a table.
Recommended Read: Best Couch Covers

Dazone modular sectional sofa from Amazon
Modular
A modular sectional can take the shape of any of the previous sectionals except the curved sectional. the sectionals come in varying pieces and you pick and choose the best ones to custom fit to your space and needs.
Divano Roma class recliner sectional from Amazon
Recliner
Even sectionals come in recliner mode now. they can come and many other previous shapes as well the only difference is that certain seats can recline.
Picking The Right Sectional
Orientation
When picking your sectional always remember the orientation. for example with an L shape or chaise sectional are you going to choose the left chaise or the right chaise Style. it's simple but an easy mistake to make. it can be very talented and getting the furniture back to where you purchased it from and they may charge you a delivery fee again.

Tape it out
One simple trick is using tape to measure out the dimensions of a sectional you are going to purchase and laying it out on the floor. you can make sure you have enough room to maneuver through the room and that it's not too big for the space.
This is my favorite tape for that won't mess up the floor
Corner Seats
emember sectionals are always going to have a corner seat. if you're not a fan of these and consider a curved sectional. this area is usually best suited for children or if you don't mind having your feet up while it is fully occupied.
Pairing With Other Decor
Styling a sectional is very similar to styling a couch but there are a few extra things to consider.

Rugs
If you're going to put a rug in the same room as a piece of furniture keep in mind that large rugs look better with larger pieces of furniture. An area rug works with sectional couches. It's a good idea to have the rug extend further than the sectional as this will make the room feel bigger. If you already have a small rug you can consider layering it with a larger rug.
One of my favorite trends is pairing a large jute rug with a neutral colored sectional.
Coffee Tables
This is one of my favorite coffee tables available on Amazon. It's a great price for the rustic wood style.
A coffee table should typically stay within the space of the rug. Just make sure you pick a coffee table that is large enough for the sectional. If a coffee table is too small it can look awkward with a sofa sectional.
Accent Pillows
This handmade flower accent pillow that comes in a ton of colors is one of my favorites from Amazon
As with the rug and the coffee table, larger accent pillows look better with sectionals. They are a larger piece of furniture and go well wtih large decor. make sure they pick up the extra bulk of the sectional.
All in all, after reading this guide you should know everything you need to know about measuring picking and decorating a sectional. First, you need to learn what the common measurements used for sectionals are. Next, you need to decide which kind of sectional sofa shape is best for you. Lastly, make sure your existing decor pairs well with it or plan on getting some new decor.
If you enjoyed this content please share and let us know what you think in the comments belows!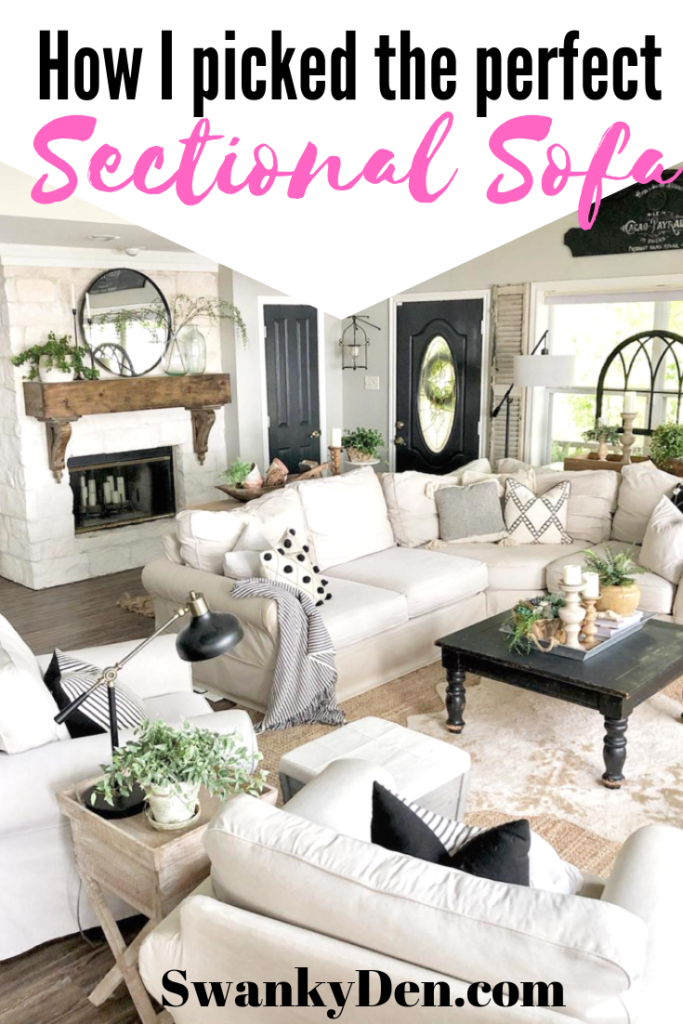 Share and Save on Pintrest
If you want to see our favorite sectionals under $500 please click here.