Refresh your coffee table with these decor ideas
Adding a little spice to your coffee table could turn it from standard to outstanding. Seeing that the coffee table is the focal point in most living rooms, it has to represent the beauty of the home.
You could add a theme. Not just any theme, something idealistic, decorative and most of all beautiful. If you're looking to spice things up, you are in the right place. Here are some ideas on how to decorate your coffee table.
In This Article We'll Discuss
1. Get organized with a tray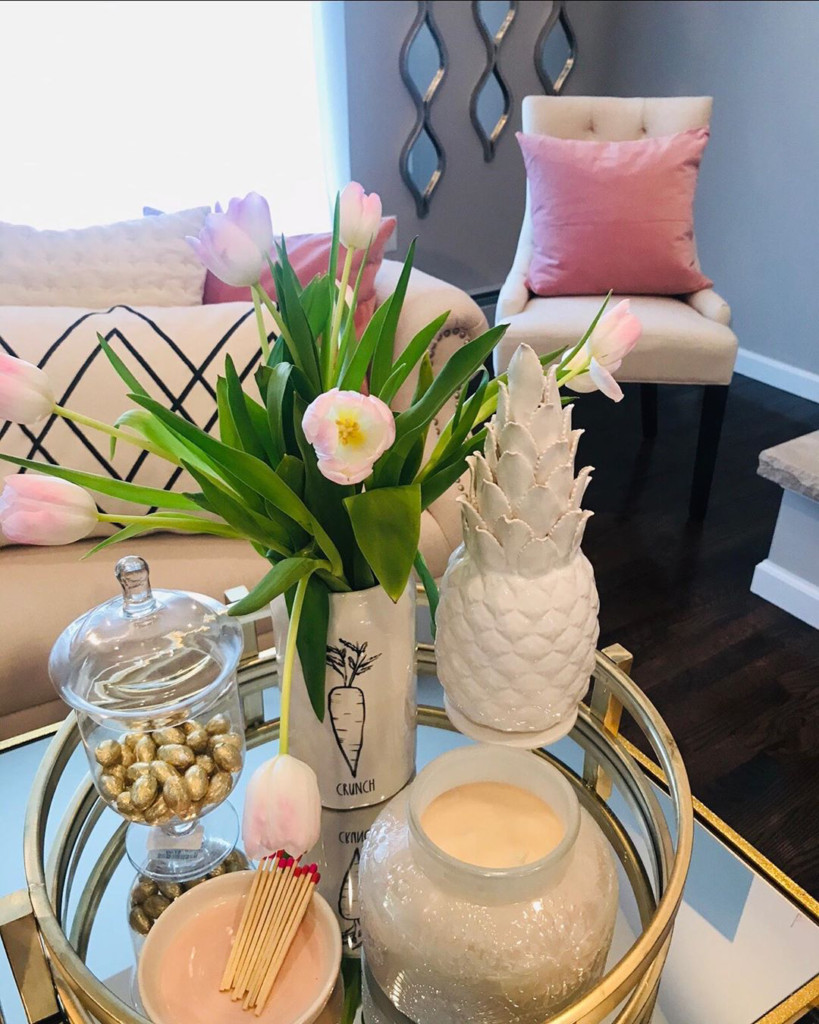 Take a tray of your choice and get creative. A tray brings a form of cohesion and organization to the table. You could choose a circular tray of any color, preferably a neutral, and fill it with elements.
Great elements you could use include a small plant, marbles, snacks or sweets placed in a bowl. Don't go overboard on the decoration, you want the coffee table. You want the table to also maintain its features.
2. Add a Breath of Life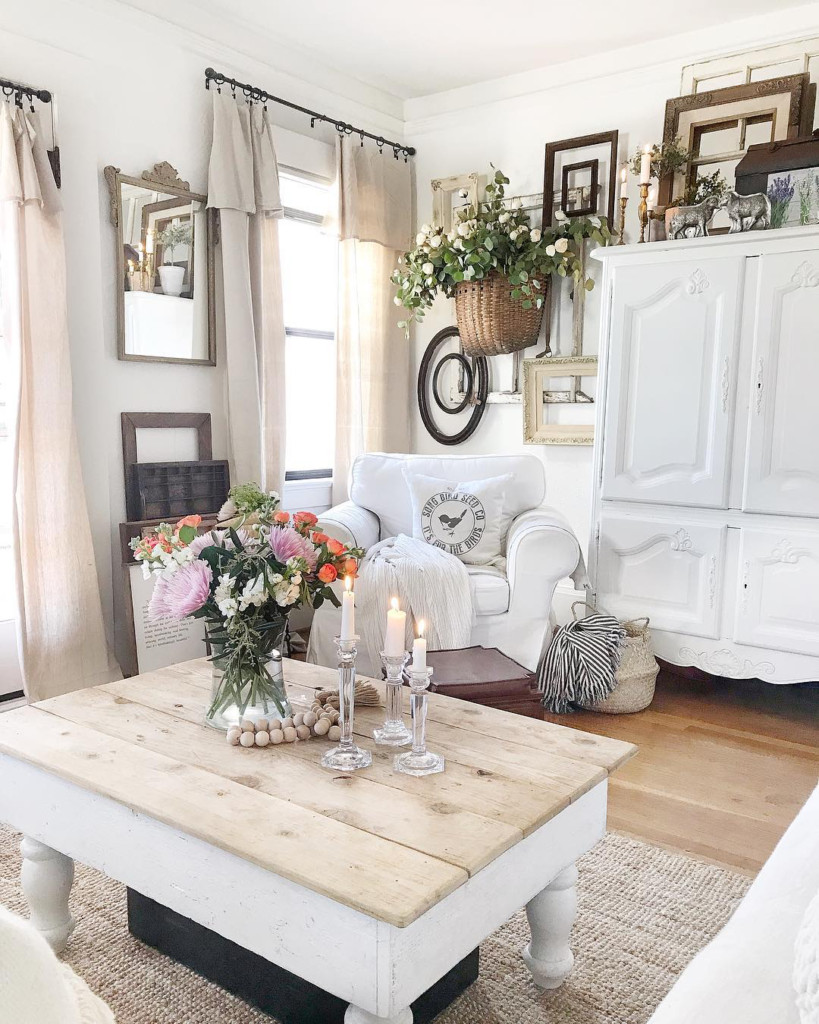 Plants are always a great addition to a coffee table. May seem like a cliche, but a nicely shaped and potted plant is the way to go. The greenery could be anything from a ferns plant to a tiny cactus.
Pay attention to the case as it has a role to play as well. Try a neutral white color for a vase to allow the greenery to stand out. Place the plant at the center to allow you to add other small elements like candles.
Recommended Read: Coffee Table Guide How To Pick & Decorate
3. Embrace a Cabin Look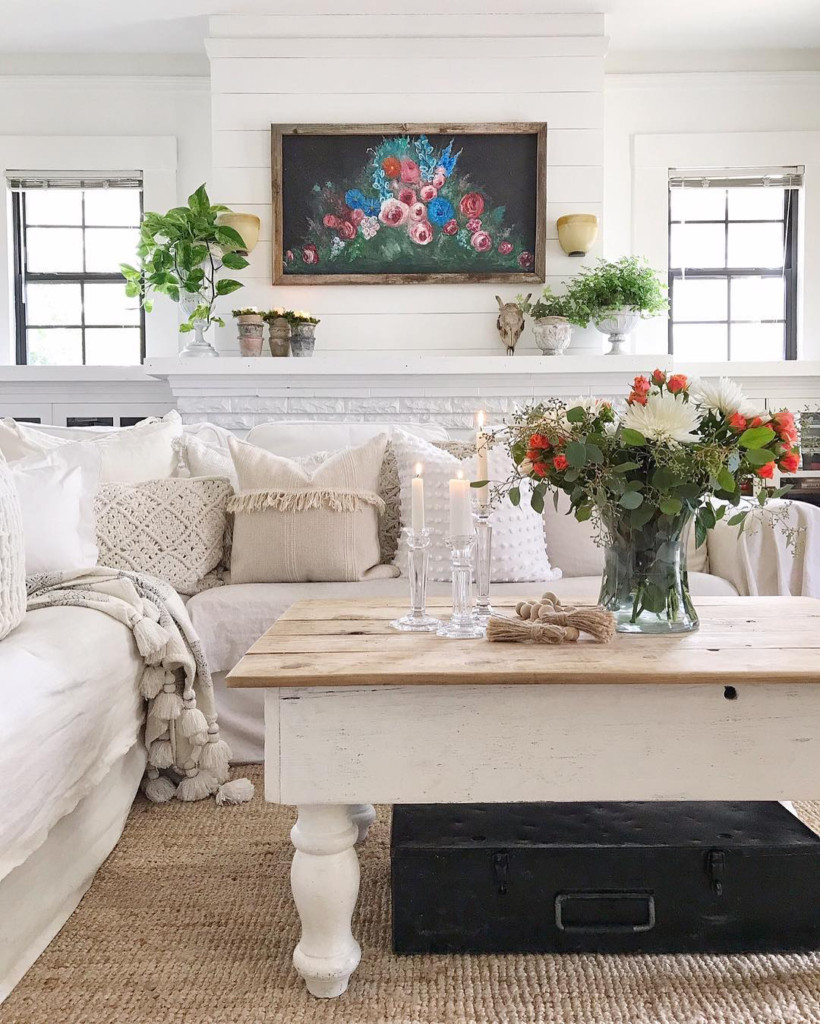 A cabin coffee table has a mixture of elements aligned according to personal taste. The feel of a cabin is coziness and comfort and that is exactly what you should aim for your living room.
Align some flowers of choice. Add a stack of candles and a pot of greenery. That should do the trick.
4. Add a Pop of Color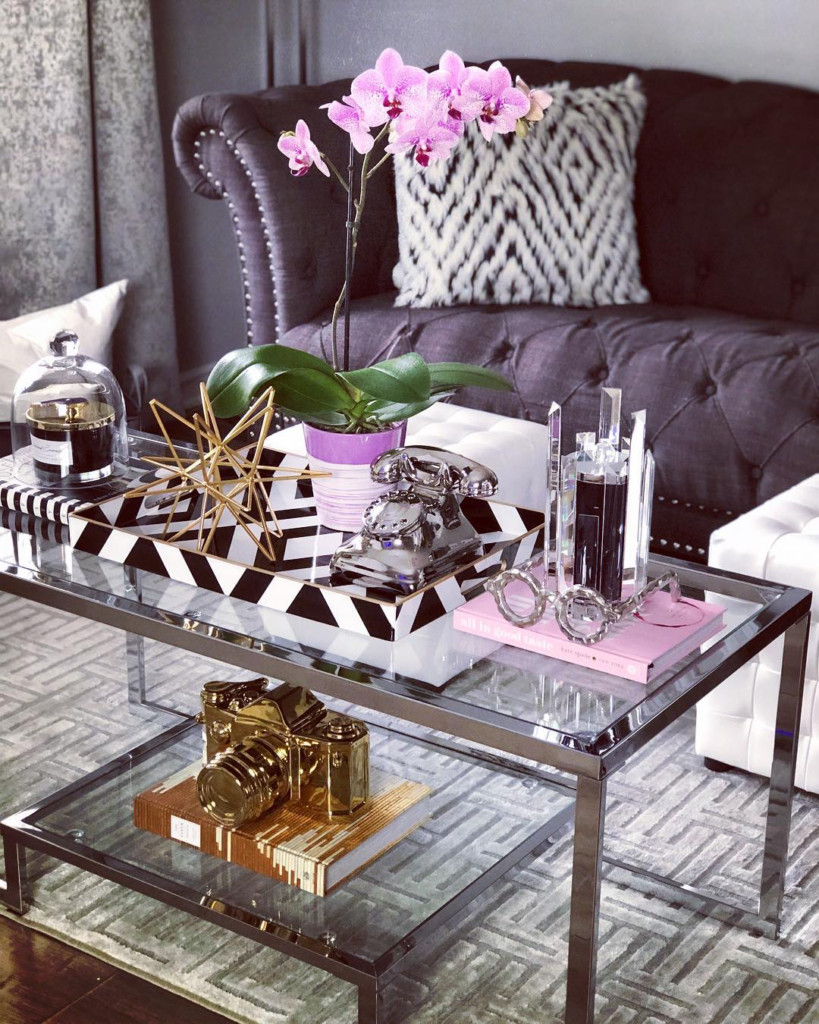 This is always the way to go if you don't intend to do much. With your usual themed living room, add some pop of color to the coffee table to set it apart.
For a black and white theme, you can place a pink pot of pink flowers. Better yet, why not add a pink covered book to emphasize the pop. You can opt for a long or short flower, just ensure it brings about attention.
5. Try a Touch of Gold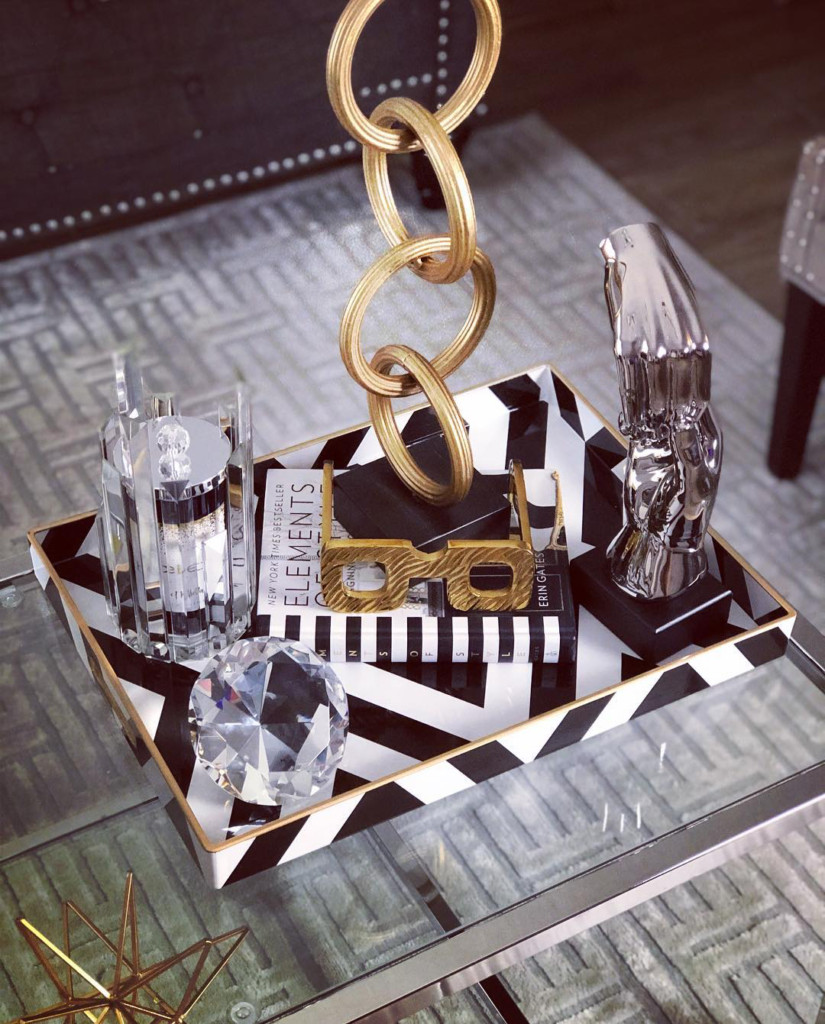 You can never go wrong with something gold. Whatever gold element you have, this is the best place to keep it. Try a coated sculpture or a gold lined tray.
For a brightly themed room like white or pink, you can choose a less glossy shade of gold. Not too blunt or it might look like bronze which has a rustic look.
Recommended Read: Best Farm House Tables For a Rustic Look
6. A Long Tray is Never Wrong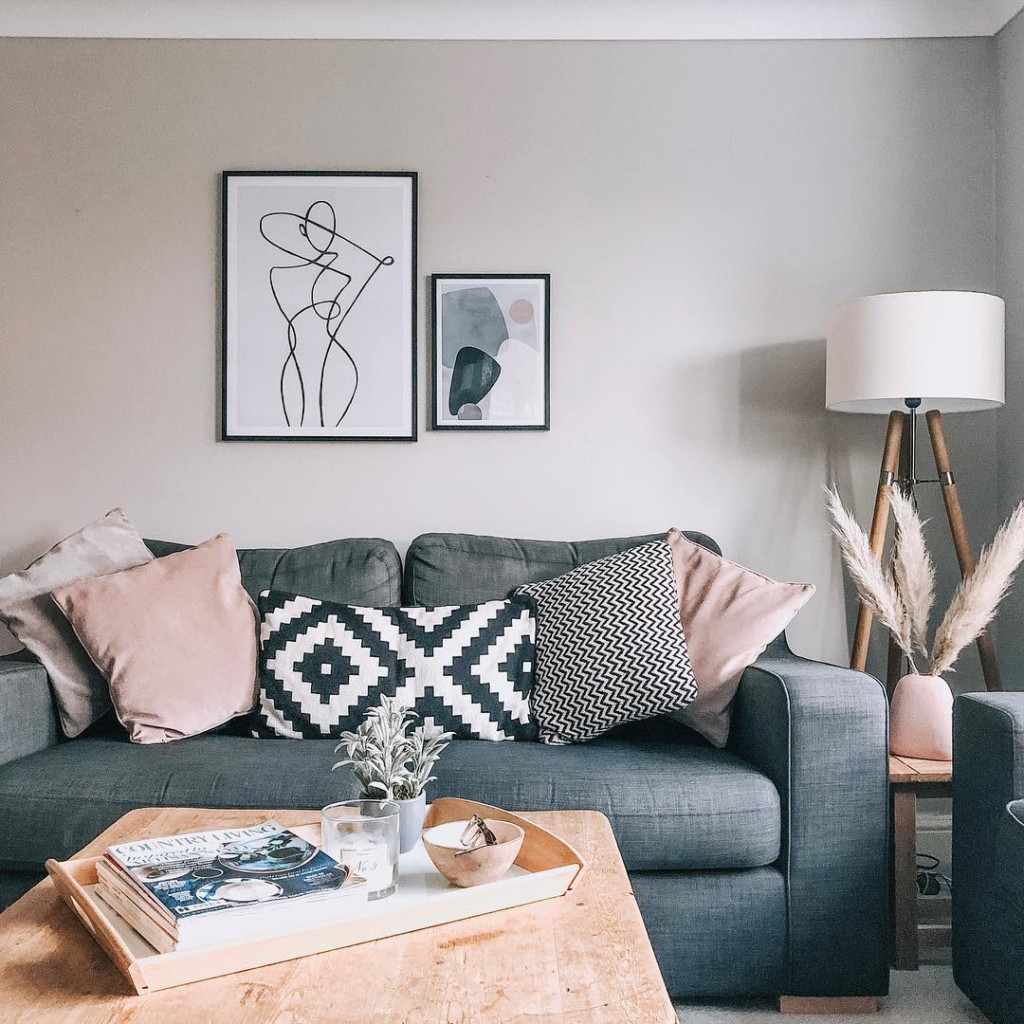 Depending on the tray you have in your home, add it to your coffee table. Even if it's too long for the width of the table. A good idea for a long tray is to slightly tilt to the side to look diagonal.
From there you can get personal and add whatever you see fit. A good addition would be a book, probably a small candle. The more subtle it looks, the better.
7. Add Some Light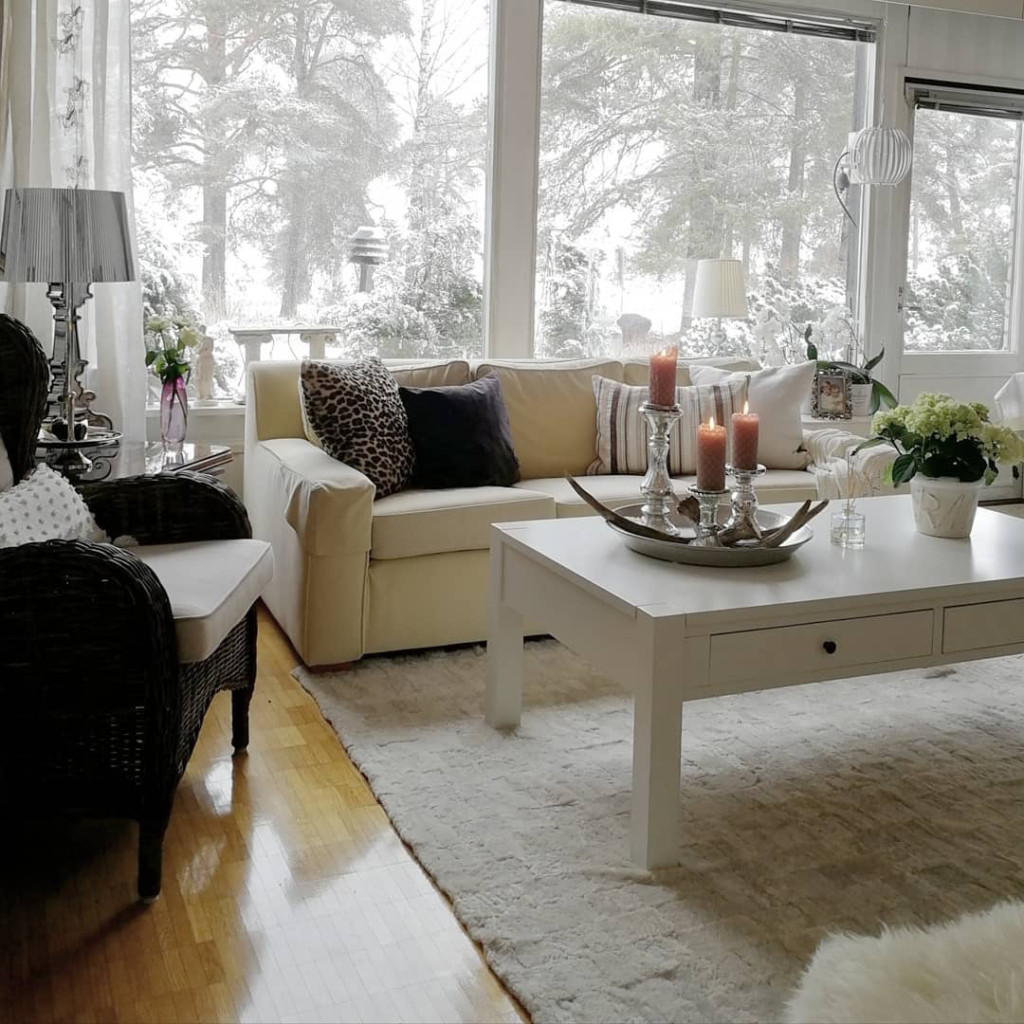 Add some candles or a candelabra to the table. It always adds some element of peace onto the room. Especially during the night, you can light up the candles.
To make it even more unique, you can place the candles on a tray. Something silver to reflect some light to the room.
8. Colored Flowers in a Vase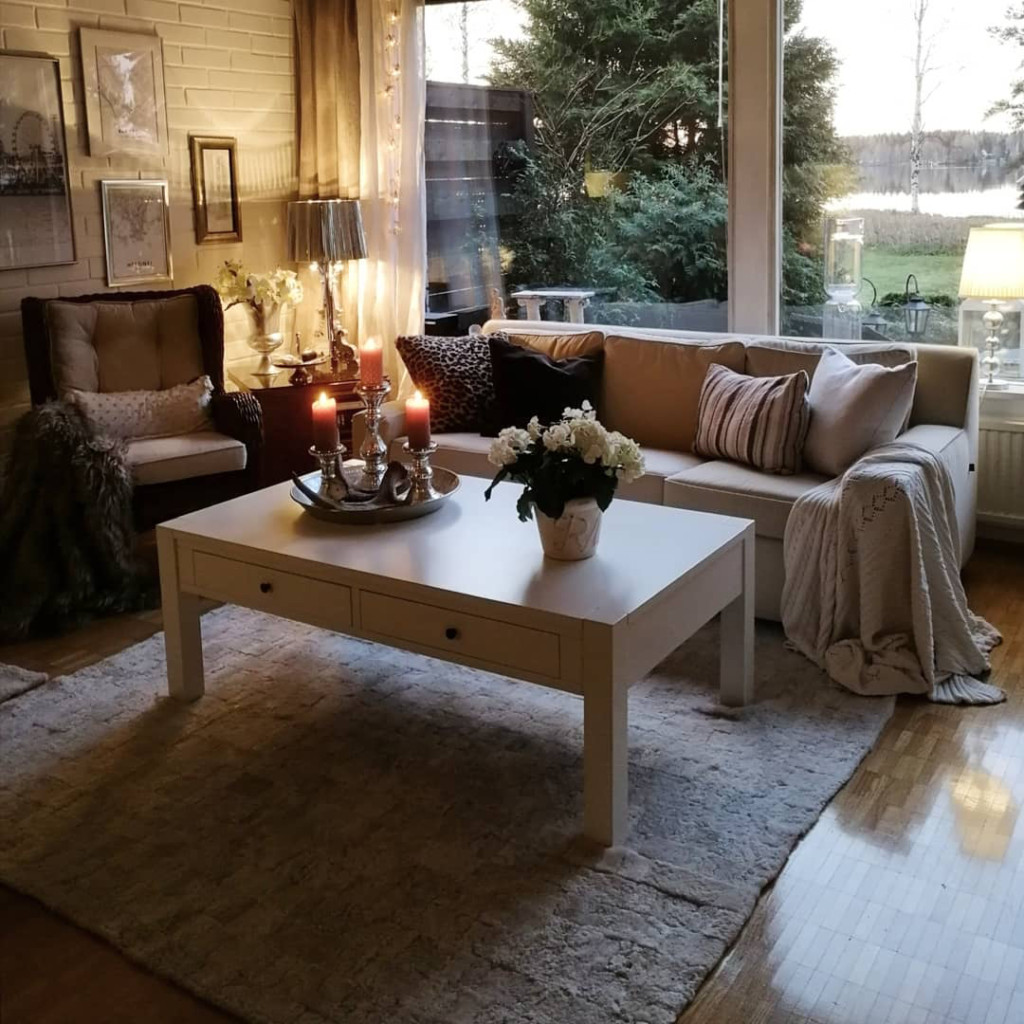 Adding some candles alone may not enough be enough. How about you add a colorful vase with beautiful short trimmed flowers.
Flowers can be entirely up to you to decide the color. But a similar or complimentary color would work best. Place the vase just next to the candles leaving the table practical yet stylish.
9. Stay on Theme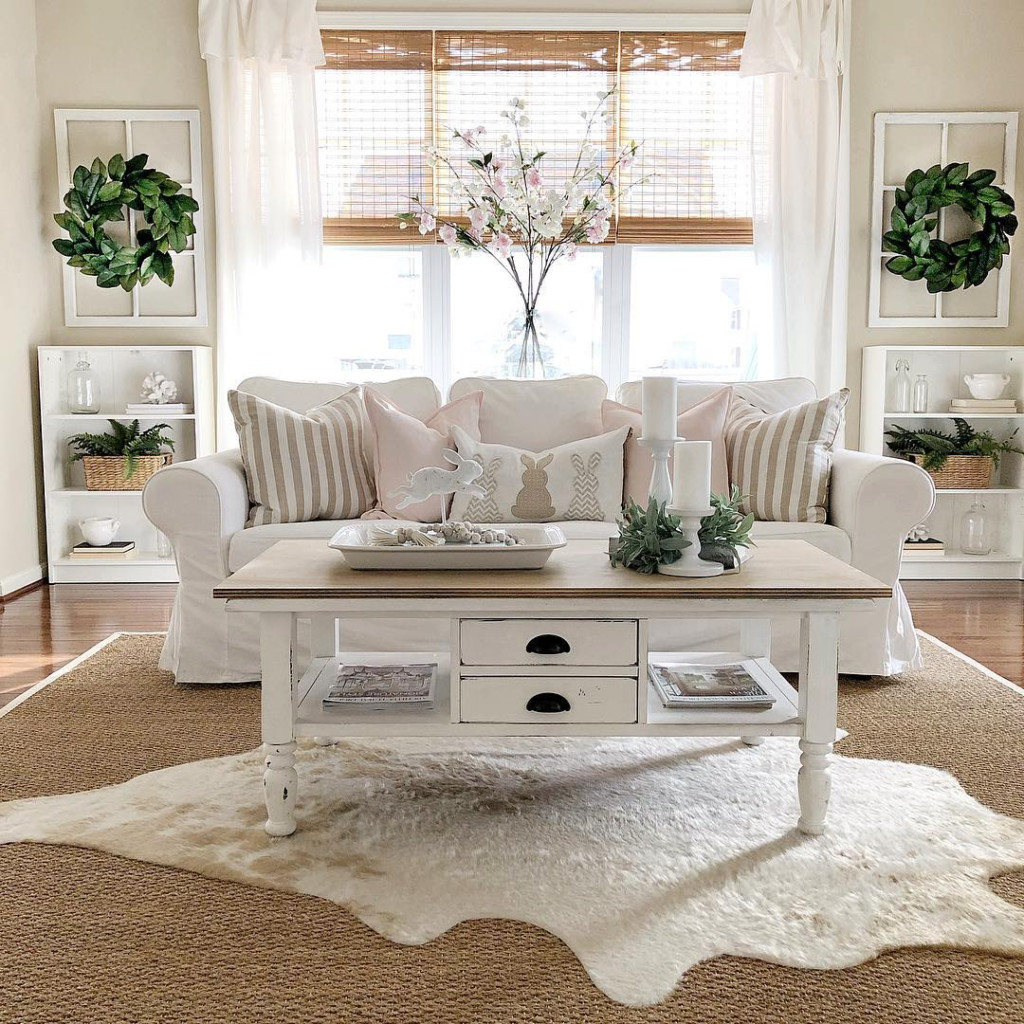 There is nothing wrong with wanting some monotony. Where you prefer one theme throughout your space with no exceptions to your coffee table.
That is no problem. Add a white tray to your white table with some white art displayed on the tray. You could also add some white candles, the short type.
Recommended Read: Best Home Coffee Bar Ideas
10. Add Something More Subtle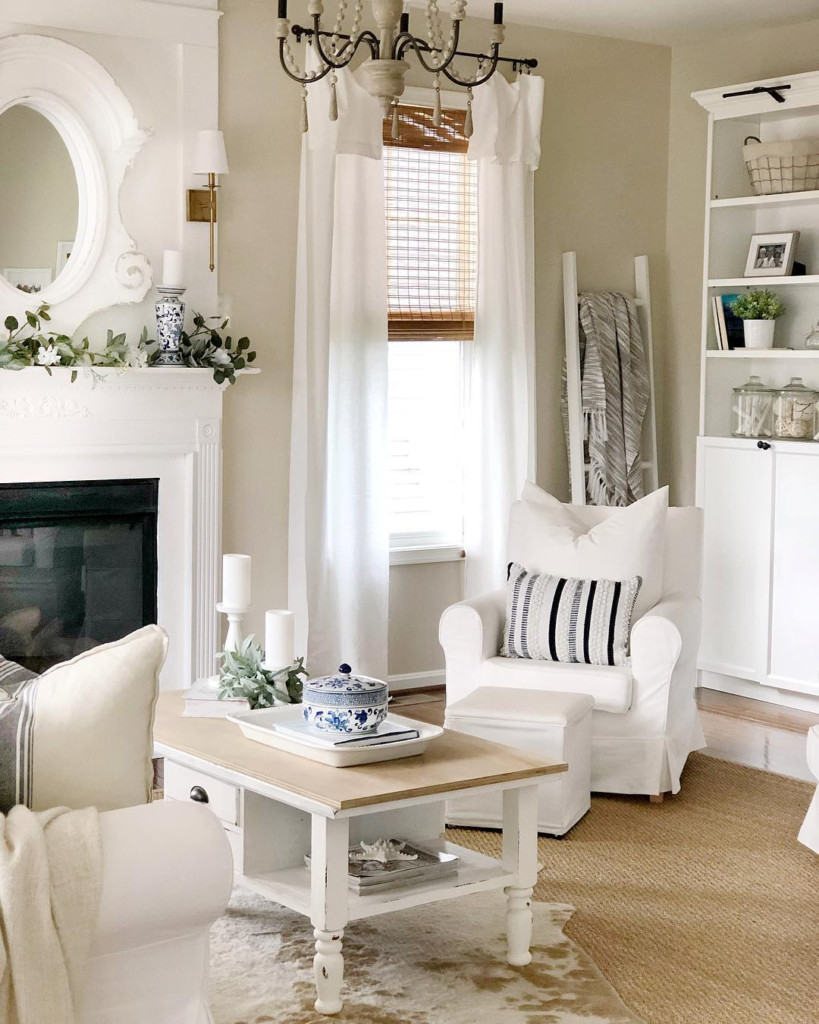 One piece on the table could be all it takes to change the look around your living room. A good example is a pot of flowers or a book with the same color theme as your table.
Something subtle could go a long way to decorating your table.
11. How About Some Hanging Plants?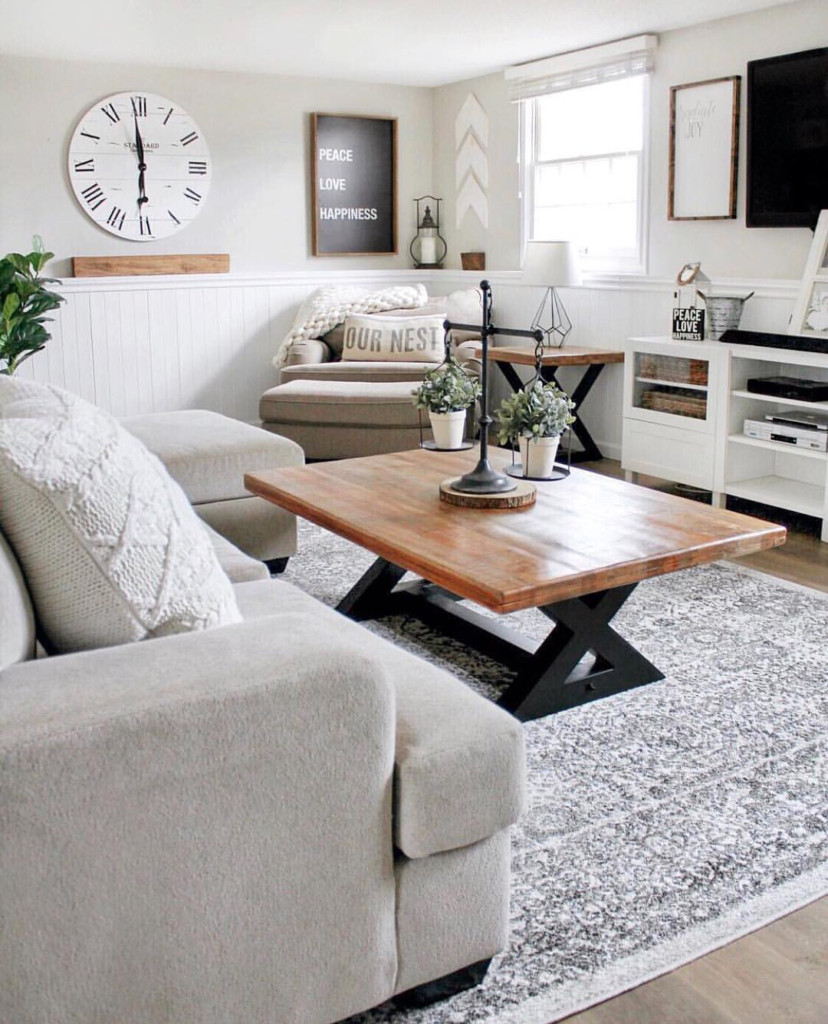 Plants and flowers have been the talk around the best coffee table decor. You could spice things up by adding one centerpiece of a plant. Take the shape of a cross, hang a tiny plant on either side.
This is not only stylish but allows for space on the table for other things. You could easily have coffee with your guests with ease. No need to push around some decor to make space.
12. Minimalist Centerpiece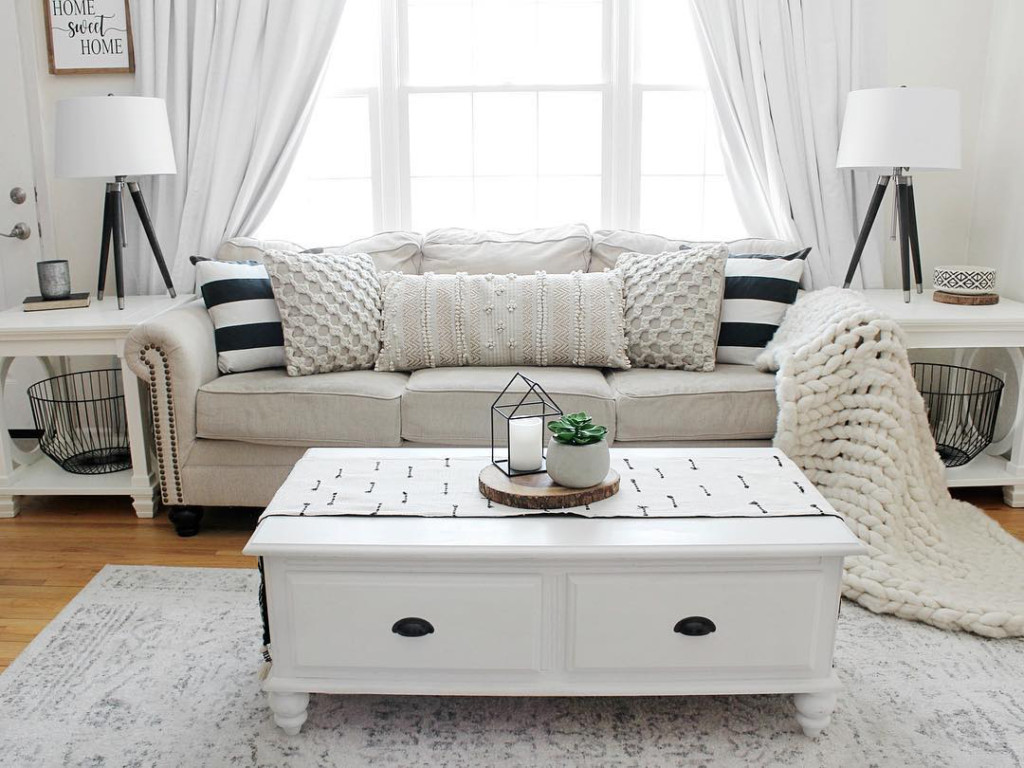 This goes out to all the minimalists out there. One centerpiece is all it takes. Take a wooden coaster made of mahogany or any other wood. Have it coated and polished to look classy.
Add up some tiny elements on top of the coaster like a framed candle or some greenery of your choice.
13. Contrast Colored Runner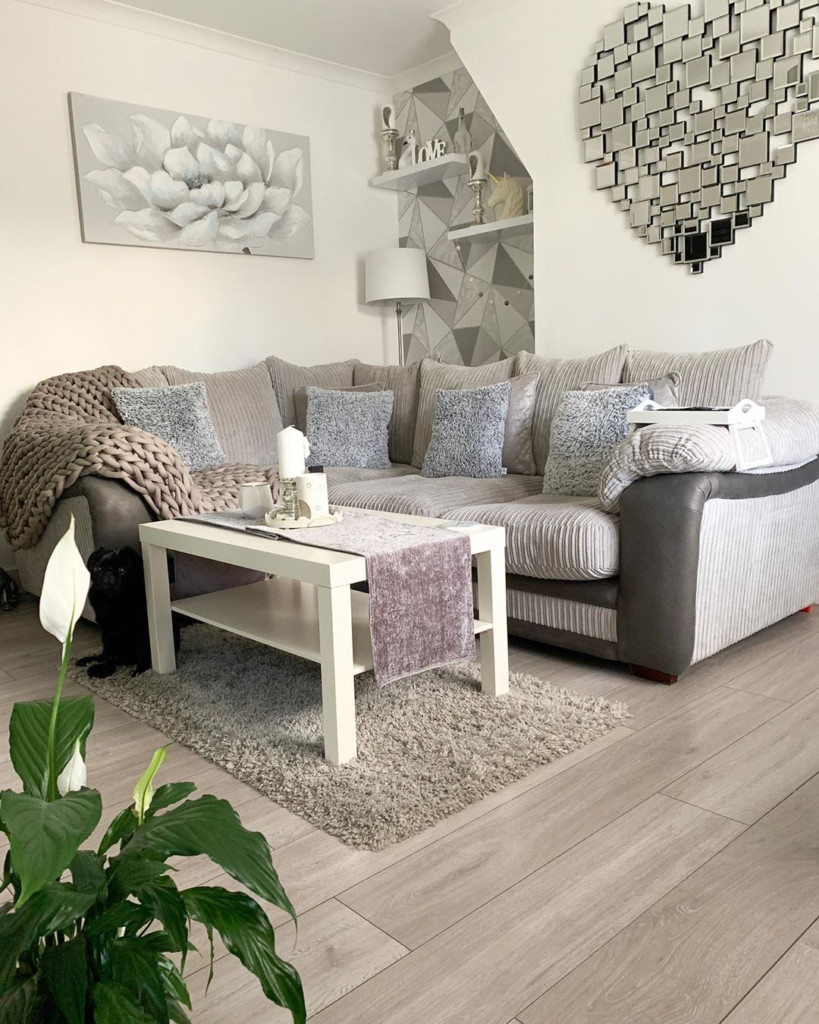 Like a dining table, you could add a colorful runner. Something with a contrasting color to attract attention. From there, you can place layered candles on top as a middle piece on the table.
The runner could be the main point of attraction. But something as simple as the stacked candles could also add some light to the look.
Recommended Read: Where To Buy The Best Farmhouse Rugs & Save
14. 3 Beautiful Candles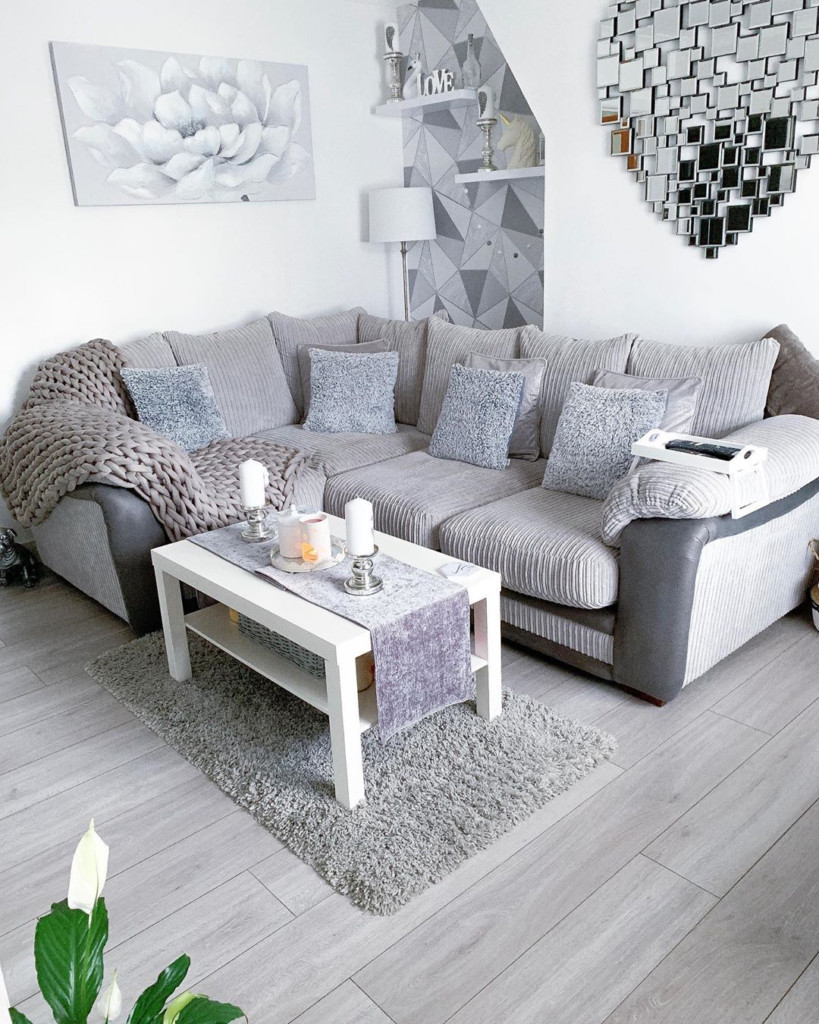 With the runner still in play, you can decorate the coffee table with 3 beautiful candles. Instead of placing one at the center of the table, place three.
Align them next to each other with some space between. That does have a way of bringing everything together.
15. It Takes Two to Tango
Depending on the space of your living room, you can have 2 tables. One meant to compliment the other. They could be similar but some difference always adds a decorative touch.
One could be an embroidered table with a normal table but a maintained theme on both. Place about 3 elements on the bigger table. Then add a complimentary element like a flower vase or a bowl for holding feathers on the smaller table.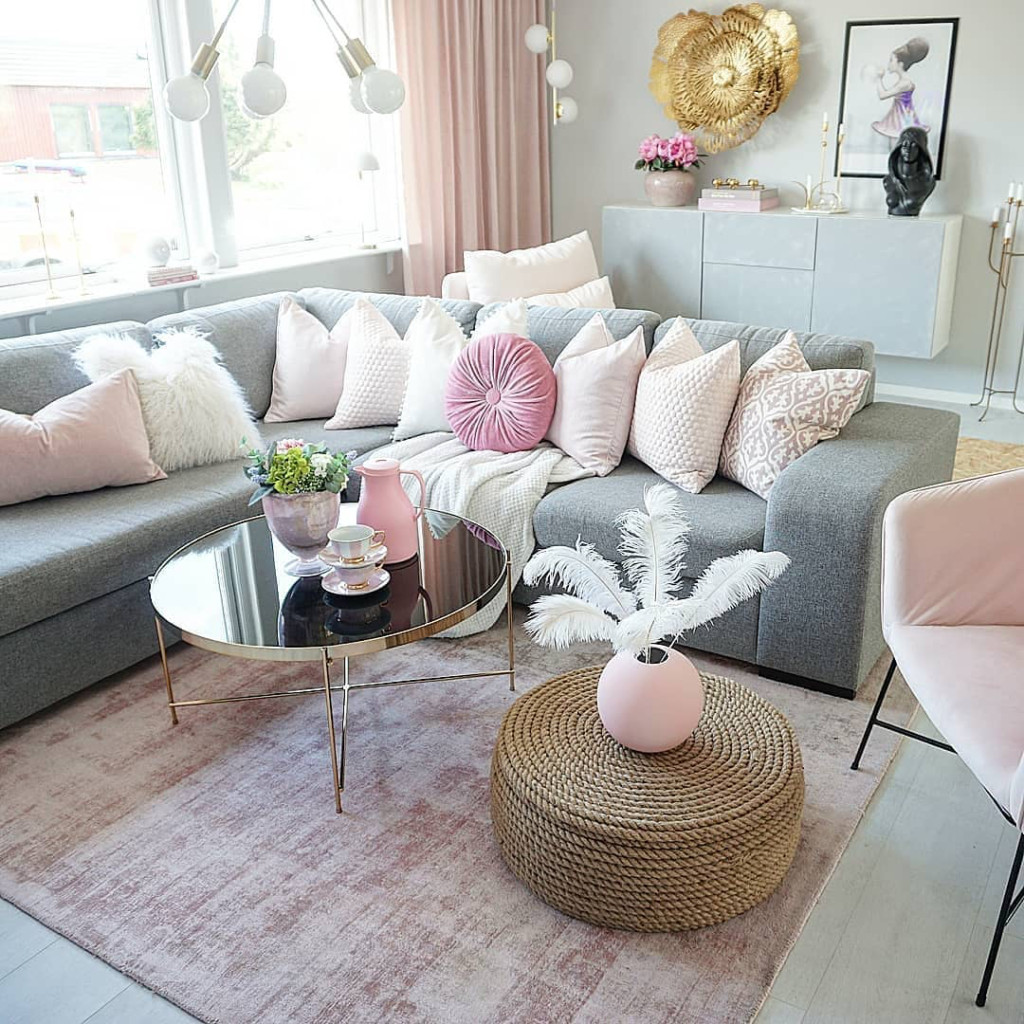 17. An Inverted Triangle Decor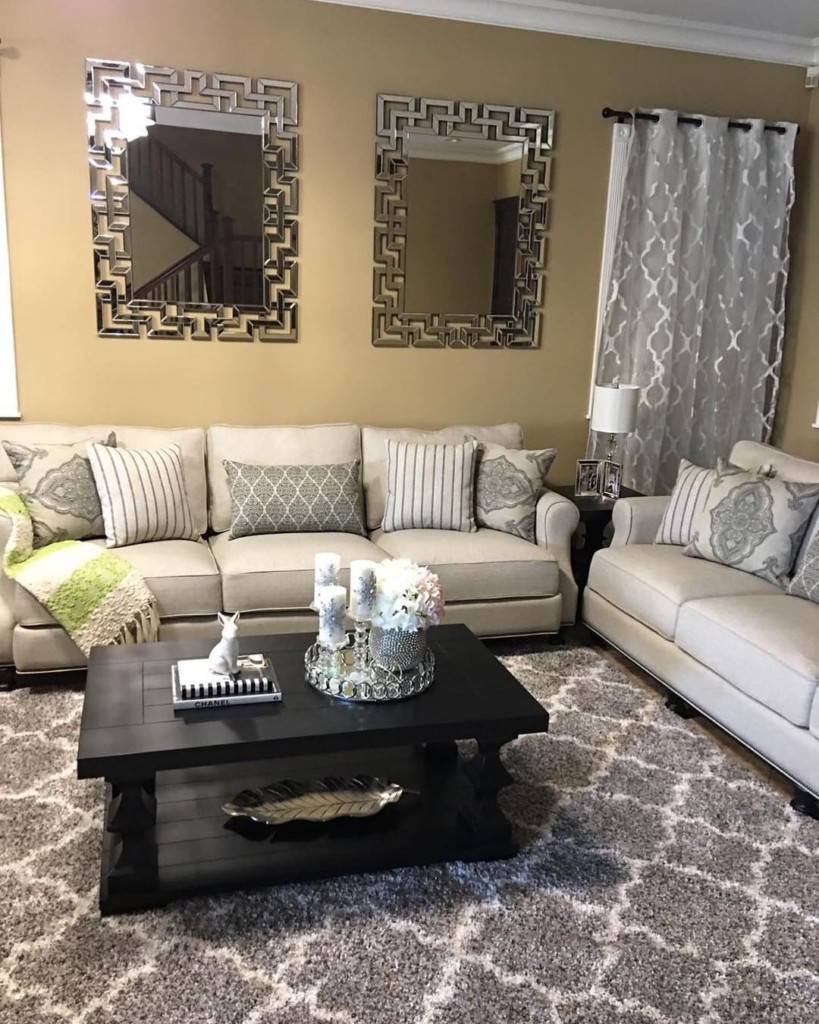 Use math to your advantage. Use 3 beautiful elements and a two-tier table to decorate the coffee table. A great example is a book on one edge. Then a tray on the other far end and a piece of art down below directly between the two pieces above.
You can opt for a small piece of artwork and place on the lower tier. But something long or wide fits the persona. Something to fit the space between the two aligned elements above.
Recommended Read: Sectional Dimensions – Common Sizes, How to Measure, and Pick One
18. Phase Two of The Inverted Triangle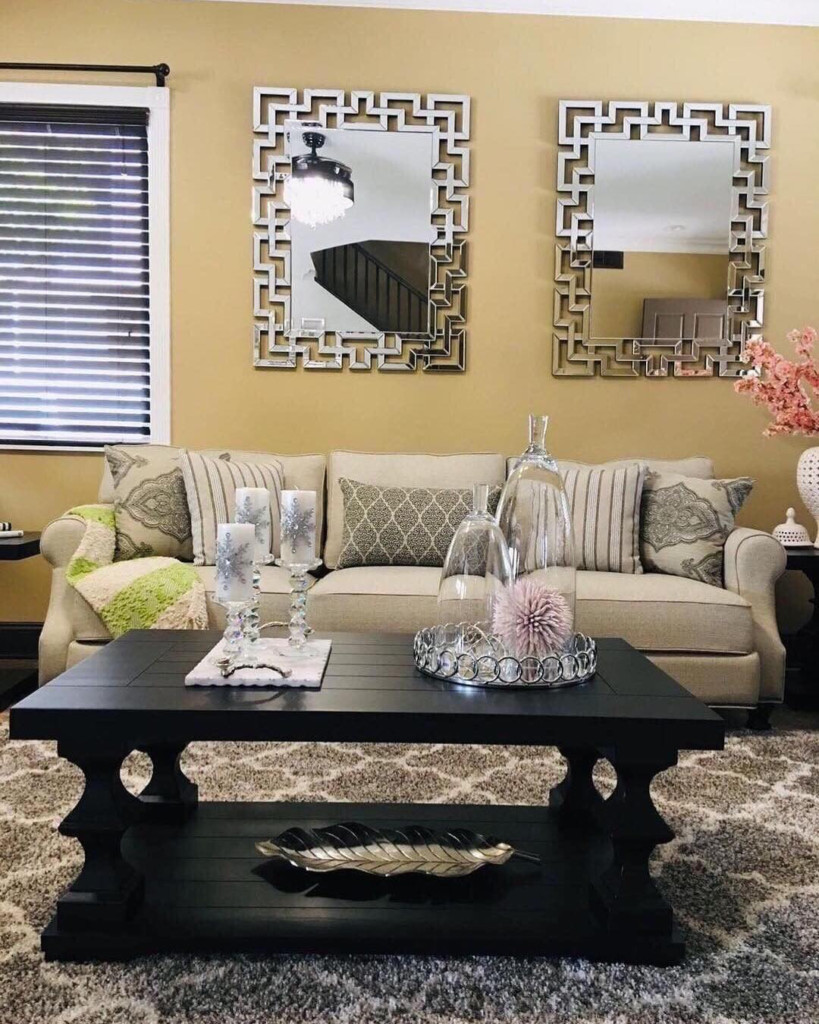 Another great idea with the inverted triangle is a candelabra. Use it with beautiful short candles on one side and a tray with conical cylinders to the far end.
You can maintain the piece of artwork below. It should do a great job completing the table.
18. Life on a Coaster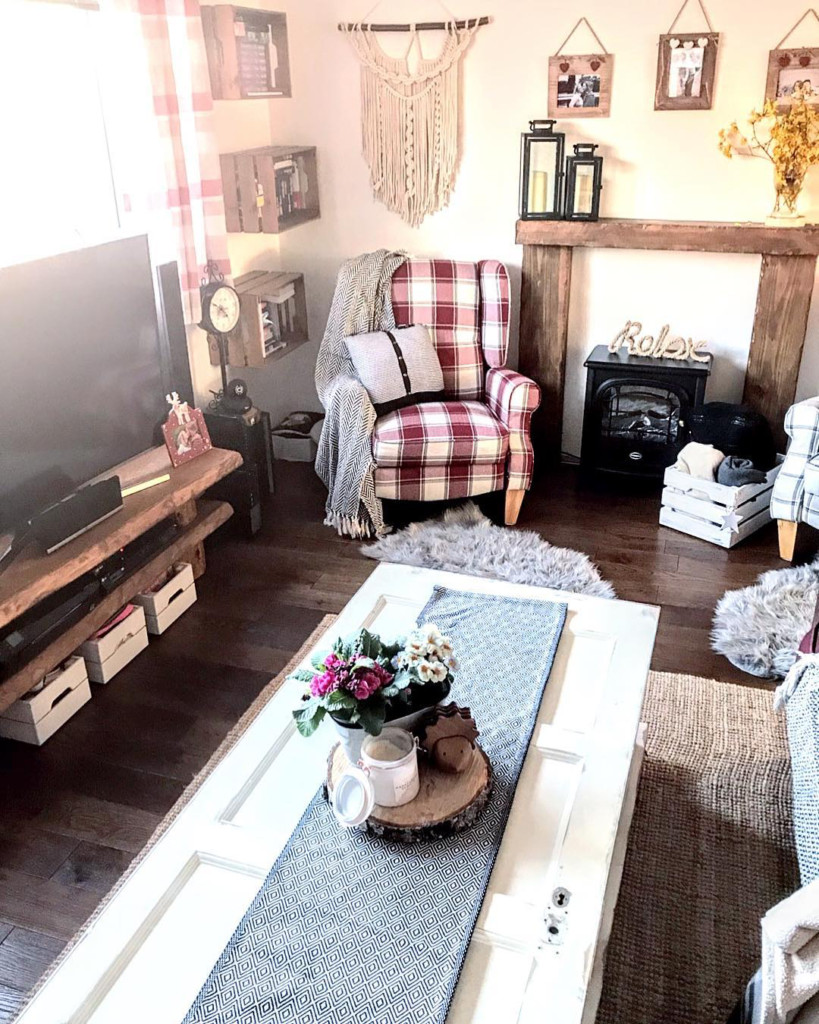 The wooden coaster is your friend when it comes to decorating your coffee table. It lays the base for your elements to remain still on the table.
Add a small pot of flowers to the coaster plus any other tiny piece of art or snacks and lay it on a runner.
19. Add a Long Bed of Flowers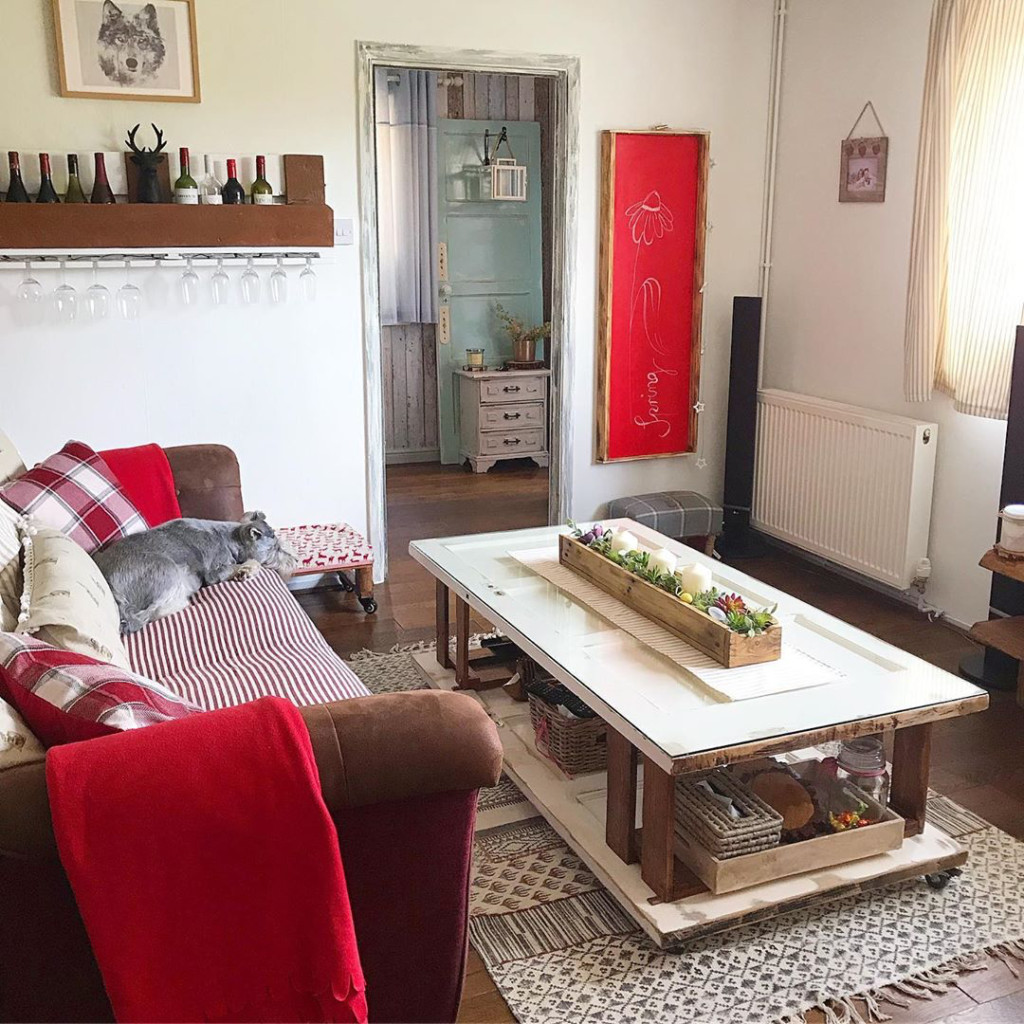 A flower bed on your table is also a very good idea. Get your best flowers, arrange them neatly on a long open box. The open box should be filled with soil and short plants and flowers.
Play around with the flowers plus the element of green from the plants or weeds. You can also add a runner between the coffee table and the flower bed.
20. Go Green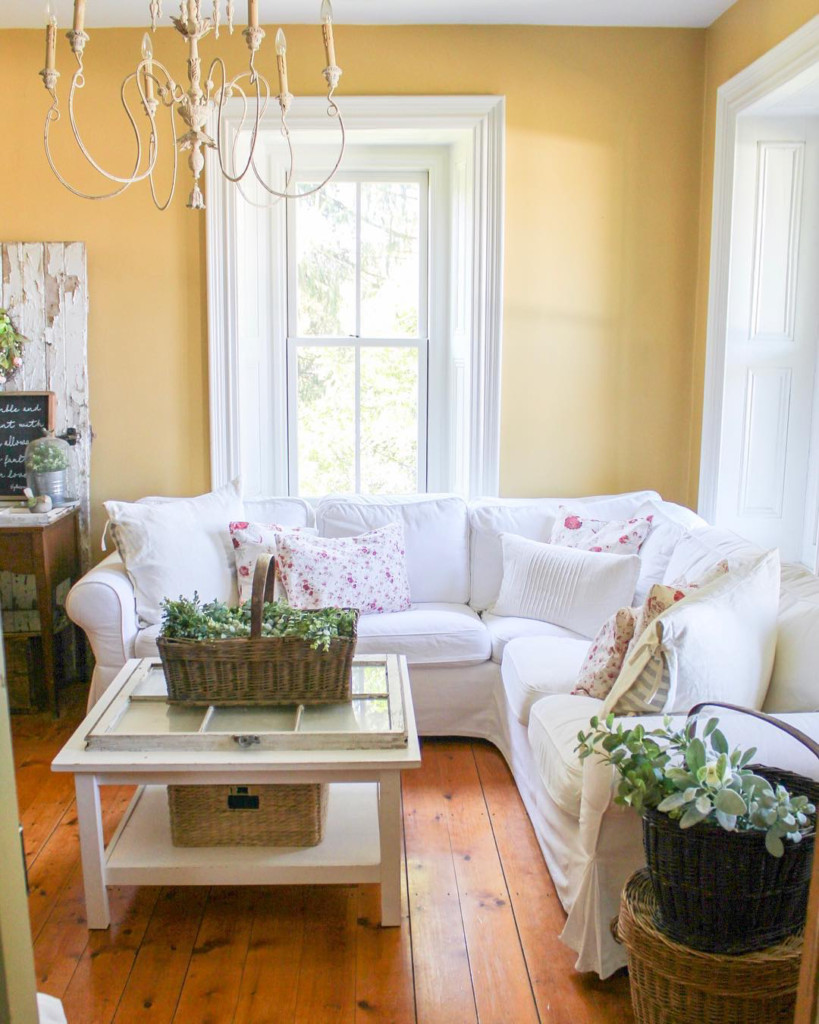 If you are a fan of nature and the green environment then don't be afraid to go green. Take a basket and fill it with the greenest plants you have. The brighter the green, the brighter the room will be.
Adding life through the plants is always a good idea. Especially if you don't want to go all out with trays, art plus other accessories.
21. Wood on Wood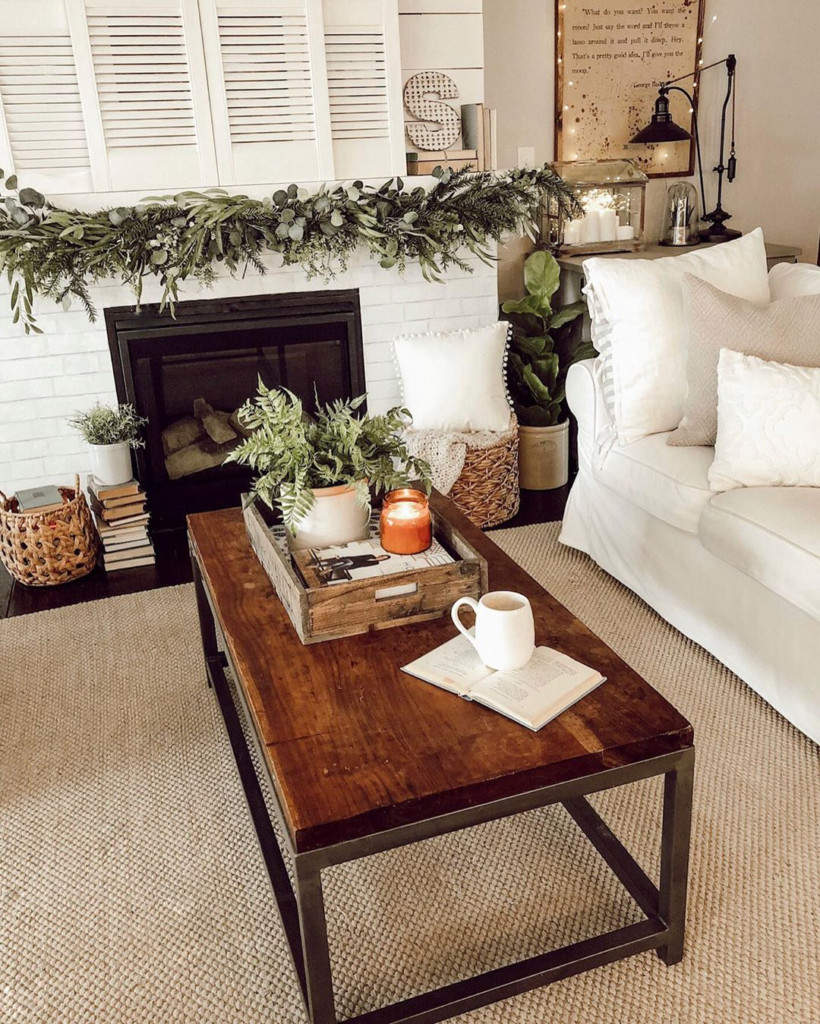 Take a rustic wooden tray with favorable height. Then fill the tray with your personal favorites. Seeing that the tray is of a considerable size, you can add just about anything.
Take a wide vase or bowl and place a leafy plant. Also, add in some books and a covered candle into the tray. That gives off a feeling of warmth.
Recommended Read: Living Room Inspiration & Ideas for a Sectional Couch
22. Three is The Charm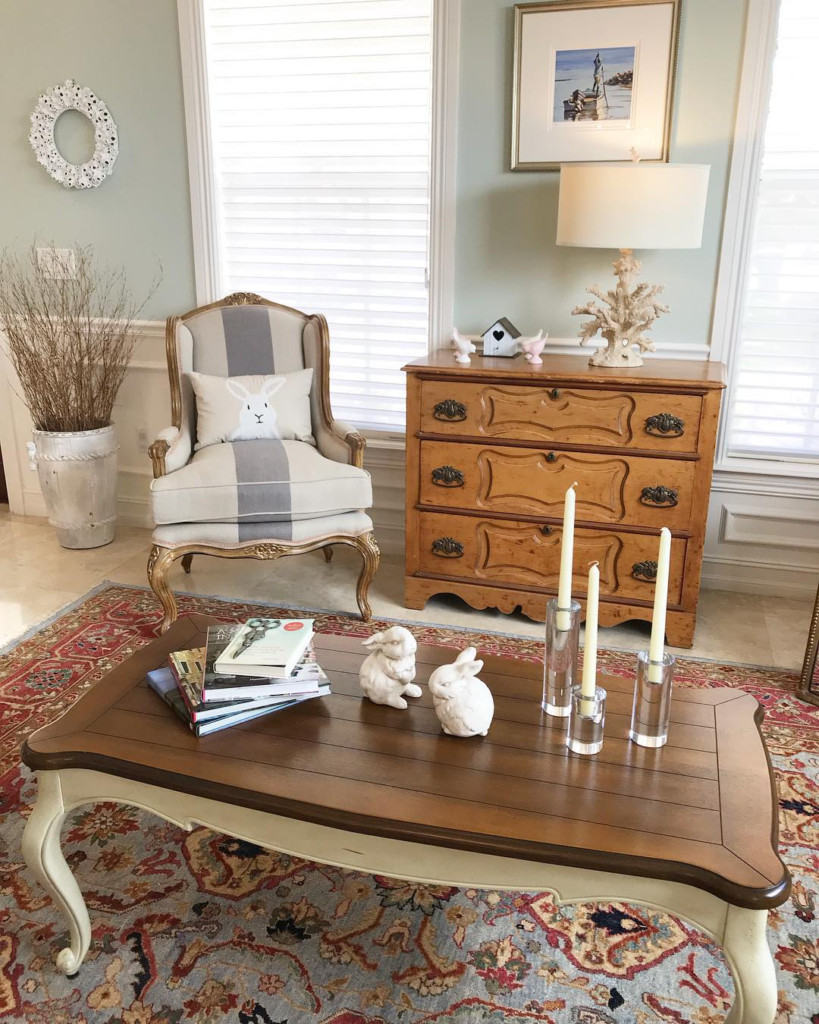 Mixing elements doesn't have to be a messy affair. Try out a combination of your favorite book with a personal touch. Place it next to some piece of art and some candles or a candelabra.
Ensure the space between the elements is the same to give off an organized look yet stylish. If that doesn't work for you, try the next one.
23. Another Run For the Charm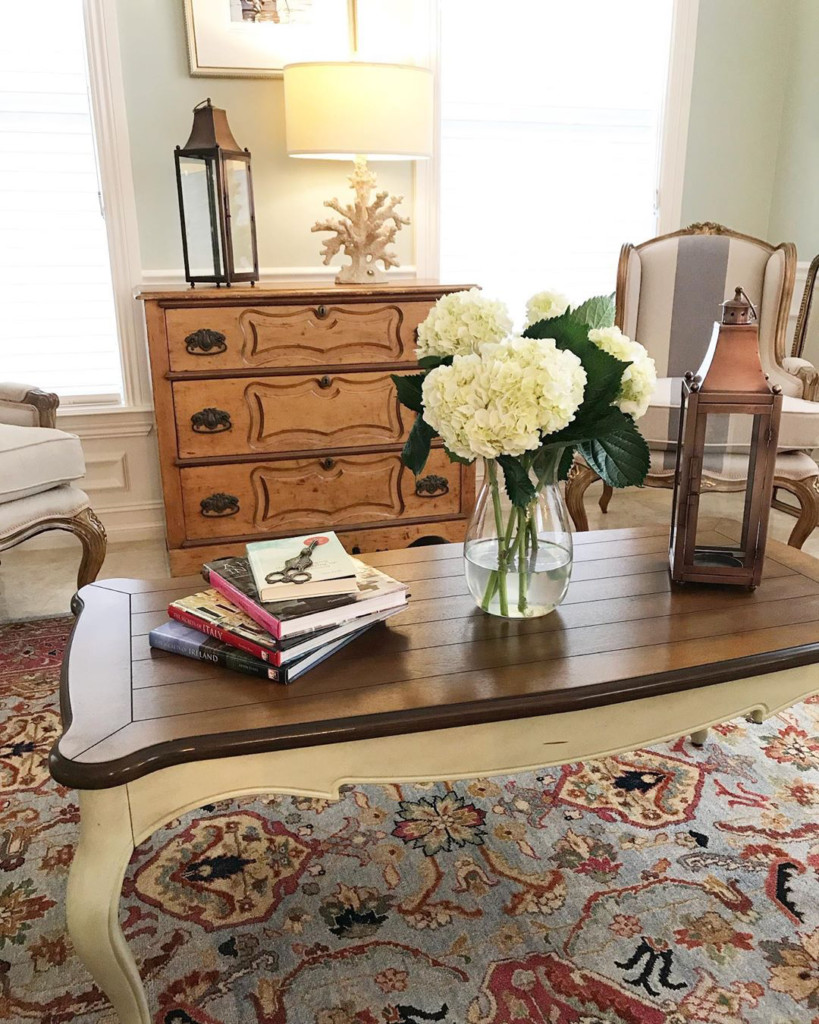 There are many other 3 elements you can align to give off the perfect match for your coffee table decor. Try out a rustic lamp, slim in size and tall in height. Nothing too bright.
Align it with a flower vase in the middle and books arranged as you please. The flowers could be tall to match the height of the rustic lamp. Or something between the height of the books and the lamp. Give off a staircase formation in your decor.
24. Display Transparency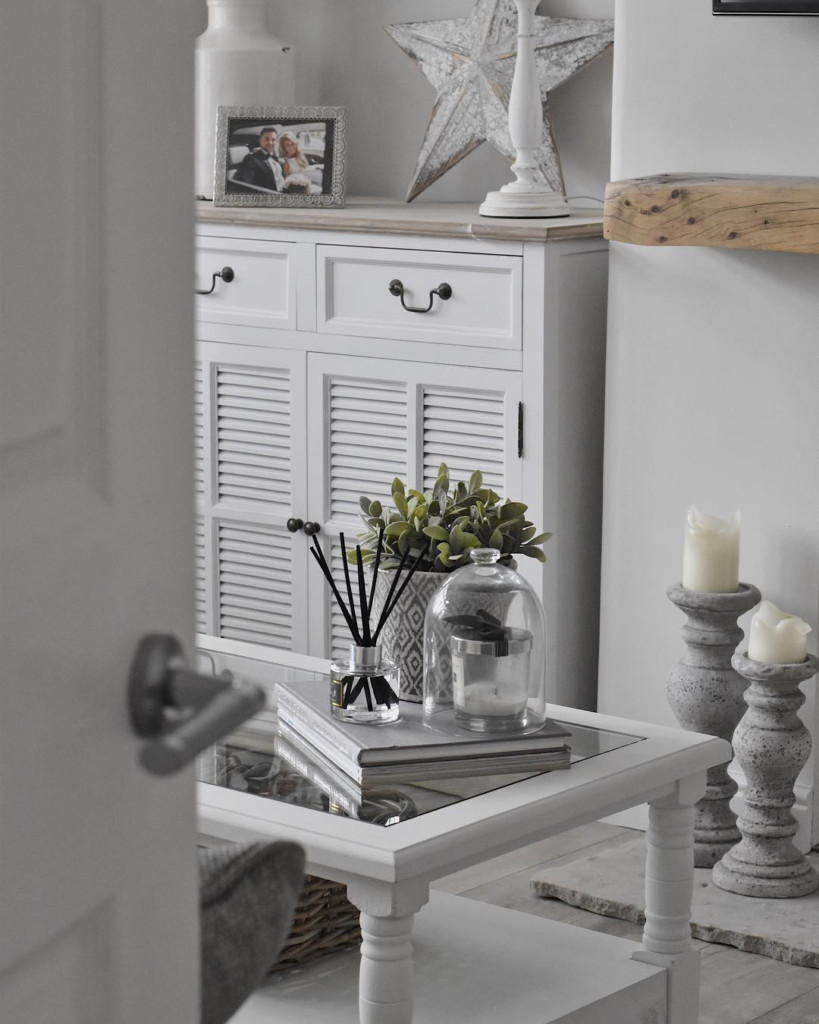 The right decor on your coffee table can allow you and your guests to feel more at ease when conversing. There's nothing more transparent than sticking to clear decor. It can compliment a clear table.
Place elements such as flowers, feathers or sticks in a clear vase or base. You can now place the clear decor on your clear table.
You can also choose to add a touch of contrast with a book. If that doesn't suit you, then try a potted plant.
25. Maintain Some Balance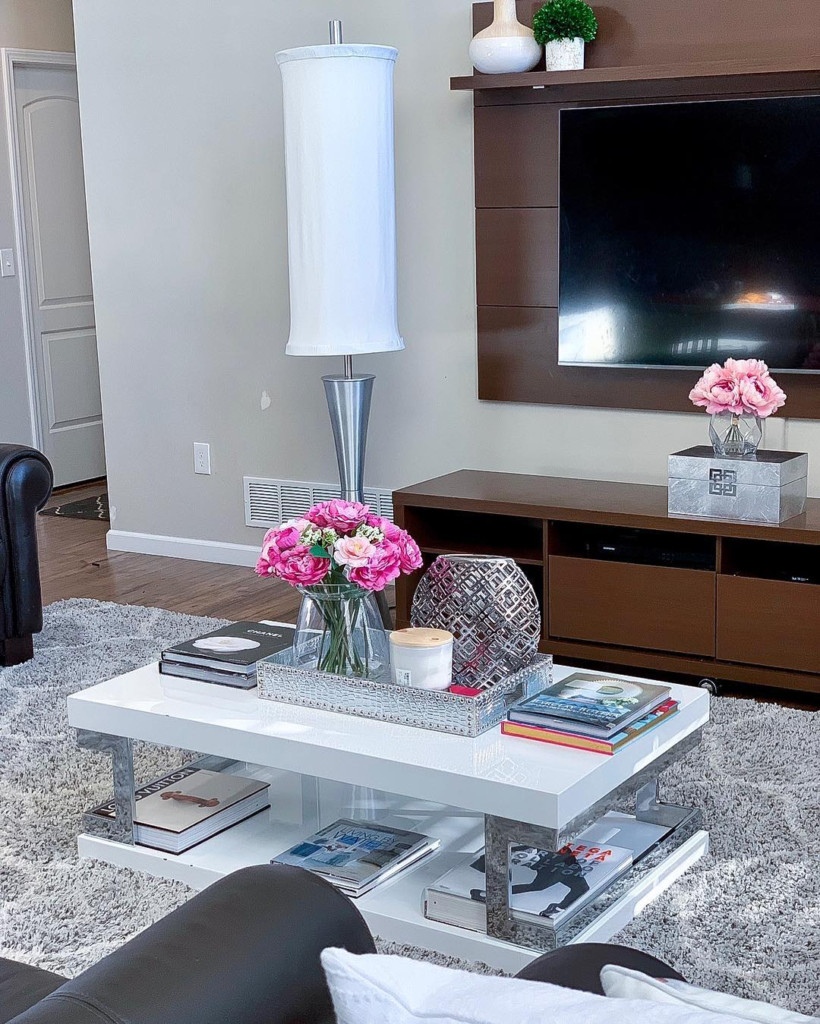 Decorating is all about finding the perfect balance between perfect and overboard. If you would like to add more than a few elements then the balance is key.
Place a centerpiece which could be a tray. Then add the other elements one by one across the corners of the table. If you have a two-tier table. Then also place at least one book on either corner of the table.
26. Play With the Elements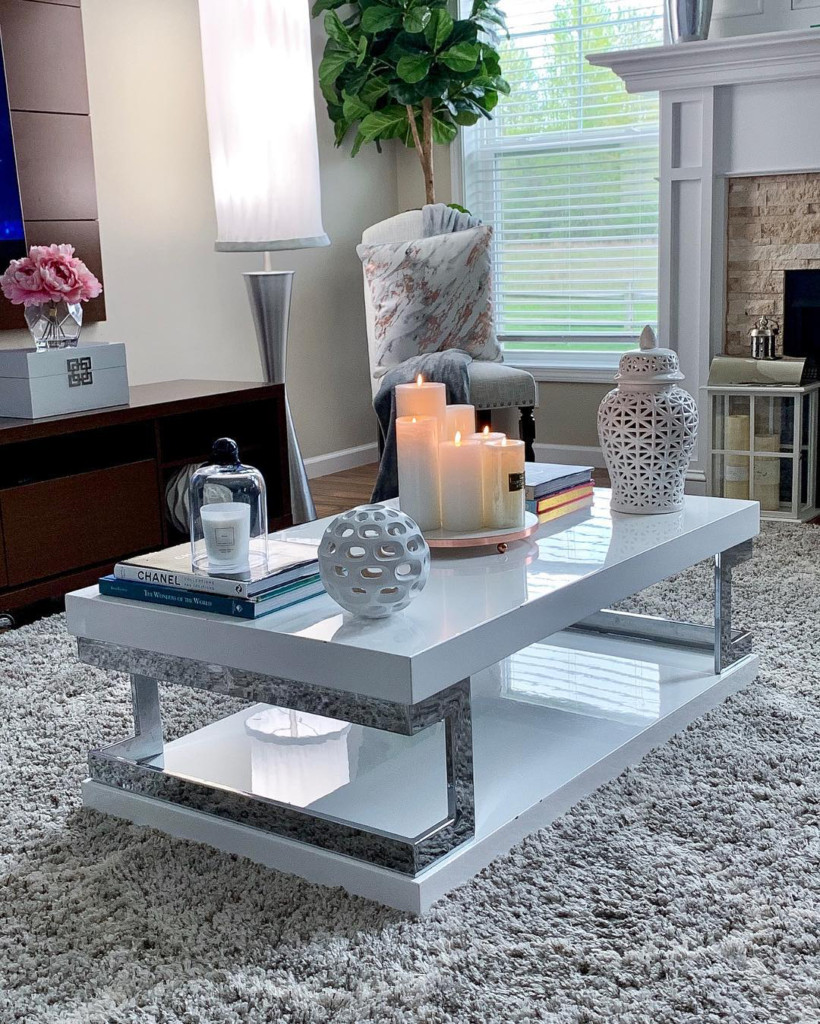 This cannot be emphasized any more. There are no limits to the decor you would like to place on your table. You can add books, candles, a vase of flowers plus sculptures or other artists elements.
The trick is to arrange in such a way that they align with each other. All elements have to shine through and play its part in decorating.
Best Cheap Sectional Sofas Under $500
27. Add Some Height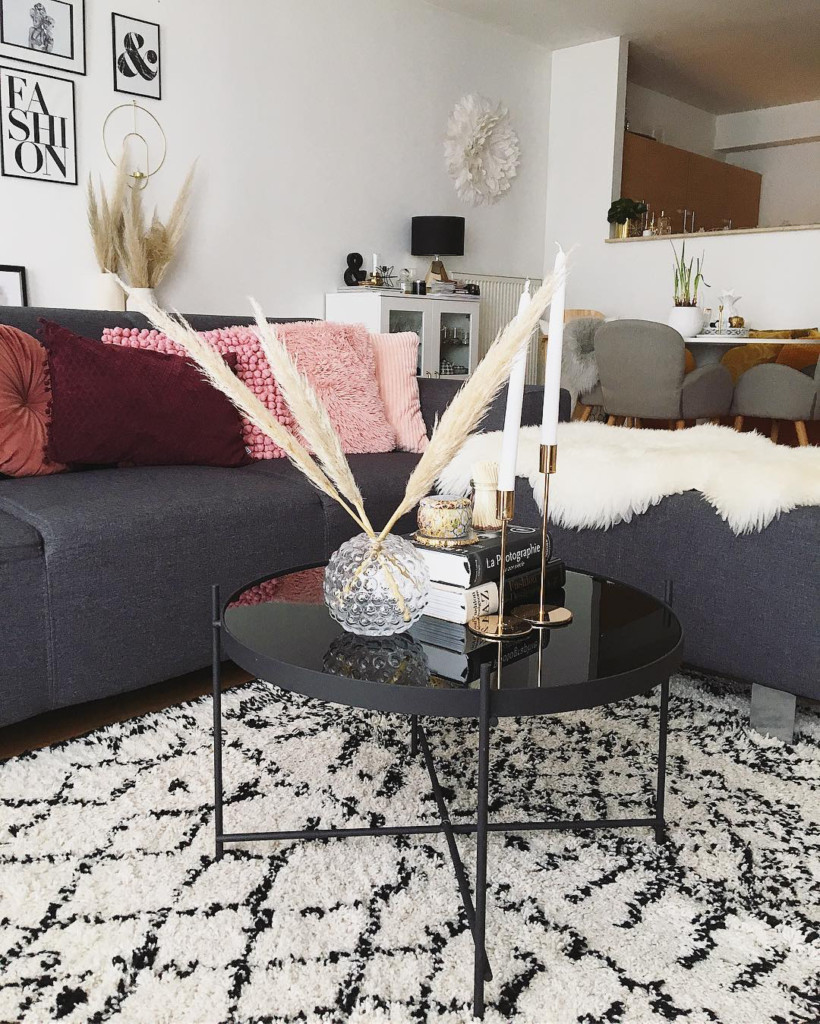 Make use of those long candles or the extra long feathers you have. Take a bowl, add 3 or four feathers and arrange them to look in different directions. That should give out a chic look.
Also, add some extra long candle or a stack of books tall enough to fit the theme. You can go for a monotonous look or something more popping.
28. Choose a Theme and Stick To it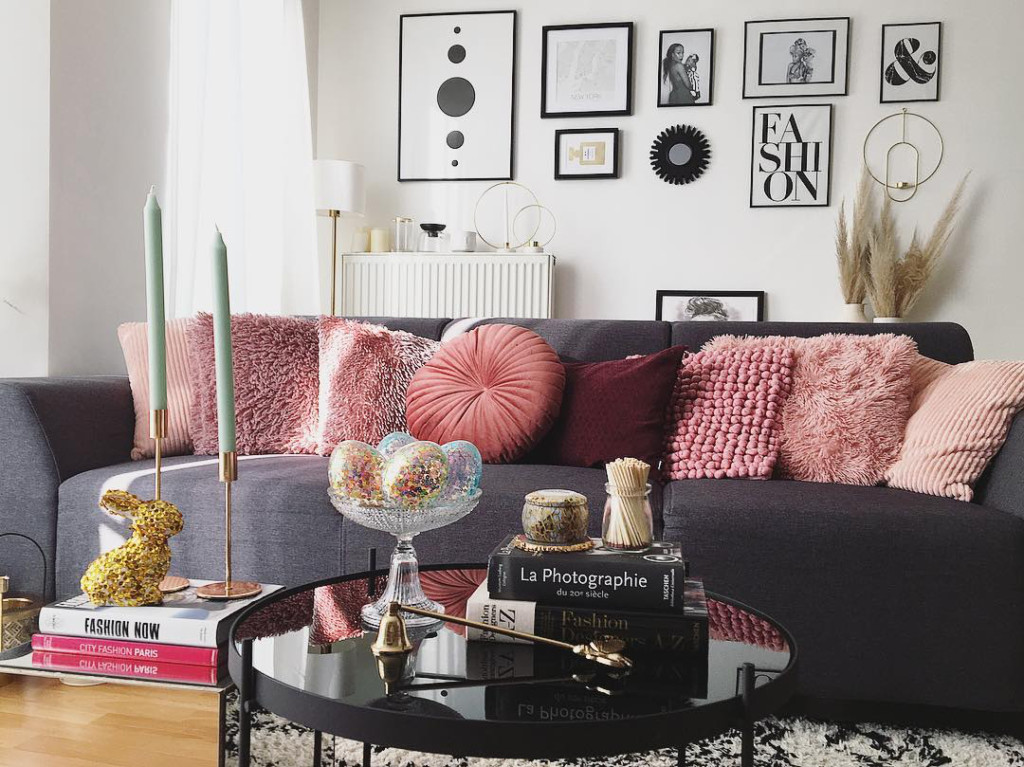 Besides the common theme in the living room, you can choose a theme for your coffee table. Match black on black with some element of gold. You can also choose to add something extraordinary like overly decorated Easter eggs.
Add books with heavy volumes like those from Harry Potter. The aim is to get a theme and stick to it.
29. Simple is Best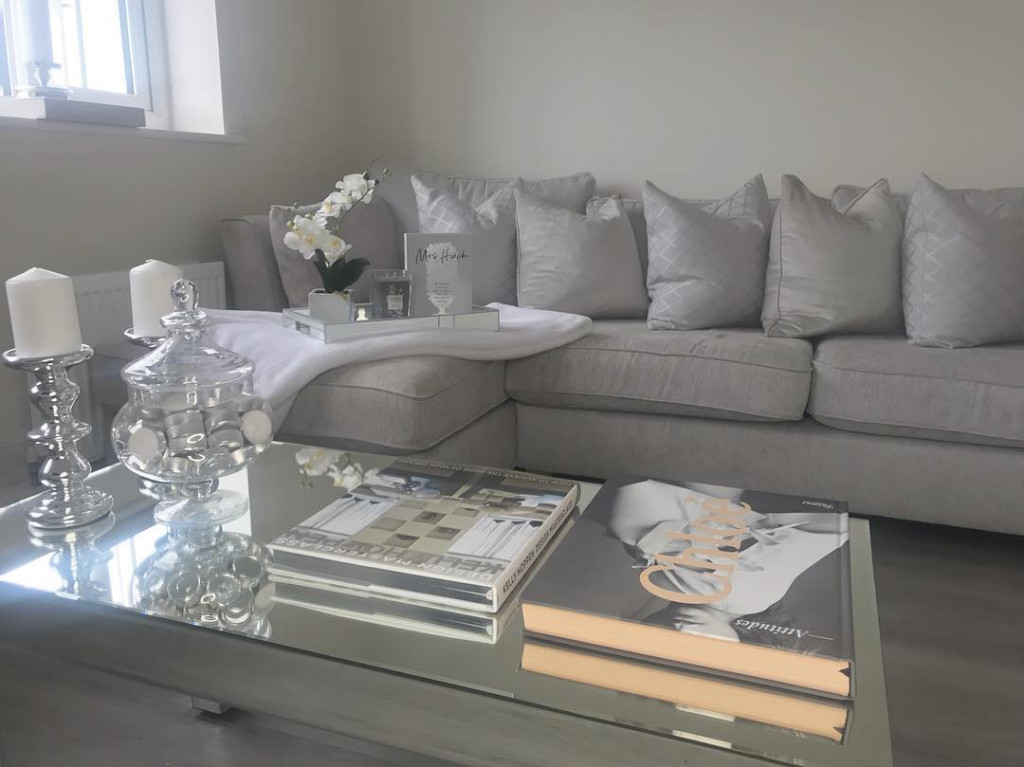 You can take your simplest candles and match them up with 2 of your favorite books. Place them on the table and done. It will also depend on the type of table you have but a simple theme is always best.
Stick to clear elements or neutral colors for the best results.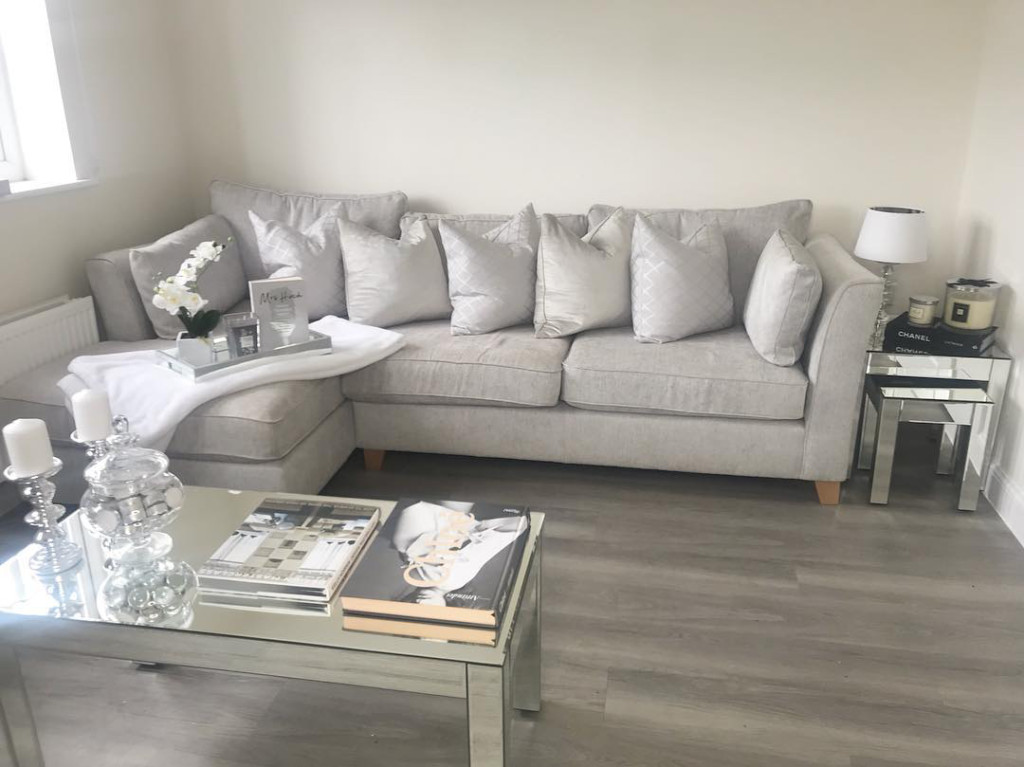 Some side tables wouldn't hurt
Sometimes all you need are a few friends to the rescue. Add side table somewhere close to the main coffee table to compliment it. The side tables don't have to have decor as well.
You can stick to the same theme of simple and place a candle on the tables. A lampshade will also do well for the theme.
Conclusion
Decorating your coffee table doesn't need much work. The best work comes from mixing and matching elements you already have. All in all, plants, art, flowers, books and a theme will always do the trick.