Home coffee bar's are not only fun and decorative but they're also a great way to save money. Personally, I used to go to the coffee shop not only for the joe but the experience. Ever since I made a home coffee station I've honestly enjoyed drinking my coffee at home.
If you're thinking about adding one you should check out these totally do-able coffee bar ideas for the home. 
In This Article We'll Discuss
Home Coffee Bar Essentials
After going through these home coffee stations these are the trendiest items that had the biggest impact on getting the look & we recommend
Best Coffee Maker: Keurig K Classic– "This coffee maker is used in a vast majority off the home coffee bars we looked at. It's easy to use, convenient and gives the feeling of having someone else take care of the coffee."
Popular Coffee Mugs: Rae Dunn Coffee Mugs– "These coffee mugs are a fun and trendy way to enjoy a cup of joe. They have so many messages written on them it's tough not to find one that fits you"
Best Way to Leave a Message: HBCY Creations White Washed Chalk Board – "When it comes to home decor I really do enjoy pieces that can be customized. This shabby chic chalk board is great for writing your own messages that you can your family can enjoy."
Best Way to Hang Mugs: Home Traditions 3 Tier Countertop Mug Stand– "This 3 Tier mug stand is a rustic and simple rack that gets the job done. It will fit with most home decor styles"
Popular Coffee Sign: Parisloft Wood Coffee Signs– "This rustic coffee stand kept coming up again and again in home coffee bars. It's easy to paint the frame if you're looking for a different color"
Best Farmhouse Tiered Serving Tray: Bison Home 3 Tier Serving Tray "Galvanized metal is essential farmhouse style and this tiered serving tray gets the look down."
Best Wall Mug Rack & Shelf: Love-Kankei Floating Shelf-"Floating shelves with mug racks are a common trend in home coffee bars. You can get the look with this rustic floating shelf."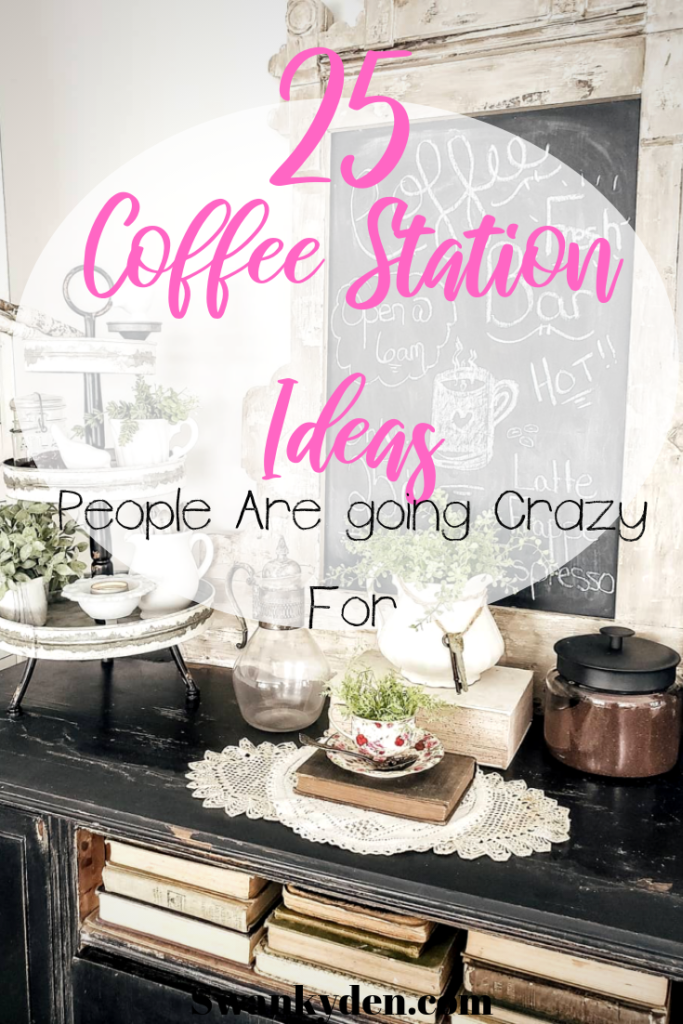 Save and Share on Pintrest
1. Sew Much Coffee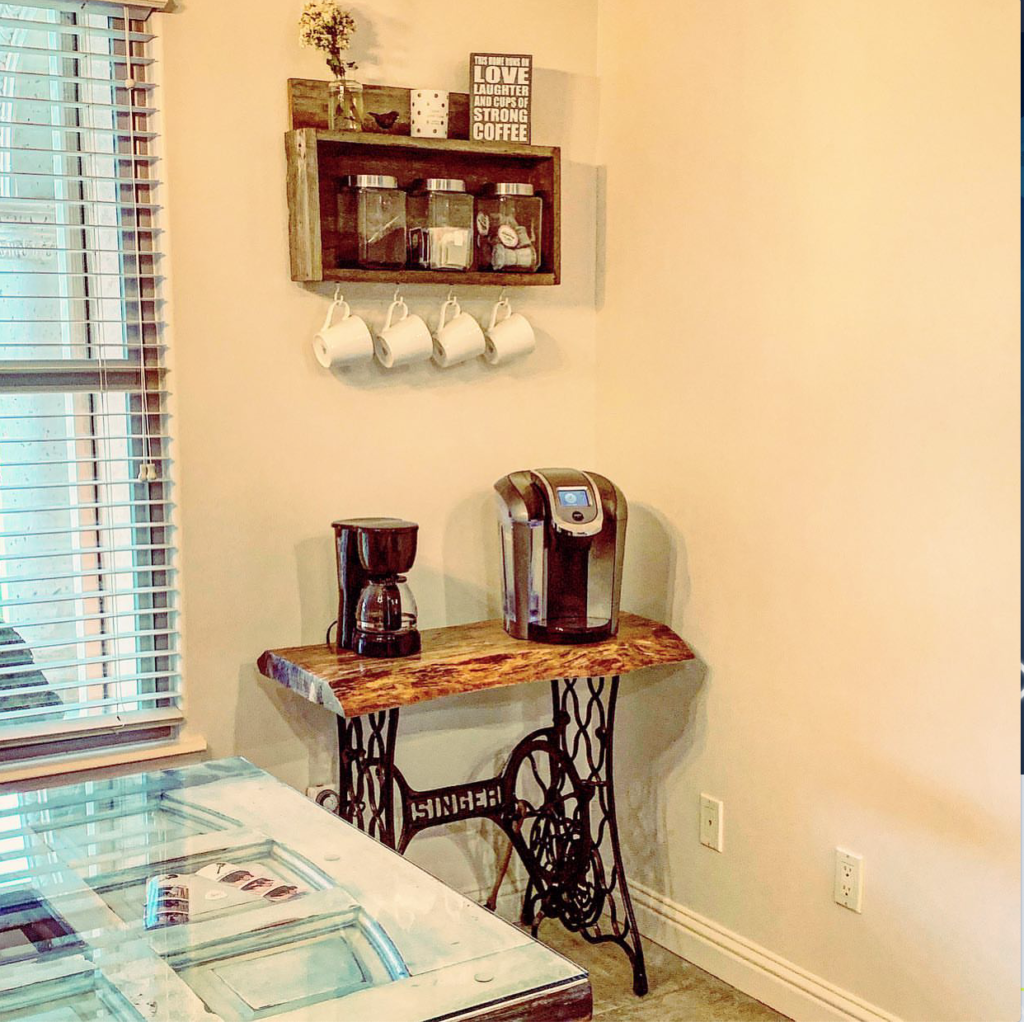 Help! There's not a lot of space in my home but a cozy coffee bar would be lovely. This may be the common cry among coffee lovers today. Luckily there are "sew" many answers to this problem. Super sweet coffee bars are possible in most any areas. Got a small corner and you have yourself a coffee bar.
A vintage sewing stand is a perfect answer for a corner coffee stand. Top this with a wooden slab full of character for a popular look and it is coffee time! Now for storage, you can use a pallet wood shelf and voila! Mugs and coffee beans are at your fingertips.
2. Java Jolt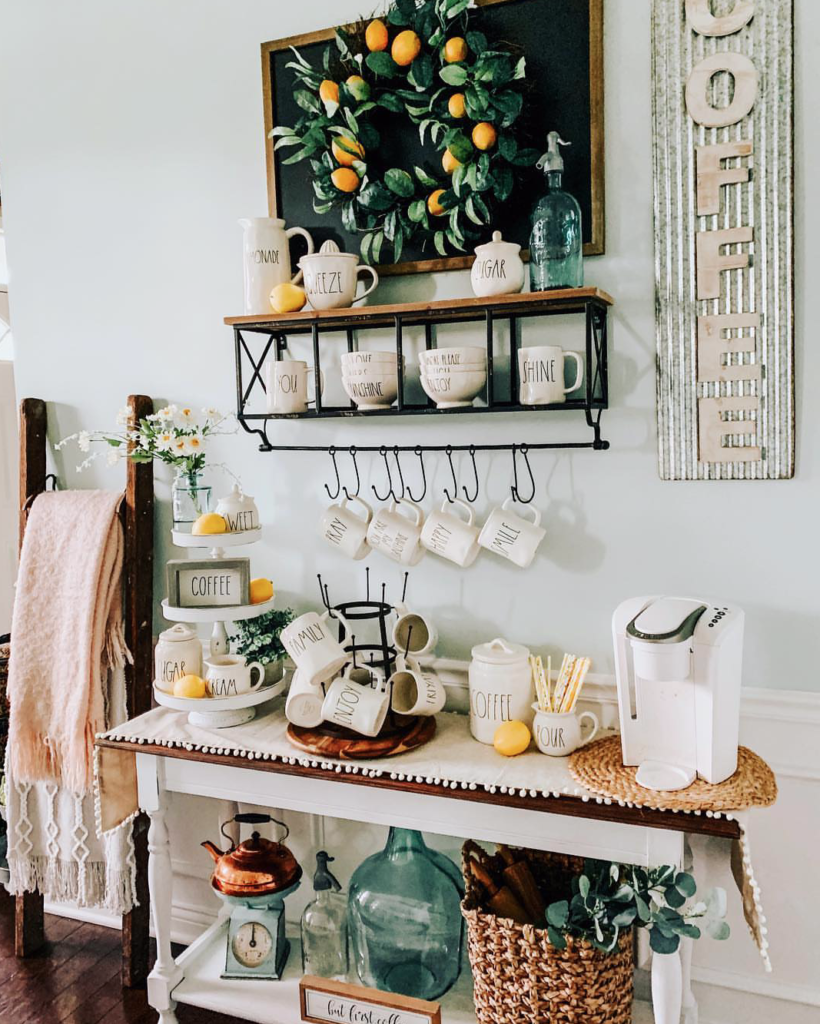 This high energy area will give you the jolt you need to get that coffee going. A cleverly placed entry table will work wonders for your coffee bar and offers lots of convenient storage space. A small industrial type shelving will provide a fun attitude and extra storage space. Chalkboards are always fun and versatile additions as you can use it for writing or adorn it with a lively wreath. Finish this look off with classic tin signage for the perfect jolt.
3. Coffee Anyone?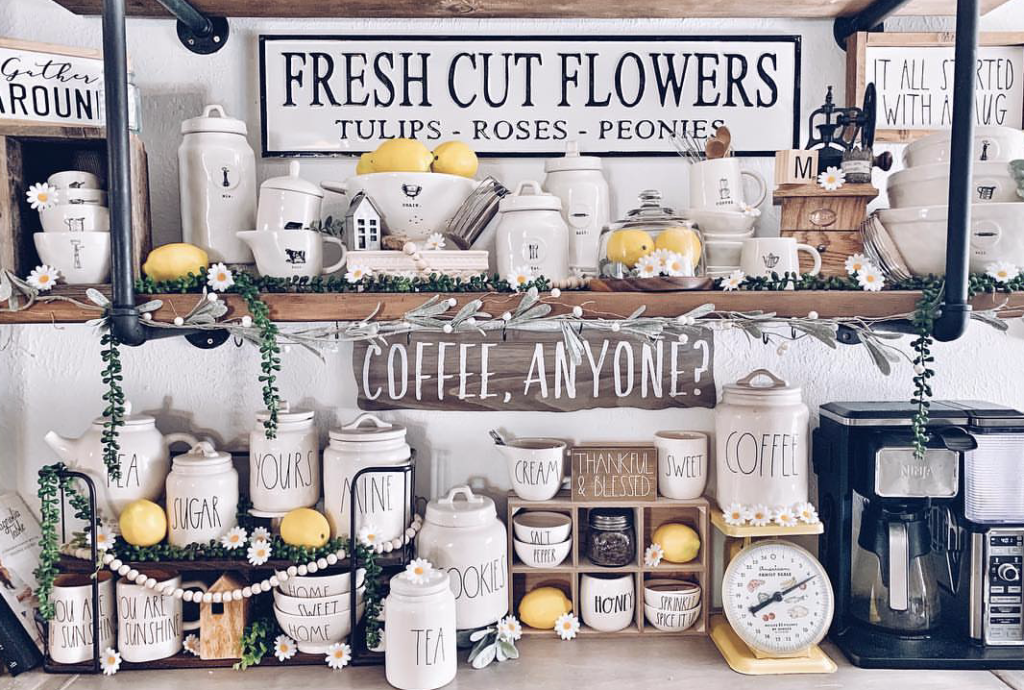 Who could say no to this adorable industrial shelving turned coffee bar? Hang this over any open counter space you have and you have an automatic amazing coffee bar. Fill the area with decorative storage containers along with some vintage scales to entice all of your friends. A variety of knick knacks keep the space interesting. Add in some trendy metal and wooden signs and you are seriously ready to fulfill anyone's coffee needs. Coffee anyone?
Recommended Read: What is a Coffee Bar? Everything You Need For A Home Coffee Bar
4. Bonjour Coffee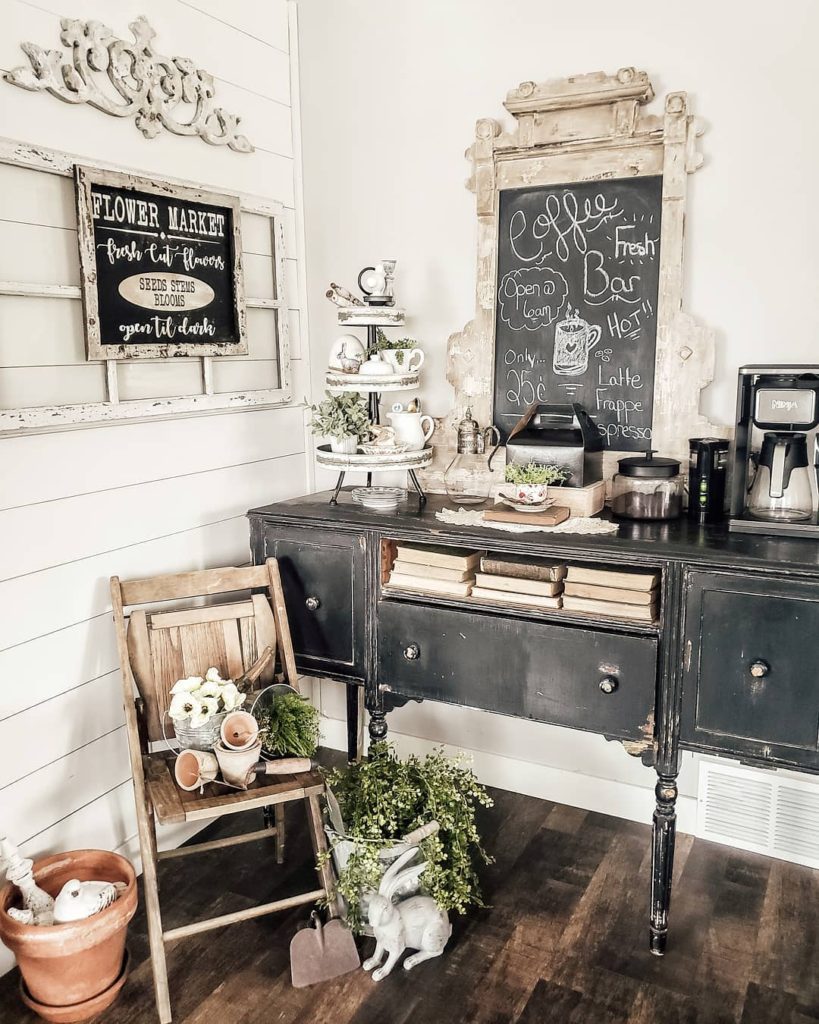 Well hello, coffee! This cozy coffee bar is sure to impress. An old buffet with fresh paint and distressed screams grab some coffee and relax a while. An old distressed decorative dresser mirror goes well on top to serve as a chalkboard. Such a neat way to display inspiring quotes, today's brew or even trivia. A very classy and chic style that is sure to create a lot of coffee talk.
This buffet and the decor were repurposed with a purpose, A vintage cupcake stand serves as a nifty display for your cream pitcher and sugar jar. The old window on the side can be used to display signage or later even to hold pictures of your choice. Such a relaxing space and let's not forget about the amazing mocha floors that make you crave coffee.
6. Coffee a la Carte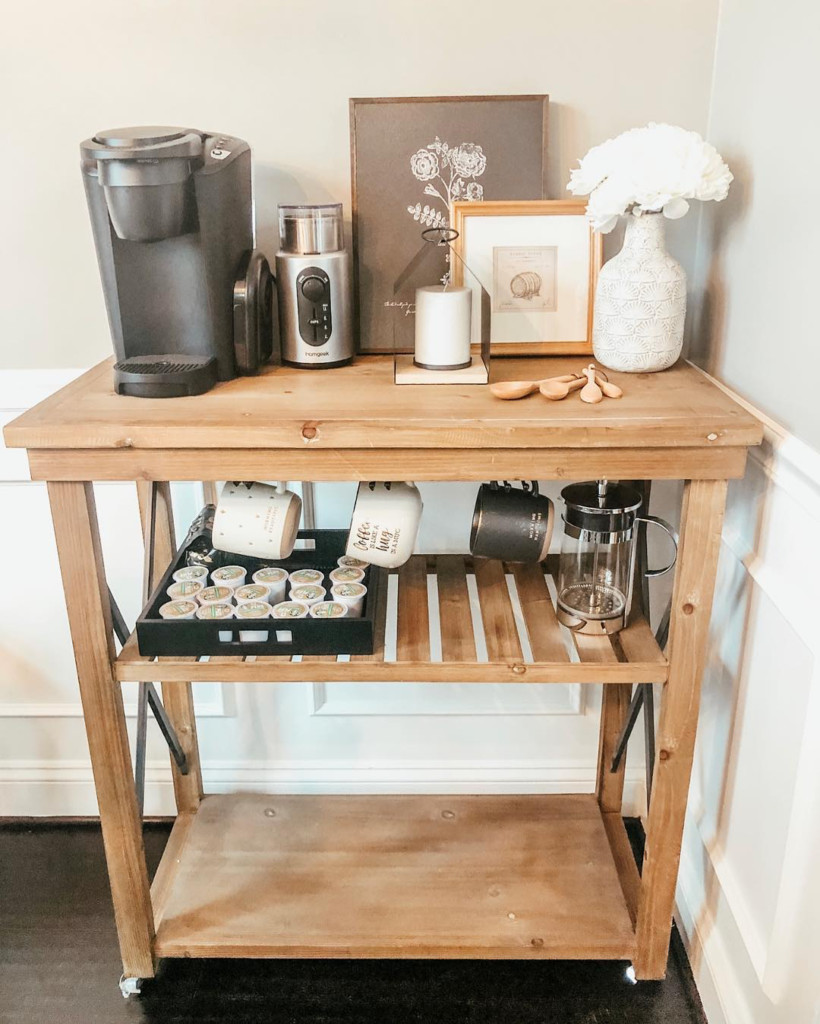 Coffee cart? Why didn't I think of that? A classic, simple cart works well in small spaces to form the perfect coffee bar. Ample storage for those convenient k-cups and mugs. Top this cart with some bright flowers to add a splash of color. Also, you could add signage or some small pictures to liven it up. A french press will impress those with a more refined taste. The best thing is that you can serve your guests wherever they like best since it is on wheels.
7. Built for Coffee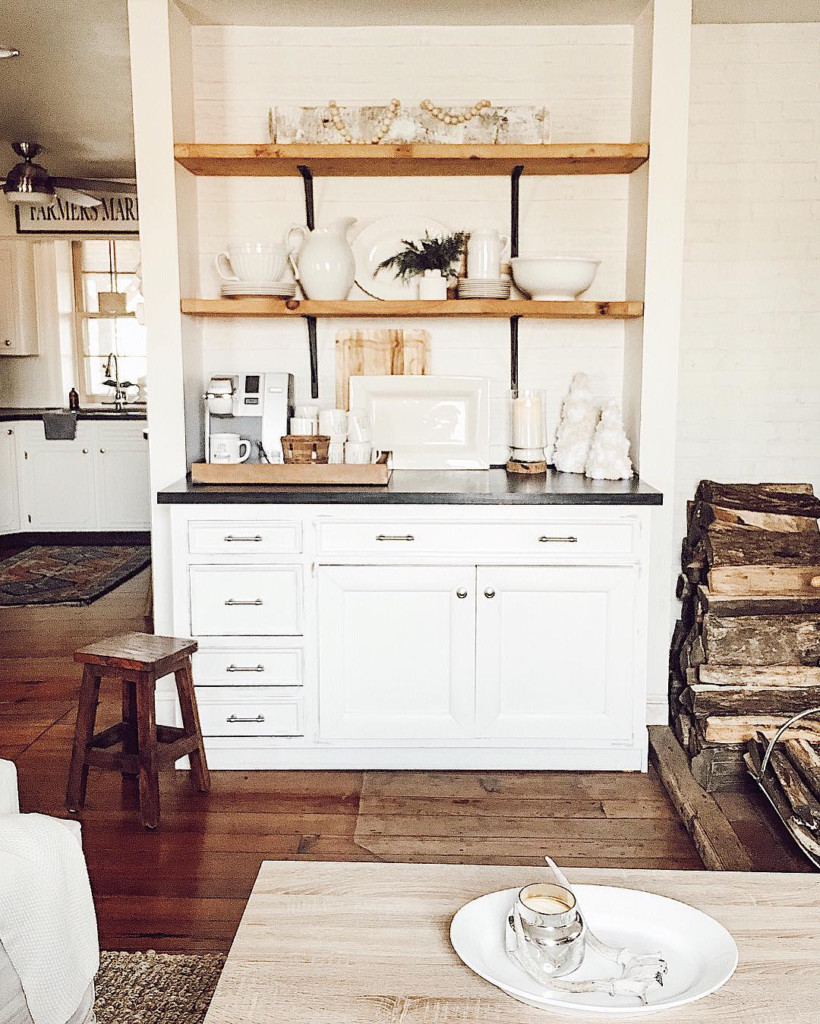 Tea won't do but coffee will! Many of us are just naturally built for coffee. Kind of like this built in! A coffee bar is a great use of a space that is normally just cluttered or used for decorations. This space has become an active area in the home, not just another dust collecting space. Genius, because it has so much room and storage for anything and everything coffee.
8. The Coffee Barn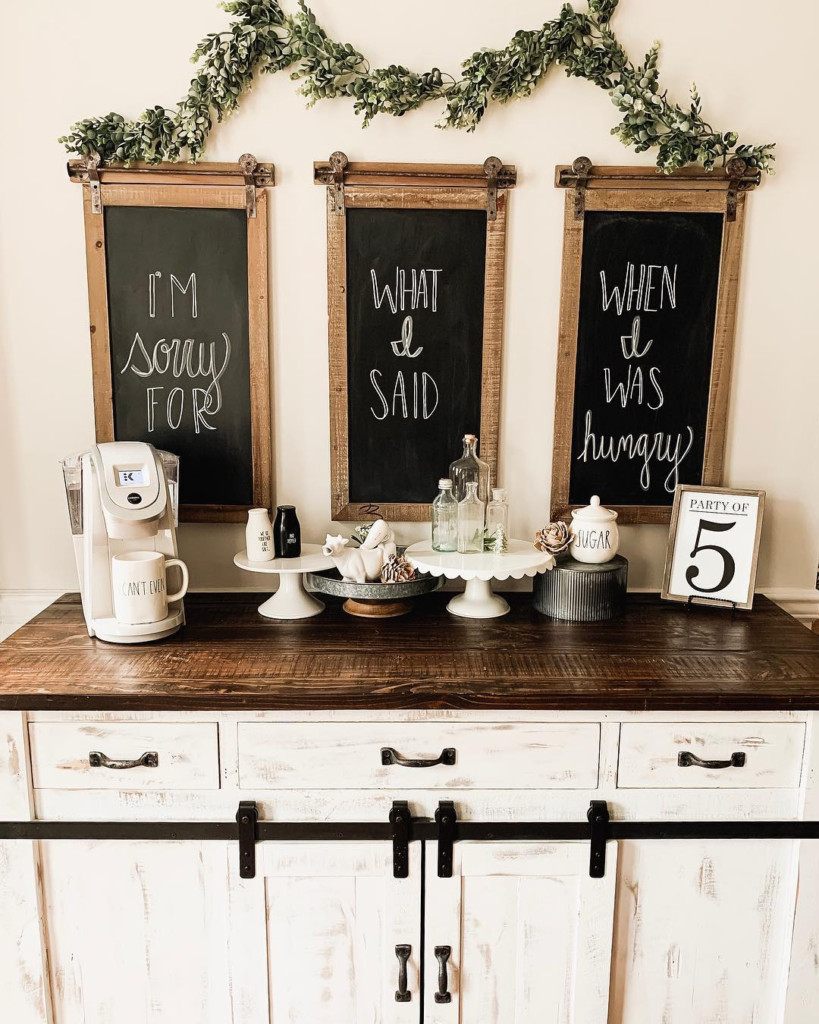 Howdy! Your eyes are sure to dance when they see this rustic buffet. Distressed buffet with the perfect coffee colored top will be inviting to all of your guests. Barn door sliding hinges are the perfect addition for easy access to storage and to give the piece the rustic look that is all the rage. Rustic chalkboard frames will display welcoming messages and top it with a greenery swag to add that pop of color. Everyone will want to be in the coffee barn.
9. The Espresso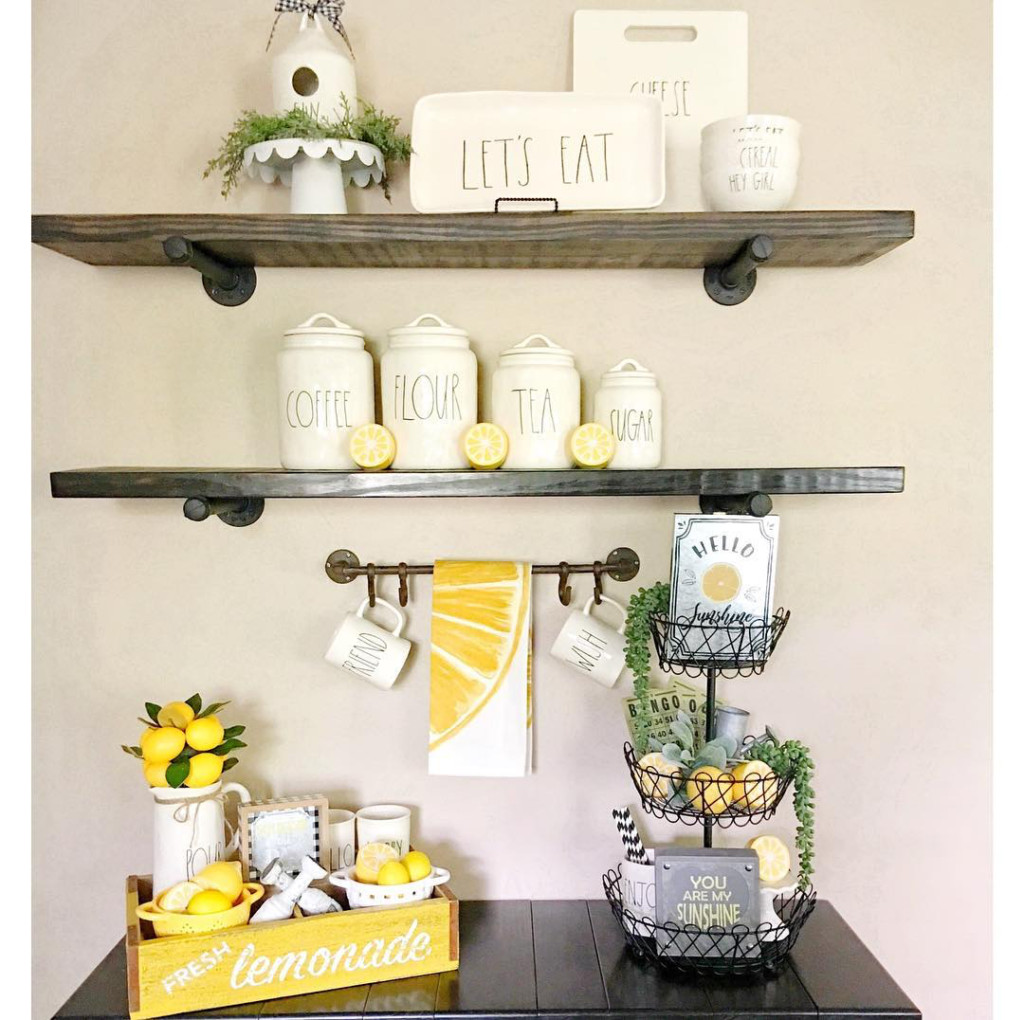 You may need a little caffeine but this area is not short on liveliness. This lively little area is sure to put a pep in your step. An industrial table works well for a quick and easy coffee bar. Add in some industrial shelving overhead for some storage and display area to espresso yourself. Throw in some bright colors and this area will be the life of the party or shall we say par-tea?
10. Shiplapped Coffee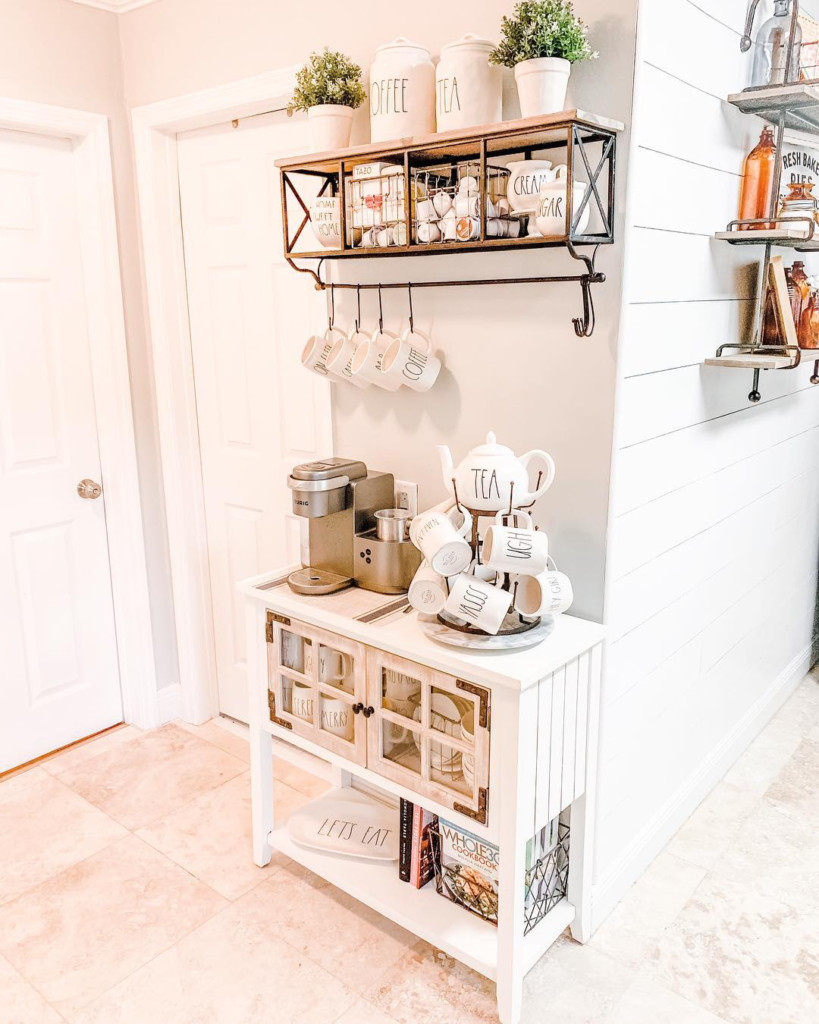 Small end space? There is nothing shiplap can't fix. An adorable console table with a tinge of shiplap aside a shiplap wall and the coffee bar problem is solved. Glass doors allow for showing off all the fantastic mugs. Shelving above head always serves the purpose when the area is compact. White gives the area a clean look and can always be finished off with a few plants or flowers to just make the area pop.
Recommended Read: What is a Coffee Bar? Everything You Need For A Home Coffee Bar
11. The Perfect Blend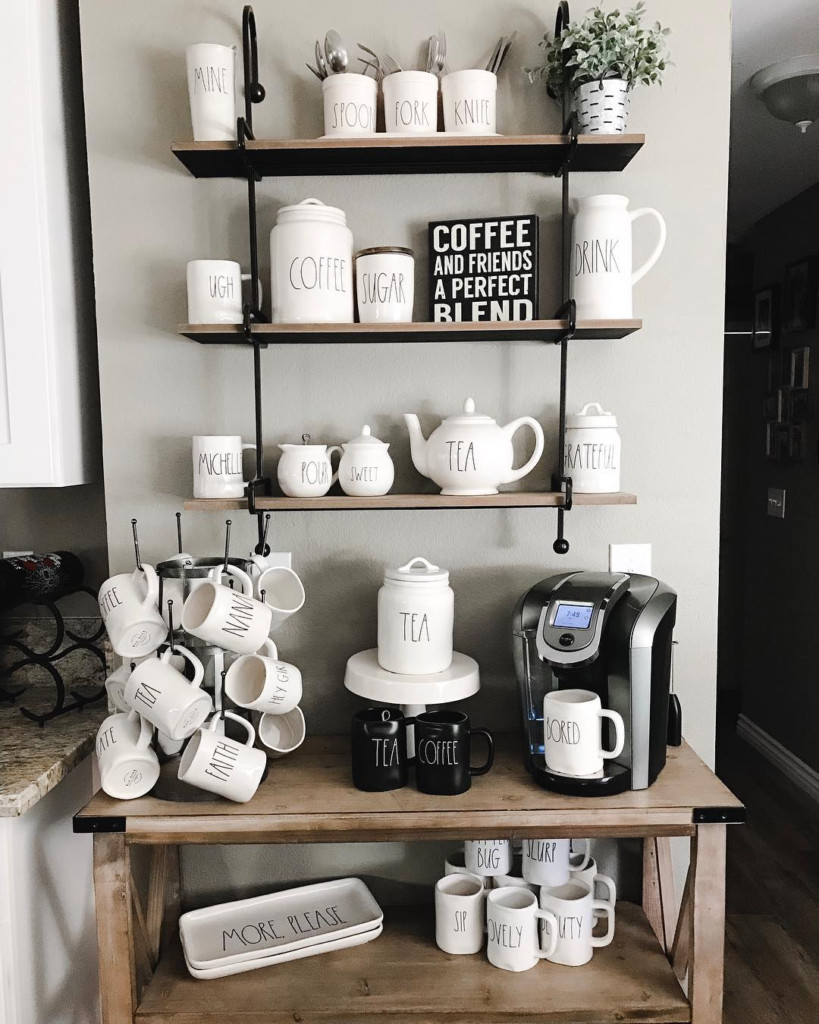 Light or a Dark Roast which is the perfect blend? This coffee bar solves the problem of light or dark by adding shades of both. The light and dark colors blend well with the industrial cabinet which boasts plenty of space. The added hanging shelves adds the perfect touch to store cookies or the perfect treat for your guests. The light or dark debate will be over when guests come and enjoy the perfect blend at this magnificent coffee bar.
12. Main Street Coffee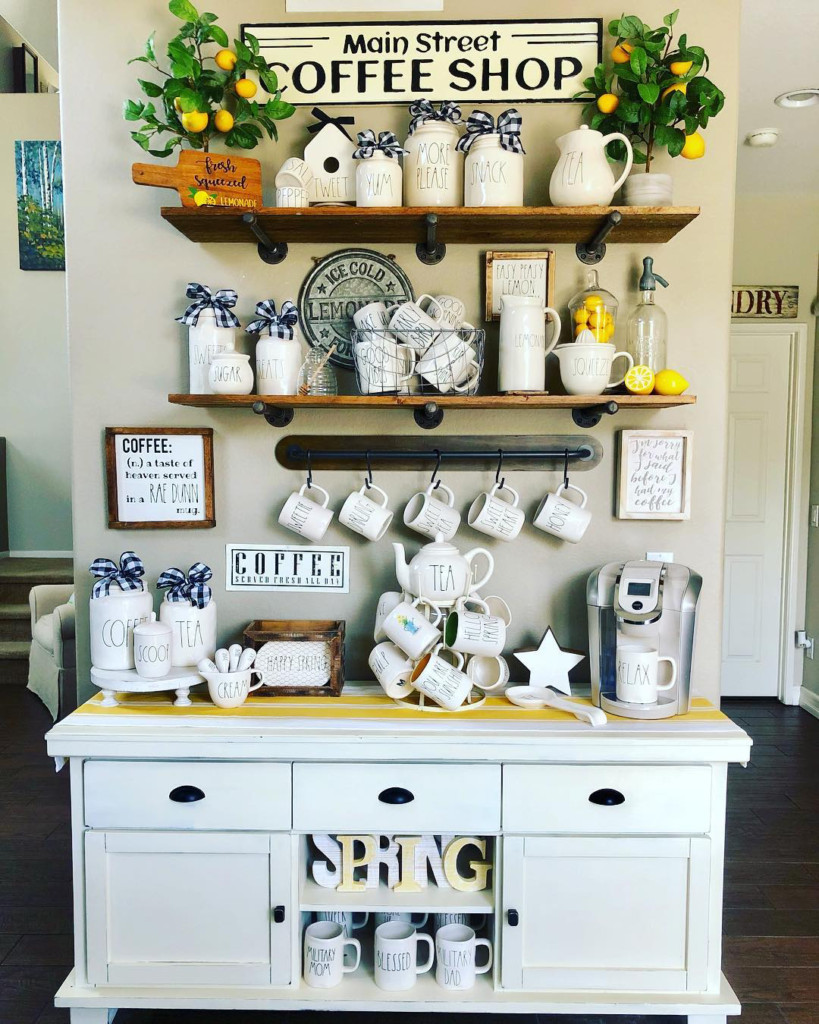 This will quickly become everyone's main coffee bar. A bright buffet is the center point for this vibrant coffee bar. This space is utilized nicely with added storage shelving. Flower displays help bring out the buffet and bring attention to the adorable signage. Decor could be changed up to match the seasons or holidays. Before you know it the Main street will be the main space for all of the coffee snobs.
13. The Redeye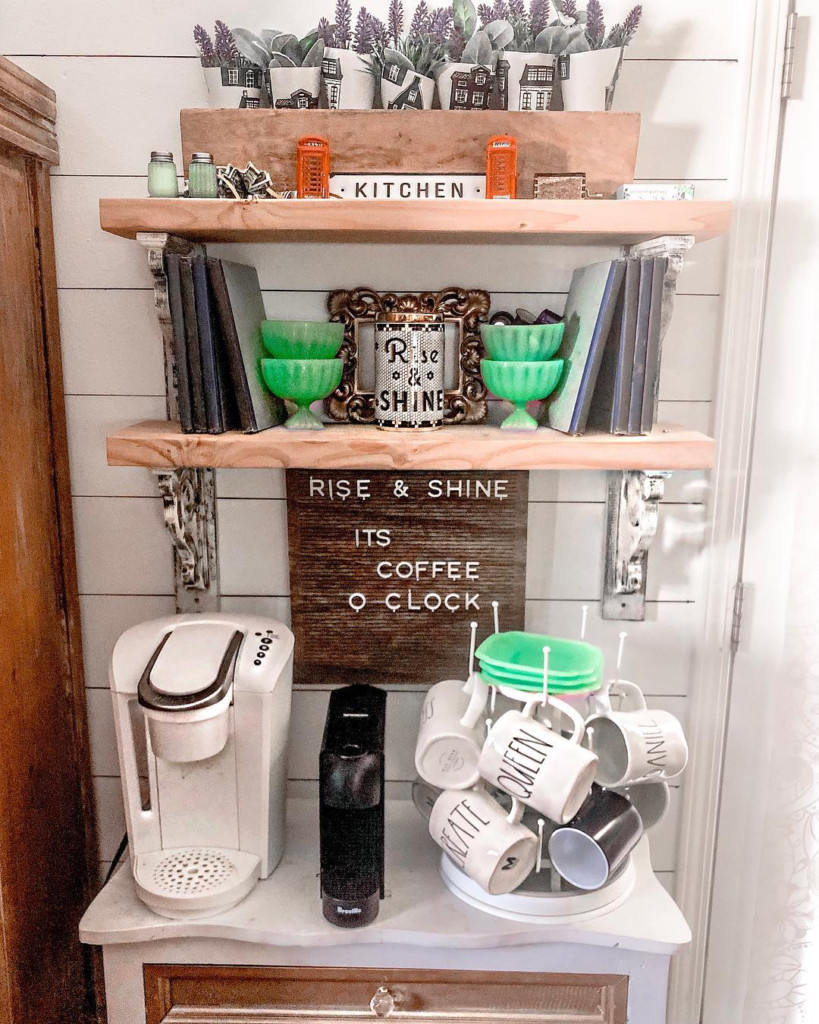 The Redeye is a coffee with a shot of espresso. This drink is much like this area. A small space with a lot of kick. It is just what we need when we must have coffee. Any small cabinet can be topped with a small compact coffee maker. A lazy Susan type cupholder is the perfect answer to the mugs question. Shelving is adorned with delightful decor. The Redeye is sure to be the perfect space when you have a redeye. It becomes a wonderful little space to rise and grind.
14. Corner Cafe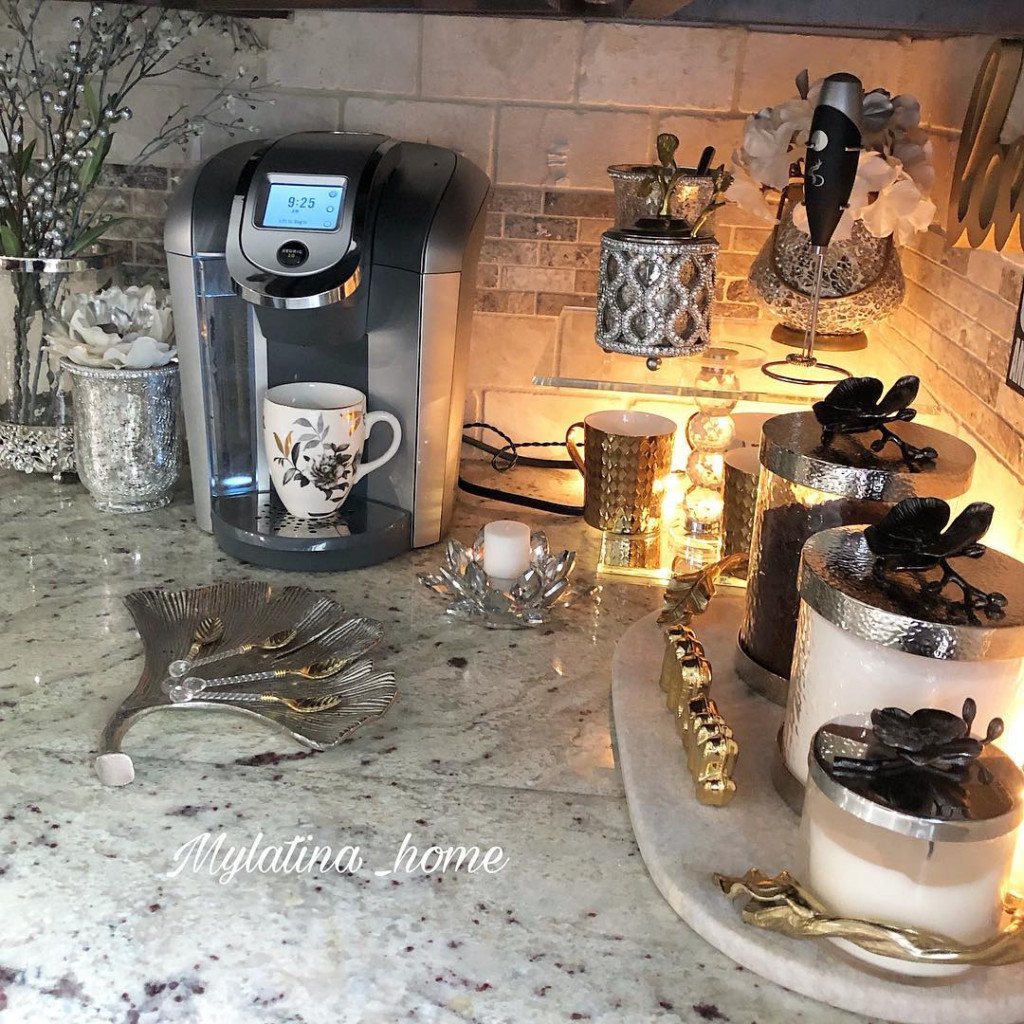 Corner counter-space has long been used for the coffee pot. This particular coffee bar area isn't just the normal boring coffee pot space. Beautiful jars that house the coffee necessities are tastefully displayed alongside the coffee pot. The area is then lit with some tasteful warm lighting. The inviting corner just welcomes you to come to the cafe and enjoy the coffee. Warning may encourage repeat visits.
15. Mocha Monday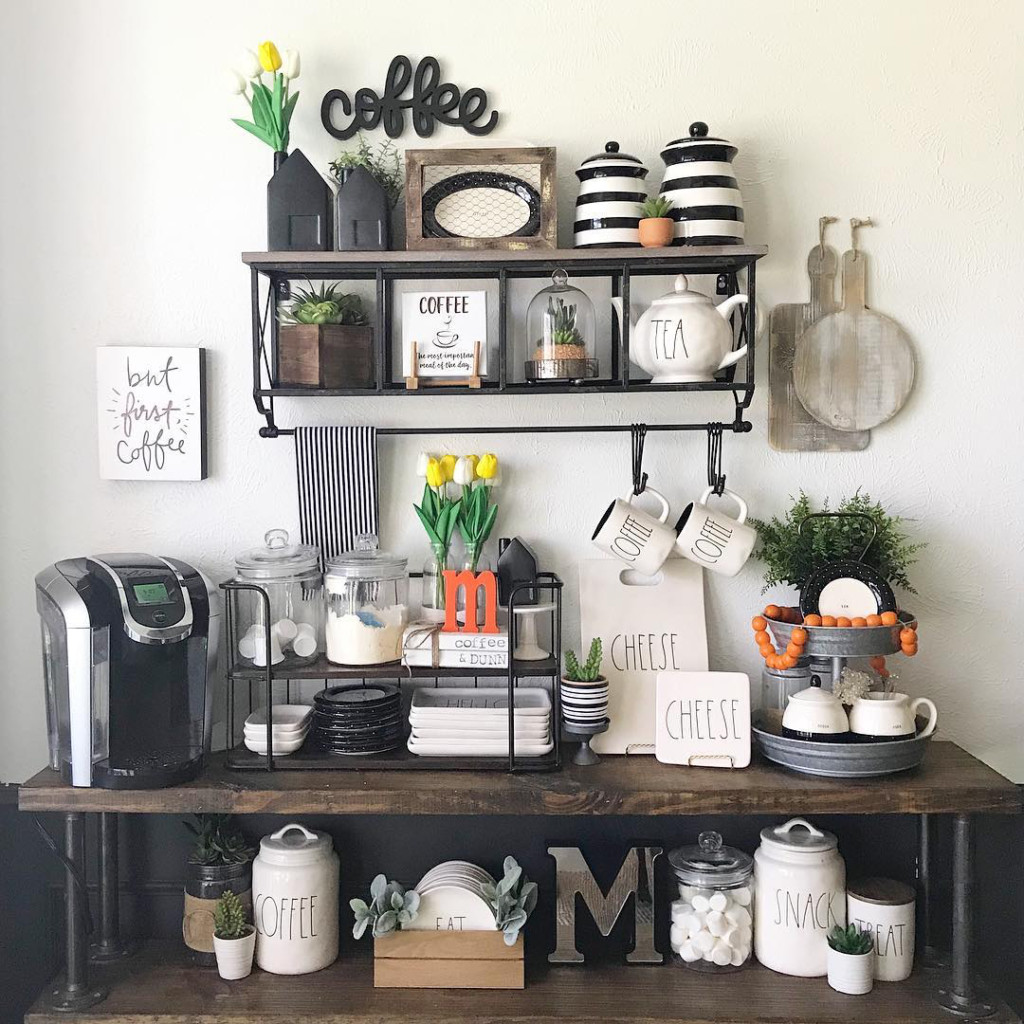 This coffee bar will not leave you singing the Monday blues! A mocha colored two-tier industrial table will have you dancing in your socks while you wait for the coffee. Store all of the coffee needs and maybe even some chocolate to make that mocha that this bar will have you craving. Shelving offers a space to make the area yours with any decor you desire. Adorable platters will be the perfect setup to serve snacks to all of your friends who don't want to leave. Mondays may never be the same.
Recommended Read: What is a Coffee Bar? Everything You Need For A Home Coffee Bar
16. Morning Darling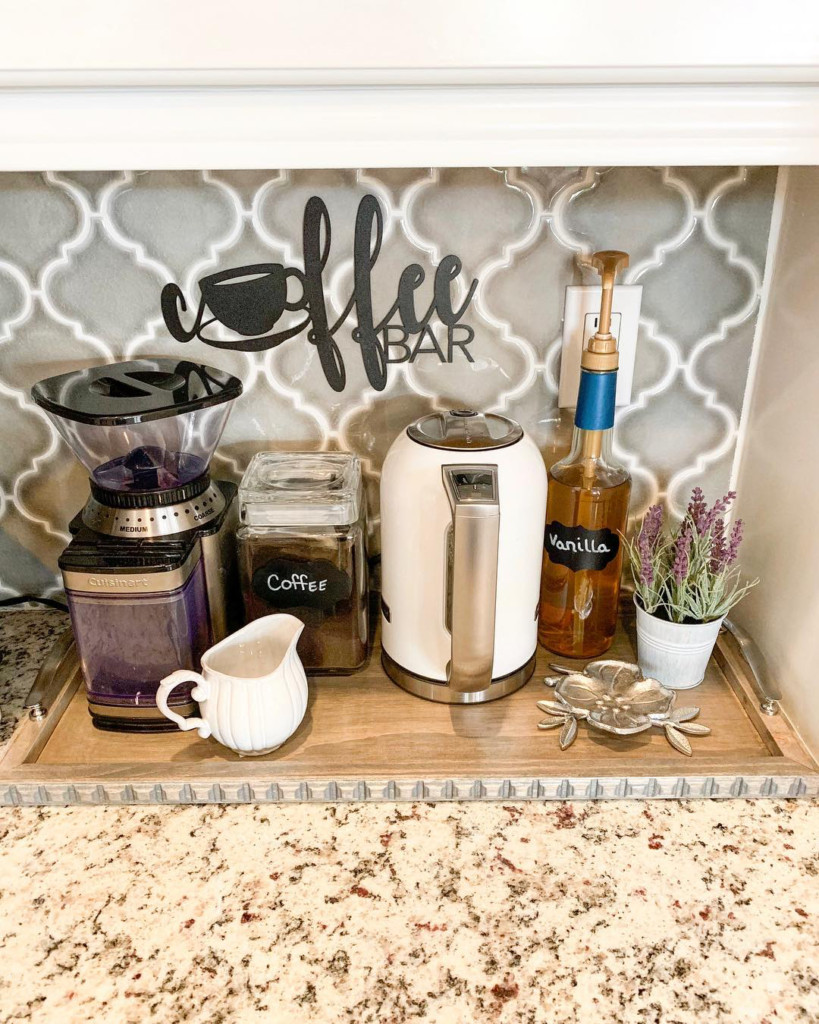 A charming serving tray serves as a wonderful stationary coffee bar for all of your coffee needs. The added beauty to this idea is that you can whisk it away and knock your darlings socks off with some coffee in bed. Perhaps you would like to wow your guests on the patio. Spacious enough that you can include the portable pot, mugs, everyone's favorite flavoring and some beautiful flowers for an added touch. Sure to make your darlings morning.
17. Grinders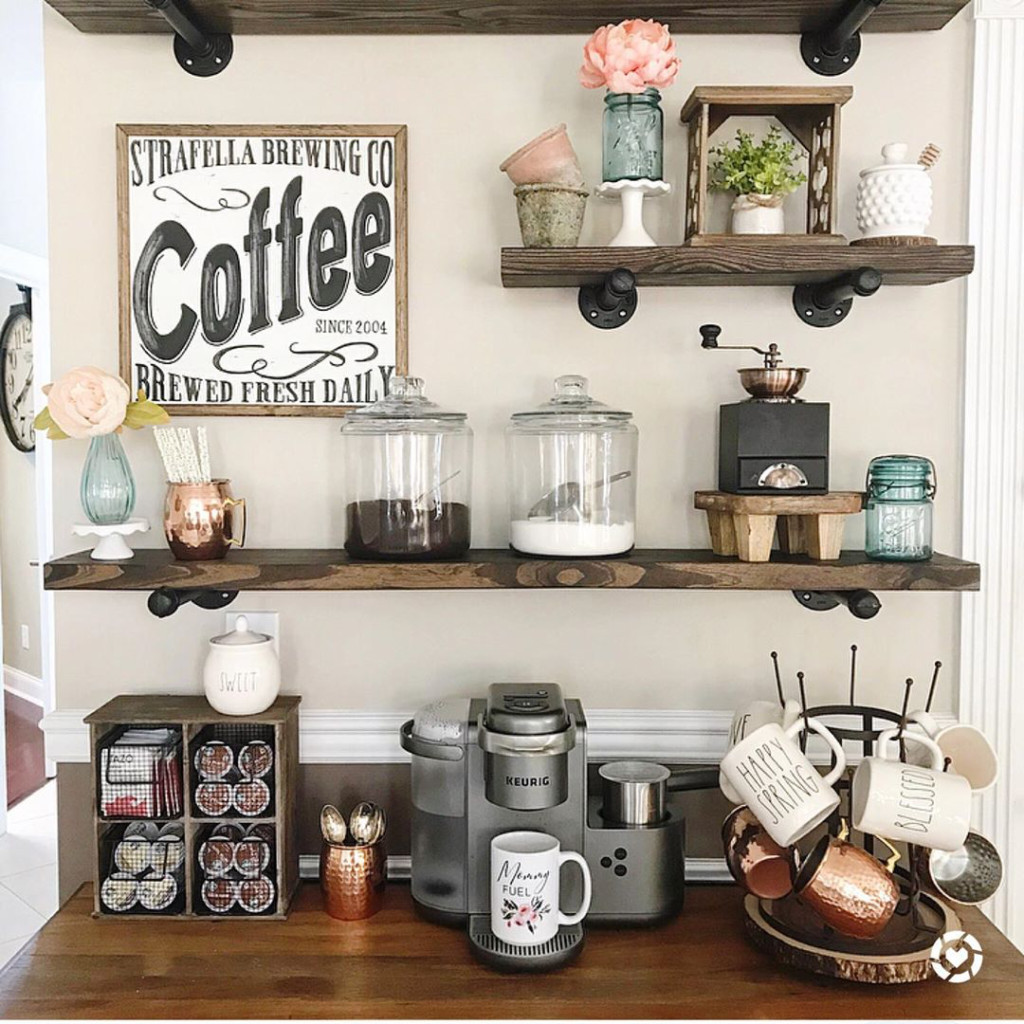 A beautiful wood top table is always a class act that is hard to follow. Storage bins that can house the irreplaceable k-cups or tea are perfect in this space. Incorporate some vintage grinders on those adorable shelves for a warm feel. A compact mug-holder is the perfect solution in this small area situation. Wood signage always adds a comfortable feeling to the area as well. Get Grinding!
18. Hoppers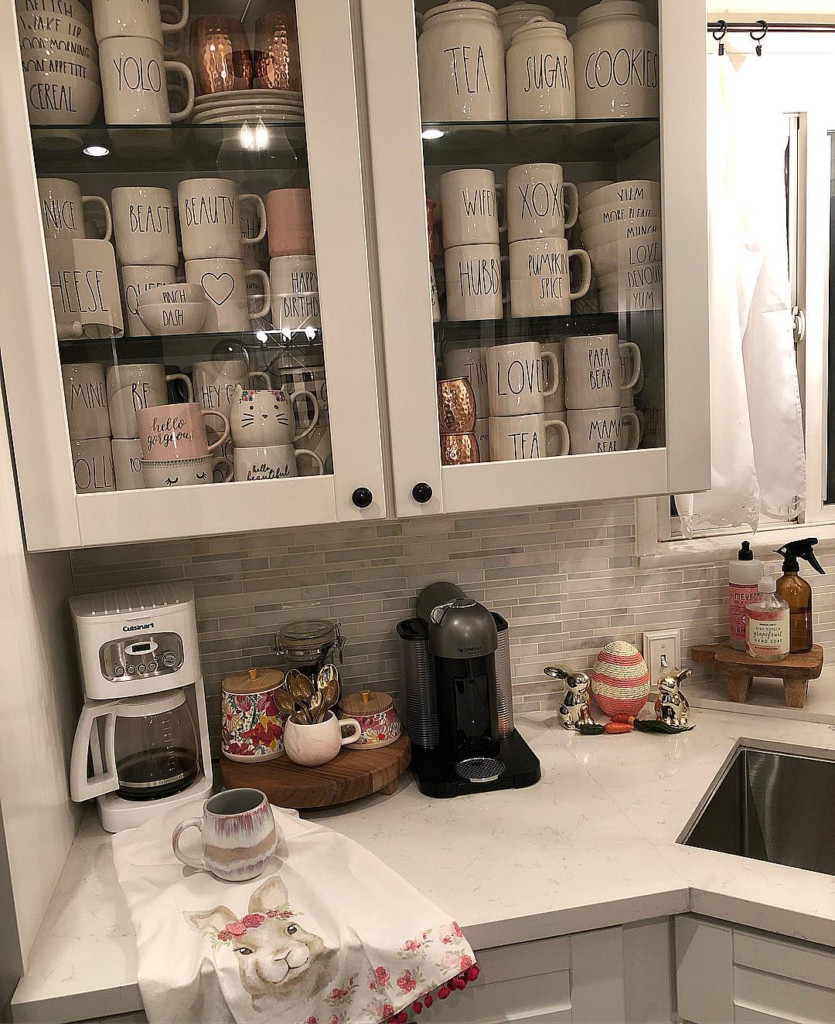 An inviting corner space coffee bar that will keep you hopping. The spacious open faced cabinets lend an area to store display all of the adorable mugs that you will surely collect. A beautiful wooden lazy Susan serves as a holding station for the creams, sugars or honey. Display these condiments in decorative jars to bring extra attention to the area. Get ready to fill that hopper and get those beans ground because this display is sure to impress all of your guests.
19. Bloomin' Coffee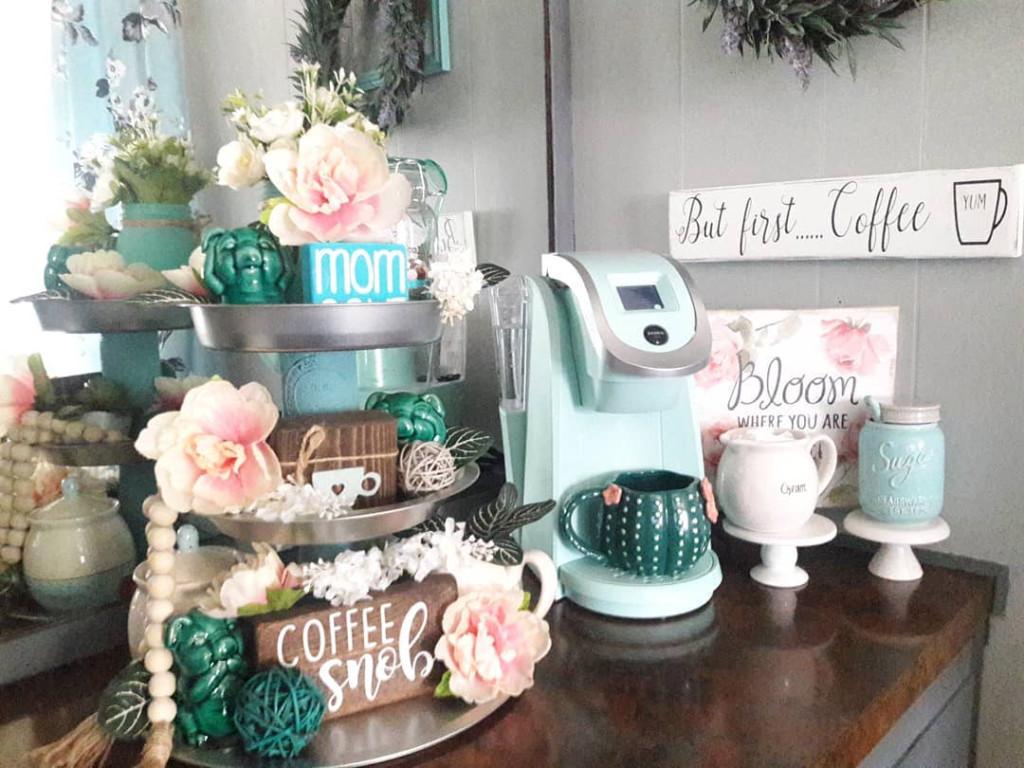 A coffee bar blooming with color! A beautiful wood cabinet that fits perfectly in a corner. Holds a single cup coffee maker. This area would be perfect for a single coffee connoisseur. A three- tiered cupcake stand is a perfect area for storing mugs. This adorable stand could also be used to personalize the area to your tastes or decorate for the holidays. Wonderful small wood signage works in this area to add a cozy feel. This coffee bar will have you blooming with pride.
20. Hideaway Joe's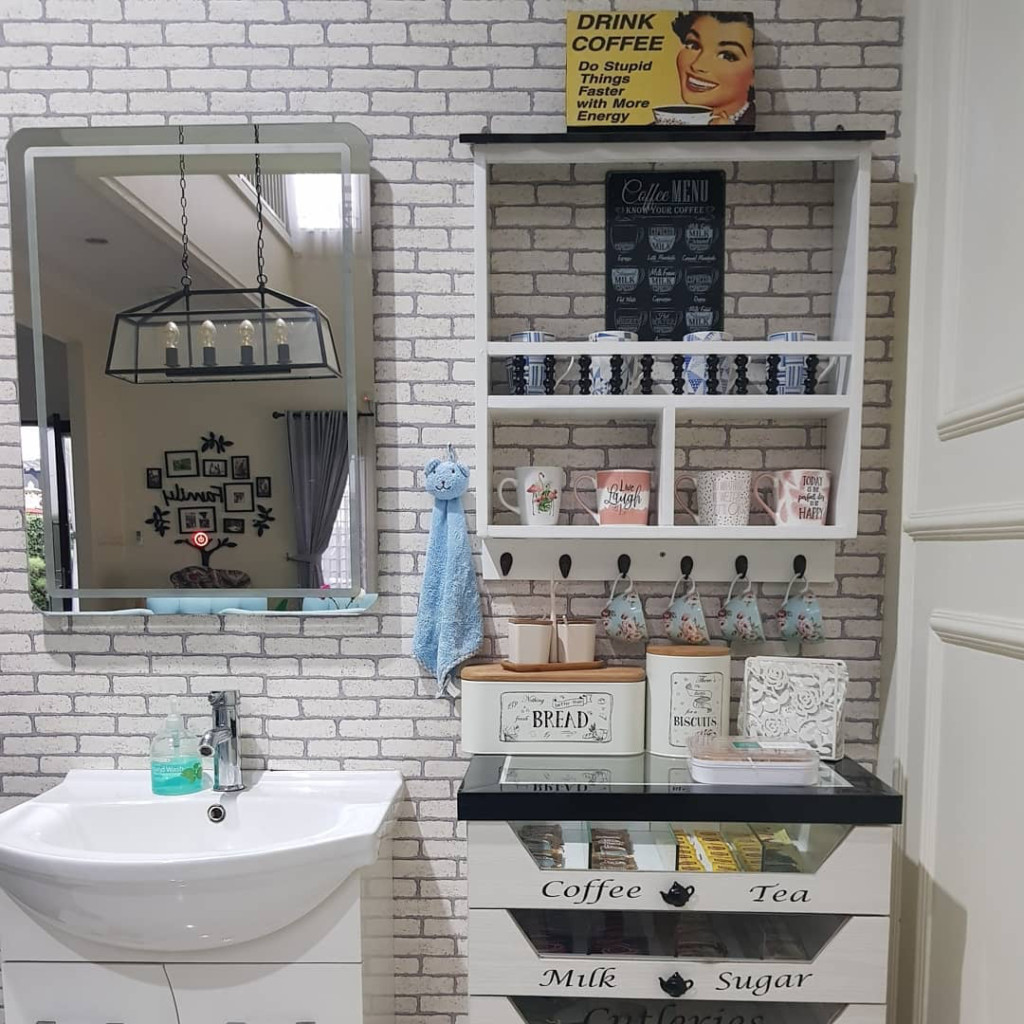 A hideaway is the best place to sit and relax with that perfect cup of joe. This design works for tight spaces or spaces with no electrical outlet nearby. A cabinet with pull out drawers holds all of the instant coffee, tea, sugar, and cream. Atop of the cabinet, you could store the snack jars so that when you are hiding away you can nibble on some yum yums. Above head shelving will store the mugs beautifully! Hideaway and Joe….why would you ever go?
21. The Daily Drip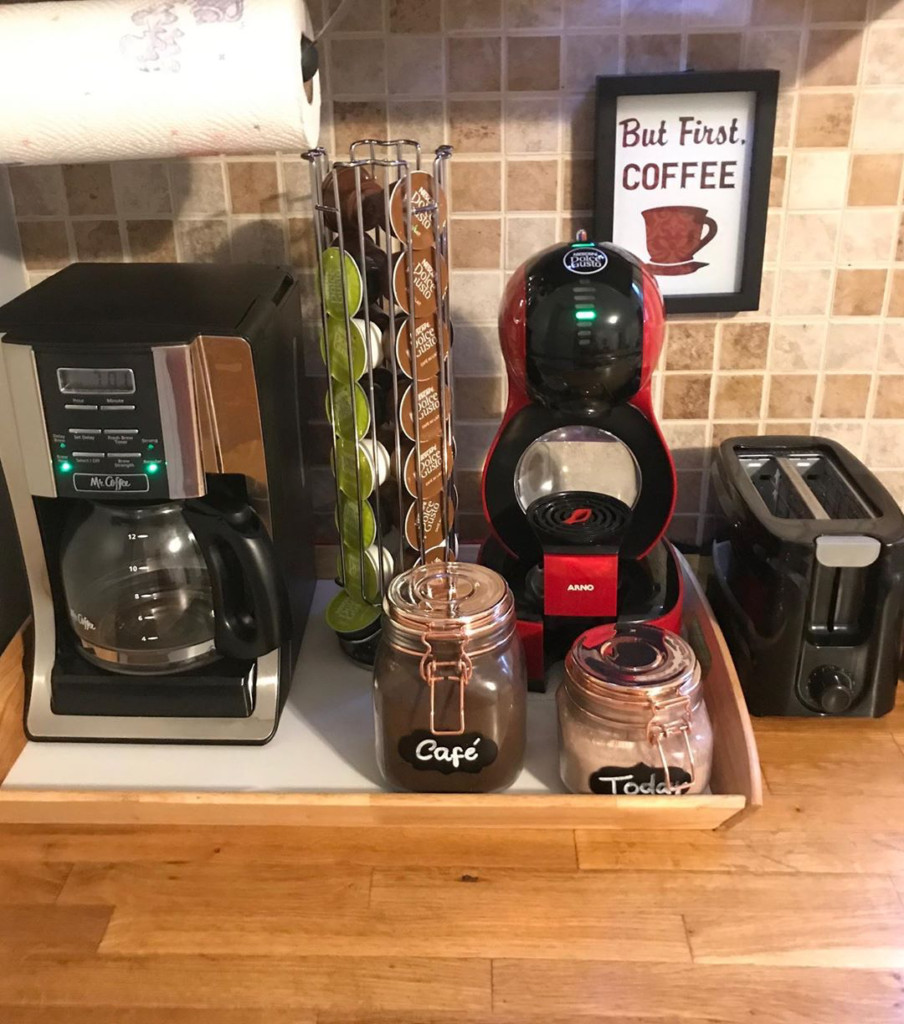 A drip is probably not a sound you ever want to hear in your kitchen. This daily drip will sure to please as the scent of the freshly brewed coffee fills the house! And the sound of the drip will quickly become a welcomed and anticipated sound. An adorable colorful drip coffee machine is just what you need to get that coffee bar started. Small decorative canister style jars with locking lids to store coffee and cream add a cool flair to the area. A tall spinning k-cup storage rack is small and convenient for space. Go ahead…drip daily.
22. Chill Zone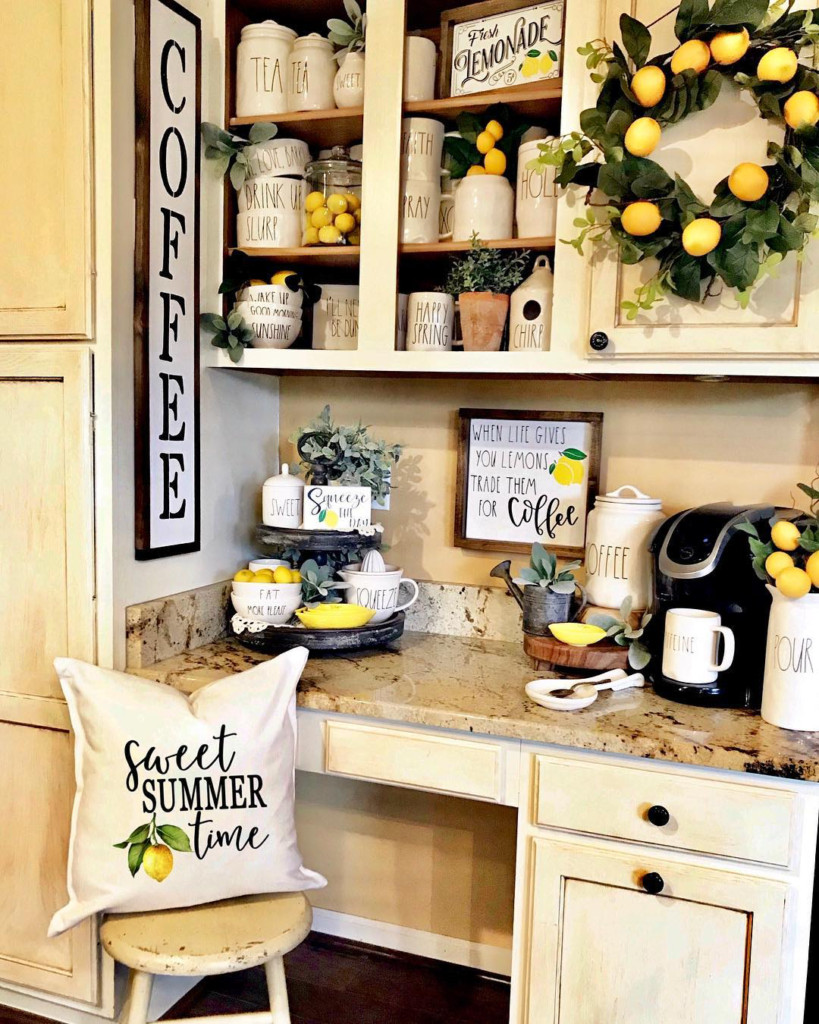 A kitchen desk used for schoolwork or bills is dull. A kitchen desk made into a coffee bar now that is exciting! Beautiful marble counters that will make any coffee spill a cinch to clean up. The shelving area above that would normally be cluttered and filled with paper is now tidy. It displays the coffee supplies and some added colorful decorations with such grace. An area that was once a dreaded zone has very easily become a chill zone.
23. The Corner Press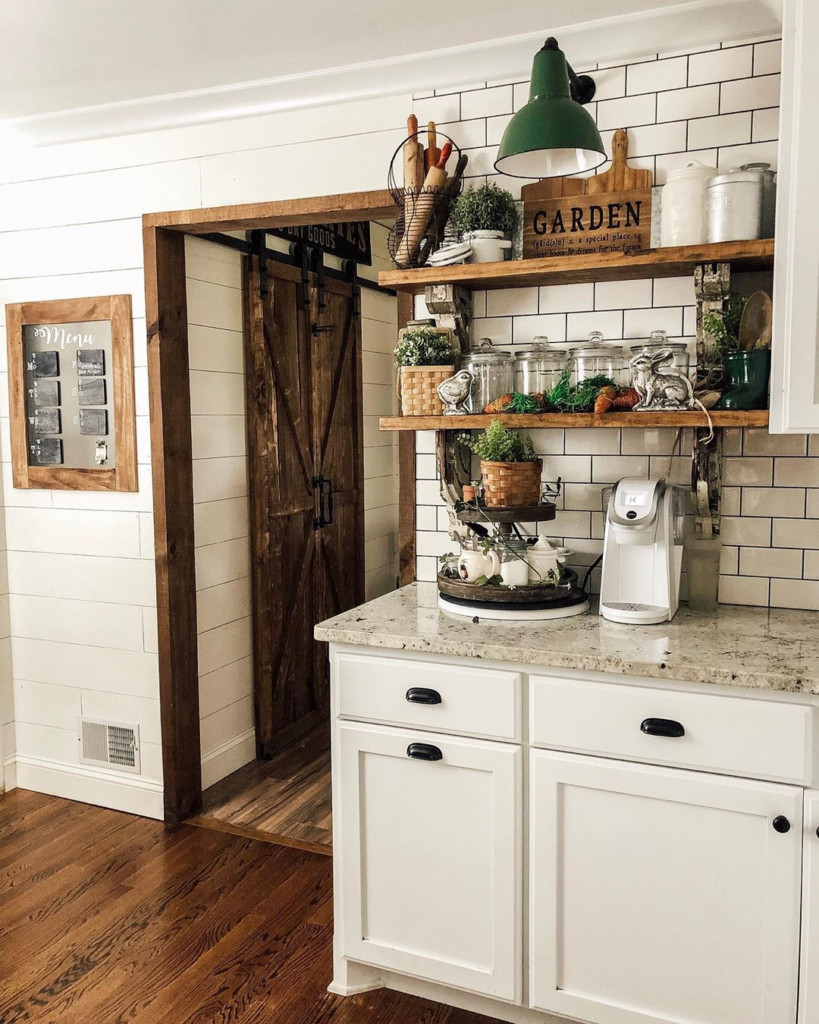 This corner cabinet space may be pressed into the corner but it is a marvelous spot for a coffee bar. The simple white cabinet lends itself for plenty of storage and counter space. Accompanied by lovely wood shelving that works wonderfully for coffee bean jar displays or decor of your choice. Greenery is a nice touch to bring color to the white cabinet. You would be pressed to find a more lovely corner to enjoy the daily brew with friends or family.
24. Shabby Bean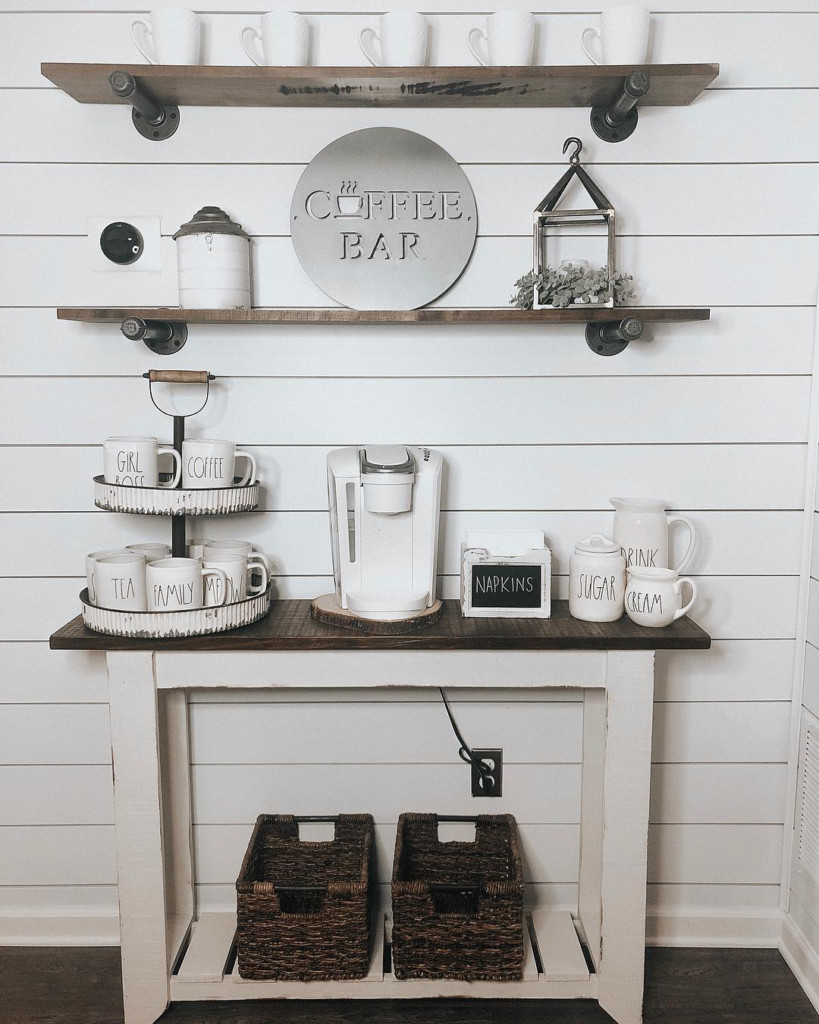 Shabby Chic is everywhere so why not design a coffee bar with it? This design did just that. A comfortable and welcoming area that begs you to sit, relax and enjoy that warm cup of coffee. A distressed dark top table is adorned with a distressed shabby chic cupcake holder to store the mugs. Dark colored wicker baskets below add warm color and would be a fabulous place to keep napkins or stirs. Amazing industrial shelving goes perfectly with the decor and holds a magnificent metal coffee bar sign. This design ain't too shabby!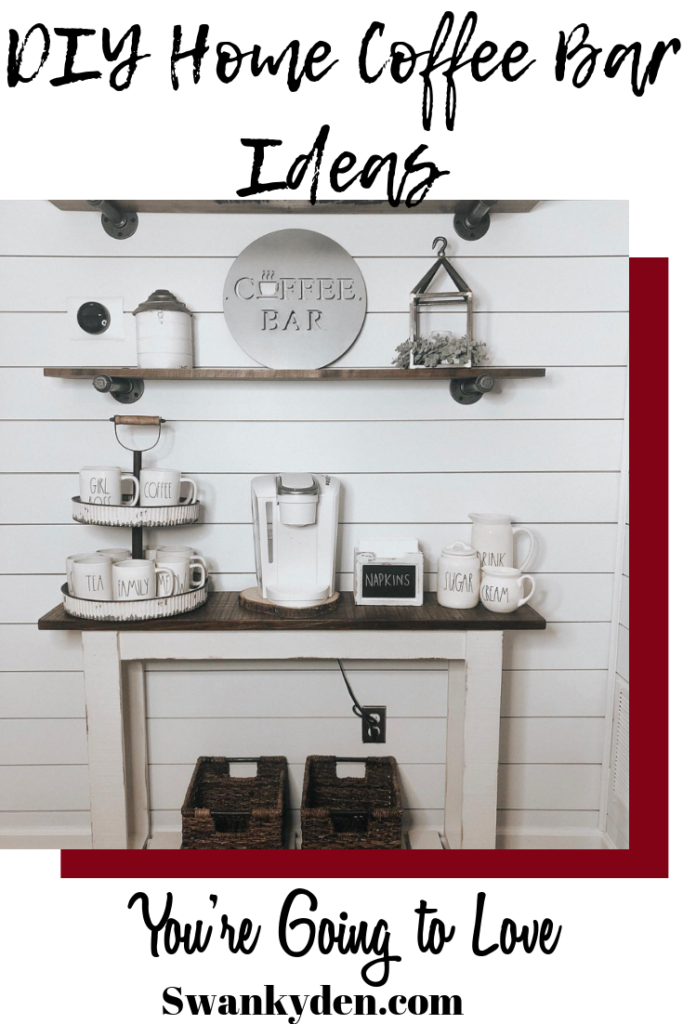 Home Coffee Bar and DIY Coffee Bar Essentials
Coffee Machine for Coffee Bar
These first thing you'll need for a home coffee bar is an excellent coffee machine. Hands down the most popular are the keurig coffee makers.
It's the best coffee machine for a home coffee station.

This coffee maker comes in different colors and style to help match it with your home coffee station.
If you're a fan of speciality drinks like latte's and cappuccino's I highly recommend this keurig from amazon.

Also, don't forget to grab a coffee accessory caddy.

Best Coffee Bars
The next thing you'll need for a coffee bar or coffee bar table is the bar itself.









Best Coffe Station Mug Rack










Best Home Coffee Bar Decor