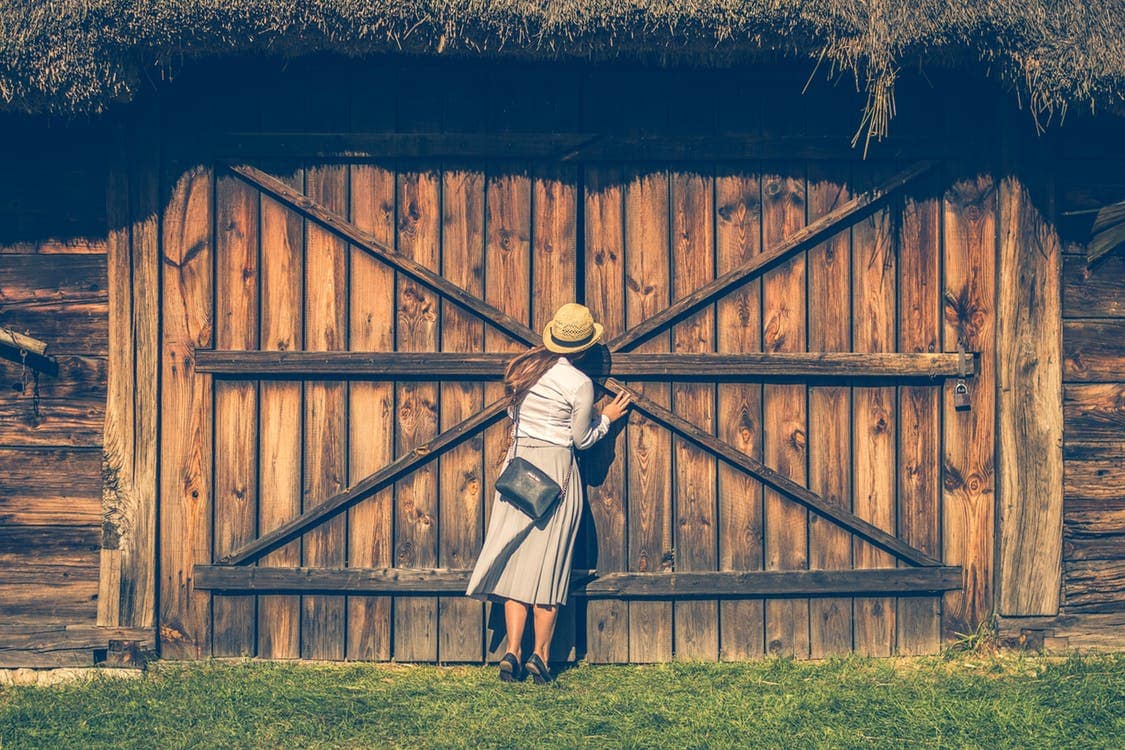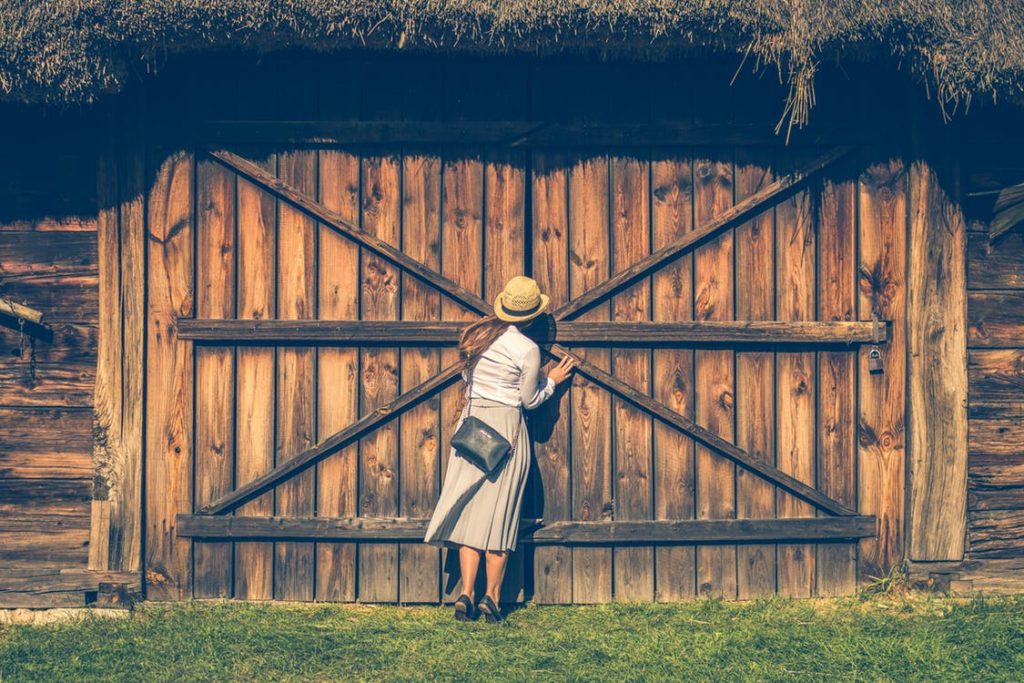 Farmhouse decor is warm, rustic, cozy, inviting, and one of my favorite decor styles. This guide will give you everything you need to know and ideas on how to accomplish to style any room in a farmhouse style.
The most important things to consider when decorating in farmhouse style is creating a space that balances old and new. It used to be a style of decor that just included whatever was the most practical and useful. It's important to keep things from matching to much since it needs to look like it was put together over time and not planned. Take your time and don't rush while picking things, follow our guide, and you'll be fine!
In This Article We'll Discuss
Farmhouse Kitchen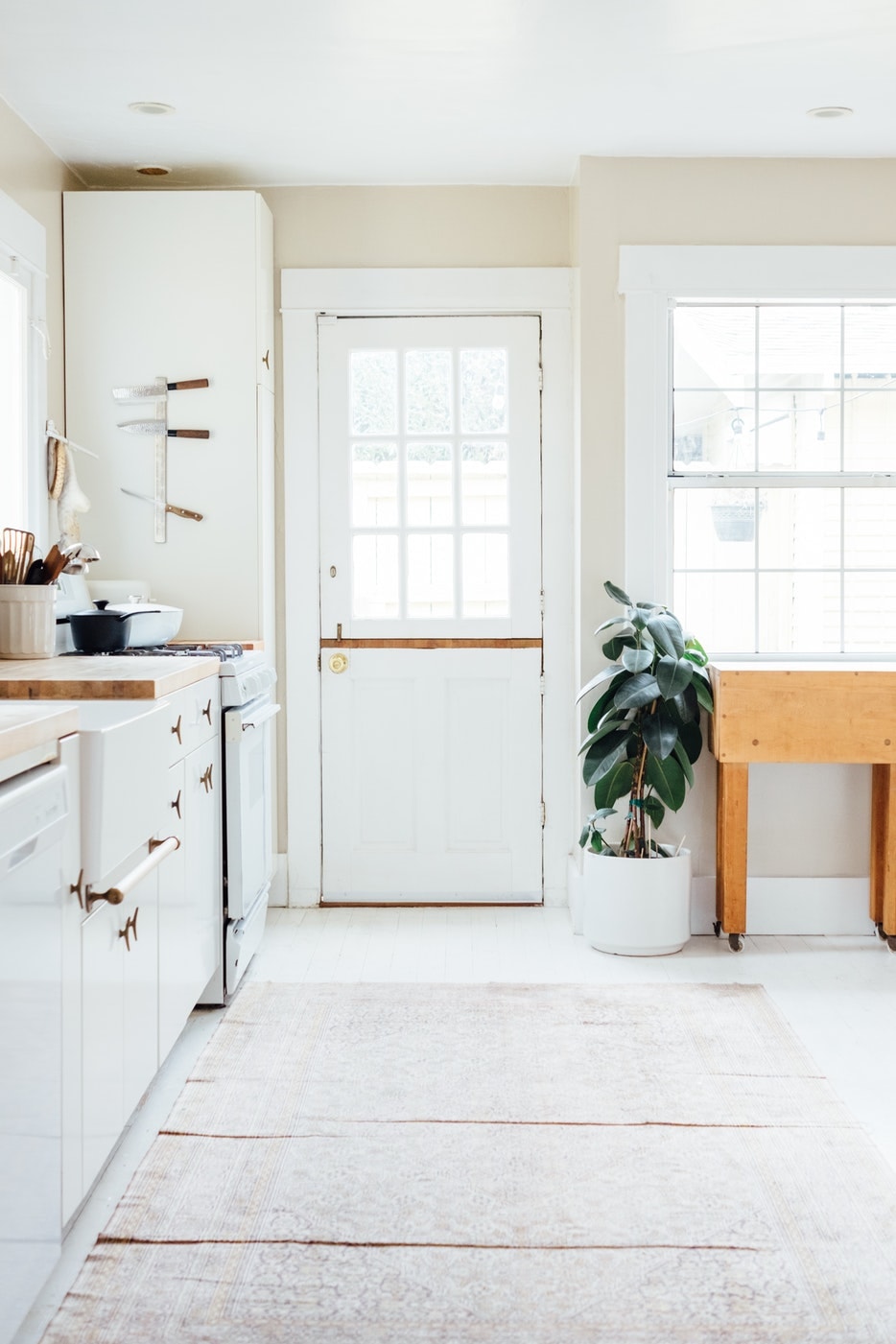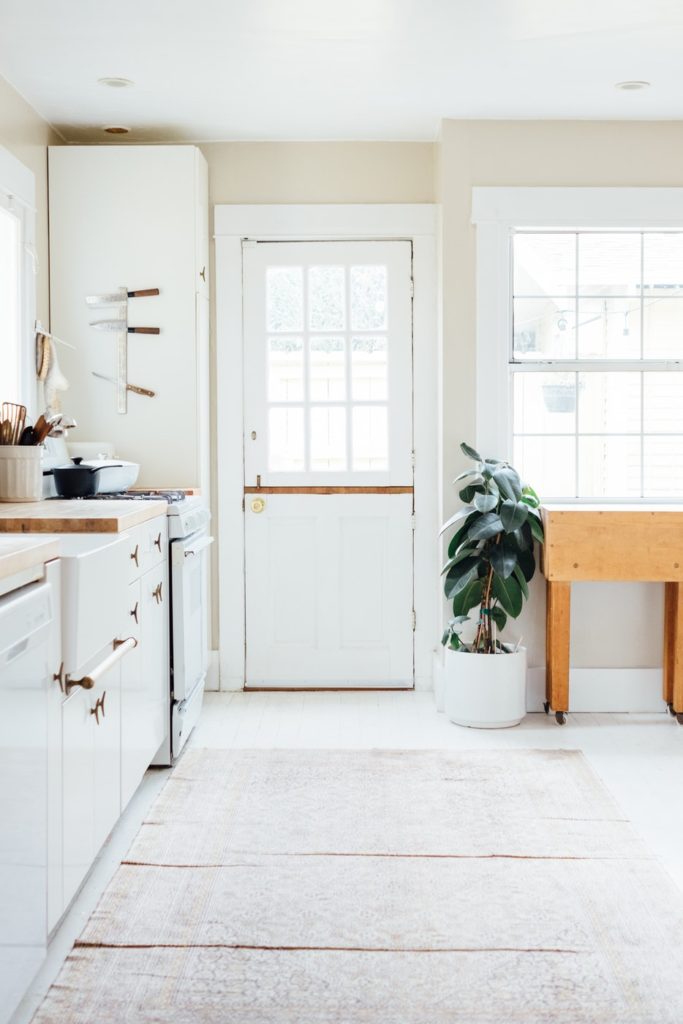 Like I mentioned earlier farmhouse kitchens, in particular, are very cozy warm and inviting. Practicality is also seen in the farmhouse kitchen. One of the things that you will see often is a farmhouse kitchen sink and it's definitely something that draws anyone's attention. They're super practical with their large size and deepness. A good farmhouse kitchen and dining room will always be the heart of the home. Always be sure you're getting a good deal with a coupon.
Exposed Wood
I also see a lot of exposed wood which can be presented as a butcher block, dining table, or on the floor. You can never go wrong with rustic vintage accent features and you will see a lot of that in a farmhouse style kitchen. Distressed wood is very popular here. The sugar mountain woodworks custom made distressed wood dining table is absolutely perfect and a great price considering the qaulity.
Farmhouse Sinks
Useful Read – The Best Highly Rated Farmhouse Sinks(on Amazon)
Adding a farmhouse sink to your home can be a great idea. Not only do they look great they're also highly functional due to the size. A farmhouse apron sink will leave the sink exposed out of the countertop instead of seeing the granite or material used for the countertop. You'll be able to fit an insane amount of dishes in it so it's great for large families. Make sure to get a large pull-down faucet so it is easy to clean due to the size.
The vaccine commercial brushed apron sink is quintessential farmhouse. I recommend it because of the easy installation and the good price considering it is an apron sink.
Kitchen Floors
Distressed wood floors are popular but water can damage wood floors as well as certain types of vinyl and laminate flooring. If you want to keep the distressed wood floor look in the kitchen it is very important that you pick a waterproof vinyl or laminate Hardwood floors in the kitchen can cause very expensive leaks in the future. These vinyl floor planks are the easiest because they are peel and stick but also keep the feel of natural wood grain. I love how silly cheap they are, how easy they are to install, and how quick the process is. Make sure to take your time!
Kitchen Color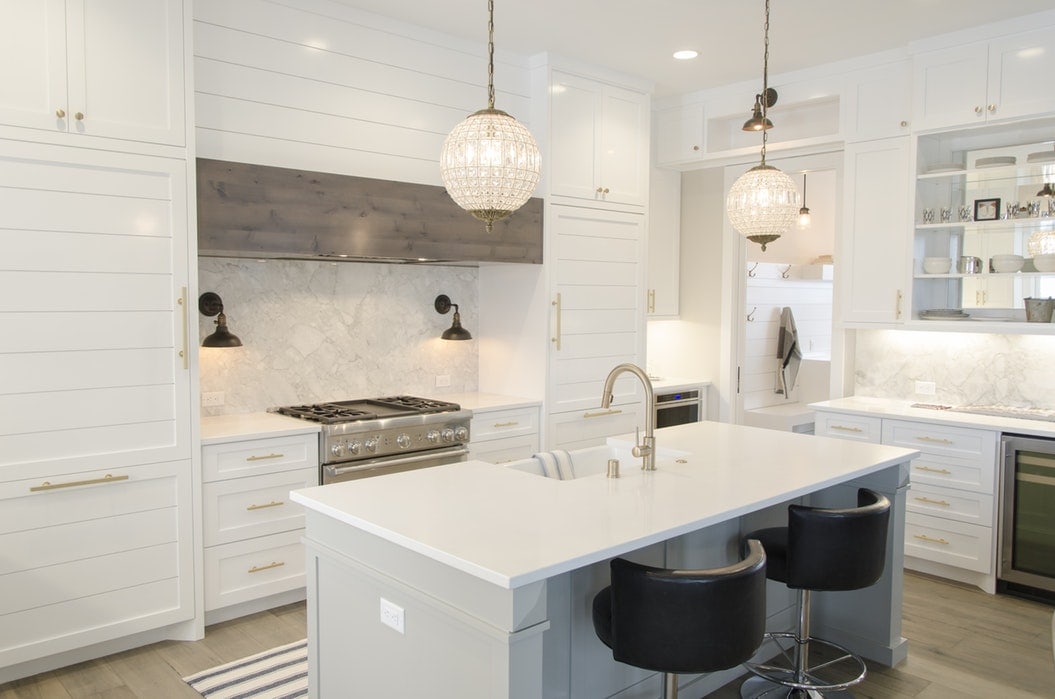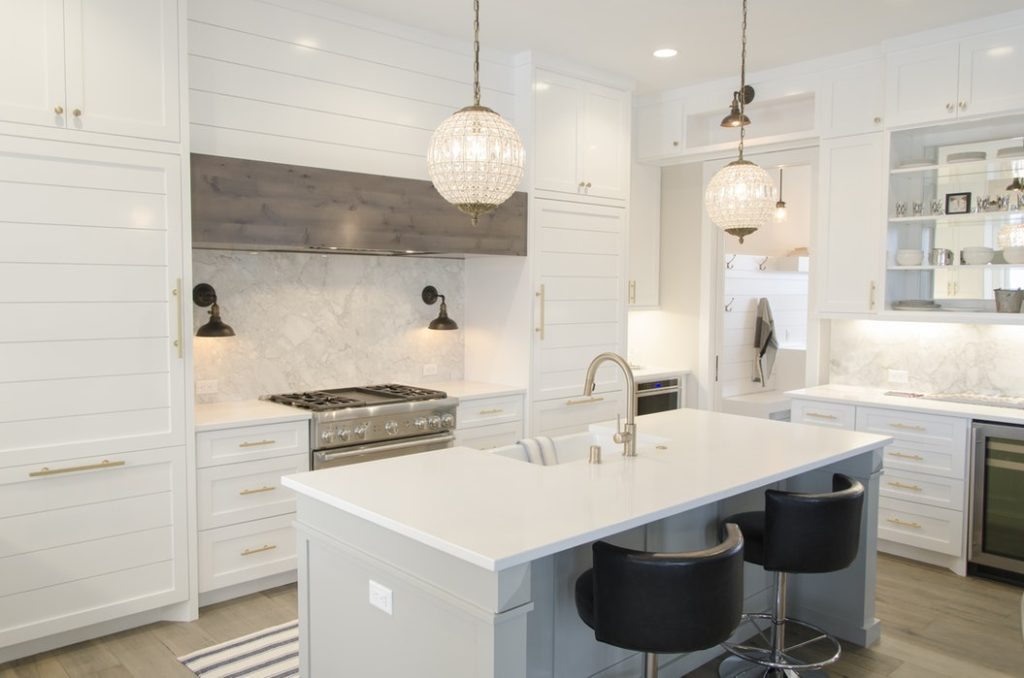 What I like to do when it comes to farmhouse kitchens is trying to incorporate as many natural elements as you can. This can be followed in the paint color so make sure to look at nature for this and you chose beautiful neutral shades. White can work well but it is not your only option warm earthy tones work and even Gray's with hints of blue. The Kilz Tribute set of neutral colors on Amazon work well here. Remeber to take into consideration the sheen you pick from flat to high gloss.
Farmhouse Walls
When it comes to Farmhouse walls there are a few things we need to discuss. Beginning with either painting, wallpaper, and the decor you put on the walls. As for the color of the walls, you will see a lot of grays some purples blues and even light reds. Vintage styles and colors of old school charm will do well here. These colors give them an illusion that they've been lived in for a while but in a nice way, not a run-down looking way. Pinterest is a great place to find inspiration for walls.
Wall Paper
A lot of the principles that work for shabby chic style work well if you want to add farmhouse style wallpaper. Vintage and slightly worn works well here and you can even find some nice wood style wallpapers with a hint of blue in them. One of my favorites is this reclaimed wood distressed wall panel.
Recommended Read: Best Cheap Sectional Sofas Under $500
It's great because it's waterproof so it'll last longer and it's peel and stick so also great for an easy DIY afternoon project.
Farmhouse Wall Decor
Recommended Read Budget Farmhouse Wall Decor
As for wall decor, you'll find that a lot of rustic signs are very common, doors, and even windows. You can go from distressed wood to old rusted metals for the decor options here. If you're a fan of inspirational quotes there are many wooden signs to add to the walls. There are also many DIY mason jar projects you can take on. If you are in need of color there are many beautiful dried wreaths that you can add if everything is looking too bland. If you like Greenery or faux Greenery there are many metal cans which you can add plants too. This post has a lot of great ideas for farmhouse signs.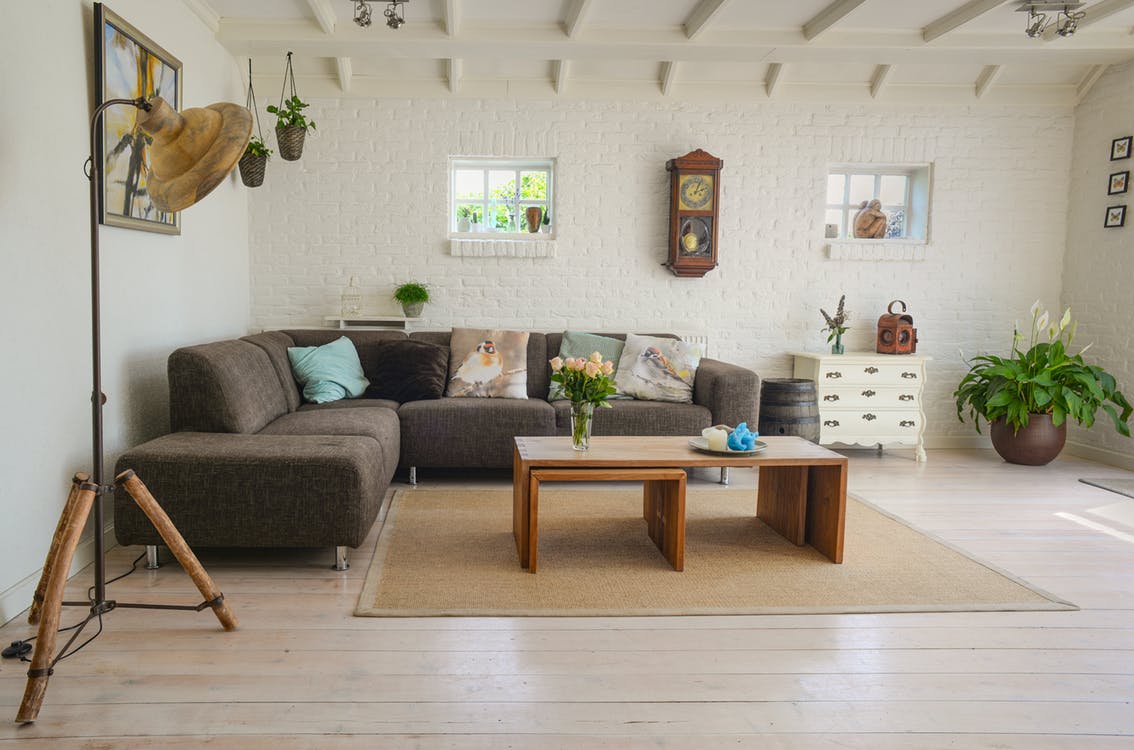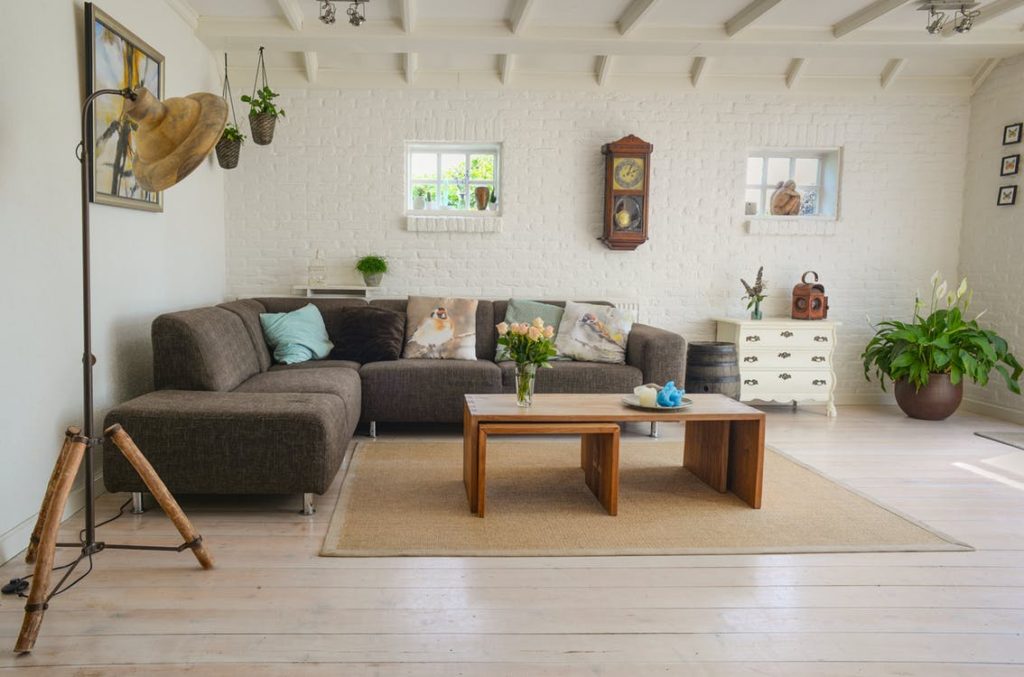 Other Farmhouse Wall Ideas
Things can be a little rough around the edges when it comes to Farmhouse decor. Hand-me-downs, antique shops, and Goodwill stores can be a great place to find wall decor. Chalkboards are also great for the rustic aesthetic. Make sure not to over clutter room which can happen a lot with farmhouse decor so that the room can still breathe.
This whitewash wood chalkboard decor adds coziness through family reminds and the style is perfect.
Farmhouse Furniture
When it comes to farmhouse furniture, large inviting and family style furniture really helps create the laid-back vibe that is sought after in farmhouse decor. Gorgeous open shelves show a family's history and necessities. DIY projects are very helpful here for distressing furniture are even fixing up older pieces to make them work.
This rivet revolve sectional in linen is in a farmhouse friendly tone and the expose wood legs add texture
Starting with materials such as wood and steel are great, with worn finishes and textiles help add a rustic cozy vibe. Easy to clean fabrics like the linen and cotton work well and add some soft and relaxed vibes to the room.
This wood ladder pipe shelf is a great idea to mix metal and wood textures. It looks goorgeus when put together.
There are many great DIY projects for painting and distressing furniture. Many times all you need is some paint brushes paint and sanding sponges It's surprising how easy it is to get a beautiful professional finish.
Farmhouse Bedroom

A farmhouse bedroom will add the same distressed wood looks with some steel and soft linen and cotton. Many Farmhouse signs can be used here with cute quotes A nice word wallpaper can be added on the baseboard of a bed for a unique vintage finish. A nice ottoman or chair can add a relaxed and cozy feeling
Plank Walls
Plank walls work well in many rooms for Farmhouse decor. they are most commonly seen in the bedroom Many places sell reclaimed wood that helped save time as it already has that vintage rustic feel to it
If you're a fan of authentic reclaimed wood I highly recommend thiseast coast rustic wood panel. They come with everything you need to install them and they look amazing. Perfect for an afternoon DIY project.
Barn doors can add a very unique look to your room. They can be affordable when purchased from Amazon and I recommend the DIYHD 8ft industrial wheel sliding door. They're very popular right now and you can either purchase one or there are many DIY projects on how you can do it You can add them to the entrance of your room or even to your closet You can paint them many different colors. You can never go wrong with a wooden barn door when it comes to Farmhouse decor
Farmhouse Curtains
You'll want to pick curtains that compliment The Farmhouse Decor palette Cotton and linen materials work well and even lazy see-through curtains work well If you want to add a bit of color floral curtains can bring an extra spark to a room.
The lush decor rosalie window curtains are a great example of relaxed neutral curtains that work well. The lacing on them helps keep things interest!
Farmhouse Floors
Distressed wood laminate or vinyl floors are the most common for Farmhouse flooring. There's nothing like the real thing but if you're interested in an easy DIY project, vinyl and laminate will be easier and now they come in many great styles that look almost real.
A wide-plank floor is a great option for a farmhouse home it gives a rustic look and it's easier to install than narrow wood floors. Narrow wood floors tend to look more modern. It's important to make a real farmhouse style home look open and expansive and wide plank wood floors do just that.
Farmhouse Decorating Ideas
Including a bit of industrial is good for mixing things up. Just as distressed wood works old looking metal mixed with wood looks gorgeous. There are many pendant lights that have metal and work well with farmhouse decor. They help accent the more natural texture of the wood you will be incorporating to your home and soft textiles.
The Truelite Industrial spherical pendant is perfectly farmhouse with a metal design. Get this if you have too much wood going on and need some contrast.
Reclaimed Wood
Reclaimed wood is a great idea if you are looking for a good DIY projects It's eco-friendly because the wood is being repurposed instead of sent to the garbage. It can be a little expensive so it's great for small DIY projects such as putting it on a wall or making shelves or othe decor.As previously mentioned I am a fan of the east coast rustic wood panel.
Open Shelves
Another great idea is to use a lot of open shelves. It adds a nice homey vibe to a home. It's great to show your prized vintage accessory or family heirloom as well as other beloved vintage pieces. They had a lot of character and help your guests understand what is important to you're family. If dust is a concern just used glass framed shelves.
Mix Textures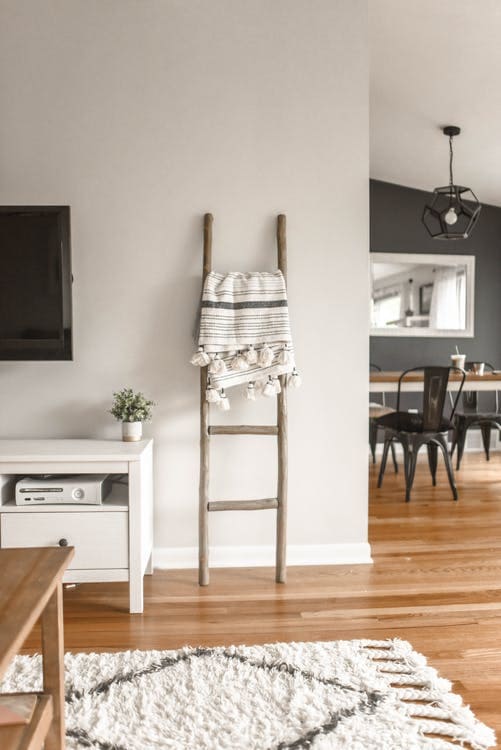 Farmhouse style home decor is great for mixing textures. The heavy wood and metal will be offset with soft accessories. This can be seen in farmhouse curtains or couches and cushions. It'll give your farmhouse home a more authentic feel. Since the color palette is largely neutral this helps add a lot of visual interest to keep things from getting too boreing. Many things like pillows throws and rugs are great ideas for this. Cotton fabrics, canvas, wool, and burlap also work well.
Incorporate Wood
A major aspect of Farmhouse Decor will be the incorporation of wood. when planning out your home it helps to start considering where you will be incorporating the style. adding too much wood can make a room feel like it's trying too hard. More authentic Farmhouse the design will have wood beams but that isn't realistic for everyone. Reclaimed wood walls can help add the same effect.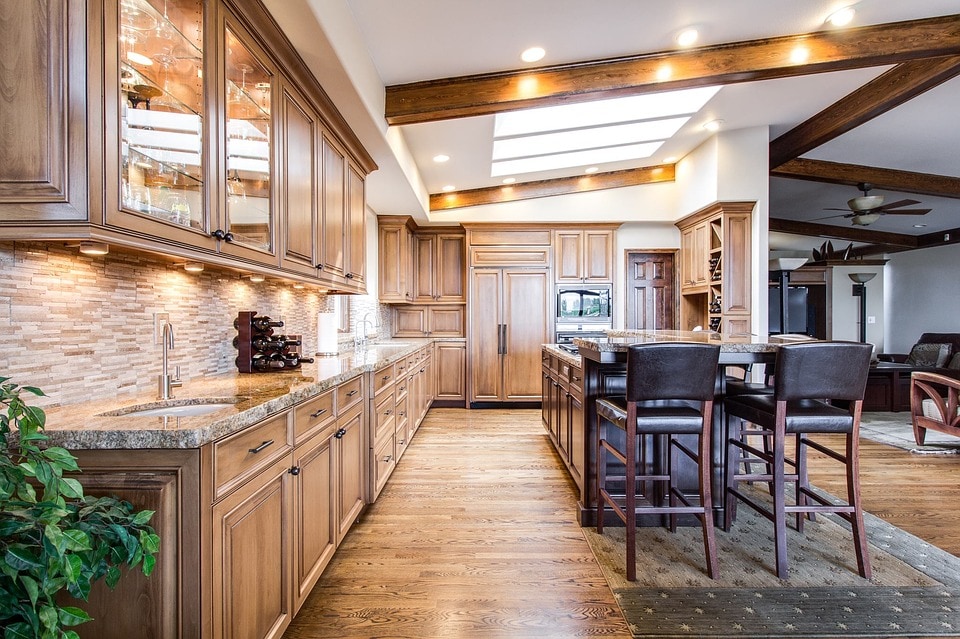 Wood Ceilings
Another unique idea is to have wood ceilings. It can be a more creative way to add wood to a farmhouse look room that is missing it. Reclaimed wood would also work great for this purpose.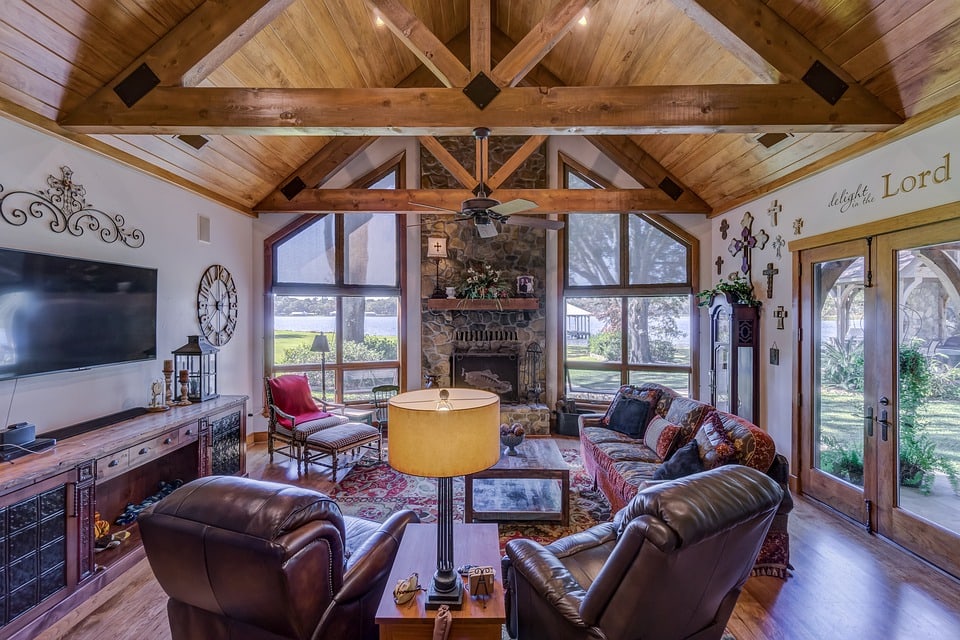 Conclusion
There are so many options things you can do today to farmhouse your space up. We went through everything from the kitchen and bedroom and after reading this guide you should be all set. What was your favorite farmhouse decor tip?