In This Article We'll Discuss
Table of Contents
Is your kitchen sink showing signs of wear and tear? Are you preparing for a partial or complete kitchen remodel? You'll want to choose a visually satisfying replacement sink that blends with the countertop.
If you're a bit unsure of how to select the right size, style, and sink material, I'm here to help. The following information will get you started on the right track for choosing the perfect sink for your kitchen.
The Quick Run Down: What is The Standard Size of a Kitchen Sink?
The standard sink size and dimensions are about 22 inches long to 30-33 inches wide.  
Sink dimensions can vary from 9inches in length up to 40 inches for oversized sinks. 
Single bowl sinks will run on average up to 30 inches in length. Single bowl sinks are typically the standard sinks places in homes. 
Standard double bowl kitchen sink sizes are  22 inches by 33-36inches.  These are best for washing dishes by hand.
Dimensions for a Farmhouse sink are typically 30,33 or 36inches. 
How to Measure a Kitchen Sink
Measuring your kitchen sink is a fairly straight forward process. 
Use a measuring tape to run down the visible length and width of the sinks. The width is the part running front the back of the counter to the front.
The width is the measurement of sink that runs across the counter or where you stand to do dishes.
All this remains the same for double bowl, single bowl, and apron front sinks. It's also the same measurement for all material types like stainless steel sinks and fireclay.
How to Choose a Kitchen Sink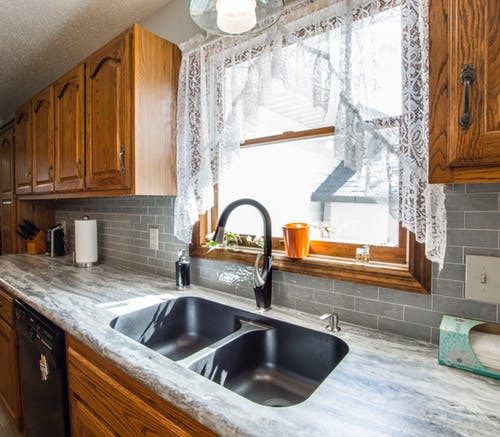 Most kitchen cabinetry measures 24 inches in depth. You new sink cannot exceed this measurement. A standard single-tub sink usually measures about 22 inches wide, 33 inches long, and about 10 inches deep.
Related Read: Best Kitchen Sink Material
Double bowl kitchen sinks measure up to 48 inches in length. This length includes the countertop strip between the two tubs. Keep in mind that a double bowl sink may actually be a single piece of material.
If you're replacing only your sink tub and not the cabinetry, the proper dimensions are already known. Simply measure your existing sink, and you'll know which model to buy. The one exception would be changing out the sink style. 
Most kitchen sinks are of the undermount style, and a replacement sink would fit the current cutout of the countertop. If you choose to install a different sink style, you might have to replace your countertop.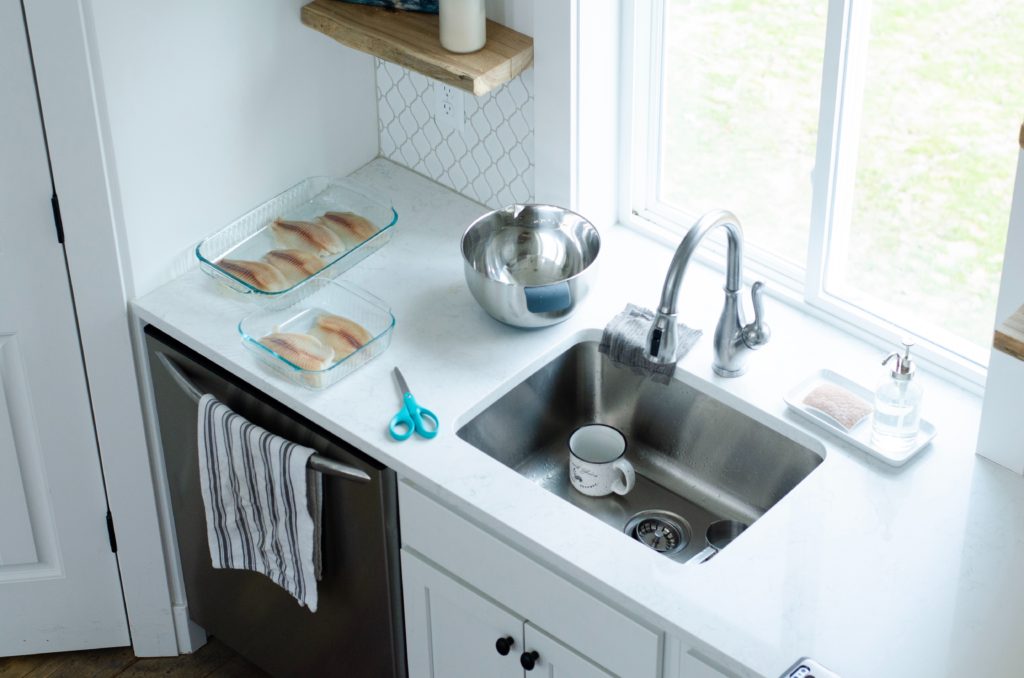 In some cases, the current countertop cutout allows you to alter your sink perimeter shape. A six-sided sink has a long front side, two shorter sides right and left, and a much shorter back side with two angled sides right and left. 
To install this type of sink shape, all you have to do is cut the triangle portions from your countertop. The result is the ability to install a bigger sink.
Related Read: Best Farmhouse Kitchen Sinks
If you're installing a brand new countertop, you have all kinds of size options for your sink. You must choose your style and size before having your countertop customized. This is true regardless of your sink size and sink style.
The choice of a single bowl or double bowl sink is yours, but keep in mind that a double-tub sink will decrease the amount of workable countertop space. Consider where you'll be placing such items as a microwave oven, knife block, blender, or dish drying rack.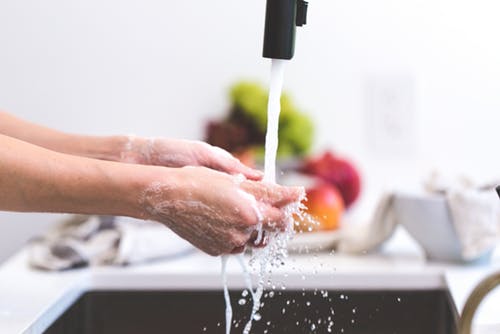 Also keep in mind that the placement of a double-tub sink requires moving the drain pipes. The altered position of a garbage disposal unit must be considered as well.
One exciting idea that I often pass along to my friends is the inclusion of a prep or bar sink. These are usually about 10 inches by 22 inches, and they have their own slim faucet. These kitchen sinks change the appearance of the kitchen and make for a more professional, sophisticated look to the countertop.
Although the standard depth of a sink is 10 inches, feel free to consider deeper ones. You decide how much workable space you need below the sink, the area where you'll install the garbage disposal and other items. Remember that shorter individuals may have a bit of trouble working with a sink that sits 40 inches above the floor but which is extremely deep.
Selecting One of The Kitchen Sink Types
Kitchen Sinks come in three main varieties. These are undermount, overmount, and apron-front. Undermount sinks are the most commonly used in homes. They are installed underneath the countertop.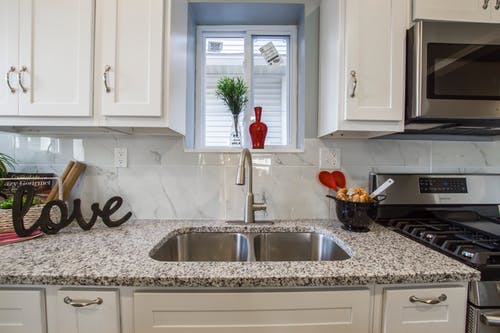 Because they are fastened from below, these sink tubs cannot be the same width as your countertop. The sink has a surrounding lip measuring about one and one-half inches. Subtract about three inches from your countertop depth to get the best sink size.
An undermount sink is easy to maintain because the countertop lip overlaps the sink material. No large crevices exist, so there's no need to worry about gunk building up. These kitchen sinks are visually appealing when installed beneath a marble or granite countertop.
Overmount sinks come in the same variety of shapes as undermount units, but the sink lip is on the top. Install this sink by lowering it onto the countertop.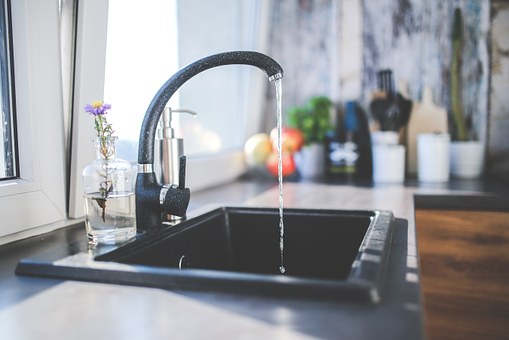 Secure it with the manufacturer's suggested sealing material. These sink perimeters get sealed around the edges using a special sealing compound.
The same sizing requirements are considered when an overmount sink is chosen. The lip extends forward, to the rear, and to the sides. 
Related Read: Farmhouse Sink Ideas
Many overmount kitchen sinks also have built-in holes for the faucets and spray jet hoses. Choose the size and style according to the desired position of the faucets.
Apron-front kitchen sinks are quite stylish in appearance. They are undermount, but they also need a front cutout on the cabinet. These sinks have a large front end that extends outward from the cabinet, usually one or two inches.
Part of the apron-front kitchen sink's weight gets supported by the front cabinet. These sinks are generally about 10 inches deep, so keep in mind the amount of cabinet front you'll have to remove. Most sink cabinetry has two doors and a flat panel above these doors, so installation is generally easier than you might expect.
Kitchen Sink Material
Stainless steel is the most popular sink material. They're easy to keep clean and polished, but not all sinks are made of the same quality of steel.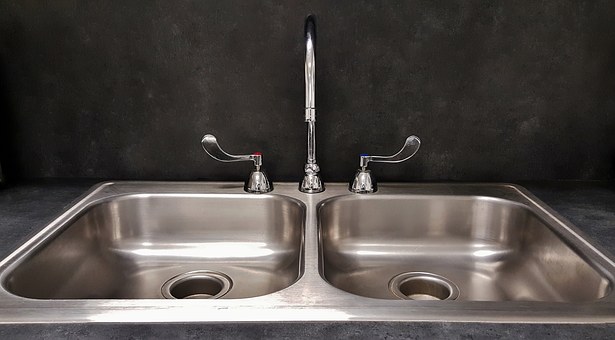 The rule of thumb is to use 15-gauge steel or thicker. The lower the gauge number, the thicker the sink. Poor quality of steel results in sinks that bow or bend after several years of use. That's something you definitely want to avoid.
Granite sinks are heavy, but they can withstand anything. Black granite finish looks great with darker countertops. They also complement stainless steel appliances and steel countertops. 
Copper is another option. Some of the popular apron-front sinks are made of high-quality copper, and these tones blend well with off-white or beige cabinetry. 
Hard-fired clay sinks are becoming more popular as well. Check out the apron-front clay sinks available. 
Clay sinks are manufactured in a variety of textured surfaces. Compare these styles to see which will blend well with your cabinetry and kitchen appliances.
Related Read: Standard Faucet Hole Sizes
Cast iron sinks are not as popular as in previous decades. They are quite heavy, and they tend to dull if not cleaned regularly. However, don't overlook the simple beauty these sinks can bring to your kitchen.
Once you choose your skin style and material, you cannot install it and then change your mind. Your sink style determines the cutout of your countertop, and once it's cut, you can't go back and start over. Keep this in mind before you make your final decision regarding sink material and sink style.
Picking a Sink For a Large Kitchen Remodel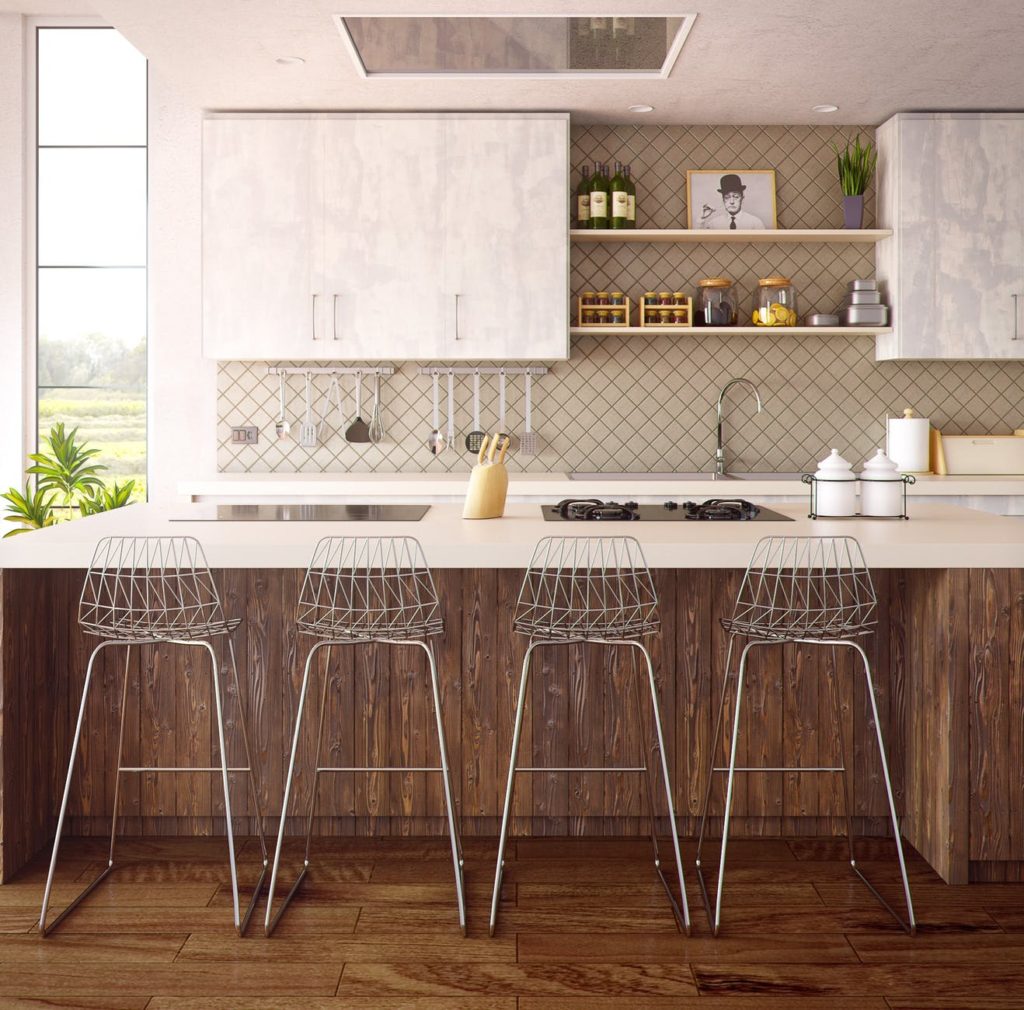 If you're got plans for a large, island-style kitchen with more than 20 linear feet of countertop, consider a triple-tub sink or a separate prep or bar sink. Some of the existing sink models you can purchase from manufacturers measure more than 60 inches in length. If you're designing a food preparation area and can run a water line beneath it, consider a narrow-trough sink.
To wash the many pots and pans that typically come with a large kitchen you should opt for a large single bowl new kitchen sink.
Trough sinks generally measure 10-12 inches in width and are about 40-50 inches in length. I recommend looking at the available models because some of them come with pre-cut holes for prep faucets. Many of the styles have a central drain, so you need only one drain pipe for the entire sink.
What about installing a wet bar in the snack nook area next to your kitchen? You'll need to consider the depth of this countertop before choosing sink material. Consider stainless steel tubs measuring no deeper than 10 inches and which include prep faucets and water jets.
Additional Advice For Measuring a New Kitchen Sink
It's all about your decisions for kitchen remodeling. Remember the planning sequence, and don't stray from the plan. 
Always finalize your cabinetry measurements before even considering sink size or sink material. Once you know your cabinetry material and the cabinet dimensions, you can start shopping for that perfect kitchen sink. Remember to ask the cabinetry manufacturer or distributor about custom-cutting of the countertops. 
If you hire a subcontractor for the installation of countertops, make sure this person has the information on sink dimensions. This installer needs to see the sink in person or be given the information about the type of sink being installed.
To Summarize Everything You Needed to Know About Sinks
Don't let your dream of a remodeled kitchen with beautiful new sinks turn into a nightmare. Produce as many drawing mockups you feel necessary. 
Choose your cabinets, sink style, and sink material accordingly. You're going to enjoy the look of your new kitchen, and you're going to love the appearance of your new sinks