Give your kitchen a chic, rustic feel with these gorgeous farmhouse sink ideas.
Farmhouse kitchen designs have become one of the biggest trends over the years. When it comes to an ultra chic farmhouse sink, there are so many high-end designs to consider. Buying an apron sink is one of the most custom additions you can make in your kitchen. Installing this style sink might be intimidating, but the results are always beyond incredible. Apron sinks instantly enhance the overall look of your kitchen. They are wider, deeper and often more functional than traditional sinks. The best part, they usually aren't ridiculously priced either.
So if you're looking at ways to style your farmhouse apron sink in your kitchen, here are a few ideas for inspiration:
In This Article We'll Discuss
1. Spruce Up Your Farmhouse Sink with Chic Decor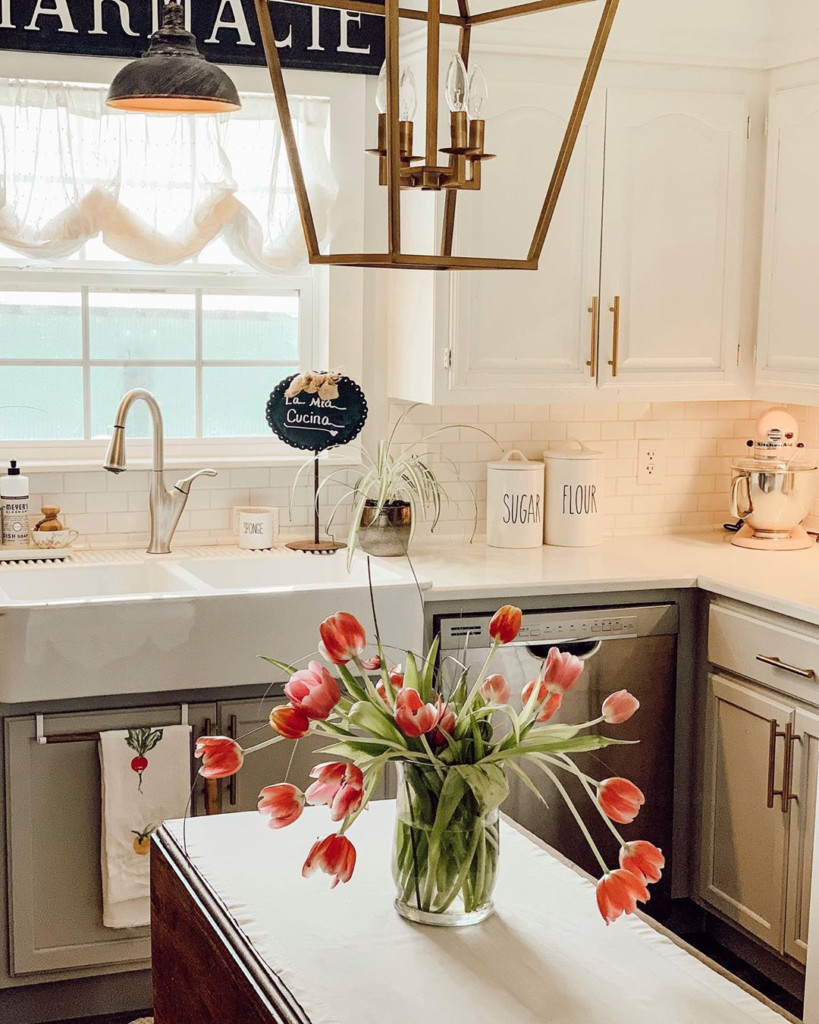 Everyone loves a crisp clean kitchen. By adding a few essentials coupled by a few decor pieces, your kitchen can speak volumes. This double farmhouse porcelain sink boasts rustic charm. The copper pot and plant adds a natural touch. Then of course you have your soap essentials within arms reach. Styled with the fun chalkboard menu stand, you can write what's for dinner so the whole family can stay informed.
2. All the Copper Vibes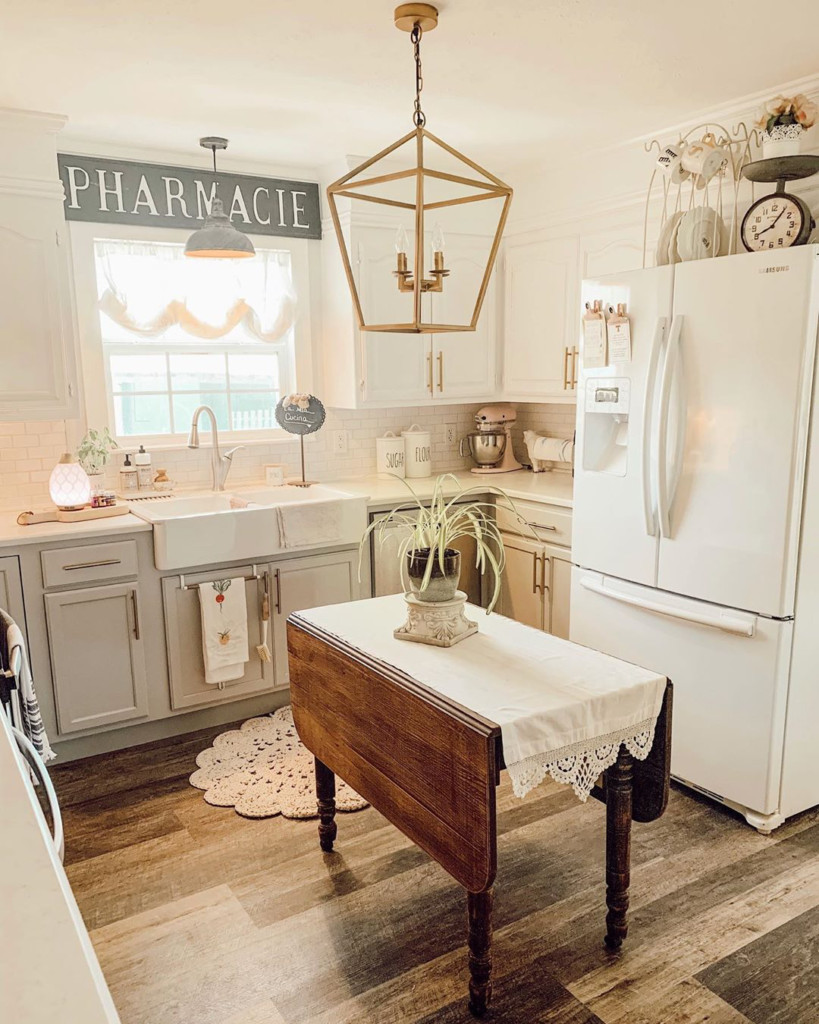 This copper light fixture adds such a rustic touch to this beautiful farmhouse kitchen. The apron sink really stands out in this gorgeous space. Especially since it's perfectly placed in an area with tons of natural lighting. The sheer white valance tied up gives us a feminine look we all love to see in a kitchen. Complete this look with a bold antique pharmacie signage above the sink and you are magazine ready.
3. A Minimalists Dream Kitchen
Natural decor is all the craze. Any way to bring in natural textiles such as concrete countertops, metal fixtures and plants is a total win. It's an easy way to bring elements of the outdoors inside the home. The openness of this space draws attention to the sink. Accessorize with a metal soap dish. Complete the look with galvanized boxwood plants on the windowsill.
4. A Cozy Industrial Kitchen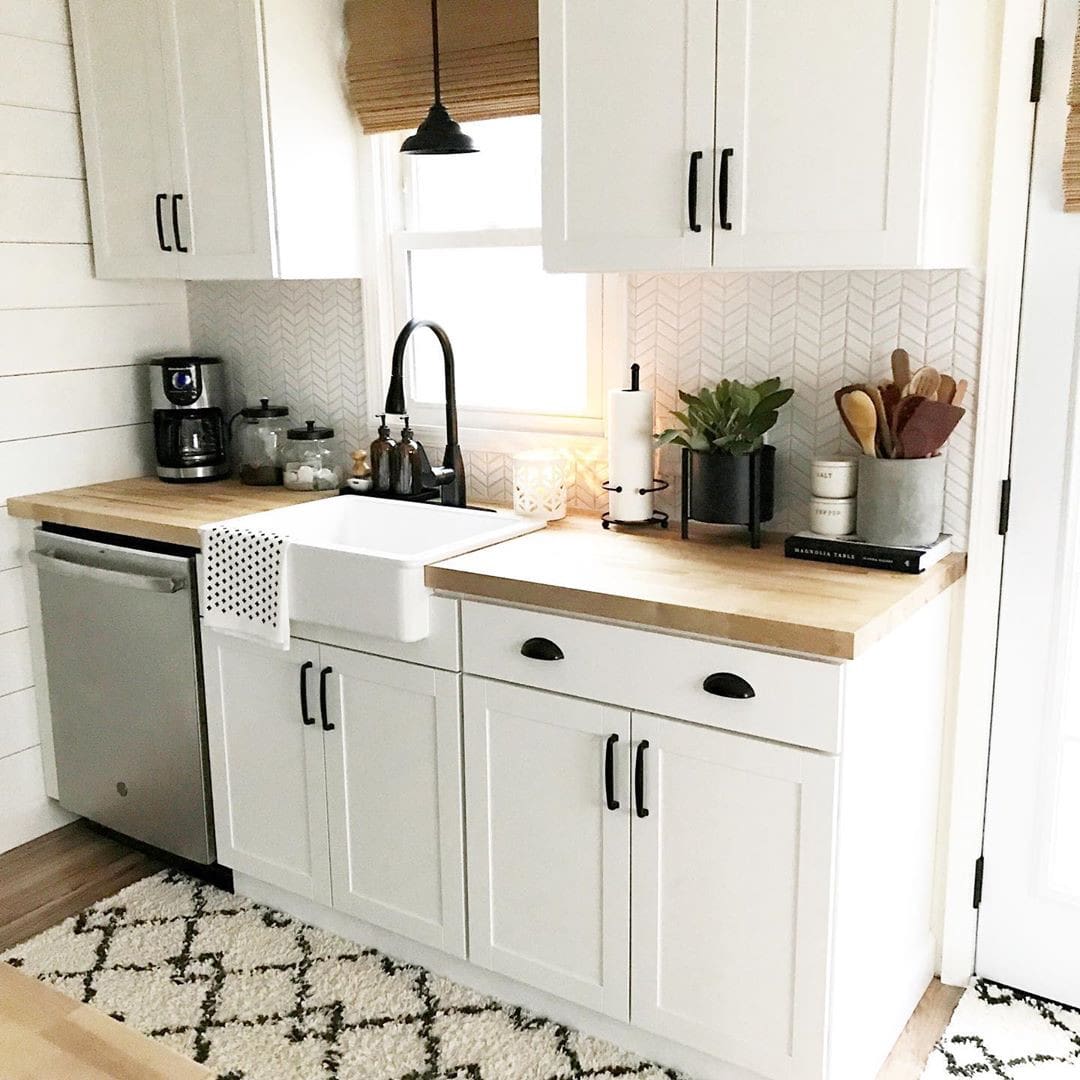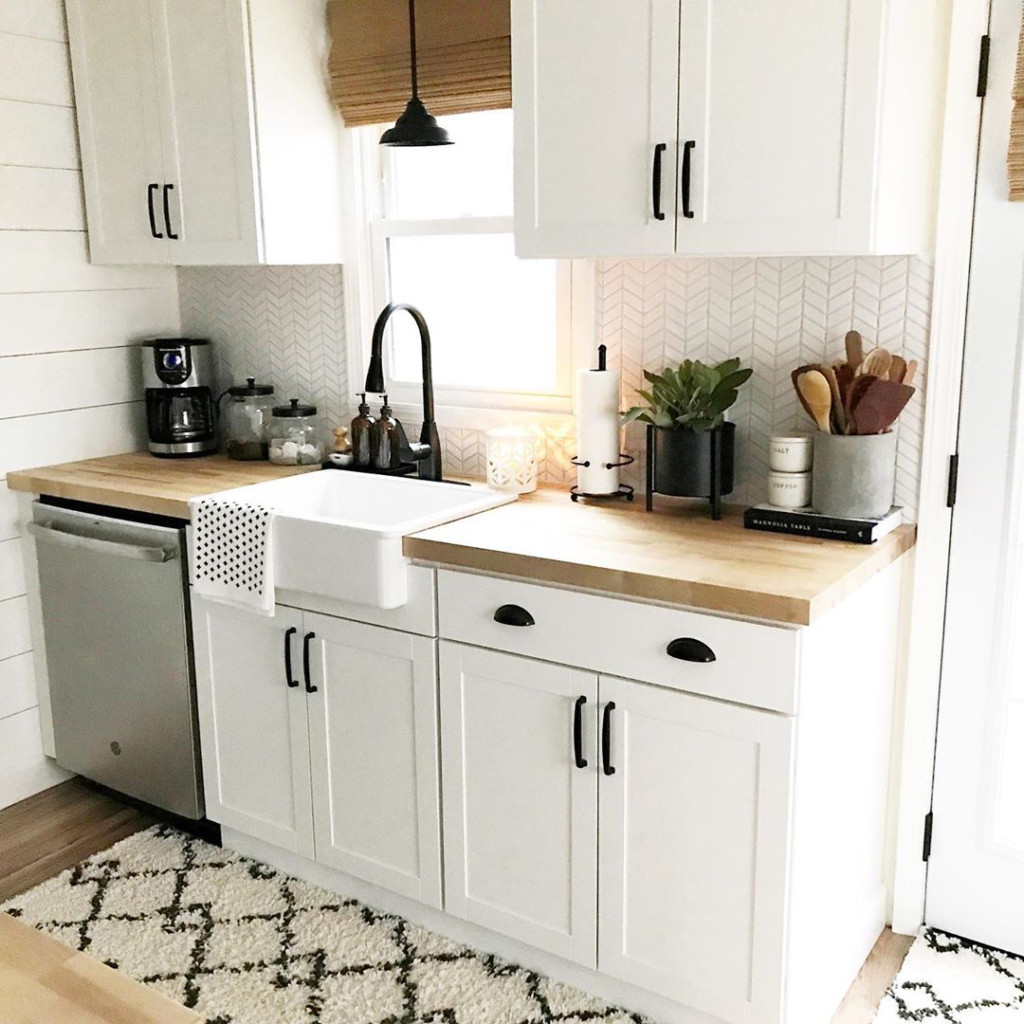 Industrial farmhouse decor is stunning. It can be difficult to incorporate industrial pieces and still make the space feel warm and cozy. When looking at decor pieces, try adding bold statement pieces. The white backplash and counterops help balance this space. The black hardware on the cabinets is the perfect addition. The black top glass jars, paper towel holder and black plant stand are all great accessory pieces that tie this look all together quite well. The natural toned countertop really allows the kitchen faucet to pop. This is a quaint, trendy space to enjoy.
Related Read: Standard Kitchen Sink Size & Dimensions – How to Pick One
5. It's All in the Details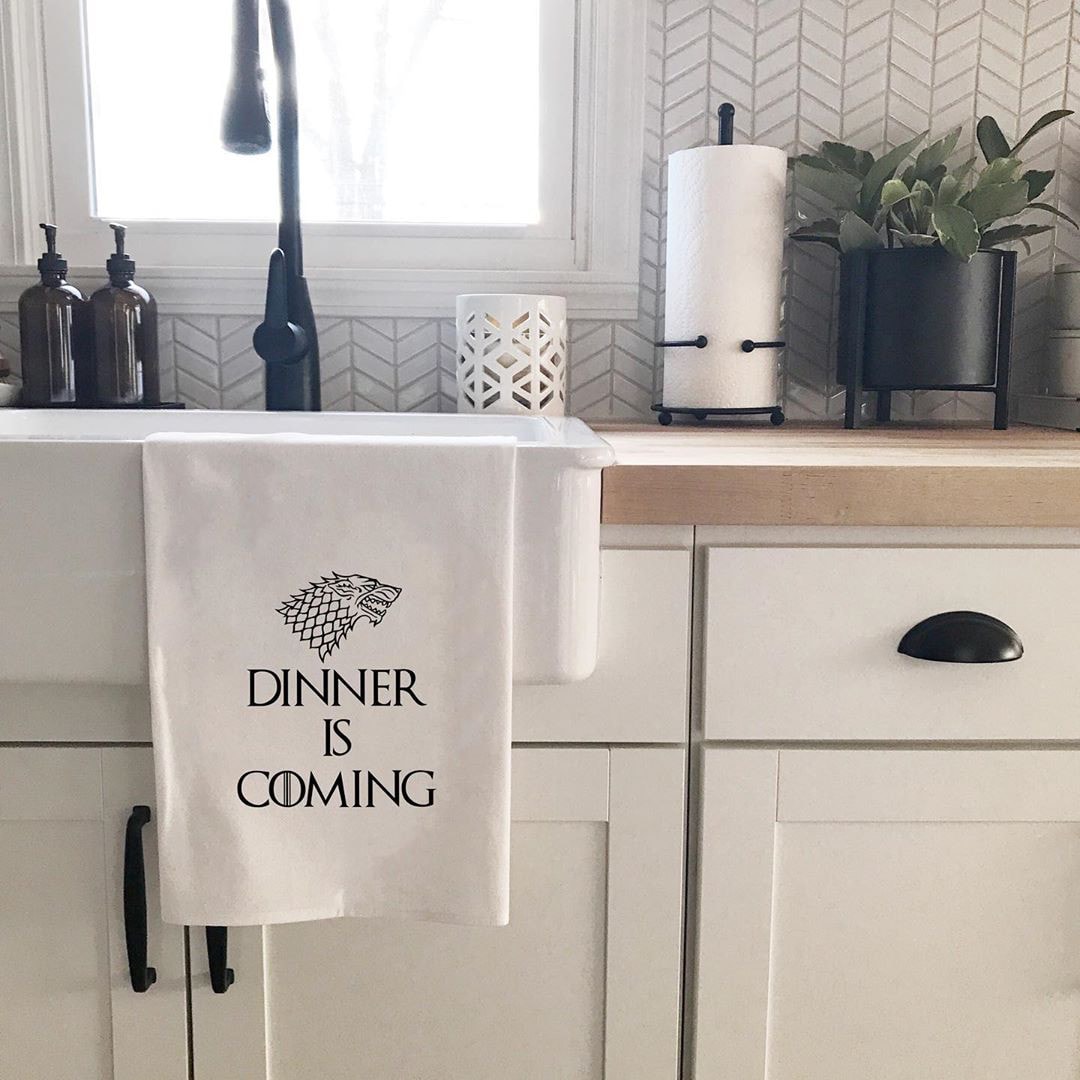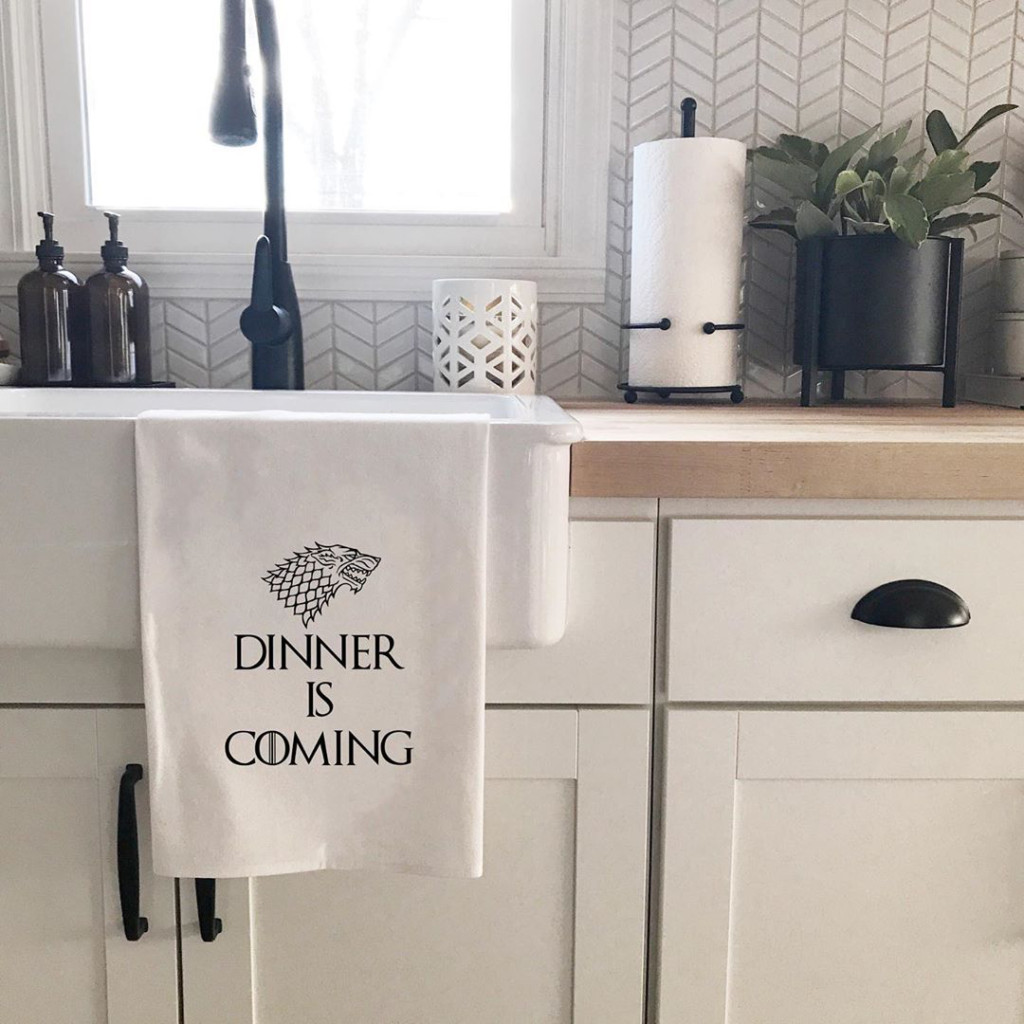 The best part about a new kitchen is personalizing it. Add unique accessories to your space that boast personality while still being stylish. This kitchen towel shows you love the television series Game of Thrones. The white sleek candle shows you might be a bit romantic. The additional accessories also show off your on trend style.

6. A Natural, Industrial Kitchen Setting
There are so many farmhouse sink ideas to get inspired by. This one was carefully curated to add both natural and industrial touches. The rustic wooden beam over the kitchen sink adds texture. The wooden shelving and cutting boards add visual interest. Other natural details include the faux wreath, seasonal tulips and concrete countertop.
7. Shabby Chic Kitchen Sink Ideas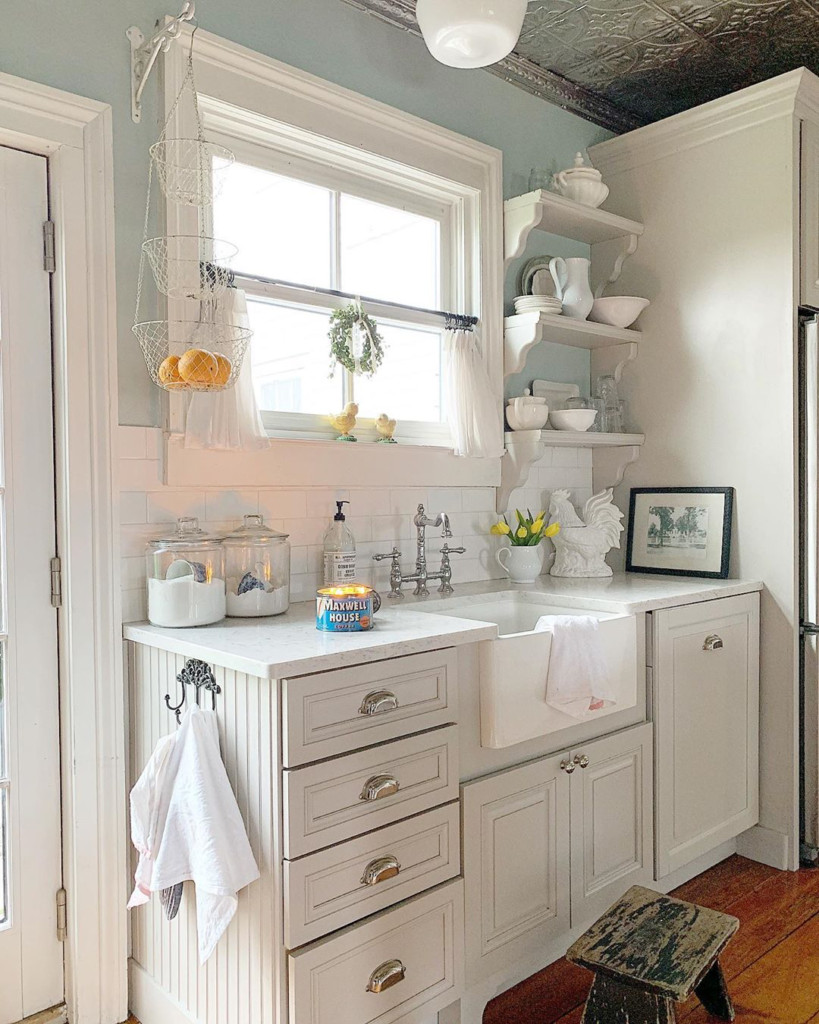 Shabby Chic is a style in which your decor looks timeless and attractive. This gives us all the feels for a classy, feminine and timeless look. You can't help but focus on the sleek metal faucet and hardware. Adding personalized touches to your counter space makes it uniquely yours. The rooster cookie jar makes a statement next to the bright yellow tulips. The fruit basket hanging next to the sink allows ample space underneath. Open shelving is also a big farmhouse kitchen trend. Place your favorite dishes on display for not only storage, but also for decor.
8. A Pop of Color for Seasonal Decor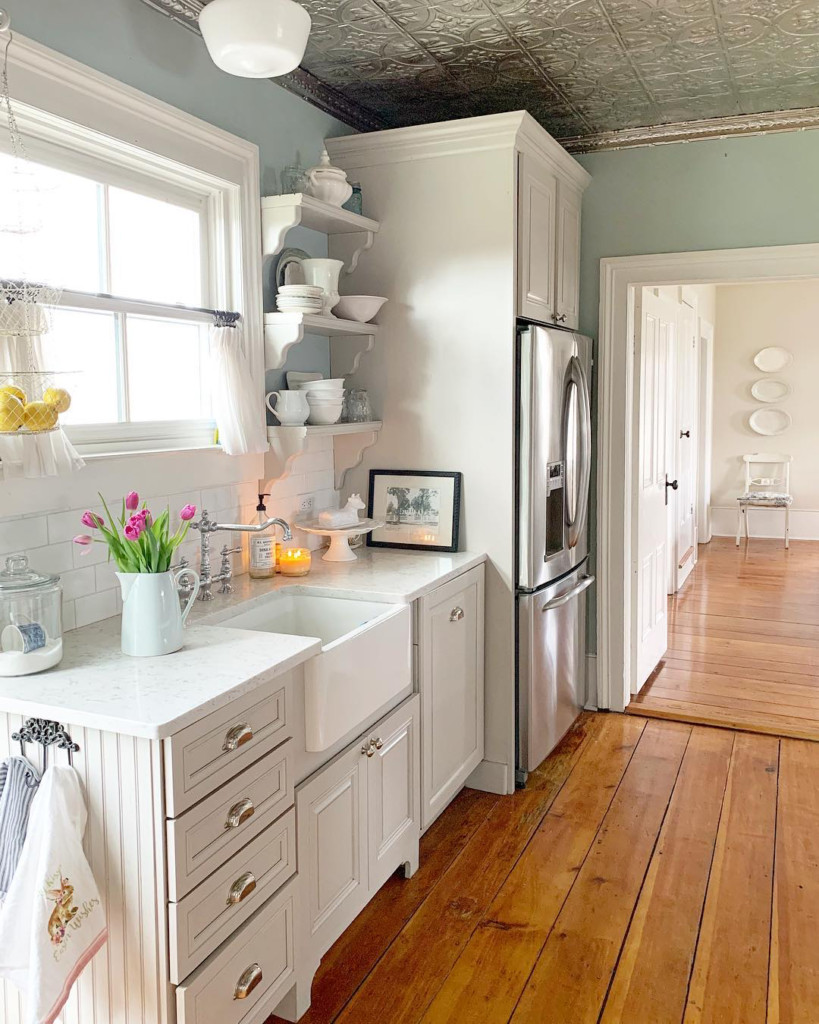 Just look at those gorgeous tulips! Placed inside a sleek watering vase is very stylish. A pop of color is exactly what you need in this naturally all white kitchen. Customize your kitchen sink area with your favorite pieces. This cow butter dish is the perfect example. Frame your childhood home or a family photo in black and white for a personalized piece of decor. Light a season candle to spread that warming scent throughout your home.
9. A Clean & Sophisticated Kitchen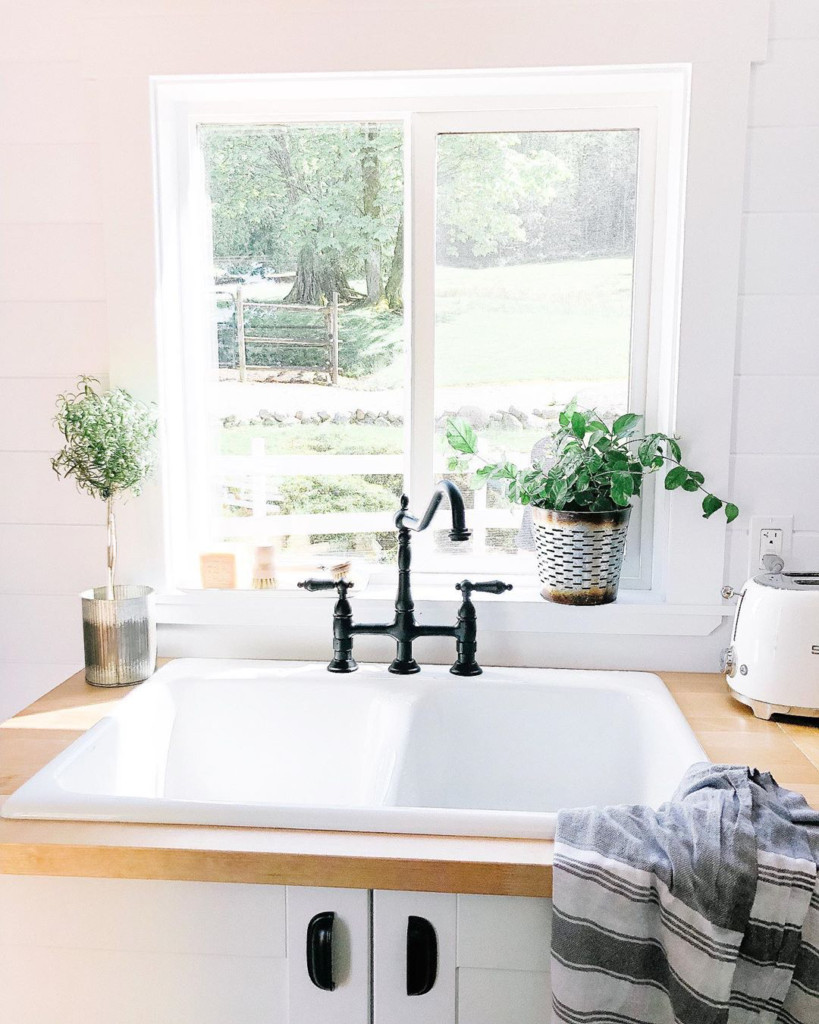 This deep apron sink looks lovely in spaces big and small. The window adds so much natural lighting that is wonderful to have in your kitchen. Keep things simple for a clean and sophisticated feel. The smaller potted plants really stand out while the bold kitchen faucet ties this whole look together.
10. Scream It's Spring with Yellow Decor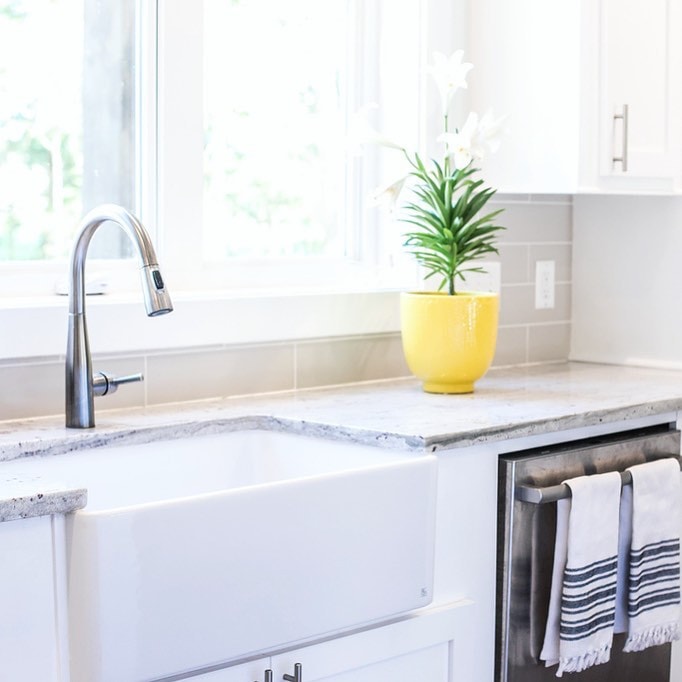 What color really screams spring? For most, it's yellow. This bold yellow flower pot is the only accessory needed and rightfully so. It's such a loud pop of color that doesn't need any help setting the scene. Yellow is a color that brings us joy and happiness. What a wonderful way to walk into your kitchen each morning and be greeted by this lovely pop of color.
11. A Great Way to Organize Your Kitchen Counter Top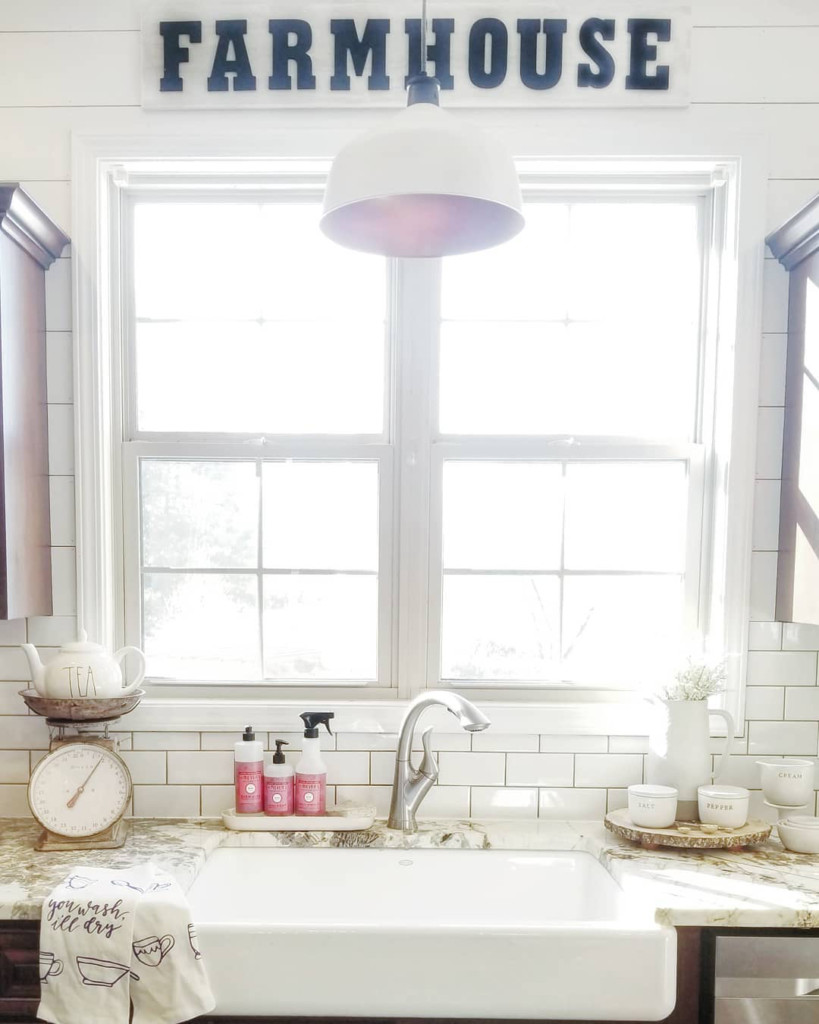 Everyone these days is looking at ways to stay organized. In the kitchen, these individual trays are the perfect way to maintain a clutter-free space and keep your accessories organized. The rustic antique kitchen scale is a beautiful decor piece. Place your tea pot, sugar, coffee or other jar on top of the scale for a little storage and style all in one. The soap set is rested perfectly on its own dish. The wooden stand can serve as a cake platter, cutting board or for more organization like in this kitchen.
12. Keeping Things Simple & Clutter-Free in the Kitchen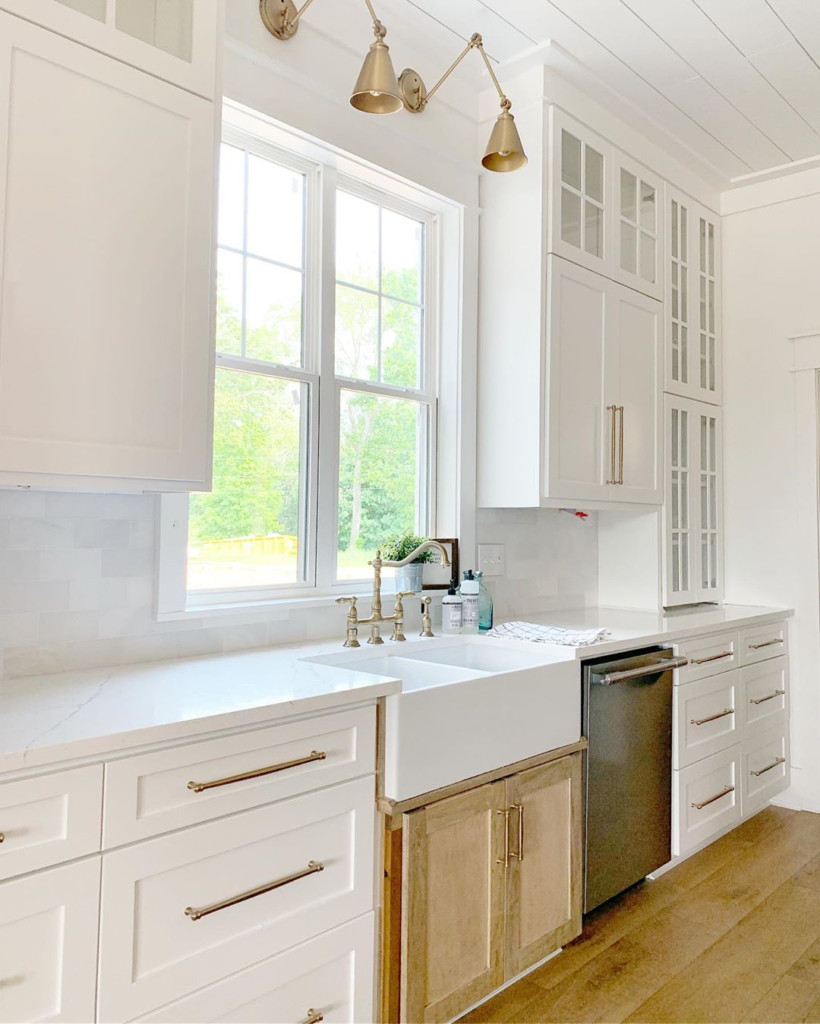 Understated designs don't have to be boring. This minimalist kitchen design features excess counter space which is what we all strive for, right? The crisp white, clean kitchen keeps things simple. A few added accessories never hurt anyone and also adds style. Add a small plant and frame to your window for more personalization. Spark joy with your favorite soaps and dish towels.
13. A Bold, Dramatic Kitchen Design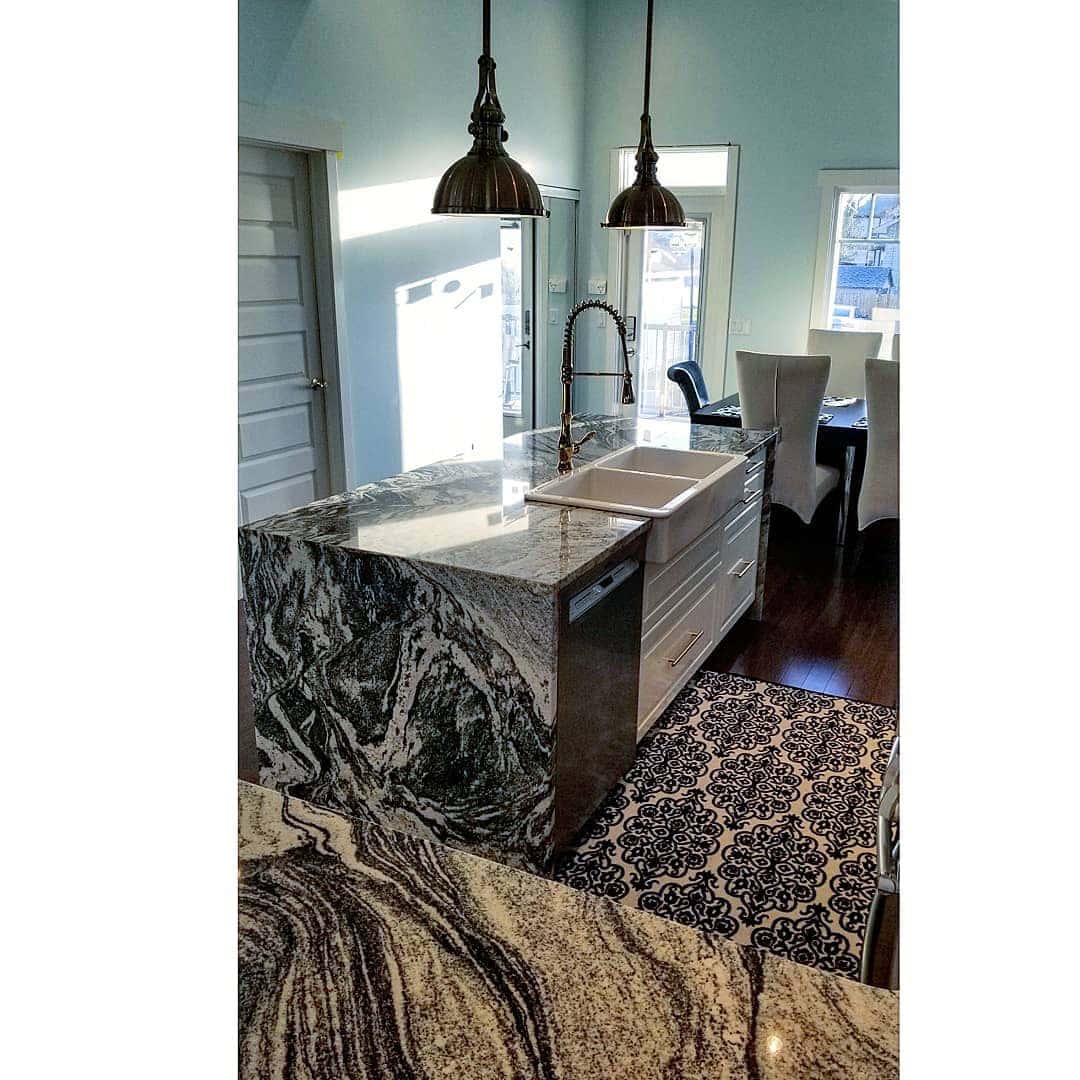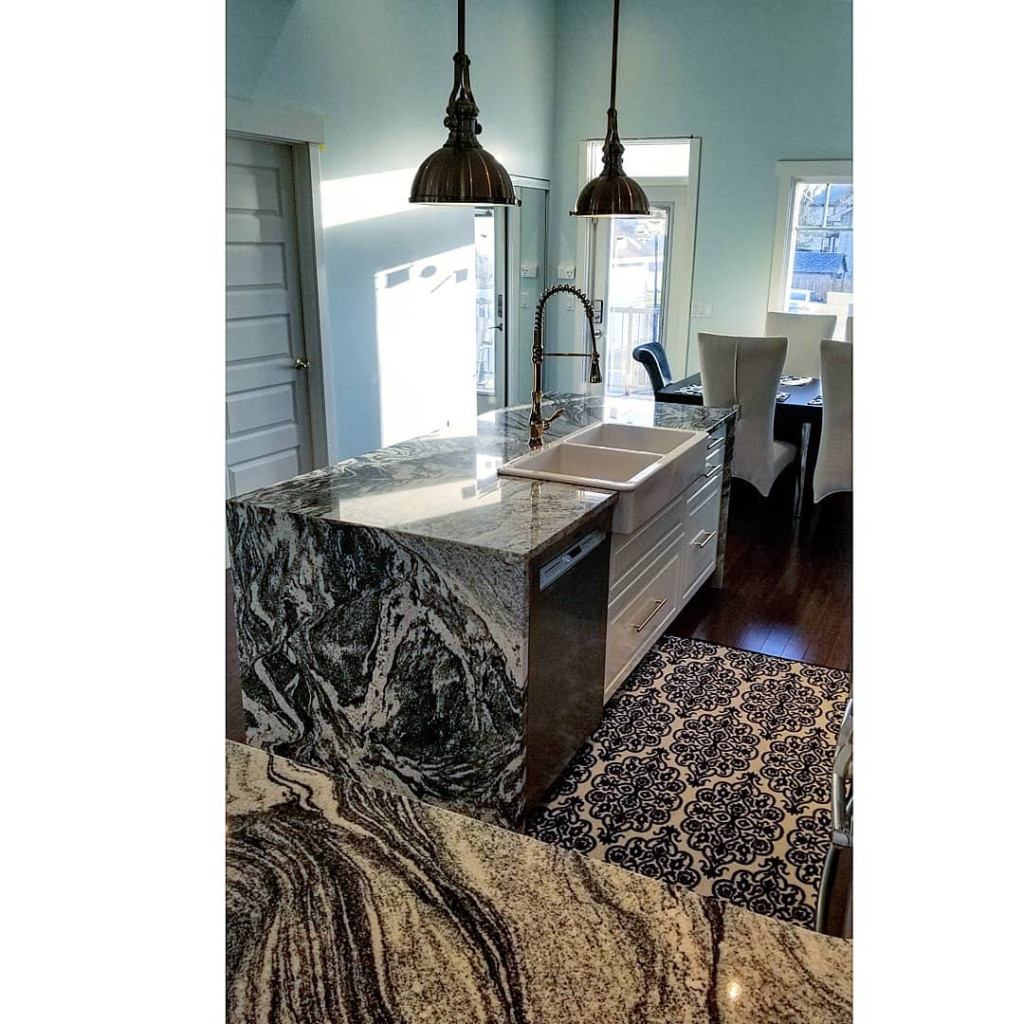 This farmhouse sink truly stands out next to the bold darker countertops. The wiring on the kitchen faucet adds a rust, industrial touch. The industrial pendant lighting ties the whole look together. This kitchen feels so bold, moody and dramatic while still looking fresh and vibrant.
14. One Can Never Have Too Many Flowers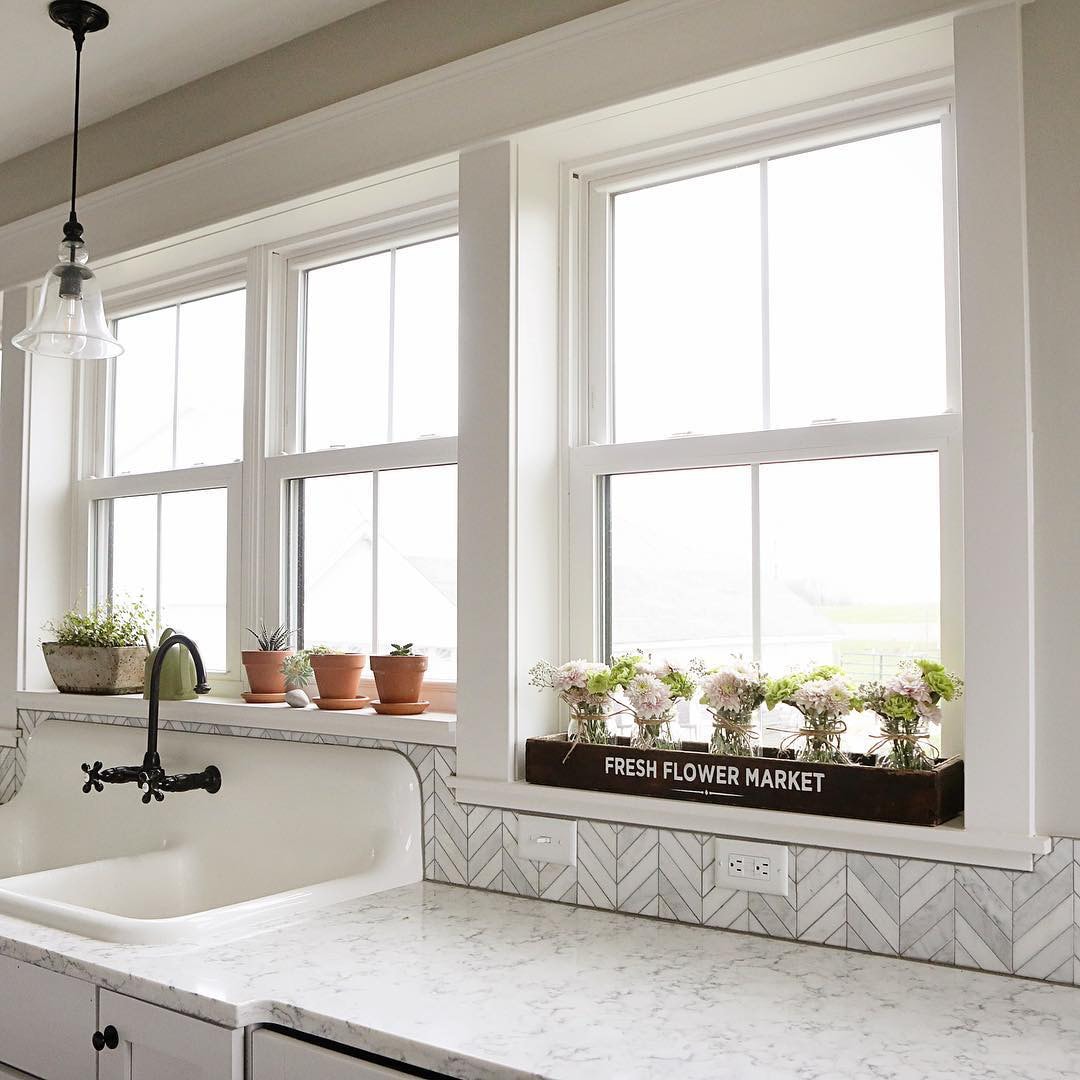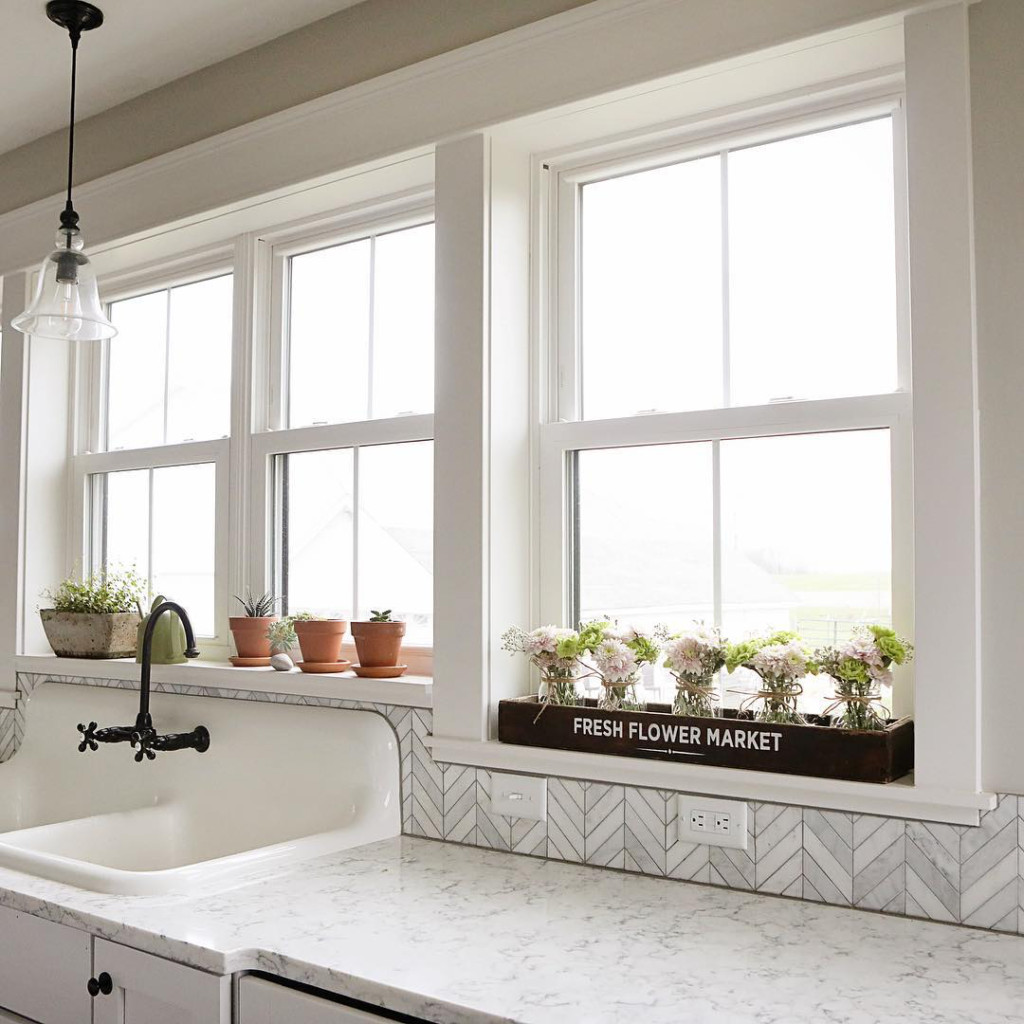 If you're ever unsure what what to accessorize in your kitchen, flowers should be your go to! What better place than the kitchen windows for your plants? There's already so much natural lighting in this space. Switch up your pots to make each one pop and stand collectively together. Even though there are a variety of plants and flowers, this look still is cohesive. Terracotta pots are always on trend too.
15. Setting the Tone of Your Kitchen Space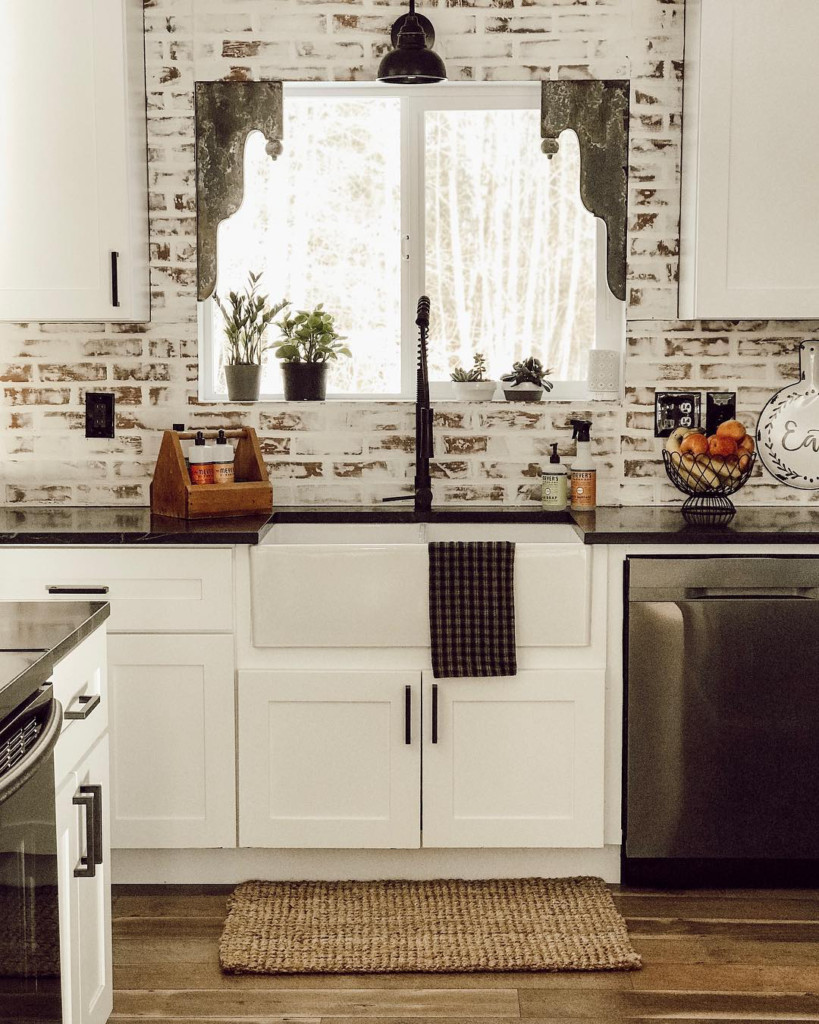 This farmhouse apron sink could definitely stand alone, but the unique rustic backsplash is what really sets the tone in this kitchen. There's such an industrial vibe to this space. The fruit basket, wooden bottle caddy, and plants all give this kitchen such a rustic and true farmhouse feel.
16. The Perfect Use of Space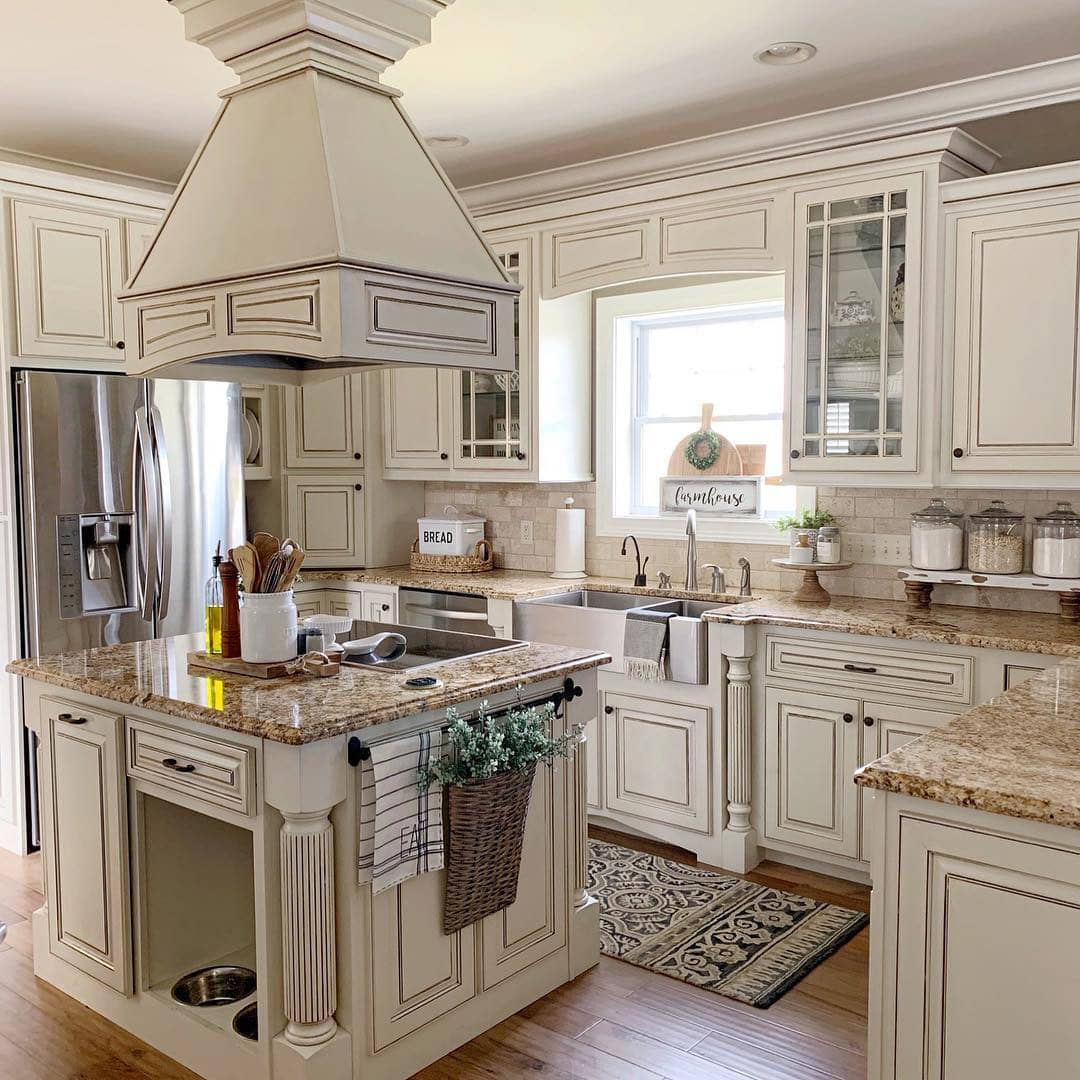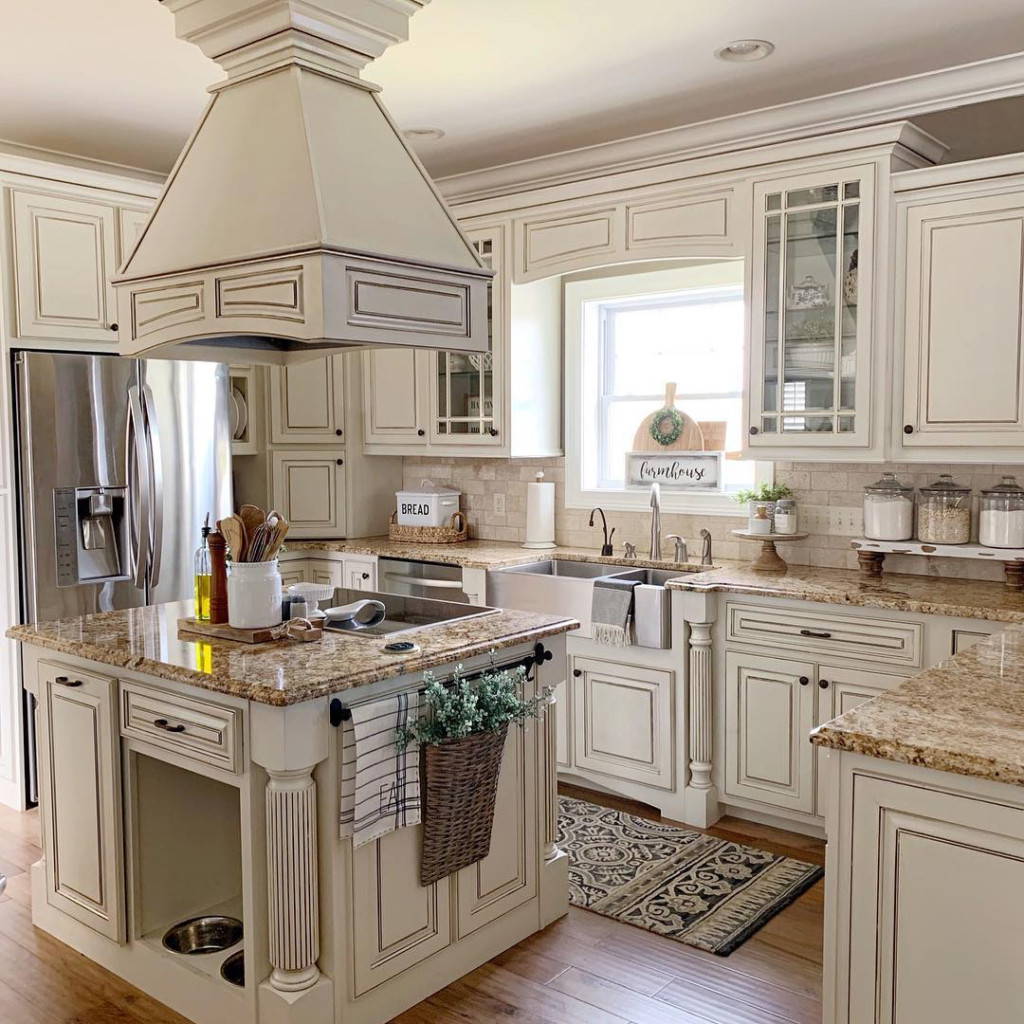 From minimalist to unique personalized style, there are so many kitchen sink ideas to choose from. You can definitely tell the style of this kitchen owner. Everything has its place, without feeling overwhelming. The surrounding decor also makes this apron sink stand out perfectly. The signage, the bread basket, the jars and canisters… it's a farmhouse dream kitchen.
17. Up Close and Personal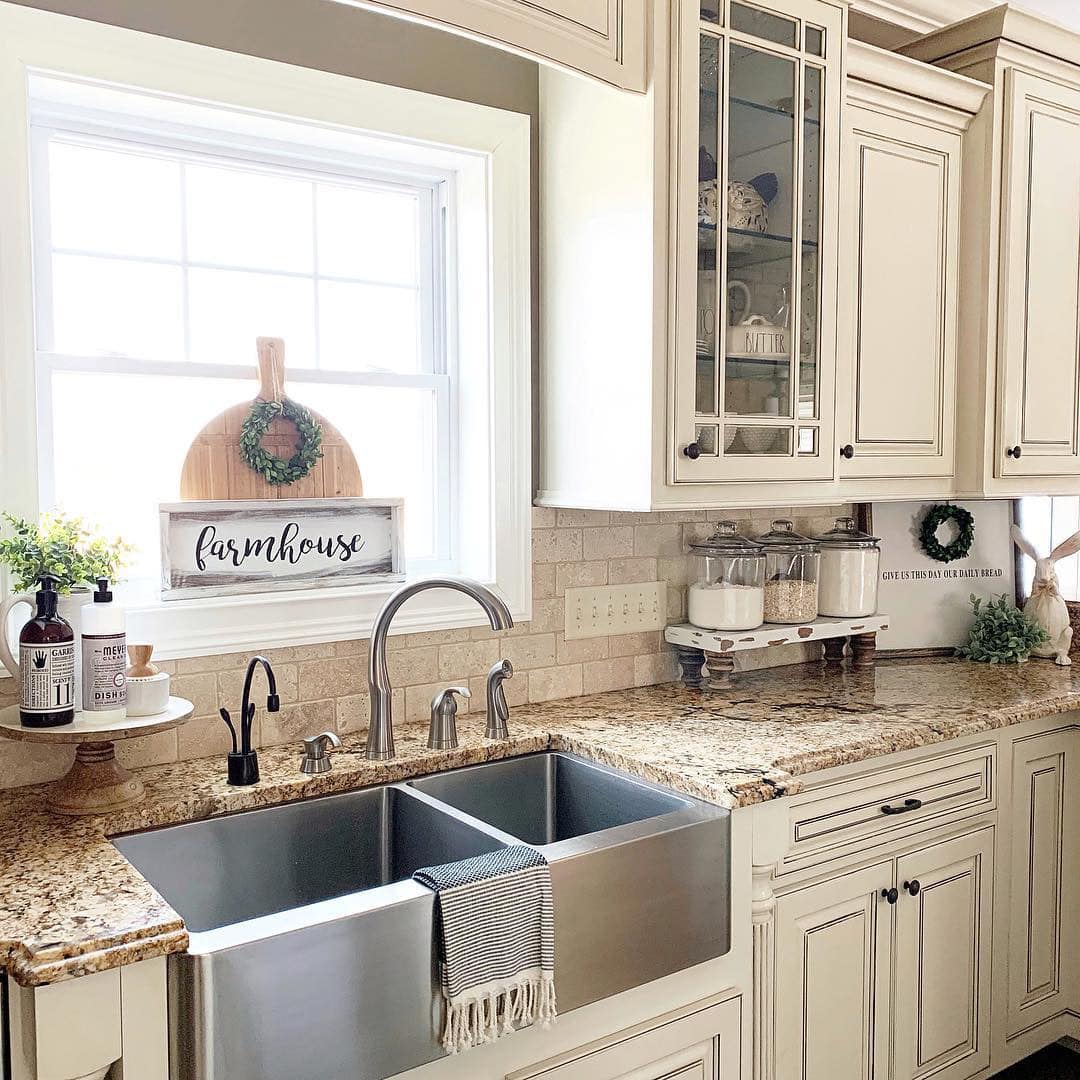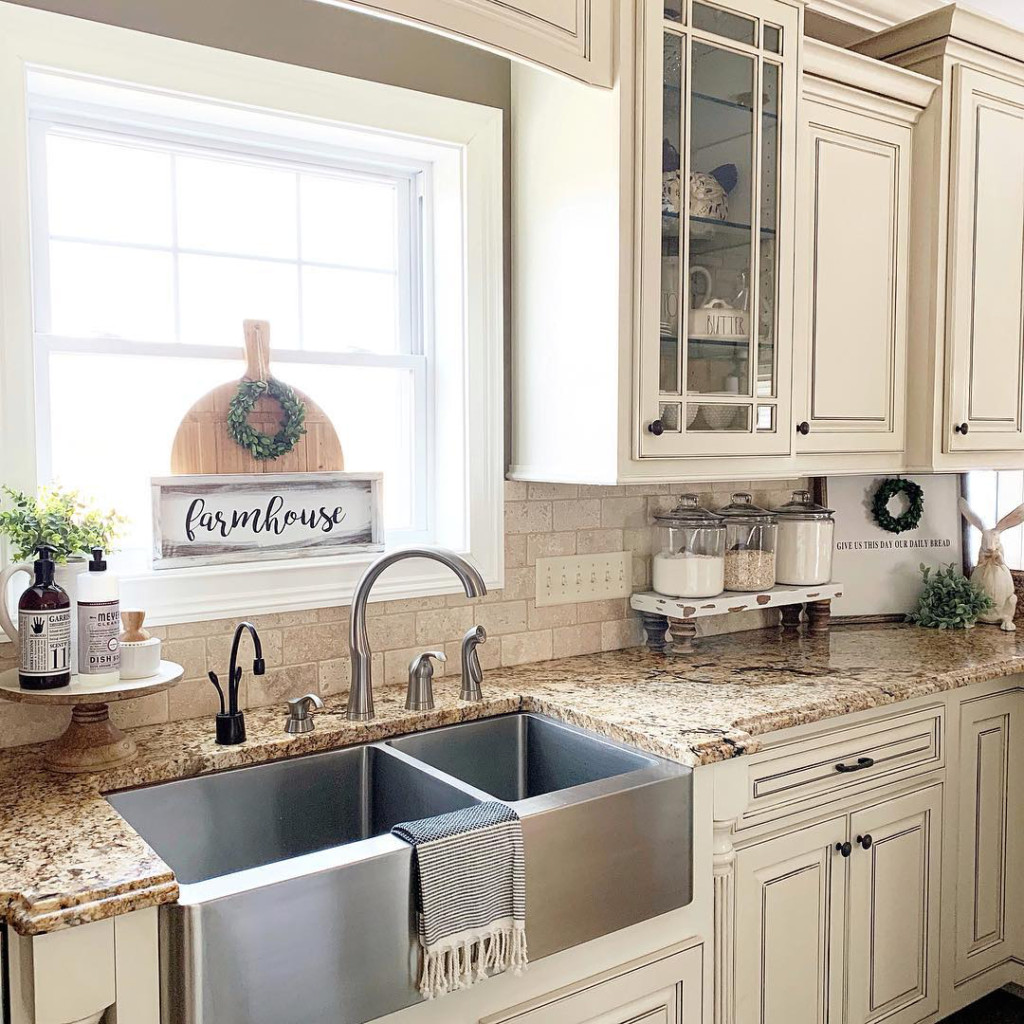 Let's take a look at all of these details. The rustic farmhouse sign is perfectly placed in front of the wooden cutting board and accented with a small boxwood wreath. The cake stand serves dual purposes. The wooden standing shelf adds depth and is perfect for storing your dry goods. Add seasonal decor in the corner for a custom touch.
18. An Open-Concept Kitchen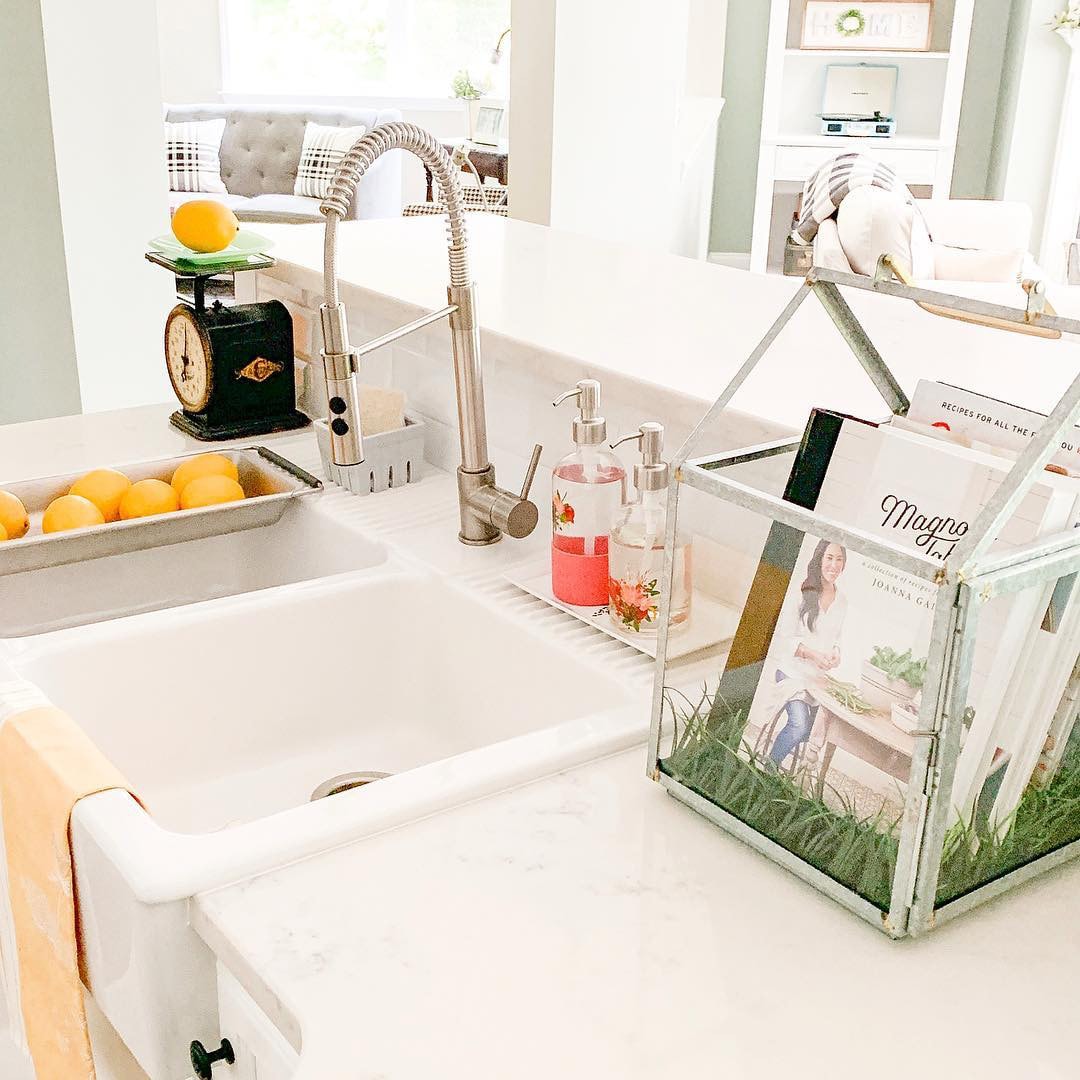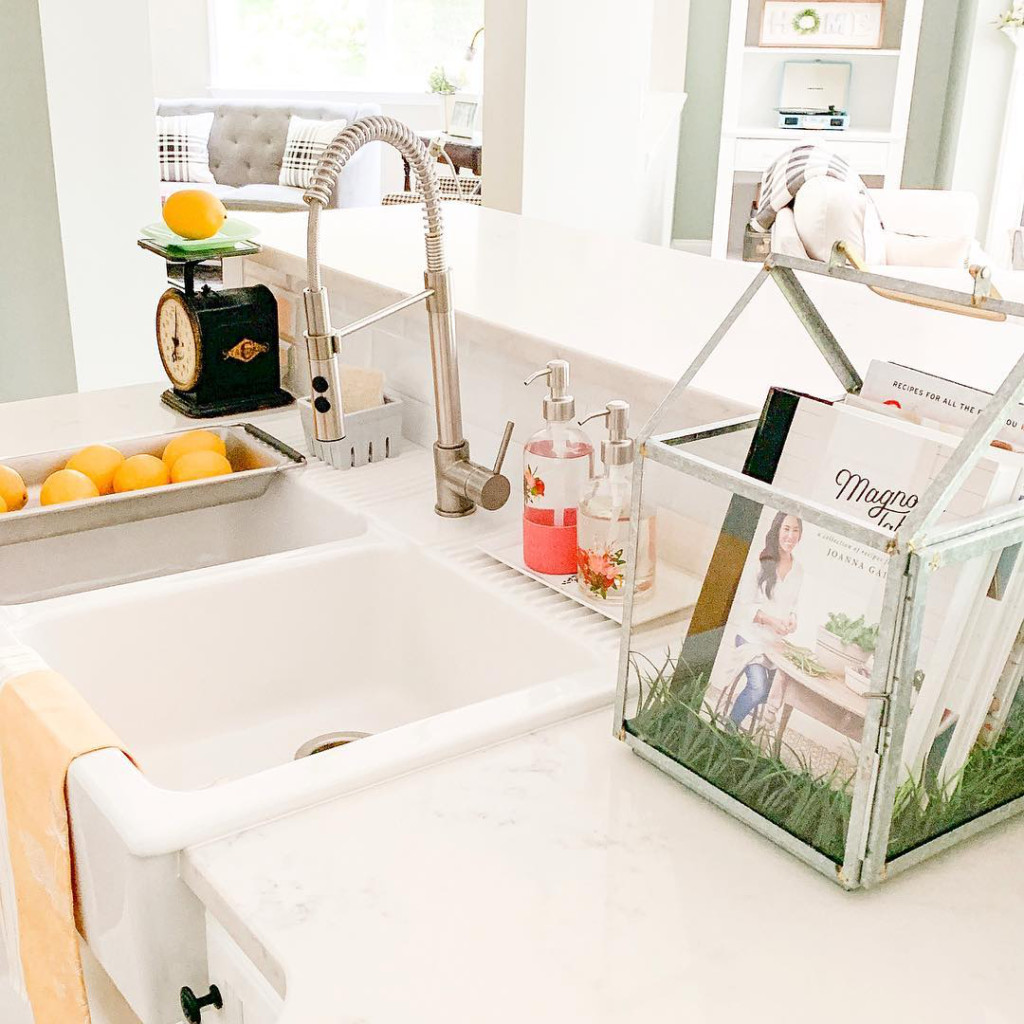 This quaint apron sink is opened up to the family room. How wonderful would it be to be doing the dishes and chatting with family in an open environment? This kitchen area is so inviting and personal. The glass terrarium isn't used for housing plants, but rather books which is a unique and clever decor feature. Accessorize your apron sink with your favorite scented soap in glass bottles for a more attractive look. Save space by laying your fruit out on a sink shelf.
19. A Touch of Feminine Flair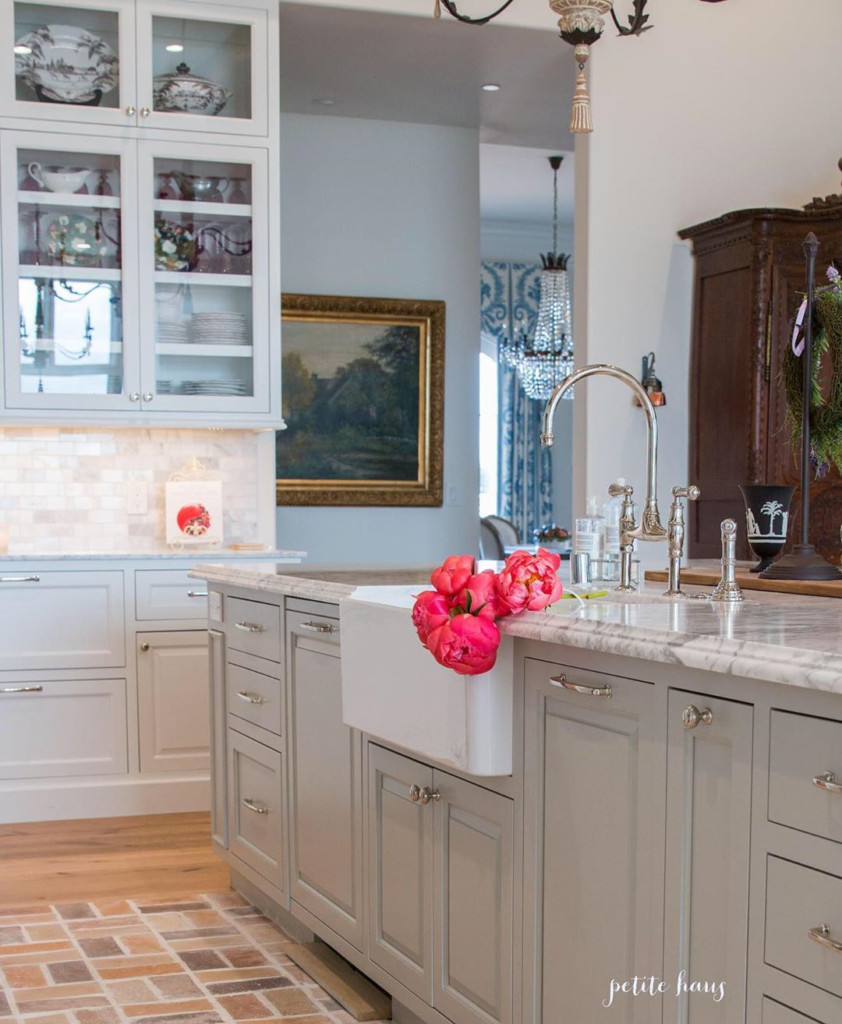 The decor in this kitchen is simple, yet boasts feminine flair. The flowers placed perfectly over the farmhouse apron sink and elegant cookbook stand really stand out in this classy and sophisticated space.
20. Bright and Airy Farmhouse Industrial Kitchen Concept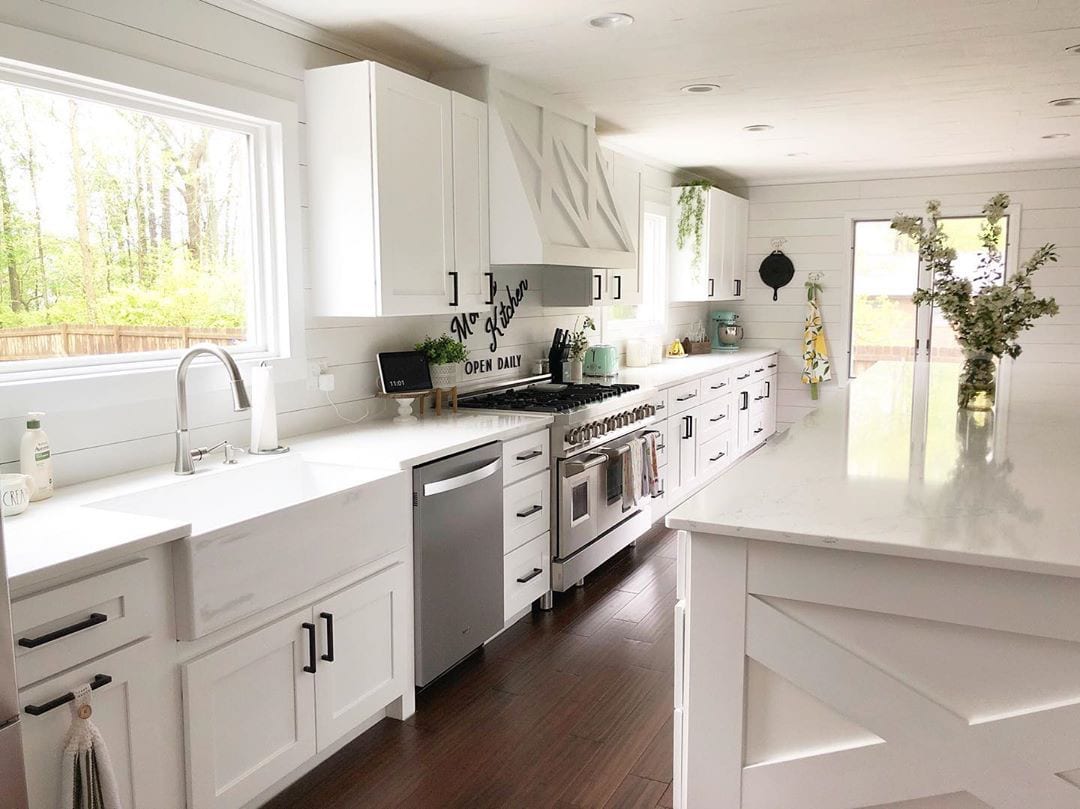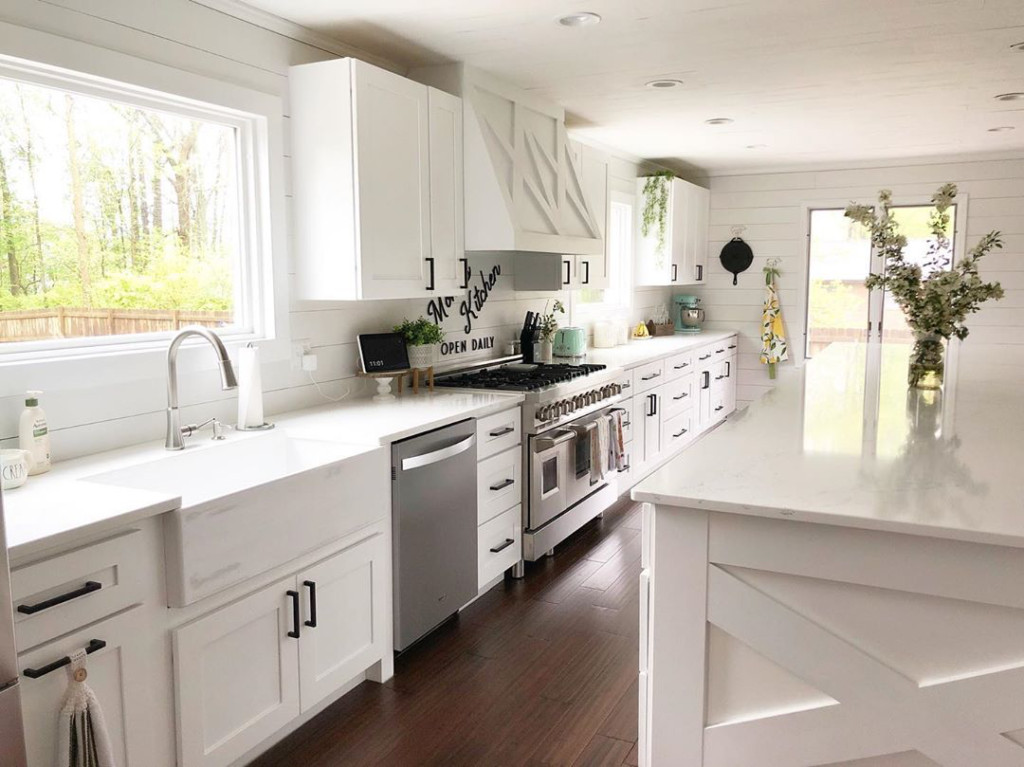 The depth of this kitchen is just incredible. The elongated counter space and island is every cook's dream. The hardware in this kitchen really stands out. It's the perfect mix of both modern farmhouse and industrial. The apron sink is both wide and deep, flowing right in with the elongated countertops. Set out a few plants to bring some of those outdoor elements in. This is such a bright and airy beautiful kitchen design.