Figuring out how to decorate a small bedroom can be a challenge. Do you need some tips and tricks to know what to expect and how to make a small room feel bigger? We've got some information to help you feel prepared to make a small room feel comfortable.
In This Article We'll Discuss
How Big is a Small Bedroom?
The smallest size a bedroom in the United States can be is 7′ x 7′. Some common small bedroom dimensions are 9′ x 12′ or 10′ x 10′. While small bedrooms all vary in size, their layout is truly key. It's also important to know where and how to best place your furniture inside the space.
What Furniture Will You Need in a Small Bedroom?
For starters, you'll need a bed. You'll have several options depending on the size of the space. More likely than not, you'd be looking at a twin bed, twin XL bed, full/double bed, or a daybed.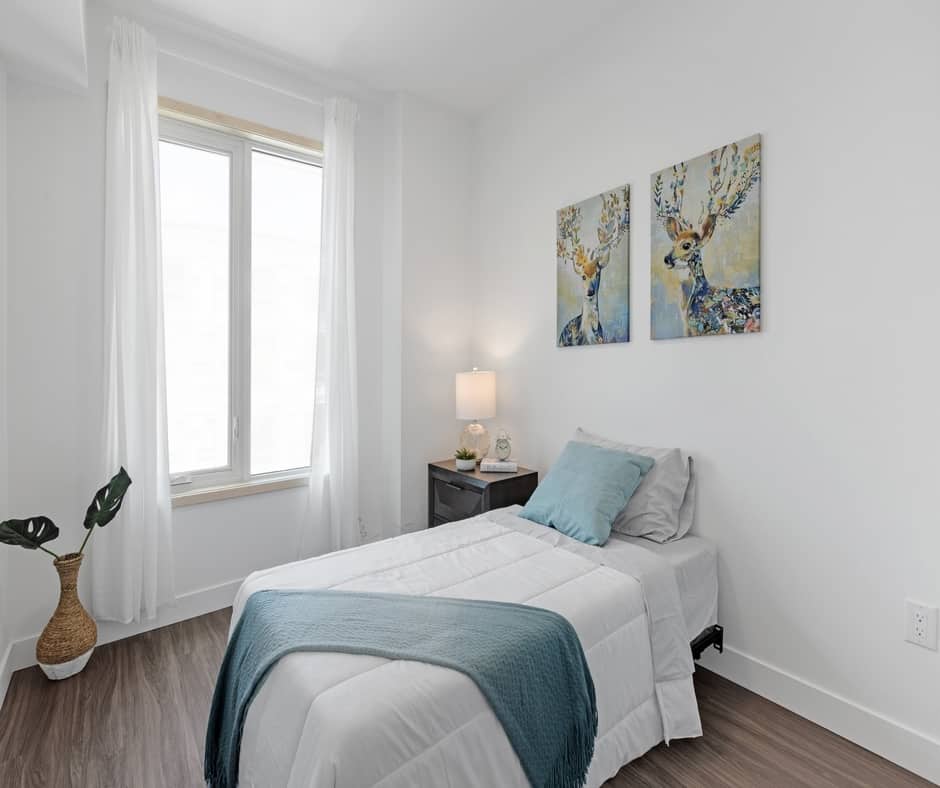 We recommend smaller bed frames, such as platform bed frames or small metal decorative bed frames that won't take up too much of your space.
You can also find bed frames with thin headboards, or consider a floating headboard with a mattress and foundation that sit on a metal frame.
Daybeds will offer the functionality of being both a bed to sleep on at night and a sofa or seating area during the day. Many daybeds also come with trundle beds beneath them which provides an extra bed when needed for guests.
How to Arrange Furniture
Arranging furniture thoughtfully in your small bedroom is the key to making it feel as comfortable as possible. Save some space by pushing your bed up against a wall, allowing entry to the bed only from one side.
Your bed should be the largest piece of furniture in the space, so make sure to place it thoughtfully where it won't be wasting any room.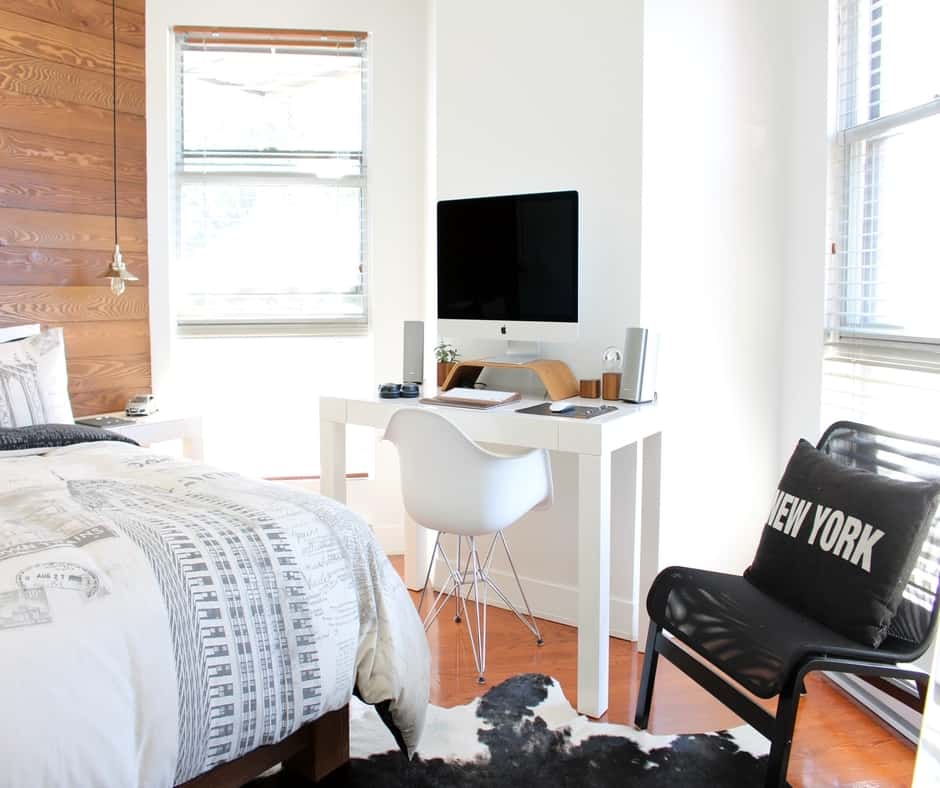 Vertical furniture with storage will be ideal as it takes up less ground space. Consider a tall chest or armoire if you need extra storage. Another choice is to hang shelves above furniture to give extra surface area to place anything decorative or for storage purposes.
When arranging furniture, always be conscious of how doors will need to open or close in the small bedroom. That includes the entry door, the connecting bathroom door, or the closet door. Always test to make sure you can comfortably open doors around the bedroom furniture.
How to Decorate a Small Bedroom
Decorating a small bedroom in a light color scheme makes the room feel bigger. Make sure you don't clutter the space or have too many loud pieces that will make the room feel chaotic. Try softer colors or textures that keep the small bedroom feeling airy and light.
A few color palette ideas to decorate a small bedroom:
Beige and tan
Baby blue and light gray
Rose or peach tones and taupe
Sage green and cream
Lilac and beige
How Do You Make a Small Bedroom Feel Bigger?
Focus on Light
If your small bedroom has a window, that is a great start. Make sure to not cover the natural lighting with dark curtains or blinds that will block the light from coming in.
Using mirrors that help reflect the light in the room will also add brightness and make the room feel bigger. Make sure you are also using plenty of artificial light including overhead light and decorative lamps or sconces in the space.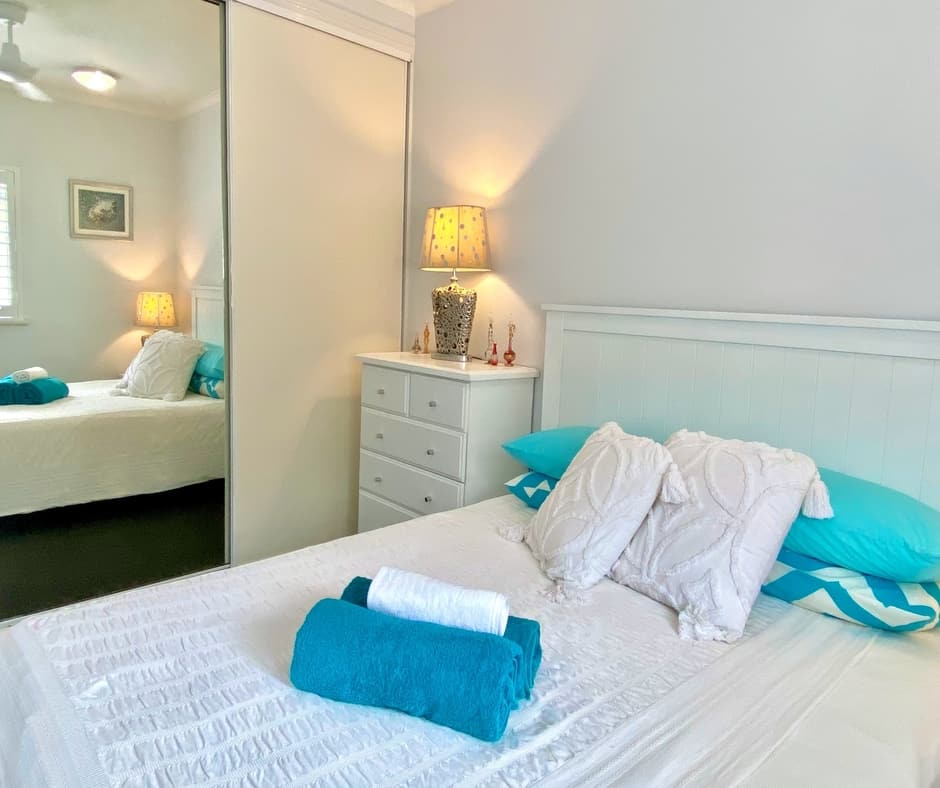 Use Light Colors
As mentioned above, try to use light colors when decorating a small space. Neutral tones such as white, off-whites, tans, and light grays are all great choices.
Choose an accent color in a light tone to add personality to the space without darkening it. Pastel colors make great accent colors in smaller spaces.
Keep the Space Uncluttered
Try your best to keep the space clean and uncluttered. Doing so will keep the room from looking full and small.
Clean the room regularly and don't add too much decoration or too many bright colors. Also, make sure to not add too many bold prints to the space when it comes to bedding, rugs, or otherwise.
Use Vertical Lines to Create Height
Vertical lines draw your eye up, adding the illusion of height to spaces. If you choose elements that have vertical lines, you will help add space to a small room. Some examples of this are floor-length curtains, tall artwork, vertical mirrors, or a tall chest.
How Can You Repurpose a Small Bedroom?
A small bedroom in your home could double as several other options. If you don't need the extra bedroom, you could convert it into a walk-in closet if it's near the master bedroom. Add a bench or a couple chairs and install racks and shelves to hang your clothes and store your shoes.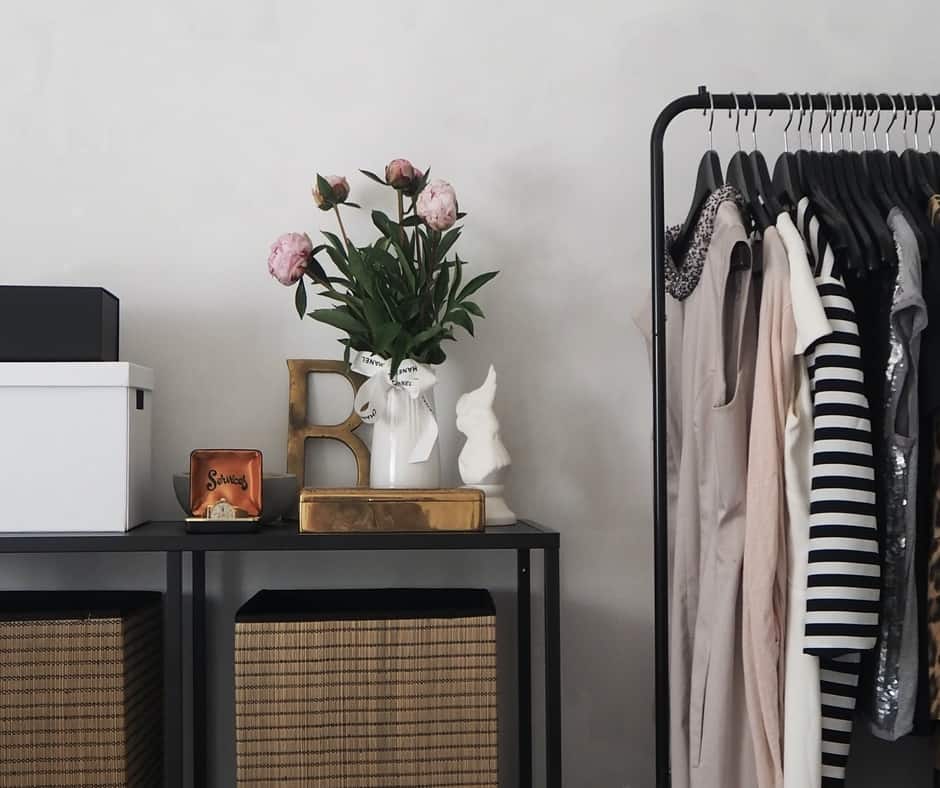 Another choice for your small bedroom is to add a desk and storage to make it into an office. You can still keep a sleeper sofa or a futon for extra sleeping space if needed. A small room makes a great office with plenty of storage.
Small bedrooms serve as great specialty studios for different types of hobbies. You can create an art room, a music room, a photography studio, or even a small in-home gym or yoga studio.
A reading room or extra seating space would also be a great option for an extra bedroom. If it's near a kids' room, it can double as a small play room or craft space.
Lastly, a great option for an extra small bedroom is a storage space for your home. If needed, you can install special racking or shelves to help store stuff. This is a great choice for climate-controlled storage inside the home. It's especially great for pieces you may need to access more often, such as extra bedding or dinnerware when hosting.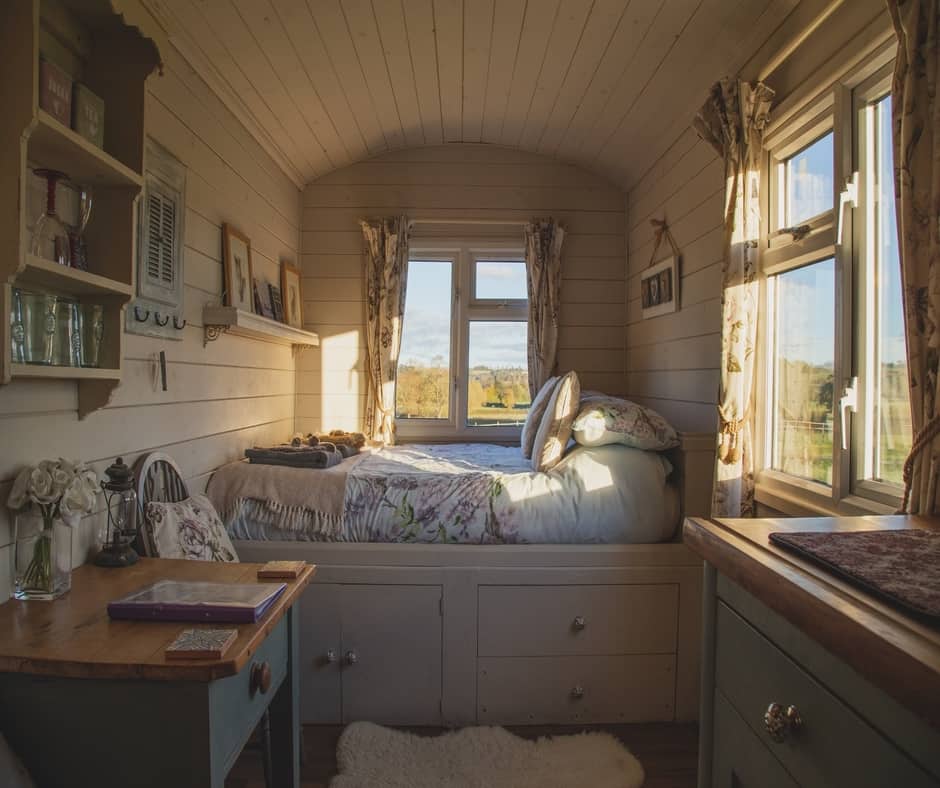 Do People Dislike Small Bedrooms?
If a small bedroom is just an extra space for short-term guests, no matter how small it is, that is normally fine. Of course, most people enjoy a comfortable space, so a larger bedroom is usually more desirable.
However, small bedrooms can be strategically laid out and decorated to be cozy, which can be appealing for short-term guests.
What is the Smallest a Bedroom Can Be?
Legally, the smallest a bedroom can be is 7′ x 7′. You will need to check with your state laws as well to see if there are any special requirements in your area.
Conclusion
Small bedrooms can be a challenge to decorate and, if you don't decorate them correctly, they can make you feel uncomfortable. Although the space is small, it has the potential to feel a lot bigger.
By following some easy tips and tricks, you can make small bedrooms feel larger and ensure comfort for anyone who spends the night in the room.