Furnishing a room is expensive. There are a lot of things to purchase, from rugs to wall decorations to lighting. The most expensive thing, however, is furniture. And, the bigger the piece, the pricier it is likely to be.
Do you need to spend all that money on furniture, or could you get by looking for bargain pieces? Will expensive furniture hold its value, or are you putting a lot of money into something that will rapidly depreciate?
We took a look at these questions and wrote this article. By the end of it, we hope you feel better informed about whether paying a lot for furniture is the smartest way to decorate a room.
In This Article We'll Discuss
Is Expensive Furniture Worth It?
Furniture is expensive and tells visitors something about who you are. So, you should weigh your options before jumping in.
In general, the more stylish a piece of furniture, and the higher quality it is, the more you'll need to pay for it. It's reasonable to think that a sofa you spent $4,000 on will last longer, and be more comfortable, than one you get at a discount store for $100.
But, if you expect to move soon, you might want to buy less expensive furniture for the time being. Then, you can invest in more expensive pieces when you move into your new place.
What Pieces of Furniture Are Good to Splurge On?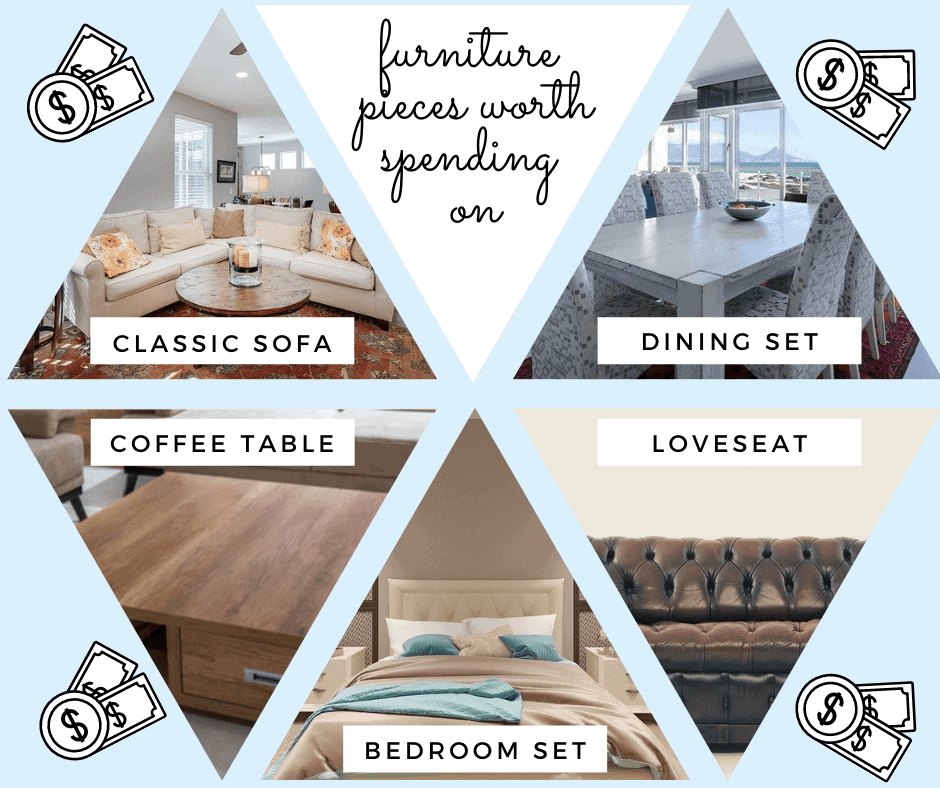 If you have just enough money to buy one or two more expensive pieces, focus on high-profile furniture that will get a lot of use. A nice accent piece might pull a room together, but your decor starts with what first catches the eye.
Bedroom sets and sofas are the first thing you should spend extra on. They're the biggest pieces of furniture in your home and also contribute the most to your quality of life. A good dining room set is another thing to spend money on.
What's the Difference Between Expensive and Cheap Furniture?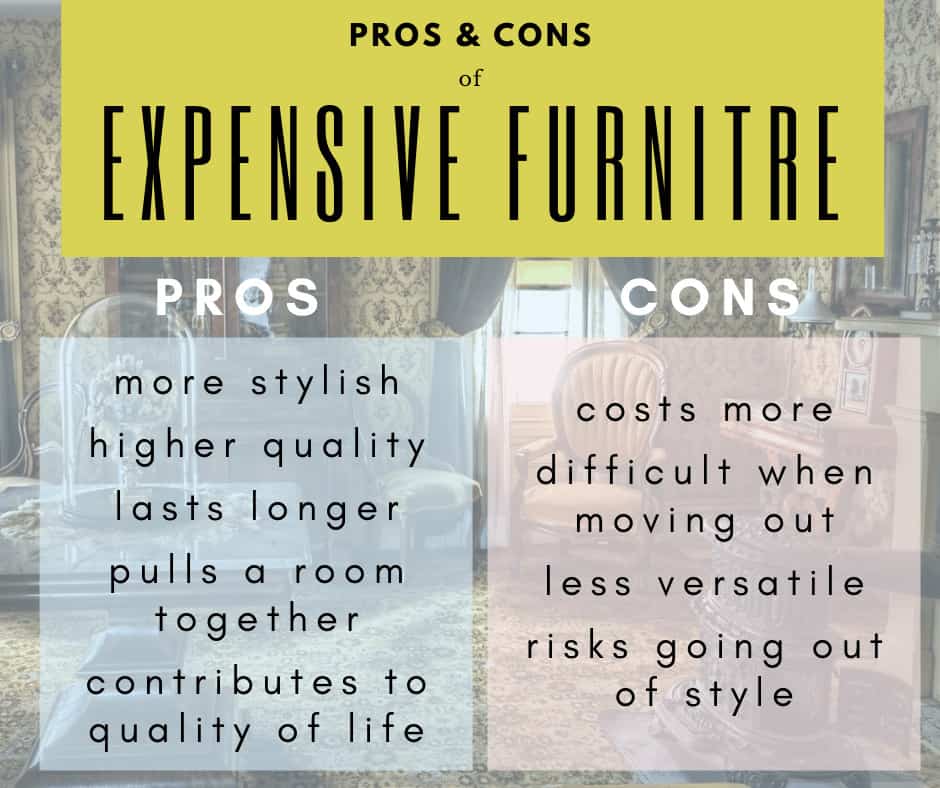 Usually, you can bank on the idea that you get what you pay for. So, cheap and expensive furniture are separated by more than price. Knowing the difference will help you understand where to invest your dollars.
Cheap furniture is made from cheap materials that won't stand up nearly as long as expensive ones. A softwood bedroom set might be in your price range, but one made from oak or maple will last a lot longer and might wind up being a better value.
Expensive furniture is also more likely to look better. Cheap furniture is mass-produced because its makers need to move volume to maximize profits. Expensive furniture provides bigger profits, so furniture makers can make fewer pieces that look better.
What Furniture Pieces are Good to Save Money On?
Accent pieces like side tables and chairs are pieces you can save money on. In addition, unless you run across a rug that you just can't live without, you can also save a bit of money by looking for a cheaper alternative.
The truth is, saving money on every furniture piece is a good idea. You don't need to spend a lot of money to get your home looking right. You can also look at estate sales, antique stores, and even online marketplaces for unique finds that are cheaper than new.
Is New Furniture Worth It?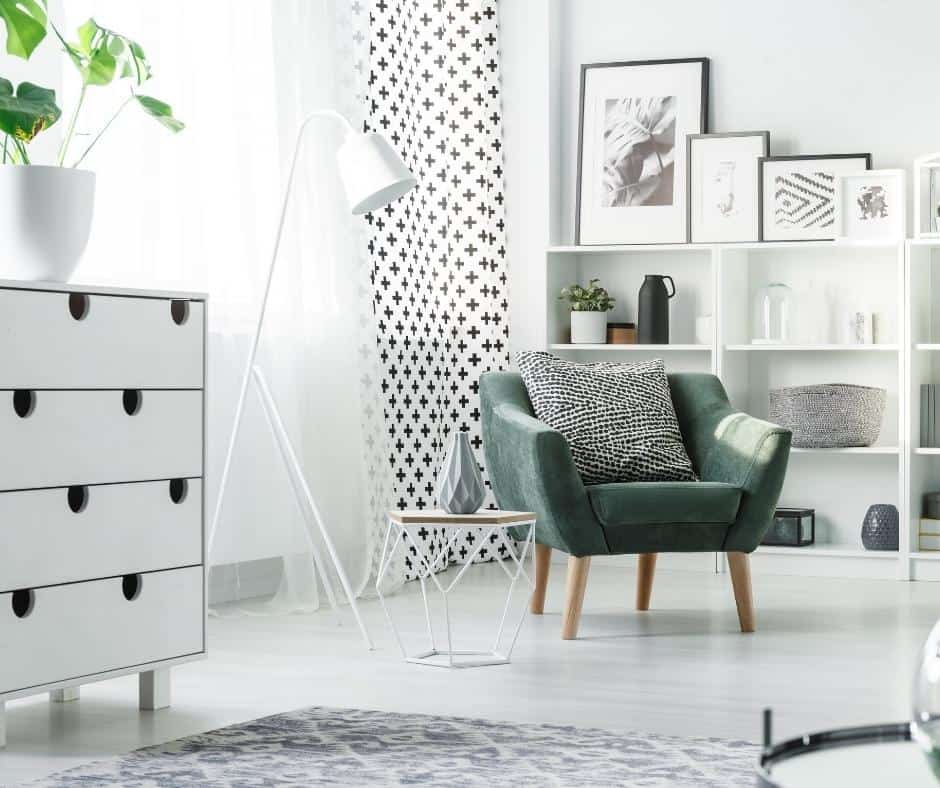 Figuring out whether new furniture is worth it will depend on your circumstances. You should look at the question differently if you've just moved into a home you plan to stay in for a long time versus one you're planning to move out of soon.
Your furniture is important enough that you should tailor what you buy to your living space. The couch you find at a second-hand store might look good in your old apartment, but it might look out-of-place in your new one.
Also, you should consider your living situation. If you're looking to furnish a children's room, you'll need to keep the furniture current with their age. An expensive race car bed might be cool to sleep in at six, but what about at age 12 or 16?
Is an Expensive Sofa Worth It?
Sofas are the centerpiece of any room they're in and get a lot of use. If you spend a lot of money on just one piece of furniture that isn't your bedroom set, a sofa is a good choice.
However, you should keep in mind that if you don't plan to live in your current home for very long, you might want to hold off until you find a more permanent place. If you change your interior style every couple of years, we also don't recommend buying a sofa that will last a decade.
How Much is Too Much for Furniture?
The answer to this question will depend on how much money you have and your living situation. It's a bad idea to buy furniture just to impress your guests, and you don't want to buy furniture you can't actually afford.
We also suggest asking yourself how long you'll need a particular piece of furniture. You might be able to afford a $2,000 sofa, but if you're planning to move in six months, it will end up being a giant hassle to store or sell.
But, the more you spend, the more you can expect to get. You might spend $200 on sofas that last only two or three years. Then, after a decade of buying discount furniture, you'll realize it would have been more cost-effective to buy something that lasts.
Does Furniture Go Up or Down in Value?
Like most things, the monetary value of furniture goes down as it gets older. Certain pieces with potential to become antiques might eventually start to climb in value, but those are made from durable hardwoods and have unique craftsmanship.
Furniture loses value quickly. And, durability goes a long way in determining how quickly. A chair with a softwood frame will resell for a lot less than a chair with hardwood because it will require a replacement much more quickly.
How Much Does a Couch Depreciate?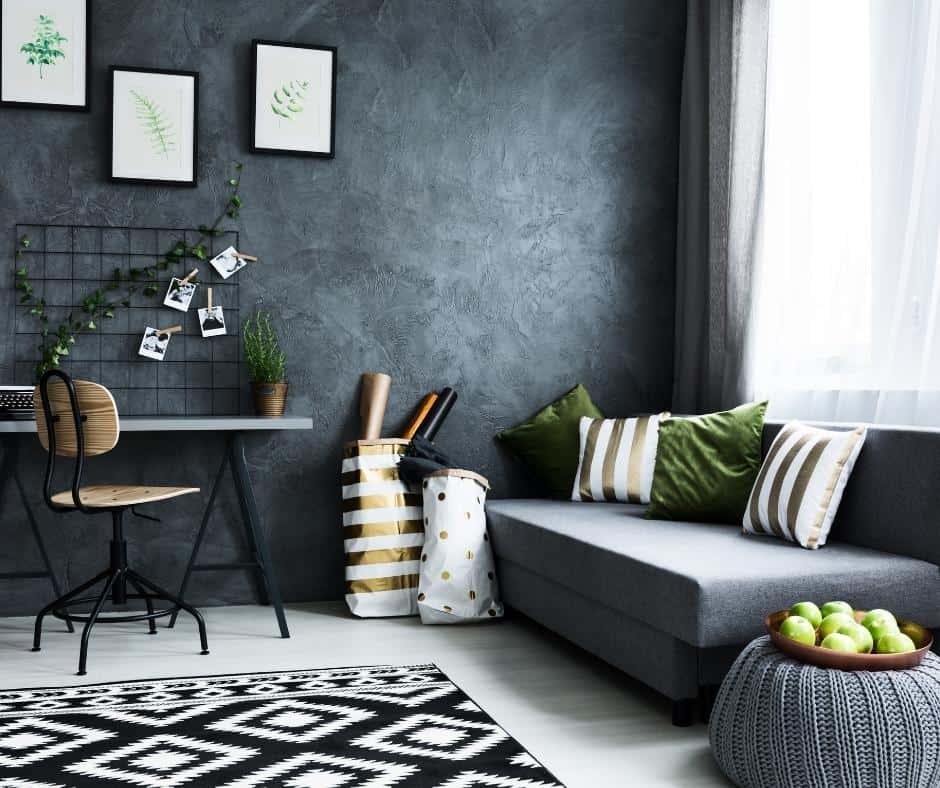 There is a straightforward way to determine how much value a couch will lose each year. Take the retail price and divide it by the number of years in its expected lifespan.
For instance, if you buy a couch for $1,000 and it's expected to last 10 years, it will lose approximately $100 of value per year.
Does Expensive Furniture Hold Its Value at All?
If any furniture is going to hold its value, it's going to be expensive furniture. It's made better, and it's more likely to have a unique design and a sense of personality. But, keep in mind that a unique design also carries the risk of going out of style, which will limit the market.
In addition, certain brands that are known for their quality will retain value better. Some of the names might surprise you, but they'll sell quickly if they make their way to secondhand markets.
How Long Does Expensive Furniture Last vs Cheap Furniture and Is It More Cost-Effective?
A high-quality couch with a hardwood frame is going to cost a lot more than a mass-produced couch with a pine frame. But, it's also going to last a lot longer. Depending on how much you spend on it, that piece could end up being a better value than repeatedly replacing cheaper furniture.
In addition, when you buy an expensive piece, there's an expectation that it's going to look more stylish. So, it'll take a lot longer before you have to replace it, and it should look much better during those extra years.
That's the difference between spending money on furniture and investing in it.
Conclusion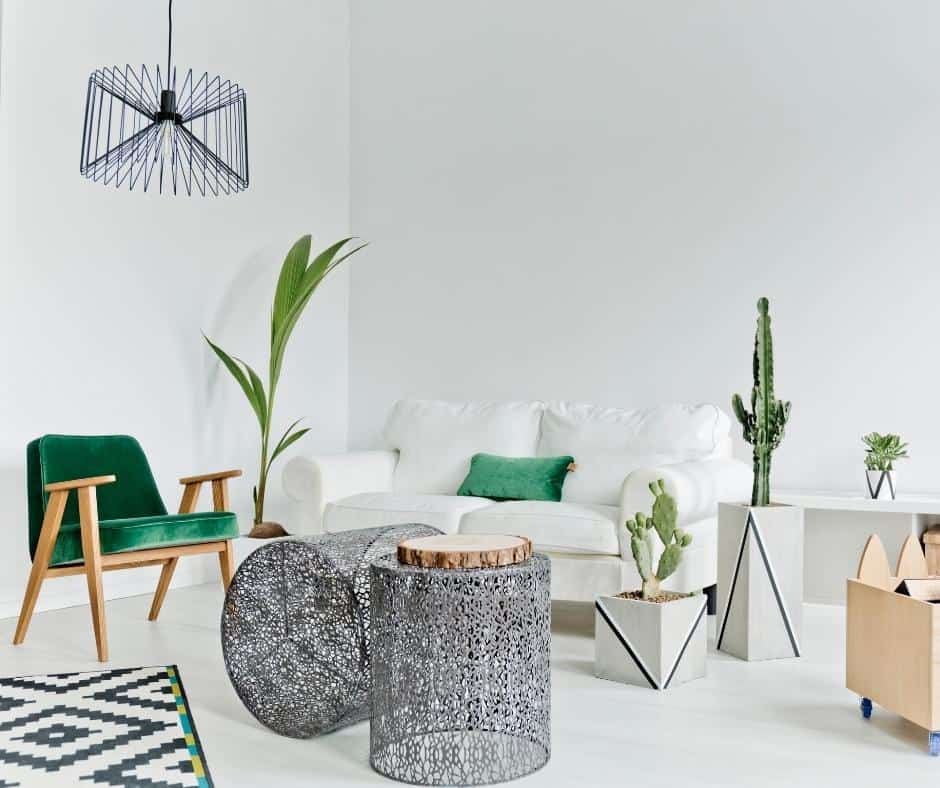 Savvy homeowners know the difference between spending money on furniture and making an investment. The money you spend on furniture is often lost because the majority of pieces lose value or wear out due to hard use. However, others will retain value and will serve as an eye-catching piece in your home.
Sofas are a great example of furniture that you might want to spend a little more on. They are showpieces in any room you put them in. On the other hand, spending a lot of money on expensive accent chairs might not be necessary.
We hope you feel better informed about when to spend money on furniture and when to look for a bargain. If you do, we'd love to hear about it in a comment down below. We'd also invite you to share this article on your social media networks.