Are you setting up a bedroom in a new home or apartment? Are you struggling to figure out what you need to buy to remodel an existing bedroom? We're here to help clear up any doubts you have and to give you a solid list of pieces you'll need for your bedroom.
In This Article We'll Discuss
Creating a Functional Bedroom
Before deciding on how to tweak this list to best fit your space, remember that a bedroom needs to be functional.
A bedroom should be a place where you can relax and rest. Bedrooms also often need to have plenty of storage for your personal items.
So, make sure your bedroom is a place you can rest and a space that can hold all the personal items you'll need.
General Bedroom Furniture List: Bedroom Basics
When it comes to decorating a bedroom, there are some pieces of furniture you cannot overlook:
Bed Frame
Nightstand
Dresser
Dresser Mirror
Chest of Drawers
Mattress
Things to Consider with Each Piece of Furniture
Bed Frame
When choosing a bed frame, consider what size you will need and what size will fit comfortably in your space— twin, twin XL, full, queen, king, etc. Depending on if it will be a single bed or a shared bed, you may want to choose a larger size.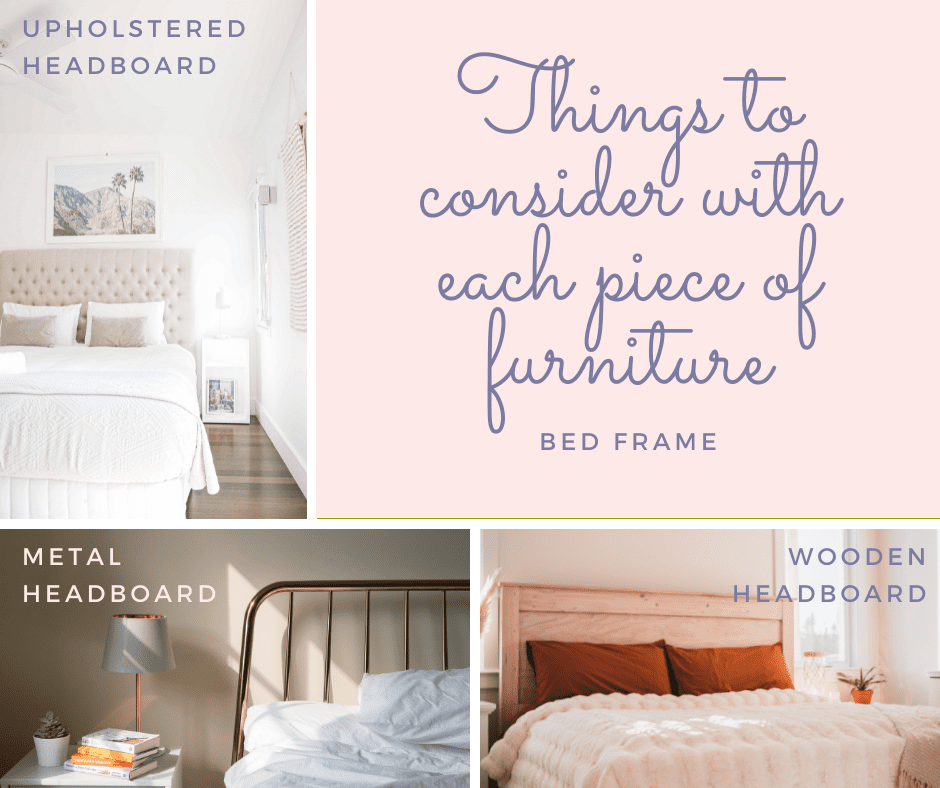 Bed styles are varied and unique, ranging from industrial wood and metal accent combinations to a traditional wooden mission look, a wrought iron metal look, or even a modern upholstered headboard.
Nightstand
You'll need one or two nightstands depending on how many people share the bed. Nightstands should be functional, so think about what you're going to use them for. Do they need to be large enough to hold a lamp? Should they have a drawer for extra storage?
Traditional storage nightstands will have a couple drawers, but you can also choose from a variety of single drawer nightstands with a bottom shelf. You can even get pretty high-tech with a nightstand that incorporates a charging station and LED lights. Or, you can opt for a functional nightstand with a swivel top that doubles as a workstation while in bed.
Dresser
Dressers come in many sizes, configurations, and with different drawer sizes. Is your room large enough to hold a full-size dresser? If so, consider what size drawers will be most useful to you and the items you wish to store in the dresser.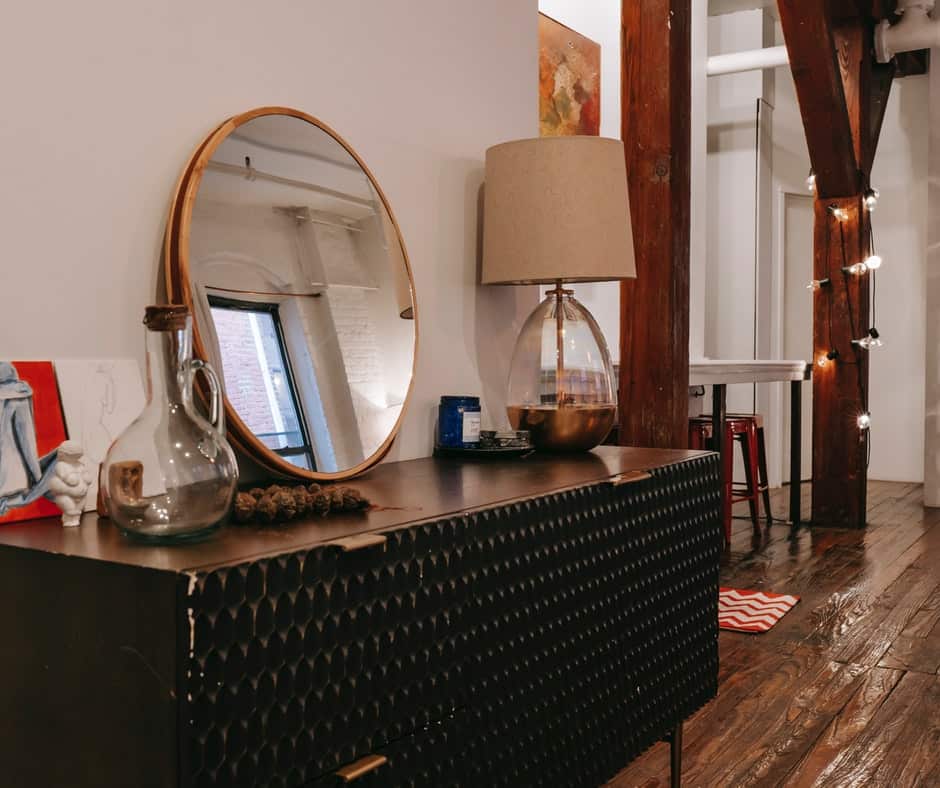 Dressers don't necessarily have to match your bed frame exactly. They can contrast and coordinate in many styles. Consider getting a fully black dresser, a unique industrial butcher block style dresser, or you can customize your paint color on a more traditional dresser.
Dresser Mirror
Dresser mirrors are usually sold separately from a dresser, but they offer great functionality for getting ready in your room. And, they don't take up much extra space.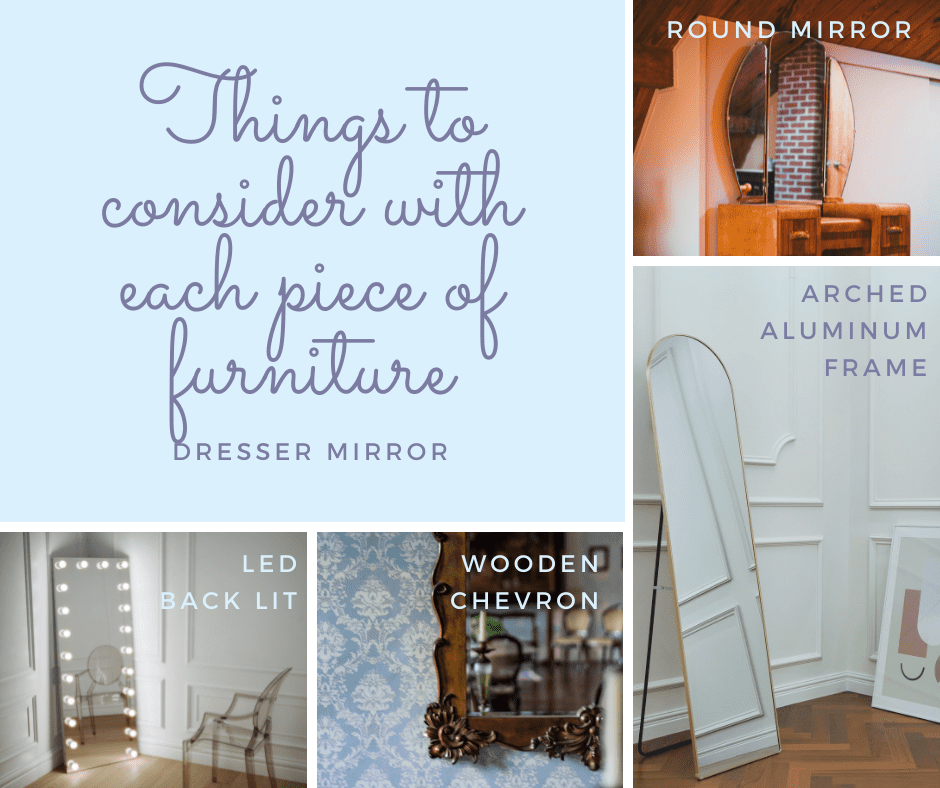 The mirror over your dresser can be as simple as you'd like, or it can add some personality to the space. Options will vary from a simple round mirror to an arched aluminum frame mirror. A textured wooden chevron mirror will add some warmth and natural appeal, while an LED back lit mirror might be perfect for putting on makeup in your bedroom.
Chest of Drawers
If you have space for both a dresser and chest, you'll have plenty of storage space in your bedroom. If a dresser is too wide and you're looking for a more narrow choice for storage, a chest may be perfect for you.
Much like a dresser, a chest of drawers doesn't have to be a perfect match to your bed. You can find more traditional styles with an espresso finish or a white chest on wheels for easy mobility. An industrial tall chest will offer form and function, while a nontraditional style with baskets instead of drawers might best fit your storage needs.
Mattress
The mattress you pick for a bedroom is the most important piece you will buy for this space. So, don't skimp when it comes to spending money on a mattress. Remember that great sleep is key to a good day, so you'll want to pick a mattress that will give you or your guests a great night's rest.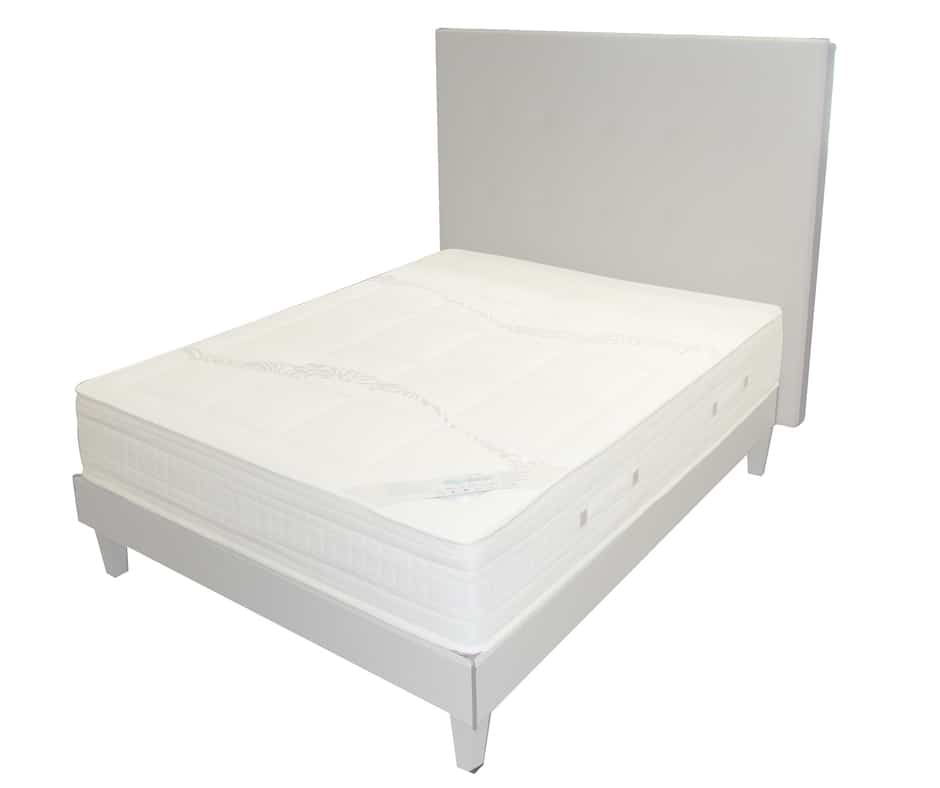 Mattresses will range in style and feel. You need to consider if you need a firm or soft mattress. Once that's been decided, look into hybrids, innerspring mattresses, or full foam mattress styles to see which will suit your body best.
What Type of Furniture Goes in a Bedroom?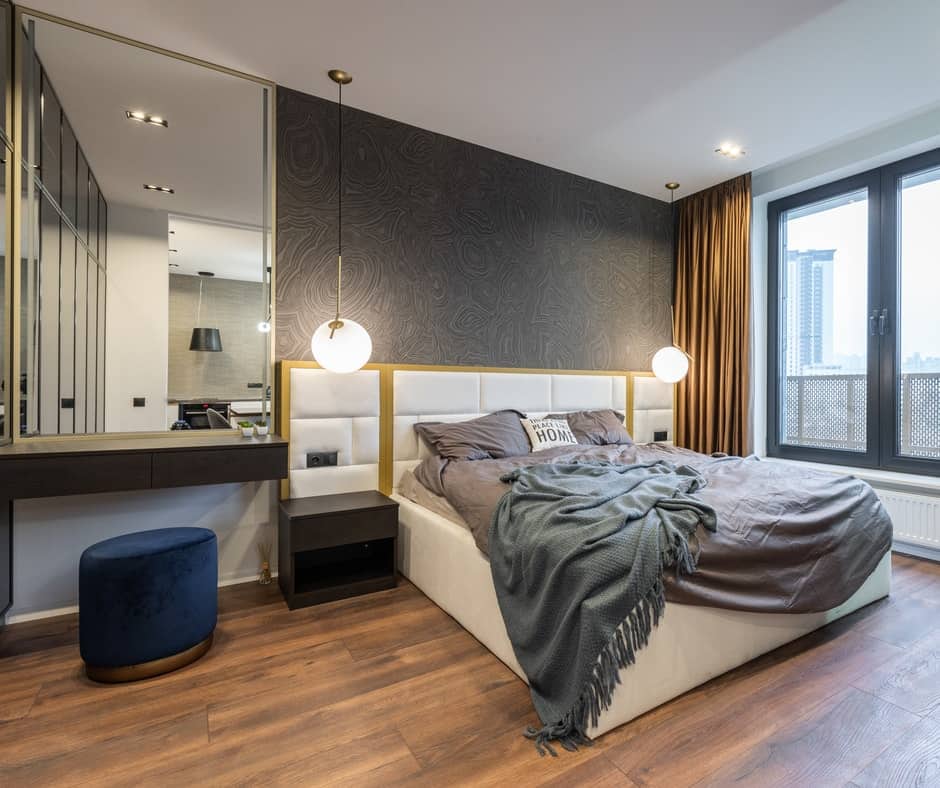 You'll want to look for furniture that will keep you comfortable and that will offer a lot of storage for your belongings. Besides the bedroom basics, sometimes you'll have space to add some fun pieces like:
Sofa or loveseat
Accent chair(s)
Beanbag
Child's Bedroom Furniture List
A child's bedroom should include pieces that allow for a comfortable set up, as well as easy access to all their clothing and toys. Here is a list of bedroom basics for children's rooms:
Bed (or crib)
Storage dresser and/or chest
Nightstand
Toy chest or toy box
Changing table (if an infant)
Small table and chair to play or do crafts at
Desk and chair for older children
Bookshelf
Master Bedroom Furniture List
A master bedroom will have the same basics as the general bedroom furniture list above, but with a few added details and pieces, like:
Queen or King Bed Frame
Nightstand (usually two)
Dresser
Dresser Mirror
Chest of Drawers
Mattress
Extra Seating (chair, rocker, recliner, loveseat)
Bookshelf
Desk and Desk Chair (if necessary)
Final Bedroom Details List
To complete the look of your bedroom, you will need to soften the furniture by adding some color and pattern through textiles and decor. See the list below for some final considerations for a guest or master bedroom:
Area rug
Comforter, quilt, duvet or bedspread
Accent pillows for bed
Curtains
Artwork
Lamps
Conclusion
Decorating a bedroom can seem overwhelming. However, by following the lists above, you can be prepared and plan for what you'll need.
Remember to keep the room functional for all your storage needs while still creating a space where you can rest and relax.