Gray is the most popular color for sofas! A full neutral, gray is versatile enough to complement several different colors.
Pair your couch with a stylish rug to tie the room together.
So, what color rug goes with a grey couch? Here are 15 to try out!
In This Article We'll Discuss
#1: Clean White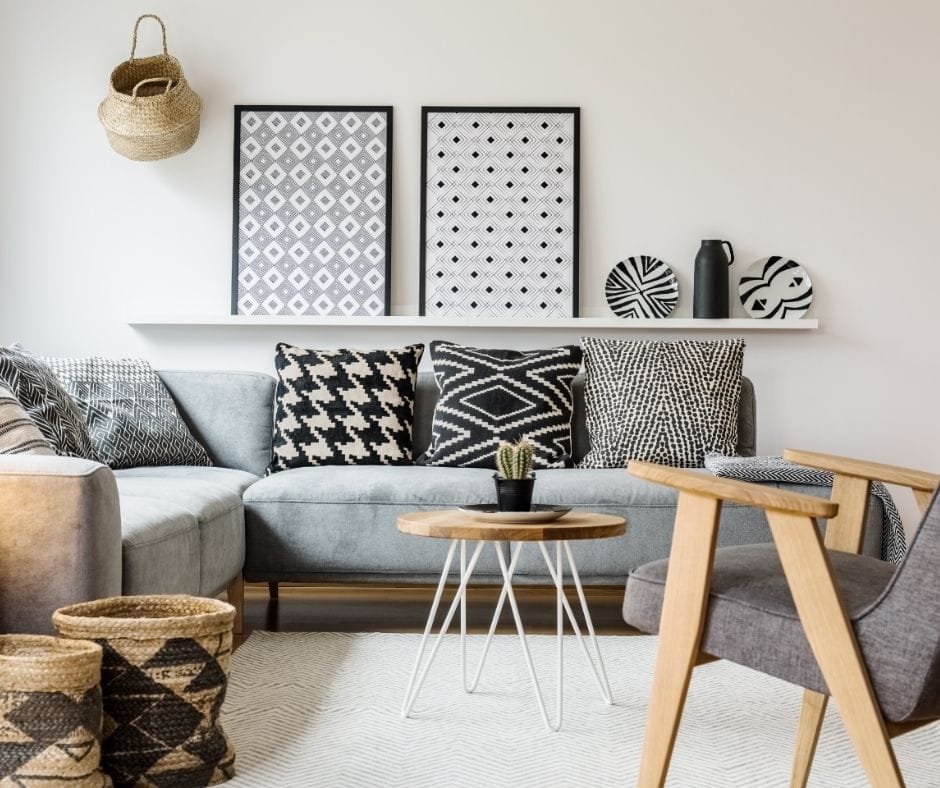 While many people describe white as cold or sterile, it works quite well when paired up with charcoal covered furniture. A pure white rug can give your living room a clean and sophisticated look.
Putting the color on the floor can also make the room appear bigger. It visually expands the space, making a cramped room feel much more open and inviting.
Go with a plush, high-pile rug to create a cozy spot for watching movies. Or, utilize a rugged low-pile design for low-maintenance care in high-traffic areas.
Whatever you do, the pure color offers a neutral color scheme that looks great anywhere!
#2: Bold Black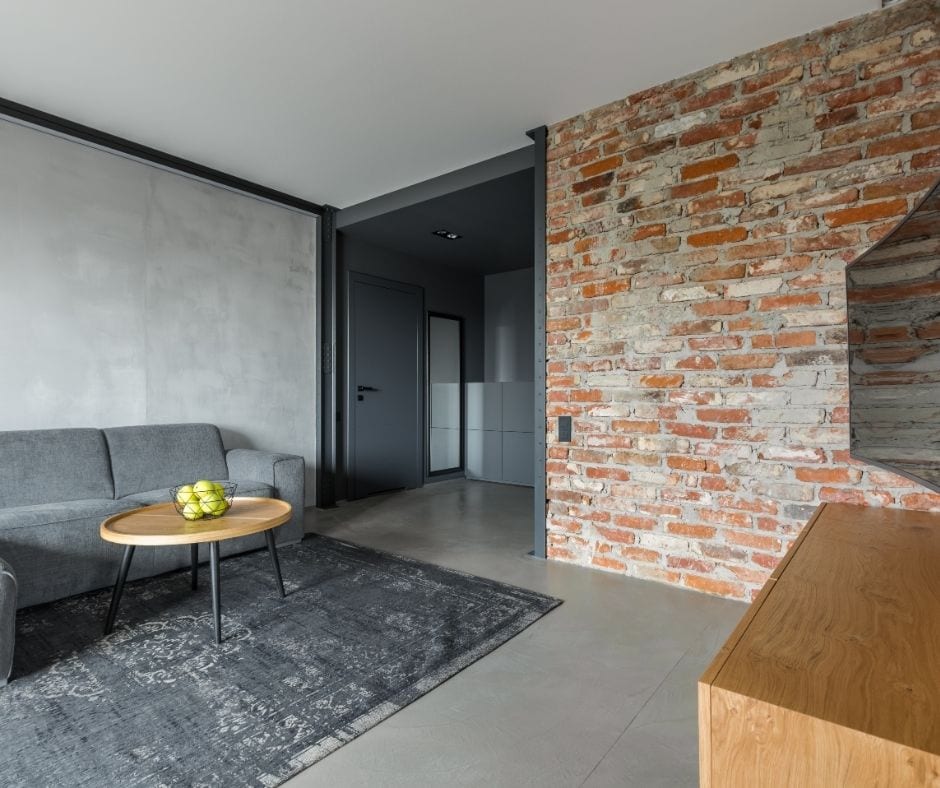 You can't go wrong with a black rug! When placed underneath your gray couch, a black rug highlights the darker tones of the room.
It has the opposite effect of a white rug. Instead of making the room feel airy and light, it gives off a more intimate vibe.
If you have a massive living room that looks barren, a black rug can instantly remedy that interior design conundrum!
Like a little black dress, black rugs also offer up a feeling of sophistication and luxury. Who doesn't want that?
#3: Even More Gray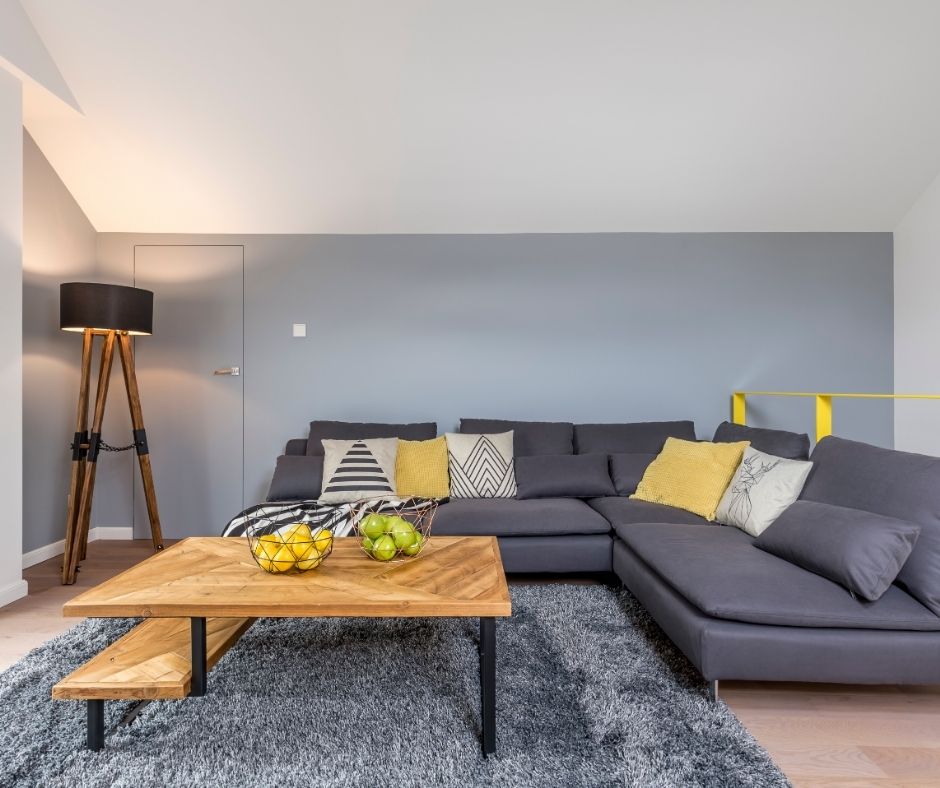 Want a cohesive look for your living room? Pile gray on grey!
Don't be afraid to establish a color story for your space. Using the sofa as an anchor, you can introduce other gray tones on the walls and floors.
A gray rug cements a monochromatic design scheme that just works!
There are a few different ways you can use gray strategically. Find a rug with a similar tone as your couch to help it blend in. This ensures that no piece is the focal point.
Alternatively, you can mix and match shades. A darker gray rug with a light gray couch adds some visual interest without going overboard.
#4: Nautical Navy Blue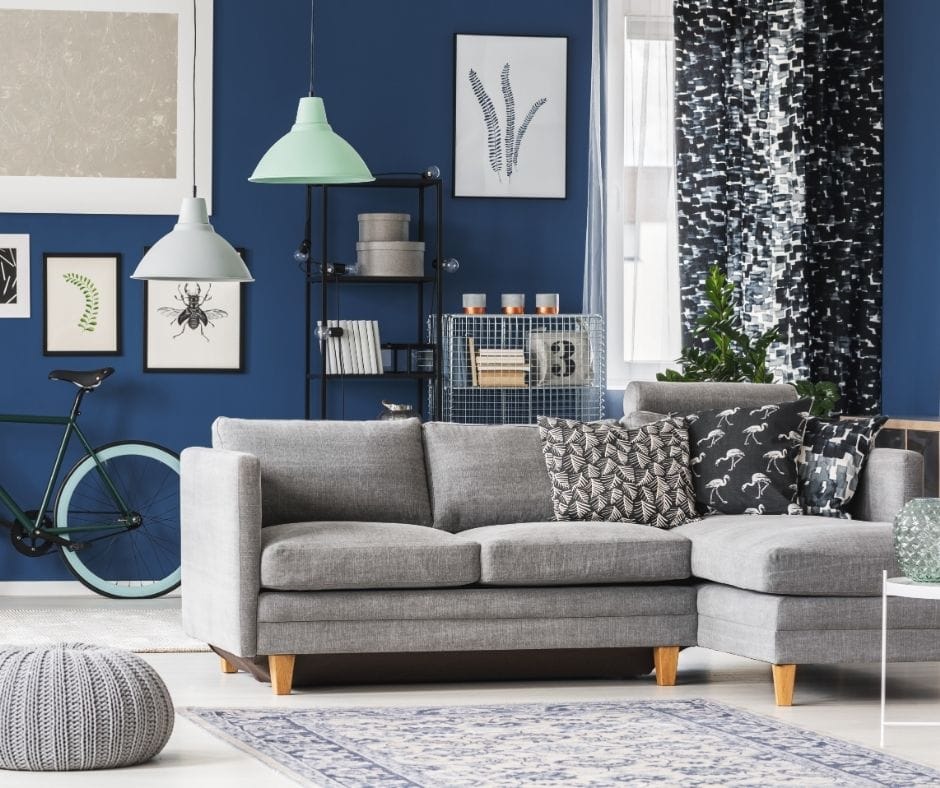 They say that navy is the "hot new neutral" of the interior design world. While it's not a neutral shade in the traditional sense, navy is a very versatile color.
It's a trendy hue that works well in a wide range of applications. This includes rugs!
Pair a navy rug with a gray couch to create an eye-catching color story.
With the right decorations, the rug and couch can give off a nautical vibe. It's also great for traditionally masculine spaces, such as game rooms or bars!
#5: Neutral Area Rugs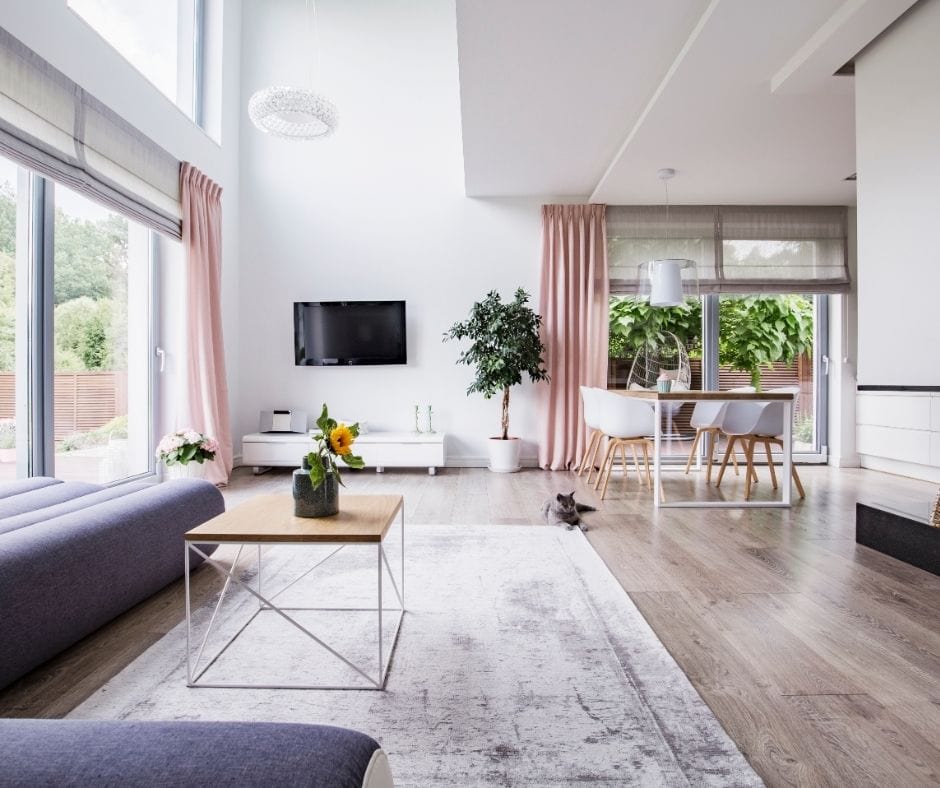 Gray doesn't have to be the only neutral color in your living space! Neutral-colored rugs pair nicely with gray couches. They're unassuming, yet create a blank canvas that you can easily build on.
Look for basic hues like beige, cream, or taupe. By definition, neutral colors contain equal parts of all the primary colors and have low saturation. 
The beauty of having a neutral rug and couch is that you have a flexible base for your decorations. You can add pops of color with couch cushions or room decor. Best of all, you can redecorate when inspiration hits without having to change your sofa or rug.
#6: Strong Black and White Patterns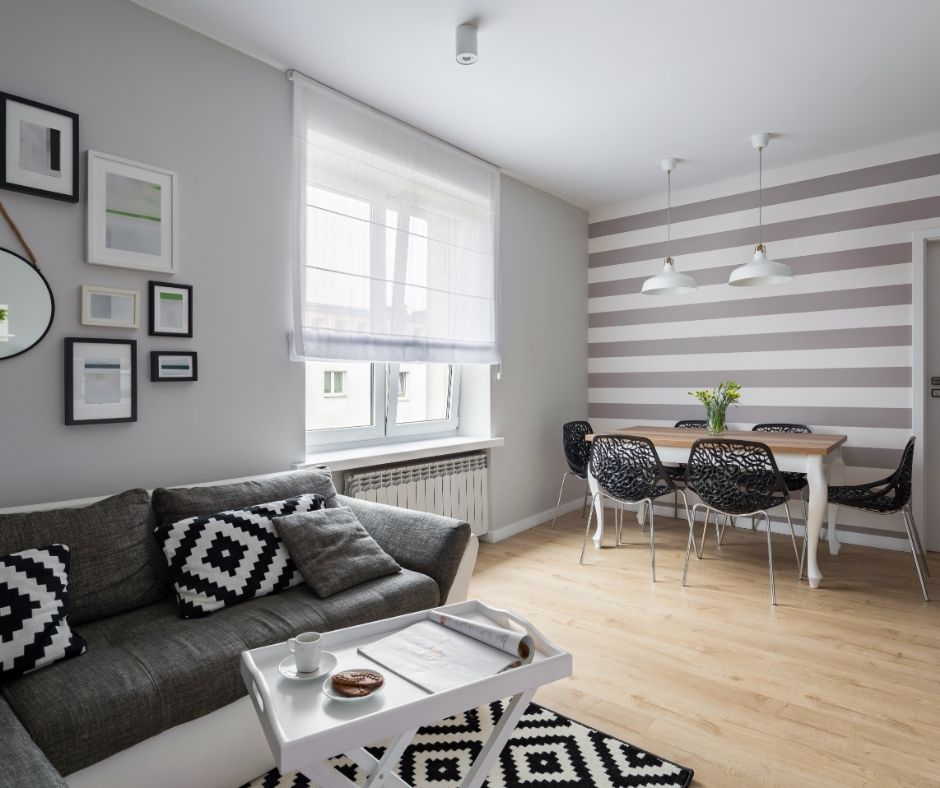 Combining black and white on a single piece creates a unique look. Black and white patterns are nothing new in interior design. But that's what makes the color combination so special!
A black and white rug provides a timeless look. Yet, it also manages to be modern and chic!
There's no shortage of good rug choices out there to pair with your rug. Pick up a rug with intricate swirls or a traditional damask design.
For something a bit more whimsical, you can find rugs with a checkerboard or striped pattern. Either way, the black and white color scheme will work nicely with your gray couch.
#7: Natural Tones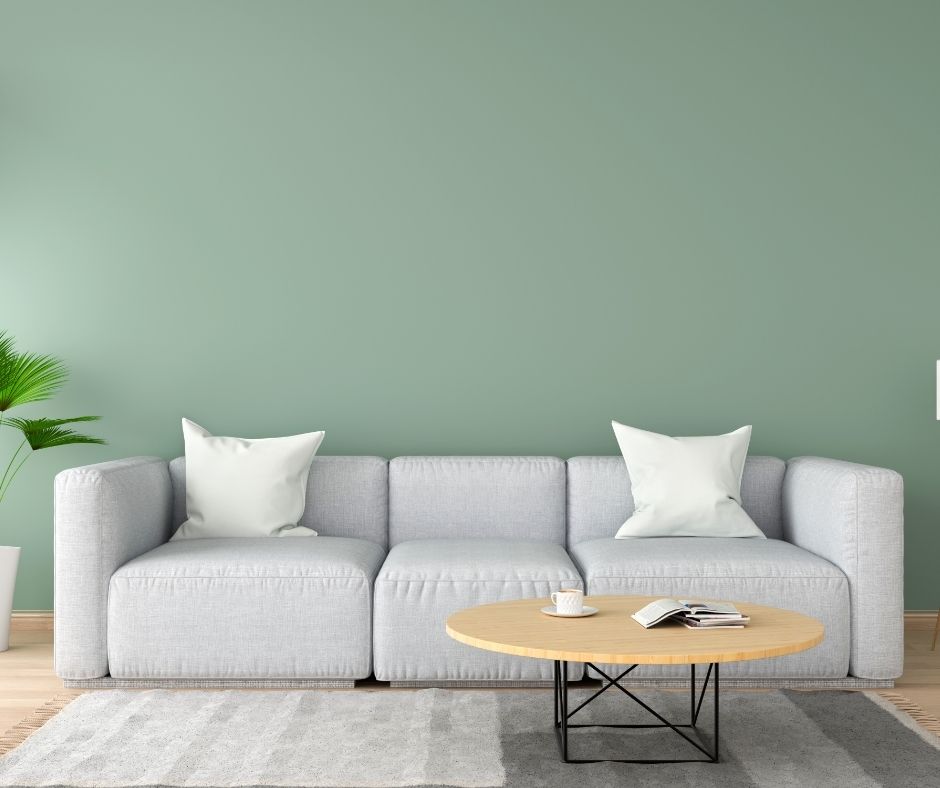 While they sound similar and offer many of the same benefits, natural rugs and neutral rugs are not the same things.
Natural rugs utilize sustainable fibers. Natural fibers like jute, sisal, hemp, and more are the most common you'll see.
Manufacturers and skilled artisans weave the fibers to create a beautiful rug that works well with gray couches. As you can guess, the fibers retain their woody color.
So, you're going to see woodsy tones of brown!
Natural fiber rugs also come with a unique texture. These aren't going to be the rugs that you warm your toes on! However, the scratchy finish is durable enough to use in high-traffic areas around your couch.
#8: Breezy Shades of Blue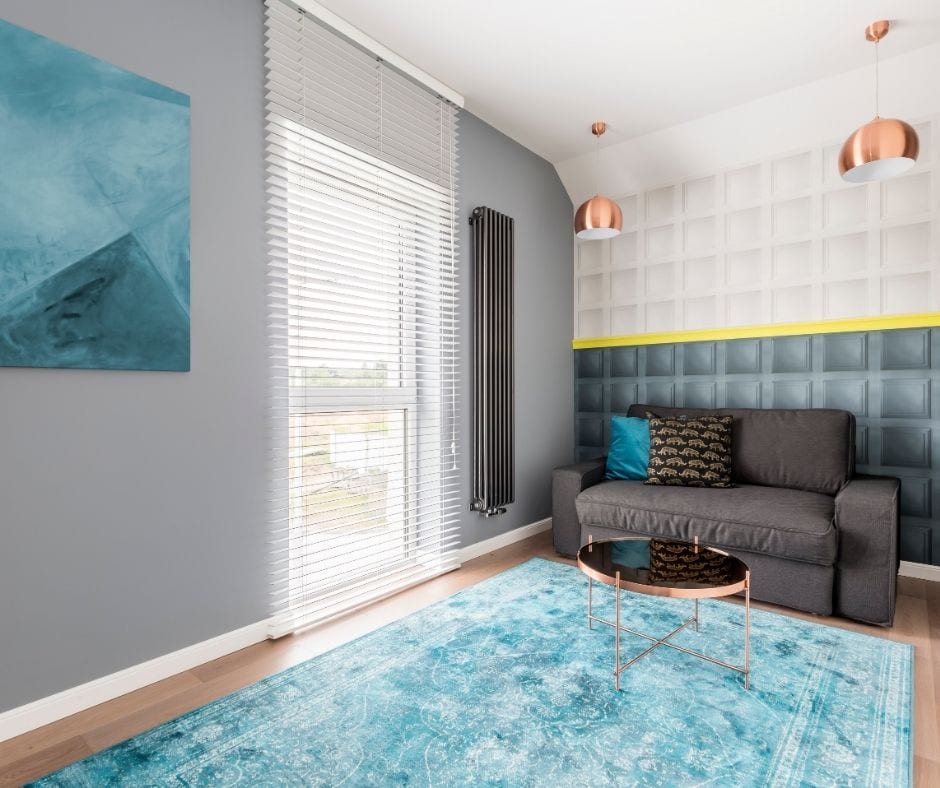 Blue is a wildly popular color in interior design. It's not hard to see why. The color is universally loved and offers up a calming ambiance.
A light blue rug can work wonders in your living space. Lighter shades of blue are reminiscent of the sky up above. It's a serene and relaxing color, which is perfect for a family gathering space.
You can choose to use a solid blue rug or find one that utilizes the color as an accent. Both options work well with gray rugs and don't overpower the room.
#9: Blush Rose Pink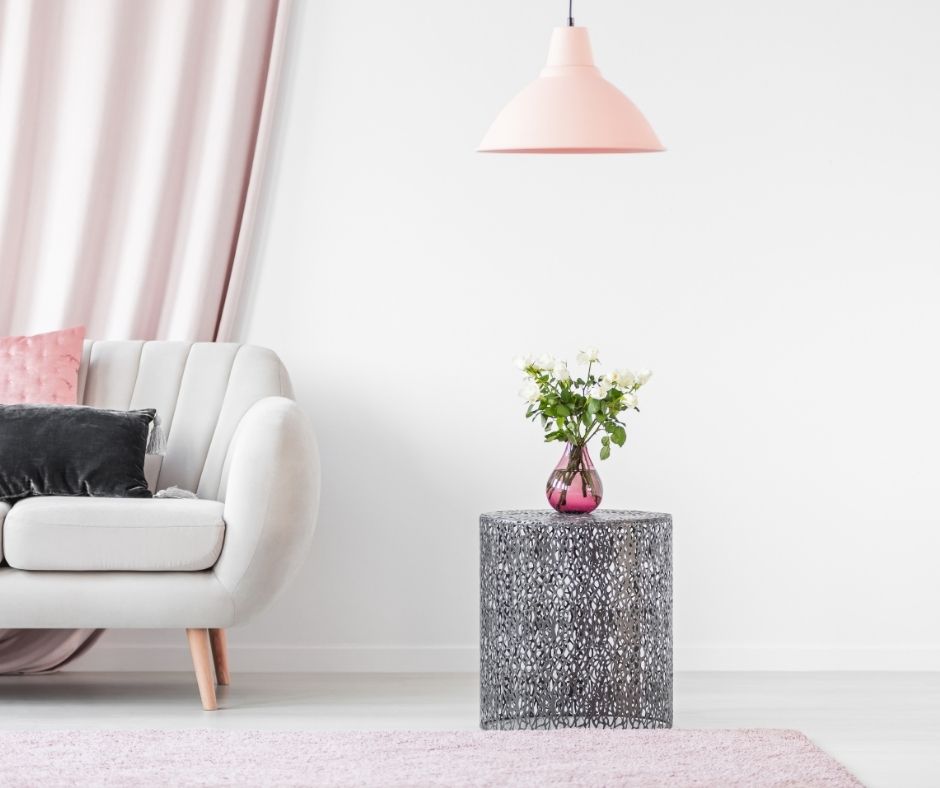 Here's an interesting color combination that most people don't even consider! Gray and pink are often thought to be clashing colors.
Gray is neutral that can easily fade into the background. Meanwhile, pink is a fun and frilly color that pops! But when you combine the two, pink and gray work some beautiful magic together.
A pink rug can produce a warm and inviting feel. Since pink is the color of romance, it also makes the space feel much more intimate. 
#10: Warm Orange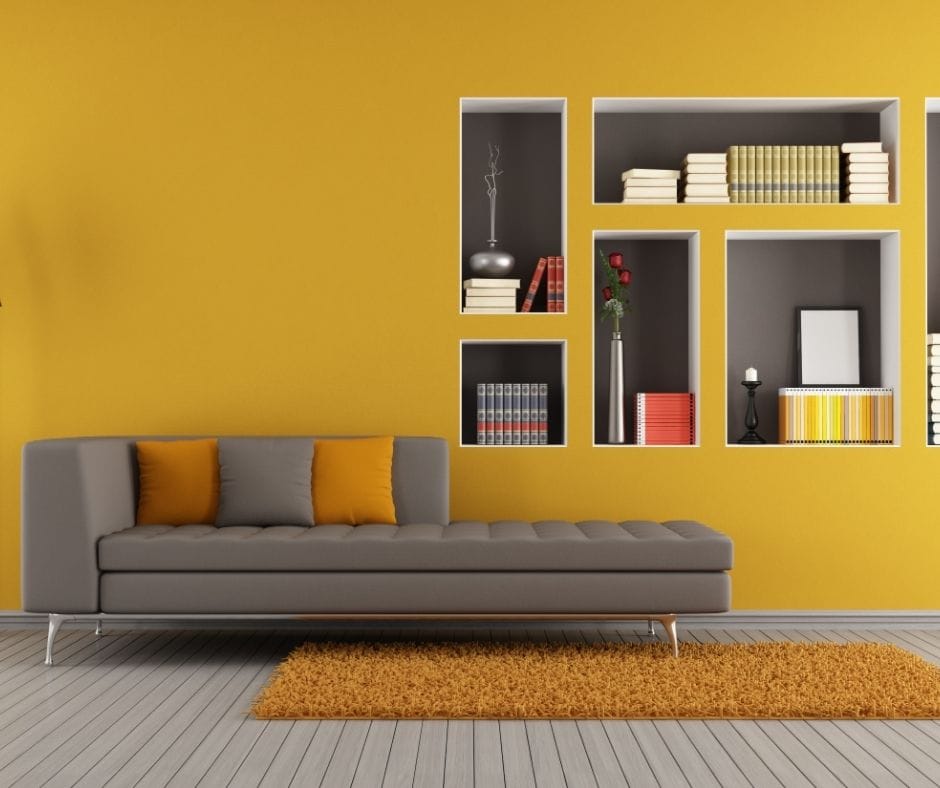 There's no better way to warm up a room than with an orange rug. Orange plays well with gray, creating a unique color story that stands out.
Orange is a naturally energetic color. It evokes thoughts of sunshine and fun!
However, some shades have the opposite effect. Darker orange tones are reminiscent of the autumn season, creating a more inviting feel.
Orange can be a bold color choice to pair with your gray couch. But, you can easily find a rug that works for your preference. Choose an appropriate shade to create the feeling you want.
#11: Deep Sophisticated Red
Here's another bold choice that could transform your living room.
Red is a color that many homeowners stray away from because it's so daring. It's a color of passion! Based on how you use it, a red rug can evoke feelings of love, joy, energy, and even strength!
It's certainly not for the faint of heart. But if you're bold enough to give it a shot, a red rug will instantly create a focal point around your couch.
#12: A Pop of Yellow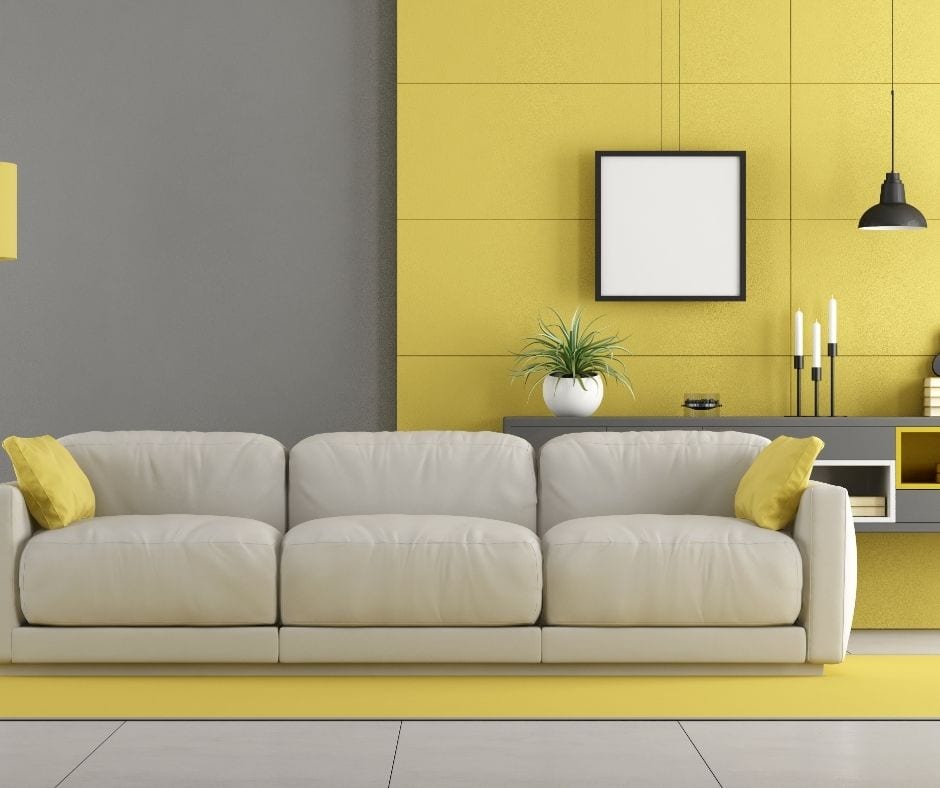 Yellow is the perfect accent color for a happy home! Yellow associates with feelings of joy and energy.
Unfortunately, not too many people use it to its full potential. When used on walls or larger furniture pieces, yellow can get overbearing pretty quickly.
But on a rug, it's a tasteful accent that offers up some nice contrast against a gray sofa.
#13: Vibrant Multi-Colored Patterns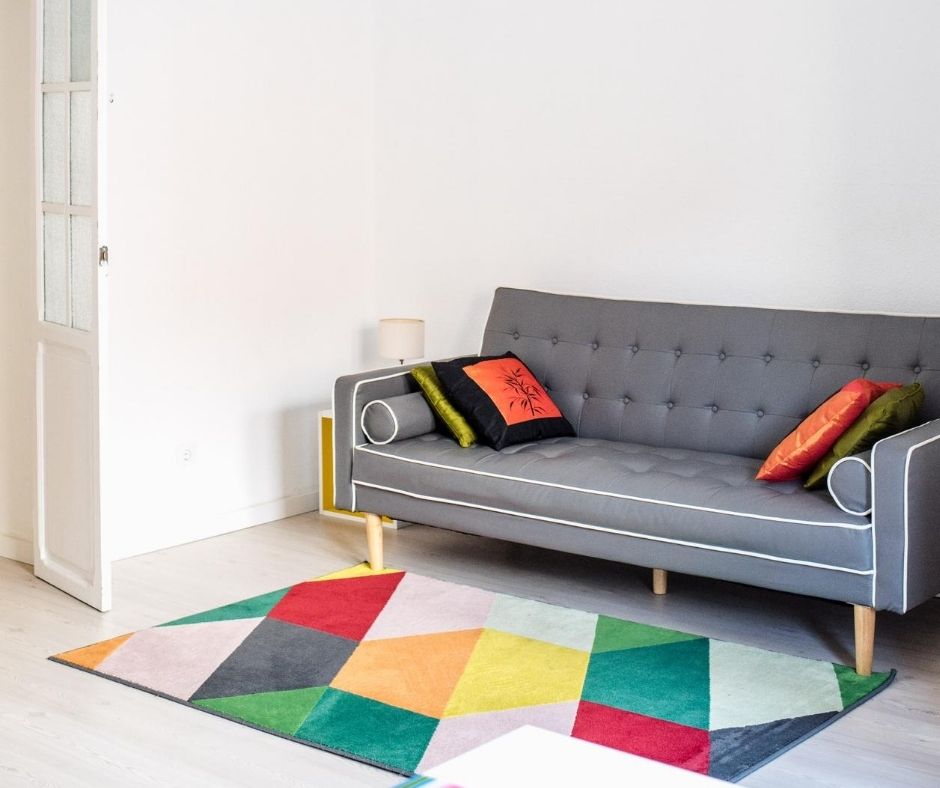 Who said that you have to stick to one rug color?
A multi-colored rug is a great way to introduce some more daring colors into the mix. Your rug is already a neutral gray. So why not try something bolder on the floor?
Choose a rug with several different vibrant colors. Then, design your room around it. Use it as inspiration to find decorative items, throw pillows, and blankets.
Many think that a colorful rug will throw the room off balance. But when you design around the rug, it will be the piece that holds everything together.
#14: Earthy Green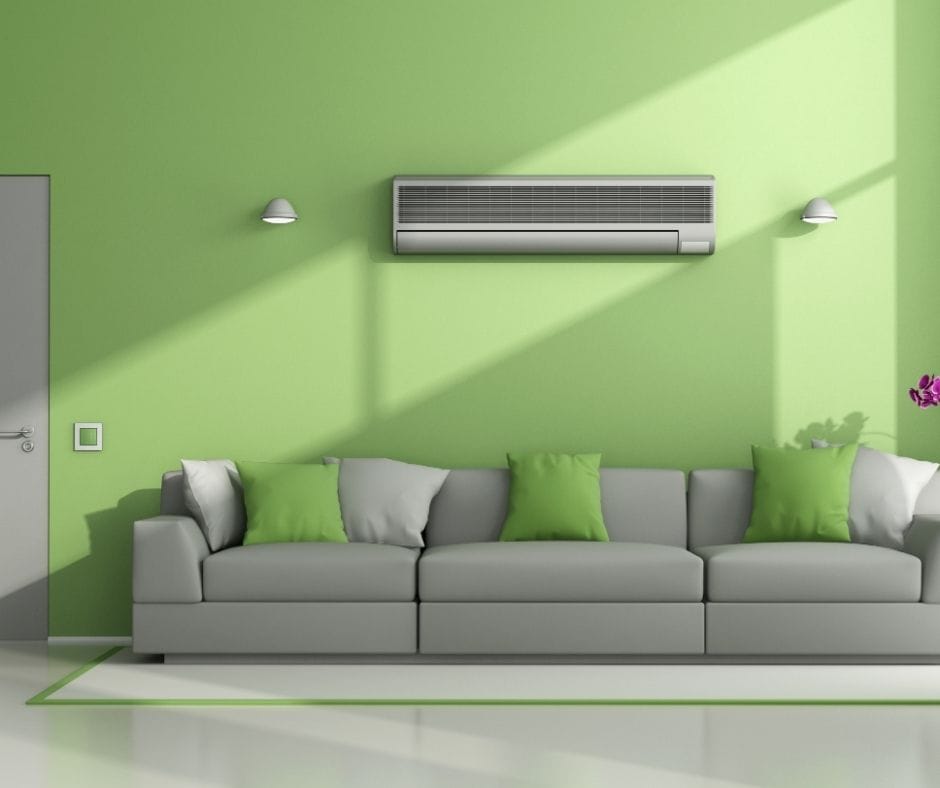 If you want to establish a natural vibe in your home, green is the way to go. Reminiscent of grass and vegetation, a green rug can anchor your living room and give you some opportunities to get creative.
The color pairs nicely with gray. Plus, it represents growth and renewal.
Use it to make your living room feel meditative. You can then add some live plants and complementary Earth tones to truly connect the room with nature.
#15: Royal Purple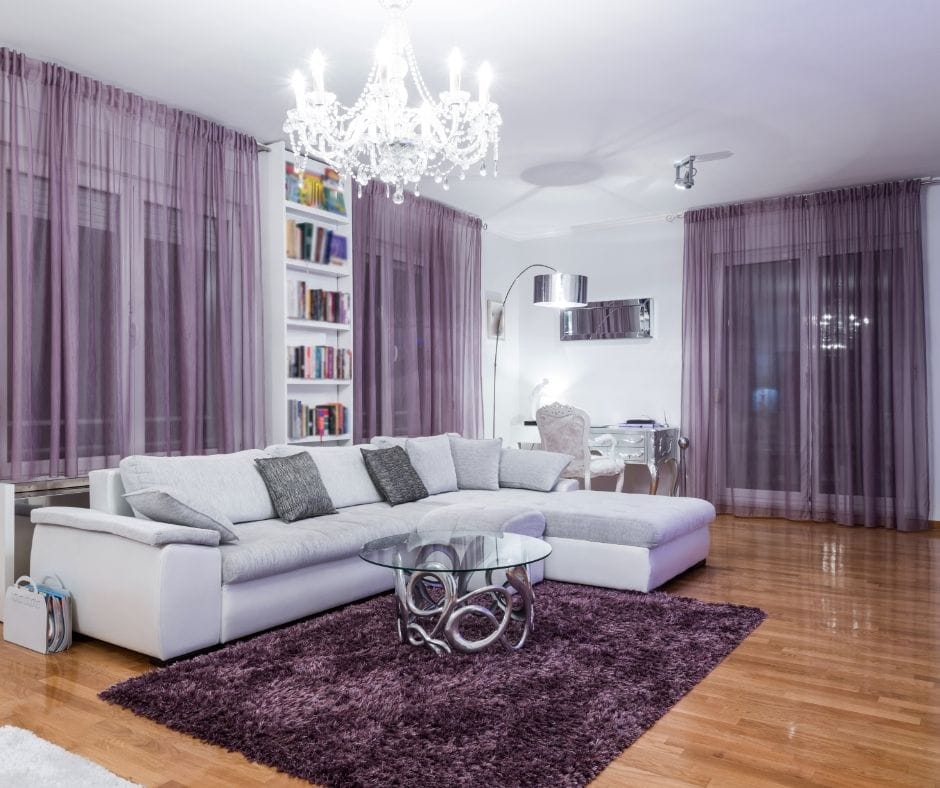 Last, but not least, we have purple. Purple is an interesting color that can bring up some very specific emotions.
Most associate it with royalty and wealth. When used on rugs, it can make a room feel super posh and luxurious.
However, it doesn't have to feel overly opulent. The great thing about purple is that its tone dictates the drama!
A darker shade of purple for your rug will feel expensive and regal. But, lighter shades give off a more feminine and calming touch.
Conclusion
Did you enjoy our list of rug colors?
Your couch is the main point of interest in your living room. If it's gray, you can easily use your rug to create the vibe that you're after.
Try out a few different colors and switch things up when it's time for a change! It's surprising how much a difference the color of your rug can make!
Let us know what you think about these colors in the comments below. Also, share this article and spread the word if you liked it!