When you ask yourself what curtain colors you should get, what you're really asking is how you want this room to look. Choosing the right color curtain is more than just selecting a color, so it would help if you considered how you want your room to make you feel.
A color wheel can help you choose the best color curtains for your space. So, let's dive into some color psychology for choosing curtain colors.
In This Article We'll Discuss
What Curtain Colors Should I Get?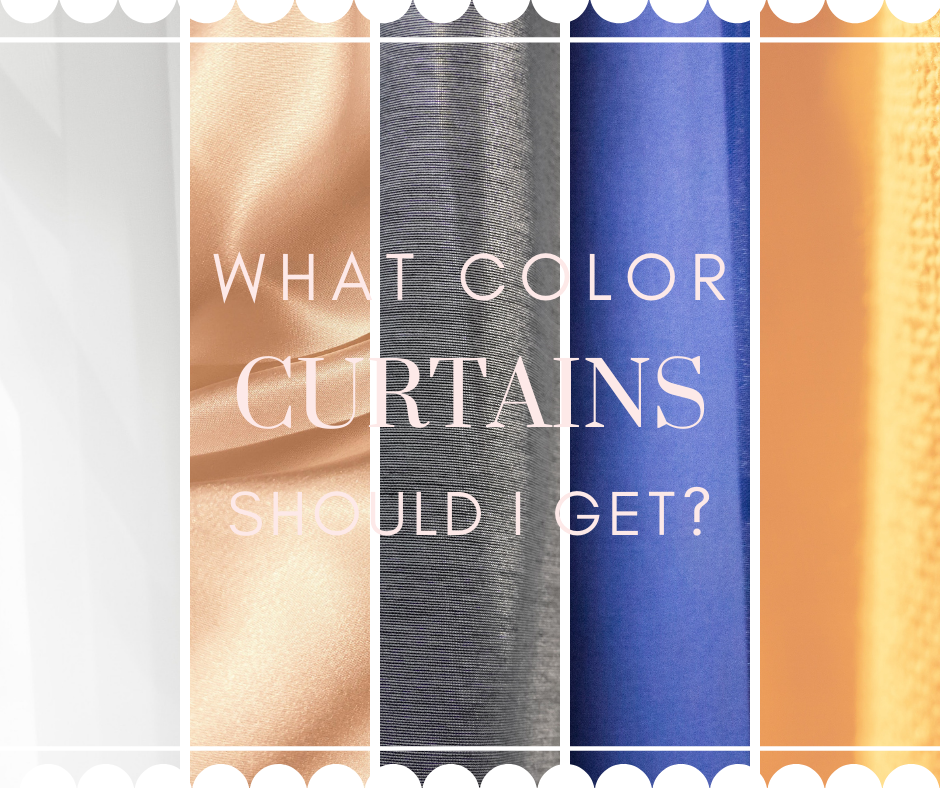 Curtains are an integral part of your room design. The color you choose makes a big difference in the overall look and feel of the space. Colors have meanings, and they can influence your productivity emotions. This makes choosing the right color for your curtains vital.
Top 5 Curtain Colors
White
Beige
Grey
Blue
Yellow
These are some of the most popular curtain colors, but you will need to consider your decor, wall color, and overall style.
Color Psychology
Understanding the psychology behind colors can help you make the best decision when choosing a curtain color. A simple color wheel is an effective tool for mixing and matching colors to create a vibrant and exciting space.
Complementary Colors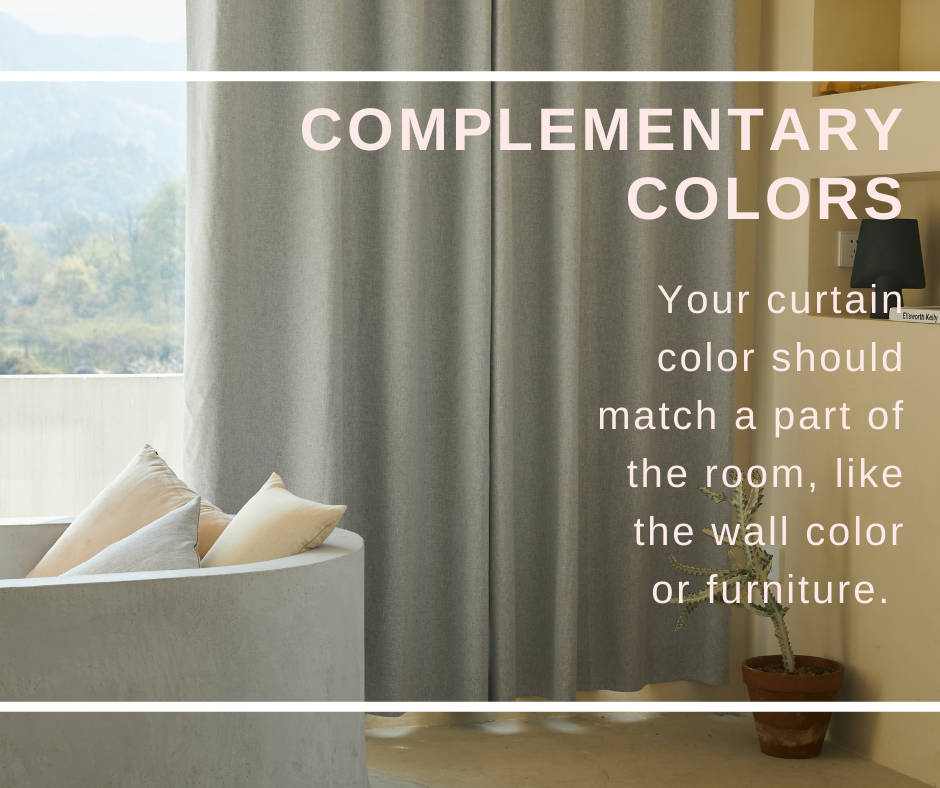 Complementary colors allow you to create high contrast in your space. Your curtain color should match a part of the room, like the wall color or furniture.
Choosing complementary colors is a bold move as they are often interesting pairings. Colors like red and green, orange and yellow, and purple and yellow might not seem like the best fit, but they create a vivid and dynamic space that you will grow to love.
Monochromatic Shades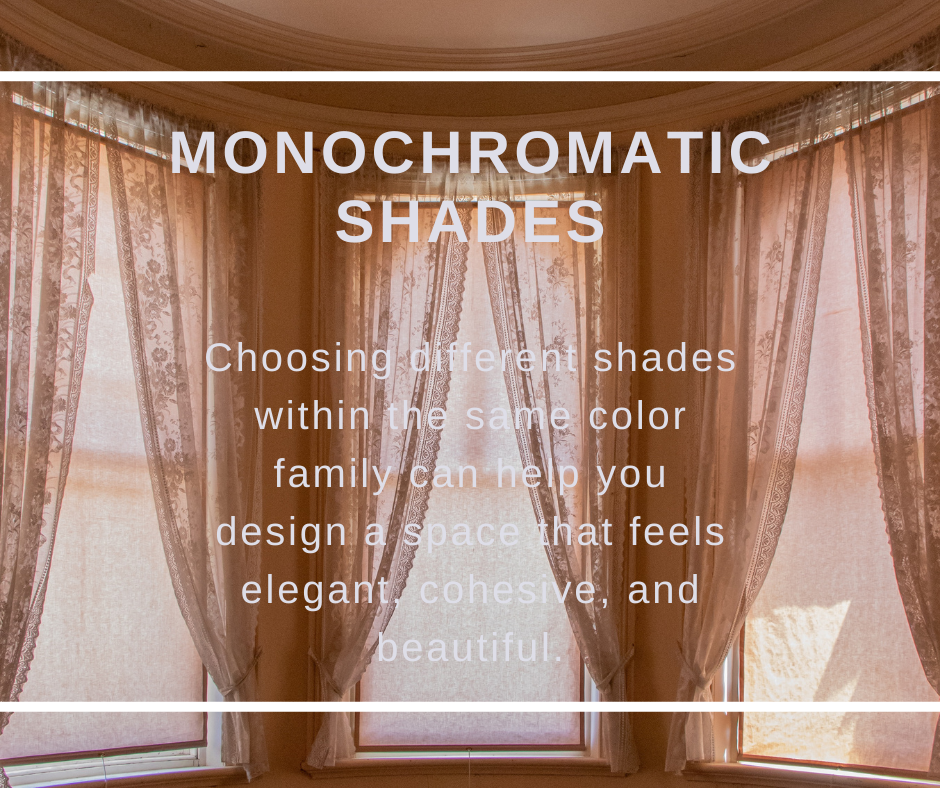 You can choose a color curtain that matches your walls or furniture; just be sure to pick a different shade. This will create a monochromatic aesthetic. Choosing different shades within the same color family can help you design a space that feels elegant, cohesive, and beautiful.
Warm vs. Cool Colors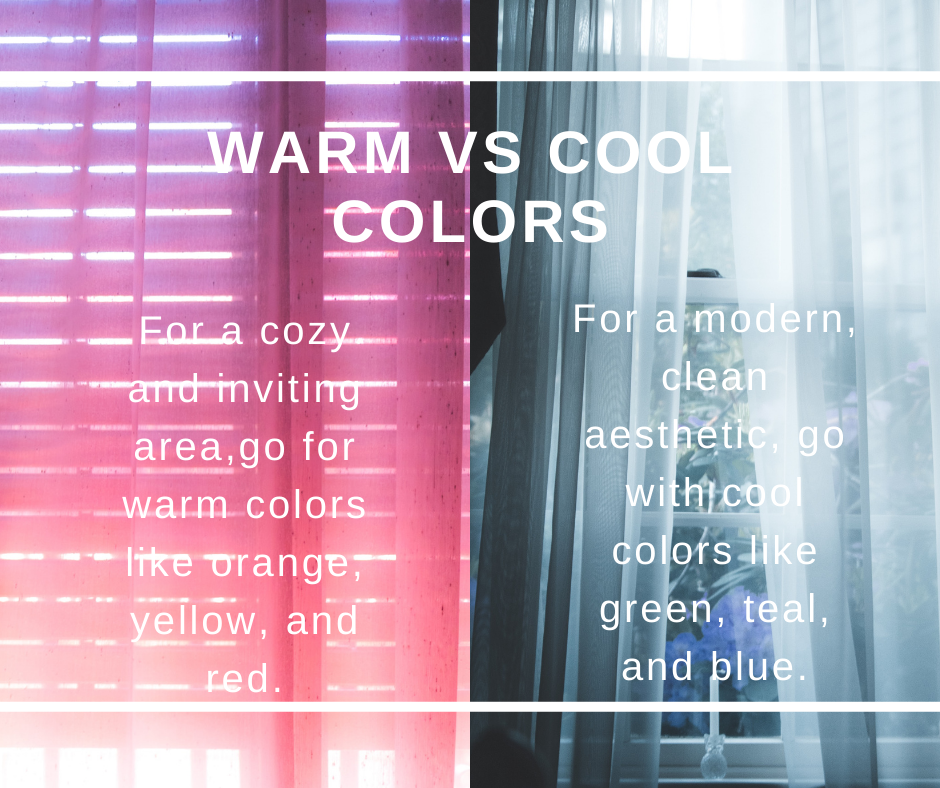 The color of your curtains will influence the overall feel of your space. You might want a cozy and inviting area, so go for warm colors like yellow, orange, or red. For a modern, clean aesthetic, go with cool colors like green, teal, and blue.
Top 6 Bedroom Curtain Colors
Your bedroom is a personal space where you can let your creativity reign. Choosing the curtain color for your bedroom will be an integral part of the overall design and an element you should consider carefully. So, think about how you want your bedroom to make you feel— is it a cozy refuge or a calm and tranquil space?
1. Green
Green is a color that signifies calmness, balance, and stability. It is precisely the color you need to create a serene and stress-free bedroom environment. Green curtains come in various shades, from deep, rich emerald to soft sage. Green curtains are the perfect option for your bedroom to create a sanctuary-like space.
2. Blue
Blue is a soothing color that is ideal for a bedroom. Blue has many shades, which allows you to create a bedroom of layered textures and tones. Soft sky blue curtains will give your space a light and airy feeling, while a grey-blue curtain will feel relaxing.
3. Grey
Grey curtains in your bedroom look sophisticated and they are a great neutral backdrop for other pops of color. Layering shades of grey creates an interesting monochromatic dimension. Soft grey curtains will make your bedroom feel restful.
Darker grey curtains give your space a stylish yet serene aesthetic.
4. Beige
Beige curtains are a staple in many bedrooms. This warm tone creates a welcoming and cozy feeling— exactly what you want in your private space. Beige tones provide a sense of safety and comfort and you can layer them to create a comfortable sanctuary.
From light beige to nutty hazelnut tones, beige curtains are a versatile option in your bedroom.
5. Mustard
Mustard curtains might seem like a bold choice for your bedroom, but this warm color creates an inviting space. Mustard pairs well with blue and grey tones, so they are a versatile option in a bedroom. There's also nothing quite like the sunny pop of color at your windows to make your bedroom feel bright and cheerful.
6. Maroon
Maroon is a moody color that creates an intimate and dramatic space. Maroon curtains in your bedroom look elegant. They create a luxurious feel, particularly when your curtains are velvet. Your bedroom is a space for you to let your creativity free, so be bold and try a maroon shade to enhance your space.
Top 6 Living Room Curtain Colors
Your living room is a space for you, but also for your friends and family. You want it to feel inviting but also reflect your individual style. Choosing a color for your living room is about your preferences and what will work well within your space.
1. Teal
Teal curtains in your living room will make your space feel soft and serene. They are a subtle pop of color that frame your windows and allow your other decor pieces to shine. Teal is a versatile color that pairs well with different blue-grey shades or pops of yellow.
2. White
White curtains in your living room might seem dull. But, the right curtain can create a clean, modern aesthetic without feeling sterile and boring. White curtains can have sharp lines or be light and textured.
They are a fantastic way to layer textures in your space and definitely worth considering.
3. Grey
Grey curtains in your living room make a sophisticated statement, whether you choose soft dove grey curtains or a dramatic charcoal grey. If you want a modern space, then a monochromatic grey, white, and black color scheme is best.
4. Beige
Beige curtains work particularly well if you're going for a rustic farmhouse feel in your living room. Cotton and heavy linen beige curtains are welcoming and create a cozy space making them ideal for a farmhouse chic aesthetic.
5. Navy
You need navy curtains in your living room if you want a rich and bold window treatment because it gives off feelings of power and sophistication. Navy curtains in your living room could come across as cold. But, if you pair them with mustard, yellow, and orange pops, you can create a vibrant space that everyone wants to be in.
6. Yellow
You can't go wrong with sunny yellow curtains in your living room. There are many different shades to choose from like soft butter yellow or bold sunflower yellow. Yellow is a happy color that's ideal for living room curtains because it creates a hint of drama without being overpowering.
Conclusion
Don't let choosing curtains overwhelm you. Picking out the best color curtains for your space should be fun and exciting. If you aren't sure what color curtains will work best in your room, try a color wheel for some inspiration.
Have you used a color wheel before? Are you inspired to try a bold new curtain color in your space?