If you have gray bedroom furniture and are wondering which color walls will be best for your space, we have some fun options for you. Gray is a cool toned color and you can create either a monochromatic modern look with it, or you can use colors to play off the gray furniture. Check out some options below with considerations for how to best pair colors together.
In This Article We'll Discuss
What Does the Color Gray Do in a Room?
Gray is a cool color, meaning it's not a warm tone. Warm colors, such as red and orange, create movement and add higher energy to a room. Gray, on the other hand, is a cool toned color, so it's associated with serenity and calmness.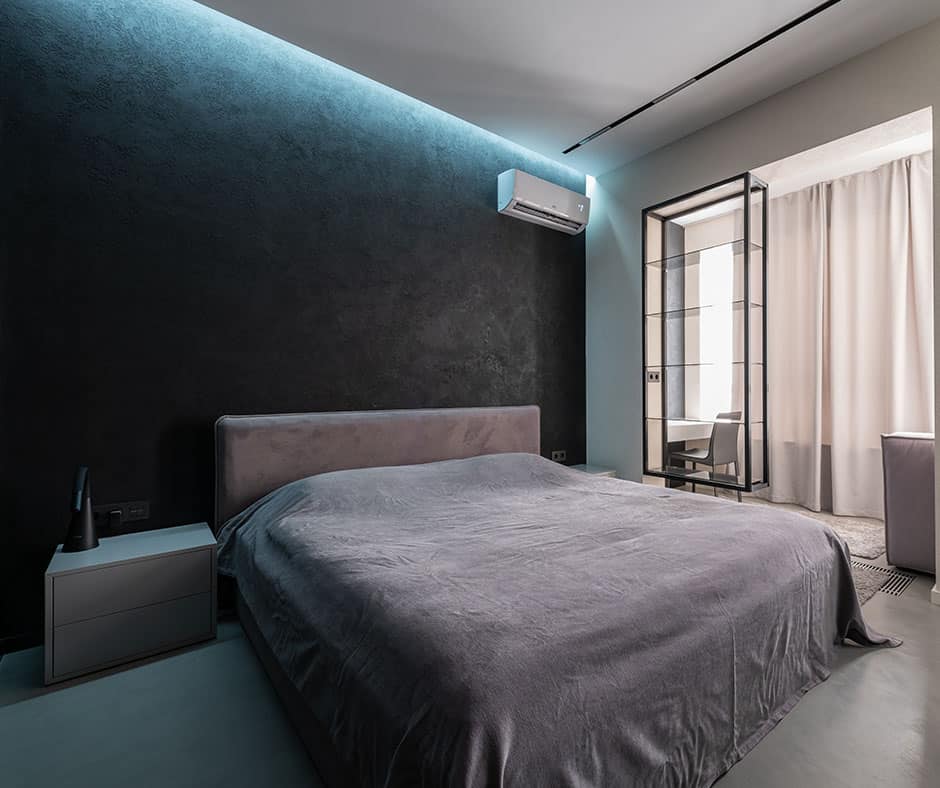 Being a cool color, gray can be paired with other cool colors such as green or blue. Or, you can brighten it up with yellow or orange. Below we outline some of our favorite wall colors that complement gray bedroom furniture to create unique bedrooms.
What Wall Colors Go Best With Gray Bedroom Furniture?
Always remember to decide what you want a space to feel like before you decide on a color palette. Are you looking for a high energy room, or a peaceful, relaxing space? Depending on how you answer that question, you can decide which colors will best work with your gray bedroom furniture. Then, you can create the look and feel you want for your space. Here are some options:
White
White walls in your bedroom are like a clean slate. They will offer a crispness to your space and create a wide, airy room. Gray bedroom furniture contrasts nicely against white walls and creates a very clean look altogether.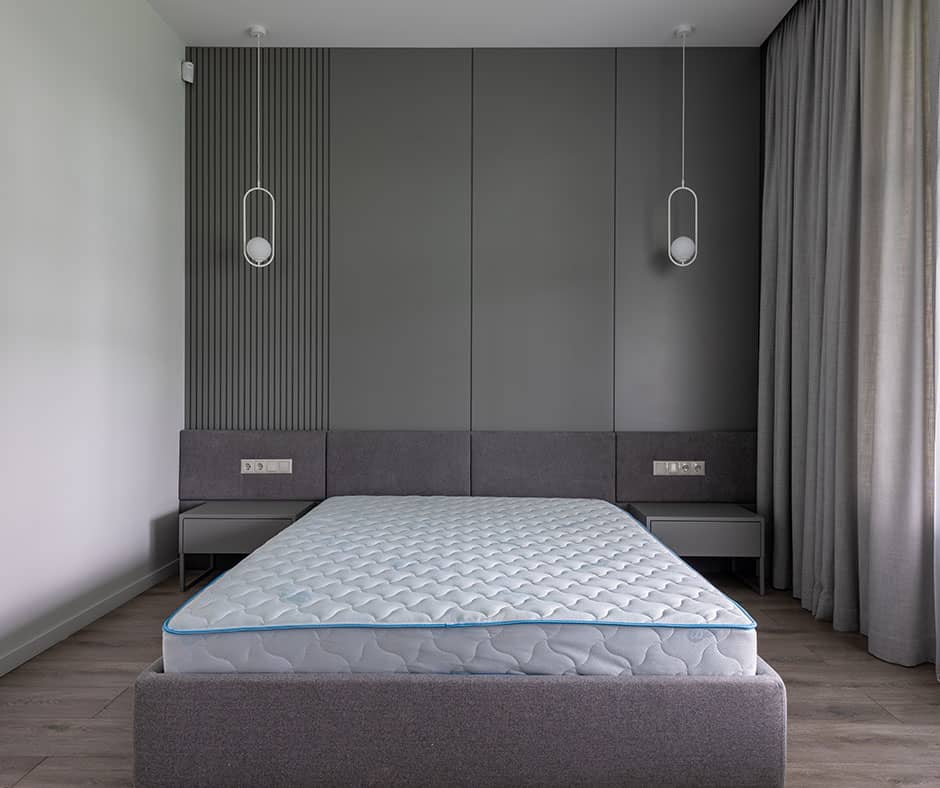 If you're interested in a modern look, this could be the perfect wall color for you. You can add touches of silver and white marble to add an even edgier modern look if desired. If you go with white paint, try to buy paint that will clean easily so you can keep a clean looking, modern space.
Teal
If you want brightness and excitement, teal is an awesome color that is so interesting and unique. The depth of teal contrasts beautifully against gray furniture, creating a space that is creative and bright. Teal will allow you to bring in more blue tones to accent with. You can also try some metallic pops such as gold or copper accents in the bedroom to contrast the teal walls.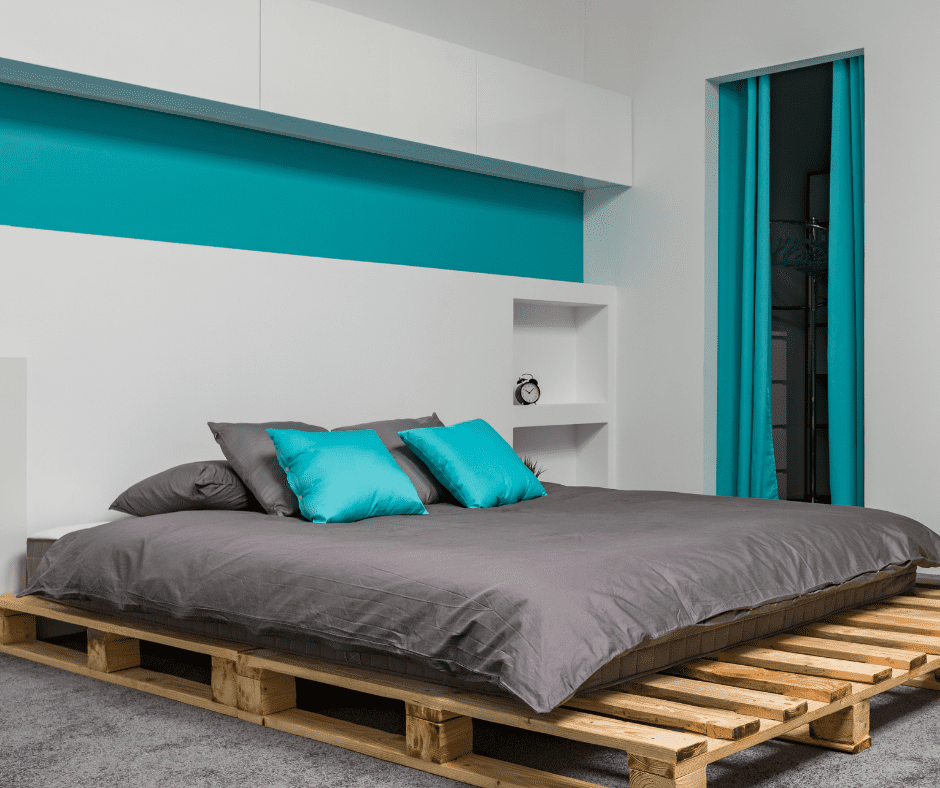 Because teal is a bluish green shade, it's also considered a cool color. So, although the room has a bright interest to it, it's still a calming color combination with the gray. You can expect to have a room that feels peaceful and flows nicely from your wall color to your bedroom furniture.
Bright Yellow
A sunshine yellow or sunflower yellow color will add so much lightness and fun to your bedroom. Gray looks great against bright yellow, creating a fun look and feel for a bedroom.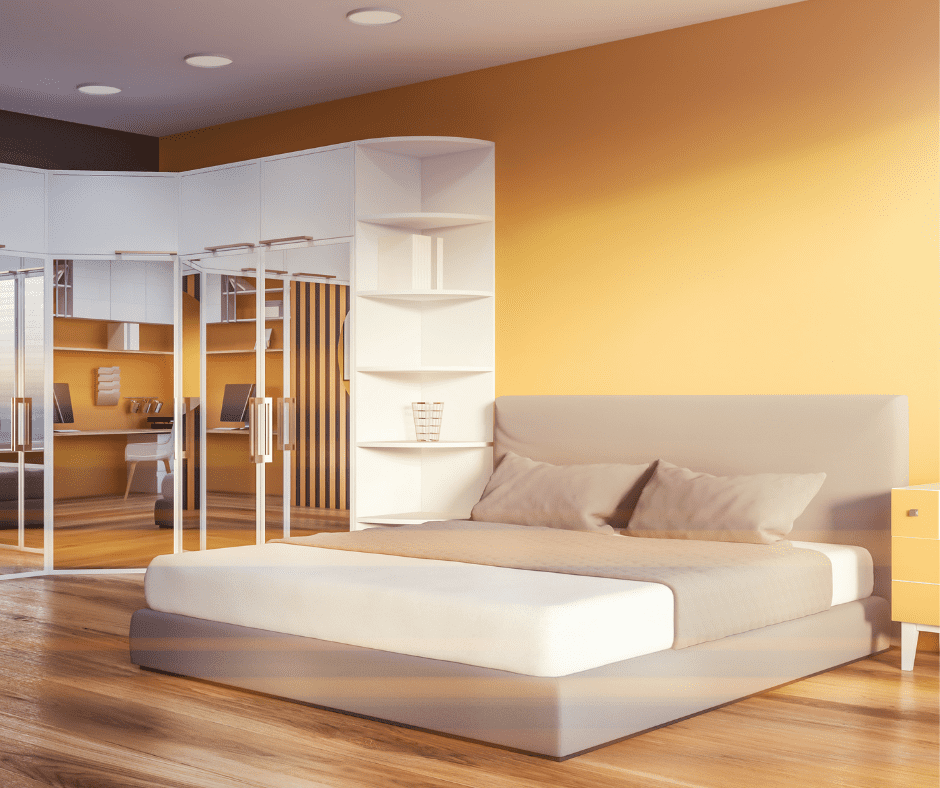 Yellow is a warm color that will add a lot of movement and rhythm to your space. The cool color of the gray will help anchor the space and tone down the bright yellow, while still keeping a bright, fun space that you can enjoy.
Mauve
Mauve is one of the most unique wall colors you'll come across. It can range in different shades and tones, all creating a unique space. Gray furniture pairs perfectly with mauve walls, creating an interesting room with high contrast.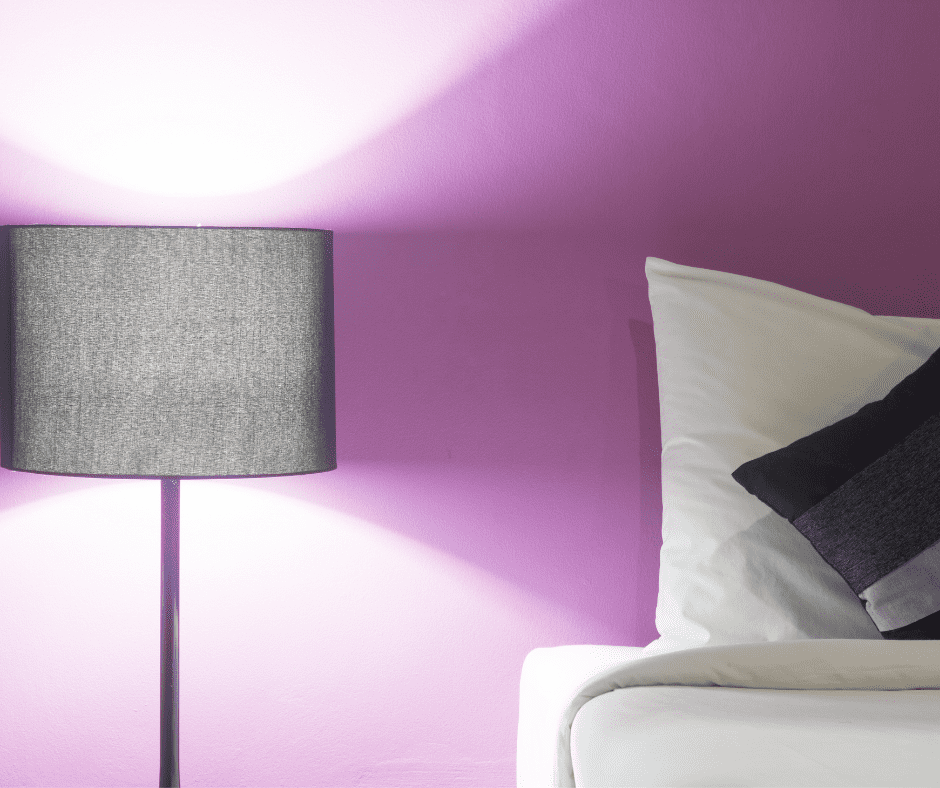 The warmth in the color of mauve will offer a flowing motion and add positive energy to the space. The frosty gray color will contrast well, standing out and highlighting the unique colors in your bedroom space.
Crimson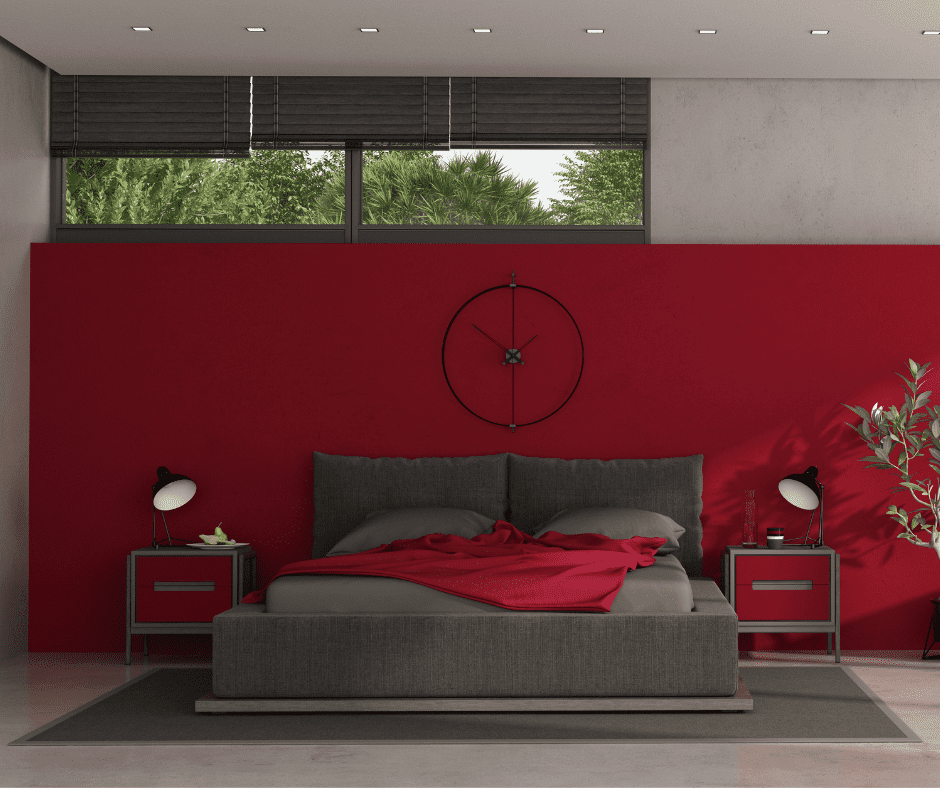 A deep crimson wall color will make a space feel sensual and bold. Your gray bedroom furniture is sure to pop against such a vivid color. However, any shade of red is not for the faint of heart. If you choose to go with crimson colored walls, your space will certainly be unique and will have an added element of depth and intensity.
Rust
Another bold color choice that will add a unique energy to your room is rust. Rust colored walls will make a room feel cozy and can be a little on the dark side. It will truly create a comfortable space with lots of warmth and movement.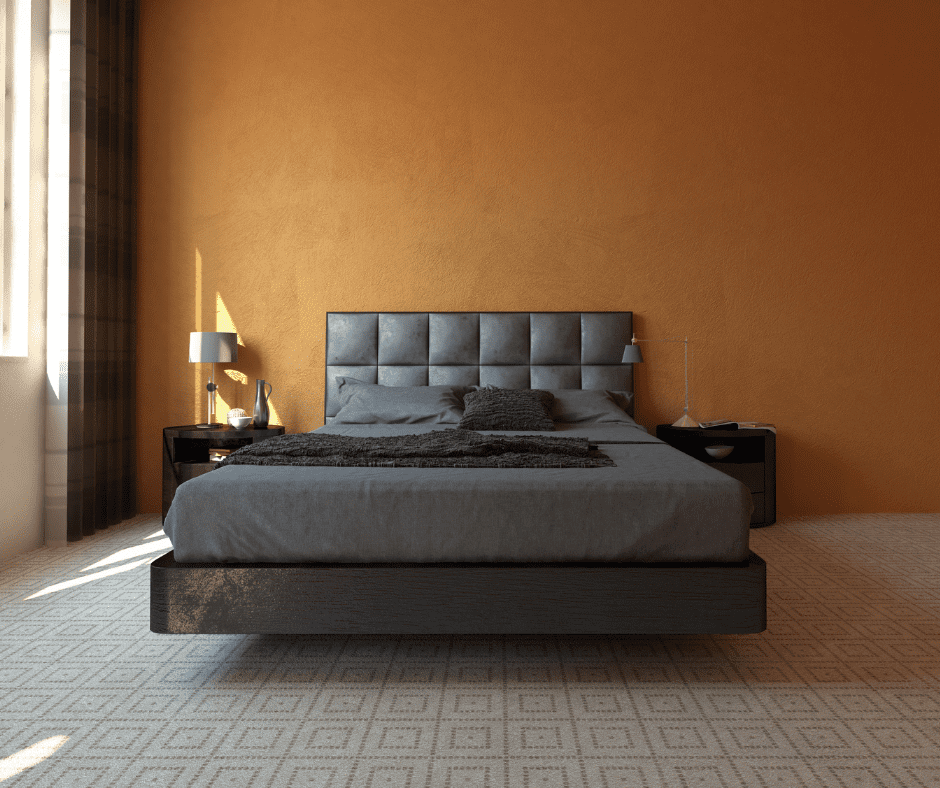 Because gray is a cool color, it will stand out against the rust walls and each piece of furniture will be highlighted. The mixing of the warm rust colored walls with the gray furniture is another opportunity to create balance and harmony in your bedroom.
Black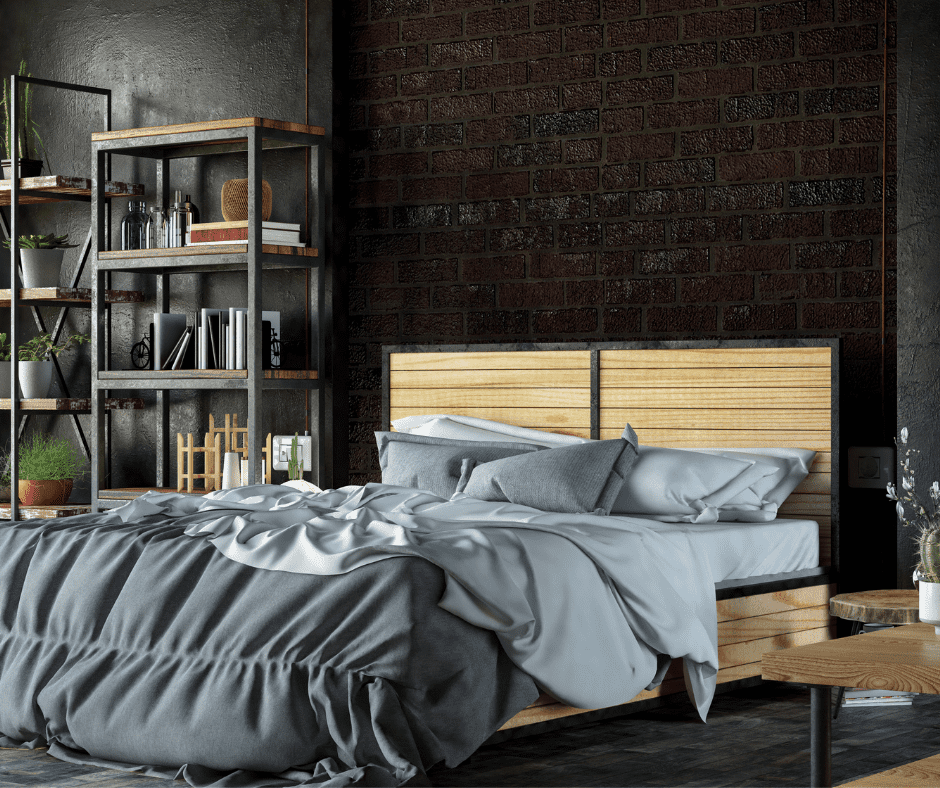 If you're looking for a space that feels deep, private, and dark, black is the perfect color for your bedroom. Gray furniture, whether light dove gray or dark charcoal gray, will be the focal point of a bedroom with black walls. The black walls serve as a clean slate, similar to white walls. However, they add depth and darkness to create a serious and upscale look.
Wallpaper Choices
If you're in the market for a bold wall color choice, wallpaper will do the trick. For a space that offers depth and sensuality, a crocodile black wallpaper or black silk embossed wallpaper would make a great choice for your gray furniture.
For a clean vintage look, gray white washed brick walls or a tan brick wallpaper add a farmhouse flair with a homey feel. Both these options offer a cool backdrop with unique texture to accent your gray bedroom pieces.
To create a piece of art with your walls that your gray furniture can add to, a dark floral mural or regal aqua and gold damask wallpaper would be quite a statement. The gray furniture would bleed more into the backdrop and the unique walls would be the focal point in the room.
What Style Bedroom Does Gray Furniture Go In?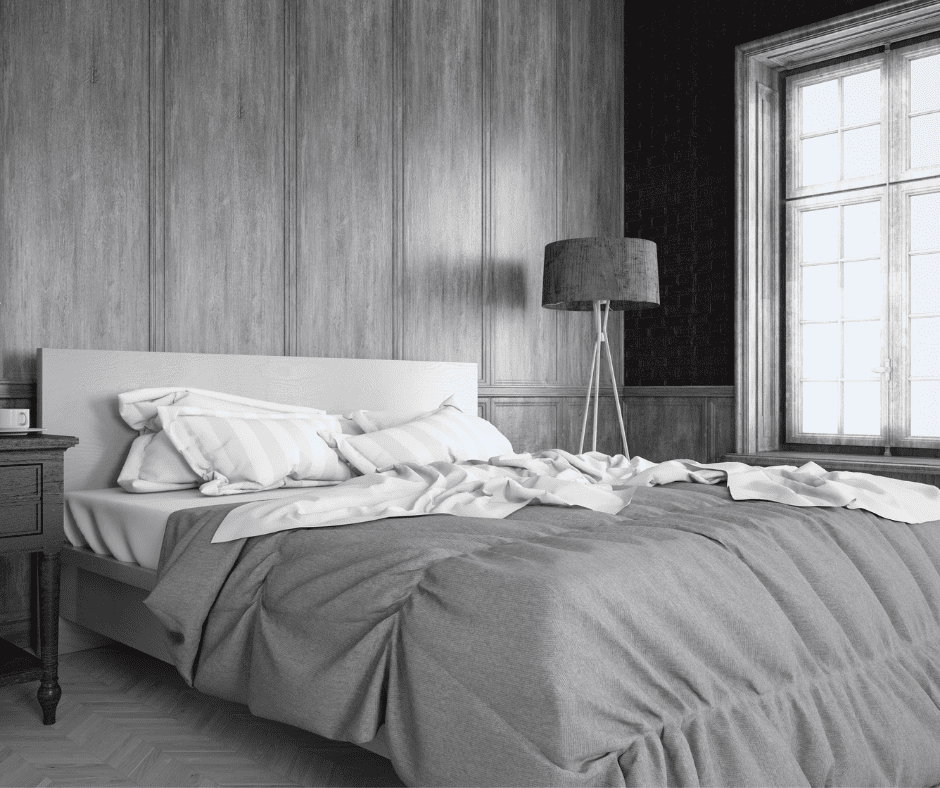 You can use gray furniture in a variety of bedroom styles. Gray is a popular neutral right now and you'll find gray furniture with modern, farmhouse, rustic, industrial, or vintage chic styles. Because of the color's popularity, you can find gray furniture in almost any bedroom style today.
Conclusion
Gray bedroom furniture is very versatile because of its neutral color. You can choose from many wall colors and tones to create a space that has the look and feel you want for your room. Start by determining how you want your bedroom to feel, then feel confident in choosing a wall color that will complement your gray bedroom furniture.