Black bedroom furniture is a great neutral that fits several different home styles. Black furniture can be dark and serious, or you can lighten it up. Deciding which wall color will look best with your black furniture can be a challenge. Check out our suggestions below for the best wall colors to go with black bedroom furniture.
In This Article We'll Discuss
Best Wall Colors for Black Bedroom Furniture
Start by deciding how you want your room to feel. If you are aiming for a brighter space, you'll need a lighter wall color. If you love the idea of a dark, cozy vibe, a deeper color will be ideal. We've put together a list of our top suggestions for great wall colors to contrast black bedroom furniture.
Periwinkle
The unique mix of blue and purple that comes in periwinkle will make your black bedroom furniture come to life. It will contrast beautifully against the walls. Periwinkle is a cool toned color that will make your room feel peaceful and calm.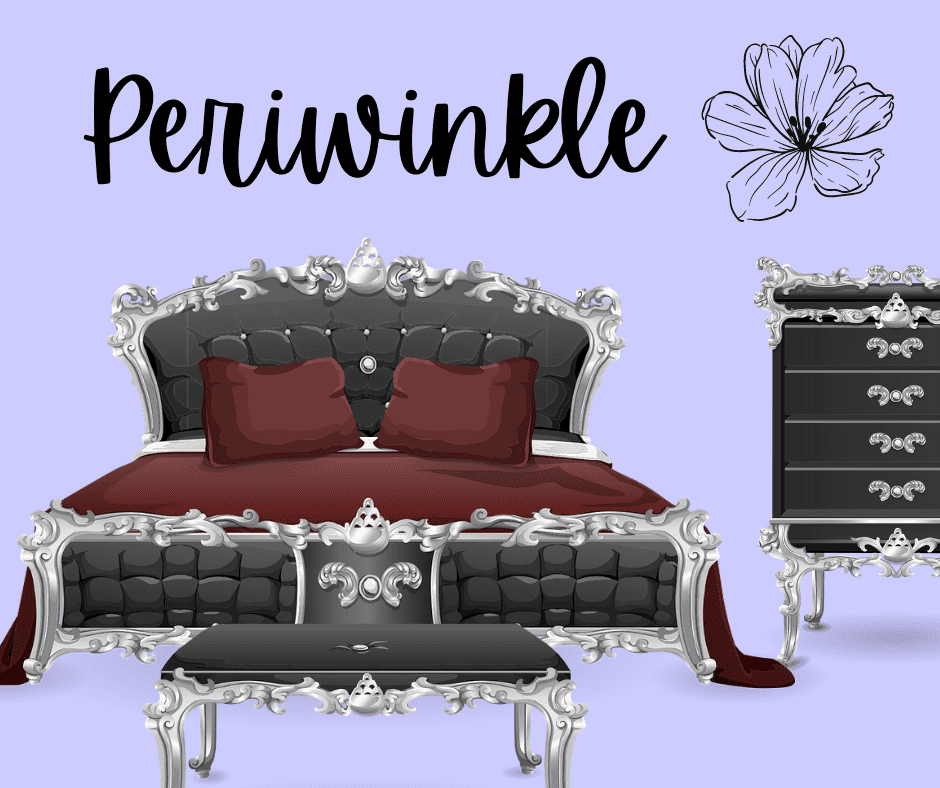 Whether your black bedroom furniture is painted or if you have an upholstered headboard, you're in for a great contrast against this shade of purplish blue. Try accenting with gold and darker blues and purples to create an interesting space.
Chartreuse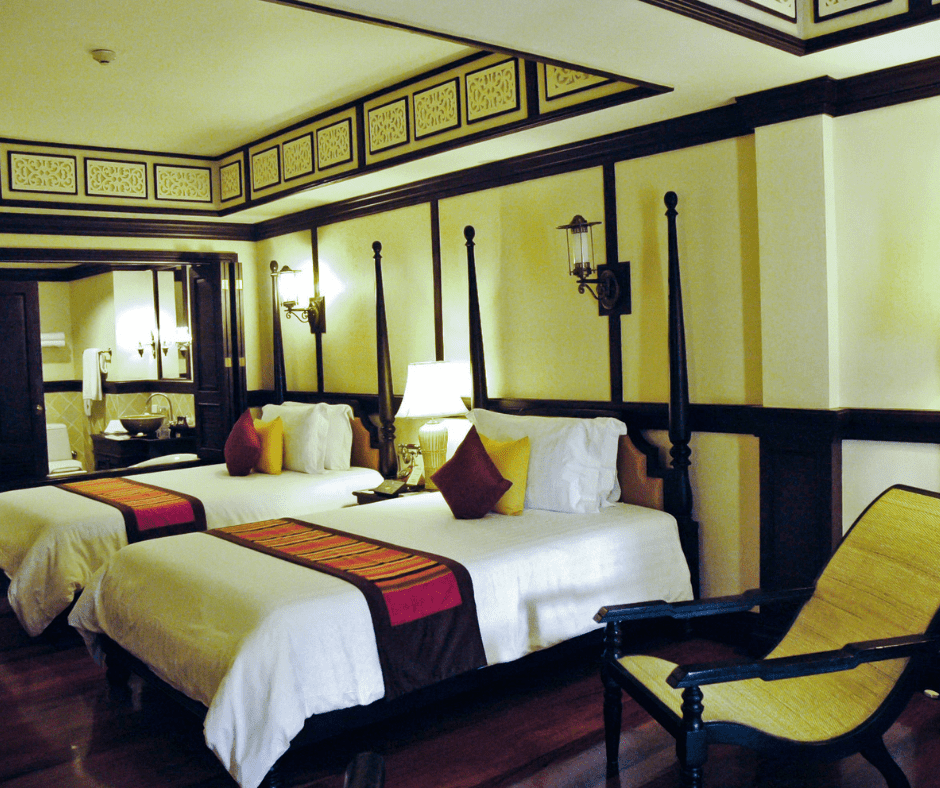 Make a bold move by painting your walls chartreuse. The perfect blend of green and gold, this color will add intensity and vibrancy to your bedroom. Your black furniture will contrast against this bright shade and the lightness will add movement and excitement to your space.
Lavender
To create a calming space, lavender walls will do the trick. Black furniture pairs perfectly with this humble shade of purple, creating a serene space. Lavender walls will give your bedroom softness and grace.
If you want to keep that calm feel, accent with other black pieces as well as charcoal or different shades of gray. The black furniture will flow in the room without clashing with the lightness of lavender.
Merlot
Create a bold depth in your room using merlot painted walls. The black furniture paired with merlot will make a dramatic, romantic space. This will create a room with a lot of depth and darkness, which will truly make a statement.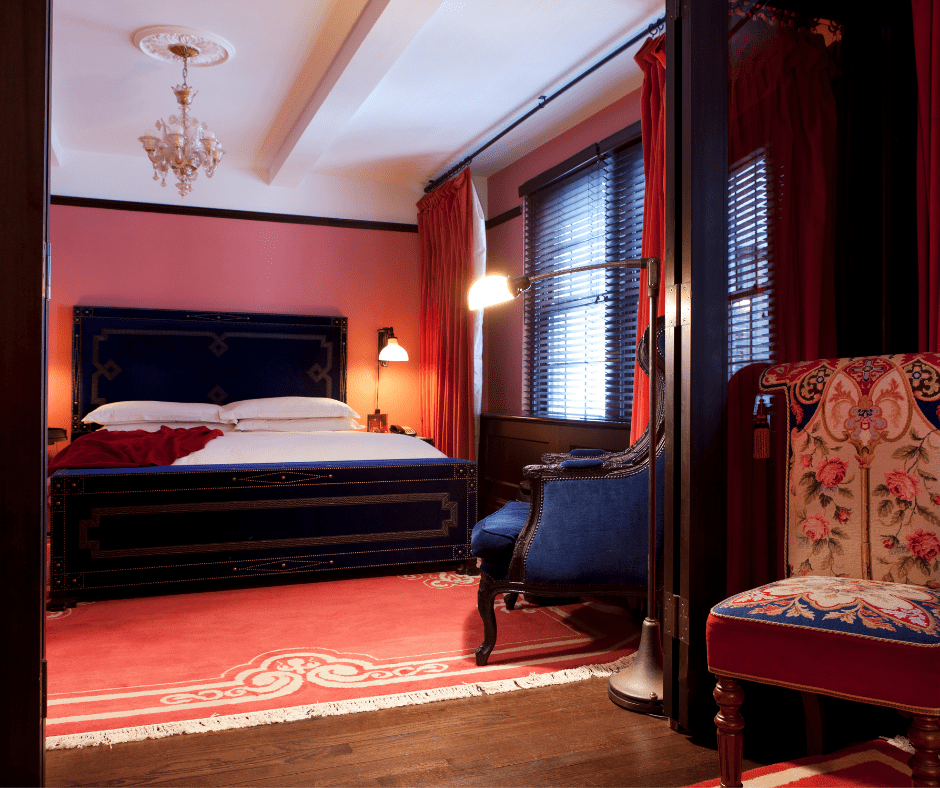 Black bedroom furniture with merlot walls would be well accented with whites or golds. Both of these options will keep your space elegant while bringing in a third or fourth color.
Moss
Green is a calming wall color, and a shade of mossy green would create a natural looking and feeling space. Moss will add an organic feel to the room and will contrast the black furniture well.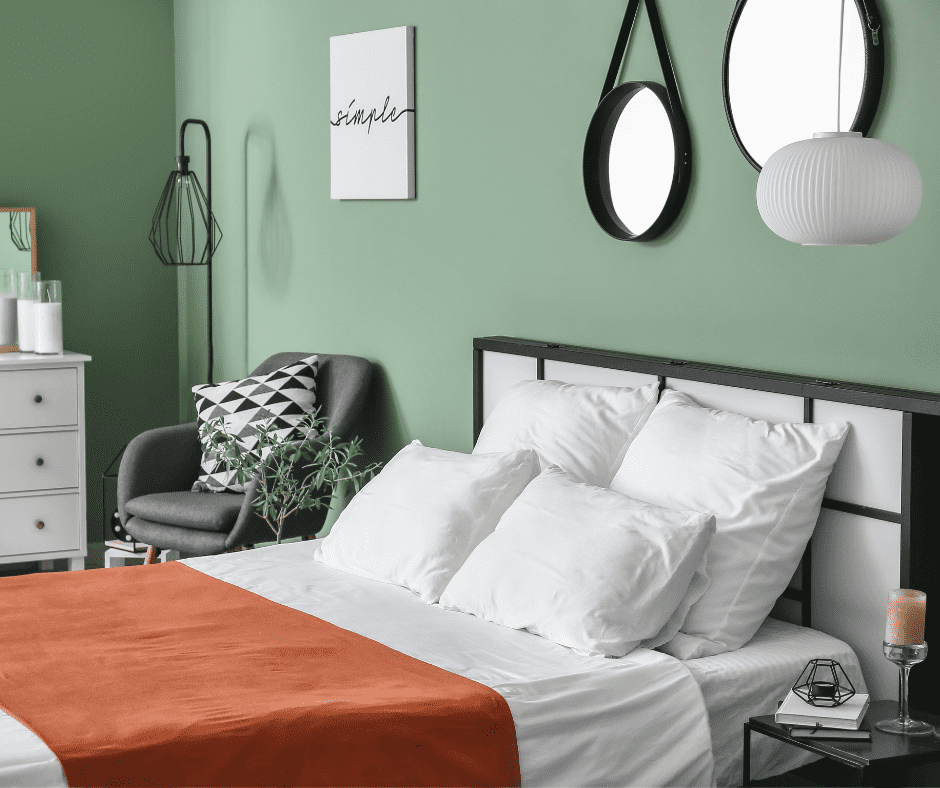 Green walls and black furniture will pair great with copper or silver accents. Create a calming room by adding real or artificial greenery to enhance the look of the mossy wall color.
Wall Colors That Brighten up Black Bedroom Furniture
Black bedroom furniture can create a dark room. If you want a lighter, brighter space, try out one of the wall color suggestions below.
Peach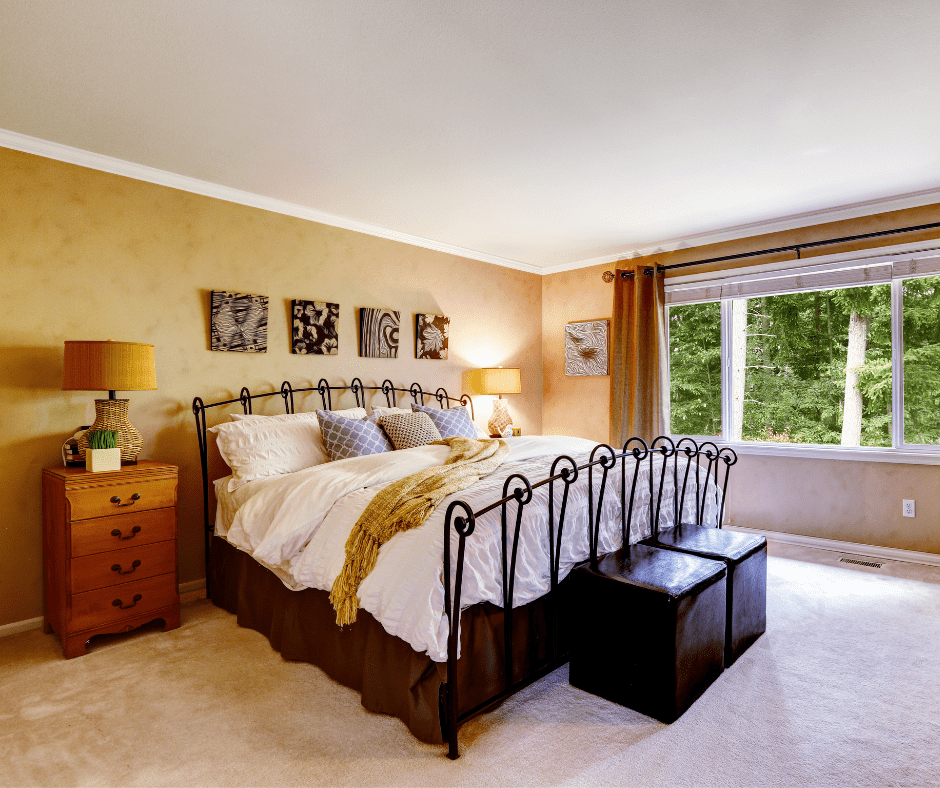 A light, creamy peach toned wall color is the perfect color to add brightness and warmth to your room. Contrasted against the darkness of the black furniture, this color will give the room energy. Light peach tones can range from more orange to more pink, depending on your preference.
Mint Green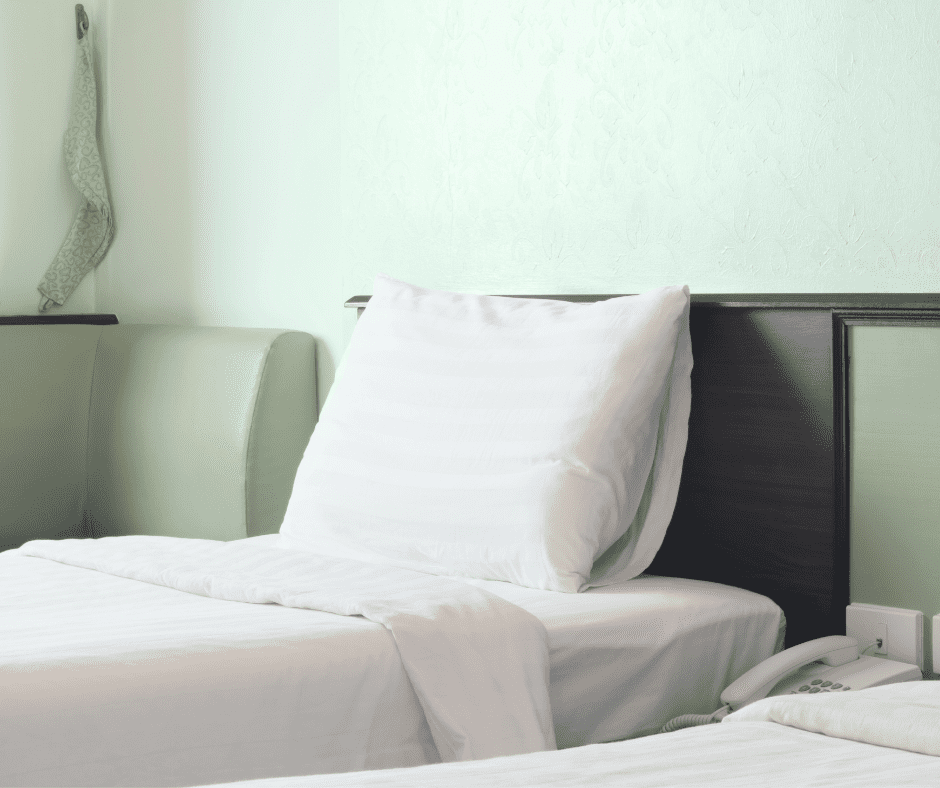 Bright and airy, mint green will make your bedroom feel refreshing. Black and mint green together are great complements, creating depth and contrast.
Navy blue is a fantastic accent color to coordinate with your black bedroom furniture and mint green walls. Add accents of navy through a comforter or rug to tie in the depth of the black furniture with the freshness of the mint.
Wall Colors That Go With Black and Gold Bedroom Furniture
Black and gold is a timeless combination. It brings elegance and class together in one space. We've selected a few wall colors to contrast your black and gold furniture that will make it pop.
Evergreen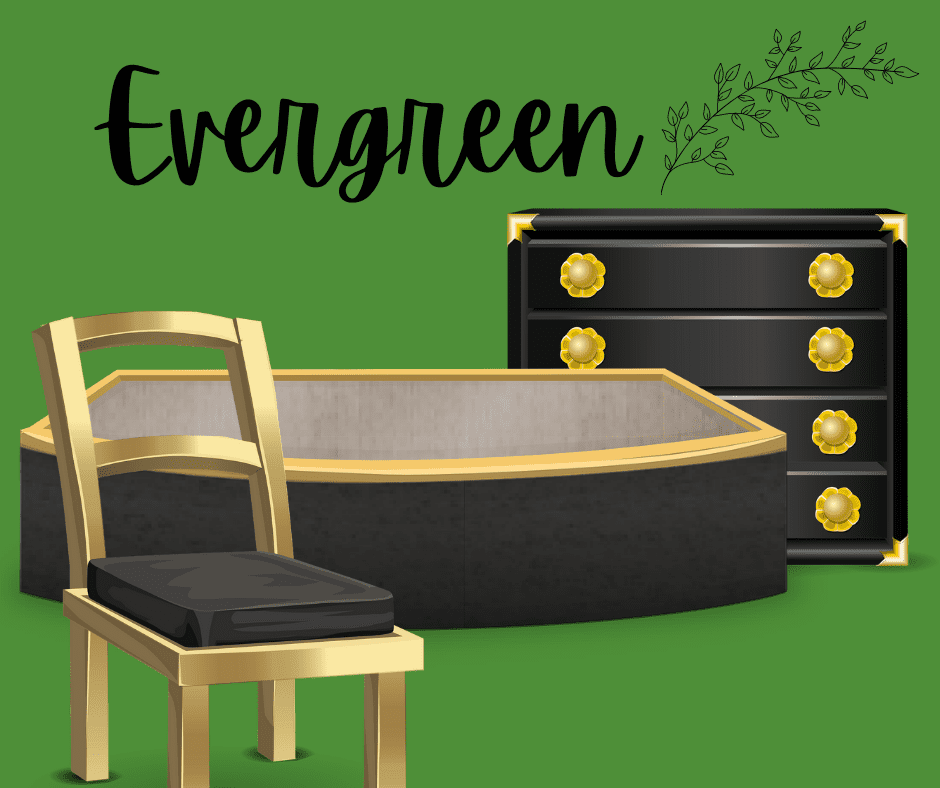 Deep and classic, evergreen creates a natural looking space. Gold naturally pops against such a rich, dark background. The black furniture will complement the darkness of evergreen while still holding its own as it contrasts the green.
Plum
Create an energy filled room by using plum walls to contrast your black and gold. Because yellow and purple are complementary colors, plum and gold make a perfect combination. While the plum and gold add vibrancy, black anchors the space.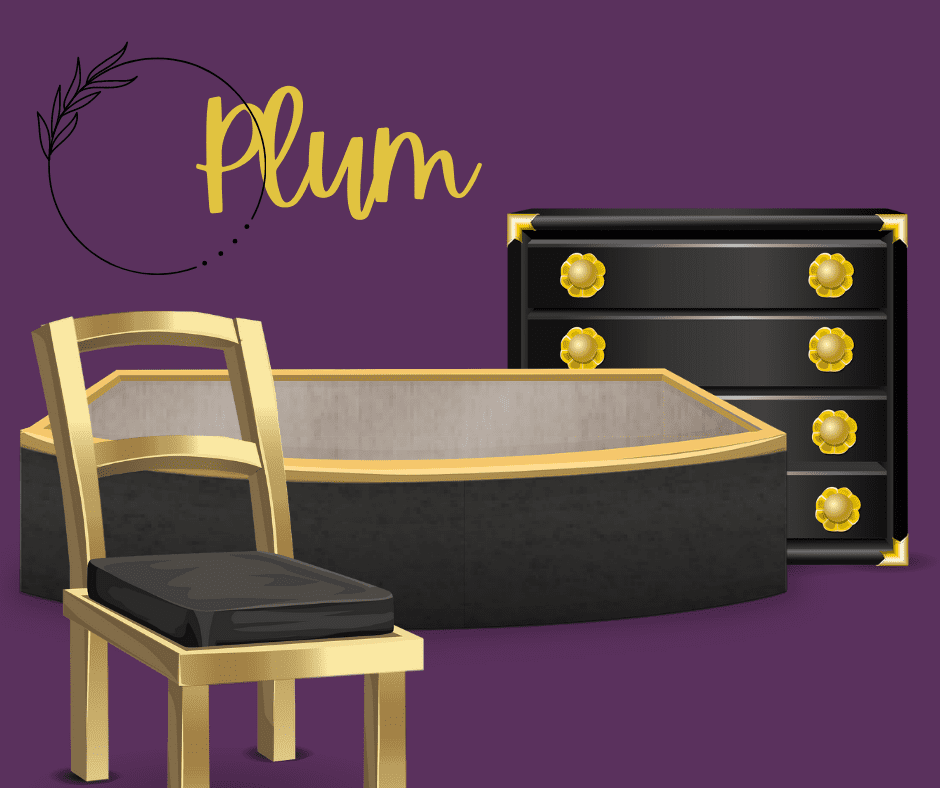 Plum will offer a deep richness to your space, adding energy and warmth. Expect a room painted this color to be romantic and daring.
Slate
Dark shades of gray offer a bit of a neutral canvas. Still contrasting the black and gold well, slate will create a more low key monochromatic look. If you're looking to not have such a distracting space, slate is a great wall choice for a peaceful room.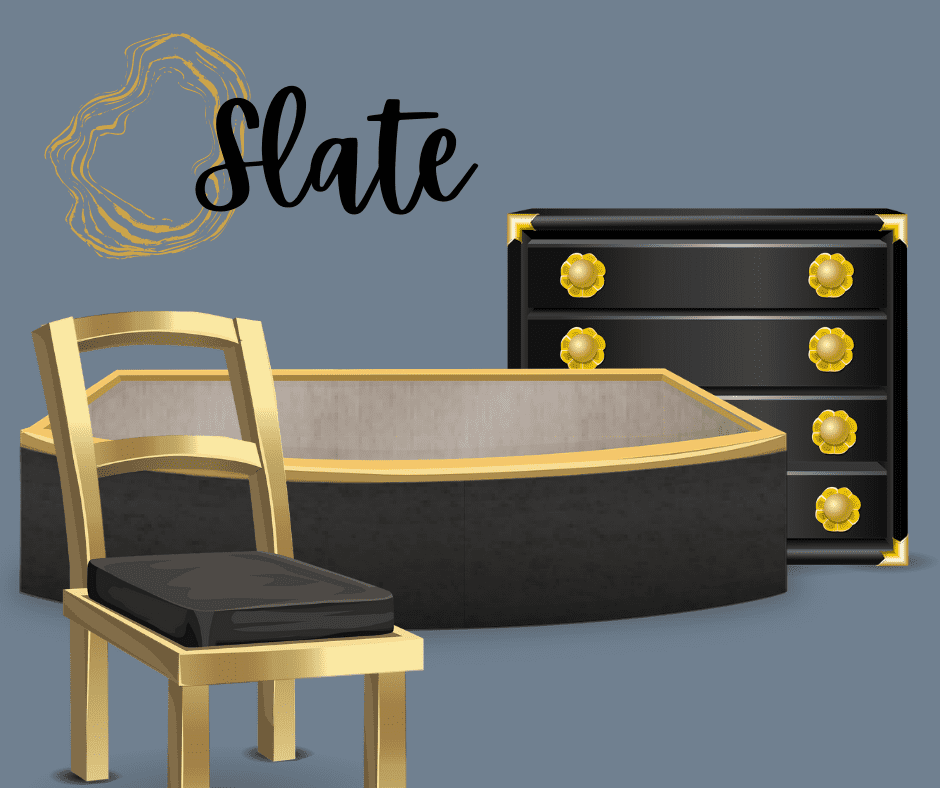 The gold in your bedroom furniture will contrast the slate and black, which will make it pop. We suggest accenting with other gold pieces such as lamps or wall art to tie it all together.
Wall Color for Black and White Bedroom Furniture
Black and white is a classic combo. Since they're opposing neutrals, black and white always create a statement in their stark contrast. They can be paired with other neutrals or with a bolder color, like those below.
Taupe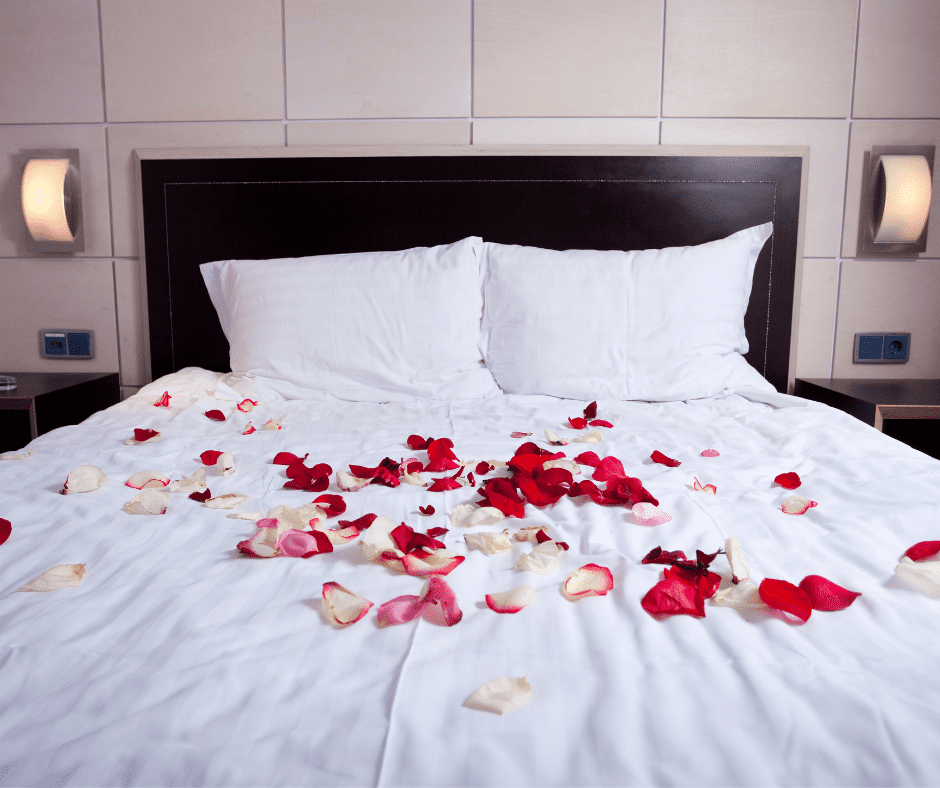 Since it's a warm neutral, taupe will highlight the stark contrast of black and white. Taupe walls will make your furniture the focal point of your space. If you go with taupe walls, you can continue the neutrality of color into your bedding and rugs to really make the black and white pop in your bedroom.
Dove Gray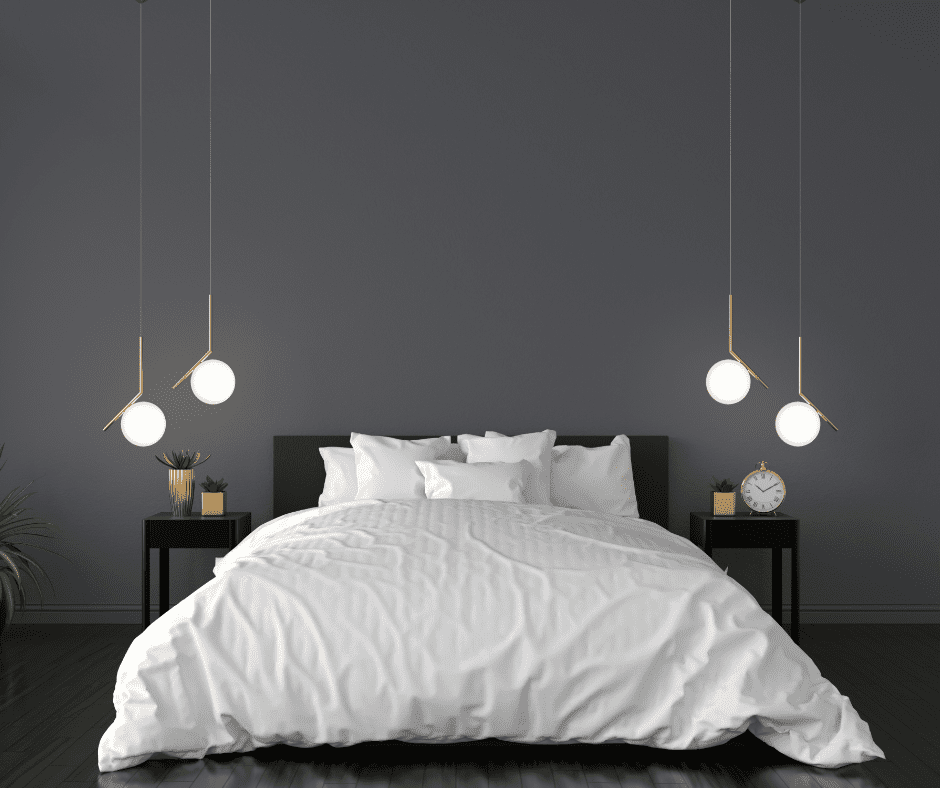 To create a cool colored neutral room, use dove gray walls. There's a natural coming together of these three colors. The combination of black and white creates gray. In that, these wall colors give a perfect backdrop for black and white furniture.
We suggest accenting a room like this with mustard or rust colored accessories. Add a bold pop of color to contrast the neutrality of the black, white, and gray.
Mauve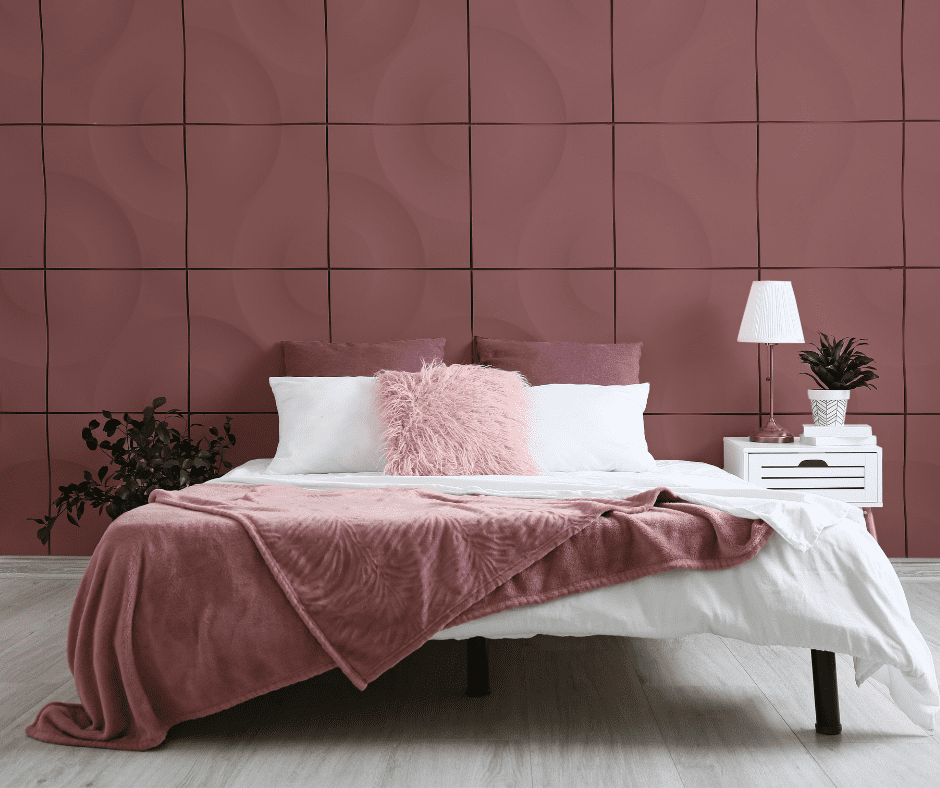 Using mauve wall colors will create a subtle and peaceful space with an interesting twist. The mauve will add color and warmth to your room. These walls will contrast the black and white bedroom furniture.
To accent mauve walls, try deep shades of crimson or plum. Your black and white furniture will starkly contrast the warmth of the purple and red tones. With that contrast, you will still be able to create harmony and positive energy in the space.
Conclusion
Remember to start by deciding how you want your bedroom to feel. Once you've narrowed that down, you'll know the best wall color to contrast your black furniture. Make sure to keep a consistent color palette and have fun with it.