Whether you're converting an old bath into a walk-in shower or adding one to a newly-constructed home, you don't have to break the bank. There are many ways to save money and have the style and finishes you want in your walk-in shower.
Manufacutured pre-fabricated showers are the least expensive options. The kits range in prices depending on the size of your shower and the quality of the materials. Alternatively, you can save money on a custom shower by doing some of the plumbing and installation yourself. Either way, you can find cost-saving solutions to your walk-in shower needs.
Endless design options and features can make creating a walk-in shower fun. Check out these affordable walk-in shower ideas for inspiration before you start your project.
In This Article We'll Discuss
1. Keep It Simple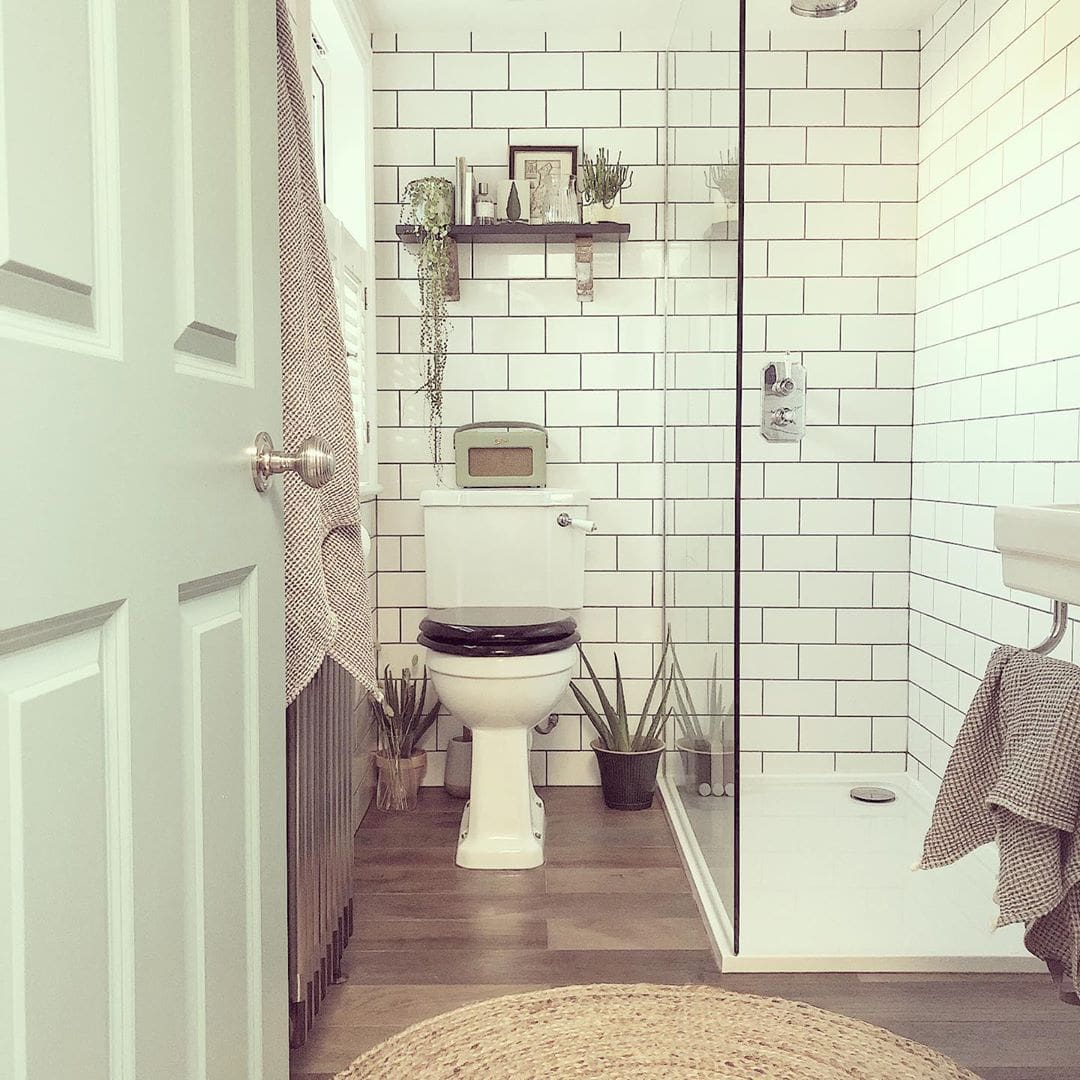 Your small bathroom will feel spacious when you add a walk-in shower with a glass wall. Continuous white subway tile from floor to ceiling gives the illusion of height and width. The lip on the prefabricated floor will keep the rest of your floor dry.
2. Customize The Look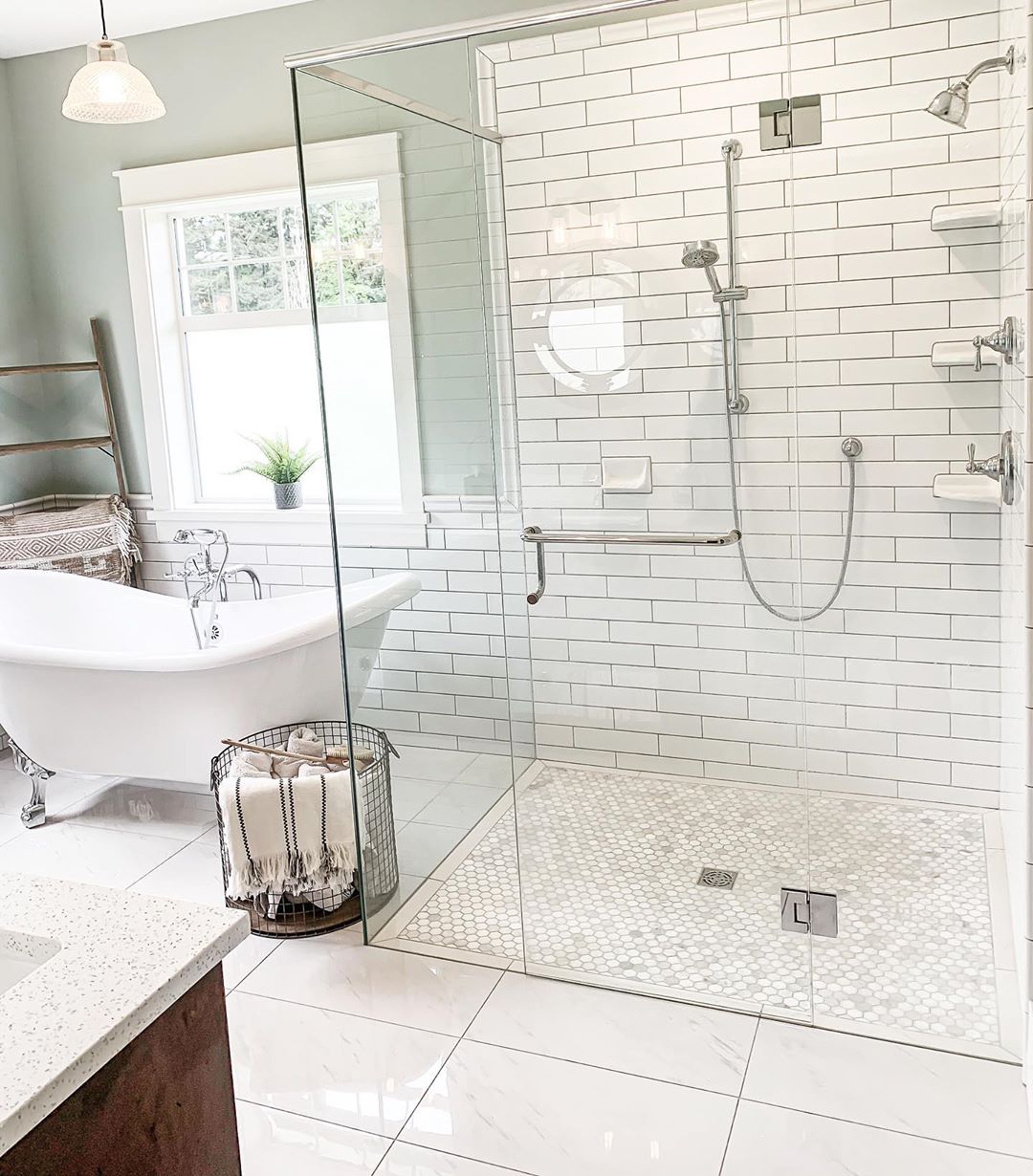 Keep your bathroom light and airy with a fully-enclosed glass shower. Keep the costs down on this customized shower by installing an inexpensive adjustable shower head, soap holders and floor tiles. 
3. Clean and Modern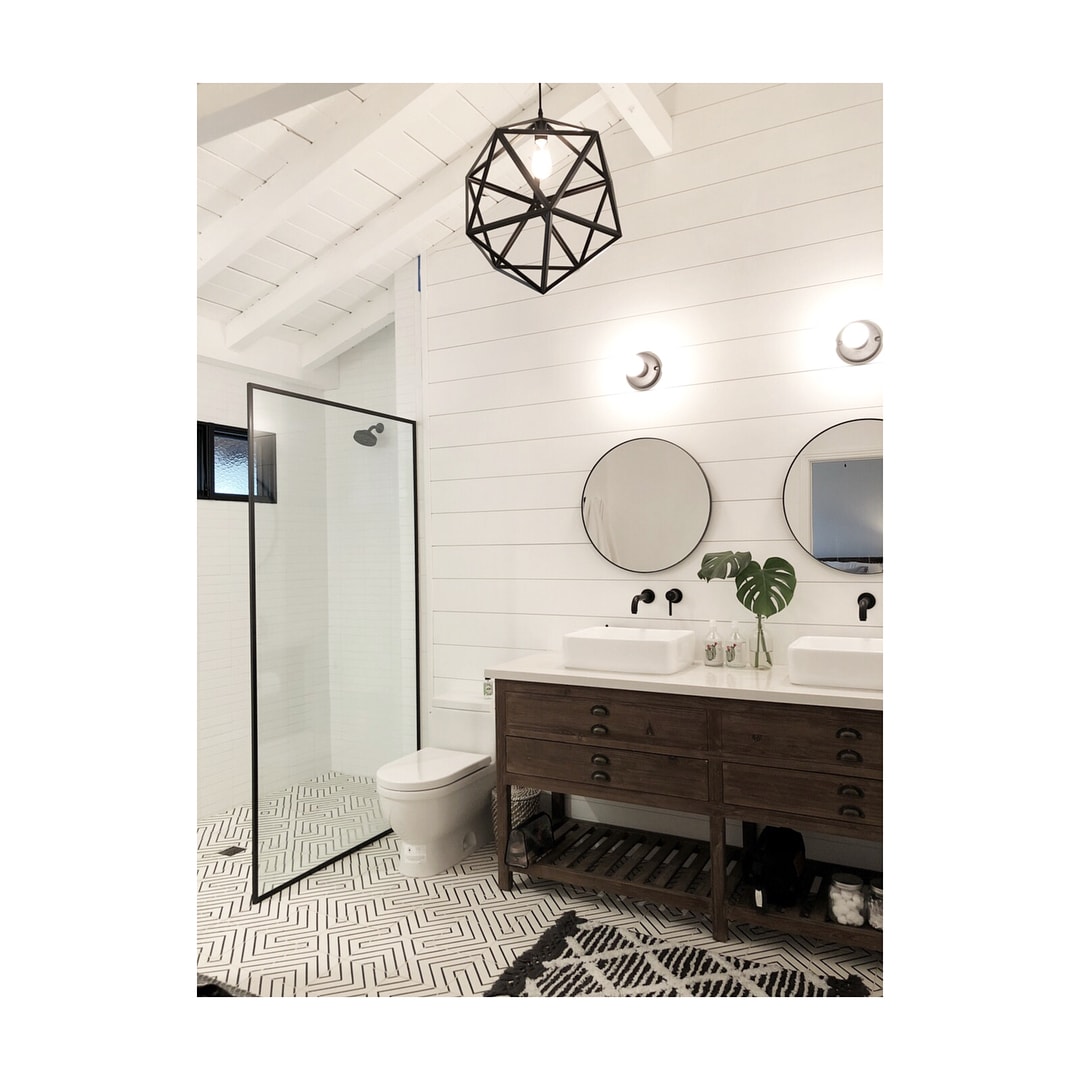 Once you've installed the floor tiles and painted all of the walls the same color, all you need to complete the look is a single and inexpensive glass panel. Match all of your trim for a modern and elegant feel.
4. Choose Wisely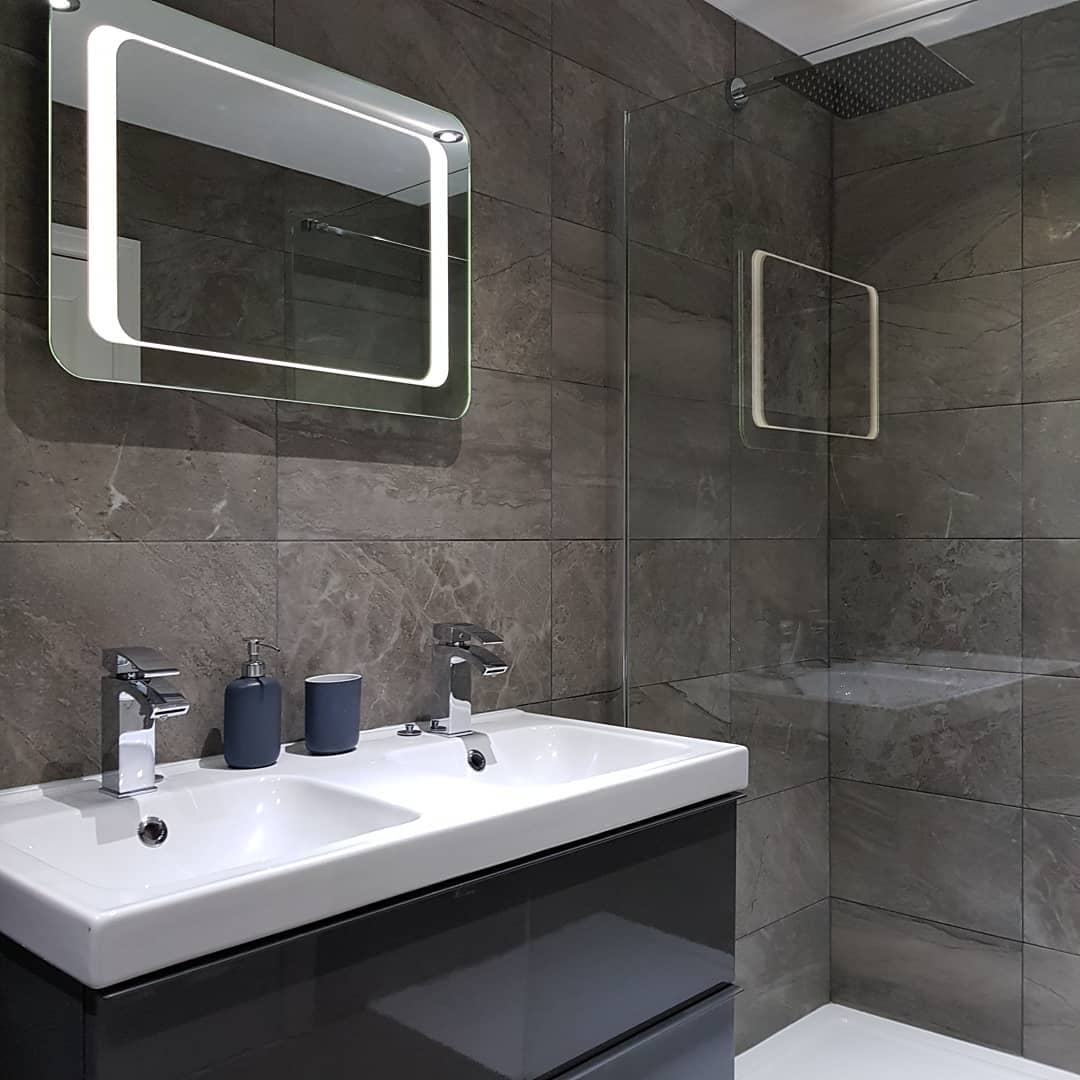 Save a ton of money in your customized walk-in by choosing one spectacular fixture to put your money toward. Something like a large rain shower head is a great investment because you'll get a lot of pleasure from it.
5. Modernize Your Country Farmhouse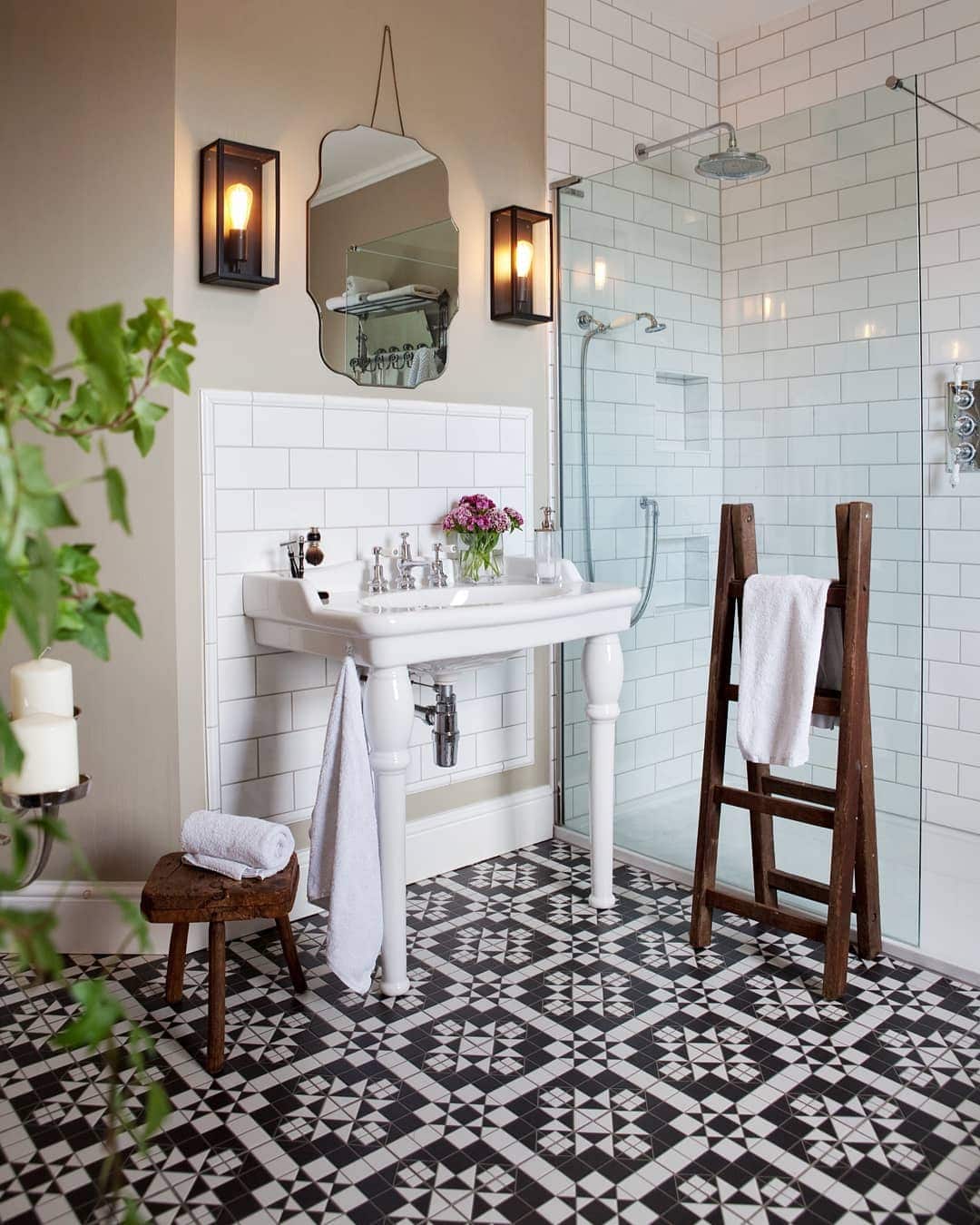 Don't go overboard when renovating an outdated bathroom. The simple glass panels and pre-made shower floor insert are all that are needed to complement the geometric tiles. By skipping on the shower door, you can save even more money.
6. Don't Forget The Pooch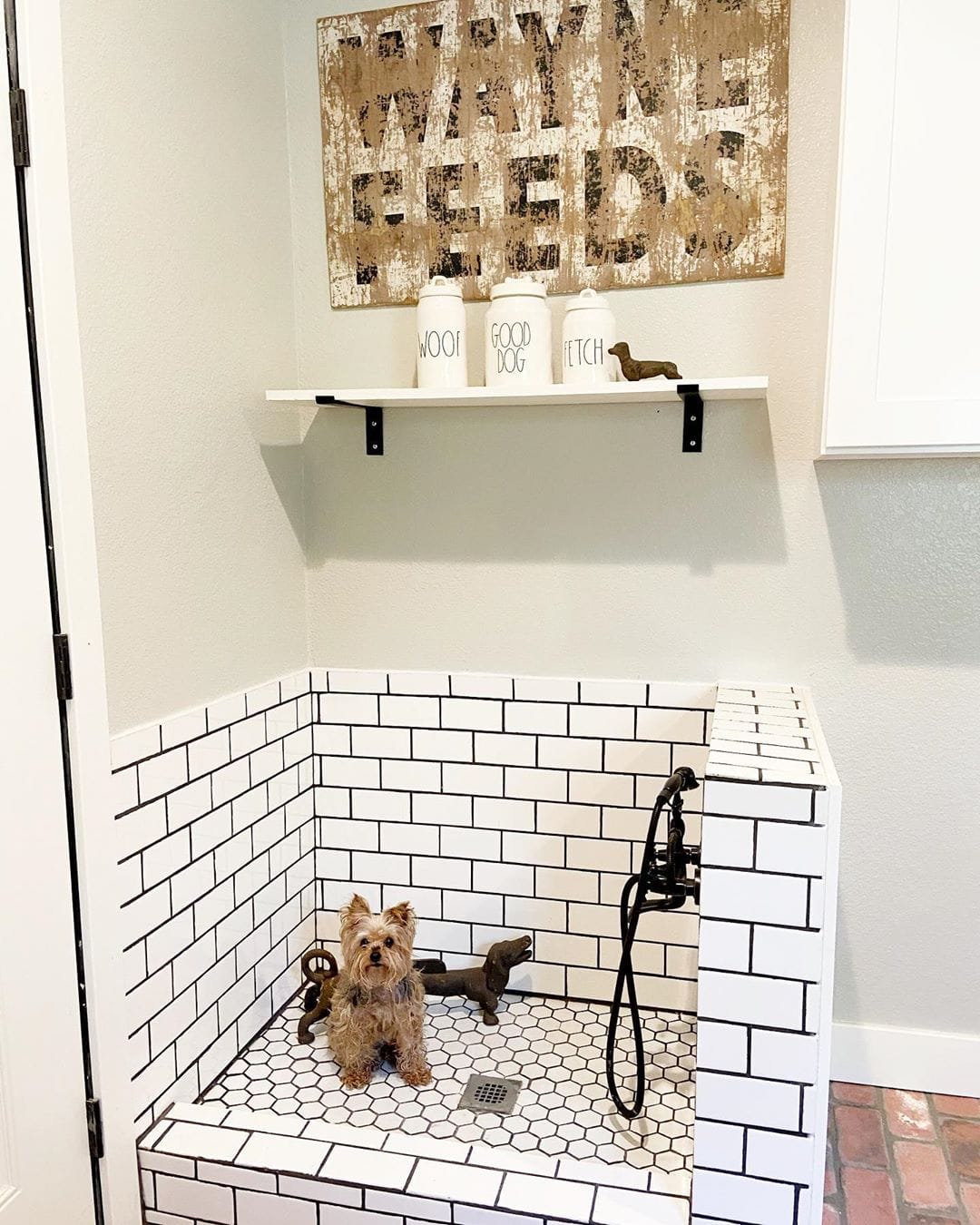 Even your dog deserves its own shower. A small enclosed space with a handheld shower and drain will suffice. Save some coins by tiling the space yourself and don't worry if it's not perfect. Your dog won't mind.
7. Use What You Have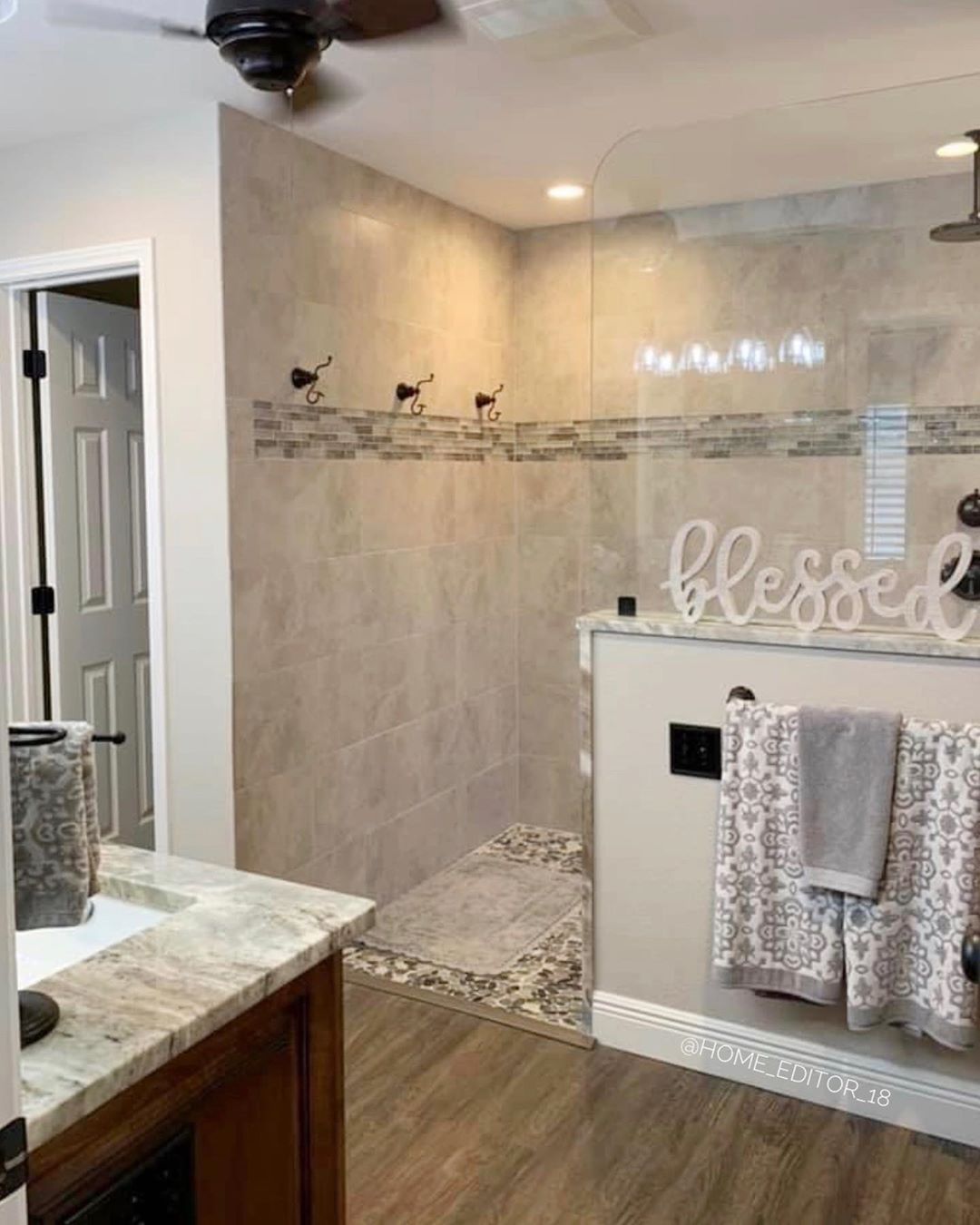 Incorporate that half wall or pony wall into your walk-in shower design instead of tearing it down. It will save you time and money and is the perfect place to add a glass panel.
8. Let Your Tile Shine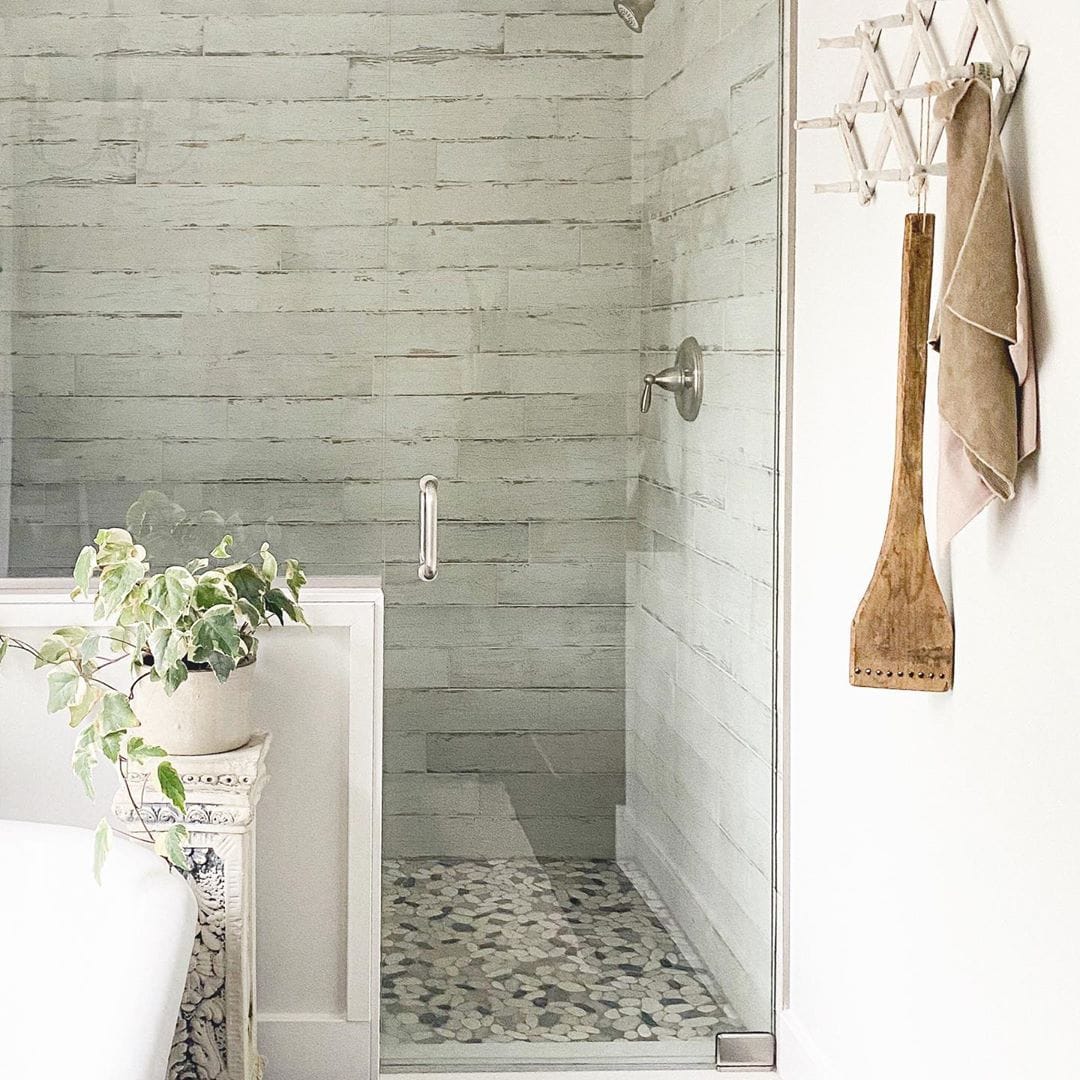 If you want your tiled walls and floor to steal the show, keep your choice of fixtures simple. Inexpensive clear glass panels and door provide a clear view of your handiwork.
9. Raise The Curtain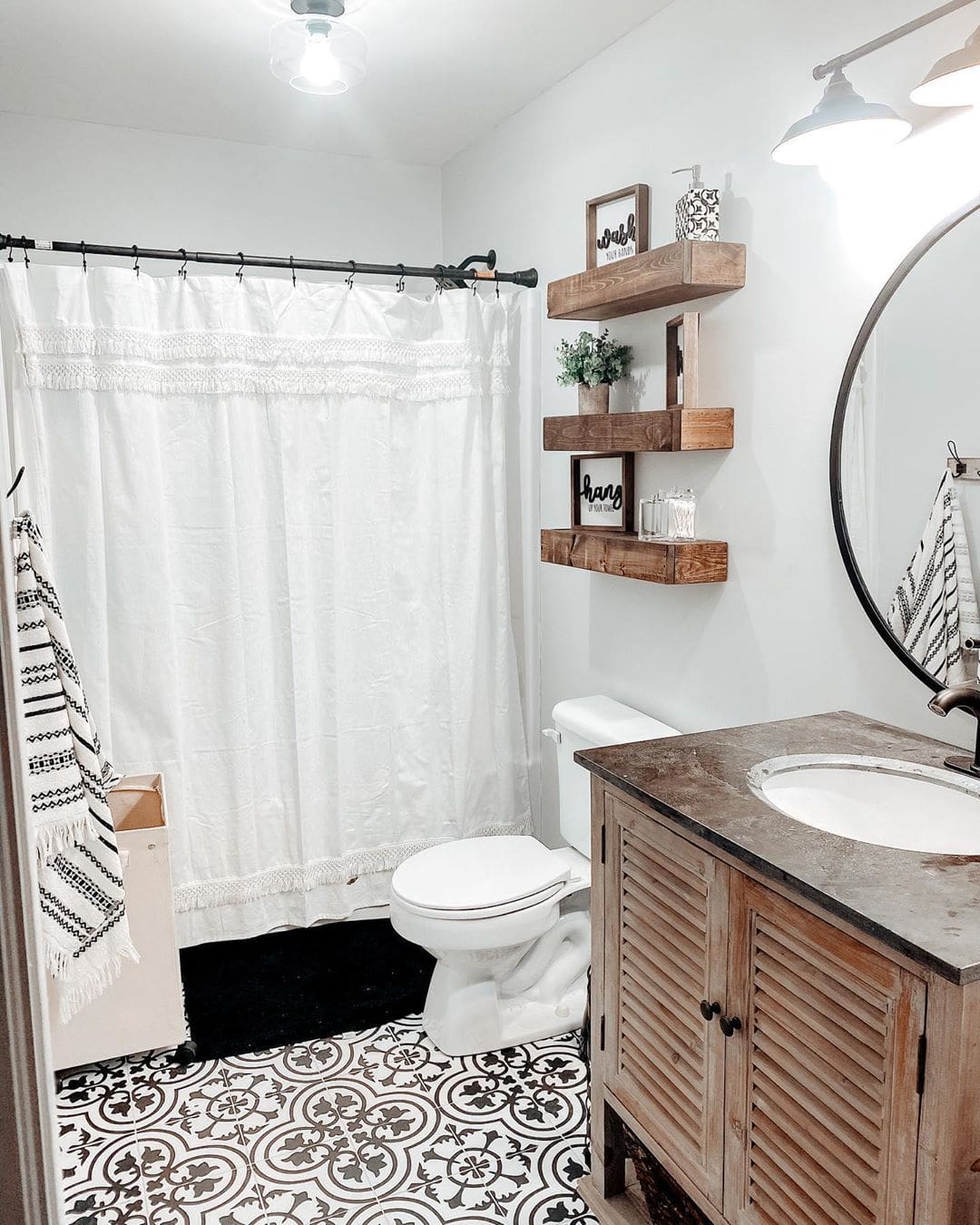 If you want a more traditional shower look, use a pretty shower curtain instead of a glass panel for your walk-in. Use a white ruffled fabric curtain for a romantic and feminine touch.
10. Make It Personal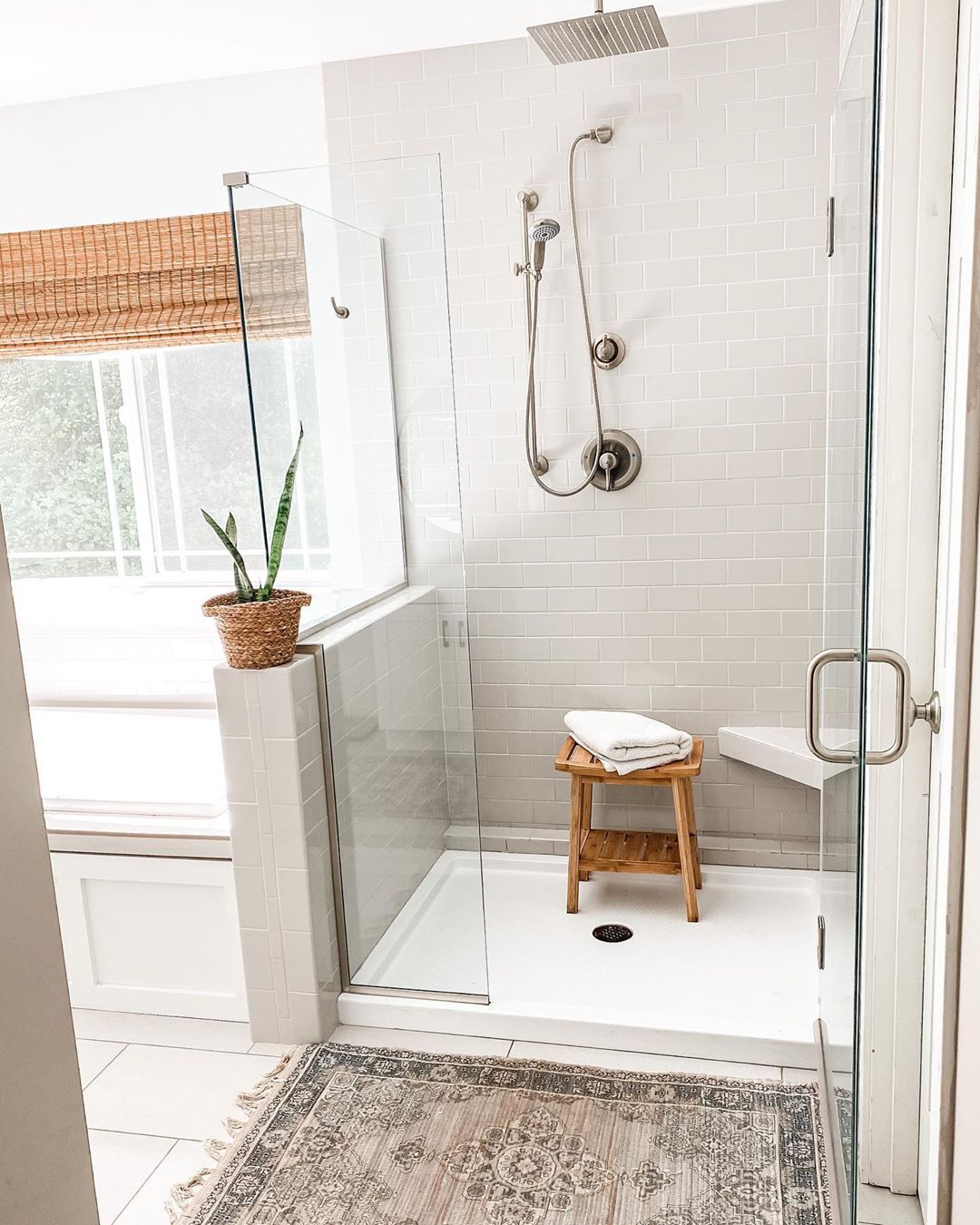 Even a small walk-in shower can feel warm and personal. Add finishing touches such as an adjustable shower head and a bench for effortless character that doesn't cost a lot.
11. Room For Two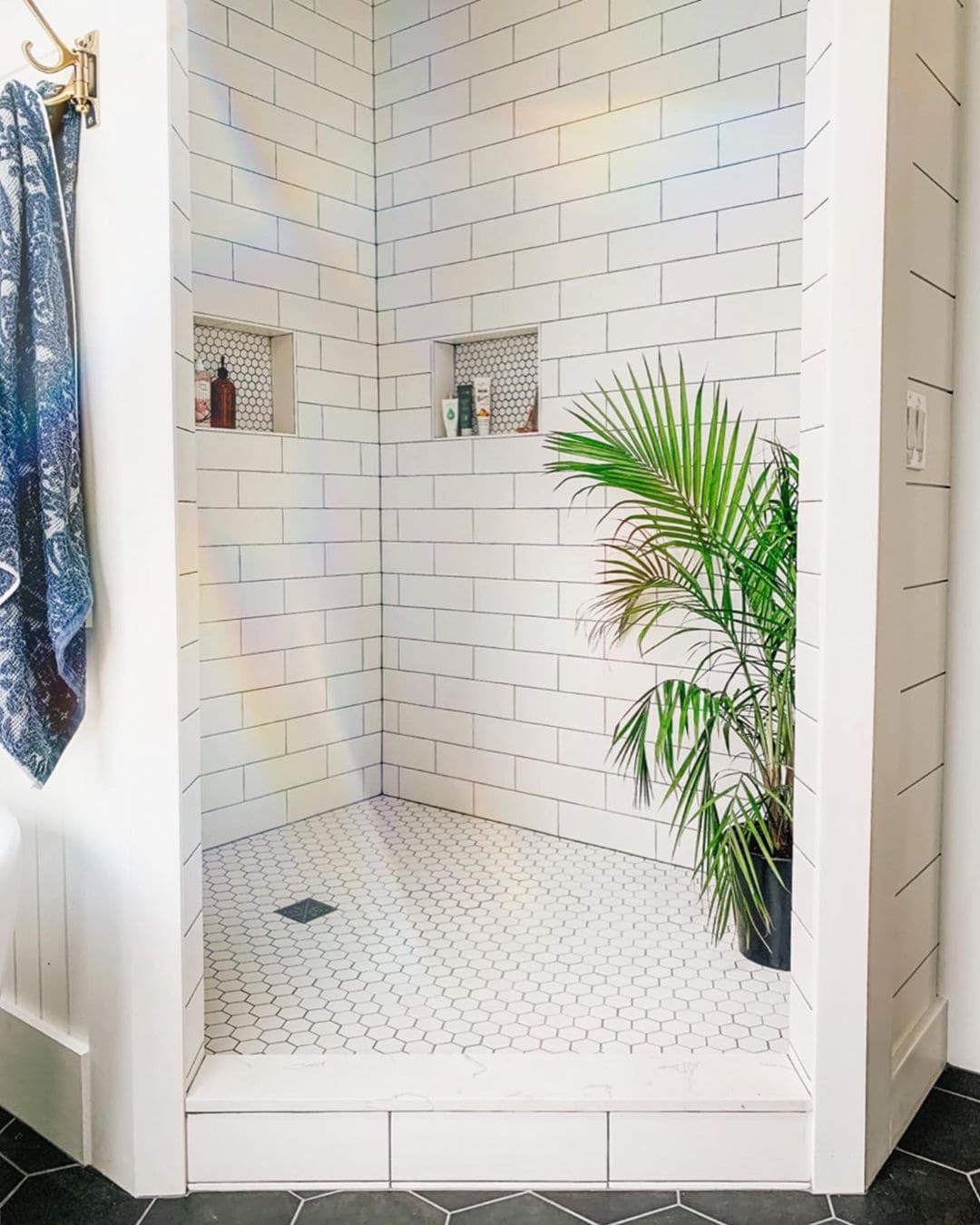 The white tile on the walls and floor of this walk-in shower give it a sense of grandeur. By choosing to leave the opening doorless, you not only save money but you add to the feeling of spaciousness.
12. Design Your Bathroom Around Your Shower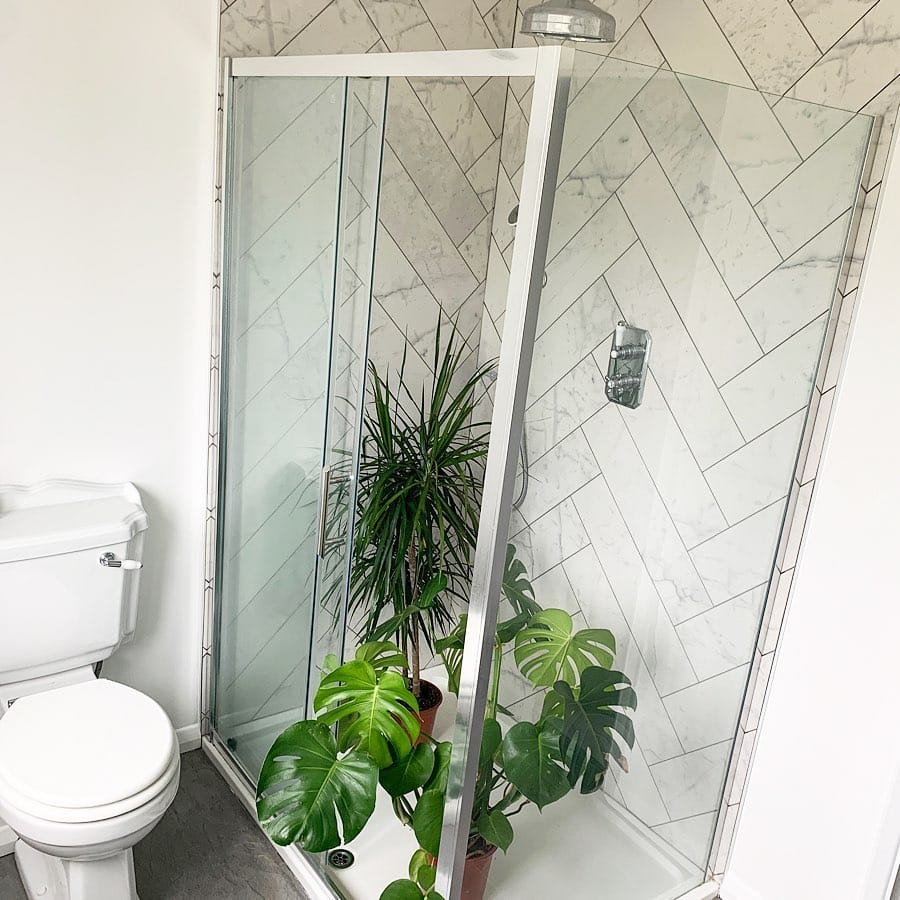 In a small bathroom with little room to spare, opt for a sliding glass door on your walk-in shower. Have your tile designed around a prefabricated unit with a predetermined size to save money.
13. Reimagine Your Space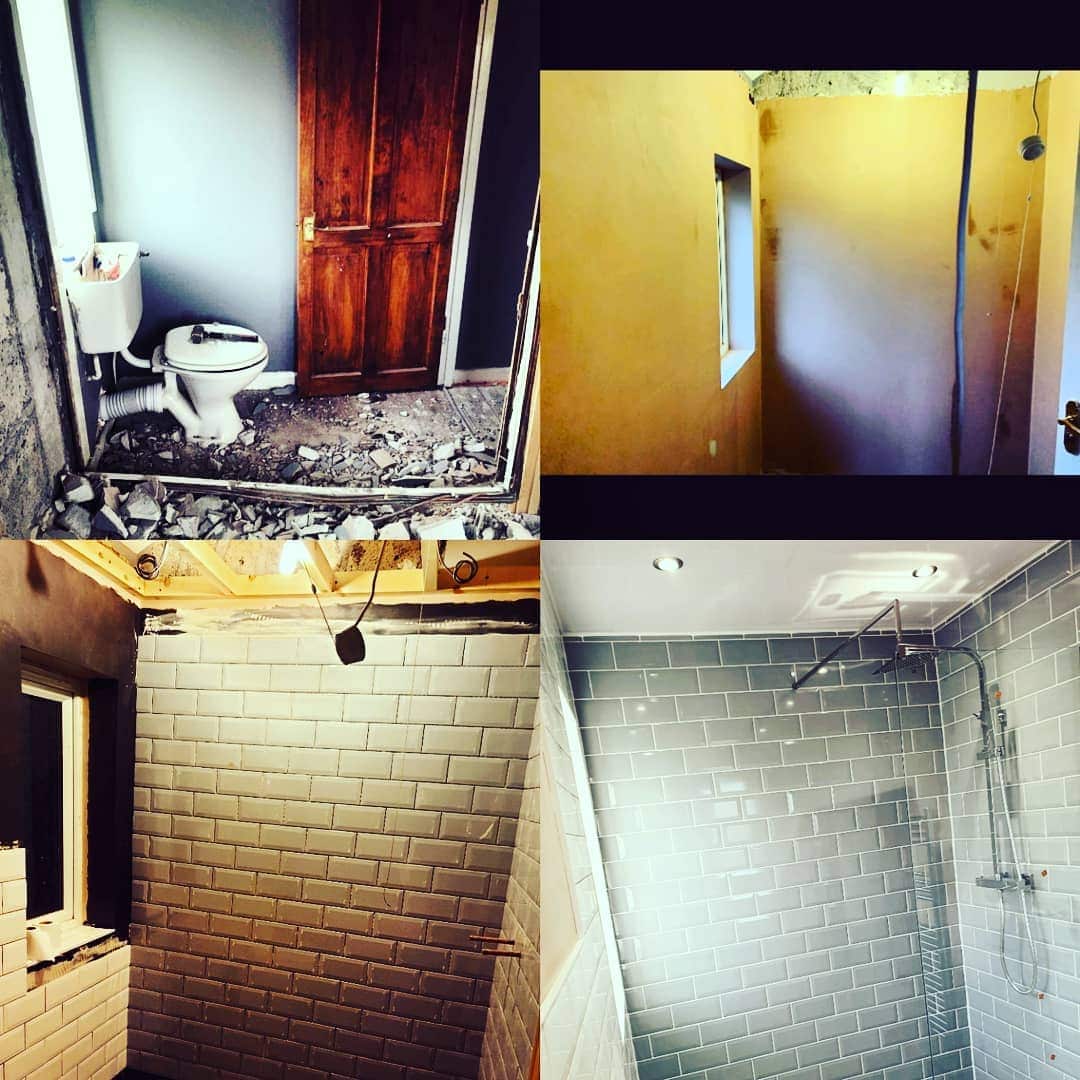 When remodeling your bathroom, it's okay to relocate your walk-in shower in a better location such as near a window. Save some money by using a partial glass wall and inexpensive glass subway tile.
14. Lighten Up Your Color Scheme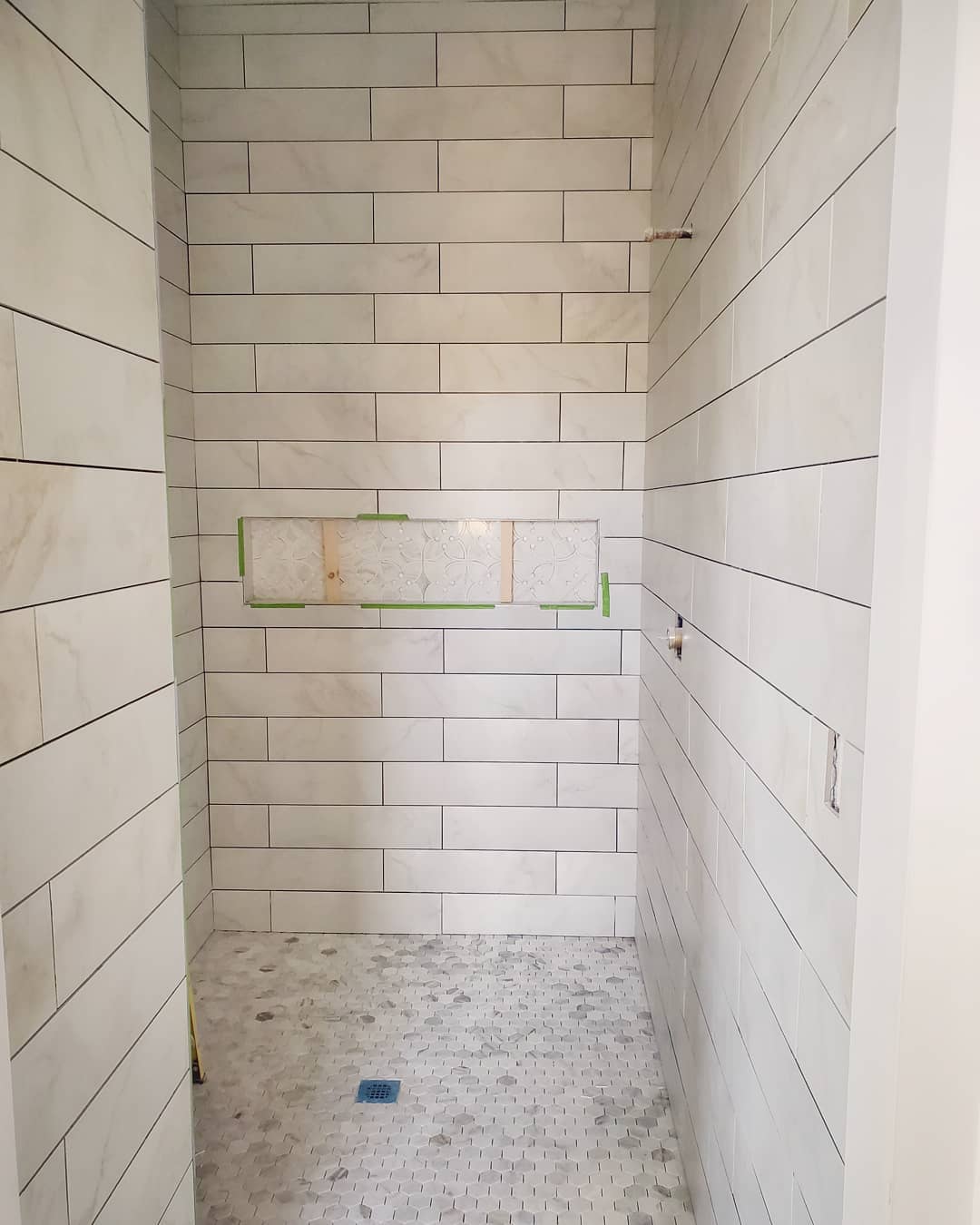 A gray and white color palette helps an otherwise closed-in walk-in shower feel open and airy. Place tile from floor to ceiling and don't forget to buy your tile in bulk if you have a lot of area to cover.
15. Make Do With What You've Got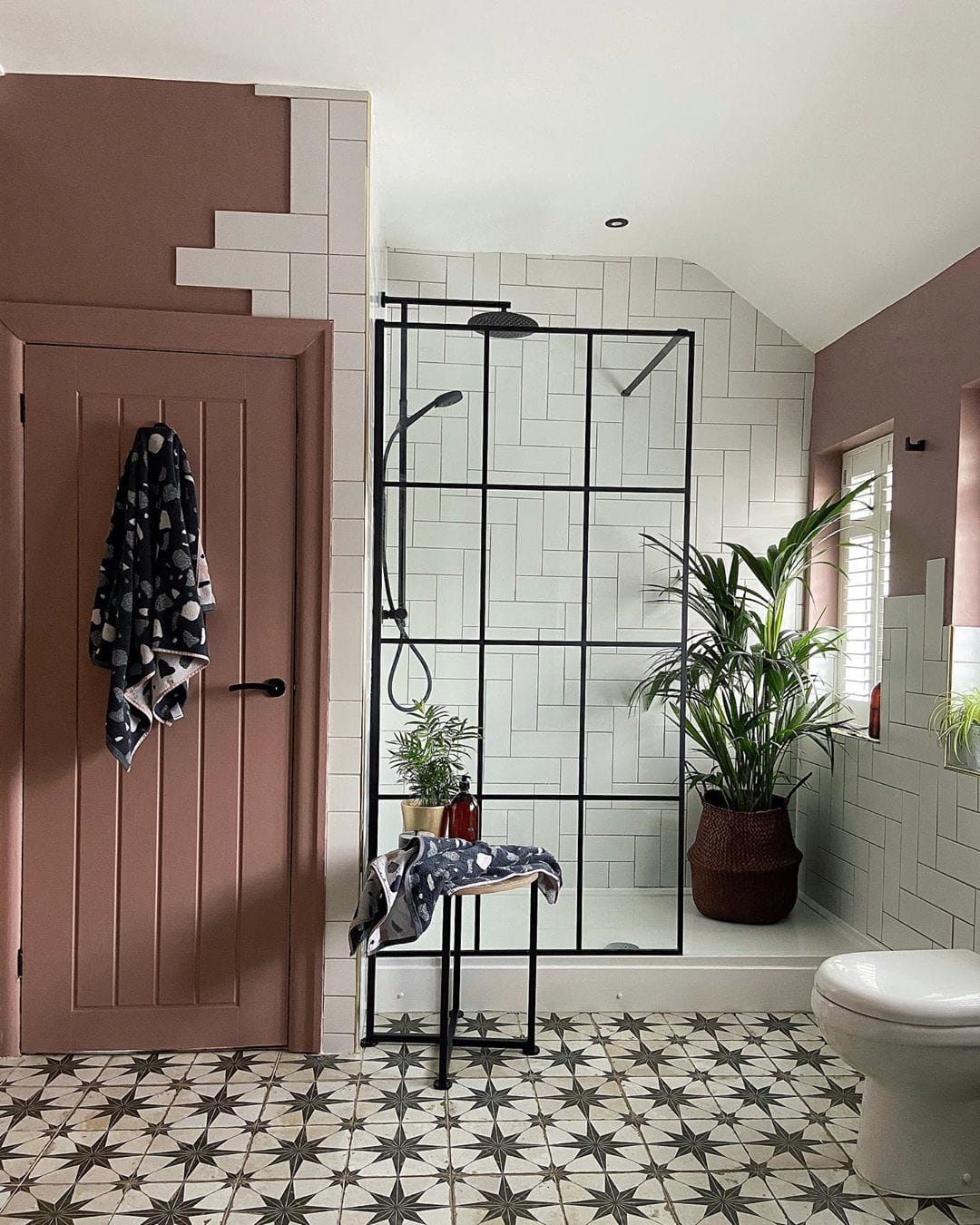 Don't have enough tiles to cover all of the walls in your walk-in shower? Create a fun and unique pattern with what you have instead of purchasing more. No one will ever know you were improvising. 
16. Add Some Light To YOur Life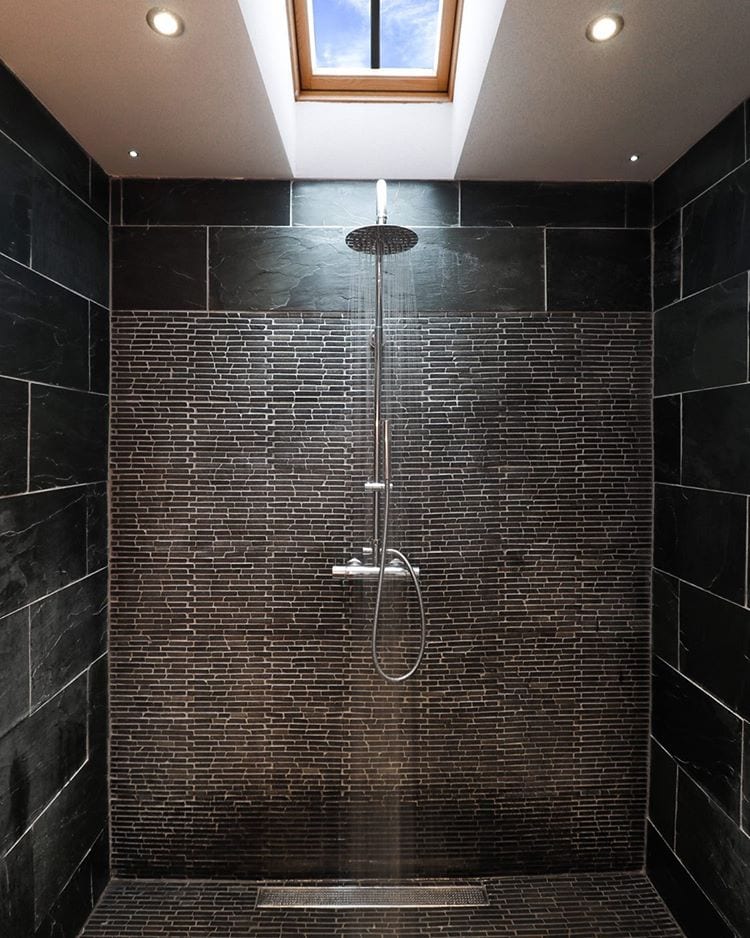 Add a skylight above your walk-in shower, especially if it has dark-colored tile. More natural daylight ultimately can payoff in lower energy bills and less money spent on bulbs.
17. Pamper Your Plants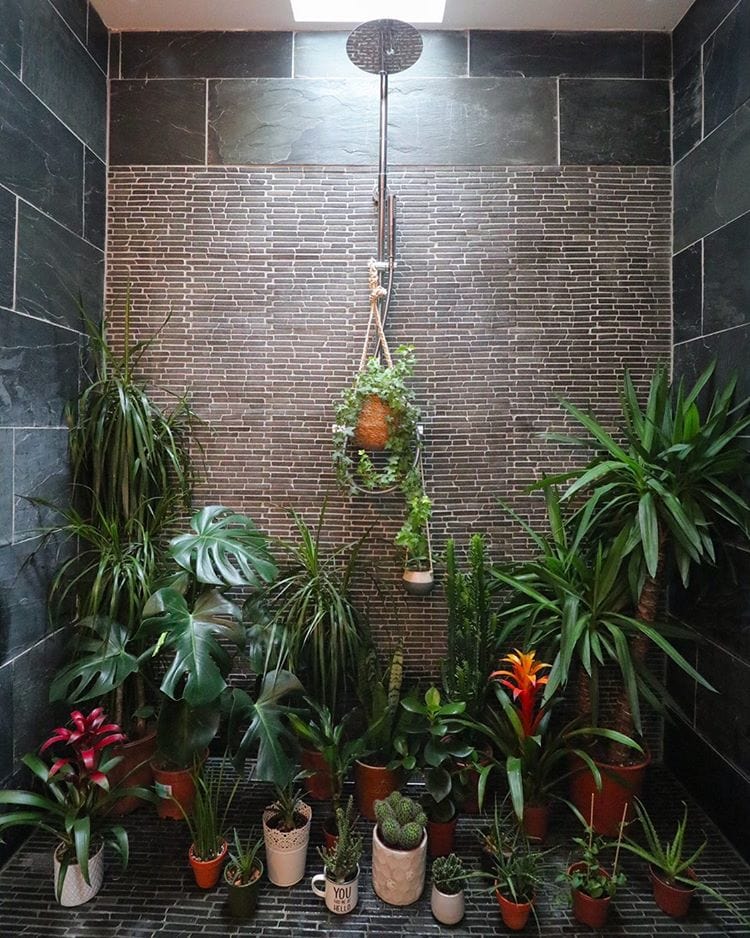 When you're not using your walk-in shower, it's an ideal place to water your plants or give them some extra sun through your skylight.
18. Black and White Color Scheme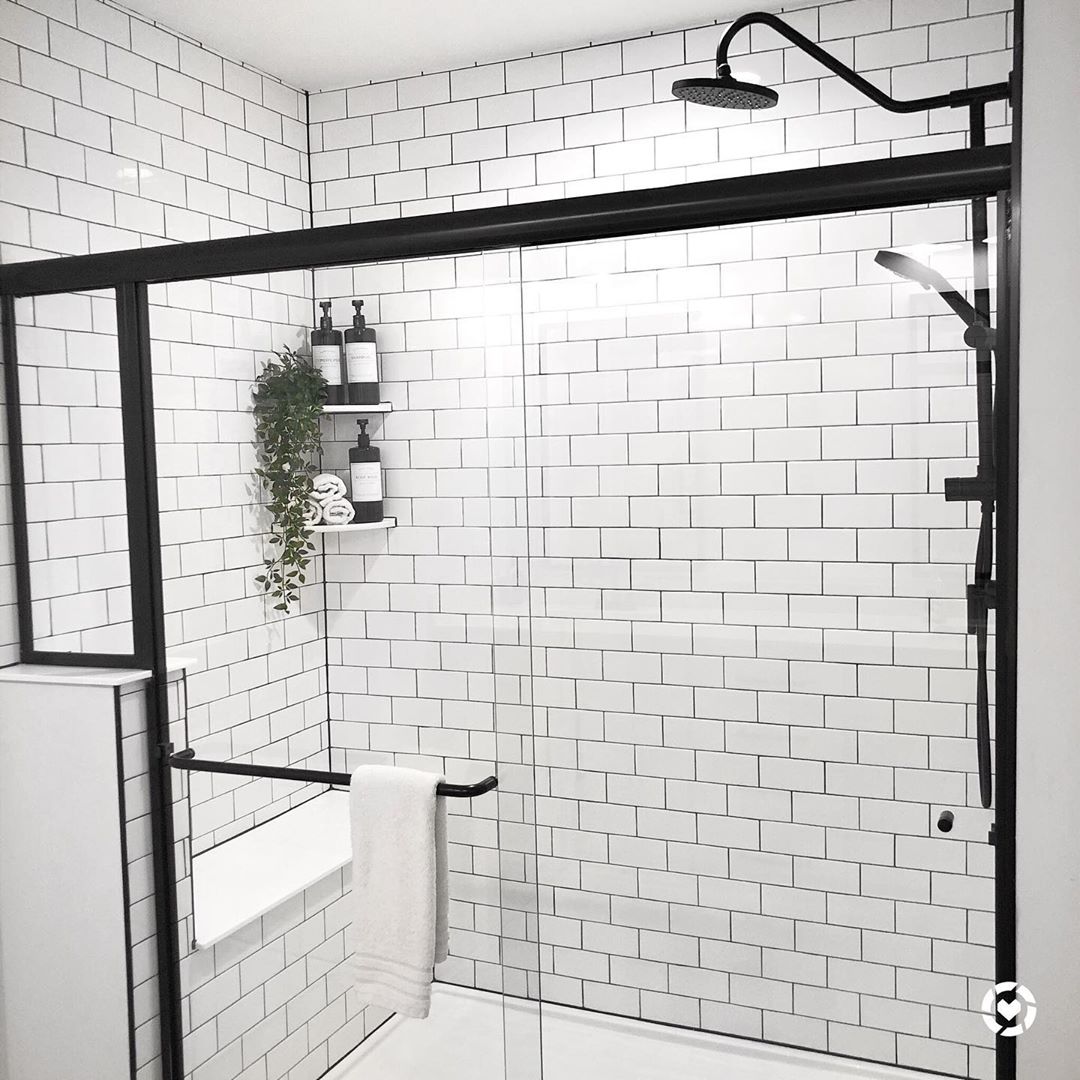 A large walk-in shower has a classic look when covered with an inexpensive white subway tile and dark-colored grout. For a more put-together look, choose a shower door frame and fixtures in the same dark color.
19. Make Your Guests Feel Special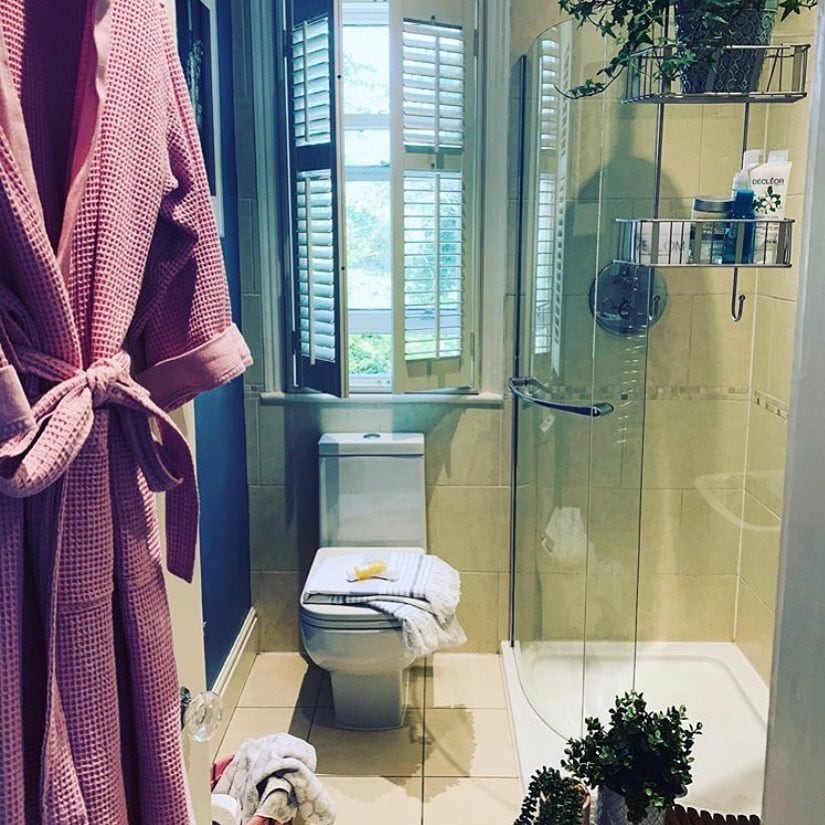 A tight guest bathroom benefits from a small prefabricated walk-in shower. Keep it interesting and make it special with a curved glass door. Add some inexpensive over-the-door storage shelves to keep soap and shampoo.
20. Make Your Room Appear Larger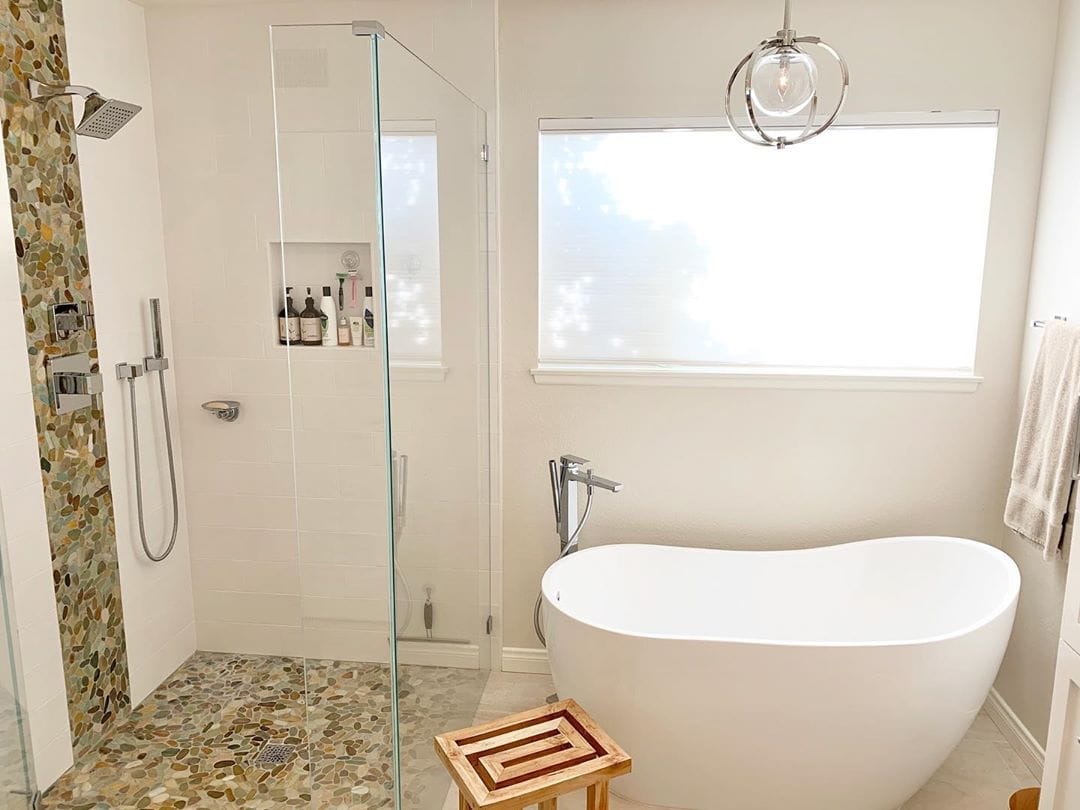 The white tile on the walls of this shower add to the optical illusion of a roomier bathroom. Save some money and leave the opening doorless.
21. Use Existing Flooring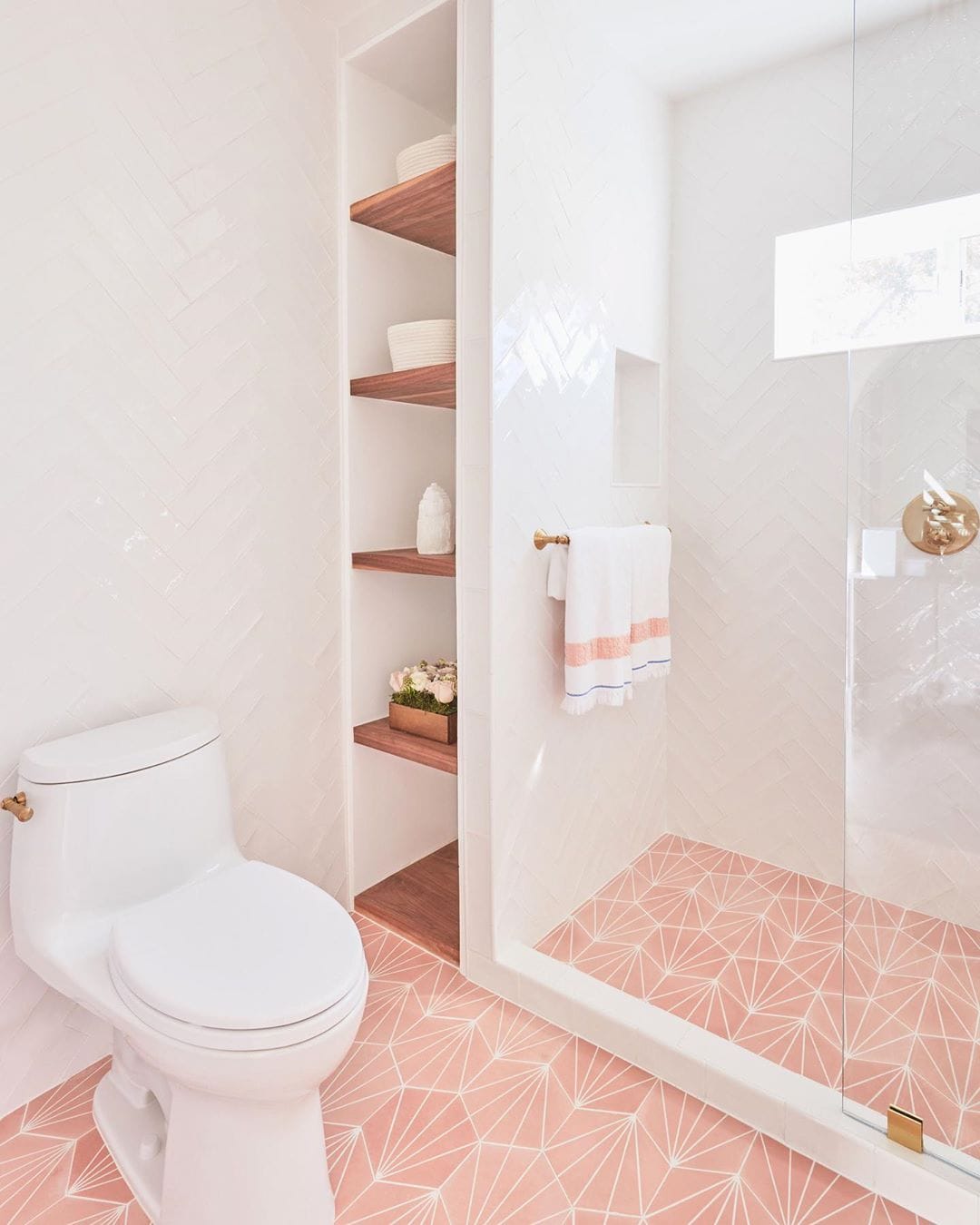 Installing your walk-in shower where your floor is already tiled will save you time and money. It will also give your bathroom a more seamless and polished look.
22. Change Up The Design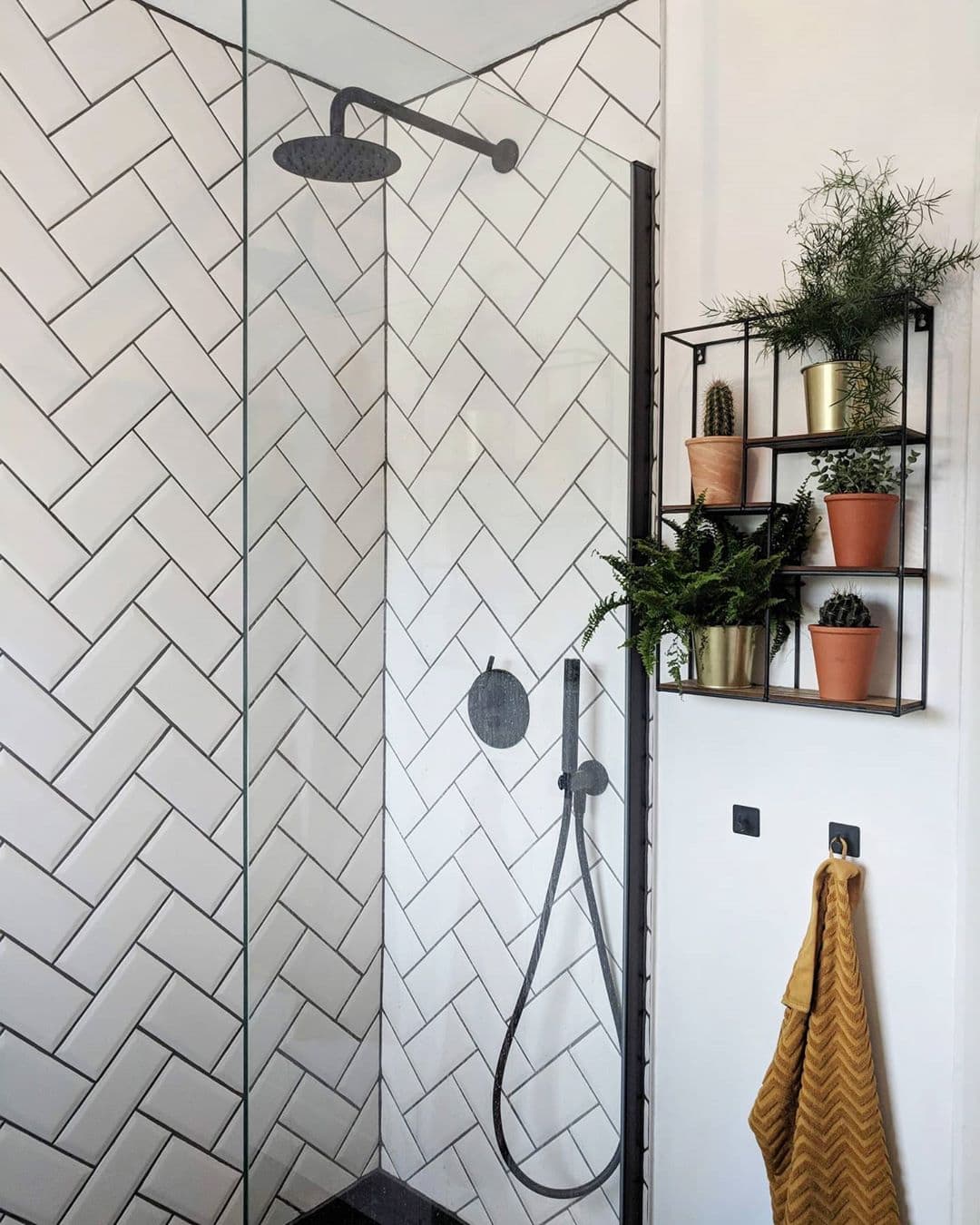 When using less expensive subway tiles in your walk-in shower, upgrade the look with a classy herringbone style. The floor-to-ceiling design makes the shower space feel special.
23. Make It Your Own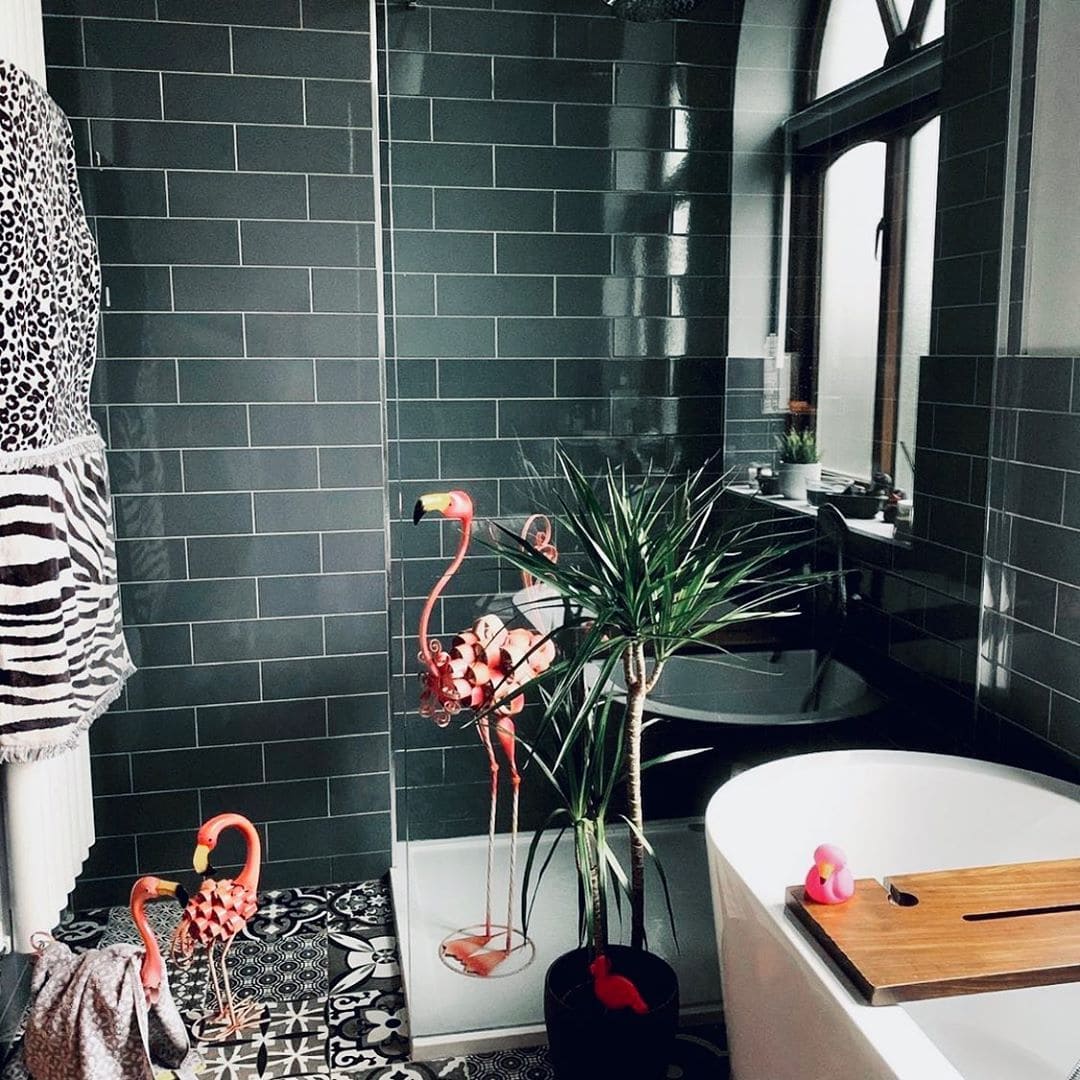 Using a rich dark tile in your bathroom really gives you the chance to show off your personality. It also makes the glass walk-in shower panels and prefabricated floor seem to disappear, giving the impression of a bigger room.
24. Create A Spa-like Ambience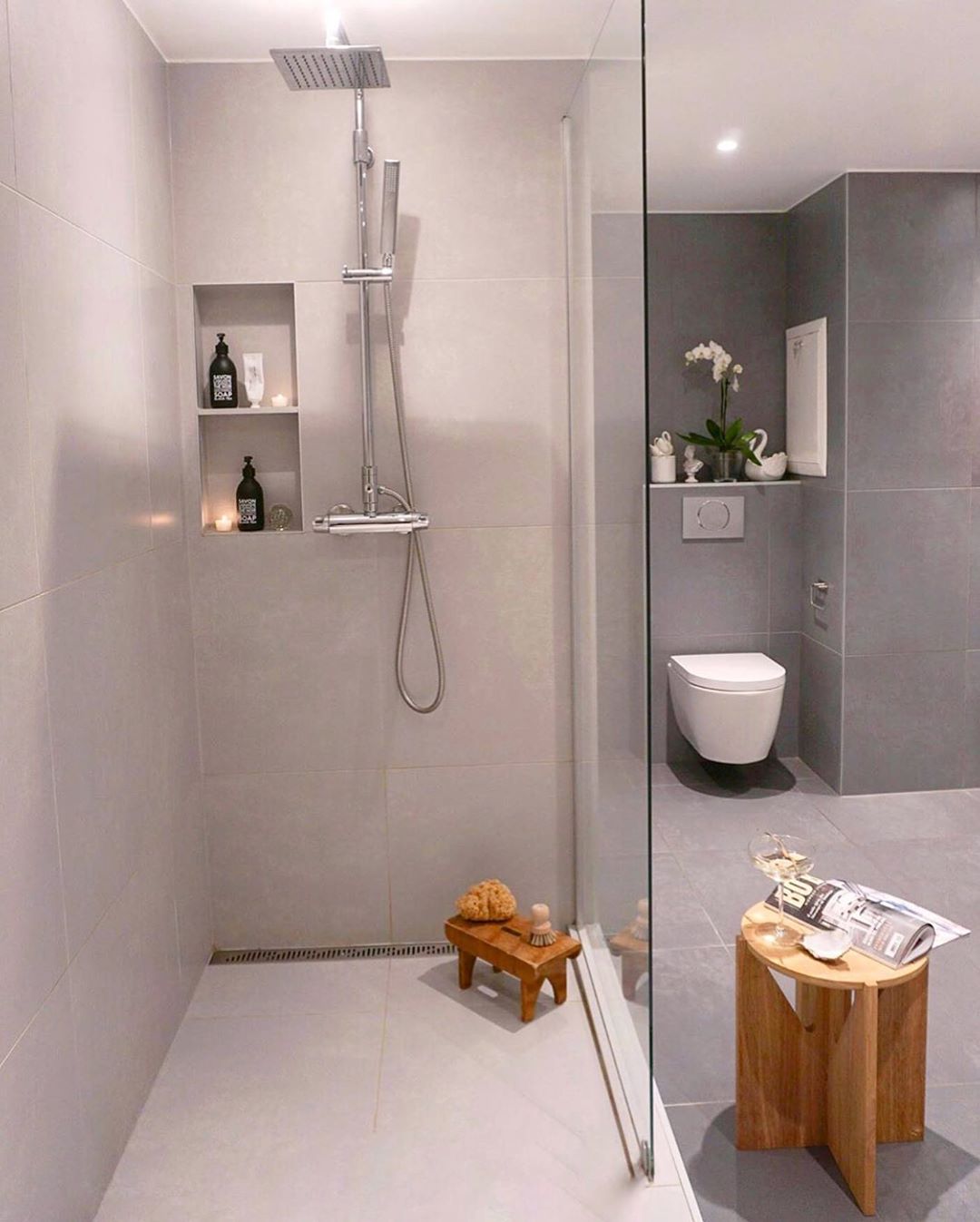 Easily create an inexpensive modern, relaxing and calming space in your bathroom. Stick to neutral colors, keep the accessories to a minimum, and choose an open doorless shower.
25. Make A Statement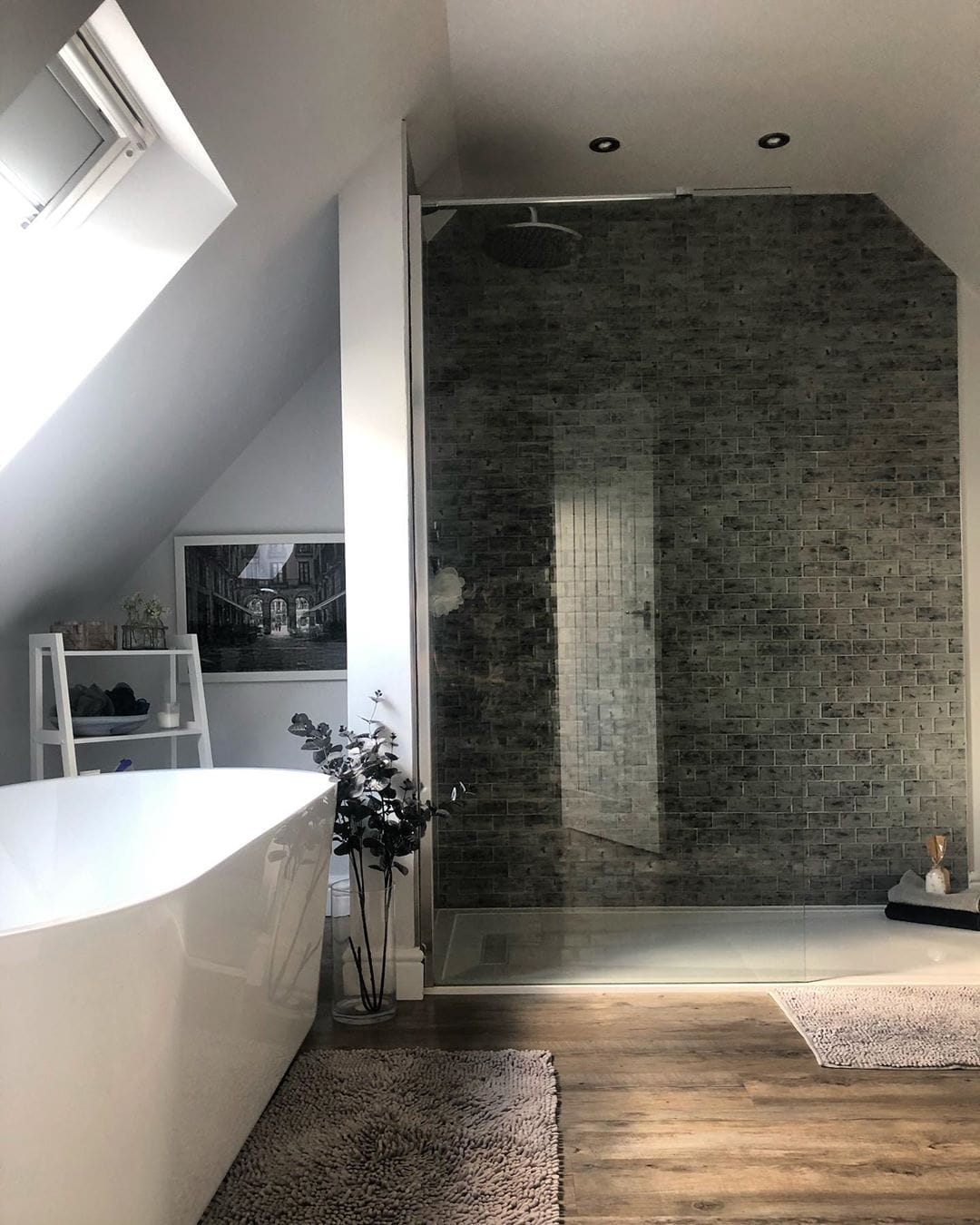 Use textured tile to create an eye-catching accent wall in your walk-in shower. The dark green color really stands out against the white walls. Keeping the glass panel and fixtures clean and simple adds to the affect.
26. Make It More Interesting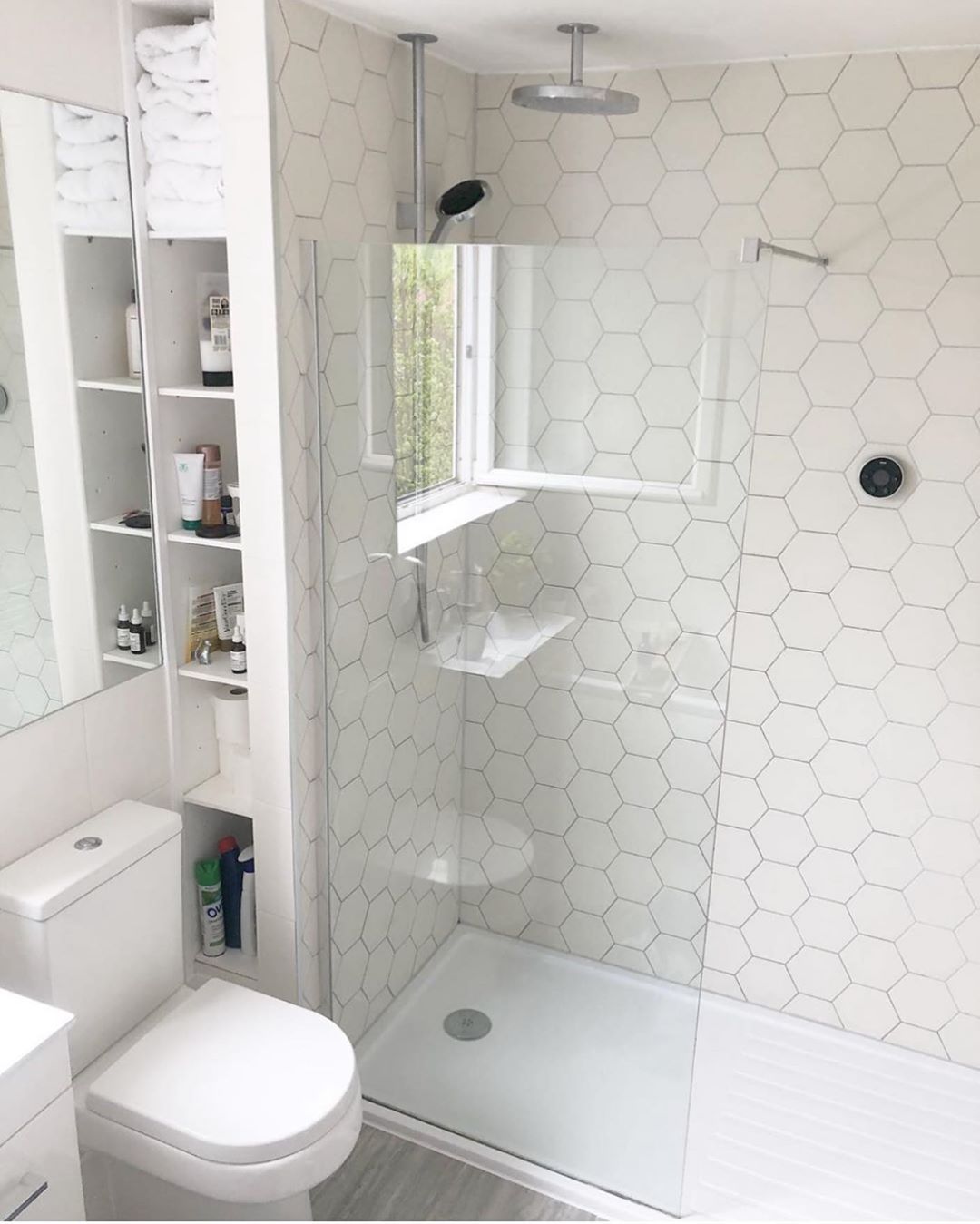 Prefabricated doesn't have to mean boring. The honeycomb design of the shower tilework along with the serene patten on the floor give the bathroom warmth and character.
27. A Pleasant Surprise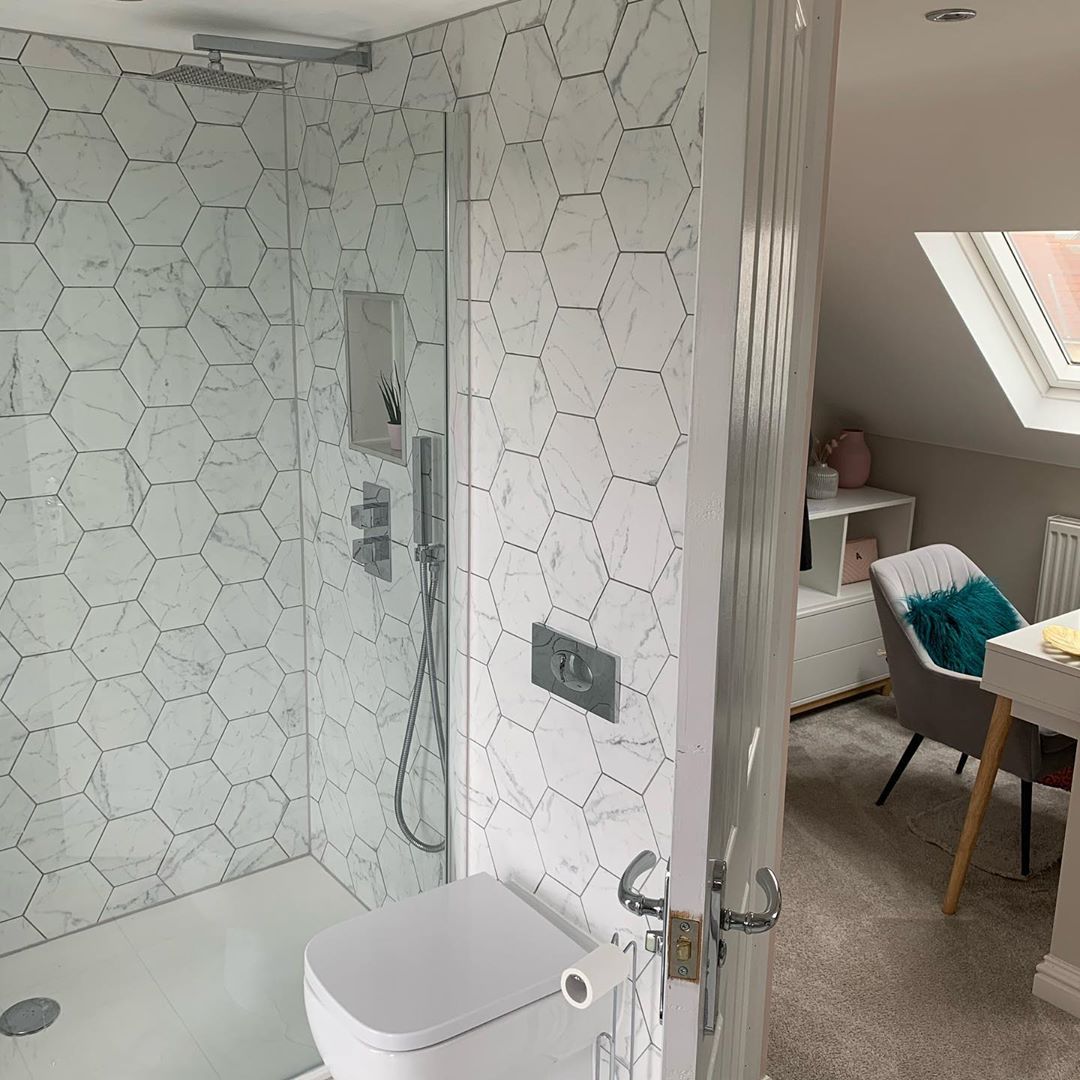 Tucked away in a third floor or converted attic space, a modern bathroom with a walk-in shower is unexpected. For this look, make a prefabricated unit even more dazzling with a simple yet elegant tile and upgraded fixtures.
28. Elevate Your Farmhouse Décor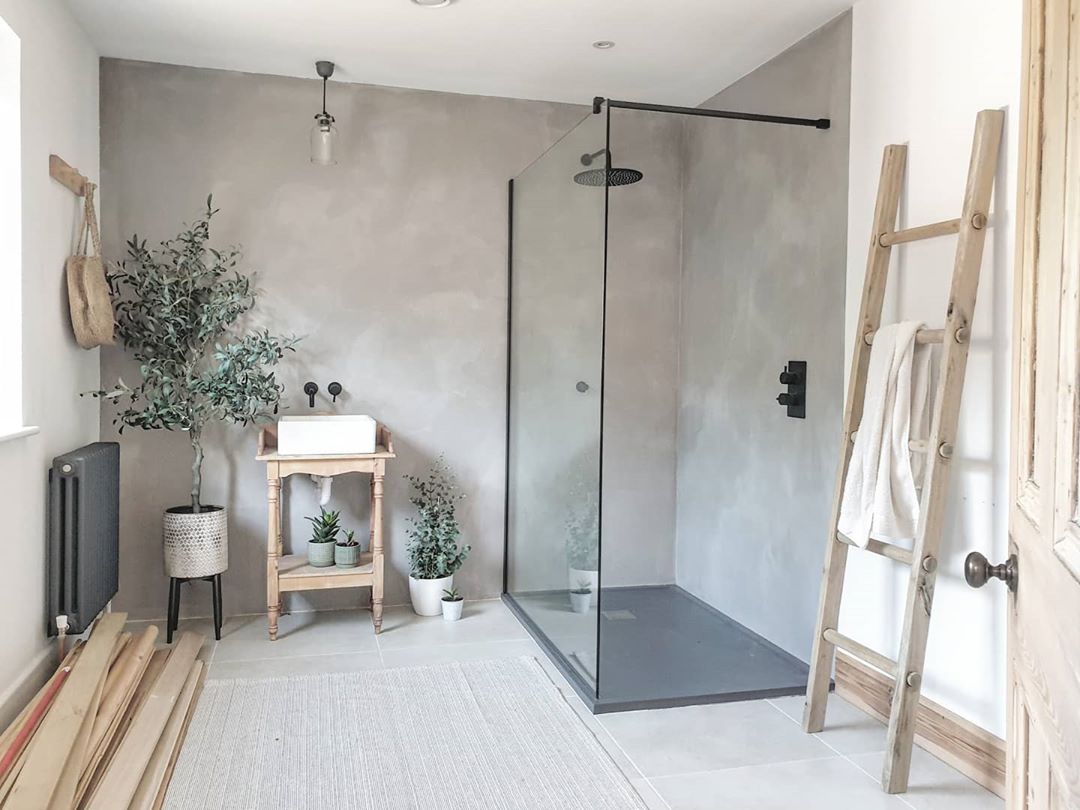 Your country bathroom takes on a whole new tone when you add this modern and chic walk-in shower. The simple clean look of the textured walls, single glass panel and black fixtures can be achieved without spending a lot of money.
29. Your Fixtures Should Fit Your Style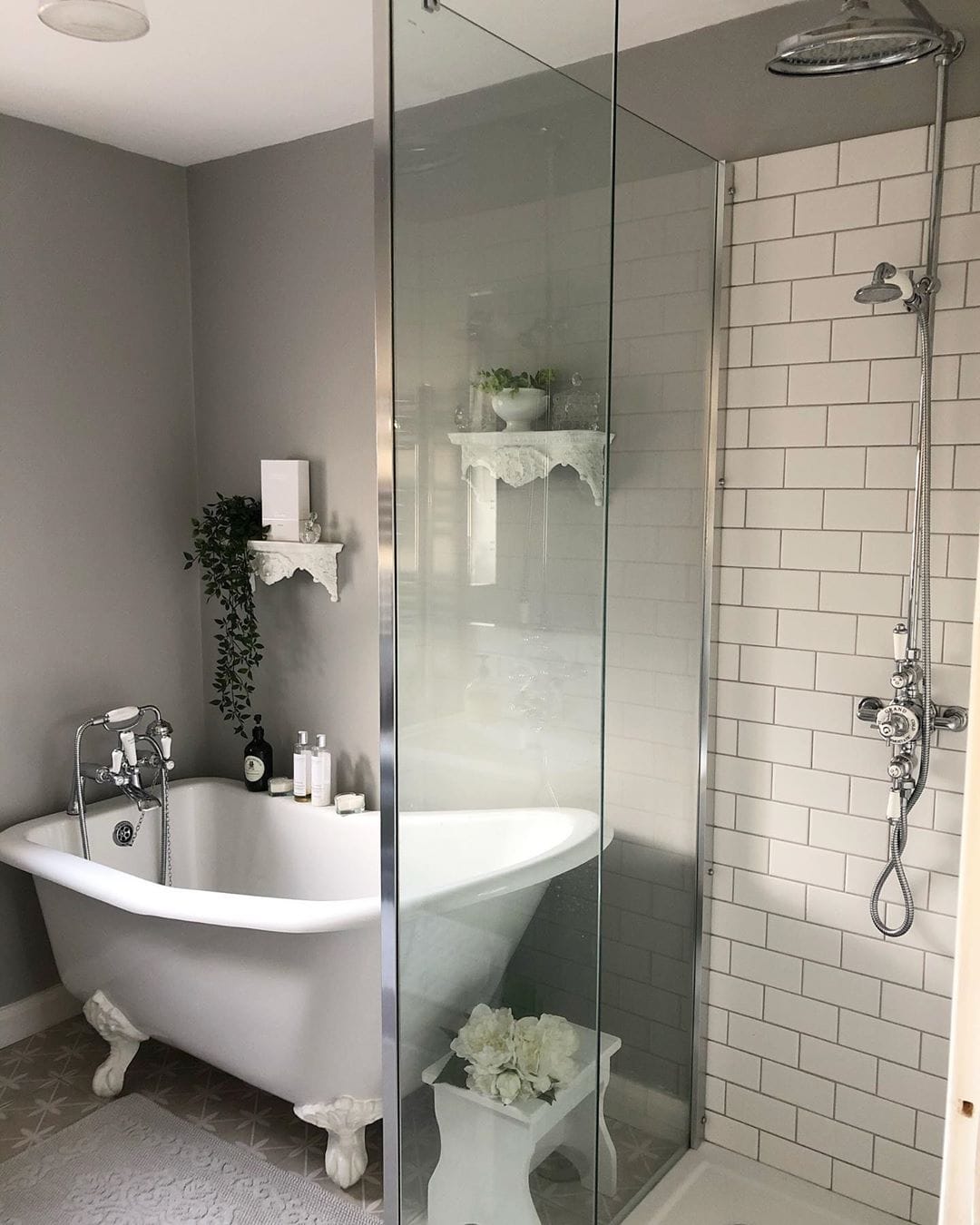 Design your vintage style bathroom with antique-looking fixtures. An old-fashioned dual showerhead not only complements the clawfoot bathtub, but it is an easy way to upstyle a prefabricated shower.
30. No Fuss Design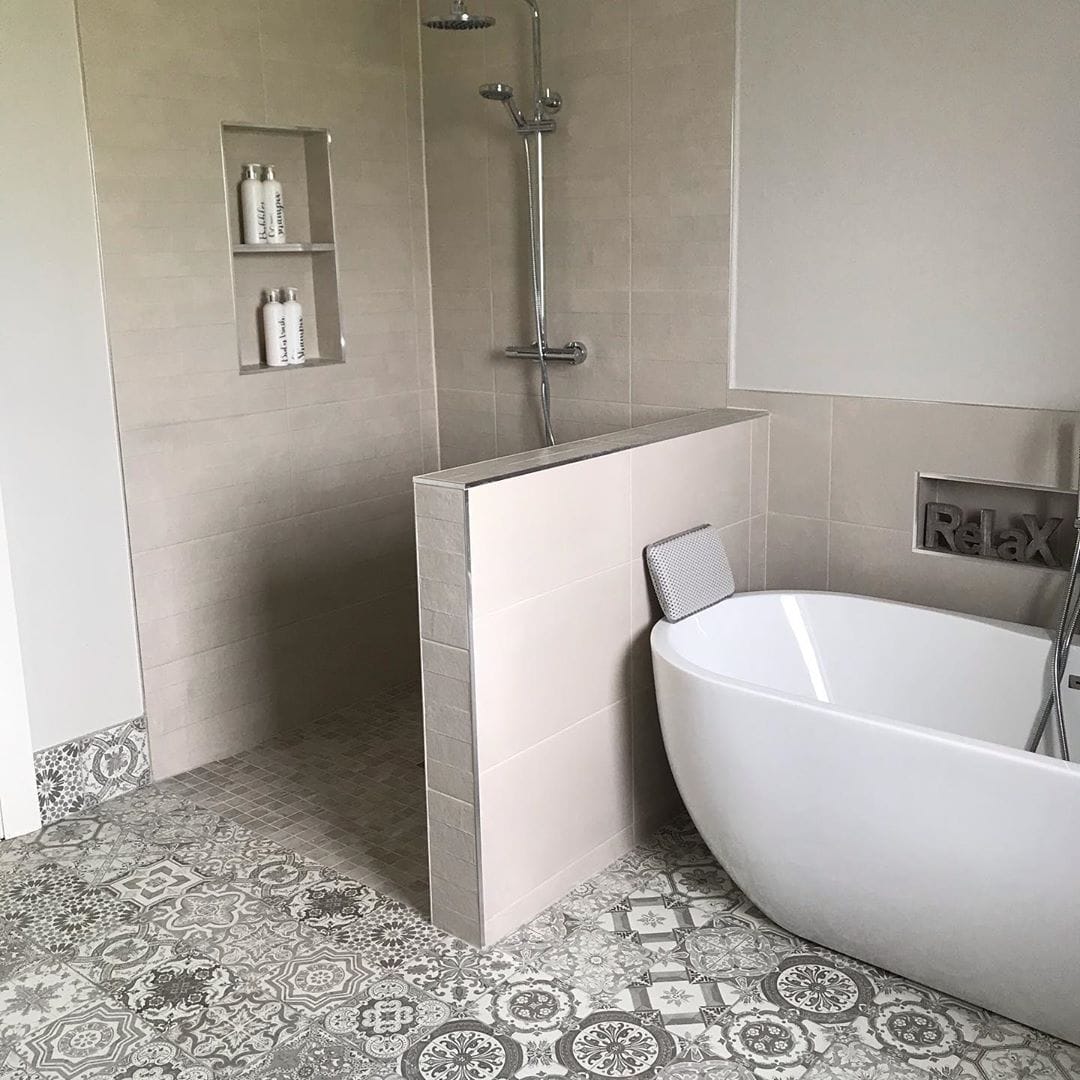 A simple pony wall is enough to delineate a space for a walk-in shower. Use a different tile on the shower floor to further define the space. With this design, no need to worry about cleaning glass doors.
31. Make Small Changes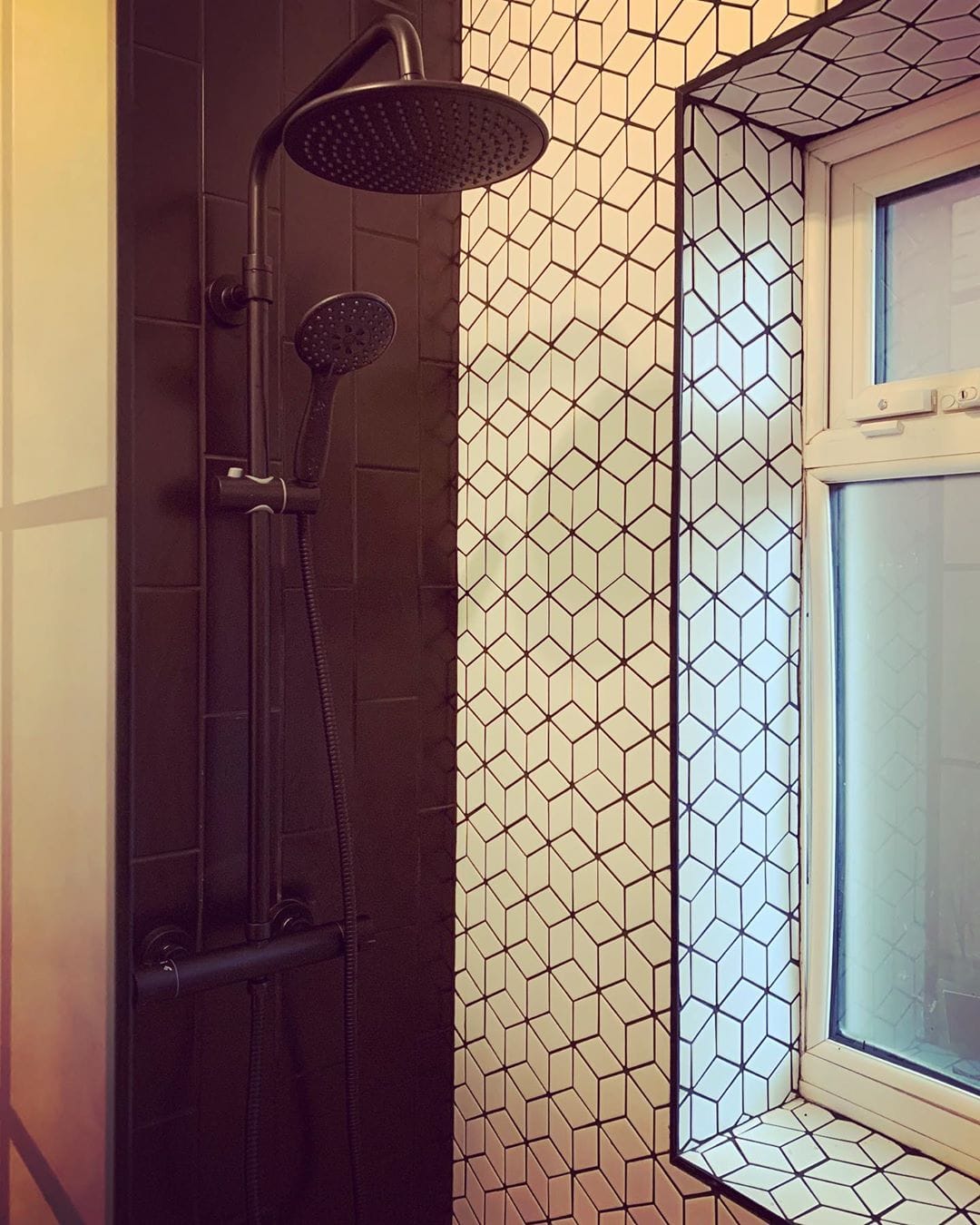 Matching a strip of wall tile to your fixtures is an easy way to update your walk-in shower. The chocolate brown color gives a modern refresh to an old or outdated wall. Keep the tile color concentrated in one area to keep the costs down.  
32. Decorate With Plants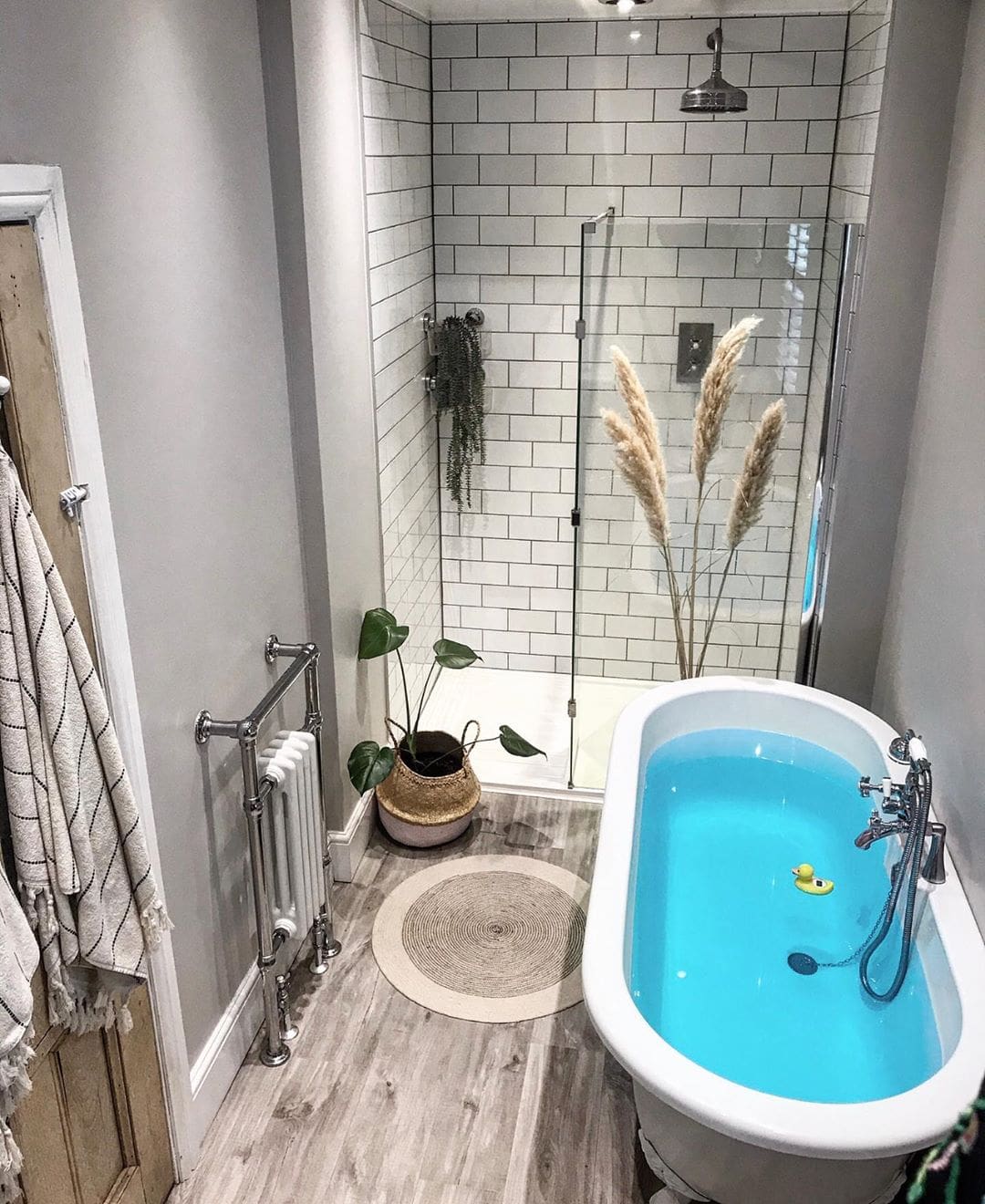 Adding plants, whether dried or live, can add some much-needed color to a small neutral-colored bathroom. Try to mix up the sizes, shapes, and colors for some variety.
33. Warm Up A White Bathroom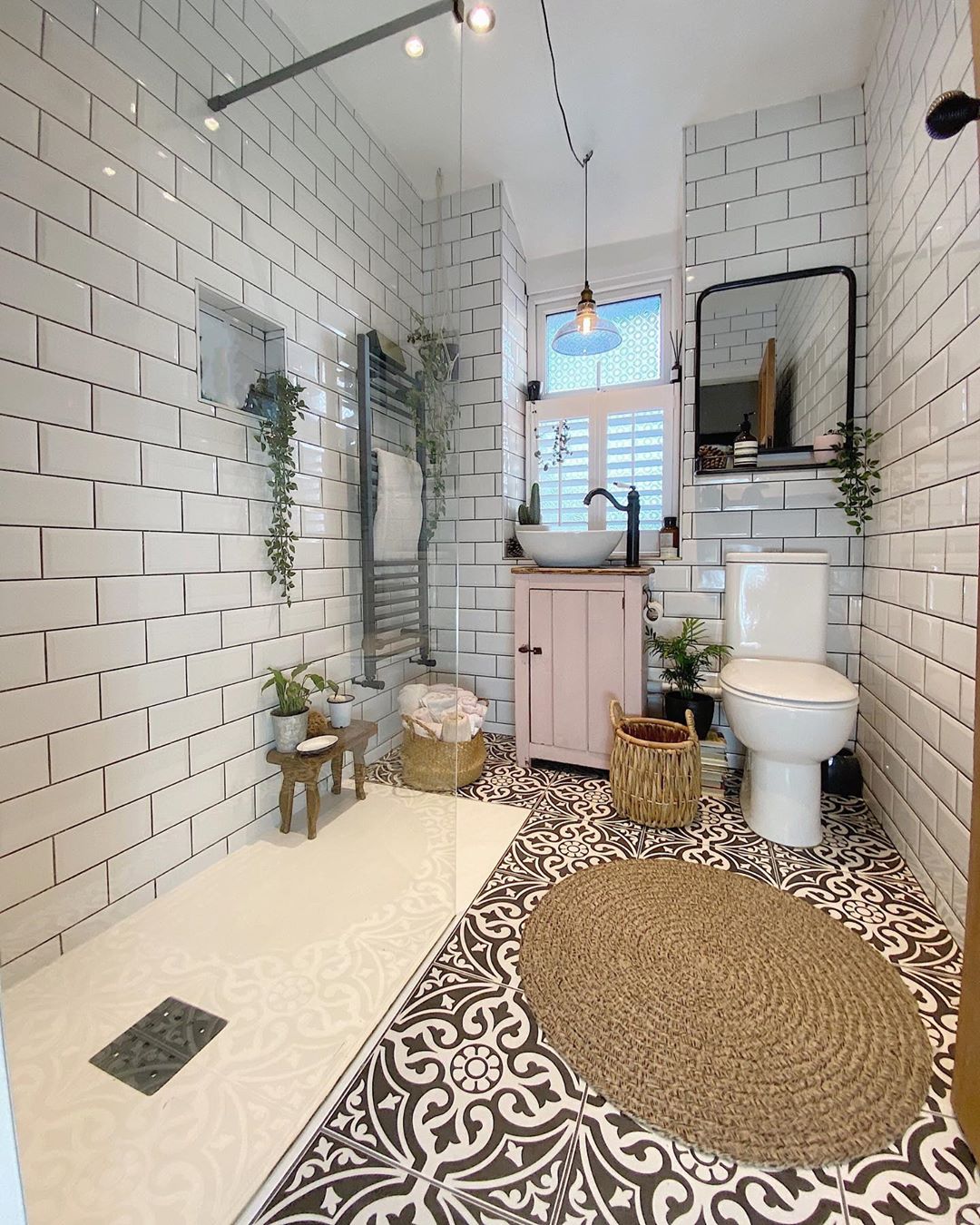 Offset the starkness of an all-white bathroom with rich textures and patterns. Choose inexpensive floor tiles in a bold color and a striking pattern, even in the walk-in shower. Accessorize with natural materials, such as rattan, wood and plants, to add warmth. 
34. Keep On Point With Your Design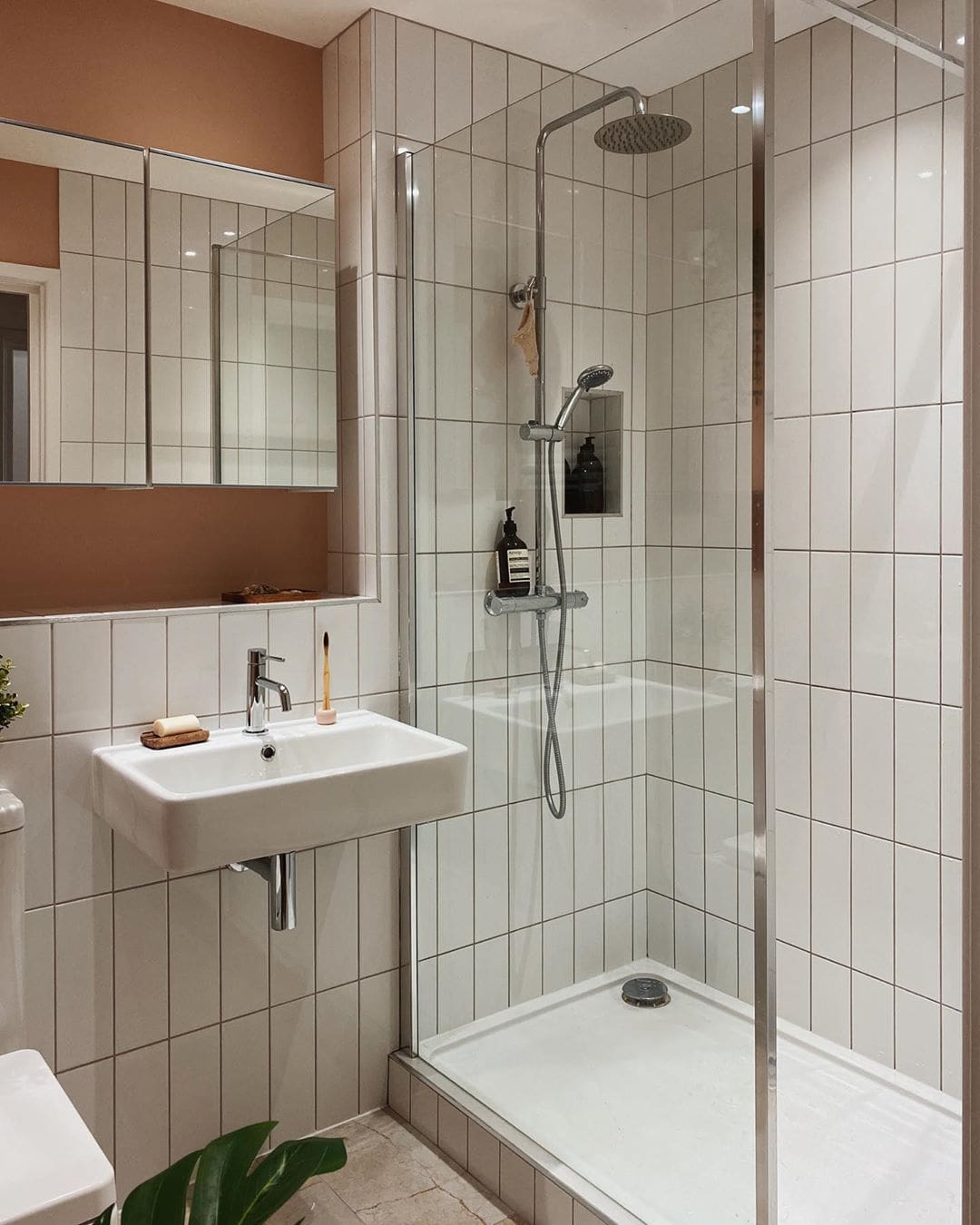 An all glass walk-in shower fits perfectly into a mid-century modern bathroom. Refresh the space with a low-priced dual shower head in a sleek and contemporary style to stay true to the rest of the room.
35. Choose One Tile Design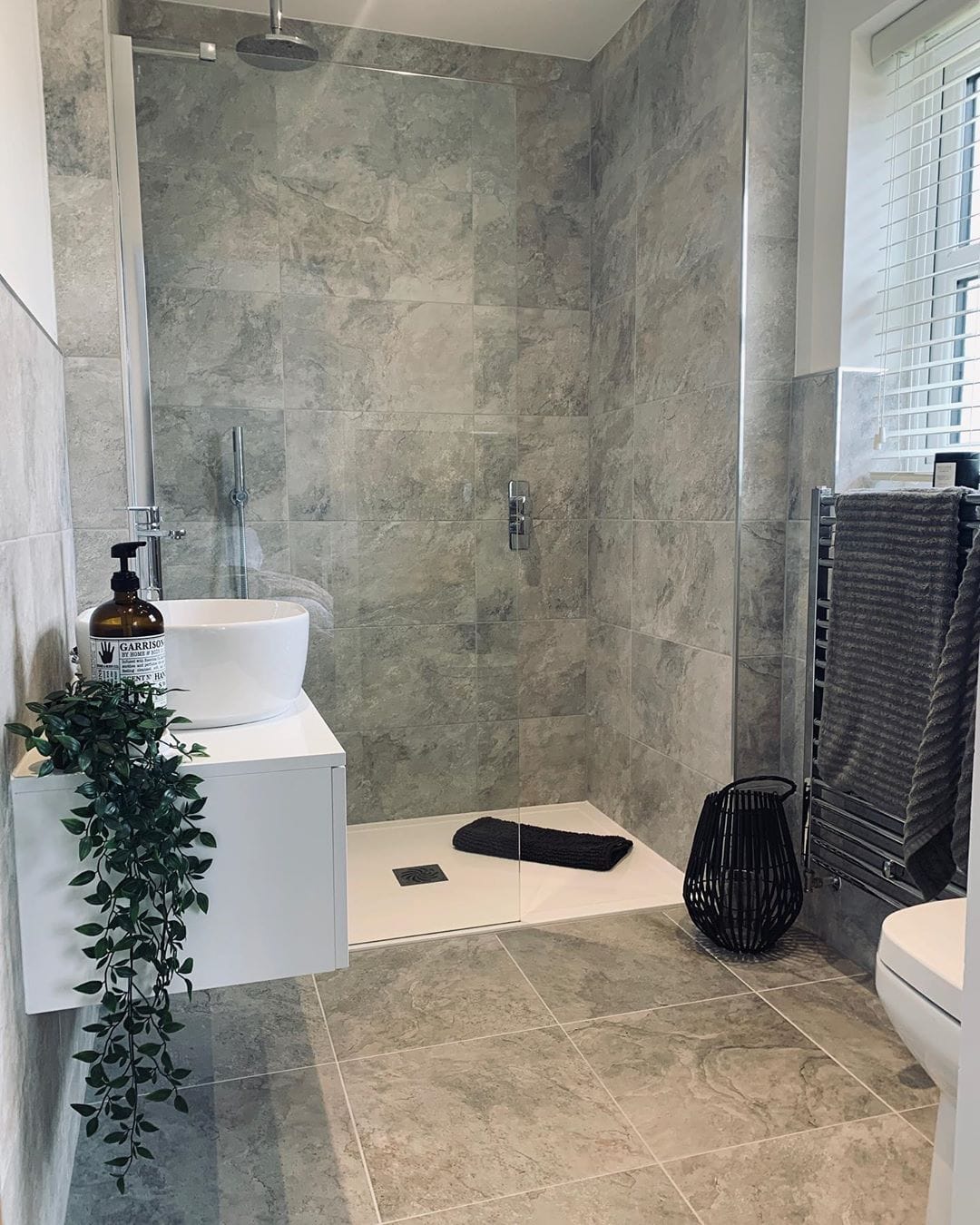 Using a single tile design on the walls and floor of your entire bathroom makes it feel fresh and modern. It can also be a cost-saving move to use one type and size of tile instead of purchasing different ones.
36. Look For Unusual Spaces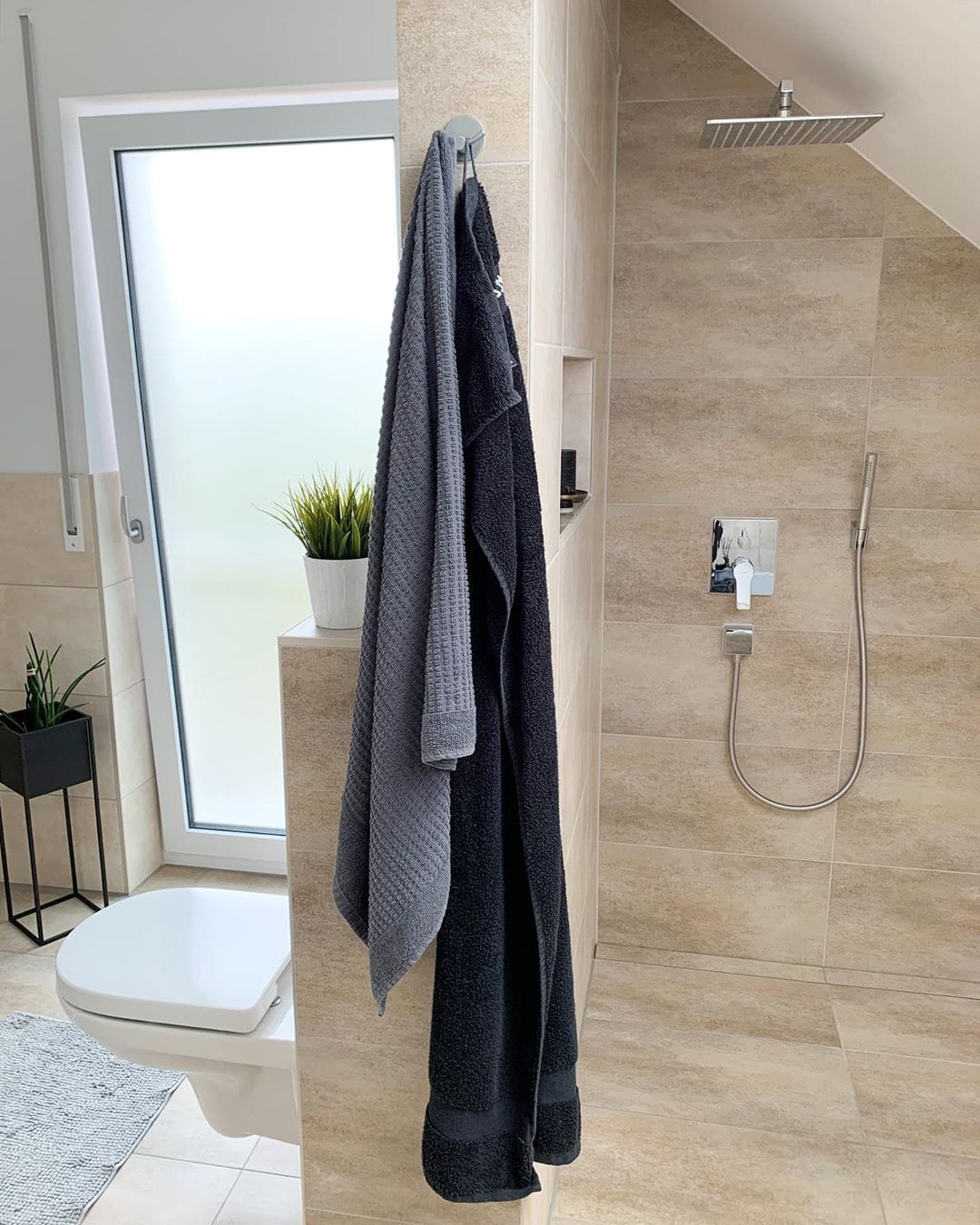 When renovating or building, look for odd-shaped spaces, niches, or otherwise ignored spaces to add a walk-in shower. Keep the costs to a minimum by using inexpensive tile and skipping on the glass walls and door. 
37. Create Your Own Design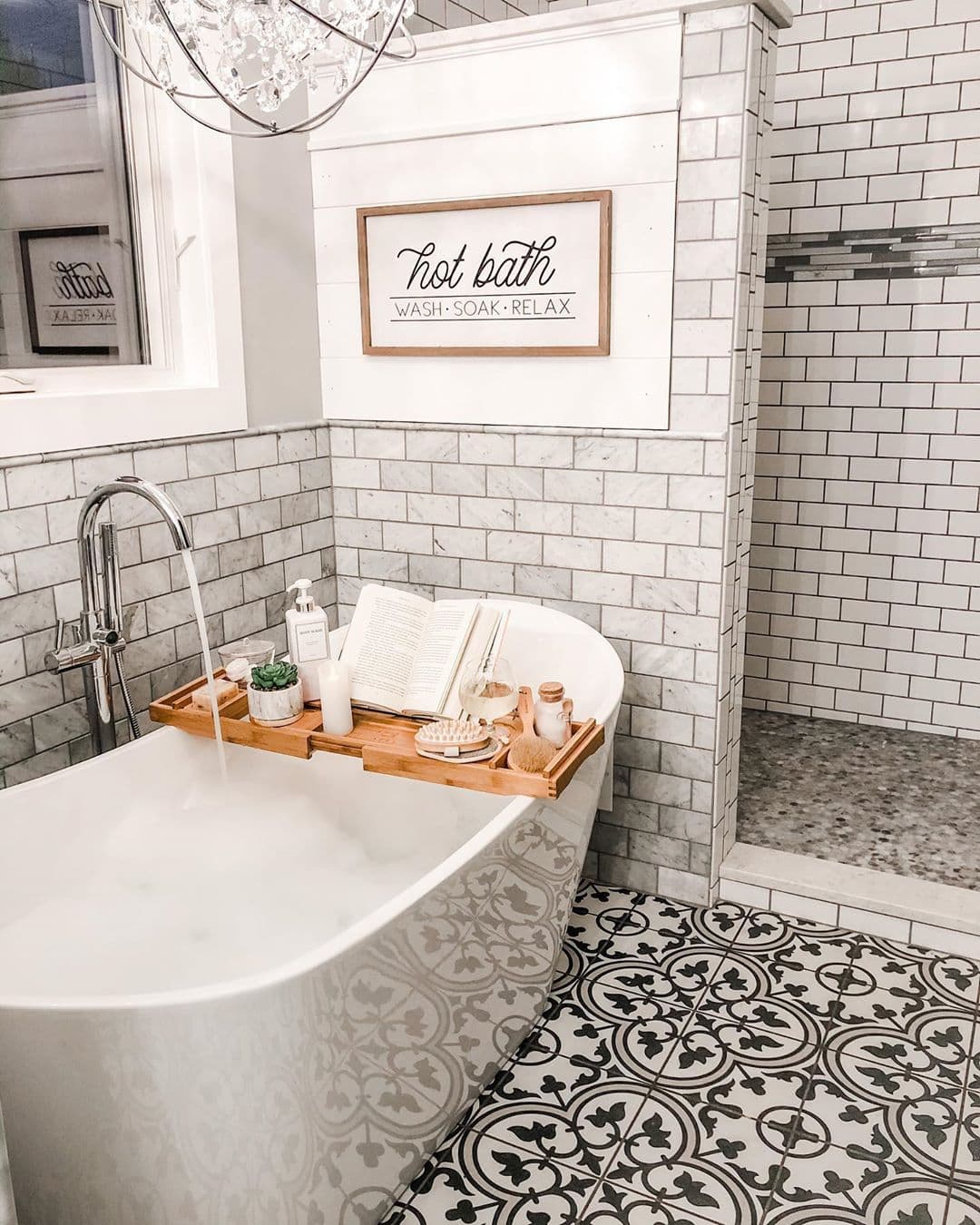 Mix and match different types, sizes and colors of tile as long as they are in the same tone. Use material left over from other projects or pick up clearance items. These white, black and gray tiles work well together to give the bathroom cohesion.
38. Make It Not-So-Obvious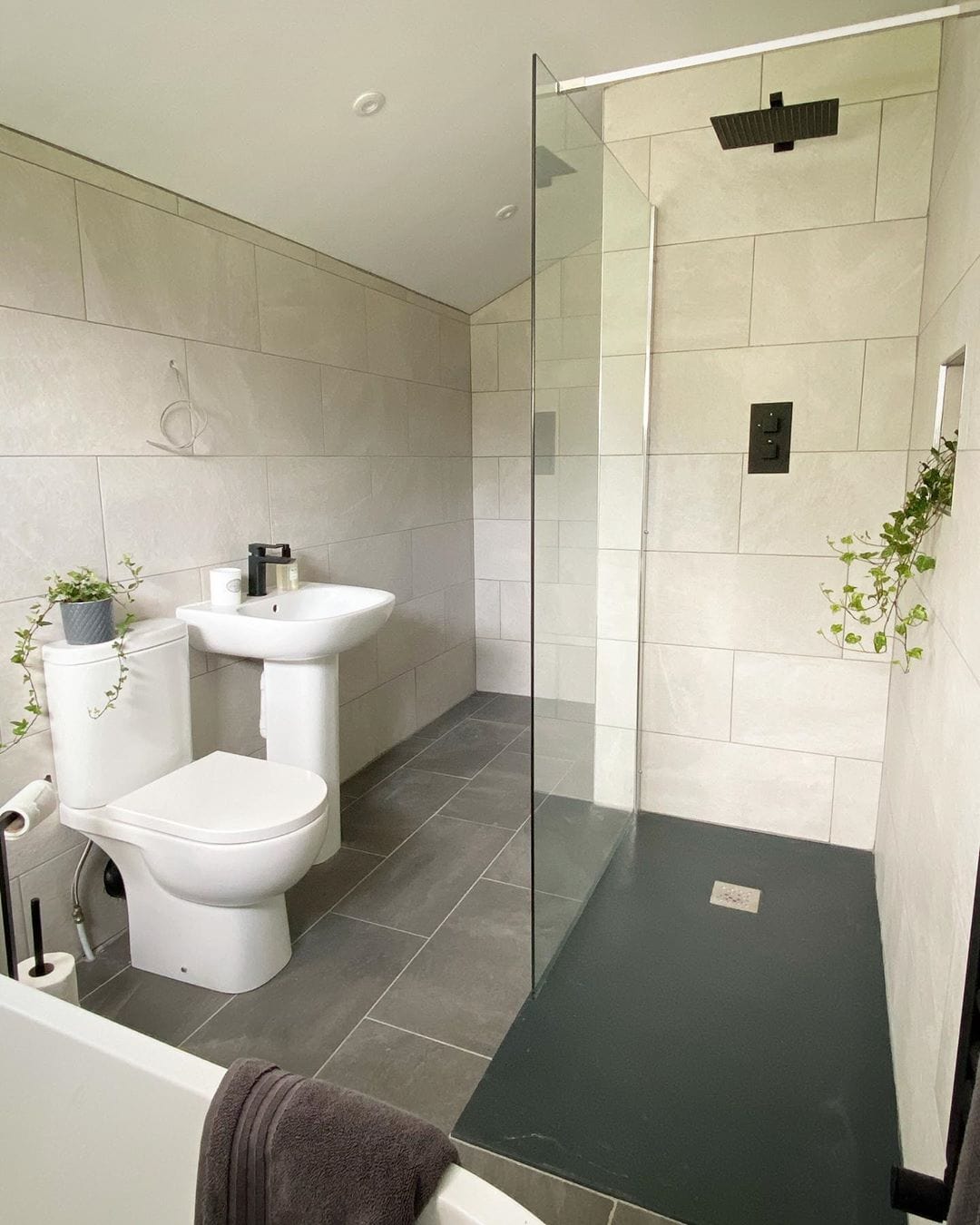 If your renovation has your walk-in shower front and center in the bathroom, make it blend into the space as much as possible. A single glass panel is a modern and inexpensive way to render the shower less conspicuous.
39. Secluded Privacy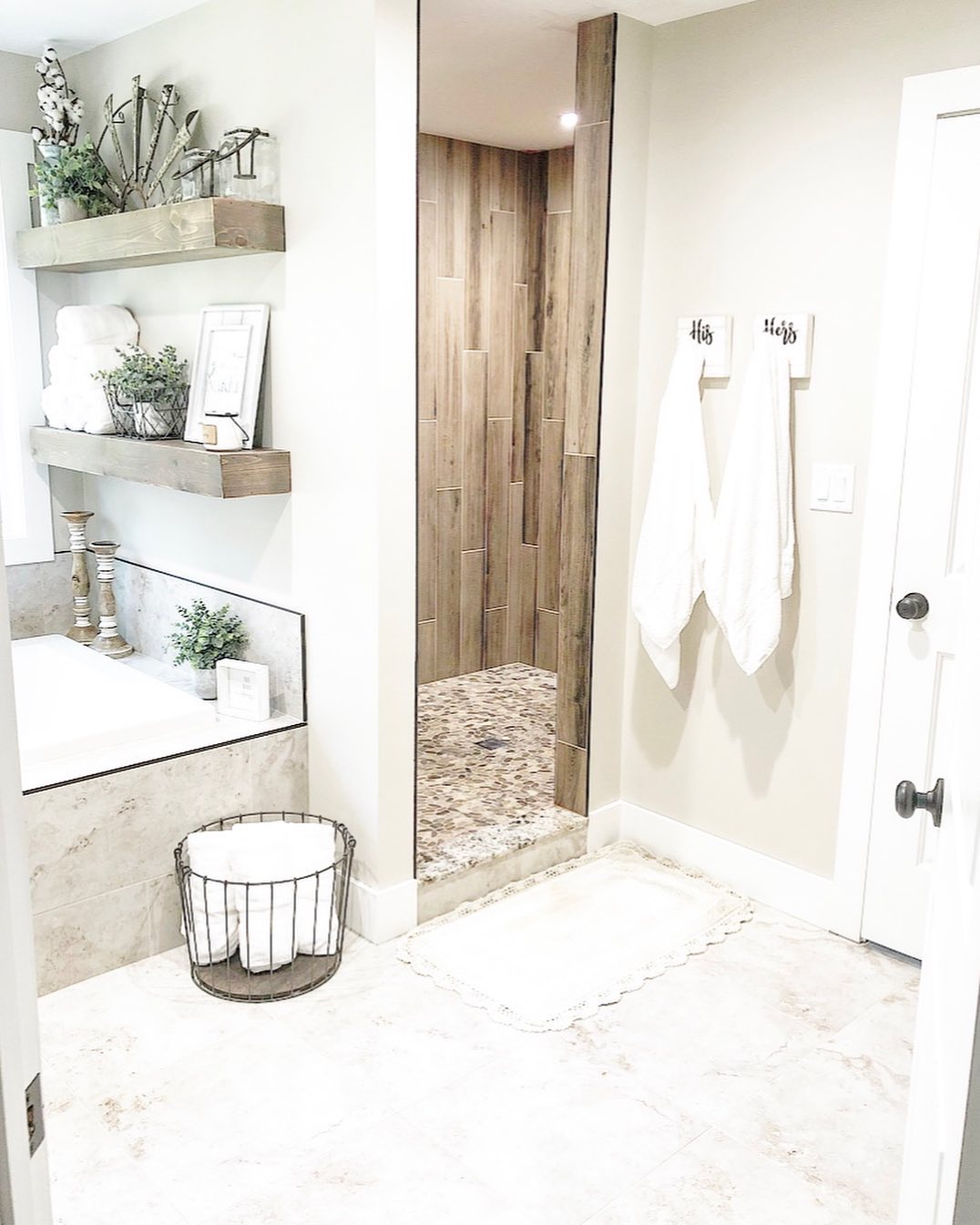 Your open walk-in shower can be more like a separate and cozy room. You will still have privacy without having to install a pricey door.
40. When Less Is Best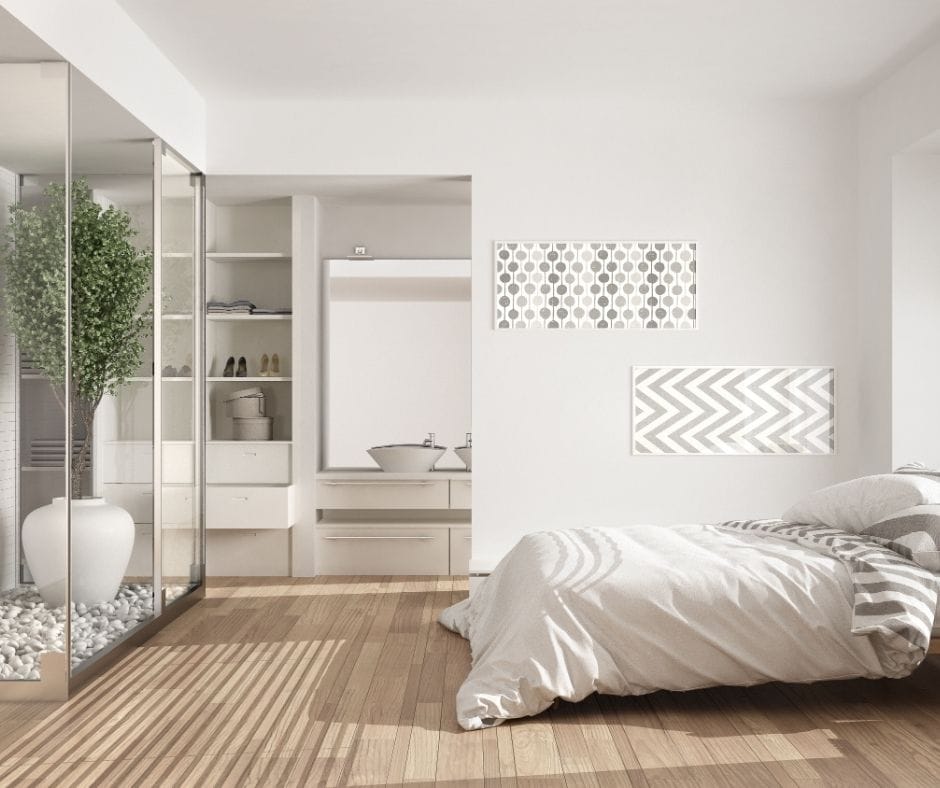 Think minimal when designing a modern walk-in shower space. This low-key style is ideal for anyone on a budget. Don't forget to skip the ornate fixtures and opt for sleek designs instead.
41. Create A Focal Point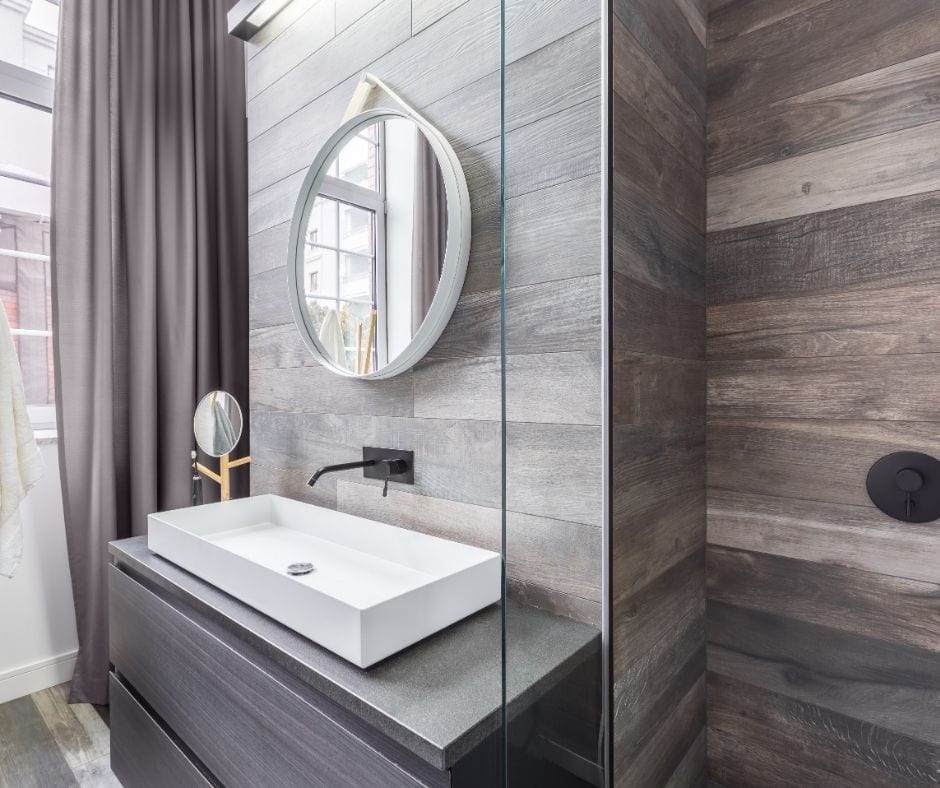 A single glass partition is all you to separate your walk-in shower in a contemporary bath. The focus here is on the rustic-looking walls and matching floor.
42. Have A Highlight Feature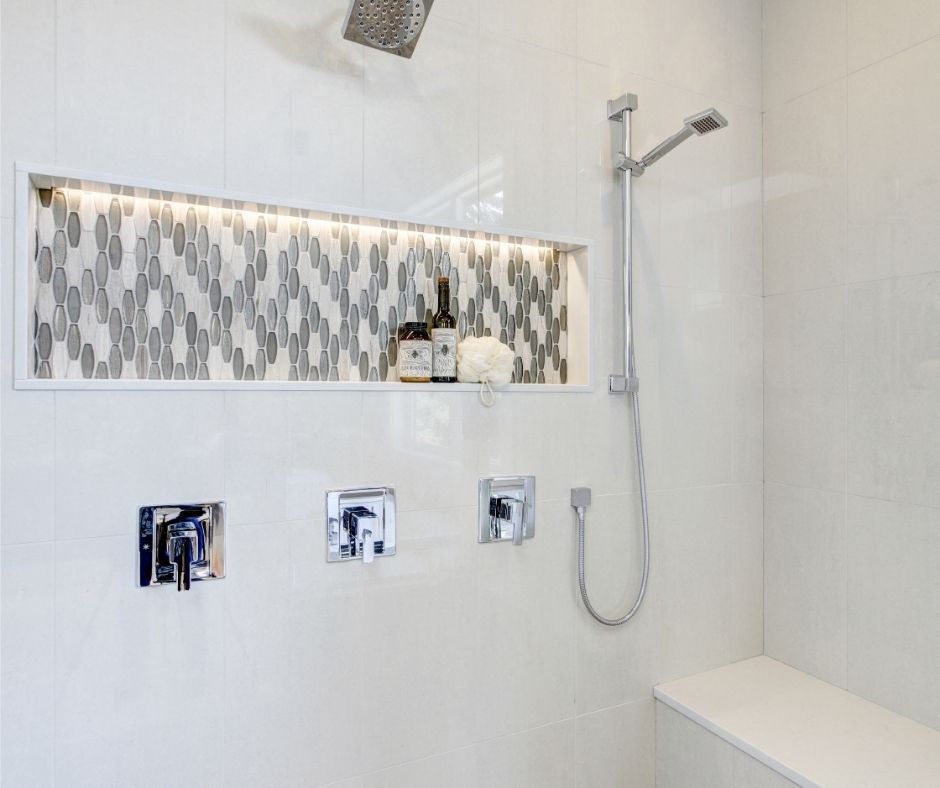 Leave room in your walk-in shower remodel for a large cutout shelf and avoid having to install shelves later on. Using a different tile design and lighting makes it pop. 
43. Fake The Look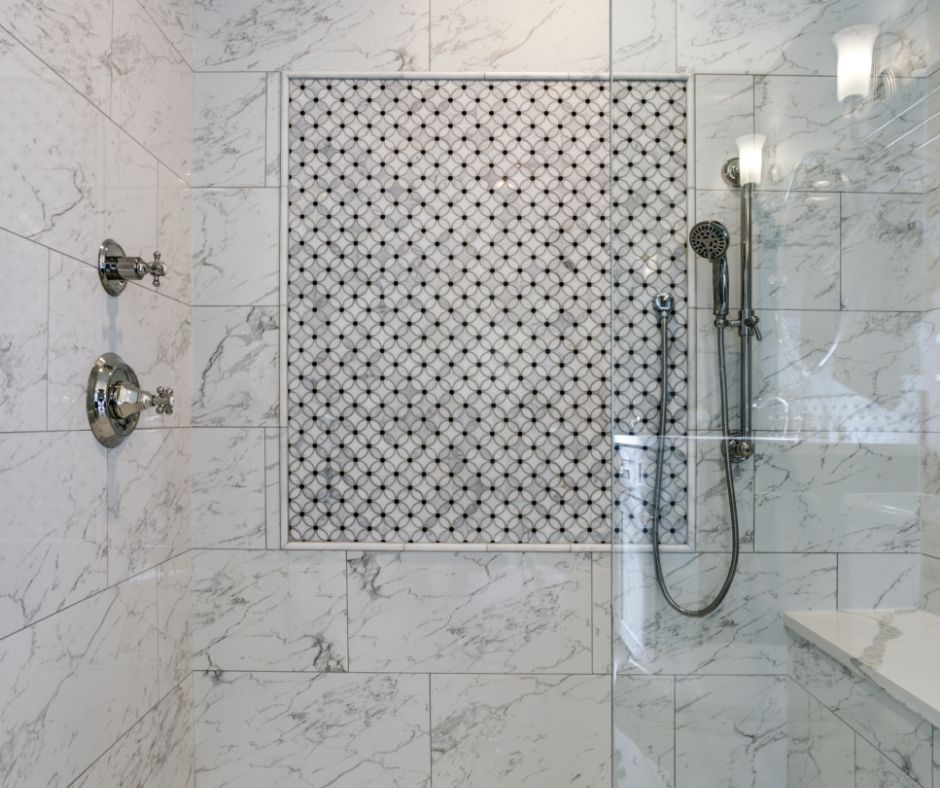 This tile work not only looks like a framed piece of art, but it adds an element of visual interest to an otherwise monotone design. To save money, look for remnant or clearance tile.
44. Play With Color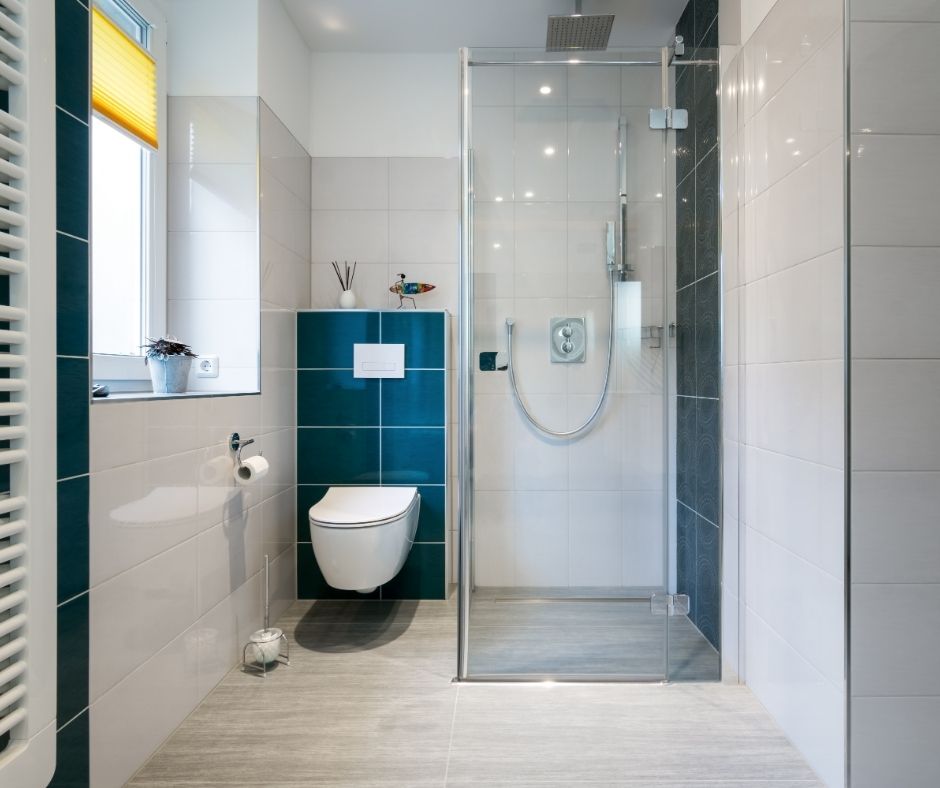 Use tile to add a pop of contrasting color in your walk-in shower. Using the same tile in other areas of the bathroom makes the room feel cohesive.
45. Paint Is Your Friend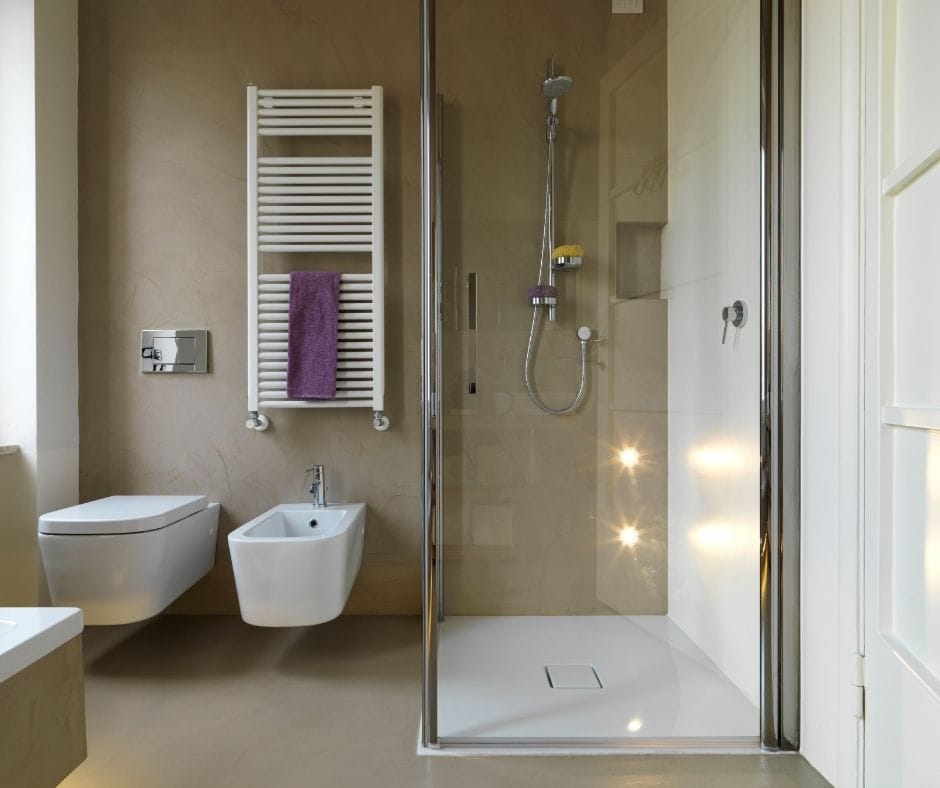 A simple coat of paint in a rich color is all it takes to help your walk-in shower go from bland to inviting. Use an inexpensive paint in a semi-gloss or satin finish for mildew resistance.
46. Lavishly Appointed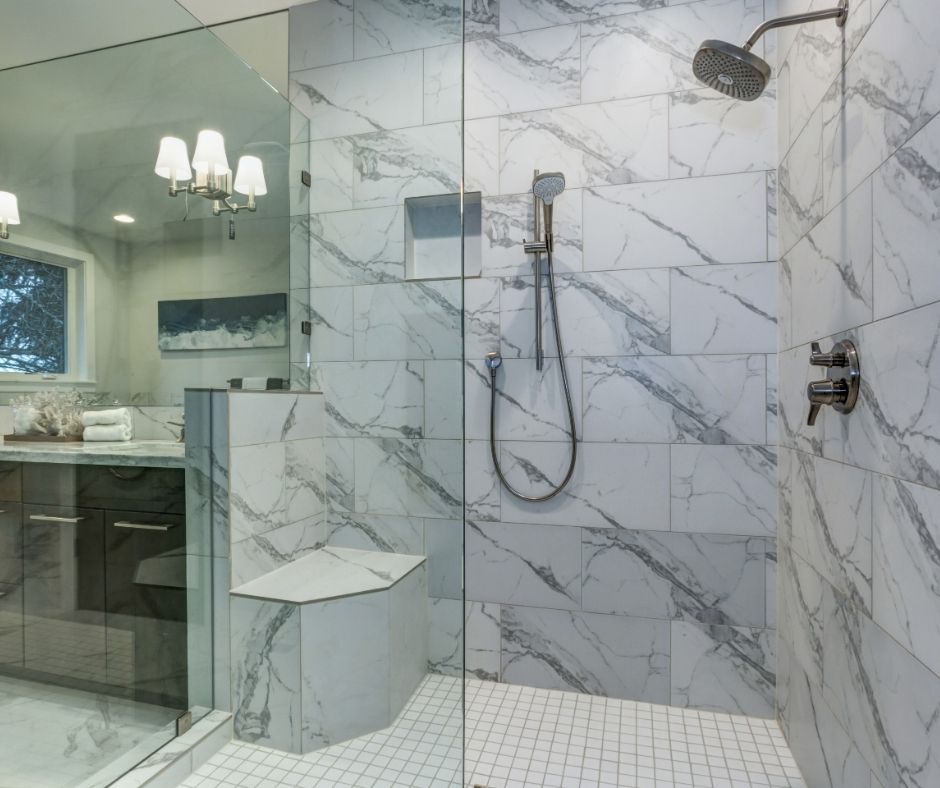 If you have the luxury of a large walk-in shower, make it feel even more grand by covering every surface with the same tile pattern. Add an inexpensive shower seat for an even more spa-like experience.
47. Enclose A Set Of Windows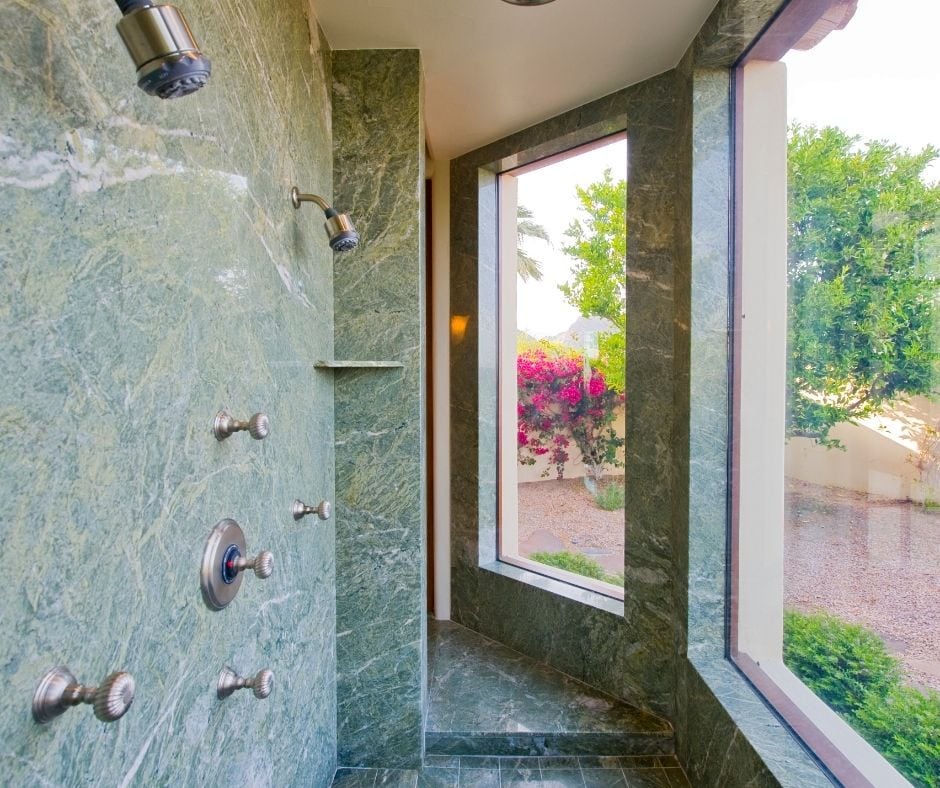 A wall of windows overlooking a private backyard is a great place to locate a walk-in shower. Define the space with opulent wall and floor tiles and skip the glass doors for an open feel.
48. Make Your Space Seem Larger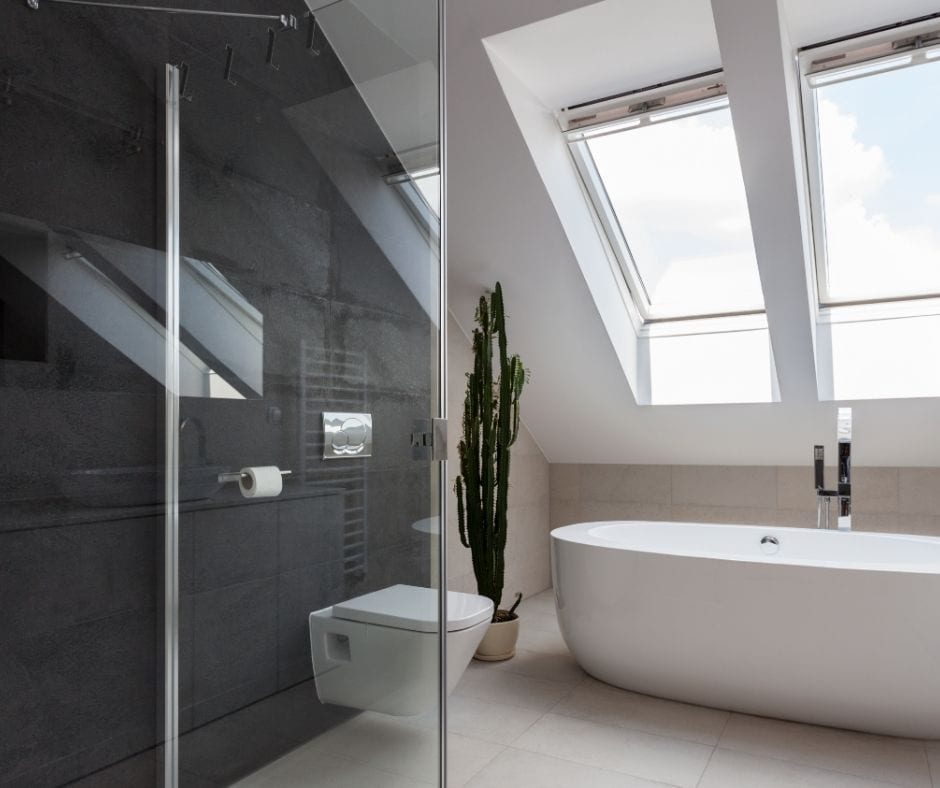 Try a black and white color palette to create an optical illusion. Using black tile in the walk-in shower provides depth while the white walls make the rest of the bathroom feel spacious.
49. Incorporate Some Nature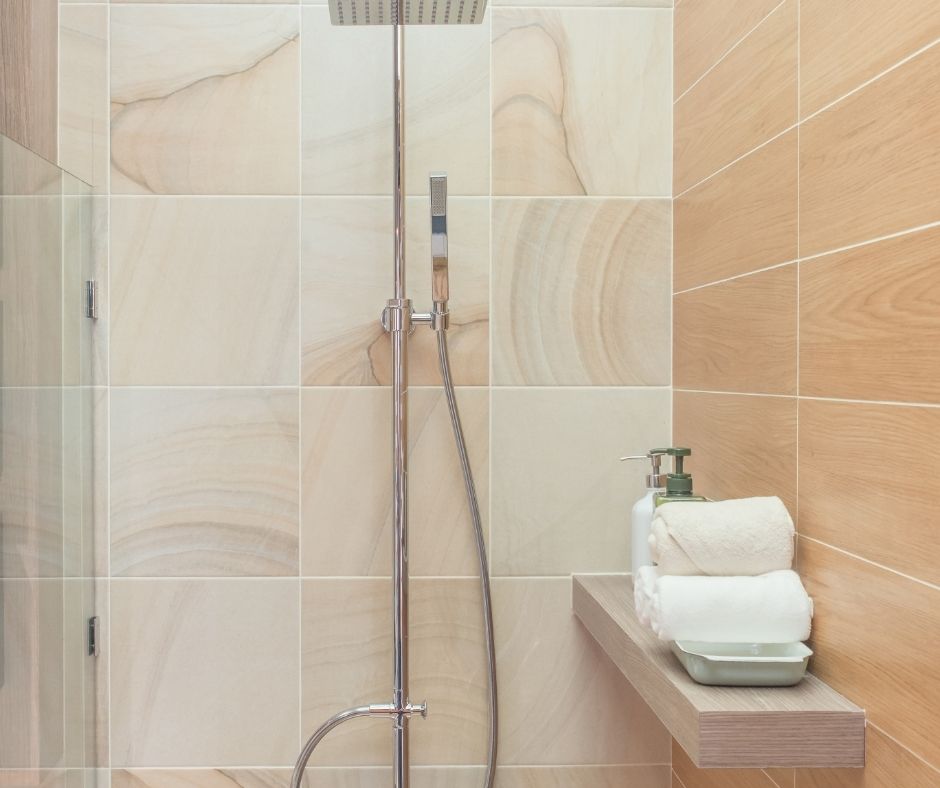 Ceramic tiles with stone and wood designs are a low-cost way to have that natural look without committing to the real thing. To keep it visually interesting, use tiles in different colors and sizes.
50. An Open Easy Feeling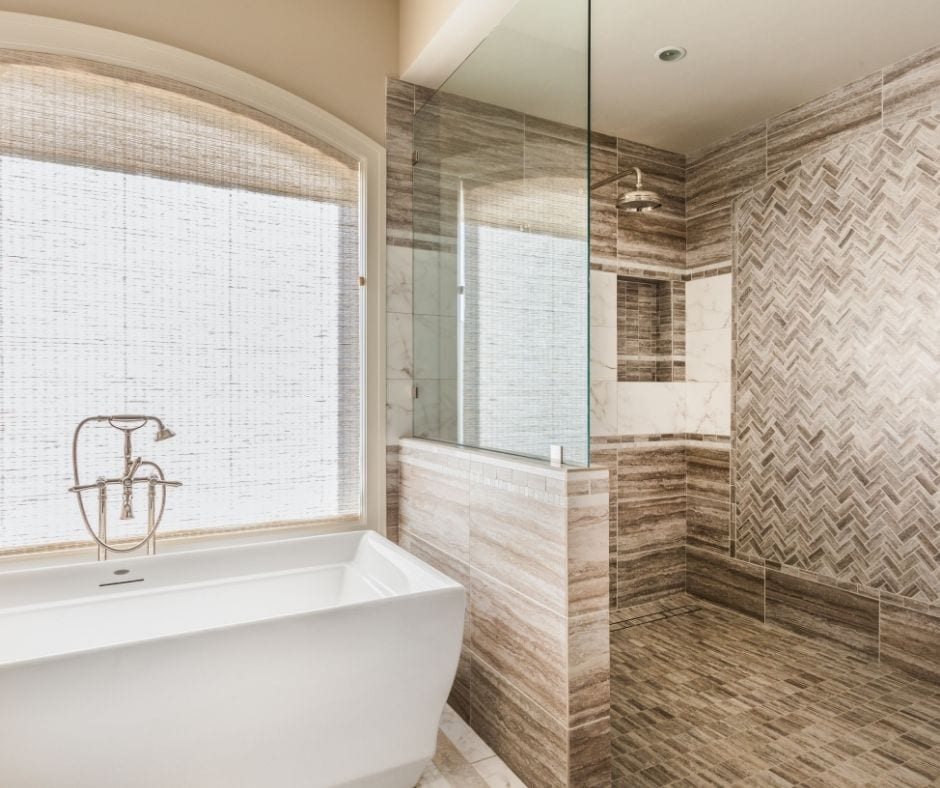 Install a heated floor during your walk-in shower renovation and you won't have to enclose it in glass panels for warmth. Your tile floor will make it cozy and you'll have less glass to clean.