Are you a little overwhelmed with the amount of upholstery fabrics out there? In this guide, I'll move through the 14 most important upholstery fabrics.
In This Article We'll Discuss
Acetate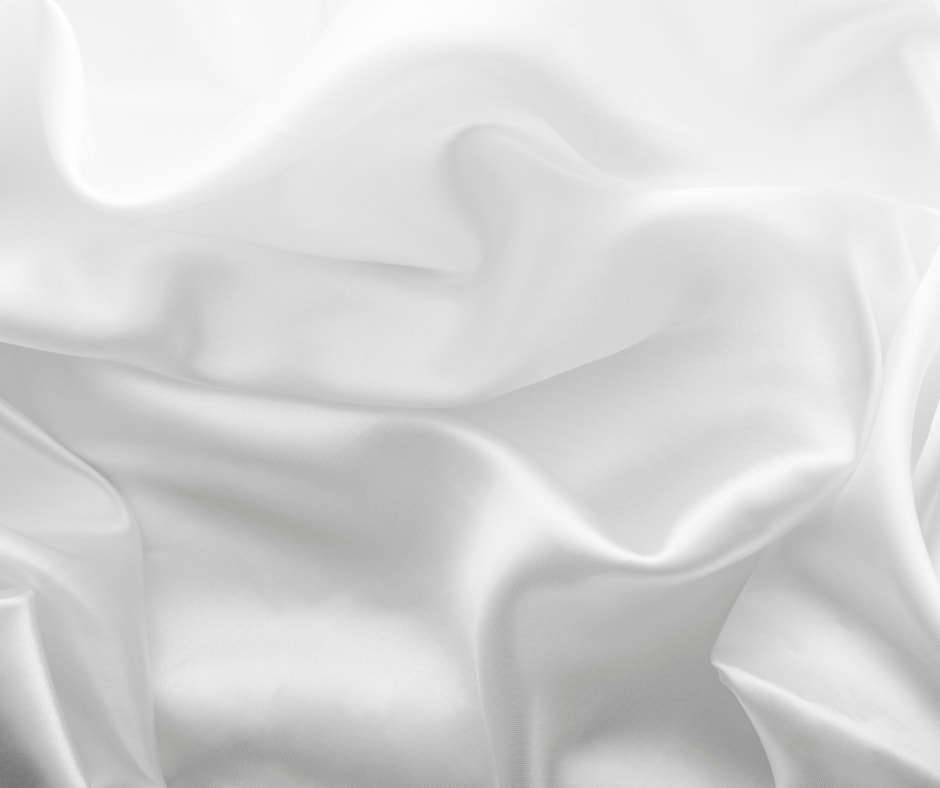 What is Acetate?
Acetate is a silk-imitation which has taken the world by storm in recent years. It is very shiny and has a beautiful luster, making the fabric look high quality. Acetate is often used in furniture with a regal design and is beautiful to the eye.
Pros of Acetate
Considering how beautiful this material looks, one of the pros is the aesthetic. It's silky aesthetic means it looks luxurious and will go down well in any high-class setting.
Acetate is also surprisingly very cheap. This can be a great bargain material, looking great for relatively little. It is also resistant to heat, moisture, mold, and mildew. That means that acetate is great for a hotter or more humid environment.
Cons of Acetate
The downfall of acetate is that it is not very durable. It is a very weak synthetic fiber and has a tendency to wear out quickly. As the fibers lack elasticity, they can become damaged by scratches easily.
You cannot use acetate everyday, the strain on the material would be too much. Similarly, it takes on stains very easily. If you accidentally spill something on acetate, it'll likely be there forever.
Who is Acetate for?
Acetate is for someone who wants a beautiful piece of furniture, but doesn't actually want to sit on that piece. If you have high traffic on this material, it will rip or decline in quality quickly.
Due to this, only go for acetate if you're looking for a particular aesthetic. While this material is beautiful, in this case, beauty fades awfully fast.
Acrylic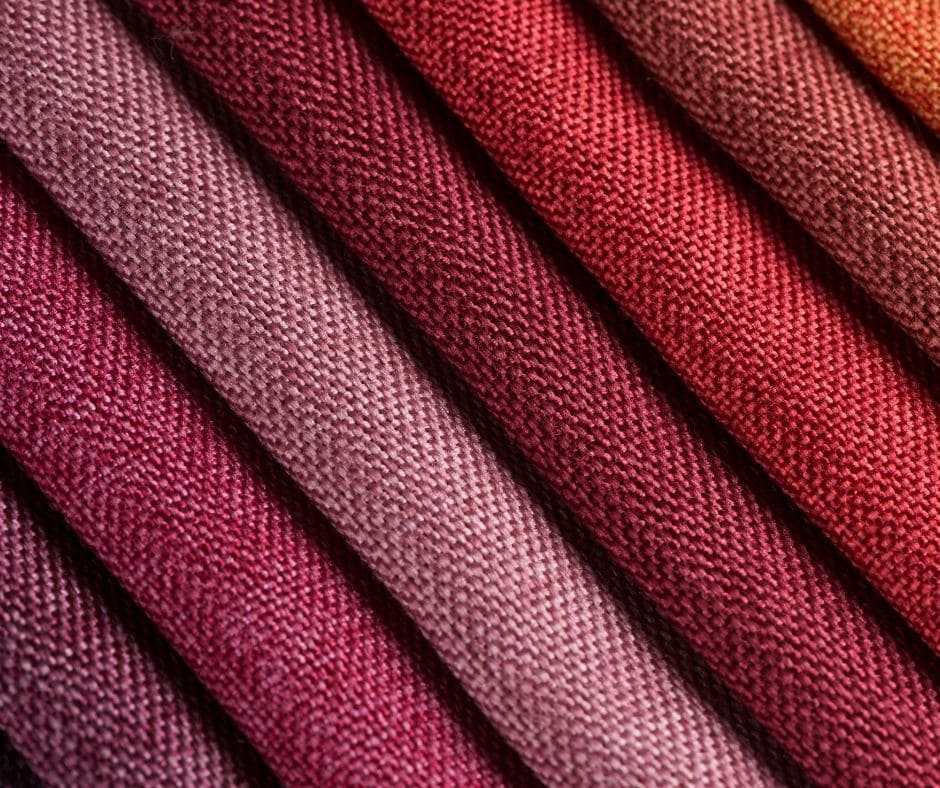 What is Acrylic?
Acrylic is another synthetic fiber that has become popular in recent years. While this primarily aims to imitate wool, it is also used in many fiber blends (such as nylon).
Pros of Acrylic
You can dye Acrylic very easily. If you're looking for a splash of color for your living room, an acrylic pillow will do the job.
Acrylic is also very easy to wash. You can wash it at home and it will dry fairly quickly. Despite this, the fabric will remain very soft to the touch. It is also heat resistant, able to weather hot summers in direct sunlight.
Cons of Acrylic
Acrylic can run very easily. By this, I mean strands of the fiber can become lose and begin to pile. This can create an unattractive 'bobbled' look on the material.
Although a little extreme, acrylic is also very flammable. This is just something to keep in mind. Please try to keep this material away from any open flames!
Who is Acrylic for?
Acrylic is for anyone looking to add some colorful depth to their home. Coming in lots of different colors, this material is perfect for cushions.
It is also a very low-maintenance material. If you don't want to fuss over your sofa, acrylic could be a great fabric for you.
Chenille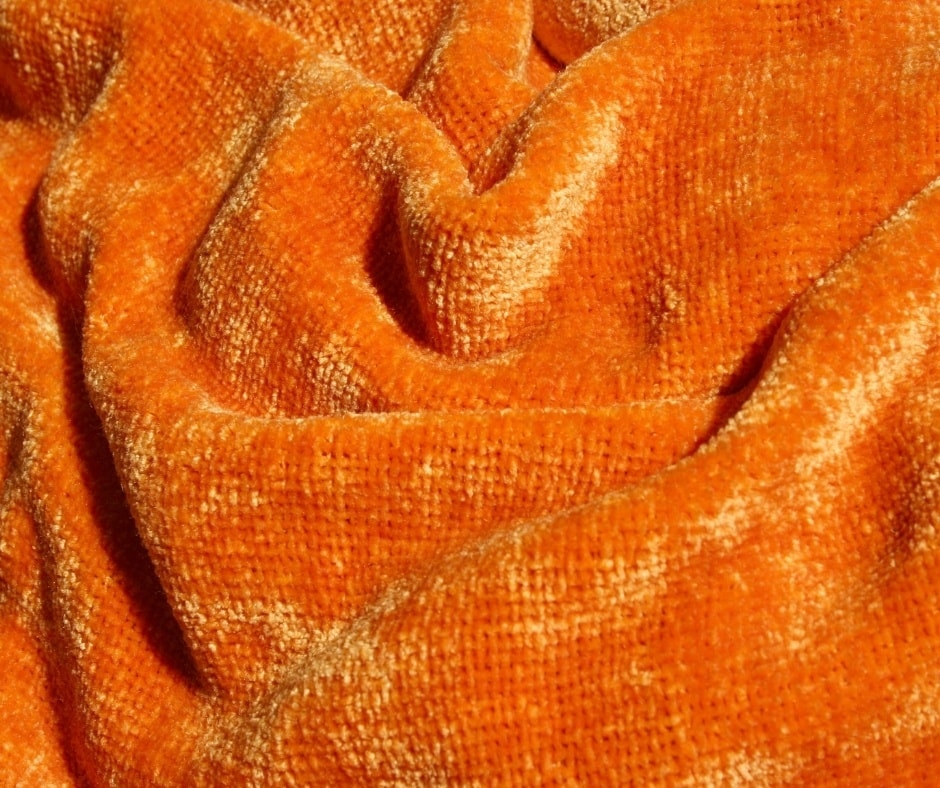 What is Chenille
Chenille is a French fabric, the word itself being 'chenille', or 'caterpillar'. This fabric is more common than you might realize. It is often incorporated into children's toys to provide that extra comfort. It is incredibly soft and a little definitely goes a long way.
Pros of Chenille
Chenille is one of the most stretchy fabrics on this list. Coming with this crowning territory, it is also incredibly soft. It is fantastic for comfort and will cozy-up any living room. Coming in many different colors, you can mix and match to your heart's desire.
With the increased flexibility also comes great durability. A chenille based upholstery will last a very long time. It is also easy to clean, not needing dry-cleaning.
Cons of Chenille
Chenille is not a cheap material. Considering how durable and flexible the material is, you'll often have to pay a high price to get your hands on it.
Another negative is that due to the fiber length, debris can often become trapped within. A stray hair or even something larger can become embedded in the fabric. You'll have to constantly monitor your fabric to ensure it stays of top quality.
Who is Chenille for?
Chenille is for the comfort lovers in life. Although this fabric comes at a high price, the quality is truly astounding. If you are looking for something comfortable and will spare no expense, go for chenille.
Cotton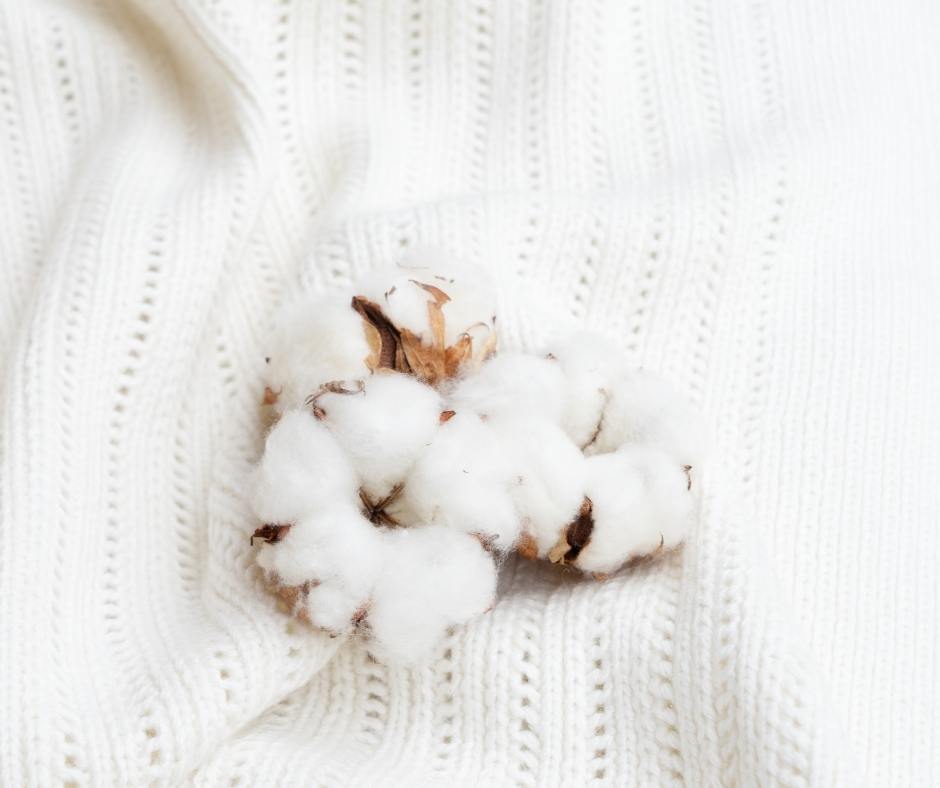 What is Cotton
Cotton is one of the heavyweight materials when it comes to upholstery. Having been around since around 6000 BC, you will have come into contact with cotton at some point.
Considering its longevity as a popular material, cotton also comes in every color. Cotton also comes in several different quality grades. That means that you can find cotton that matches your pricepoint.
Pros of Cotton
You can dye cotton into almost any color as it is a natural substance, coming from agriculture. It is flexible and very durable, often lasting several years.
Being one of the most durable fabrics, cotton also resists abrasion and pilling. It is breathable and you can wash it easily at home. Not only that, but its even hypoallergenic. For all you out there with sensitive skin, cotton is a god-send.
Cons of Cotton
One of the only downsides to cotton is that it retains moisture. That means if you spill something on cotton, it will likely be there for a very long time. Stains come easily to cotton, as do wrinkles in the fabric.
Who is Cotton for?
Cotton is for everyone. By that, I mean you can find it at almost any price point, and is incredibly comfortable and durable. There is a reason cotton has been around for such a long time.
If you're looking for a reliable material, cotton is the one to go for.
Jute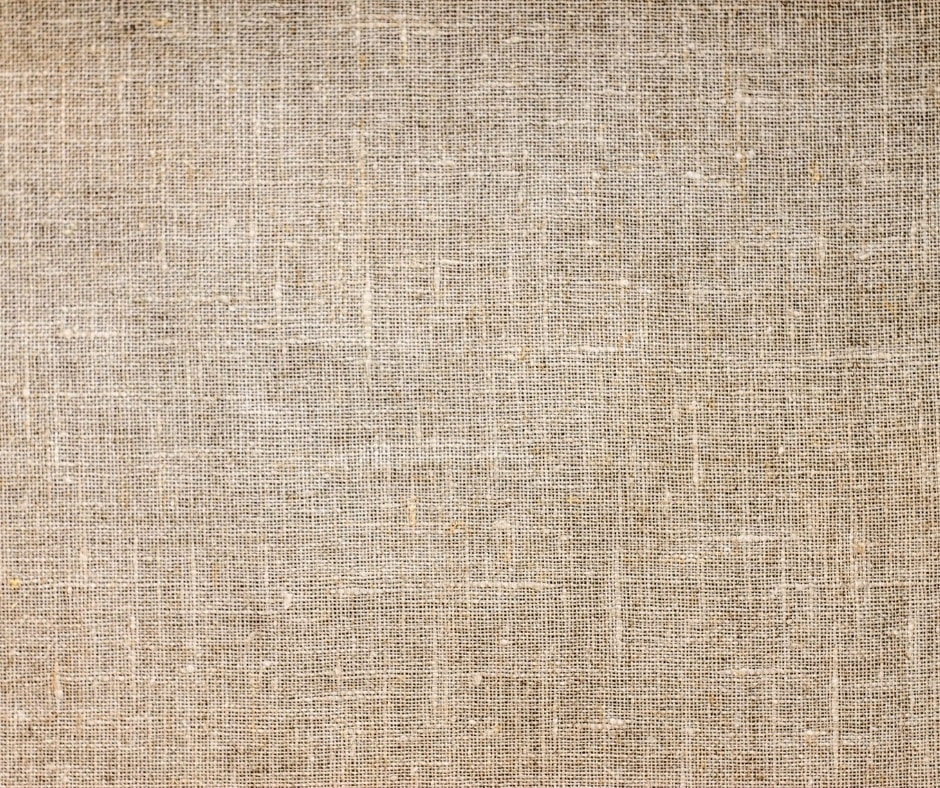 What is Jute?
Jute is a harder upholstery material that heralds from India. This fabric is mainly used to make sturdier mats, but is also sometimes made into sofas. When added to a couch, jute mainly focuses on giving a bit of extra texture. It will rarely be the primary material of a sofa.
Pros of Jute
One of the best things about jute is it feels interesting to the touch. Being a little bit thicker than other fibers, it gives a rougher texture which can feel very nice. Another pro is its versatility, often used in conjunction with other materials.
Cons of Jute
Jute will go a muddy yellow color if exposed to direct sunlight. While many materials don't fare well in sunlight, jute is the worst of them. The rough texture is also not up everyone's alley, meaning you may not love how this material feels.
Jute can also wrinkle very easily, meaning it can look bunched on a sofa.
Who is Jute for?
Jute is for someone who wants to add a bit of detail to their sofa. If you're reupholstering your couch by yourself, feature some jute for extra texture. I wouldn't recommend anyone create a whole sofa out of jute. Rather, use it as a supplementary material.
Leather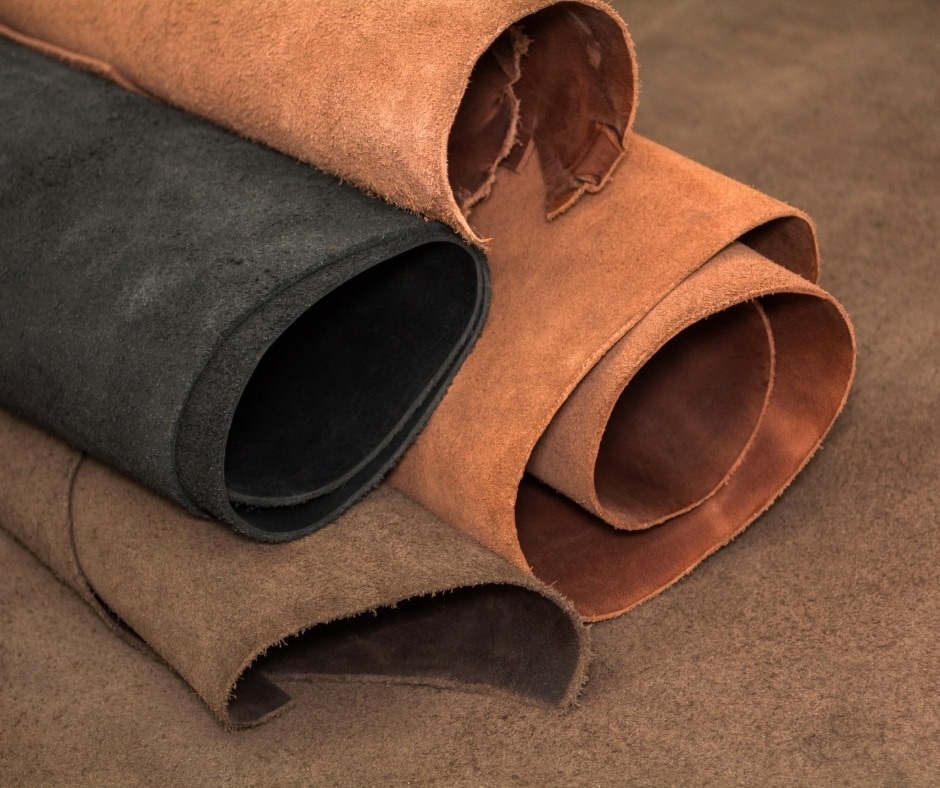 What is Leather?
I doubt leather needs much of an introduction; it is one of the most common materials in upholstery. Leather furniture is durable and can last a lifetime. Although, high quality leather often comes at an increased price. Coming from cattle, leather hyde looks fantastic and feels great.
Pros of Leather
Leather is one of the most common materials, and is therefore very easy to come across. If you head to your nearest furniture store, they will have some leather products.
Leather doesn't absorb moisture well and is therefore easy to maintain. It won't develop an unpleasant smell and is very easy to wipe clean.
Leather can last from anywhere between 1-20+ years depending on its quality. With leather, the more you pay, the more years you get. This material is one of the best in regards to durability.
Another great benefit of leather is how it looks. Leather has an old-fashsioned, elegant style that has been a peak of luxury for quite some time.
Cons of Leather
When placed next to something like cotton, you'll fast realise how hard leather can be. Although it looks great, this is far from the most comfortable furniture you'll ever buy.
If you are clumsy, you'll have to be extra careful around leather. You can puncture it with sharp objects easily, leading to costly repairs.
Speaking of costs, leather comes in as one of the most expensive materials.
Who is Leather for?
Leather is for someone looking for a classic form of luxury. Leather isn't going anywhere anytime soon, and has risen to fame for a reason. It feels great, has a distinct smell, and is stylish.
If you want a piece of furniture that gives a statement, leather is for you.
Linen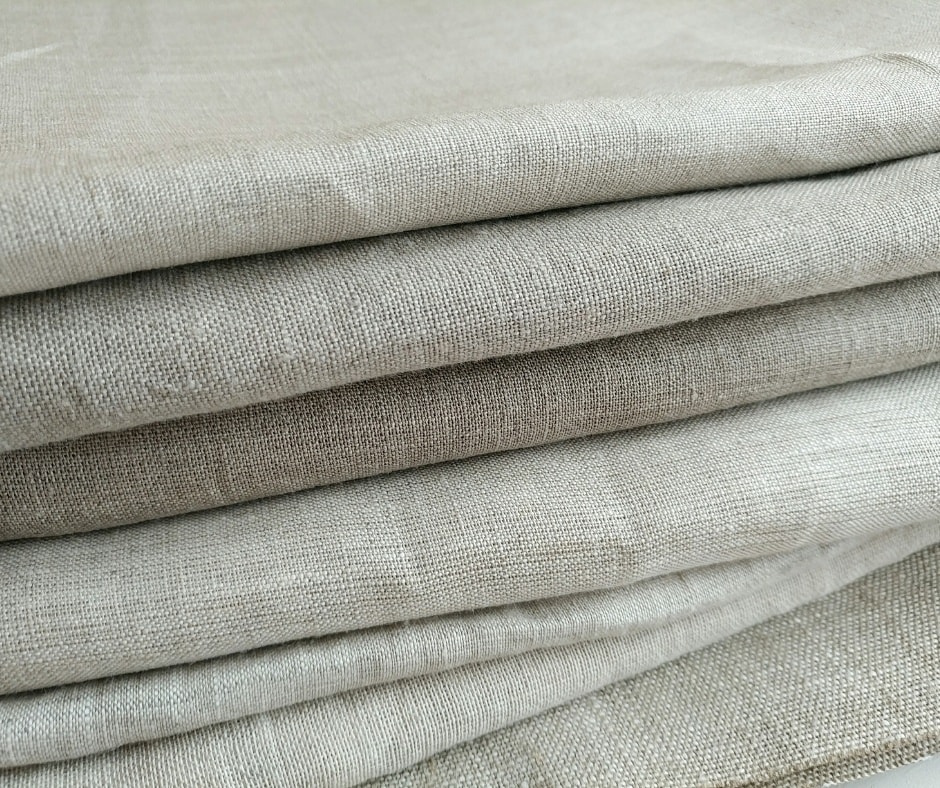 What is Linen?
Linen is another one of the natural fibers on this list. They manufacturer it from flax, and it has fast become one of the fabric heavyweights of the world. While other fabrics are more enduring, linen makes up for it in affordability.
Linen is often mixed with other synthetic fibers to increase its flexibility.
Pros of Linen
Linen is incredibly soft, meaning it is very comfortable. This works great as both a material for upholstery and also one for blankets for your sofa.
Linen is also one of the most durable materials on this list. It is resistant to mildew and sunlight, and can take on water without getting damaged.
When it is not dyed, linen has an earth-like color that looks elegant when blended into upholstery.
Cons of Linen
Linen is often wrinkled. After only a few weeks in your home, this materai will begin to show signs of wrinkling.
It is also not suitable to heavy use, as it can pull apart at the fiber-level fairly easily. Due to this, you'll want to be careful when cleaning linen. It will have to be professionally cleaned, otherwise it may become damaged and shrink.
Who is Linen for?
Linen is for those that love comfort. This material is truly wonderful to touch. Alongside its cheaper price, you have a serious contender for the best fabric on this list.
Microfiber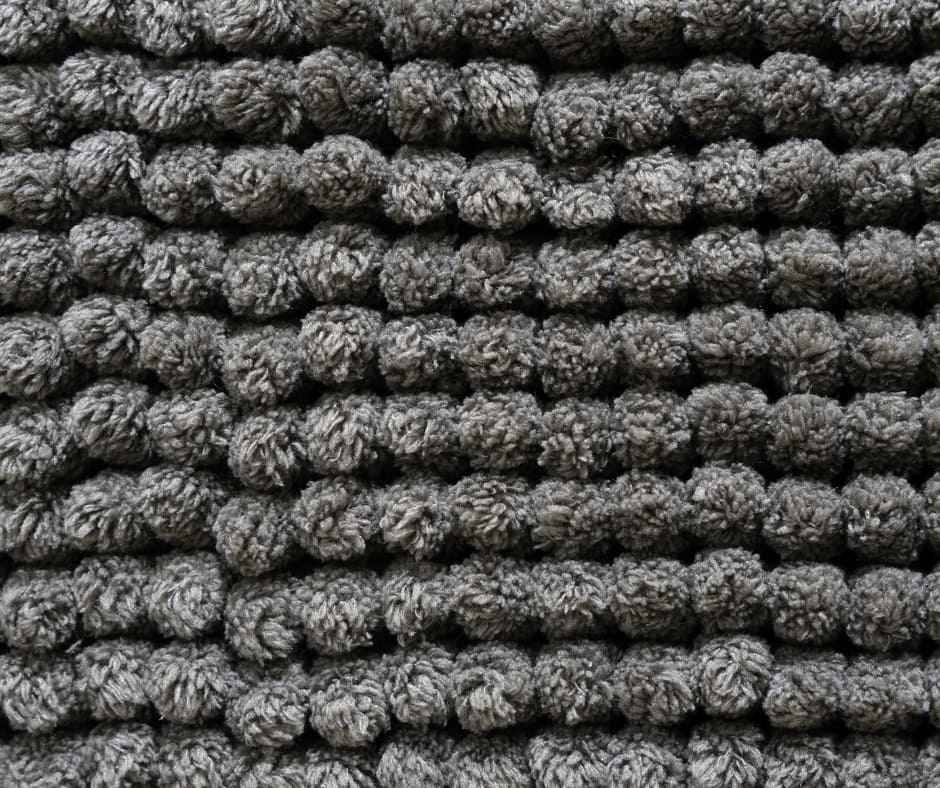 What is Microfiber?
Microfiber is a material that's created from polyester. Microfiber has become an incredibly popular fabric in recent years. It is resistant to stains and water, meaning it will look similar for a long time. On top of this, it is resistant to fading.
Pros of Microfiber
Microfiber is resistant to water and light damage, meaning it is very durable. It is also fairly breathable as a material.
Cons of Microfiber
Microfiber tends to be a little bit more expensive than most materials. If you are looking for quality on a budget, this may not be the material for you.
Who is Microfiber for?
Microfiber is very durable and is useful for someone in a high traffic household. If you are going to use the couch, this could be the perfect material for you. If there are a couple of kids clambering around the furniture, the extra durability will go a long way.
If you're looking for something low effort and stylish, microfiber is for you.
Nylon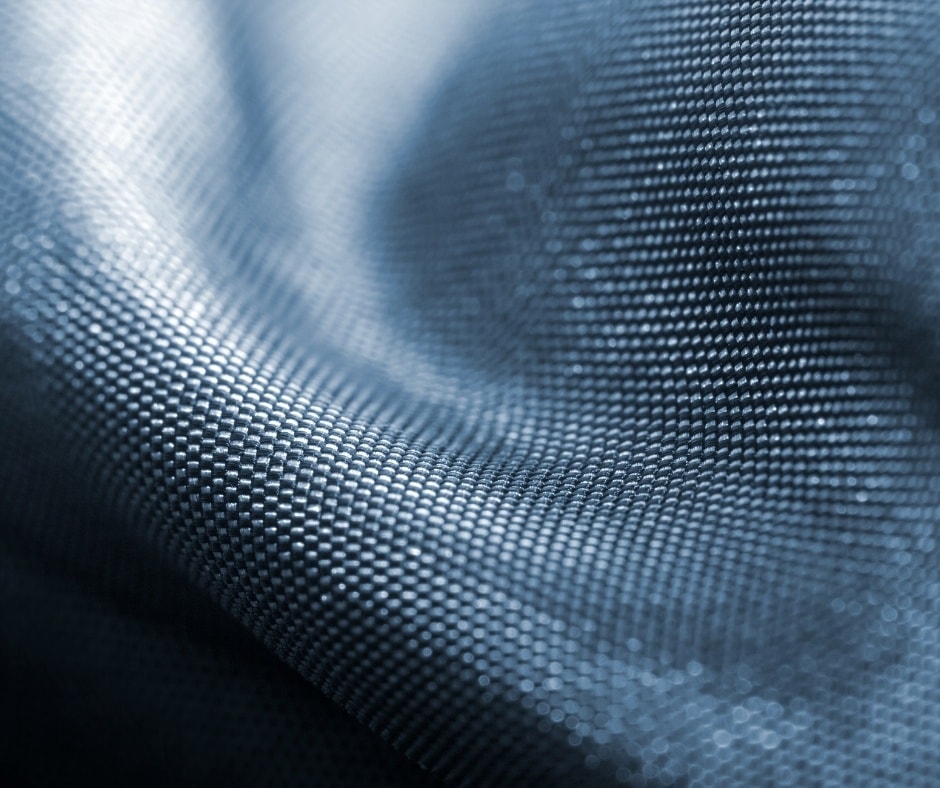 What is Nylon?
Nylon is frequently blended with other material fibers. Therefore, when discussing nylon, I will be referring to it as a nylon blend. These combine complementary material fabrics in order to make something durable.
The combination of fibers gives the nylon lots of elasticity, meaning it can bounce back.
Pros of Nylon
Nylon is one of, if not the, strongest fiber out of all the upholstery fabrics. This means that if you want something durable, nylon is a great material to go for. It will resist wear and tear right till the end.
Cons of Nylon
Nylon is susceptible to sun damage. This means it often fades over time. If you want to keep your nylon blended sofa in pristine quality, you'll have to keep it out of direct sunlight.
Who is Nylon for?
Nylon blends are for someone who may use their sofa a lot. It is very durable and can last a lifetime if treated with care. Make sure to keep your sofa out of sunlight if you end up going for a nylon blend.
Olefin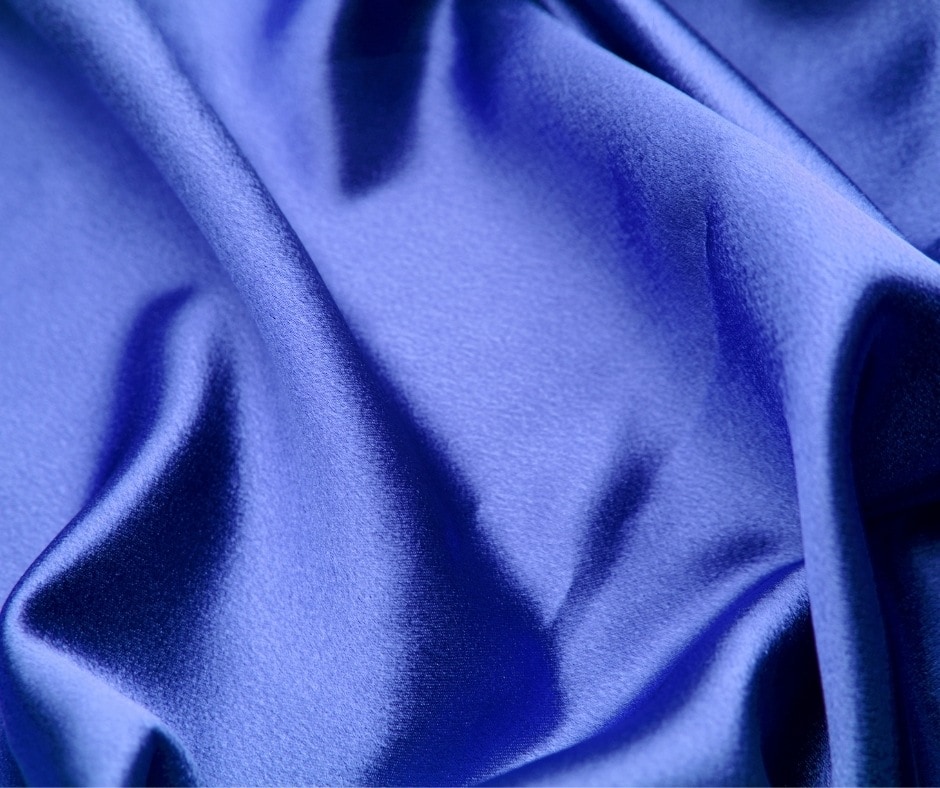 What is Olefin?
Another synthetic fiber on the fist, Olefin is manufacturer from petroleum. Considering its material base choice, olefin is very durable. Out of everything on this list, olefin may outlast them all.
Pros of Olefin
As stated above, olefin is build to last. It is one of the most durable materials on the list and will have no problems with wear and tear. Even if treated roughly, you'll have a hard time damaging this material.
It is also resistant to water, fire, and chemicals. You'll be able to use bleach to clean olefin, as the chemicals will not seep into the material. This makes sterile cleaning a breeze.
Cons of Olefin
If you spill any form of oil on olefin, it will likely be there forever. Oil based stains will have a tough time of getting out of olefin.
Alongside this, direct exposure to the sunlight can cause olefin to become fragile. It will often split if exposed to too much sunlight.
Who is Olefin for?
Considering it is a melted plastic, the color of olefin will be uniform throughout. This is great for people who want a one-block-color aesthetic. Or, if you want something that will last an incredibly long time, olefin is for you.
Rayon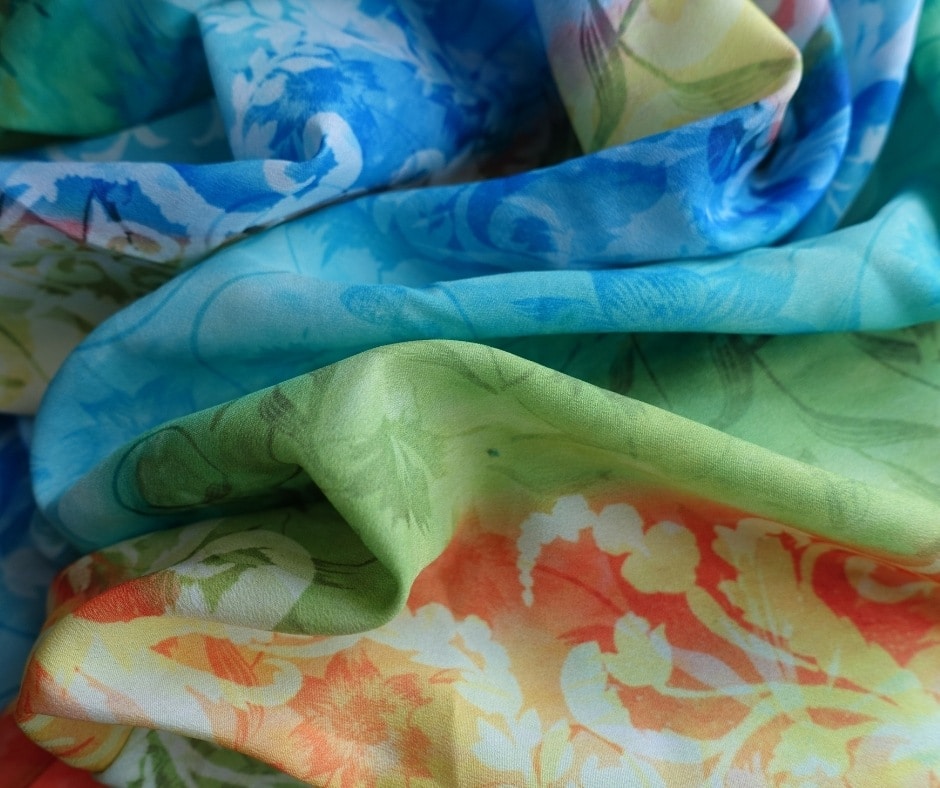 What is Rayon
Rayon is a very versatile fabric on the list, having a synthetic base that mirrors natural fibers. The construction of rayon means it provides lots of comfort, but may not be the most durable fabric. Due to its cheap cost, rayon is widely used in both upholstery and design.
Pros of Rayon
One of the best things about Rayon is that it is comfortable. Although simple, how soft this material is a great benefit. It is also more resistant to moisture and mildew, much more than the similar cotton.
Rayon, as I have stated, is one of the cheapest materials on this list. If you are on a budget, look no further.
Cons of Rayon
Rayon becomes disfigured over time. This includes wrinkling, but also just bending out of shape. It's a shame as rayon is beautiful, but will often end up looking stretched out of proportion. This is due to its lack of flexibility.
Rayon is not waterproof, meaning if you accidentally spill something on it, it will be hard to clean.
Who is Rayon for?
Rayon is for the bargain hunters out there. If you're looking for a comfortable material at a cheap price, rayon goes a long way. However, be sure you're not looking for durability, as rayon will wear out quickly.
Silk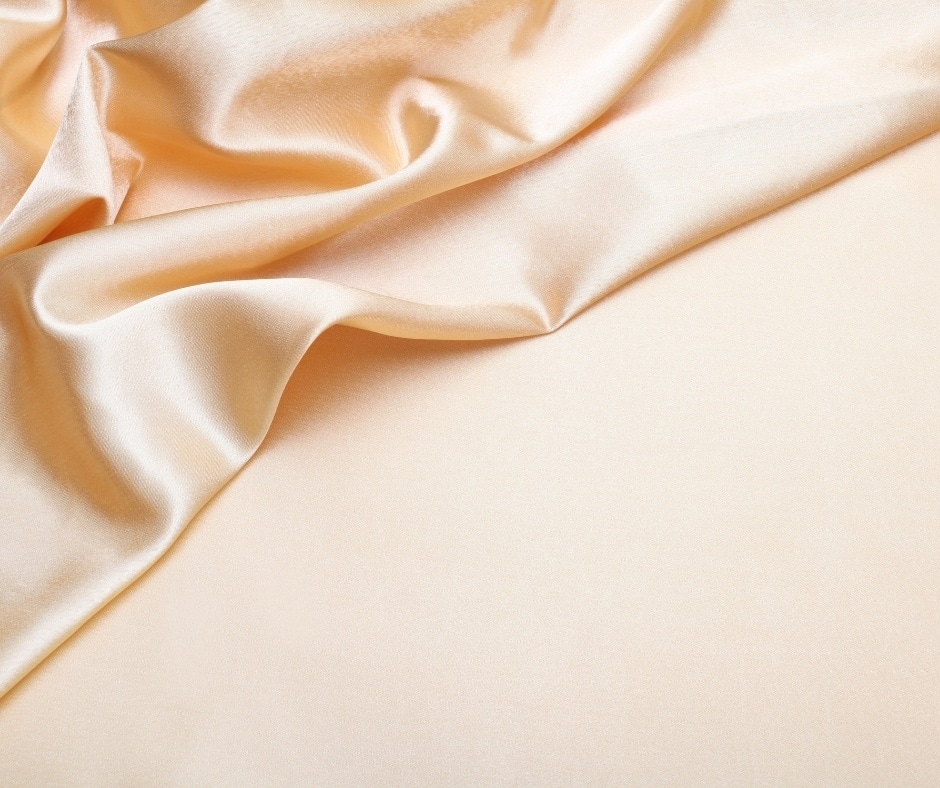 What is Silk?
The industry determines silk as one of the most luxurious fibers out there. If you are looking for luxury, silk is the material for you. While expensive, it can also be durable if looked after.
Pros of Silk
It's no secret that silk is beautiful. Both to touch and to see, silk exudes luxury.
Silk is very flexible. Due to this, it keeps its shape for a long time.
The silk market is reknown for its vibrant colors. Silk's popularity means you'll be able to find it in any size or color you want.
Cons of Silk
Before I go any further, I have to mention how expensive silk is. Although beautiful, this material is only for those who don't have a budget when shopping.
Considering its regality, it must also be dry cleaned when needed. This can be fairly often as silk traps hair fibers. If you have animals, I would avoid this material all-together.
The sun can also damage silk when it is directly exposed. This will cause a fading of colors and will ruin the aesthetic of silk.
Who is Silk for?
Silk is realistically for looking, not touching. If you're going to buy a silk product, it would be better as a visual piece. Considering this fabric can't take the rough wear and tear of everyday life, only go for it if you won't be using it often.
Silk is for those looking for a genuinely beautiful piece of furniture.
Velvet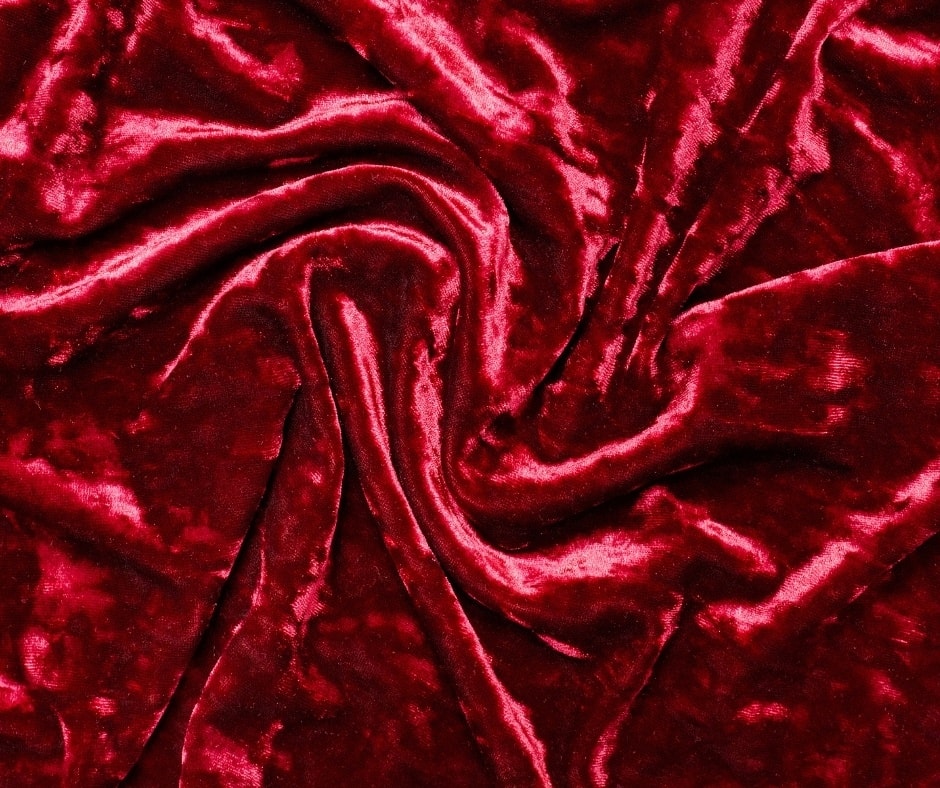 What is Velvet
Much like silk, velvet is a luxurious heavy-hitter in the fabric world. This material is truly breathtaking, both visually and to the touch.
Pros of Velvet
Velvet has a reputation for being incredibly soft. You'll find yourself running your hands up and down this material, it is truly incredible.
Velvet also looks aesthetically pleasing, often dyed into bold and regal colors.
Cons of Velvet
With every regal material, velvet comes at a high cost. Not only this, but you'll also have to do a lot of upkeep of this fabric.
Who is Velvet for?
If you're looking for a material that will bring a space together, look no further. Velvet is incredibly soft, meaning it's perfect for lounging upon. The bold color choices also lend themselves to aesthetic pieces.
If you want something gorgeous to light up your living room, go for a velvet piece.
Wool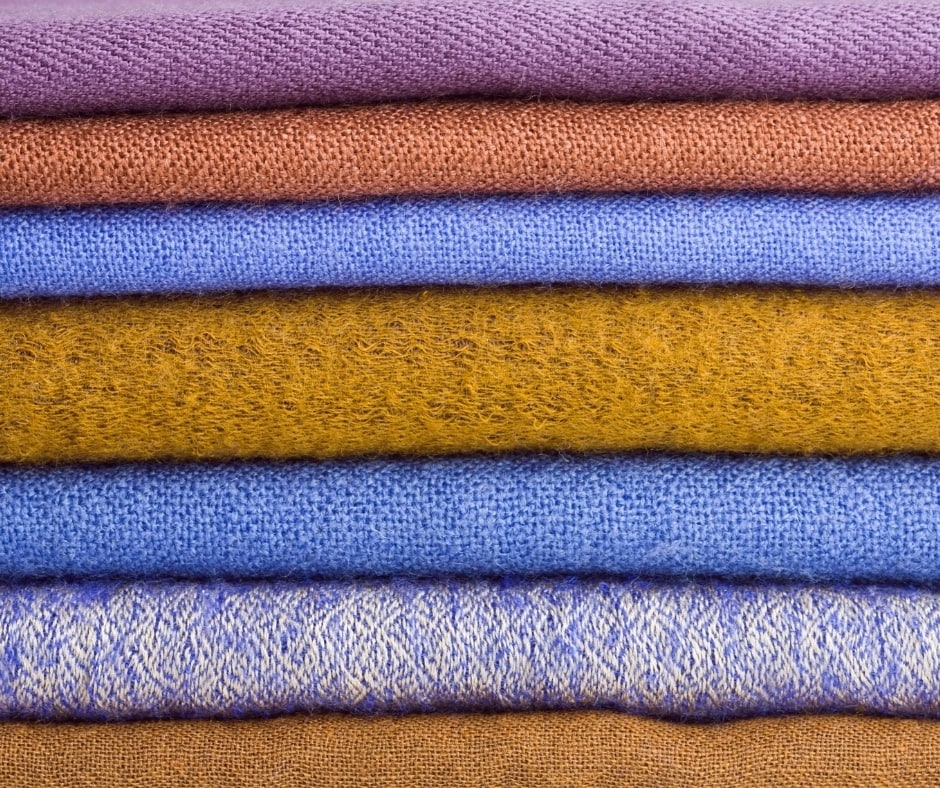 What is Wool?
Wool is one of the most popular materials on this list. Although it is not always used in upholstery, you can still use it in some circumstances. Wool mainly comes from sheep, but occasionally from goats.
Pros of Wool
Wool is very resistant to mildew and water damage. On top of this, wool won't wrinkle or fade, meaning it wil last a long time.
Wool is a durable fabric, it is good at insulating as well. If you want something cozy, wool is a great choice.
Cons of Wool
One of the biggest cons of wool is that it can become expensive quickly. If you get a lot, which you would need for upholstery, this will be very costly.
Who is Wool for?
Wool is for someone looking for comfort that is also unique. Not many couches use wool for upholstery, meaning this will be eye catching.
Conclusion
There are a lot of upholstery fabrics to consider when making your perfect sofa. This list has demonstrated the pros and cons of each of these fabrics. If you're looking for something specific, take a read of the 'Who is this for' section of each material.