The garage is a staple in homes and townhomes; we take parking in an enclosed, secure area for granted. There is a lot of work in building the perfect garage housing, and many overlook it. Therefore, this article will break down the 2-car version of the garage.
You will learn what a 2-car garage is and what can fit inside it. Learn the 2-car garage square feet size, best size, and minimum size. Plus, the article breaks down the universal garage sizes to see if it fits what you seek in a 2-car garage. Those sizes are 20ft x 20ft and 24ft x 24ft.
In This Article We'll Discuss
What is a 2-Car Garage?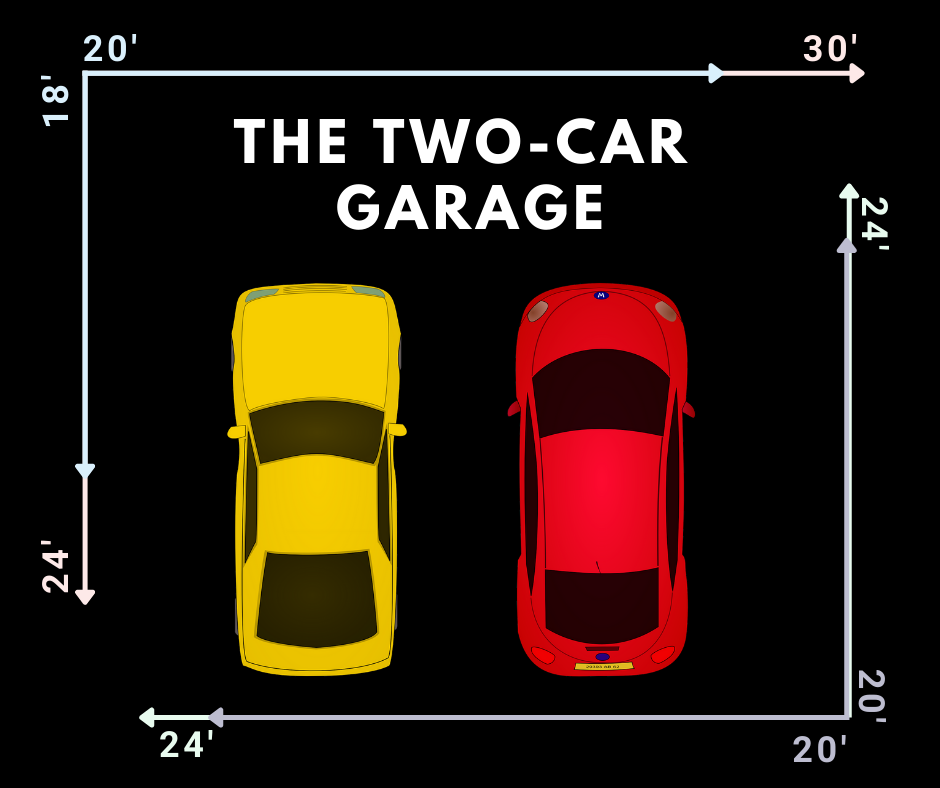 A 2-car garage is a part of the property whose principal goal is housing two vehicles. Its secondary job is being a storage unit. The outer walls shield the vehicles from damage from the weather elements. A 2-car garage come as 18ft x 20ft, 20ft x 20ft, 20ft x 22ft, 24ft x 24ft, 24ft x 26ft, and 24ft x 30ft sizes.
An attached garage attaches to the house through one or two walls. The garage door and the remaining wall are standalone, not connecting to the house. Reaching an attached garage means climbing stairs or walking down a hallway to enter it.
A detached garage is a four-wall standalone building on the property away from the house. It looks like a shed or barn. That requires walking outside to access the garage.
What Can Fit Inside a 2-Car Garage?
The purpose of a garage is to hold two vehicles. However, today's garages are more than vehicle storage. They are a storage solution for items where there is no room in the house for them. You may not need the space now, but the best size garage holds more than cars, trucks, and SUVs.
It holds 2-wheeled vehicles like bicycles and motorcycles. It can keep small boats, surfboards, kayaks, and water gear. The garage stores power tools, garden equipment, wastebaskets, sports equipment, and seasonal decor. There's also room for a workstation, building materials, and a utility sink.
How Many Square Feet is a 2-Car Garage?
A garage's square foot depends on the size. An 18ft x 20ft garage is 360 square feet. A 24ft x 30ft garage is 720 square feet. So, a 2-car garage is between 360 square feet and 720 square feet.
For specific sizes, a 20ft x 20ft garage is 400 square feet. The 24ft x 24ft garage is 576 square feet.
What is the Minimum Size for a 2-Car Garage?
The minimum recommended size is 20ft x 20ft for a 2-car garage.
So, why not the 18ft x 20ft garage? While it's the minimum size, the 18ft x 20ft garage makes for a tight squeeze. The car is closest to the wall and is inches away from the nearby vehicle. It is difficult to enter and exit the automobile and add storage without crowding.
That is why a 20ft x 20ft for a 2-car garage is the alternative. While storage space is lacking, the bare necessity of two vehicles parking in the garage makes up for it. The people in the vehicles can enter and exit safely.
What is the Best Size for a 2-Car Garage?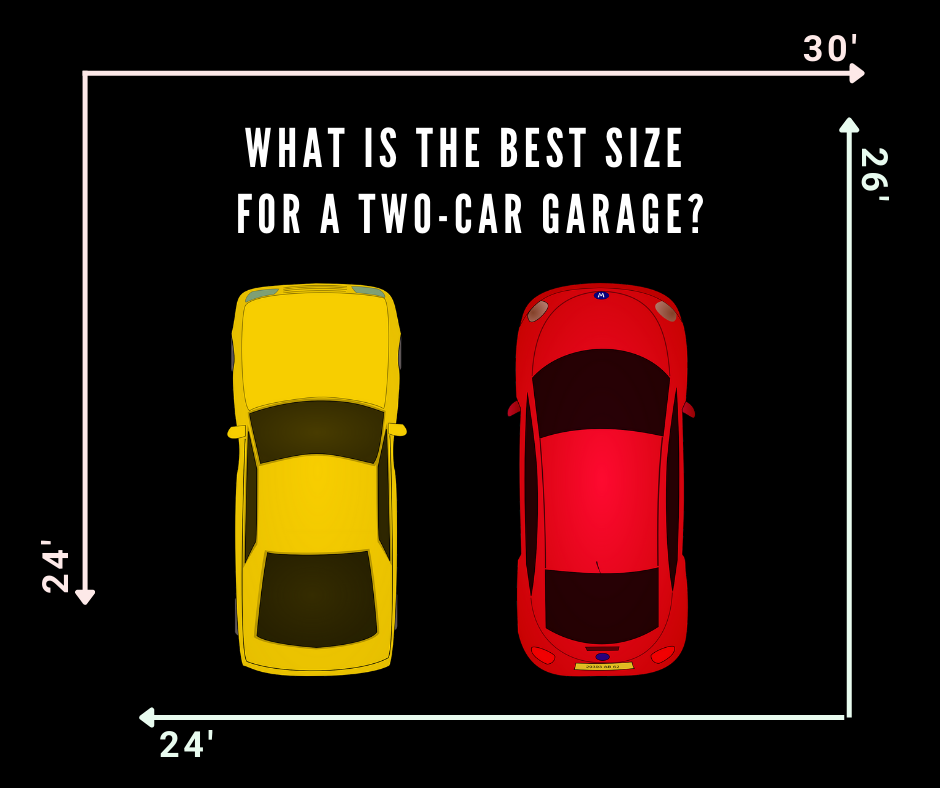 The best size for a 2-car garage is the largest size available. A 24ft x 30ft and 24ft x 26ft garages are ideal because they provide ample space for vehicles and storage. However, both have an oversized appearance, so if you don't have the land, try a 24ft x 24ft. The popular size holds enough space for cars and storage with plenty of room left over.
Can You Fit 2 Cars in a 20ft x 20ft Garage?
A 20ft x 20ft garage can house two cars in one area, but it is the second-smallest size for 2-car garages. There are challenges to squeezing two automobiles into a confined space.
The two cars in the garage must be small. No SUVs, trucks, or large, bulky vehicles can fit. Should a space-sucking large vehicle go inside, the two-car garage becomes a one-car garage.
There is no room to open the driver, passengers, and back doors. Opening it means bumping into the wall or the vehicle next to it. That is problematic if you are leaving in a hurry.
If you want to store more than cars in the garage, there is very little room for it. Adding storage will make the room cramped. Therefore, you must find storage space for non-vehicle items. Additionally, there is no room for a workstation to complete outdoor tasks.
Furthermore, a small garage lends itself to a smaller garage door. The garage door height and ceiling lose an inch from top to bottom. It makes a difference in backing into the garage trunk side first using mirrors. It is also difficult to park cars with antennas in the garage without damage.
Is a 24ft x 24ft Garage Big Enough for 2 Cars?
If you want a garage large enough for two cars with plenty of wiggle room, a 24ft x 24ft garage is the answer. The size fits two vehicles with wiggle room on all sides to open and close the doors without damage. Parking the automobile from the back (trunk first) or front (hood first) is not a problem. Vehicles don't need to worry about antenna damage because the ceiling is higher than a 20ft x 20ft garage.
When the cars park near the center, you can use the three walls not containing a garage door for storage. Add a pegboard, a garage storage system, a storage cabinet, a wall cabinet, and mesh baskets for storage. Add a workstation or workbench to complete outdoor-related activities.
Be sure to focus on vertical storage to create more room if you run out of it. Also, maintain neatness in the garage by picking items off the floor so the vehicles can park safely.
Conclusion
A 2-car garage's square feet, minimum size, best size, and purpose should always be at the forefront. The 2-car garage that is suitable for you depends on the vehicles you own. When in doubt, always go for the larger garage space. There's no issue squeezing in large, bulky vehicles and storage units.
What did you learn about the 2-car garage? Our readers would love to hear your thoughts in the comments section. With a 2-car garage, bigger is always better. It makes your life a little less stressful.