If you can't figure out what to put on a wall next to a bed, there are all kinds of ideas you can tap into. This is a common concern for people as this is a tricky area to decorate just right.
Over decorating a wall next to a bed can make the room feel smaller and more chaotic. But not decorating it at all can leave the room looking bland and too minimal for the space.
If you need to decorate a wall next to a bed, you can hang all kinds of things like artwork or hanging plants. You could even go the sophisticated route to hang lamps or add a fancy headboard to the wall.
Keep reading to find out what you can add to the wall that is next to your bed to spice up the look of your bedroom.
9 Ideas to Put on a Wall Next to a Bed
If you have a wall next to a bed, you may not know how to tackle this space. How do you decorate it without making the room feel small and cluttered? How do you use this area to inject more character into the room?
These are all things that you might have thought about when tackling this space. The good thing is that there are all kinds of things you can do with this wall.
This is a great place to add more decor to help pull the room together without redecorating. So keep reading to find some decor ideas for a wall beside a bed.
Hang Artwork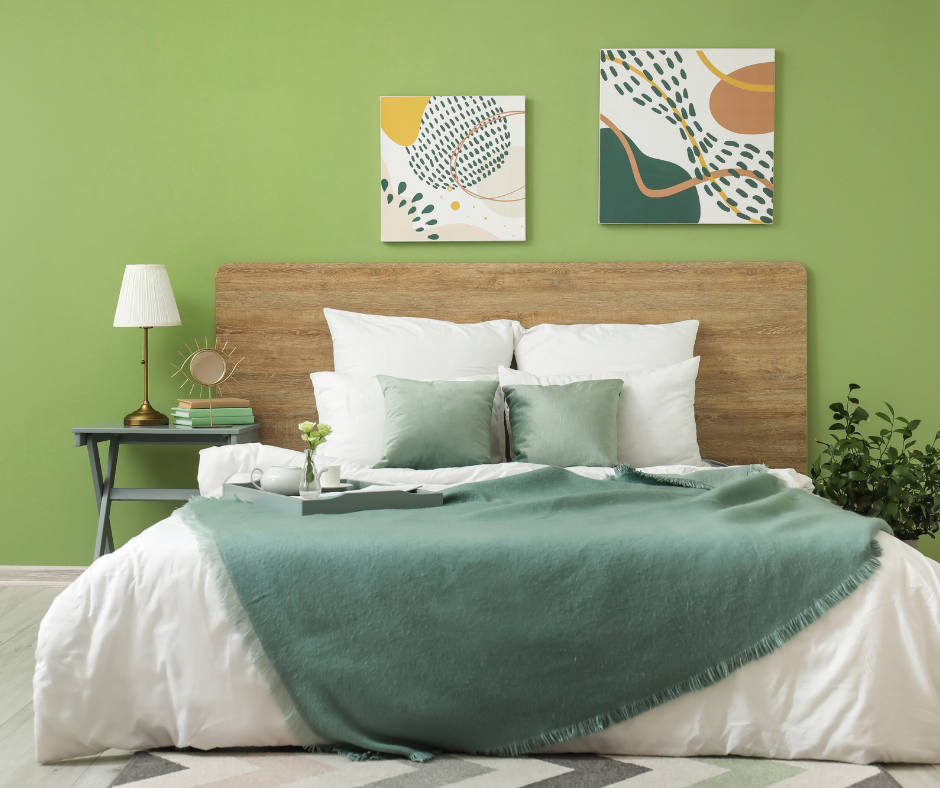 Hanging artwork is a fantastic way to elevate the space and add some much-needed creativity. The artwork sets the mood for the space and really helps to pull together different colors and patterns in the room.
This is also a great place to start if you are feeling uninspired and don't know what direction to take with the room. Just picking out some pieces of artwork can get those creative juices flowing.
You can also mix this up by hanging frame artwork or artwork that is loosely attached to the wall.
Make a Collage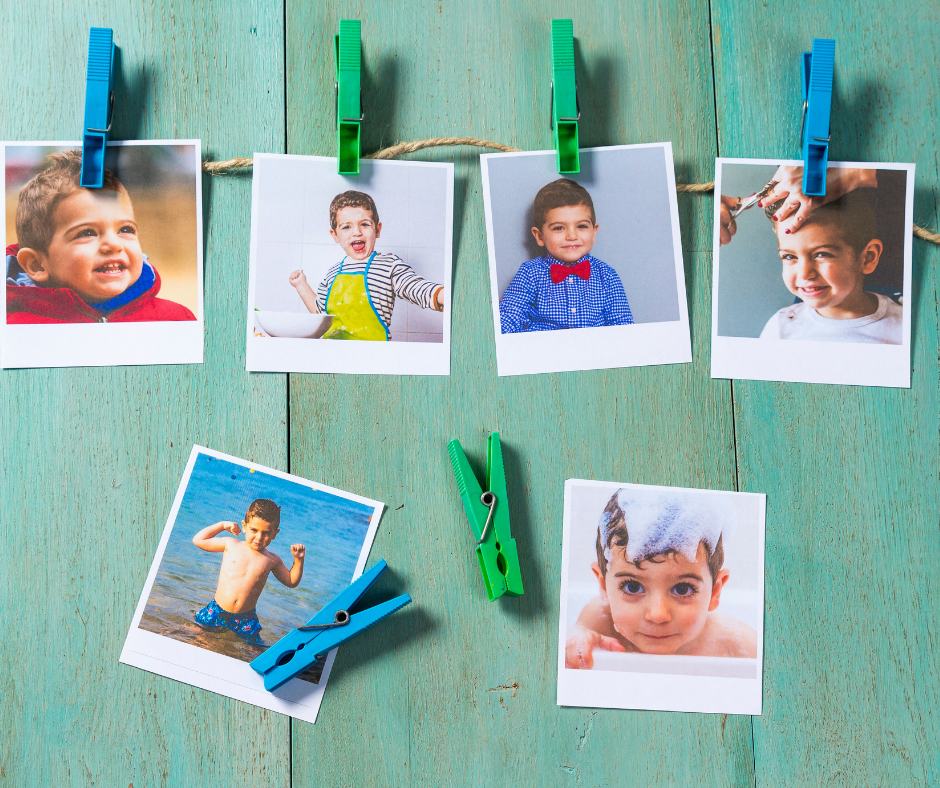 Making a collage beside or above your bed is the perfect way to create a fun space. Collages can hold so much character and can really make the room feel complete.
One of the best things about collages is that they can be created any way that you like and can be made from anything as well. You could make a picture collage or a collage of hanging art and posters.
This is the perfect way to let your creativity flow and pull the entire room together.
Add a Statement Piece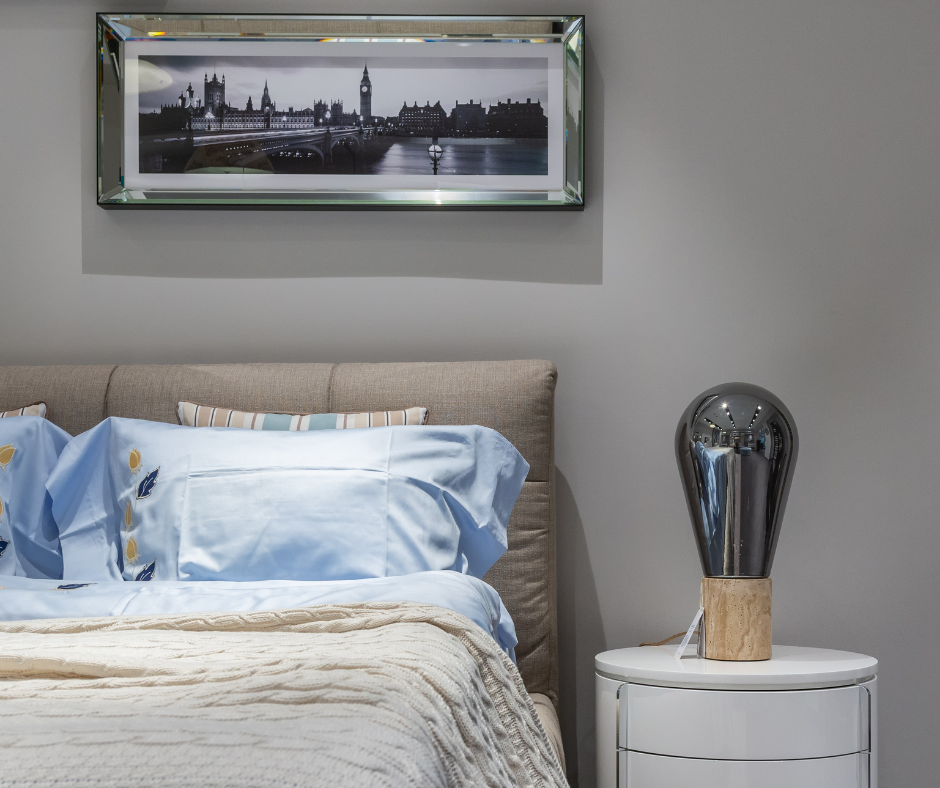 Adding a statement piece to the walk beside a bed is a great way to immediately attract the eye. This can elevate the room and make it feel more sophisticated and classy as well.
A statement piece can also be anything that you like, whether that be a large piece of art or a hanging tapestry. This is the piece that will capture the most attention, giving the rest of the room something to compliment.
Hang a Mirror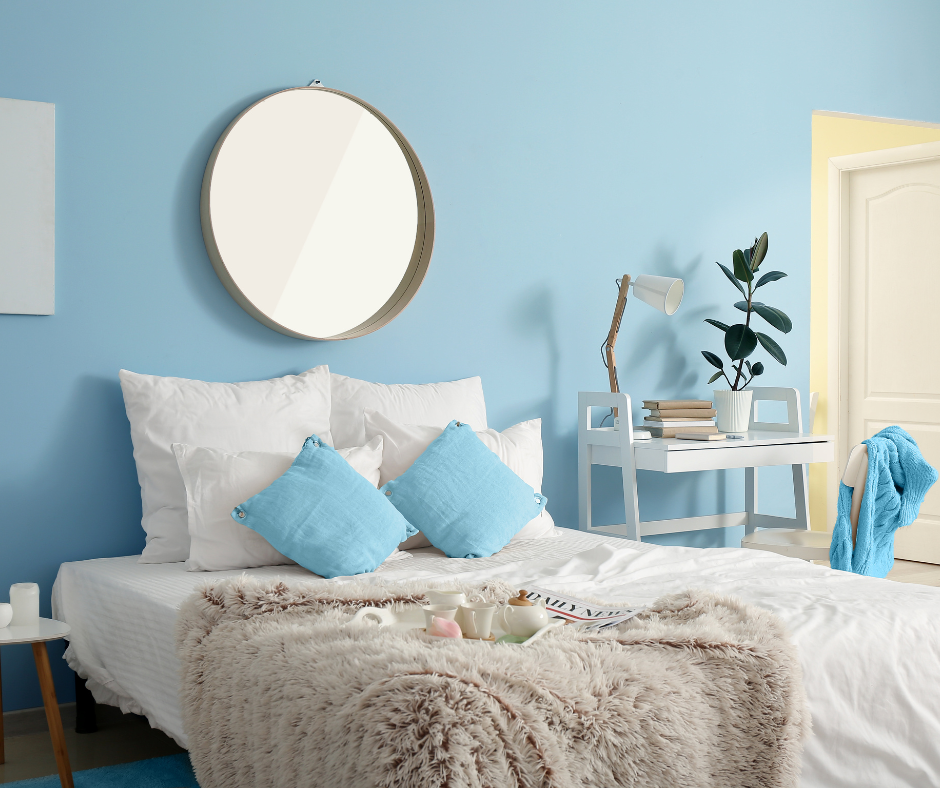 Hanging a mirror is a great way to open up the space and bring in light. Mirrors naturally reflect light and make the space feel larger than it actually is.
This is the perfect option for smaller rooms or rooms that don't get much light. This is also a more sophisticated option that will make the room feel more classical and elegant, rather than how typical bedrooms feel.
Add Wall Lamps
If you have the space for it, wall lamps can make a beautiful addition to the wall beside or behind a bed. These not only serve a practical purpose, but they can also be beautiful and compliment the style of the room.
You can get eclectic, antique, or modern wall lamps to complement your style and add something to the wall. This is a very simple decor option, but it still helps to pull the room together and keep it from feeling too minimal.
Use Hanging Plants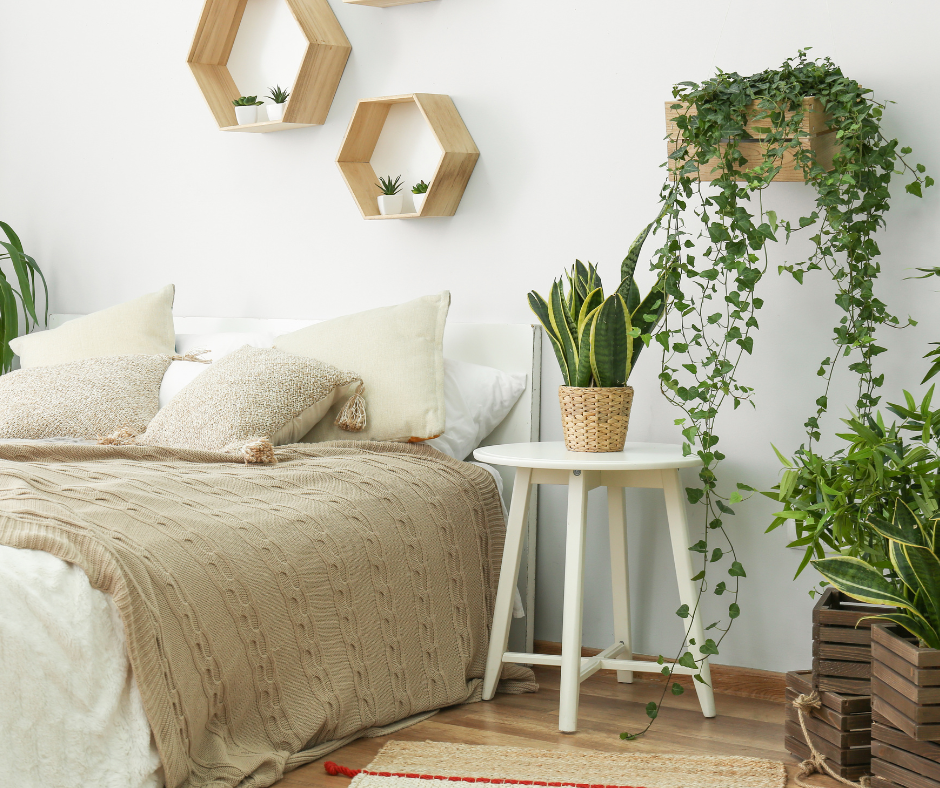 Setting up hanging plants is a refreshing touch to any room. This is perfect for spaces where you want the decor to be natural feeling or airy and not overpowering.
Hanging plants are beautiful and can make the entire bedroom feel peaceful and serene. This creates just the kind of feeling that every bedroom should have.
Add Shelves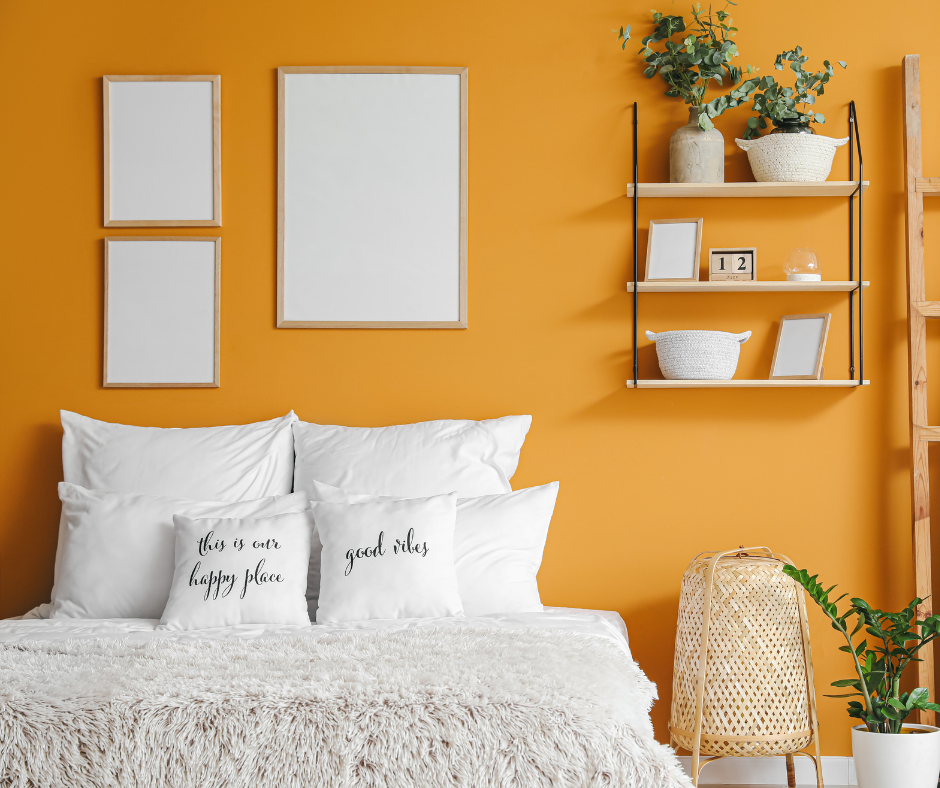 Adding shelves to this kind of wall is a great way to compliment the space and give you additional storage. This is the perfect cross between pretty and functional decor.
You can add small nick nacks here or use the shelves as a place to store your favorite books. Just make sure you don't overcrowd the shelves and make them look unorganized.
Hang a Blanket
Hanging a blanket may seem like a strange idea, but this is a great way to create a cozy space. You can hang a knit blanket or a throw blanket to add coziness and warmth to the room.
This instantly makes this space look like a restful place, which is just what the bedroom should be. This is also a great way to tie in more colors to compliment the rest of the decor in the room.
Use a Headboard
Depending on where this wall is, hanging a headboard can be a great idea. This gives the room that classical touch as a headboard is such a natural decor piece next to a bed.
You can either make your own headboard or look for one to fit your style. There are all kinds to choose from, whether you like modern or more traditional styles.
This is also a great way to make your bed really stand out as the star feature of the room. A headboard can also make it look larger if your bed is on the smaller side.
How Do You Decorate an Empty Wall Beside a Bed?
If you need to decorate a wall beside your bed, it can be hard to know where to start. A blank wall can be very intimidating as it is large and full of potential.
The best way to decorate this kind of space is to first decide what will go with the rest of the room. Is the bedroom minimal with lots of clean cuts and simple colors? Is it peaceful with muted tones or more creative with lots of colors and patterns?
In order to decide what direction to go with this wall, you should decide what style you want. This will help to lead you towards just the right decor to compliment the rest of the room.
Conclusion
If you need to decorate a wall beside a bed, hanging different kinds of decor is a great way to do this. This keeps the floor clean and uncluttered while still pulling the room together so that it does start to feel too empty.
If you have any questions about what to put on a wall next to a bed, leave your comments below.
To decorate a wall next to a bed, you can hang photos or artwork to add character to this area of the room. You could also add wall lamps or hanging plants for a more unique and styled touch.