If you have an open floor plan and are stumped trying to figure out how to lay your rugs, we have some answers. It can be challenging knowing which rugs have to match, which ones can be different, and what size they should be. We'll give you some tips to know how you can best place rugs in an open floor plan and create a space that flows naturally.
In This Article We'll Discuss
Combining Area Rugs in an Open Floor Plan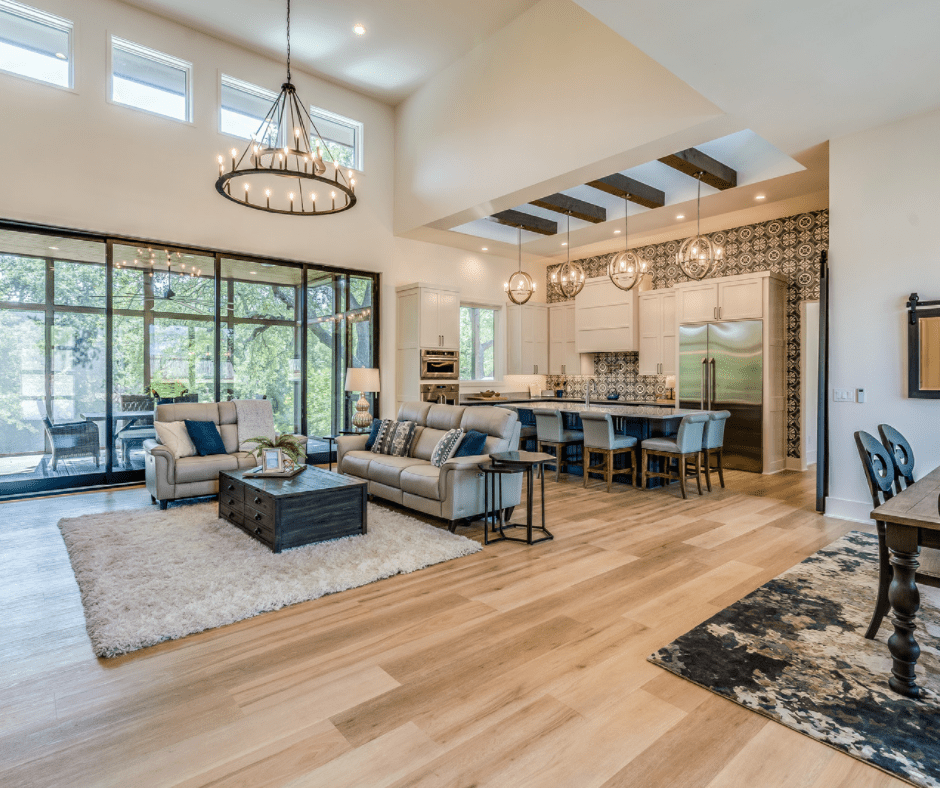 1. Define Your Design Plan
The most important thing to keep in mind when decorating an open floor plan is natural flow. Define your color palette early in the process and stick to it.
An open floor plan means that things are not visually separated the way they are in homes with separate rooms. Everything will need to coordinate well together. Define what style of decor you'll want throughout your space early on.
2. Know What Colors You're Working With
Make sure that all rugs in your open floor plans coordinate in color. They don't all need to be the same color, but they need to be colors that flow together in harmony and don't clash. To do that, you can pick rugs in different color tones but in the same general family to make sure they work together. For example, you can use several different coordinating shades of blue rugs in one space.
3. Know How to Contrast to Create Focal Points
You can contrast neutral colored rugs such as jute, sisal, or high pile solids or shags with other colors and textures. Combining neutral rugs with bold rugs allows for many styles that can coexist. This also creates space for you to highlight a special rug contrasted by a more plain area rug.
Do Rugs Have to Match in an Open Floor Plan?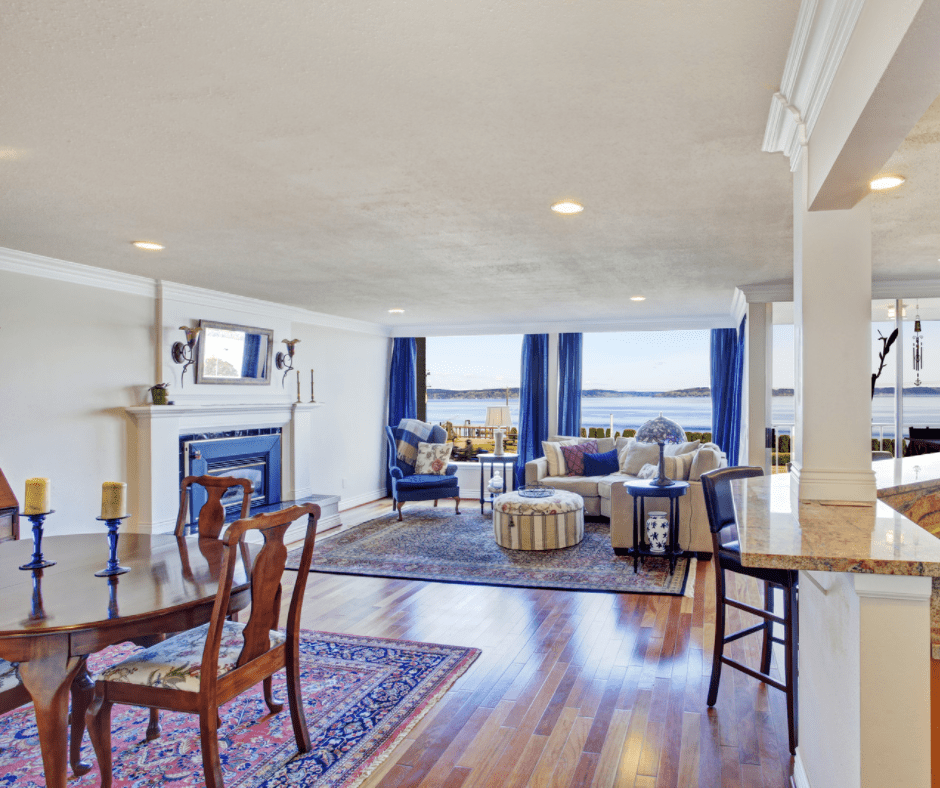 Rugs do not have to match in an open floor plan. If you like the look of a couple matching rugs in a great room, go for it. But, you do not have to match all rugs in an open floor plan.
Sometimes you can choose to match a larger rug to a smaller accent rug if you love the style and want to keep a more cohesive look. If that's the case, try matching an accent runner in a hallway to the rug under your dining room table. Another choice would be matching an accent rug by the back door to your living room rug.
If you don't love the matching rug look, no worries. You can use all different rugs in an open layout. Your living room rug, dining room rug, kitchen rugs, and accent rugs in the hallway or by the front door can all be different.
Like always, make sure to stay within your color palette and choose rugs that won't clash with each other. A good rule of thumb is to look at rugs next to each other and decide if they are competing for your attention or if they exist together in harmony. If they harmonize, they can definitely work together in the same space.
How Many Rugs Do You Need for an Open Floor Plan?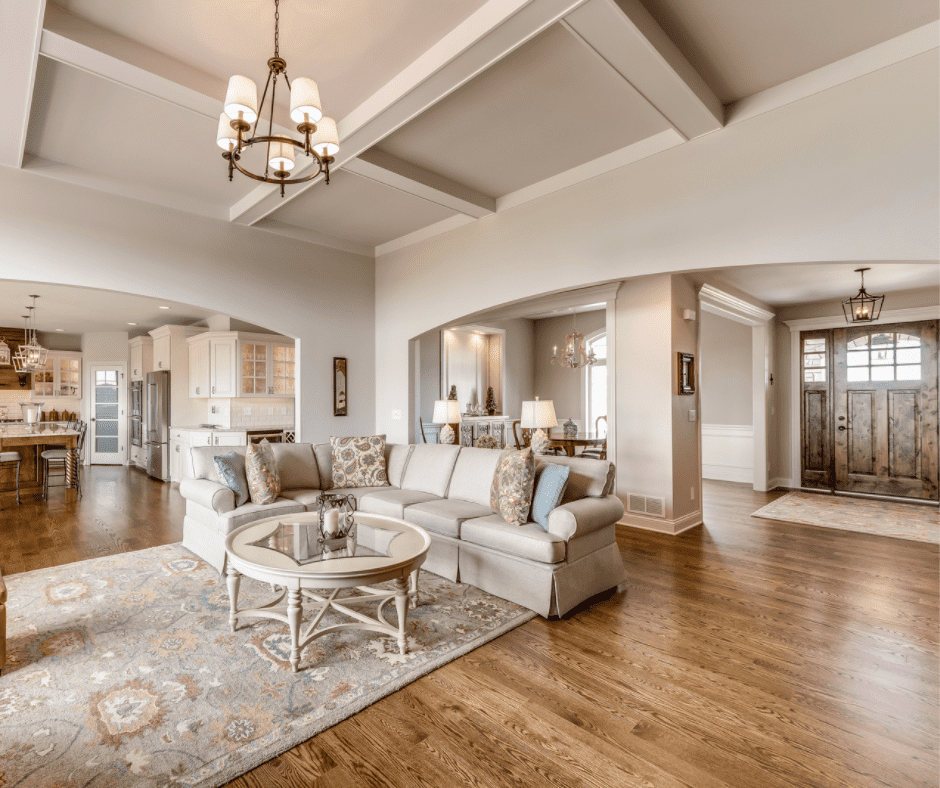 A good general rule to follow for rugs is to make sure each furniture setting has an anchoring rug under it. Make sure your living room and dining room have at least one large area rug under each setting. If you have a smaller seating area, use a 3′ x 5′ rug under it. Accent rugs are not only visually appealing, but comfortable over wooden, tile, or vinyl floors in a kitchen and hallway.
Your rug options will be regular or oversized area rugs and smaller rugs such as accent rugs, runners, or scatter rugs that are about the size of small doormats. Each of these rugs can differ in style from one another, just make sure they all flow with your open floor plan.
Should You Overlap Rugs in an Open Floor Plan?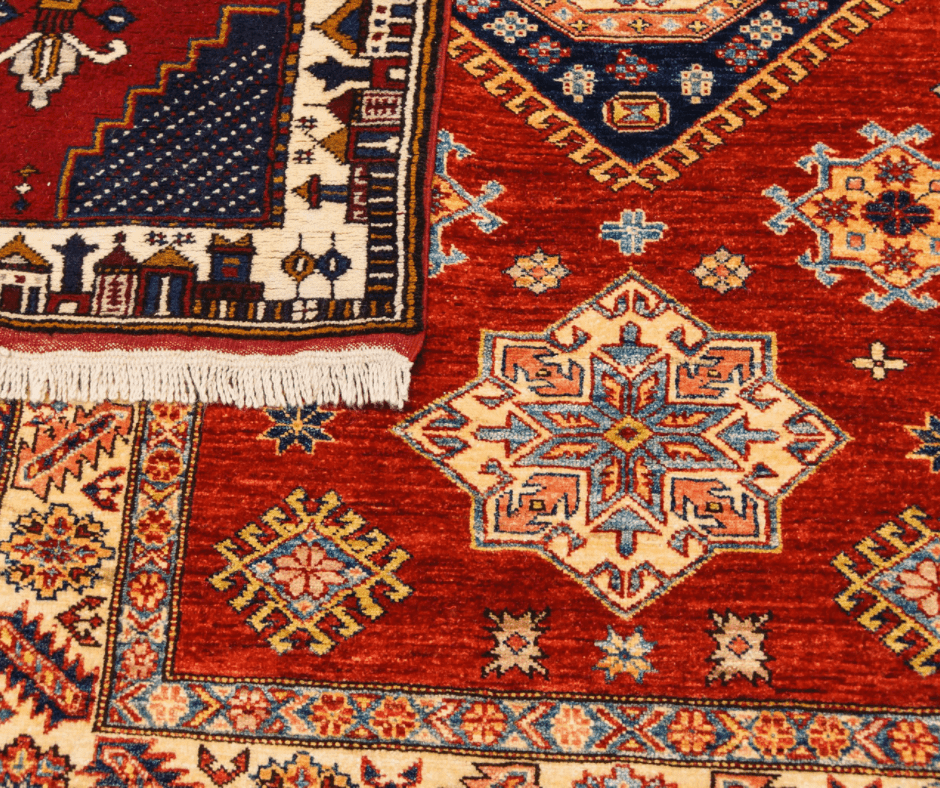 Overlapping rugs in an open floor plan is a great way to merge styles. You will have to be careful, though, because you don't want to have too many rugs. That could make the room look messy and chaotic.
If you overlap rugs, you should always use a simple, neutral rug and overlap it with another neutral or a rug with a bolder pattern. Don't overlap two bold styled rugs because they will clash and look too busy.
An easy way to create a larger space is by layering rugs. For example, you can layer a large cowhide over a neutral jute rug in your living room and create a large space with extra texture under the furniture.
How to Mix Rugs in an Open Floor Plan Like Studio McGee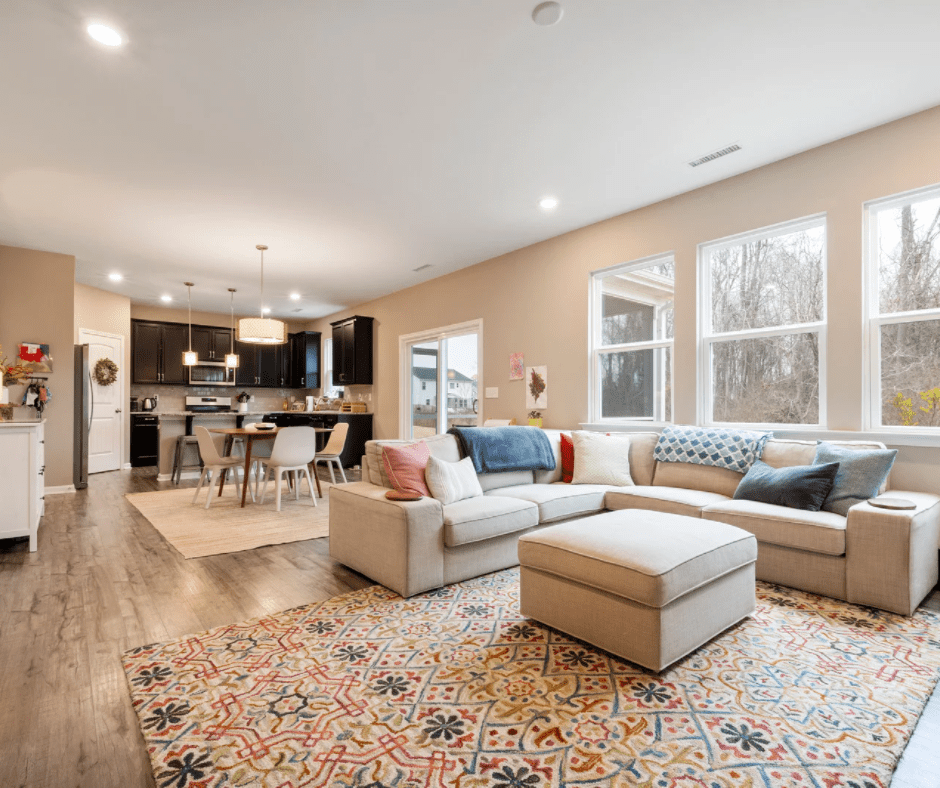 Studio McGee's recommendation is to pair neutral rugs in natural colors with geometric patterned rugs. They believe this creates the best results in open floor plans.
One of their favorite combinations is neutral colored striped rugs with natural jute rugs. You can find striped rugs in all different colors and stripe thicknesses that will coordinate beautifully with a neutral jute rug.
Another recommendation of theirs is putting subtle, low key, neutral rugs such as jute or sisal rugs in a space with brighter colored rugs to let the bold rug truly shine. Then, the other neutral rug helps anchor the space.
What Size Rugs Work Best in an Open Floor Plan?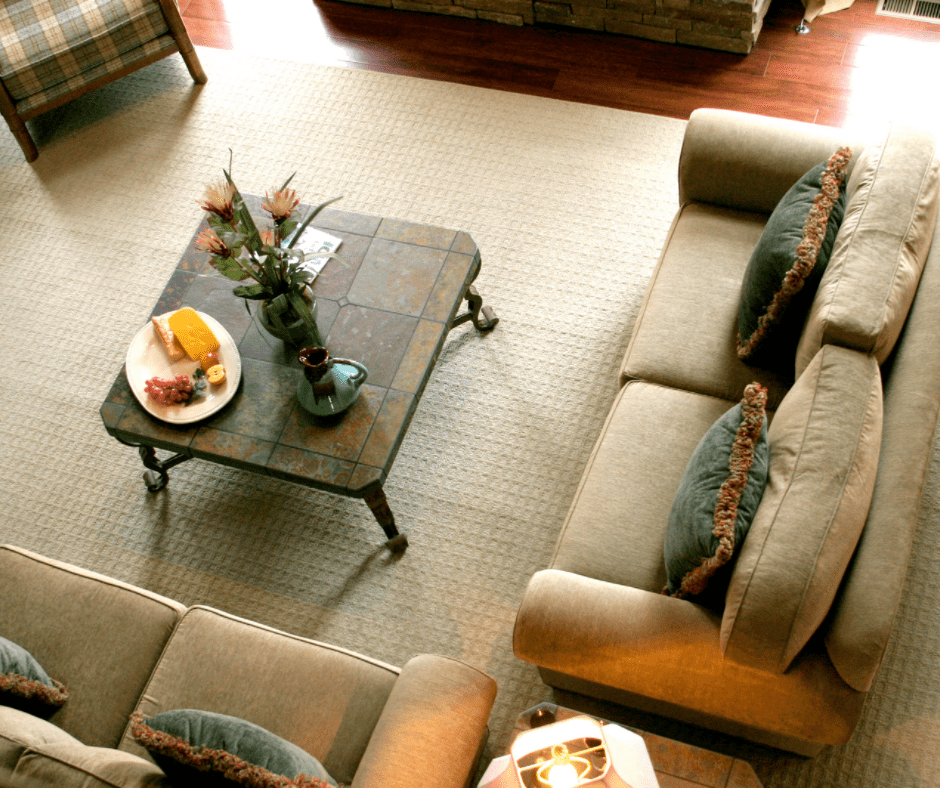 You can use all different sized rugs in an open floor plan. That's the beauty of a wide open space— it can handle all different shapes and sizes of rugs. As mentioned before, aim to have larger area rugs in spaces that have their own furniture setups. This means under sofas and loveseats, under a dining suite, or an open office desk and chair.
Try a combination of different sized rugs in an open floor plan. Not keeping everything the same will help create harmony and natural flow in the space. Mix oversized rugs with room size rugs as well as with different accent rugs and runners.
Conclusion
To create a harmonious open floor plan, you need to know how to best place rugs in a space. Make sure to stick to the same color palette and vision when choosing rugs. You do not have to have all your rugs match in style or size, but make sure they don't clash or fight for attention in your space.