Looking for a comfortable armchair can be difficult, especially if you're living in a small space. Never one to shy away from a challenge, we pulled together 8 armchairs that are available to purchase today that are a solid choice for any apartment or living room that's strapped for space.
Though it may be a small list, good things come in small packages. The JUMMICO Fabric Recliner takes our top spot due to its affordability, design, and of course, most importantly, comfort. If you're looking for something that befits a nursery, then we think you should consider the Rowe.
In This Article We'll Discuss
8 Space Saving Rocker Recliners
---
8 Space Saving Rocker Recliners
Most Affordable Space Saving Armchair For Small Apartments
Product Details:
Materials: Fabric/PU Leather, Steel Frame
Colors: Grey, White, Black, Blue, Brown, and Beige
Dimensions: 28.8″ L x 19.8″ W x 38.6″ H
JUMMICO is a furniture brand that is highly rated on Amazon – and it's not hard to understand why.
This recliner may have a basic design, but within that basic design sits a beautifully curved armrest and an adjustable footrest, creating a stylish aesthetic. This excellent chair comes with a 2-point massage feature located in its backrest, which could be bumped up 8-points depending on the specifications of the model you buy.
What's great about this piece of furniture is that it fits well in any home. This means you can put it just about anywhere – from your living room to your bedroom, without it sticking out like a sore thumb. Moving it around won't be a problem either as it only weighs about 60 pounds. Thanks to its relatively small size, you won't have any issue moving it between rooms.
Given its durable construction, this chair can support up to three times its own weight, so you won't have to worry about being too heavy to enjoy the chair to its fullest.
Lastly, it comes in many colors so you can pick and choose whichever color fits you best. Even though it's affordable, it still comes with an artificial leather variant. Despite being artificial, an affordable alternative to the real thing.
---
Best Small Ladies Rocker Recliner For Small Space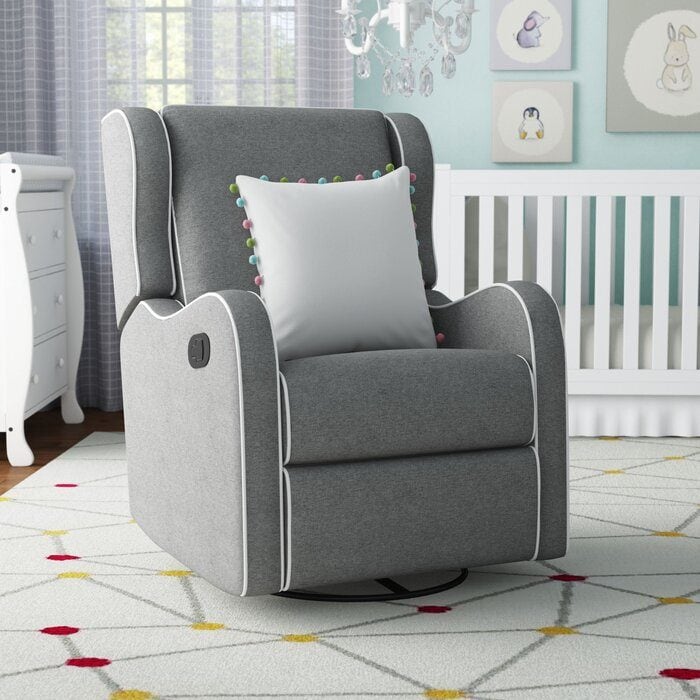 Product Details:
Materials: Metal Base, Solid, and Manufactured Wood Frame, Linen
Colors: Gray, Dark Gray, and Beige
Dimensions: 21″ L x 31″ W x 33″ H
A perfect fit for a nursery room, the Rowe is an armchair that will guarantee a mother and baby complete comfort.
This next chair is a recliner that won't look out of place in your nursery or child's bedroom.
When it comes to features, this chair offers plenty for both the mother and baby in terms of comfort, as well as a gentle rocking feature that can help lull your little one into a restful sleep. It also comes at a relatively affordable price that is often difficult to find in comparable recliners.
Although we feel this type of recliner is best suited for a nursery, it would absolutely not look out of place in a living room or bedroom. Thanks to its sleek design, it's a space-saving chair that is guaranteed not to take over your room.
Like our top pick, the Rowe comes with a 2-point massage function in the lumbar region that will make getting off this piece of furniture quite the challenge!
The only gripe about this model is its 92-pound weight, making moving it quite the task. However, with an extra set of hands, it won't be too much of a challenge.
---
Modern Recliner Chair With A Massage Feature For Small Spaces
Product Details:
Materials: PU Leather, Cotton, Filling Sponge
Colors: Black, Blue, Brown, Beige, Grey, and Red
Dimensions: 39.8″ L x 27″ W x 34″ H
If you're looking for a model that offers a quality massage feature and excellent comfort, then this model might just be the answer to your prayers.
The model boasts an excellent massage feature, complete with 8 massage modes to completely customize your relaxation experience. As well as paying close attention to your back, the footrest also features its very own massager, helping to relieve muscle soreness after a tiring day.
This massage recliner comes with a modern design and artificial leather upholstery that comes in various colors to choose between. This means it's relatively easy to find a design to fit into any living room setting without looking out of place.
Besides its appearance, this chair's insides are just as good, thanks to the two layers of luscious padding. The first is a layer of high-density foam, which gives the chair its high resilience without sacrificing any comfort. The second is its cotton padding, which only serves to dial up the soft and comfy feel.
The fact that it comes in faux leather means that it's easy on your pocket while still keeping up a classy appearance. It makes an excellent choice for those working with a smaller budget yet is stylish enough to make an ideal centerpiece for any small living space.
Kurz Manual Swivel Glider Recliner
---
Best Space Saving Swivel And Rocker Recliner For Small Spaces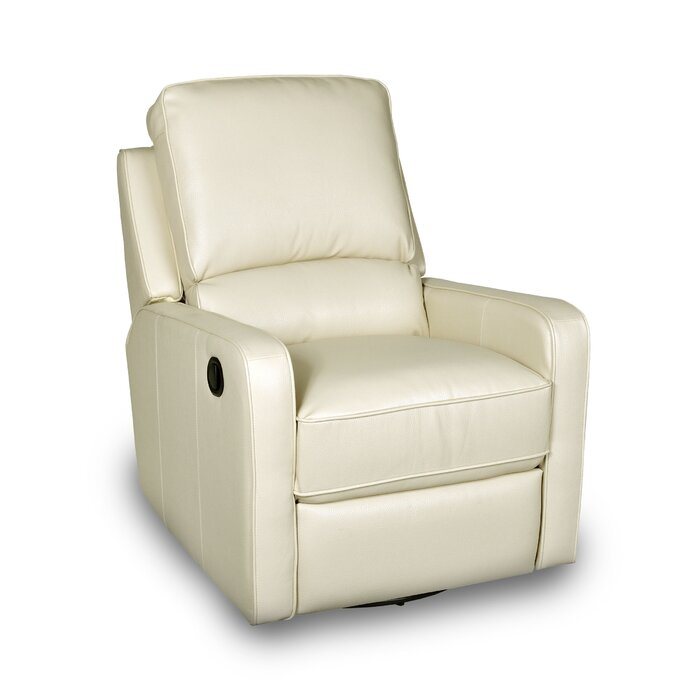 Product Details:
Materials: Manufactured and Solid Wood Frame, Faux Leather, Foam
Colors: Mocha, Cream, and Beige
Dimensions: 33″ L x 30.5″ W x 40″ H
Add class to your small living space with this beautiful swivel recliner from Red Barrel Studio.
The Kurz boasts a club recliner design with a swivel bottom, making it an ideal space-saving chair perfect for any small room. And because of its swivel base, you're able to turn this armchair in any direction you please without having to worry about its legs scraping the floor.
Although it may have a swivel base, it still has all the regular recliner's functionality and comfort. These features include a wonderfully comfortable footrest and ergonomic arms that help you relax at the end of a busy day.
One point to note is that like some of the models already reviewed, the Kurz is a manual recliner. This means to recline the chair, you'll need to crank a knob on the side. While we don't see this as a big deal, those who want a completely indulgent experience may prefer a powered recline.
---
Ergonomically Designed Swivel Chair For Small Spaces
Product Details:
Materials: Metal Base, Polyester Fabric, Foam
Colors: Grey, Charcoal, Pink, Shell, and Smokey Blue
Dimensions: 31″ L x 32″ W x 39″ H
Lie down in bliss as you relax into the Harlow's smooth and comfortable design.
The Harlow is the best choice for any person looking for a comfortable armchair that won't take up much space in their small living room. Thanks to its swivel base, you can adjust the chair to your desired position without constantly scraping the legs against the floor, causing unsightly scrapes.
One significant advantage of the Evolur Harlow is that this model is a power recliner. This means that unlike a manual chair, you can easily adjust the position of both the backrest and the footrest with just a push of a button, conveniently located on the side of the armchair.
Along with the power reclining mechanism are USB ports, which can help to keep your electronic devices fully charged. While charging, you can keep them tucked away in the chairs, convenient side pockets, which can also be used for books, magazines, and television remotes.
The Evolur is also easy to clean because of its durable polyester fabric cover. Although it is not leather, it is still stylish in its own way and will indeed find a place in any small living room space.
---
Relaxing Faux Leather Power Recliner For Small Spaces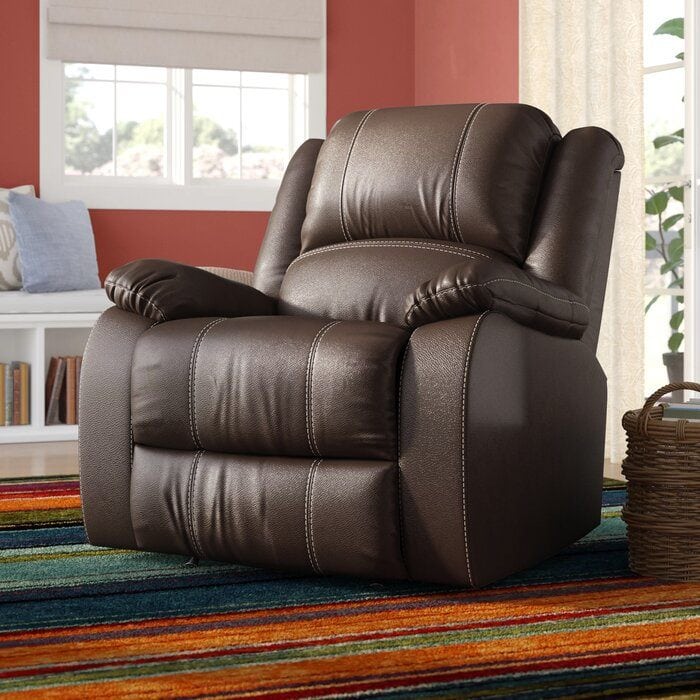 Product Details:
Materials: Faux Leather, Foam, Solid and Manufactured Wood, and Metal Legs
Colors: Brown, Red, Black, Beige, and Blue
Dimensions: 39″ L x 37″ W x 40″ H
Another power recliner, this time from Red Barrel Studio, the Dondie Faux Leather Rocker Recliner is a piece of furniture famed for its space-saving design.
Although you may think the Dondie has a somewhat dated design, vintage chic is all the rage right now, which makes this chair an excellent buy indeed.
Its faux leather cover is stylish and easy to clean, not to mention breathable in the hot summer months. The armchair has a certain authenticity to it that surely appeals to many. Thanks to its slimline design, it's a fantastic choice for any small living space. With it being a power recliner, adjusting the footrest and backrest could not be easier.
As well as the recline feature, the Dondie boasts a rocking function that can help aid a night of restful sleep. Not to mention, a rocker function makes for a great addition to a home with a small baby as it can help soothe your little one.
It should be noted that unlike some of the other models in this list, the Dondie does not come with a swivel base. We don't think that's a deal-breaker, but it depends on what you will be using your chair for.
---
Comfortable Wall-Hugger Recliner For Small Rooms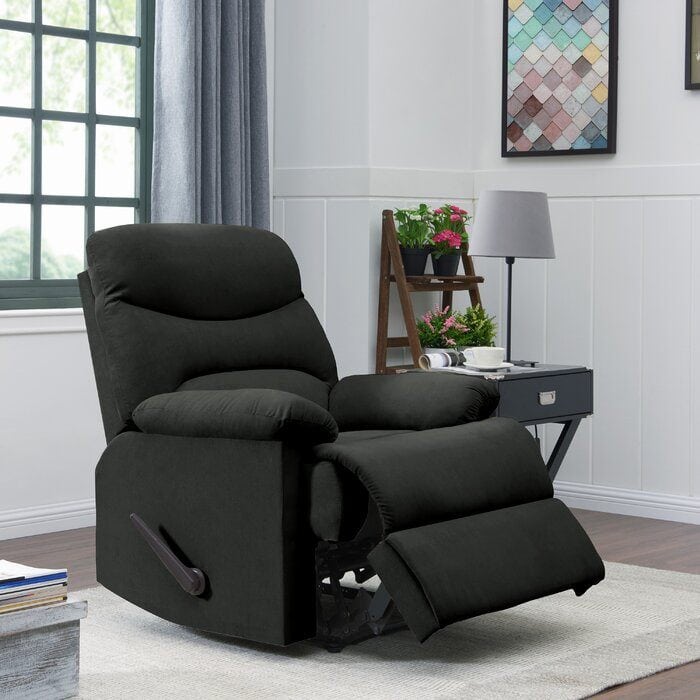 Product Details:
Materials: Microfiber, 100% Polyester, Metal, and Manufactured Wood Frame
Colors: Grey, Dark Brown, Black, and Khaki
Dimensions: 37″ L x 34″ W x 39″ H
The Rabon from Andover Mills gives you a comfort level that can make you feel like you're sleeping in a bed.
So far, most of the models covered in this list have delivered something unique, helping set them apart from one another. This model, in particular, is no exception, thanks to its wall-hugging design. A wall hugger is a type of recliner perfect for space-strapped homes. This is because it requires very little clearance to recline. Instead of reclining directly backward, a wall hugger moves forward.
What that means is that you can place this recliner against a wall, and it would have no problem reclining. Besides this feature, the chair is covered in plush microsuede, making it incredibly durable and hardwearing. Microsuede is also very easy to keep clean, ensuring your chair will look great for many years to come.
The only downside is that the Rabon model doesn't have is a powered recline nor a swivel. However, we think its wall hugger design is a good enough reason to consider the Rabon a good investment.
---
Homely Slim Recliner For Small Spaces
Product Details:
Materials: Linen, Foam, Alloy Steel Frame
Colors: Beige, Dark Blue, Dark Grey, Green, Light Blue, Light Grey, Red, Teal, Yellow
Dimensions: 35″ L x 26.4″ W x 41.7″ H
A stunning recliner from Casa Andrea Milano that showcases its quality through its space-saving modern design.
This armchair is designed explicitly for smaller spaces, thanks to its slimline silhouette. Comparing it to the other recliners in the list, this chair has an undoubtedly slimmer profile than the rest.
Outside of its slim design, this model comes in various colors that greatly exceed those of other models we have reviewed. This ensures that there's guaranteed to be a color that will work to fit in nicely with your existing décor.
When it comes to its fabric, this chair boasts a comfortable linen upholstery filled with high-density foam. As an added bonus, the filling is both non-toxic and hypoallergenic, making it perfect for family homes and those with small children.
One thing to watch out for is that this chair uses a reclining mechanism built into the arms. While we didn't experience any issues during our testing, some other customers reported that the arm mechanism can prove a little clunky at times.
---
Buying Guide
---
How To Pick A Space Saving Recliner For A Small Place?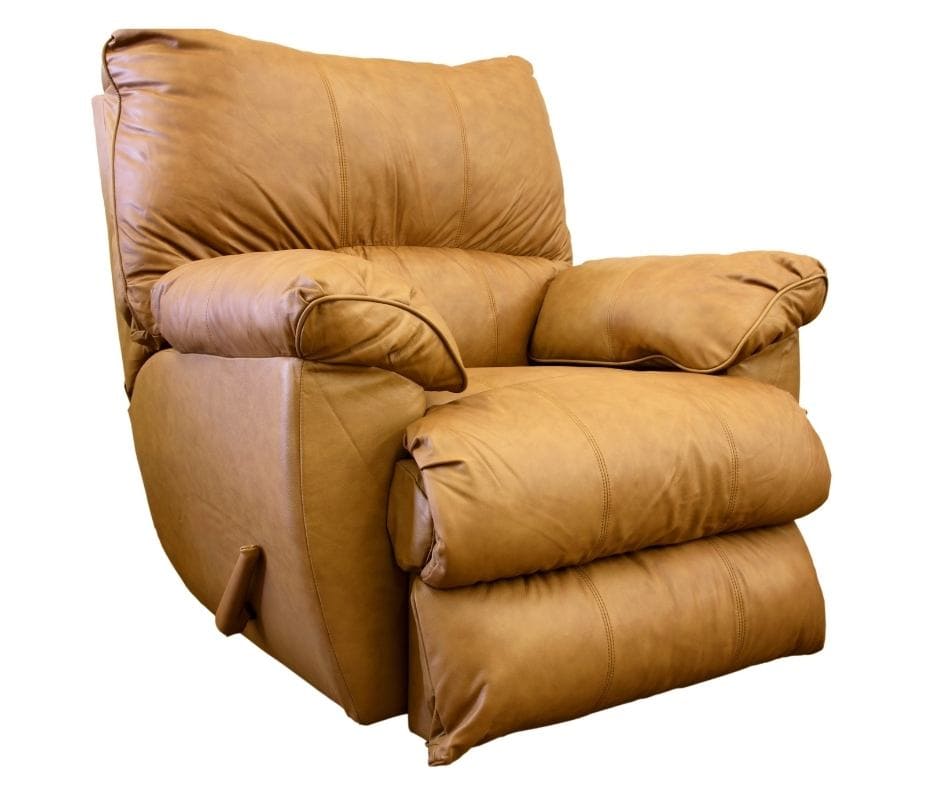 Now that you understand the appeal of space-saving recliners, here are some points that you should keep in mind before investing in your new space-saving chair.
Size Of The Chair
Understand the dimensions of the chair before choosing the recliner of your dreams. Typically, a chair will list its length, width, and height. Although they are self-explanatory, you'll want to double-check the size of the recliner when fully reclined to ensure it can recline comfortably in your room.
Size Of The Room
Of course, other than the dimensions of the chair, you'll also need to consider the size of the room you'll be putting the recliner in.
Considering you'll be putting this into an existing space that you use every day, you'll have to take into consideration other furniture that occupies the room. Ensure there is plenty of space to maneuver around the chair when upright and recline to prevent trip hazards.
Comfort
Comfort is entirely a subjective matter, and what's comfortable to you may not be comfortable to someone else. Generally speaking, a chair made from high-density foam is a safe choice. As well as being supportive, it offers extended durability making sure it stands the test of time.
Price
Recliners come at various price points, mostly dictated by the quality of materials used in the construction and the number of additional features.
Typically alloy steel is more affordable than hardwood, and synthetic materials tend to be cheaper than leather. You should also expect to pay more for a recliner that comes with a massage or heated function than you would a basic recliner. The good news is for those working with a smaller budget, affordable recliners can be picked up for just a few hundred dollars.
How To Place A Small Recliner In A Small Room?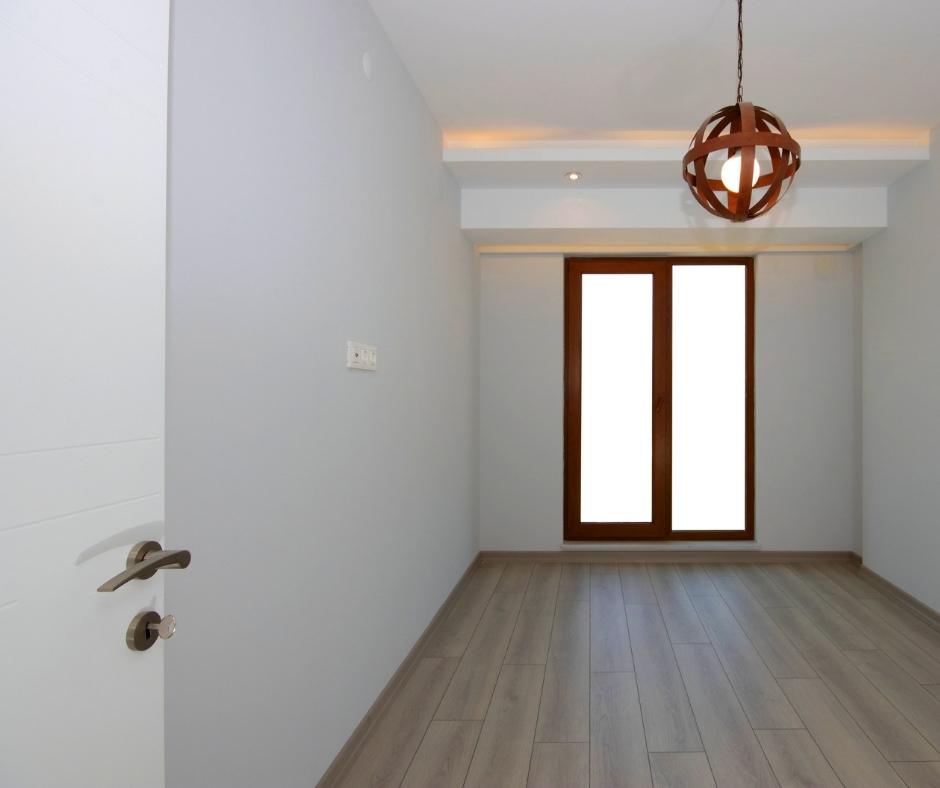 Space-saving recliners are an excellent choice for any room as they can be placed in pretty much any position without dominating, including corners or alongside sofas and other furniture.
Unless you buy a wall-hugging model, don't forget to consider the space behind the recliner if you want to make full use of it.
Are Space Saving Recliners Comfortable?
Of course, even though some of the models here are smaller than regular recliners for the sake of space-conservation, they're still incredibly comfortable.
Conclusion
Ready to make a decision? We think that the JUMMICO Fabric recliner is the best choice because of its affordability and added features. However, if you're looking for something with more utility, the Rowe Upholstered Recliner could be perfect for nursery rooms and small living rooms due to its comfortable and ergonomic design.