Futons are a convenient alternative to a traditional sleeper sofa that are easy to set up and store away. Because of this feature, many futons are used in homes that are lacking in space.
The Modern Convertible Futon from Best Choice is a beautiful example of how great a futon can look, no matter the size of your room.
In This Article We'll Discuss
9 Best Space Saving Futons
---
Best Overall Futon For Small Rooms
Product Details:
Materials: Tufted Faux Leather Upholstery, Chrome Metal Legs
Colors: Black, Brown, and White
Dimensions: 65.25″ L x 30.5″ W x 31″ H
Weight Capacity: 500 lbs.
Our top futon for any small room, the Best Choice Modern Convertible Futon offers outstanding quality for an affordable price.
This modern convertible futon is stylish, to say the least. While the faux leather may not be as durable as the real thing, it is easy to overlook at such an affordable price point. With its tufted faux leather upholstery and contemporary design, it will surely impress any guest.
Although it's only a two-seater convertible, the Best Choice Modern Convertible Futon offers plenty of functionality where it lacks in room. It comes with movable pillows, a folding backseat, and cupholders in the center to store your drink while relaxing. Like the rest of its construction, it has stable and firm armrests that provide excellent support as you recline.
Assembling the Best Choice couldn't have been easier. With clear and simple instructions, you'll be relaxing in no time.
Since the Best Choice Modern Futon is a convertible, you remove the armrest and cupholders to transform the couch into a comfortable bed, ideal for a single person or two small adults.
As an added bonus, the Best Choice also comes with extra storage under the main seats, perfect for storing bedding.
---
One Of The Best Small Futons On Amazon
Product Details:
Materials: Solid Wood Frame, Chrome Metal Legs, Fabric Upholstery, Premium Foam Filling
Colors: Black, Charcoal, Java, and Navy Blue
Dimensions: 66.1″ L x 33.1″ W x 29.5″ H
Weight Capacity: 400 lbs.
Looking for a good sofa futon that won't dominate your space? Then the Serta Convertible Sofa from Amazon might be exactly what you're looking for!
With a simple but comfy design, the Serta Convertible Sofa is perfect for anyone looking to own a sofa that's both luxurious while also not taking up too much room in their small apartment.
The design of the Serfa gives off a wonderfully homely feel. With its tufted fabric upholstery with high-quality foam filling, the Serta promises to give you the best comfort imaginable. And with a weight capacity of 400-pounds, you're guaranteed that this sofa is as sturdy as it is comfortable.
The Serta folds like any sofa futon, complete with a fold-out backrest. It has two ways of folding out, one that's half-open and the other that's full. This allows you to completely customize your lounging experience. Once things for sure, both give you the maximum luxury so you'll feel your tiredness wash away as you relax on the Serta.
The best part? The Serta provides you with all this comfort and versatility while boasting a compact design, making it the best possible choice for a space-saving sofa futon on Amazon.
Assembling the Serta involves just attaching the legs, making it by far the easiest sofa futon to put together.
---
One Of The Best Small Futons At Wayfair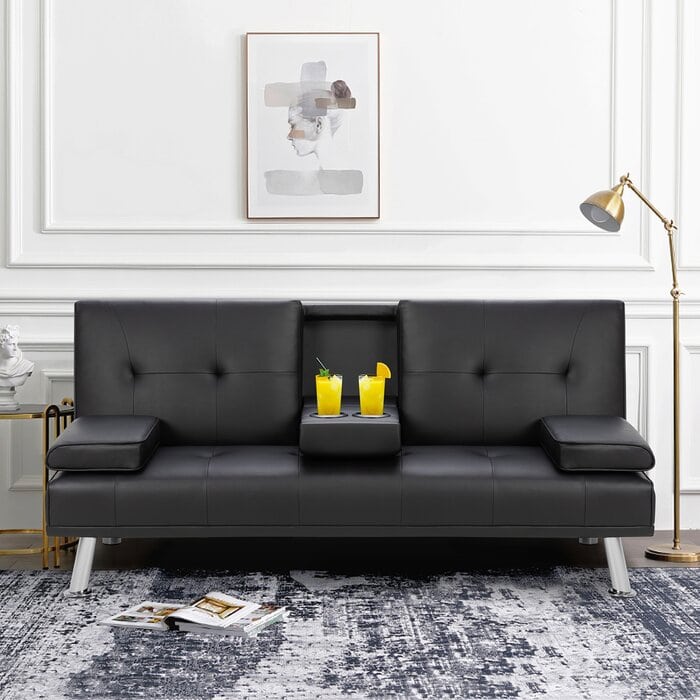 Product Details:
Materials: Solid Wood Frame, Faux Leather Upholstery, Foam Filling, Silver-colored Steel Legs.
Colors: Black, White, Brown, and Light Khaki
Dimensions: 65.35″ L x 30.7″ W x 31.49″ H
Weight Capacity: 350 lbs.
A style similar to the top choice on the list, the Ece Twin Convertible Sofa by Orren Ellis combines both functionalities with comfort!
The Ece Twin Convertible Sofa is our top choice for the best small futons available on Wayfair. The reason it's our top choice is it's down to its high levels of comfort and functionality, without giving up its space-spacing features.
The Ece Twin is a convertible sofa designed like a futon mattress. The seat and backrest are tufted, which provides you with incredible comfort whether you're watching a movie or unwinding after a hard day's work. The Ece Twin is a two-seater that's partitioned by a foldaway cupholder that tucks itself seamlessly into the backrest.
The pillows on the far sides of the Ece Twin are actually its armrests. They're firm and stable but as comfortable as a futon mattress should be. Better still, they're removable and double up as pillows when you convert the Ece Twin into a sleeper.
With how easy it is to take apart and reconfigure the Ece Twin, it'll be up to your imagination as to how you want to style this luxurious sofa futon.
And with its wide range of colors to pick from, you'll have no trouble finding a shade that works with your small living space, helping to tie the room together.
---
Best Small Futon For College Dorms
Product Details:
Materials: Wrapped Coil, Quilted Cover, Polyester Upholstery
Colors: Black and Brown
Dimensions: 54″ W x 75″ L x 8″ H
Weight Capacity: Separate Wood Frame
The Classic 8″ Futon Mattress gives you all the convenience of a traditional Japanese Futon with the addition of modern construction that ensures this one will stand the test of time.
The Classic 8″ Futon Mattress is an excellent choice for any college dorm looking for an inexpensive space-saving solution.
With a meticulous design that features effortlessly comfortable foam wrapped coils, the Classic 8″ Futon Mattress guarantees you sufficient firmness that you won't uncomfortably sink into. And with the addition of its sturdy microfiber upholstery and quilted cover, it offers a luxurious surface to relax into a sleepy slumber.
One of the best points about this mattress is its durability. The Classic 8″ Futon Mattress boasts the same resilience as a traditional Japanese futon. Even with extended use, it still retains its comfort.
There are not many faults to note with the Classic 8″ Futon Mattress, except, of course, that it does not come with a frame. Still, if you want to add a stylish frame, you can buy it separately. For the price, it's hard to find a mattress as comfortable as this – trust us, we would know.
---
Small Futon For FV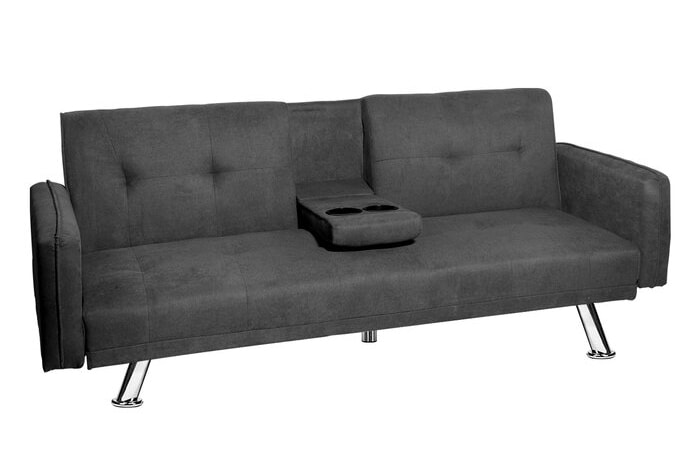 Product Details:
Materials: Silver-colored Metal Legs, 100% Polyester Upholstery, Solid and Manufactured Wood Frame, Foam Filling, Coil Spring Seat Construction
Colors: Dark Gray, Red, and Light Gray
Dimensions: 71.7″ L x 32″ W x 33.2″ H
Weight Capacity: 300 lbs.
The Avien Square Arm Sleeper is a futon-styled sleeper that's worth investing in for the future!
Constructed from quality materials that give it both its comfort and sturdiness, the Avien Square Arm Sleeper is sure to impress you and your guests.
The Avien's futon is made from breathable linen and supported by spring pockets that foam-filled, giving you both luxury and firmness that will last for many years to come.
And with a solid wood frame and sinuous spring seat construction that gives the Avien its 300-pound weight capacity, you're not only given luxury and firmness but also great sturdiness.
Like most of the convertible futon sofas in this list, the Avien also boasts the same functionality. As its full name implies, the Avien can be converted into a sleeper by opening its backrest. Although it comes with a cupholder as a partition, it can neatly be folded into the backrest.
What's different about Avien than the last couple of convertible sleepers with cupholders is that it comes with unremovable square armrests. This means it may not be the best choice for taller individuals.
---
Small Futon For A Nursery
Product Details:
Materials: Solid Metal Frame, High-Quality Fabric Upholstery, Foam, and Imitation Cotton Filling.
Colors: Dark Gray, Light Brown, and Velvet Gray
Dimensions:74″ L x 37″ W x 17″ H
Weight Capacity: 440 lbs.
A small futon that's ideal for your nursery, you and your little one can relax in complete comfort.
The Vonanda comes with a well-constructed and sturdy metal frame that gives it the 440-pound weight capacity. That's not to say that the only thing good about it is its sturdiness.
With its high-quality hypoallergenic fabric upholstery and imitation cotton filling, the Vonanda offers unimaginable luxury for yourself as you nurture your child.
There's also nothing quite like the Vonanda in this list, as it is the only one that offers a wide range of different positions. It can serve as a large ottoman, a sofa with no armrests, a bed, and even a lounger.
It does this by having its u-shaped metal legs that are highly adjustable to act as a frame to firmly hold those different positions.
The other remarkable aspect of the Vonanda is its delivery. Once at your door, the Vonanda doesn't need any assembly as it comes prebuilt in its ottoman shape.
And because of its small size that can be further compacted into an ottoman, the Vonanda is the right choice, not just for a nursery short on space.
In addition, the Vonanda is also an excellent choice for a small living – and it can act as an emergency guest bed just in case!
---
Best Small Futon To Put Under A Loft Bed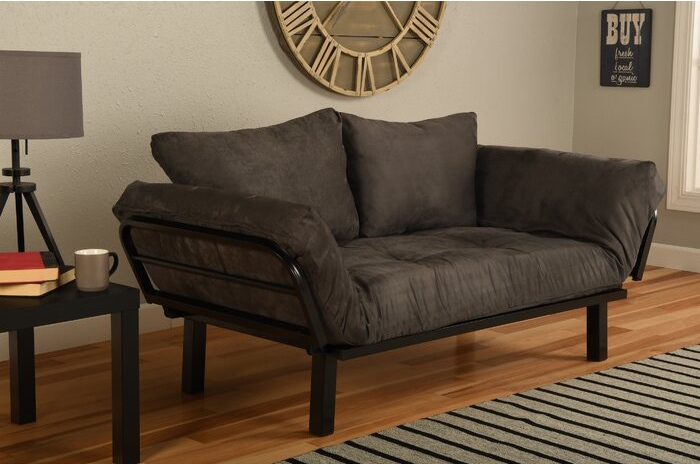 Product Details:
Materials: Solid Metal Frame, 100% Polyester Upholstery, Foam, and Cotton Filling, Coil Spring Seat Construction
Colors: Gray, Black, Navy, Chocolate, and Peat
Dimensions: 32″ L x 33″ W x 17″ H
Weight Capacity: 250 lbs.
Soft as a marshmallow, the Everett Twin 32″ will help complete any small bedroom. Who needs a bed, after all.
The Everett is a futon sofa with a unique but simple way of using a futon mattress as a sofa seat. With a cleverly designed metal frame, the bed is shaped into a sofa by angled armrests. It's definitely one of the more unique takes on a reclinable sofa since most have a reclinable backrest.
Its lack of a backrest makes the perfect choice for putting under a loft bed or places with low wall clearance, as the backrest does not need to be reclined to transform into a sleeper.
The materials that Ebern Designs chose for the Everett makes the futon all the more comfortable. And since it comes with two large pillows, you won't have any issues using this to sleep.
With 100% polyester upholstery on its futon and pillows, you're guaranteed a smooth and relaxing surface to lie or sit-down in.
Although it has the appearance of a tremendously soft cushion, the Everett is surprisingly firm, thanks to its composite filling of foam and cotton. The mattress itself is also constructed with coil springs to handle whatever you can throw at it.
---
Small Futon For Studio Apartments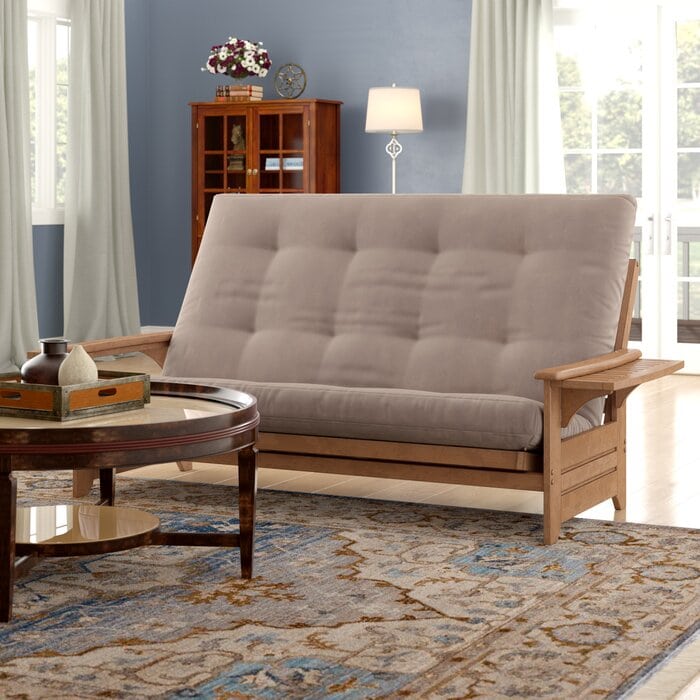 Product Details:
Materials: Solid and Manufactured Wood, 100% Polyester Upholstery, Coil Spring Seat Construction, Foam, and Cotton Filling
Colors: (For Mattress) Gray, Peat, Navy, Black, and Chocolate. (For Frame) Butternut, and Espresso
Dimensions: 86″ L x 37″ W x 22″ H
Weight Capacity: 500 lbs.
Looking for a solid choice for a centerpiece for a studio apartment? The Lebanon Queen 86″ Futon and Mattress offer that and much more.
The Lebanon is one of our favorite futons when it comes to aesthetics. It offers five different color choices for its mattress and two frame colors to complement the mattress color you choose.
And with a robust, manufactured wood frame designed to look as pleasing as it is functional, it's hard to deny the quality put into the Lebanon's construction.
On one side of its wooden armrest is a foldable shelf with enough room for you to put either a book or a drink.
Its luxurious upholstery is made from 100% polyester. The mattress and pillows are filled with a combination of foam and cotton to ensure you both the right amount of comfort with enough firmness to retain its shape.
The Lebanon comes at a comfortable 86-inch length, which allows three people to comfortably sit on it. Thanks to its 500-pound weight capacity, this makes an excellent choice for a small family home.
---
Small Futon For Playrooms
Product Details:
Materials: Solid Wood Frame, Silver-colored Metal Legs, Tufted Fabric Upholstery, Foam, and Cotton Filling.
Colors: Black, Blue, Lilac, Pink, and Teal
Dimensions: 48″ L x 28.5″ W x 24.5″ H
Weight Capacity: 200 lbs.
Colorful and quirky, the DHP Convertible Sofa Futon is a must-have for any playroom.
The DHP Convertible Sofa Futon is our top choice for any kid's room or playroom because of its safe and ergonomic design that doesn't have any exposed moving parts. That means you can leave your kids to play safely knowing they won't run into any harm.
The material, as well as being wonderfully soft, is also effortless to clean. To take care of any spills or stains, a simple wet cloth will do the trick.
The DHP is a stylish two-seater futon sofa with a mid-century modern design with slanted metal front legs. Thanks to its movable backrest, it turns from an armless futon sofa to a twin-sized sleeper with ease. It comes with tufted fabric upholstery with foam and cotton filling, which provides the best style of comfort and firmness for a futon sofa.
The only downside to note is its 200-pound weight capacity, built to hold two kids and not two fully grown adults.
And with a multitude of colors to pick from, it's sure to liven up any playroom while giving the kids a comfortable seat or bed to lie down in.
---
Buying Guide
---
How To Pick A Futon For A Small Space?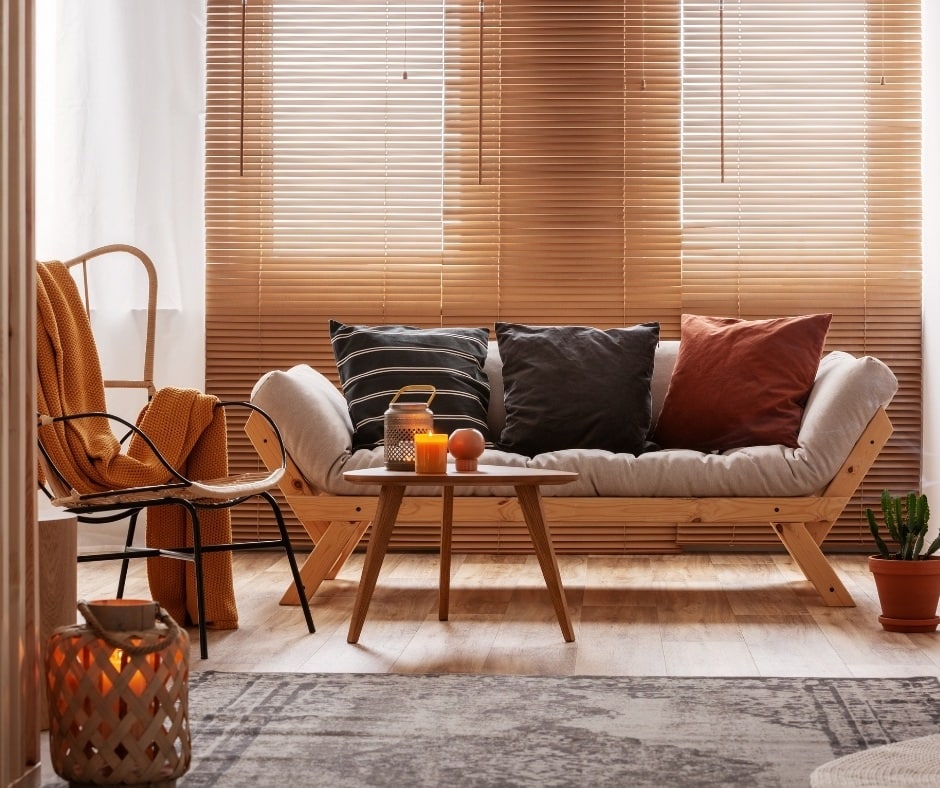 Size Of The Chair
When choosing the best futon for your home, it's important to note the dimensions of the futon of your choice. In this list, we've taken the liberty of providing those measurements for you. It goes without saying that you should make sure your room can accommodate the futon when upright and reclined.
Size Of The Room
As well as the size of your room, don't forget the clearance of your doorway. After all, what use is a futon if you can't physically get it into your home?
Ease Of Assembly
Most furniture these days comes with easy to follow instructions. Some even come with all the tools you need to assemble it. The great thing about many futons – particularly the sofa convertibles, is that they only need to have their legs attached, which is often simple.
If your living space is small or the apartment space you have doesn't offer much room, then choosing a futon is ideal.
Extra Features
If you're looking for a futon sofa that features a massage function, it's usually going to cost more, but for other small features like cupholders and reclinable backrests, it usually won't add too much to the price of the product.
Tips For Placing A Futon In A Small Space
Placing a futon in a somewhat cramped space allows you to unleash your creativity. The key thing you just need to be mindful of is the futon sofa's clearance if it has a reclinable backrest.
What Is The Smallest Futon
The Vonanda Convertible Sofa Bed is the smallest futon on our list. However, good things come in small packages, and this sofa futon is no exception. Check out our full review for all the details.
Conclusion
Congratulations! Now that you're an expert in futons, you can now decide which works best for you. If you're still struggling to choose, we recommend you go back to read our top choice for the best overall futon for small rooms from Best Choice.
If the Best Choice isn't what you're looking for and you're working with a tiny space, then the Vonanda could just be the futon sofa bed for you.