People often ask, what are the softest rugs? There's more to rugs than meets the eye. A thick, plush rug won't always be soft under your feet. If you really want to sink your feet into a plush rug, then you have to choose one based on its material.
The market is full of rugs that claim to be the softest. Below you'll find the softest rugs available, ranked according to softness.
In This Article We'll Discuss
What Are the Softest Rugs?
The Rostyle is more than a super soft rug. It actually redefines the concept of what a fluffy rug is all about. With a velvet top layer and a sponge interlayer, the rug bathes your feet in softness and comfort. The high plush measures 1.5" tall and the bottom of the rug is covered with non-slip rubber dots.
This rug is versatile and works in any room or setting. It adds extra warmth to the living room or bedroom in the cold weather, but also looks inviting and cool in the warm seasons. Its elegant, modern and minimalist design makes it easy to fit into any setting, theme, and decor.
Pros
Velvet plush top and a sponge interlayer
High plush measuring 1.5"
The bottom is made of rubber dots
Different sizes and colors
Modern and minimalist design
Cons
Needs to be aired out after unpacking
The Homore is another luxury shag rug that has a high-density sponge interlayer under the velvet top. This layer gives the rug a high plush profile while also adding an extra softness to it. The end result is just as beautiful and luxurious to the eye as it is functional, comfortable, and warm to the touch.
The velvet high pile measures 1.6" tall with a bottom made of PVC dots to give it a good grip. It comes in different sizes from 2' x 5.9' to 6' x 9'. It has different color options, including brown, white, light orange, yellow, burgundy, and majestic black. It's a multi-purpose rug that would work in every room in the house.
Pros
High-profile velvet rug with 1.6" pile
High-density sponge interlayer
Easy to clean and recovers its fluffiness after vacuum cleaning
PVC dots on the bottom give it a good grip
Cons
The new rug has an odor after unpacking
This luxurious rug combines softness and comfort with durability. It comes in various sizes from 2' x 4' all the way to 7.5' x 10'. Made from premium shag yarns, this plush rug is extra fluffy and soft. The underside has thousands of dots that keep the rug from slipping or skidding on the floor.
In addition, this tough rug can handle daily activities, especially from kids and pets. It's also resistant to fading and shedding. And, it comes in various colors to suit every setting and interior design.
Pros:
Made from premium shag yarns
Extra fluffy and soft
Comes in various sizes and colors
Resistant to fading, stains, and shedding
Easy to clean
Cons:
The backing is rather thin
This faux fur sheepskin-like rug has all the appearances of a real fur rug. Once you step onto it, you'll wonder if it's really faux fur. It comes in different sizes from 2' x 3' to 3' x 5'. It has unique shapes including cloud, rectangle, oval, and round.
This super shaggy and soft Miulee rug is made of Mongolian faux fur and the backside is made of faux suede fabric that resists slipping. It comes in different colors, including yellow, khaki, gray, pink, and wine red. Also, the color changes under different lights.
Pros
Made of Mongolian faux fur and suede faux fabric
Suitable for all rooms in the house
Resists shedding, making it suitable for pets and kids
Soft enough to feel like real fur
Easy to clean in the washing machine
Cons
Stains easily
It's rather thin
The Hapsburg is not only soft and comfy, but it also comes in various patterns, shapes, sizes, and colors. In addition, it fits in small spaces or doubles as a runner, which is what gives the Hapsburg its well-deserved place on this list. It comes as a runner, square, round, or rectangle shape.
Made of 100-percent polypropylene, this shag rug is extremely soft and machine-woven. Although the shag rug has a Moroccan style, it's actually made in Turkey. The uneven surface of the rug varies from high plush for comfort and a cozy feeling, to the low texture that gives it a novel and unique look.
Pros
Functions as a runner
Made of 100-percent polypropylene
Moroccan style with varying surface heights
Kid and pet friendly
Resistant to stains
Cons
The high plush tends to flatten quickly
What Kind of Rug Is the Softest?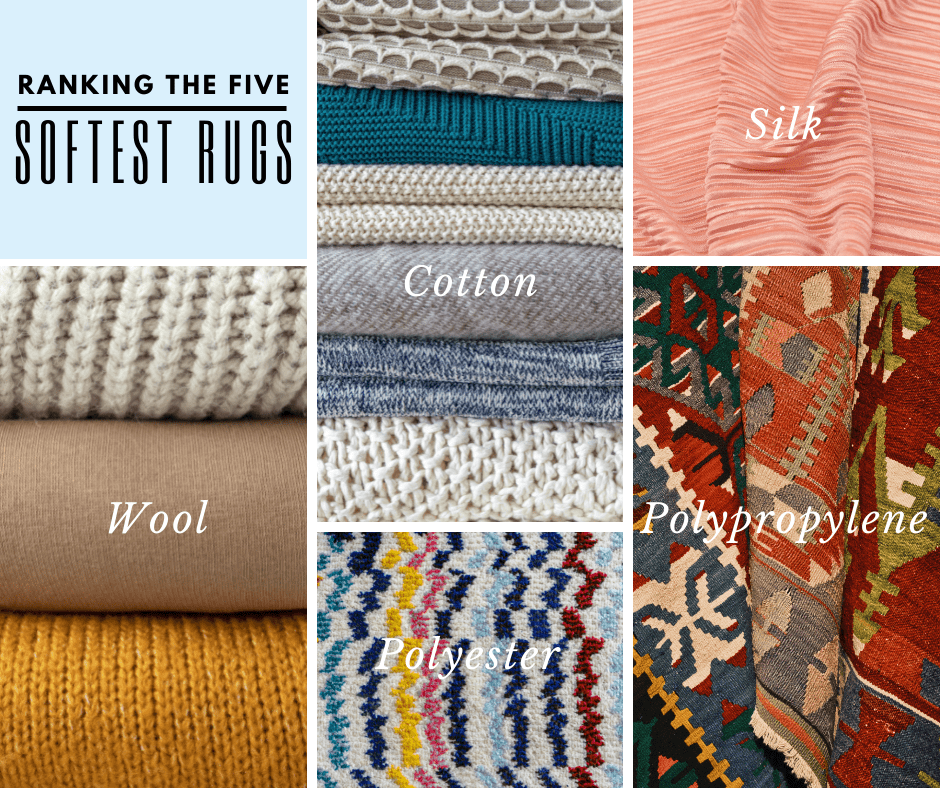 If you prefer to choose your soft rug based on the material it's made of, below is a list of the softest materials rugs are made of. Each kind has its advantages and drawbacks. The softest natural rugs are made of wool, silk, or cotton but they're also quite expensive. Synthetic rugs made of polypropylene or polyester mimic the texture and appearance of wool, but are budget-friendly.
Wool
Wool is a natural material that is easy to clean and resists fire. Place your wool rug in the living room or the den to impress your guests with its stylish designs and luxurious feel. However, most wool rugs are handwoven which makes them even costlier and beyond the budget of many people.
Cotton
A rug made of cotton has a cozy and soft feeling and it also doesn't shed the way a wool rug tends to do. They also come in different colors and designs to suit all tastes. You can put your cotton rug in the bedroom to give it a cozy and warm ambiance. However, make sure the rug is washable and has a backing with a good grip.
Silk
Silk rugs are elegant and stylish. However, they're not very durable, so they're often combined with wool to give them longevity and more resistance to wear and tear. Handwoven silk rugs are quite expensive, but they have a sheen and shine unmatched in any other kind of rug. Place your silk rug in the living room or the bedroom.
Polyester
A synthetic material, polyester has some great advantages. Polyester rugs have vibrant colors since they're easier to dye. They also have catchy designs and patterns for the same reason. These rugs don't stain easily, have a nice sheen to them, and can be cleaned easily. However, avoid spilling oil on the rug, since it can be messy.
Polypropylene
The most common material for synthetic rugs is polypropylene. It has the same look and feel as wool, so it's easy to confuse a polypropylene rug with one made of wool. Polypropylene rugs are resistant to wear and tear, so you can place them in high traffic areas such as porches and kids' rooms.
What Are Really Soft Rugs Called?
The softest and furriest rugs are called shag rugs. These are made from extra soft materials such as wool, polypropylene, faux fur, or polyester. Synthetic materials have the advantage of brighter colors and more varied designs. Wool rugs are fire-resistant and more luxurious. Place your shag rug in the bedroom for a cozy and intimate ambiance.
How Can You Tell If a Rug Is Soft?
If you want to tell if a rug is soft or not, don't rely on your eyes or even your hands. Most rugs will look plush and feel soft when you lay your hand on the pile, but the real test is walking on it with bare feet. That's how you get a good feel of the pile.
The higher the pile—the fiber covering the top surface of the rug—the softer it is. Some rugs such as Homore Luxury Fluffy Shag Rug and Rostyle Super Soft Fluffy Area Rugs add an interlayer of high-density sponge under the top fiber to give the rug extra softness and comfort. 
Homore Luxury Fluffy Shag Rug
Rostyle Super Soft Fluffy Area Rugs
Are Turkish Rugs Soft?
Turkish rugs come in different types. Depending on the material the rug is made of, you can have a very soft Turkish rug under your feet. The top-quality Turkish rugs are made of wool, silk, cotton, or a combination of these natural materials. This gives the rugs both durability and softness.
Are Silk Rugs Soft?
The first word that comes to mind when you mention silk is soft. As a natural material that also stretches, silk is quite soft and malleable. That is the secret behind the different designs that silk rugs come in.
Are Safavieh Rugs Soft?
Safavieh rugs are usually made of cow hides. After processing and treating the hides, the rug acquires a natural and rustic appeal. However, these rugs aren't exactly soft. If you run your feet against the grain, the bristles of the hide will feel quite prickly.
What Is the Softest Natural Fiber Rug?
If you're looking for a very soft rug made of natural fiber, then a jute rug is the real deal. However, these rugs are not very durable and tend to shed quite a lot. If you place the jute rug in a heavy traffic area, or if you have kids or pets at home, chances are the rug will unravel quickly.
Conclusion
When looking for a soft rug to sink your feet into, make sure the rug is durable, washable, and has a good grip at the bottom. Faux fur, velvet, and polypropylene rugs are some of the softest and most affordable rugs on the market. They come in more colors, designs, shapes, and sizes than rugs made of natural fibers.