A sofa is synonymous with living room furniture. It is a comfy investment for entertaining family and friends, watching TV, and surfing the web.
The right sofa is crucial. But, can you buy a sofa too big for a living room? Yes, you can. The best sofa is big enough that it can fit people comfortably without overwhelming the living room size. Preparation is paramount.
In This Article We'll Discuss
How Do You Know if a Sofa is Too Big for a Room?
It's all about measurements. By learning the sofa's measurements, you will know if a sofa is too big for the living room. Most online sofa descriptions include height x length x depth, so you should use a tape measure for your couch.
Get measurements from top to bottom, from side to side, and from back to front. It's a good idea to measure the sofa's dimensions on the wall so there's a realistic idea of how the couch will appear.
In addition, you could try comparing the new sofa's measurements to the old ones'. This will show you whether the new sofa is too long, too short, too tall, or protrudes out too much.
How Do You Know if a Couch Will Fit in Your Living Room?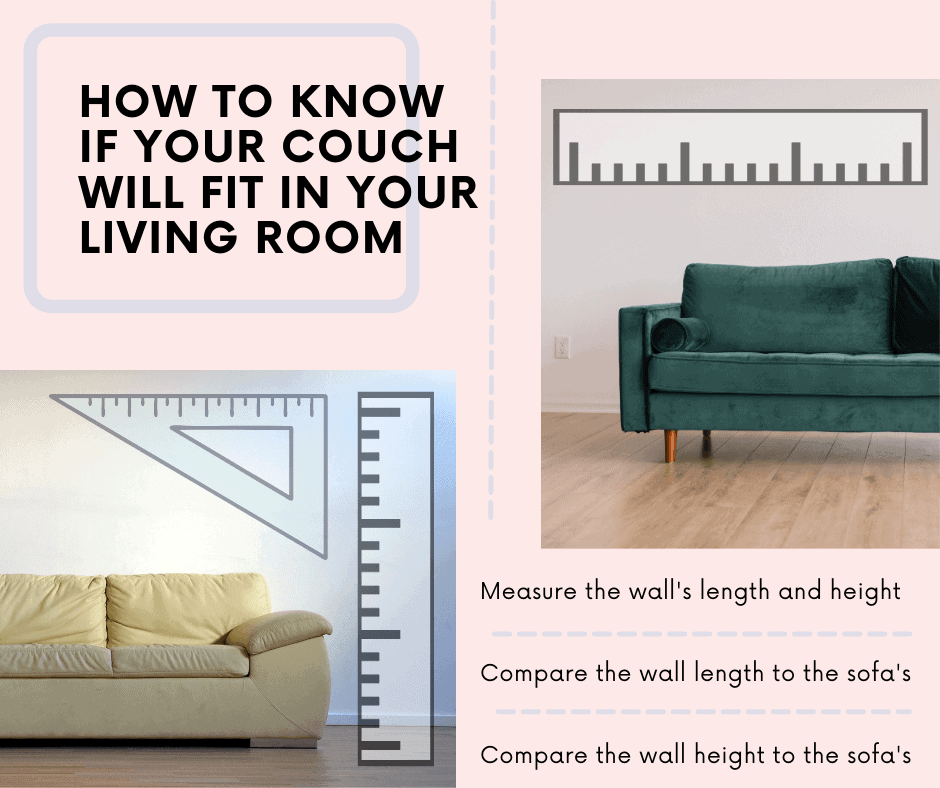 This is where measuring the living room is important. People tend to forget to take living room measurements when buying a sofa. That's why the couch arrives too big or too small for the area. You can avoid buying a sofa that's too big for the living room by measuring the space.
Begin by measuring the wall where the sofa will go. To ensure the sofa fits, measure the wall's length and height. Compare the wall length to the sofa's to determine how much space remains. There must be at least 18 inches of space on both sides. However, experts prefer sofa length to be two-thirds of the wall length at most.
Also, compare the wall height to the sofa's height. The purpose is to determine if the backside is too tall for the ceiling. For depth, measure the chosen wall to the wall across from it. Compare it to the couch's depth (front to back) to see how much space between remains.
How Big is Too Big for a Couch?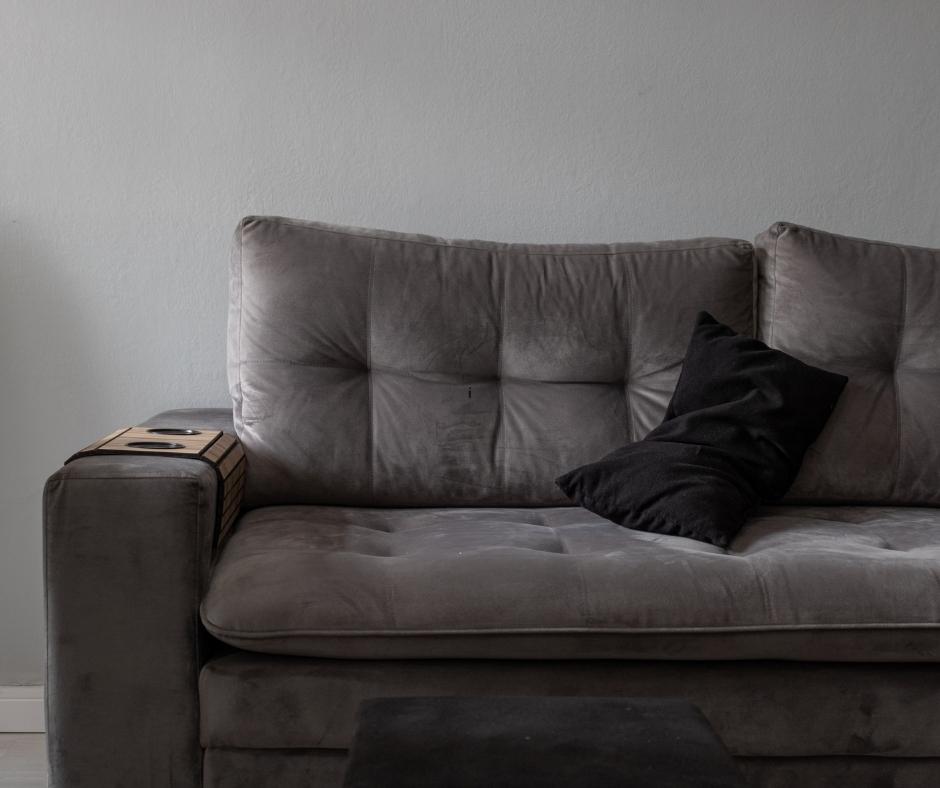 Is the couch overwhelming the living room? Is it too crowded and cluttered with other furniture? Does it not provide enough space for foot traffic? If you answered yes to any of these questions, then the sofa is too big for the living room.
If visuals and tight squeezes aren't answering the question, answer it using measurements:
The sofa shouldn't take up the entire length of the back wall.
It cannot block doorways and HVACs.
There are less than 36 inches of walkway space between the sofa and other furniture.
The sofa is too close to the television; there must be at least seven feet of space between the TV and sofa.
The sofa's backside cannot be taller than one-third of the vertical wall if you have a low ceiling.
Can You Take a Sofa Apart to Make it Fit a Room?
Sectional sofa pieces can come apart as a separate sofa and a loveseat. If it has a chaise attached, the chaise becomes an ottoman.
But, what if the living room doesn't have sectionals or has sectional sofa pieces too big for a living room? Can you take a two-seat or three-seat sofa apart to make it fit in the living room? It depends.
It's possible to turn a sofa into a loveseat. While DIY steps exist, a furniture doctor is a better choice. The furniture doctor will rework the furniture to make it fit in the living room and will give your sofa a new purpose.
While you'll have to pay more money to save the couch, the process will cost less than buying a new one.
What Else Matters When a Sofa is Too Big for Living Rooms?
The couch's shape also matters. The back and armrest's decorative shape is curvy or angular. Curvy decorative details are best in all living room spaces. The curves balance the sharp corners in living room doorways, furniture, and accessories.
On the other hand, angular shapes emphasize the sharp corners already in the room. Furthermore, a bulky armrest adds inches to the sofa. It blocks window views and makes it difficult to reach the end table.
So, you should pick a couch where the armrest is not the center of attention. Last, sofas with a tall backside give off a formal vibe, great for formal living rooms and libraries. Couches with a shorter backside offer a casual vibe. That's perfect for laid-back living rooms with a TV or entertainment center.
It's very important to account for a sofa's size before you buy it. You don't want to buy one that's too big or too small because it will throw off the look of the entire space.
In addition, you should consider where you're going to put the sofa. If it's going next to a focal point like the TV, fireplace, window, or bookshelf, the sofa will appear smaller. Or, if you're going to use the sofa as a room divider, you can get one that's a little bigger.
Accessories and supplemental furniture matter in a living room, too. Accessories and extra furniture balance out the living room. Complement the sofa with simple, eye-catching furniture and accessories that will balance it out.
Conclusion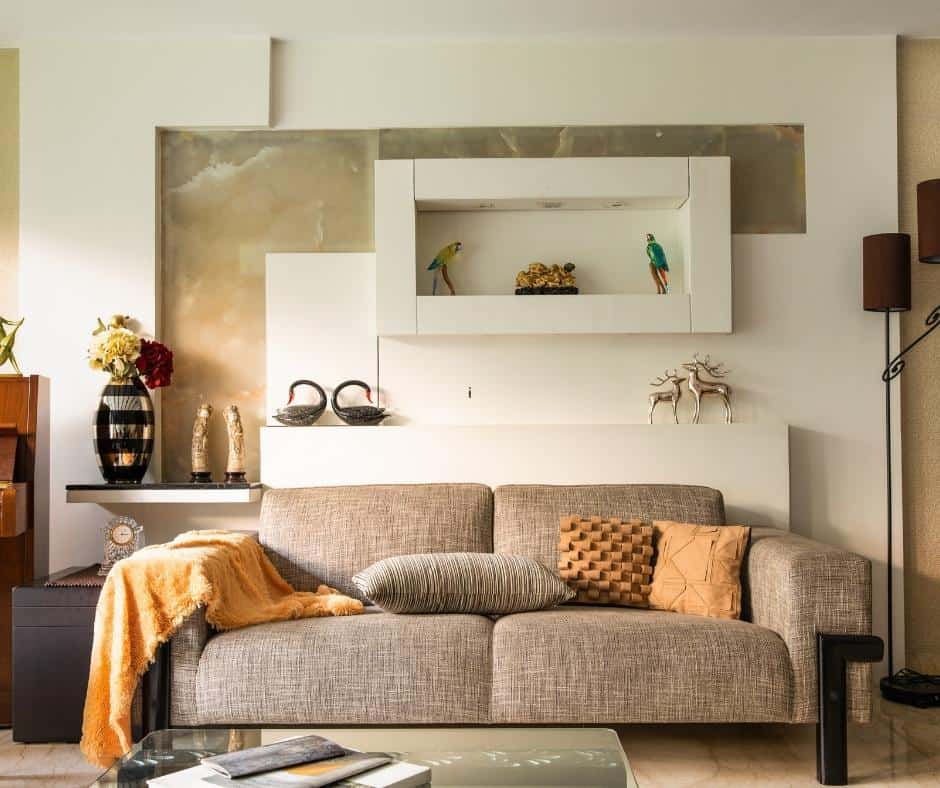 As you can see, bigger is not always better in the living room. A sofa that is too big for one living room could be the perfect size in another living room. The correct sofa for your space will balance sofa size and living room size. The couch must preserve one-third of wall space length or 18 inches of space on both sides of it.
Do you think you figured out the sofa to living room formula in your room? Let us know in the comments section. It's possible to get a sofa that's too big for your living room, but it's also easily avoidable.