If you have light wood floors, picking the right rug can be a challenge. We put together a list of rug choices that pair well with light wood floors. Decide on your room's overall feel and color palette, then consider the rug styles below.
In This Article We'll Discuss
Light Colored Rugs for a Monochromatic Look
To keep a space cohesively light, use light colored rugs. A light rug on light wooden floors will create an open and airy vibe.
Bohemian
When considering bohemian rugs, think texture and tassels. A bohemian rug can range from beige color tones to light gray colored rugs.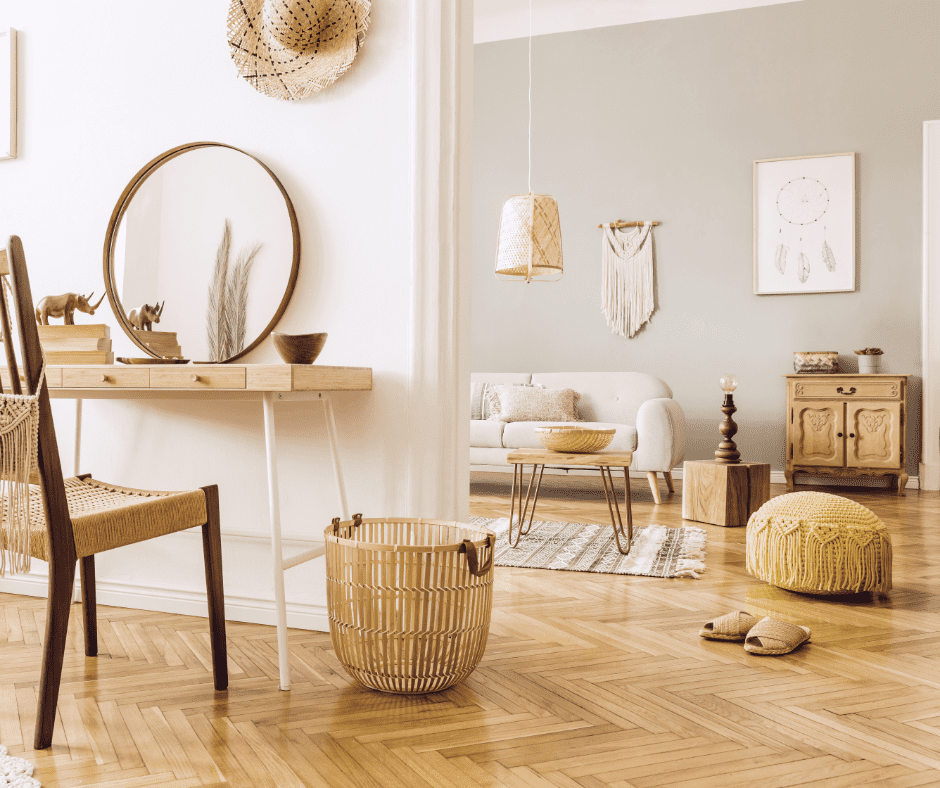 Whichever style or color you choose, keep it light and simple. Aim for a color that can contrast your floor in texture, but that will stay close to the color of your wooden floors.
Minimalist
Create a clean, crisp look by using a neutral colored minimalist rug. A solid white faux fur, a light gray and beige trellis, or a contemporary light gray rug would all work. Remember that the goal is to not draw too much attention to the rug. Avoid bold colors or styles if you want to create a minimalist space.
Geometric
Definite shapes offer clean lines and keep a space feeling organized and crisp. A geometric rug can be an ivory modern lattice design, a gray transitional style, or a combination of diamonds and stripes. You'll have many pattern options. Go with a print and shape that will complement the other pieces in your space.
Stripes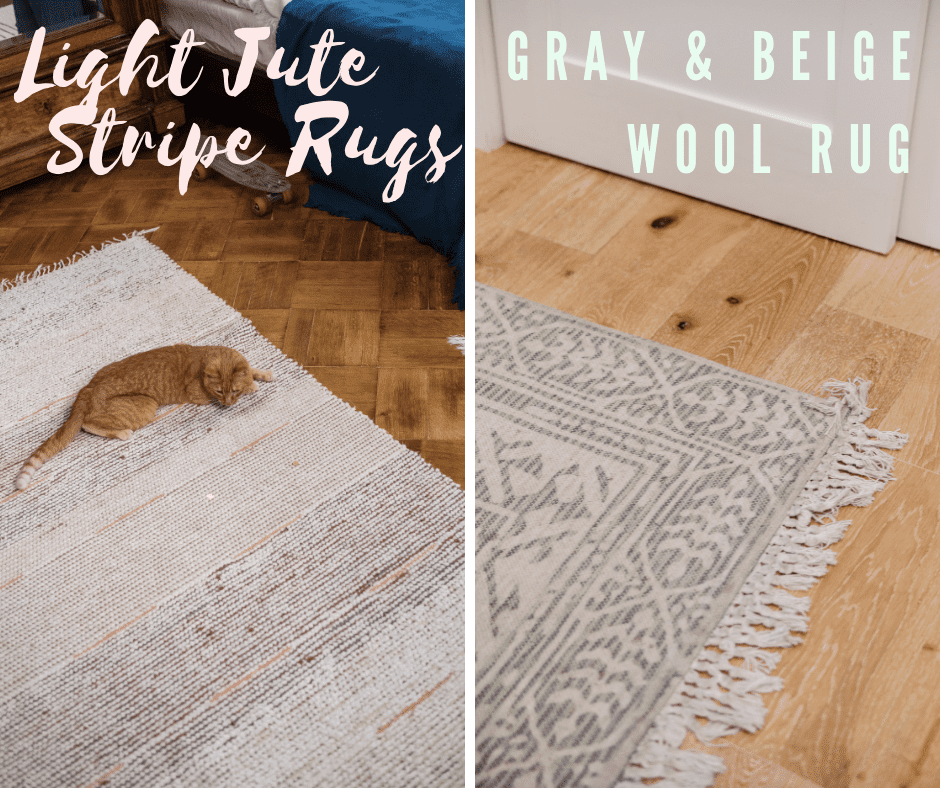 Light, neutral, striped area rugs add just the right amount of pattern to a space. Stripes are a classic look, and they don't take away from other focal points. Use a light jute stripe or a gray and beige wool rug.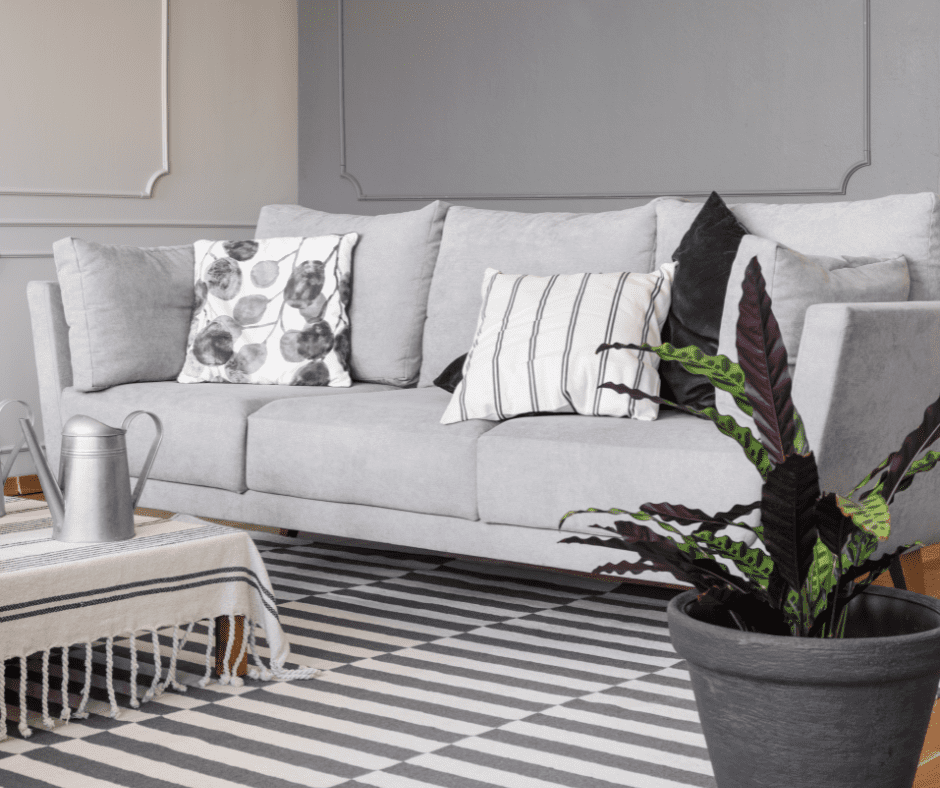 Most stripe patterns will not detract from your room's look. Try to find a light rug color that doesn't clash with any other pieces in your space. It doesn't have to match your light wood floors perfectly, but it should complement them. Also, you should consider the direction your wooden floor boards are running when placing a striped rug down.
Natural Material Rugs for an Organic Space
Wood floors with light finishes show the wood grain and natural character through their stain. This creates an organic look and feel. To keep a room looking natural and earthy, use a rug made of natural materials. Consider a jute, sisal, wool, or natural hide rug.
Jute and Sisal
Add warm and consistent texture to your space using a traditional handwoven jute area rug. If you want to contrast your floors a bit while still using a natural look, a striped boho jute rug would be a great choice. Both of these rug styles will help keep a natural look and feel in your space.
Cowhides
You can soften your wooden floors by adding the natural texture of a hide rug. Cowhides will also bring in a unique, imperfect shape to the space. By not being so largely rectangular or round, you'll be able to see more of the natural light wood floor.
A solid cowhide, such as a buttercream hide, creates a monochromatic look. A dark brindle hide will offer contrast to your light wood floors. A brindle hide will also help add other natural colors into your space. In addition, you always have the choice of a traditional black and white tricolor hide. Decide if you want to keep the space light or contrasted before deciding a white hide rug is best for your floors.
Wool Rugs
When you use wool rugs in a space, you add soft texture, warmth and plushness. Wool rugs come in all colors and shapes, so you have many choices when it comes to this natural material.
For a traditional wool look, an off-white rectangular area rug would be great. A chevron ivory rug will offer a similar look with a less traditional pattern.
Do you want to keep a natural look but add a little color? Use a natural wool rug with an abstract pattern and a little color contrast. Since wool is a natural material, it will clean easily and hold up for years. Wool rugs are a great natural choice to help soften your light wood floors in a room.
Bold Printed Rugs To Create Contrast
Your room's focal point can be the rug. If you have light colored floors, they can be a canvas for an ornate rug. Use a rug with bold colors and prints to highlight it as the focal point in your space.
Oriental
Adding deep, bold colors to a space comes easily with oriental rugs. Most rugs have deep blues and dark reds as their base colors, and then they have many other contrasting color tones.
A navy blue and burgundy rug would contrast light floors well. A deep crimson medallion rug adds texture, warmth and color. Oriental rugs can also come in lighter, brighter colors. A light red and wheat rug will stand out in your space while adding brightness and movement. Keep a room's energy high with the bold colors and patterns oriental rugs offer.
Geometric
Create a bold room with bright, rainbow colors. A multicolored triangle rug with bright colors and a consistent pattern will be a statement piece in your space. Geometric rugs can also be more abstract in style. Try a modern abstract bright multicolored rug.
If you prefer fewer colors in your space, a dark indigo tribal rug adds blues. Look for a single colored geometric rug that can bring in a bold color with some unique patterns. Bold doesn't mean you have to have a lot of colors. Sometimes having just one focal color is perfect to contrast your light wood floors.
Modern
Use rugs as art in a modern space. Try a light blue and silver abstract rug or a contemporary striped rug. Adding light, undefined patterns helps create a modern looking space. Lighter colors create a more open feel and work in harmony with your light wood floors.
If you're looking for contrast and a color pop, a multicolored gradient area rug will do the trick. Another choice is an abstract multicolored stripe. Modern spaces can be created by using the right pattern. You can still add a lot of color and flair when decorating a modern space.
Conclusion
If you have light wood floors, you have many rug style options. Start by defining what style and color palette you want for your space. Once you know, select from a variety of rug choices that can all complement your floors and create the look and feel that you want for your room.