When you're creating a moody living room, you want to focus on making the space feel intimate with deep colors, rich fabrics, and interesting patterns. Black couches are a great start to a moody space. And an area rug that will match your couch and your mood is the next step. So, what rugs go with black couches for a moody room?
Black couches are a dark neutral so you have a lot of room to play with color and texture when you're choosing an area rug. Whether your style is vintage, modern, monochromatic, or colorful you can enhance your moody vibe with a great rug paired with your black couch.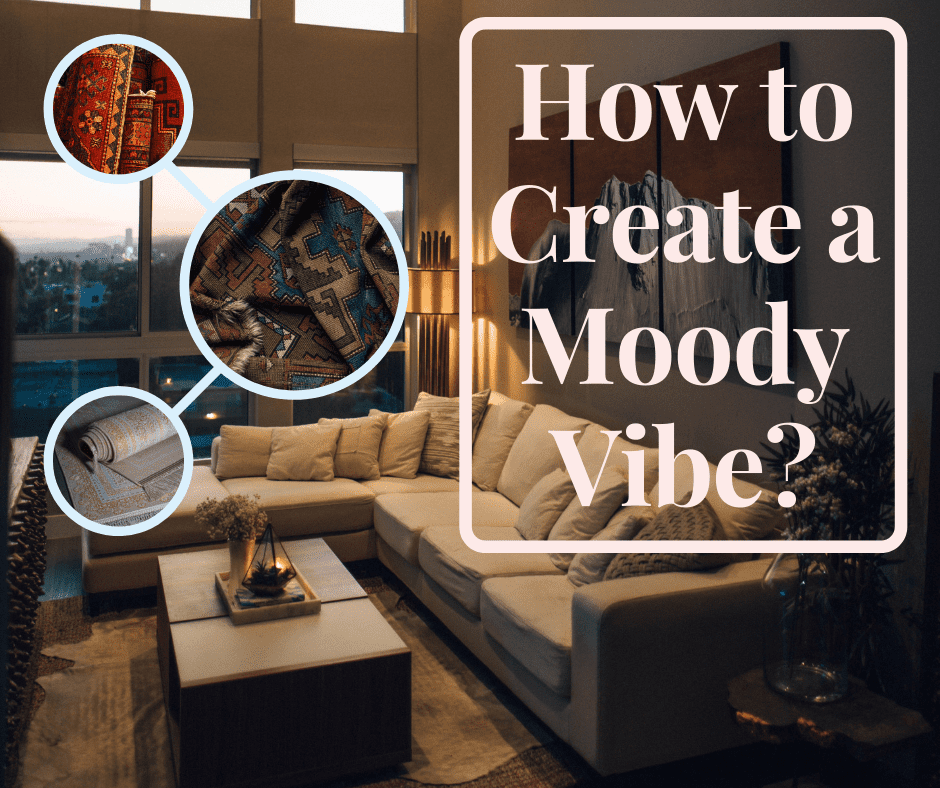 In This Article We'll Discuss
How to Create a Moody Vibe
As you choose the right rug, remember that moody rooms feel full and condensed. Think cozy, intimate, and slow. Dark colors condense a room and personal touches like photos, flowers, and books are familiar accents that will create moodiness.
You should also keep your lighting in mind. Your lighting doesn't have to be dim, but it needs to feel intimate. If your room is already dark choose a light or colored rug for contrast. If you have a lot of light in the room, choose a dark rug to make things cozier and more intimate.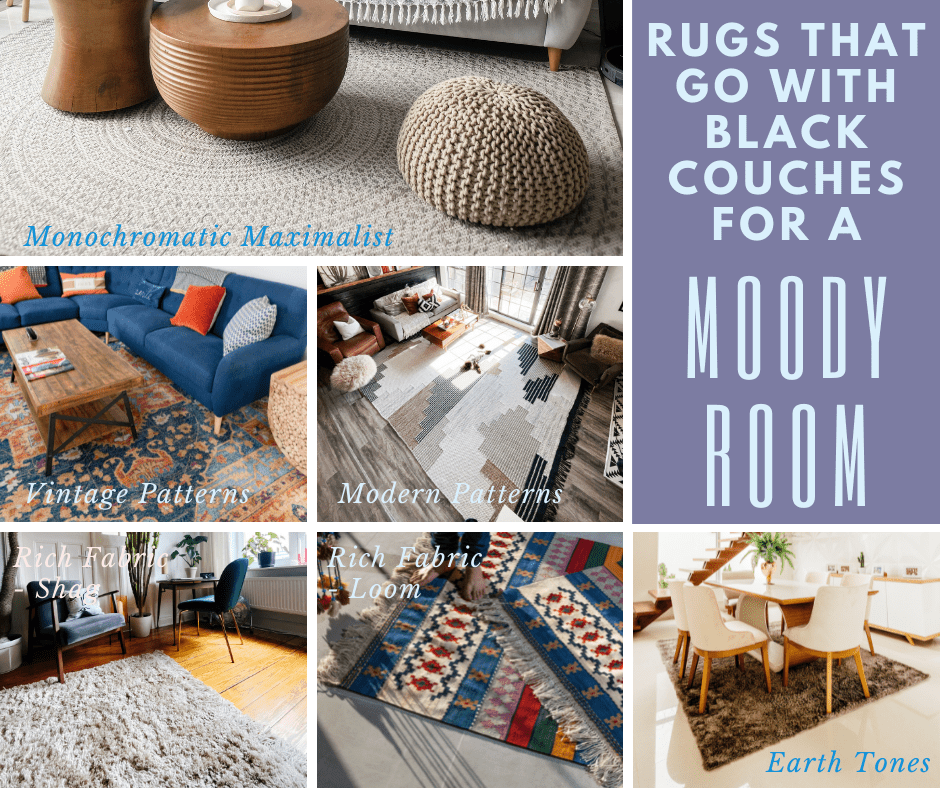 11 Rugs That Go With Black Couches for a Moody Room
If you have black couches, you've already got a great start to a moody space. Here are 11 rug colors you can use to enhance the vibe in your living room:
1. Monochromatic Minimalist
Monochromatic is one of the easiest and most chic ways to create a moody space. Match your black couches with a dark rug to condense your space. This is a great choice for the minimalists out there because it doesn't complicate the space with patterns or colors. A monochromatic rug with a wool texture will add a special look without demanding too much attention.
2. Monochromatic Maximalist
This option is still monochromatic, but it has added interest. Choose a pattern that makes you feel something when you look at it. A patterned rug in gray tones will add depth to the space without becoming the focal point. If monochromatic and fun is your style, match the tones to your black couches and choose a pattern that makes you feel something.
3. Vintage Patterns
Patterned rugs spark interest and feel welcoming. Use a vintage rug to coordinate other colors in the room and to tie everything together. If your living room doesn't have texture or pattern elsewhere like vintage walls, ceilings, or flooring, you can spice it up with a vintage rug. The vintage vibes and the familiarity will create a moody tone.
4. Modern Patterns
Who says a moody room can't be modern? Modern patterns are typically associated with a clean minimalist aesthetic. But modern designs are great for moody rooms because of the feelings the patterns can invoke.
Choose a modern pattern with a deep sense of loneliness or longing. A unique design that speaks to you is a great way to steer out of the vintage trend, but keep your living room moody.
5. Rich Fabric – Shag
Rich fabrics make a room feel luxurious. The tactile will make you want to slow down and stay awhile. You can achieve this with a rug that is decadent to the touch.
Shag is a bold choice and it's one of the most fun ways to add texture to a room. The shag carpet is bold and soft to the touch. There is nothing subtle about shag, so choose a dark neutral color that complements your couches, like black, gray, or brown. Shag will draw attention, so you can use it to evoke the moodiness that you want.
6. Rich Fabric – Loom
Choose a loomed carpet for a more subtle texture. Loomed carpets can be made of all kinds of fabric so they are budget-friendly and always add great texture to a room. The fringe detail also contributes to one of the subtleties that create a moody vibe.
7. Solid Contrast
A solid white, ivory, or cream rug is a great contrast to black couches. High contrast naturally evokes a moody feeling. Choose a solid light-colored rug when you want your black couches to be the focal point. This is also a good choice if you need your space to feel bigger or if you want to keep a dark room from feeling depressing.
A simple way to create contrast is by adding an area rug with strong contrast to your black couches. Choose a solid white, ivory, or cream to lighten a dark room and preserve the mood you want to create.
8. High Contrast
A rug with a high level of contrast is an unexpected thing of beauty. A black and white rug is the perfect way to keep your color palette simple, match your couches, and still create a high level of interest with pattern and color. Black and white is a naturally moody palette so you can use the colors in a surprising way.
9. Match Accents – Earth Tones
Accenting a color creates drama. For example, you can enhance a deep green curtain by adding a deep green rug. This is great for people who love color and want to brighten a room while keeping it moody.
Earth tones are naturally moody, so use solid colored carpets in deep brown, green, blue, and burgundy shades.
10. Match Accents – Colorful
Less natural colors like pinks, yellows, and orange are harder to use in a moody room. They create a bright happy feeling. But, when you have black couches, you have room to play with color.
Choose a rug with subtle accents of color. A splash or two of color is enough.
11. Match Accents – Solid Color
Remember that accents equal drama and drama equals mood. Make sure that a solid-colored rug matches details like throw pillows or curtains, and keep big things like walls and furniture dark. Use organic patterns and earthy textures when you're matching colorful accents in a moody space.
Conclusion
Black couches are a great start to a moody living room. However, if you want to create a fully moody space, you'll need to choose the right rug. Pick your perfect rug by honing in on your style and remember to choose pieces with rich fabrics, welcoming patterns, and deep colors.
Keep it simple by focusing on the relationship between your black couches and the area rug. This will help you create a moody space that will feel cozy and welcoming.