Are you looking to create a relaxing space in your home? Neutral couches serve as great blank canvases.
Also, adding the right rug can take a space from feeling dull and bland to serene and relaxing.
Take a look at the tips below for some rug suggestions for a relaxing room.
In This Article We'll Discuss
How to Create a Relaxing Space
A relaxing space in your home starts with being intentional. Thoughtfully evaluate the colors and patterns in your space.
Is there too much going on? Is there too much clutter? Are there loud colors and prints? Remember that a relaxing space should be clean, uncluttered, and that it should have colors that create softness in the space.
What Colors Create a Relaxing Space?
When picking a rug, start by considering which color will work best in your space. Cool colors are associated with relaxation and serenity.
Since your couches are neutral, you should be able to make many different styles and colors coordinate well with your existing furniture.
Blue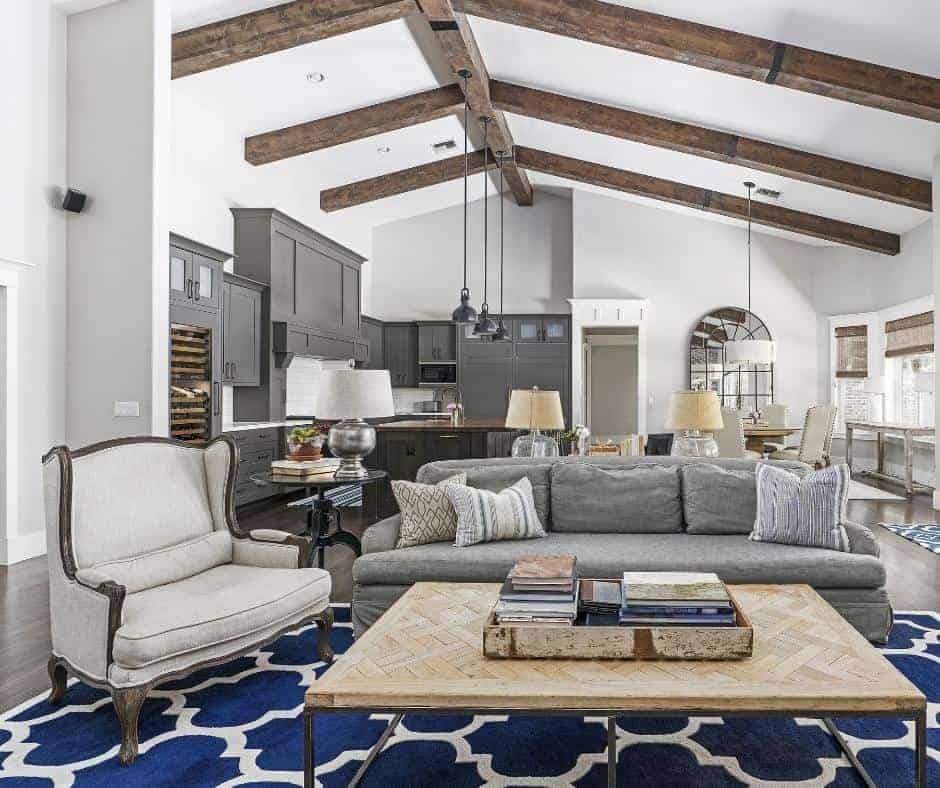 Blue is a color that offers a sense of movement and calmness. Blue is often associated with water and slow motions.
An abstract blue rug will add depth and movement to your space while maintaining a relaxed feel.
Art deco style rugs in blue hues help bring the peaceful sensation of flowing water into the space.
Traditional oriental style rugs in a deep navy will add a timeless look while still creating a relaxing space.
For a more casual look, try a vintage blue and white rug or a grayish blue rug with a washed finish.
Gentle geometric patterns will also go a long way to add texture and color to a relaxing space.
Options will range from light blue wool rugs to kid and pet-friendly blue and white geometric rugs.
Neutrals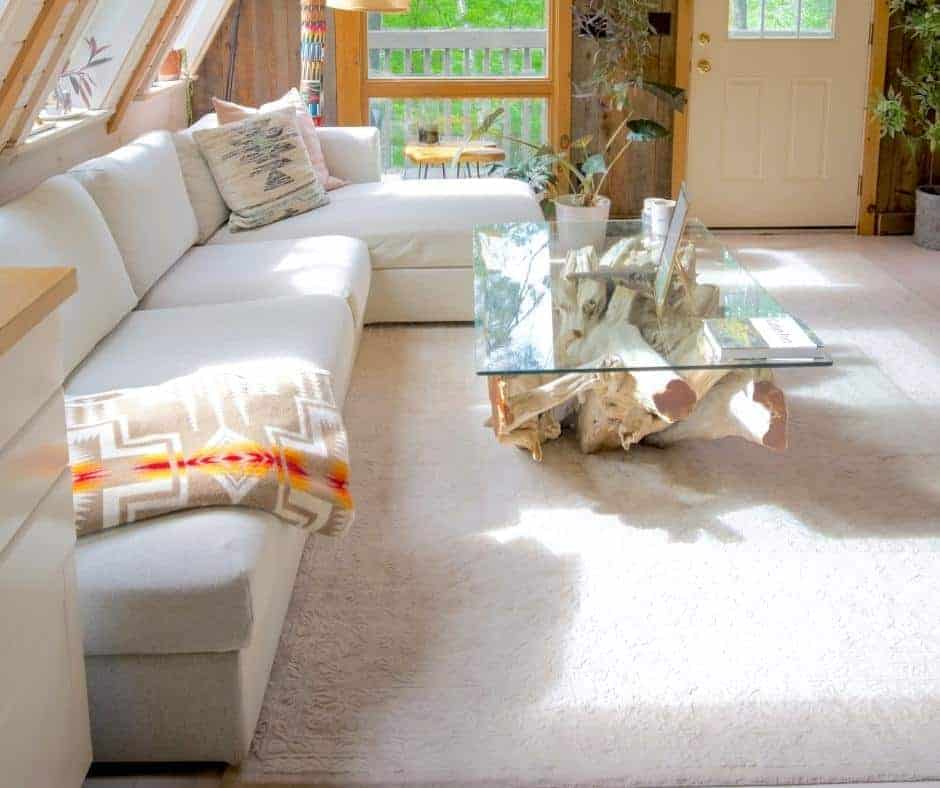 Creating a monochromatic space with your neutral couches will create a soft, relaxing room.
Cream or off-white rugs come in many shades and styles, such as a high pile khaki with a modest print or a shaded plush trellis rug.
Neutral rugs can also bring a sense of movement into the space. Try a wool camel rug with light blue details and lots of movement.
Traditional vintage beige rugs are a classic look that add pattern while still maintaining a calm tone.
A cream flat weave rug will bring in texture and pattern while keeping the space soft.
Green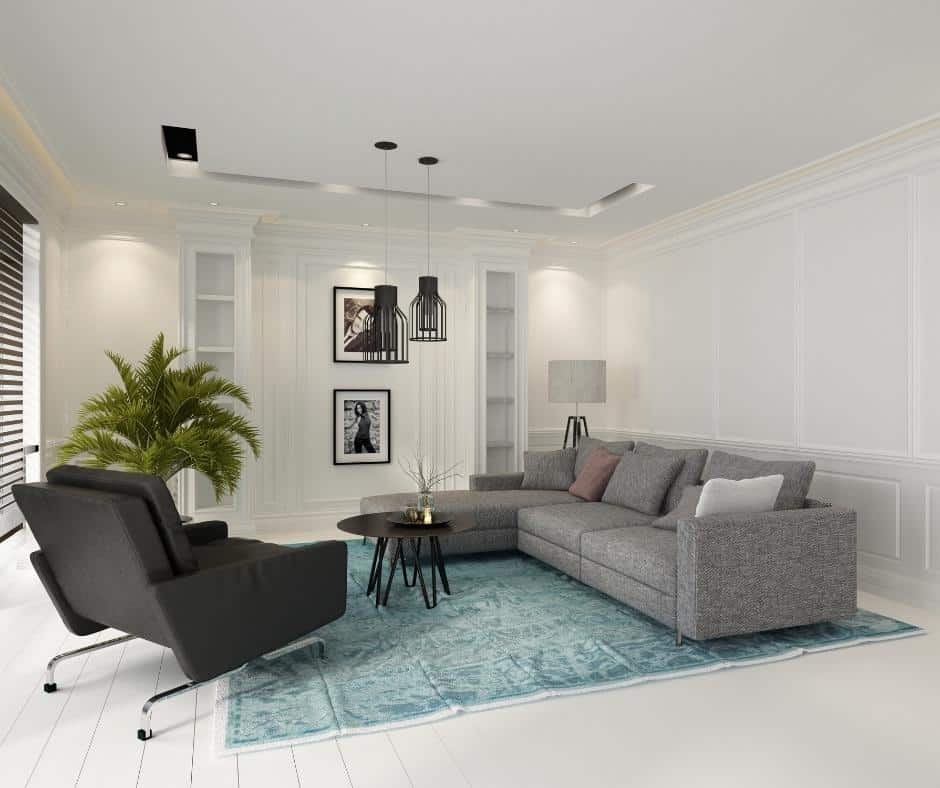 Since green is such a prominent color in nature, it's naturally associated with calm and relaxing feelings.
Try bringing a bit of the outdoors into your relaxing space by using a rug with olive colored leaves.
Add some depth and color with a leaf rug that also features flowers, keeping in touch with the feel of nature by adding some colorful patterns.
Deep greens can add more of a serious serenity to your space. A rich green and blue patterned rug will pair perfectly with a beige or tan couch.
Additionally, try a deeper green and white washed look to bring in pattern and texture.
If you're looking to keep the relaxed space light and airy, a light green and ivory medallion rug will do the trick.
For a classic look, pair your neutral couch with a geometric rug with floral patterns in a light sage.
Purple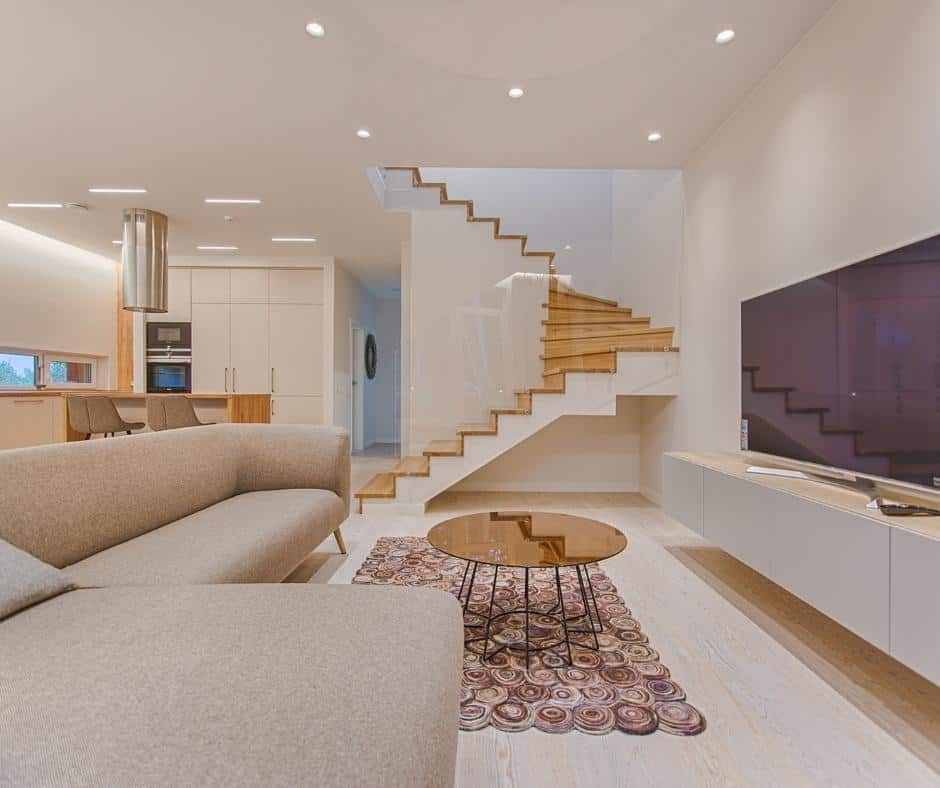 Purple colored rugs are a little more challenging to find, but several have beautiful plum and eggplant tones that create a serene space.
Different options for a relaxing look include a deep purple floral rug, a violet vintage look, or a traditional center medallion style.
Trying purple tones with light pinks and silver will add playfulness while still giving the room a relaxing look.
A combination of violet and ivory will offer a light, airy look, and still bring color into your space.
Gray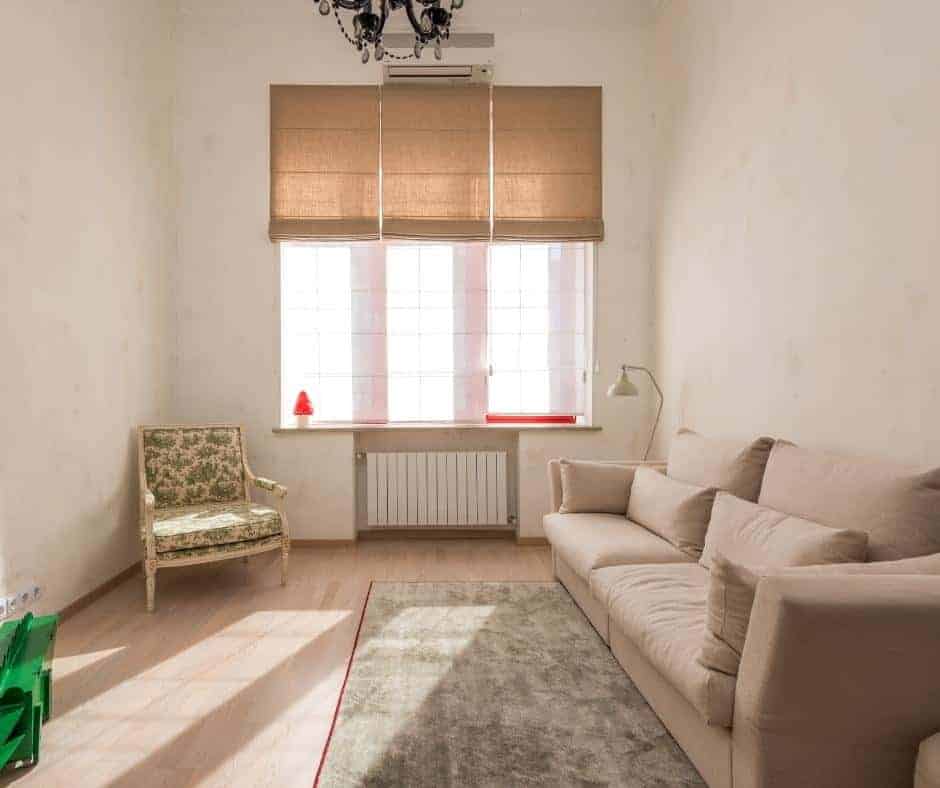 Gray rugs pair nicely with neutral couches and will keep your space from looking too busy or cluttered.
An ombre light gray rug or a shaded white and gray one will offer a bit of color with minimal pattern.
A vintage style gray rug will give your room a more lively look with a classic, toned-down color.
A light gray shag would also bring in some texture while allowing your space to feel soft and relaxing.
Blush
Blush is a unique color which offers so much softness and tranquility. Blush rugs will vary from rose tones to peach.
Although they can be hard to find, look for an oriental or vintage style rug.
Since blush is a more feminine color, you should have luck finding floral patterns in rose tones.
Another unique and interesting look would be a geometric diamond patterned blush rug with graphite and blush accents.
Natural Materials
Jute or sisal rugs are made with natural fibers. Their natural elements and toned down neutral colors create a sense of peace and calmness.
Natural rugs come in all sizes and shapes— round, rectangular, and even unique floral-like shapes.
Natural woven jute rugs can also have a little more texture and a chunky weave. Other woven rugs will be softer and flatter.
What Patterns or Styles Are Most Relaxing?
Patterns and styles that have a flow to them, but that are not too intense, will be the best for creating a relaxing space.
The less overwhelming the pattern or style is, the calmer your room will feel.
Abstract water-like prints create a soft movement. Also, vintage washed rugs help lessen the boldness of prints and soften their look.
In addition, rugs made of natural fibers have a consistent look to them and don't draw too much attention, making them a perfect fit for a calming space.
Conclusion
Neutral couches can be dressed up or down in so many ways. But, to create a relaxing space, you'll want to choose a rug with calm colors and minimal patterns.
Although you want your room to be relaxing, you can still keep it interesting by choosing unique pieces in light colors.