Modern spaces with gray floors are very popular right now. If you have a space with gray floors, or you're looking to create a modern space, we have some rug suggestions. Find out what color and style rugs work well with wooden floors to create a modern space.
In This Article We'll Discuss
What Makes a Space Feel Modern?
Creating a modern space starts with color. Think cooler tones like gray and white. Modern spaces have a clean, crisp look. The color palette you choose for your space should show that.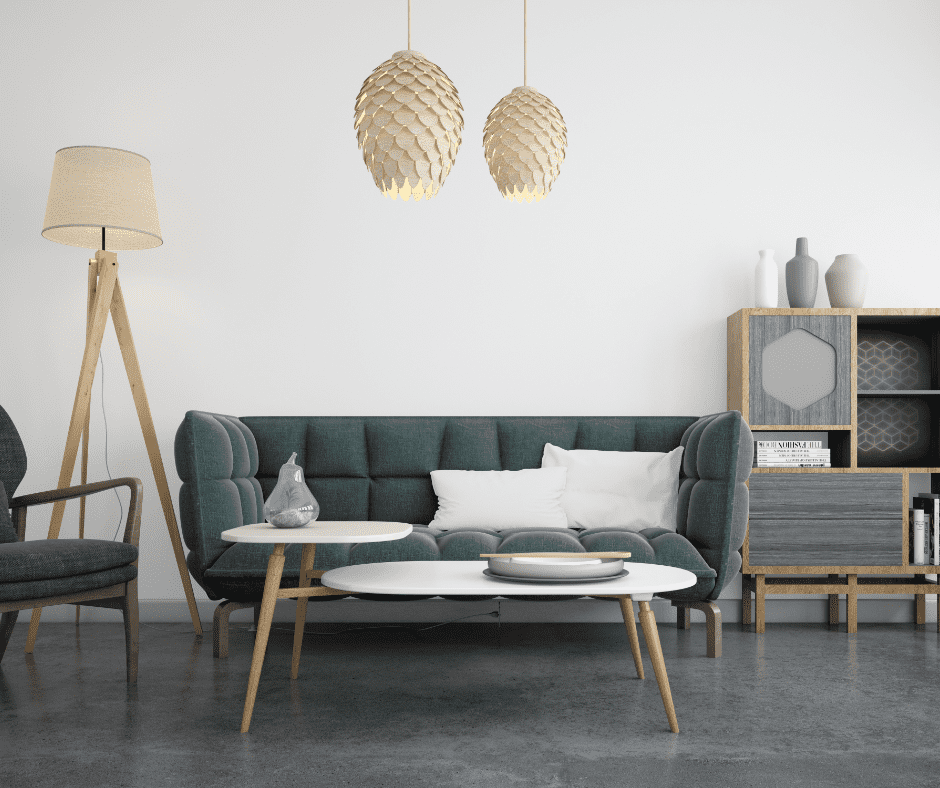 With the idea of a clean look, think minimalism. You want clean lines and more of an open space than a cozy space. Stay away from clutter or too many knickknacks. To create a modern space, use pieces with straight lines and muted color tones.
Rug Colors for a Modern Space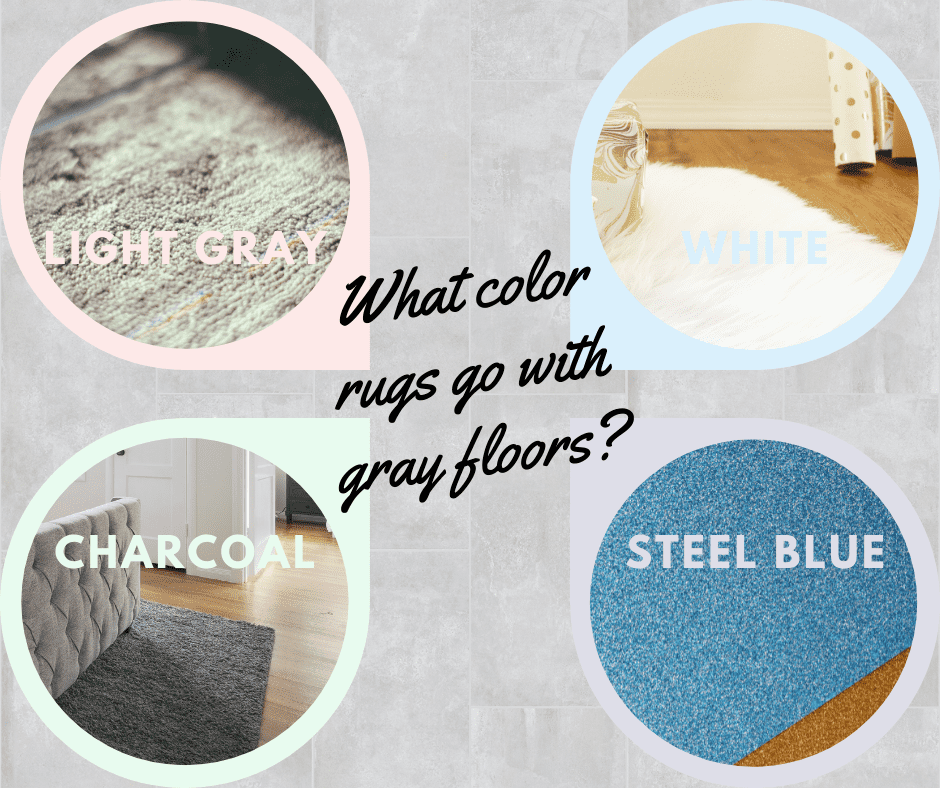 Once you've determined the color palette for your space, choose a rug color. Choose from muted tones that will blend well with your gray floors. If your floors have a variety of color tones in them, try to pick a color in the flooring. You can bring that same color into your rug for a clean, modern looking space.
Light Gray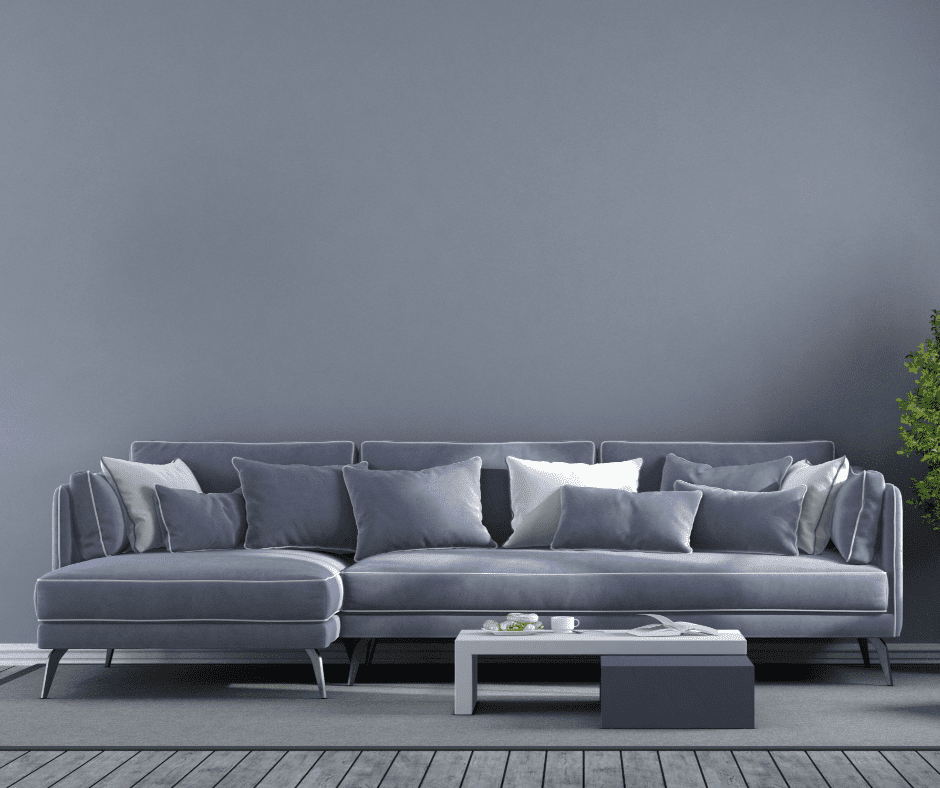 Choosing a light gray rug creates an open, cool look. This cool toned color should go well with any gray flooring. A geometric rug in gray and white would be a great choice to add a light pattern.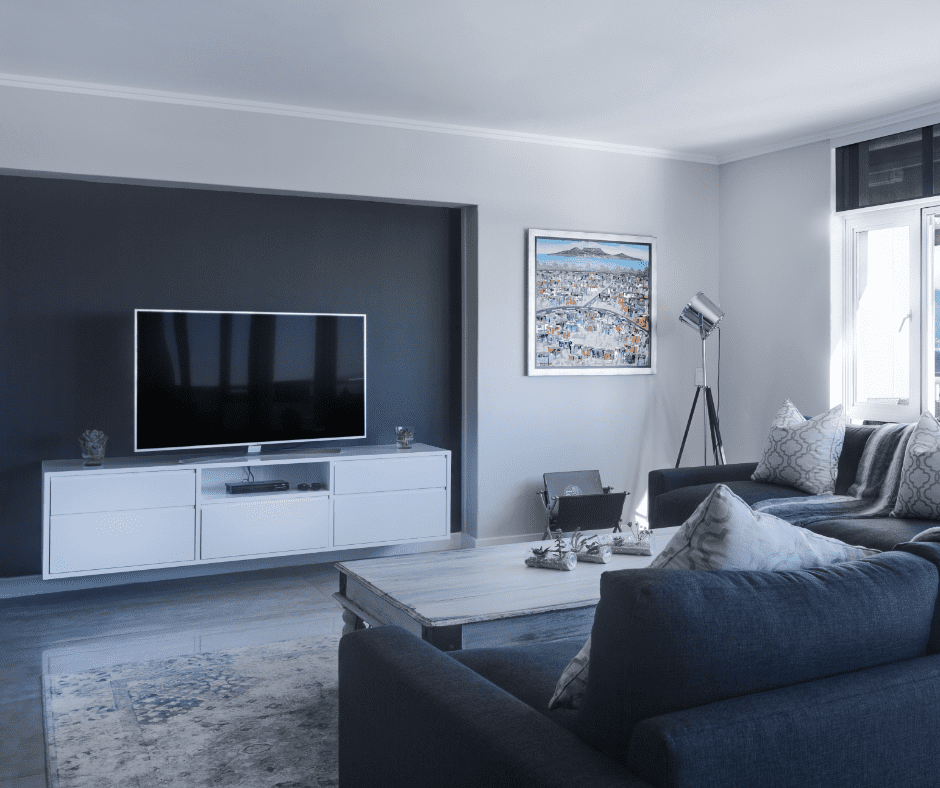 If you want to avoid pattern, try a light gray washed rug. The washed look often brings in a few different color tones you can use. A washed light gray and white area rug will bring in a little bit of texture but won't create visual clutter.
Because this is a lighter color, you can blend it with light gray floors. If your floors are a dark gray tone, the light gray rug will create contrast while maintaining a modern looking space.
White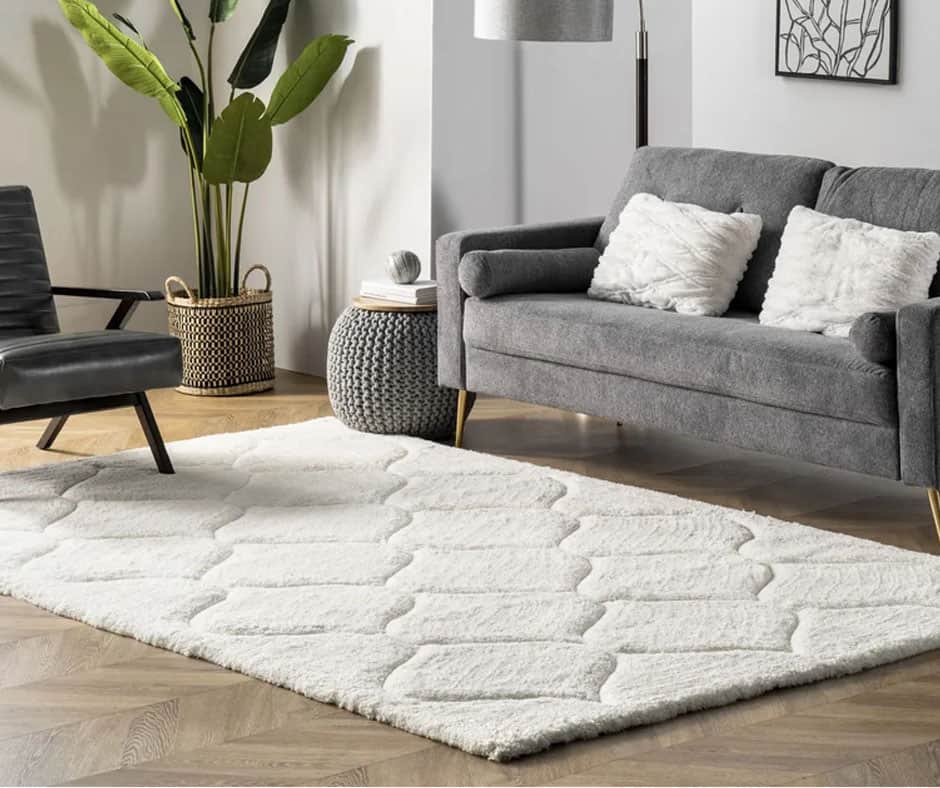 By using a white rug, you will give the room an icy modern look. A solid white geometric rug will highly contrast your gray floors. This rug will stand out like a focal point while still maintaining a clean look. The white will go with any tone of gray flooring because it's so neutral.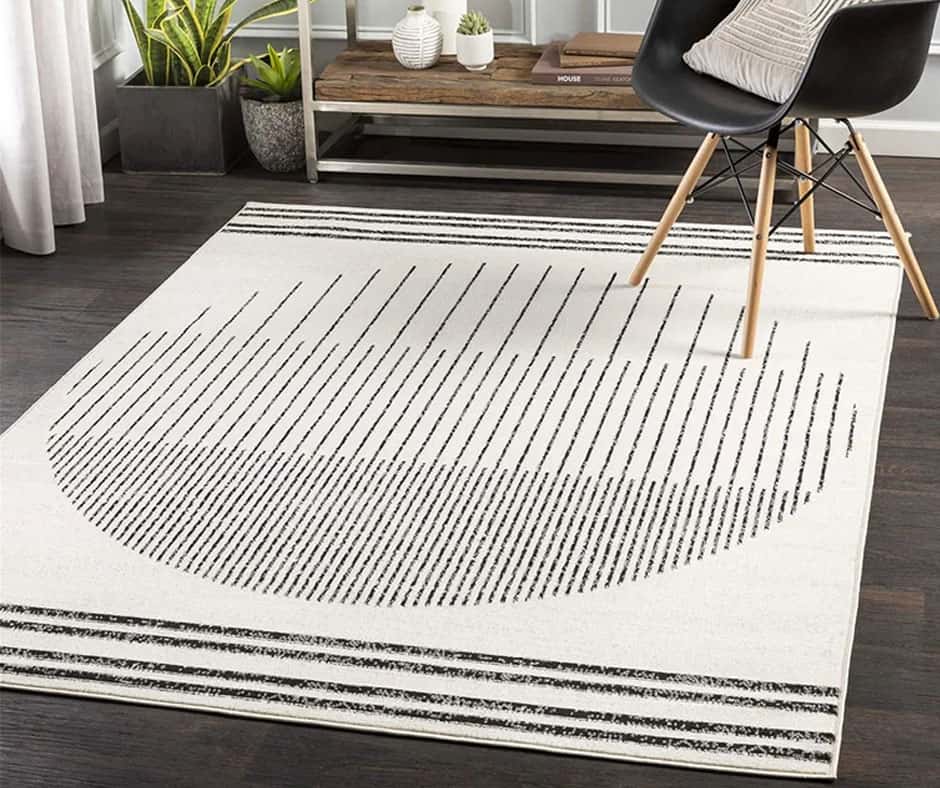 To use white and add pattern, try an ivory and black geometric rug. This rug allows you to keep an icy, cool color tone while adding pattern. The clean straight lines in this rug add to the modern flair of your space.
Charcoal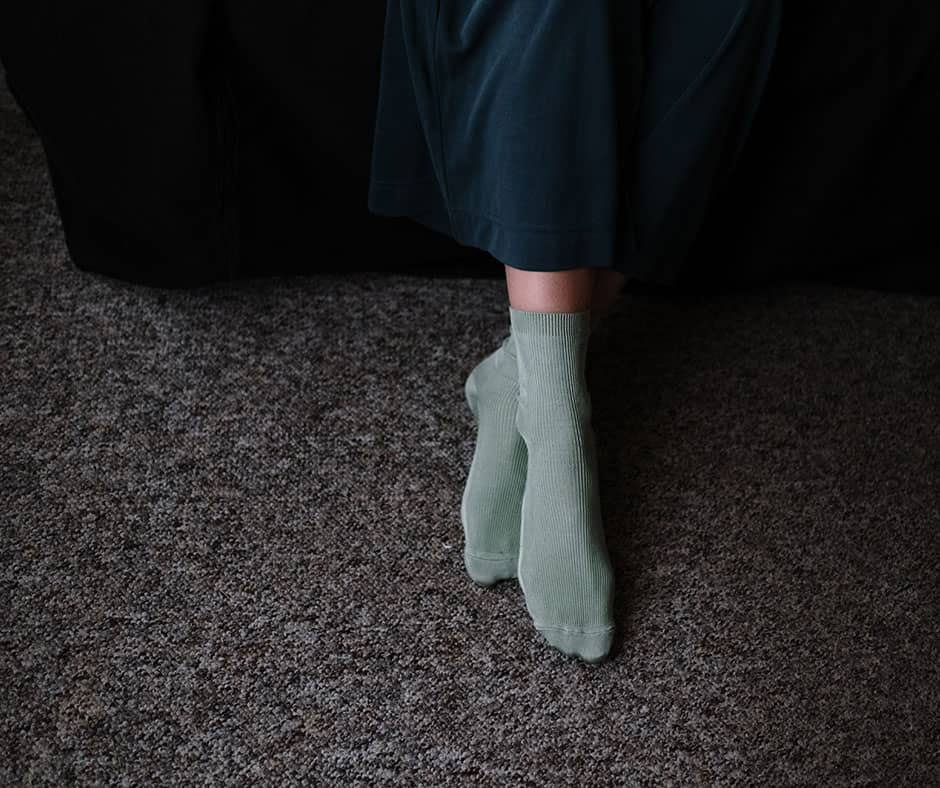 Add depth to your modern space with a charcoal colored rug. No matter the tone in your gray flooring, charcoal should coordinate well. A striped charcoal indoor/outdoor area rug is a great choice. This creates a slight warm contrast with the natural colored stripe. The rug still maintains a modern look with a solid charcoal center as the anchor.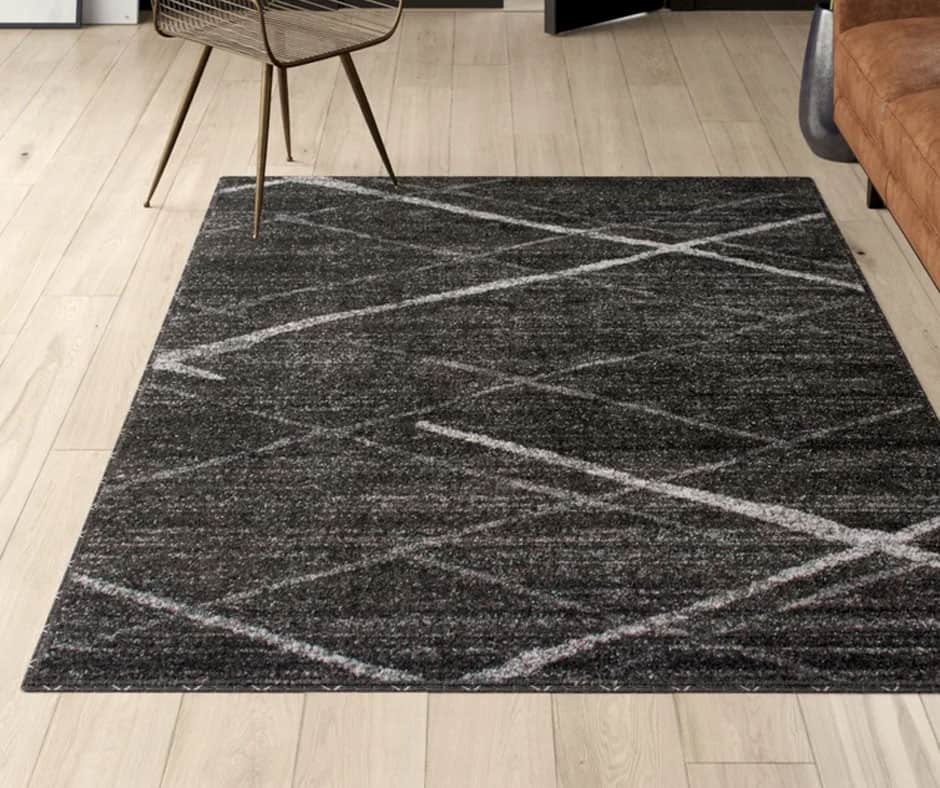 A dark charcoal geometric rug will add a clean look. These deep colors will add darkness and depth to your room. The light contrast of the lines adds to the modern appeal of the space. Because of the darkness and neutrality of the colors, this rug should coordinate well with gray floors.
Steel Blue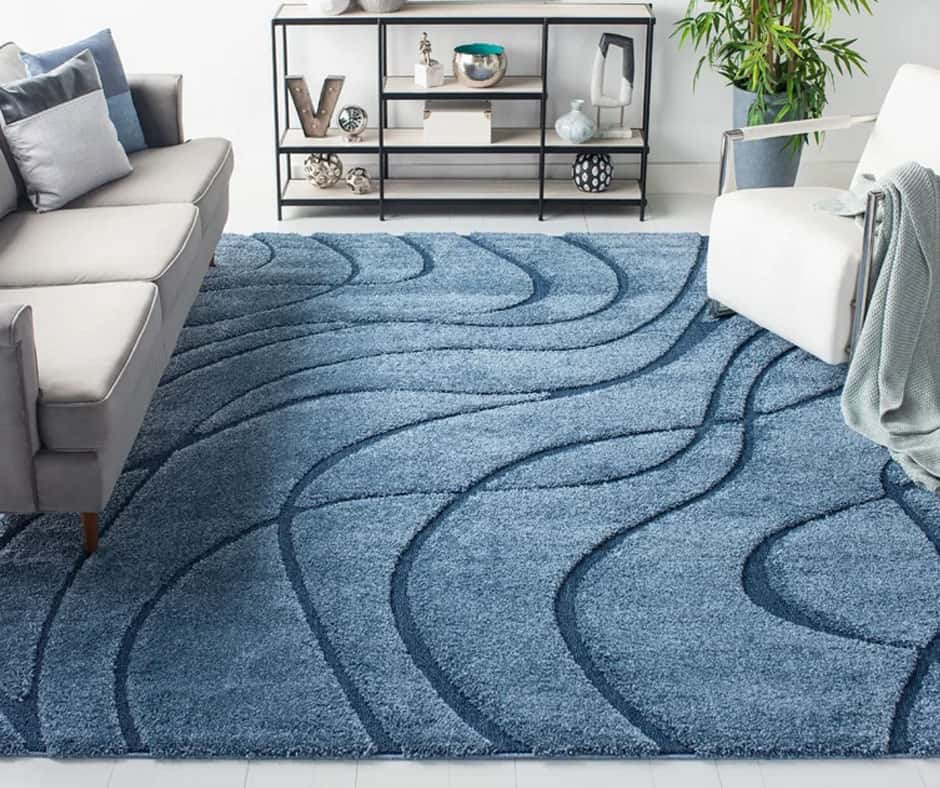 If you want a pop of color in a modern space, steel blue is perfect. Blue is a cool toned color that will help keep a clean look. Steel blues can range in depth and darkness. Try a blue curved abstract rug. This single colored rug will add color and dimension to your modern space.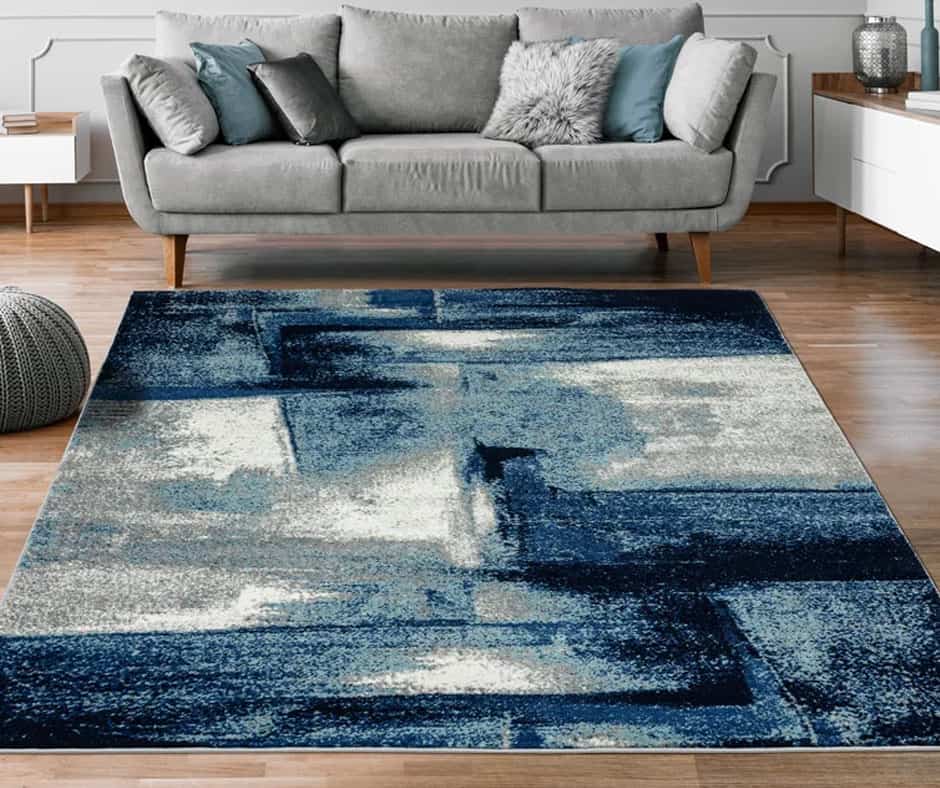 Add contrast to your gray flooring with a multicolored rug. Steel blue, gray and white tones in an area rug will create a great modern contrast. Against your gray flooring, this rug will pop.
When adding blues to a modern space, be selective of the color tones. Don't use pastel colored blues or blues that are too bright. Stick to blues with gray undertones that promote the coolness of a modern space.
Rug Styles That Create a Modern Space
Once you know what color you love, pick a rug style. The rug style you choose shouldn't clash with your floor pattern or finish. Make sure to select a style that coordinates well with your gray floors.
Solid
It's hard to go wrong with solid colored area rugs. Especially in a modern space, solid colors help keep a crisp, clean look. Most solids will be offered in high pile or shag style rugs.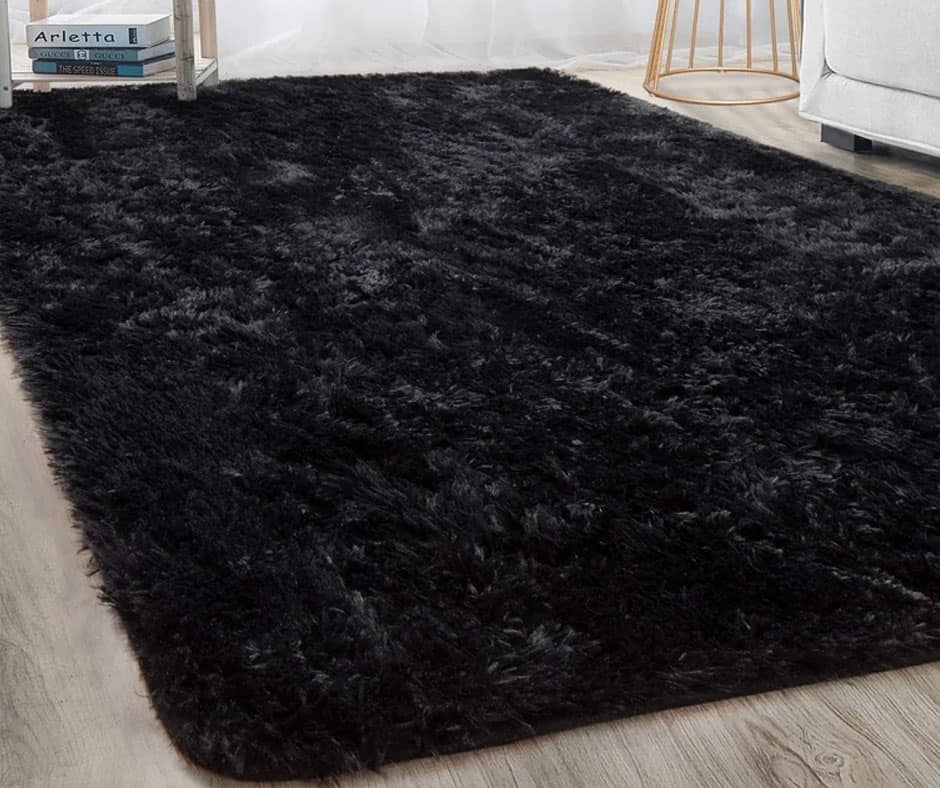 Contrast your gray flooring with a deep black shag rug. This rug will add darkness and drama to your modern space. The black should pull in color tones from your gray wooden floors, helping the space flow.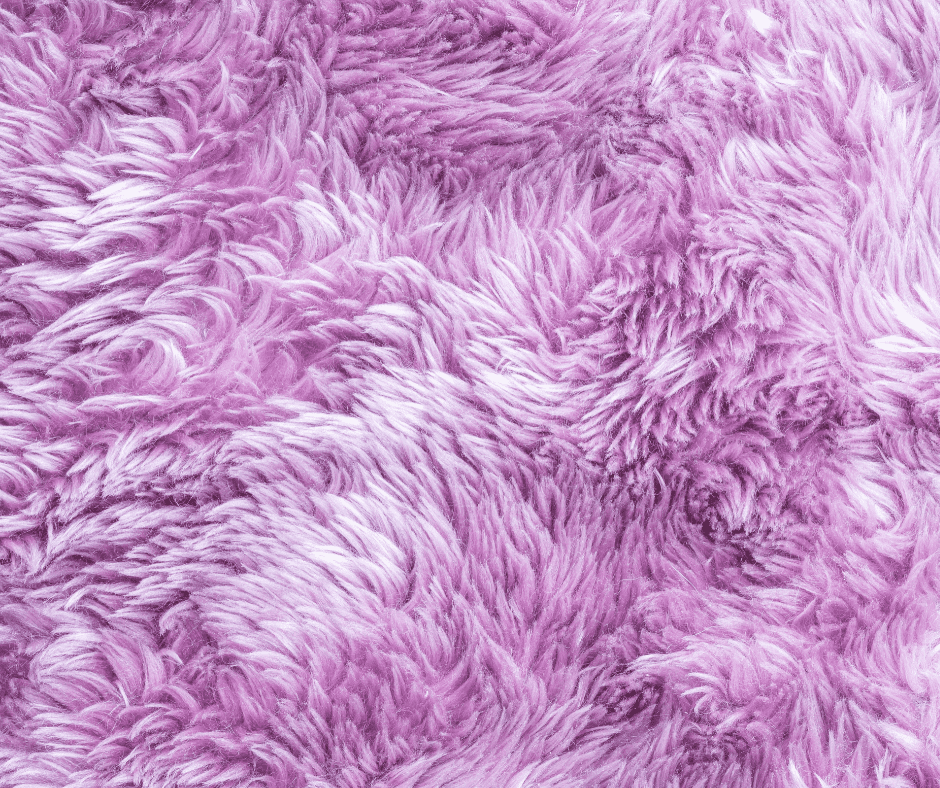 To add a pop of color, try a lilac solid area rug. This tone of purple is a cool tone, which will help keep a modern look and feel. It allows you to add some color to the space without making it feel cluttered or too busy.
Abstract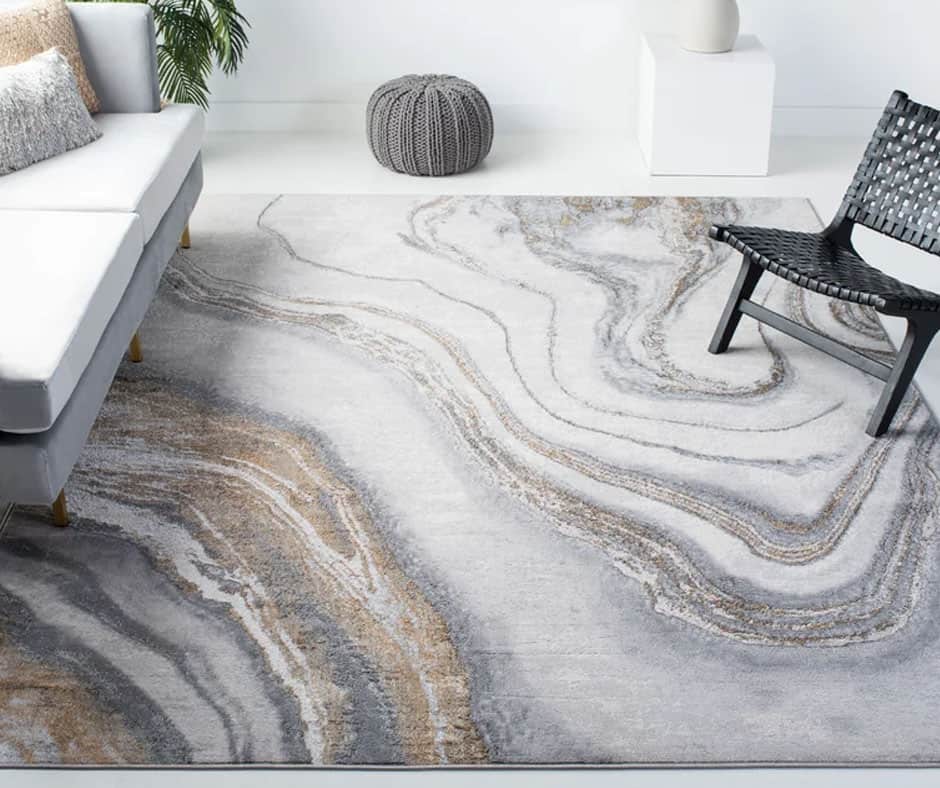 An abstract rug in a modern space can be your room's focal point. Abstract rugs look like pieces of art and are usually offered in cooler color tones. A marbled gray and white area rug will add art and a pop of contrast to your floors.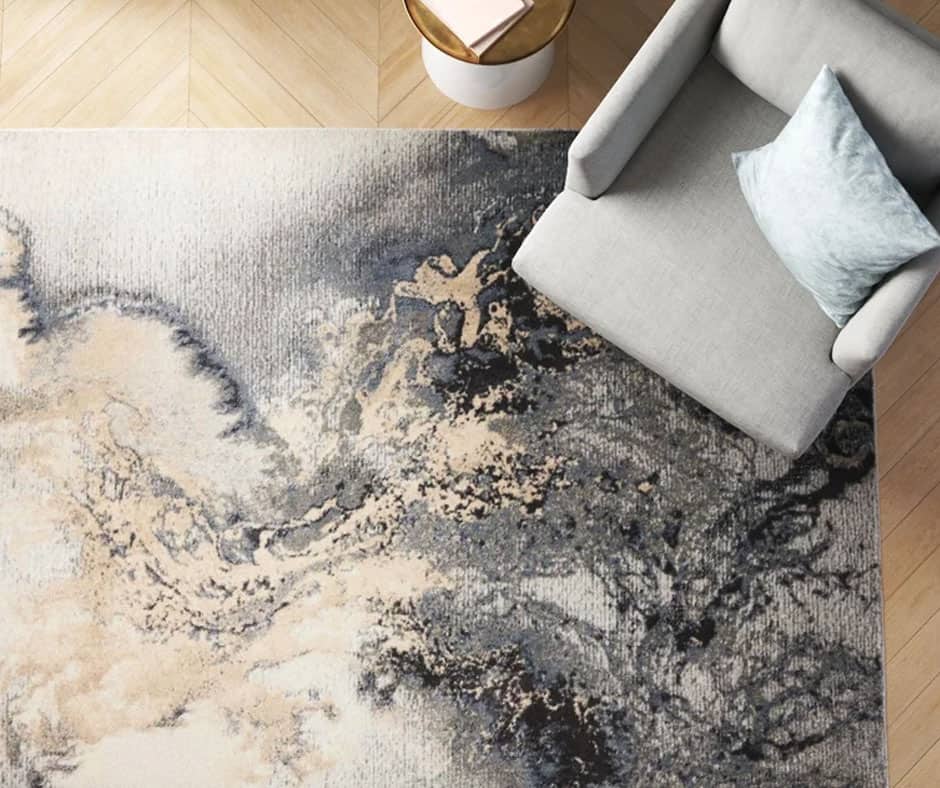 A darker gray and ivory abstract rug would be the focal point in your room. This rug style has a unique look without a definite pattern. This adds to the modern look in your space.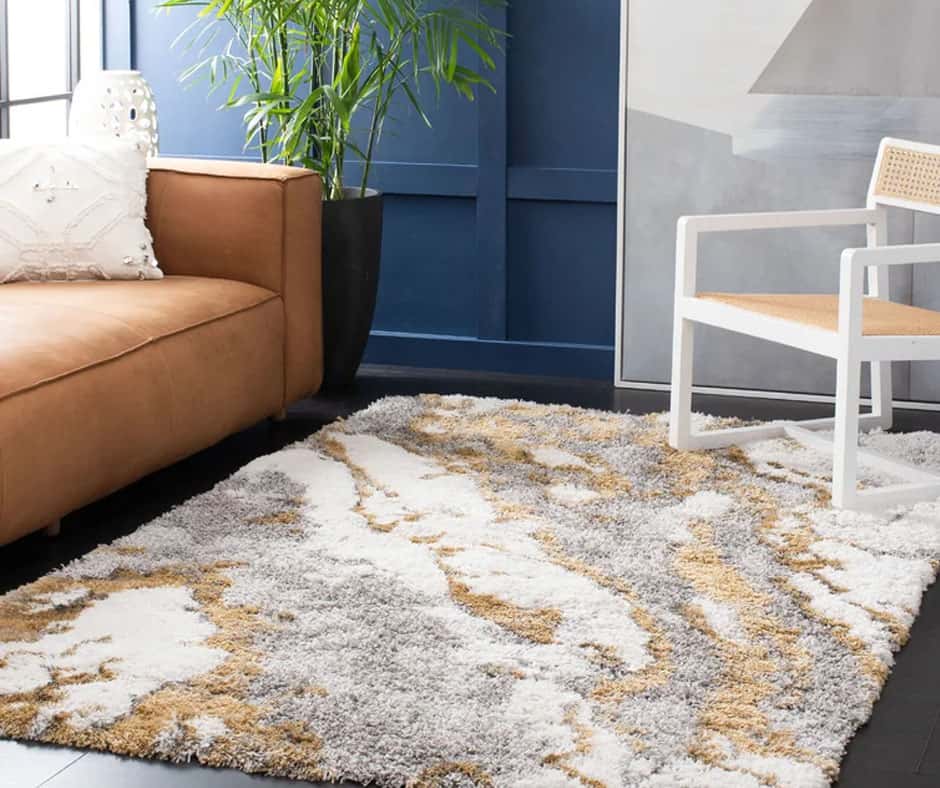 For a less dramatic look, try a soft ivory and gold high pile rug. This abstract look will contrast your gray floors without taking away from a different focal point, such as wall art.
Cowhide
Add some softness and rustic warmth to a modern space with a cowhide rug. By using a solid color, you can maintain a clean look and feel. The natural shape and feel of the rug will also soften your modern space a bit.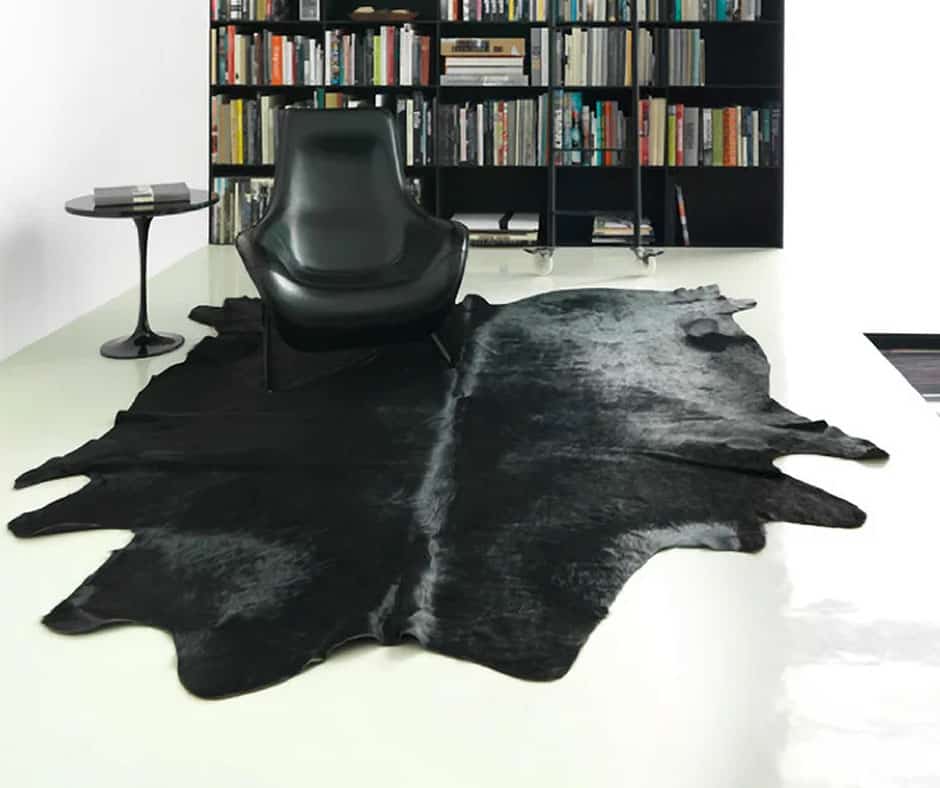 A solid black cowhide rug or a solid white cowhide rug would also be great. Since these are solids, they don't take away from the crisp, clean look you're trying to achieve. Either of these solid cowhides should go well with your gray flooring and provide a little contrast.
Geometric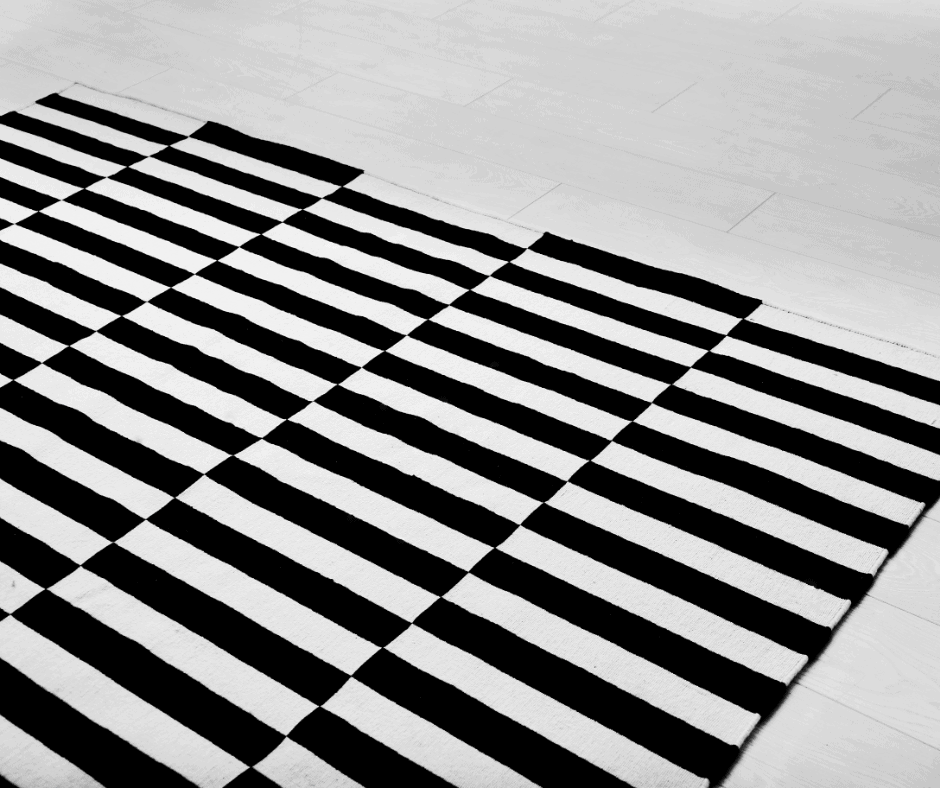 Bring some pattern and pizzazz into your space with a geometric rug. You can use some color with a navy and gray geometric style. To keep contrast low, try a black and white indoor/outdoor rug. Both of these styles will keep your space looking modern. The colors are neutral and should blend in well with your gray floors.
Conclusion
To create a modern space, you need the right rug. If you have gray floors, you'll have many options. Start by deciding which color rug you like best. Once you've decided on color, then you can make a style choice. The right color and style rug will help create a modern space you'll love.