Are you looking to brighten up your living room by adding a pop of color and texture? Brown couches can seem too plain at times, so what can you add to the space to create richness? Below we'll outline some great picks for rugs you can use in your living room if you have a brown couch.
In This Article We'll Discuss
Which Color Rug Should You Use?
Determining the style and theme of your room first will allow you to better select your rug. Remember that colors will play a big part in how a room feels— serious, playful, relaxing, curious, exciting. So, make sure to first decide how you want the room to feel and then think about what colors will help you achieve that.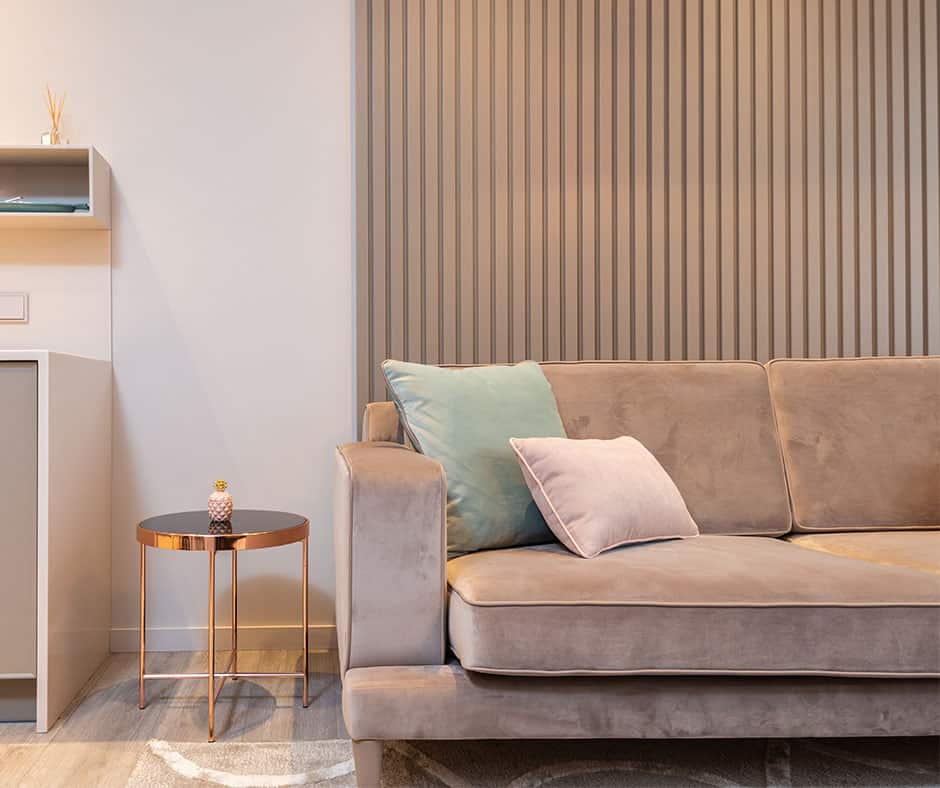 Once you know what look and feel you're going for, pick pops of color that will add richness to your space and that will play off your brown couch. See the list below for some rich color options that will add brightness and fullness to any living room with a brown couch.
Red
Red can be deep and serious or bright and fun. Both options will add tremendous richness to any space. Red evokes the feeling of movement and life in a room.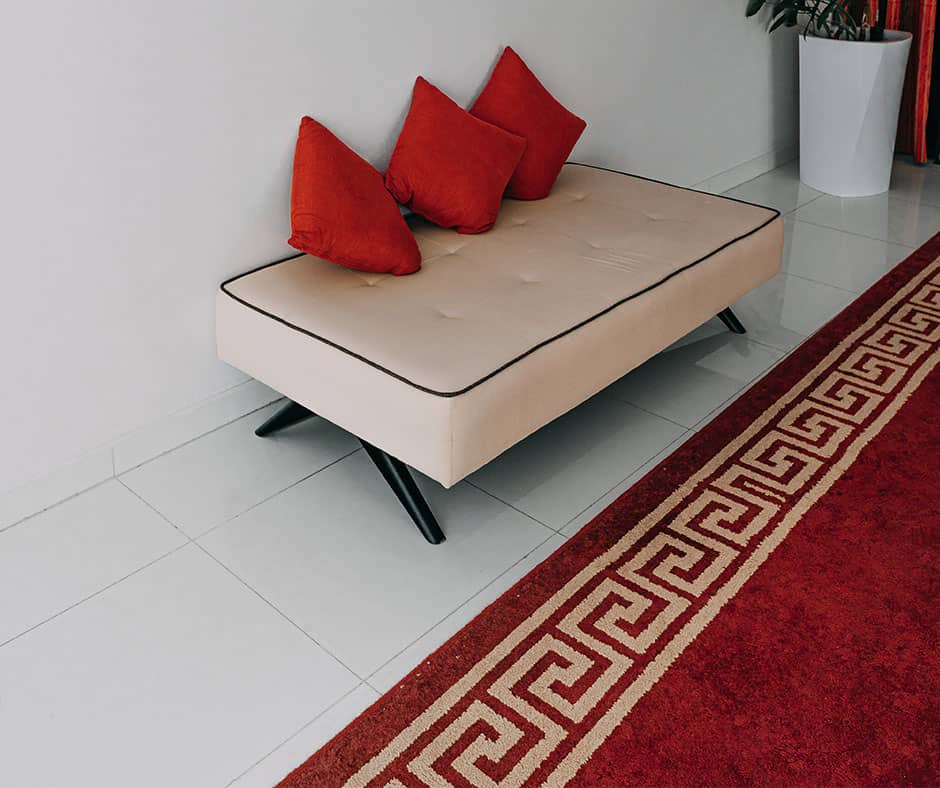 If you are looking for a more formal, elegant space, consider a red oriental rug that will add layers of depth and tradition.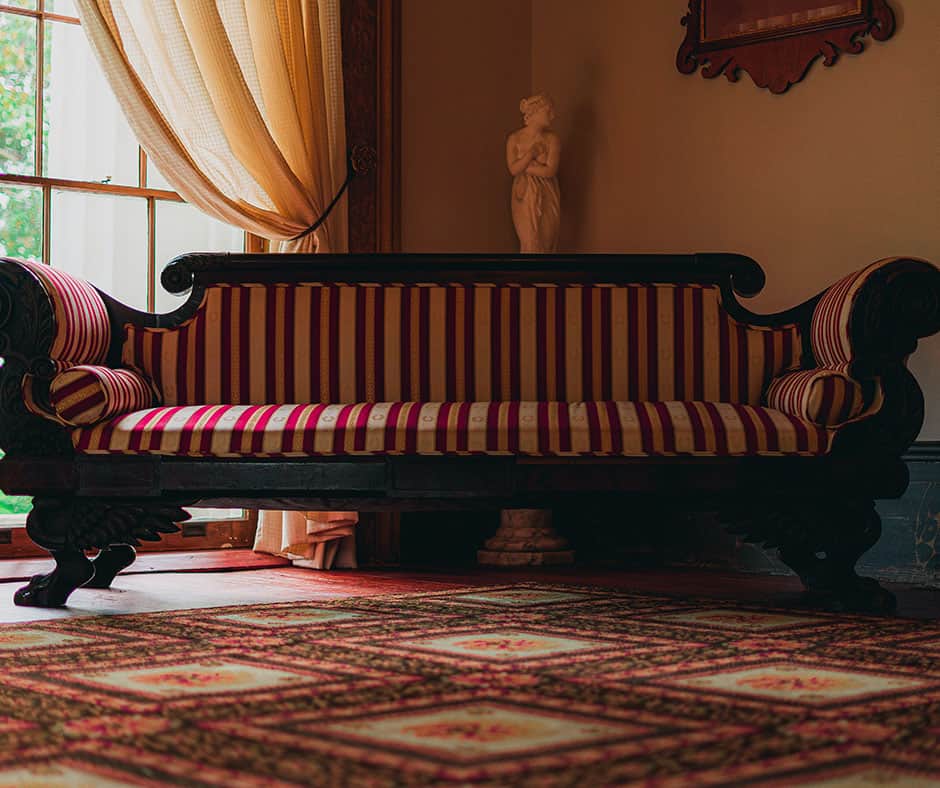 If you are hoping to create a brighter, lighter living room, a red geometric rug can bring in tons of color and life. Another choice would be to add a red faux fur or shag rug that will not only bring in color, but will add rich texture as well.
Blue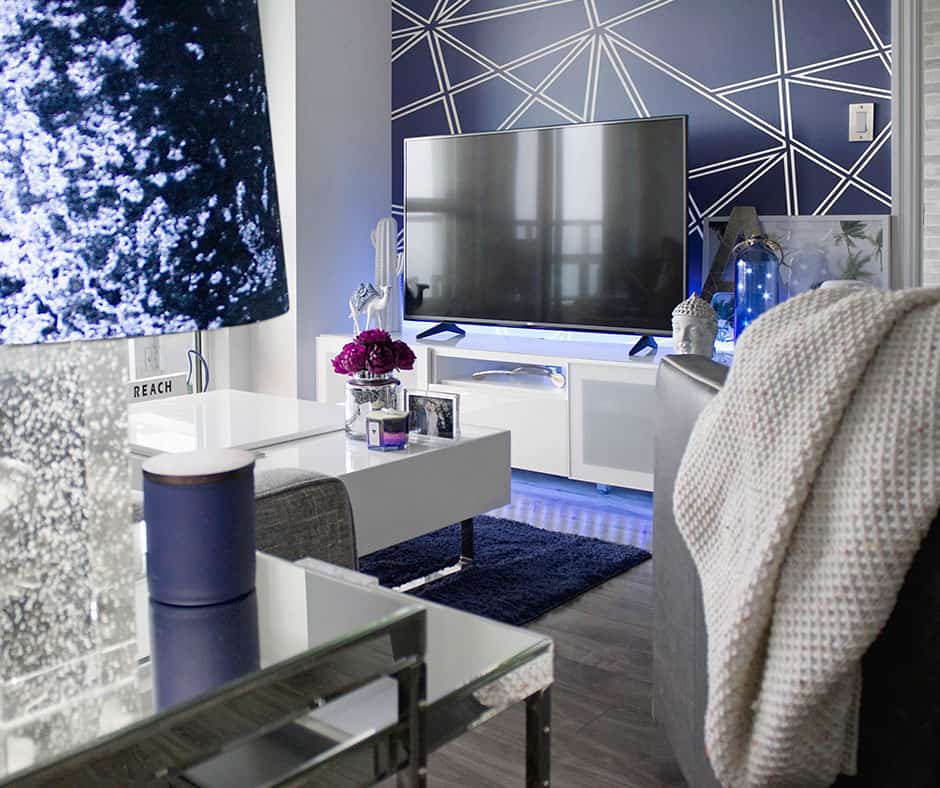 Blue creates a feeling of calmness and depth. Adding a blue rug to your living room will bring the space to life while still maintaining serenity. For a calmer, serious look, a vintage style distressed blue rug would look great.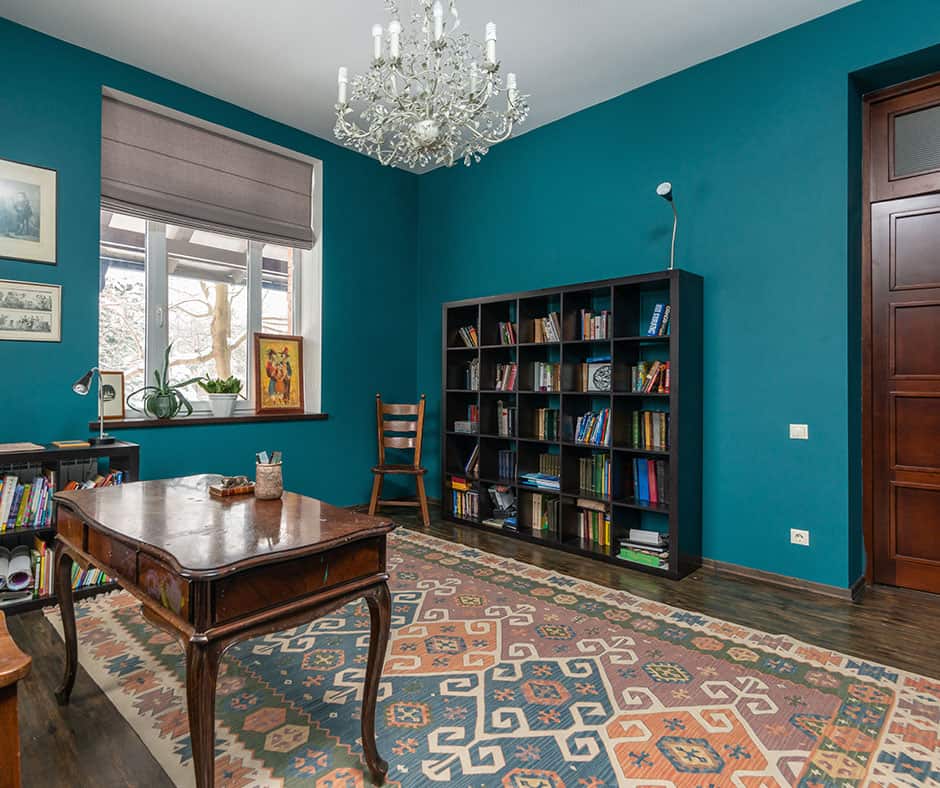 If you have yellow accents, you'll want to find a rug that will complement them. Or, if you have orange as a secondary color in your space, try a rug with reds and oranges. A simple colorful rug will highlight blues while allowing you lots of flexibility to bring in other accent colors.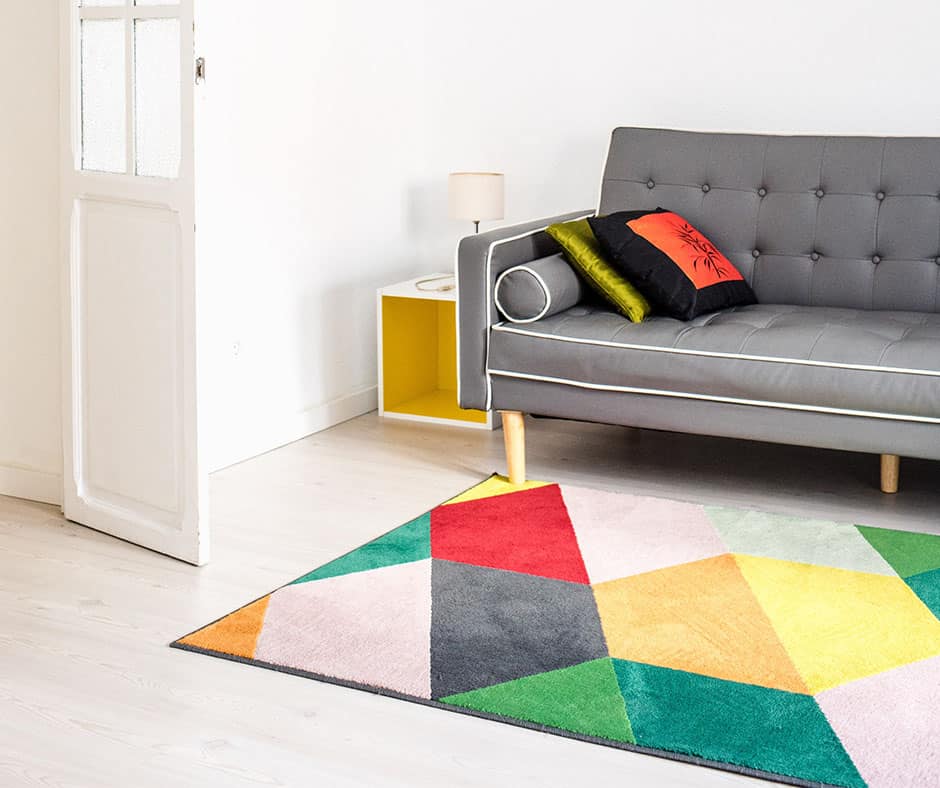 For a creative and artsy look, consider a rug with no definite pattern. If you love patterns, bring in a deep blue geometric diamond rug that will add lots of color and shape.
Yellow or Gold
Yellow and gold bring light, brightness and happiness into a space. Yellow is also a color that is associated with movement. A natural flat weave yellow rug will add brightness to your space, or a rich gold shag will create brilliance and texture.
If you want to add a little more pattern to your space, an abstract modern rug with gold tones will add movement and depth. Traditional oriental style rugs are also available in deep gold hues or you can opt for a vivid yellow tribal rug that will bring in some geometric patterns.
Green
If you're looking to highlight deep greens in your rustic or bohemian space, a green Native American rug will add depth and color. A more traditional space will appreciate the richness of a green antique styled wool rug.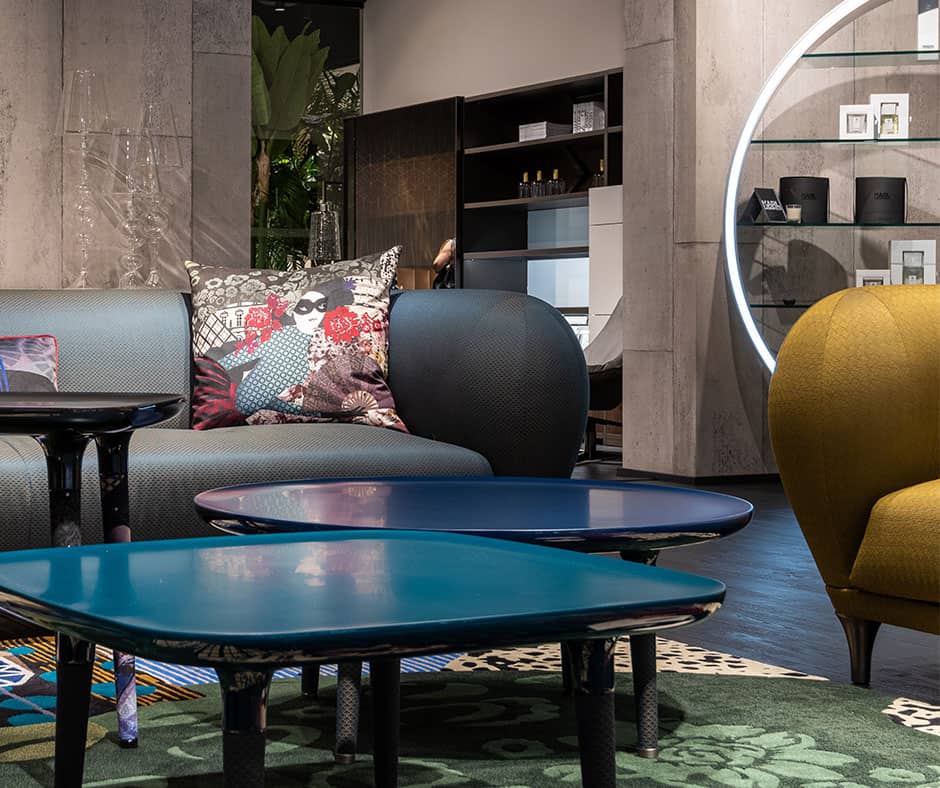 If you love jewel tones and movement, an emerald rug will add incredible depth of color, texture and flow to your living room.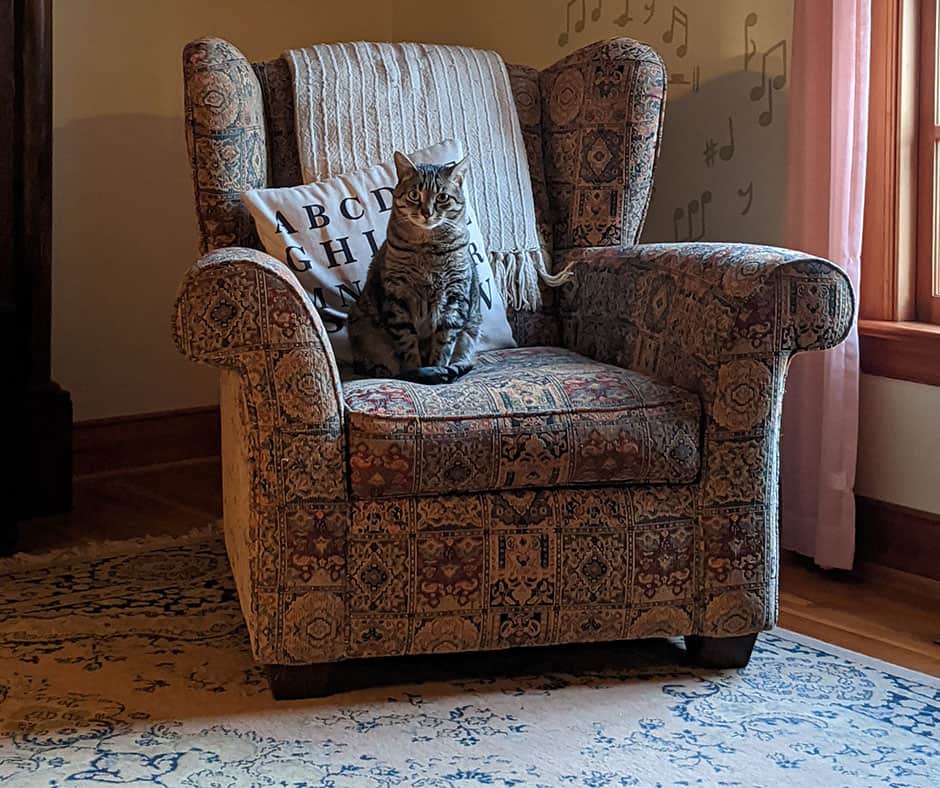 Also, a traditional oriental medallion rug with different green tones will brighten up any brown couch. If you'd like a bit of a more casual look, try a "washed" or distressed oriental rug.
Orange
Orange rugs may be some of the easiest rugs to find as they are very trendy right now and add incredible depth and intense vibrancy to any space they're in. The most common types are deep traditional oriental rugs. Some will have a center medallion and others will have more of a traditional Persian pattern.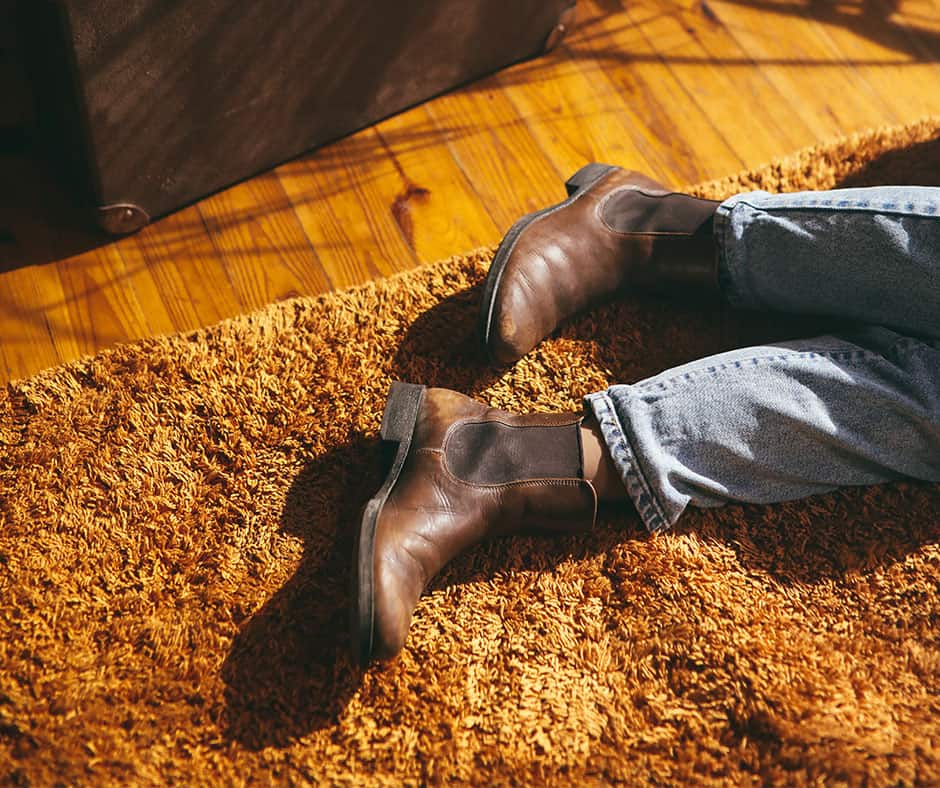 Create a burst of life and color by using a brighter distressed rug or add elegance with a rust-colored pattern.
Purple
Purple rugs can be challenging to find because purple isn't a common rug color. But, purple rugs can help add richness to your brown couch. You can look for a washed rug with a center medallion or a multicolored boho-chic rug with deep purples.
Another choice would be a farmhouse style botanical rug. 
Brown
If you're going for a rich monochromatic space, try a floral European rug or a distressed oriental style rug. Both of these will enhance your living room by complementing the brown tones in your couch and by showcasing unique patterns.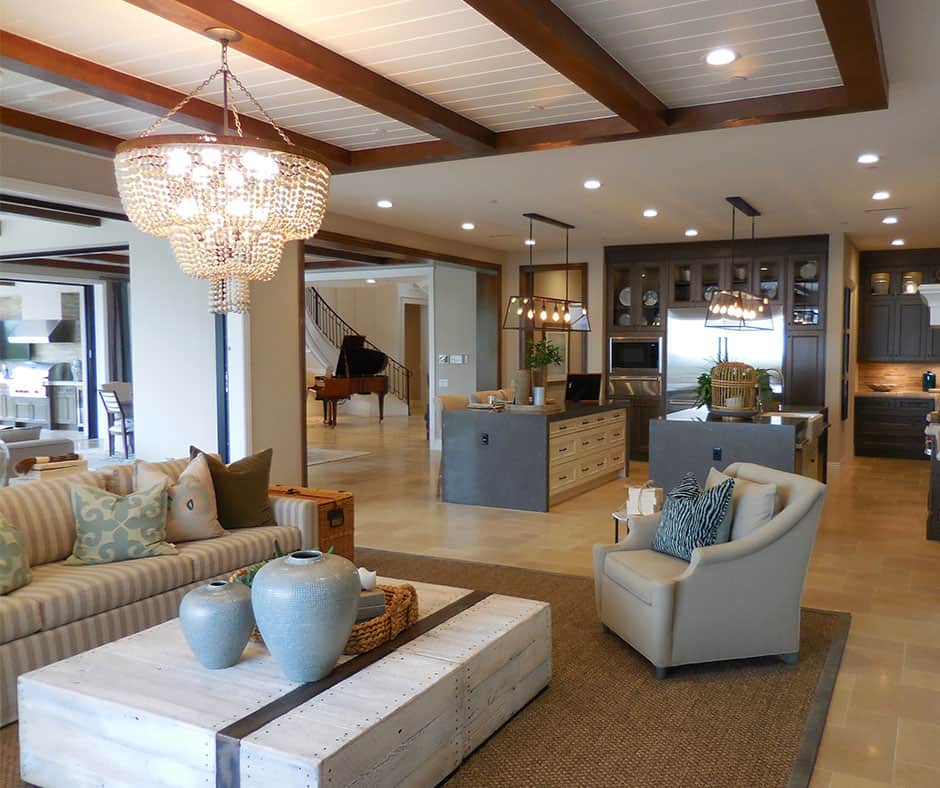 If your home is country style, farmhouse, or rustic, you may consider using a braided rug. Braided rugs will bring in many colors and you can buy them in interesting shapes.
A layered look in brown tones will add incredible depth and richness to your monochromatic space. Pick a cowhide or brown sheepskin rug that you love and layer it over a natural jute rug to create extra dimension in your living room.
White or Off-White
If you're looking for a stark contrast that will add richness and drama to the space while maintaining a crisp look, consider a white rug. A unique marbled patterned rug with gold accents will be an incredibly interesting piece in the space. Or, a white vintage distressed look will offer great contrast against your brown couch and keep the room neutral.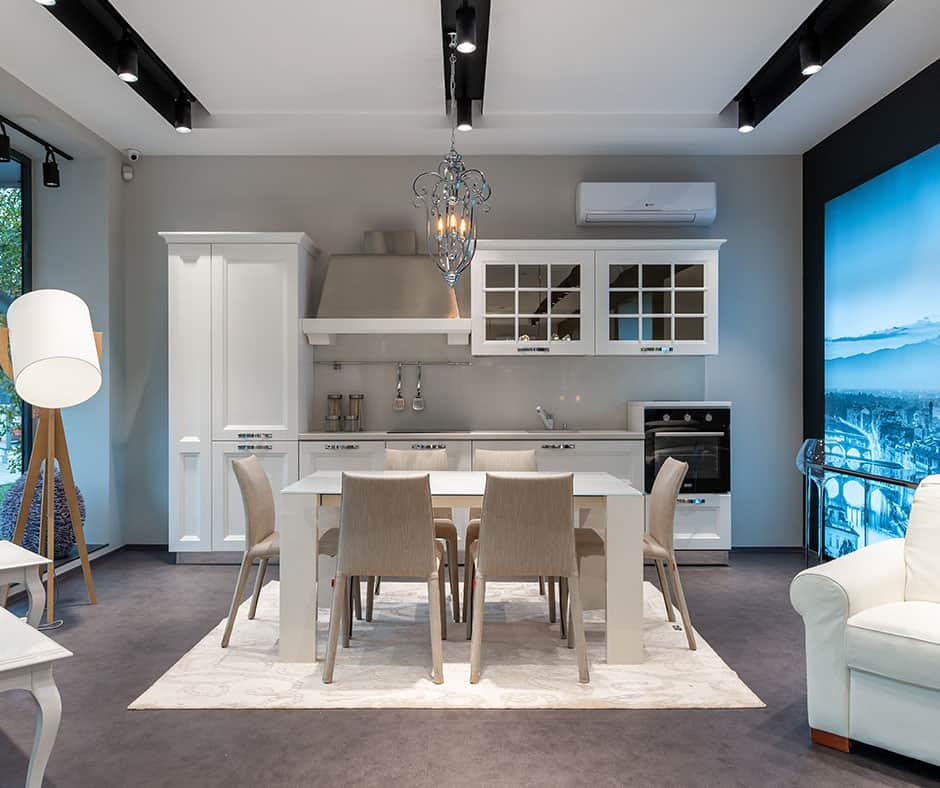 Using an ivory oriental style rug will bring in some pattern and texture. This traditional style looks great in so many spaces, such as a rustic, bohemian, traditional, or even a farmhouse style living room.
Conclusion
When deciding which rug will add the most brightness to your space, start by determining the feeling you want the room to have. Then, you can think about which colors will help you get there. Brown couches are great to work around because they are neutral but still very stylish. So, don't be afraid to make a bold choice for your rug to add richness to your living room.