Getting a great recliner under 200 bucks is possible as long as your willing to sacrifice a couple of high end features like genuine leather or a power reclining seat.
After researching about 50 recliners and doing about 38 hours of research on what makes a great recliner we came up with these that we recommend.
Our recommendations are based on the materials used, design style, size and comfort.
In This Article We'll Discuss
Best Recliners Under 200 Table
[hfe_template id='5396′]
The Best Recliners Under 200 For Everybody
Best recliner for the money
Coming with 5 different color variations and an easy to clean PU leather finish which is comfortable, the homall recliner chair offers a lot of value for the money.
It has a high density sponge filling which will help it retain its shape after and comfort over time. The recline style is the typical push back seen at this price range.
There's a maximum seating capacity of 265 lbs and it's width is at 27.6 inches so this is not a recliner if you're big and tall. However, after doing my research some big and tall men did find it comfortable. It's best to try finding a chair with similar dimensions so see if it's right for you.
A great perk of this recliner are the non marking pads under the feet which will help protect your floor if you don't have a rug under this piece of furniture.
Best recliner for short person
If you want a small recliner from either a muted wheat color to a popping orange, you'll find it in the Mervynn. It's small size makes it great for short people that prefer small furniture.
Depending on your height the size of this recliner might not support you completely. If you're 5'10 or over it might not support your head in the reclined position.
With its style this recliner is great if your looking for a cozy place to sit in your office for women or as a gift. It definitely has that West Elm flare at a budget price.
The 100% polyester fabric makes it soft and easy to clean. The cushions are soft and comfortable as well.
3. Christopher Knight Home Darvis Fabric Recliner
This pretty little recliner comes in 12 different colors ranging from black faux leather to calming light sky. It's size and soft material make it a great recliner for women. It is on the firm side but if you plan on spending a good amount of time in it that is a good thing. Firm furniture tends to be better for back support.
Best recliner under 200 for her
This modern and minimalist recliner will suit the need for most women that are looking for a cozy and stylish place to sit or recline on. It has a light assembly that you can do on your own.
The solid frame will make sure this recliner will last, which is nice to see at this price point. Another thing to keep in mind is that it's small size makes it great for a small space such as a home office or nursery.
It is on the firm side which is good for back support. However, keep this in mind if you are on the lookout for a plush recliner that you can sink into. It's design makes it well suited for professional environments and as an accent piece.
4. JUMMICO Gaming Recliner Chair
This recliner with a 265lb weight capacity that can adjust from 90 to 160 degrees hits the right notes for gaming. Having a recliner that can adjust to various positions is important to ensure the right angle can be achieved to look at the screen comfortably for hours.
Best recliner under 200 for gaming
A good recliner for gaming has to be comfortable and be adjustable to fit the various viewing angles for a TV. The Jummico meets those requirements and comes in two gamer friendly color tones in black and blue or black and white.
PU leather is comfortable to sit on and will help it last for a decent amount of time. The steel frame is a good choice of material that will also last.
The foot rest is also free to adjust on the angle and when combined with the backrest flexibility it really makes this a great option for gaming. Having a recliner that's fixed to two positions won't allow for the most ergonomic viewing angle.
5. Homall Electric Power Lift Recliner
This recliner is slightly over the $200 price target but we felt is added enough value to make it worth mentioning. It's the lowest cost recliner that has a lift to aid in getting out of the seat. This makes it a great option for the elderly or anyone who needs a little getting out of a recliner on a budget.
Best recliner under 200 for Elderly
The Homall Recliner comes with a great perk that the elderly will appreciate. It has a power lift feature that aids in getting out of it which can be difficult for some. This helps reduce pressure on backs and knees when getting in and out of the recliner.
It's the lowest priced recliner that we found to have this feature that can be a non-negotiable for some.
The remote control makes it easy to to recline to its various positions which will also aid you if you have limited mobility. The frame is made of solid wood, which is a material that will offer lasting support.
Soft foam makes it comfortable and its dimensions at 25" x 41" should make it ideal for most people.
Best recliner for sleeping
This recliner comes packed with features that are great to see at this price point. It's easy to put together, will keep you cozy with its heat and help you relax with it's vibration feature.
The soft linen and high density sponge filing work together to make a soft and comfortable place to doze off in for hours. With a 20in width, most people will find this suitable for their body type.
Keep in mind that linen fabric can snap a bit easier than microfiber so keep and sharp objects and pets off of this recliner.
Best Recliner under $200 for Kids
This small and cozy couch for kids comes in 3 neutral colors that will fit most people's decor tastes. These colors are gray, brown and black.
It's great to see a kids recliner that doesn't lock into two reclining angles. This one ranges from 90 to 130 degrees. 180 degrees is completely flat but this range should be good enough for children.
The PU leather is a durable material which should stand up to wear and tear that come natural to anything kids come in contact with.
The armrest has a neat feature that flips up for storage. Kids can put toys, remotes and snacks in there for easy access.
Best Recliner for Nursery Under $200
This wide recliner coming in a 29.1" is the best recliner we found for a nursery.
It comes in dark grey, light grey, and navy colors options. These neutral tones are great for almost anyone's decor taste.
The iron frame is durable to ensure it'll last for years to come. The easy assembly is also something you'll enjoy about this recliner.
All you have to do to get it set up are screw on the legs, snap the back on the base and set up the side "wings". This shouldn't take more than 15 minutes as 90% of the work is already done.
It's a manual push back recliner but it's easy to adjust and smooth.
Best recliner under 200 for him
This is the only recliner we found with a 360 degree swivel at this price point. That, with its size and comfortable materials made it our best choice for him under $200
The hardwood frame is one of the top materials we like to see in a quality recliner. Microfiber is another top notch material for the cover. It's soft and easy to clean.
It'll take you less than 15 minutes to assemble as 90% of the work is done. The generous cushions on it make it extra cozy.
The 32" width should make it suitable for almost anyone.
Best Recliners Under $200 Buying Guide
What to Consider Before Buying a Recliner under 200?
The most important things to take into account prior to buying a recliner are it's size, the size of your body, it's construction and style.
We all have different preferences so make sure you have an idea of what your ideal recliner will have prior to purchasing. The most comfortable padded recliners tend to take up the most space but can be unappealing to some.
Likewise, a smaller person won't need as large a piece of someone who prefers big and tall furniture.
Size of the recliner
Before purchasing a recliner it's important to take it's measurements and apply them to the room it will be placed in. The best way to do this is by taping it out using painters tape.
Decide on a few places you would like to put the recliner and tape it out on the floor. Make sure to take into the account how much space it will take up when reclined. Ensure it won't bump into any coffee tables or other pieces of furniture.
Recliners will not work close to a wall as they won't be able to extend out to the reclined position. You will need anywhere from 1 foot to 3 feet of space between the recliner and the wall.
An exception to this are wall hugger recliners that are designed to be a few inches from the wall. Consider this type of recliner if you line in a small space or have a living room layout that requires it.
Your Body Size
When ordering a recliner online you won't have the luxury of sitting in it to see if it's the right size for your body.
The best way to make sure you order one that you will love is to pick your favorite comfy chair in the house. Measure how wide it is and how far off it is from the floor. This will give you a good guide on what dimensions to look out for.
In general, your feet should be able to sit flat on the ground when the recliner is upright. When sitting, measure how far your head is from the base of the seat. Pick a recliner that will align to where your head falls for comfort.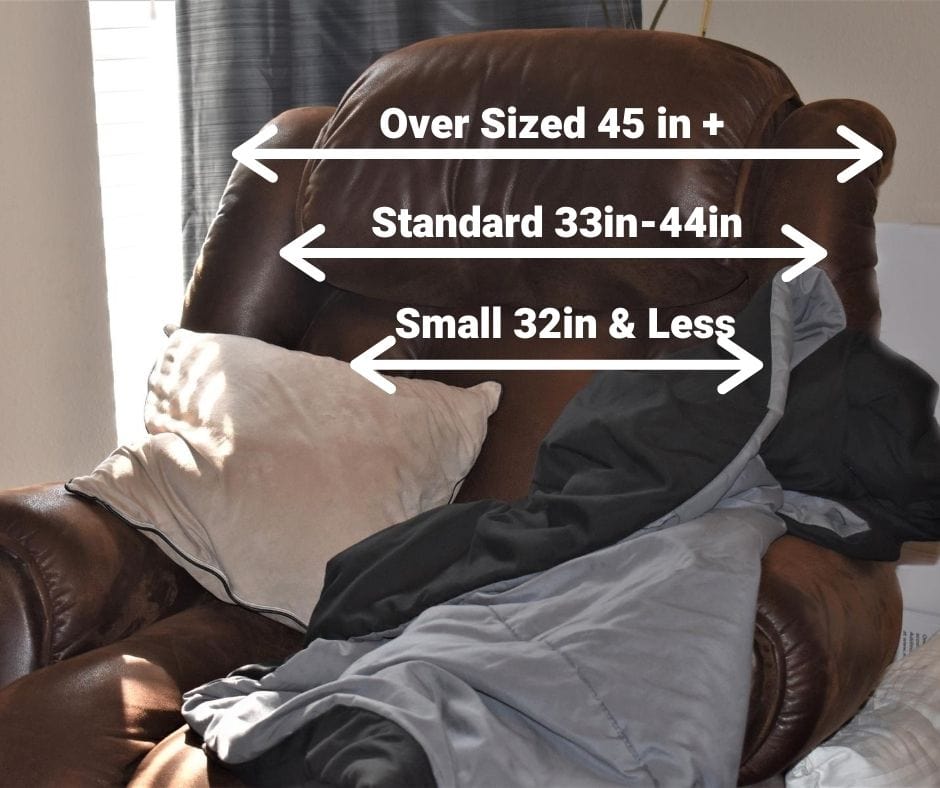 Small Recliners are up to 33in wides
Standard Recliners are 34-44in Wide
Oversized Recliners are 45in +
Recliner Construction
When reviewing the recliners we recommend to ensure they meet good construction standards but keep these in mind when shopping.
High quality materials should be used for the covering and soft plush foam to ensure durability and comfort. Something else to look out for are heavy duty screws and bolts with solid wood frames.
Recliner Styles
When picking a recliner style always keep in mind the decor that's in the space it will be in. It's important not to pick a piece of furniture you love independently but when put in your space it doesn't match or looks awkward.
Traditional Recliners
Traditional is a popular style of recliner as it goes with many home decor styles like the popular farmhouse. They are the coziest looking type of recliners that will invite you to sit down and relax for hours.
Traditional recliners have large dimensions and are nap friendly.
Modern Recliners
Modern recliners range from mid-century to having european flare. These recliners incorporate lifestyle conscious features.
Leather and faux leather upholstery are common in this style of recliner however there are some linen models available.
Transitional Recliners
Transitional is described well as a meeting point between modern and traditional. They look current and cozy.
They have a versatile aesthetic so if you are unsure what type will go best with your home stick with a transitional recliner. You'll find them in neutral color palettes, which again go with many decor styles.
Types of Recliners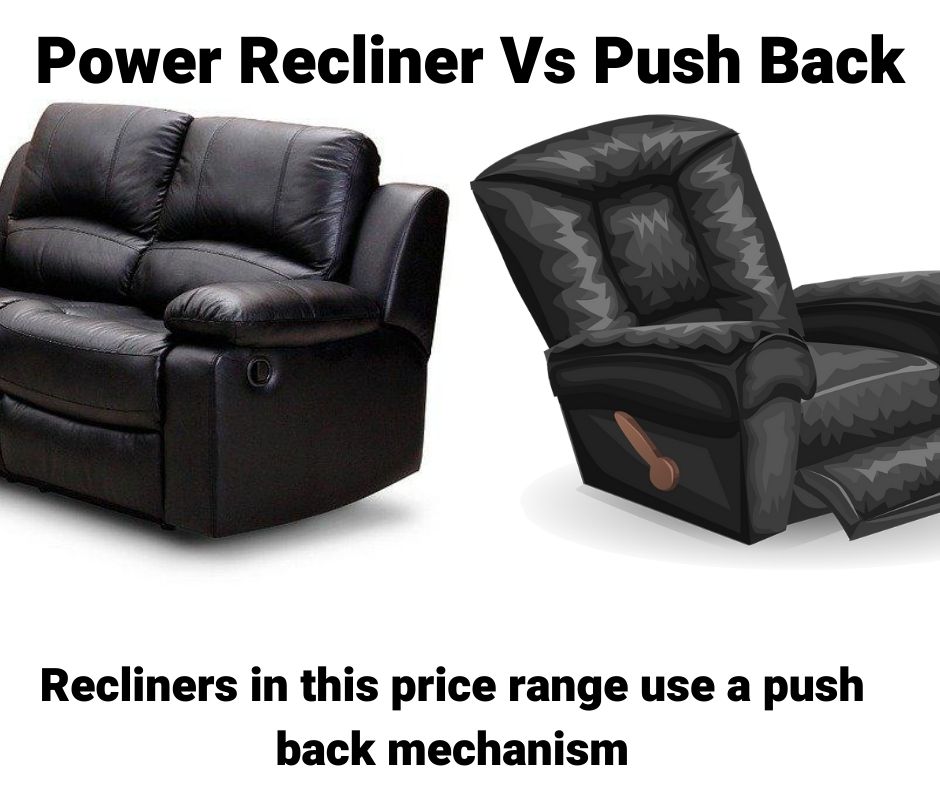 Pushback Recliner
Pushback recliners are the most common at this price range. You will pull a lever and literally "pushback" against the back of the recliner to put it in a reclined position.
These don't come with an ottoman or footrest as it will come out of the recliner. These are typically the smallest types of recliners.
Power Recliner
Power recliners will use an electric mechanism to recline and come to the upright position. This is done via button usually located on the side of the recliner.
Some of them come with convenience features such as USB charging ports. These will also over more reclining positions as they don't lock into place.
Wall Hugger Recliners
These types of recliners are made to be used in cramp or tiny spaces as they can be closer to the wall than any other type of recliner.
The seat will extend forward reclining and it will take minimal space on the back of the recliner.
What to Expect When Buying Cheap Recliners Under $200?
It's completely possible to get a great comfortable and functional recliner under 200 bucks. Things that you might miss out on are actual leather finishes and high end power reclining features.
The recliners in this price range will be manual options that work just fine. They come in plenty of styles as well to match your preferred home decor tastes.
[hfe_template id='7376′]