Recliners are great for relaxing. Most of them are spacious and big enough for naps and prolonged sitting. However, sitting on a recliner for hours can get uncomfortable. This is usually due to pressure on parts of the body that have been in contact with the recliner surface for so long. One way to alleviate the pain is by purchasing the most comfortable pressure relief cushion for your recliner.
The problem with buying things online is that there are simply too many products to wade through. Luckily you're on the right page because we have some suggestions on the most comfortable recliner cushion for relieving pressure.
In This Article We'll Discuss
7 Most Comfortable Pressure Relief Cushion for Recliners
---
7 Most Comfortable Pressure Relief Cushion for Recliners
Best Overall
Product Details:
Dimensions: 18 x 22 x 2.5 inches
Material: Hyper-Elastic Polymer
Highly Transportable
Compatible With Any Seat
"Give your butt the best seating experience."
Made from hyper-elastic polymer, this pressure relief cushion for a recliner is highly transportable and durable. Your behind and legs will undoubtedly thank you. Bring it with you to the game to make sitting on bleachers comfortable or prop it on your front seat while driving for pain and pressure relief for the butt, back, and legs.
This cushion recliner gets our vote for best overall because aside from being versatile, it is also suitable for sciatica pain. The cushion is extra thick and soft with an equally laid out grid design for optimum pressure relief and comfort. It conforms to the shape of your butt to support it evenly. You won't be able to feel your wallet or keys digging into your backside.
This product is compatible with any seat. You can use it on your favorite recliner, car, or office seat. You can even take it with you when traveling so that uncomfortable departure area chairs become just like your favorite seat at home. This product is a good choice if you want versatility and mobility.
---
Best for Moving Around
Product Details:
Dimensions: 8.89 x 21.59 x 35.56 inches
Material: High-quality elastic gel
WonderGel material is engineered to breathe, so it stays cool while in use.
Folds away for easy transport and storage.
"The everywhere seat cushion."
If you want a cushion for your recliner that's foldable and easy to store, you can't go wrong with this product. The Foldaway Seat Cushion by The Purple is made from ultra-soft, ultra-strong, cooling, solid rubber-like WonderGel Gelastic material that keeps you cool while sitting on it. It also features columns that allow for unrestricted airflow and temperature neutrality, meaning you can avoid swamp butt.
This recliner cushion is perfectly designed for office chairs and traveling. But that's not all because you can also take it to the big game, fishing, church, the park, and other places that you want to sit comfortably.
The cushion is also a good choice for those with sciatica pain. It can adjust to any individual's body shape or weight to help relieve sciatica and tailbone discomfort. Best of all, it folds down to a compact size, so you can take it with you anywhere.
---
Best Custom Fit
Product Details:
Dimensions: 20x20x5 inches (other sizes available)
Material: Memory foam
Features a non-skid design.
Versatile and easy to clean.
"Enjoy long-lasting comfort and pain relief with this memory foam cushion."
Consumers who prefer memory foam for their recliner cushion will enjoy this product from COMFORTANZA. It features a stylish quilted design and a soft fabric cover so you can enjoy comfort and pain relief while sitting on your favorite recliner, armchair, couch, rocking or gliding chair, and even the floor.
The COMFORTANZA is also an excellent choice for aging or sagging recliners because the softness will bring back its old comfort. Best of all, it features a non-skid design, so your cushion will stay in place without the use of unsightly ties. The fabric cover is machine washable, so maintaining the cushion is easy.
Memory foam has long been used by people who suffer from body pain, and this cushion will help alleviate lower back pain caused by sitting for so long. Besides your favorite recliner, you can also use this on your office chair to help make work more comfortable.
---
Best Inflatable
Product Details:
Dimensions: 18″ Wide x 18″ Deep
Very light and comfortable.
Designed to match the shape of the user.
Comes with a machine-washable fluid-resistant heavy-duty cover.
"Functional sitting solution for people who are experiencing pain while sitting."
ROHO Cushions provide a comfortable, functional, and customizable sitting solution for people who may experience pain while sitting. The cushion has air pockets that are easy to set up and completely adjustable for maximum comfort. All cushions come with a hand pump for easy inflation.
Besides your recliner, this product is a good choice for wheelchairs, bedside chairs, car/truck seats, and sporting events and can support individuals up to 315lbs/143kg. You can use this if you are experiencing skin/soft tissue soreness, pain, impaired sensation, or if looking for enhanced comfort in sitting.
The cushion is designed to match the user's shape, adapting to every movement to reduce the risk of injury to skin/soft tissue, even during longer sitting times.
---
Best for Back and Seat
Product Details:
Dimensions: 16.9 x 15.7 x 17.3 inches
Material: Memory foam
L-shape for back and butt support.
Relieves lower back pain.
"Relieve pain in back and butt with an L-shaped recliner cushion."
Relieve pain in the spine and butt with this all-in-one memory foam pillow. The cushion will shift the tailbone when sitting to reduce pressure on the pelvis. The firmness of the orthopedic seat cushion offers exceptional lumbar support for the treatment of hemorrhoids, coccyx injury, sciatica, and pressure sores.
The L-shaped cushion is a butt and back cushion in one. The shape provides excellent lumbar support and ensures good posture even during travel. You can now enjoy sitting for long periods without having back or tailbone pain thanks to this cushion from bonmedico.
Aside from pain and injury, this cushion also supports post-surgery by providing ergonomic support. It comes with a handy carrying handle, making it an easy-to-transport chair.
---
Best Donut Shape
Product Details:
Dimensions: 14 x 17.5 x 2.5 inches
Material: Foam
Best for relieving hemorrhoid and coccyx pain.
Lightweight and portable.
"Relieve tailbone and hemorrhoid pain with this donut-shaped cushion."
Stop suffering from tailbone and hemorrhoid pain. Relieve pain naturally with this donut-shaped recliner cushion from Ergonomic Innovations. This product features medium firmness for better butt and back support, ergonomic support to gently lift and cradle sensitive areas, stay put non slip base, and a removable, washable cover for easy cleaning.
This cushion is suitable for many surfaces at home and is not limited to a recliner. You can use it for a wheelchair, office chair, on planes and trains and to sporting games. Doctors recommend the cushion for people suffering from hemorrhoids, pressure ulcers, tailbone pain, herniated discs, post-surgery, prostatitis, and ischial bursitis.
We love the non-slip base that prevents the cushion from sliding, giving you peace of mind and relaxation as you sit on your favorite recliner. The pillow provides the perfect balance between comfort and support to provide you with the relief you need.
---
Best Contoured
Product Details:
Dimensions: 13.75 x 17.75 x 2.75 inches
Material: foam
Contoured surface for butt, hips, and thighs.
Lightweight for take-anywhere comfort.
"Orthopedic comfort cushion for tailbone pressure relief."
Enjoy ergonomic comfort with this contoured cushion for your recliner. It provides pressure-free sitting wherever you go. This product is a good choice if you spend a lot of time sitting in front of your desk or if you suffer from tailbone pain. The contoured design is excellent for relieving back pain, sciatica pain, and numbness from prolonged sitting.
The product features a soft velvet cover, anti-slip base, carry handle, and promotes 90-degree posture. The cushion is lightweight, so you can take it with you as you drive to work, to the supermarket, on road trips, and just about anywhere you want to go, while the anti-slip base secures your cushion in place and prevents it from sliding.
Say goodbye to your body aches and pain and focus on healing and comfort. This product is perfect for both men and women of all shapes and sizes up to 275 lbs.
---
Buying Guide
---
Now that you have a selection of the best pressure relief cushion for your recliner, you need to narrow down your choices so that you can pick the best one for your needs.
Here are some tips on how to choose the best cushion for a recliner with pressure relief.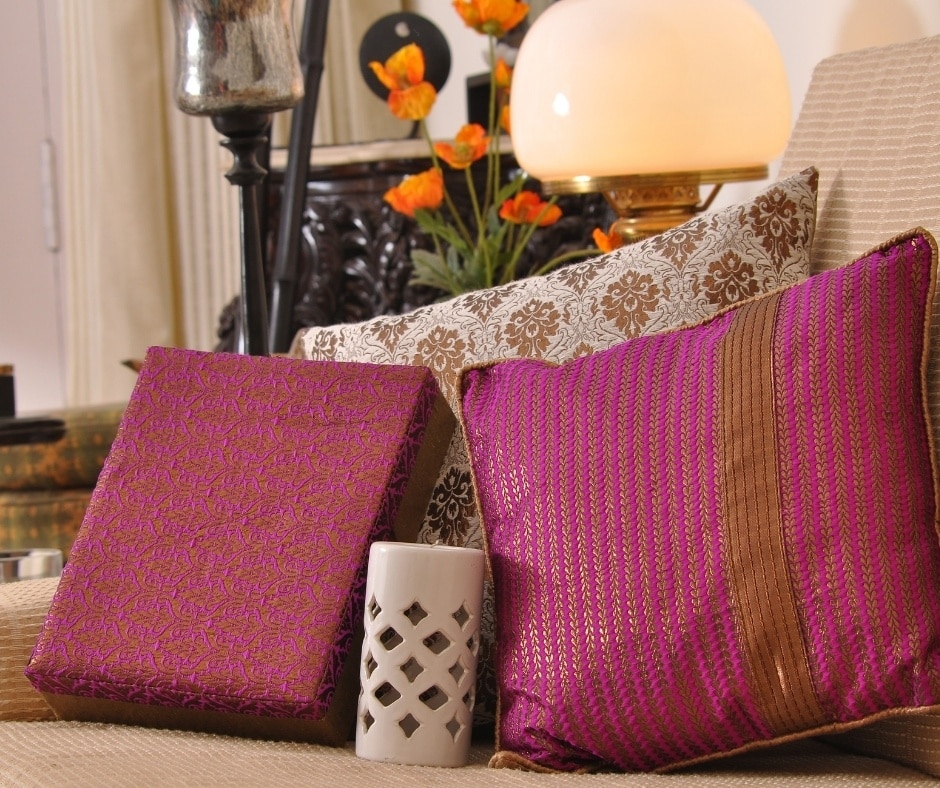 Material
The material of the recliner cushion is an essential factor in your choice because it can impact your comfort. For example, memory foam recliner cushions are very common and also very comfortable. However, this type of cushion is not breathable. This means it can get hot if you sit on it for more extended periods.
Other materials like gel or polymer are more breathable because they are usually set in columns or a hexagonal pattern which allows air to pass more freely. The problem with this type of material is that they are generally less soft than cushions made from foam.
Budget
Budget is another significant consideration because there are a lot of expensive products out there. However, it does not necessarily mean that expensive products are more durable or more effective.
When it comes to budget, consider how much you are willing to spend versus the comfort you will get. You want something that can give you both affordability and comfort, and striking a balance between the two is often easier said than done.
Portability
Since pressure relief cushions for recliners are expensive, you want to be able to use them in different settings and occasions which means they have to be portable.
Look for something lightweight and easy to carry. This way, you will be able to take them with you to the office, car, and ball games for a more comfortable sitting position.
Height
The correct cushion height can also impact your comfort. A cushion that is too thin can be unsupportive and cause you more pain. However, a cushion that is too high can make it difficult for you to perform routine tasks like typing or writing because your whole body is now higher than the recommended height due to the cushion.
The height of your cushion also depends on your height when standing. A good rule of thumb is to find a cushion that lets you put your feet flat on the floor and your knees in line with your hips. You can also try adjusting your chair height to reach the ideal sitting height when using a cushion.
Other Features
A Non-slip feature will let you shift your weight easily without the cushion falling on the floor or slipping. Shifting weight while sitting is an excellent way to balance posture or alleviate pressure in areas that have been in contact with the cushion for a long time. Ease in shifting weight also prevents pressure ulcers because it increases blood flow in the area. This feature will allow the user to reposition themselves without the risk of injury and help them get comfortable, especially on the bony parts of the body.
The cushion should also be easy to clean and maintain. Most cushions come with a fabric cover that is machine washable. This will make it easy for you or the user to keep their cushion clean and keep it comfortable.
Conclusion
The use of pressure relief cushions for recliners is widespread since it is a relatively easy way of relieving pain and preventing pressure sores. Selecting the right cushion takes time, but trust us, it's worth it.
If you're looking for a quick fix for soreness, check out our top pick, the Purple Ultimate Cushion.