Your kitchen shelves should be both fashionable and functional today. Whether you have a cheerful farmhouse style kitchen interior or a sleek modern minimalist design, your shelving design matters. Especially if you choose open shelving, the ideal shelf materials, structure and finish can greatly enhance the overall room decor.
In This Article We'll Discuss
Stylish Kitchen Shelves to Brighten and Enliven Your Kitchen
Fashionable yet practical styles in shelving to complement and enhance your entire kitchen's interior decor include the following:
1. Casual Farmhouse Charm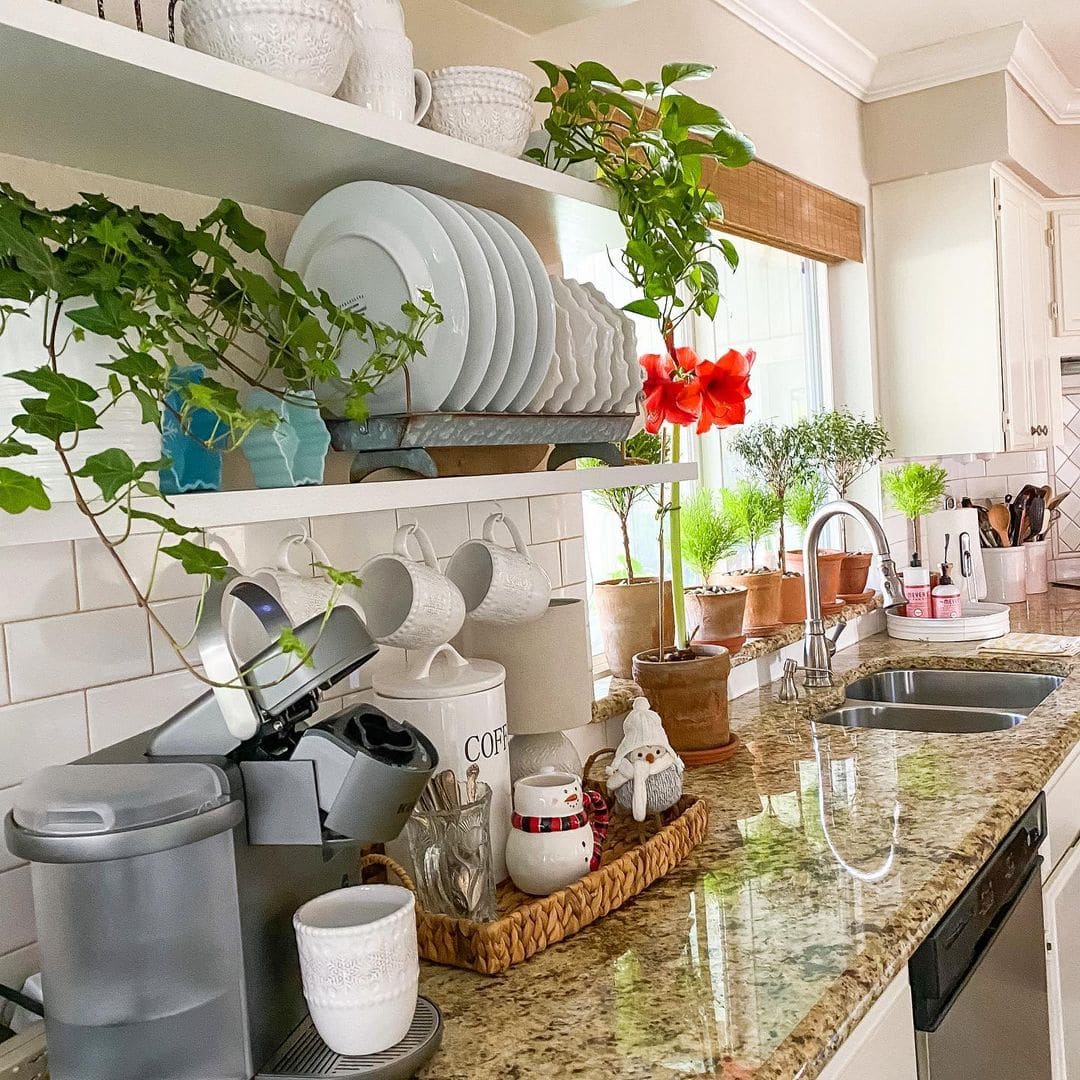 Sturdy wooden open shelving painted white against a sparkling white subway tile backsplash brighten this spacious farmhouse kitchen. They provide the perfect setting for this charming display of glossy white pottery and a plate rack of matching china. Decorated with green plants and flowers, the shelves and granite benchtop, coffee maker, jars and decanters come alive with simple natural allure.
2. Rustic Retro Style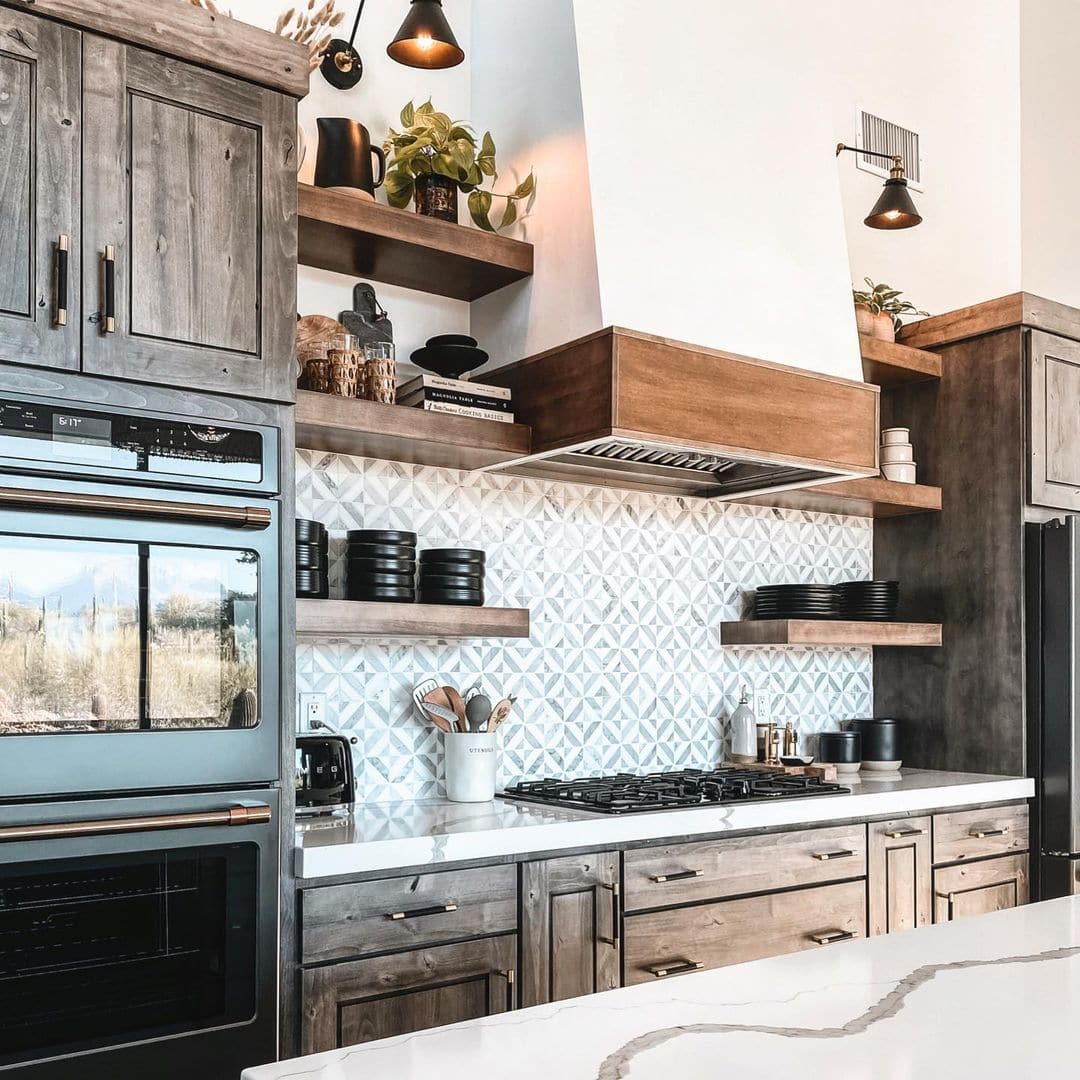 The rustic distressed wood shelving, wall cabinets and cupboard in this retro kitchen interior lend rugged, weathered style. Vintage copper pendant lamps renew the charm of simple barn-style lighting. The gray and white diamond-patterned backsplash recalls images of hammered tin ceilings from an earlier era. The pure, natural ambiance of this kitchen decor can bring fresh style and innovation to daily meal preparation.
3. Bright Boho Interior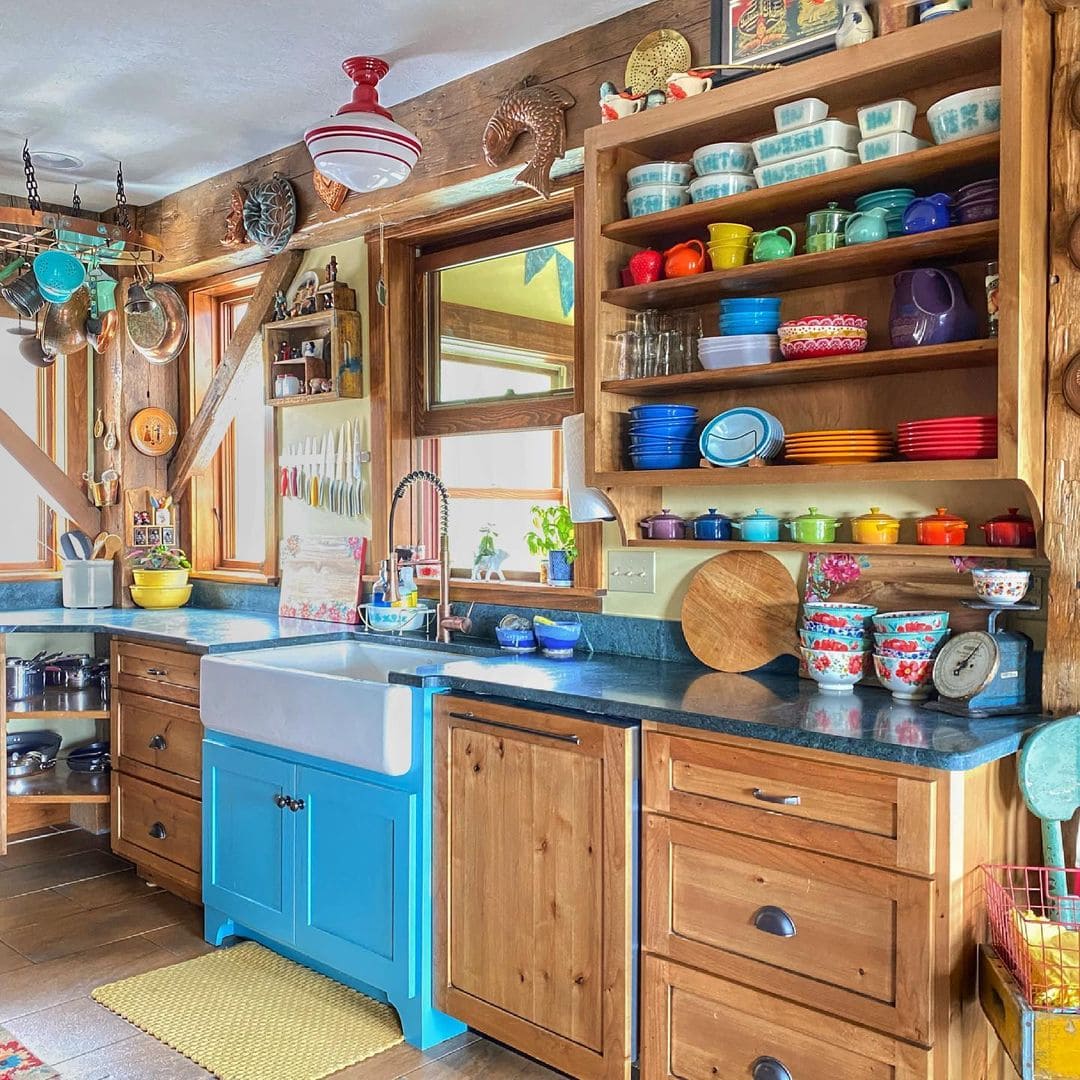 This bright, delightful boho style kitchen interior brings a smile to all who enter. The natural-finish pinewood cabinets, open shelving and rugged corner beams lend a pleasing glow to the entire room. Lining the open shelves and benchtop, colorful plates, dishes, cups, small pitchers and pottery create a captivating collage of hues and tonalities. The bright turquoise cabinets housing the farmhouse sink take center stage.
4. Arts and Crafts Kitchen Corner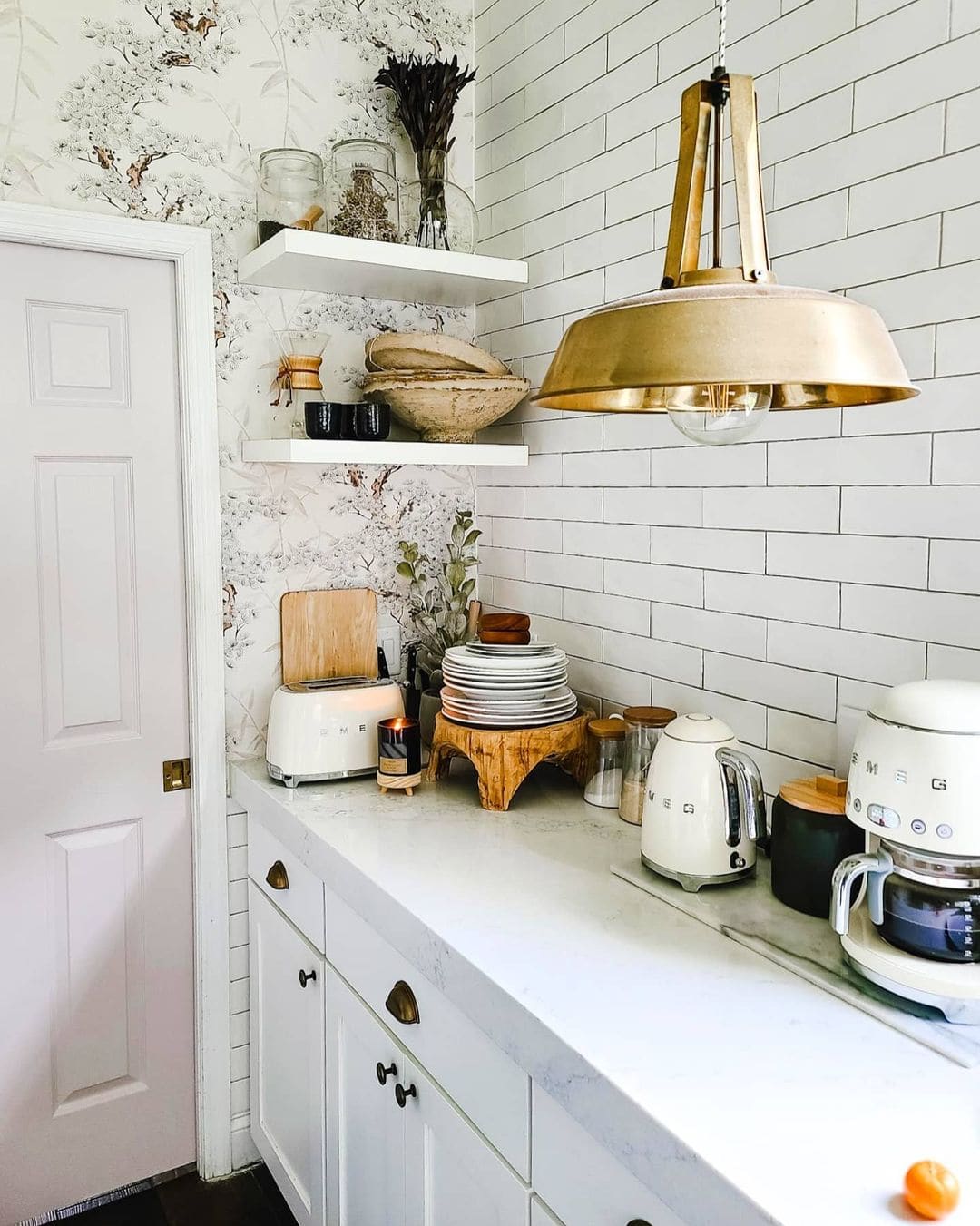 This arts and crafts style kitchen corner displays glossy white subway wall tiles and a pristine white countertop. The white cabinets underneath display vintage hardware. One wall is covered in dated wallpaper with a soft gray and white floral design. Short white open shelves in the corner display vintage jars, vases and pottery. On the countertop is a charming collection of arty retro kitchenware highlighted by a shiny brass Art Deco pendant lamp above.
5. Industrial Meets Modern Chic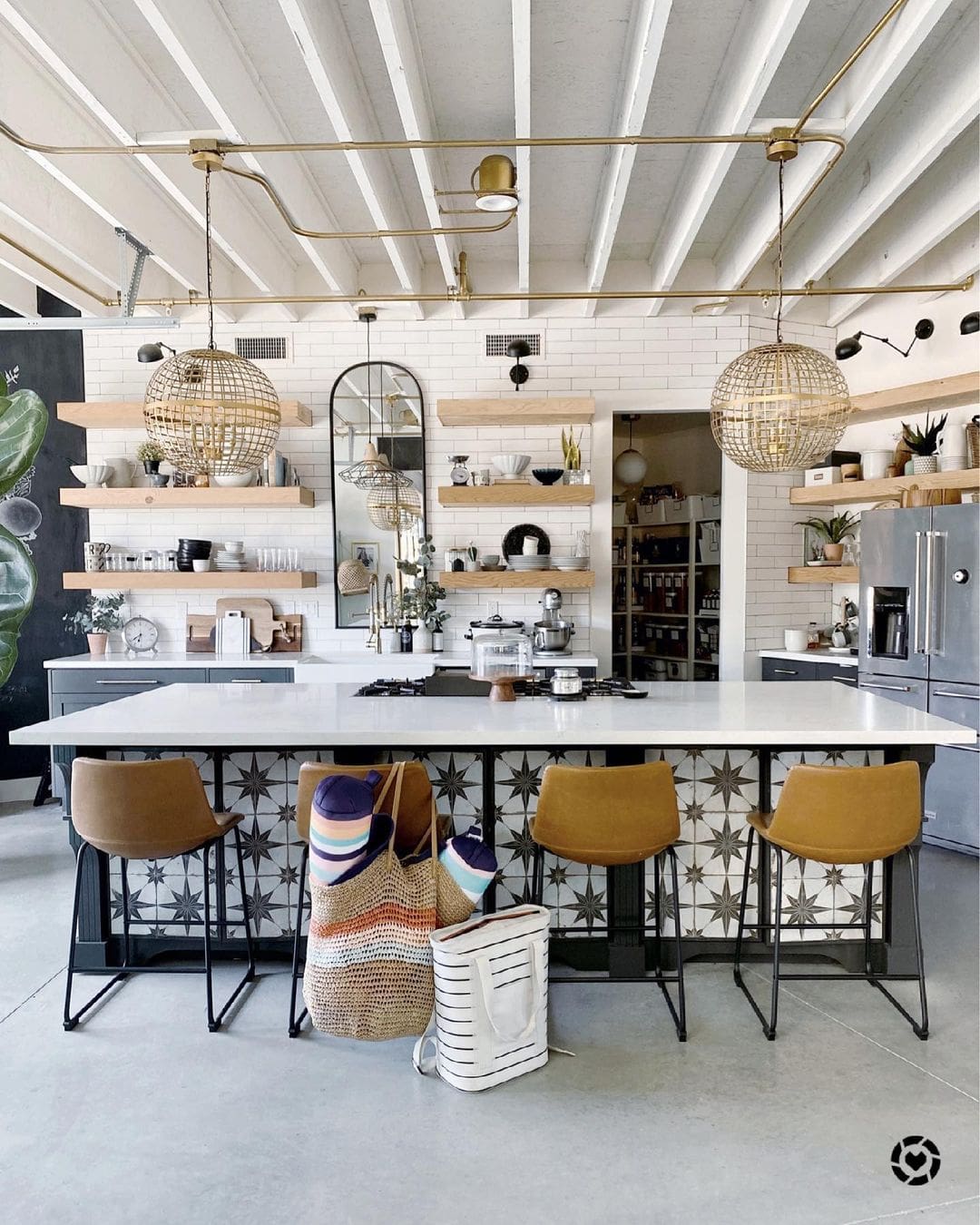 This spacious kitchen interior is a unique mix of industrial and modern chic decor. The ceiling rafters, white subway wall tiles and overhead piping with brass pendant lights is basic industrial style. Yet the large open globe-shaped pendant lights, the slender arched mirror on the back wall are elements of modern chic design. The decorative items on smooth open shelves, the white quartz island top and star-studded island base add simple chic elegance.
6. Personalized Kitchen Corner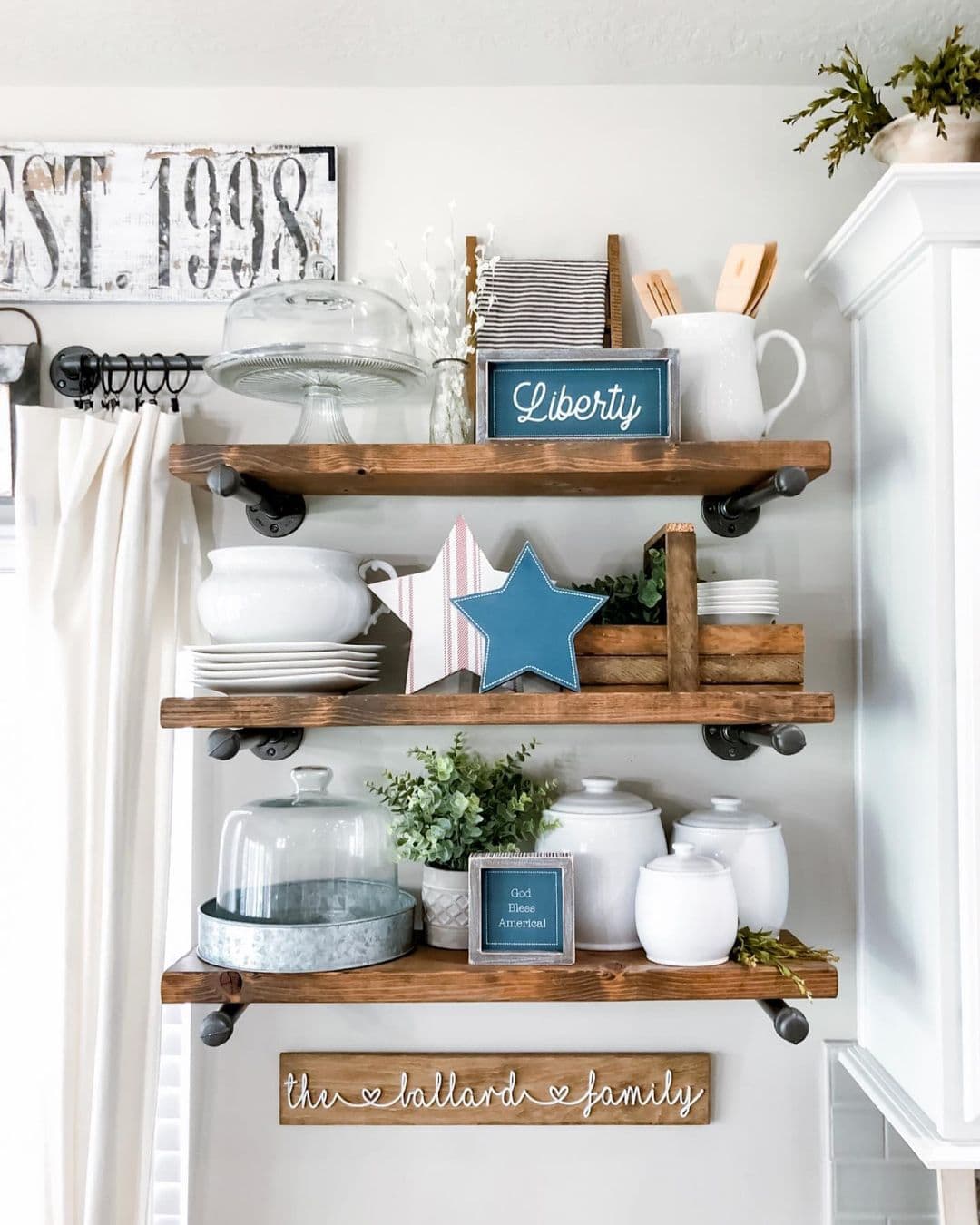 You can have fun creating your own kitchen corner decor to display your own choice or blend of styles. This kitchen corner shelf design exhibits vintage 1950s glass-covered cake trays and white-glazed pottery. The rustic wooden open shelves are supported by worn wrought-iron rods. The family plaque, aqua and neutral star cutouts, liberty sign and 1998 plaque add creative personal touches.
7. Industrial Merged with Shabby Chic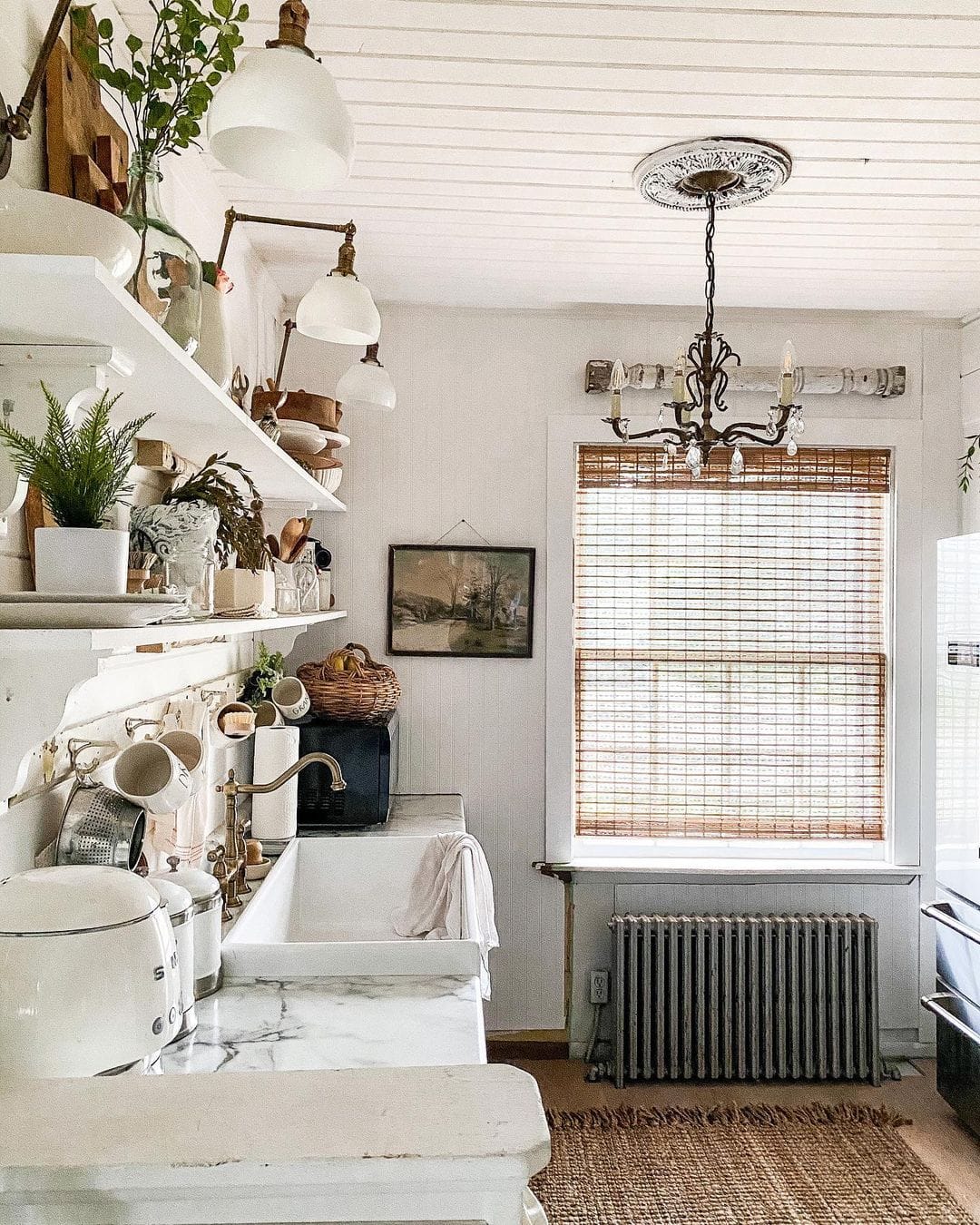 This unique kitchen decor is a curious mixture of industrial style and shabby chic. Basic white open shelves laden with a combination of basic and ornate pottery, vases and plants set the style. The deep rectangular industrial sink is offset by an elegant marble benchtop. Simple china cups hang from plain metal wall hooks while smoked glass lamp shades and a worn antique chandelier add more touches of shabby chic.
8. Calm and Clear Minimalist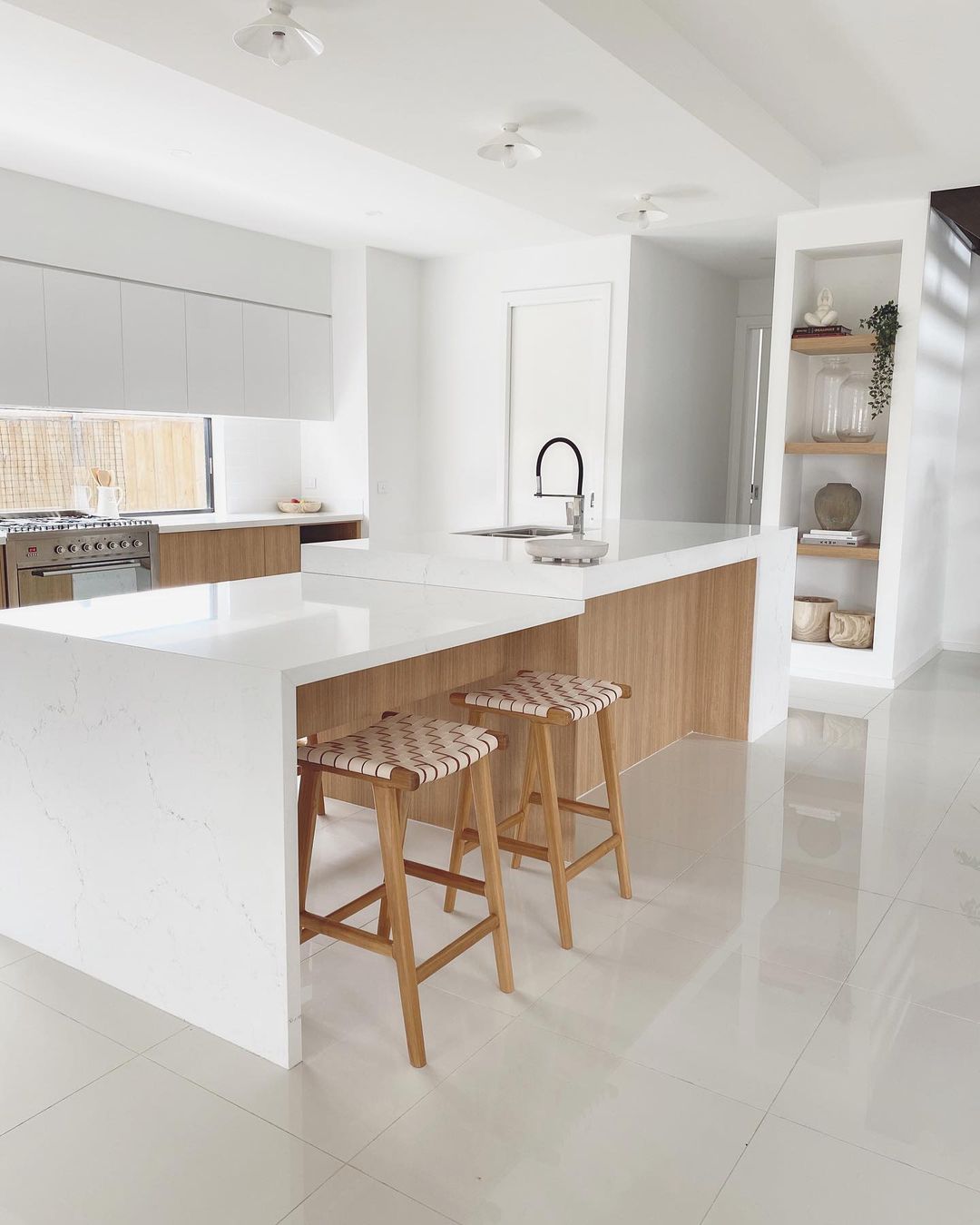 This white and oak wood minimalist kitchen features sleek white laminate counters with a matching island-top and set-in sink. Stylish stools with natural-fiber woven seats echo the color scheme, which extends to the contemporary range and countertop beyond. On the far side of the room, white builtin kitchen shelved display a white figurative sculpture, a plant, elegant candles and decorate pottery.
9. Creative Boho Interior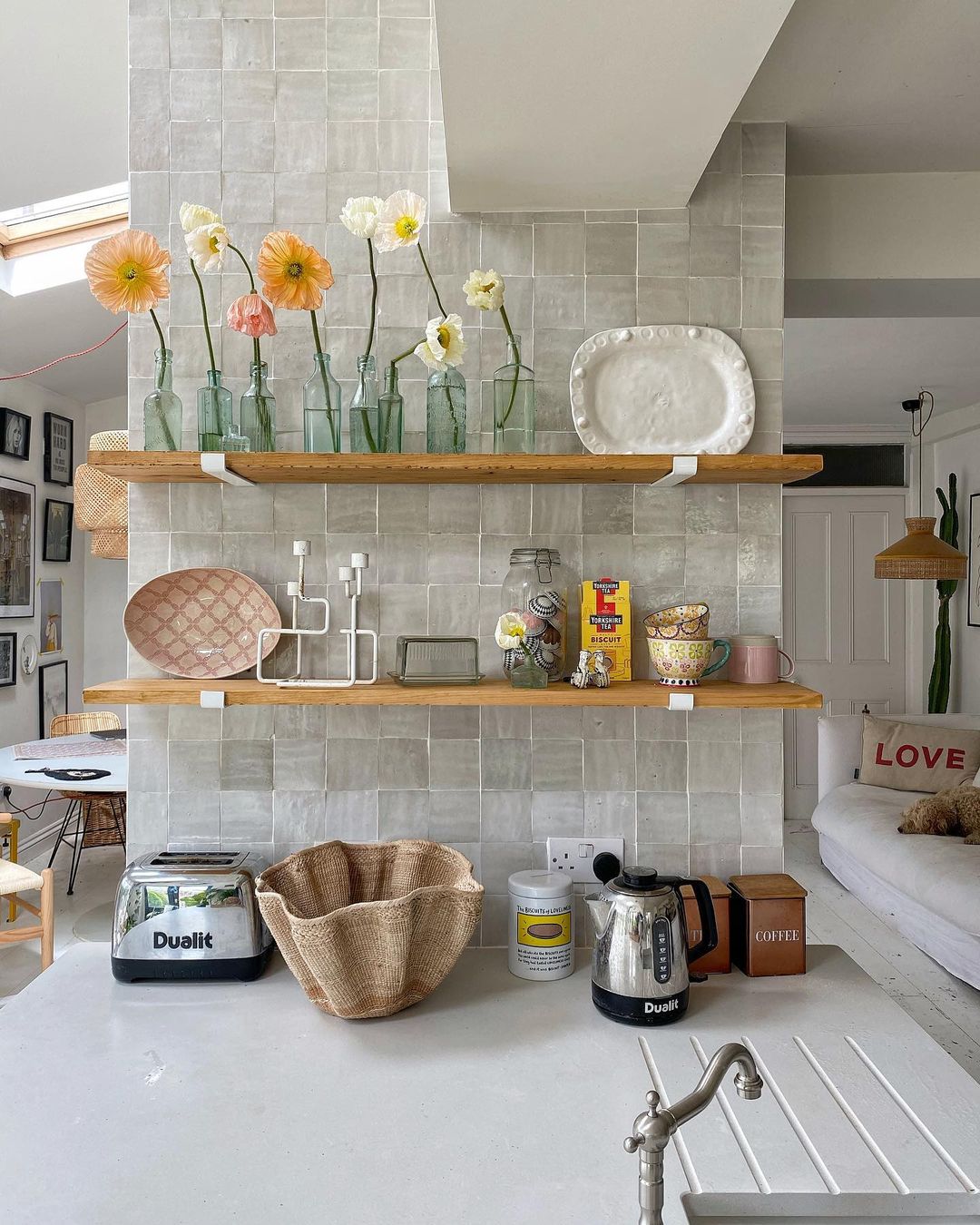 This inviting boho style kitchen decor includes rough-set shiny gray wall tiles as a backdrop for two wooden shelves. These simple open shelves are held in place by simple white braces. The shelves are abundant with colorful faux flowers in glass bottles and varied styles of pottery. On the benchtop below, a retro toaster and coffee pot, canisters and a creative pottery bowl add boho character.
10. Country Cottage Charm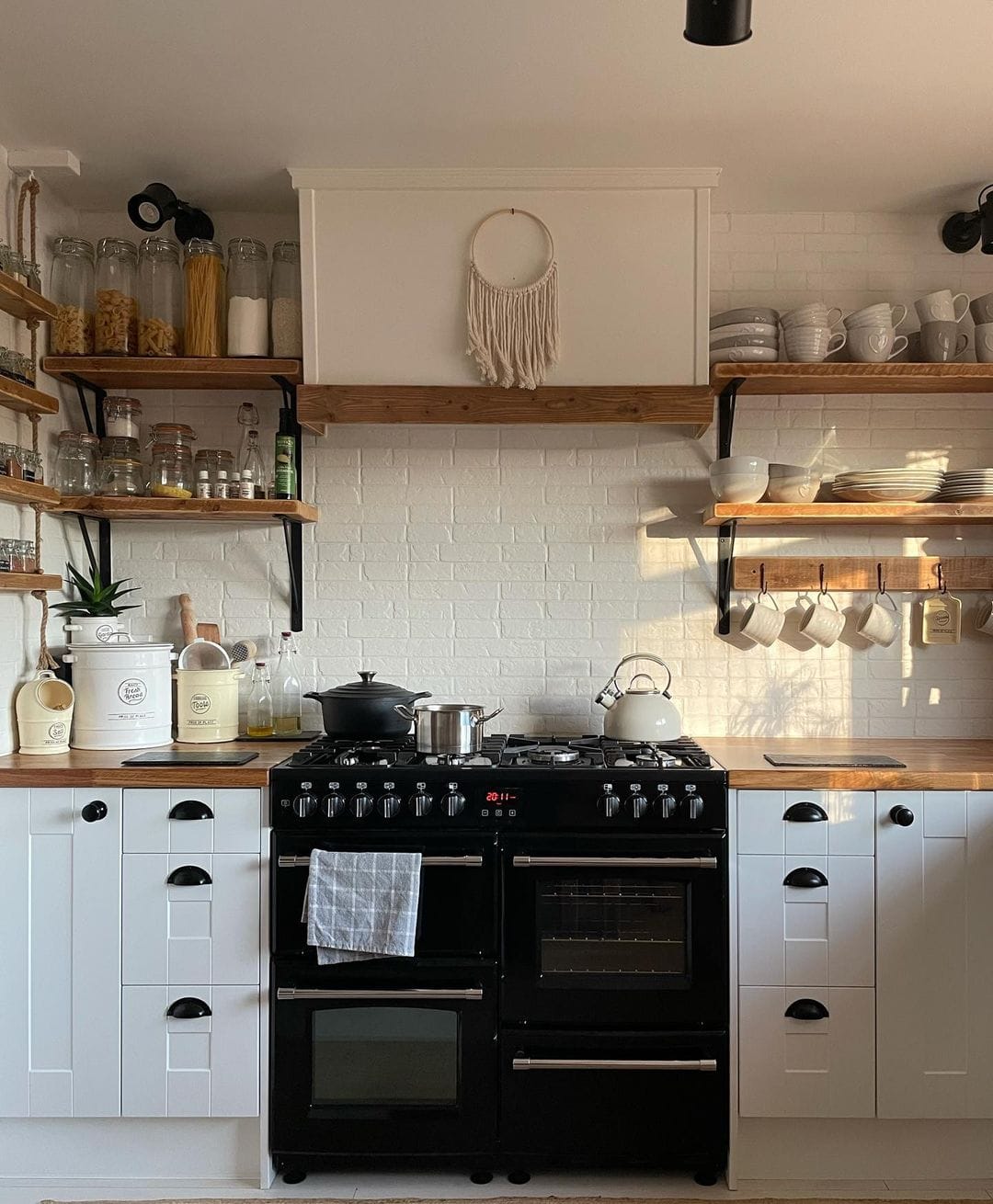 In this charming country cottage style kitchen, a painted white wall and smooth butcher block countertops lend natural style. Beneath the countertops, attractive white drawers and cabinets with simple geometric designs feature vintage hardware. The handsome black range is a central focus of the room. Simple open timber wall shelves with simple ironwork supports display neutral stoneware cups and bowl. A simple decorative macrame piece hangs high above the range to enhance this cottage kitchen design.
11. Pleasing Classic Simplicity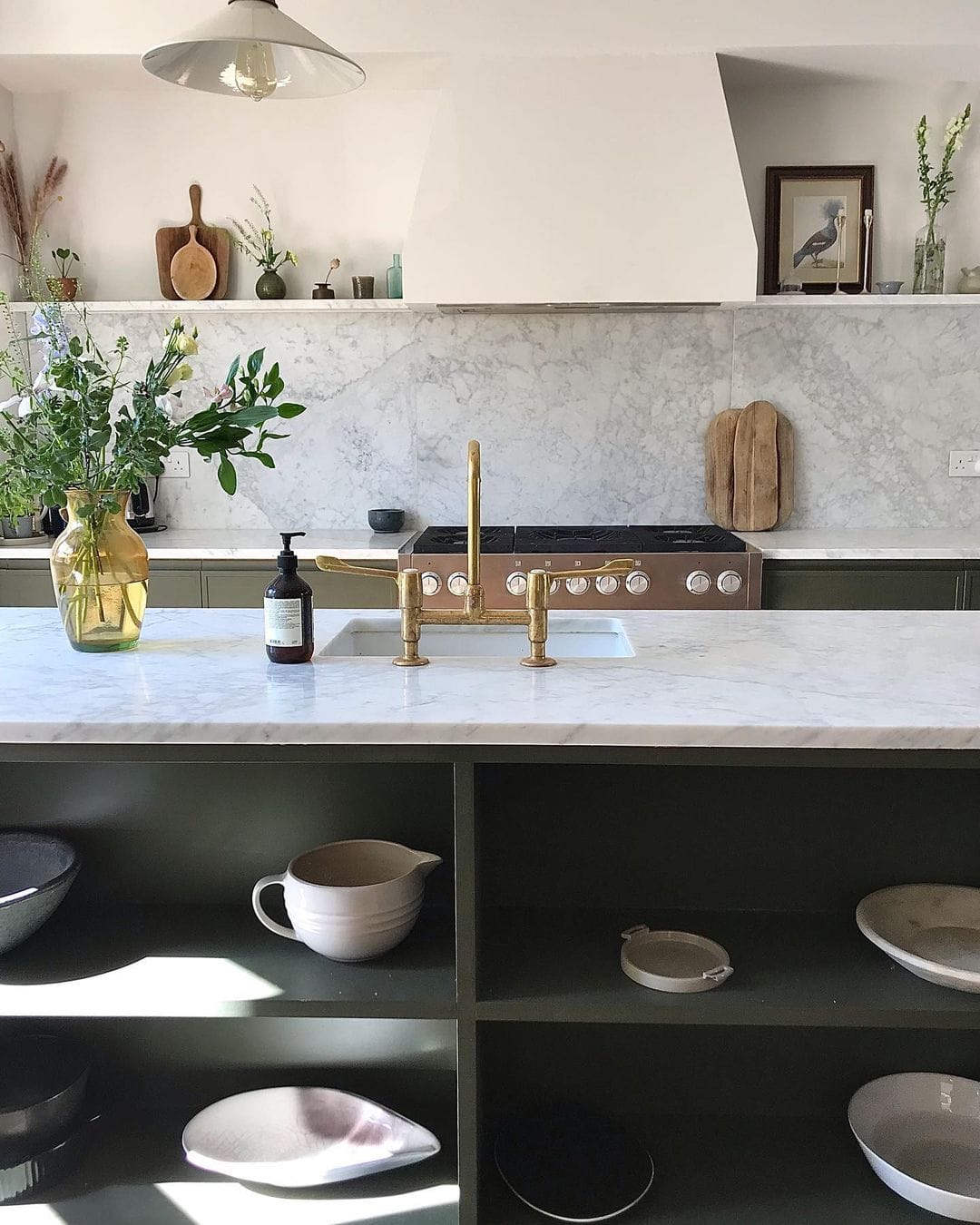 The classic marble countertops and walling set the tone for the room decor. Shelving above the marble wall displays classic decorative items, including plants, simple pottery and a framed bird print. On the large marble countertop with its set-in sink and golden brass tapware, a vase of fresh flowers lends natural charm. Below the countertop, deep-set black open shelves exhibit pristine white pottery items.
12. Casual Farmhouse Kitchen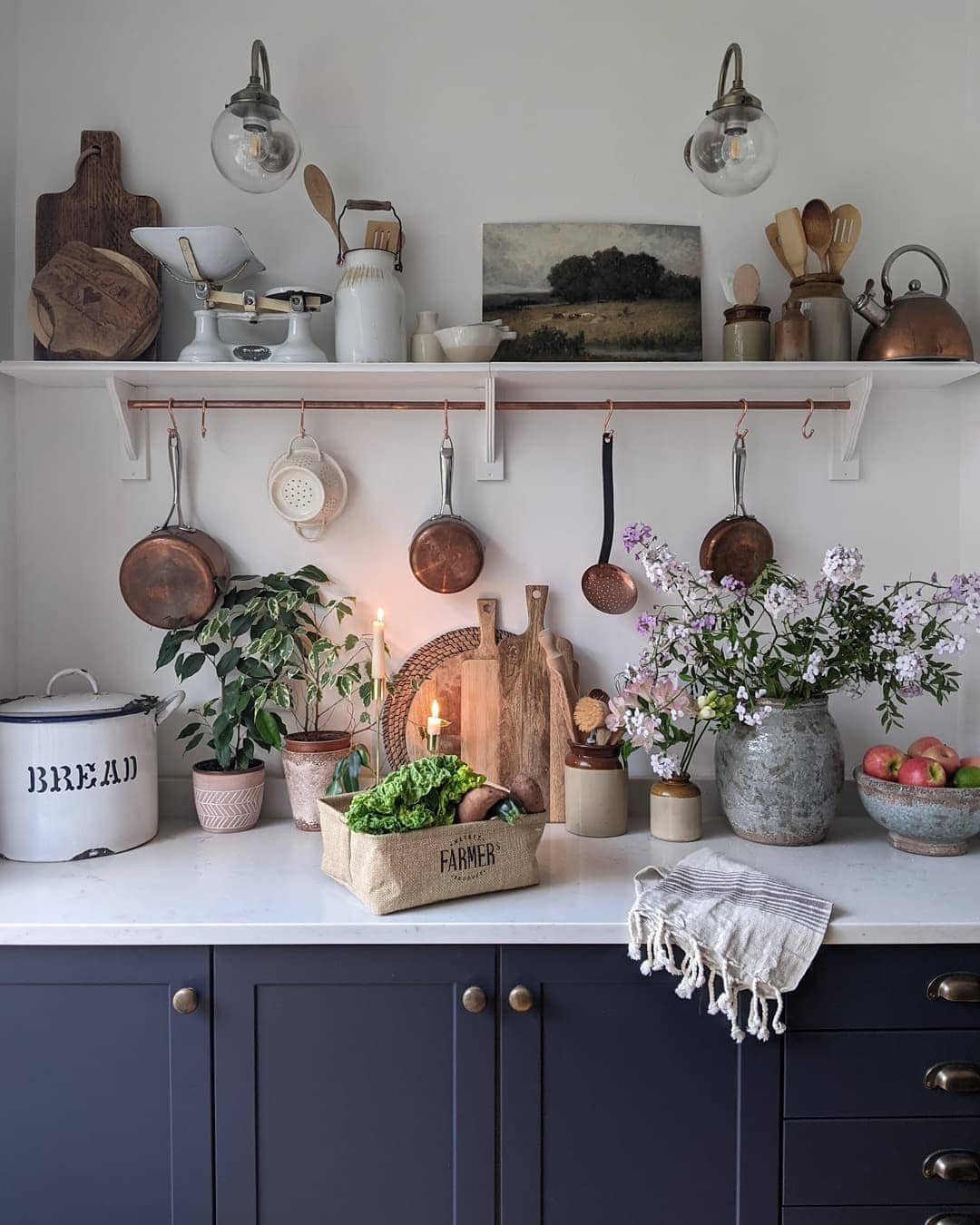 The casual, relaxed warmth of this farmhouse design kitchen creates a friendly, welcoming atmosphere. By displaying a curious array of rustic crockery, cookware, carved wooden breadboards, plants and flowers, the room design intrigues. The varied shelf contents include a copper teapot, a vintage painting and a retro breadbox and some fresh farm vegetables. Two slender lit candles and a tasseled neutral towel lend atmosphere.
13. Essence of Contemporary Casual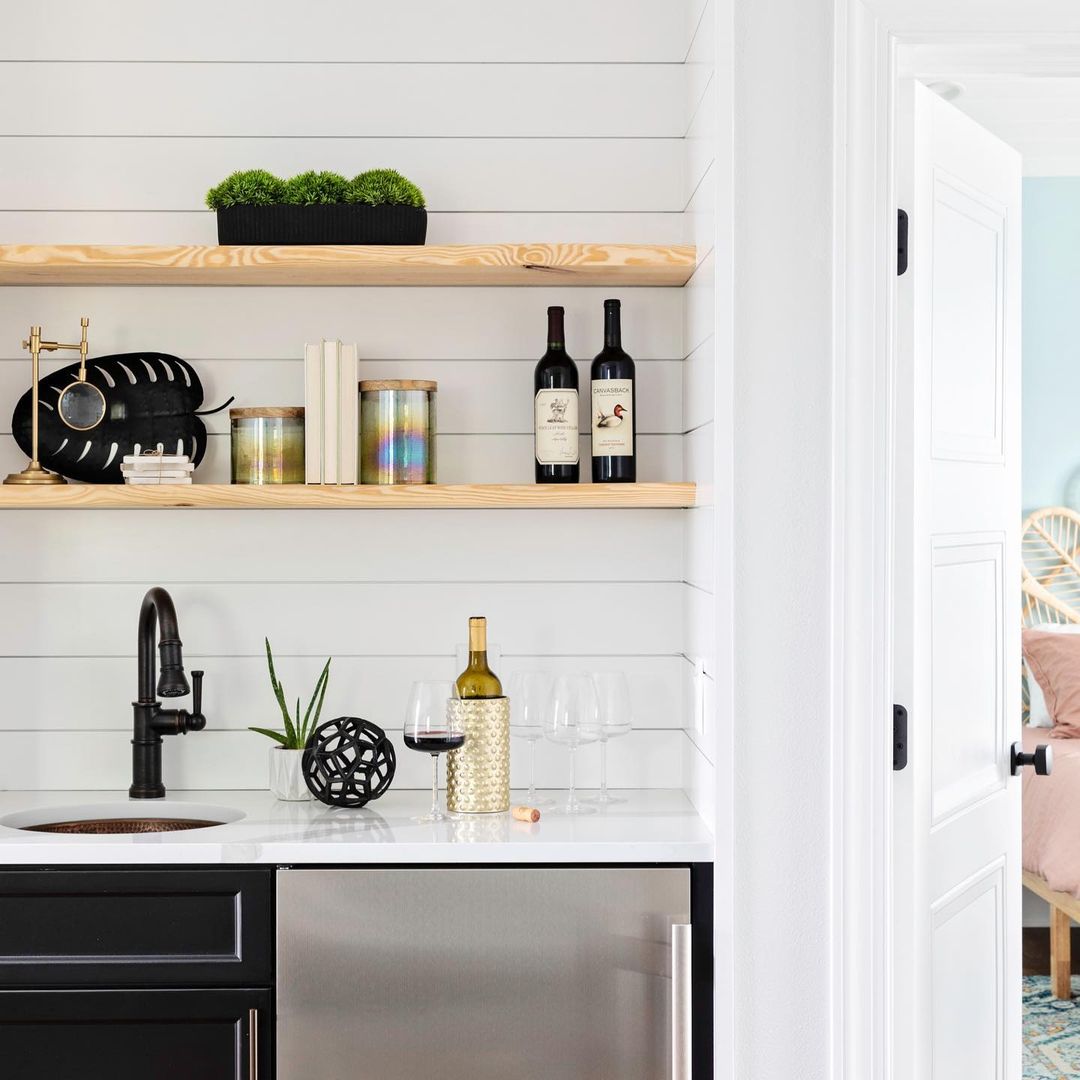 Simple white wooden walls serve as a background for this contemporary casual kitchen interior. Two natural finish timber shelves are sparsely decorated with a green potted plant and decorative items that include slender books, iridescent jars, a pair of wine bottles and a black and silver apple tray. The white marble benchtop below surrounds a set-in circular sink with black tapware and a gold metal wine bottle holder.
14. Farmhouse Shelf Decor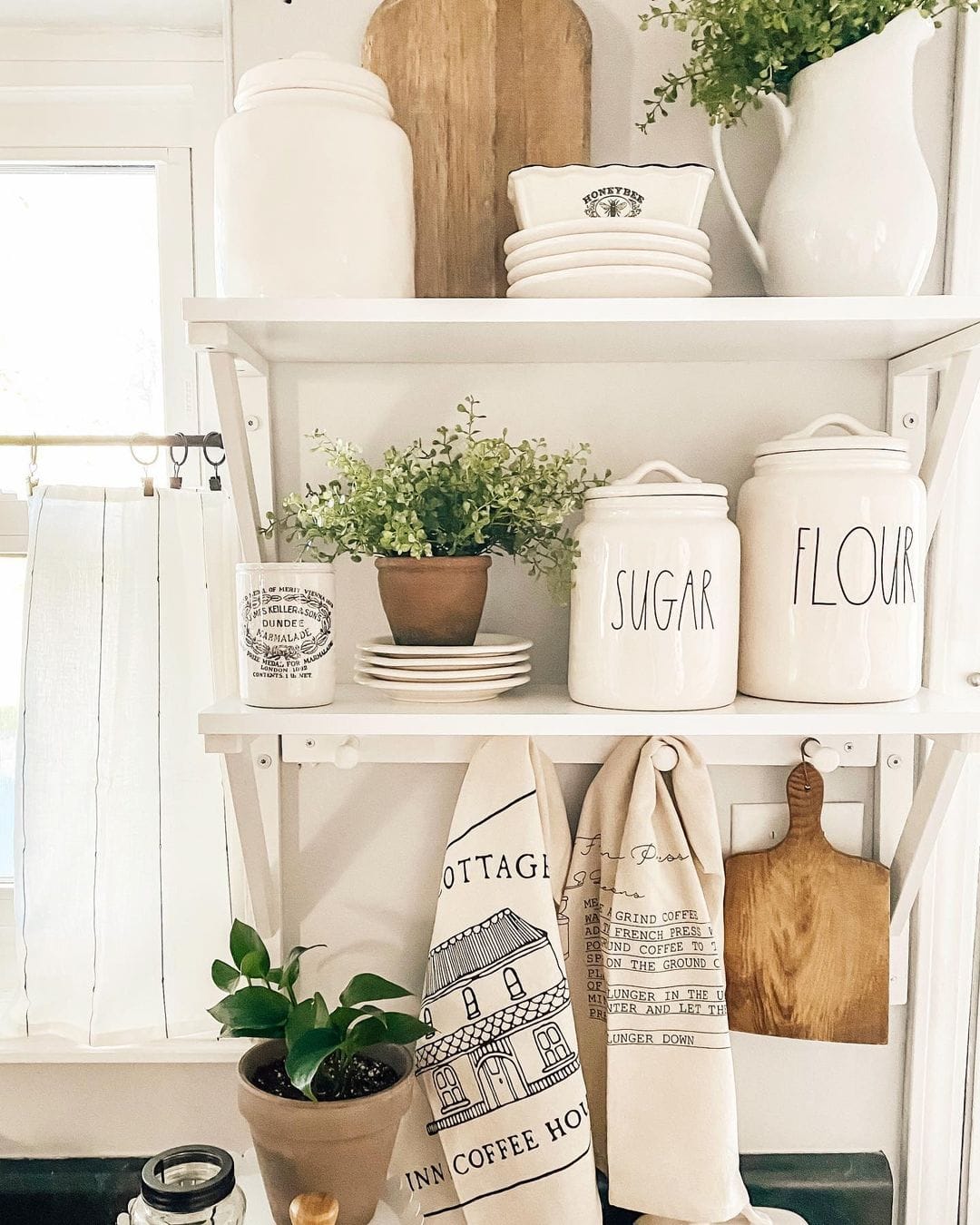 This farmhouse kitchen shelf display offers an attractive combination of basic white china decanters, plates and a pitcher with greenery. Rough-hewn vintage breadboards and plants in red clay flower pots lend natural charm and allure. The wooden shelves are supported by simple white braces. Beside the shelving, a white canvas cafe curtain with thin gray stripes covers the lower part of a window.
15. Cool Industrial with Warm Touches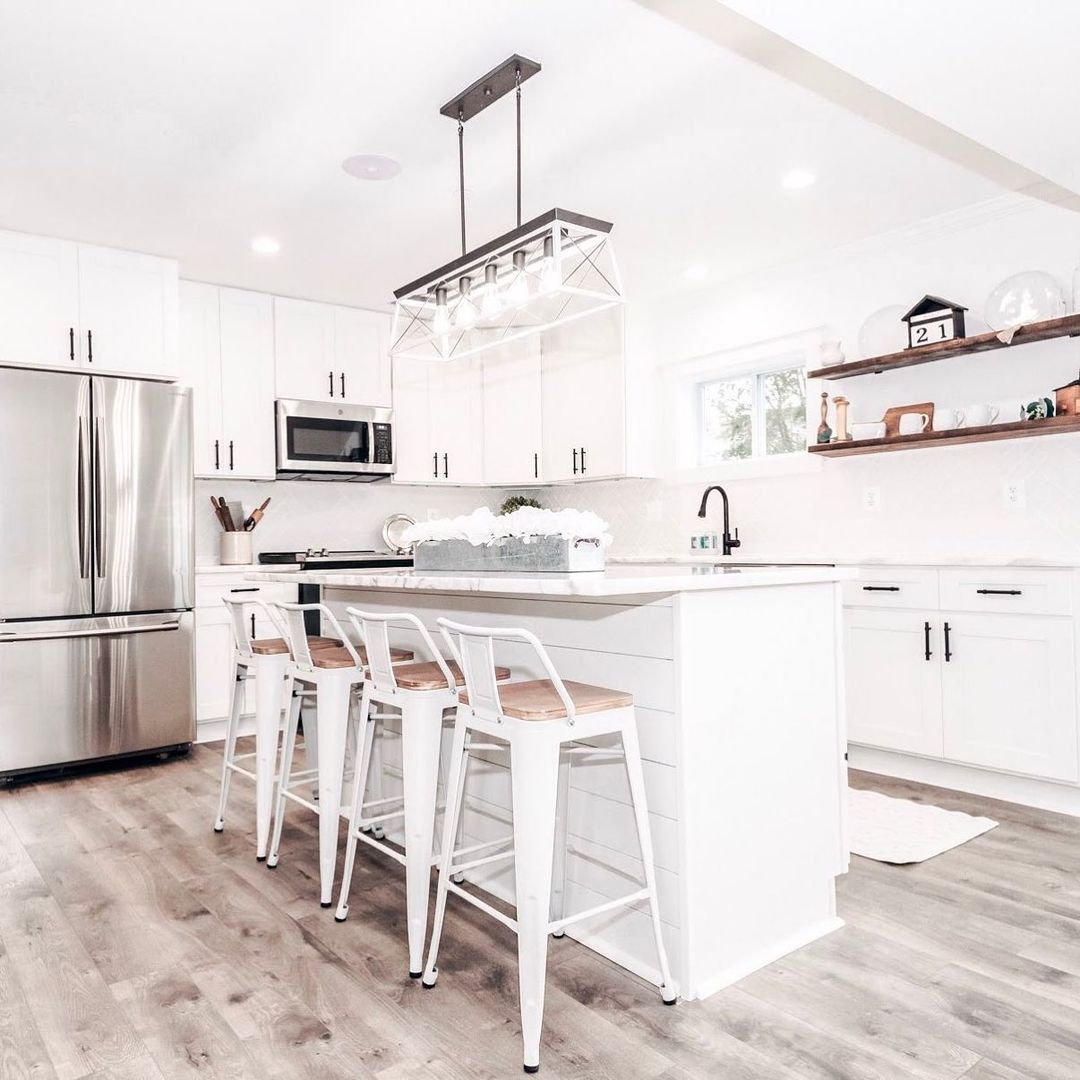 This kitchen is a good example of true industrial style. The simplistic modern rectangular chandelier displays bare bulb inverted candle lighting. A light marble slab island doubles as a bar countertop enhanced by plain white metal bar chairs. Slick stainless steel appliances accent the industrial design. Warm natural touches are added by the aged wooden open shelving with simple decor, the wooden bar chair seats and the distressed wooden flooring.
16. Contemporary Chic Allure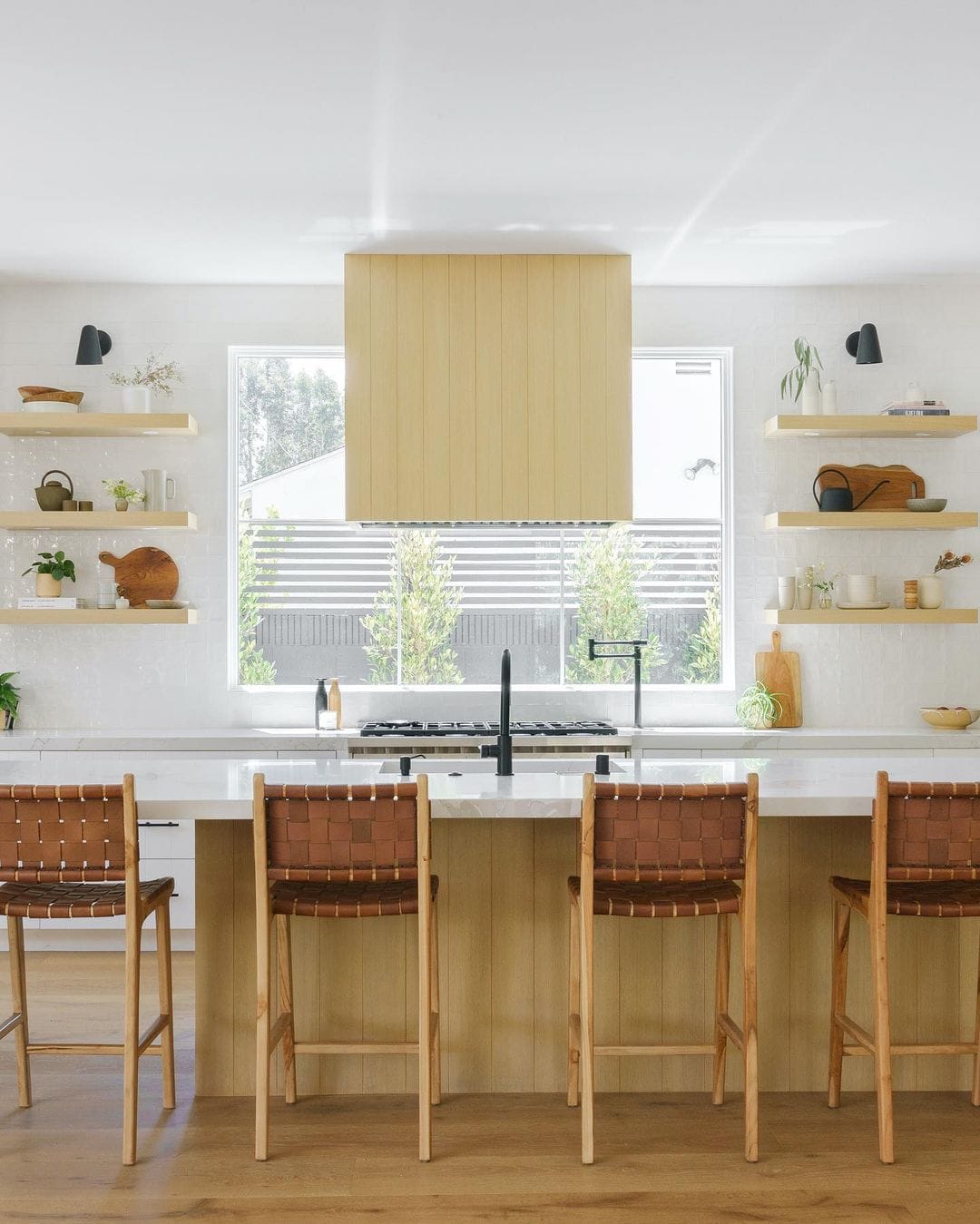 This contemporary kitchen design offers pleasing clarity and chic allure. The long white marble countertop has attractive bar chairs with light brown thatched backs and seats. Facing a large window, this counter area is alive with natural lighting. The raised cooktop with a natural-fiber covered overhead vent lends streamed style. Lightwood natural wall shelves display an array of pottery, plants and wooden items.
17. Basic Industrial Ambiance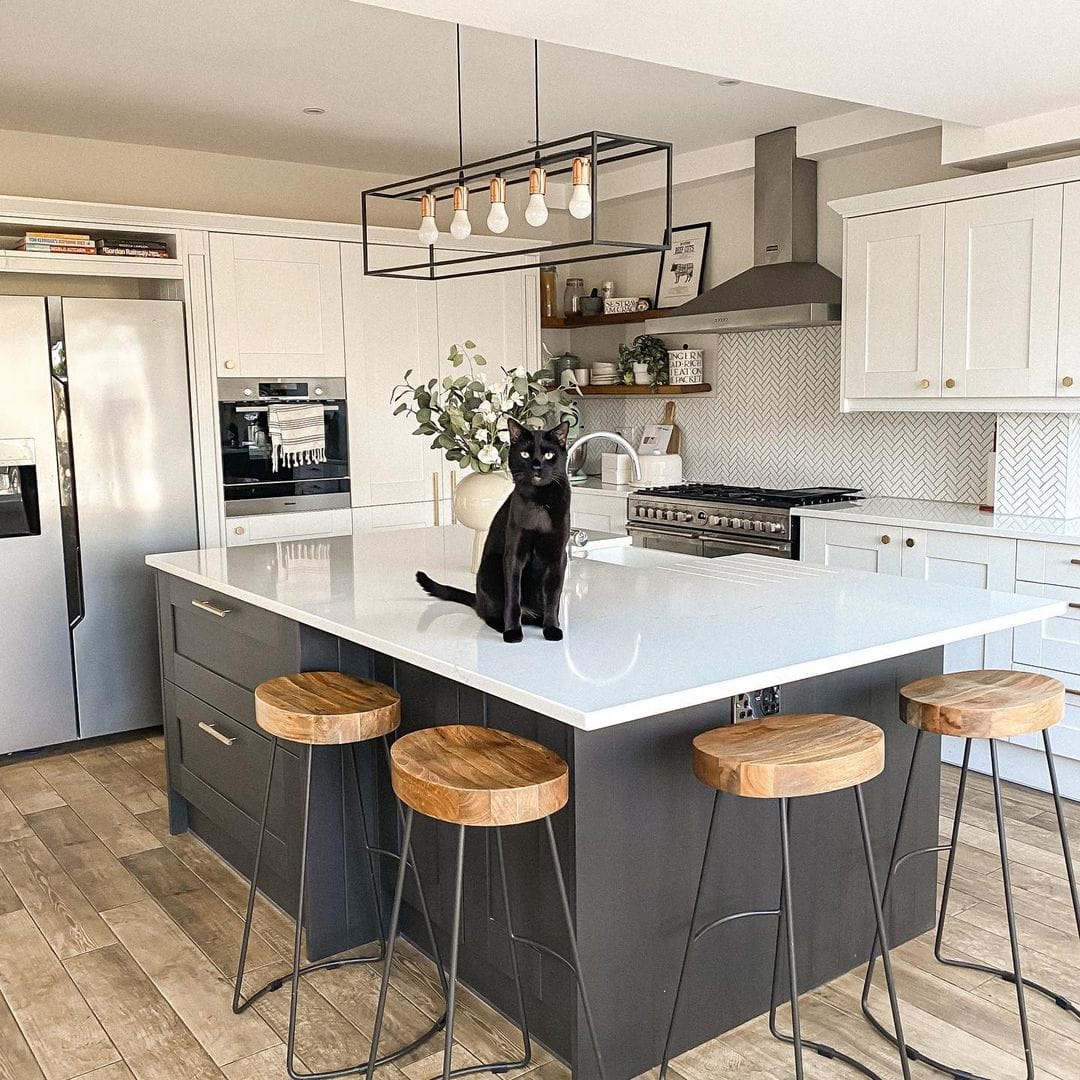 This industrial style kitchen features quartz counter and island tops and dark gray island cabinets. The stainless steel appliances, white walls and cabinets and slightly patterned neutral backsplash accent the room's slim-lined decor. The pendant lighting design over the island includes a basic black metal frame and a series of bare light bulbs. Natural wood bar-stool seats and the unfinished wood flooring complement this uncluttered design, and the black cat rules the room.
18. Country Cottage Corner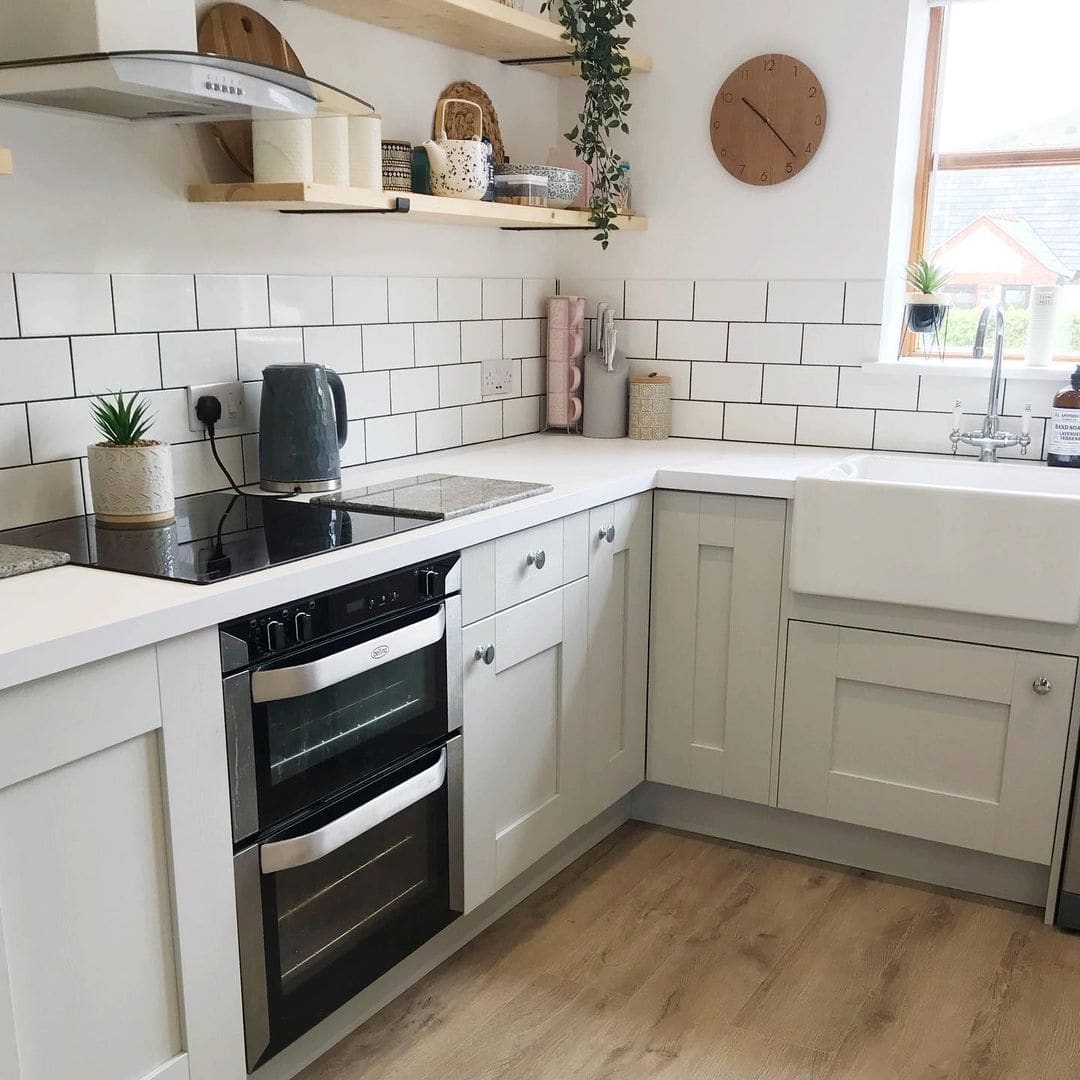 This inviting kitchen corner offers relaxing country cottage design and decor. The comfortable black range surrounded by white countertops and spacious, boxy cabinets lend a timeless country feeling. Large white subway tiles create a pleasing backsplash, and light wood open shelving above exhibits cottage style pottery and plants.
19. Classic Style Interior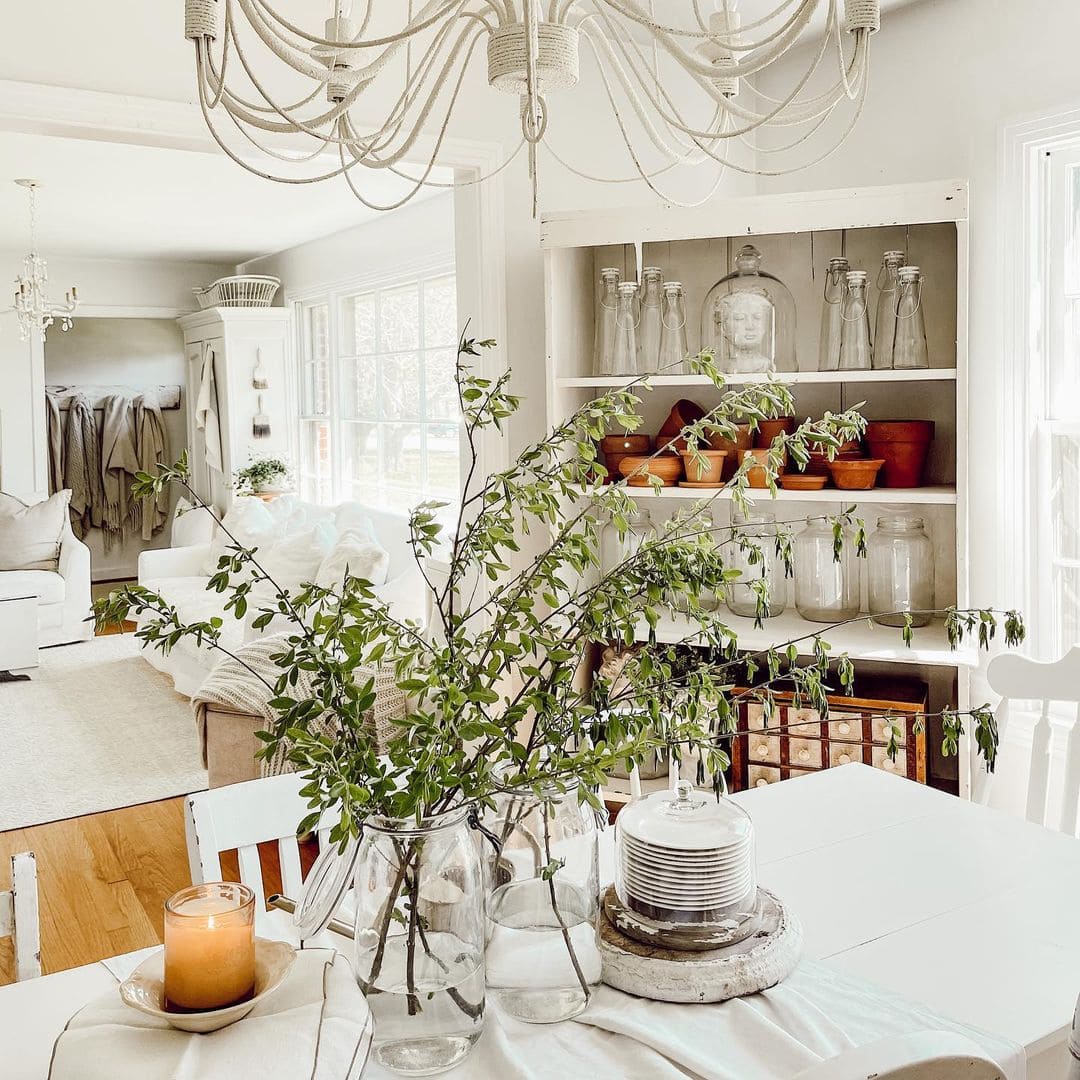 This charming kitchen interior offers detailed classic style and decor. The white kitchen table and distressed white chairs are traditional kitchen furnishings. The candle and greenery in a large glass vase are also classic items of decor. The stylish builtin white shelving unit features assorted pottery along with glass decanter and jars. On the top shelf is a sculpted white stone female head. Overhead, the elaborate large white chandelier lends shabby chic enchantment.
20. Farmhouse Corner Shelves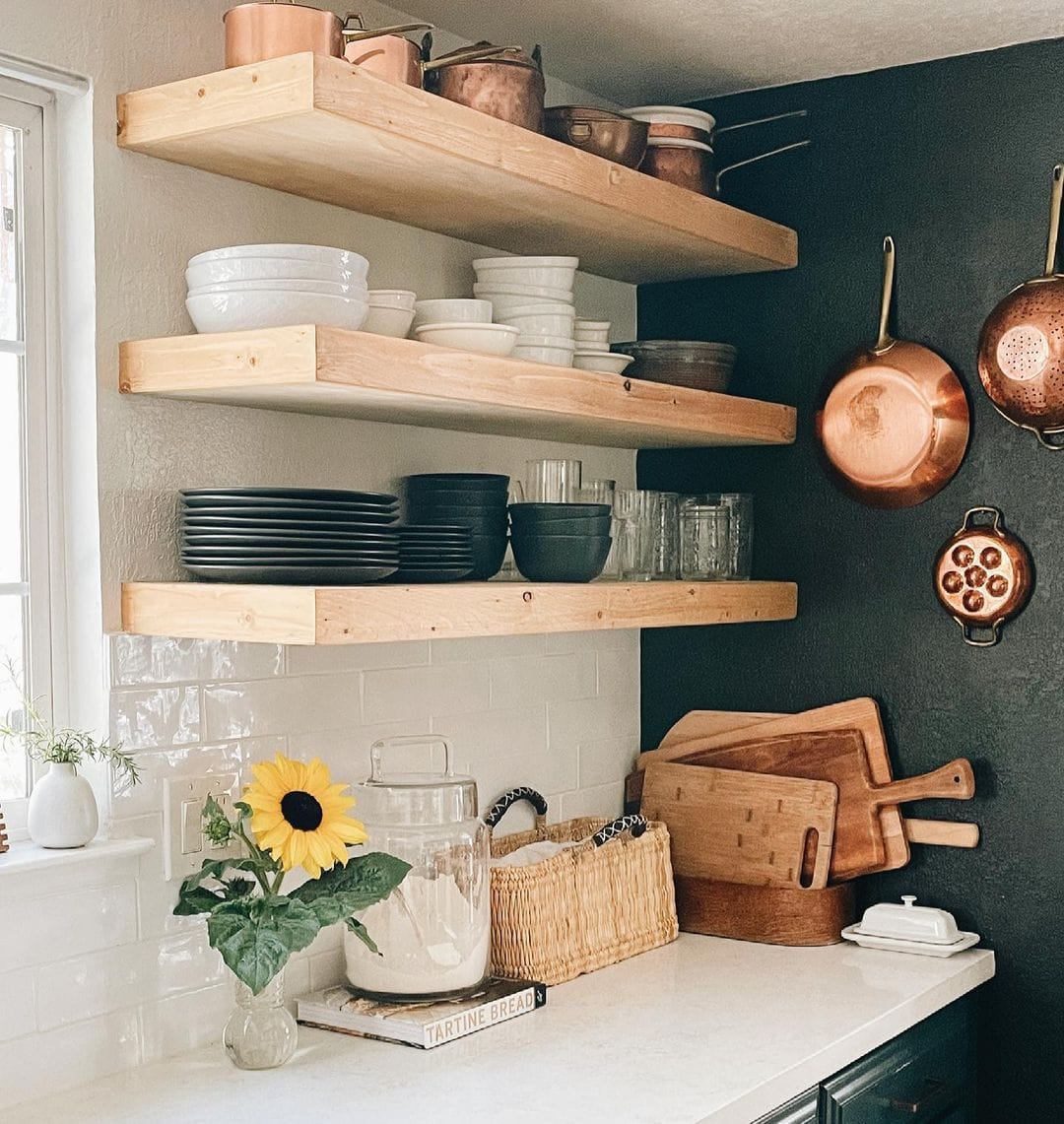 These thick, sturdy wooden open kitchen shelves display farmhouse mode dinnerware and glasses. On the top shelf and along a dark gray wall, vintage copper cookware add a radiant glow. White subway wall tiles complement a white quartz countertop that exhibits assorted breadboards, a small basket, a glass decanter and a sunflower bloom in a glass vase.
21. Rustic Boho Decor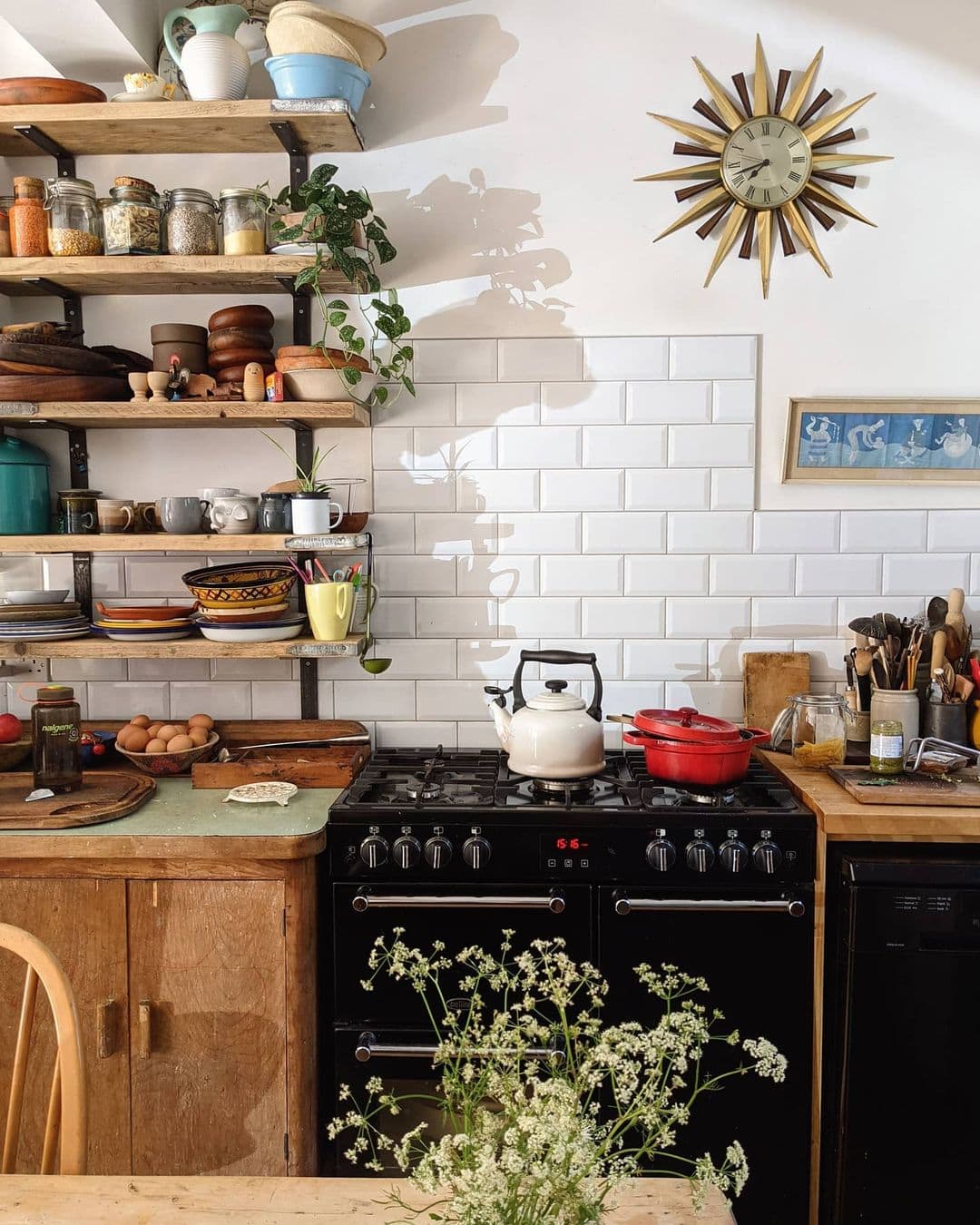 The vintage black stove and rustic wooden cabinets in this colorful rustic boho kitchen add genuine character and vibrant style. Large white wall tiles in a shiplap design brighten the room, reflecting the brightness of the decor. A fresh bouquet of white flowers decorate a simple table. Rustic wooden open shelving displays a large collection of colorful pottery, jars, mugs, dishes and wooden items. On the wall, a round clock set in a brass and wood star design lends unique style.
22. Cozy Farmhouse Kitchen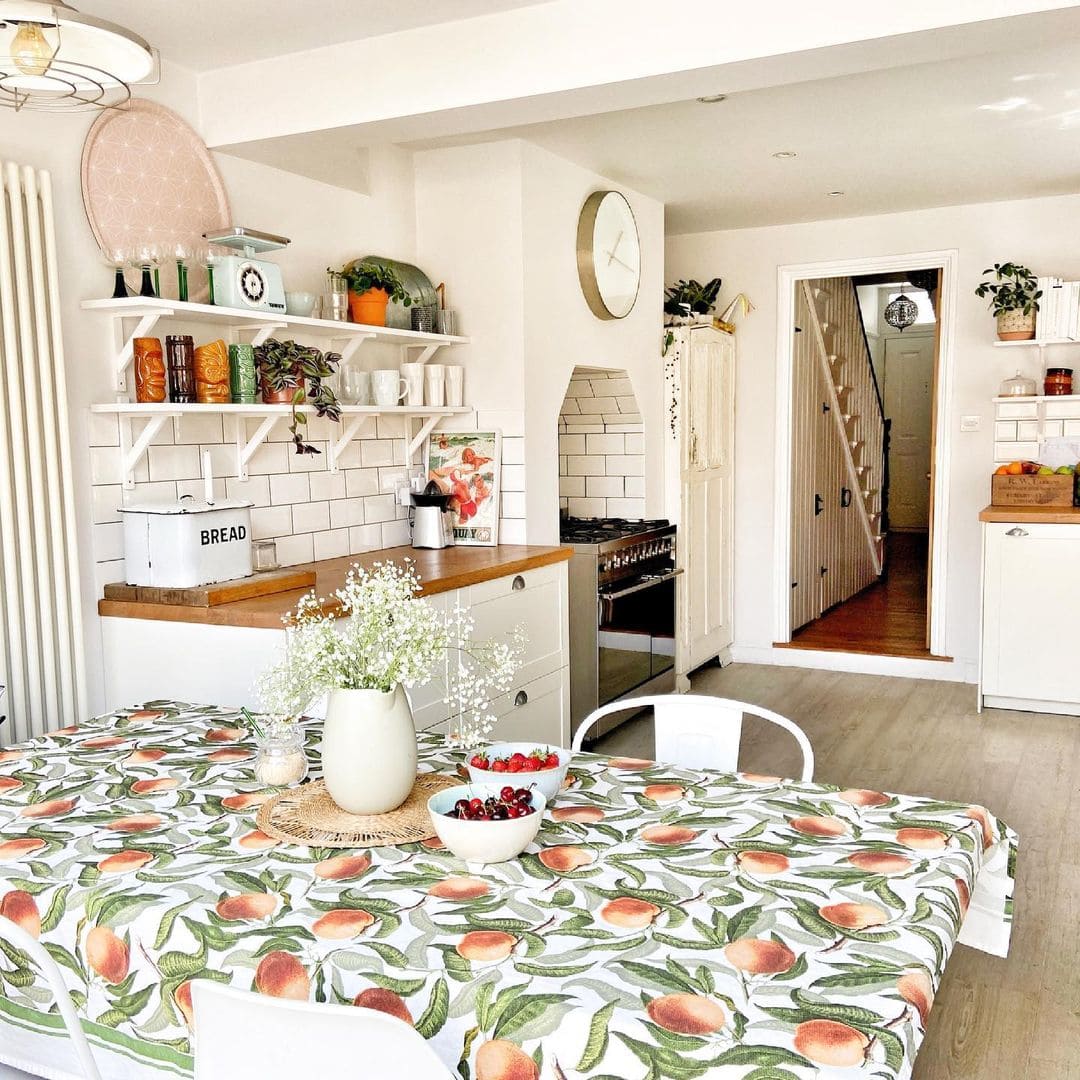 In this cheerful farmhouse style cozy kitchen, white brick and plaster walls create a bright, welcoming room. A charming set-in nook houses the stove, and a colorful vegetable-themed table cloth dresses up two white fruit bowls and a pottery vase of white flowers. White open shelves above a butcher block countertop feature a large tray, candles, a vegetable scale and other items of kitchen decor.
23. Vintage Cottage Kitchen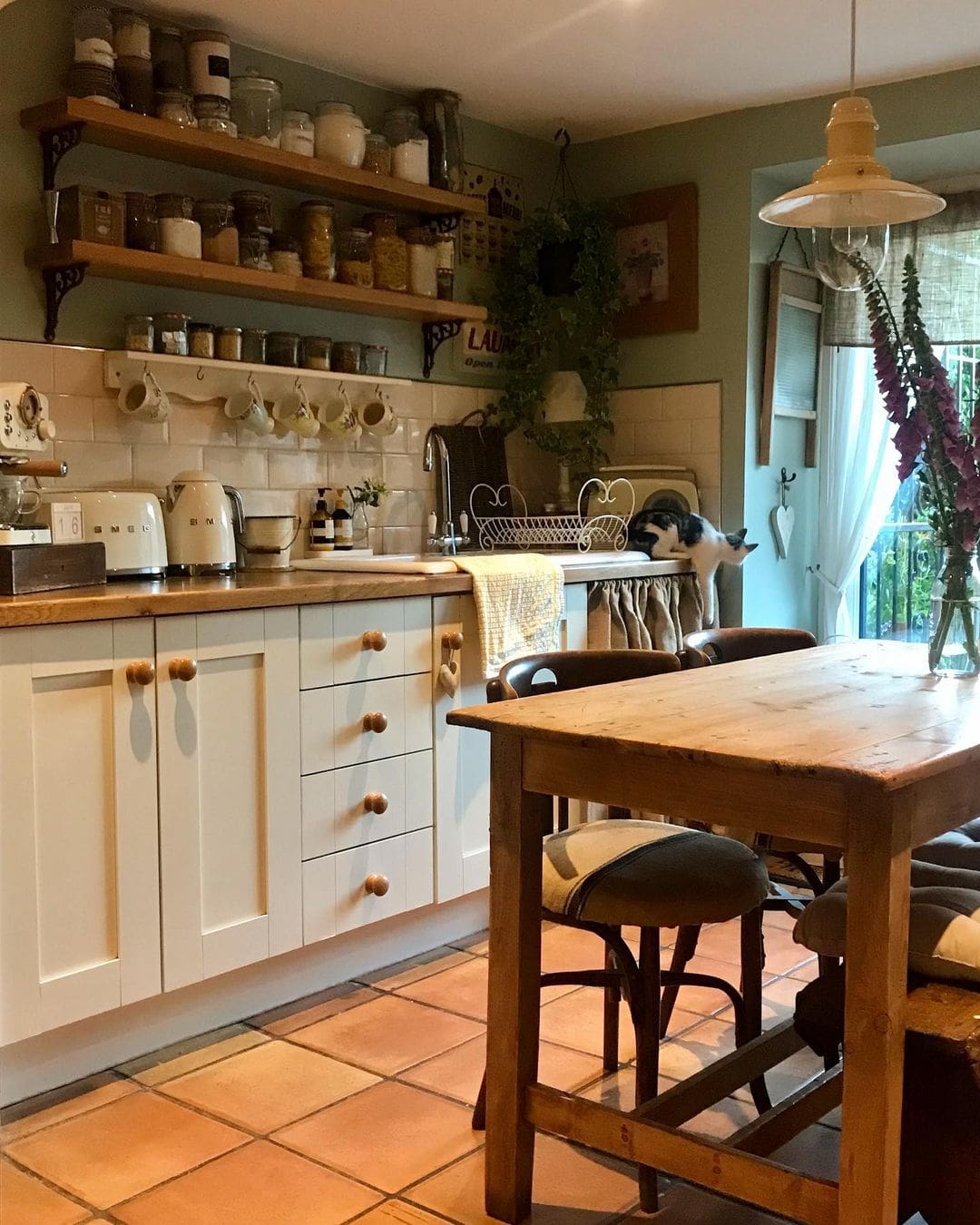 This vintage cottage kitchen design opens onto an outdoor terrace garden. The sturdy natural wood table with vintage cafe chairs adds dated charm. Tall branches in a glass vase and a light pink pendant light in French country style decorate the table. Nearby, rows of natural wood shelves add decorative decor, including vintage pottery, spice jars and hanging cups.
24. Stylish Modern Shelving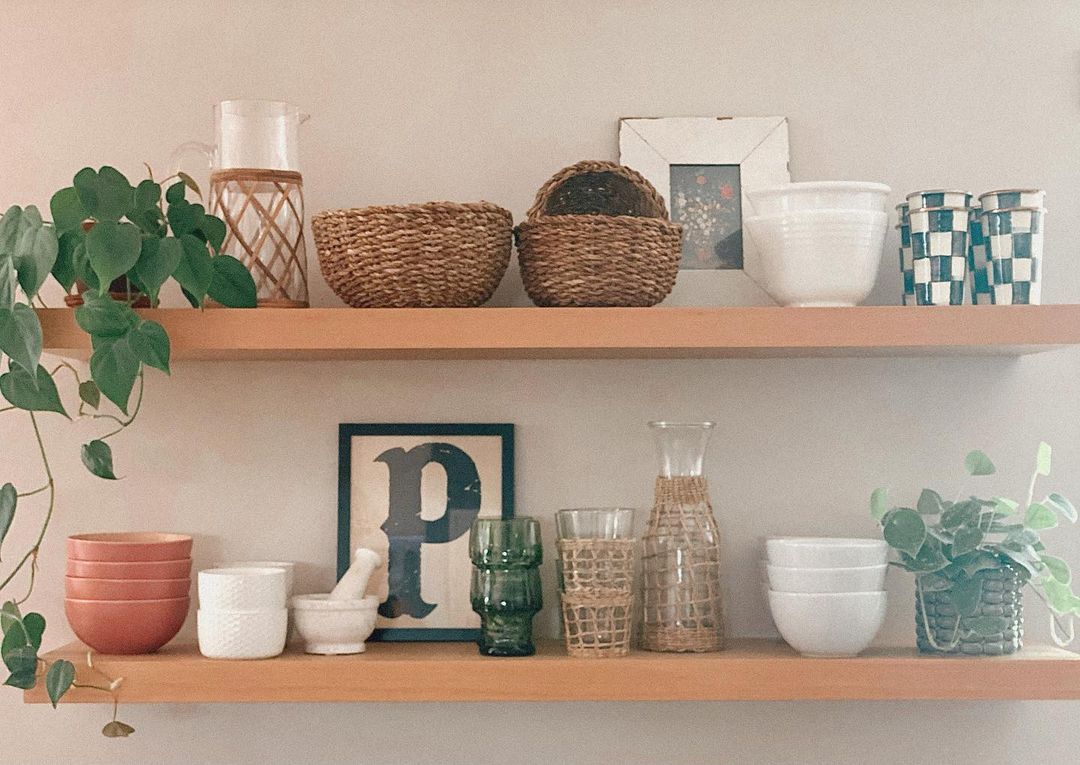 These simple yet fashionable modern kitchen shelves offer a simple display of attractive decor. Healthy green plants, a framed vintage photograph and dark woven basketry lend pleasing decorative effects. Pottery, tall black and white checked cups and glassware in outer woven holds join a large framed black capital letter "P" to create a unique display.
25. Simple Industrial Chic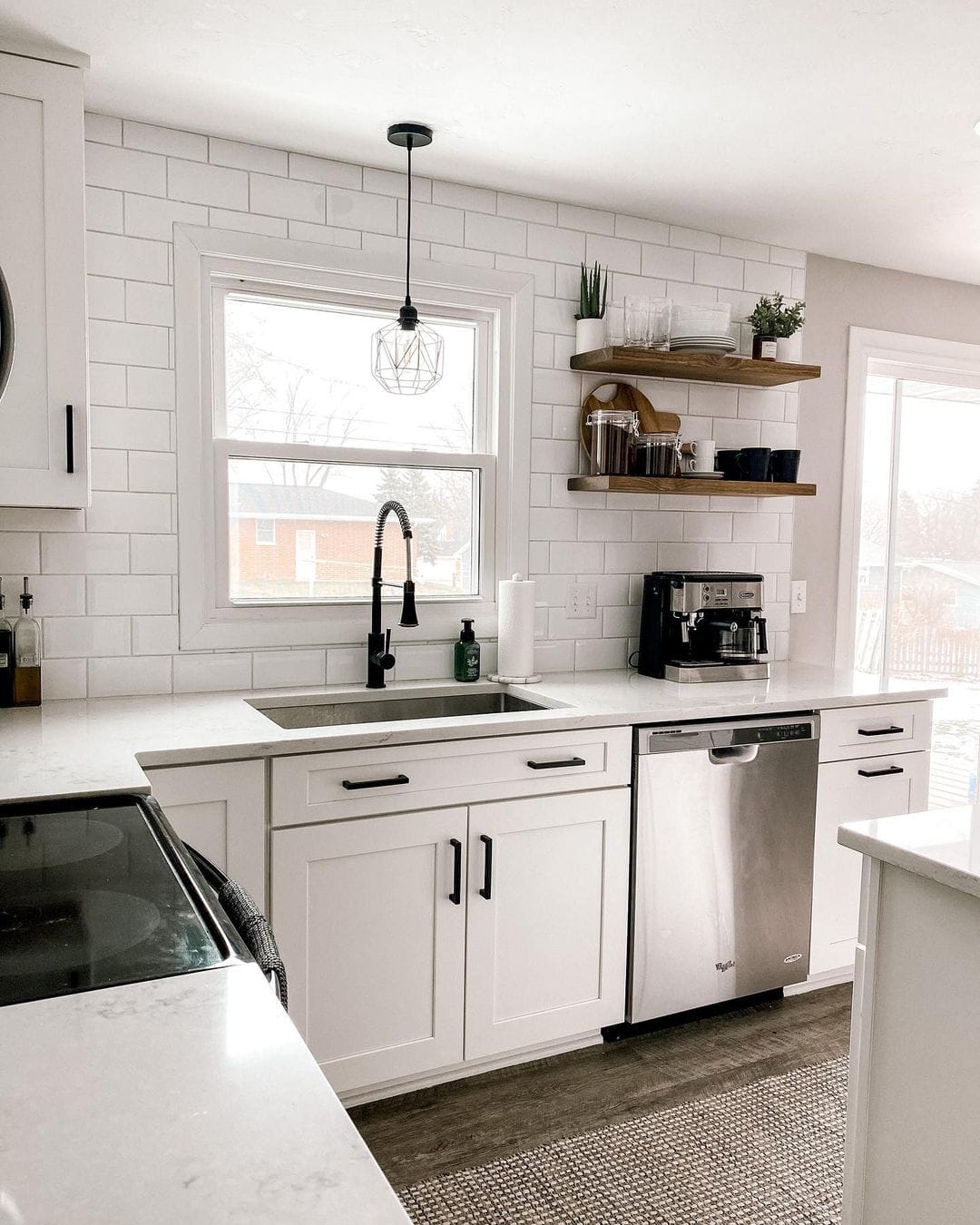 This simplistic industrial chic kitchen design includes handsome white wall tiles and white cabinets with plain black hardware. The modern black kitchen sink tapware also adds to the industrial style. The bare window and simple pendant light lend basic accents. A pair of simple dark-wood open shelves mounted on one wall add simple decoration with pottery, plants and decanters.
26. Basic Boho Interior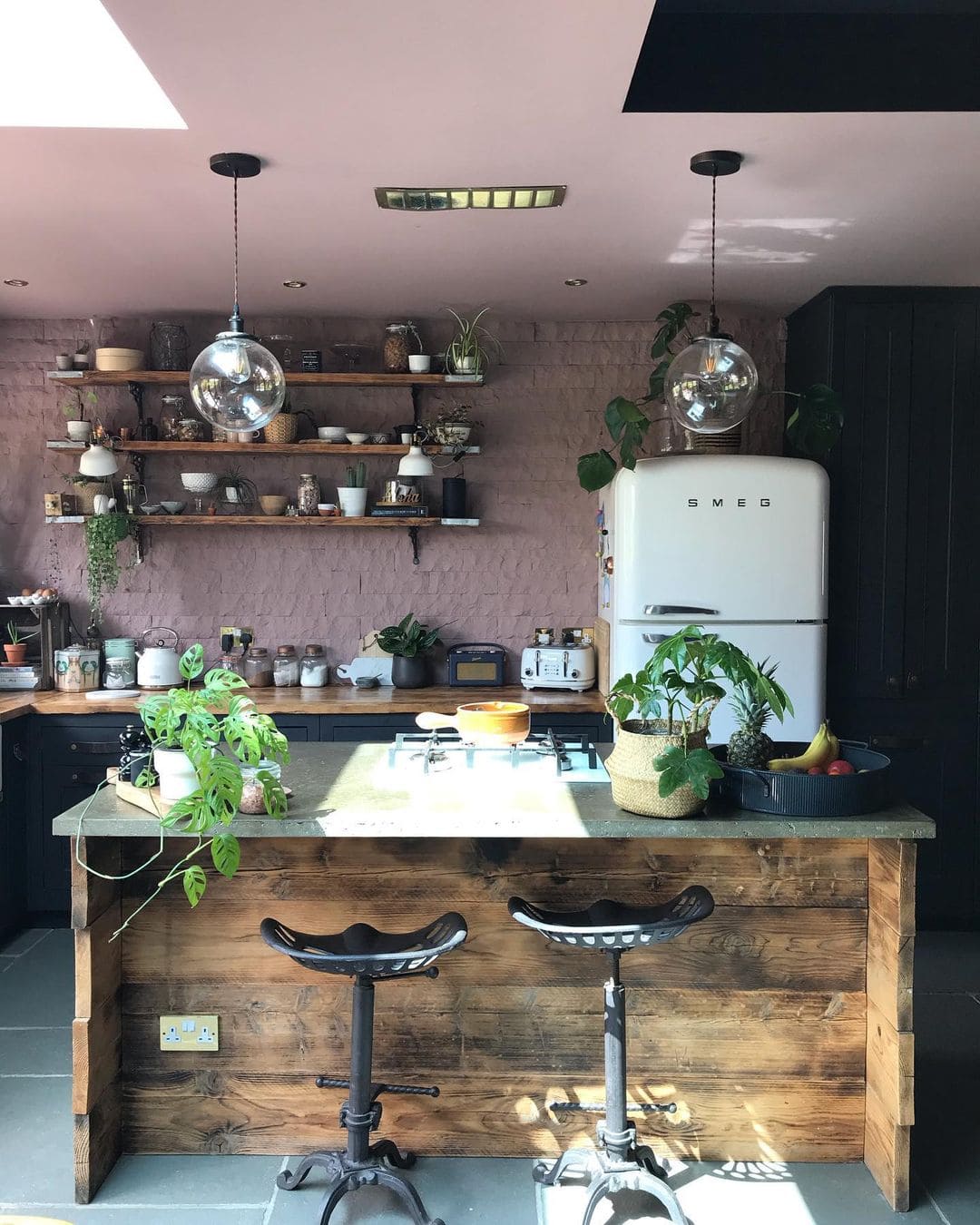 This basic boho kitchen design features a rough-plastered and painted brick wall. It is decorated with simple wooden open shelves filled with pottery, bottles, vases and other kitchen decor. Beneath the shelves, a slender stone countertop continues this display of vintage, eclectic items. A unique kitchen island with a light gray marble countertop plants a stovetop and a base of rough-hewn repurposed wooden planks. Counter-side seating is supplied by two rustic bicycle-style stool seats on four-footed pedestals.
27. Industrial Joins Modern Classic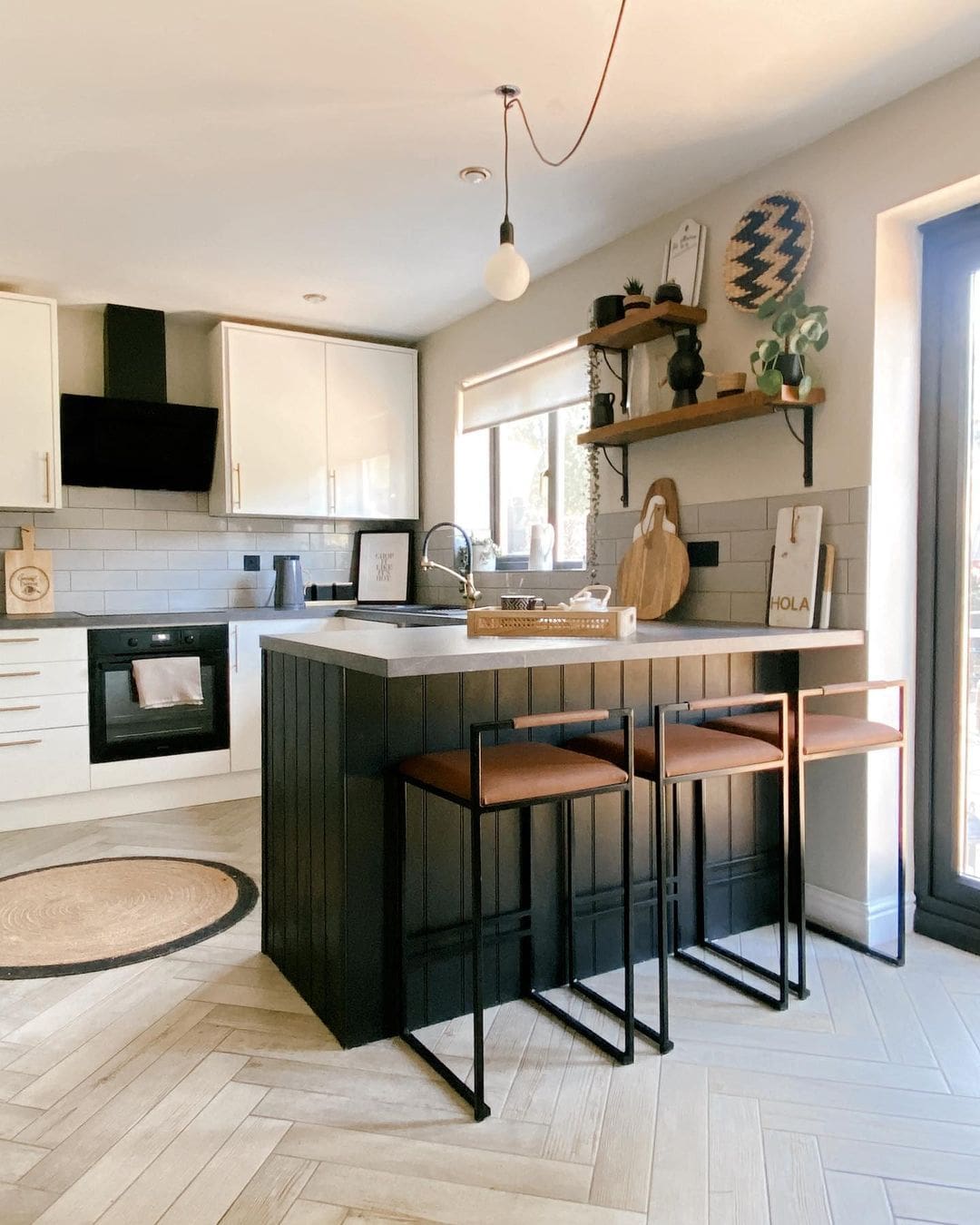 In this kitchen, basic industrial style combines with classic design elements to from a pleasing mix. The handsome black-based island with simple wainscoting is topped with a slab of light gray marble. Across the room, streamline white cabinets and under-benchtop drawers provide storage. Sleek black metal-frame bar chairs with cocoa-hued upholstered seats are a curious mixture of industrial and modern classic. Simple wooden wall shelves with items of decor lend basic rustic charm while the modern parquet flooring accents the classical style.
28. Shabby Chic Kitchen Allure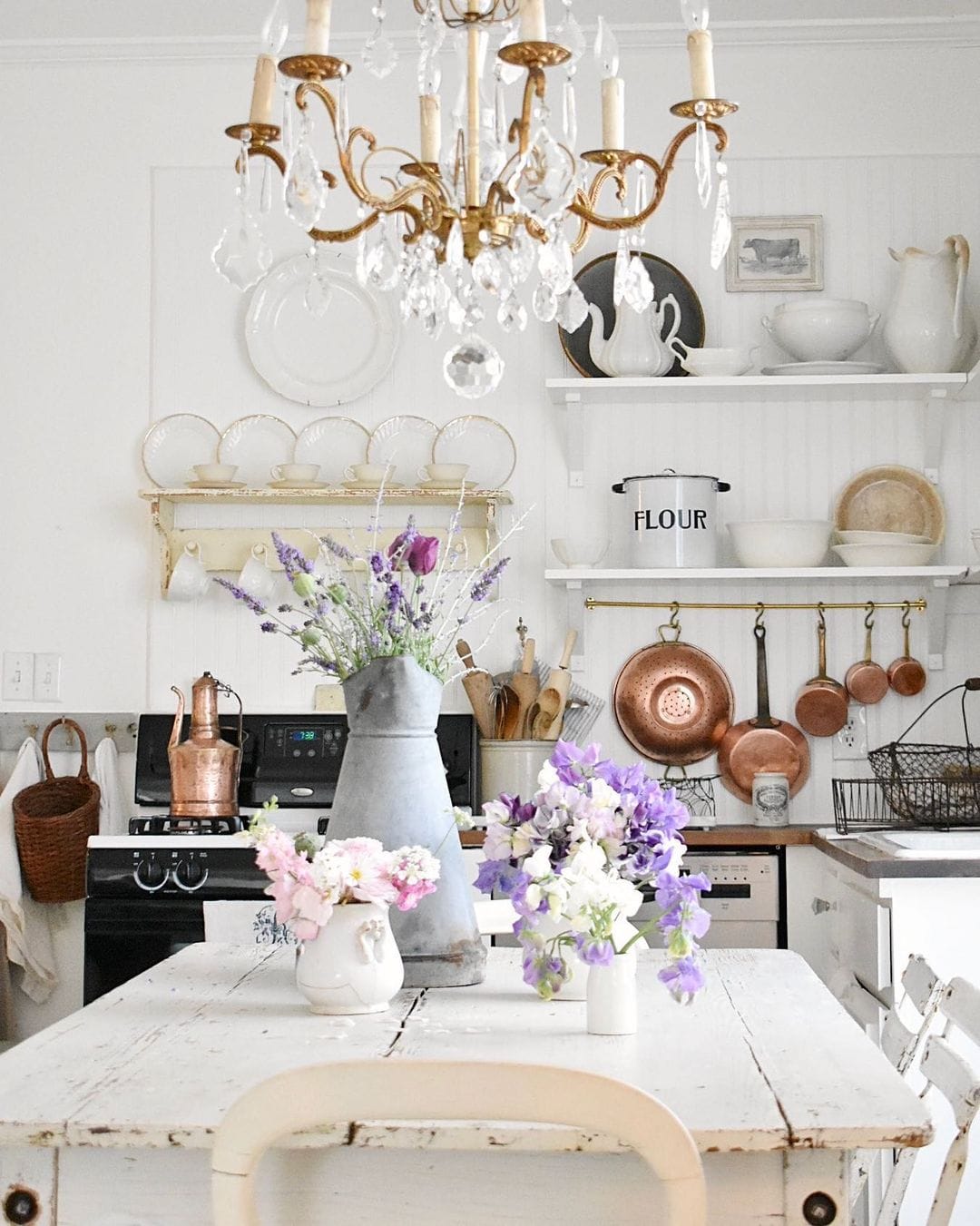 This enchanting shabby chic kitchen decor includes a distressed white kitchen table with vintage pottery displaying beautiful fresh flowers. The retro stove and kitchen cabinetry align with other decor of an earlier era. A vintage wall shelf exhibits antique plates with a matching platter mounted above. Simple white shelves nearby display vintage pottery, and a large teardrop crystal and candlelight chandelier adds the ultimate touch of shabby chic.
29. Contemporary Casual Corner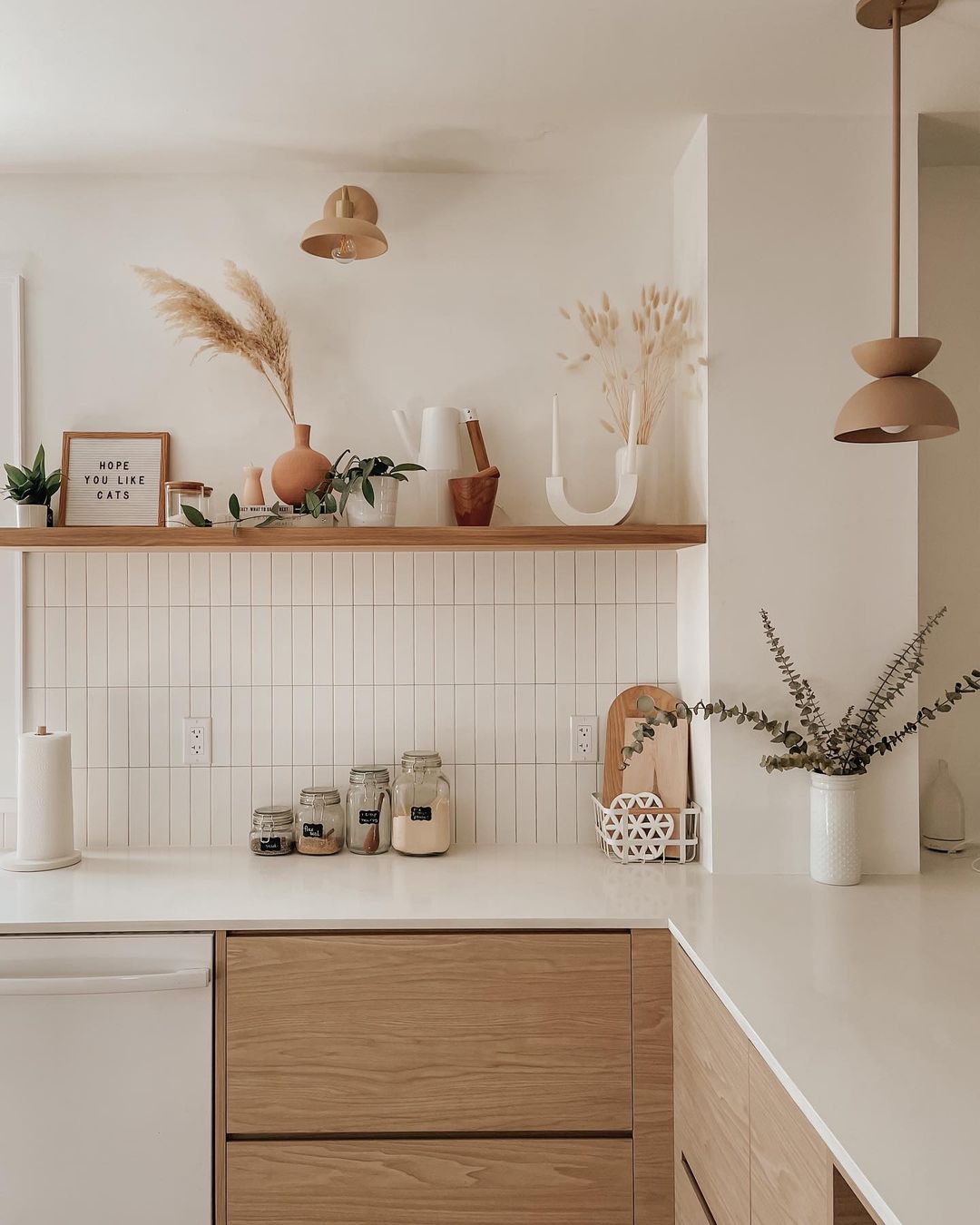 This contemporary casual kitchen corner has an inviting soft glow and allure. The white walls, countertops and slender white tile splashback absorb and reflect soft natural light. A cocoa-colored pendant lamp and a matching wall sconce add pleasing indoor lighting. Deep light wood drawers beneath the countertops and a single wooden open shelf with modern pottery and plants bring natural essence and style to the room.
30. Arty Minimalist Decor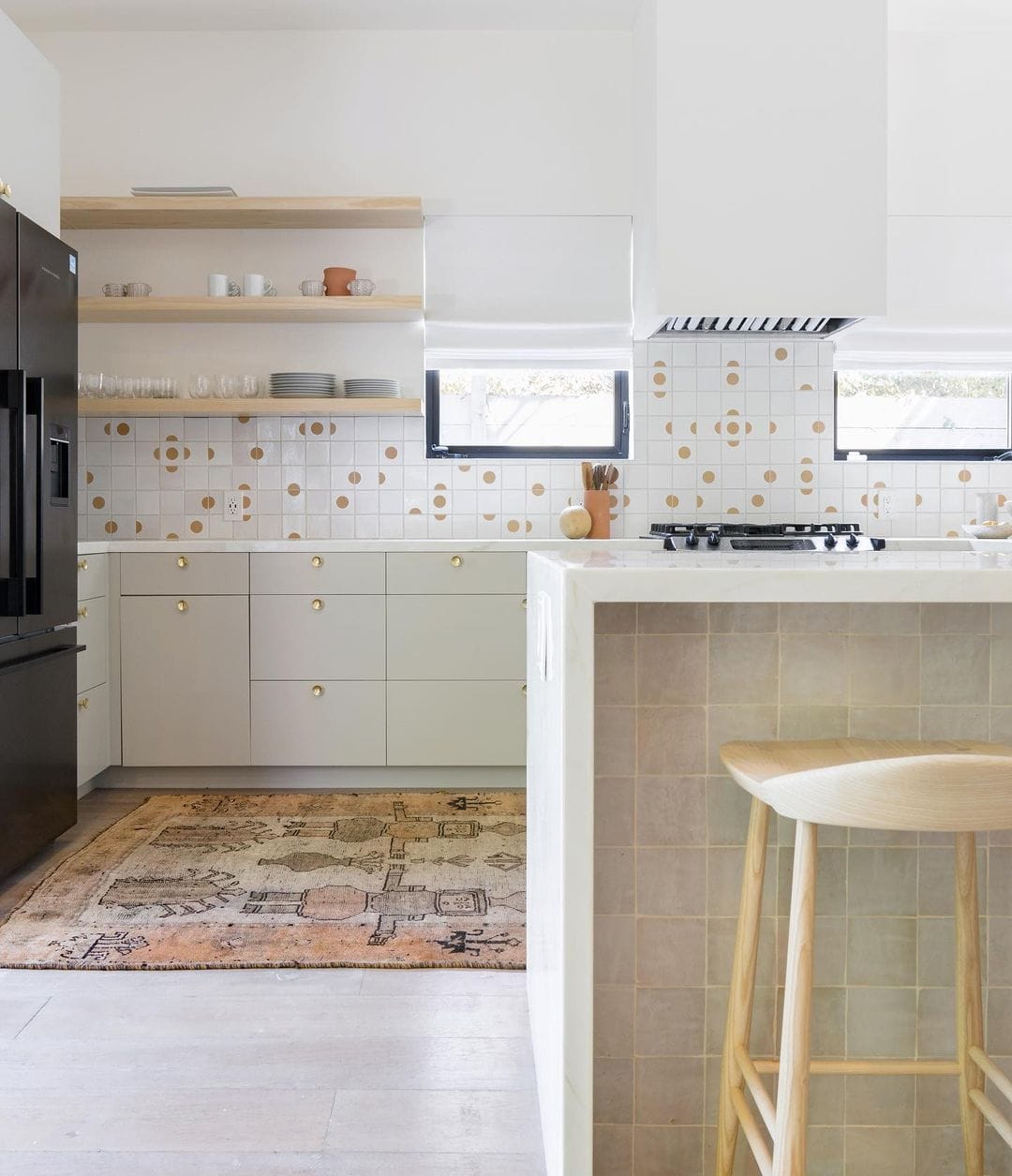 This unique kitchen interior features arty decor in minimalist style. Highlights include the pastel figurative tapestry-rug in shades of light brown, gray, cream and rose-pink. Recessed drawers and cabinets beneath a white benchtop are complemented by a white tile backsplash with pops of soft cocoa and gray dots. A slender white counter with a beige tile base features light wood bar stools. On the wall, three light-wood shelves display assorted modern pottery pieces.
31. Single Shelf Style Setter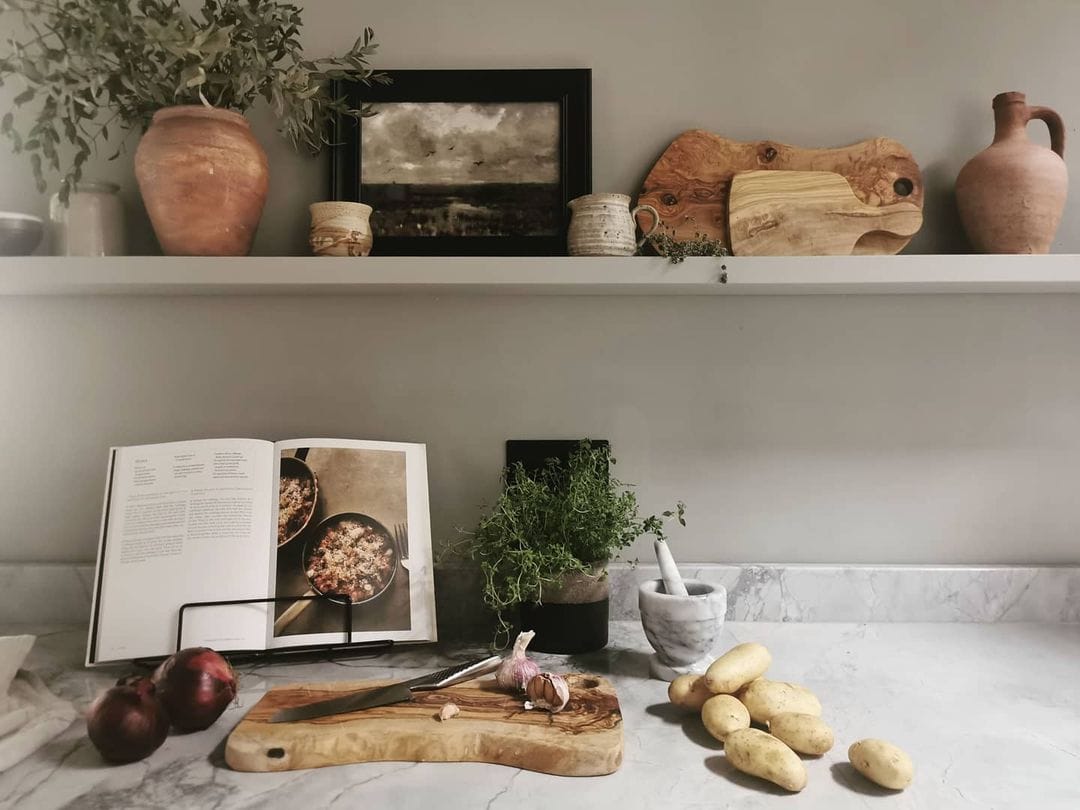 In this modern farmhouse kitchen corner, the single long open wall shelf sets the style for a fresh-food gourmet kitchen. The collection of varied styles of pottery and breadboards along with the greenery and small centered digital screen blend ageless elements with modern lifestyles. On the simple marble benchtop below, a cookbook and basic starting ingredients for a gourmet meal take center stage.
32. Arts and Crafts Shelving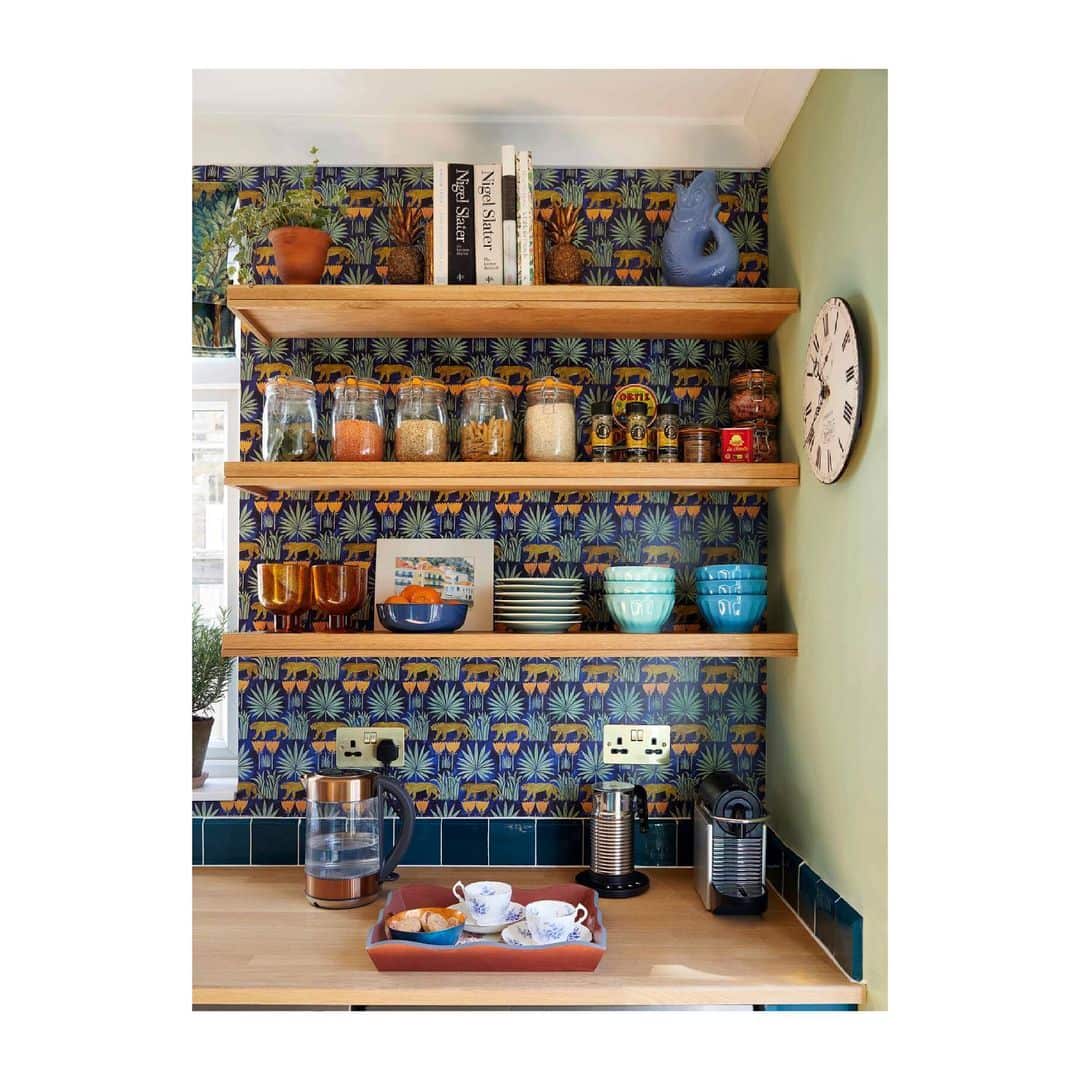 This charming display of arts and crafts style kitchen shelving is bright and delightful as an element of decor. The brightly patterned wallpaper backing the shelves lends playful style to the shelf display of glass food canisters, pottery and dinnerware. The items exhibited bring additional colour and style to brighten and enliven this unique kitchen corner.
33. Basic White Interior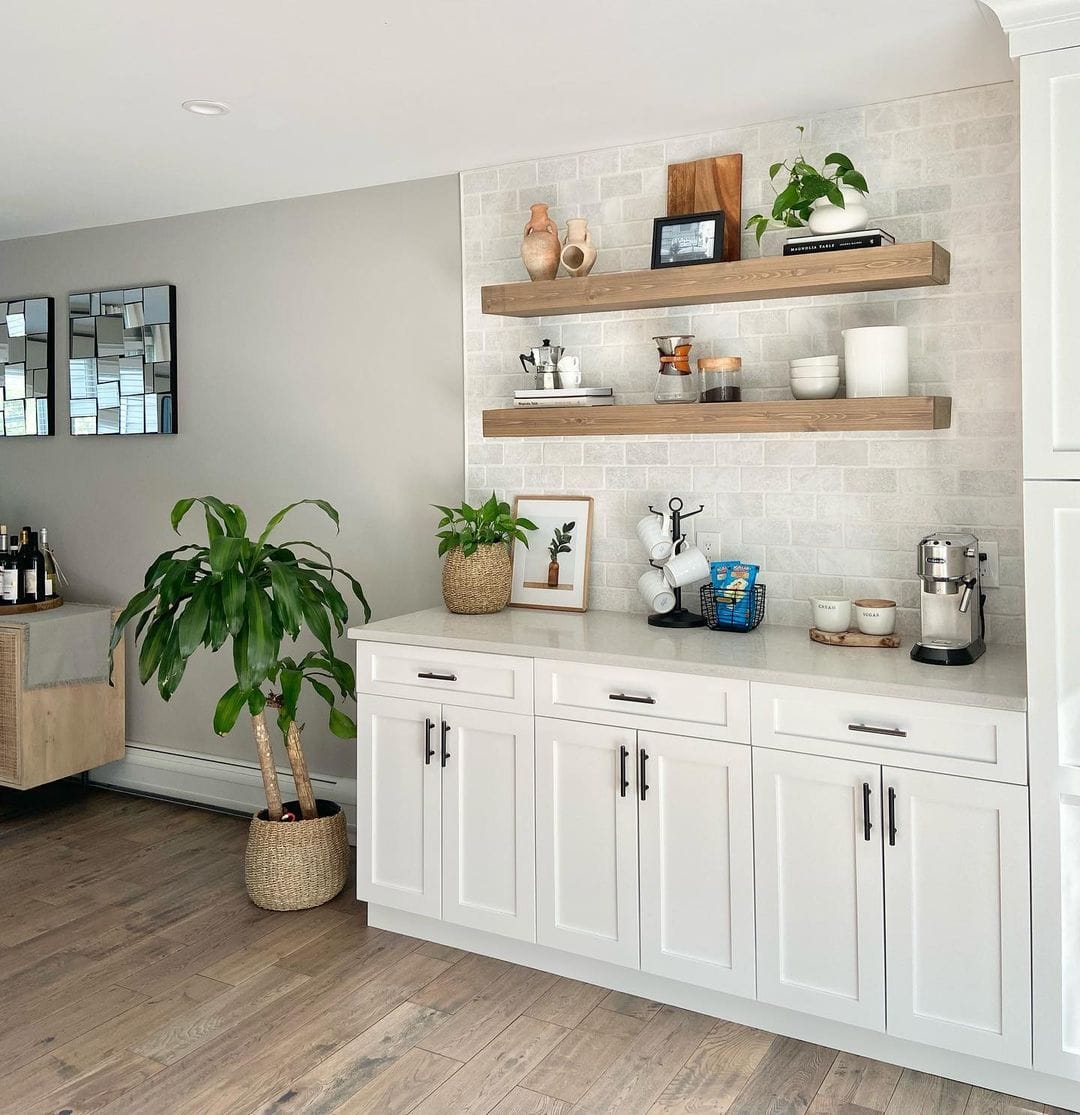 This basic white modern kitchen decor is calm and pleasing the the eye. It invites creative cooking and recipe experiments, free of clutter and distractions. The sleek white cabinets with basic black hardware are complemented by the light gray benchtop and white-gray wall tiles. Two thick, narrow walnut wall shelves display attractive pottery and a small digital screen as colorful kitchen decor.
34. Eclectic Rustic Decor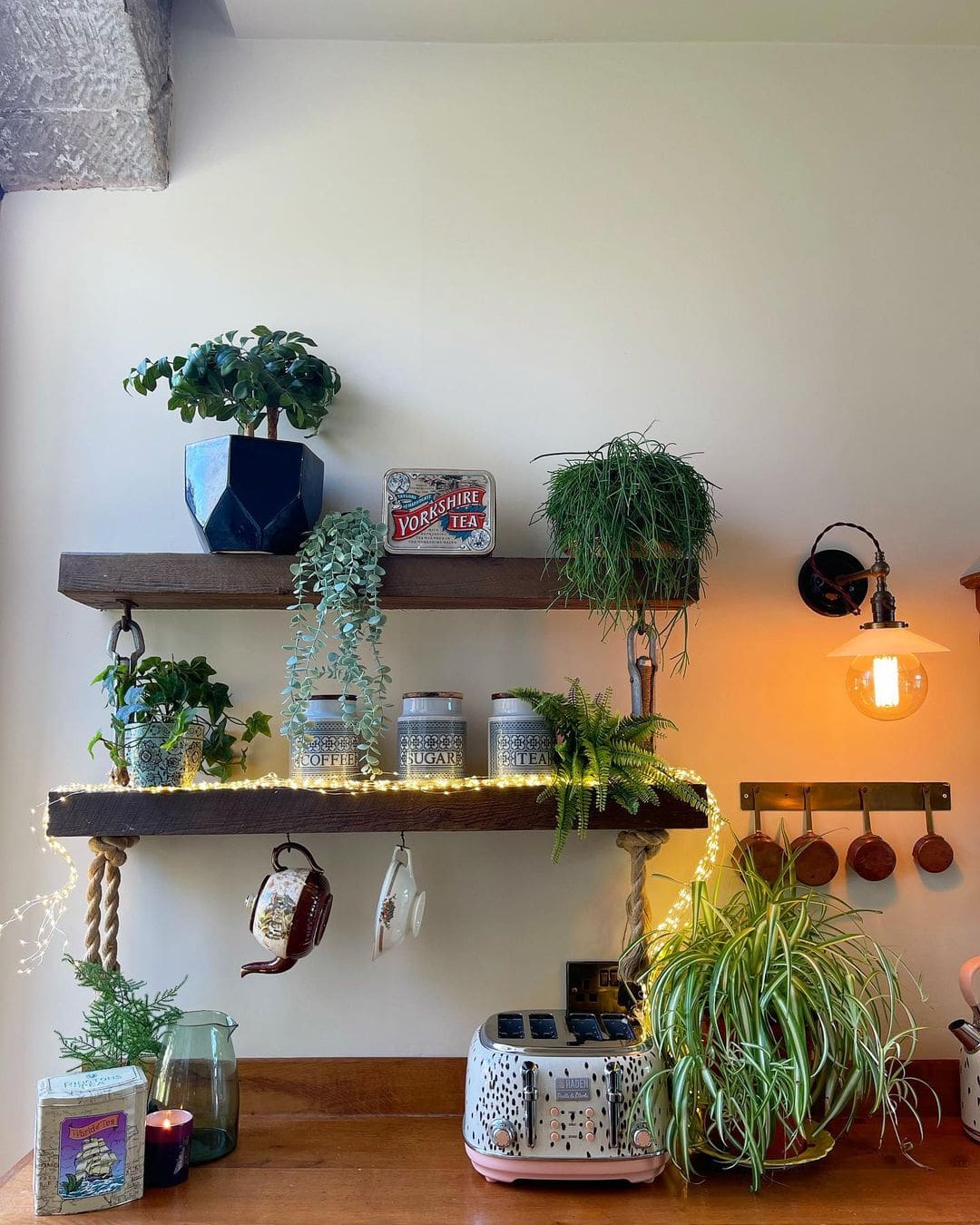 This vintage kitchen wall displays delightful rustic decor. The two thick dark-wood wall shelves are connected by sturdy rope. They display a small potted tree, a cascading green plant, a vintage metal box and decorative canisters. Beneath the lower shelf, a charming rustic china teapot and base hang on hooks as additional decor. The dark hardwood countertop below features a sweet antique toaster, a spider plant and other decorative items.
35. 1950s Vintage Style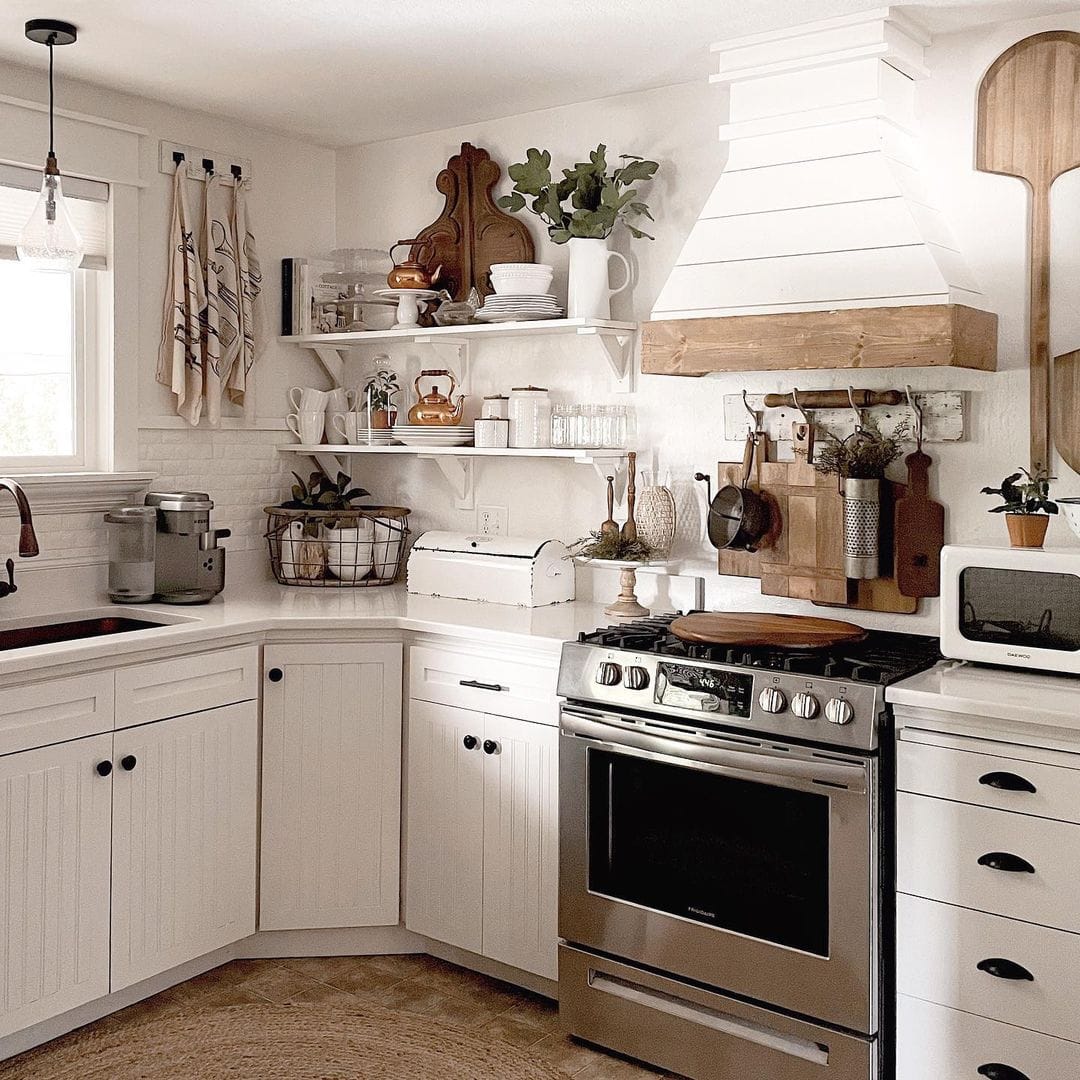 This light inviting kitchen interior features basic white 1950s style appliances and decor. The white walls, stove vent and basic pendant lamp and rectangular sink design all bring back this era of design and decor. A contemporary coffee maker and other updated items complement such older items as the white metal bread box, wire corner basket of decanters and the long-handled pizza shovel mounted on the wall. Two white open wall shelves display a jaunty teapot and pottery, accented by the wooden wall piece above.
36. Boho Wall Display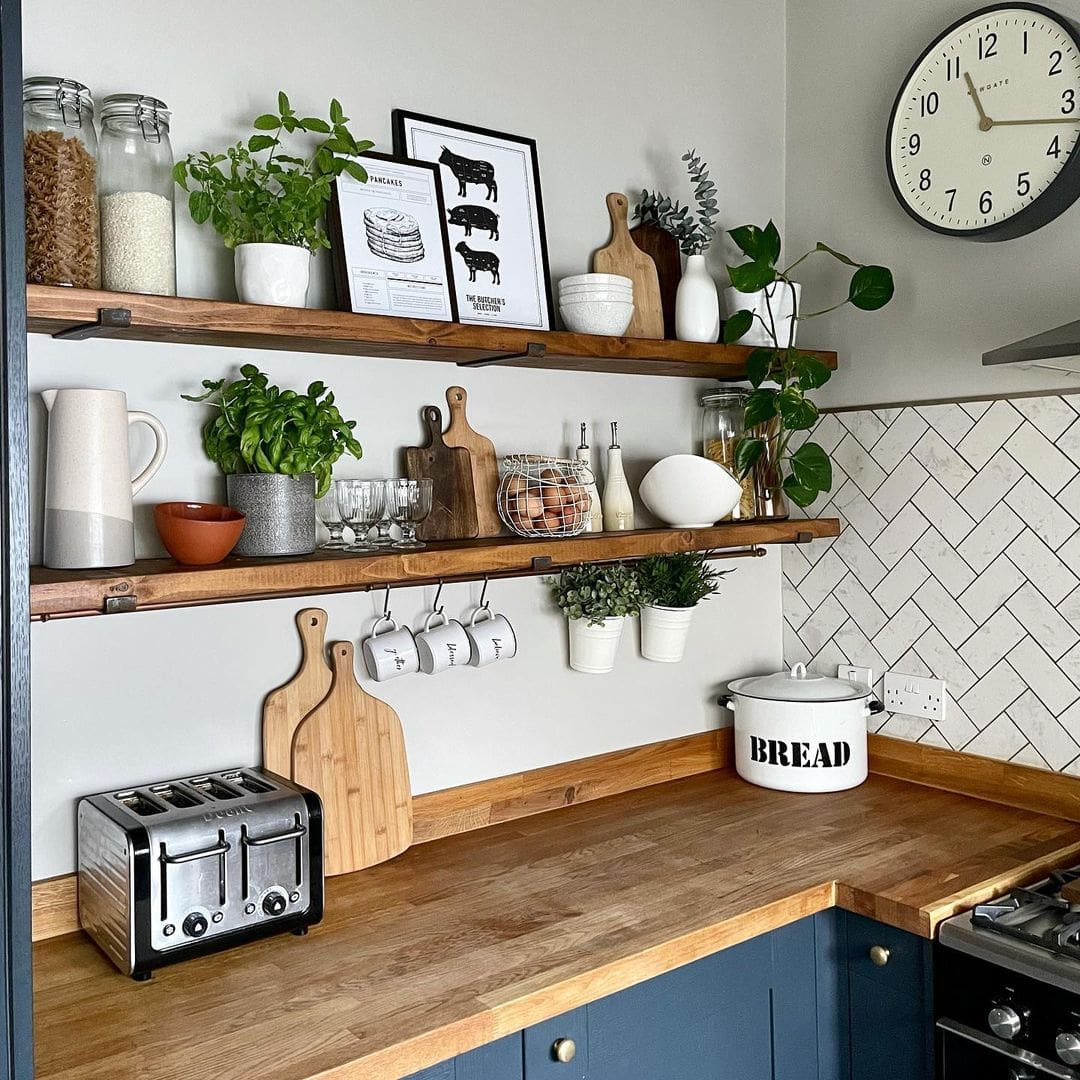 In this boho kitchen corner, a stylish white tile backsplah design complements a large round wall-mounted clock above. On the adjacent wall, two rustic wooden shelves exhibit a wide array of pottery, glass jars, potted plants, wooden bread boards and two framed prints. One print features silhouettes of farm animals. The butcher block countertop below features a vintage toaster and bread storage pot.
37. International Shelf Exhibit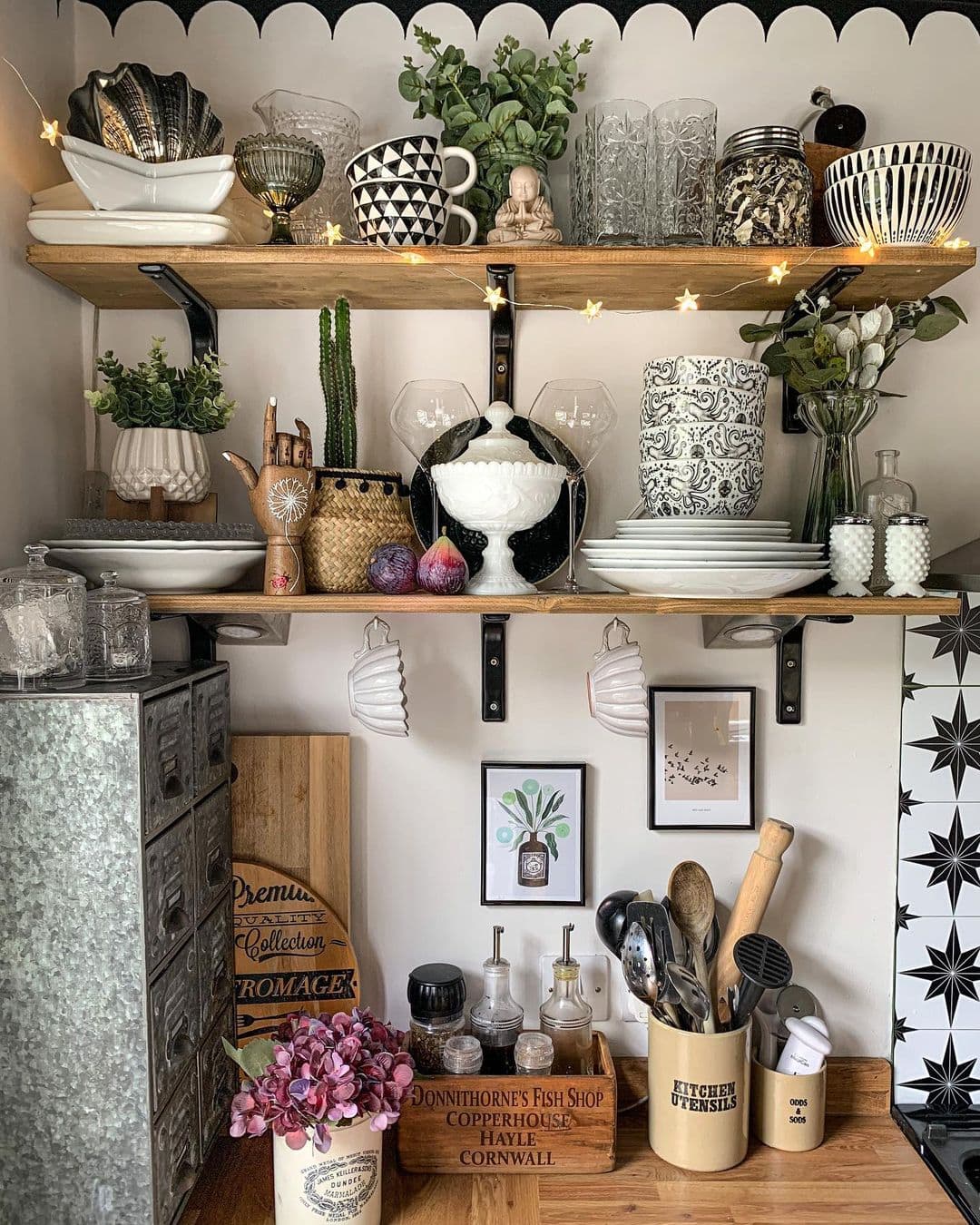 These two wooden kitchen shelves display a unique collection of decorative pottery, cups, jars, candles, shells, plants and dinnerware from around the globe. An East Asian hand adds grace and allure to the exhibit. Two scalloped white coffee cups are suspended from hooks below the lower shelf. The butcher block countertop beneath offers its own display of pottery, framed prints, flowers and a large recipe file box.
38. Vintage Industrial Decor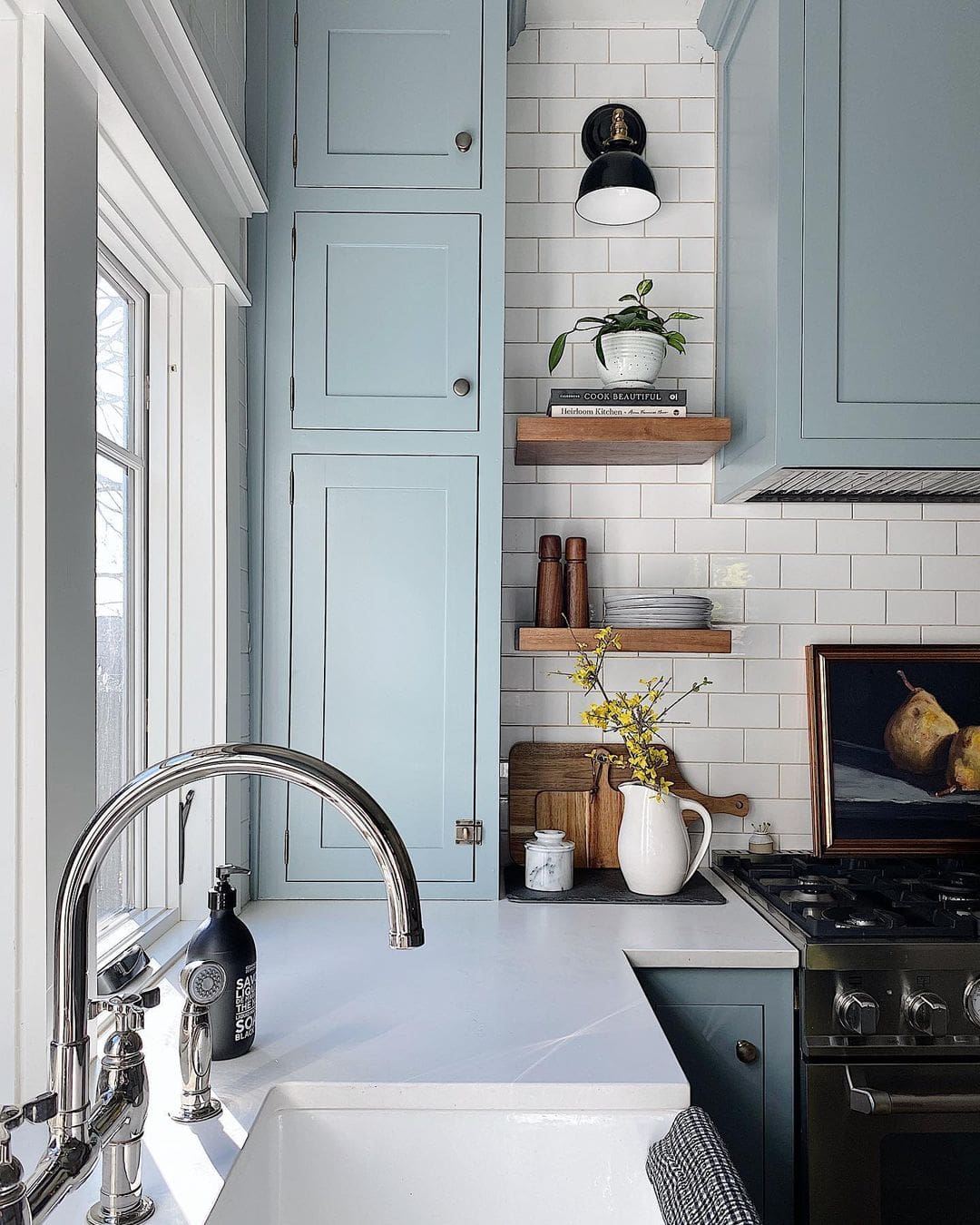 This vintage kitchen corner has unusual warmth for an industrial design. The white tile walls and countertops are enlivened by the light gray-blue cabinets and two small wooden wall shelves with pottery and a green plant. On the countertop beneath the lower shelf, a pitcher of fresh yellow forsythia and two hand-carved breadboards add additional color. The black stove and gooseneck kitchen sink spigot add even more vintage charm.
39. Modern Sleek Chic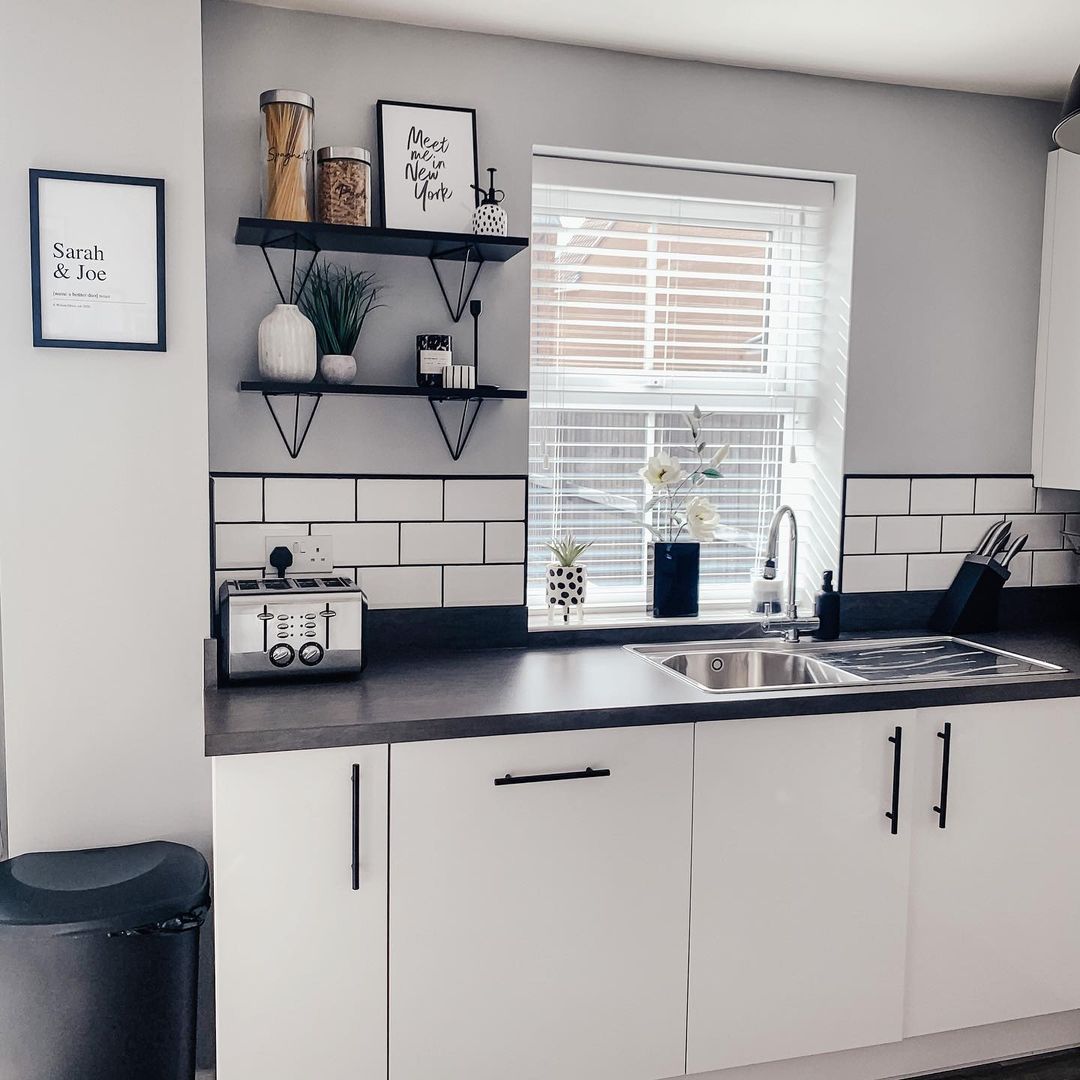 This welcoming modern chic kitchen decor has a calm, sleek appearance and ambiance. Its pleasing streamlined decor is appealing and lends simple elegance to the room. The slim-lined kitchen cabinets in white are enhanced by the deep gray benchtop. Other enhancing elements of decor are the large white subway backsplash tiles and the medium-gray tones of the wall above. On the wall, a small shelving unit with two shelves a framed sign, glass jars, a plant and other small items of decor.
40. Modern Minimalist Corner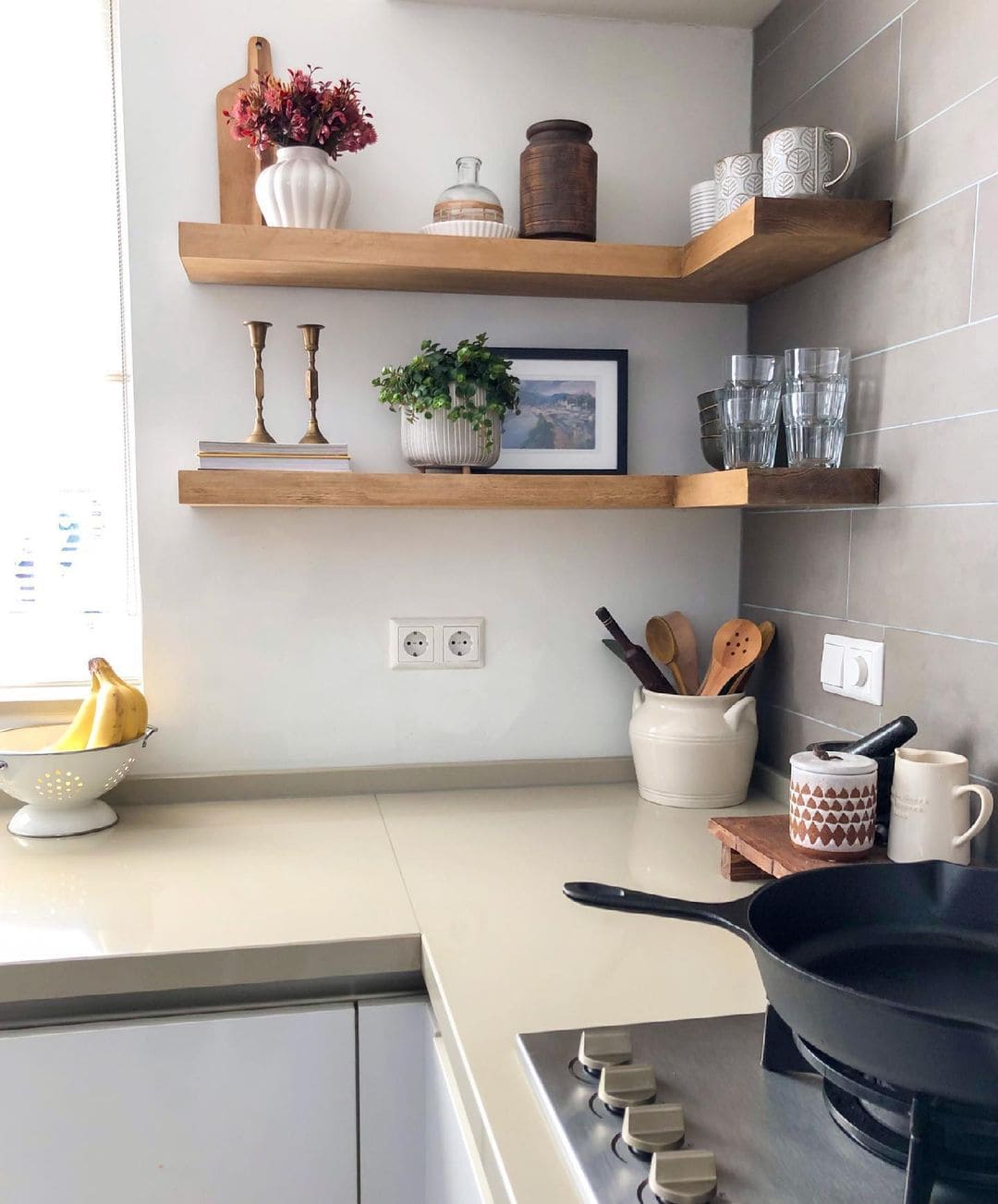 This modern minimalist kitchen corner offers a calm, simple yet sophisticated display of on two lustrous wooden corner shelves. Items displayed include a stunning white vase of red flowers, a pair of antique brass candlesticks, glassware, a potted green plant and a framed scenic print. The gray wall tiling and neutral surface below lighten the area, and additional pottery with bananas and wooden utensils along with a cast-iron skillet add more character.
41. Creative Boho Colors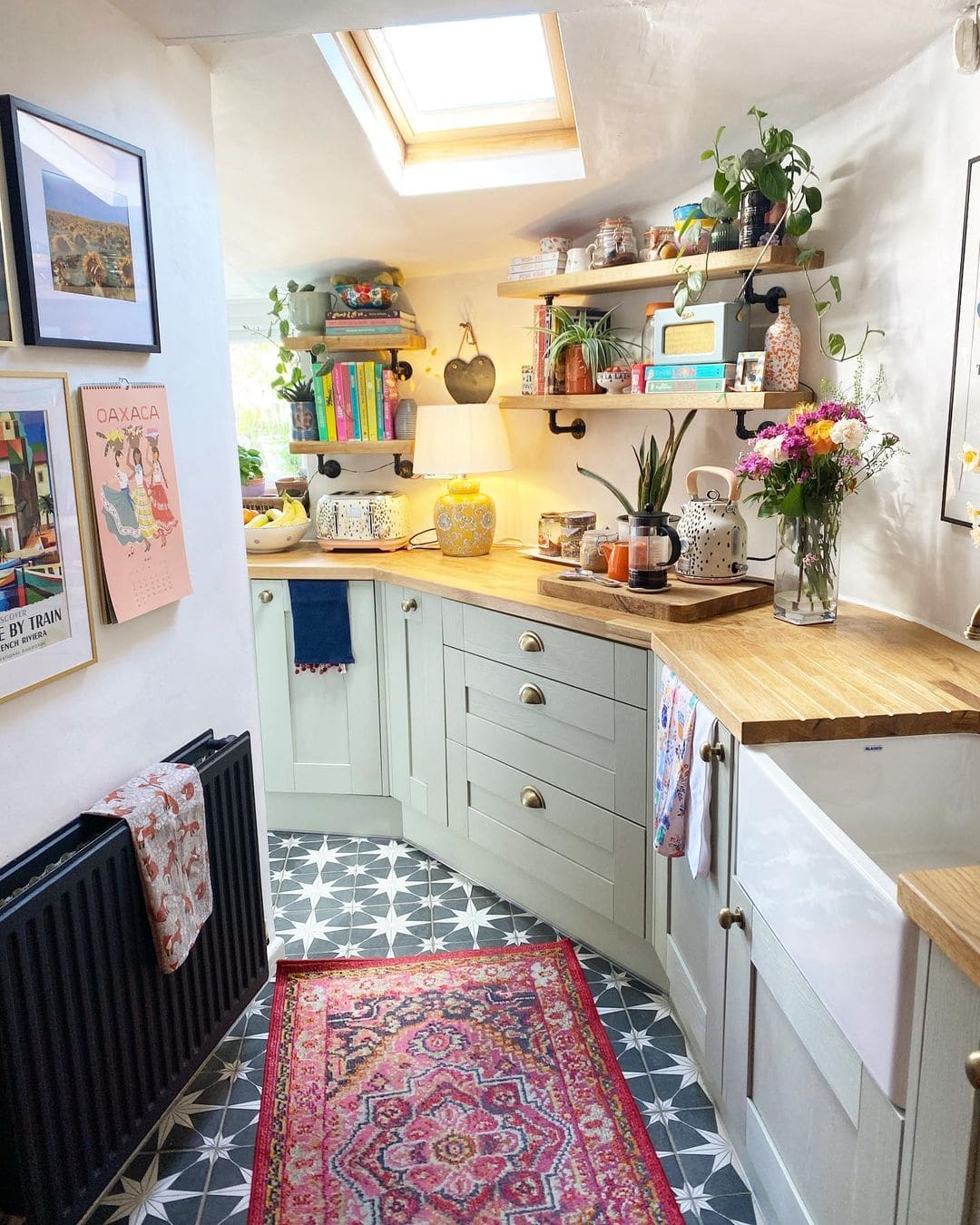 In this winding boho galley kitchen, the color scheme is bright and creative. The star-patterned floor tiles add character to the white cabinetry and light butcher block countertops. These counters are adorned with colorful flowers, green plants, unique pottery designs and multi-hued candles along with a colorful lamp. Wooden shelves on the walls display a multitude of plants, kitchenware, books and other items, all well-lit by the skylight overhead.
42. Subtle Kitchen Decor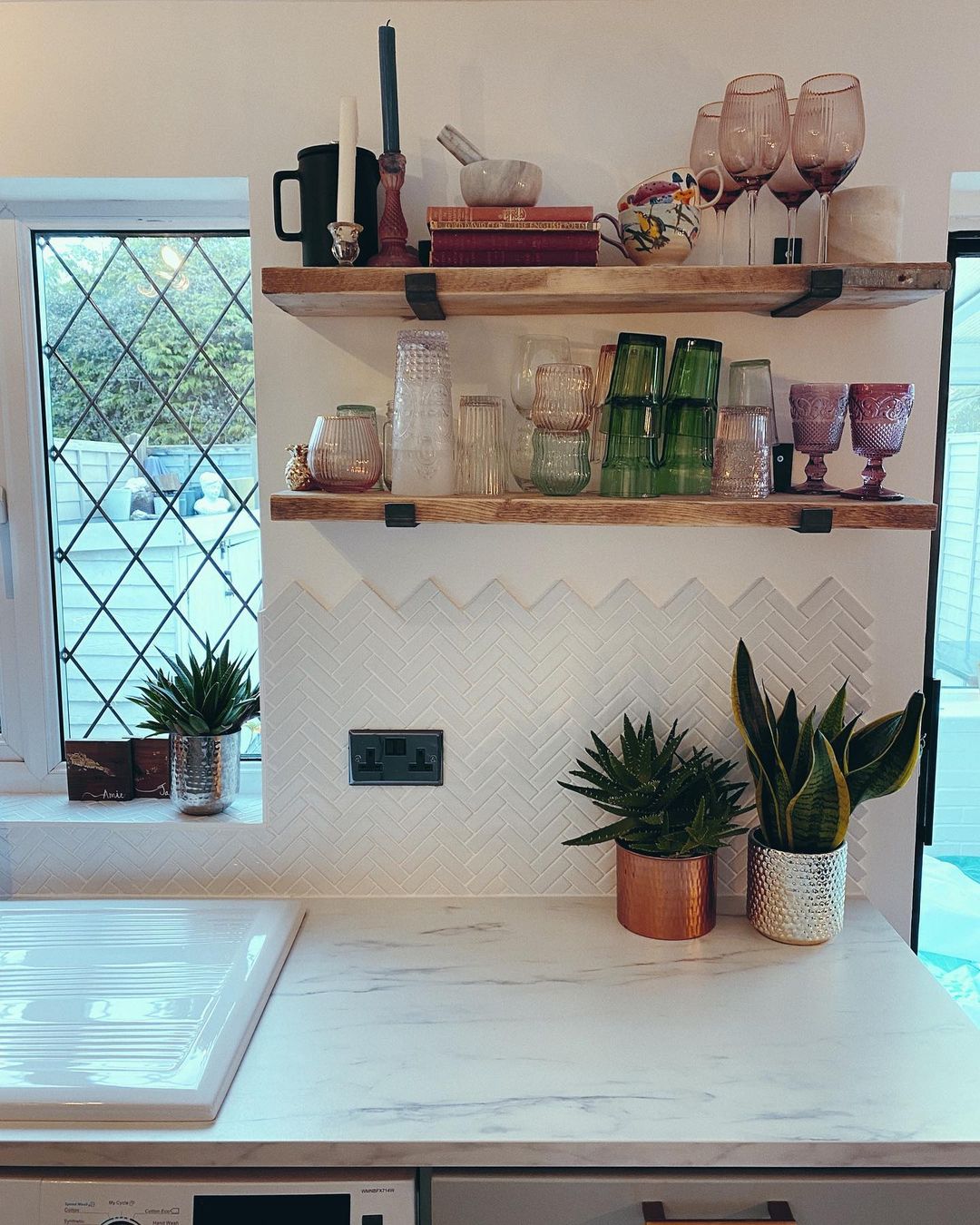 This subtly stylish kitchen countertop and wall display artistic qualities, both vintage and modern. The elaborate yet understated plasterwork on the wall offers layers of geometric designs in white. The protective metalwork of the window has vintage qualities, yet it complements the modern design of the plasterwork. The two rustic wooden wall shelves exhibit multiple styles in glassware and pottery pieces to intrigue the curious viewer.
43. Kitchen Corner in Progress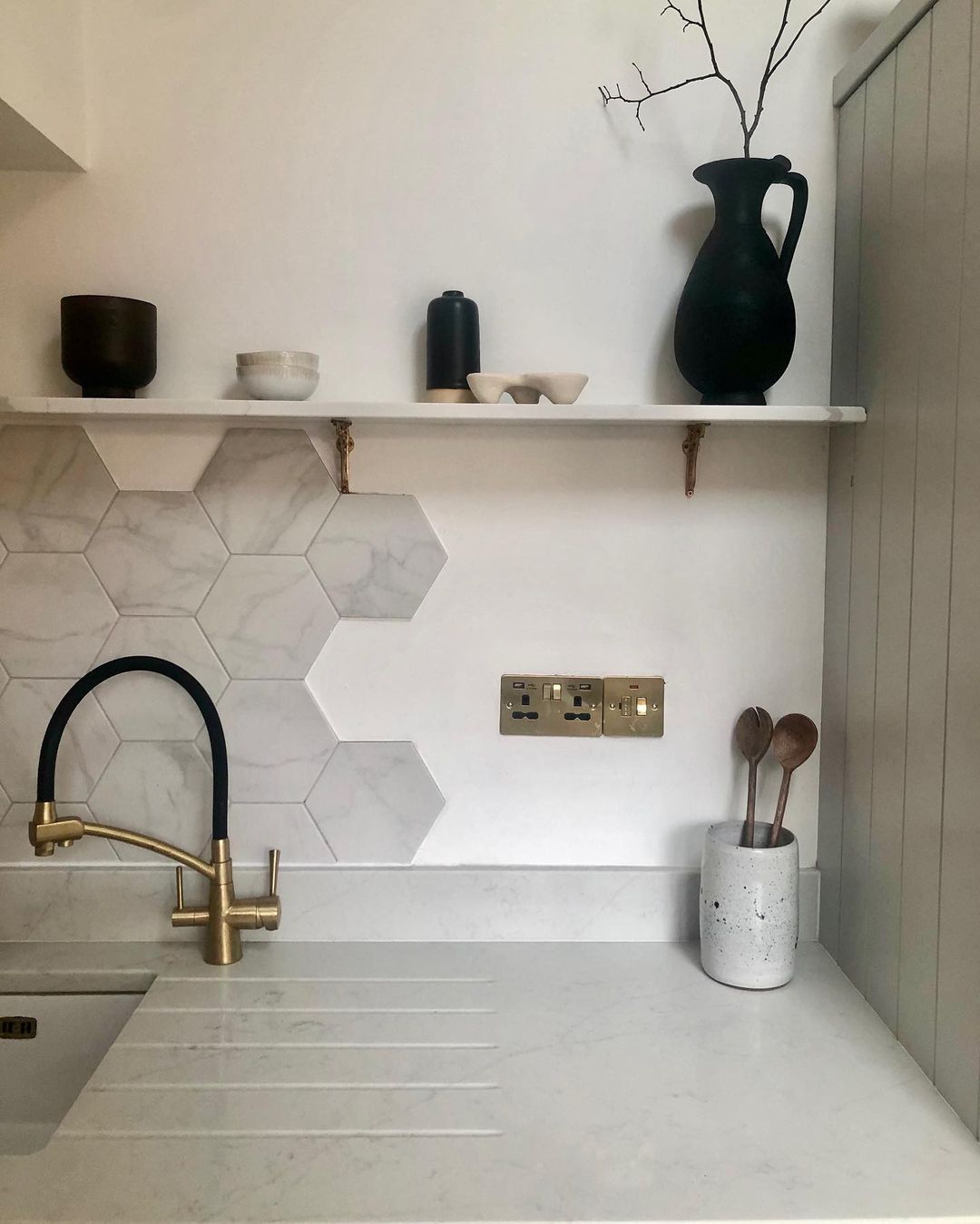 This attractive kitchen corner design appears to be a work in progress. Yet is may be completely finished, depending on the designer's plan. The partial wall covering or large hexagonal gray tiles actually creates a charming pattern against the white walling. A single white marble shelf above exhibits a stunning tall black pitcher and other black and gray items of decorative pottery.
44. Country Cottage Fashion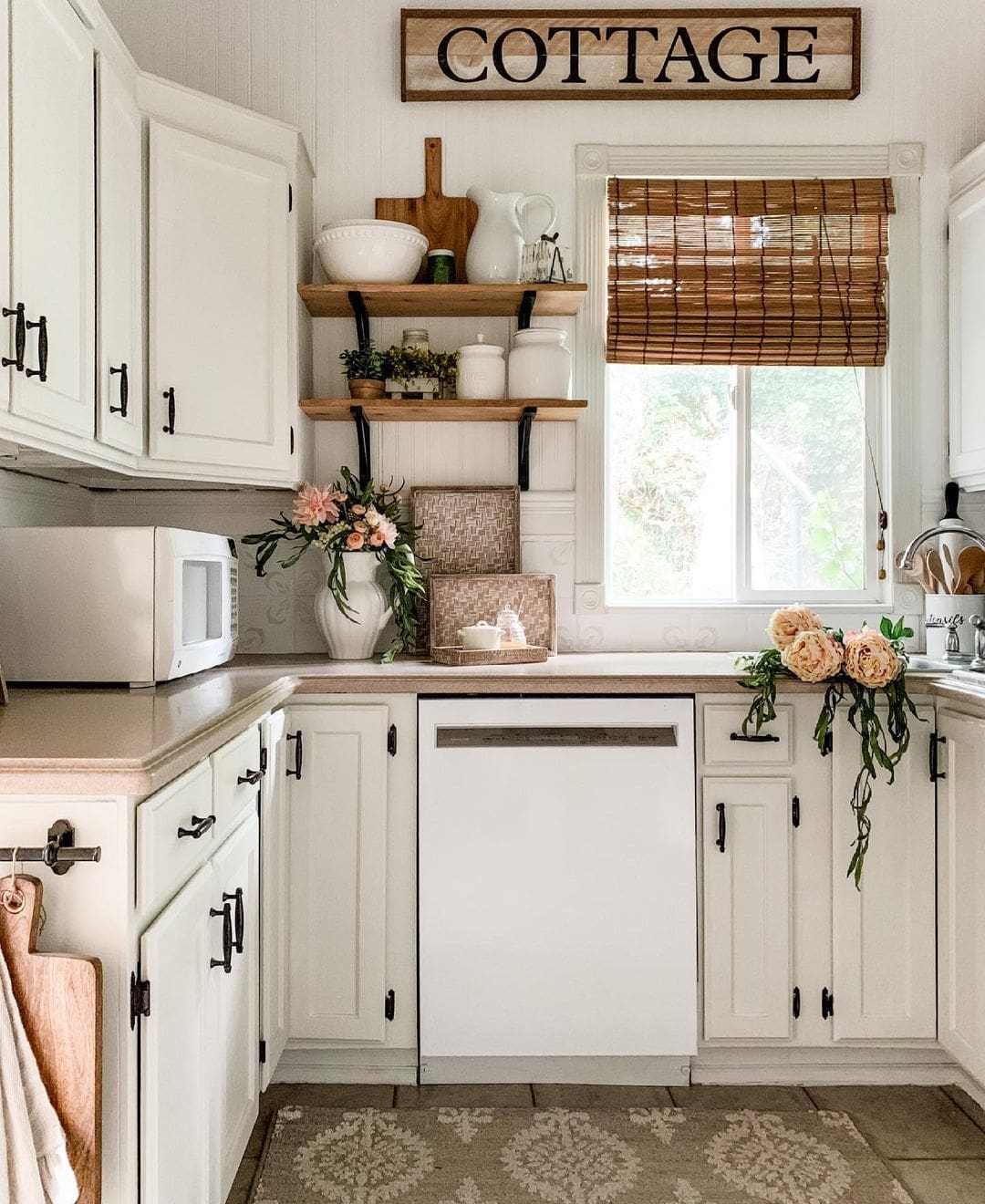 This country cottage kitchen interior even announces its style with the large rustic wall sign that reads, "Cottage." The simple style in white cabinets with black iron hardware and white appliances lend a simple, clear style to the room. The neutral-toned countertops and natural fiber roller blinds offer additional cottage charm. Two wall-mounted wooden shelves display white pottery, a wooden breadboard and other decorative items.
45. Charming Farmhouse Shelf Display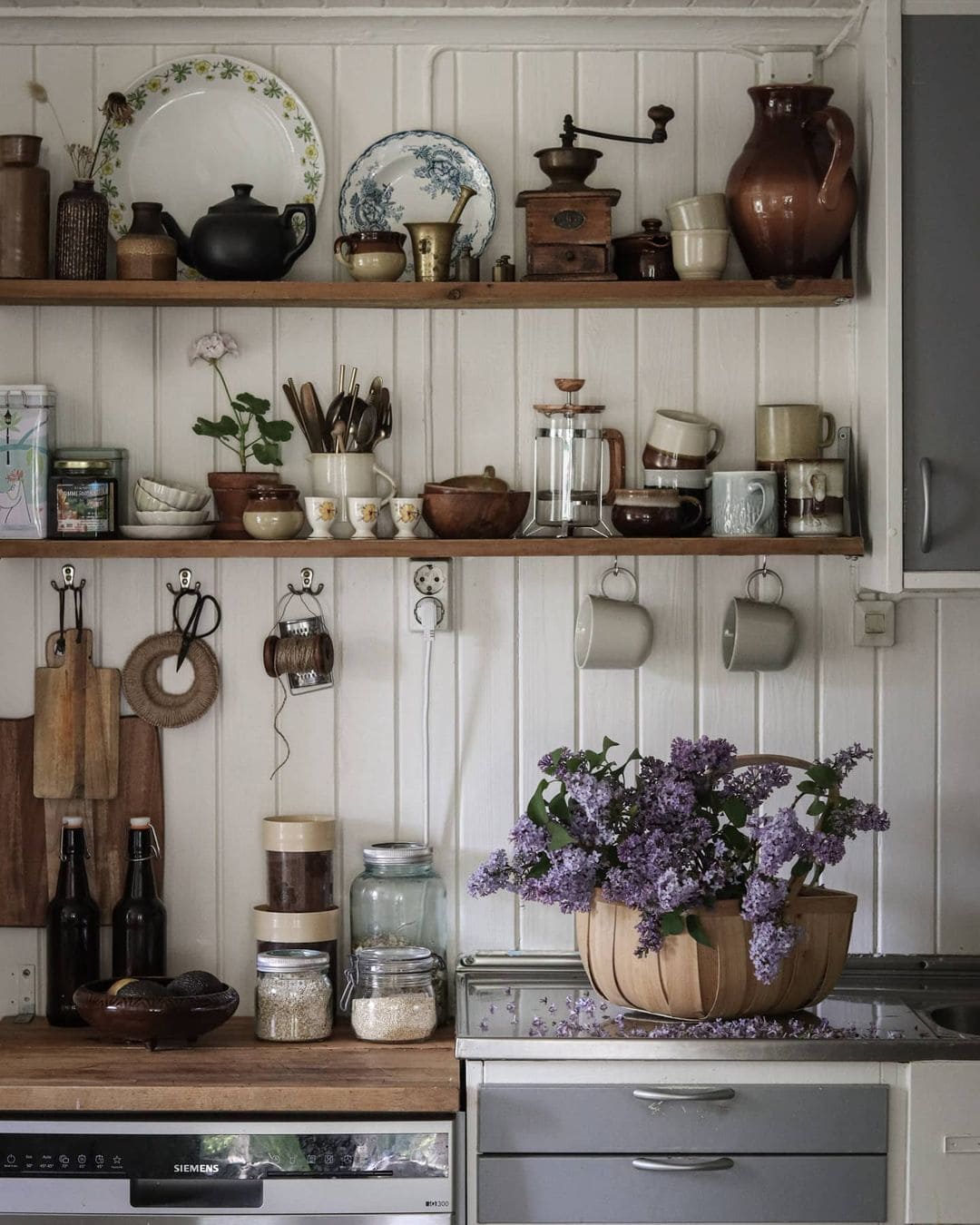 This charming farmhouse-style kitchen open shelf display is backed by a pristine white wooden plank wall. The pair of rustic wooden shelves hold a lavish display of vintage plates, pottery, an antique coffee grinder, teapots, egg coddlers and many other decorative items. A display of coffee mugs continues with hanging cups beneath the lower shelf.
46. Rustic Blends with Shabby Chic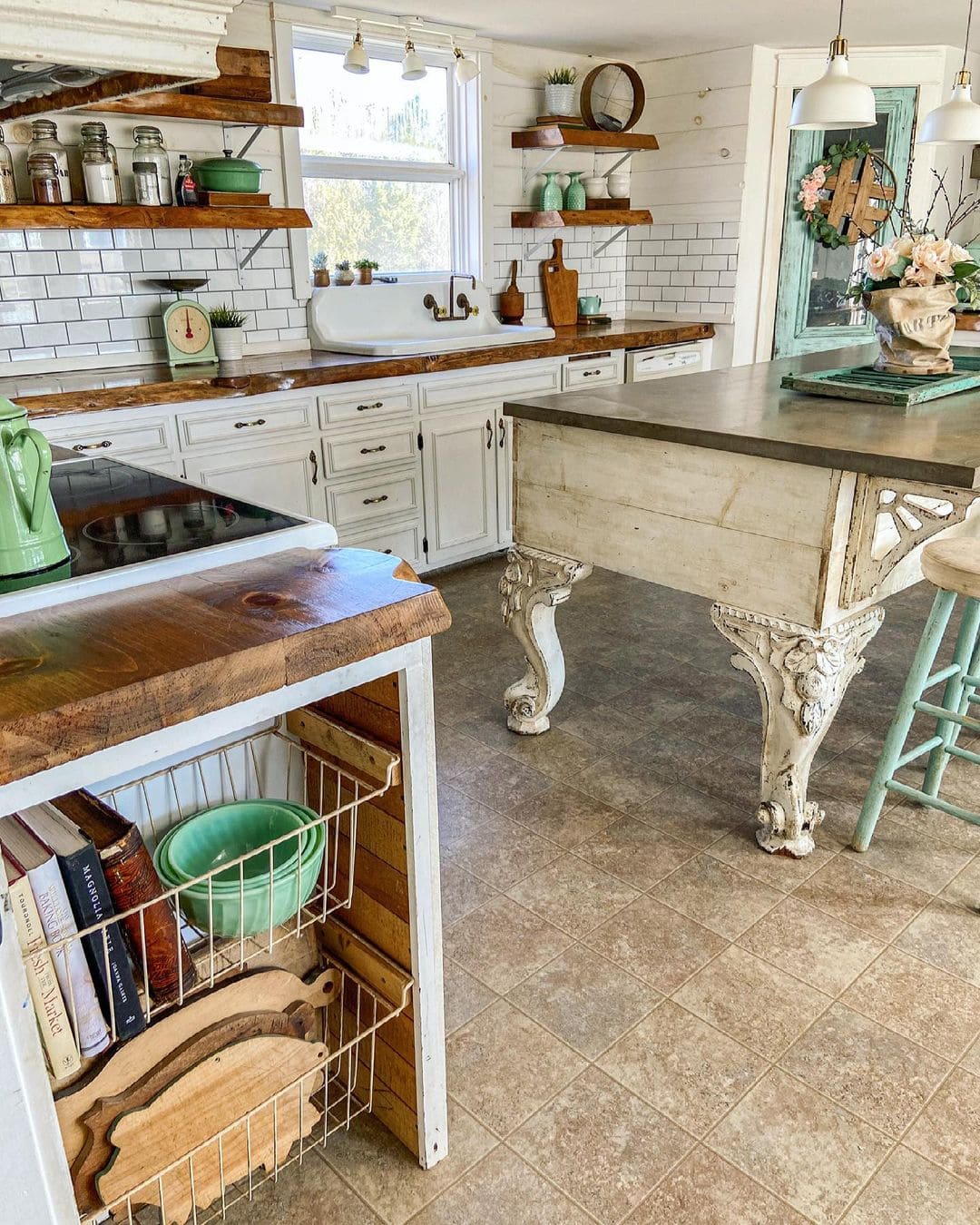 This colorful kitchen design includes rustic butcher block countertops, vintage white cabinetry and retro floor tiles. The vintage style appears again in the pitchers and pots and jars exhibited on worn wooden open wall shelving. The white wall tiles and undressed window add to the rustic style of this interior. The large, heavy and ornate distressed white central kitchen table with flowers is a great example of a shabby chic accent.
47. Light and Bright Decor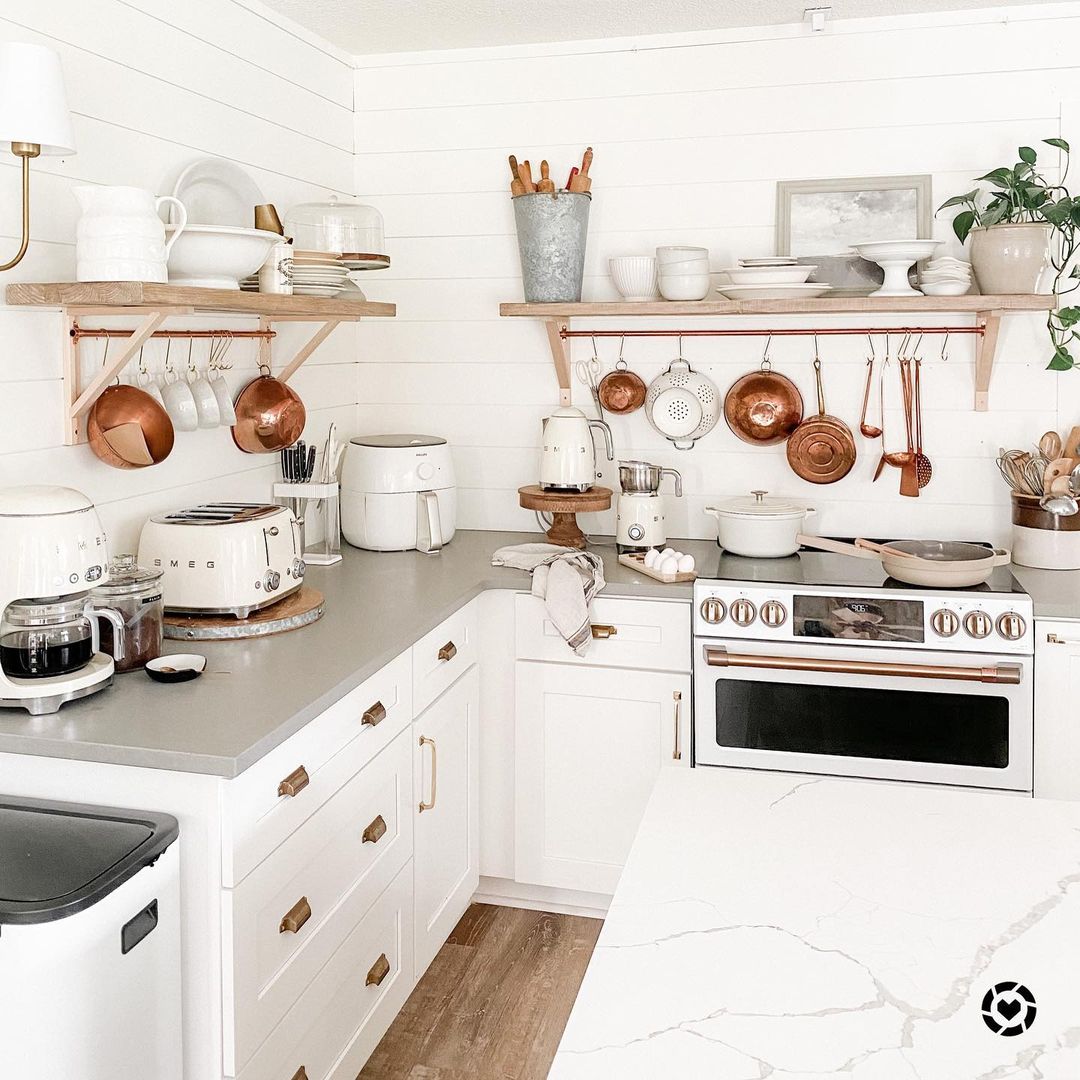 This pleasing light, bright kitchen decor has elements that were popular a few years ago. The white appliances, older brass cabinetry hardware and monotone gray stone countertops were all the rage then. They also add classic modern style to kitchen interiors today. The basic open wooden shelves display colorful hanging copper pots and pans on a rod beneath and plenty of recent retro pottery items on the shelf surfaces.
48. Stunning Shelf Decor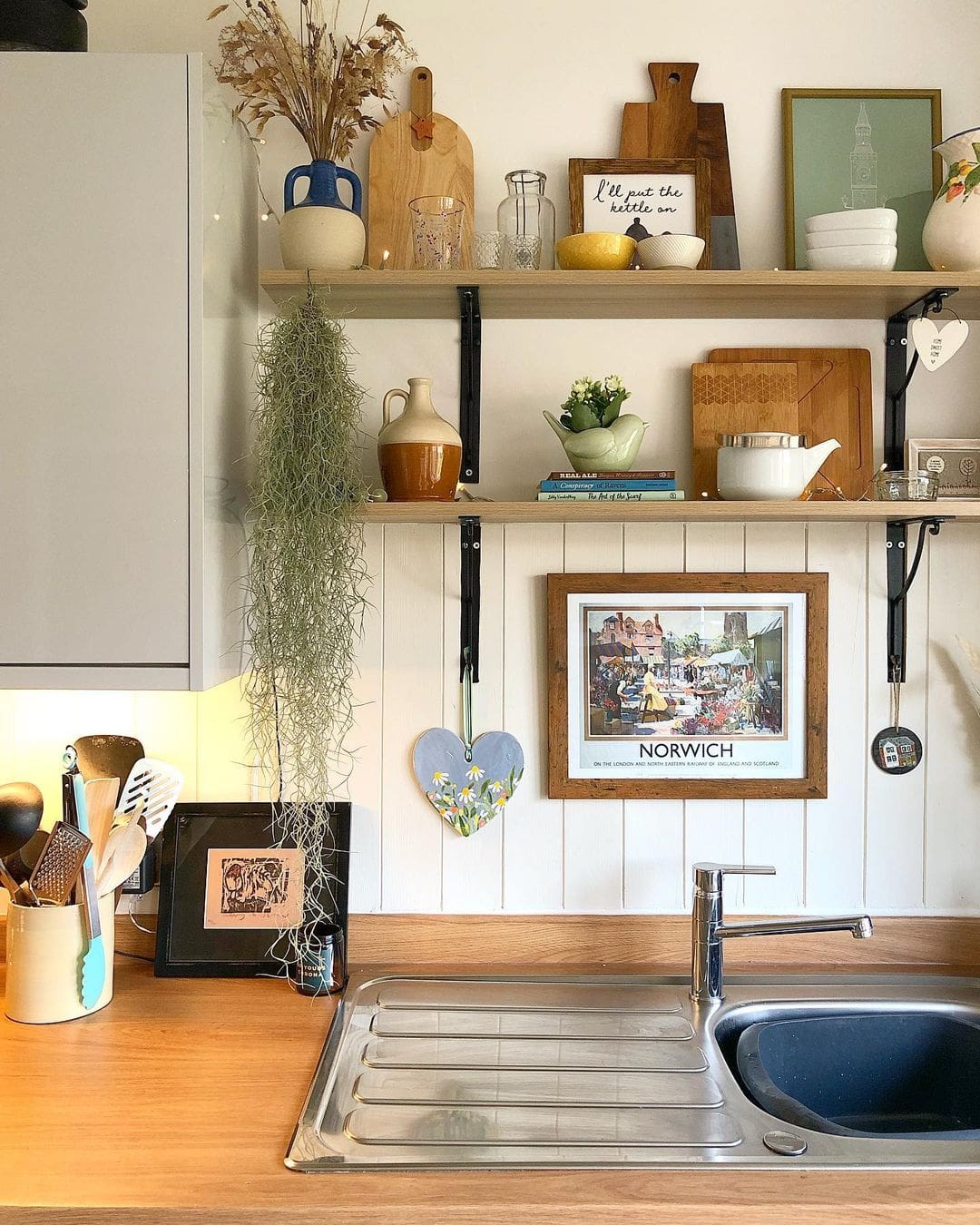 These handsome wooden open shelves above a white tile wall offer a simple yet stunning display of kitchen decor, including pottery, wooden items and plants. A framed sign and other items spark the viewer's interest. A hanging fern and decorative heart add charm and personality to this kitchen wall display.
49.Sleek Modern Barn Style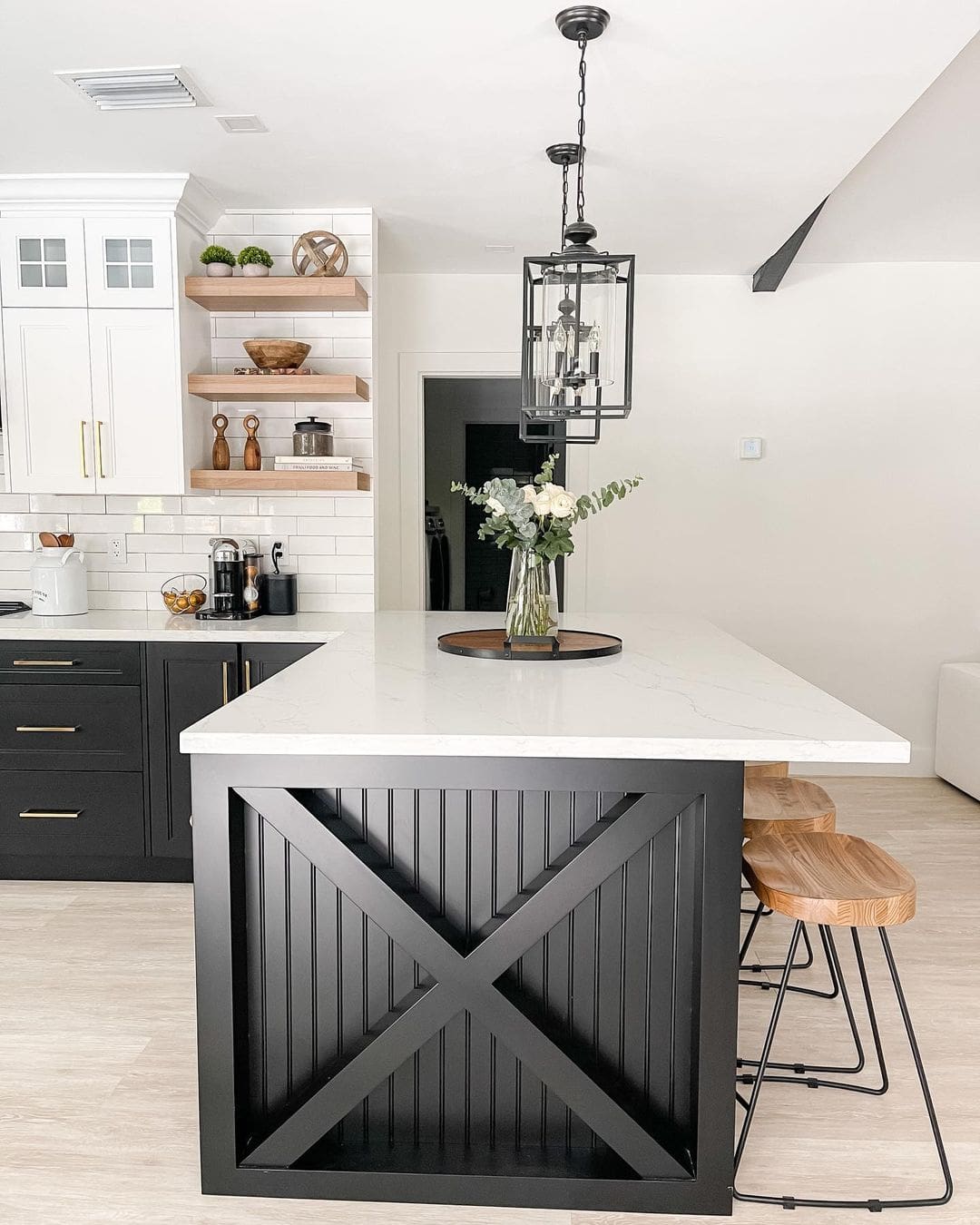 This sleek modern barn-style kitchen offers pristine white walls, cabinetry and countertops. The stunning kitchen island features a matching white countertop and a dark gray wooden structure with cross-beams that are so common in barn-style decor. Natural wood shelving displays attractive pottery and other effects.
50. Boho Cottage Combo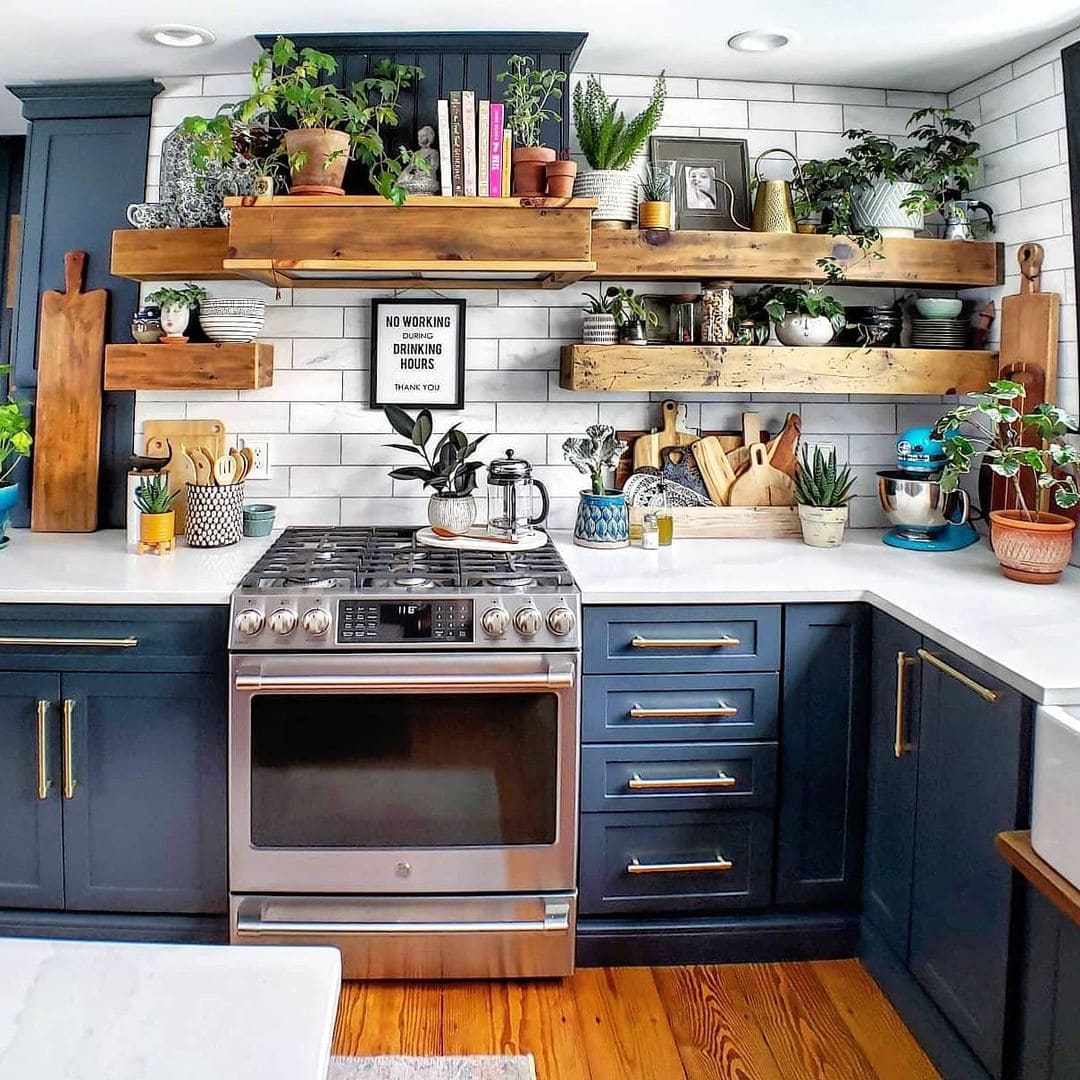 This colorful and busy kitchen decor combines the best of boho and country cottage decor. The white wall tiling and sleek countertops all country brightness, and the deep blue cabinets and cupboard are pure boho in design. The rustic wooden shelves offer most every king of kitchen decor imaginable.