It can be quite the task to find a high-quality sleeper chair or sofa bed for your home – even worse if you don't know where to begin. But fear not, as we've hand-picked 10 of the best comfortable sleeper chairs, perfect for you and your home.
Our best overall pick is the Vonanda. It's a high-quality sofa bed with one of the best sleeper designs we've seen in a while. We consider a lot of its features a 'must-have' for comfortable sleeper chairs in the home, guaranteeing to put a smile on your face at the end of a busy day.
In This Article We'll Discuss
10 Most Comfortable Sleeper Chairs
---
10 Most Comfortable Sleeper Chairs
Best Overall
Product Details:
Materials: Linen Upholstery, Metal Frame, Foam Filling
Colors: Chocolate Brown, Dark Gray, Denim Blue, Light Brown, Mustard Yellow, Velvet Black, Velvet Black Berry, Velvet Gray, and Velvet Salmon Pink
Dimensions:

(ottoman dimensions) 27" L x 37" W x 17" H
(bed dimensions) 74" L x 37" W x 17" H
A discreetly designed sofa bed with a wide range of features, the Vonanda is our top pick for a comfortable sleeper for your home.
The Vonanda Sofa Bed is incredibly versatile. It can change into an ottoman, a lounger, a sofa, and even a bed. Its versatility can be quite surprising at first glance due to its relatively modest design.
However, that unobtrusive appearance is a part of Vonanda's charm as its understated aesthetic can blend into any living room style. If you want your Vonanda to stand out in your living room, you can choose one of the more vibrant color choices it comes in.
Much care and attention were put into the Vonanda's construction, making sure that its frame is solid while its futon mattress has ample softness. This makes it perfect for relaxing during the day or for sleeping.
It's able to hold a maximum of 440-pounds, which is pretty remarkable. The well-built frame guarantees your safety while ensuring the sofa will last for many years to come.
And despite its overbuilt frame, the Vonanda's backrest has five levels of adjustability, letting you recline it to your desired angle.
Overall, the Vonanda is one of the best sofa beds in this review. The only thing that the Vonanda could improve upon would be to replace its standard foam filling with memory foam.
---
Best for Small Spaces
Product Details:
Materials: Fabric Upholstery, Metal Frame, Foam Filling
Colors: Beige, Blue, Gray, and Taupe
Dimensions: 77.25″ L x 28.5″ W x 16.5″ H
Another ottoman with a twist! Convenience Concepts shows their own take on a convertible ottoman, perfect for small spaces.
The Convenience Concepts Folding Bed Ottoman, at first glance, is just a regular Ottoman. However, the real marvel of this convertible sofa lies within.
First things first, this sofa is ideal for small spaces. In fact, it's probably the most compact convertible sleeper we have ever seen.
Not only that, but it's also a great spare bed in case you have an extra guest stay the night. And don't worry about comfort as Convenience Concepts has focused heavily on user experience, using high-quality soft fabric that's foam-filled to give their sleeper chair ample softness.
Just like with the Vonanda, the Convenience Concepts has a discreet design. The difference, though, is that it hides much of its steel frame in a buttoned slipcover. Upon removing the slipcover, you can fold out the sleeper chair into its single-bed shape.
It may look flimsy at first glance, but taking a closer look, you will notice that the sleeper chair is built sturdily with a metal frame and a wire mesh, helping its durability.
And taking a step back to comment on its modest design, the Convenience Concepts Ottoman is a perfect complement to any living room furniture you already have.
---
Best for Nursery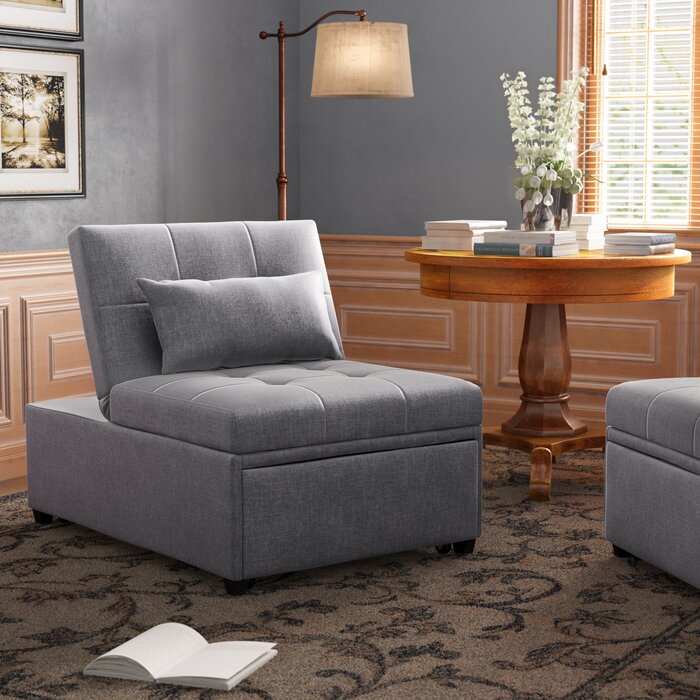 Product Details:
Materials: 100% Polyester Upholstery, Foam Filling, Metal Frame
Colors: Gray, Blue, Cream, and Teal
Dimensions:

(chair dimensions) 43" L x 31" W x 36" H
(bed dimensions) 74" L x 31" W x 18" H
The Ayoub is a comfortable sofa bed with an easy and safe fold-out design. It's the perfect convertible chair for a nursery.
The Ayoub is a product from Red Barrel Studio, which we know makes quality furniture as we have covered many of their items in previous articles. Their workmanship shines through in both the Ayoub's durability and design.
Built with a sturdy metal frame covered by polyester upholstery, the Ayoub prides itself in its angular and clean appearance. Its design serves to make it look visually attractive and as a way to subtly hide the folding drawer that turns it into a sleeper.
The Polyester upholstery is just one of the reasons we think this sofa is great for a nursery. Polyester boasts hypoallergenic properties as well as being easy to clean, perfect for young ones.
As a sleeper, its foldable half blends almost seamlessly with the rest of the mattress. And with its five adjustable levels on its backrest that you can fully recline, the Ayoub is designed not just as accent furniture but also a comfortable sleeper to boot.
When it comes to converting, the Ayoub is simple to transform into a sleeper. That is because it features wheels that allow for the smooth rollout of the hidden draw.
Its metal snaps are also another thing to note as it can hold up to 300-pounds, guaranteeing the safety of your loved ones while they're on the Ayoub.
And as a final touch, the Ayoub comes with a single toss pillow to add to its comfortability.
---
Best for Elderly
Product Details:
Materials: Linen Fabric Upholstery, High-density Foam Filling, Steel Frame
Colors: Light Gray, Navy, and Yellow
Dimensions:

(chair dimensions) 37.4" L x 46.85" W x 32.09" H
(sofa dimensions) 74" L x 37.4" W x 16.93"
The Esright Sofa Bed is a quality convertible that will surely earn you some brownie points from grandma or grandpa.
Design-wise, the Esright is similar to the Ayoub. The critical difference is that the Esright comes with comfortable armrests.
And in our opinion, the Esright Sofa Bed has a more attractive design than the Ayoub. It blends a lot easier in living spaces with its armchair appearance. Like the Ayoub, the Esright even has front wheels on its frame, which allows the sliding bed to be easily pulled out.
The Esright's metal frame can hold up 330-pounds, thanks to its use of premium, high-quality materials. With three adjustable recline levels, the Esright is perfect for reading a book, watching TV, or lazy weekend naps.
The Esright uses a breathable fabric upholstery padded with high-density foam to give it ample support without sacrificing softness. It's an excellent convertible chair for older folks who are looking for a comfortable place to sit and relax on.
---
Best for RV
Product Details:
Materials: Semi-Matte Metal Framework, Steel Frame, Imitation Cotton Filling, Sponge Padding, Linen Fabric Upholstery
Colors: Dark Blue, Dark Gray, Deep Brown, Deep Gray, Light Blue, Light Brown, Light Gray, Misty Gray, Navy Blue, and Rustic Brown
Dimensions:

(ottoman dimensions) 37" L x 27" W x 16" H
(chair dimensions) 37" L x 46" W x 32" H
(bed dimensions) 74" L x 27" W x 16" H
For those on the road and are looking for a comfortable sofa bed to relax on, then look no further than in the Diophros.
The Diophros is a convertible ottoman that doubles both as a lounger and a bed. A multipurpose piece of furniture which is ideal for areas lacking in space, such as an RV or motorhome.
The Diophros has an easy to remove linen fabric upholstery, meaning cleaning it won't be a challenging task. The lines on the upholstery aren't tufting, but rather they're just stereo lines made by embroidering the upholstery. The embroidering is purely aesthetic, which can add a stylish flair to your motor home.
The thick, high-density foam padding of the Diophros is to ensures comfort on a daily basis. The foam provides you with ample support and comfortability, especially on long travels. And with its adjustable backrest, which is adjustable to three positions, you will surely find the perfect position to relax on with the Diophros.
---
Best for Dorm
Product Details:
Materials: Steel Frame, Fabric Upholstery, Foam Filling
Colors: Blue, Red, and White
Dimensions: 22″ L x 28″ W x 30″ H
The Giantex is a comfortably soft floor chair that is a perfect fit for any dorm room, thanks to its compact design and accessible price point.
Right off the bat, you will notice that the Giantex comes with extra padding on its cushions. The generous padding serves to add more support and comfortability so that you can spend days lazing on the Giantex floor chair.
And if you feel that the seat is a little too high for you, you can always remove and set aside the cushion. Giantex thoughtfully designed its floor chair to be able to seat people of all shapes and sizes.
This might come as a surprise because of the Giantex's overall soft appearance, but it actually has a frame – a solid and durable reinforced steel frame that Giantex guarantees will last for a long time without warping or damaging. This reinforced steel frame also gives the Giantex its five adjustable levels that let you recline the backrest for complete comfort.
The Giantex also has one other feature that adds to its comfortability, and that is the massage pillow it comes with. This toss pillow has two points of contact and will give your back a decent massage as you relax with your favorite book.
---
Best for Adults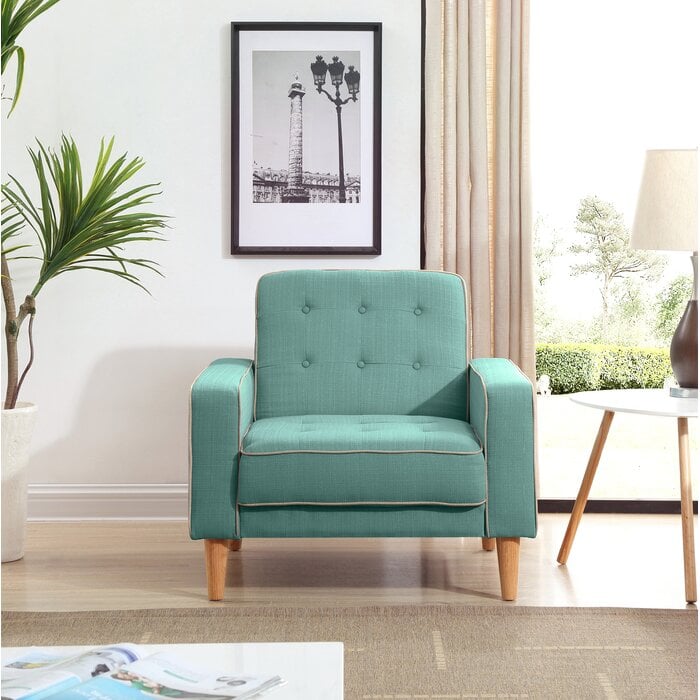 Product Details:
Materials: 100% Polyester Upholstery (or Faux Leather Upholstery), Foam Filling, Sinuous Spring Seat Construction, Oak/Pine Wood Frame and Legs
Colors: (Twill) Gray, Yellow, Teal, and Orange
Colors: (Faux Leather) Gray, Red, Black, and White
Dimensions: 43″ L x 37″ W x 34″ H
If you're looking to furnish your living space with something that boasts comfort and class, then look no further than in the Shayne Convertible Chair.
At first glance, the Shayne convertible chair looks like your regular armchair – and that is just one reason why we love it.
With tufted cushions and embroidered upholstery, we would be lying if we said that the Shayne looked anything but elegant. It boasts a visually attractive mid-century design, perfect for modern homes and living spaces.
Its stylish wooden legs add to its beautiful appearance, as well as making it incredibly durable. However, what is all that if it doesn't deliver on its comfortability. Well, no need to worry as the Shayne is as comfortable as it is elegant.
The Shayne is constructed with a solid wood frame made from either oak or pinewood. The sinuous springs help keep the chair firm and its cushions plump. And on the note of its cushions, they're foam-filled to give the Shayne its luxurious softness.
Finally, you can choose between faux leather or polyester fabric for the upholstery. Regardless of which one you pick, we can guarantee that the Shayne convertible is a quality sleeper chair.
---
Best for Office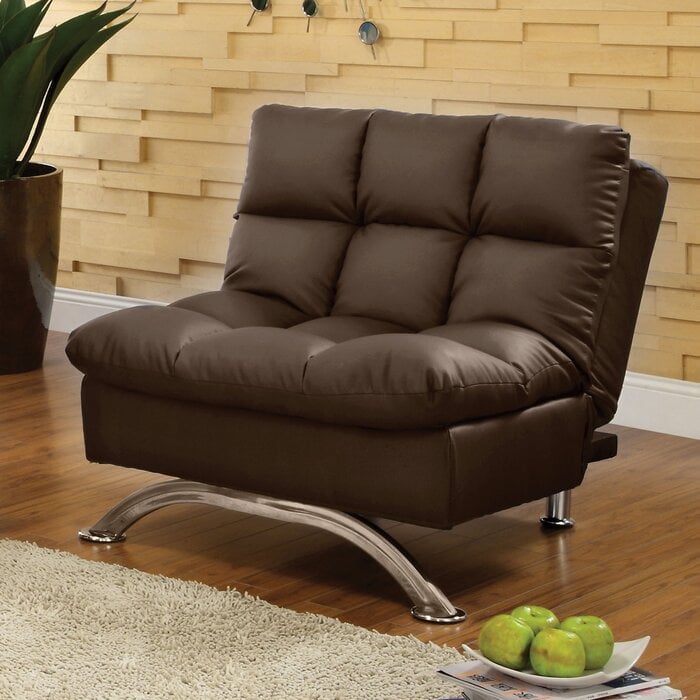 Product Details:
Materials: Faux Leather Upholstery (PU), Foam Filling, Solid Wood Frame (for Reddish Brown color), Metal Frame (for Dark Espresso color), Chrome-colored metal legs
Colors: Dark Espresso and Reddish Brown
Dimensions: 36″ L x 37″ W x 35.5″ H
An excellent sleeper chair for your office. If you are looking for a stylish and comfortable leather sleeper chair, then the Pennock is for you.
The Pennock makes for a great accent piece of furniture for your office as it comes in two lovely colors: dark espresso and reddish-brown. These color choices make it look incredibly professional as well as welcoming. The Pennock also has uniquely designed chrome-colored legs to add to its visually attractive design and give it its strength.
For comfortability, the Pennock's cushion is foam-filled and tufted in a style called a biscuit-back – it's called that way because it looks like one. This biscuit-back cushion style is like that of a futon, which helps the Pennock to recline comfortably.
Overall, the Pennock is a quality piece of furniture for your office – whether it be a home or company office. Most importantly, the Pennock is a comfortable sofa for you and your guests to sit on.
Should you find yourself doing overtime, you can use the Pennock as a place to relax and sneak in some downtime. Its reclining feature helps dial-up its comfort and provides you with a comfortable place to take a breather.
---
Best for Heavy People
Product Details:
Materials: Heavy-Duty Steel Framework, Steel Wire Lattice, High-Density Foam Filling, Quilt Upholstery
Colors: Black
Dimensions: 78″ L x 30″ W x 16″ H
Built to last, the TATAGO is a heavy-duty folding ottoman bed that's perfect for those looking for a sturdy space-saving piece of furniture.
Although it sports the same folding bed ottoman design as the Convenience Concepts, the TATAGO improves upon it by boasting a heavy-duty steel frame with a steel wire mesh. The heavy-duty steel frame gives the TATAGO its 500-pound maximum weight capacity.
The TATAGO's steel wire mesh is to avoid sagging and warping for anyone relaxing on it. It also has a 3-inch high-density foam mattress to ensure maximum comfortability without the mattress losing its shape.
The mattress cover of the TATAGO is made from a comfortable quilted fabric which is also removable in the case that you want to wash it.
Just like with the Convenience Concepts, the TATAGO doubles as a bed and an ottoman – but instead of a buttoned slipcover to hide its frame, the TATAGO instead has a regular cover.
And as a testament to its durability, the TATAGO has a 5-year warranty. So, if you ever run into an issue or something is amiss with your purchase, then you can contact TATAGO for help.
---
Best Wide Design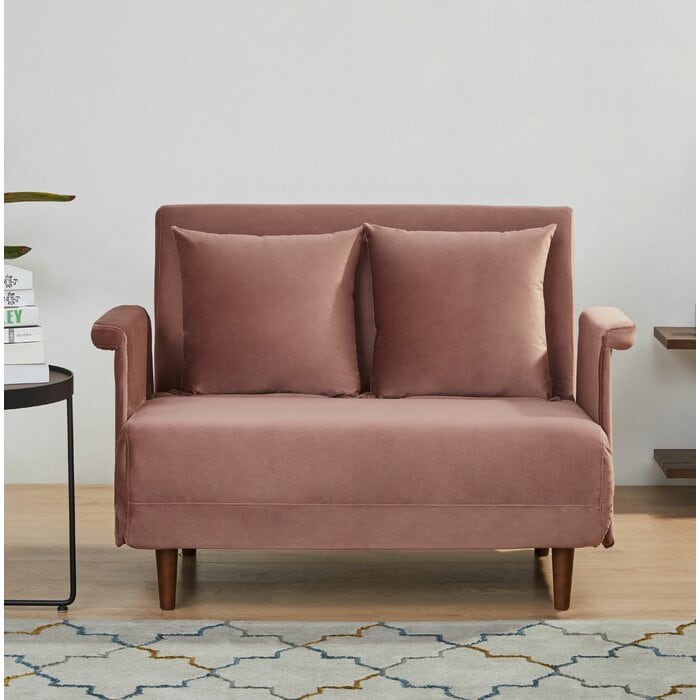 Product Details:
Materials: Soft Velvet Upholstery, Foam Filling, Polyurethane Foam Padding, Polyester Fiber Batting, Solid & Manufactured Pinewood Frame
Colors: Blush, Blue, Gray, and Green
Dimensions: 36.22″ L x 47.64″ W x 32.28″ H
The Stanton Drew convertible chair sports the widest design of any of the sleeper chairs in this review, perfect for bigger folks.
If you're looking for a wide sleeper chair with a modern design, then look no further than in the Stanton Drew. Its appearance is simple and perfect for any modern condo.
The Stanton boasts a ton of luxurious features. Not only can it change into a sleeper, but it is also heavily praised by customers for its comfort. Many love the Stanton as a bed to accommodate overnight guests.
However, one gripe that some people seem to have with the Stanton Drew is how tall its backrest is, which can prove a little uncomfortable, especially to taller folks. A simple solution is just to add a few extra toss pillows to the chair.
We adore the color choices of the Stanton, which are incredibly stylish, further increasing its appeal for modern homes.
---
Buying Guide
---
What to look for in a sleeper chair?
It goes without saying, but comfort should be a top priority. If you're buying online, it can be hard to get an understanding of how comfortable a chair will be, but that is precisely the purpose of this article. We have road-tested some of the best-selling sleeper chairs, so you don't have to.
Outside of comfort, pay attention to design and durability to ensure you get something that looks great as well as being fit for purpose.
What size sleeper chair should you get?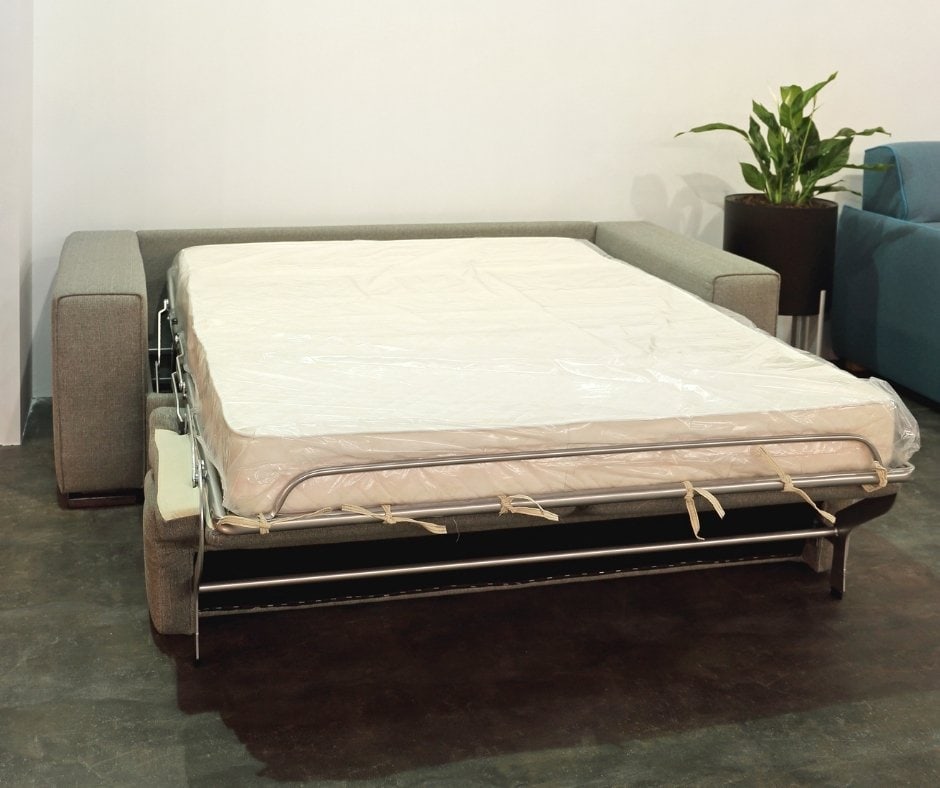 A sleeper chair should comfortably accommodate those who will be using it regularly. For that reason, pay attention to the dimensions of the chair to ensure it can do so.
There is a wide range of choices on the market in all shapes and sizes, so big or small, we are certain you can find a perfectly comfortable sleeper chair.
What style sleeper chair should you buy?
This is entirely a personal choice and will really depend on how much space you have in your home. Our top list of comfortable sleepers is a great place to start if you are unsure what you are looking for.
What are the extra features of sleeper chairs?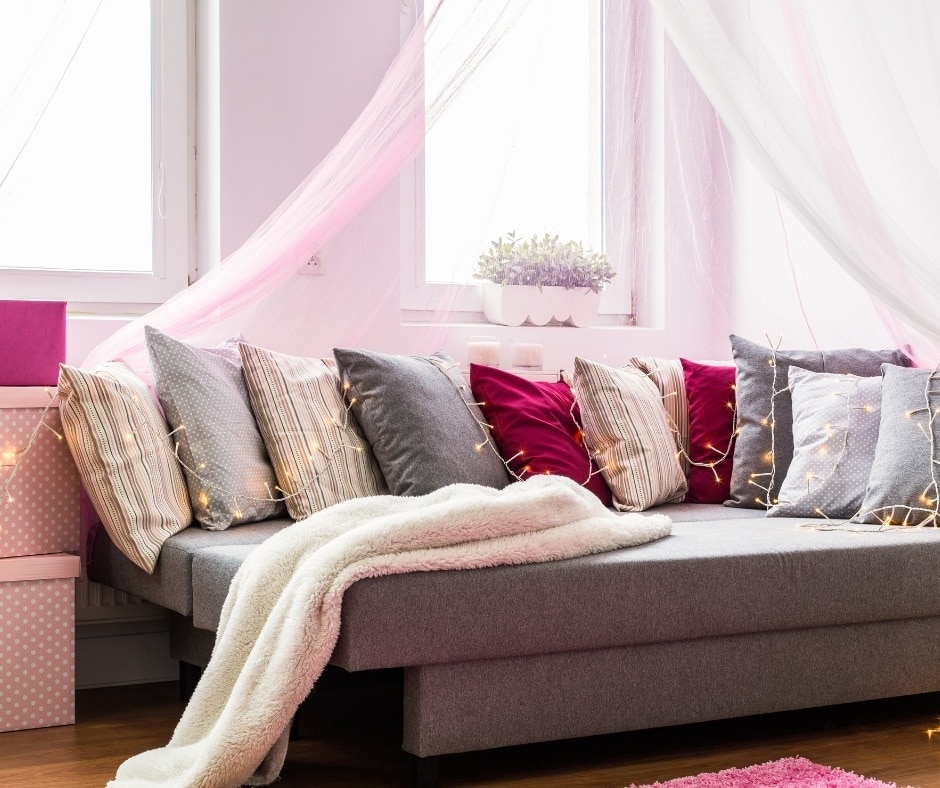 We always add a few toss pillows to our sleepers to make them feel a bit more homely. The most comfortable sleepers offer varied reclining positions, with some even including a massage function for ultimate comfort.
Conclusion
Sleeper chairs are a versatile, space-saving piece of furniture that can help accommodate extra guests or simply provide another place to relax outside of your bed.
The Vonanda Sofa Bed is an amazing folding bed ottoman that ticks all of our boxes when it comes to comfortable sleeper chairs.
However, if you find that the Vonanda Sofa Bed isn't for you, then our alternative pick would be the Shayne Convertible Chair, thanks to its attractive design and indulgent levels of comfort.