Is there such a thing as an uncomfortable recliner? You'd be surprised. This past week we've put the best-selling recliners through their paces to determine who leads the pack.
Perfect for daily use, recliners can be used by the whole family – from the elderly to the expectant mother. Check out our top 12 most comfortable recliner chairs below.
In This Article We'll Discuss
Most Comfortable Recliners Table
[hfe_template id='5973′]
Most Comfortable Recliner Reviews
Best Super Comfortable Recliner Chair
Love sneaking in a quick nap mid-afternoon? This Ashley Yandel model is designed to provide the ultimate relaxing experience.
Made with durable and high-quality foam, the Yandel's cushions provide unparalleled levels of comfort. And it manages this without foregoing support. After all, it has an impressive compression rate of 3 pounds per cubic foot (the standard is only 2.5). Complimenting this is its polyester upholstery, which is just as durable and wear-resistant.
Measuring 35 (W) x 40 (D) x 42.63 (H) inches, it can recline fully to 69.25 inches. Its max weight capacity falls between 250 and 300 pounds.
What we love about this chair is that the Yandel provides features you won't find in other models. For one, it has a power lift feature that allows you to stand with ease. And with its motors that control the footrest, you can assume any position you want.
Design-wise, the Yandel is unique for its 'worn faux leather' appearance. With its rustic appeal, it's sure to go well with any type of interior design.
Most Comfortable Recliner for Seniors and the Elderly
Next up is this beautiful CANMOV recliner! Especially built for seniors, it provides a variety of lounging positions with an assisted standing mode. And while it's made to help you out with getting out of the chair, it won't be easy! After all, it's made with comfy and thick cushions that welcome you after a long and tiring day. You'll be begging for 5 more minutes!
When it's time, the power recliner's lift and tilt feature helps the user to stand safely. The chair is also fitted with anti-skid upholstery. This helps to prevent any unwanted slips and falls when standing.

Measuring 34 (W) x 39 (D) x 41 (H) inches, the CANMOV has an ample full length of 65 inches – though it's not as long as the Yandel. With its sturdy metal frame, it can assume 5 reclining positions and carry a max weight of 300 pounds.
Available in 2 neutral shades, the CANMOV is a beautiful addition to any room. No matter where you put it, it's guaranteed to work well with your existing décor.
Most Comfortable Recliner for a Petite Person
Size matters, but it can be a problem when choosing a recliner. This is specifically true if you're on the shorter side, as it's all too easy to find yourself drowning in a big chair.
This should no longer be a problem with the Oakesdale recliner. Measuring 35.4 (W) x 36.6 (D) x 39.8 (H), it has a weight capacity of 250 pounds. With these specs, petite users can recline comfortably without getting that sinking feeling.
When it comes to durability, this lever-and-handle model comes is supported by a durable iron frame. It's also made with fiberboard that prevents the chair from sagging.
Now, this chair was definitely one of the more comfortable recliners we tested. The reason? Its uber soft cushions. They're sure to keep your back and bum comfy, even after countless hours of lounging. Available in 4 colors, it has a fabric/faux leather upholstery that is very easy to clean.

The Oakesdale offers excellent value for money and comes with a 1-year warranty.
Most Comfortable Recliner with Multiple Features
Grepatio is one of the most feature-packed recliners in the market. For one, this power recliner comes with a handy heated function. This heat provides added support for your back, which is great after a busy day spent on your feet. It also has 5 massage modes that target your back, lumbar, legs, and thighs. With its 3 modes, you can enjoy 15-minute, 30-minute, or 60-minute massage sessions. It also features a built-in USB port and side pockets. This makes it convenient for charging your gadgets while you lounge.
Its outstanding features aside, the Grepatio is lauded by many people as one of the sturdiest in the market. Made with an alloy steel frame, it can handle a max capacity of 300 pounds. It also comes with a 1-year warranty to boot in case of any issues.
Even with its heavy-duty features, the Grepatio promises the utmost comfort and support. It's made with a plush microfiber cushion, which is topped by a soft fabric upholstery. The Grepatio is available in Brown, Celadon, and Gray-Blue.
Most Comfortable Recliner for Big and Tall Men
Measuring 40 (W) x 44 (D) x 48 (H) inches, the Torino Rocker is one of the biggest on this list. It comes with an extra-tall seat back & chair height, as well as whopping 500-pound weight capacity. With these features, it is indeed the most comfortable recliner for big and tall users.
Torino's heavy-duty feature is made possible by its sturdy wooden frame. This is supported by mortise and tenon joints and durable bolt-on arms. The quality construction means this comfortable recliner chair will last a long time – guaranteed!
With its 7-gauge steel recliner mechanism, it is enough to support (and rock) the biggest of users. It even takes a full 79-inch recline, which is almost the same as the length of a king bed! Amazing!
Even with its heavy-duty design, the Torino can add an undeniable flair to any room. Available 10 neutral shades, it is sure to fit within any type of space.
Most Comfortable Recliner with Rocking Features
The ANJ chair is more than just a comfortable recliner chair – it can help to reduce back and arthritic pain as well. With these benefits, it is one of the most useful recliners available. Add to that, it swivels to 360 degrees too!
Measuring a compact 30.3 (W) x 31.4 (D) x 38 (H) inches, it's perfect for smaller places. Despite its space-saving design, it can recline to up to 150 degrees. Surprisingly, it can support up to 300 pounds as well.
As for comfort, the ANJ is made with foam-filled cushions that provide cozy support. It's also covered in polyester fabric, a durable material that can help lengthen the life of the recliner.
The standout feature of course is the rocking function, which makes it ideal for a new parent.
The ANJ rocker, which is available in Smoke Gray and Buff, comes with a 1-year warranty on parts.
Most Comfortable Recliner for the Nursery
Rockers are not only for seniors. In fact, they can be handy for new parents too! If you want some extra help putting your infant to sleep, then the Babyletto Kiwi is your best choice.
Measuring 29 (W) x 39.5 (L) x 39.75 (H) inches, the Kiwi has a weight capacity of 300 pounds. Perfect for mother and baby (or father and baby!)
What's great about this recliner is that it meets strict flammability requirements. This helps you achieve that added peace of mind. Safety features aside, it remains plush with its comfy layers of polyurethane foam. With its soft fabric outer, it makes for easy cleaning of milk/drool and everything else between!
It's also very quiet. It features a soft reclining mechanism, so you don't wake up your baby when lounging.
The Babyletto Kiwi, which comes with a USB port, is available in beautiful neutral shades. While it's best for your nursery – there's nothing stopping you placing it anywhere in the home!
Most Comfortable Recliner with a Modern Touch
Simple, sleek, stylish. These are just some of the words that describe the Homall Recliner Chair. Made with faux leather upholstery, this recliner comes in 6 colors that fit in best with contemporary homes.
Apart from having a modern style, the Homall is known to be compact too. Compared to the petite-friendly Oakesdale chair, it only measures 27.6 (W) x 35.8 (D) x 38.6 (H).
This size explains the push-back recliner's lower weight capacity. Even with its durable steel frame, it can only carry a max of 265 pounds.
Although perfect for the average user, it may not be suitable for heavier guests. If you're on the larger side you may want to look for something with extra support.
The Homall recliner also comes with a unique feature: lumbar massage. This provides a relaxing, spa-like experience after a long day.
Most Comfortable Recliner with a Classic Design
If you want a classic recliner that blends well with your existing decor, then the Anj Elizabeth is best for you. Measuring 35 (W) x 31.9 (D) x 40.6 (H) inches, this push-back recliner supports up to 300 pounds.
The Elizabeth has a tufted back and rolled arms that give it a sophisticated look. The design wouldn't look out of place on recliners double the price! As it is available in 3 neutral colors, you'll definitely be able to find a recliner to suit the style of your living room.
While it's praised for its function, its quality construction is just as impressive. For one, it's made with a sturdy and durable hardwood frame. It also comes with soft yet firm padded cushions, so you could recline like a king (or queen). Even with repeated use, its polyester fabric renders it resistant to wear and tear. It also comes backed by a 1-year guarantee for both the frame and the reclining mechanism.
Most Comfortable Recliner for Sleeping
There's something about taking a nap in front of the TV that's just unbeatable. If you're someone that enjoys catching up on their sleep on a lazy Sunday afternoon, take a look at the Irene motor lift chair.
The Irene can assume an 'infinite' number of positions. You can recline the back from 105 to 180 degrees, while the footrest can go from 90 to 180 degrees. This means you can completely adjust the chair to suit your own level of comfort. And with its high-density foam cushion, it can provide plush support for an entire day's use.
While it's best for sleeping, the Irene recliner is an ideal choice for seniors too. Its smooth and quiet motors provide an effortless lift, which allows the user to stand easily.
Measuring 31 (W) x 36 (D) x 42 (H) inches, the Irene comes in 7 colors. It has an average weight capacity of 300 pounds, which is supported by a CARB-compliant wood frame. The Irene comes with a warranty that is better than most. It comes with an extended 3-year policy for its frame and reclining mechanism.
Most Comfortable Recliner for your RV
Measuring 28 (W) x 25.5 (D) x 38 (H) inches, the RecPro Charles is one of the most compact models on this list. With a fully extended length of just 52 inches, it is definitely the best choice for RVs and tight spots.
Despite its small size, the Charles is big in quality. For one, it can handle a max capacity of 350 pounds, even though it weighs just 50 pounds itself! This capacity is almost 100 pounds more than the just-as-compact Homall recliner. This durability is drawn from its wood and steel structure, which are both built to last.
While it may not be as plush as the Yandel, it is a real treat to sit on. It also comes with a swivel feature that you won't find in most recliners. Although it's only available in 1 color, its neutral oatmeal shade is a top choice for most decor.
Most Comfortable Recliner for the Bedroom
The Mervynn recliner makes for a stunning addition to your bedroom – and other spaces too!
Coming in an impressive 14 different color choices (the most on this list), it's easy to find something to suit your personal taste. This biggest selling point is that this mid-century fabric chair comes in a compact size of 27.25 (W) x 34.25 (D) x 38.00 (H) inches. This makes it ideal for RVs, tiny homes, and of course, bedrooms!
Despite its slimline design, it packs many strong features. It's made with a wooden frame, which is considered the gold standard for durability. It also has extra padded cushions that provide the utmost comfort for some lazy lounging.
While it does not have heat or massage like the Grepatio, it has all the basic features of a push-back recliner. It's very affordable too, which makes it perfect for those on strict budgets!
Most Comfortable Heavy-Duty Recliner
Lane Home's 4501-190 model, simply put, is built to last. This is due to its high-quality construction. It's made with a hardwood frame supported by mortise & tenon joints. This means it can carry up to 500-pounds with relative ease.

Measuring 44 (W) x 40 (D) x 48 (H) inches, the 4501-190 is a little bulky at 166 pounds. Although this means transport can be tricky, its weight is one of the reasons behind its superior durability.

Despite its sturdiness, the recliner provides a welcoming experience at the end of a busy day. With its C3 pocket coil seating, you're assured of comfort and plushness. You may need to spend a month or two breaking it in before its true comfort is revealed!

The model comes in a choice of 9 shades. All color choices are on the darker side, which is great for hiding and rogue stains
The Most Comfortable Recliners Buying Guide
What Is Important To Consider When Buying A Comfortable Recliner?
There are several things to keep in mind when hunting for the best recliner chair.
The first factor is space or where you plan on putting the recliner. If you have a small living room, you need to know the measurement of the chair when fully reclined, to ensure it fits. For such spaces, compact styles such as the RecPro Charles work best.
The next thing to consider is your size. When seated, your head should be nestled well on the headrest. Your feet should touch the floor comfortably.
From here, you could pick from the different types of recliners:
Push-back Recliner. Models such as the Homall recliner do not use any type of lever or control. To operate the recline function, you need to push yourself back while you hold on to the recliner's arms.
Lever and Handle Recliner Chair. As the name suggests, these chairs come with a lever or handle that you need to activate to recline. A good example of this is the Oakesdale recliner.
Power Recliner. An automated chair, such as the Babyletto Kiwi, can recline smoothly with a push of the button.
Lift Recliner. Some models can help the user to stand from the chair. These recliners are especially useful for those with mobility issues.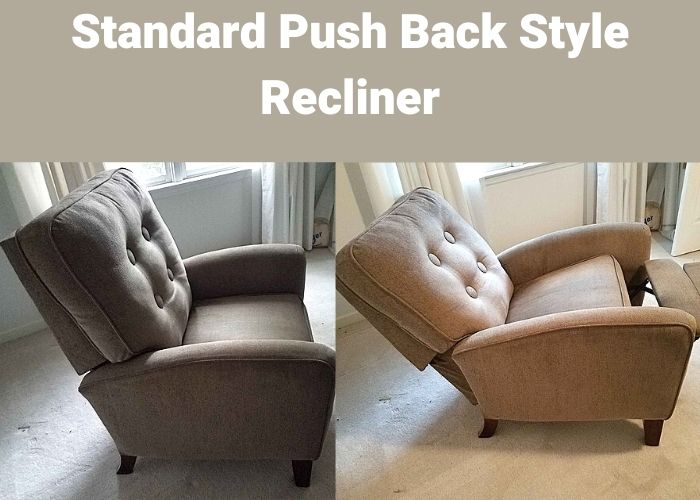 The most comfortable recliner should be made with the right materials. Opt for plush padding, such as that found in the Yandel Power Lift. Another excellent yet cheap consideration is high-density foam. Both of these materials can maintain their shapes even with prolonged use. Don't forget, while genuine leather may be best, it's also very expensive. Alternatives such as PU leather are more budget-friendly.
Apart from comfort, make sure to check the recliner's durability. It should be made with a wooden frame and a high-quality steel mechanism. If you're placing it somewhere such as a child's nursery, look for a chair with noiseless motors.
What About Extra Features?
How about adding some luxurious touches to your recliner?
Some models, such as the Torino double, also function as rocking chairs. Other products such as the Grepatio come with heat and/or massage. Recliners such as the ANJ chair can swivel to 360 degrees.
When all has been said and done, don't forget the recliner's aesthetics. Make sure to pick a style/color that fits your living room. If you can't seem to decide, a recliner in a neutral color (such as the Irene lift chair) remains to be the best choice.
What Is The Most Comfortable Recliner Chair?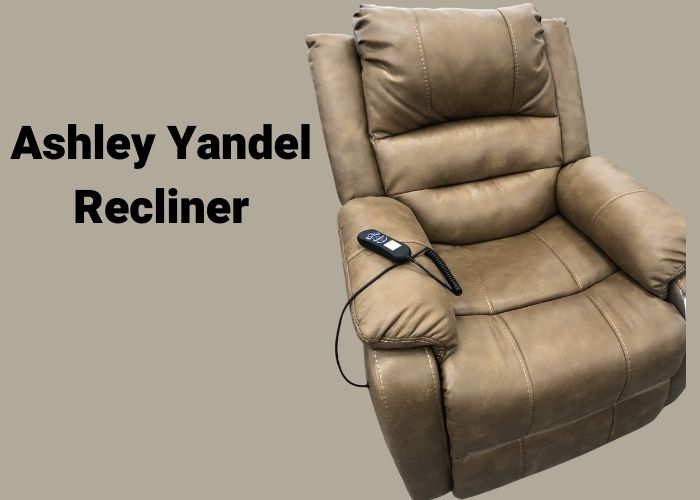 Comfort is a very subjective opinion and will depend on your needs and preferences. If you plan on using it all day, then you should pick a chair made with high-resilience foam. Recliners such as the Ashley Yandel recliner provide extra bounce and a quick return.
If you are big or tall, then you need a recliner that's made explicitly for your build. The best example of this is the Torino Rocker.
For increased comfort, maybe you'll want to consider extra features such as cup holders or USB ports. The Grepatio recliner is a massage recliner chair, while the ANJ swivel and rocks too.
If you are a senior or one with mobility issues, a lift recliner such as the CANMOV will greatly assist you.
How Do You Make A Recliner More Comfortable?
Looking to make your recliner more comfortable? Here are some hacks that can help:
If you have a zippered cushion, you can rejuvenate them by adding foam inserts. Simply unzip and pack in the foam to add extra comfort.
Place a memory foam topper on your seat cushion.
Use an external pillow for lumbar support.
If the cushion starts to sag, consider adding a wooden support panel underneath.
Install armrest pads.
Use a footrest if your recliner doesn't come with it.
What Is The Most Cushioned And Comfortable Recliner For A Senior Who Sits All Day?
The CANMOV chair is the most comfortable recliner for elderly users. It's made with thick and comfy cushions and a covering that does not skid. This is especially important when using its power lift feature as you don't have to worry about the user sliding off as he/she stands.
How Do You Pick A Recliner Based On Height?
Taking some measurements before you buy can seem a bit overkill, but it really does help! Trust us.
First, you need to take the following body measurements:
Elbow to the end of your palm
Width (right to left hip)
Back of your knee to your heel
Tailbone to the back of your knee
Now that you have these, take note of these pointers when shopping:
When seated, there should be no gap from your tailbone to your lower back.
The distance between your tailbone and the back of your knees should be equal to the length of the seat cushion.
The armrest's measurement should be equal to your entire arm length (elbow to hand).
The width of the chair should allow a 1-inch gap between the armrest and your hips. When seated, your feet should be able to rest on the floor.
When reclined, your heels should be comfortably placed on the footrest. It should not dangle or be stopped in the middle.
When buying a recliner for tall users such as the Torino Rocker, the top of your head should not be over the chair. If you can't test the chair for yourself, measure the top of your head to your tailbone. This should be your chair's sitting height. Generally speaking, it should be at least 45 when seated and 75 inches when reclined.
How Wide Should A Comfortable Recliner Be For A Heavy Person?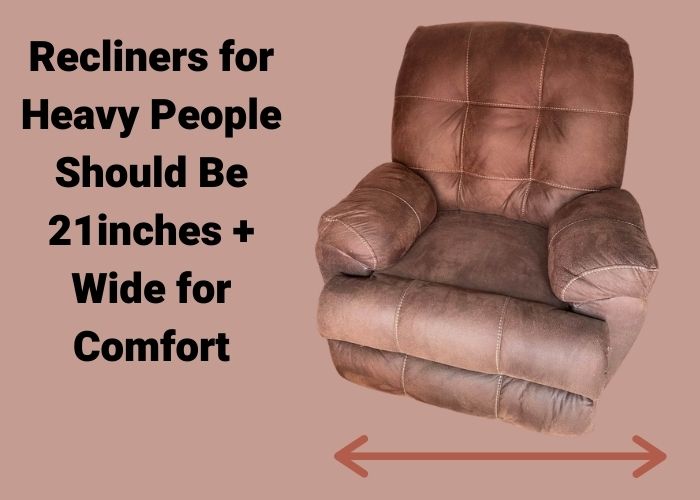 For big users, the recommended seat width should be at least 21 inches – while the height should be at least 18 inches. Considering weight capacity, it should accommodate a weight of 500 pounds. These specs are met by the Torino rocker, which is the most comfortable recliner for big/tall users.
What Are The Most Comfortable Fabrics And Materials For A Recliner?
The high-resiliency foam of the Yandel recliner provides comfort without sagging. As for upholstery, the microfiber Grepatio chair offers protection against dust and spills. Despite this, it remains plush even with repeated use.
Wrapping Up the Most Comfortable Recliner Reviews
Recliners provide the best comfort for lounging – and sleeping too. The best way for you to enjoy these benefits is to buy the most comfortable recliner, which is the Ashley Yandel. This power lift recliner is made with high-resiliency foam, which provides incredible levels of comfort. It's also visually-pleasing, given its rustic 'worn' leather look.
If you're looking for an 'all-in-one' model, then you should go for the Grepatio recliner. After all, this power recliner comes with heat, massage, even a charging USB port!
[hfe_template id='7376′]