Recliners are great for relaxing in front of the TV and catching up on some missed sleep. But sleeping in a recliner can also have some benefits too. Recliners can help ease your breathing, digestion, and circulation. They can also be a welcome sight for expectant mothers.
While sleeping in a recliner is ideal for people with health concerns, a recliner for sleeping can provide some welcome relief at the end of a busy day.
If you're short on time, the Amazon Ravenna is our overall winner for its unparalleled levels of comfort and superior quality construction. Suffering from back pain? Check out the Bonzy recliner with added lumbar support.
In This Article We'll Discuss
Most Comfortable Recliners for Sleeping Table
[hfe_template id='6143′]
Most Comfortable Recliners for Sleeping Reviews
Best Overall Good Recliner for Sleeping In
If you're looking for a great reclining chair, then you can't go wrong with the Oakesdale. Made of high-quality and durable materials, you're sure to enjoy this recliner for years to come.
Made with a fiberboard and iron frame, it supports 200+ pounds with relative ease. It also comes with comfy cushions, which provide unbeatable levels of back support. The only downside to this push back chair is that it only allows for 2 positions: upright and flat.
Despite this limitation, the Oakesdale stands out with its sleek yet simple design. After all, it comes with a minimalistic look that's sure to fit your living room aesthetic.
Add to that, the Oakesdale sleeping recliner makes everything 'easy.' For one, it has a fabric upholstery that you can clean effortlessly with a soft, dry cloth. The chair is also effortless to assemble and took us under 15 minutes to put together.
To top it all off, the Oakesdale comes with a 1-year limited warranty for added peace of mind.
Dimensions: 35.4″W x 36.6″D x 39.8″H; seat depth: 20.9″D
Weight Capacity: ~250 pounds
Colors: Gray, Buff, Red-Brown, Taupe
Materials: Fiberboard and Iron Frame, Fabric Upholstery
Most Comfortable Sleeping Recliner with Entertainment Features
Are you looking for a recliner that optimizes your entertainment and sleeping needs? Look no further than Seatcraft's Julius chair. With its lighted cupholders and swivel tray, you'll feel as if you're in your favorite theater. It also comes fitted with in-arm storage where you can keep your remote, snacks, and everything in between.
Even with its entertainment features, the Julius is a great sleeping recliner too. For one, it has a powered mechanism that allows you to adjust the chair and the headrest. With its cooling gel memory foam, it molds to your body assisted by your body heat. As such, it gets more and more comfortable as you use it for a longer time.
With its wooden frame, the Julius recliner can accommodate a whopping 400 pounds. This makes it one of the best chairs for big and tall users as well.
And don't worry about spilled drinks and dropped popcorn. One of the best things about this chair is that it's actually very easy to clean. Since it's made with top-grain leather, you can remove stains with a dampened microfiber cloth.
Since the Julius comes in neutral shades, this recliner is sure to fit any living room style.
Dimensions: 41″ W x 41.5″ D x 45″ H
Weight Capacity: 400 pounds
Colors: Black, Brown
Materials: Reinforced Wood Frame, Cool Gel Memory Foam Cushion, Top Grain Leather Upholstery
Best Lift Recliner/Rocker Recliner for the Elderly
Young and older users with mobility issues will highly appreciate the benefits of this lift chair. For one, it has powerful features that can help you recline – and stand – with ease. Simply use the remote control to be carefully lifted to a standing position. Afterward, you can keep the remote in its easy-to-reach side pocket.
As it's made with anti-skid microfiber, you don't need to worry about your grandparents sliding out of the chair. As a bonus, this fabric is very easy to clean too!
This lift chair also brings immense comfort, many thanks to its overstuffed cushions. Despite being plush, it's firm enough to support your back.
The CANMOV reclining chair is also made with an iron frame, excellent but only second-best to Julius' wooden construction. Despite this, it can carry a max weight of 300 pounds. The manufacturer's faith in the building is supported by its 1-year warranty for materials.
Despite its advanced features, this rocker recliner is very easy to assemble. Simply follow the included instructions, and you'll be reclining in no time.
● Dimensions: 39″W x 37″D x 40″H
Weight Capacity: ~300 pounds
Colors: Camel, Chocolate
Materials: Metal Frame, Thick Overstuffed Foam Cushion, Microfiber Upholstery
Best La-Z Boy Recliner for Sleeping
La-Z Boy is known for its wide array of sleeping recliners. If you have a hard time choosing between models, the Calvin recliner chair is one of our favorites. It comes with many features that you won't find in other models.
For one, it's made with a sturdy wooden frame that can carry a max of 500 pounds. This extra capacity is excellent for heavier individuals. Additionally, it's made with premium high-grade foam that provides good back support. It's covered in easy to clean fabric too – of which there are 396 color options to choose from!
These features are just the tip of the iceberg, though.
With its 4-button panel, you can assume many different positions. There's no need for a manual push back as you would the Oakesdale. And once you go back to the upright position, you can go ahead and rock the night away in this recliner.
Should you need to charge your device, you need not leave your chair. All you need to do is plug it in the USB port.
Although it's more expensive than most, the Calvin rocker recliner is genuinely worth the money. With its limited lifetime warranty, you can sleep on this chair without any worries!
Dimensions: 41″ W x 39.5″ D x 41″ H
Weight Capacity: ~500 pounds
Colors: 396 shades
Materials: Wood Frame, High-Grade Foam Cushions, Fabric Upholstery
Best Sleeping Recliner for Big and Tall People
Big and tall guys have more than just their height and weight to consider. They can often suffer from several issues, including sleep apnea and back pain. Fortunately, there's the Lane Home Wallsaver to help them out.
This recliner chair is made with a bunch of excellent features. It's built with a sturdy hardwood frame, which is supported by mortise & tenon joints. This high-quality construction can carry a max capacity of about 500 pounds.
Given its steel reclining mechanism, you can comfortably sleep on your back. Although it's not mechanically-powered like the Calvin recliner, it's straightforward to use. All you need to do is pull the lever to assume a comfortable position.
Despite its heavy-duty features, the Wallsaver offers an extraordinarily comfortable sleeping experience. With its long-lasting 2.2 high resilience foam, it will truly stand the test of time. It also has leather-like suede upholstery, which can help you sleep well.
The downside to this, however, is that you need to clean the surface carefully. Unlike Canmov's microfiber that can be cleaned with water, moisture can discolor suede. As such, this fabric should be cleaned gently with a dry cloth to prevent staining.
Dimensions: 44″ W x 40″ D x 48″ H
Weight Capacity: 500 pounds
Colors: Ash, Blue, Chocolate, Cafe, Dorado Charcoal, Gladiator Charcoal, Lark, Walnut, Blue
Materials: Hardwood Frame, Mortise & Tenon Joints, Steel Reclining Mechanism, 2.2 hr Foam Cushion, Leather-Looking Suede Upholstery
Most Comfortable Power Recliner for Users with Back Pain
If you have back pain or sleep apnea, then sleeping may be a struggle for you. After all, you won't be comfortable sleeping on your back. What if we told you there was a solution to your problem? Meet the Bonzy chair – one of the best recliners for back pain.
The Bonzy recliner chair has a wooden and steel frame that supports your preferred position. It's also made with a high-density cushion and velvet fabric for comfortable sleeping. You can adjust the headrest, waist pillow, and headrest in whatever way you want. With this recliner, you can enjoy a plush, customized experience.
The features of this recliner chair do not stop here, though. It also comes with a wall-saving design, making it the best recliner for a small living room. After all, you only need about a 2-inch clearance for this to recline fully. It's also effortless to assemble, as you can put this chair together in 10 minutes.
Dimensions: 40.6″ W × 36.7″ D × 40.6″ H
Weight Capacity: 300 pounds
Colors: Navy
Materials: Pinewood and steel frame, High-density sponge cushions, Velvet Upholstery
Most Comfortable Recliner Chair for Pregnant Women
While being pregnant is a joy, it can often make life far from comfortable. Sleeping can be an issue, especially as the baby gets bigger. If you find it hard to nap in your usual position, then it's time for you to try a recliner.
The Esright recliner is made with a thick cushion that makes sleeping comfortable. While its iron frame is not as good as the Wallsaver's hardwood, it's very stable. It's sure to stay in place even as you toss and turn repeatedly.
Apart from being one of the best recliners for sleeping, it offers many other features too. It comes with a massage feature, which is available in 2 intensities and 5 controls. With its lumbar heat function, it can help alleviate lower back pain.
It also has a vibration and a rocking feature, as well as a 360-degree swivel function. With these functions, the Esright is genuinely the best recliner for expectant mothers.
Dimensions: 33.5″ W x 35.8″ D x 43.2″ H
Weight Capacity: 300 pounds
Colors: Coffee, Coffee New, Gray, Gray New, PU Leather Black, PU Leather Brown, PU Leather Cream
Materials: Iron Frame, Extra Thick Cushion, Fabric or PU Leather Upholstery
Most Comfortable Recliner for Sleeping Buying Guide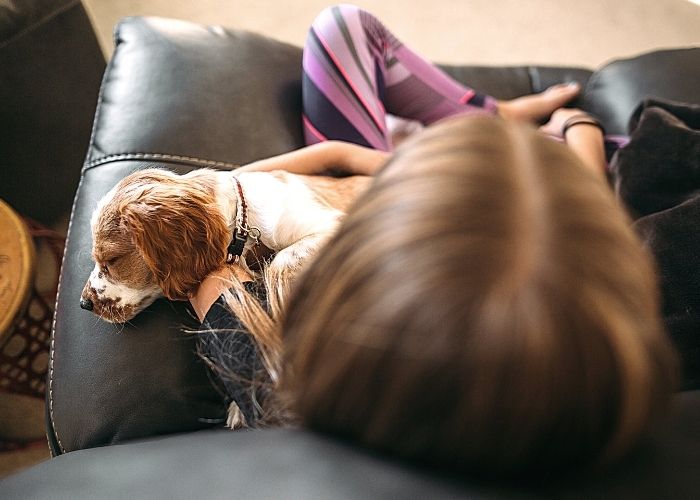 What Are The Pros And Cons Of Sleeping In A Recliner?
A sleeping chair comes with its own set of pros and cons.
Pros
The perfect sleep chair can help relieve neck and back pain. After all, it provides better neck and back support as it decompresses your spine. As you elevate your legs, you can minimize the pressure that triggers neck and back pain.
It can help promote circulation. A fully-reclined chair capitalizes on the wonders of gravity. It places the legs above the heart, which helps reduce various stresses on the body. This, in turn, helps improve circulation. As such, this chair is ideal for those with circulatory problems. It's also suitable for those who just underwent surgery.
A sleeping recliner can help you breathe better. That's because it helps open up your diaphragm. As such, this chair is perfect for those suffering from snoring, sleep apnea, and acid reflux.
It helps improve digestion. Do you find yourself suffering from indigestion? Then you need to try sleeping in a chair. After all, a reclined position allows for the optimum digestion of food. This is incredibly helpful for those who suffer from heartburn or acid reflux.
It's more comfortable for people with certain health issues. People with osteoporosis or osteoarthritis may benefit a lot from a recliner. The reclined position may help them sleep better.
It helps minimize the discomfort that comes with pregnancy. Expecting moms often develop breathing difficulties and acid reflux. They can find relief from these health issues simply by sleeping in a recliner.
Cons
You can only sleep in a limited number of positions. On a recliner, you can only nap on your back or your sides. If you want to assume other positions, then you're better off sleeping on a bed.
You may develop hip or joint contractures. These conditions may take place if you spend a lot of time on a recliner chair.
You may suffer from neck strain. The muscles tend to loosen up when you sleep. As such, you can wake up in an awkward position, especially if you sleep upright on a reclining chair.
You may experience lower back pain. If your chair is incorrectly sized and has a gap between the seat and your back, you may develop lower back pain in the morning. You may avoid this by putting a pillow or a rolled towel in between the space.
You may develop swelling. This is especially the case if you like to sleep on the chair upright. It's hard for the blood to flow upwards, so it pools down in the lower extremities. When this happens, you can end up with swollen legs and ankles.
Sleeping in a Recliner vs. a Bed?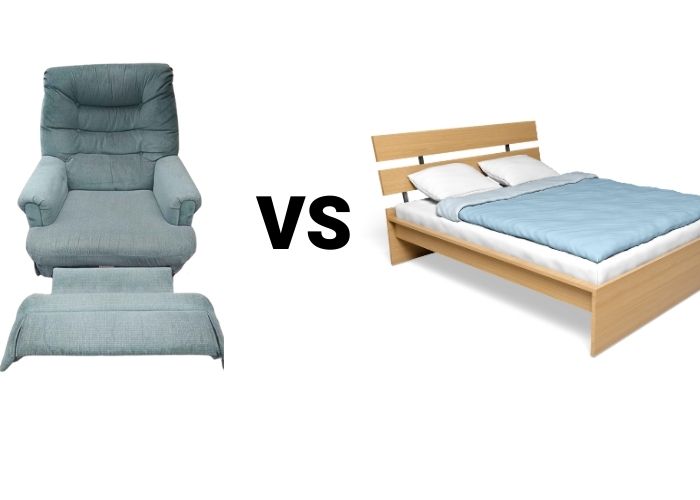 Both have their merits. Compared to a recliner, a bed provides you with an unlimited number of sleeping positions. Both are useful for back pain relief, though, for some, a chair offers more comfort.
The best recliners for sleeping also help improve digestion, circulation, and breathing. They're also more comfortable for pregnant women and individuals with joint problems.
Is Sleeping In A Recliner Bad For You?
According to Drs. Hope Ricciotti and Toni Golen of Harvard, sleeping in a recliner is perfectly safe. However, it's best if you are in a semi or fully reclined position instead of upright. This will help minimize your risk of developing blood clots and leg/ankle swelling. This position may help prevent neck strain as well.
Why Do I Sleep Better In A Recliner Than A Bed?
Simply put, a reclining chair keeps your body upright and your airways open. When you elevate your legs, you also reduce any pressure on your back. This creates an unbeatable level of comfort.
While anybody can use a recliner, it's particularly beneficial for those suffering from the following conditions:
Neck and back pain
Sleep apnea or snoring
Other breathing difficulties
Acid reflux or heartburn
Osteoporosis and osteoarthritis
Swelling and inflammation
Pregnancy-related conditions such as heartburn or difficulty breathing
How To Sleep In A Recliner
If you want to sleep comfortably on a recliner chair, follow this advice:
Avoid sleeping in an upright position. Instead, adjust the chair to a comfortable recline. Between 110 to 130 degrees works best.
Use a pillow if your headrest is a little stiff.
Place a fluffy pillow underneath your neck. This will help minimize your risks of developing neck pain the following morning.
Use your recliner's footrest. If it doesn't have one, make sure to place your feet on a stool, ottoman, or table.
Adjust the room temperature accordingly. Have a couple of blankets ready, so the cold doesn't disrupt your sleep.
If you live in a cold region, a leather upholstery chair is a perfect choice. Leather can keep you nice and warm since it can absorb and preserve heat. However, during the summertime, you need to layer it with a sheet to prevent sweating.
Wear compression socks to prevent blood from pooling in your legs and ankles.
How To Pick A Recliner For Sleeping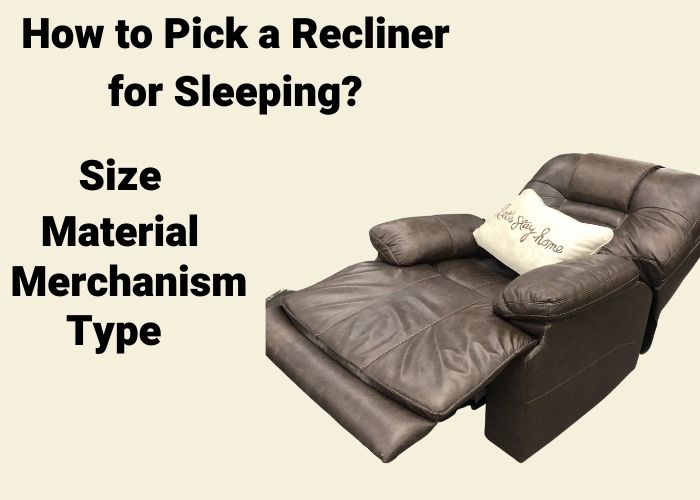 When it comes to picking the best recliner for sleeping, make sure to consider the following:
Size
Size is arguably the most essential factor when it comes to picking the best recliner. The right size will depend on you, the user. As well as comfort, your chair should be able to provide adequate head and leg support.
For tall individuals, the top of your head should not go beyond the recliner back, or else you'll feel uncomfortable. If you can't try the chair, have the distance of the top of your head to your back measured. This will help determine the best sitting height for your needs.
Materials
Hardwood is a superior choice when it comes to the frame. This material is seen in many chairs, including the Wallsaver recliner. It's very stable and sturdy and will last for many years of use.
As for the cushion, we find that the most comfortable material is high-density foam. Seen on the Bonzy recliner, it has a firm surface and doesn't sag easily. It also provides the best back support since it keeps the head, shoulders, and hips aligned.
Another good option is memory foam, which is seen in the Julius home theater chair. It's dense but gets softer according to your body heat. This makes it one of the best recliners for sleeping in warmer climates.
Should you prefer a softer seat, then go for a medium-density foam. It has more 'give' than high-density foam, yet it's more durable than low-density material.
When it comes to upholstery, it's best to go for easy-to-clean fabrics. The ideal option is microfiber, which you can get with the CANMOV lift recliner. Alternatively, PU leather is an excellent choice.
Although expensive, many customers prefer genuine leather upholstery for a classy and timeless aesthetic. If you're working with a bigger budget, you may like Julius' high-quality top grain leather.
Mechanism
A recliner chair can be activated in two ways – manual or assisted. Chairs such as the Oakesdale use a manual 'push back' mechanism to change positions. The advantage of manual recliners is that you don't need to rely on access to power to make full use of their features.
The second type, electric, offers a fuss-free experience. With the push of a button, your chair can assume a reclined position.
Customers favor electric recliners for their ease of use. If you have a little extra cash, we think a chair with an electric mechanism makes the best recliner for sleeping.
Type
A recliner chair comes in a variety of types:
Power lift recliner chair. A lift recliner can help assist the user in assuming a standing position. Perfect for those with mobility issues.
Rocker recliner chair. This chair rests on an arched track that allows it to rock back and forth. With its configuration, it's perfect for seniors and nursing mothers.
Glider recliner chair. It works just like a rocker recliner, but it moves linearly. As such, it moves forward and backward.
Swivel recliner chair. This allows the user to swivel up to 360 degrees (depending on the model).
Wall-hugger recliner chair. Perfect for small spaces, these recliners only require 3-6 inches of wall clearance to recline. This makes models such as the Bonzy recliner ideal for small apartments and RVs.
Extra Features
Recliners come with many additional features that go beyond comfort.
Some come with heat and massage functions, such as the Esright recliner. If your phone is always running out of juice, choose a model that comes with USB ports or extra storage space in the arms or the sides for cables.
If you like watching TV, you may want a chair with cupholders and a built-in tray, like the Julius chair. These features can help to prevent spills and stains.
Wrapping Up The Best Recliners for Sleeping
If you have sleep apnea or back pain, then you need to invest in the Oakesdale recliner. After all, it's made with a comfy cushion and a sturdy fiberboard frame.
Not only is it effortless to assemble, but it comes with a 1-year warranty as well. If you want something more indulgent, then you should choose the Esright recliner.
It comes with heat, massage, and vibration for the ultimate spa-like experience. It also comes with rocking and swivel features. While it's a favorite amongst pregnant women, it can be used by anyone.
[hfe_template id='7376′]