A click clack (aka klick klack) sofa bed is a revolutionary piece of furniture for the home. This is especially the case if you have limited space.
Having a versatile couch that does the job of a bed at the same time is very useful – especially if you love having sleepovers. What is otherwise a stylish couch by day, becomes a comfy bed by night, in just a few steps (or clicks!)
If you don't have the time to read our in-depth review and want to cut to the chase, then opt for the Novogratz Brittany or AicHuang sleeper. In our opinion, these two sofa beds represent a perfect balance of price and comfort.
Otherwise, sit back, relax, and check out our full analysis of the best click clack sofas your hard-earned cash can buy.
In This Article We'll Discuss
Most Comfortable Click Sofa Sofa Beds Table
[hfe_template id='6025′]
Most Comfortable Click Clack Sofa Beds Reviews
Most Comfortable and Best Overall Click Clack Sofa Bed
If you're looking for a sofa that makes for comfy sitting by day and sleeping by night, then this futon is perfect. Its cushions are stuffed with uber-cozy polyester and foam filling, which make it soft yet durable.
Its solid construction consisting of a hardwood frame and legs means it's sufficiently sturdy to support a maximum weight of 600 pounds. While it may be shorter than a typical twin bed, it's a touch wider. This makes for a restful sleep for a single adult – or up to 2 kids.
With its elegant linen upholstery cover, it's highly resistant to wear and tear. Cleaning is also a simple task, as all that's required is a damp cloth to clean up any spills.
This sofa ticked all our boxes for comfort, durability, and ease of transforming into a bed (which is very important late at night!). For that reason, we awarded the Novogratz Brittany the best overall option on our list.
Material: Polyester and foam filling cushions, Linen upholstery
Frame: Wood
Dimensions: Futon – 81.5″L x 34.5″D x 31.5″H, Sleeper – 70.5"L x 43.5"W x 16"H
Color options: Navy Blue, Green, Gray, Mustard, Dark Gray, Light Blue, Light Gray, Orange, Pink
Weight Limit: 600 pounds
Best Affordable Comfortable Click Clack Sofa Bed
Working with a limited budget or simply don't want to spend a ton of your hard-earned cash on new furniture? Your best bet is the DHP Emily futon. With its modern design and eye-catching aesthetic, we couldn't pass up the opportunity to put this couch through its paces.
Made with a Chrome frame, this sofa bed is incredibly durable. After all, chrome is a metal that is less likely to oxidize and corrode. While it may not be as strong as a wooden frame, it's can still match Brittany's capacity of 600 pounds.
Comfort-wise, this click clack sofa bed comes with polyester and foam cushions. It's plush yet firm enough for constant lounging and catnapping. Our testers couldn't believe how affordable the sofa was when they told them. Many even mentioned that they would pick one up for their spare room.
As for the design, the DHP Emily futon is available in various upholstery options. You can choose from luxurious velvet, easy-to-clean linen, and scratch-resistant faux leather.
Material: Polyester and foam filling cushions, Linen/velvet/faux leather upholstery
Frame: Chrome
Dimensions: Futon – 71"L x 34" D x 32" H, Sleeper – 71"L x 49" W x 16" H
Color options: Gray Linen, Burgundy Velvet, Black Faux Leather, Gray Velvet, Green Velvet, Navy Linen, Pink Velvet, Vanilla Faux Leather
Weight Limit: 600 pounds
Best Click Clack Sofa Bed with Storage
If you're living in a small apartment, you need to grab every opportunity to maximize your space. That's probably one of the reasons you're looking at sofa beds in the first place! But if you want to go beyond just lounging or sleeping, then the Beyan Boston futon can help go one step further.
Complete with roomy storage space underneath the sofa, it's perfect for storing toys, books, and other knick-knacks you have lying around. You can even use it to store the 2 complimentary pillows that come with this model.
While its sleeper size is right between single and full, it can help you achieve a peaceful slumber. For one, it is made with coil spring foam for a bouncy feel. This design also promotes airflow, which makes it perfect for homes in warmer climates.
With its Chenille fabric upholstery, this futon is both soft and cushy. Despite this, it is very durable and resistant to wear and tear. Cleaning is a breeze, too, making it especially useful for homes with small children or pets.
Supported by a sturdy wooden frame, this sofa makes for an excellent long-term investment option.
Material: Coil spring foam, Chenille fabric upholstery
Frame: Wood
Dimensions: Futon – 87″L X 31″D X 30″H, Sleeper – 75"L X 43″W X 30"H
Color options: Dark Brown
Weight Limit: Undisclosed
Best Faux Leather Click Clack Sofa
Faux leather is an excellent surface for convertible sofa beds. Apart from being durable and resistant to wear and tear, it's also very easy on the eye. Durability is especially crucial for sofa beds, as constant transformation can lead to added wear and tear. Faux leather is, of course, also much cheaper than the real thing, while retaining much of leather's excellent properties.
Despite its affordability, you'll be surprised by this product's quality. For one, it is made with a high-quality wooden frame – the gold standard for sofas and sleepers alike.
While sturdy, it did lose a few points in terms of comfort. It has a very firm mattress, which, while good for the back, can be too stiff for some users.
Size-wise, this 3-position click clack sofa is perfect for a small living room or office.
Material: Faux leather upholstery
Frame: Wood
Dimensions: 69"L x 33"D x 30"H
Color options: Black, White, Brown
Weight Limit: 550 pounds
Best Linen Click Clack Sofa Bed
More than just ranking close to the top in terms of comfort, the Paxson is one of the most stylish options as well. Its mid-century aesthetic is very versatile and fits in with most design styles.
While it ranks highly for its design, the DHP Paxson does not come short in terms of features. It has a split-back design, enabling users to lounge or recline separately.
For its sleeper function, the DHP Paxson is one of the few CertiPUR US-recognized couches on this list. As the mattress is made with pocket-coiled polyester, it retains its shape well, even after extended use.
Linen is famed for its cooling properties, meaning you or your guests can enjoy a restful sleep even during the sweltering summer evenings.
As one of the longer click clack sofa beds we trialed, it's the perfect middle ground between a Twin and Twin XL size bed. It also has a high weight capacity, perfect for larger adults.
Material: Polyester cushion, Pocket & spring coils, Linen upholstery
Frame: Metal
Dimensions: Futon – 78.5"L x 33.5" D x 32"H, Sleeper – 78.5" L x 44" W x 23"H
Color options: Black, Gray, Light Gray, Mustard, Navy
Weight Limit: 600 pounds
Best One Person Sofa Bed
Compact spaces call for a space-saving piece of furniture. One of the best examples for this is the Diophros multi-function chair. Truly versatile, you can use this as a chair, ottoman, recliner, and sofa bed.
While it only has the space for one, it can support as much as 440 pounds. This sturdiness is made possible with its metal frame and parts. While it is not as durable as Brittany's wooden frame, it comes with an extended 6-month warranty covering you against any potential damage.
In terms of comfort, the Diophros is actually one of the most comfy sleepers on this list. It is, after all, made with a high-density foam that promotes the natural alignment of the body.
Material: High-density foam, Linen upholstery
Frame: Metal
Dimensions: Chair – 37.4″L x 46.85″D x 32.09"H, Sleeper – 74.02″L x 37.4″W x 16.93"H
Color options: Beige Gray, Concrete Gray, Dark Gray, Light Blue, Light Gray, Navy Blue, Reddish Brown, Rustic Brown
Weight Limit: 440 pounds
Best Small Click Clack Sofa Bed
We know that small spaces can be inconvenient. However, that doesn't mean you can't still have guests over. With the HomCom small sofa, you get a stylish yet space-saving sleeper.
So why do we love it so much? For one, it has 5 settings, which allows you to customize the way you sleep. With its medium-density foam, it can provide relief for your hips and shoulders. It also comes with soft yet pliable suede upholstery. As a bonus, it has 2 complimentary pillows for your daily naps.
In terms of durability, you can count on this sofa's sturdy metal frame for years of use. However, one downside is that it has a lower weight capacity compared to similar models on our list.
Material: Medium-density foam, Suede upholstery
Frame: Steel
Dimensions: Futon – 45.5″L x 29.5″ D x 30.5″ H, Sleeper – 73″ L x 41.5″ W x 10.5″ H
Color options: Gray, Blue
Weight Limit: 330 pounds
Best Click Clack Sofa Bed with Adjustable Armrests
If you're a busy Mom or Dad, armrests come in handy for a variety of tasks. But it's not just good for parents. Perhaps you're living in a small studio apartment with no space for a table and chairs? Armrests can double as your dining table.
Combing armrests into a sleeper is a welcome addition to many. Not only can the armrests be used for upright sitting, but they can also be flattened for sleeping. A fantastic feature of this model is that the armrests can also be manipulated to create a cozy lounge chair.
Made with cotton and polyurethane foam, this firm sofa bed provides added support for your back. This comfy blend of materials is known to be highly durable, which means it won't lose its shape over time.
While the suede-covered sofa offers a degree of plushness, you need to be careful. Suede is not waterproof. If you're prone to spills, you may be better off with an alternative material, such as a faux leather option.
Material: Blended cotton and polyurethane foam, Suede upholstery
Frame: Metal
Dimensions: Futon – 66″L x 33″D x 31″H, Sleeper – 79″L x 32″W x 31"H
Color options: Gray, Black, Brown, Peat Brown, Aqua Linen
Weight Limit: 350-400 pounds
Most Comfortable Click Clack Sofa Bed, Full Size
If you have a big family – or a bunch of friends who are always keen to spend the night – then you need a decent-sized futon. For that you need the AiChuang sectional sofa-cum-sleeper.
As one of the more spacious sofas in this list, it has 3 sections that can accommodate two adults with ease. The couch transforms into a plush and roomy bed, which will guarantee your guest (or guests) a comfortable and spacious night's sleep.
Remarkably, this sofa can accommodate a whopping 900 pounds in weight. The AiChuang's immense capacity is made possible by its wooden frame, which is the ideal choice for sofas.
It's eye-catching green color make it a perfect choice for contemporary homes. It's a real attention-grabber!
Material: Foam, Velvet upholstery
Frame: Solid & Manufactured Wood
Dimensions: Futon – 106.7"L x 56.3"D x 31.5"H; Sleeper: 106.7"L x 63.78"W x 31.5""H
Color options: Light Green
Weight Limit: 300 pounds each seat (900 pounds total)
Best Click Clack Sleeper with Cup Holders
If you love eating and drinking while lounging (who doesn't), then we think you'll like this one.
With its centrally-located cup holder, you can spend more time worrying about your team, and less time worrying about spills. But even if they do happen, there is no need to panic. The sofa is covered with linen fabric, which makes for fuss-free cleaning.
After an energetic game, you may find yourself in need of a nap. Simply fold down the armrests and remove the cupholder, and you'll be on your way to dreamland.
Despite its sturdy chrome frame, this weight capacity on this sofa is a little on the low side. If you need something a little more substantial, you can always opt for the Novogratz Brittany, which has double the capacity at 600 pounds.
Material: Linen upholstery
Frame: Chrome Metal
Dimensions: 30″(L) x 66″(W) x 30.5″(H)
Color options: Beige, Black, Gray
Weight Limit: 300 pounds
Most Comfortable Click Clack Sofa Bed with Memory Foam
Looking for a one of a kind lounging experience? Then set your sights on this Mainstay futon. Made with memory foam, it uses body heat and pressure to conform to your shape. It works to align your spine, ensuring ultimate comfort!
With its 3-seater, 600-pound capacity, this Mainstay sofa is more than enough for a small apartment. With a sturdy wooden frame and metal legs, it can cope with daily wear and tear and is guaranteed to last for many years.
Upholstery-wise, you get to choose from 2 great options. There's durable leather, which is resistant to scratches and scrapes. There's also suede, which is soft, pliable, and just as long-lasting. Whatever you choose, you won't regret buying this neat looking couch.
Material: Memory foam mattress, Faux leather/suede upholstery
Frame: Wood
Legs: Metal
Dimensions: 71.65"L x 32.48"W x 33.46"H
Color options: Black (faux leather or suede), Blue Suede, Camel Suede
Weight Limit: 600 pounds
Most Comfortable Click Clack Sofa Beds Buying Guide
What Is A Click Clack Sofa?
A click-clack sofa derives its name from the clicking sound it generates when it's converted from a couch to a bed. The in-built mechanism facilitates an easy transition from sofa to sleeper (and vice versa), making it a popular choice for many homeowners.
What Is The Best Click Clack Sofa Bed?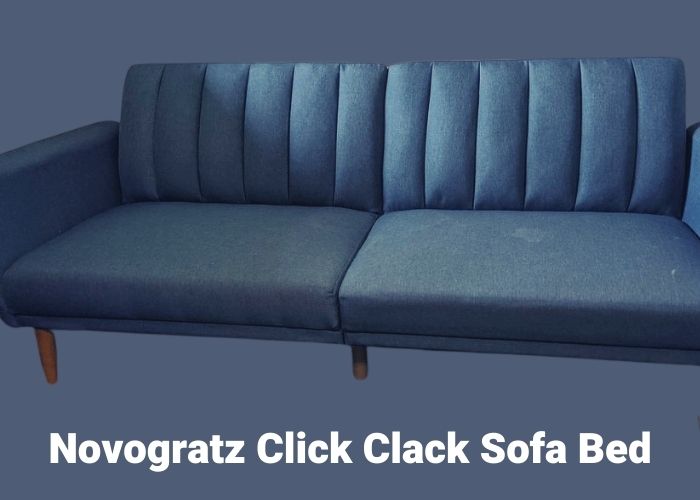 According to our rigorous testing, the best click clack sofa bed is the Novogratz Brittany futon. It comes equipped with a sturdy wood frame, comfy polyester-foam cushions, and a spacious area to sleep.
It does the job of both sofa and bed, helping you save space (and cash) at the same time.
Are Click Clack Sofa Beds Comfortable?
Provided you buy the right one, click clack sofa beds can be incredibly cozy! Take our top pick as an example.
The Novogratz Brittany has a 6.5-inch plus mattress, which makes relaxing after a hard day ever so enjoyable. If they didn't know better, your guests might even question whether they are sleeping on a real bed!
How Does A Click Clack Sofa Bed Work?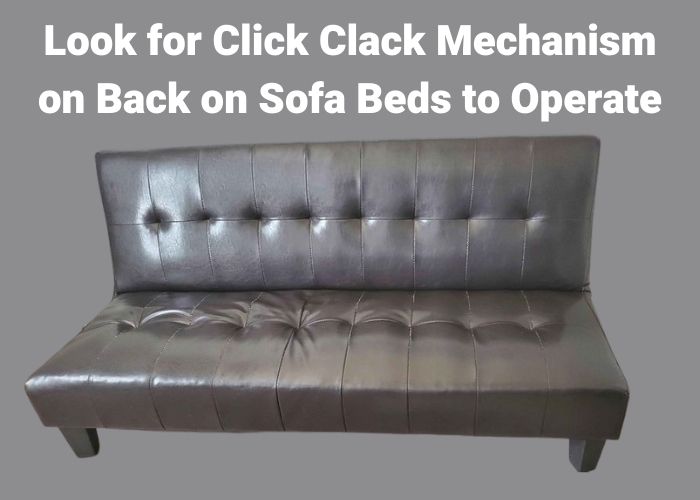 Converting click clack sofa beds is easy, but instructions can differ depending on the model you buy.
Typically, it will involve using an inbuilt mechanism to unfurl the mattress from its sofa base. Listen for the 'click-clack' sound that gives the sofa bed its name!
Conclusion
Well, there you have it, our complete guide to the best click clack sofas on the market today.
The most comfortable click clack sofa bed in this list is the Novogratz Brittany. Beautiful and affordable, it provides a durable yet comfy resting space.
Coming in a close second is the Aichuang futon, which has a whopping 900-pound capacity. Convertible to a queen-sized bed, it can provide you with an abundance of sleeping space.