Do you have trouble matching your end tables? Are they different colors or different styles that don't match? Are you sick of looking at that mismatched set of end tables in your living room or bedroom?
In this article, we'll show you different ways to mix and match end tables.
One major factor is color. Pairing two similarly colored items, or two contrasting colors, can create a sharp contrast and bring out the richness in both pieces. For instance, you can pair a brown coffee table with orange side tables and vice versa.
You won't have to worry about clashing as long as the pieces are different colors. This will make for sharp contrast instead of matching two objects with similar colors such as brown and tan.
By mixing up the styles with some modern end tables that are made of steel or iron, you will achieve a look that effortlessly flows from room to room. Also, using dark colors in the legs helps them recede into the background while displaying vases or figurines.
In This Article We'll Discuss
4 Ways to Mix and Match End Tables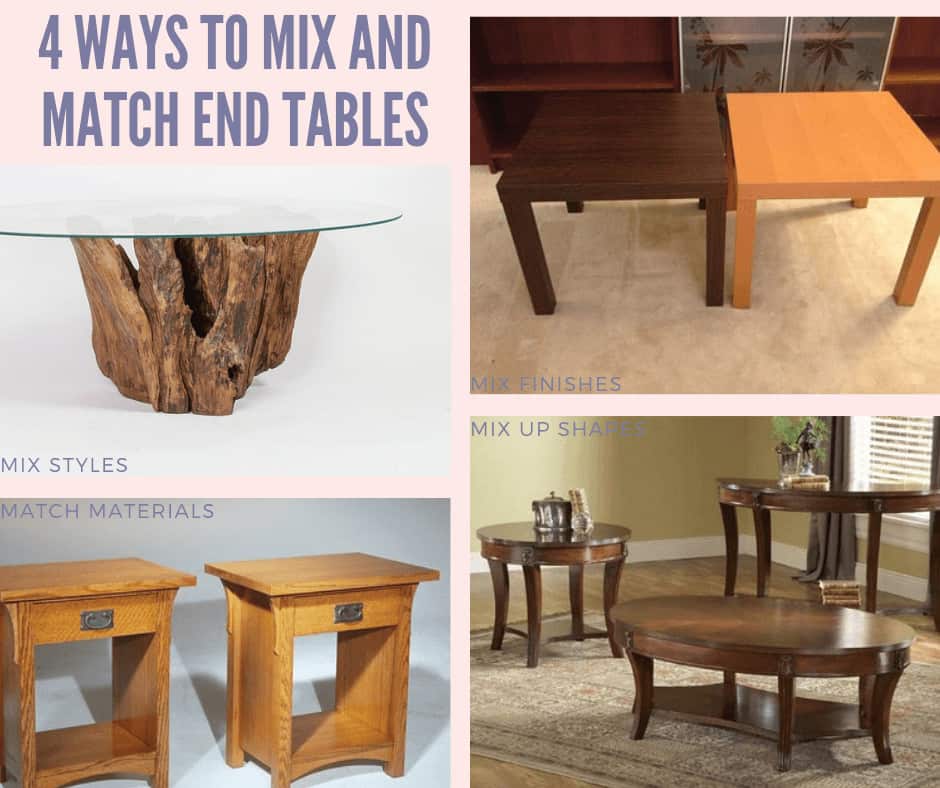 If you want a more contemporary look, here are some tips for mixing and matching end tables:
Mix Styles
Some people like to go all out with their design theme and choose matching sets. Others prefer different styles, so each piece has its own feel. Mixing and matching styles works great. Try to find solid items that have different patterns or textures.
For example, you can look for a table that has a modern/contemporary look with a metal base. And, the top could be made of reclaimed wood which provides character and creates contrast.
Mix Finishes
Another option for matching end tables is to choose pieces that are the same color but have different finishes. For example, you could go for dark brown end tables in two different styles. Place these alongside your sofa for a cohesive look. Or, buy one table with an oak finish and another with a black finish to achieve an eclectic look.
Match Materials
At times, it can be helpful to choose end tables that are made of the same material. Try going for wooden pieces that both have glass tabletops, or choose metal tables with black bases. Then, place matching lamps on top of your new tables.
Mix Up Shapes
Try matching items that have different shapes.
You could go for a round coffee table and a rectangular sofa table. Or, buy a square ottoman and an oblong side table that can be used as a nightstand next to your bed. Matching pieces with different curves allows them to fit together without clashing styles.
Ideas for Mixing and Matching Coffee and End Tables
If you're not sure how to put these tips into practice, we've provided some concrete ideas that you can utilize in your home:
Put some low-profile end and coffee tables next to your chairs or sofa. Mixing and matching different colors and shapes creates great visual interest while keeping the area looking cohesive.
Go all out with your style choices. If contemporary decor is your style, let it be seen in full force by combining an elegant glass top coffee table with eye-catching clear acrylic end tables. It's sure to liven up any dull space.
Use one or two accent tables instead of one large piece. This will provide you with some storage benefits while keeping the area looking open and airy. If you like to keep your living room accessories in easy reach, an L-shaped sofa would be an excellent choice for you. The space beneath the tables can be used to store books, magazines, or decorative items.
Do End Tables Have To Match?
The short answer is no, they don't have to match. The popular belief is that end tables need to match the coffee table to look good and be functional. But, this couldn't be further from the truth. While it may not be preferable for them to clash with one another, several different styles will cohesively work together.
What Else are End Tables Used for?
End tables also serve as side tables or nightstands in some cases. When picturing how these would look together in a room, make sure you consider what type of lampshade would go on top of them.
You can also consider whether or not they could hold a drink while being used as a nightstand. Nightstands typically have drawers or some storage function, so if this is what you'll be using it for, you'll want to ensure that the table has this feature
Things to Consider When Buying End Tables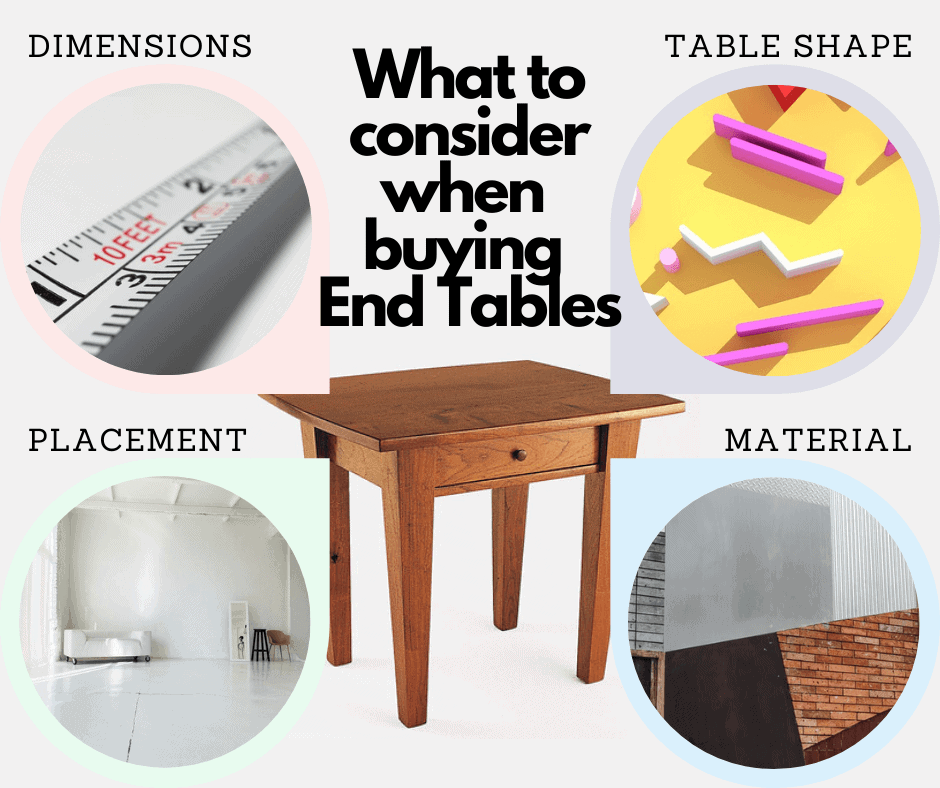 When choosing your end tables, one thing to keep in mind is the dimensions of the space you're putting them in. You want to avoid purchasing something that will either look too small or too big once inside its designated space.
Also, since most end tables are square-shaped, round, or circular, they may allow for more floor room. That will open up cramped areas like entryways.
In addition, these particular styles might work well if placed next to your couch and used as a catch-all coffee table.
Another thing to consider is what material you want them to be made out of. Some popular styles are made from solid wood, glass, or metal. Again, if you're trying to match all of your furniture, then you'll want to choose pieces that match your existing ones. However, if you're trying to mix them up, then be sure to choose ones that will complement one another.
If you're concerned with how it will look to guests, contrasting materials can add uniqueness to any space.
Do End Tables Have To Match Your Coffee Table?
Again, the answer is no. You do not have to ensure your end table matches your coffee table in any way, shape, or form. Creating contrast in the space can give the room a more personal feel.
There are many ideas for different types of end table styles and designs, and we'll go over some of them. You can use these ideas to either match your end tables to your coffee table or to contrast the two.
When thinking about where and how you want to utilize these tables, consider several things:
Height and size
Design style
Color scheme selection
Material
Other things to consider when selecting an end table is if you want it to match the design style of the coffee tables that are already in your living space. If you have a rustic coffee table with carved legs and metal accents, then an end table with clean lines and a modern feel would work well to contrast this element in your room.
Conclusion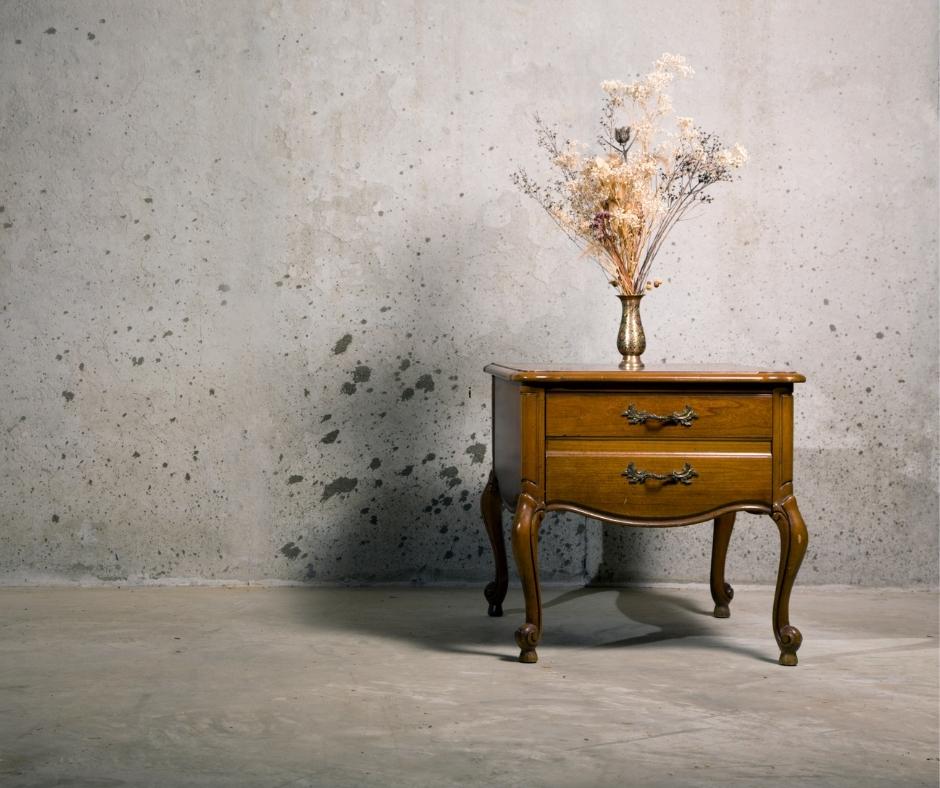 We have seen many ways one can mix and match end tables to suit their tastes. There is no limit to how different types of end tables may be combined in a room, as long as they do not look too crowded or too contrasting. If you follow these simple guidelines and include your personal style, mixing and matching end tables shouldn't be a problem for you.