A candle holder exists to hold the candle and the hot wax dripping from it. The candle holder also blocks the wind from blowing the candle out and distributes light. If you don't have a candle holder, there are substitute ideas on the web for candle placement. Is there a way to do the opposite: use a candle holder for something other than candles?
The answers are not as abundant, but several ways to repurpose candle holders exist. So, what can you put in a candle holder besides candles? One solution is swapping out wick candles with flameless ones. However, doing so does not answer the question as flameless candles are still candles.
There are actually eleven answers to repurpose candle holders. Pay attention to the type of candle holder you have. Examples are lanterns, pillars, tea lights, tapers, votives, and candle jars. The solutions listed will not fit every candle holder type.
In This Article We'll Discuss
What Can You Put in a Candle Holder Besides Candles?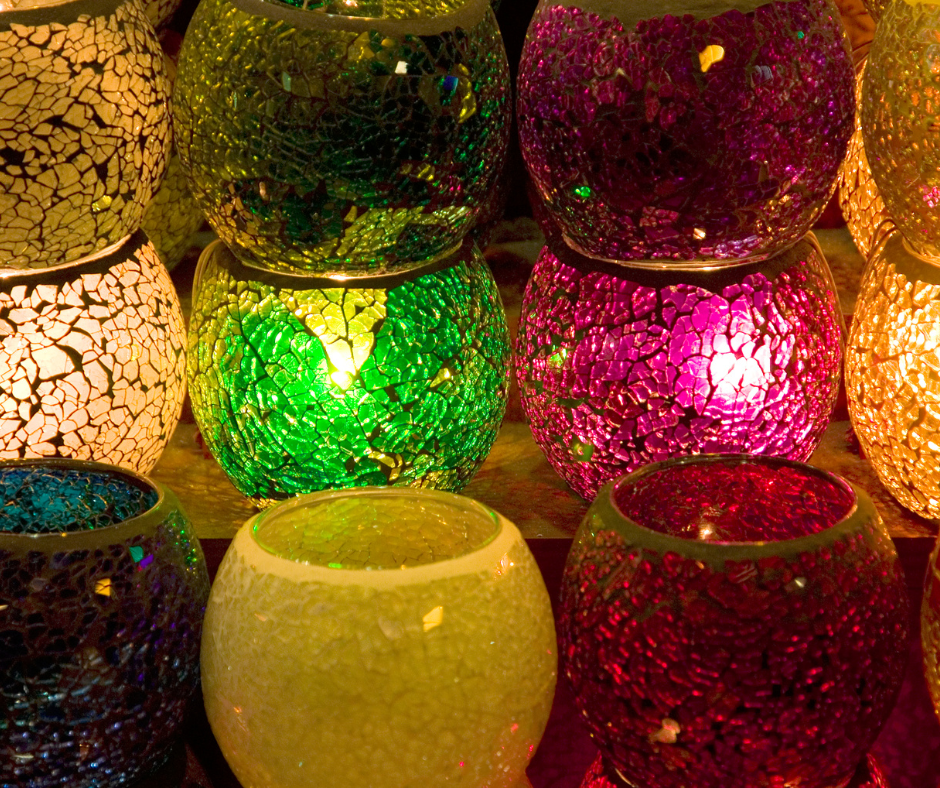 Light Bulbs
The alternative lighting choice is light bulbs. Light bulbs come in various sizes, colors, shapes, and types. For candle holders, choose colored battery-powered or remote-control bulbs that fit inside. Candle holders with wired or screw-in lights are doable with help from an electrician.
Large candle holders such as lanterns, votives, and jars are good choices. Pillars and tapers with a bowl on top are good choices too. Bonus points if the candle holder has peepholes or has glass or frosted glass material.
The sticking point comes from the light bulb heating the candle holder's structure. Materials like wood or cane can handle the heat. Candle holders constructed from another material need bulbs that produce less heat. The best lighting solutions are fluorescent, incandescent, and LED bulbs.
Greenery
If the candle holder has room to place items inside, try stuffing it with lovely greenery. Greenery brings the outdoors indoors and adds variety alongside trinkets, artwork, and books. Votives and jars are the best candle holders, and any similar candle holder is acceptable. Glass candle holders are excellent but not mandatory.
Empty candle jars and votives act as a vase, and you can add artificial or natural greenery inside them. Flowers, bouquets, plants, shrubs, and herbs are choices to place inside the holder. As a decorative touch, you can wrap the exterior with vines. Add water to keep natural flowers fresh longer.
If the candle holder will become a flower pot, add water, soil, a seed, and a lovely location for sunlight. Besides votives and jars, pillars and tapers will work if you glue a flower pot or lightweight vase on top. Be sure the candle holder is at the center when the vase or flower pot is bottom-side-up. Empty lanterns can work if the greenery is a hanging outdoor decoration.
Potpourri
Homemade or store-bought, potpourri makes any room smell good. A bowl-shaped candle holder is a viable option to house potpourri and air fresheners. Everything else is too big, too small, or not suitable.
Buy potpourri from the store and pour it into the bowl. It's great for the bathroom, kitchen, laundry room, or a room where odors are present. 
A second option is making homemade potpourri air fresheners by mixing essential oils. Be sure the candle holder material can hold and keep liquids.
Don't forget to add rose petals for a decorative touch to finish the masterpiece.
Food
A pillar or taper candle holder is perfect for holding food. But, the skinny candle holders can't carry food by themselves. The trick is gluing a bottom-side-up unused plate or bowl on top of the candle holder. The results look beautiful and professional.
What you fill it with depends on what you choose. A plate and candle holder equals a pedestal plate for serving cakes, cookies, and brownies. An extra large or large bowl suits a fruit basket or cookie jar. A small or medium bowl becomes a wonderful candy jar.
Conversely, an empty candle jar, tea light, or votive works only as a candy jar. A pillar or taper is optional.
Keep the homemade candy jar, cookie jar, fruit basket, and pedestal plate in the kitchen.
Decorative Balls, Orbs, and Spheres
Need decorative decor for the bookcase, fireplace mantel, side table, or coffee table? Glue a decorative ball, sphere, or orb on the top of the pillar and taper candle holders. It steadies the ball while giving the candle holders something productive to do. The round decorations come in many colors, patterns, and materials. 
Seasonal Items
Decorate on holidays such as Christmas, Halloween, Valentine's Day, and New Year's Eve. Another way to decorate is by season (autumn, winter, spring, and summer). Luckily, all candle holder types have a place in seasonal decor.
For example, wrap garland around pillars and tapers and add a seasonal piece on top. A second example is filling the candle holder with lights, pine cones, and seasonal items. These two ideas should get your creative juices flowing.
Candle Tray
If you have at least three unused candle holders, use them to create a candle tray. Once you find a rectangular plate, place the candle holders on top. It becomes a focal point when you add decoration to the outer edges and between the gaps.
It's better if the candle holders diversify by different heights and sizes. Moreover, the holders should mesh together through material, design, or color. That becomes the centerpiece for a table, windowsill, fireplace mantel, or freestanding bookcase.
Coins, Jewelry, and Keys
Tea lights are perfect for collecting coins found on the couch, on the floor, and around the house. Candle holders shaped like a saucer are also terrific for gathering change. Plus, these small holders can hold keys, jewelry, notes, and hand-held items. Place this in the foyer, mudroom, bedroom, or living room coffee table to free your hands.
Pens and Pencils
Speaking of notes, if you need to jot something down, it would be handy if there were pens nearby. Turn your vertical candle holder into an organizer for pens and pencils. Fill gaps with permanent markers, highlighters, erasers, staplers, crayons, and white-out inside. All that's needed now is a stationery pad.
Hair Accessories
In the bedroom, a small candle holder is a great storage source for storing hair accessories. Examples are hairpins, clips, hair claws, rubber bands, hair combs, and donut hair makers. Add accessories like styling combs, brushes, headbands, and nightcaps in large candle holders. 
Display Case
A display case is a cabinet with a glass door in the front designed to display items you want to highlight. Examples are comic books, cards, dinnerware, artwork, albums, trinkets, and seasonal items. A lantern is the only candle holder that fits the display case description. Be sure the lantern is not an outdoor-only light as it needs to be indoors to become a repurposed display case.
With lanterns, be sure the item or items of choice can fit nicely inside the lantern. You can add light strips inside the lantern to illuminate the object. The result is breathtaking.
Conclusion
Candle holders are not junk pieces to toss aside when no candles are present in the home. Their decorative touch can serve many other purposes. From light bulbs to seasonal decor and more, the choices for candle holders are abundant. The results will make you forget that this used to be a candle holder because they are that good.
What can you put in a candle holder besides candles? Share your suggestions and give feedback in the comment box below. The answers give candle holder items a second wind besides securing candles.