Have you ever considered adding a sofa to your bedroom layout? A sofa is a great space for people to sit and chat and can be less awkward than a bed.
If you're having someone over, and don't want to sit directly on the bed, a sofa can be a great middle-ground. In this article, I'll go through some of the best places you can put a sofa and what sizes to get.
While it is not incredibly normal to have a sofa in the bedroom, no one is going to stop you! If you want that extra bit of comfort space, then a sofa can be a great addition. Although rarer, they can be a fantastic relaxing addition to your room.
In This Article We'll Discuss
Where Should I Put The Sofa in My Bedroom?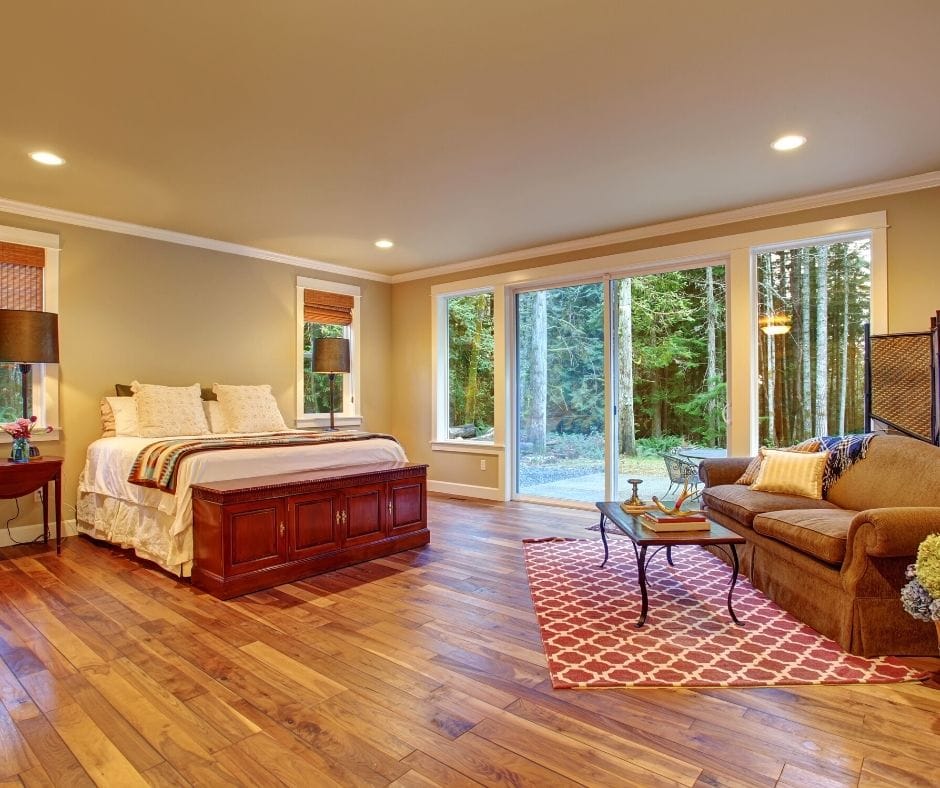 The location where you place your sofa depends on how much room you have. If you have ample room, there are a few locations you can use.
The two best places are either at the end of your bed or against a wall.
The first option will go facing out from your bed. Past the end rail moves smoothly into a seating area. This creates a cosy space to move to. It can also be helpful if you're looking for somewhere comfy to be, without climbing back into bed.
This can really help if you tend to work in, or get back into, bed throughout the day. The sofa space can be an alternative space to relax in.
If there isn't much space at the end of your bed or want the sofa further away, there are other options. By placing the couch against a wall, you create a viewpoint. While the bed can act as one viewpoint into the room, the sofa becomes another.
Although a sofa takes up space, this can actually mean the room feels bigger. By looking in from an alternative wall angle, you open your room to more seating options. This freedom can help to expand the feel of the room.
Under windows is also a really nice option for positioning a sofa. The mixture of relaxing space and natural light can be a fantastic addition to your living space. Pair this with some green plants and you've got a whole new dynamic to your bedroom.
How Big Should the Sofa in My Bedroom Be?
Realistically, the bedroom is not normally a huge room in any house. If this is correct for you, I'd advise buying a sofa of fewer than 36 inches deep. These sofas are small but big enough to seat 2-3 people.
A big part of this question is about proportions. Of course, if you have a larger space, you will need a larger sofa. However, you don't want to go too big, as this can flood a space. Try to find a happy medium.
Measuring your space will provide a good idea of how big you can go. This article gives helpful advice about fitting a sofa for your space.
What Types of Couches Are Good For a Bedroom?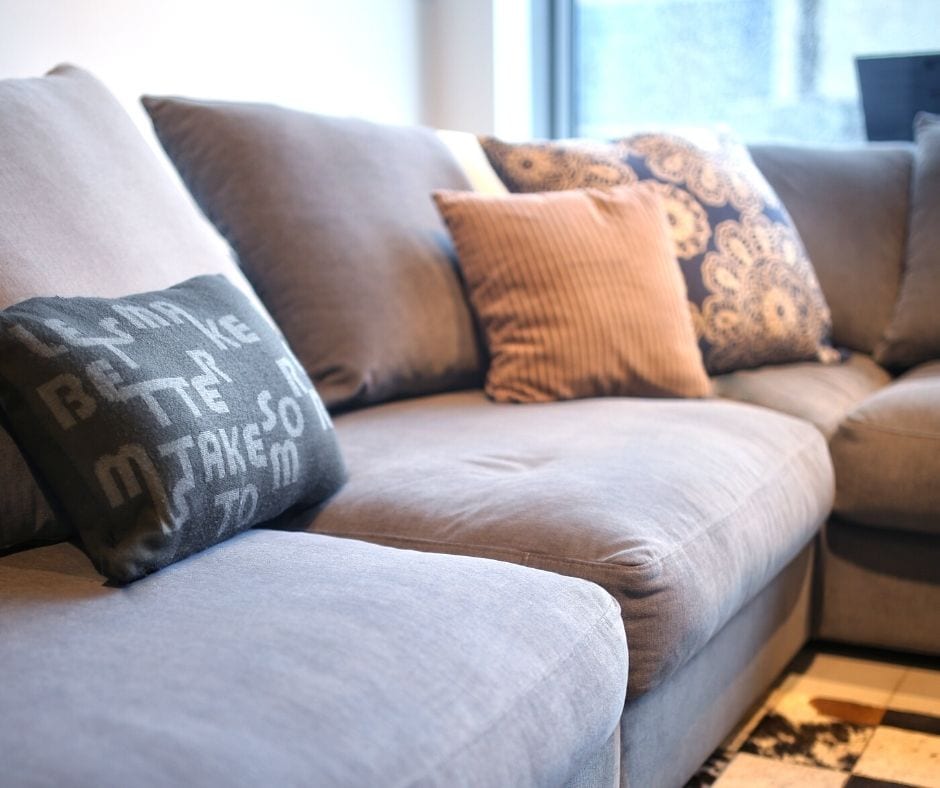 As bedrooms aren't typically huge rooms, a smaller sofa is the one to go for. You've got a few options to choose from.
Typically, you're going to want more of a loveseat in your bedroom. This two-seater sofa is both small and stylish, perfect for the bedroom. These will provide enough room to sit, but won't stifle a room.
A loveseat is a great addition at the end of a bed. As I explained above, this naturally flows from your bed and out into the room. A loveseat becomes an extension of the bed. If you contrast the loveseat and the bed design, you can create an interesting balance of styles.
You can also consider a chaise lounge, which can tie your room together. This also provides a good space for draping clothes if you're running out of space. The flowing style of the chaise lounge will encourage a new-age style to your room.
One option for your bedroom could actually be a sofa bed. This saves a lot of space as you actually then don't need a bed at all. The two in one style sofa bed will provide both a sofa and a bed.
A sofa bed is adaptable and can now come in some very stylish colors and formats. You can use all that extra space for other furniture, bringing a little more life to your room.
If you're looking for some recommendations for styles of bed, this article will help you out. Of course, whatever style and color you want will work in a room. It's all about balancing styles and colors across the room.
Whatever you go for, just make sure you have enough space for your room. You don't want the room to feel cluttered.
Conclusion
If you're looking to add a sofa to your bedroom, there are plenty of options. From stylish loveseats to larger chaise lounges, there will be something for you.
Adding a sofa to your bedroom creates a whole new space to relax in. This is much needed in houses that don't have many other options.
The connection between a bed and a sofa also create a comfy and relaxed environment. If you're looking for a stylish bit of new furniture, why not think about a sofa for your bedroom? Although uncommon, they are a fantastic addition to any room that has the space.