Do you have a wall-mounted TV in your home that you are battling to style? Doing away with the TV stand can be a great investment in your home, but it does pose some design problems.
There are ways to camouflage your wall-mounted TV, but the best option is to decorate around it. Your TV doesn't have to dominate your living room. You can incorporate it into the design of your room using furniture, plants, books, and baskets.
So, if you have struggled to style underneath your wall-mounted TV, read on for some great tips and tricks.
In This Article We'll Discuss
Why Choose a Wall-Mounted TV?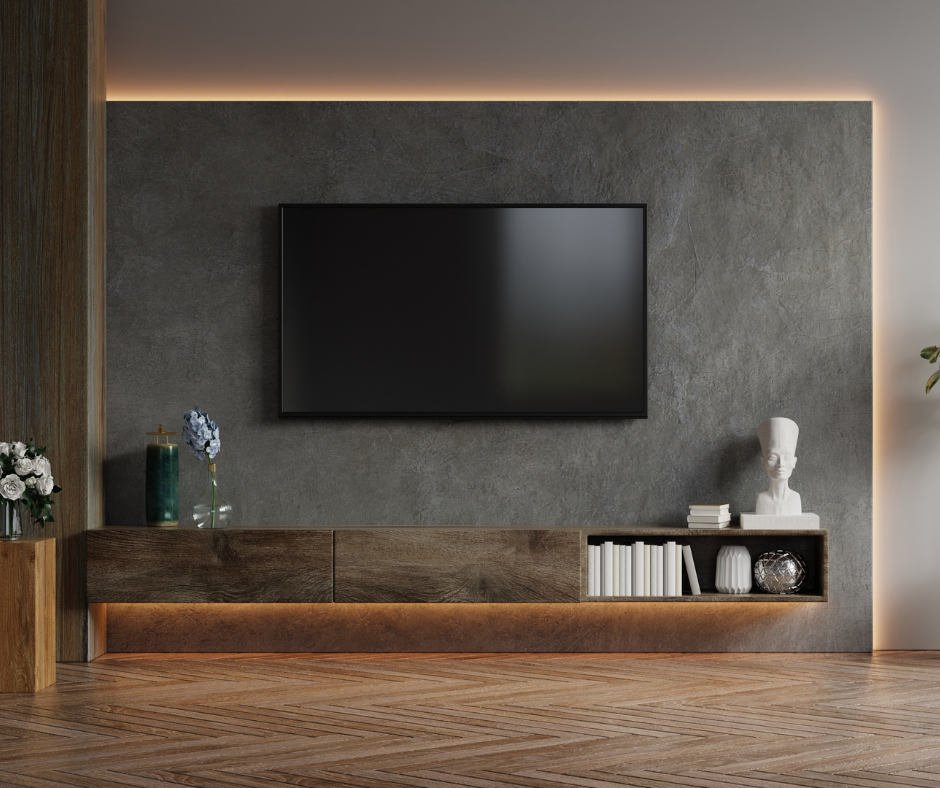 You must be wondering if a wall-mounted TV is worth the hassle. They are becoming popular and used in the design of new homes.
A wall-mounted TV keeps your space tidy and clutter-free. They are fantastic in small areas and don't restrict furniture placement. Having your TV on the wall is also safer for kids and pets. There is no chance of them interfering with cables or knocking over a large TV.
Mounting a TV on a wall is a relatively simple process if you have the right bracket for your wall. Always check that you have the correct bracket for the size and weight of your TV and the wall material.
How Do You Camouflage a Wall-Mounted TV?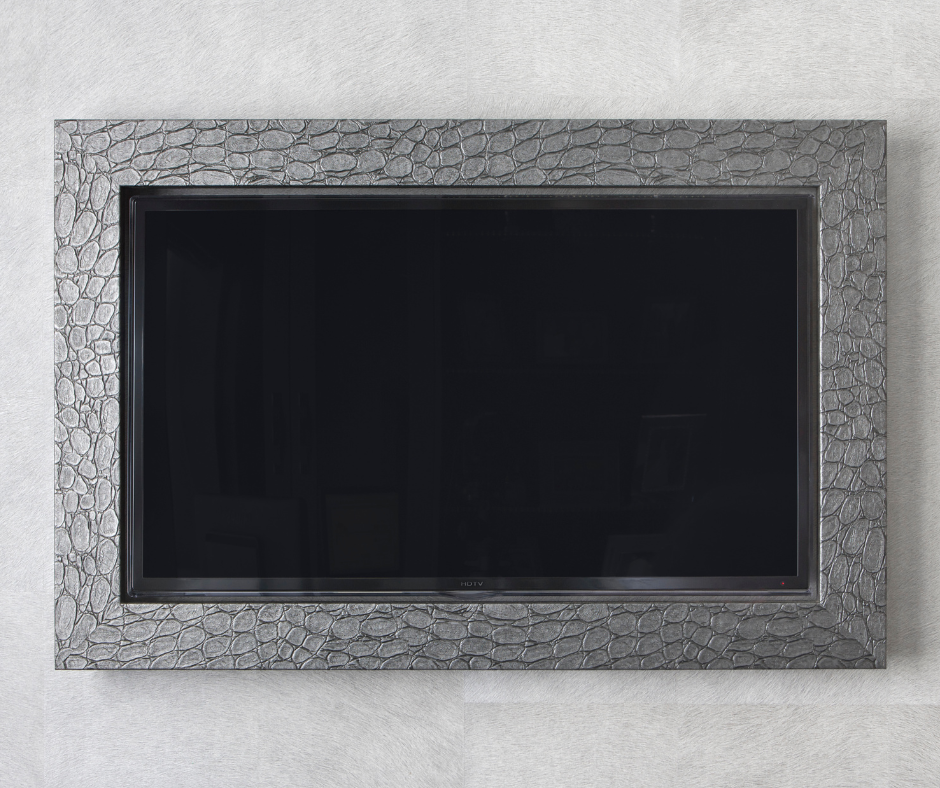 If you have a wall-mounted TV that you would like to camouflage, there are some nifty tricks that will help your TV blend in with your decor.
Use Artwork
Art is a quick way to add personality to your space and is ideal for hiding a wall-mounted TV. Canvas prints are easily customizable so that you can effectively hide your TV. Choose a photo or art print that you want to be printed onto canvas and measure the size of your TV. You can cover most modern flat-screen TVs with a canvas print frame 1.5 inches deep.
Clever Cabinetry
An open-backed cabinet is a clever solution to disguise your wall-mounted TV. You will need to know the dimensions of your TV so that you can find the right cabinet size. We recommend choosing a cabinet first so you can easily mount your TV at the right height. This is a simple solution for camouflaging your TV as you simply close the doors when the TV is not in use.
Slide and Hide
Photos and artwork on a sliding frame are a quick and straightforward way two hide a TV. Simply slide the artwork to the outer edges of the TV when you want to watch and slide them back when you are finished.
Choose a Sexy TV
Some beautiful TVs are available, so why not choose one that looks like art? You won't need to camouflage your TV if you choose a sexy one, to begin with.
Color Camouflage
Painting your wall a dark color so that your TV blends in is a quick update. It will update your room and also lessen the impact of your wall-mounted TV.
Tonal Gallery
A tonal gallery is a fun way to disguise your TV. Choose frames and artwork in colors that match your TV, like black. Placed around your wall-mounted TV, they will help the TV blend into the decor scheme.
How Do You Decorate a TV Stand When Mounting a TV?
Furniture Size
When choosing furniture underneath a wall-mounted TV, ensure it is wider than the TV. This will help create a nice balance in your space.
You can choose to style a TV stand in various ways. You can keep it clean and simple with sleek lines or create a vibrant design that detracts from the TV.
7 Ideas to Decorate Under a Wall-Mounted TV
1. Use a Bench
A bench is a great option underneath your TV as it is low and inconspicuous while adding another element to the room design. You can style a bench with cushions, plants, magazines, or textural details like wooden beads.
Benches come in various styles, from Boho and modern to traditional farmhouse.
2. Baskets
Baskets are a fun way to make a statement while providing practical storage in your living room. Large baskets placed underneath your wall-mounted TV will create a design statement and help you keep kids' toys hidden away. You could also place baskets on the table or console to add texture.
3. Console
There are so many different style consoles to choose from that you can be creative when picking one for underneath your TV. For example, a chunky wooden console with vintage decor is ideal for a farmhouse, or you could choose a metal console with clean lines for a modern vibe.
Choose a solid console with drawers and cupboards if you want extra storage. For a more decorative piece, go with an open console that allows you to use plants, baskets, books, and decor items to add to the room's overall design.
4. Retro Server
There is nothing quite like the craftsmanship and lines of a retro server. They are usually large pieces with ample storage. A retro server underneath your wall-mounted TV will draw attention, especially if you have filled it with vintage glass, books, and fun decor finds.
5. Plants
For most of your design dilemmas, plants are the answer. Putting plants underneath your wall-mounted TV will draw attention away from the TV and provide pops of color and interest. Not to mention that they will purify the air and give your space a happy and relaxed feeling.
6. Floating Unit
A floating unit under a wall-mounted TV is a great option, particularly for a modern space. They give the illusion of space and keep your room clutter-free. A floating unit usually has clean lines, so keep the decor simple. A coffee table book, some textural decor items, and glass are great ways to style a floating unit under your TV.
7. Bookshelf
The space under your wall-mounted TV is ideal for extra book storage. Depending on the layout of your room, you could have a bookshelf running the length of the wall. If a bookshelf feels too busy for your space, try and turn the books around. Having the neutral-colored pages facing outwards will create an elegant design statement. It will also allow you to add other neutral textures and tones on top of the bookshelf.
Final Thoughts
Gone are the days of bulky TV stands. Now, you can mount your TV on the wall and use the space underneath it for furniture and decor. Bookshelves, a console, baskets, and plants are all fantastic for jazzing up the area under your TV. Don't let your wall-mounted TV dominate your design choices. Instead, see it as a fun opportunity for decorating.
Do you have a wall-mounted TV? Have you decorated the space under your TV or chosen to hide it?