A quick and easy way to change up your home decor is to create an accent wall. This technique can be used in large or small spaces, making it a versatile styling option.
You have various options when creating an accent wall, such as wood paneling, paint, or artwork. But what really makes an impactful design is using tiles on your accent wall.
There are a few things to consider, such as prepping your wall, the type of tile you want to use, and the style you are trying to achieve.
Read on if creating a beautiful tile accent wall sounds like something you want to try in your home.
In This Article We'll Discuss
What is An Accent Wall and Why You Need One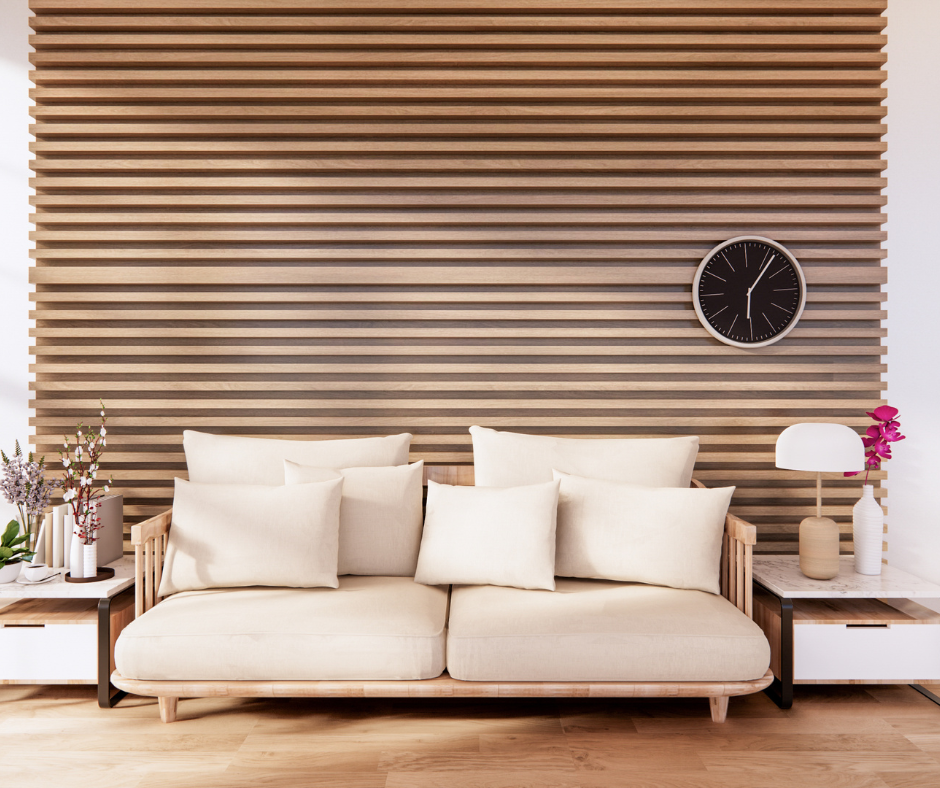 An accent wall is an eye-catching wall designed to be the room's focal point. It often uses different materials and colors and stands apart from the other spaces' walls.
An accent wall enhances the design of your home and allows you to add pops of color and texture to your space. You need an accent wall in your home because it is an easy way to add interesting design elements and showcase your style.
How To Prep Your Wall
Before you get started, you need to prep your wall.
First, clean it with soapy water to remove any dirt. Then use a polyfill to cover any holes or blemishes. Then give you a wall a light sand to help the tile adhesive bond better. You will follow a similar process using peel and stick tiles.
11 Ideas for Doing an Accent Wall Out of Tile
1. Art Deco
If you have a mid-century modern aesthetic in your home, then using art deco tiles is a fun way to bring more of the style into your home.
The art deco style uses repetitive, linear lines and triangular shapes to create a clean and visually appealing finished product. Tiles with geometric, uncomplicated shapes make an impactful feature wall.
You could choose a dark towel with clean lines that cover the whole wall. Or you could use a towel with striking color and pattern design as a panel on your wall.
2. Vintage
If a romantic and neutral design style suits your home better, try a vintage tile for your feature wall. You could use 3D molding tiles in a neutral shade like white, grey, or beige to create an interesting feature wall that doesn't overpower the room. 
A textured tile with an aged look creates a feature wall reminiscent of the vintage style and pairs well with florals and gold accents.
3. Retro
Tiles are a great way to create a retro feature wall in your house. Large 3D wall panels allow you to create retro shapes in neutral tones. This is an exciting way to create a retro feature wall that still feels authentic in a modern home. 
Try a retro tile with a whimsical pattern for an accent wall with a more playful touch. A starburst tile with a pop of color will create a beautiful accent wall in a kitchen or dining room.
4. Modern
Stone tiles make a beautiful statement in a modern home. They are ideal to use as an accent wall in a dining room, entryway, or living room, and they are an easy way to create textural interest. 
Try a honeycomb mosaic tile with a metallic finish on your accent wall for something different. You can create interesting patterns on your wall without covering everything in tiles. 
Hexagon-shaped tiles are ideal for an accent wall in a modern home. Tiles in matte black pair well with monochromatic furniture for a sleek design.
5. Farmhouse
Farmhouse design is characterized by wood and natural finishes, but that does not mean you can't introduce tile onto your accent wall.
If you are looking for a more durable material, then you can choose and tile with a wood-like finish. This shabby chic tile option creates a dramatic accent wall in a bathroom. 
Use a tile with a chair rail finish for a classic farmhouse accent wall. You can choose to create an entire accent wall with chair rail panels or cover the lower half of the wall in tile and choose a dark bold color for the top half. 
The kitchen is another area where an accent wall makes a statement. Rather than the traditional rectangle subway tile, try one with a pretty design and unique shape.
6. Bohemian
The fun part of creating an accent wall is you can be creative with the design. Why not use your tiles to create a circle or half-moon design on your accent wall? Soft blush tones in rectangular-shaped tiles will contrast with the smooth lines of the circle and build a dramatic accent wall.
Homes with a bohemian design style celebrate natural tones with pops of color, so creating an accent wall from a vivid green tile is a great way to make a statement.
7. Coastal
Creating an accent wall with a coastal theme is as easy as choosing light and neutral colors. Find a tile with an attractive shape that will compliment your beach theme. 
Because you are using neutral tones, you can cover your whole wall with the tile creating an accent wall that subtly draws attention.
8. Feminine
For a fun and flirty accent wall, try a pink Terrazzo tile. You can use these tiles to create a border or accent design if you don't feel bold enough to cover your entire wall.
9. Masculine
For a more masculine accent wall, try slate or stone. Slate tiles work particularly well for an accent wall behind a fireplace or mud room. 
For an accent wall in a kitchen that has a masculine aesthetic, use a natural-looking tile with grey and blue undertones.
10. Kids Room
Creating an accent wall in a kid's bedroom is a great way to help the room grow with your child.
Choose tiles with a bold design in neutral colors that can suit your child at any age. For a more neutral accent wall, use a tile with a wood-like finish that can fit many design options.
11. Bathroom
If you don't have an accent wall in your bathroom, you should have one.
Try a porcelain tile with a wood finish for an accent wall with a Scandinavian design. This is a durable option for the bathroom that will provide a sleek aesthetic.
For something more decorative, use a tile with an interesting shape with a gloss finish. To create an eclectic accent wall in your bathroom, use a mosaic tile with funky prints and colors. You can use this as a backsplash or for the accent wall in your shower stall.
Final Thoughts
Using tiles to create an accent wall is quick and easy. Tiles come in a wide range of styles, colors, and materials. This allows you to mix and match and create an accent wall that amplifies your design style and creates a focal point in your space.
Do you have a focal wall in your home? What did you do to achieve the look you wanted?