If you have a blue couch and are looking to add a rug to create harmony in your space, we have several ideas for you. With plenty of suggestions below, you'll feel confident when choosing a rug that will look great in your space and add harmony.
In This Article We'll Discuss
Rug Ideas for Dark Blue Couches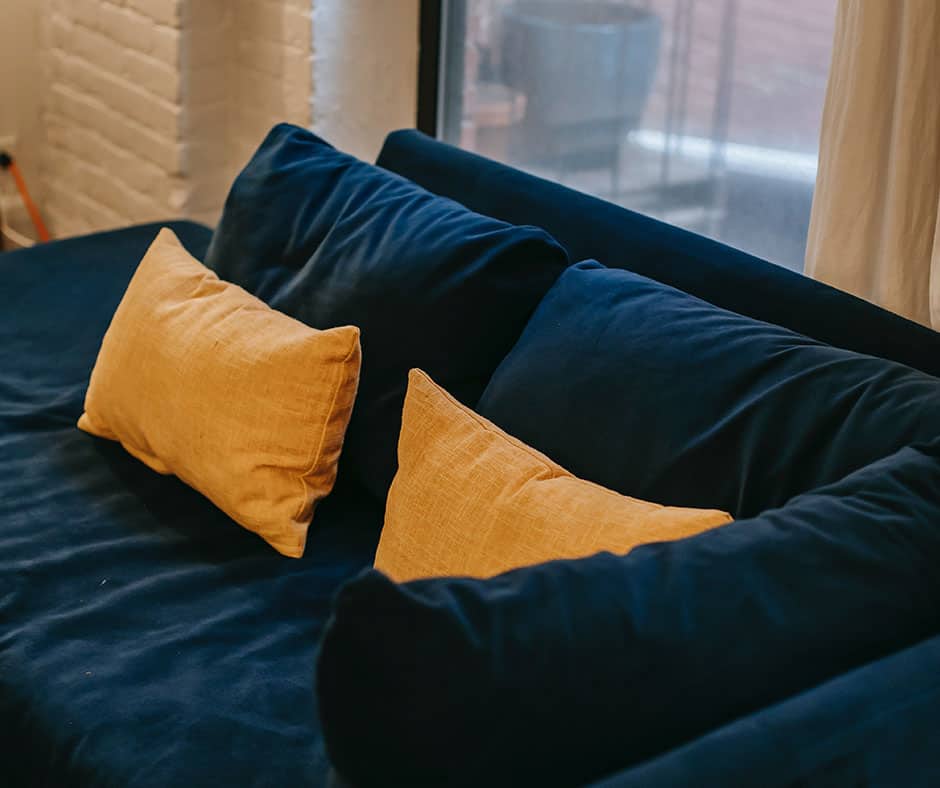 If you have a dark blue couch, your space is probably rich and deep. To create a harmonious room, you'll want your rug to have elements of depth and darker colors. Below are some great options for rugs that will work well with a dark blue couch.
Geometric Rugs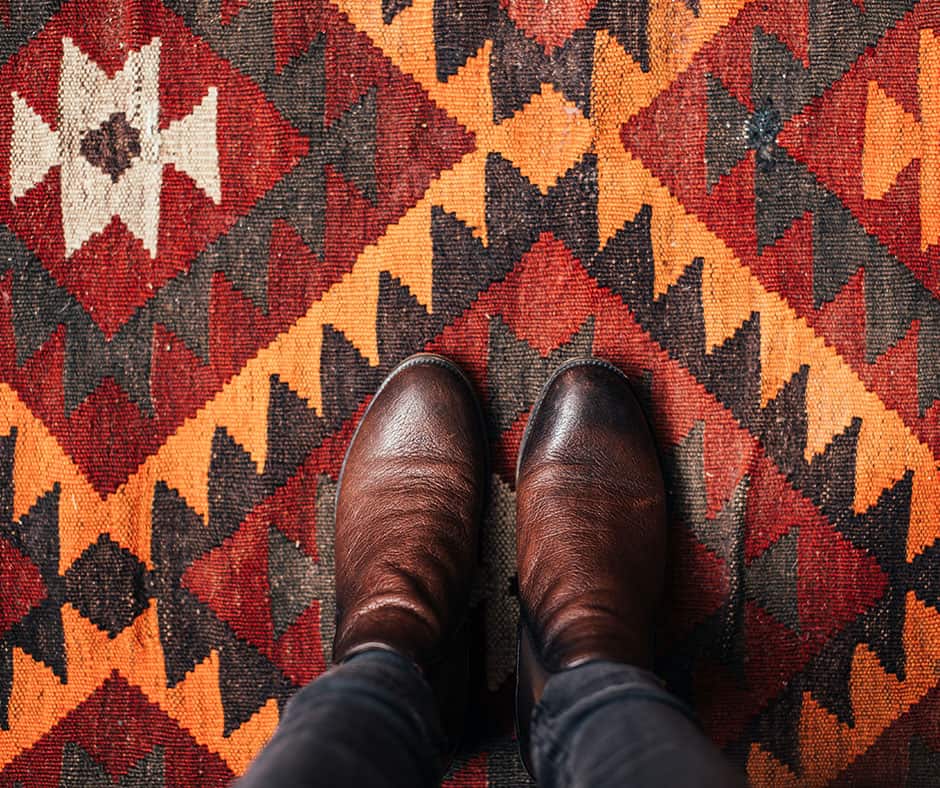 Create harmony with a dark blue couch by adding a multicolored geometric area rug that will add depth and shape to your space. If you want a rug with fewer colors, a yellow, blue, and gray Scandinavian rug will offer a great look.
Looking for a bolder move? A blush pink rug with deep blues and gold accents will highlight the depth of your dark blue couch while adding unique texture and flair.
Striped Rugs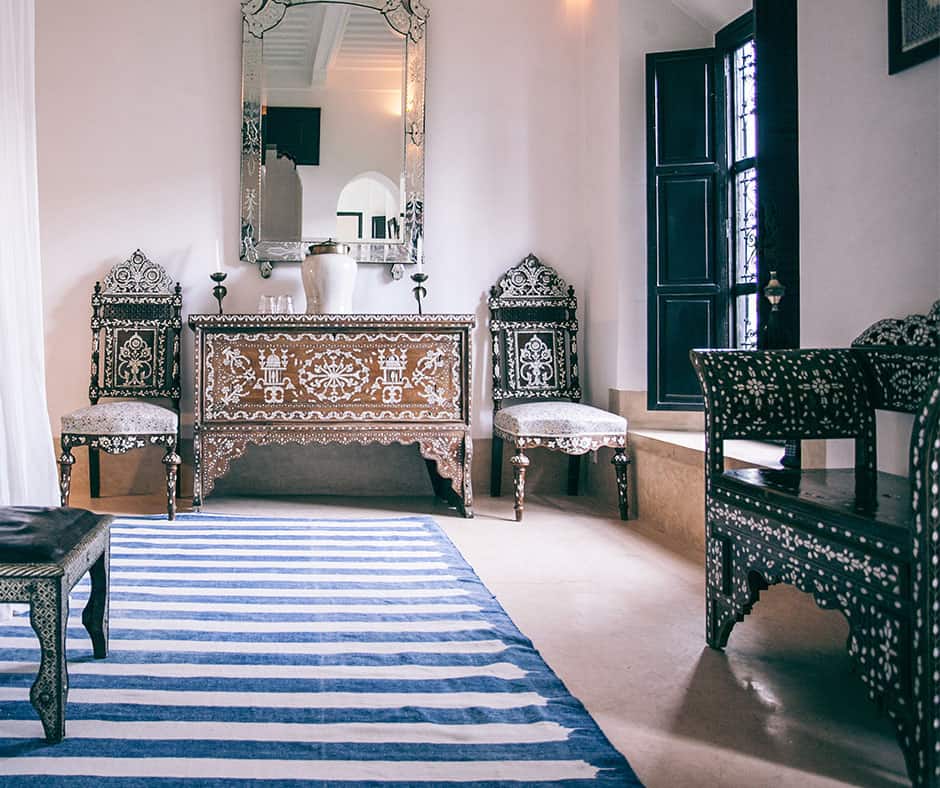 The depth of dark blue is well-complemented by patterns. A striped contemporary rug will pair nicely with a dark blue couch by adding more color to the space. A tan and blue striped flat weave rug will add an element of organic color and texture. That will contrast your dark blue couch, creating harmony and openness in your space.
Silk Rugs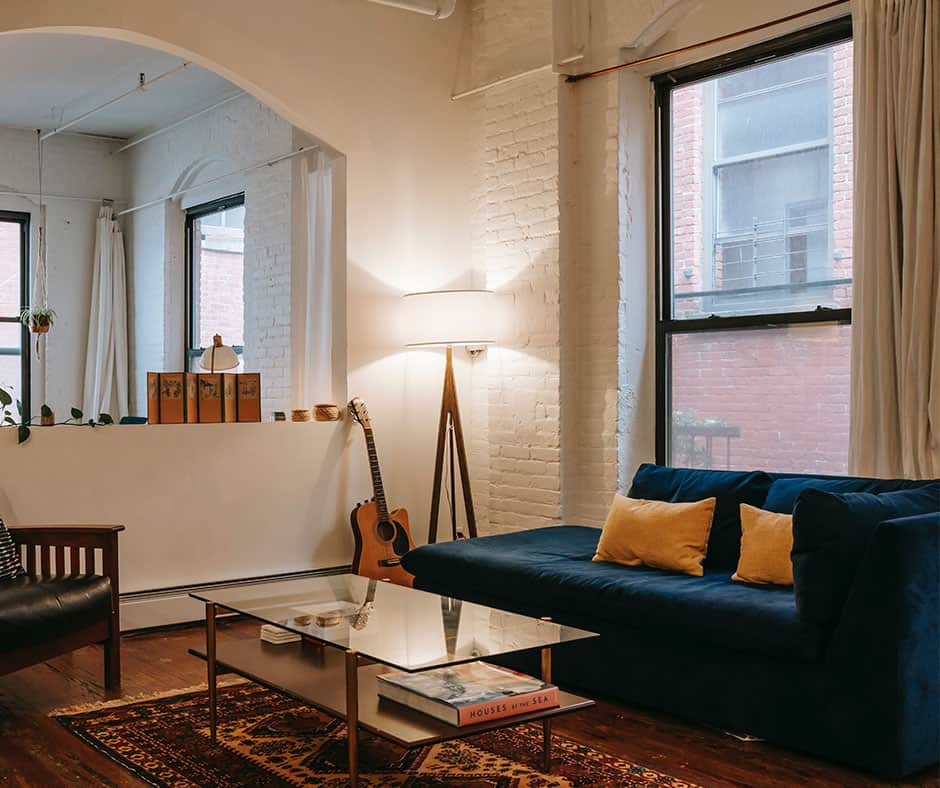 Although they are pretty pricey, Turkish silk rugs are incredibly beautiful and offer so much depth and detail in a space. A blue geometric antique Turkish rug would coordinate beautifully with a dark blue couch, allowing the depth of the colors to flow together in harmony.
A deep blue medallion silk rug with a decorative center will anchor your space and accent a dark blue couch. The color and shapes in this rug will create harmony and curiosity with a timeless look and soft feel.
Rug Ideas for Light Blue Couches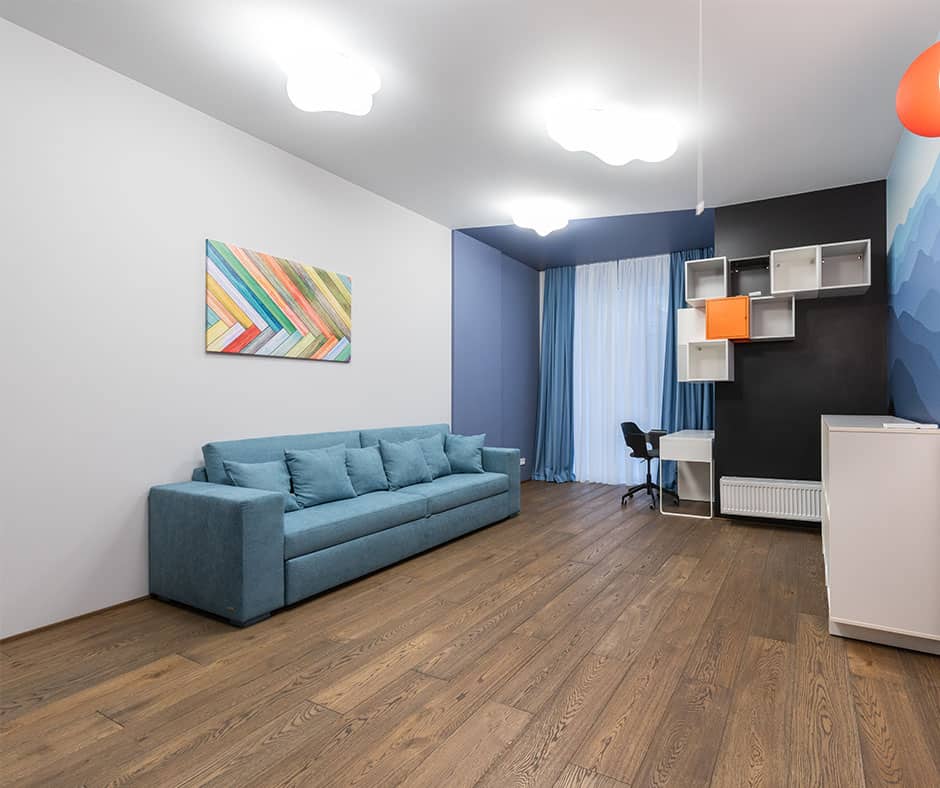 Light blue couches offer a more open, airy, and crisp look. You'll want to use lighter colored rugs to keep the flow of the room light and open. Natural textures and monochromatic colors will work well in a space with light blue couches.
Jute or Sisal Rugs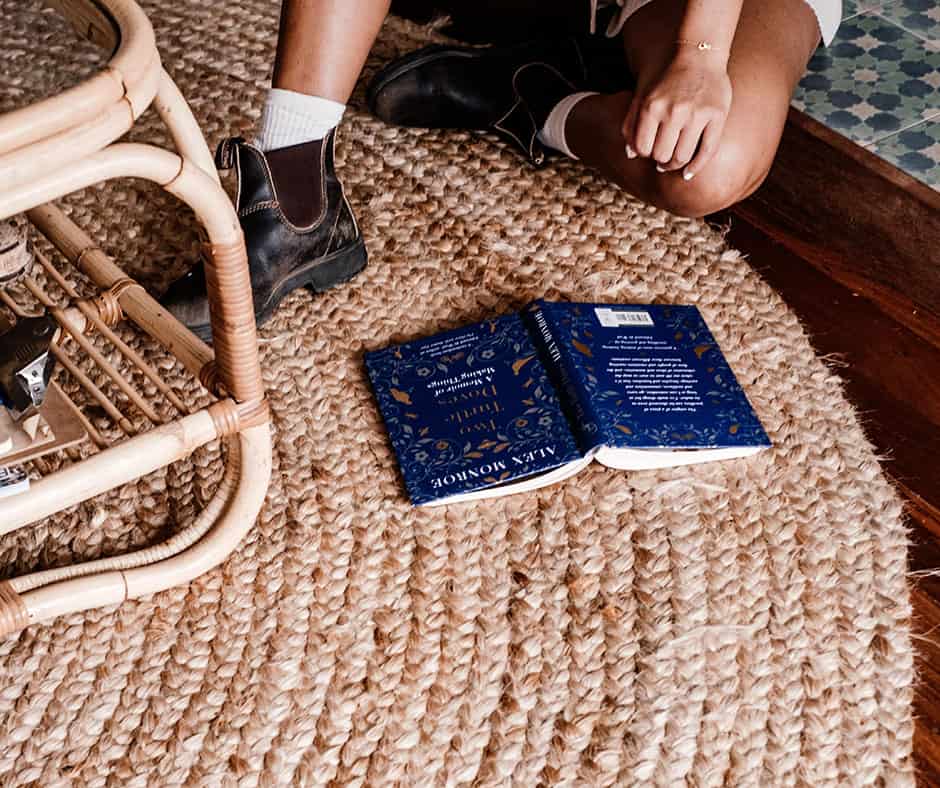 Jute and sisal both offer natural texture and lightness to keep your space feeling open and cheery. Natural sisal and jute area rugs will match any couch and keep the feeling in a room low key. That will allow you to dress your light blue couch up with patterned pillows or a throw.
Consider a gray flat weave jute rug with tassels to keep an airy look in your space while providing the natural texture of jute. Your light blue couch color will stand out against the gray rug while still flowing in harmony with the contrasting cool gray color.
Washed or Vintage Style Oriental Rugs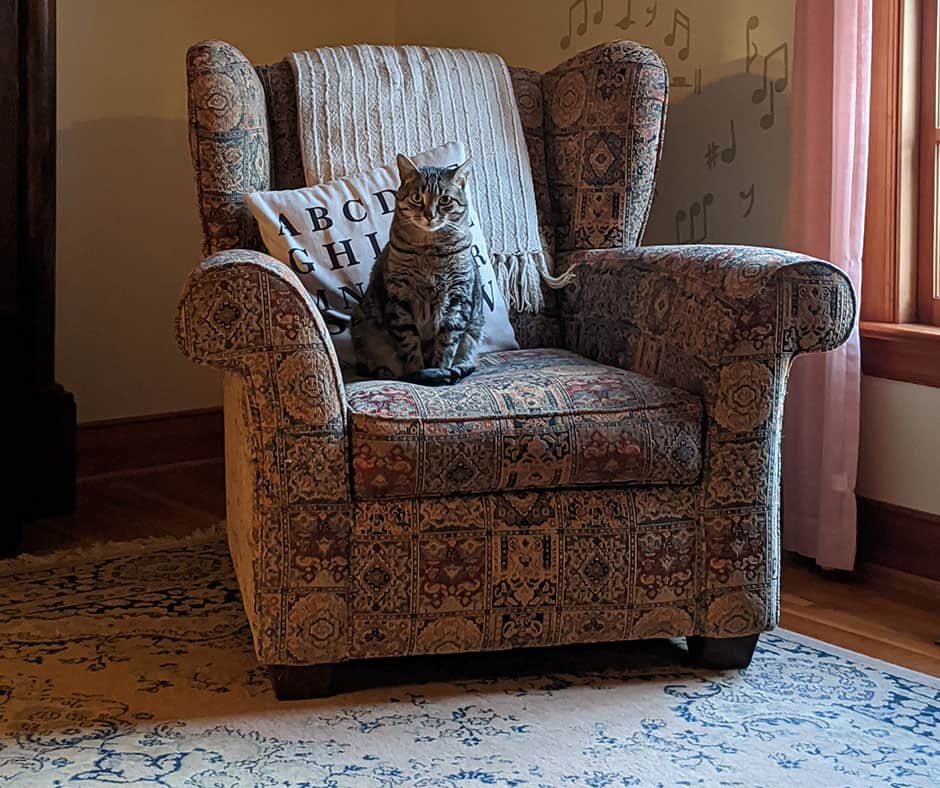 You can add texture and pattern to your space with a washed oriental style rug. A light charcoal gray and cream rug paired with a light blue couch will bring in style and harmony. And, it will preserve the look of a calm, monochromatic space.
To add color to the space, a washed rusty brown rug with hints of blue will draw in the light blue of the couch. This style rug adds a pattern without being too bold or overbearing. It accents the light blue couch nicely and still keeps the flow of the room bright and airy.
Rugs Ideas for Blue Leather Couches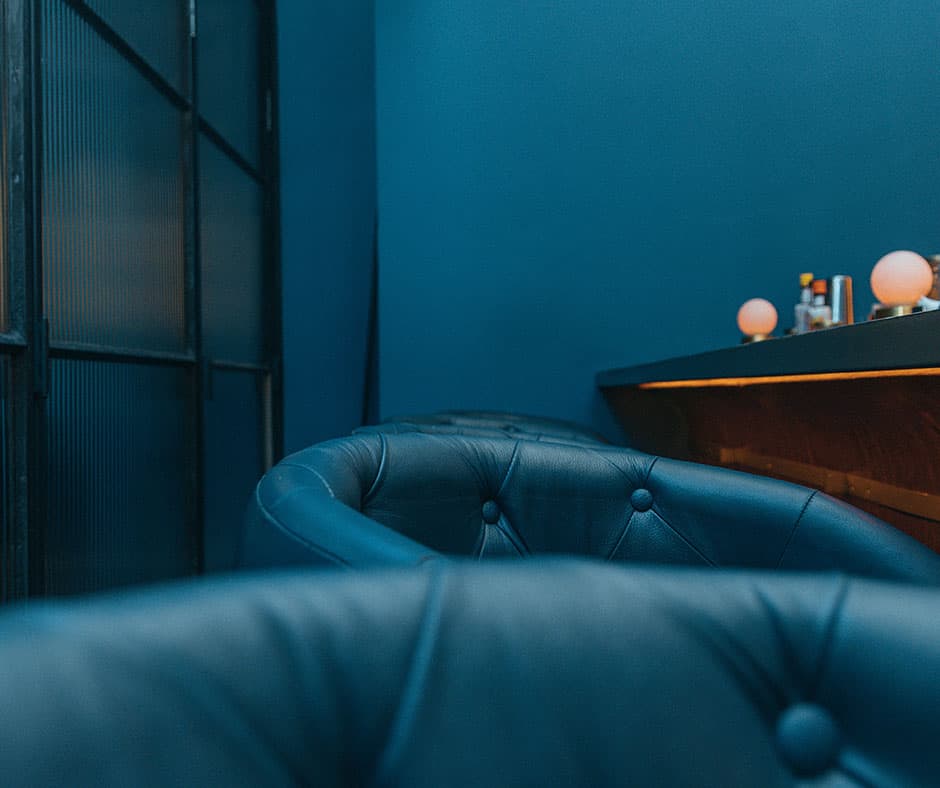 Because leather is a natural material, rugs in natural materials will create harmony with the couches in the space. Think of it like bringing the outdoors inside, while also creating an interesting, colorful aesthetic.
Cowhides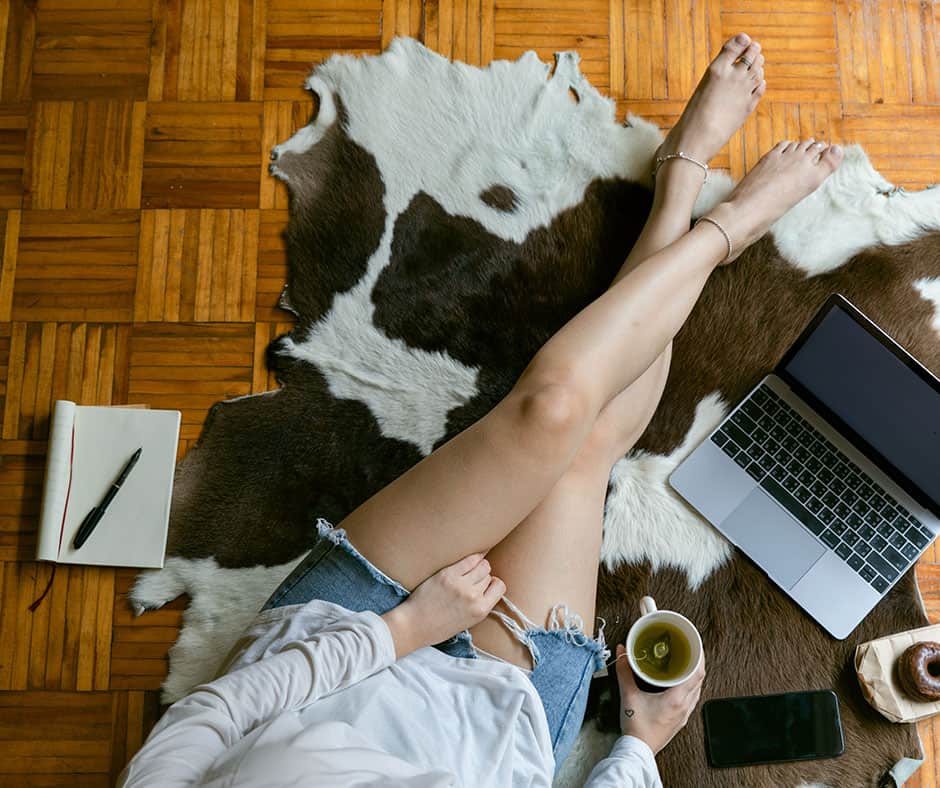 With many color choices, you can opt for a natural snowy brown and white hide, a salt and pepper hide or even a hide which has more of a solid color. The cowhides will play off the natural texture and character of the leather couch, creating harmony and balance.
Faux Fur Throws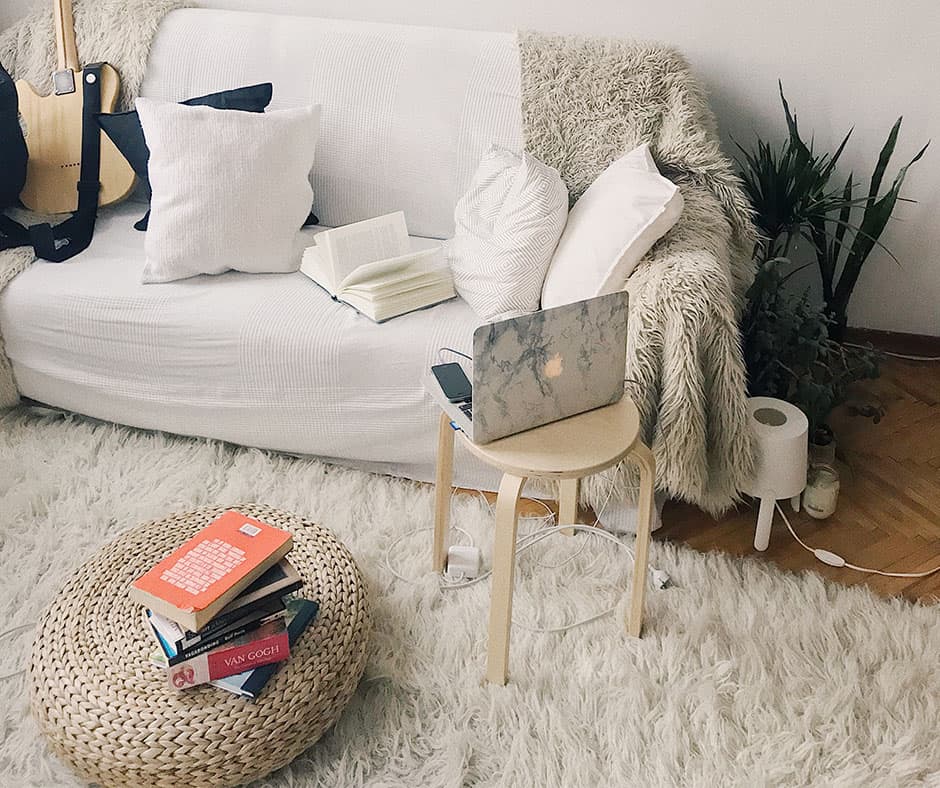 Similar to a cowhide, a faux fur throw will add a natural element to play off the leather of your blue couch. An oversized faux sheepskin rug would complement the natural look while adding extra texture to contrast the blue leather sofa.
Rugs Ideas for Denim Couches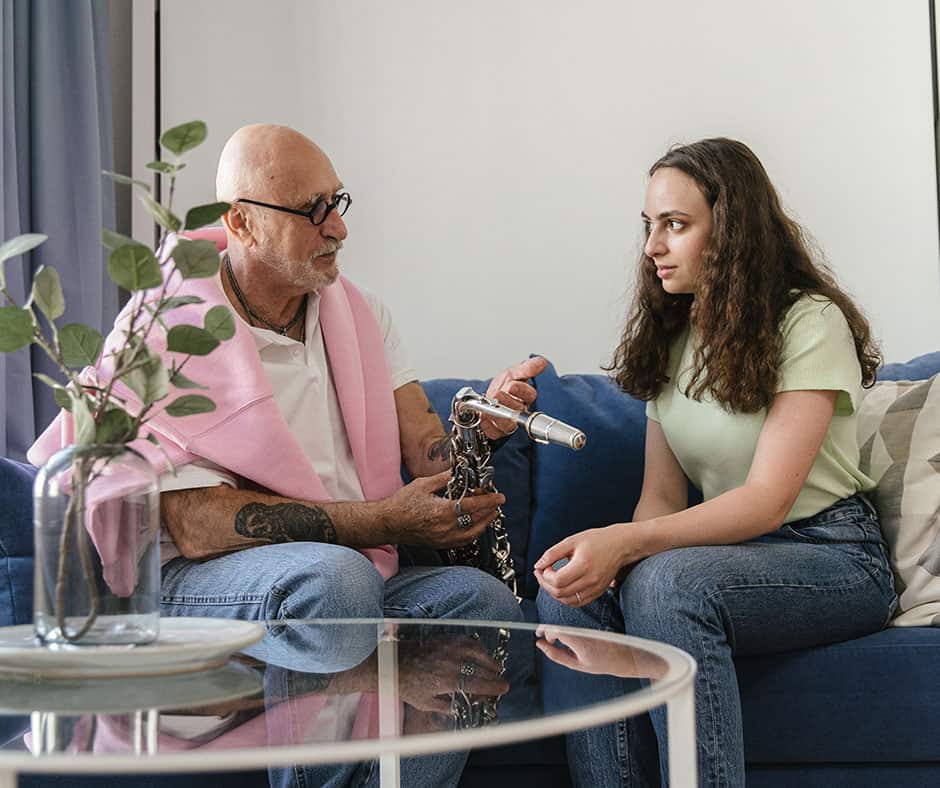 Denim couches have a great dynamic texture that is interesting and gives you a sort of blank canvas to work with. Adding more casual looking rugs will be perfect for this style because denim is not a high maintenance or elegant fabric. It will keep a light, harmonious tone in the room.
Flat Weave Jute or Wool Rugs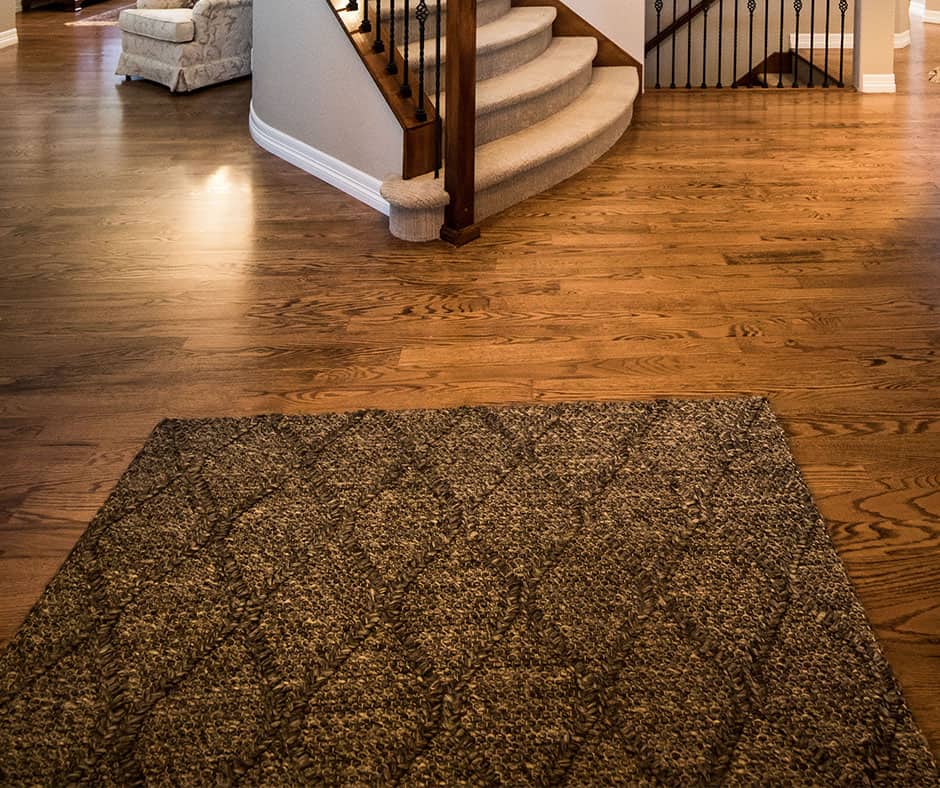 Add color and brightness to your space with a multicolored flat weave jute rug with tassels. This rug will complement your casual denim couch and elevate it to a bohemian chic look. The texture and lightness of this rug works perfectly with the feel and look of denim— whether dark, light, or washed.
For a lighter space, a natural boho tribal flat weave wool rug will bring in texture and a monochromatic tone. The blue denim will pop alongside this neutral rug while still allowing the room to flow and feel harmonious.
Hand Hooked Rugs
Traditional hand hooked rugs have a chunky knit and are defined by small imperfections that show the authenticity of the hand craftsmanship. A cream and blue traditional hand hooked rug will dress up the look of a denim couch while still keeping the room casual and feeling cozy.
For a vintage chic element, a hooked rose wool area rug will add an old time look while providing the casual aspect that complements denim perfectly. The blue will harmonize well with the denim while the pink, yellow, and cream in the roses will add a pop of color.
Conclusion
You have several rug options that will help you create a unique space. It all depends on the color and material of your rug, as well as your own personal style. Complement the blue color of your couch to add harmony and feel free to make a bold choice to add some unique character.