In This Article We'll Discuss
A Farmhouse Bathroom With a Charcoal Statement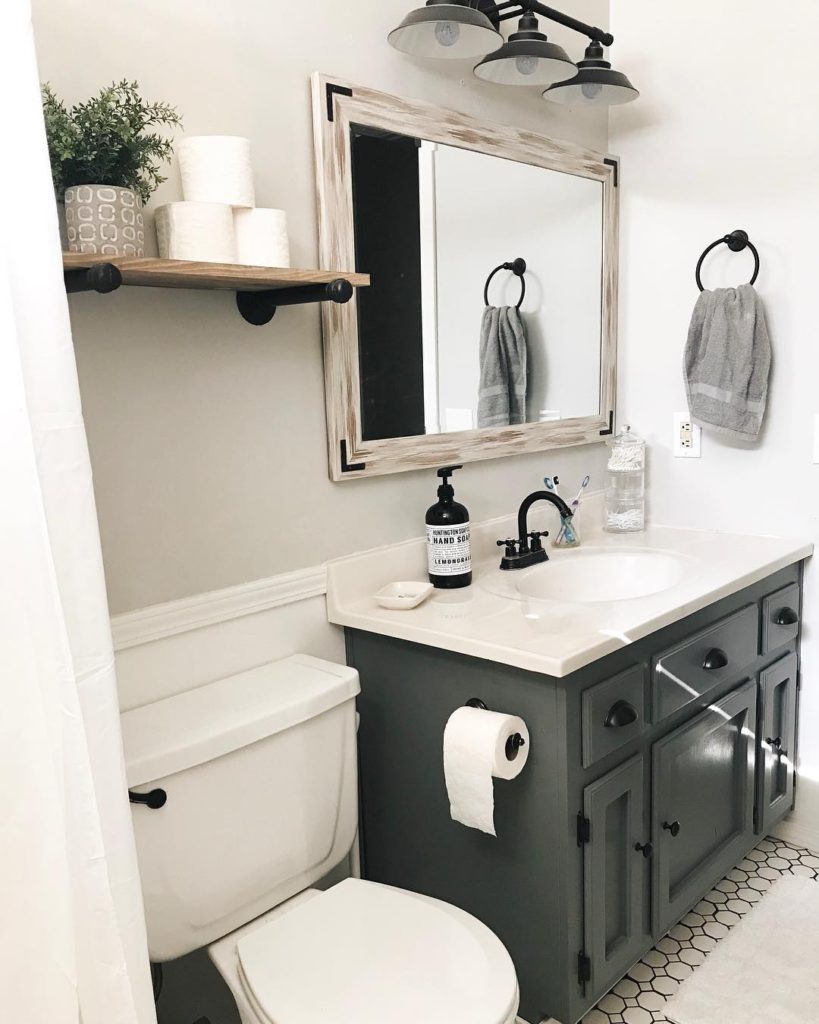 This guest bathroom uses a stunning charcoal color for its vanity. The color is trendy, modern and it's now. The floating shelf with the rustic mirror throw in some farmhouse flare. White hexagons on the floor add some depth and texture to the space.
Layered Neutrals With Easy To Use Mason Jars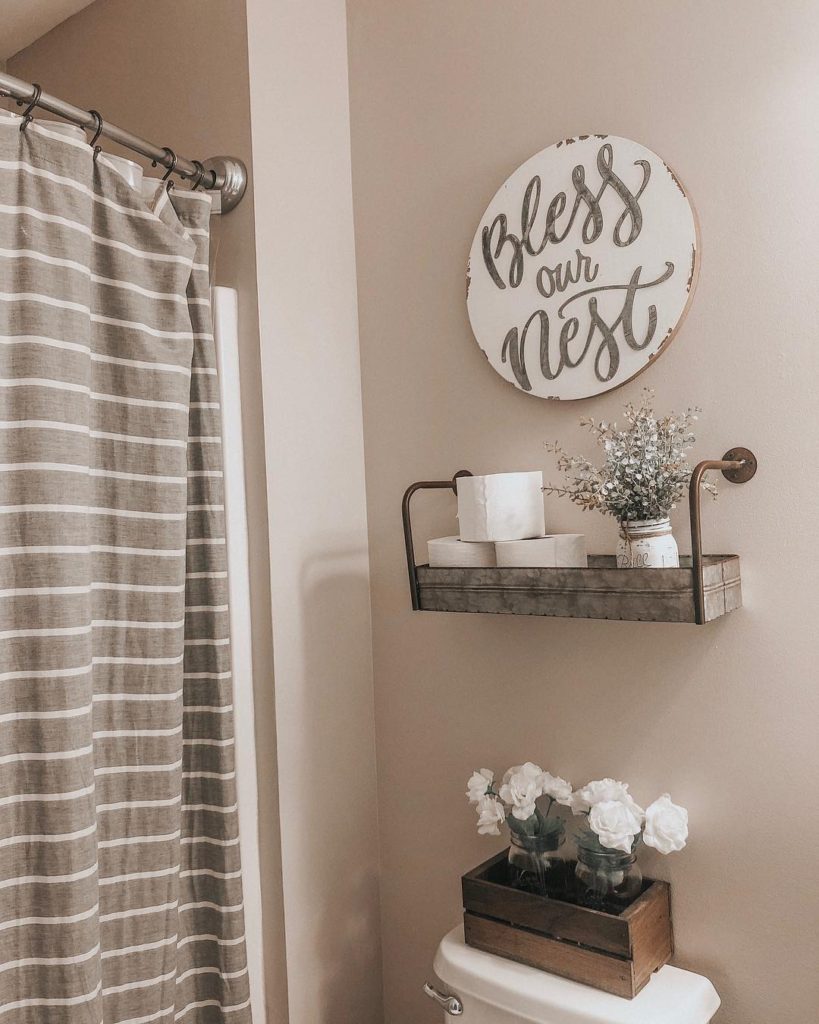 Layering neutral with some farmhouse accents always works. The taupe-y paint color on the walls is easy to match with. Galvanize metal works great for accenting spaces and makes the shelf here super cute. You can never go wrong with some decorative mason jars–which are super cheap too.
Add Some Decorative Flowers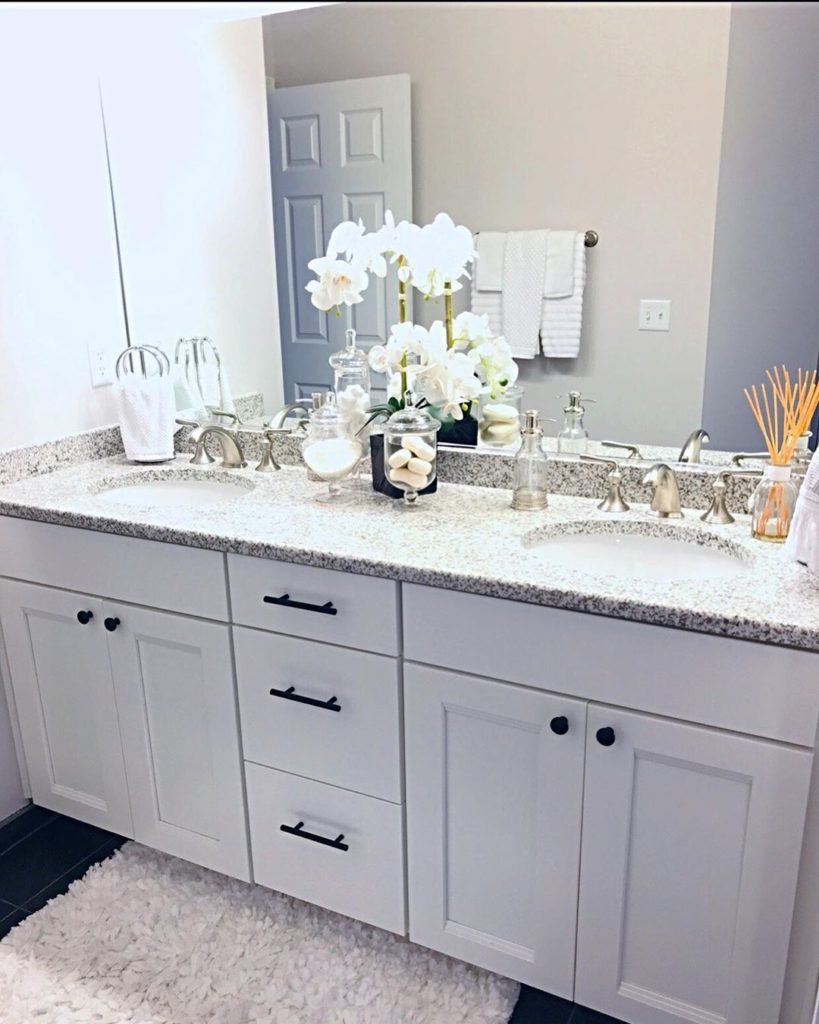 If you don't want to do a full on project, you'd be surprised how much flowers can change a space. Flowers are known to have a soothing and calming effect which I'm sure any guest will appreciate.
You don't have to match the flower color exactly to the space but white on white looks elegant. When it doubt go monochromatic.
Recommended Read: Best Bidet Toilet Seat
Add a Unique Mirror to Your Guest Bathroom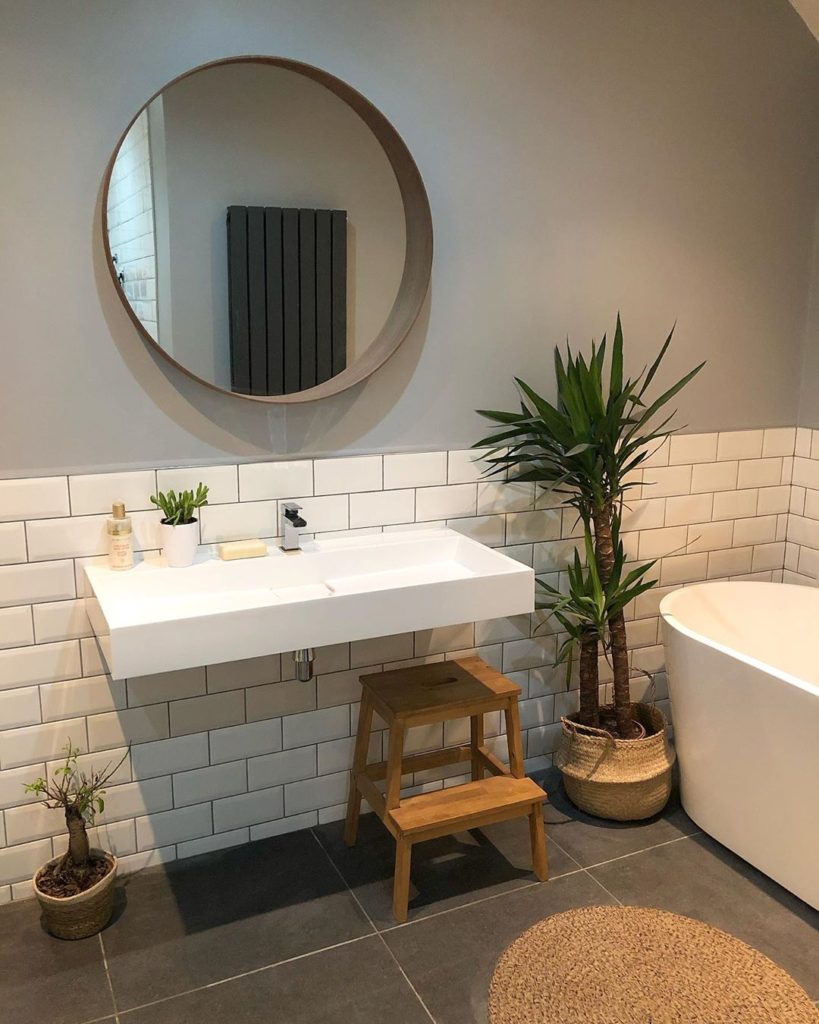 With so many mirror options you don't have to opt for the standard frameless square mirror most commonly scene. This circular mirror keeps the space fun and interesting. The galvanized metal look always work with subway tiles and jute.
Make it POP With a Fun Color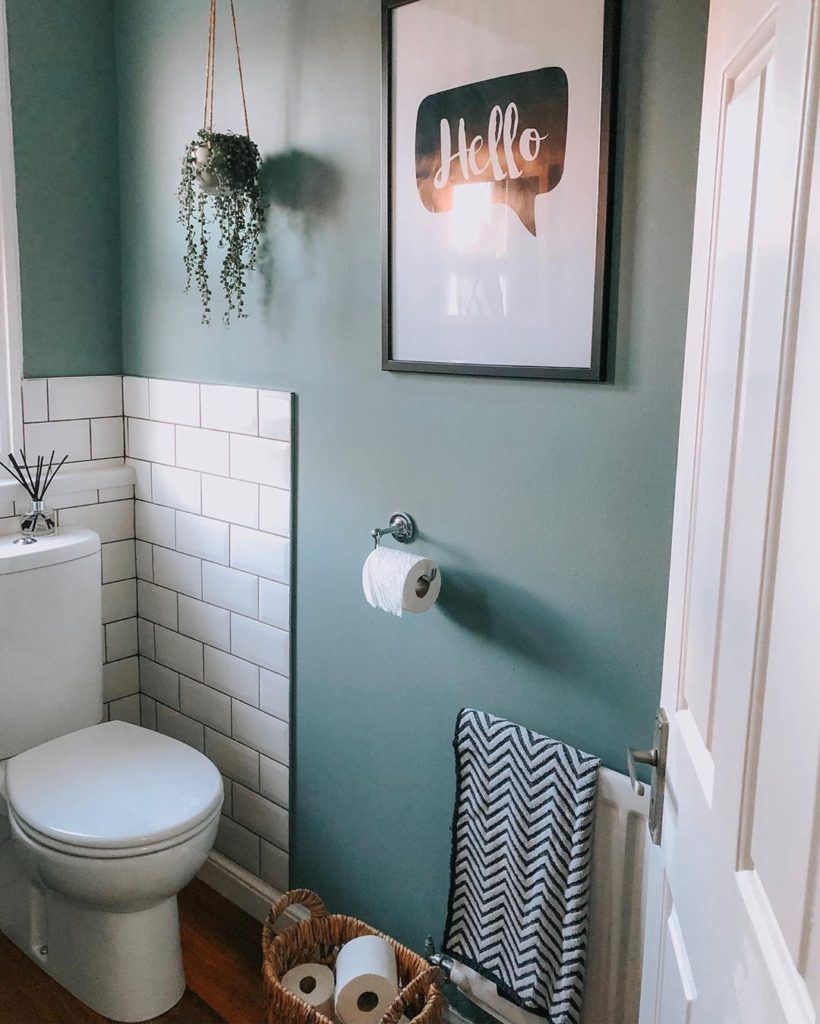 It's not a secret that painting a room is the cheapest way to dramatically change a space. Since guest bathrooms are small it'll take just a couple hours to completely change the space. Also, you can go more bold with the color options here.
An easy hack to get it right is to pick a couple colors you like and paint small surfaces of the wall. Wait until the next day and see which one if your favorite.
Lighting Can go on The Sides Too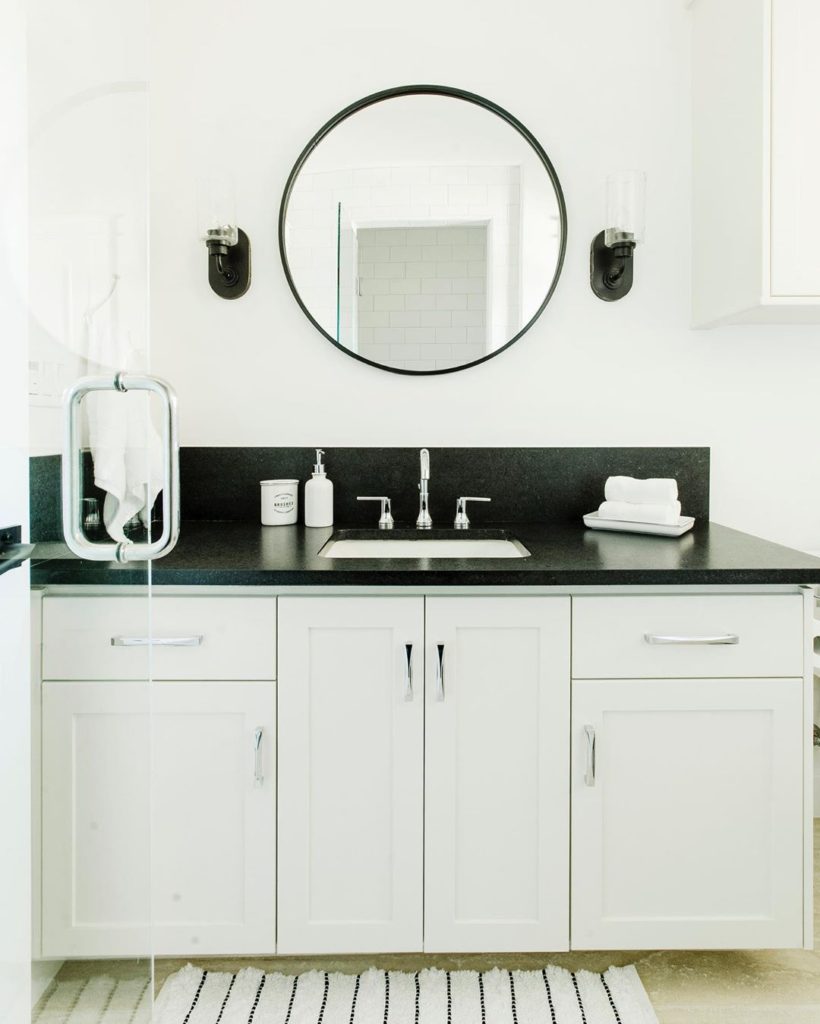 Play with the lighting in the bathroom by adding two wall sconces on the sides of the mirror. The lighting given off by this is flattering–which any guest will be happy with.
Keep it simple by matching the color with an existing color you have in the bathroom already.
Make it a Relaxing Spa With Candles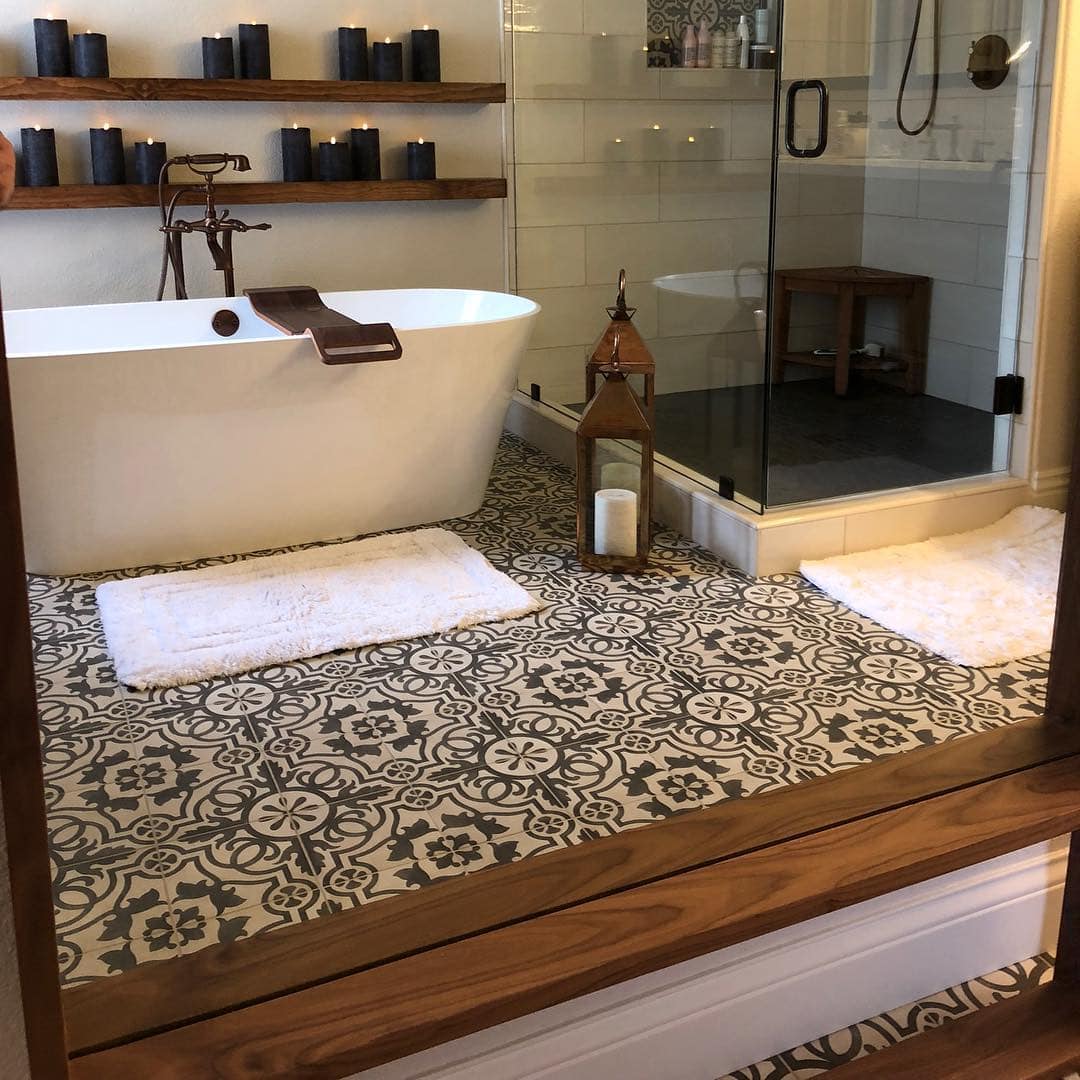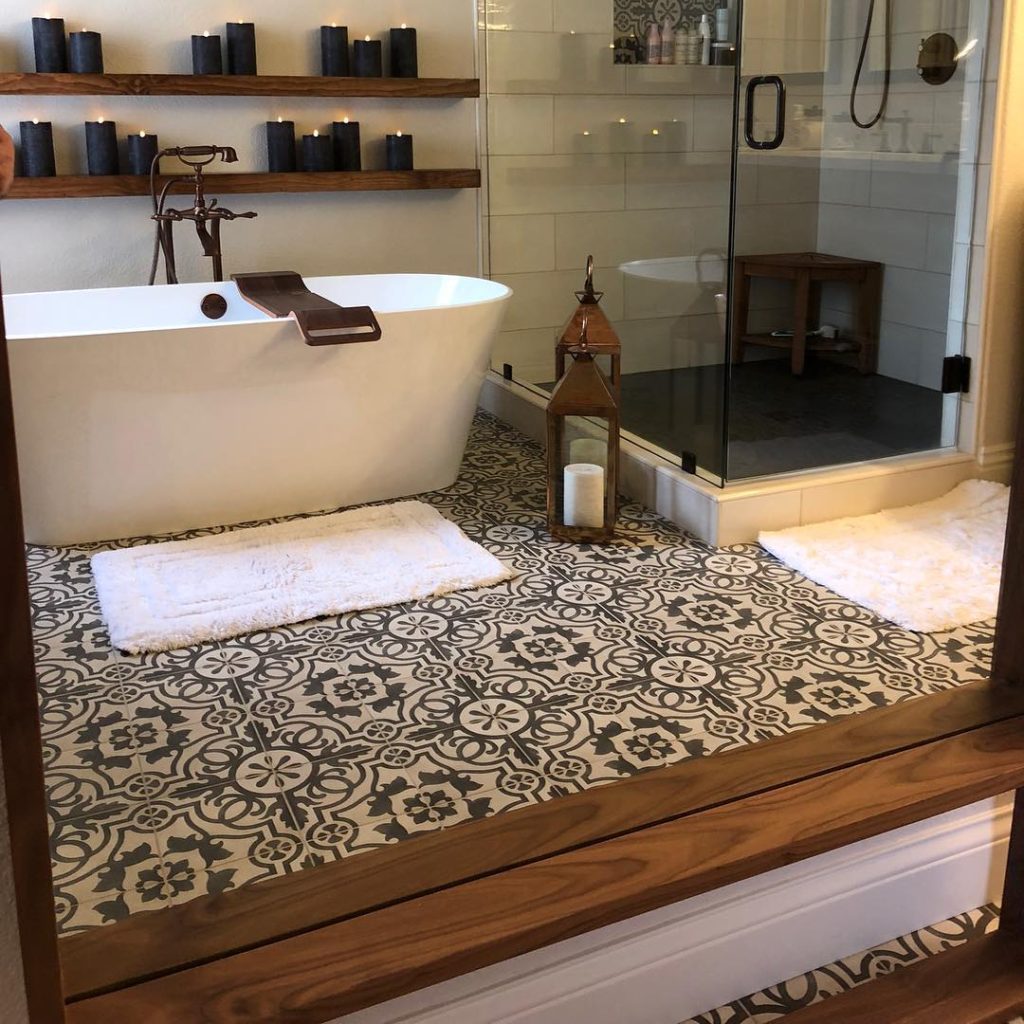 There's nothing warmer or cozier then candles. Let your guests feel like they're at a spa by adding some scented candles though out the guest bathroom.
It'll be easy for your guests to light them up and relax their stresses away. Pick a color that matches the rest of the room for the candle color for a chic feel.
Add Matte Black Hardware And Accents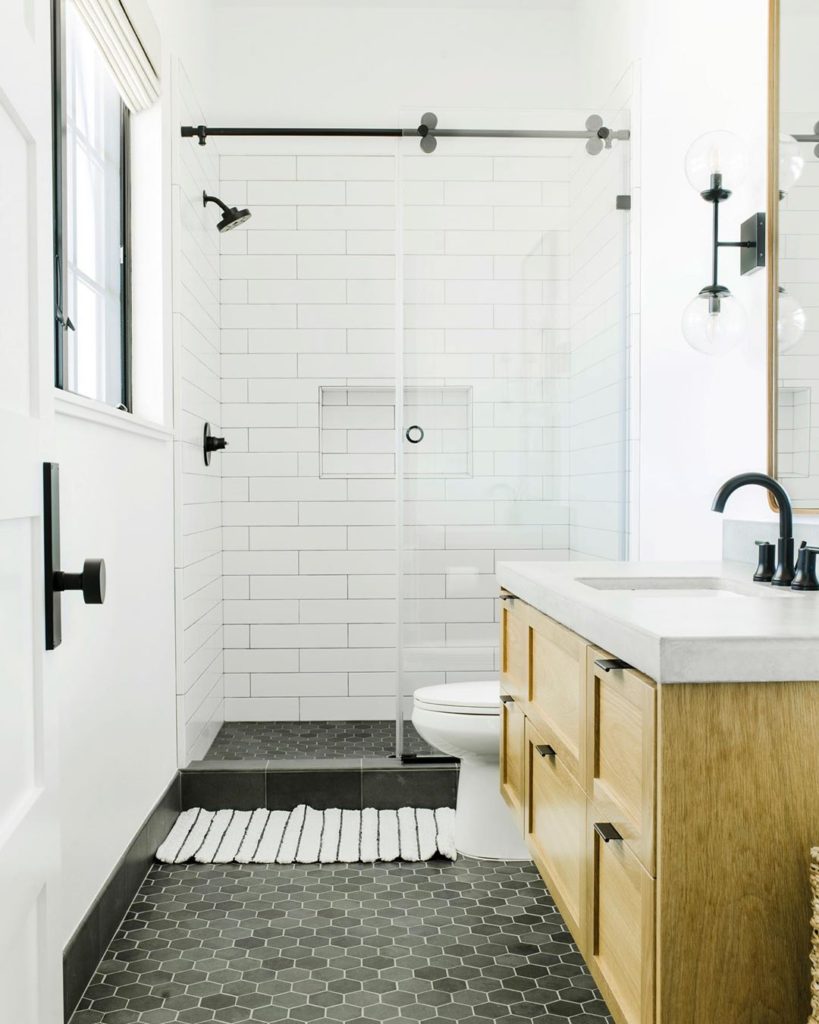 The best thing about black hardware an accents is how long they stay looking clean. Now I'm not encouraging letting a guest bathroom get dirty but having accessories that naturally hide dirty is a definite plus.
Dark accessories look luxurious and are an easy and cheap way to update a guest bathroom.
Cover it All in Wall Paper or Just an Accent Wall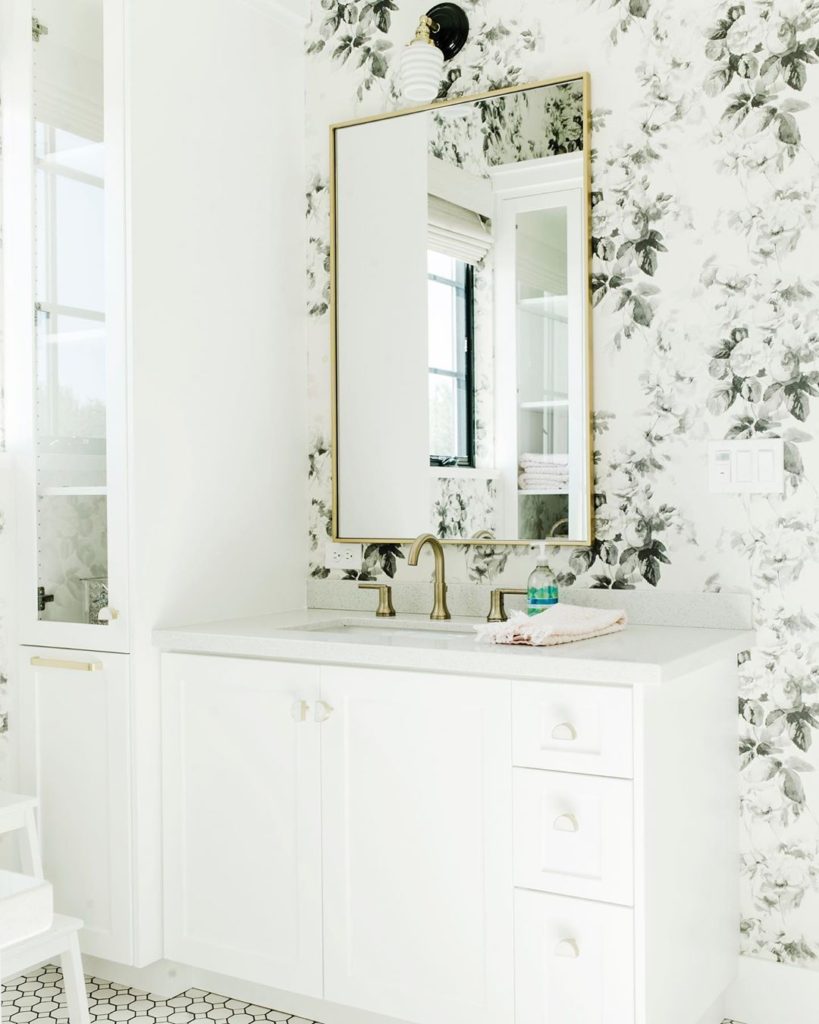 Adding an accent wall of wall paper is easier than covering the whole bathroom. Also, doing just an accent wall can give you more freedom in the wall paper you chose.
You can pick a fun floral and busy wall paper or a dark and rich style without making the room feel too small or too busy.
Add Shiplap Walls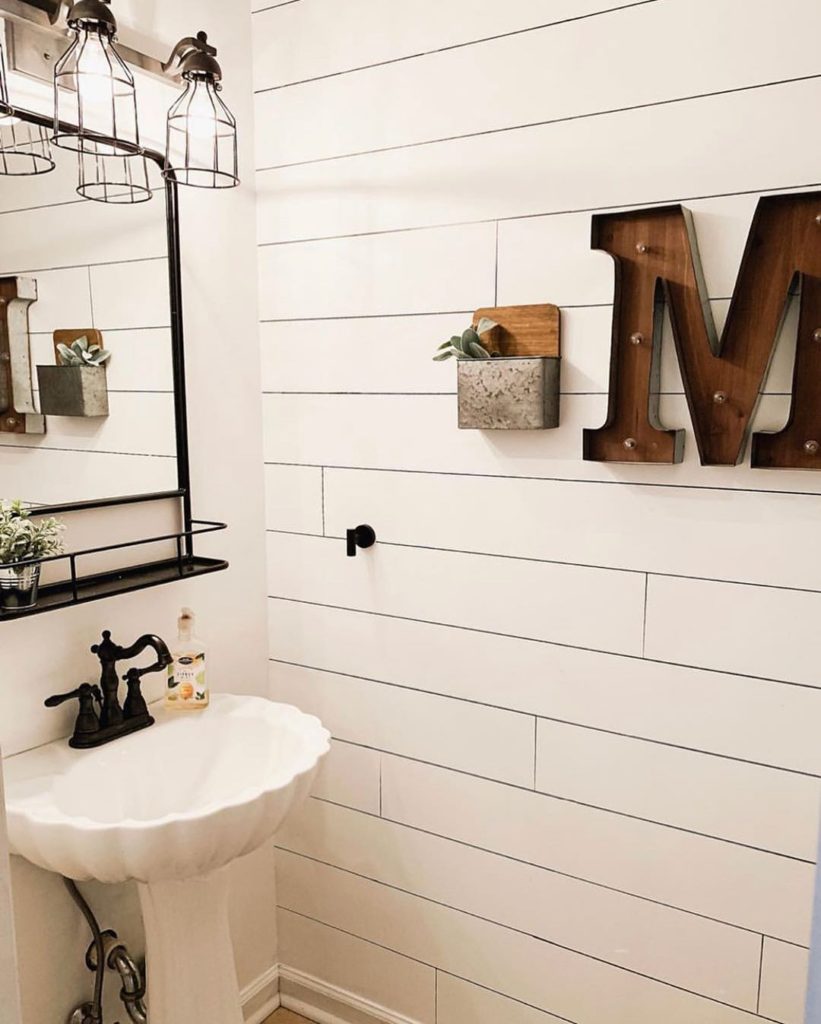 Adding shiplap walls is a relatively easy and inexpensive way to decorate the walls in a guest bathroom. The easiest way is to do just an accent wall in this style.
Just because it's shiplap doesn't mean you have to paint it white. It's the most traditional color but feel free to have fun with other color options. Accent the existing colors in your bathroom and neutrals tend to work best.
Add Some Modern Floating Shelves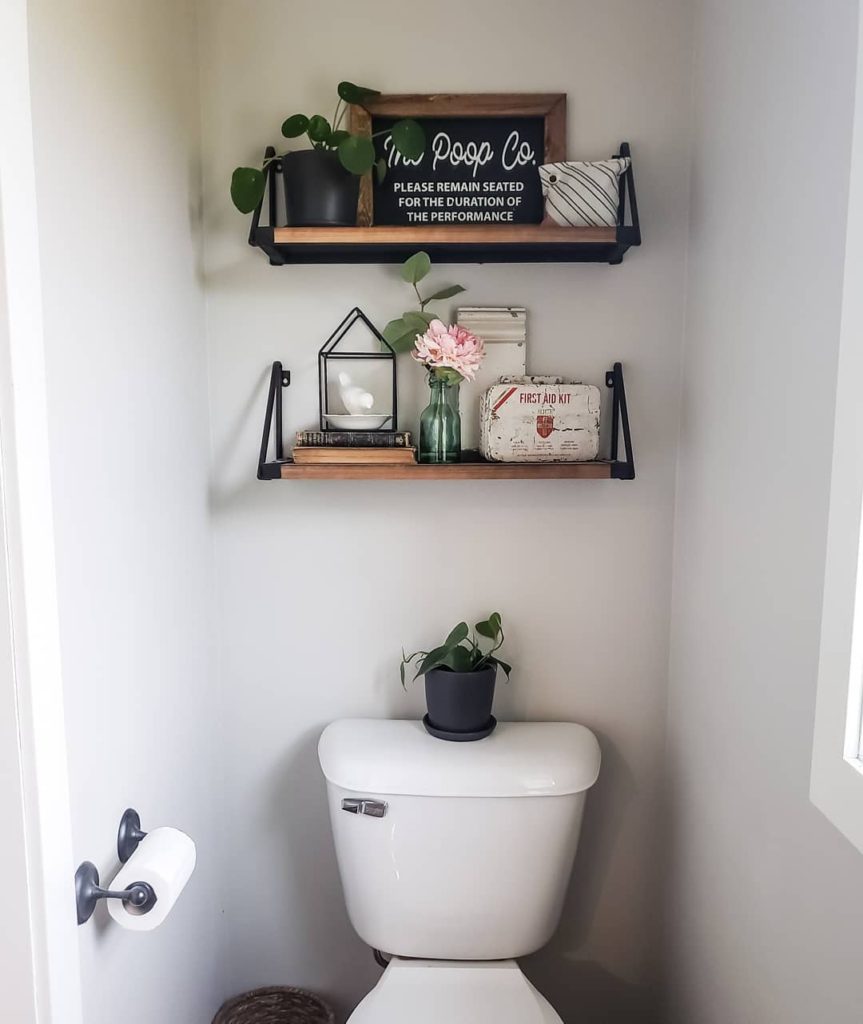 Floating shelves give are exciting because they give organization space and decor options. If your guest bathroom is feeling boring, adding a floating shelf is a great way to add some fun decor items.
They're also super handy for storing toiletries and paper towels. Pick a floating shelf style that matches your existing decor like farmhouse, modern, midcentury, coastal, e.t.c.
Go For a Rustic Antique Look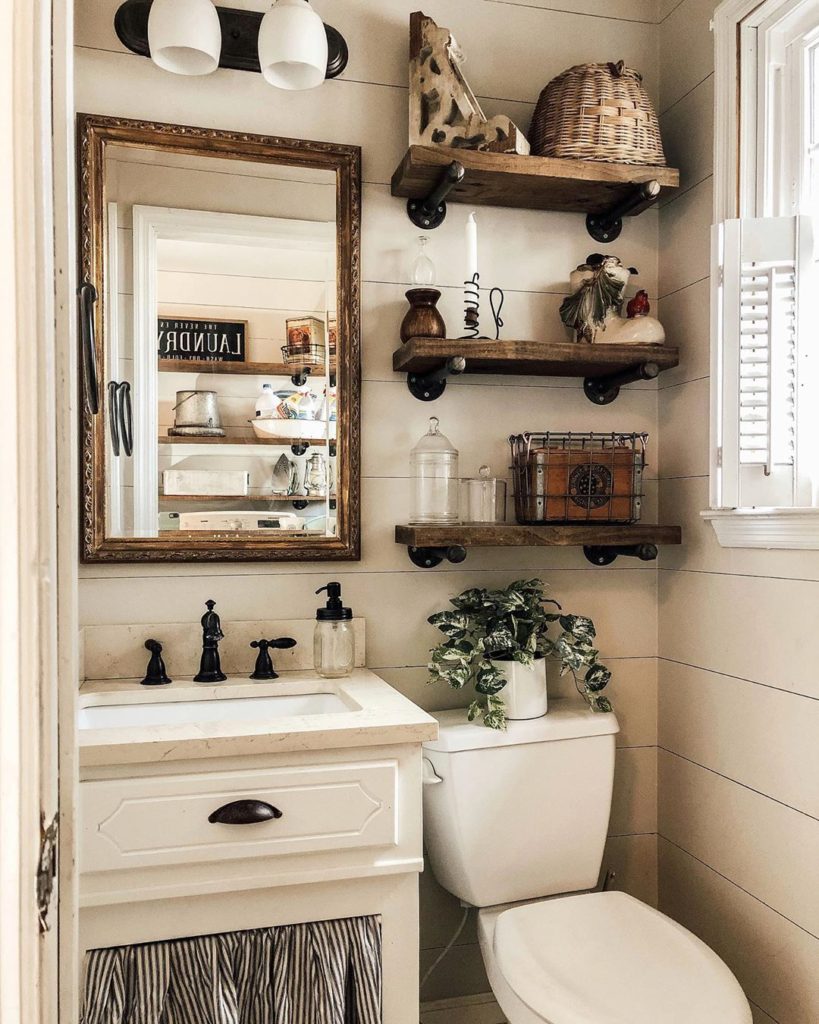 There's many place sto find antique and rustic decor items. Try a local thrift store and search for a rustic mirror. This gold one pops out against the neutral decor in this bathroom and makes it interesting.
Add Back Lighting to a Mirror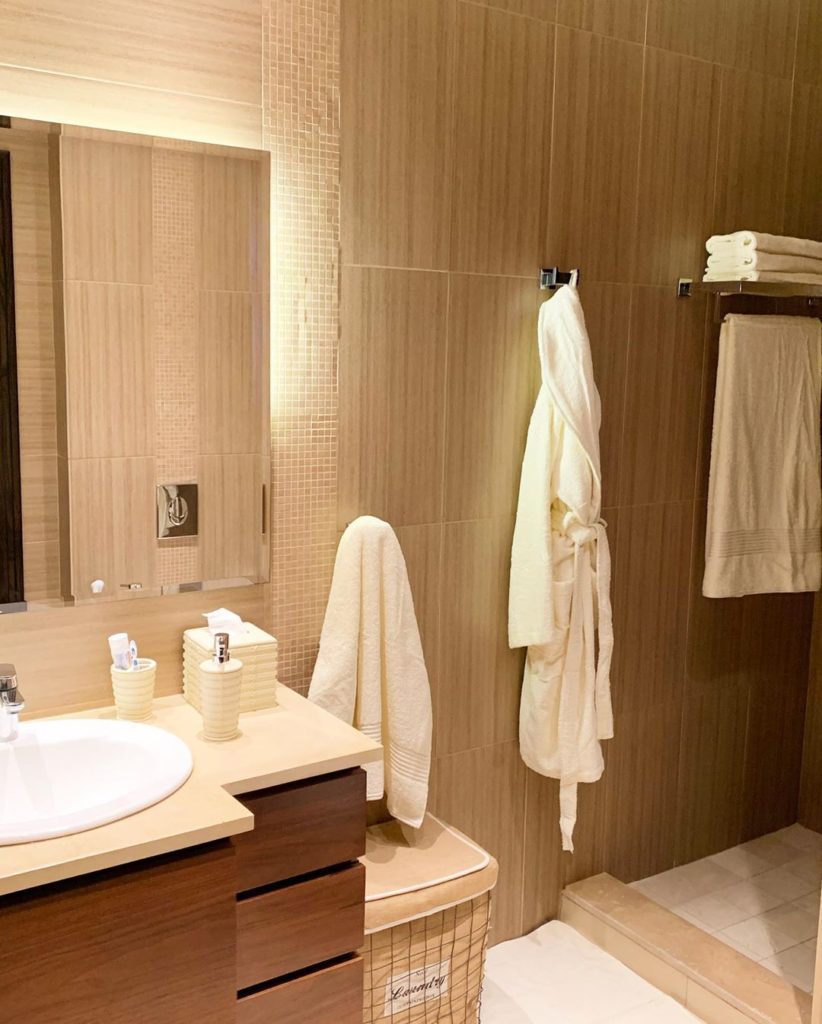 There isn't a lighting that's more flattering than the soft glow given by a light placed behind a mirror. This is a swanky and modern way to add a chic touch to a guest bathroom.
Your guests will love using it to get ready and feel like they're staying at a hotel.
Add Shabby Chic Swank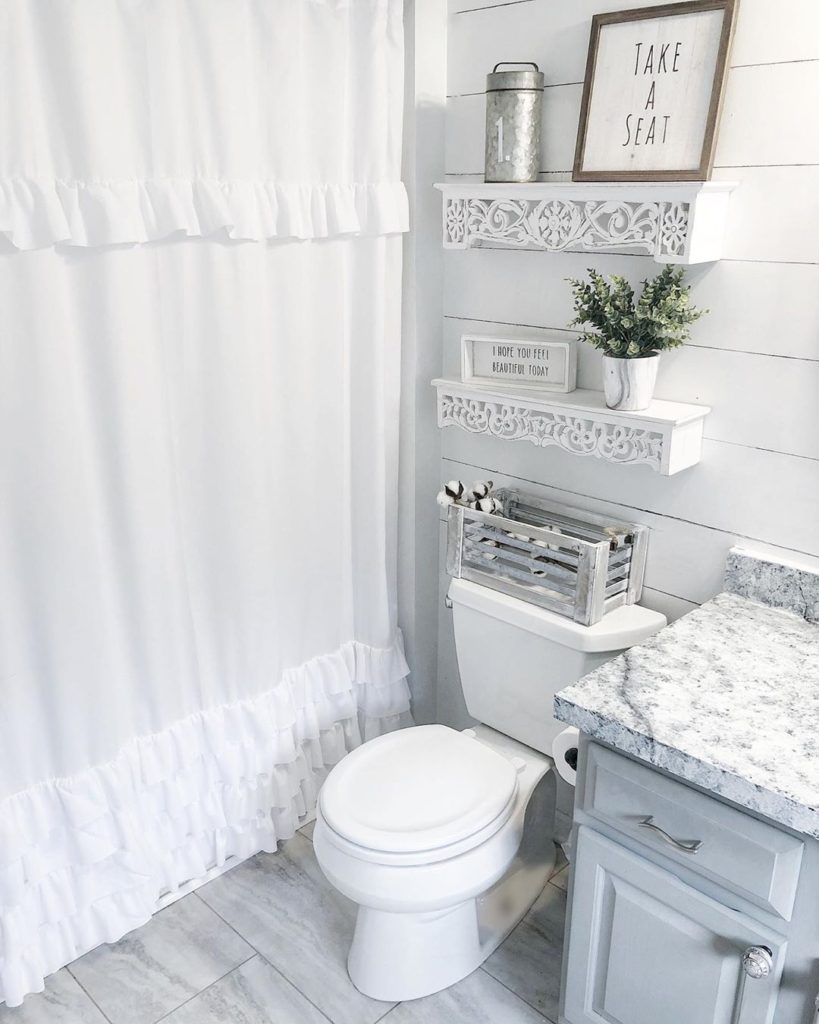 Shabby chic combines something old with something new. The rustic shelves and ruffled shower curtain are definitive of this style.
It's contrasted with the modern granite counter tops and stone tile floor.
Keep it Neutral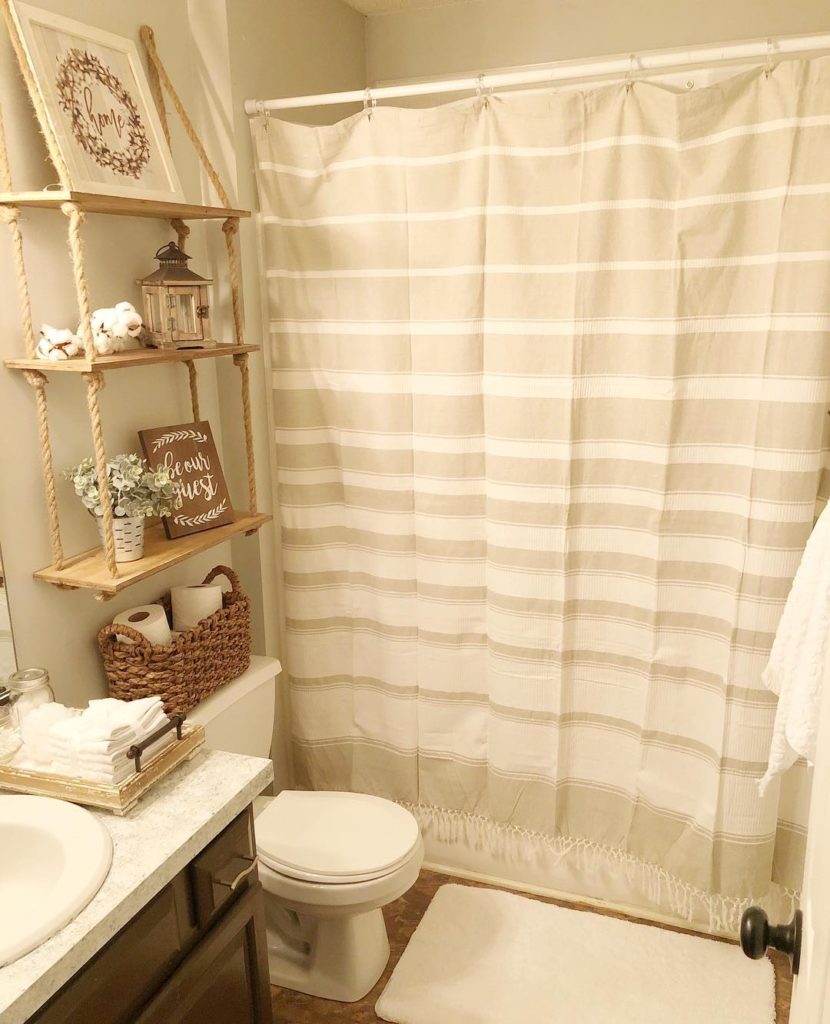 When it doubt, layer neutrals. It's one of the easiest ways to make a room cohesive and beautiful. Grays, beiges, creams, whites, e.t.c are easy to get this look with.
For a traditional look go with shades of white and browns. For a modern look stick to grays.
Grayscale it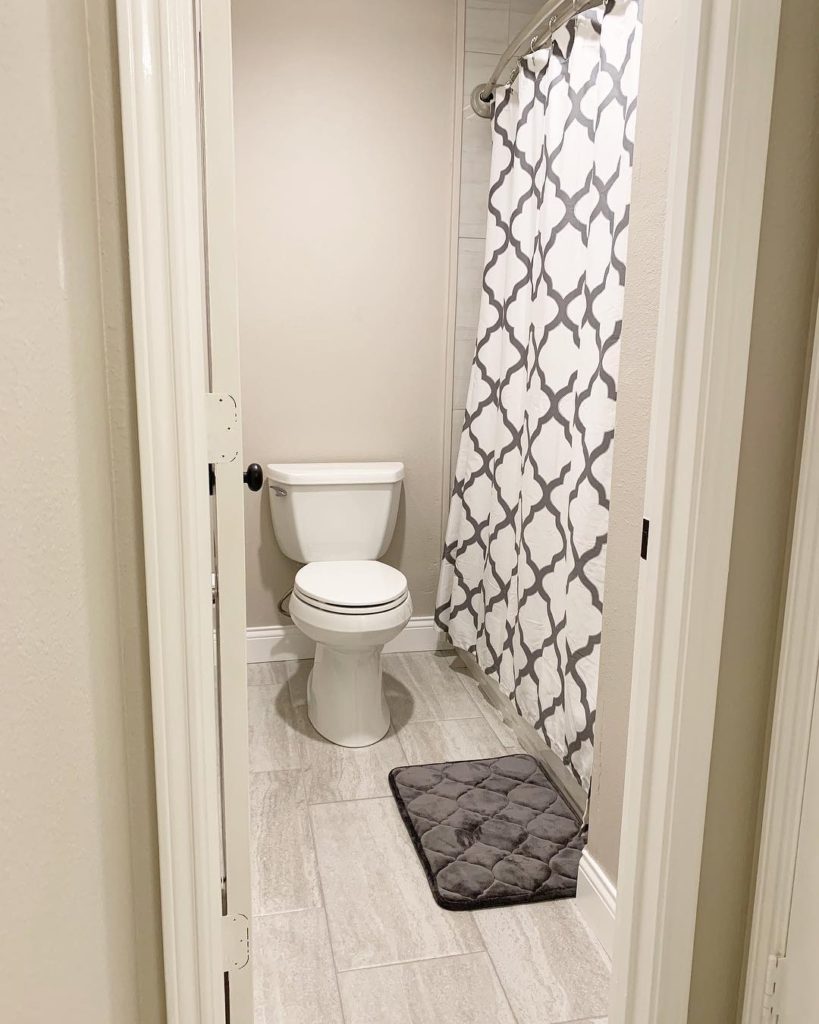 Gray scaling a space is the use of shades of gray in it. Keep is simple and modern by leveraging the color gray.
If you need a pop of color almost any one is complimentary to it and just stick to shades of that color as well. This will make decorating the space as easy as possible.
Add Marble Tile to The Walls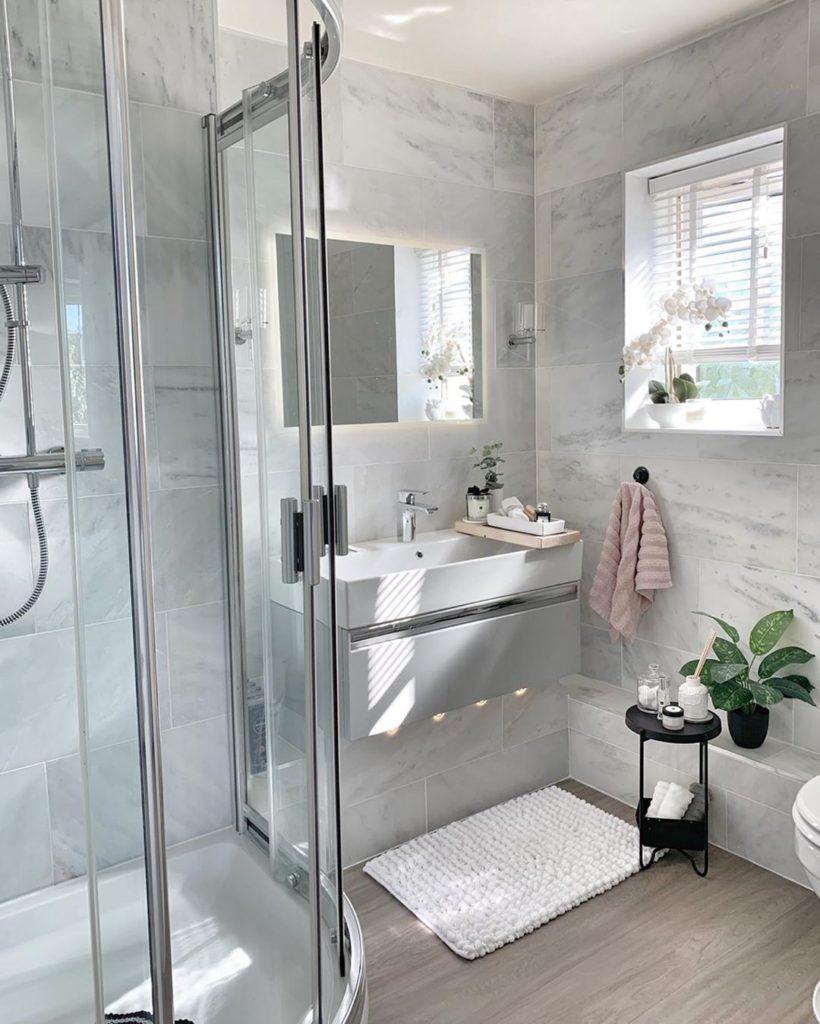 It's not one of the easiest guest bathroom ideas but is the easiest to achieve luxury look. Marble tile walls are a project you should take on if you wants your guests to be wowed the moment they walk in to the bathroom.
The great thing about this look is that the walls are such a statement the rest of the bathroom can be understated. Keep things simple and let the walls hold their weight.
Add Boho Style With Macramé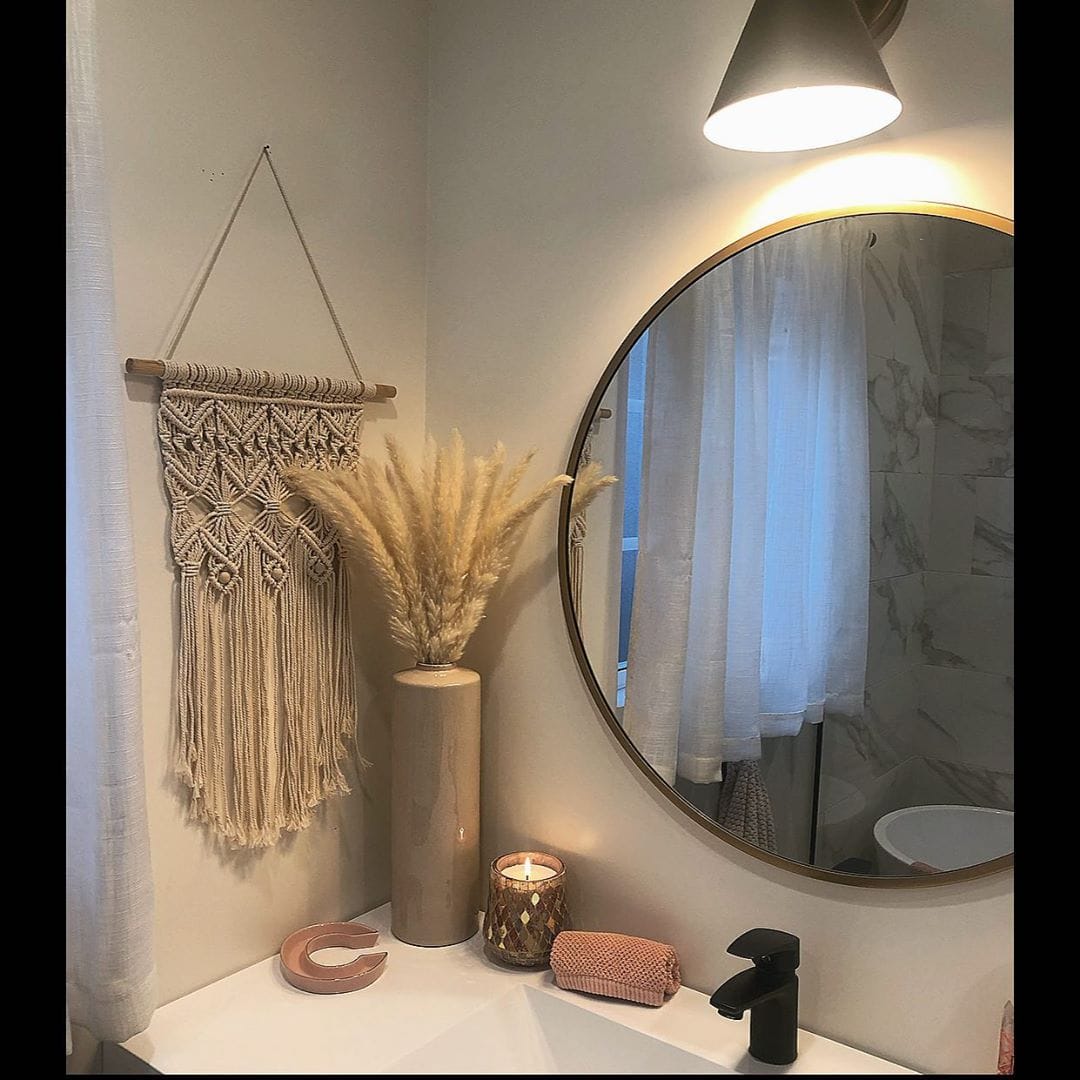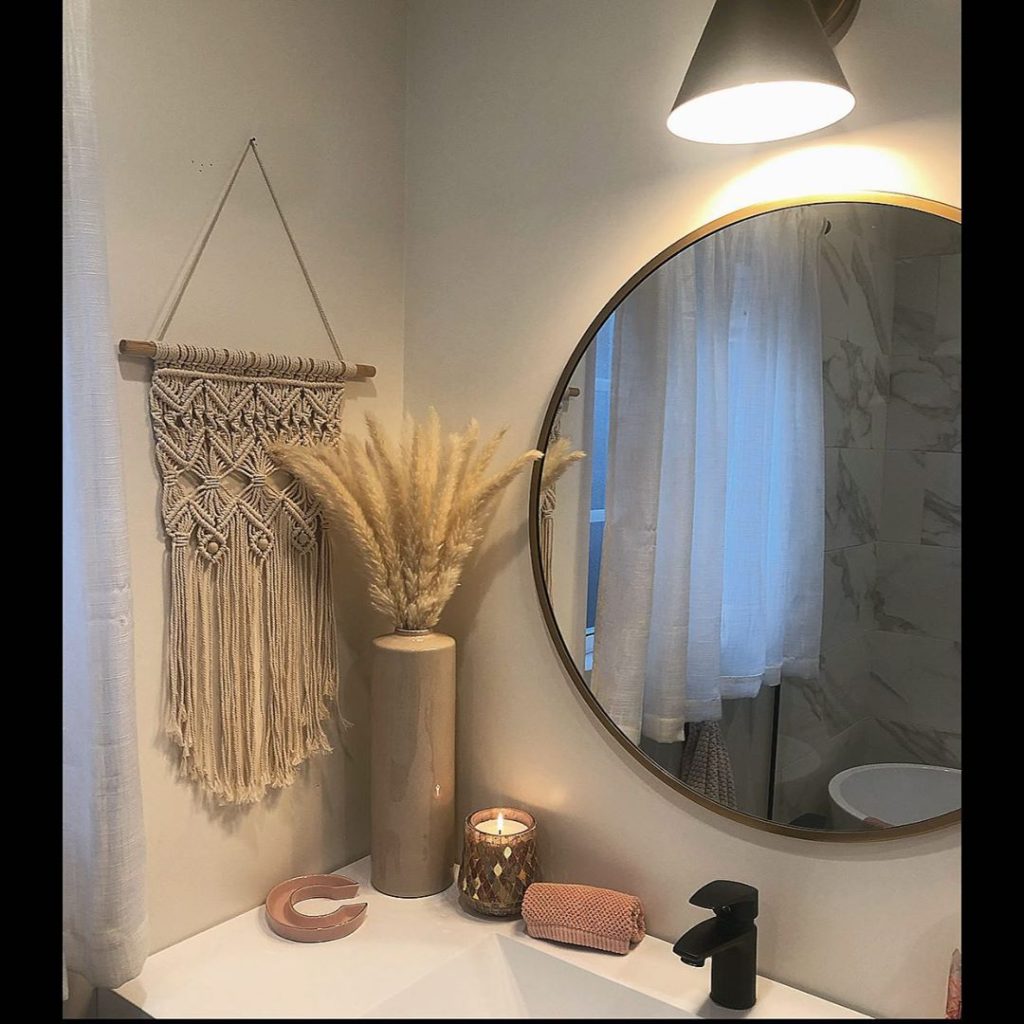 Macrame is quintessential boho style. Wether you make it yourself or purchase it already made it's an easy and elegant way to add some decor to a guest bathroom.
They're typically due in neutral colors and will match with many decor styles, not just bohemian.
Add Floral Drapery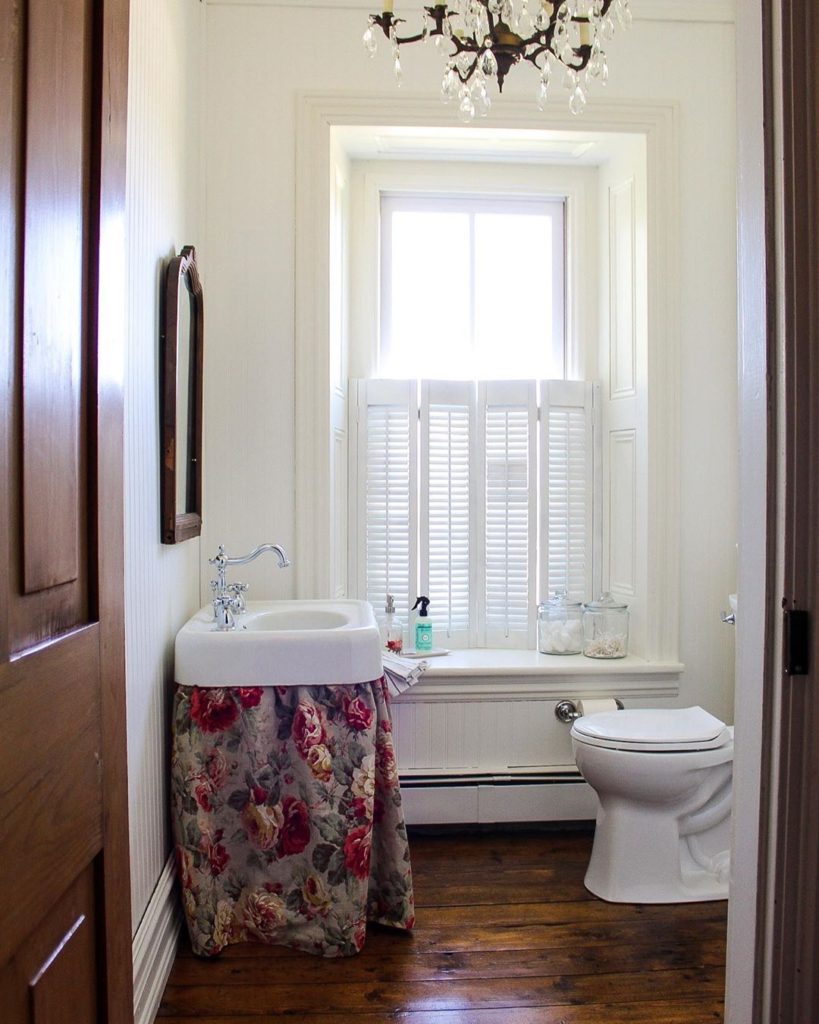 Drapes don't just have to go in windows, you can add them underneath a sink as well. They make toiletries easy to access underneath.
They're a lot less expensive than a vanity so you can easily switch them out. Match them to the season for festive fun.
Elegant Black, Gray, and White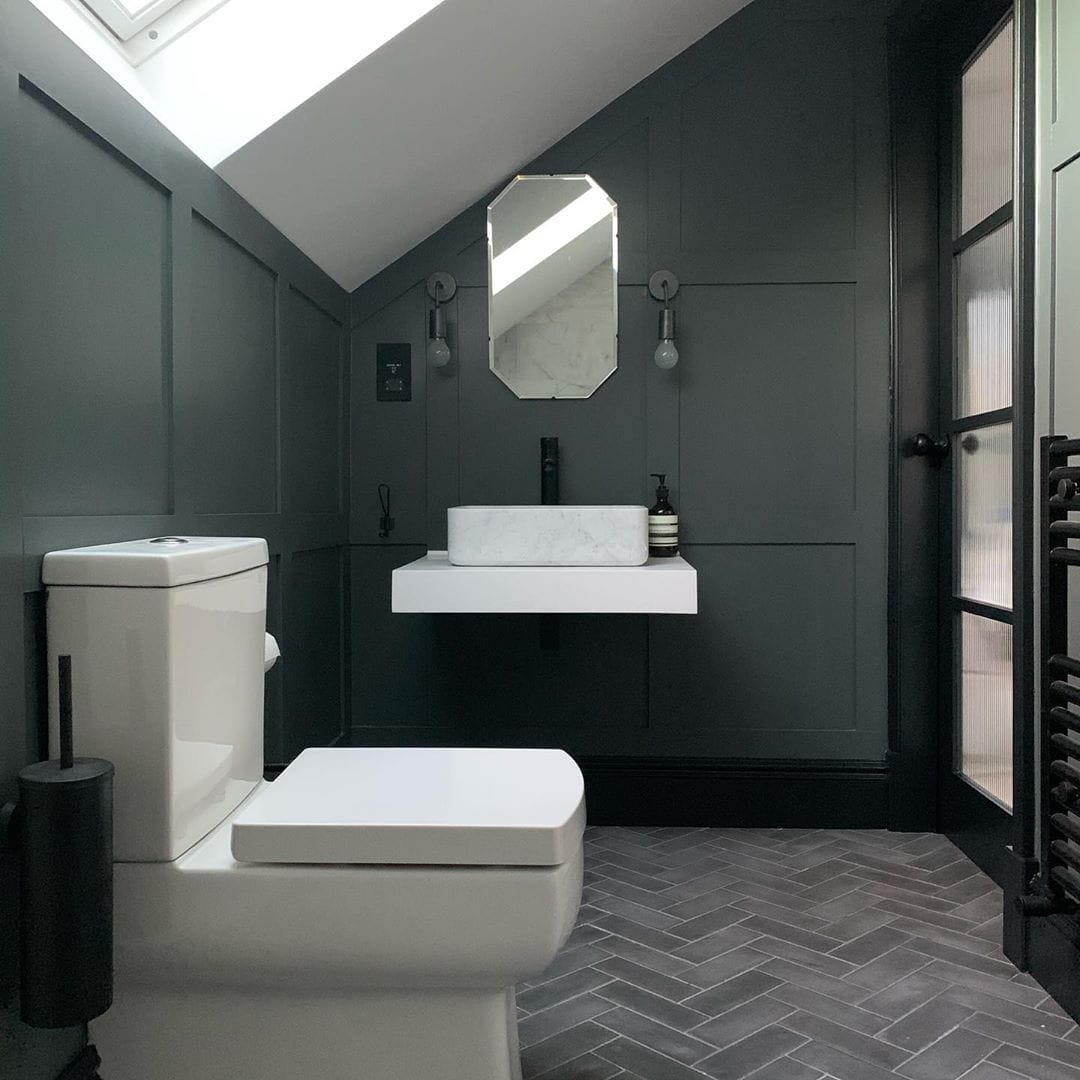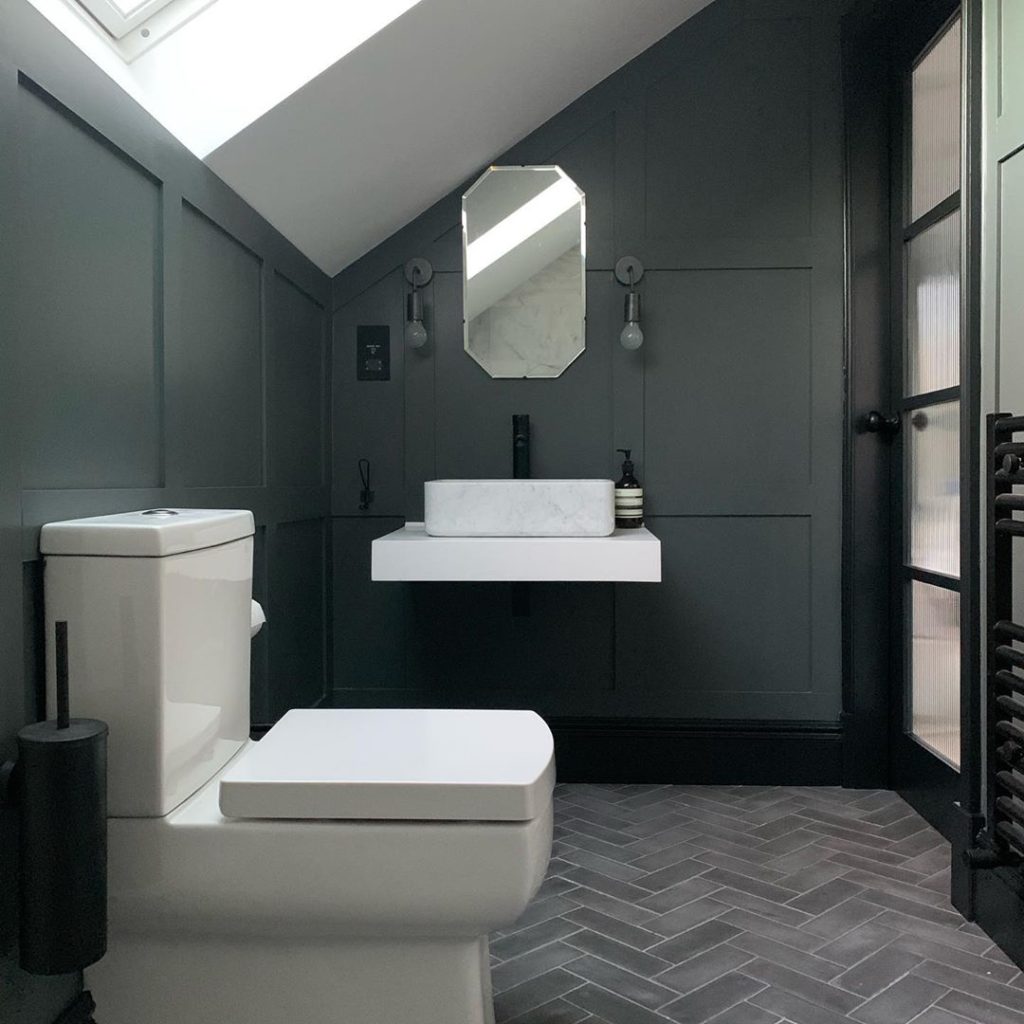 If you love ultra modern design stick to black, white and gray. They're an easy color combination to work with and it's hard to make a mistake.
Dark colored walls will look smaller but luxurious. The natural lighting in this bathroom helps keep it open. If you don't have natural lighting in your bathroom just add as much lighting as possible if you opt for darker walls.
Replace Lighting With Vintage Bulbs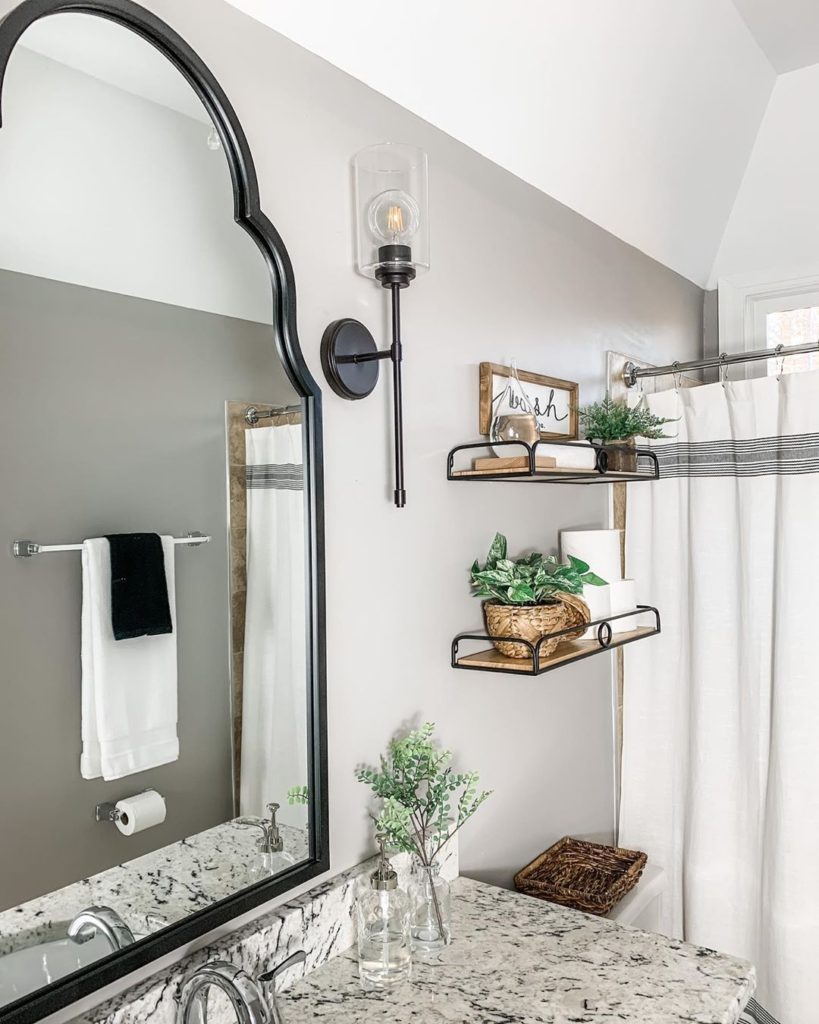 Vintage bulbs are trendy right now and warm up a room. They don't give off as much light as a regular light so make sure you add enough of them to light the space up.
Add Some Glitz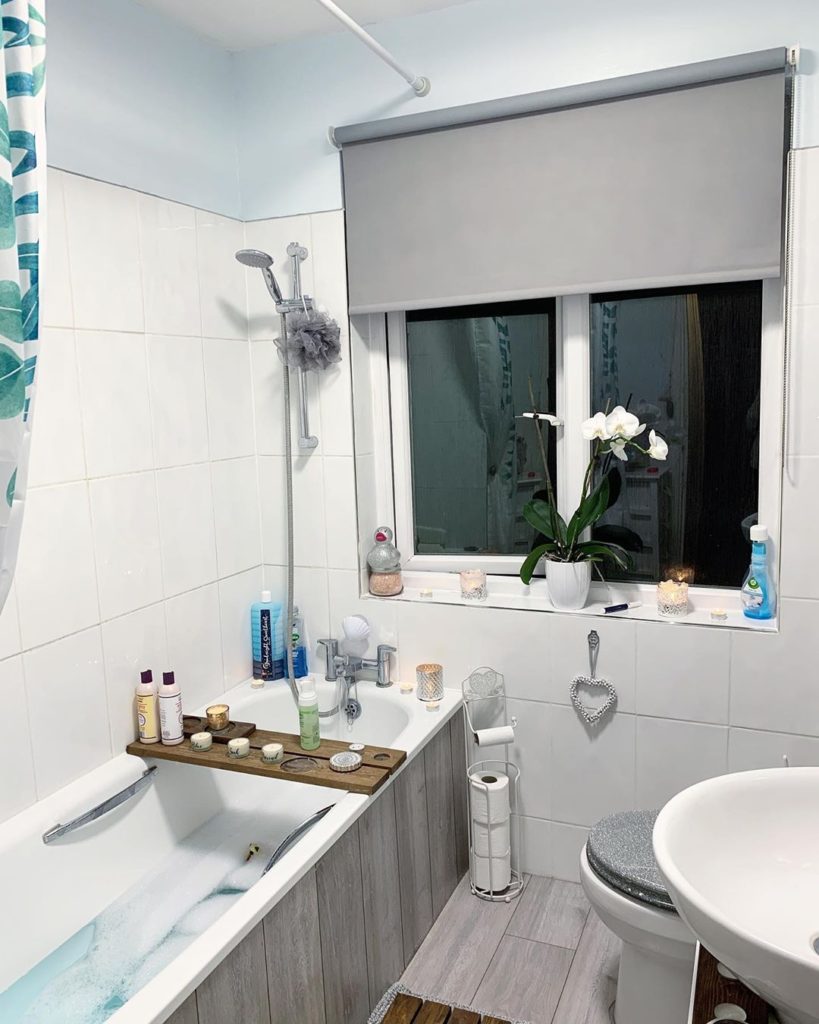 Glitzzy decor accents pop if a room. Just look at the silvery glittery seat cover, rubber ducky, and hanging heart.
Be careful to not over do it and just add some pop around the space.
Make it Bright With Overhead Lighting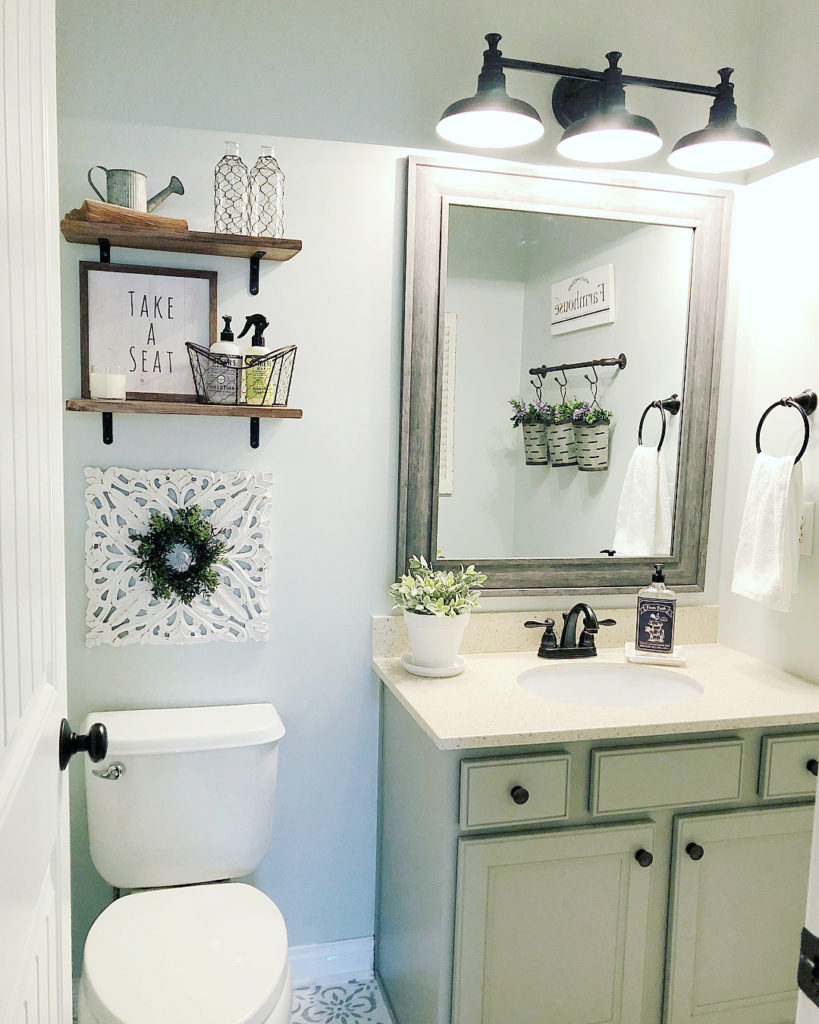 The more lighting in a room the bigger it will feel. If you have a small guest bathroom try adding a running over head light with multiple bulbs. You'll be surprised how refreshed a space can feel with better lighting.
Use a Fancy Mirror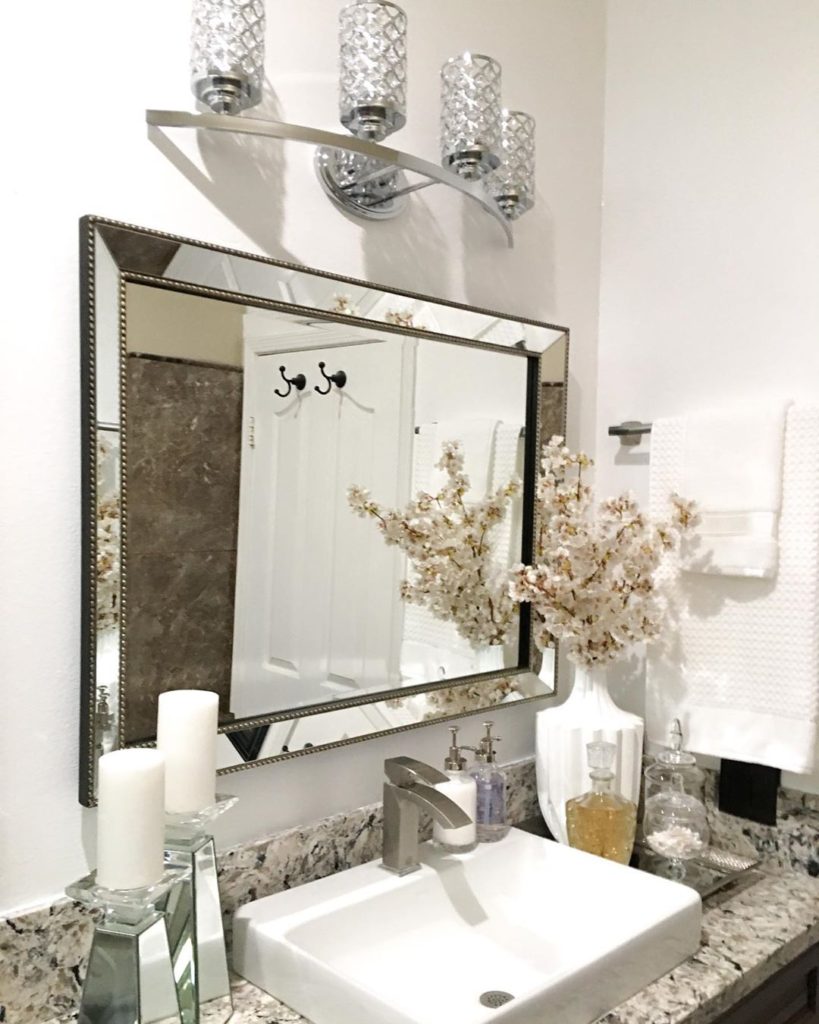 A mirror naturally draws one's attention and adding a fancy one will keep it the focus of a space. If you're out of ideas on what you want the focal point to be make it the most obvious.
Cute Farmhouse Signs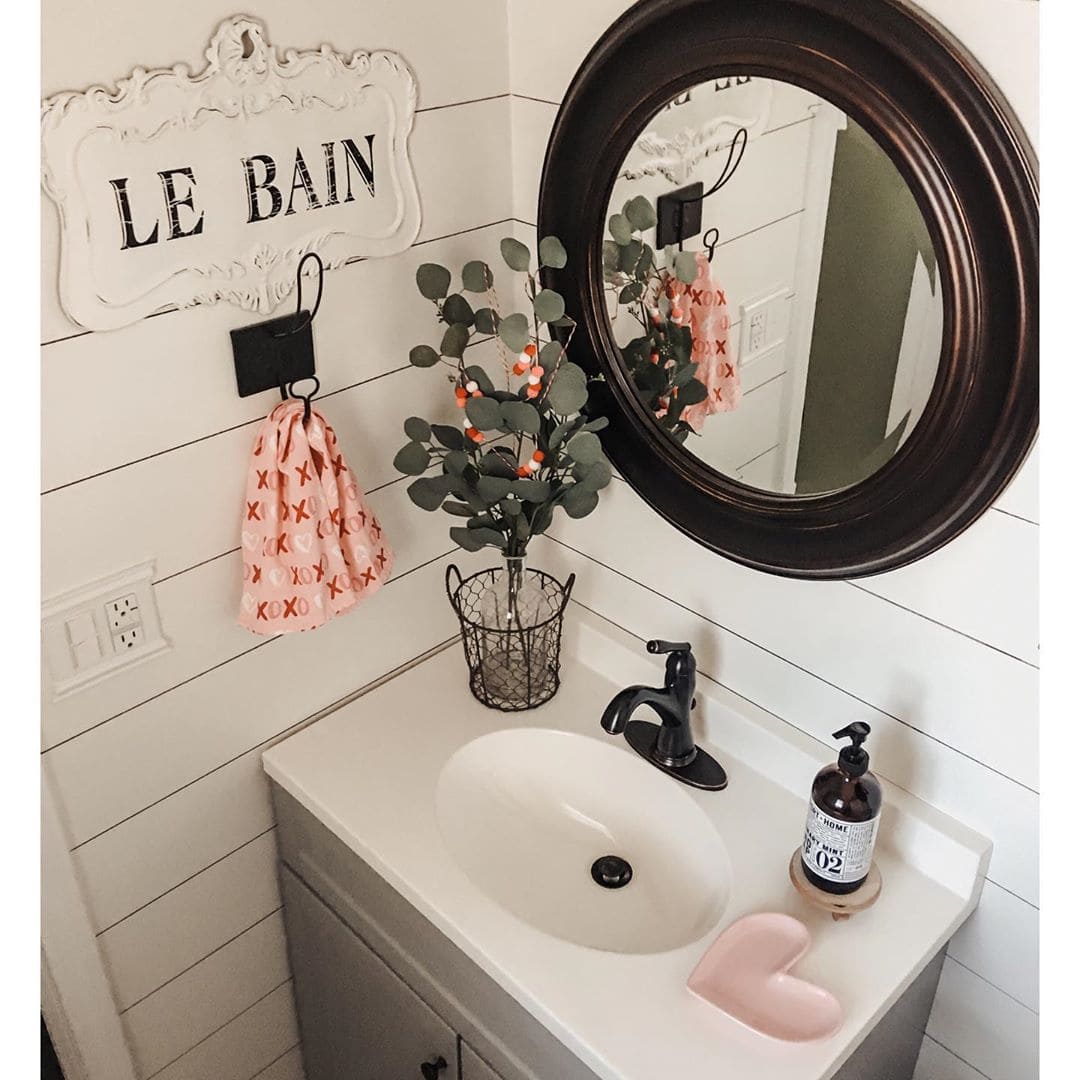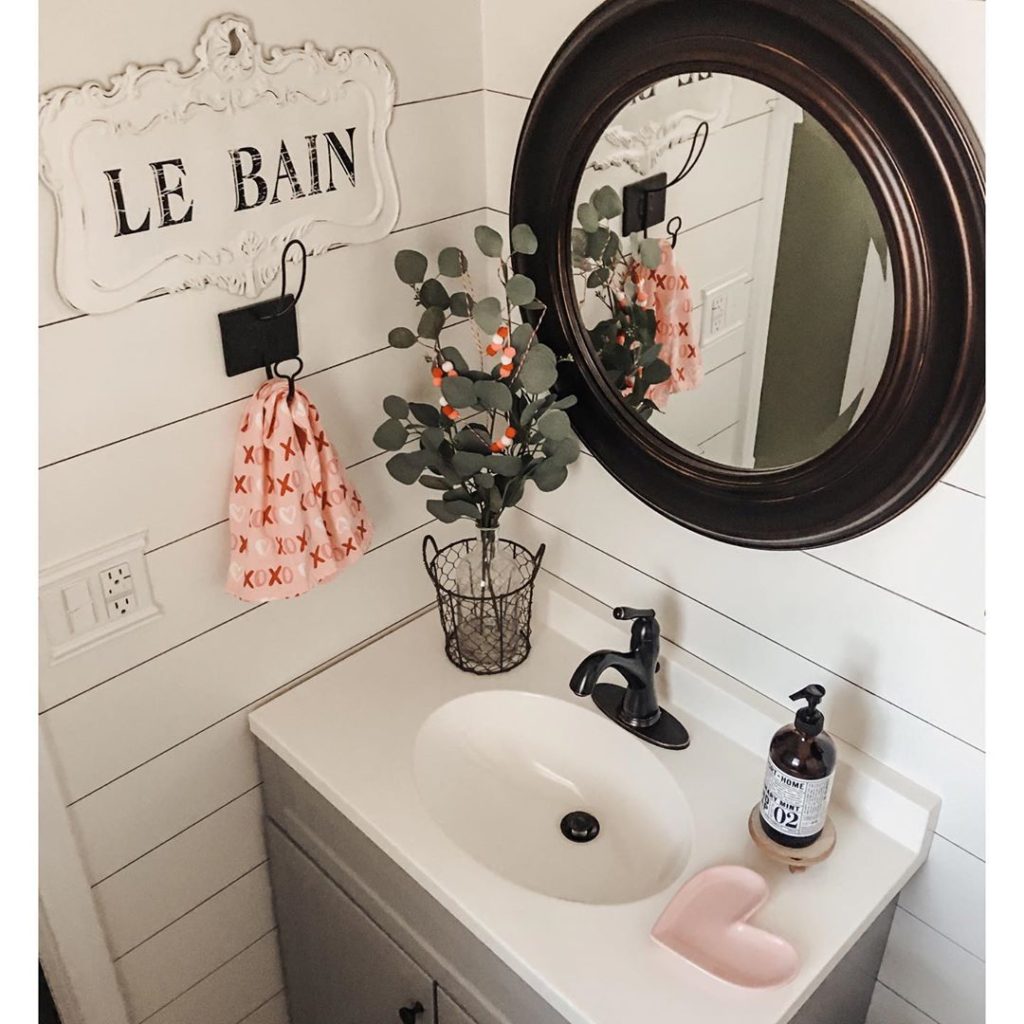 If you're going for a farmhouse look don't forget the signs. Seen throughout country style decor, there are many to pick from. You can really let your personality shine from giving your guests a laughs to keeping it straight forward with a "bathroom" sign for the novelty factor.
Add Some Decorative Wall Art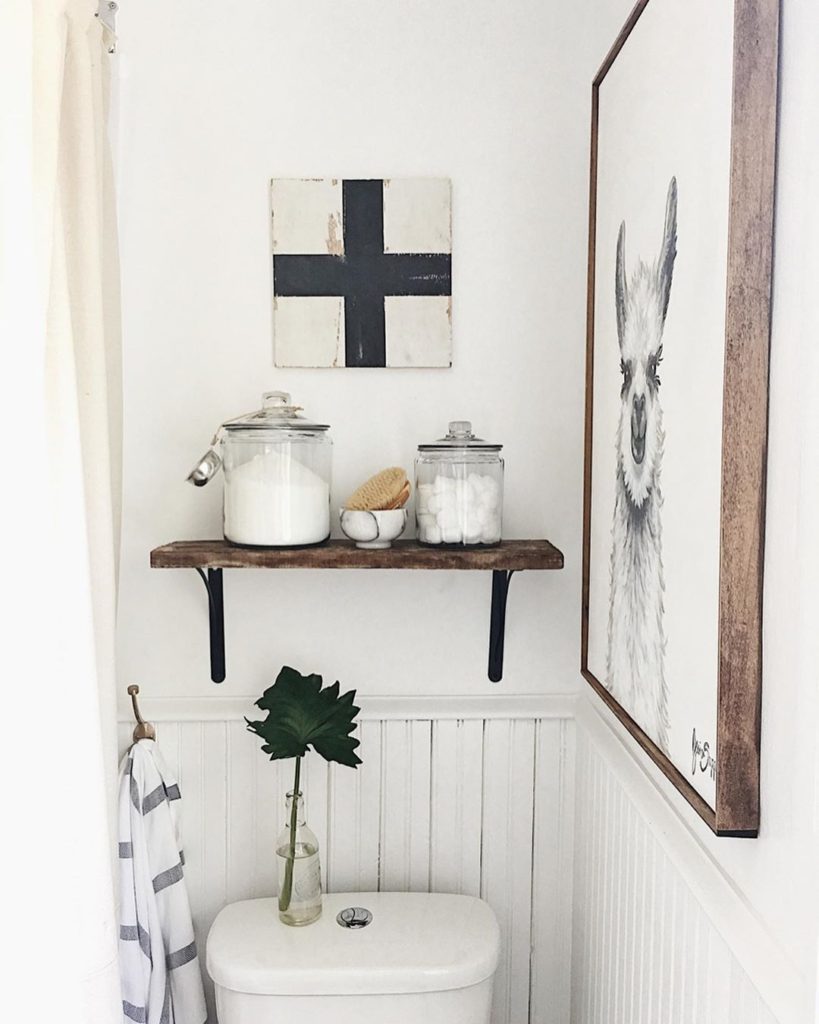 Decorative wall art is appropriate in any room of the house so why not the guests bathroom. They're very easy to find at discount stores and even thrift spots. Add a few of different sizes fora complete look or add one large piece to be a focal point.
Unique Wall Decor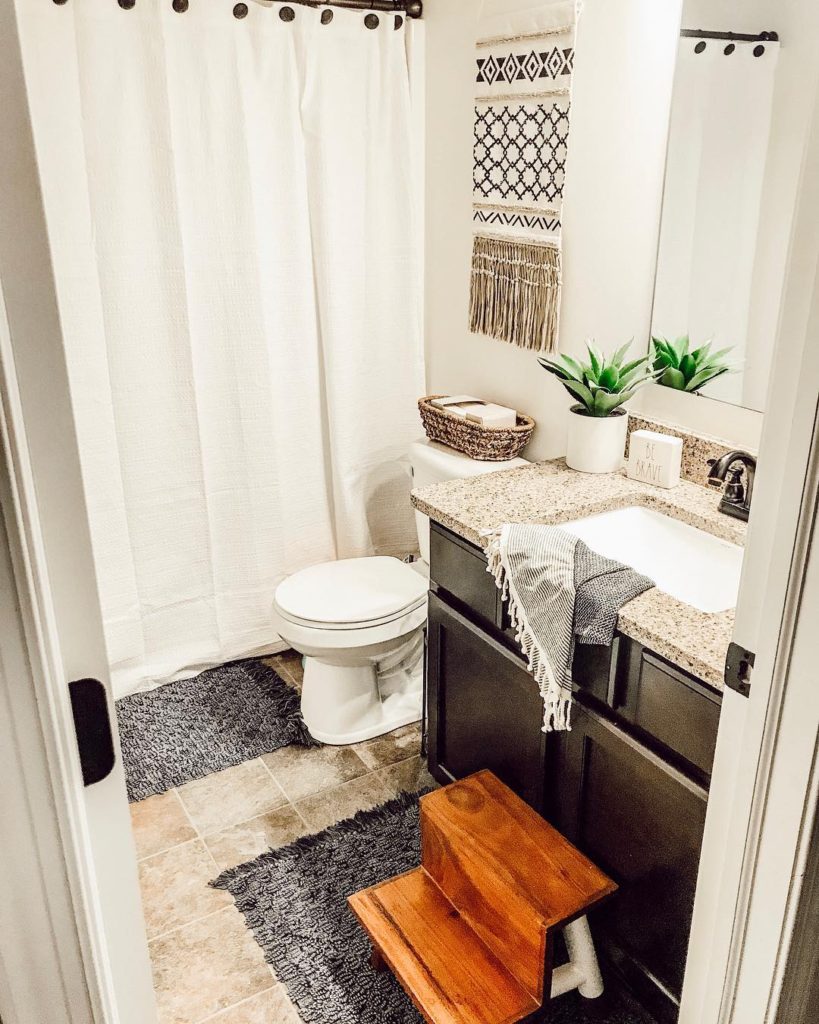 Add a southwest inspired piece of wall decor. It's easy to find them and the fringe adds unique texture to the space. Just look at the rugs, cloth, and wall decor in this space.