In This Article We'll Discuss
1. Farmhouse Flare With a Gray Vanity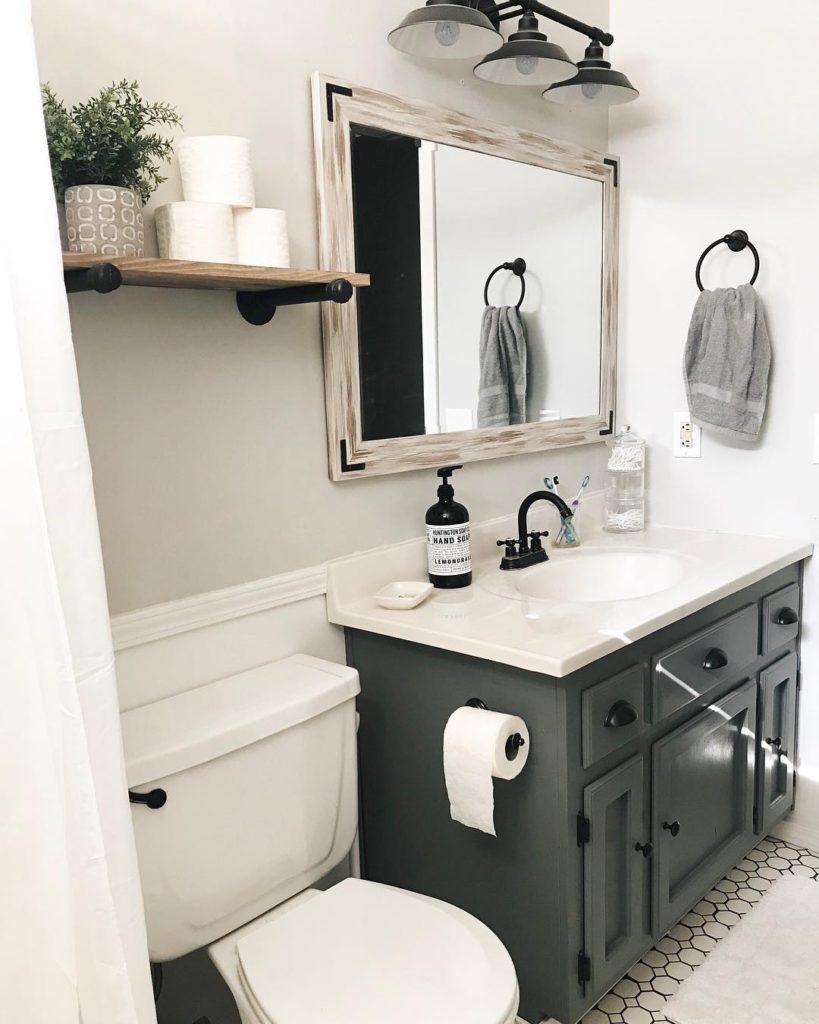 Add some contrast to light walls by painting a vanity charcoal gray. Gray can sometimes be considered a boring or dull color but in this bathroom it's the star of the show. Try adding dark color elements to a light and airy space to spice things up.
2. Gray Tile on The Walls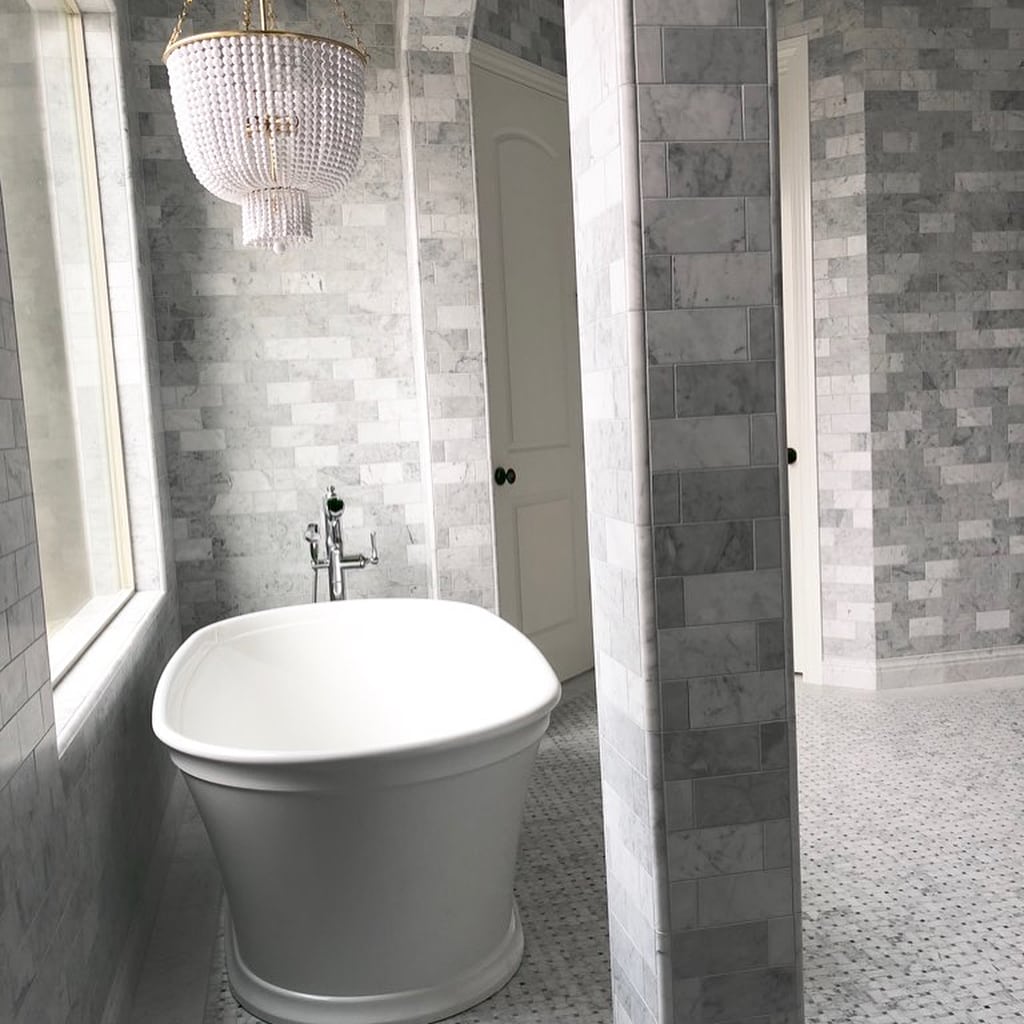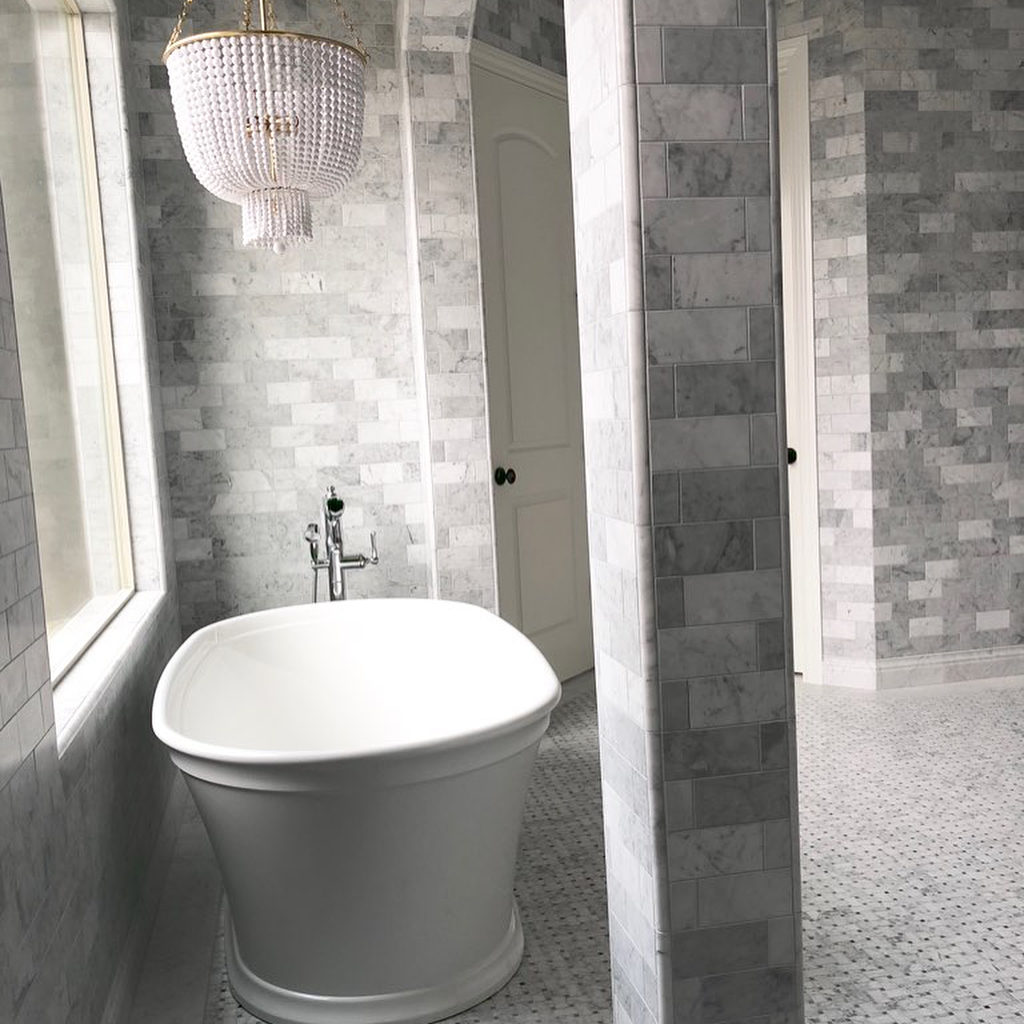 Who said tile is just for floors? And who said it all has to match? This bathroom keeps it interesting by having to types of tiles in the gray space. Stone like subway tiles are simple up top with a busy dotted pattern on the floor.
3. Small Tiles Are Easier to Work With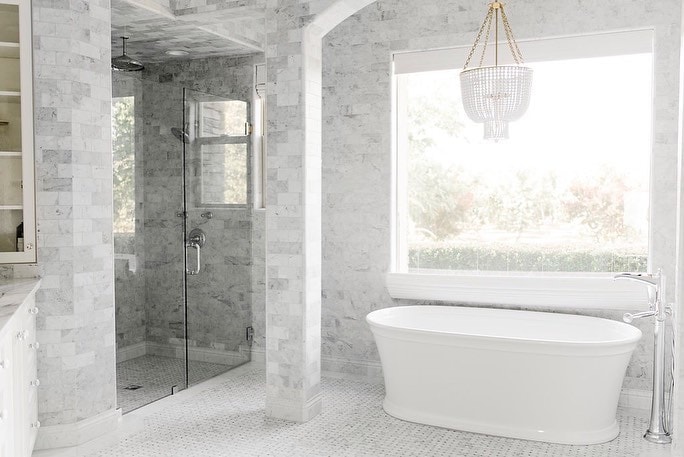 The size of the gray subway tiles made it easy to add them to the pillar in the center of this bathroom. The big window allows natural light in for an ethereal look. 
4. Add a Fun And Interesting Tile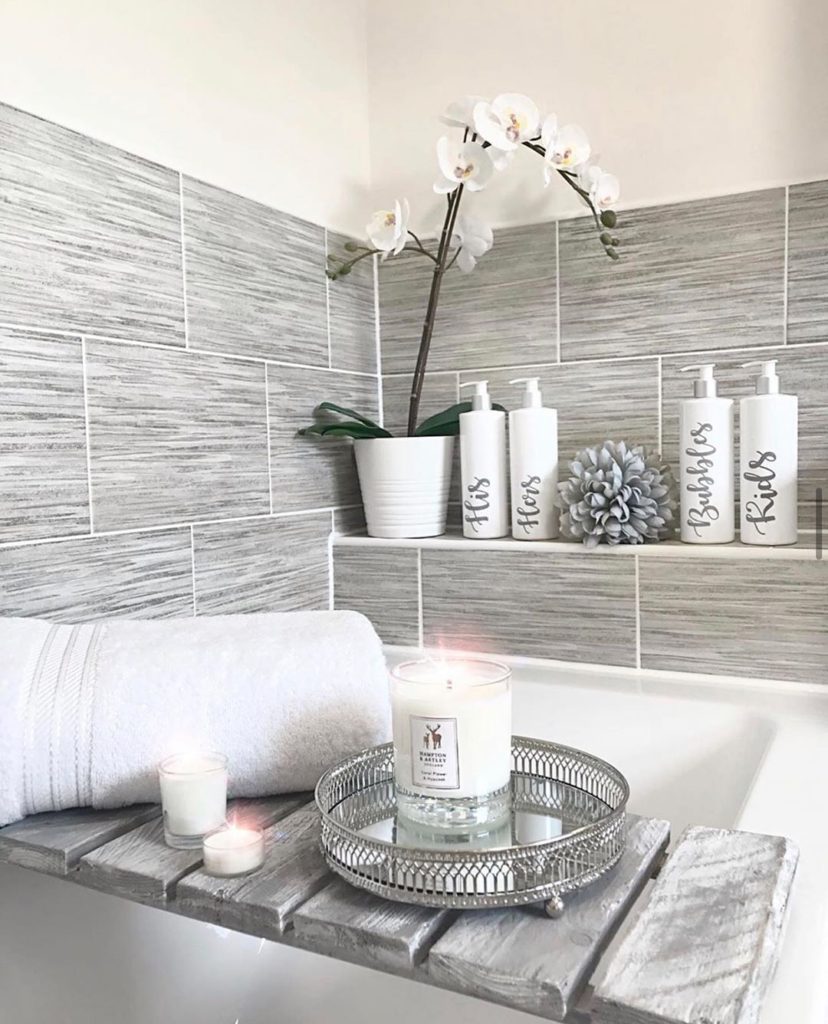 Gray tiles don't all have to look like natural stone. The busy pattern on this pretty tile draws attention to the walls. It makes this a beautiful gray scaled bathroom.
5. Match The Decor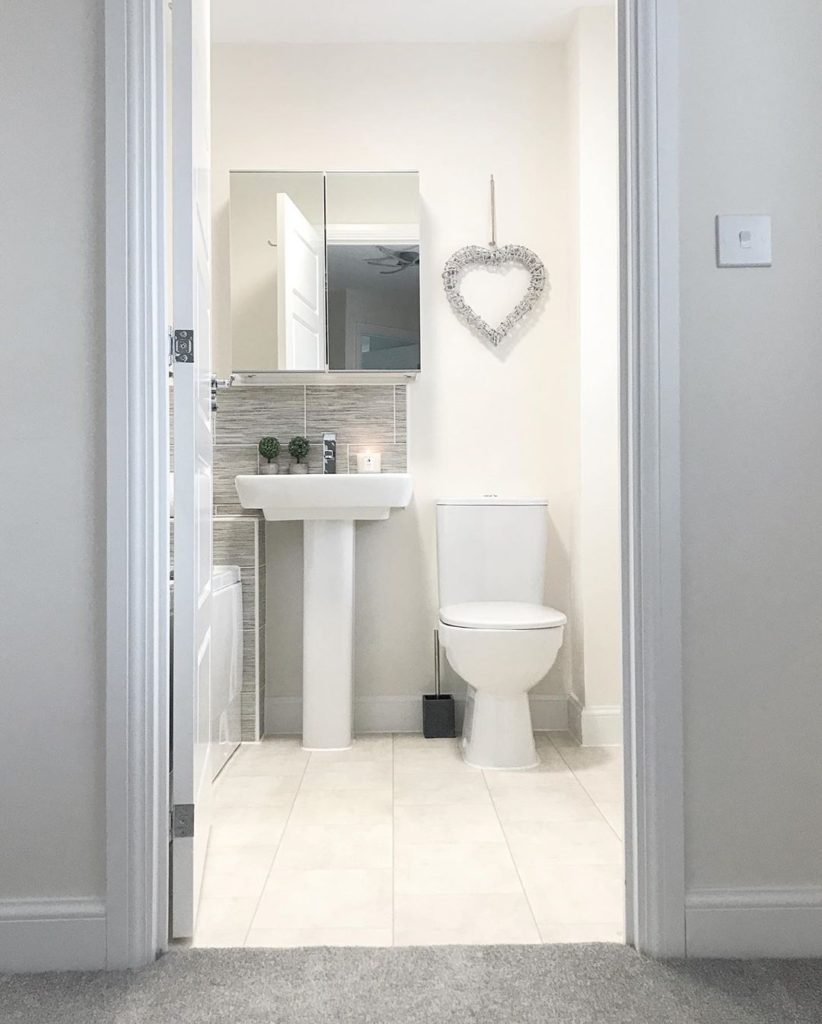 Add gray decor to a bathroom to match it with the tile color for a monochromatic look. What I like about it is how easy it is to implement in any space. If you feel intimidated about decorating a space just stick to shades of the same color. It looks great and is easy to pull off.
6. Sweet Gray With Shiplap Walls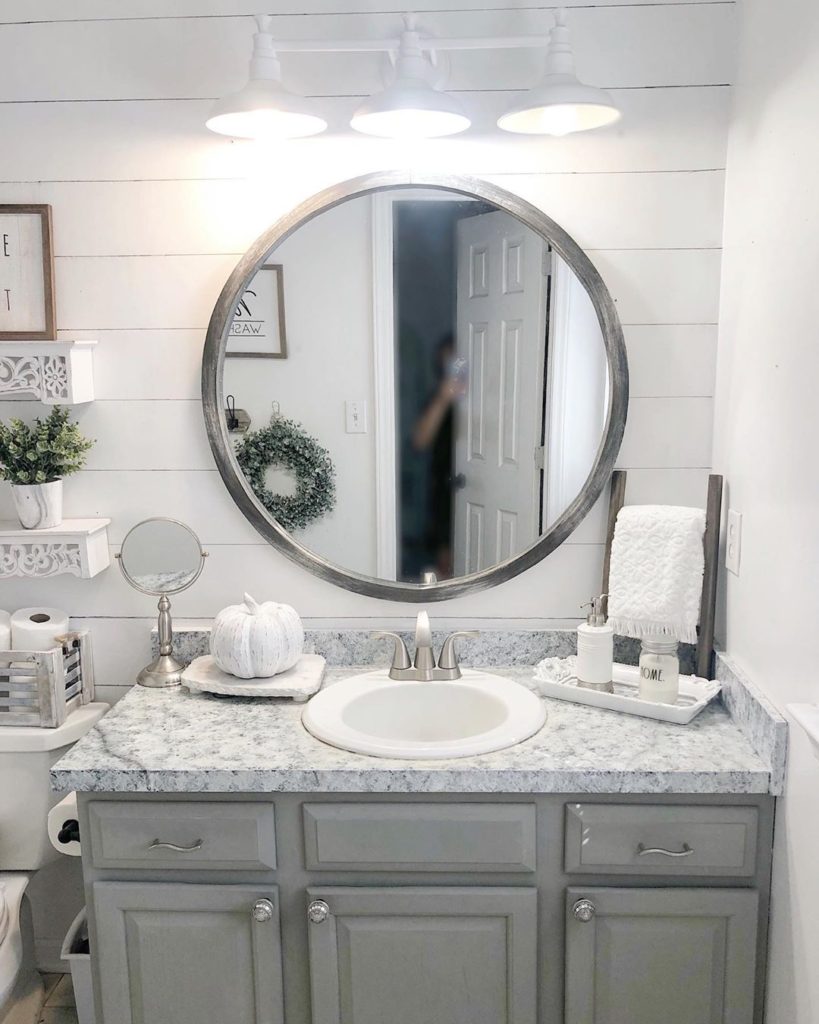 Gray and white are like two peas in a pod. If you love the farmhouse style try pairing shiplap walls with a gray vanity and gray accessories.
Any white or gray pieces will look great in this gray scaled look. A fun idea is to get white and gray holiday decor and switch them in throughout the year. It's a great way to keep up with the decor and they are easy to find in this colors.
7. Get Luxurious With Gray and White Marble Tiles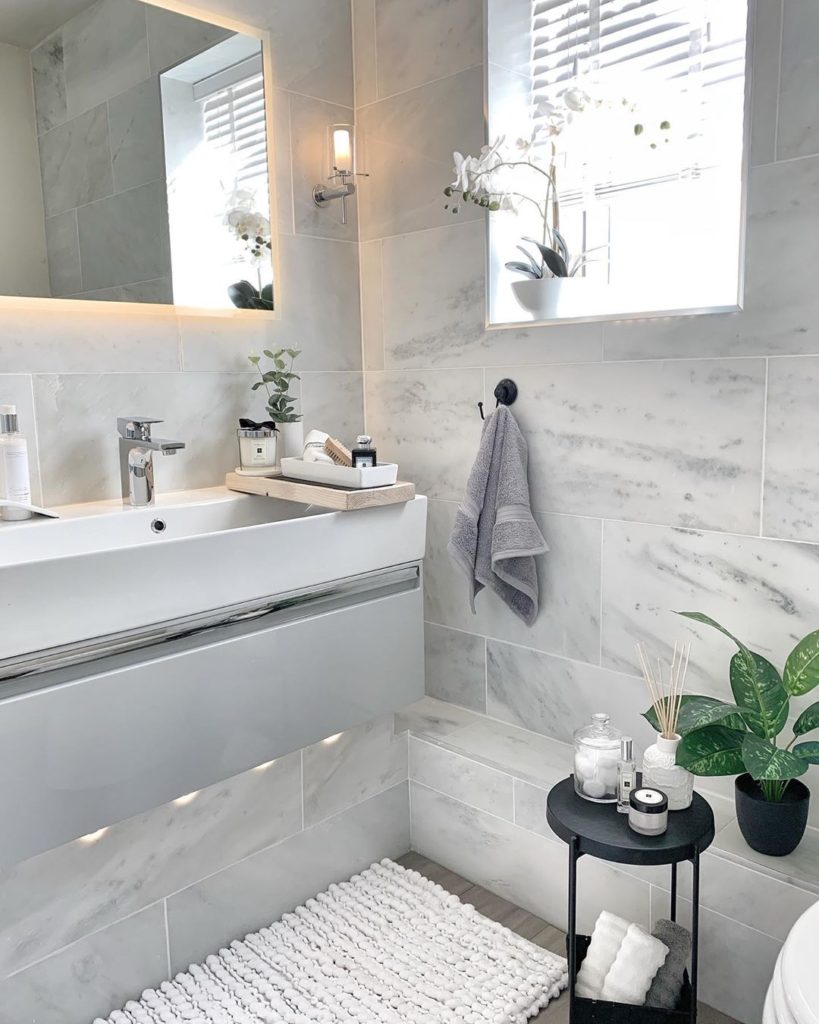 There's nothing more luxurious than marble so if you love the look why not add it all over the bathroom? Marble is naturally stain resistant so it's easy to keep up with the cleaning.
Add some joy with understated decor items that keep the space cool and relaxing. For an easy pop of color add some natural greenery to keep the space fresh. The 
8. Pair Matte Black Fixtures With a Gray Scaled Space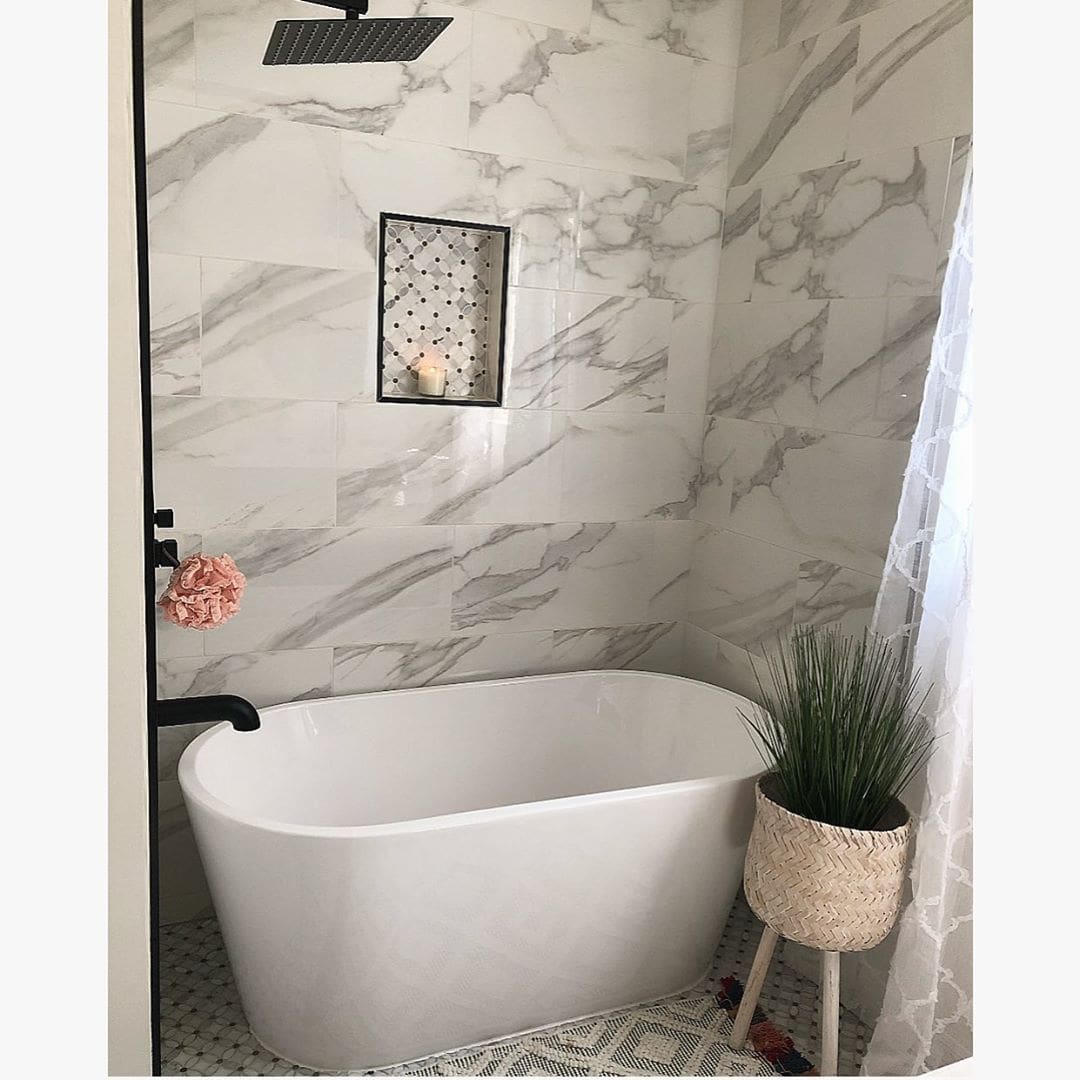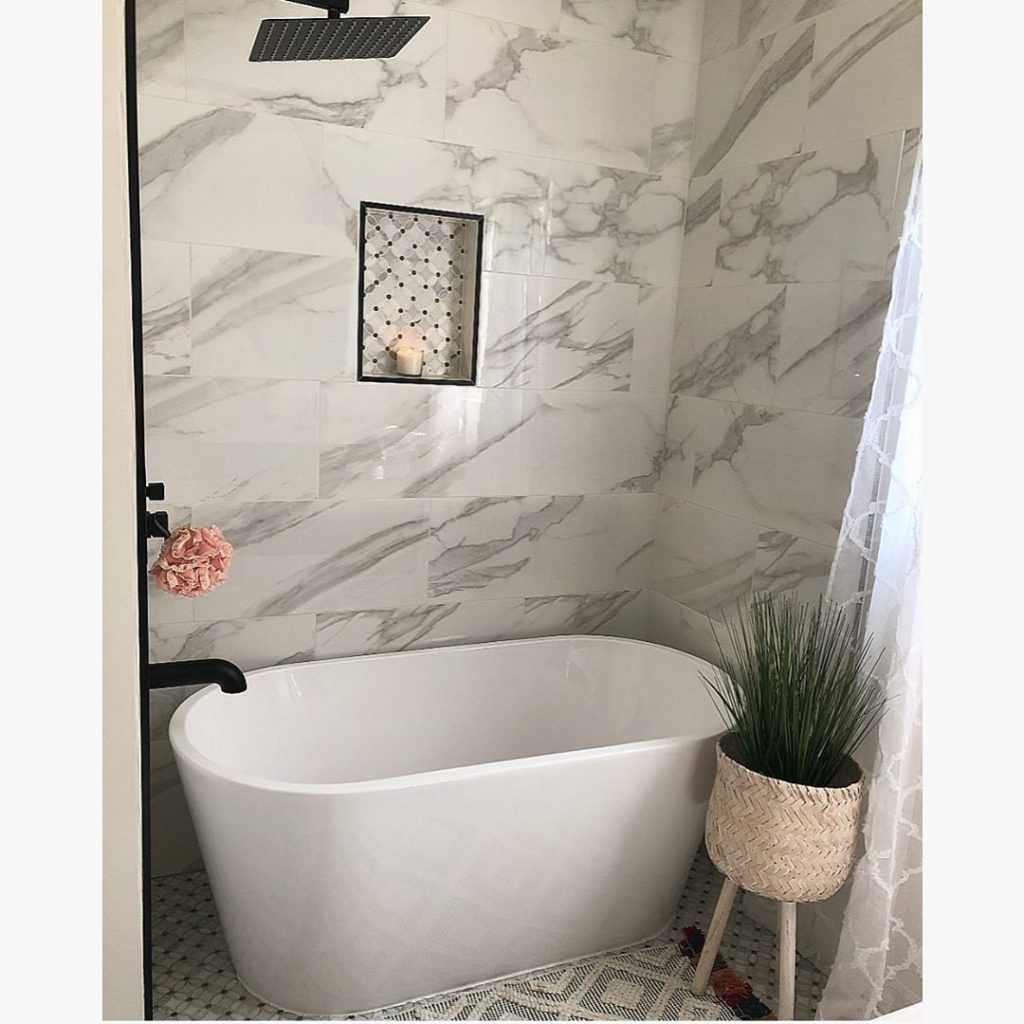 This bathroom also adds a lovely white marble tile for a high end look. The matte black fixtures contrast and pop out against the light and airy walls. This bathroom by lovelyy_chris just seems like it was meant for a modern free standing tub.
The natural greenery keeps it interesting and fresh. If you need to decide on what decor items to add to a gray bathroom it's always safe to pick neutral colors–like the planter in this one.
9. Sparkle and Shine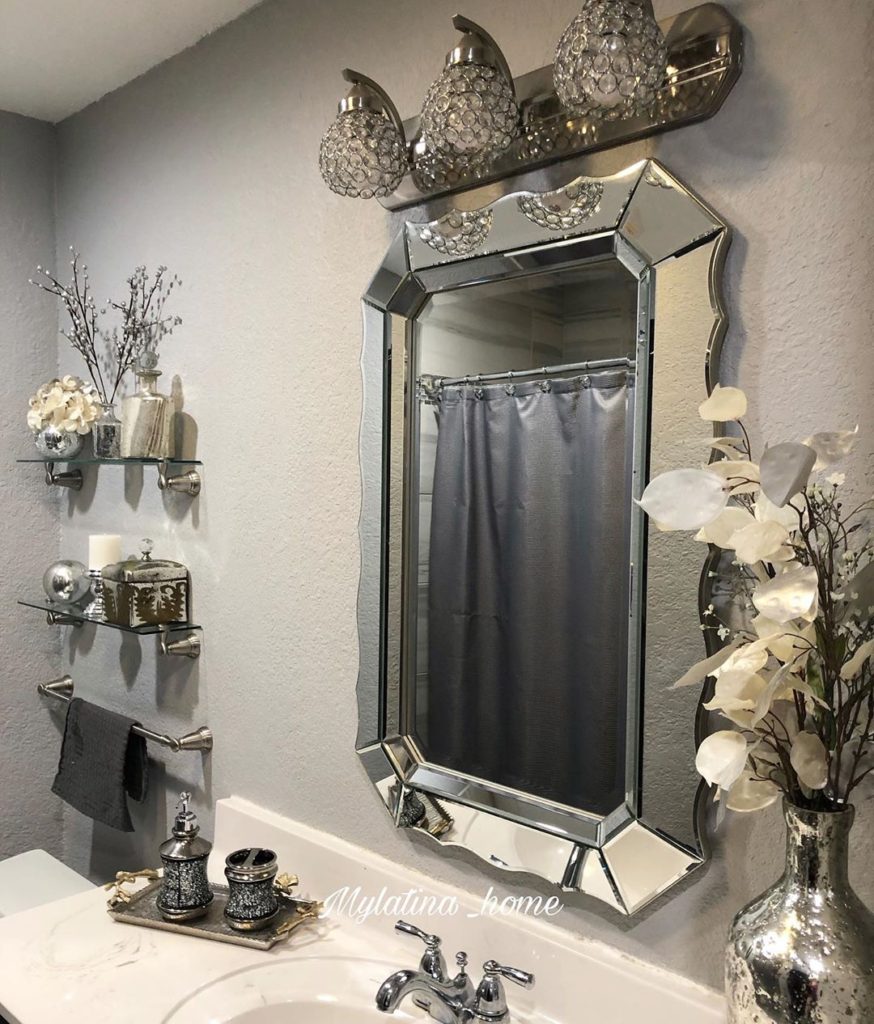 This glitzy bathroom by mylatina_home works so well with the gray walls. If you're a fan of the glam look, it works well with a gray scaled bathroom. 
Mirror finishes and sparkly silver blend well with gray walls here. Keep the look going with silver accessories.
10. Change it up With a Gray Tub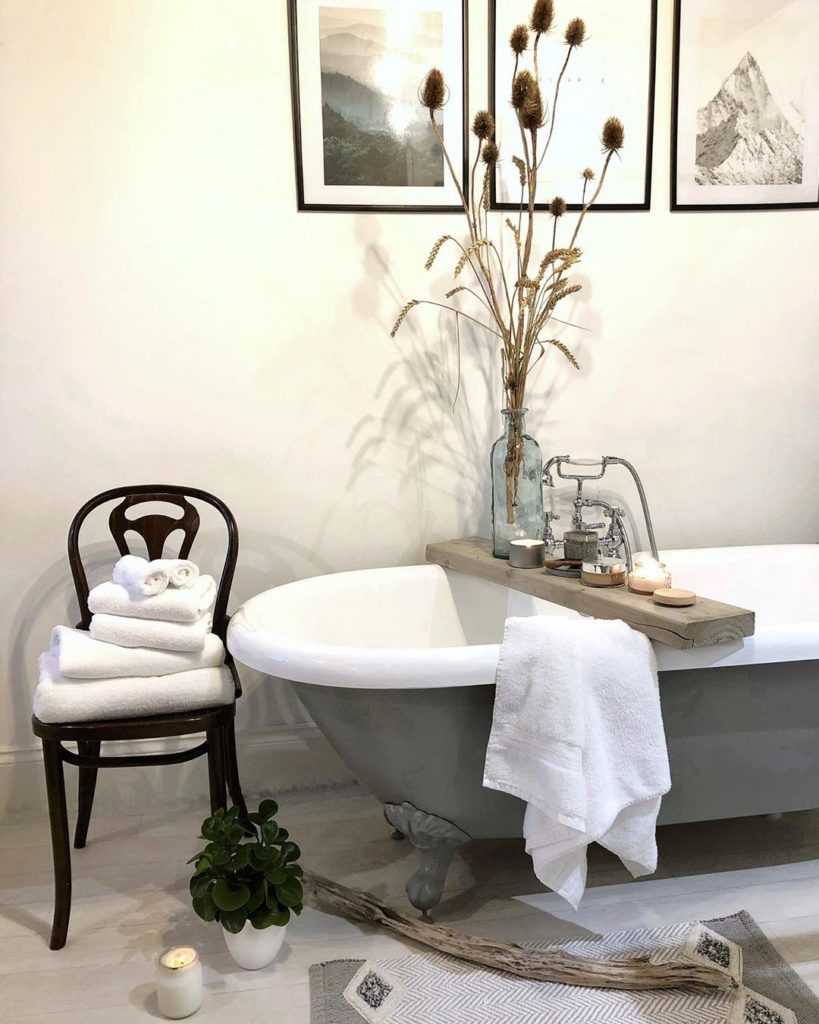 Gray tubs aren't too common but they look great. The tub in this space is traditional and timeless and the gray color on it works great. 
Driftwood and oak pair well with the gray tones on the tube. The light floor keeps the space airy and relaxing. What's the best place to wind down after a long day? My favorite is definatly in a warm tub.
11. Explore The Dark Side of Gray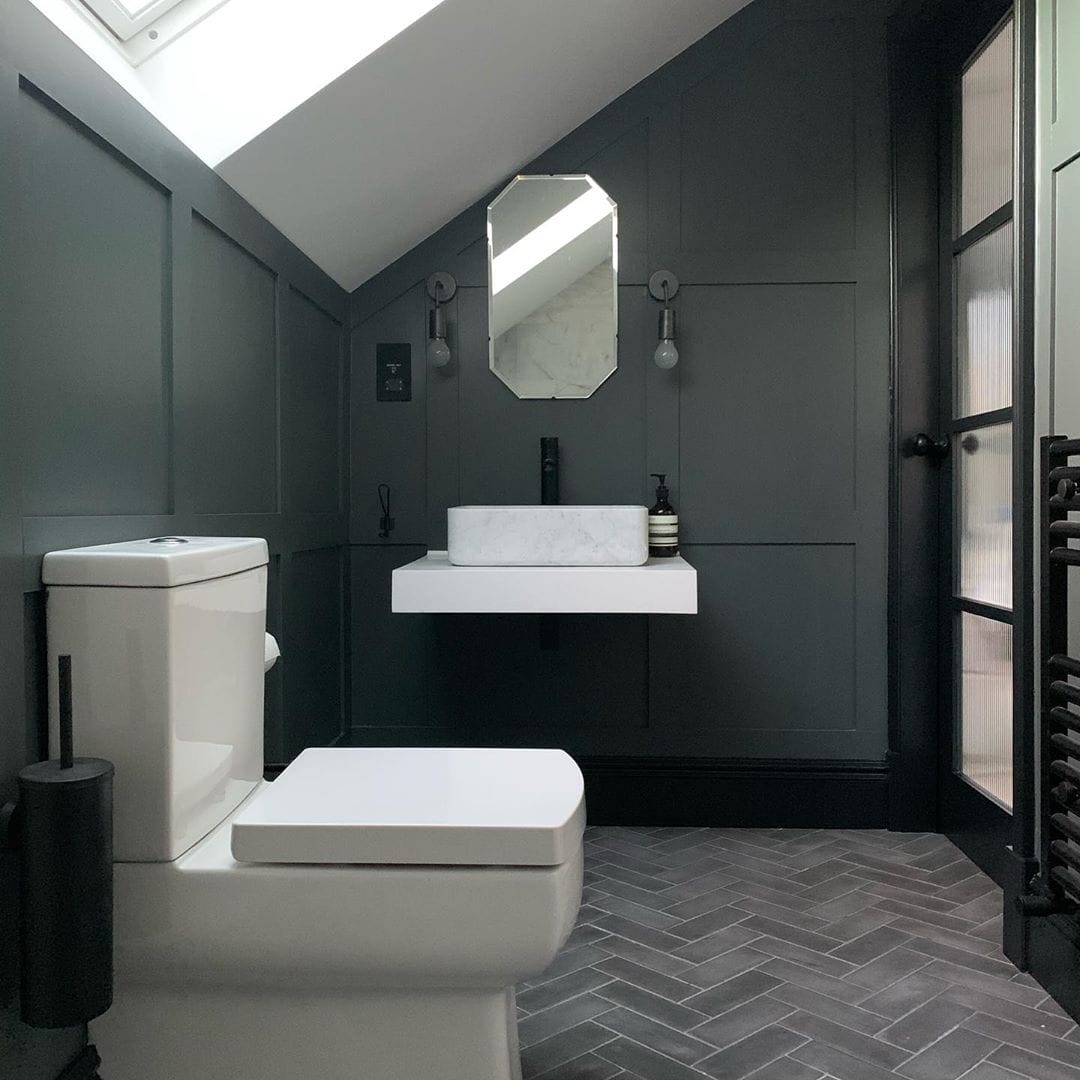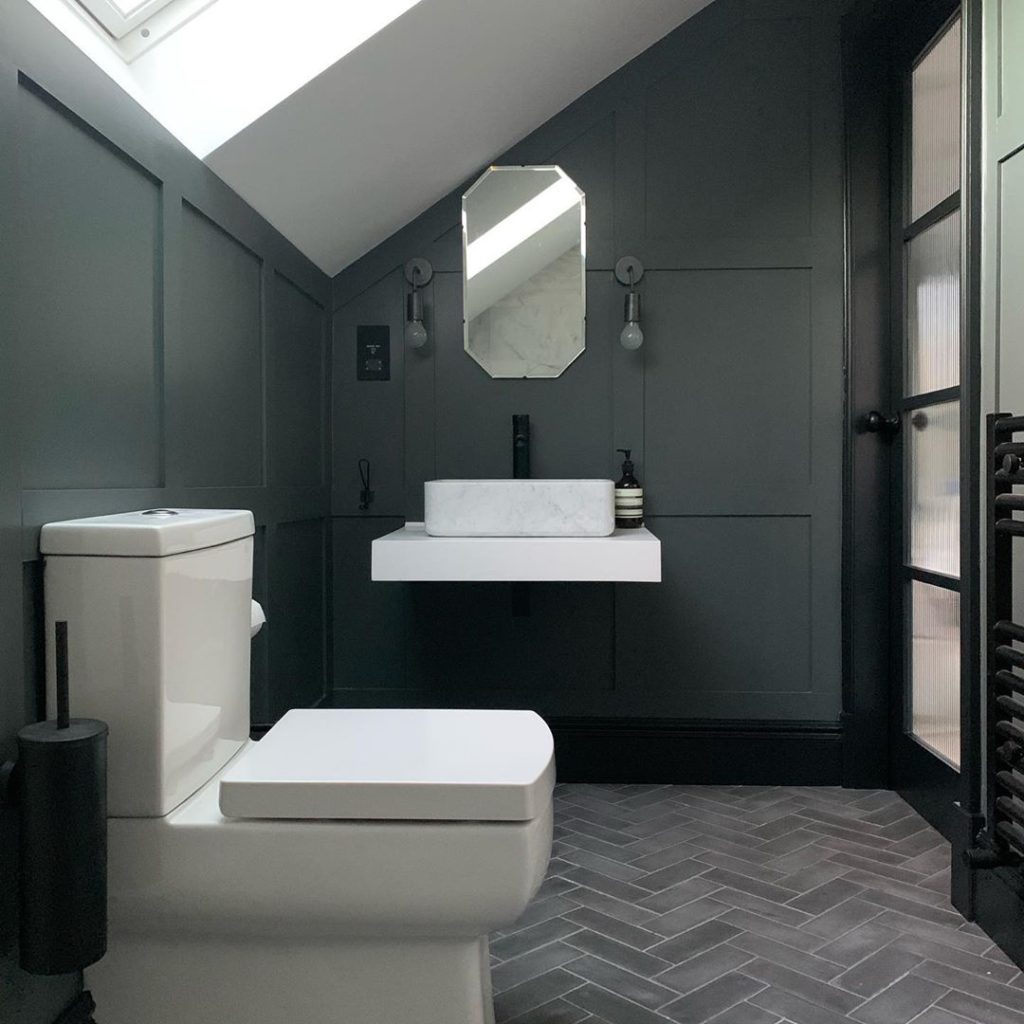 Gray doesn't always have to be light and airy. Make it a dramatic space with charcoal and black. Explore the other end of the gray scale. This bathroom uses a unique pattern with subway shaped tiles on the floor for contrast.
Spaces that have a lot of natural lighting work well with dark colors. The dark colors keep the space tight and cozy while the natural light opens them back up.
12. A Traditional Bathroom in Gray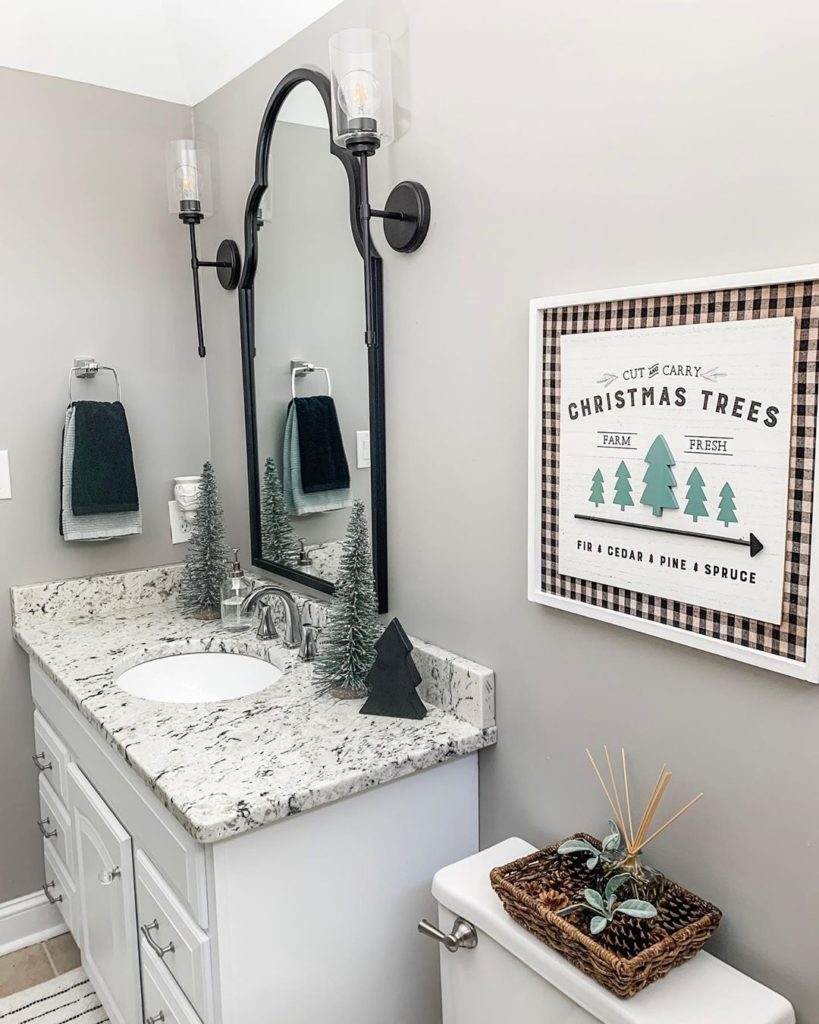 The bathroom by @revealmydiy is easy and approachable. The black light fixtures and mirror pop against the light and airy gray tones used on the walls. 
If you want to add something pop to a neutral space try adding a busy counter top. The best thing about neutral bathrooms is how easy it is to swap out the decor–especially from the holidays. Since neutral palettes go with almost anything it's easy to change things up.
13. A Gray Bathroom With a Touch of Blue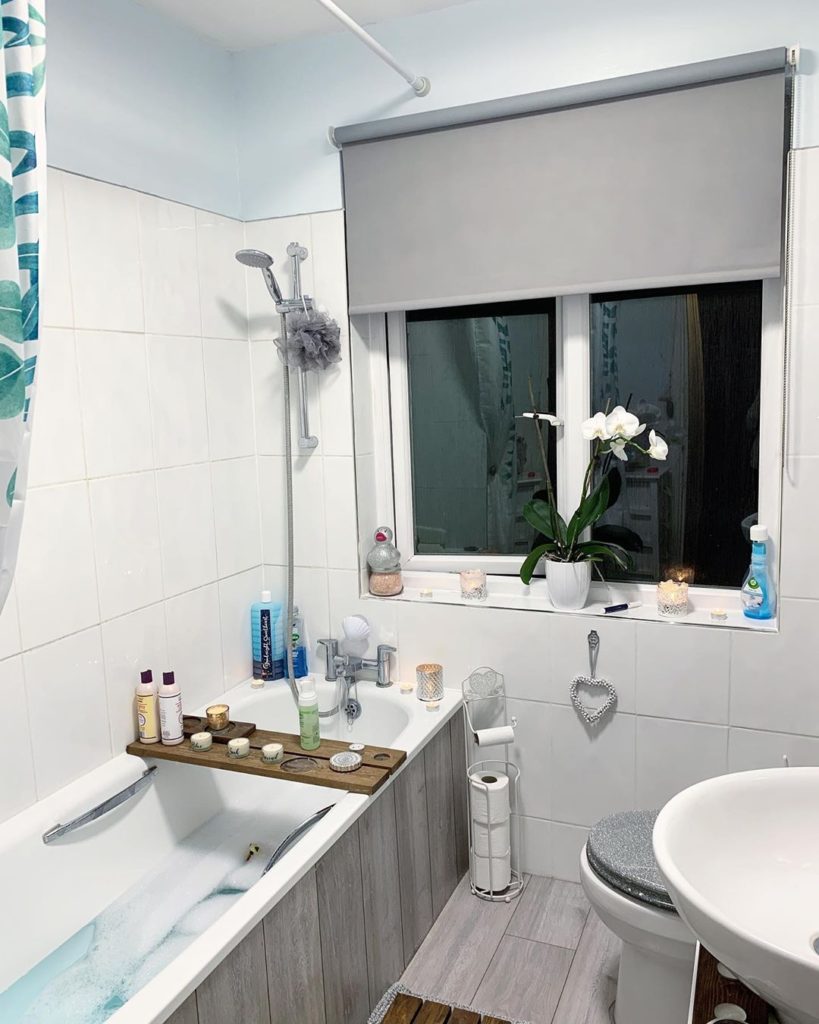 A gray bathroom doesn't have to be all gray. The light blue color on the walls pick up a bit of airy-ness that pairs well with the gray tones in the decor and floor. Since gray is a neutral color you can pair it with any other color you like.
Keep things simple and pick one main other color to pair it with like in this bathroom. Adding too much color can make a space too noisy and uncomfortable.
14. A Farmhouse Homescape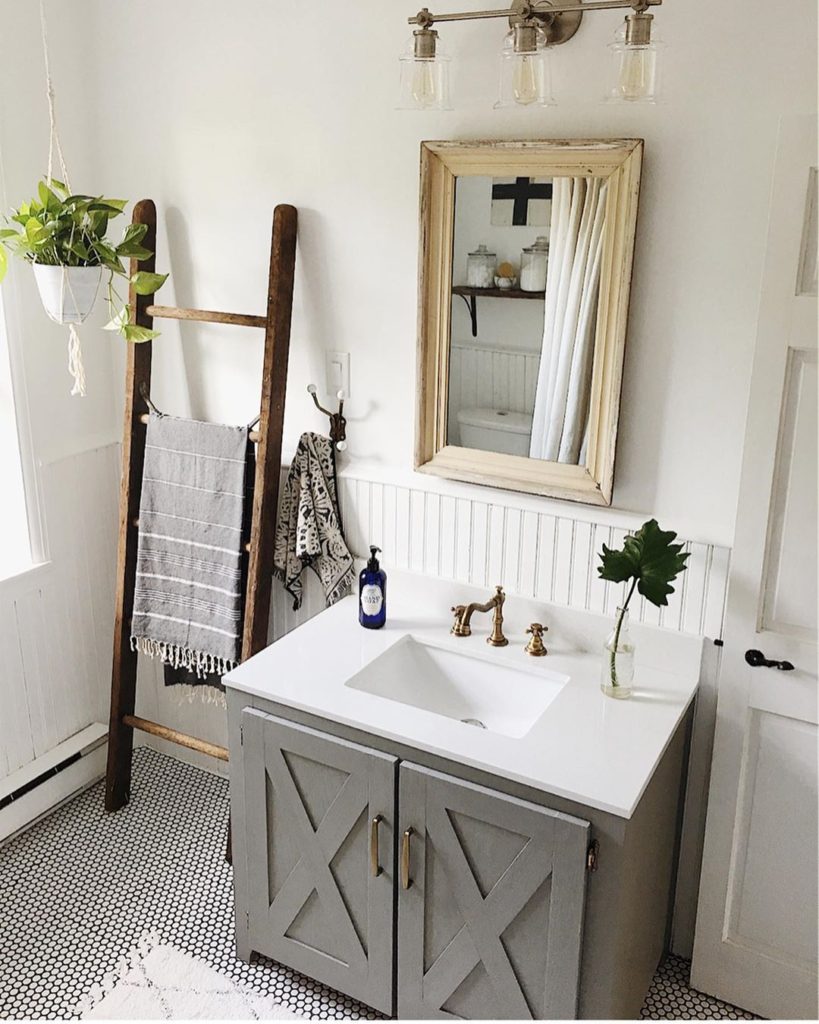 This gray bathroom by @theprovidencecottage makes use of rustic farmhouse finds. The gray vanity looks great paired with the copper tones of the handle and faucet. 
The white walls allow the interesting textures of the blanket ladder, blanket, and mirror shine–along with the darker color of the vanity. When the walls are so light and airy add a busy texture to the floor to draw the eyes and balance the space.
15. Sleek and Modern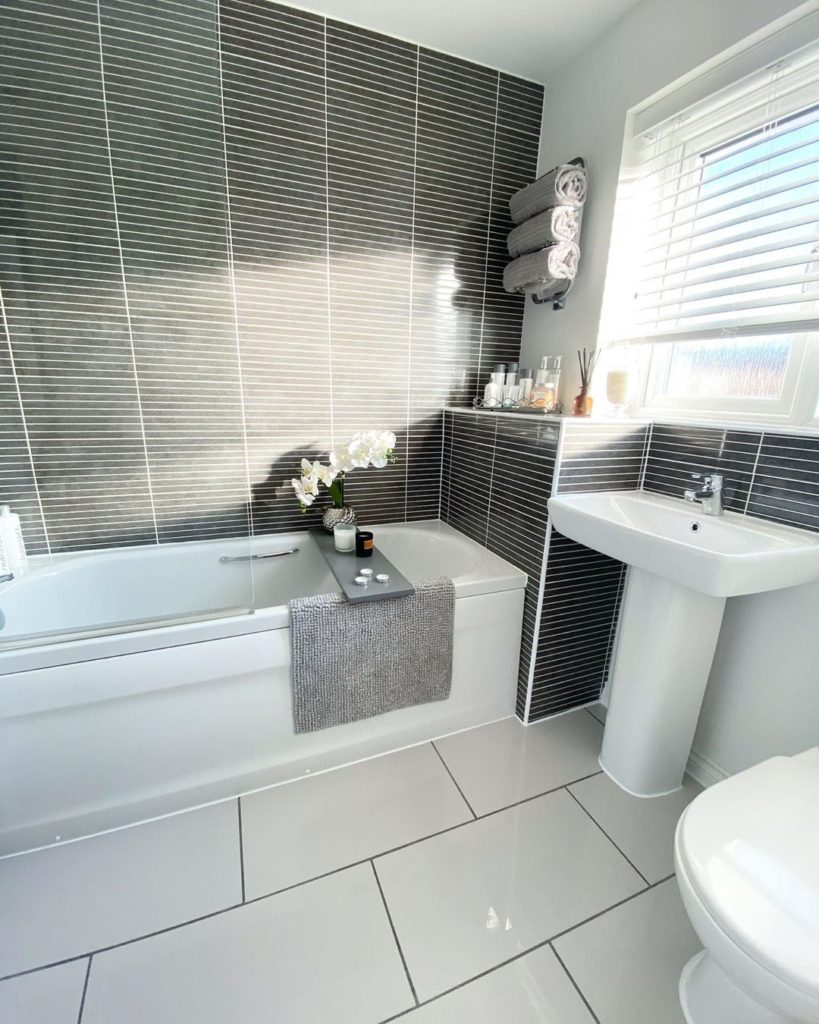 @_homeofshade paired a unique tiles on the wall with traditional and timeless marble on the floor. The ultra-modern walls contrast with the simple floors and an elegant sparkle. 
16. Texture and Patterns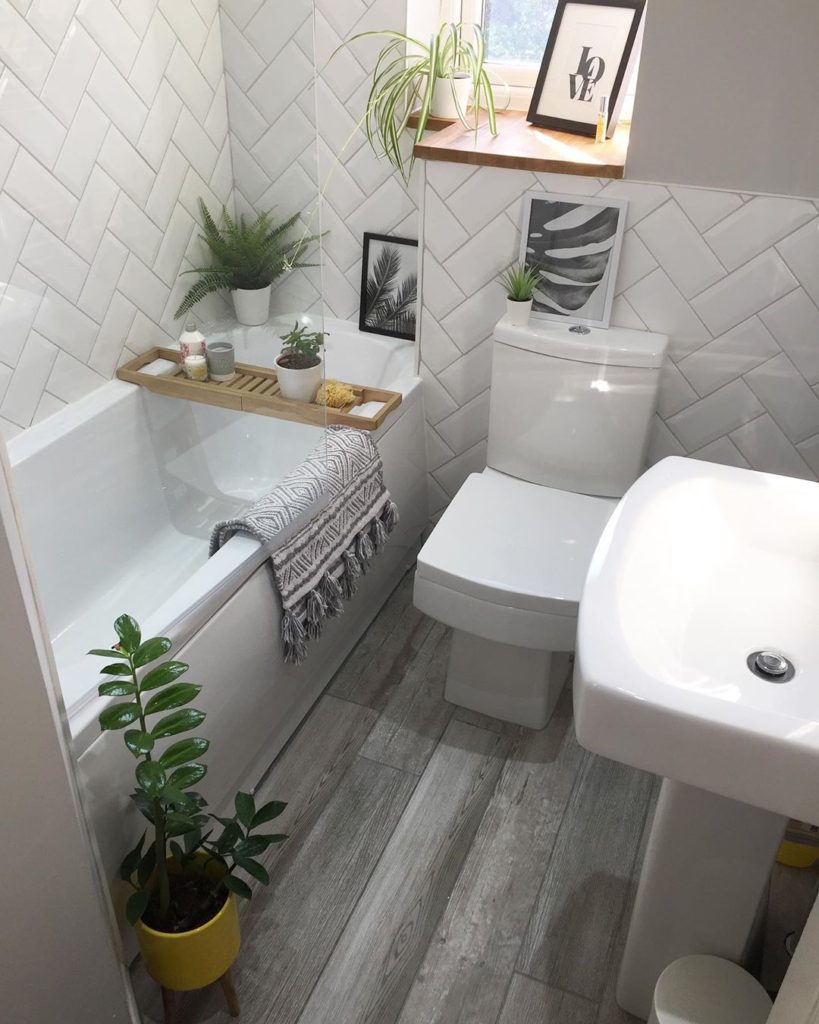 Layering neutrals can be made interesting by making use of textures and patterns. @home_with_the_oakleighs did a great job with this principle. The diagonally patterned subway tile draws attention along with the grainy wood floors used in this gray bathroom. 
The gray walls don't draw attention and let the beautiful tiles and floor stand out. A bath mat also adds another layer with its pattern and texture. The natural plants add a pop of color.
17. Sleek & Modern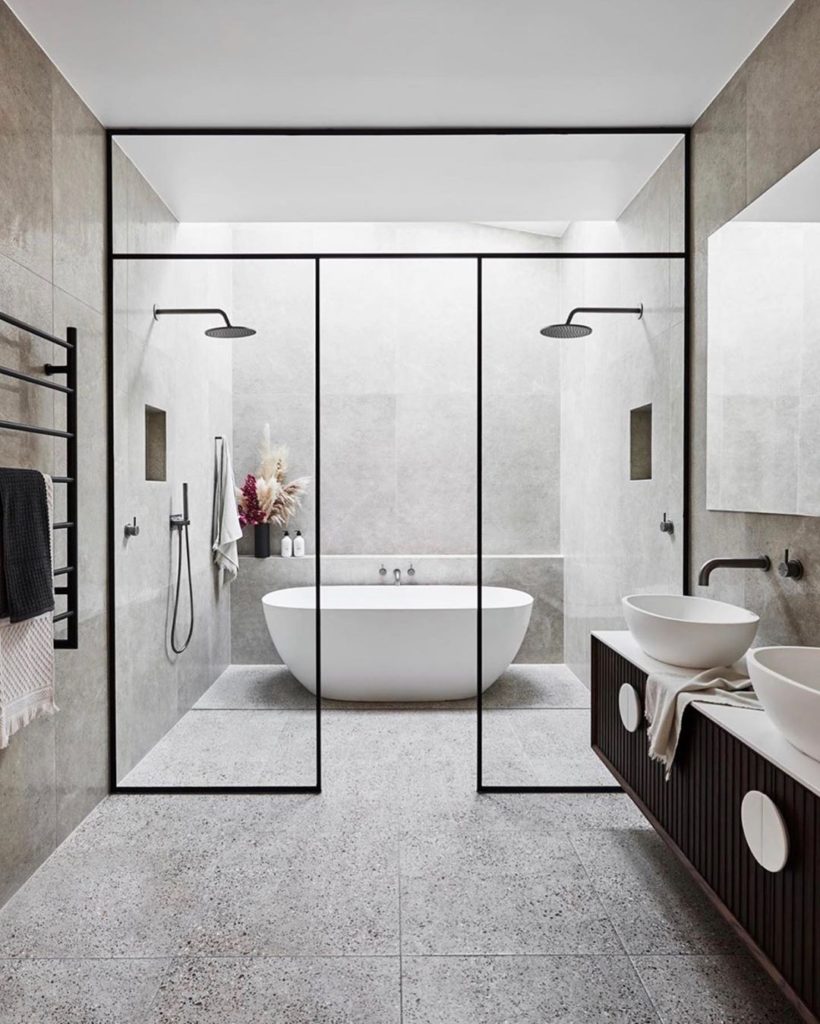 It's surprising how much natural lighting can change a space. This modern bathroom is big and the natural lighting further expands it. 
The matte black fixtures contrast to the natural stone used throughout the bathroom. For a modern look use the same tile on the floor and sides of the bathroom. 
18. A Modern Tile With Natural Stone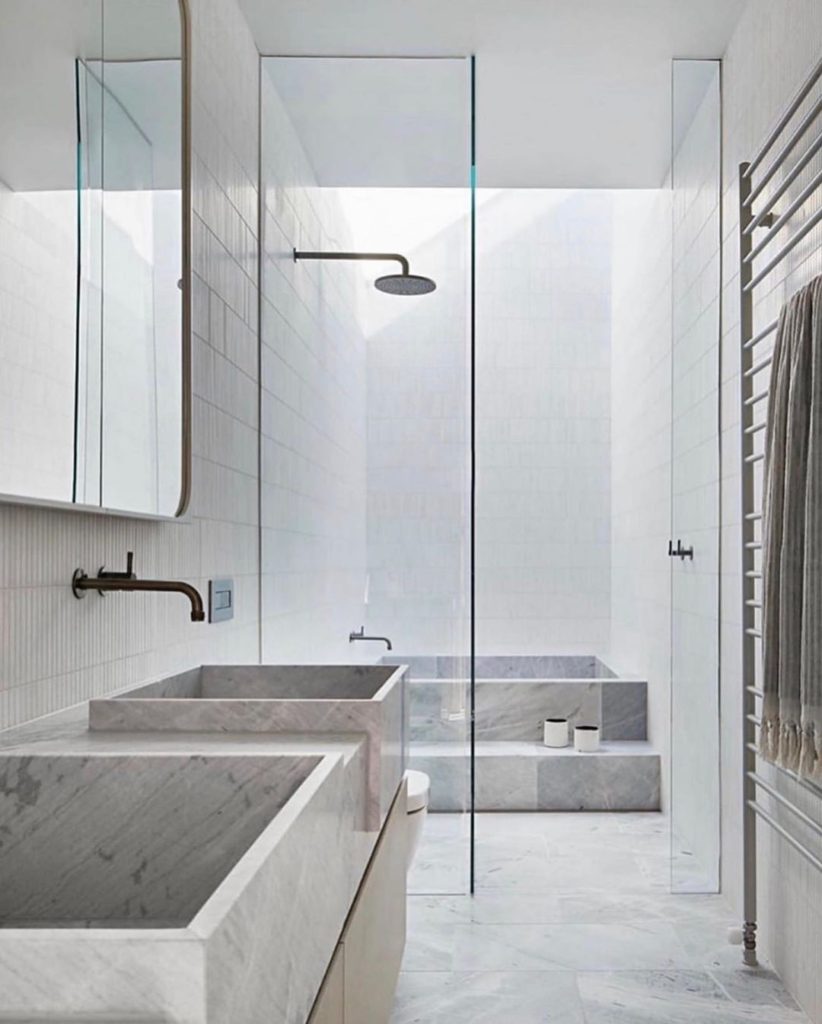 Mixing something old with something new is a trending style right now. Experiment with a modern tile and some traditional stone tiles. This bright and airy bathroom by zephyr_and_stone is so inviting and relaxing.
19. Painted Walls With Tile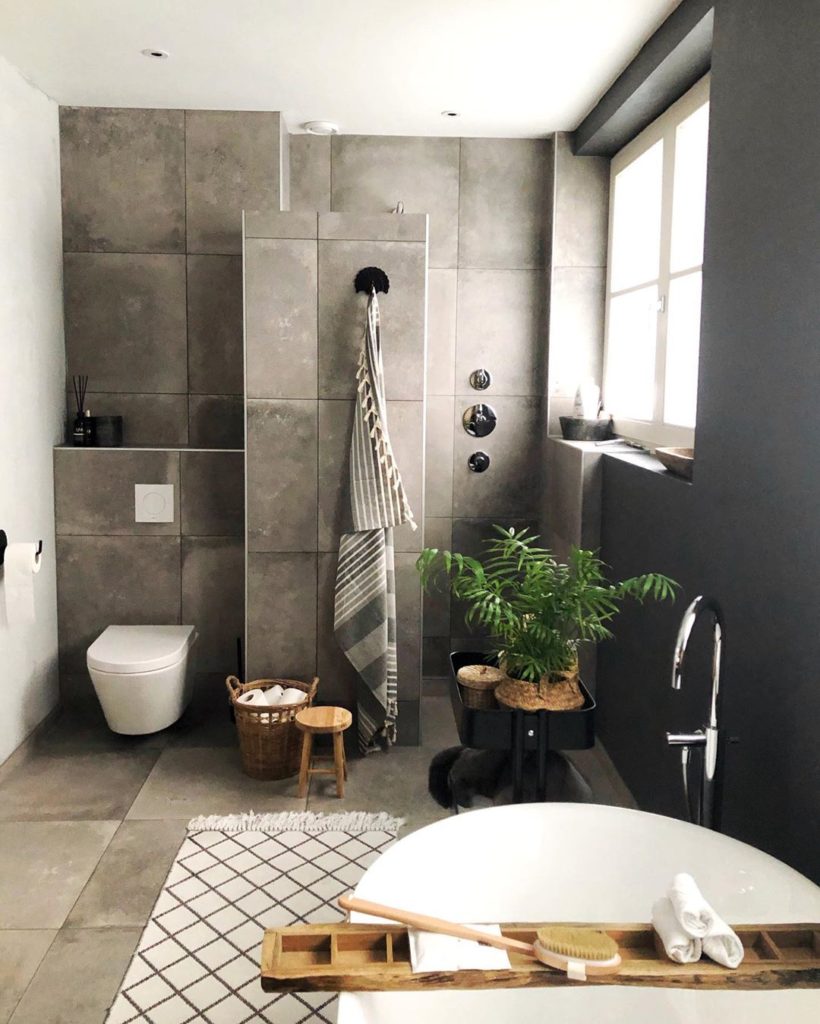 @kirsterieur keeps this bathroom interesting by mixing up the wall styles. Not all walls have to be the same color and here we have 3 different styles. Using shades of gray and white make it easy to have this work. 
20. Glam Wall Paper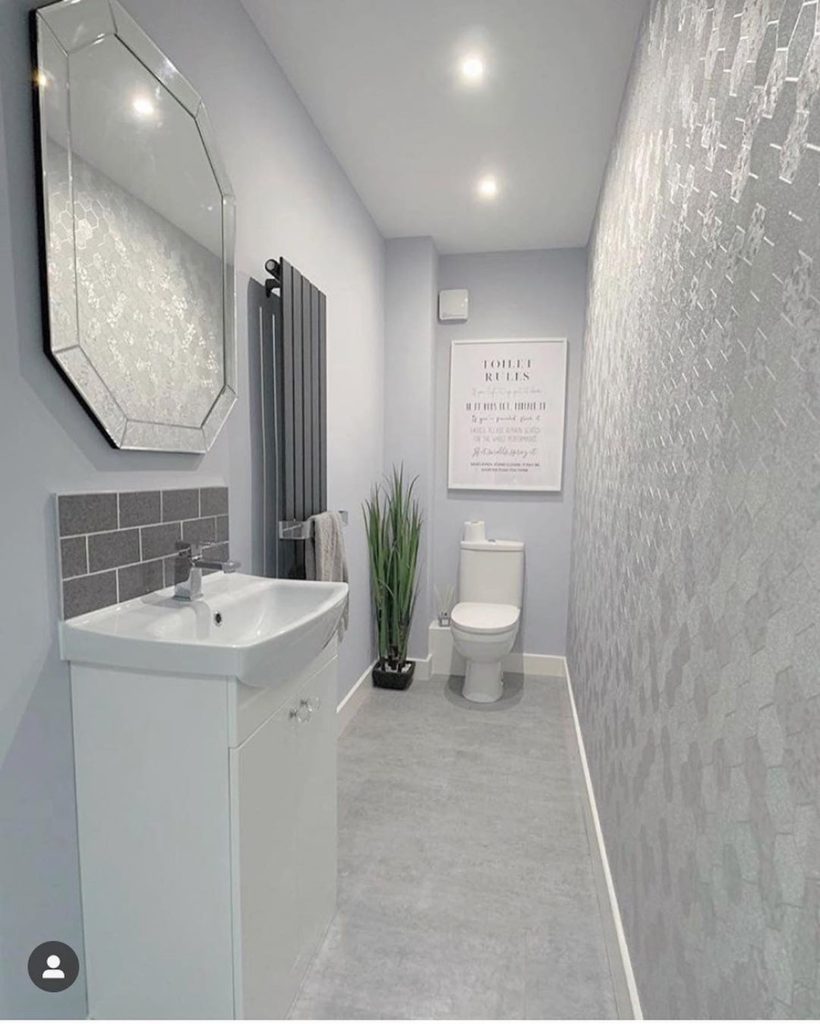 This narrow bathroom is made super glitzy with the use of a chic wall paper. If you're a fan of the glam look try adding a fun wall paper. They are coming back in style and there are so many different options available today.
21. A Professional Tile Job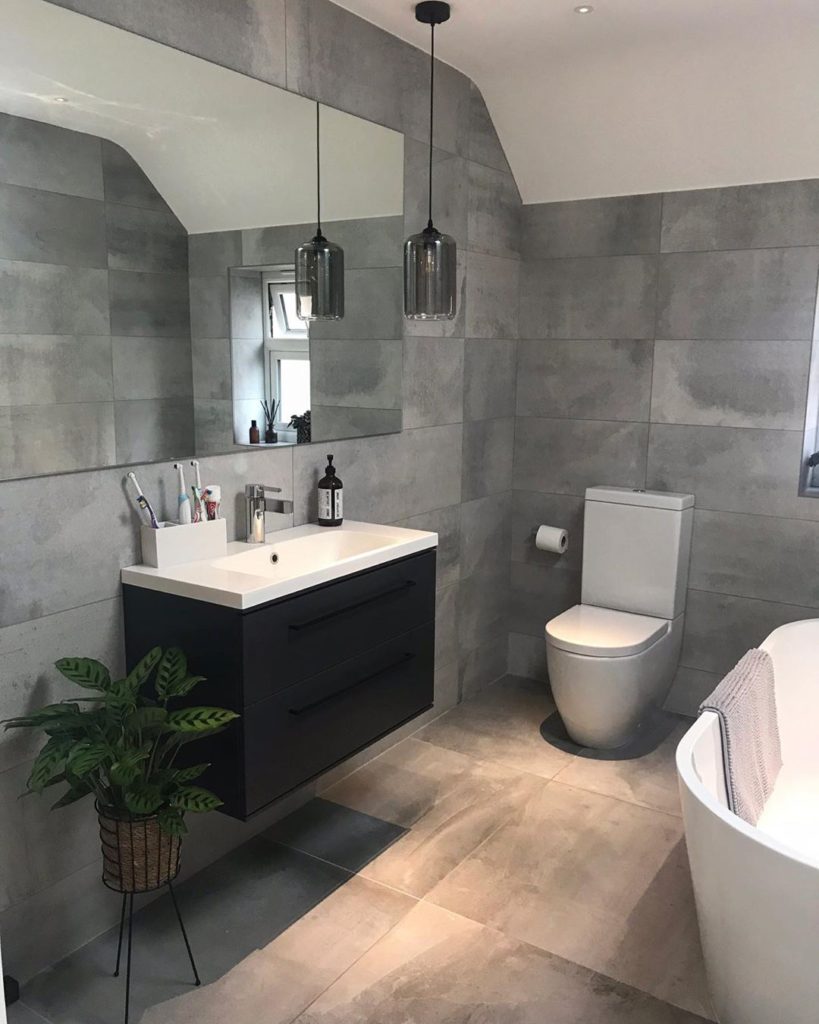 Having oversized tiles on a wall can be a difficult DIY job so make sure you have a professional like @just_tiles do the job. Large tiles are very trendy right now for their clean and modern appeal. 
You can see how great the custom cut tiles look against the non standard roof in this home.
22. Exaggerate with Large Marble Slabs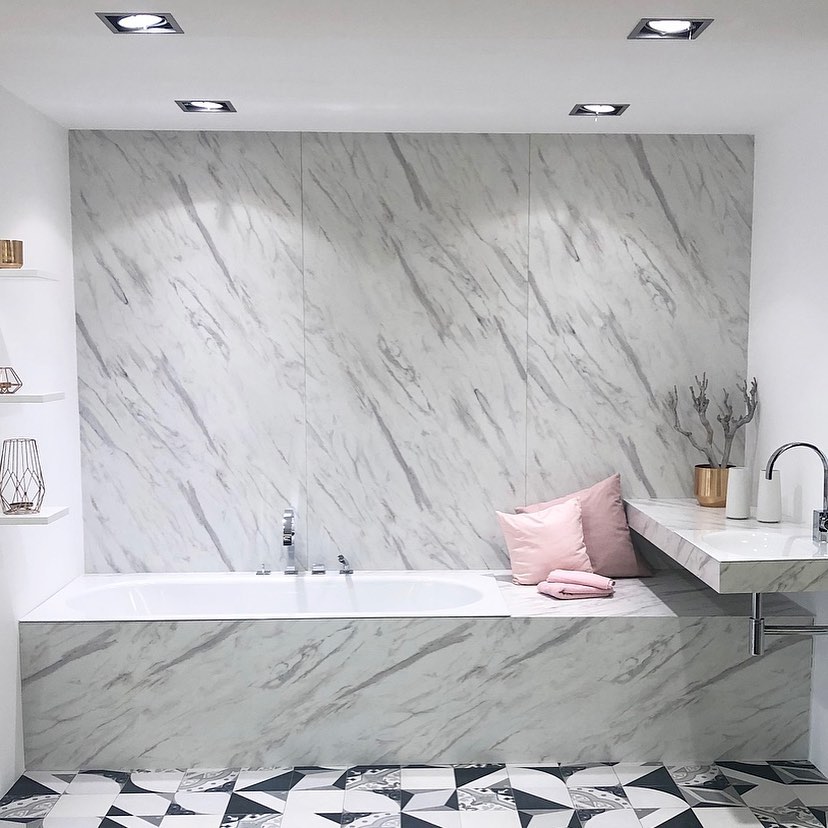 Here we have another example of a professional stone job by @mjs_vorbild. These ultra big marble slabs give a big luxurious statement to this gray bathroom. Bigger stone slabs give a more seamless look.
23. Clean And Elegant With a Touch of Drama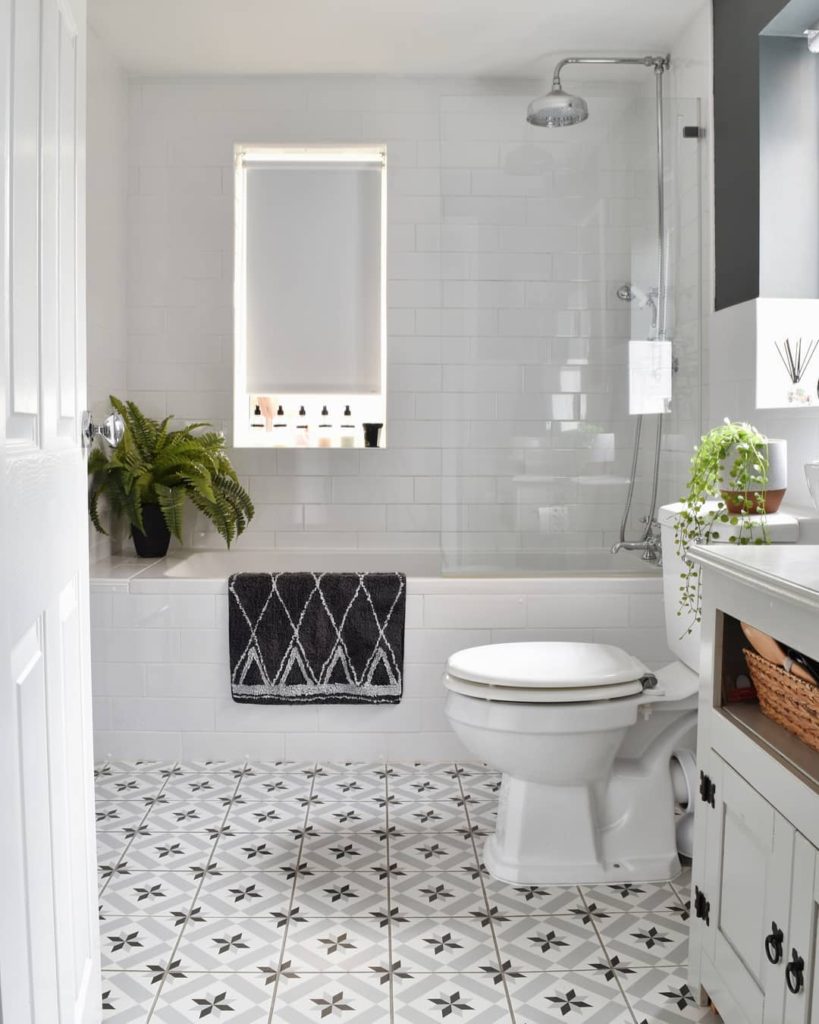 This stylish gray bathroom by @roundatnumber51 using white subway tile with a white grout for a clean and seamless look. 
The splashes of gray in the patterned tiles pop against it in the most elegant wait. The touch of dark gray wall color is a nice finish to keep thing interesting a long with the charcoal mat. 
24. Let The Hardware Stand Out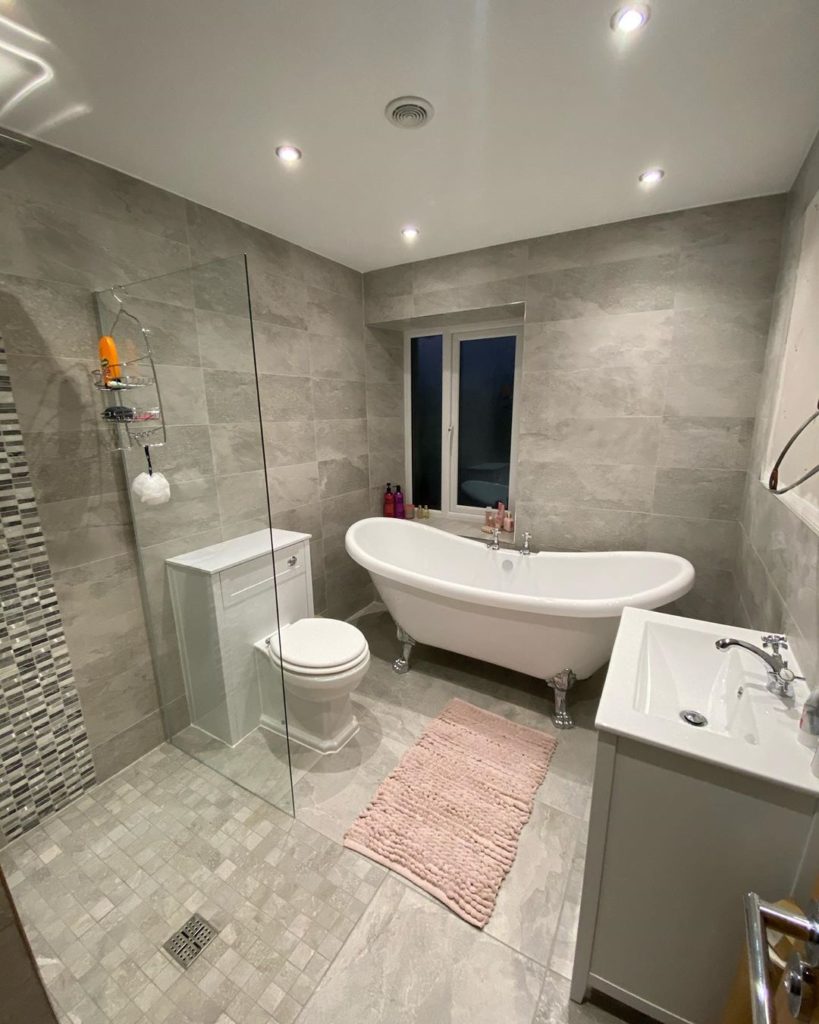 The color white doesn't have to be in the back of the show. In this gray bathroom they stand out and pop. Most of the time white is used as a base color to let other elements stand out. Flip the roles and fill your bathroom with gray surfaces and your bathtub and toilet will pop.
25. Victorian Appeal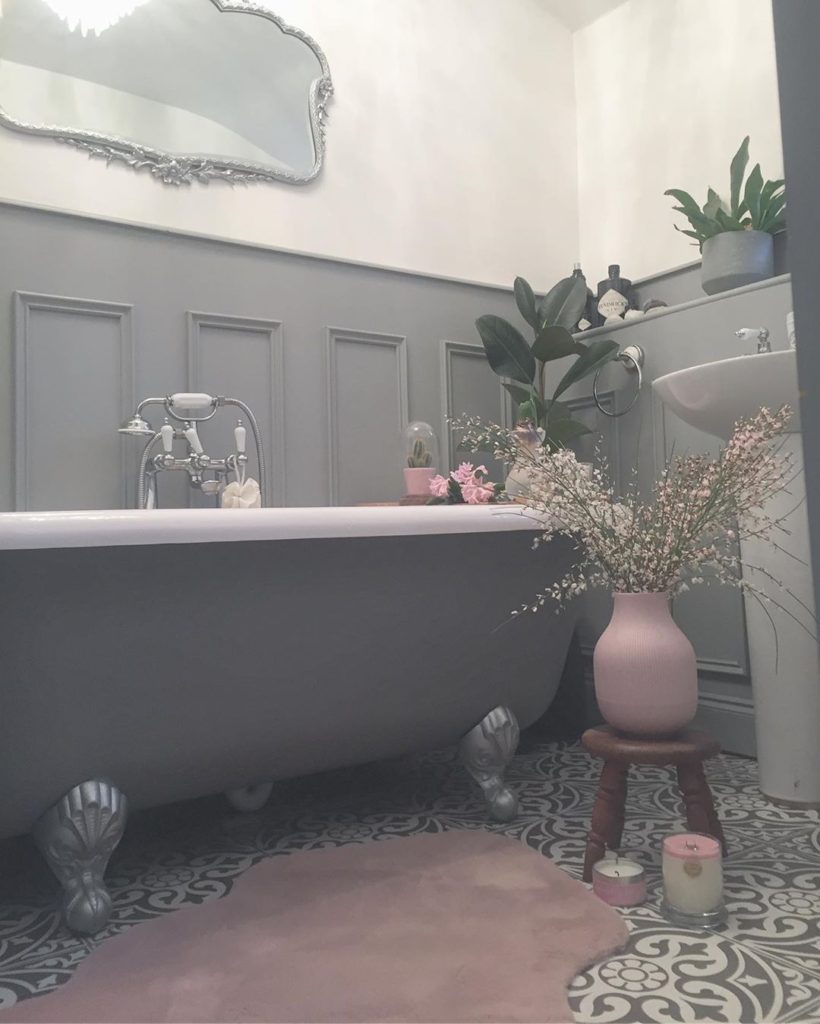 Here @makeovermarketst keeps a timeless victorian look current. The walls in this bathroom have so much character and we see the use of a unique gray bath tub–a departure from the standard white.
The fun pink accents pop out against this pretty gray color palette. The the great thing about gray, you can add a pop of your favorite color or just grayscale it.
26. Timeless White With a Splash of Charcoal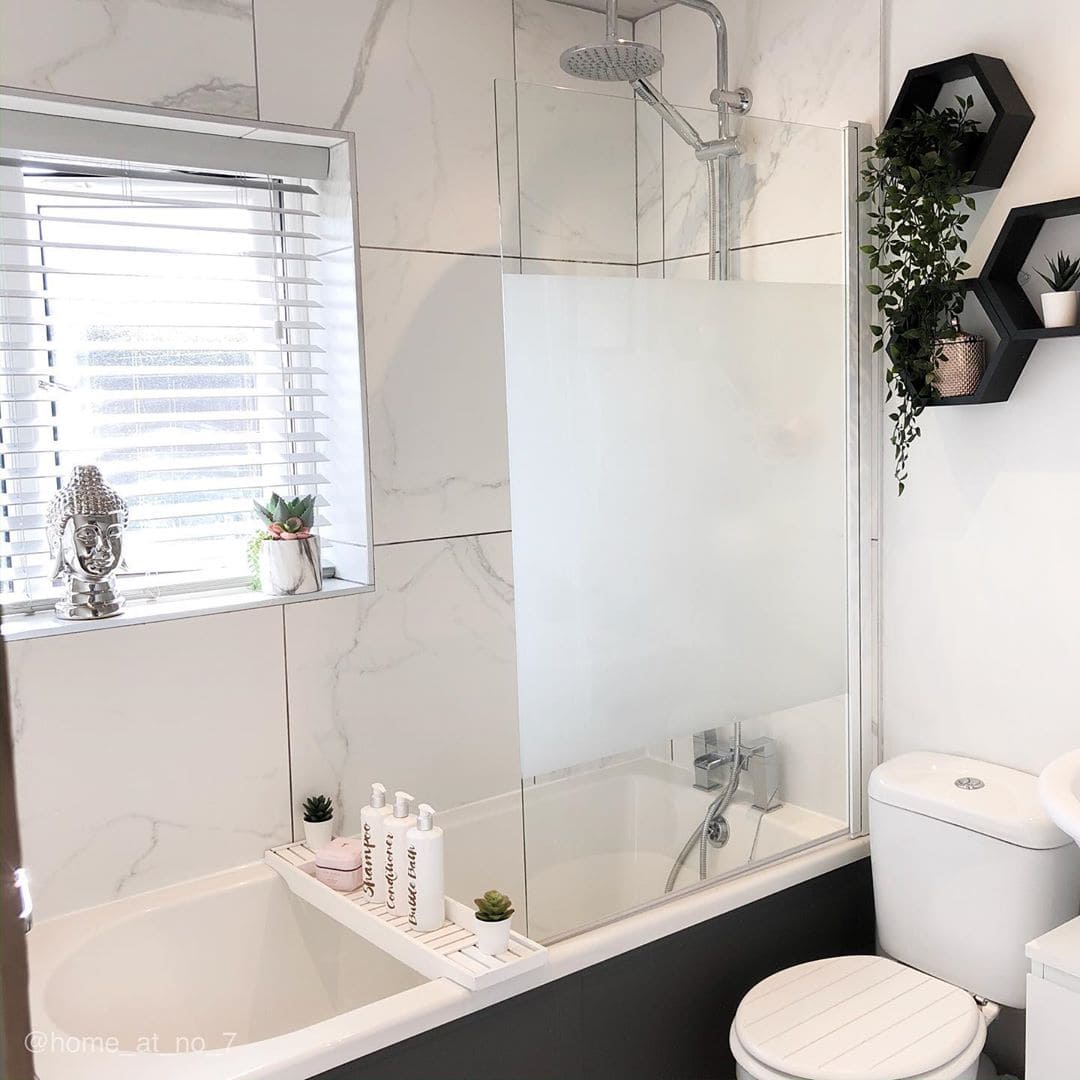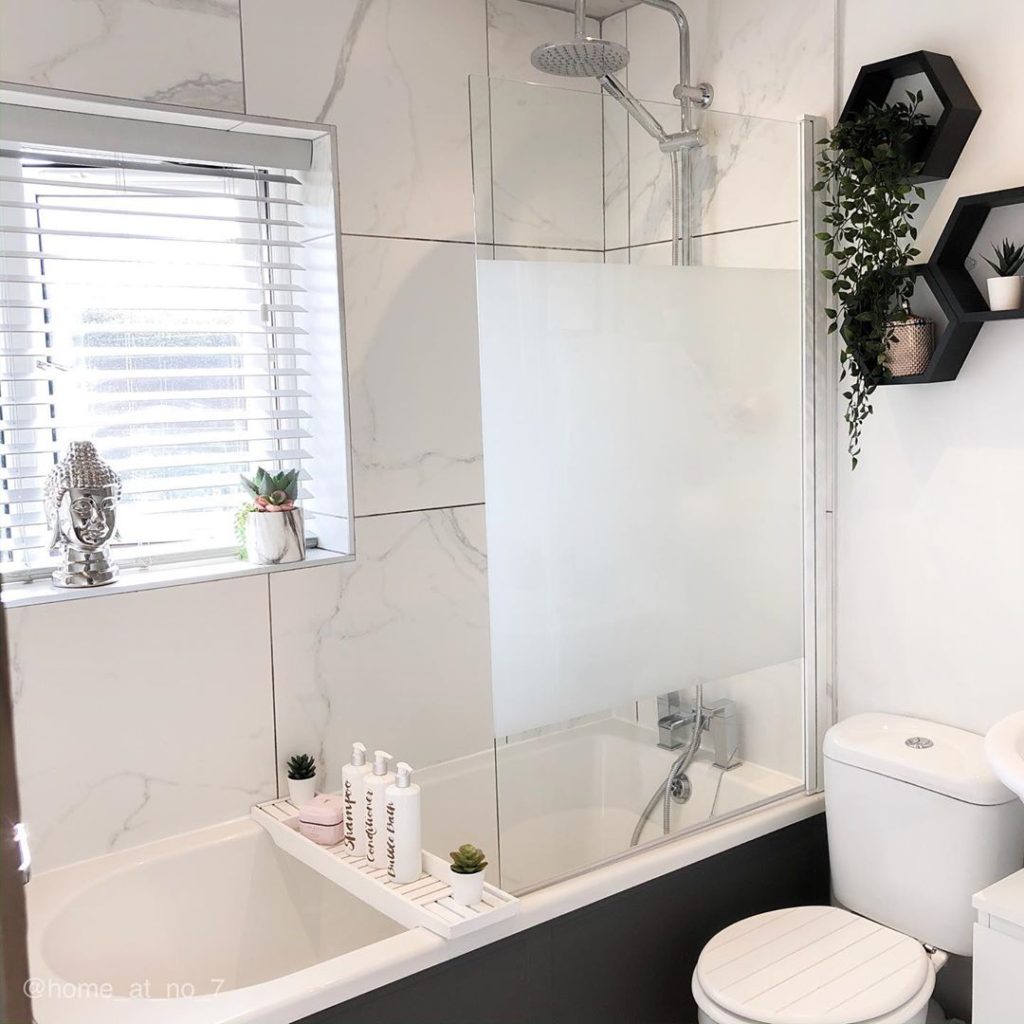 @cannins_at_no7 keeps this bathroom elegant and modern with large marble tiles in the shower. The pop of charcoal on the side of the tube pops out against the airy white and gray bathroom.
27. Mix and Match Stone Tiles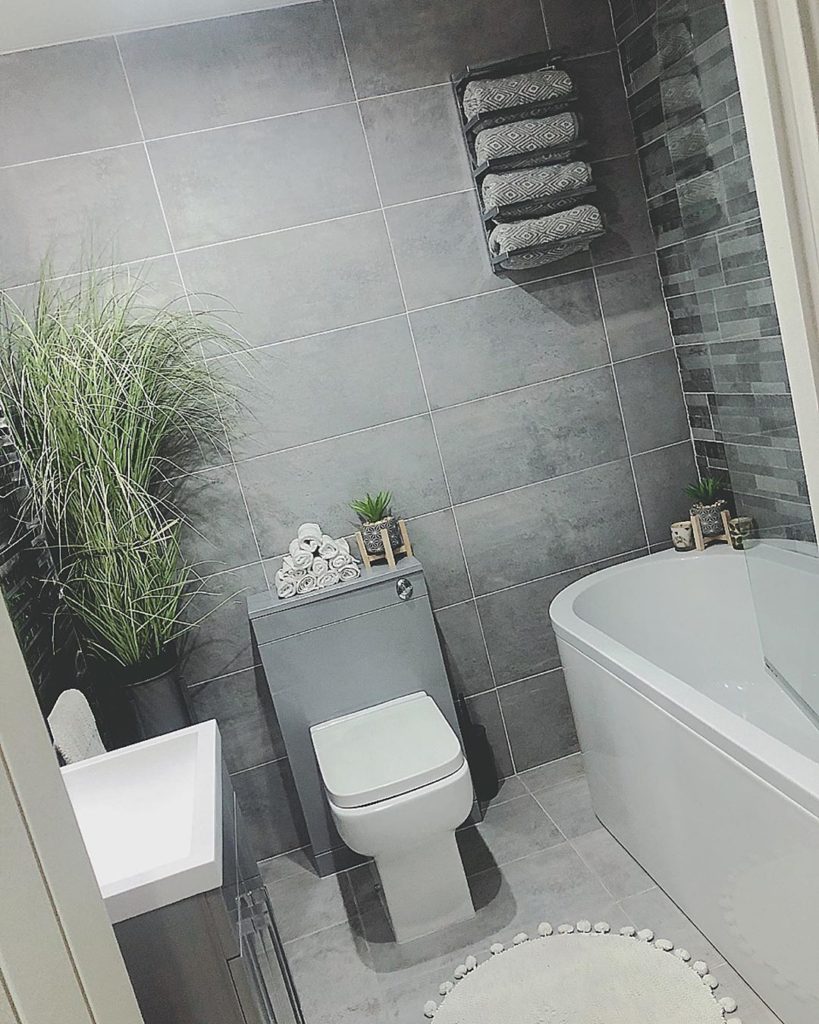 A monochromatic look can be kept interesting by mixing and matching textures. The standard gray stone tiles contrast with the busier back splash patterned used by the tub in this chic bathroom.