Do you have a tan house? Tan is the perfect exterior home color because it's a great neutral color. You can completely change your home's curb appeal by selecting a great front door color. Below, we'll discuss some of our favorite choices for front door colors for a tan house, from bright red to classic black.
In This Article We'll Discuss
Bright Red
One of the most sought after color pops is red. This bright and warm rush of light and color makes it a great choice for a front door. Since tan is a nice neutral, you can look for color options that are loud, bold and bright.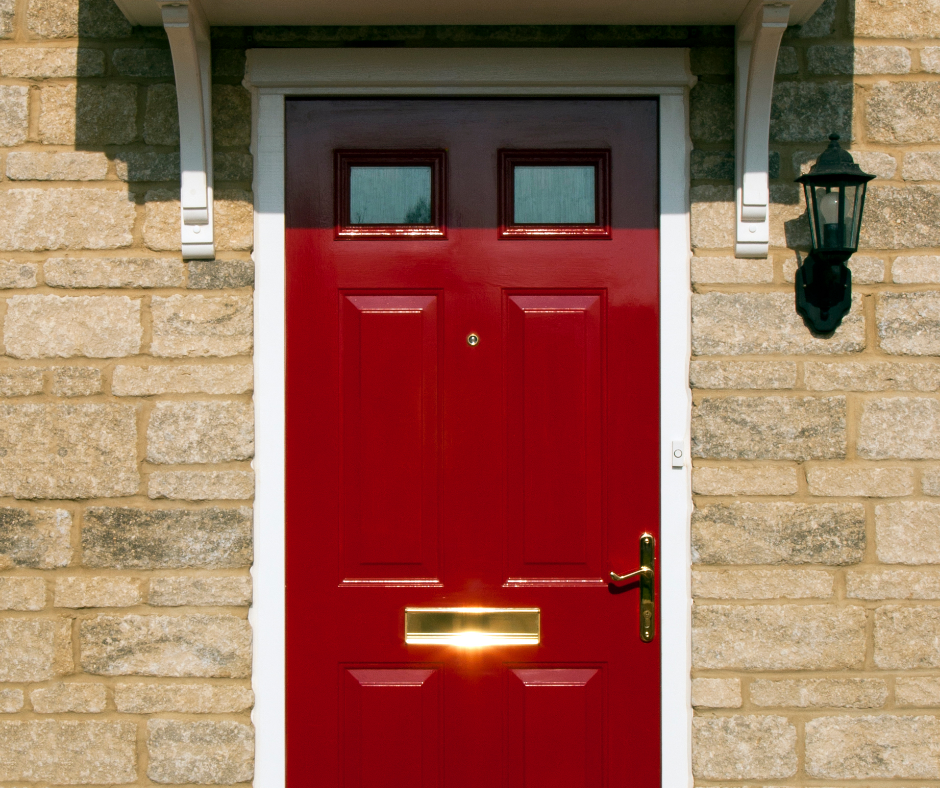 Adding such a bold colored front door to a tan house draws attention. If you love the idea of adding character and personality to your house with a color pop, this is a great choice. You can even paint your window trim to coordinate with your bright red front door.
Peaceful Blue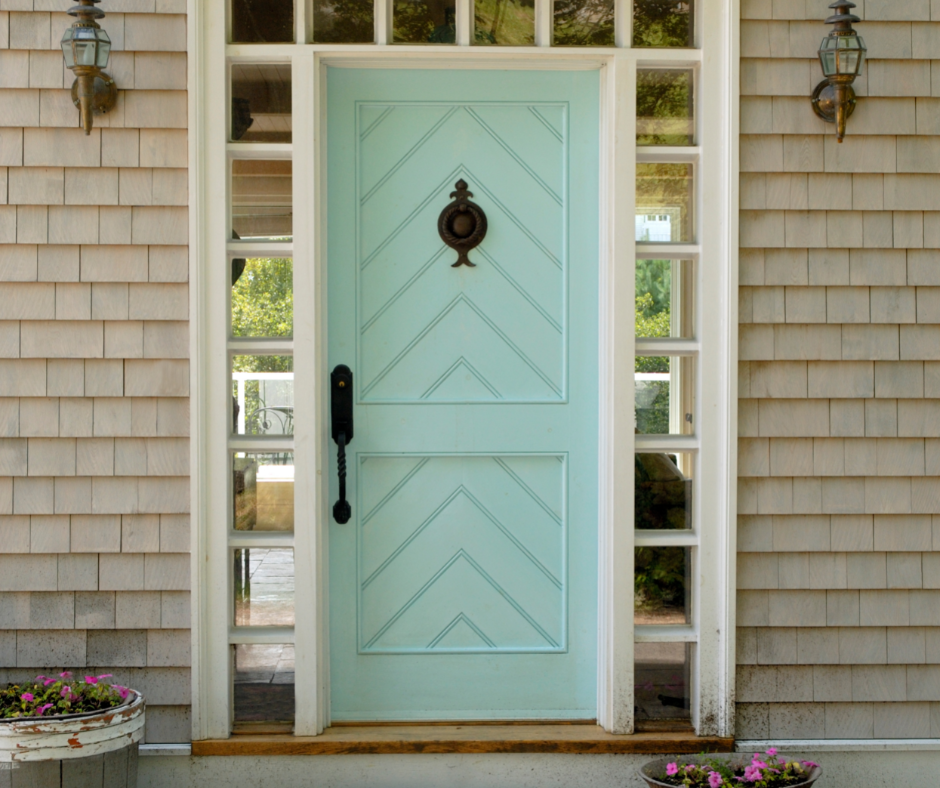 Are you looking for contrast, but still want a more peaceful aesthetic? If you're hoping to go with a green toned blue, Jamestown Blue is a classic. This color offers depth and serenity, which is a perfect contrast to a neutral house color such as tan.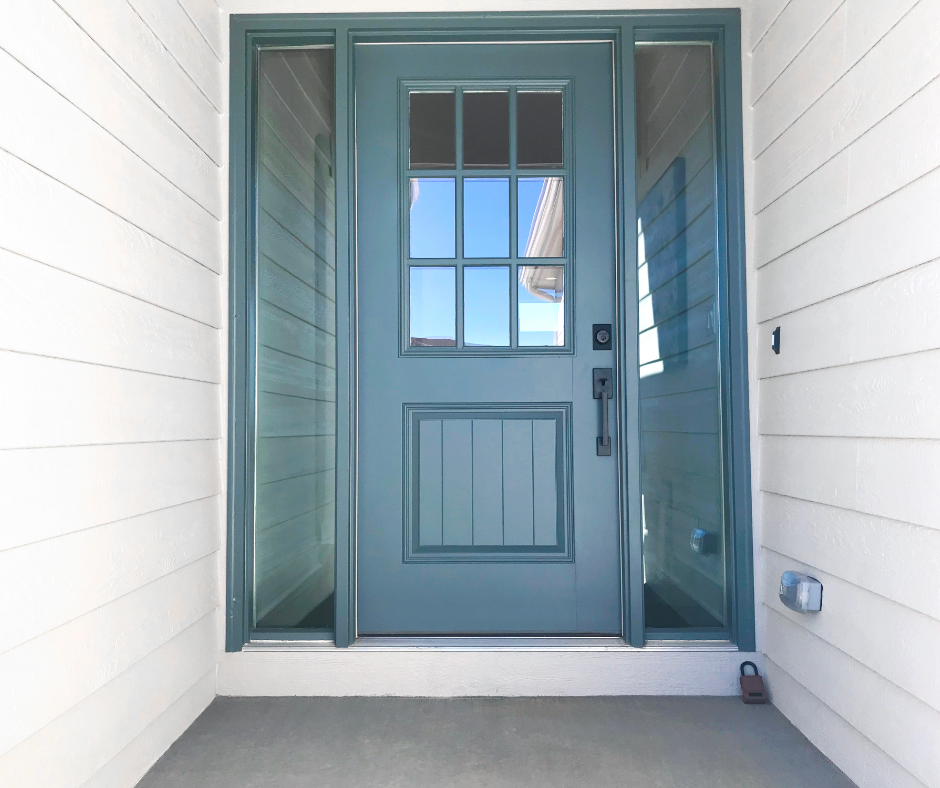 If you're more into a purple undertone in blues, go with Yin Yang. This color offers a serene look as well, but with more of a color contrast like natural flowers instead of water. Both natural blue choices would pair perfectly with a tan exterior.
Steel Gray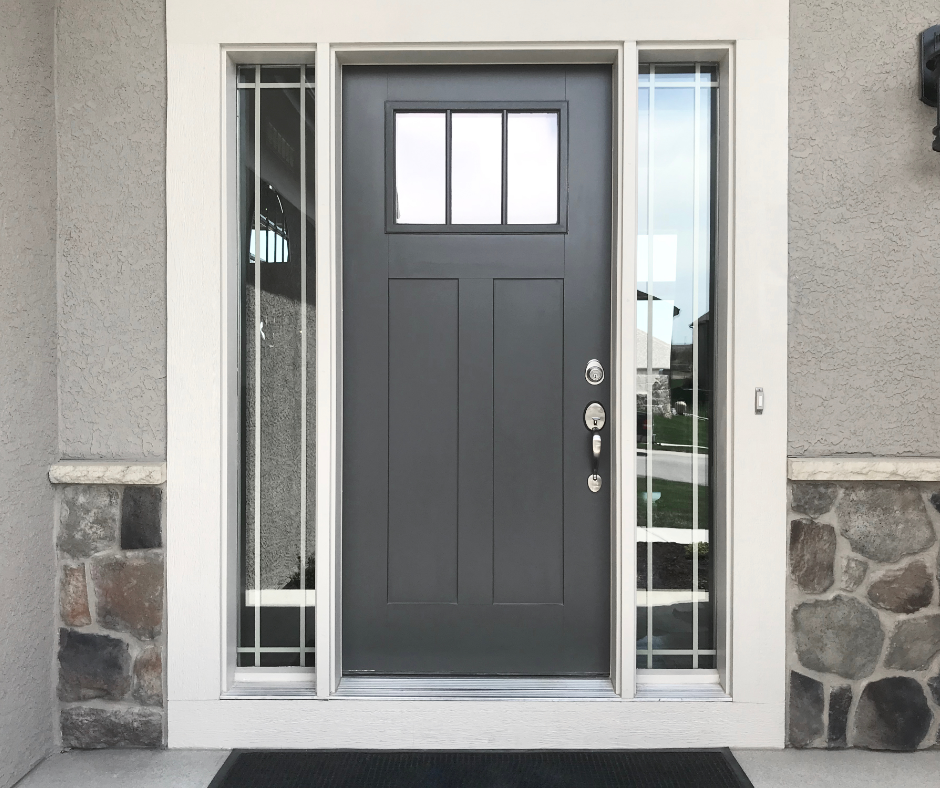 Add an edgy vibe to your home's exterior by using Iron Mountain as your front door color. This dark steel gray color is a complementary neutral to tan. While tan offers warmer tones, the darkness and depth of Iron Mountain creates a cool color tone effect and anchors the look.
Choosing a neutral like a dark gray gives you contrast without you having to commit to one color option. You can still use all kinds of different colors outside your home and never have to worry about the colors clashing.
Yellow Color Pop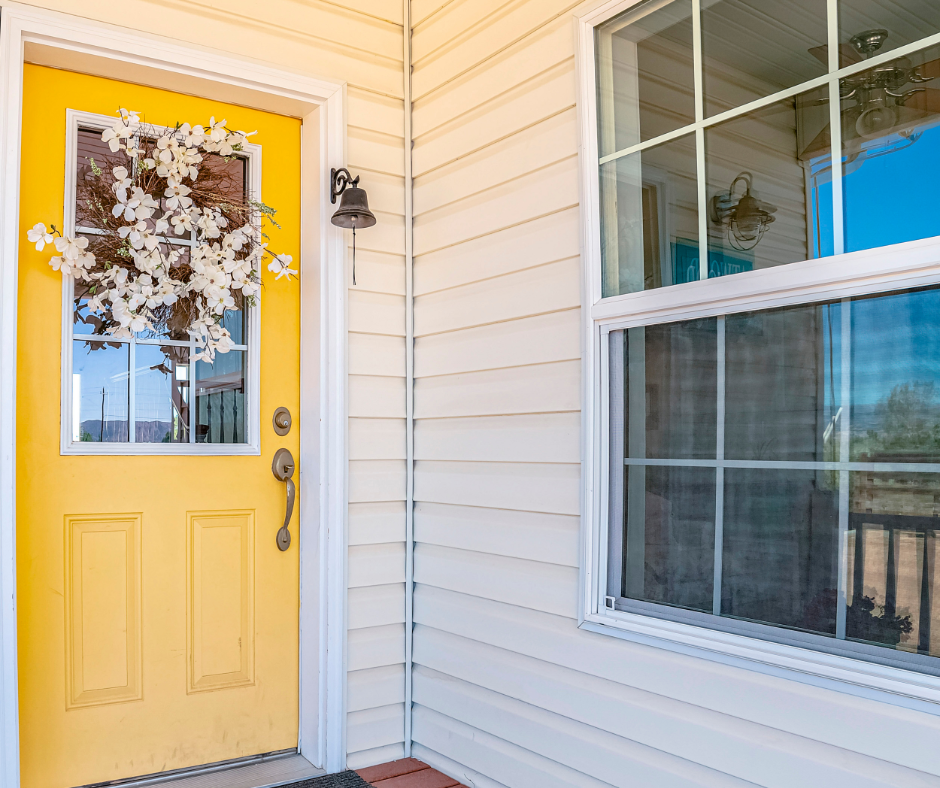 You can really stop passersby in their tracks with the bold lemony color of Citron. This earthy yet bright yellow color contrasts well against the warm tones of a tan home exterior. Although the color is bold and bright, it has an earthy look and feel as well. You can find this color in nature amongst flora and fauna, making it a great natural color choice.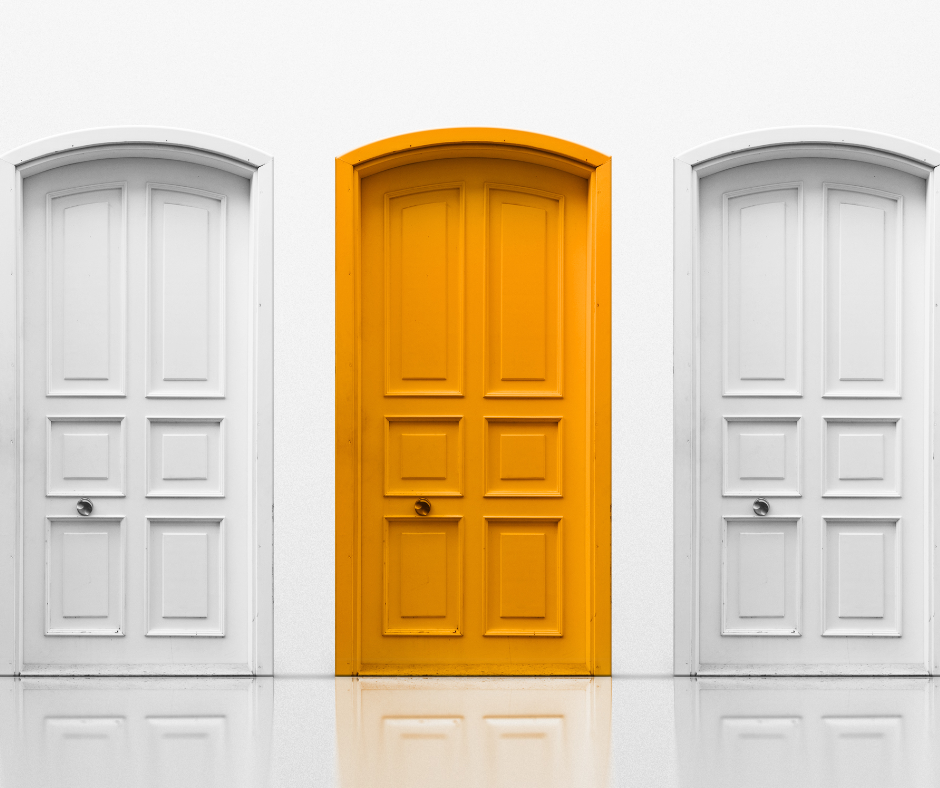 Yellow Marigold is a brighter choice, but it's a bit less earthy. This color choice will definitely add a pop to your curbside appeal, adding brightness and lightness to the front of your home. This color would pair especially well with a much lighter shade of tan for your home's exterior.
Tranquil Green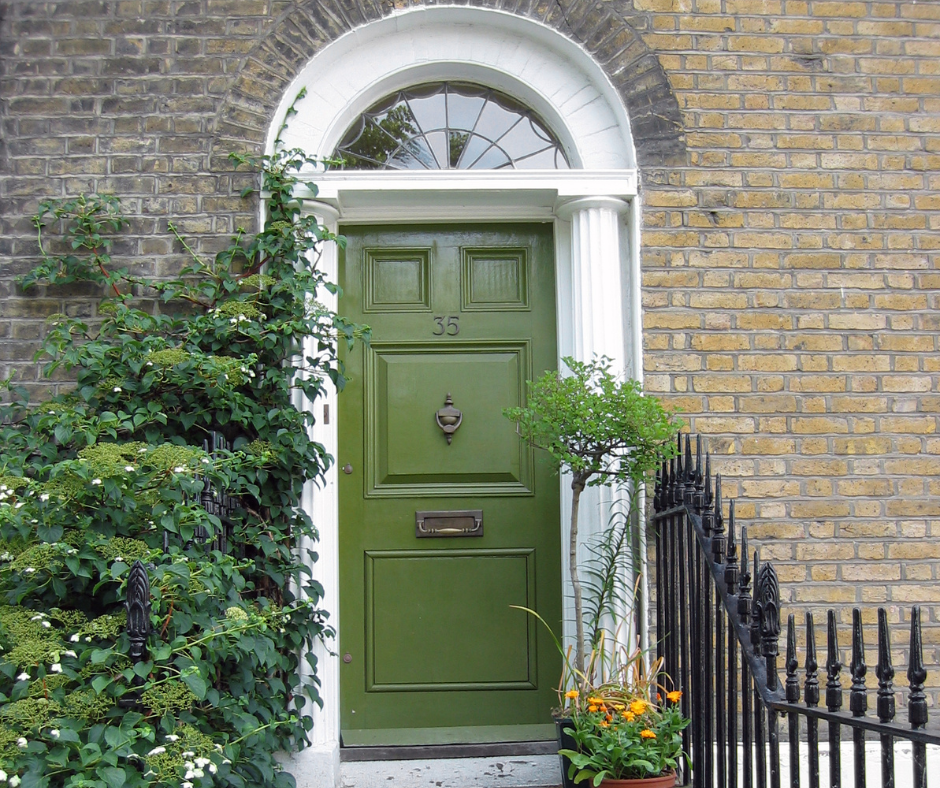 Using an earthy green will give your house a natural look. Tan and green earth tones together resemble the natural contrast you'll find in plant life outside. Try a front door in Fraser Fir for a tranquil look. This olive toned green lends itself to pairing well with all different shades of tan home exteriors.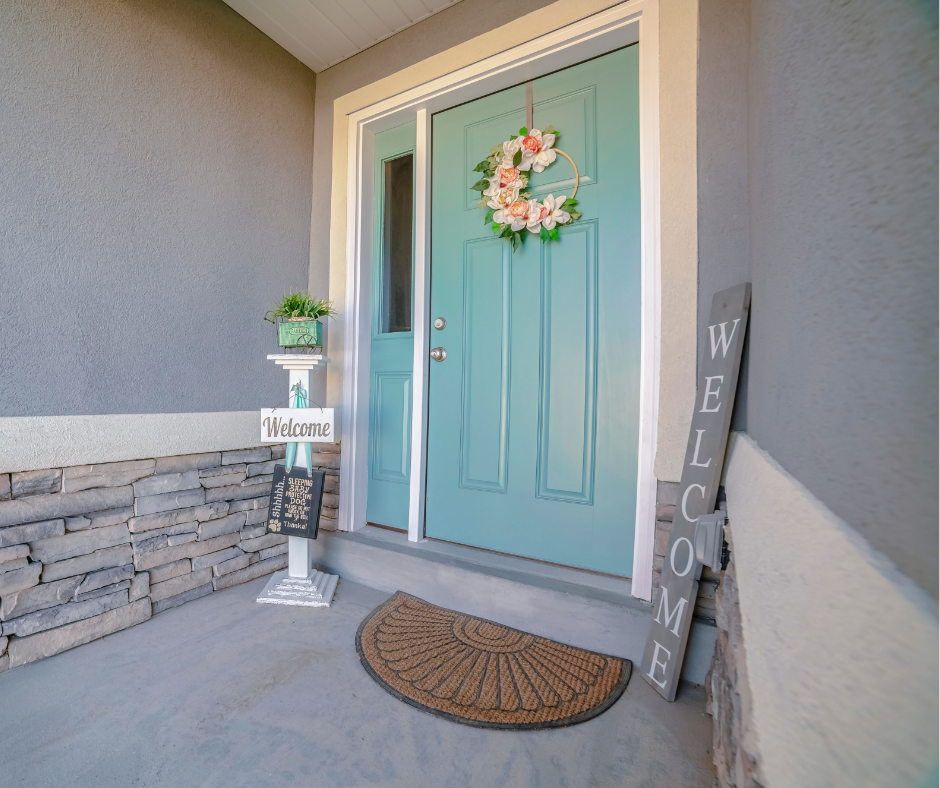 If you love greens with blue undertones, Harrisburg Green might be the color for you. This green shade has cool toned depths to it while not being too bright. It will contrast nicely against tan walls while still keeping a tranquil, natural look and feel for your home's exterior.
Rusted Orange Flair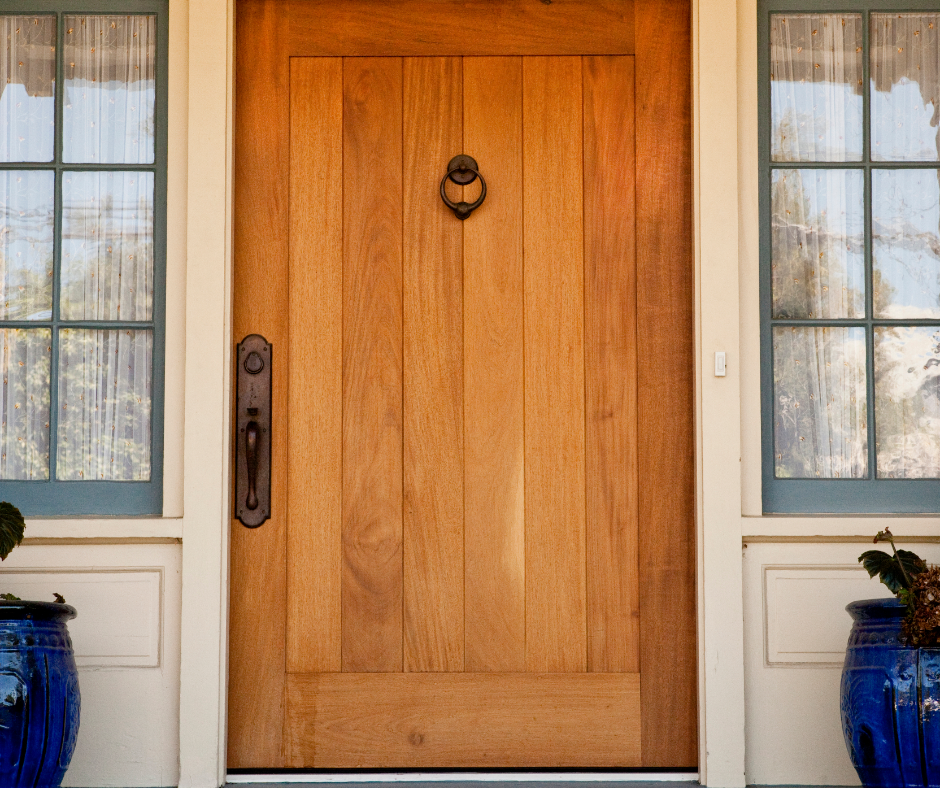 Earthy color pops are ideal when you want deep contrast, but you don't want too much drama. Warmed Cognac is a smooth blend of orange and brown that creates the perfect rusty color combo for a front door. This color paired with a tan exterior will offer cozy Fall vibes year round.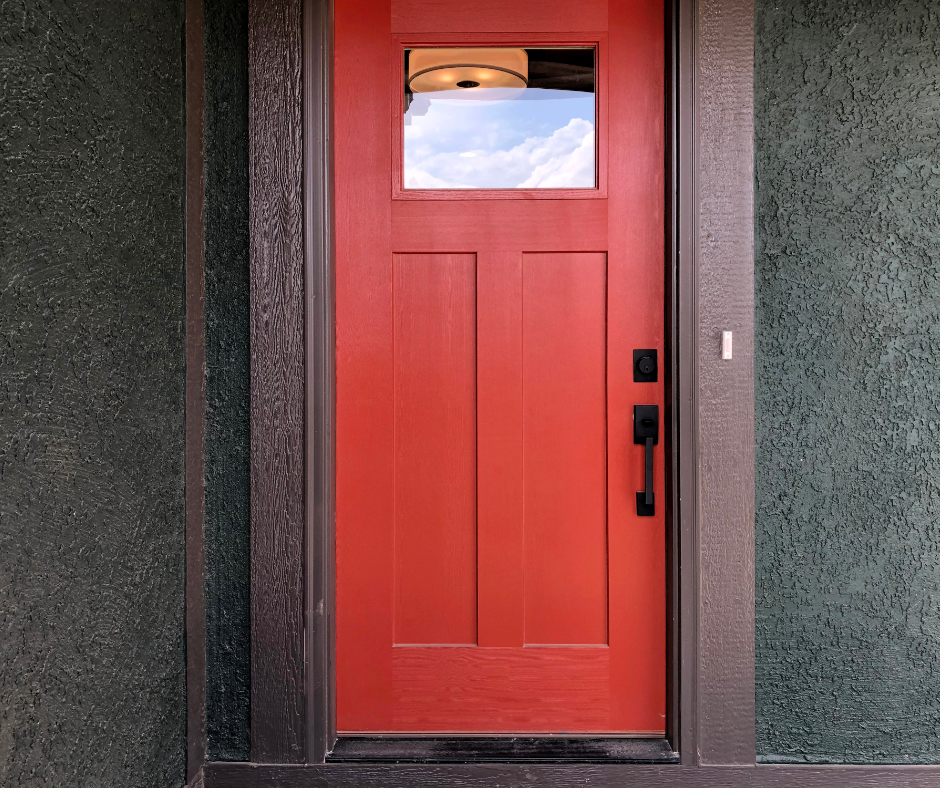 Another choice for a cozy Fall look is Cinnamon. This rusted orange color has more reddish undertones, creating a brighter look. This earthy shade of orange is bolder and brighter for a unique look.
Classic Black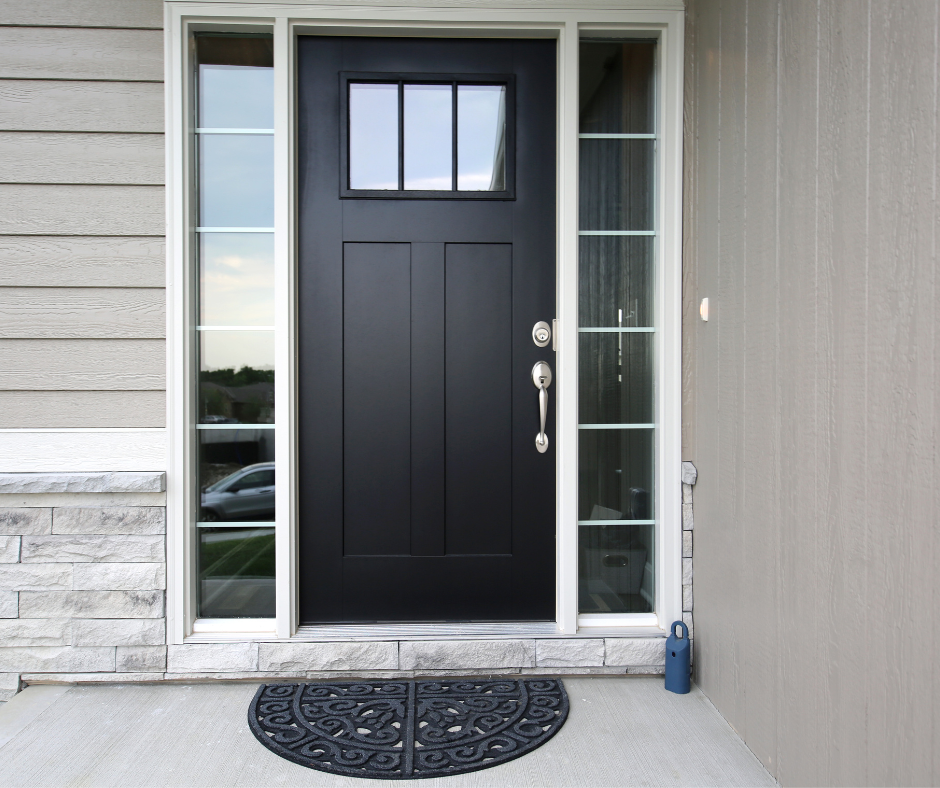 The contrast of stark black against tan creates a crisp, clean classic look. Mopboard Black has deep and smooth tones of black that truly create a memorable look. Black and tan together help balance each other out while still creating a statement.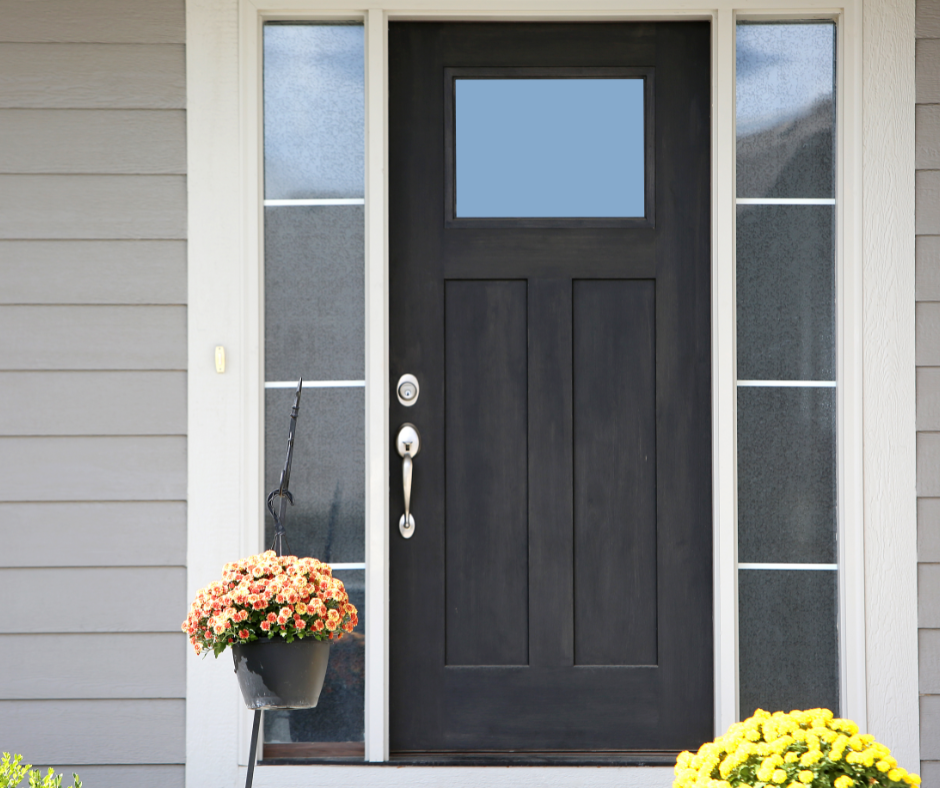 For an even deeper, darker look, go with Jet Black. This dark shade of black is perfect for a tan home, especially when you accent your outdoor trim and roofing in black as well. Create a classic, elegant look with these two neutrals side-by-side.
Royal Plum Purple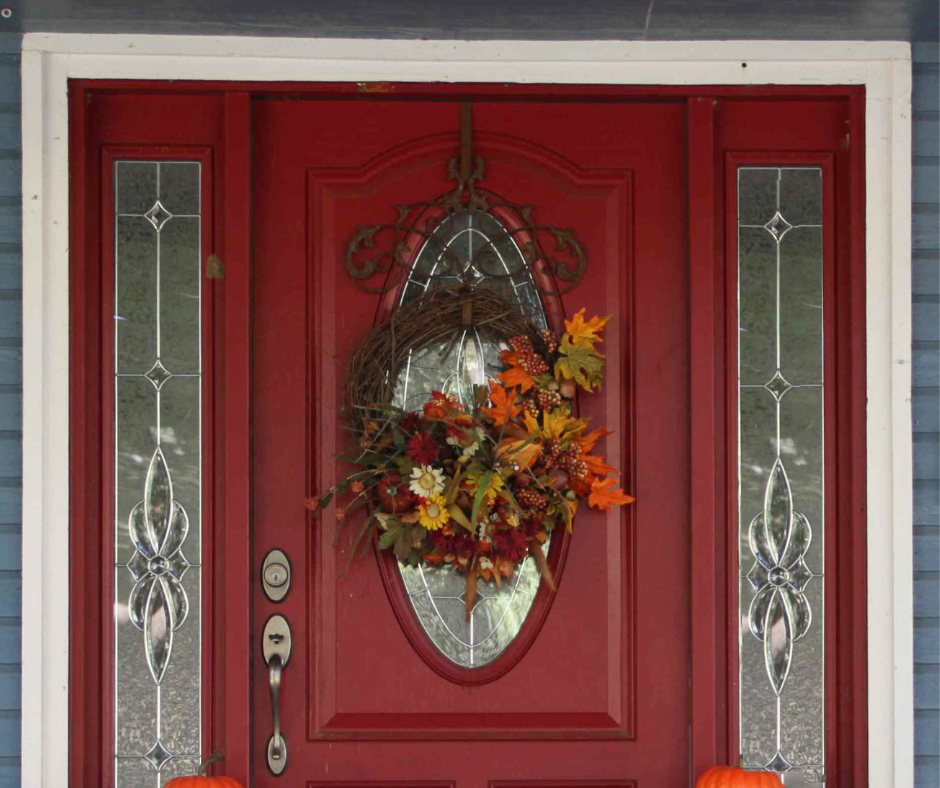 Purple's playful, cool tones are perfectly balanced by tan's neutrality. Carter Plum offers a bright, yet elegant choice for a purple front door. This playful color would be best paired with a lighter tan home exterior.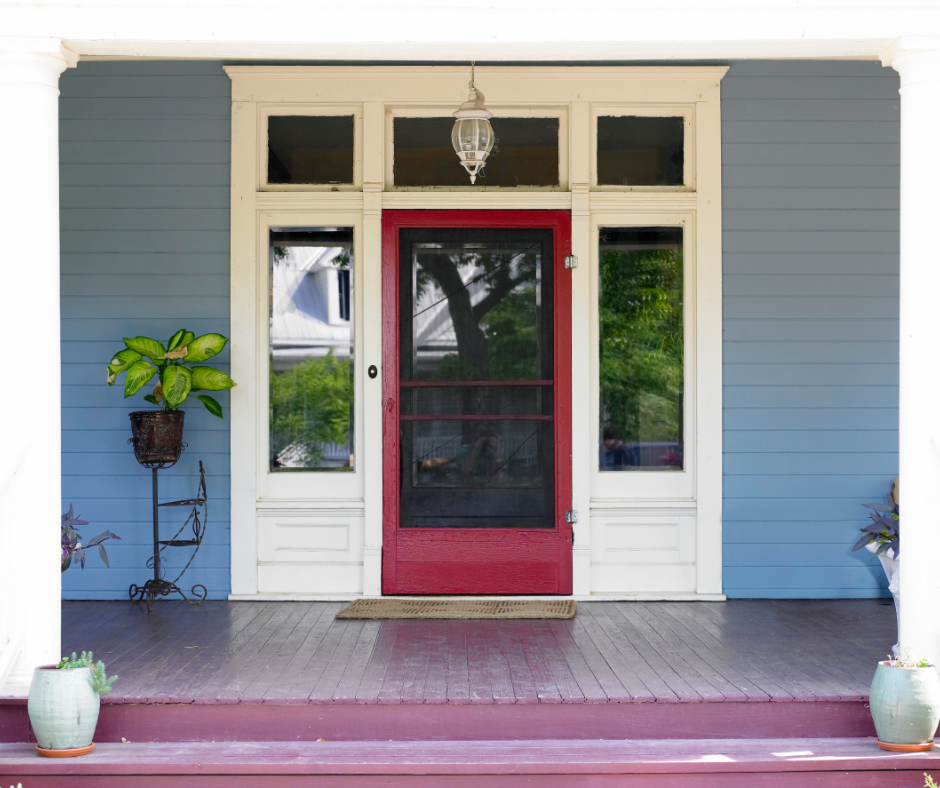 Or, you can go bolder with a deep velvety Dark Purple. This color choice is risky and edgy, creating an interesting depth and a dreamy look for your home's exterior. We love the balance that this cooler tone offers against the light warm tones of a tan exterior.
Curious Coral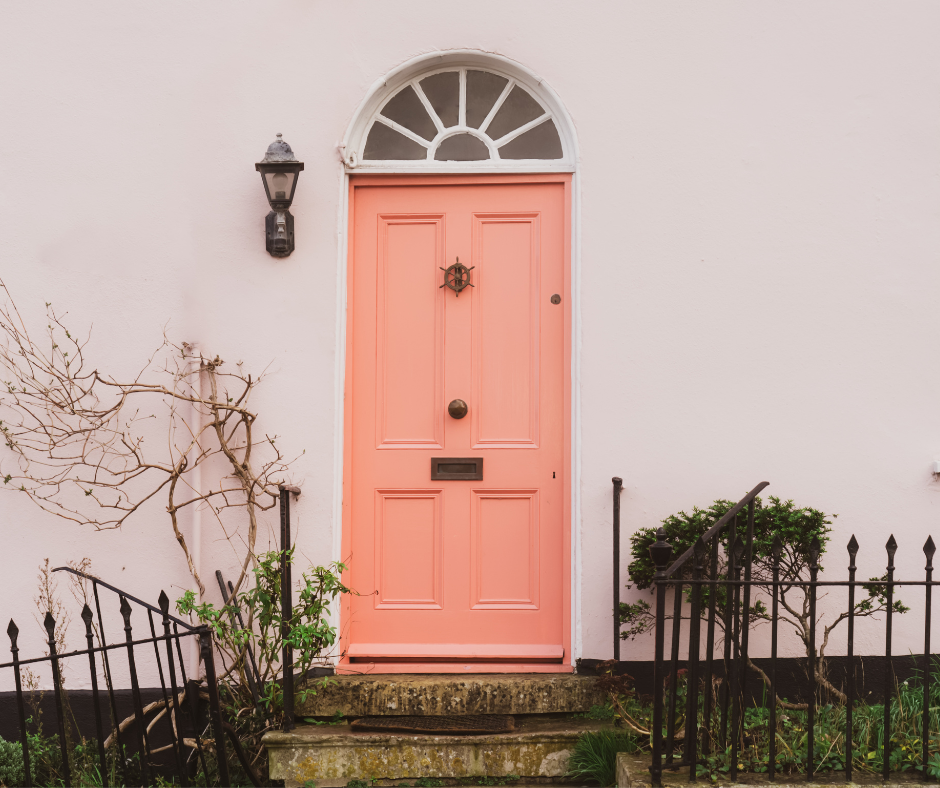 Create a cheerful exterior look for your home's front door with Coral Rock. This bright color is well-balanced against a neutral light tan. It's certain to be an eye catcher and to create great curb appeal. Coral is a perfect front door color if you're able to mirror this color with unique flowers in your home's landscaping.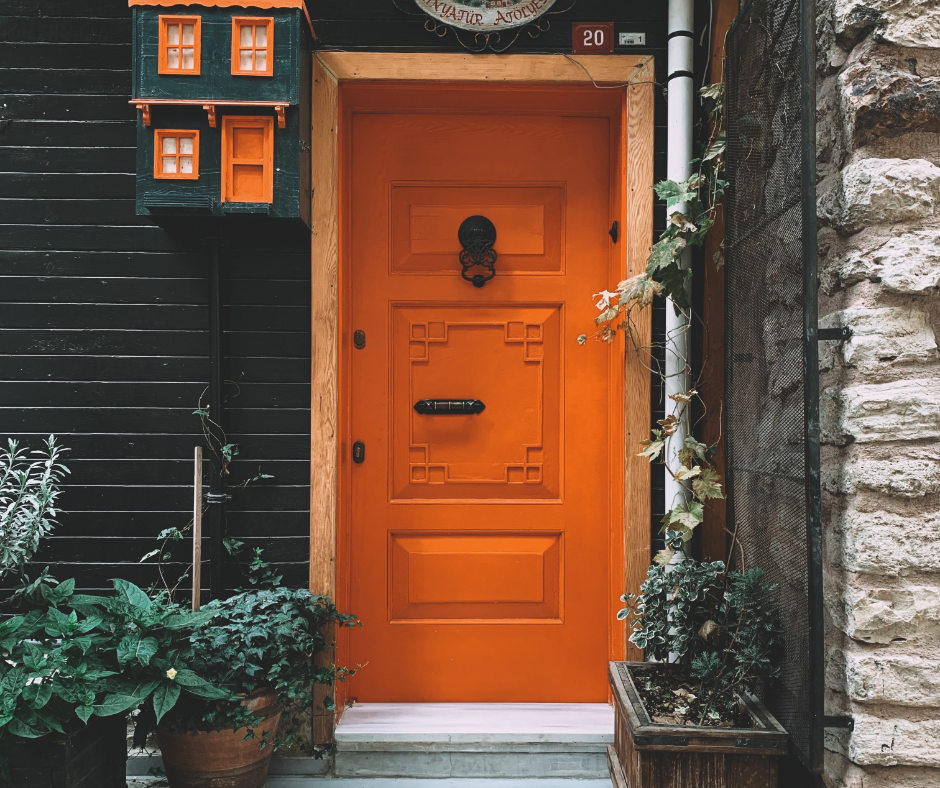 For a bit of a darker, toned down coral color, you can try Coral Glow. This color will offer the playful brightness of coral with a bit of a darker colorway.
Rich Cocoa Brown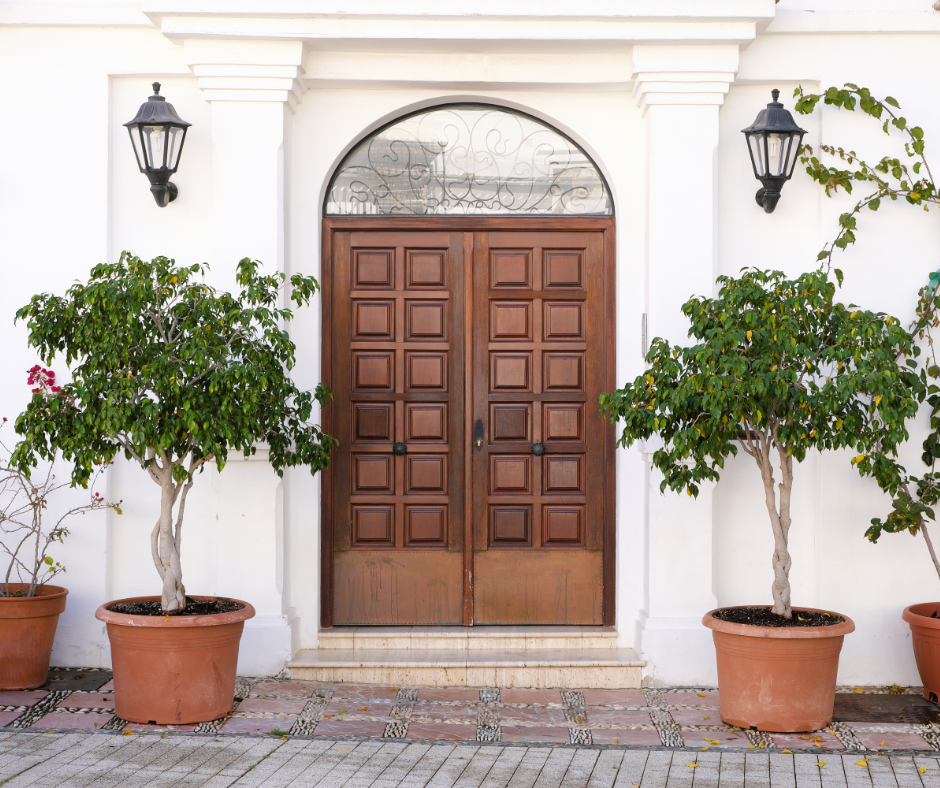 Keep a monochromatic look when you use a brown door to contrast your home's tan exterior. Warm Brownie is a rich, yet subtle brown color. This choice has deep red color hues, adding a lot of warmth and a smooth, earthy look.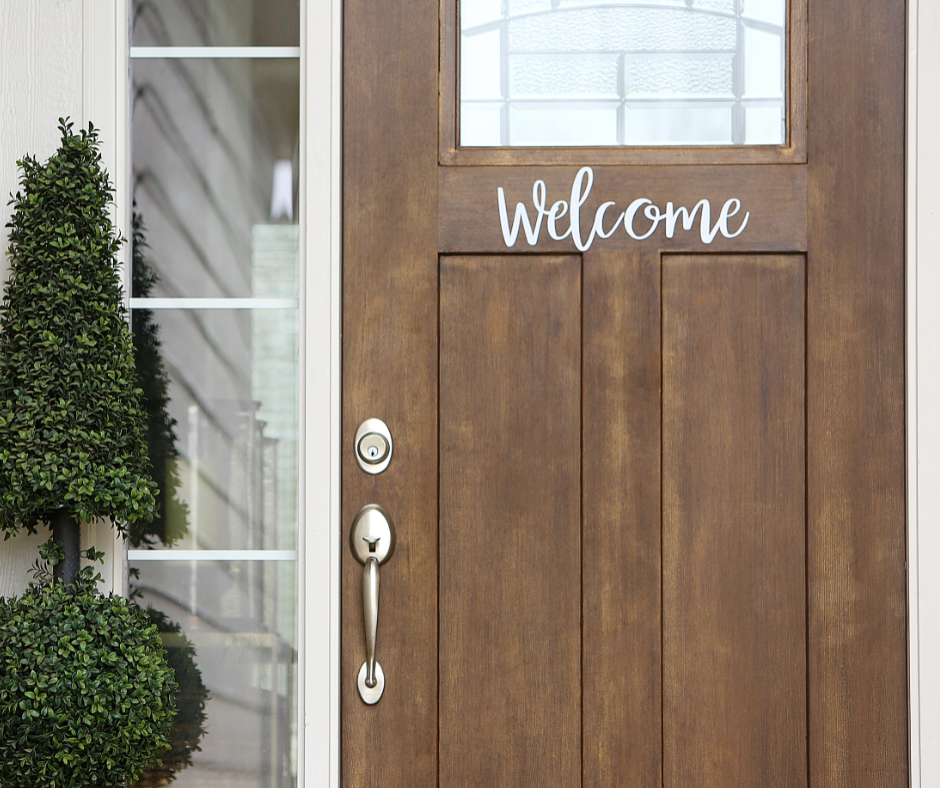 Mocha Brown offers extra darkness and depth, while still maintaining a very warm look. A deep dark brown like this adds to the neutrality and natural look of your home's exterior. Any colors outside your home will pop in contrast to this neutral yet stylish combination.
Conclusion
Tan homes offer the perfect neutral exterior palette so you can choose a bold front door color. Always consider other pieces outside your home such as furniture, decor or even your landscaping plans. Figure out what kind of look you want to go for. Then, feel confident making an unconventional color choice for a pop of color for your front door.