When it comes to decorating homes, most people know they need to buy new frames to change the look of a room. But do all frames have to match a room?
No, not necessarily. It is perfectly fine for frames to be different colors and textures. That being said, choosing matching frames will create a more cohesive look.
Today, there are countless options available to homeowners looking for something fun and exciting for their walls. For example, you can find framed pictures at any home improvement store or online. Or, you can get metal works, watercolors, oil paintings, hand-blown glass pieces, and everything in between.
In This Article We'll Discuss
Do All the Frames Need to Match in a Room?
The answer to this question is both yes and no. While most people would say you need all the frames in a room to match, there are some exceptions if it comes down to being practical or styling your room.
One of the biggest reasons you have framed art is to give your room life and style.
So, as much as you may want all the frame colors in a room to match, they don't necessarily need to. The differences can be overlooked as long as they're not too distracting.
Of course, there's no reason to avoid having matching frames throughout your home, but sometimes it's more practical to have differing frames.
Can You Have Different Color Picture Frames in a Room?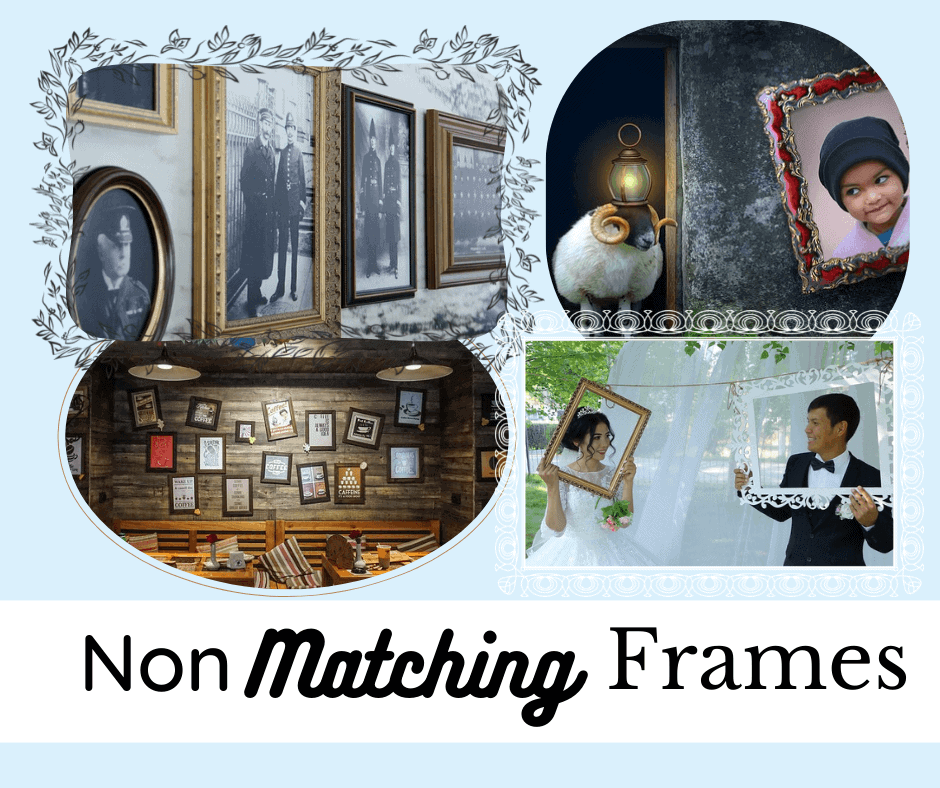 Having different color picture frames in the same room is not only acceptable but quite common as well. Different colors can provide extra variety within your design and can create visual appeal.
Many think that having matching color picture frames will create an unappealing effect, but that doesn't mean you have to mismatch them.
When selecting new artwork, it may be easiest to choose an overall color theme, such as burgundy reds. You may want to choose several pieces with varying shades to create a complementary look.
Try creating an art grouping, which will provide maximum impact on the walls surrounding it. If you are trying to achieve a casual look, select frames in varying tones of one color.
For a more formal setting, try using multiple closely related colors for artwork, such as blue and teal. There is no right or wrong way to select different colors, so have fun with it.
What Style and Colors of Picture and Arts Frames Go Well Together?
When looking for cheap art or home decor, you'll need to consider several different aspects. For example, if you are trying to match a frame, then color is essential. The same holds with the piece of art you choose to put in it. Here are some tips about what styles will look best with your frame.
First, let's start by talking about wood-framed paintings. Wood is typically dark brown or black, so keep that in mind before deciding which artwork would look best in this style frame.
You can also consider color depending on the type of room you want your painting hung up in.
If you have a dark-brown wood frame, and want to put a lighter-colored piece of art inside, you can do so as long as the colors aren't too different.
For example, if your walls are a muted yellow and you hang a painting with bright green grass or a blue sky, it will clash with the rest of the room. However, if your wall color is more neutral, then go ahead and choose something that contrasts with it for an exciting look.
Another type of style is metal frames. These come in many styles, like modern, country, farmhouse, coastal, etc. Think about what design would suit these styles before choosing a picture because they will work best if they match up well with them.
Some examples include vintage black and white photos for old-world farmhouses, southwest landscapes for the coastal look, and modern geometric paintings for contemporary spaces.
Framed watercolor paintings are a unique option as well. Watercolors blend, so it's not necessary to match them with other art pieces, but you can if you'd like.
If you opt to pair two watercolor paintings, make sure that they both have a similar vibrancy level. Otherwise, the different levels will appear very obvious and stand out from each other too much.
For example, choose a vibrant orange piece of art to accentuate your painted seascape because those colors will look nice next to each other.
When Should All Frames in a Room Match?
Style is essential in a room. A photographer usually frames the room so that they match, which makes it look more put together and welcoming.
When Do You Want to Have Matching Frames?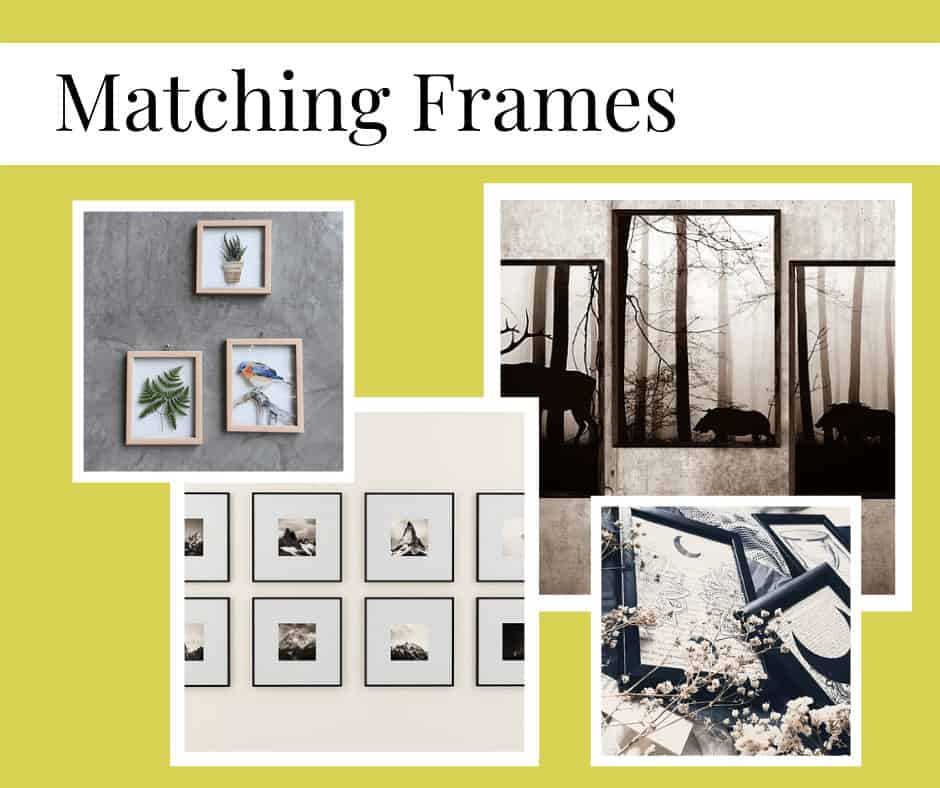 Having matching frames is beneficial because it creates an overall theme in the space, whether for decoration or nice pictures on the wall.
When choosing where to put your frames, it's essential to think about what color scheme or style is already in that space. Make sure to reference any other frames or works of art that may be hung up nearby.
What Should You Use for Your Frame?
It depends on what color scheme and style you want to match, and what kind of piece of art is going inside.
If there are multiple picture frames, they should all be the same size. If some are bigger or smaller than others, it will look a little odd when they are hanging next to each other.
If you have too many different colors, the frames and works of art may look out of place in the room.
One positive about using more than one frame is that you can add more artwork or decoration to the room. That will give you more options when decorating.
When you use a different color frame, but the same kind of art inside, your room will look more put together.
When there is more than one picture frame with varying colors, it can create an eyesore. However, if you're using them for decoration purposes only, like on top of a fireplace or an all-white skirting board, they can add a nice touch to the room.
So, it's important to know the purpose of the picture frames before buying them. If you buy too many, or you buy the wrong colors, they won't look right in your space.
Conclusion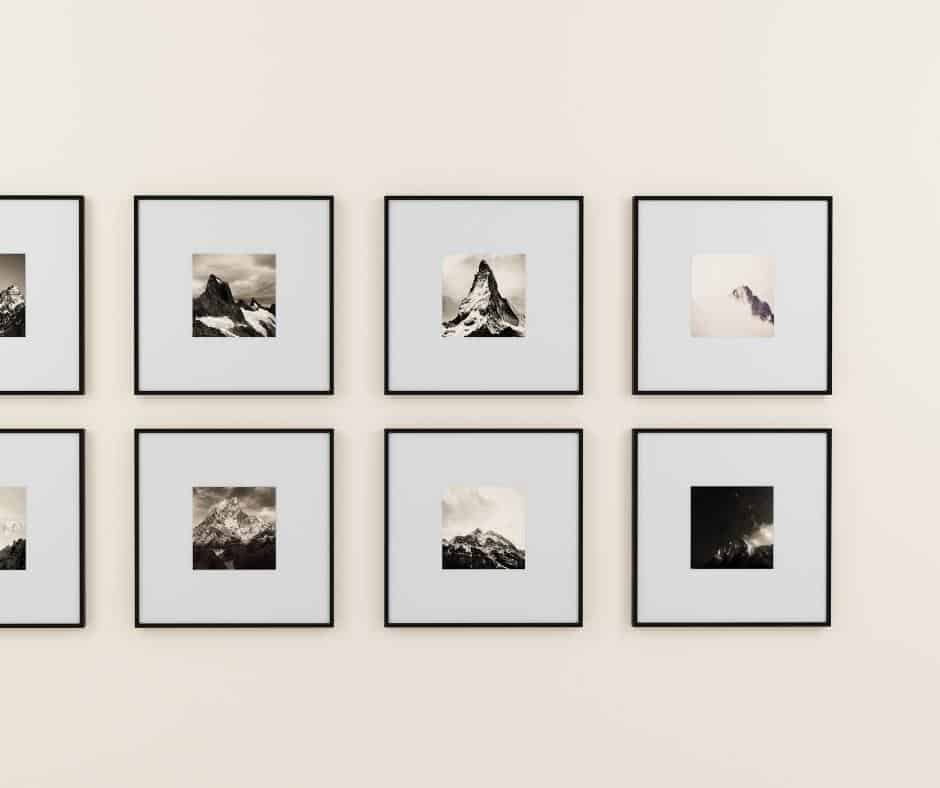 As you can see, there is nothing wrong with rooms that have different frame types in them. This is true for both homes and apartments.
Using different frames allows you to create a unique space that fits your style. However, if your personal tastes don't mesh with different frames, then you should stick with uniform frames in terms of shape, size and color.
If you're not sure which option you prefer, you can always play around with a few different designs until you find one you're happy with.