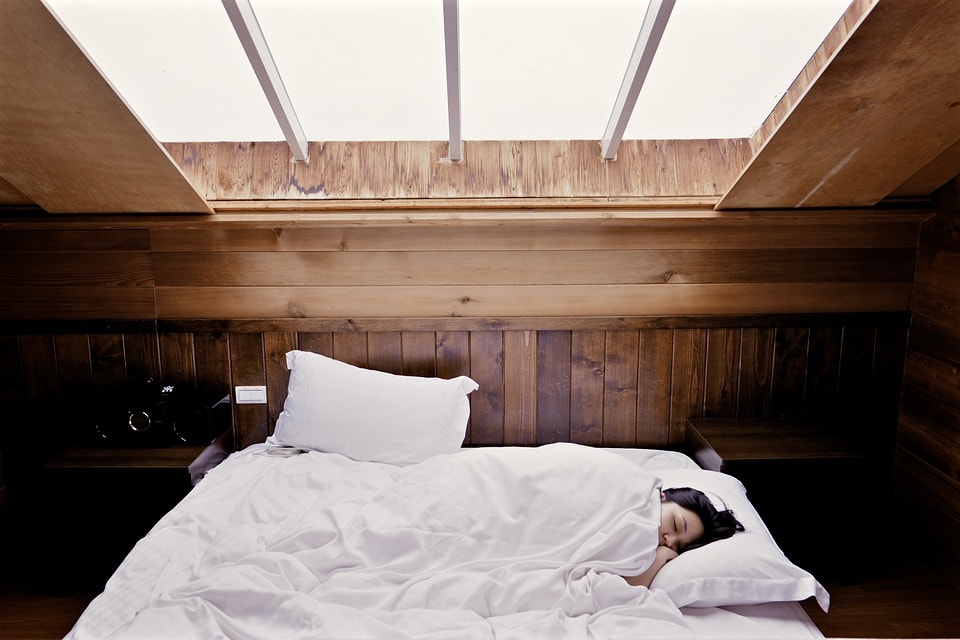 You can rest easy knowing a farmhouse style bedroom doesn't have to break the bank
In This Article We'll Discuss
What is a Farmhouse Bedroom

The most important thing to keep in mind for a farmhouse bedroom is to keep a balance of new and used with practicality. "Used" doesn't necessarily have to be actually used, just look like it has been!

A farmhouse bedroom is a place that is cozy, relaxing, and warm. It'll look fun and full of character. It'll remind you that simpler times used to once exist. If you want your bedroom to have these qualities then keep on reading.

Farmhouse is often used to describe that it is highly functional. Farmhouses were places that were used on agricultural lands. After a busy day doing laborious work people needed home tasks to be easy. That's were farmhouse gets it practicality from. Sometimes this just meant making home decor items out of whatever was lying around.

By going with this decor style your bedroom will be elegant, comfortable and organic. You'll have access to a wide variety of accessories and furnishings that will add a touch of your own personality to the room.

Farmhouse Bedroom Ideas
1. Modern and Relaxing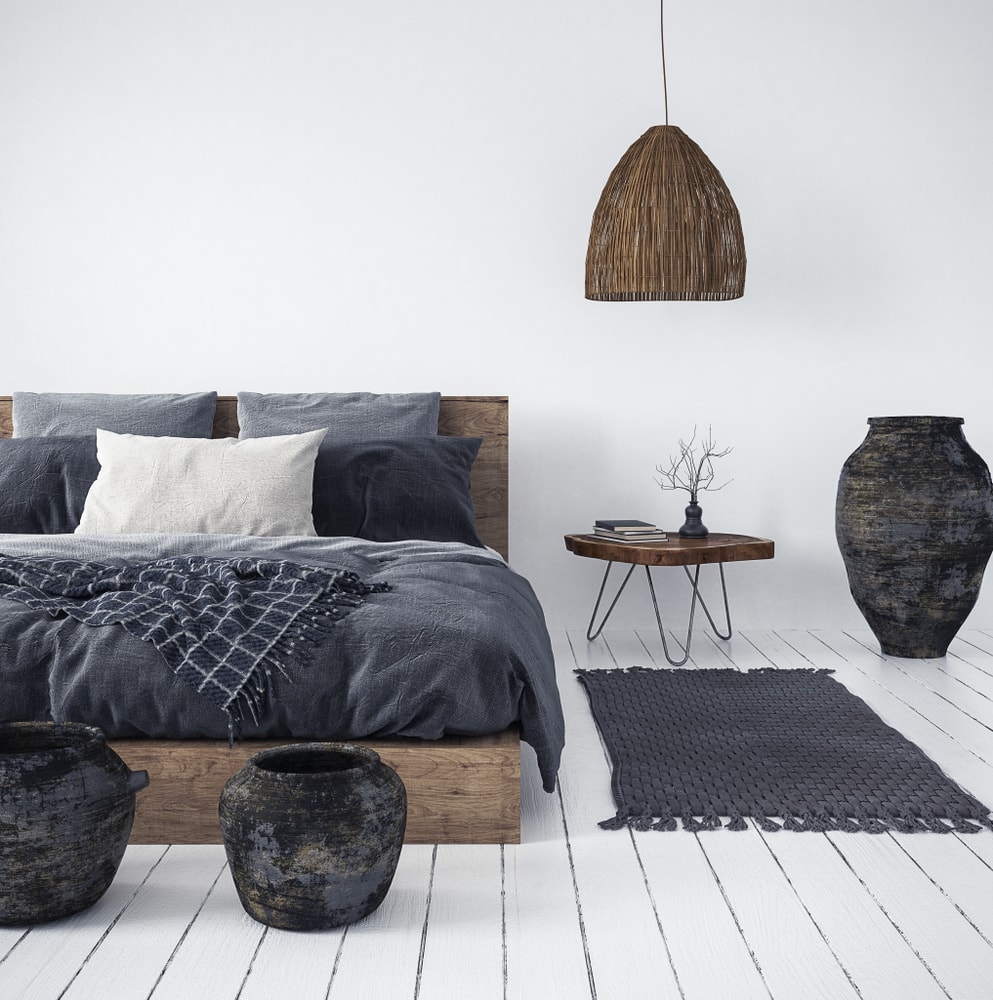 Mix and match textures while keeping the floor and walls lights. This will keep things bright and airy. You can layer neutral shades to keep things relaxed. You can see these elements in this bedroom. It's a modern take on farmhouse style.
2. Vintage Style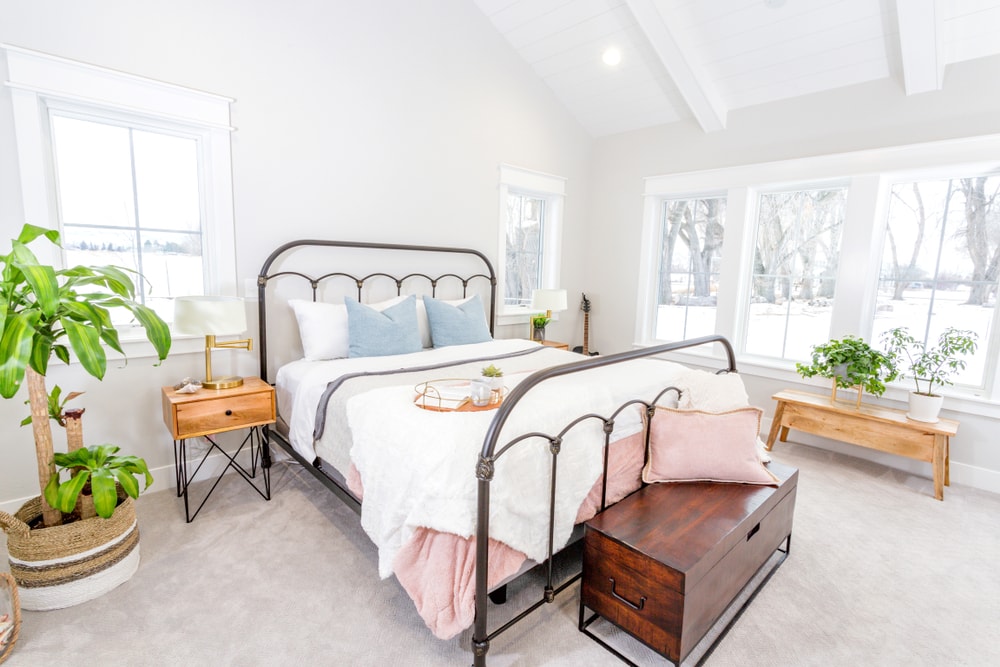 This bedroom mixes old and new. The vintage style metal bed contrasts the new in the room. It keeps this room perfectly farmhouse. You can add a wooden ottoman at the base of the bed for storage.
Budget Friendly Versions
You can get this vintage style bed on Amazon
You can get this wooden fabric ottoman on Amazon
3. An Old Chandelier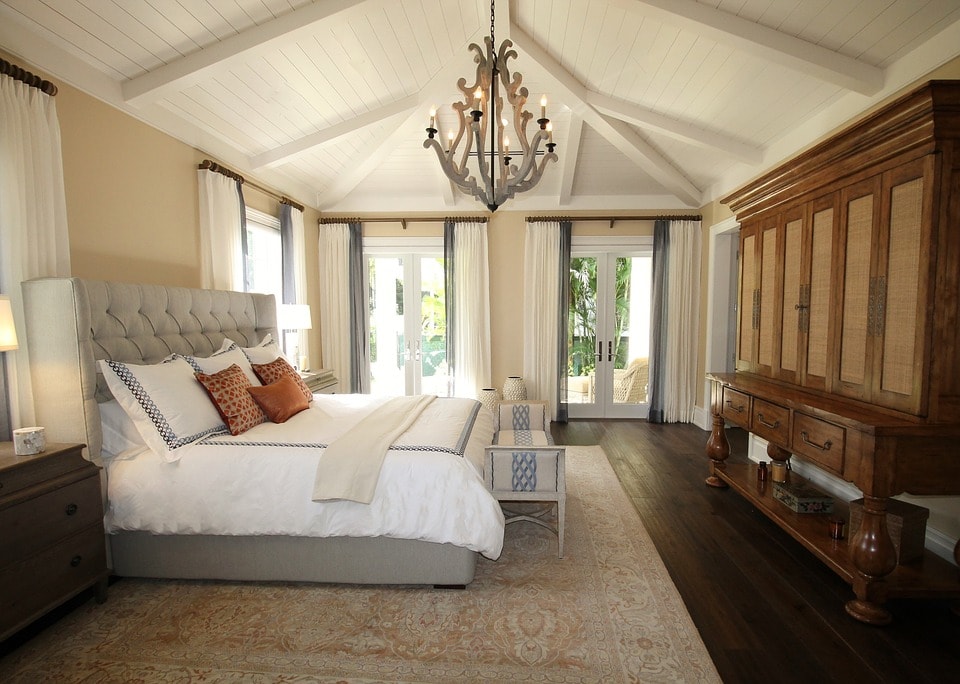 Who doesn't love a gorgeous chandelier? Again mixing the old with the new in this bedroom. There is a good use of layering of neutrals to keep things open and light. The chandelier is clearly the center of attention here.
Budget Friendly Version
You can get this chandelier on Amazon here
4. A Little Bit of Personality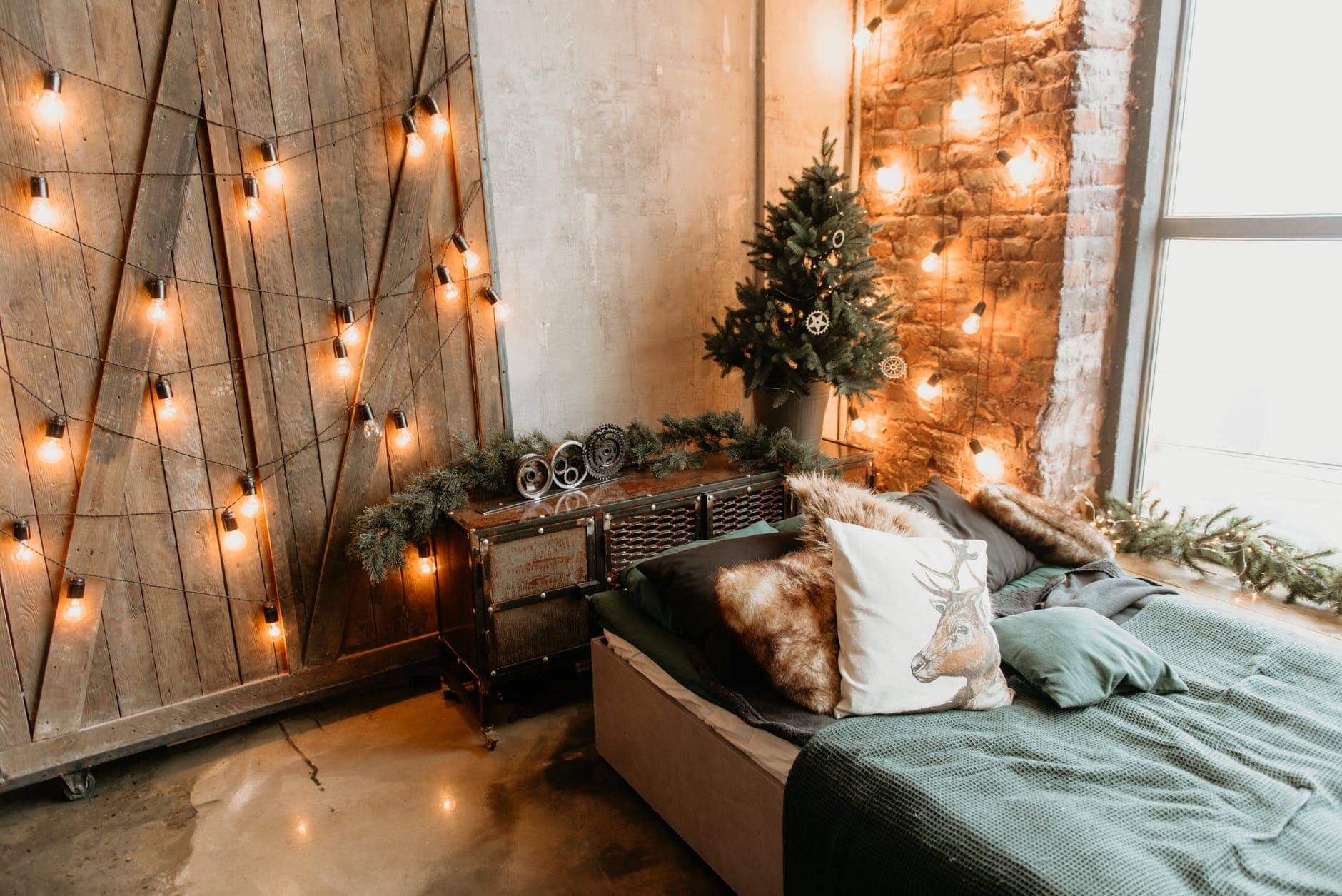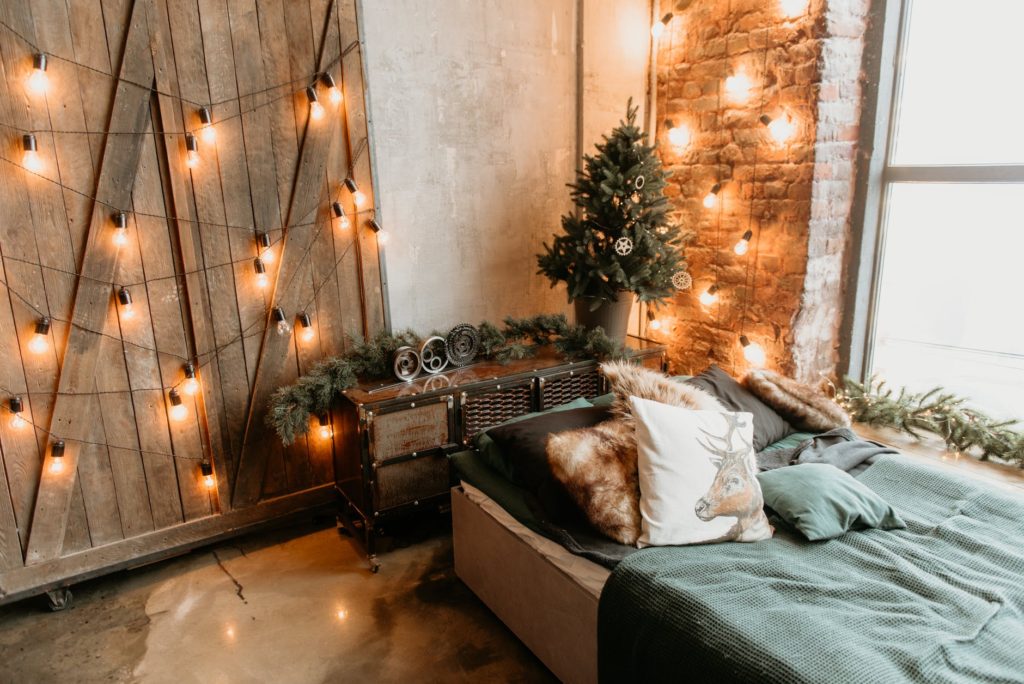 The string lights instantly give this room and fun and whimsical impression. You can immediately tell the person who owns it is cool and doesn't have to try too hard. You can easily add your own taste to your bedroom using them.
Budget Friendly Version
You can get string globe lights on Amazon here
These comes with a remote making them extra cool.
You can get the fairy light version on Amazon here
You can add your own polaroid images to make these extra personal.
5. Add A Little Shiplap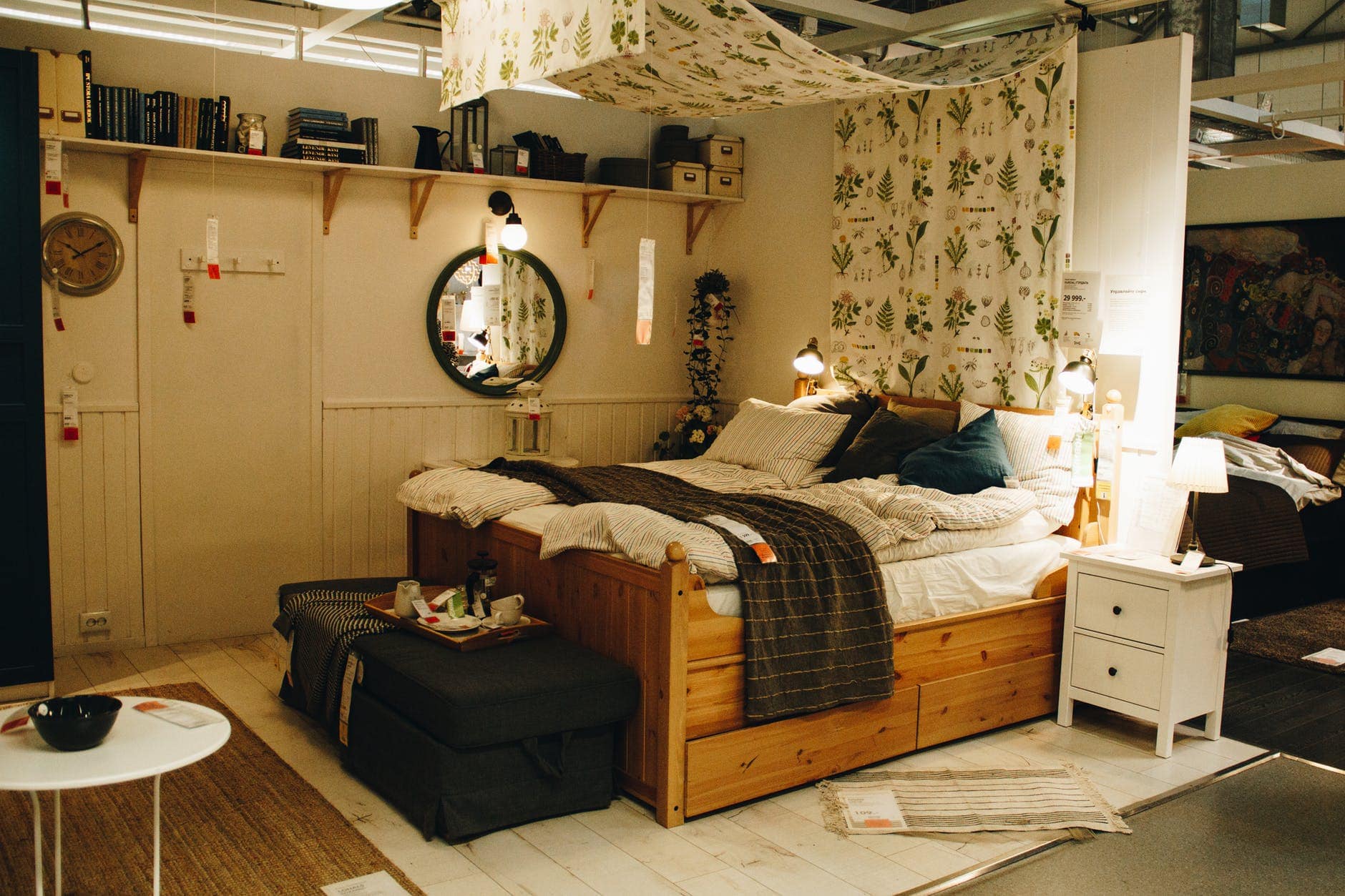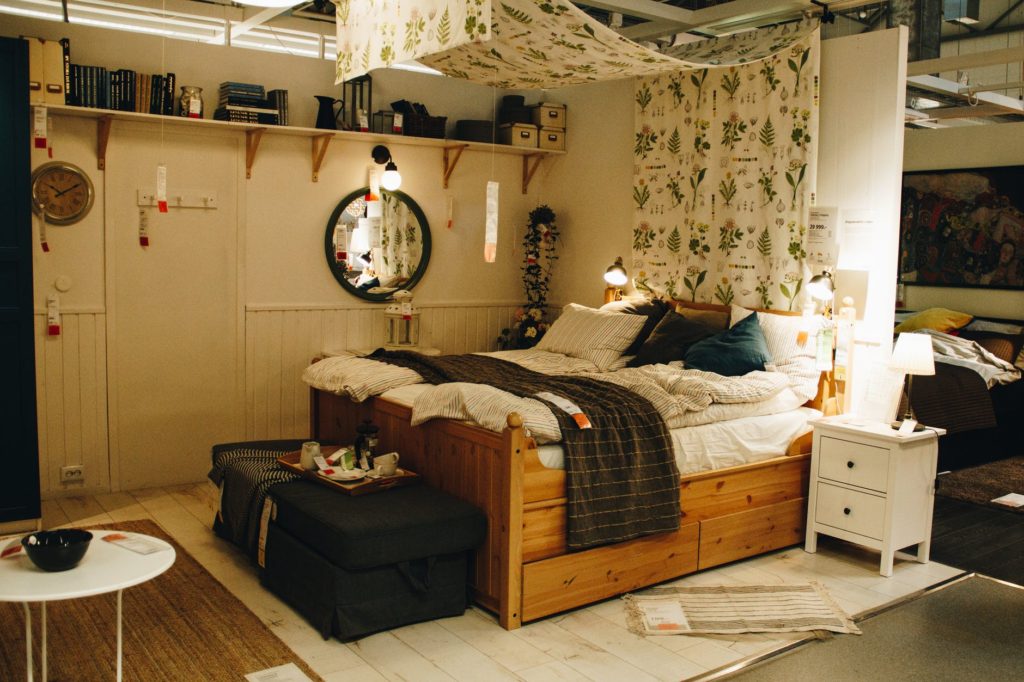 Adding shiplap can be a fun and easy way to add something interesting to a wall and room. This particular example runs it halfway up. Running it horizontally across the wall where your bed's head is another good option,
Budget Friendly Version
You can get easy peel and stick white wood panels on Amazon here
They come in white and ready to stick on the wall. You might be able to save more money doing it DIY and painting cheap wood from home depot but this option is a lot easy. You're also guarentted to not mess it up.

6. Use Wood Pallets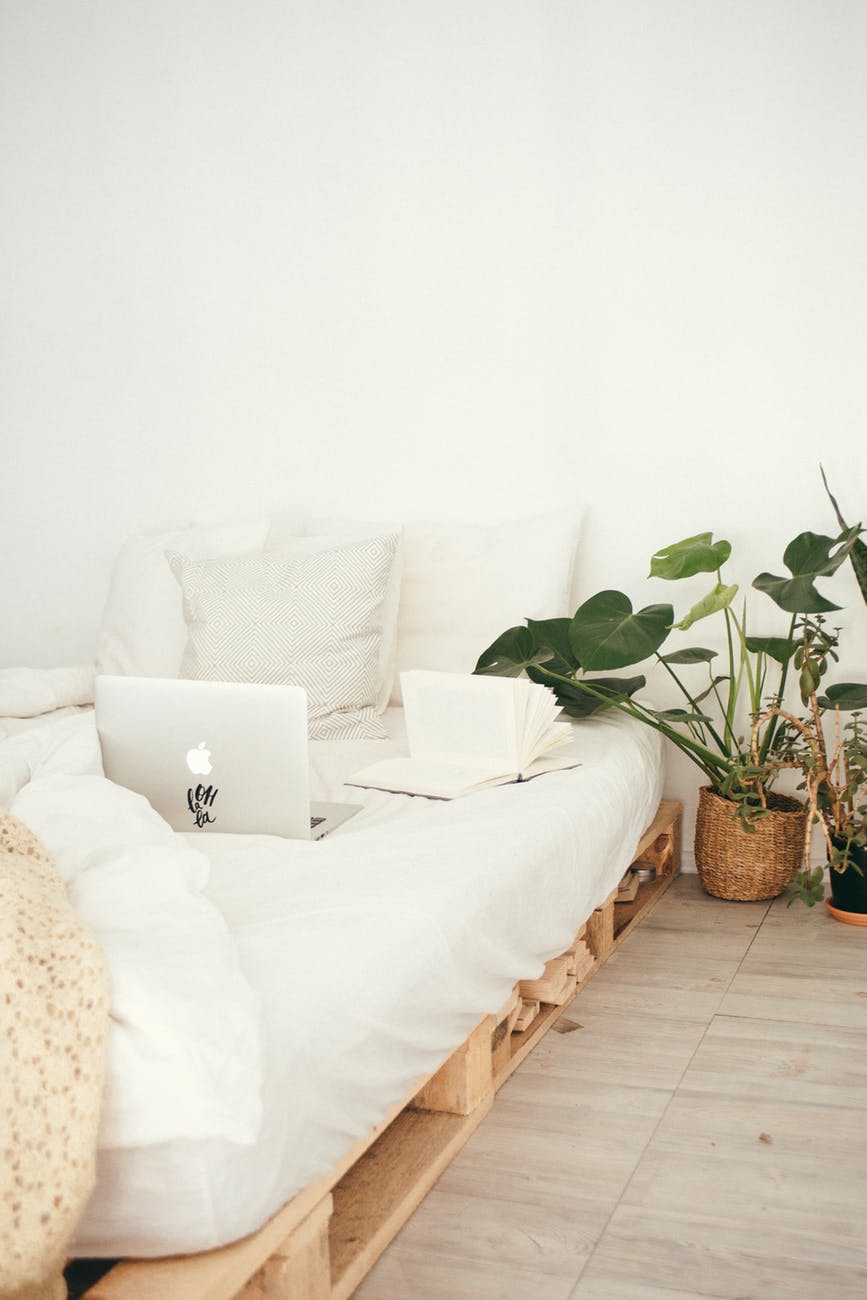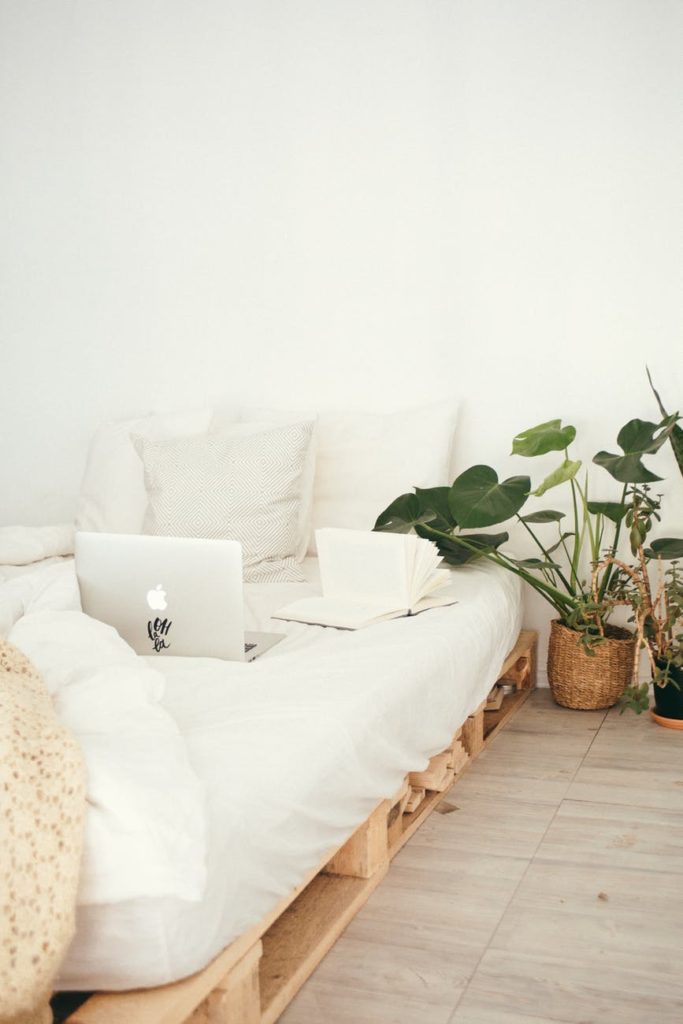 An easy way to use something old and make a bed by putting some wood pallets together. Many places just throw them out and you can get them from free or pay someone local that resell used ones. Just make sure they're sturdy enough to support the mattress and your weight. You can further customize them by adding a wood stain to change the color.
Budget Friendly Version
Get this wood finish on Amazon here
This stain has a ton of color options so you should be able to find something you like.
Get new wood pallets on Amazon here
Not the most budget-friendly option but they should work. They're also new so you don't have to worry about your bed frame falling apart.
7. Add Some Old School Lighting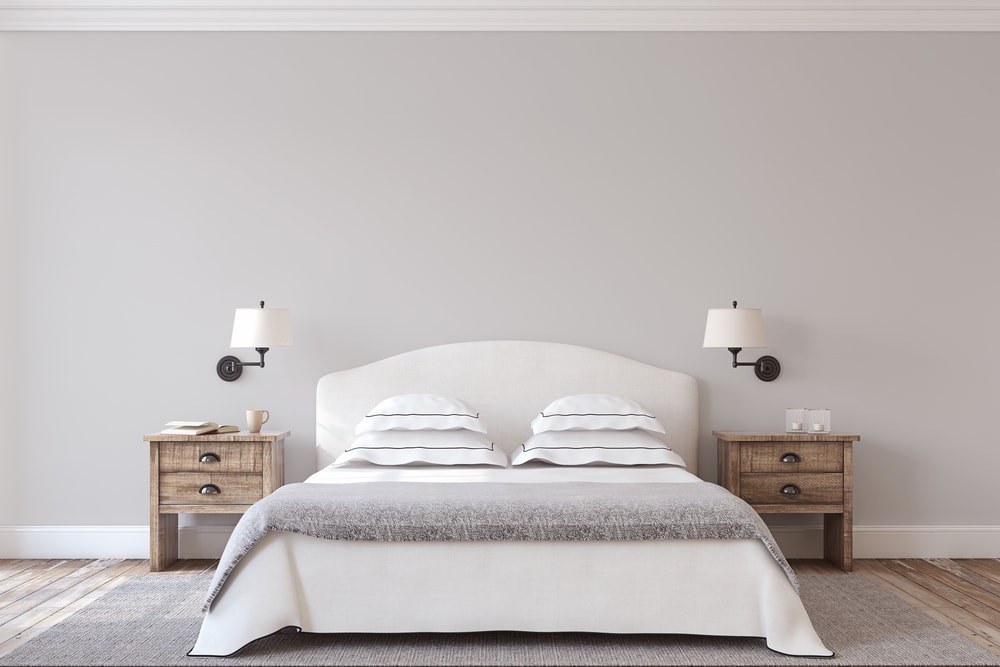 The antique style night lamps look great with the wood night stands, wood floors, and layered neutral palette of this room. You can find some antique lamps at an antique or donation store. They're many options for new lamps designed to look older as well.
Budget Friendly Version
You can get this lamp on Amazon here
Realistically a real antique lamp would cost a ton of money at an antique store. This like does the job on a budget
You can get this brass night light on Amazon here
A little on the pricey side but I wanted to include it just because its gorgeous! This one comes in a few different options and they all look stunning TBH.
8. Jute it Up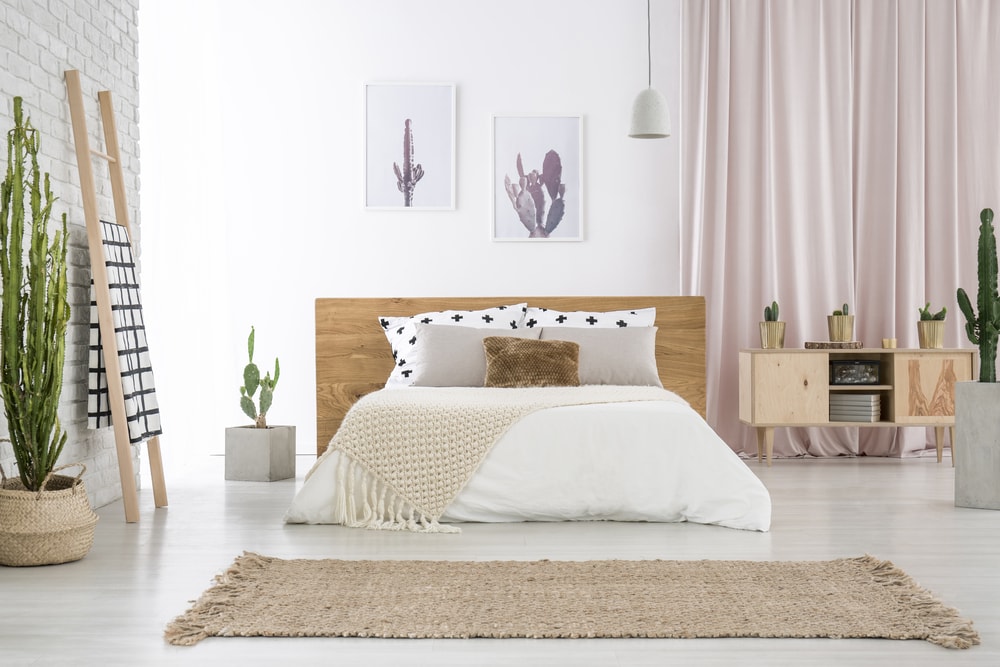 Jute rugs ooze natural and organic decor. This room leverages textures to spice things up from the all neutral color pallet. It works very well. If things start getting too bland experiment with texture!Joze natural and organic decor. This room leverages textures to sp
Budget Friendly Version
You can get this jute rug on Amazon here
Jute rugs are always an option for adding texture to a room.
9. Get Shabby With IT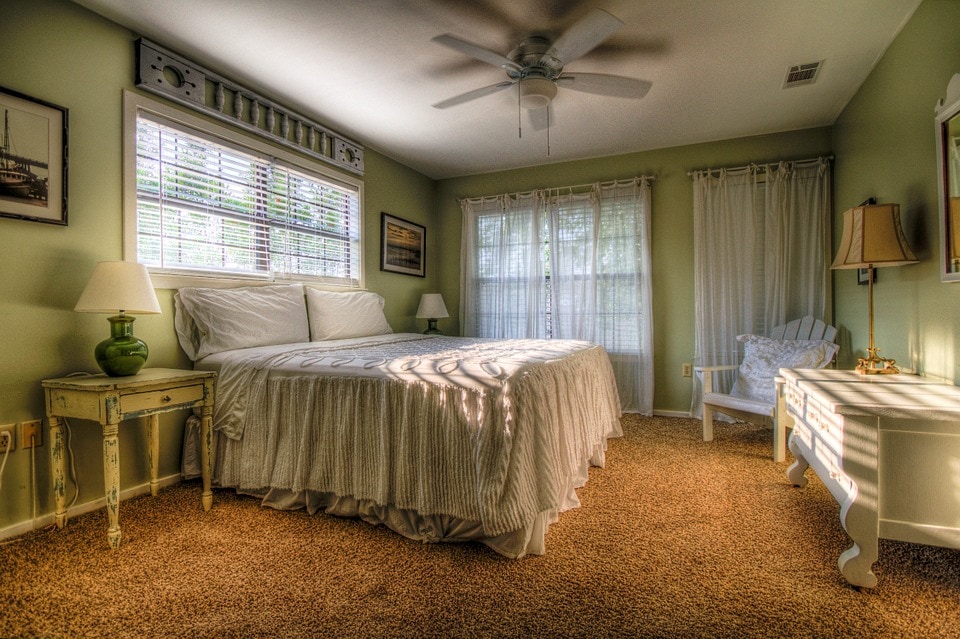 You can add so many different styles to a farmhouse bedroom and still make it work. It's important to add your own personal touch. Sometimes you also have to work with what you have. This bedroom makes use of a shabby chic distressed nightstand. It's farm-shab-u–lous.
Budget Friendly Version
You can get this distressed white nightstand on Amazon here
They come in a set of 2 putting them in the budget-friendly zone. They have that distressed antique look. It's pretty easy DIY-ing them to look even more distressed.
10. Grunge Farmhouse Bedroom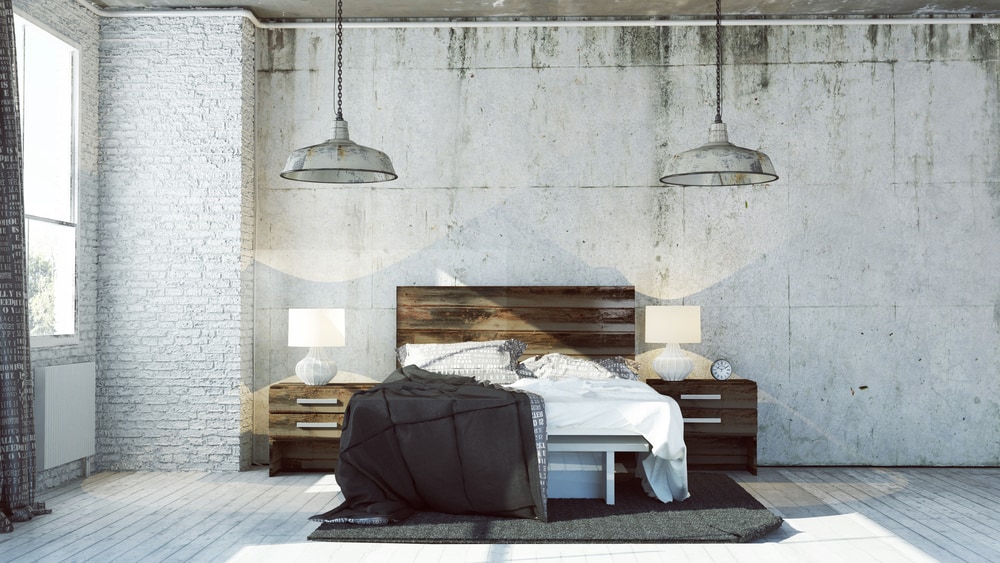 Unique interoperation of a farmhouse bedroom keeping things grunge. This bedroom shows that farmhouse doesn't have to stick to one side of the spectrum and can still get dark. The back wall can be done with a mural and the white bricks as well.
Budget Friendly Version
You can get this mural one Amazon here
Easy DIY peel and stick mural gives the same look on a budget
You can get this white brick panels on Amazon here
Another way to get the same look and save
11. Add Some Wood to the Walls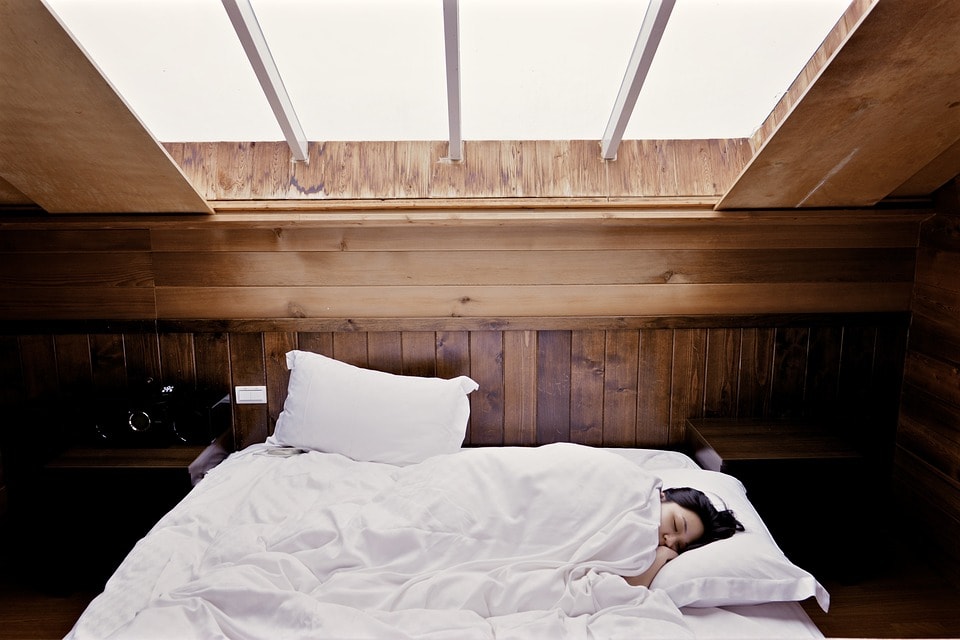 Having a house built of wood with wood walls is a great perk and looks beautiful. Not all of us have that option. So one of my favorite projects for a farmhouse bedroom is to add some reclaimed wood to the walls.
Budget Friendly Option
You can get this peel and stay reclaimed wood paneling on Amazon
It seems like everything comes in easy peel and stick formate now-a-days! These panels are made with real wood but they come in panels ready to stick to the walls.
12. Keep Things Natural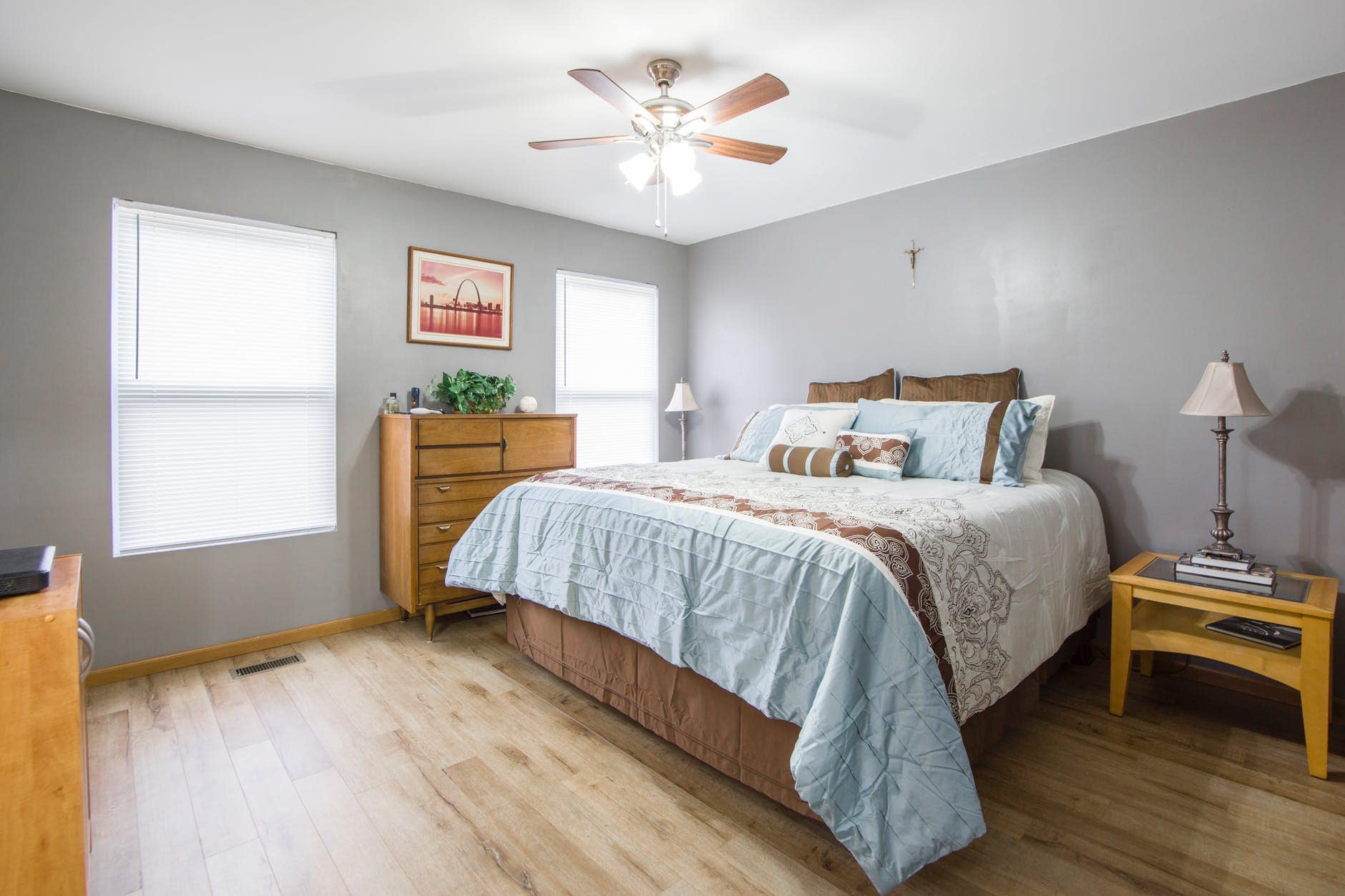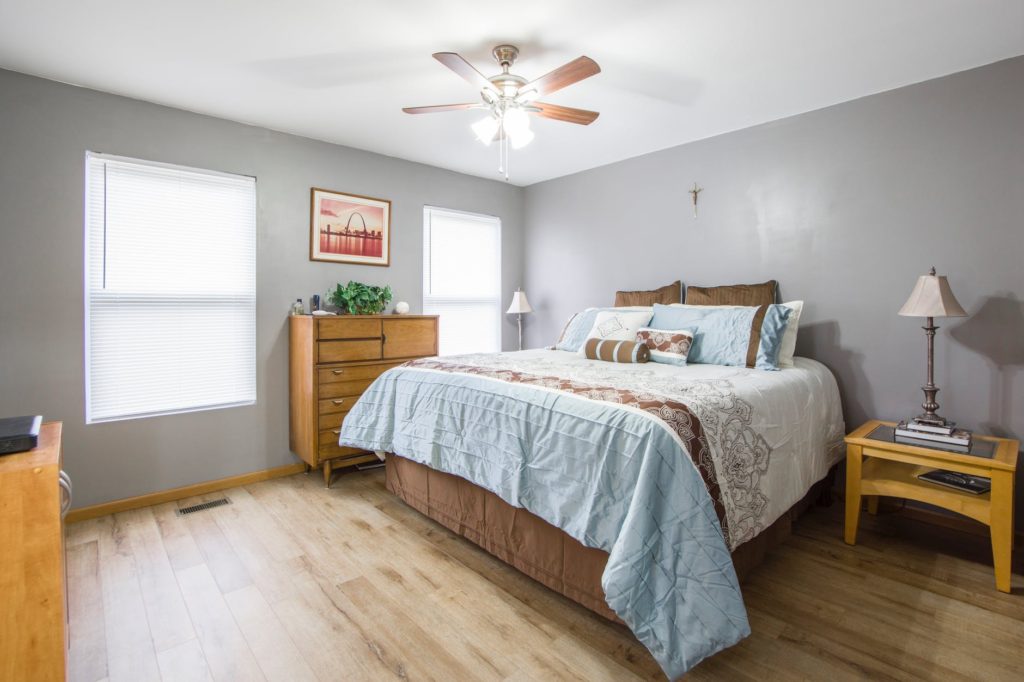 This room makes good use of natural looking wood furniture. The nightstand and the dressers all match keeping it cohesive. The orange undertones really stand out against the other colors in the room.
Budget Friendly Version
You can get this night stand on Amazon here
A nice budget friendly option on Amazon. It's comes in a pretty salt oak finish,
Mix in Some Modern Furniture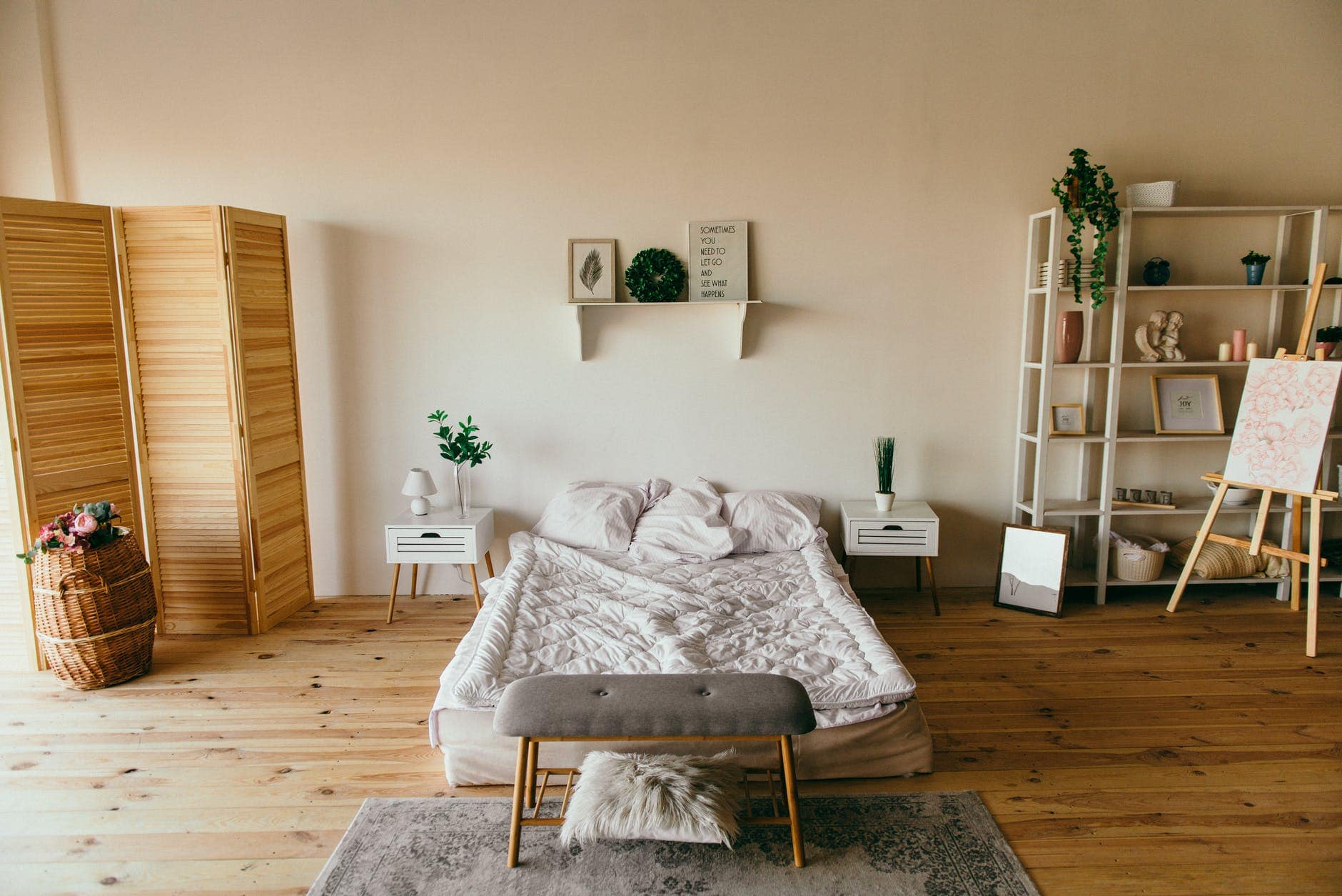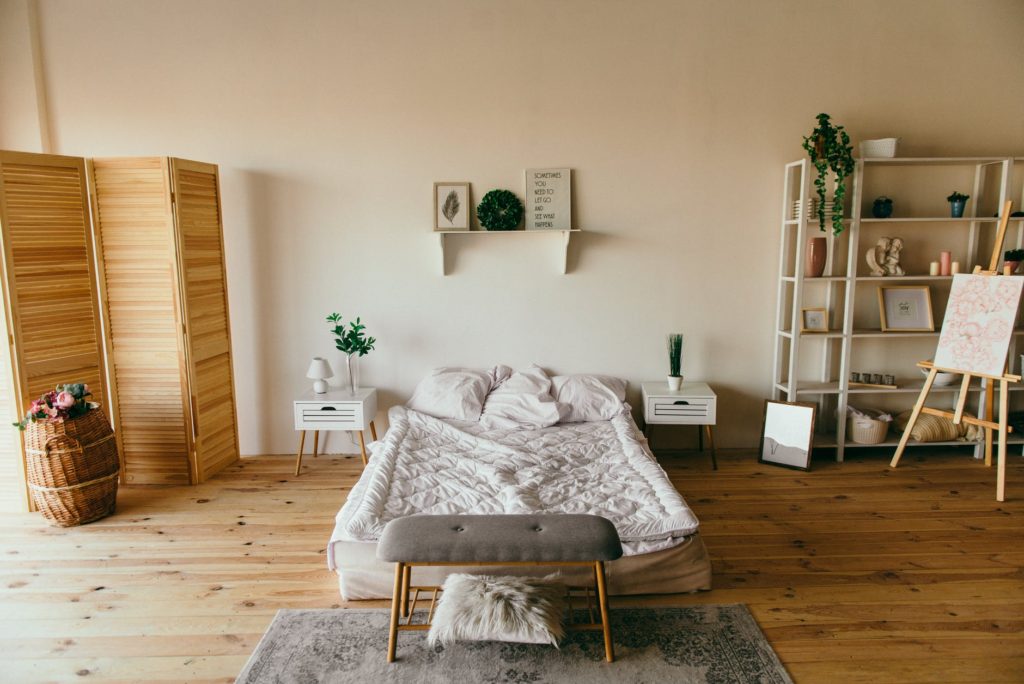 This room has an immediate laid back vibe captured by the mattress being on the floor. It looks relaxed and inviting. You can mix and match with farmhouse decor style and this modern ottoman works here.
Budget Friendly Options
You can get this cute modern sheep ottoman on Amazon here
Extremely cute and modern take on an ottoman. This will add some personality to your bedroom!